Lip gloss was the gateway drug to a lifelong makeup addiction for many of us. But it's easy to assume that clear lip gloss is another trend of the past, along with over-plucked eyebrows and chunky highlights. In reality, though, clear lip gloss can still be a versatile addition to your beauty routine.
Clear lip gloss is a basic that doesn't have to be basic. Beyond the fruity, sticky lip gloss of your childhood is a whole world of glosses that have various features and even some juicy benefits for your lips.
Choosing the Right Lip Gloss for You
Clear gloss seems simple enough. But there are hundreds of glosses from dozens of brands flooding the market. The differences may seem subtle between them, but those subtleties can really affect your gloss experience. Here are a few things to consider when deciding what it is you're looking for from a gloss.
Performance Features
You can expect more from your gloss than just a glassy finish. Most clear glosses like to boost their performance with some added benefits. Here are a few of the other benefits that modern lip glosses can bring to the table:
Moisturizing
The most common performance boost that brands have been giving their gloss is adding moisturizing ingredients. By adding nourishing oils and humectants into a gloss, the shiny lip candy also serves as a balm to help prevent dryness and peeling. Extra nourishing ingredients have found their way into many glosses.
Long-Wearing
Lip gloss isn't exactly known for its longevity. In most cases, you'll need to reapply frequently to keep a gleaming finish. There are a few glosses on our list, however, that have tweaked their recipe to be a little more long-lasting than your average gloss. You can't expect the same all-day performance that you might get from a long-wear lipstick, for example, but these glosses can greatly reduce your number of reapplications.
Plumping
While the light-reflecting properties of lip gloss can already create the illusion of fuller lips, some glosses have been taking it a step further. They can contain any number of ingredients meant to boost your lips, eliminating creases, increasing circulation, and making them look subtly larger.
Shimmer
Adding a hint of frosty sparkle is a popular enhancement for lip gloss. Many brands will offer a clear and shimmer version of their basic glosses. It's a festive bit of sparkle that can add extra dimension to your lips and can enhance the full look of your pout.
Tint
Some clear glosses will also add a hint of color into the mix. Rather than being a saturated opaque coating of color like lipstick, a tinted gloss still lets some of your natural color shine through. Typically, some of the pigment will remain even as the sheen fades with time.
Ingredients
Lips are a very sensitive part of the body. Even if you don't typically have any allergic reactions to body products, the skin of your lips tends to be more sensitive, so you may want to take extra care when choosing which ingredients you want a product to have. Some people have no issues with these ingredients, so we've included a few products that contain them on our list. It's up to you to consider what will be best for your skin.
Fragrance and Flavor
Many glosses will have some scent or taste. In some cases, this comes from the plant extracts in the ingredients. In many cases though, cosmetic companies will use artificial fragrances and color in their products. These can be irritating to those with sensitive skin or asthma.
Many glosses will use the ingredient saccharin to add sweetness without sugar. Some people enjoy this hint of sweetness, while others can find the aftertaste to be unpleasant. Critics are divided over whether or not it's a safe alternative to other sweeteners.

Mineral Oil
Mineral oil is a common additive in many glosses because it's light, thin, and shiny. This makes it easier to formulate than thicker plant butters, like shea and coconut. However, mineral oil is a petroleum-derived material. Some dermatologists extoll its virtues as an emollient that locks in moisture, and in most cases, it's relatively safe to use.
However, many people have concerns about whether it's really doing our skin any favors. Unlike other plant-based oils that often bring anti-inflammatory properties, antioxidants, and vitamins that can benefit your skin, mineral oil doesn't have any of these additional benefits. It can also clog pores since it sits on top of your skin, rather than being deeply absorbed.
After carefully going through some of the most popular glosses on the market, we've narrowed it down to ten. Here are our favorites.
Top 10 Best Clear Lip Glosses 2023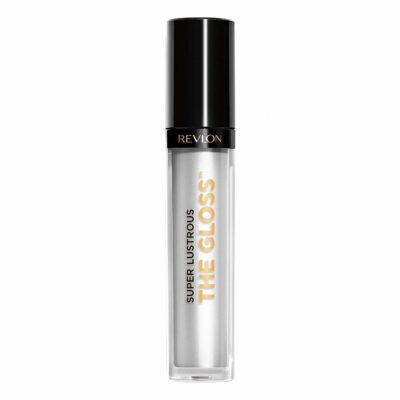 Why we like it:
Non-sticky, moisturizing, and super shiny: who could ask for more?
Editor's Rating:
Quick Facts:
Size: 0.01 oz
Performance: Moisturizing
Vegan: Yes
Cruelty-Free: No
Product Details
Revlon has produced a truly clear gloss with no extra color or shimmer, but they've infused it with some hydrating ingredients. Cupuacu butter, a close relative to cocoa, provides rich emollient qualities that make this gloss ultra-moisturizing.
Agave is another unusual ingredient found in this formula. It has been used for centuries in folk medicine for its healing properties. Moringa rounds out the ingredients with antioxidants and vitamins that can help prevent aging and damage to your ultra-sensitive lip skin.
The large applicator helps evenly distribute gloss all over your lips, and the non-sticky formula feels super light whether on its own or layered over a lipstick.
The Downsides
If you're looking for a little extra pizazz, you might not be satisfied with how basic this gloss is. It is completely free from any pigment or shimmer. Revlon's Super Lustrous Gloss line does have a selection of glosses with varying degrees of pigment, from sheer to intense, that have the same moisturizing benefits and glassy finish. If you're looking for a great gloss with shimmer, you can also try our pick from Maybelline.
As a very light clear gloss, this doesn't have great staying power. Eating or drinking can completely annihilate it, so be prepared to reapply after lunch.
Who It's For
If your lips have been feeling dry lately, but you want more shine than your average lip balm can provide, this is a great option. It will help hydrate your lips while giving a beautiful sheen. This is also one of the best choices for layering over a matte lipstick to change up the look. This light, non-sticky gloss makes a great topcoat.
Pros
Moisturizing formula

Non-sticky

Great for layering over lipstick
Cons
Very basic

Not long-lasting
---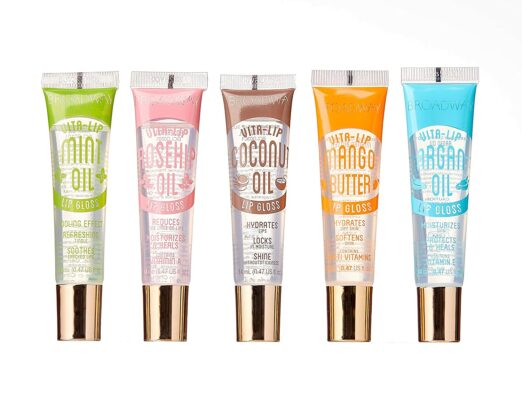 Why we like it:
This set of simple clear glosses gives you a lot of variety for the price.
Editor's Rating:
Quick Facts:
Size: 0.47 x 5
Performance: Moisturizing
Vegan: Yes
Cruelty-Free: No
Product Details
For a scent to suit every mood at a low price, this set of five glosses combines nostalgia with a few grown-up features. The five glosses in the set are Rosehip Oil, Mint Oil, Argan Oil, Coconut Oil, and Mango Butter. And each gloss is infused with its respective plant extract.
The plant extracts add to the scent and nourishing properties of each balm (the mint creating a tingly sensation, for example), but there is no added flavor. All of the glosses contain meadowfoam seed oil in the recipe as a compliment to the other various botanical extracts. This oil is a natural emollient that helps lock in moisture.
This gloss has a thicker consistency than some, so it fully coats your lips with one swipe.
The Downsides
The glosses in this set are a bit stickier than some of the others on our list. This puts you in danger of having your hair become plastered to your lips if the wind kicks up suddenly. For a lighter, less sticky gloss, you might want to try our pick from Revlon.
The packaging of this product also has a few flaws. It's hard to control the stream of gloss coming out of the applicator. This can easily lead to too much coming out at once. There can also be some leaks since the lid is hard to secure.
Who It's For
For people who prefer a thicker gloss, this is a good choice. It also provides good value for the price by giving you 5 tubes of gloss. You can also enjoy sampling the different varieties to determine which one you like best. Since each one contains a featured botanical, you have the chance to see how each one interacts with your skin while enjoying a base level of moisture that this particular formula provides.
Pros
5 different plant extracts

Good value

Natural emollient formula

No artificial flavors
Cons
Sticky consistency

Packaging issues
---

Why we like it:
By helping you boost your natural collagen production, this gloss helps condition your lips, making them look lusher.
Editor's Rating:
Quick Facts:
Size: 0.15 oz
Performance: Plumping and Shimmer
Vegan: Yes
Cruelty-Free: Yes
Product Details
For a clear gloss that does a little extra, Buxom's Plumping Lip Polish fits the bill. The gloss gives light coverage and a brilliant sheen as you might expect. However, there are a few unexpected ingredients that add extra plumping effects to this gloss.
The plumping is mainly achieved by using peptides in the formula. Peptides are short-chain amino acids that encourage your skin to boost its collagen production. Shorter chains mean quicker and easier absorption by the body. Complementing the peptides are vitamins a and e. These help moisturize and rejuvenate your skin as well.
By helping your lips create their own collagen and repair any damage, this gloss has an almost anti-aging effect. It also provides a polished shine with just a hint of light-reflecting shimmer.
The Downsides
While this gloss produces a mild tingly sensation when applied, the immediate plumping effects might be a little underwhelming for some users. That's to the collagen-boosting effects, it can help to improve the look of your lips over time, but for a dramatic immediate impact, you might need to look elsewhere. For a different plumping formula that may work better with your lips, you can try our option from Nyx.
The gloss may also need reapplications fairly frequently to maintain its attractive sheen. It won't stand up against eating and drinking for very long. Additionally, the price is fairly high, but the results can make it a worthwhile splurge.
Who It's For
If you like a gloss that can help your lips become plumper and smoother, this is a great choice. The ingredients are gentle and unlikely to irritate you. Instead of making your lips artificially swollen, this gently coaxes your lips into being the best version of themselves. All while giving you a lovely shiny finish. And if you want to add sheer color into the mix, Buxom's Lip Polish comes in dozens of shades beyond clear.
Pros
Stimulate Collagen Production

Vitamin enriched

Subtle shimmer

Improves lips over time
Cons
Not dramatic plumping

Needs frequent reapplication

Expensive
---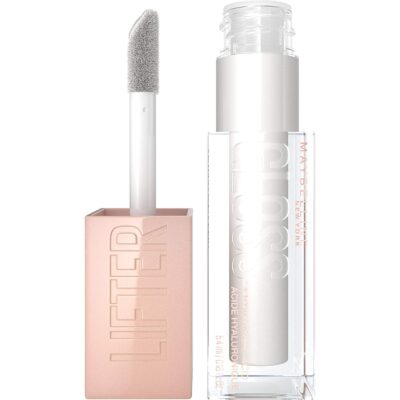 Why we like it:
Though it's not a plumping formula, this gloss can help rejuvenate your lips.
Editor's Rating:
Quick Facts:
Size: 0.18 oz
Performance: Shimmer, moisturizing
Vegan: Yes
Cruelty-Free: No
Product Details
Maybelline isn't just for that classic pink and green mascara tube; they have been dabbling in higher-end formulations that feel distinctly modern. This Lifter Gloss is a shiny and shimmery concoction that gives your lips a boost of hyaluronic acid.
This ingredient has become the darling of anti-aging products due to its ability to boost your skin's healing properties. It helps hydrate your skin and stimulate new cell production which can reduce the appearance of scars and wrinkles. The company doesn't claim that this is a plumping gloss but says that it will help your lips look fuller.
The gloss also includes coconut oil to help create a better texture and add moisture back into your lips. The tube comes with an extra-large applicator for easy coverage with this non-sticky gloss.
The Downsides
Overall, the ingredients for this product are quite unimpressive. While coconut oil and hyaluronic acid are great for your skin, the rest of the ingredients are pretty artificial. In particular, this gloss features artificial fragrance, which can be an allergy trigger for many people. It can also be overpowering in this gloss.
This gloss also has issues with staying-power as many do. Within a few minutes, it can start to fade. If you want a true shimmer that lasts more than 15 minutes, you may need to layer it on quite thick.
Who It's For
This gloss frequently draws comparisons to Fenty's lip gloss, but at a much lower price, so if you're looking for a more budget-friendly option with a similar look and feel, this could be your answer. It's also something to consider if you feel like your lips have been developing fine lines. The boost of hyaluronic acid can help replenish them and make them look a little lusher and fuller.
Pros
Boosted with hyaluronic acid

Helps lips look fuller

Non-sticky texture
Cons
Many artificial ingredients

Strong synthetic fragrance

Not long-lasting
---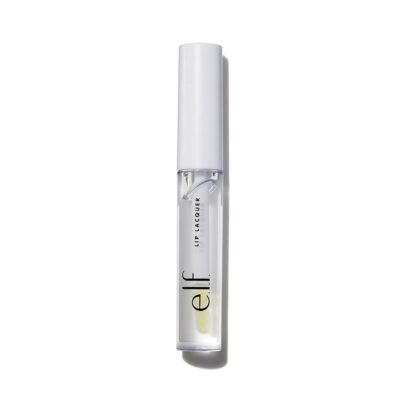 Why we like it:
This gloss resists fading and transfer better than most.
Editor's Rating:
Quick Facts:
Size: 0.08
Performance: Moisturizing, Long-wearing
Vegan: Yes
Cruelty-Free: Yes
Product Details
E.L.F. has gained a huge following for creating versatile and high-performing makeup at a budget-friendly price. Their lip lacquer is no different. This clear gloss comes in at one of the lowest price points on our list but provides a high-end finish.
Infused with vitamin e, this gloss provides thick coverage that helps lock in moisture. It also is one of the longest-lasting glosses on our list. While it's not impervious to a cup (or three) of coffee, it creates a sort of coating on the lips that maintains moisture and shine for a long time, at least by lip gloss standards.
This gloss isn't weighed down with a lot of fragrance or added flavors. It has a very light and mild taste and smell. E.L.F. products are also free from parabens, phthalates, and a number of other unsavory additives.
The Downsides
The thick, coating effect of this gloss helps make it long-lasting, but it can also make it a little hard to apply. Especially if the gloss is cold, it can almost drag across the lips. This is a little uncomfortable and can make it hard to get an even application.
Some people may also find that this doesn't have the high-shine finish they're looking for. It's more of a subtle sheen that looks great with a natural makeup look. This may not be enough to give you a glossy finish over a matte lipstick.
Who It's For
When you want to look polished, but don't feel like fussing with a full makeup look, this gloss makes your lips look great without extra color. Pair it with mascara and a tinted moisturizer for a fresh, low-maintenance look. It doesn't need constant reapplication to keep looking fresh and feeling moisturized like some glosses, a definite plus.
Pros
Vitamin e-infused

Long-lasting finish

Free from many harsh ingredients
Cons
May be too thick to apply evenly

Lacks high-shine finish
---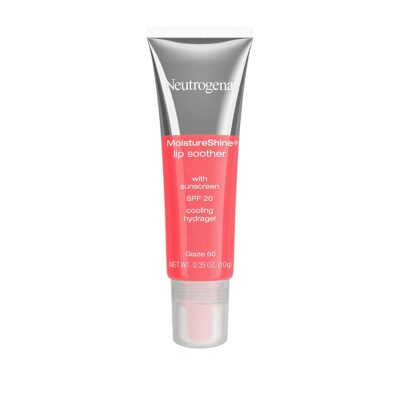 Why we like it:
This sheer gel gloss offers a hint of color along with sun protection.
Editor's Rating:
Quick Facts:
Size: 0.35
Performance: Tint, Moisturizing
Vegan: Yes
Cruelty-Free: No
Product Details
Neutrogena offers a gloss with sheer color in this Soother Gloss. The gel texture of this gloss gives a cooling sensation when you apply it, and it's loaded with SPF 20. That combination makes this an ideal choice for summer days or even an afternoon on the ski slopes.
The gloss uses the humectant properties of vegetable glycerin to help your lips maintain their moisture throughout the day. It also includes cooling and hydrating cucumber extract along with soothing chamomile in the ingredients. A hint of menthol helps enhance the cooling sensation as well.
The gloss has a mild scent, though it contains no added synthetic fragrance, and a slightly sweet taste thanks to the saccharin extract in the ingredients. The color is very subtle, adding just a slight tint to complement the shine.
The Downsides
The texture of this gloss can be a bit sticky or tacky, even a while after applying. This can be a bit messy, leaving residue on anything you drink or anyone you kiss.
While some people like the nostalgia of a sweet lip gloss, the flavor can be a bit strong. It may not be the taste you want as a background note to anything else you eat. And if your lips are already cracked or peeling, the cool, tingling sensation can actually feel a bit stingy. Menthol can be harsh on very sensitive lips.
Who It's For
If you spend a lot of time outside, particularly in windy conditions, you need to treat your lips to a combination of hydration and SPF to keep them happy. The thicker, tackier texture can actually be protective when you're exposed to the elements. And the soothing plant extracts help prevent cracking and damage, all while keeping sun damage to a minimum.
Pros
Has SPF 20

Cooling and soothing plant extracts

Subtle color tint

Helps prevent drying out
Cons
Sticky texture

Strong sweet flavor

Can feel stingy on damaged lips
---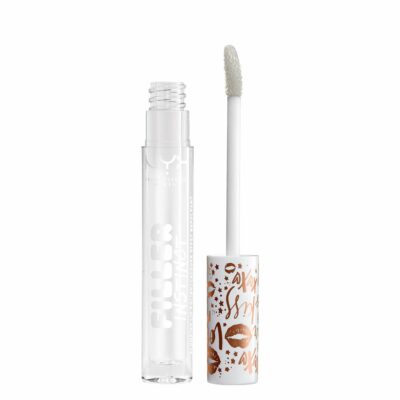 Why we like it:
This gloss mildly plumps your lips with hydrating ingredients.
Editor's Rating:
Quick Facts:
Size: 0.08 oz
Performance: Plumping
Vegan: Yes
Cruelty-Free: Yes
Product Details
Nyx's Filler Instinct is, as you may have guessed by the name, a gloss that's supposed to give you the effect of lip filler without the associated risks and expenses of a clinical procedure. This glossy lip treatment smoothes away wrinkles in your lips to condition them into a plumper appearance.
One of the key ingredients featured in this gloss is Amorphophallus Konjac Root Powder. This starch is known for its role in medicine and cuisine, particularly in Japanese Shirataki noodles. This root is vitamin-rich and absorbs a huge volume of water relative to its size. This helps create a natural plumping and hydrating effect.
The gloss has a light-reflecting finish that also helps your lips look a little fuller and juicer. The formula also contains menthol to provide a cool sensation and boost circulation.
The Downsides
While the smoothing properties of this gloss can help your lips look their best, the idea of it being equivalent to a lip filler is a bit exaggerated. The plumping effect significantly milder and won't last after your gloss has been removed for the day.
For those with sensitive or chapped lips, this gloss can also produce an uncomfortable stinging or burning sensation. And if you're determined to maintain a clean, all-natural beauty routine, you may not be totally happy with the ingredients list. While overall the products scores pretty well with EWG's clean makeup standards, it heavily features petroleum-based mineral oil, which many people prefer to swap for something more nourishing and plant-based.
Who It's For
If you've been feeling like your lips are a little thin, or have been developing too many fine lines, then this plumping gloss might the way to get them looking a little lusher. It's a little naive to think that such a budget-friendly product could replicate the results of expensive aesthetic treatment, but it can help your lips pop a little more than just a plain balm or gloss.
Pros
Smooths lip wrinkles

Conditions and hydrates

Light-reflecting
Cons
Not the same dramatic effects of lip filler

Can sting chapped lips

Uses mainly mineral oil
---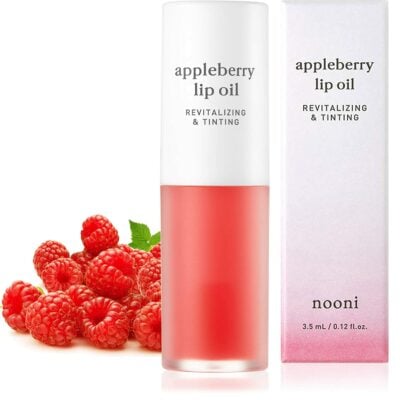 Why we like it:
A little non-traditional, this creamy lip oil with a hint of natural color is worth considering for your lip gloss arsenal.
Editor's Rating:
Quick Facts:
Size: 0.12
Performance: Moisturizing, Tint
Vegan: Yes
Cruelty-Free: Yes
Product Details
This brand out of Korea brings a little something different to the table with this lip oil. Rather than a thick or sticky gloss, this oil provides a hydrating shine along with a hint of color in a slightly creamy plant-based oil blend loaded with botanical extracts.
As your lips absorb the rich oils, mild color and a subtle sheen are left behind on your lips. While it isn't technically clear, the color is subtle enough for this to work like a clear gloss that adds a hint of natural tint. The apple extract helps to naturally exfoliate some of the dead skin from your lips, so they feel fresher and softer. Raspberry extract has antioxidants to help revitalize your delicate lip skin, and added vitamins nourish and protect.
This glossy oil (including jojoba, olive, and sweet almond oils) gives your lips deep moisture without being sticky or needing frequent reapplication. It's also available in a mildly plumping, pigment-free formula if you don't want a tinted effect.
The Downsides
While this oil adds a hint of shine to your lips, it won't provide that mirror-glaze sheen that many people associate with a clear lip gloss. That means it won't be an effective choice for topping matte lipstick. The shine also isn't very long-lasting as the oil becomes absorbed into your lips.
The product is also a bit expensive considering the amount of oil in the container. If you're applying it regularly to add shine and moisture, you can run out quickly, and worse, the bottle tends to leak if you throw it in a bag. If an inexpensive option that brings a lot of shine is your aim, our pick from Broadway Vita-Lip may be more to your liking.
Who It's For
If you aren't married to the idea of a super shiny coating on your lips, you might appreciate the subtle moisturizing shine and rosy tint of this lip oil. The creamy texture is more satisfying than other lip oil treatments, making it feel more like a gloss. It's a good combination of subtle color, hydration, and shine. Though it's not exactly a lip gloss, we thought it was worth a mention in our guide.
Pros
Hydrating plant oils

Subtle shine and color

Mild exfoliation

Creamy texture
Cons
Shine fades quickly

Won't work layered with lipstick

Runs out quickly

Can leak in your bag
---

Why we like it:
All-natural ingredients help to create a protective layer on your lips while adding shine and a hint of color.
Editor's Rating:
Quick Facts:
Size: 0.5
Performance: Tint
Vegan: No
Cruelty-Free: Yes
Product Details
Burt's Bees combines their signature beeswax with lanolin, castor, and sunflower oils to create a creamy gloss that creates a protective barrier on your lips. This formula is also loaded with apricot kernel oil and apricot extract as well as cocoa and shea butter.
The color is sheer enough to wear over another lipstick, but it looks great on its own to enhance your natural lip color. It comes in a range of six shades, but Whisper is the sheerest of the bunch with a light pink pigment.
The gloss has a subtly sweet flavor and scent that seems to come from the apricot ingredients. It contains no artificial flavors or colors.
The Downsides
The protective ingredients in this gloss do make it somewhat thicker than many other glosses. It coats your lips quite thickly, which can feel a little sticky. Once the gloss wears off, however, it doesn't leave you lips deeply conditioned or moisturized which is disappointing considering the quality of Burt's Bees' lip balms. For a more deeply moisturizing tinted option, you might prefer our pick from NOONI Appleberry Lip Oil in Appleberry.
The sweet apricot aroma can be a little strong for some. It also tends to linger longer than the gloss itself stays on your lips, oddly enough.
Who It's For
If you're looking for an all-natural gloss that can protect your lips from the environment, this isn't a bad choice. It offers a natural-looking hint of color that will work with nearly any skin tone and supplies a glossy shine. The all-natural ingredients list makes this less likely to cause irritation or allergic reactions as well.
Pros
Protective coating on lips

All-natural ingredients

Sheer color
Cons
Thick, sticky texture

Not very moisturizing

Lingering sweet fragrance
---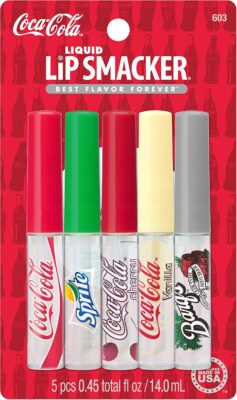 Why we like it:
This will give you a super shiny, super sweet lip gloss fix like no other.
Editor's Rating:
Quick Facts:
Size: 2.4 oz
Performance: Shimmer
Vegan: Yes
Cruelty-Free: Yes
Product Details
If you're looking for a true nostalgia bomb, you can't do better than to go for the original: Lip Smackers. They are still selling the same line up of clear liquid glosses that delighted so many of us during puberty.
This set of five clear glosses comes in classic fruit and candy-inspired scents, or a pack of Coca Cola soft drink inspired scents licensed by the Coke company. The fragrance is strong, and the glosses have a sweet taste as well. Four of the five glosses are plain, while one of the set (the Spun Sugar fragrance) is a shimmer gloss. All five have a high-shine finish that reflects environmental light.
The glosses also contain aloe and coconut oil to add some moisture back into your lips.
The Downsides
Lip Smackers makes no claims that their glosses are natural or will do any huge favors for your lips. And it's true that they are loaded with things like artificial fragrances (a common allergy trigger) and mineral oil (a petroleum-derived oil you can read more on here) For a more grown-up gloss that has a few sophisticated moisturizing ingredients, our pick from Maybelline fits the bill nicely.
The gloss is a little thin, needing frequent reapplications to maintain its shine. The scents, while strong, are all very similar in the classic lineup. Though, perhaps it should have raised our suspicion that the pack offers both Cotton Candy and Spun Sugar as flavors when those are the exact same thing.
Who It's For
Sometimes you just won't be satisfied until you get the exact thing you remember. If you've been longing for a simpler and sweeter time, maybe this super sweet gloss will transport you. It also makes a great gift for the future makeup addict in your life. This gloss simply does what lip gloss is meant to do: be shiny and fun. If you don't want to worry about plumping, tints, and hydrating extracts, this will give you the most basic, pared-down gloss experience.
Pros
Nostalgic classic

Includes a shimmer gloss

Sweet smell and taste
Cons
Artificial ingredients

Very limited moisturizing effect

They all smell similar
---
Getting to the Bottom of the Tube: Common Questions About Clear Lip Gloss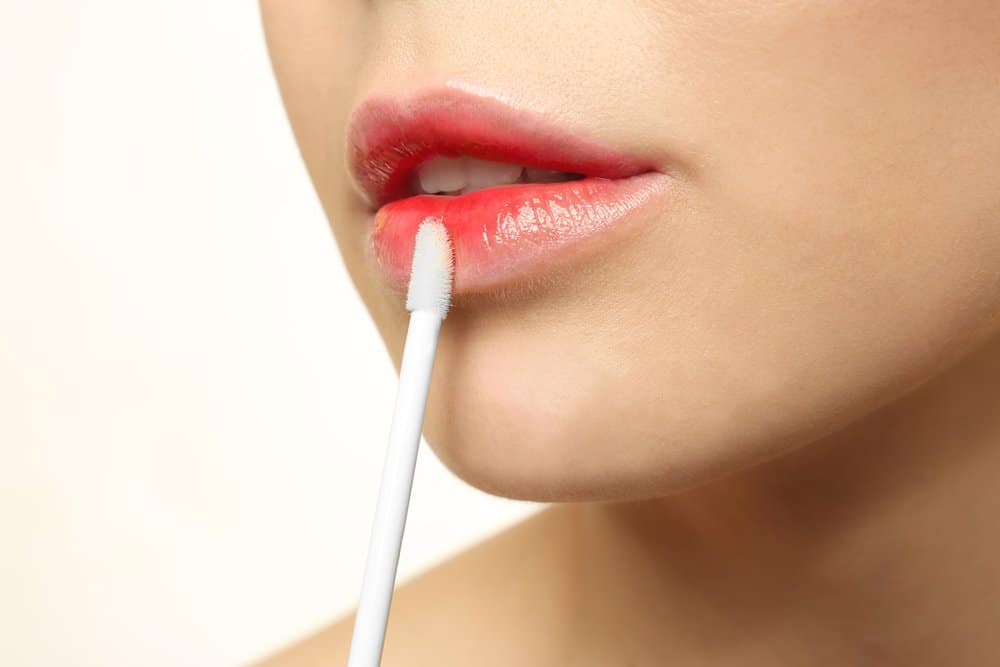 While lip gloss is fun and can make your lips look lush, it may not be for everyone. You may have heard some negative things about lip gloss, or you may be unsure about how to use it. We hope to clear up any misunderstandings and leave you better informed through this next section.
How and When to Wear Clear Lip Gloss
You may be wondering how to best incorporate clear lip gloss into your makeup routine. Even if you tend to keep your lips bare day-to-day or you're a 24/7 lipstick girl, you may still be able to enjoy experimenting with clear glosses. Here are a few styling suggestions.
Layer It
Matte lipstick can have great staying power. They also tend to be loaded with pigment to create a strong look. Sometimes, though, they can be a little drying. You also might just want to change up your look a bit. Clear gloss can be a great layering product in these cases.
Simply apply your matte lipstick and let it set as usual. Then layer some gloss overtop (giving it a few minutes to soak in before you try eating or drinking anything). A high-shine gloss with moisture is a good choice for this, like our pick from Revlon.
Bare-Faced Look
Maybe you like to keep it simple, at least some of the time. Clear lip gloss can be a great addition to a minimalist makeup routine. To look polished with just a few basic items, we recommend using a BB cream to moisturize your skin and make it look naturally flawless. Then, add a light coat of mascara and a swipe of clear gloss to complete the look.
This gives you a five-minute routine that creates a "your skin, but better" finish that's perfect for every day. You can choose to use a gloss with a tint to enhance your fresh-faced look a little more, like our pick from Nooni.
Enhance Your Eyes
If you're going for a dramatic eye makeup look, you might want to keep your lips simple. That will help bring all the focus back to your colorful eyeshadow or perfectly executed cat-eye swoop. Still, a hint of gloss can help make your lips look fuller and smoother without taking away from your eyes.
A gloss with plumping properties and a bit of shimmer can boost your lips in a subtle, yet still party-ready way. We recommend trying our pick from Buxom for that juicy look.
Is Lip Gloss Bad for Your Lips?
You may have heard those rumors going around decades ago that certain balms and glosses contain irritants like ground glass to make your lips more damaged, forcing you to buy even more lip gloss.
Fortunately, those rumors were completely untrue. Personal care products can't contain dangerous particles like that. But there are still a few areas where you may need to use caution when choosing a lip gloss.
UV Damage
Because of the way glosses shine and reflect light, there is a chance that this could potentially put you at risk for more UV damage on your lips. The skin of your lips is thinner and more sensitive, making it more prone to potential sun damage.
So if you're going to be spending the day out in the sun, a shiny gloss that could potentially magnify the sun's rays might not be a good choice. Choosing a balm or gloss with less shine, but a healthy dose of SPF is a better option.
Irritants
People with sensitive or very dry skin should always be on the lookout for potentially irritating ingredients in their products. Lip gloss is no exception. Some of those ingredients that give that lovely tingly sensation to your lips, like menthol or camphor, can be irritating for some. They can also lead to further dehydration if you're sensitive.
Artificial fragrances can irritate many people when applied topically. And when they are applied to your face (such as on your lips) you are inhaling them constantly, which can be harmful to people with conditions such as asthma.
Addiction
Being addicted to lip balm or gloss might seem like a bizarre and unlikely scenario. Lip balm and gloss is not chemically addictive, fortunately, but the habit of applying it actually can be. People who unknowingly use products with irritating ingredients can find themselves frequently dried out and needing to constantly apply products– trapped in a vicious cycle.
More than stemming from a physical need, however, the addiction to lip products can be a self-soothing act. If you suffer from anxiety, you may lean on soothing habits like applying gloss constantly as a way to try and comfort yourself and feel in control. This can become what's known as a behavioral addiction.
While there are few serious side-effects from compulsive lip gloss use, it can still interfere with your life. Some self-examination will help you discover whether your habit is healthy or becoming a problem.
How Can I Develop a Healthy Lip Care Routine?
Especially as cold winter winds sweep through, you may be wondering how best to keep your lips looking and feeling their best. Dry indoor air, sun and wind exposure, drying cosmetics: these can all conspire to make your lips chapped and peeling. Here are a few good habits to get into to take care of them:
Exfoliate
If your lips have peeling bits of skin, it may be tempting to pick at them. Please resist this urge! Not only are you introducing any dirt and germs on your hands to your mouth, but you're also at risk of tearing into healthy skin, causing cracking and bleeding. Instead, you can introduce exfoliation into your routine.
Choose an exfoliator specifically for your lips, and every one to two weeks (while dryness persists), you should exfoliate your lips to slough off the dead skin without damaging the healthy skin underneath. If you aren't experiencing extreme dryness, you can feel free to skip this step.
Overnight Treatment
Before bed, you'll want to apply something moisturizing to your lips. This gives our bodies uninterrupted repair time when we're not eating, drinking, or smooching anyone. If you sleep with your mouth open sometimes (like most of us do– hello sinus congestion), that can dry your lips out even more.
You can layer on your favorite moisturizing balm, or you can choose a lip mask or treatment made specifically for overnight use. These tend to be thicker and have an extra boost of moisturizing ingredients. You could try one by a brand featured on our list, Burt's Bees, or you could try a cult-favorite like this one by Laneige.
Hydration
Drinking enough water every day is essential to keeping your skin (including your lips) healthy and hydrated. It's recommended that the average adult drinks a bare minimum of two liters of water a day. That number should go up if you're in a dry environment or engaging in exercise. And no, unfortunately, you can't make up half that volume in coffee and expect similar results. Caffeinated beverages like coffee and tea aren't as hydrating, so they shouldn't be included in your 2 liters.
Running a humidifier if your indoor air is dry can also be helpful, particularly at night.
Giving Your Lips a Break
If you wear heavy long-wear lipstick every day, you might notice that your lips feel a little dried out by the time you remove your makeup at the end of the day. If a lipstick feels drying, try not to wear it, or at least don't wear it too often. It's better to need a touch-up after lunch than to have uncomfortably dried-out skin.
Even if you avoid irritating ingredients, it's still a good idea to give your lips a break now and then. Lipsticks often contain heavy waxes, so forgoing them once in a while lets your lips have the chance to breathe. Instead of a heavy lipstick, you can opt for a moisturizing gloss some days, perhaps our pick from Neutrogena.
Please Gloss Responsibly
Like all good things, gloss is best used in moderation. We hope though, that this guide has helped you see that lip gloss has come a long way since your preteen days. There truly is an option for everyone. Whether you want something with extra benefits to plump and hydrate your lips, or you just want a glossy top coat you can use over lipstick, there's a gloss on our list that can help you out.
Have fun, be conscientious, and gleam as much as you want!