Top Picks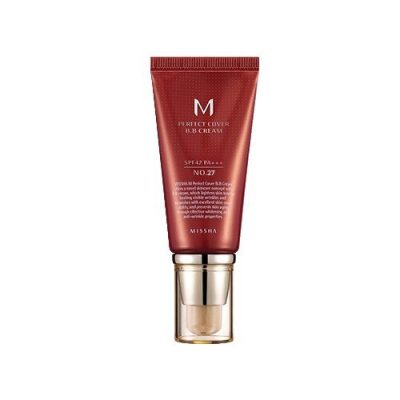 MISSHA M Perfect Cover BB Cream #27 SPF 42 PA+++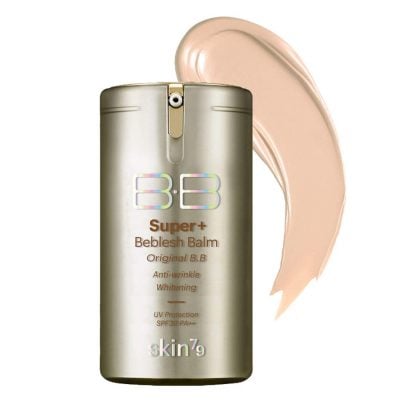 SKIN79 Gold BB Super Plus Beblesh Balm, SPF30 PA++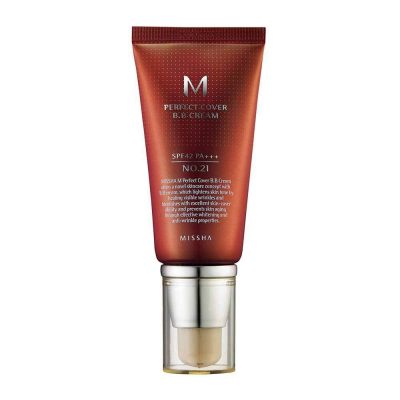 MISSHA M Perfect Cover BB Cream #21 SPF 42 PA+++
Previous
Next
What Are BB Creams?
If you're a makeup veteran, you can skip ahead to the list of best Korean BB Creams we've compiled for you. If not, read on.
Blemish Balm or Blemish Base cream, a.k.a. BB Cream is a skin nourishing cream that also provides blemish coverage and works as a light concealer. It combines the skin healing and protecting properties of moisturizers and sunscreens with the functional aspect of a foundation/concealer cream that gives you an even skin tone.
Korean BB Creams take it to the next step with the added benefits of high SPF and PA+ protection. Although this feature is no more exclusive to Korean BB Creams, they're more popular due to their use of improved BB cream formulae that are known to employ more natural extracts while providing better coverage and an absolutely flawless finish.
What to Look for in the Best Korean BB Creams?
Korean BB Creams, much like any other skincare product, should complement your skin type and its requirements. There are different formulae of BB creams available for different skin types, seasons, and reasons.
SPF Value and PA+ Ratings
Korean BB Creams are primarily known for their high levels of SPF and PA+ ratings. Sun Protection Factor guards the skin against UVB rays while a higher SPF rating allows you to stay outside for a longer duration. PA+ on the other hand guards against UVA rays. It's a Japanese rating system that signifies enhanced skin protection as the number of '+'s increases. So a higher SPF number with PA+++ rating would be the ideal product if protection from sun damage is your priority. If you mostly spend your time indoors, a lower SPF/PA rating shouldn't bother you while choosing your Korean BB Cream. Know that PA+ ratings are quite arbitrary and brands do not provide any justification for using any number of '+' symbols.
Coverage
Some creams are created with a heavier base to provide benefits like sun protection, skin hydration, and so on. They also provide medium to light blemish coverage. Others have a lighter formula with a moderate to high coverage for easy application and blending in with other makeup creams. If you're looking for a makeup-free, skin hydrating and nourishing experience, go with the heavier formulae. Choose a lighter formula if you're using the BB Cream as a layer of makeup. The texture of the cream is a good indicator of whether it will blend in with makeup or can be used as a standalone cream. In either case, you'll get some amount of coverage and lots of skincare benefits.
Skin Type Compatibility
Different skin types will react differently to different BB cream formulae. Some are good for dry and combination skins, some are formulated especially for oily skin types and yet others are good for general use. Before clicking on that link to buy, make sure you've read the fine print regarding ingredients and intended use lest you break-out in acne or rashes for choosing the wrong kind of BB cream for your skin type.
The Finishing Touch
What's the kind of finish you're going for? Matte and powdery for daytime use? Soft and dewy for summer use? Glossy with a glowing sheen for night time outings? Moisturizing and long lasting for all day wear? Your answers to these questions will help you determine which Korean BB Cream you should go for.
Price
Besides these four main criteria, a reasonable price tag would be the next big factor that will inform your choice. While price may not be a factor for some when it comes to skincare, those of you who are on a budget will also find lots of suitable options to choose from in our list of Best Korean BB Creams.
Now that you have a rough idea of what you should be looking for, let's look at some of the best Korean BB Creams money can buy:
Top 10 Best Korean BB Creams 2021
Guide to Buying the Best Korean BB Cream
Now that you know what BB Creams are, what makes Korean BB Creams so special, and what the ten best Korean BB Creams available online are. Here are some more details regarding BB Creams and their usage, application, and benefits in order to help you make the best use of this information.
What Kind of BB Cream Is Best for My Skin Type?
Here's a quick look at what kind of BB Cream should you buy based on your skin type:
Oily Skin: Matte finish formulae, thick texture, preferably with natural extracts.
Normal Skin: Moisturizing and Brightening/Skin Whitening BB Creams.
Dry Skin: Dewy finish formulas with a gel like or light creamy consistency.
Aging Skin: Look for BB Creams with antioxidants, hyaluronic acid, and ceramides.
Pigment Correction: High SPF and PF rating, formulae with melanin arresting agents like Arbutin.
Sensitive Skin: Non-comedogenic, non-scented, oil-free formulae with natural ingredients.
What Shade of BB Cream Is Best for Me?
BB Creams come in a very limited number of shades and tints. The color and tone of the BB Cream should match with the color of your face and neck. Do not try a swatch on your hand as that can be misleading.
If you can't find a good match, try blending in two or more creams to get your perfect match. You can also lighten or darken their tint by combining them with color correctors, concealers, and tinted foundations.
When you're testing the color, observe it in daylight as well as under artificial lights. You'll notice a stark difference in the way light reflects off your skin under different kinds of lights. Choose a shade according to the time of usage.
Why Can't I Just Use a BB Cream as a Standalone Product?
BB creams are best used in combination with other cosmetics like concealers, CC Creams, foundations, primers, and moisturizers. Even though they provide decent concealment for skin blemishes while also hydrating the skin, the specialized products enhance the effect of the BB Cream and provide additional benefits like deep conditioning and total coverage.
Having said that, there are some BB Creams that can be used as night creams like the IPKN Moist and Firm BB Cream. Alternatively, there are standalone single-product, quick-fix solutions to your skincare problems like the Dr. Jart+ Premium Beauty Balm.
However, for complete and long lasting coverage, these are best used as a layer of makeup after the primer and before the application of concealers/color correctors/foundation creams.
How Should I Prep My Skin Before Using a BB Cream?
Cleanse your skin thoroughly with a mild facial cleanser to get all the products off, then wash it with a foaming facial cleanser to de-clog your pores.
Dab and dry it with a clean face towel.
Moisturize your skin thoroughly with a hydrating formula. Let the moisturizer get absorbed completely into your skin before you proceed to the next step.
Use a primer to create a safe barrier between your skin and the heavy chemicals that follow. This includes the BB Cream which may not contain a built-in primer in its formula to safeguard against the rest of the makeup items.
Note: You can also use a Blur Cream for this step but a Primer is the better option.
Your skin is now prepped and primed and all set for the application of a BB Cream.
What's the Best Way to Apply BB Cream?
Following the directions on the tube/jar is usually the best way to apply BB Cream on your face.
Begin by taking a pea-sized dollop of BB Cream on your fingers.
Gently dab little dots of the product all over your face.
Pat it in with the tips of your fingers until the cream blends in evenly. You can also use a clean makeup blender for better coverage.
Some BB Creams require only one layer of application while others need an extra layer for decent coverage. If you think the coverage is too sheer, apply another coat. Or, simply use some more cream on problem areas.
Let the BB Cream settle in for a few minutes before applying any other products.
Follow up with a CC Cream, concealer, moisturizer, or foundation as you see fit.
You can skip the last step if you're using the BB Cream as a standalone product.
And that's that. Nothing more to it. Here's a good Youtube tutorial that shows 7 different ways of wearing BB Creams.
Pro tip: If you have oily skin, use a sponge to apply BB Cream. Spritz the sponge with a facial mist before adding a drop of BB Cream so it spreads easily and evenly on your face. It isn't the most economical way but it's better for your skin as using fingers to dab in the cream makes your face more oily.
What Are the Advantages of Using BB Creams?
BB Creams are time and energy efficient. They can be applied quickly when you're in a hurry. They glide on easily and provide a fresh look even without the use of makeup. They're especially handy when you're traveling and do not want to follow an elaborate skincare routine.
You can eliminate several products from your skincare and makeup routine by replacing them with a good 3-in-1 or 5-in-1 BB Cream formula that provides the same number of benefits.
They serve the dual purpose of healing and protecting your skin while making it look even toned. Very useful when you have breakouts. Other cosmetics may irritate and further inflame the skin but a BB Cream formula for sensitive skin will soothe it and also hide the acne. No wonder they're called Blemish Balms.
If you're using a BB Cream with a high SPF, you don't need to wear sunscreen separately.
If you're going to be in the tropics or places with high temperatures, ditch heavy makeup as it will start running within minutes, and go with a light-weight, matte finish, BB Cream formula for fresh looking skin all day long.
Have an important event coming up where the cameras will be clicking constantly? Use a matte finish BB Cream to create the perfect complexion that appears bright and even toned under the flashlights and also makes for some pretty memories.
Most BB Creams are pocket friendly and economical in the long run as compared to other products with similar benefits.
You can take a break from your regular skin care and makeup routine and rely on a BB Cream to see you through the interval.
They're easy to carry around and come in compact packages.
Advanced BB Cream formulae come with additional benefits like anti-aging action, pore size reduction, skin texture enhancement, acne prevention, melanin inhibition, and more benefits that make them a must-have item in your makeup arsenal.
We hope you enjoyed this list of Korean BB creams and it has inspired you to think differently about your makeup process and how to take it to the next level. The creams we've listed here are all exceptional quality and will make your skin look and feel great while protecting you from the sun.