What Are BB Creams?
If you're a makeup veteran, you can skip ahead to the list of best Korean BB Creams we've compiled for you. If not, read on.
Blemish Balm or Blemish Base cream, a.k.a. BB Cream is a skin nourishing cream that also provides blemish coverage and works as a light concealer. It combines the skin healing and protecting properties of moisturizers and sunscreens with the functional aspect of a foundation/concealer cream that gives you an even skin tone.
Korean BB Creams take it to the next step with the added benefits of high SPF and PA+ protection. Although this feature is no more exclusive to Korean BB Creams, they're more popular due to their use of improved BB cream formulae that are known to employ more natural extracts while providing better coverage and an absolutely flawless finish.
What to Look for in the Best Korean BB Creams?
Korean BB Creams, much like any other skincare product, should complement your skin type and its requirements. There are different formulae of BB creams available for different skin types, seasons, and reasons.
SPF Value and PA+ Ratings
Korean BB Creams are primarily known for their high levels of SPF and PA+ ratings. Sun Protection Factor guards the skin against UVB rays while a higher SPF rating allows you to stay outside for a longer duration. PA+ on the other hand guards against UVA rays. It's a Japanese rating system that signifies enhanced skin protection as the number of '+'s increases. So a higher SPF number with PA+++ rating would be the ideal product if protection from sun damage is your priority. If you mostly spend your time indoors, a lower SPF/PA rating shouldn't bother you while choosing your Korean BB Cream. Know that PA+ ratings are quite arbitrary and brands do not provide any justification for using any number of '+' symbols.
Coverage
Some creams are created with a heavier base to provide benefits like sun protection, skin hydration, and so on. They also provide medium to light blemish coverage. Others have a lighter formula with a moderate to high coverage for easy application and blending in with other makeup creams. If you're looking for a makeup-free, skin hydrating and nourishing experience, go with the heavier formulae. Choose a lighter formula if you're using the BB Cream as a layer of makeup. The texture of the cream is a good indicator of whether it will blend in with makeup or can be used as a standalone cream. In either case, you'll get some amount of coverage and lots of skincare benefits.
Skin Type Compatibility
Different skin types will react differently to different BB cream formulae. Some are good for dry and combination skins, some are formulated especially for oily skin types and yet others are good for general use. Before clicking on that link to buy, make sure you've read the fine print regarding ingredients and intended use lest you break-out in acne or rashes for choosing the wrong kind of BB cream for your skin type.
The Finishing Touch
What's the kind of finish you're going for? Matte and powdery for daytime use? Soft and dewy for summer use? Glossy with a glowing sheen for night time outings? Moisturizing and long lasting for all day wear? Your answers to these questions will help you determine which Korean BB Cream you should go for.
Price
Besides these four main criteria, a reasonable price tag would be the next big factor that will inform your choice. While price may not be a factor for some when it comes to skincare, those of you who are on a budget will also find lots of suitable options to choose from in our list of Best Korean BB Creams.
Now that you have a rough idea of what you should be looking for, let's look at some of the best Korean BB Creams money can buy:
Top 10 Best Korean BB Creams 2023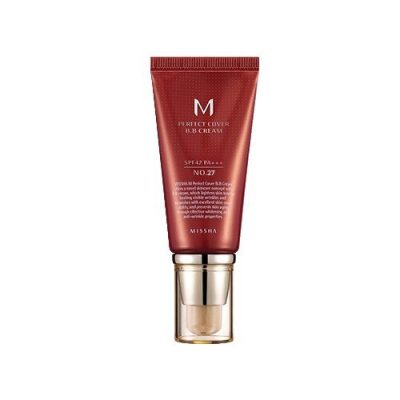 Why we like it:
It's the best Korean BB Cream for Dry and Combination Skin
Editor's Rating:
MISSHA M is a Korean skincare giant known for their makeup line and skin healing ointments. It's no wonder that one of their formulae tops our list of recommendations for Best Korean BB Creams.
The MISSHA M Perfect Cover BB Cream formula number 27 is a lightweight cream that provides perfect coverage even as it blends in flawlessly with other makeup products. In addition to using plant extracts and oils to provide an even skin tone, it also includes:
Ceramides that help hold skin cells together more firmly,
Hyaluronic Acid that fills up fine lines and wrinkles and lifts the skin, and
Gatuline that's an active anti-aging ingredient. It reduces the appearance of wrinkles over time.
It is a mildly fragrant BB cream with pleasant notes of Chamomile and Rosemary. Avoid it if you're allergic to scented makeup creams.
It's the perfect BB Cream for outdoor wear and summer and provides best-in-class protection against UVA and UVB rays. Although it provides good to medium coverage, it isn't a standalone cream and is best used in combination with other cosmetics.
Pro tip – If you can't find the best color match for your skin tone, combine it with the Missha M Perfect Cover BB Cream #23 or #21 to arrive at the right shade. This is a very yellow toned BB cream.
Finish: Soft, dewy, and moisturizing.
Recommended for: Dry and Combination Skin.
Pros
Very lightweight formula with excellent blemish coverage.

Blends well with other makeup products without getting cakey.

Provides a nice dewy matte finish with glowing skin for up to 6 hours.
Cons
Gets a little oily after about 4 to 6 hours of good coverage depending on your skin type.

Flashback - Stay away from the camera when you're past peak time usage unless you want to look like a greasy ghost.

The Chamomile fragrance, while mild, might still act as an irritant for sensitive skin.
---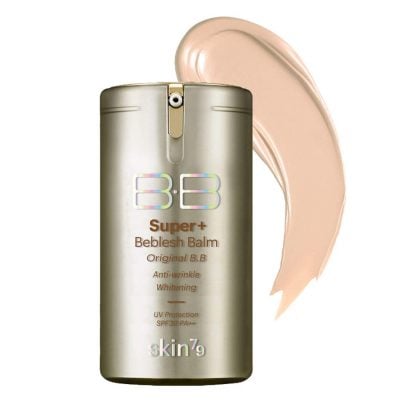 Why we like it:
It's the best Korean BB Cream for a natural matte finish and all day staying power.
Editor's Rating:
In contrast to our first choice, the SKIN79 Super Plus Beblesh Balm Original Gold BB Cream is a heavy formula with a thick texture. Even a single layer of it provides excellent blemish coverage. It's USP however is the inclusion of Arbutin.
Arbutin inhibits the growth of melanin cells that are responsible for skin pigmentation. Over an extended period of usage, you'll notice brighter skin with reduced dark spots, lightened freckles, and a more even skin tone. It also contains Niacinamide that's known to improve skin conditions like acne by controlling sebum activity, reducing skin inflammation, and slowing down skin aging.
Since its emphasis is on skin whitening, it has grey undertones and makes your skin appear a shade or two lighter – similar to the effect of having your skin bleached. It's more suitable for people with pale skin. Give it a few minutes to settle in after application as the pasty gray tint gives way to a clear and bright skin tone.
This BB Cream is perfect for ladies who are 30+ as it also contains anti-aging and anti-wrinkling ingredients that do work with consistent and long term usage.
Pro tips – You can use it as a standalone cream for a natural finish instead of moisturizer as well as makeup. Use overnight and wash your face with water the next morning for bright looking skin all day long.
Finish: Mildly dewy, matte finish.
Recommended for: Dry and Combination Skin. Use sparingly for oily skin.
Pros
Good BB Cream formula for problem prone skin.

Long lasting matte finish for all day wear provides at least 8+ hours of comfortable coverage.

It has a gel like consistency that blends well with other cosmetics.

Fresh and clean scent, no irritants.

It can be worn all year round.
Cons
Limited to pale and light skin tones, not suitable for darker shades.

A little greasy and rich, might leak onto your clothes and stain them.

Packaging could improve, large bottle barely contains any product.
---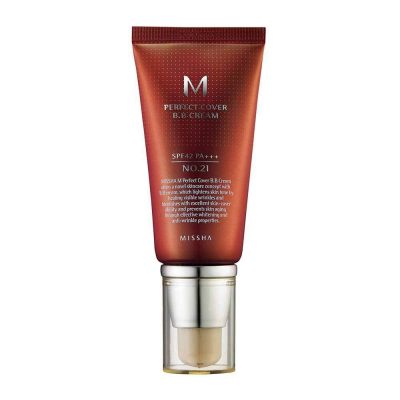 Why we like it:
It's the best Korean BB Cream for creating a natural and dewy look.
Editor's Rating:
The MISSHA M Perfect Cover BB Cream number 21 differs from our first choice in that it is a more beige toned cream suitable for darker skin shades. Also, this formula caters to those with skin problems like acne and breakouts. It is more long lasting than the #27 formula. There's very little oxidizing action happening here so you get a natural finish that matches your exact skin tone. Although it says the finish is dewy and matte, it actually provides a very dewy and glossy finish. It works well with problem skin but doesn't control oil secretion. You can use it for all day wear along with makeup. It blends in very well and keeps your makeup in place for an extended duration.
This line of MISSHA M Korean BB Creams is available in 5 different shades. Apart from the #21 and #27 reviewed here, there's #13, #21, and #31. Choose one or several to blend in together to create the perfect match for your skin tone.
Pro tips – Set it with powder to obtain a slightly matte finish. Use it in combination with a primer and powder for oily skin.
Finish: Dewy finish.
Recommended for: Dry and Combination Skin.
Pros
Reasonably priced and lasts for a good few months.

Long staying power - excellent for all day wear.

Blends well with other cosmetics.

Top of the line SPF and PA+ rating.
Cons
Same issue with the chamomile fragrance as the MISSHA M Perfect Cover BB Cream #27. It may irritate slightly.

Leaks onto clothing and other products on contact.
---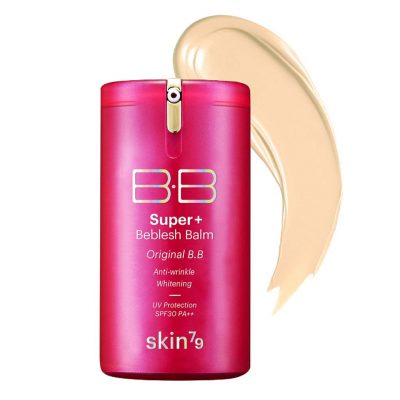 Why we like it:
It's the best Korean BB Cream for oily skin that's prone to breaking out, acne, pimples, and scarring.
Editor's Rating:
The SKIN79 Super Plus Beblesh Balm Pink BB Cream is a triple action formula that provides blemish coverage, skin whitening, and anti-aging benefits. It is geared towards those with oily skin, pores, acne breakouts, and scars. This has a much lighter texture than the SKIN79 Super Plus Beblesh Balm Gold BB Cream. It also provides sheerer coverage and can be used in combination with other cosmetic creams to build up coverage.
It works well with beige to pale skin tones as it has pink undertones. The color adjusts to your natural skin tone once it settles in. It provides medium to light coverage for a natural and smooth finish. It is especially good at covering splotchy red spots. This is the best Korean BB Cream for those with oily skin and pore problems as it has active ingredients that control sebum secretion and regulate the appearance of pores.
Pro tips – To improve coverage, mix it with a little foundation cream before application. Dab it on with your fingers and pat lightly into skin to avoid a cakey appearance.
Finish: Natural finish. Neither too dewy nor too matte.
Recommended for: Oily and Combination Skin.
Pros
Light formula, easy to apply and wear all day.

No breakouts after application.

Keeps makeup in place for long durations, no makeup melting.

Fresh looking skin even without makeup.
Cons
It only works well with certain skin types.

Could use better packaging.
---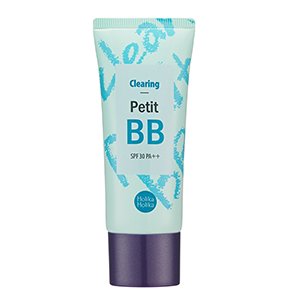 Why we like it:
It's the best Korean BB Cream for a creating a glossy finish.
Editor's Rating:
The Holika Holika Petit BB Cream comes in five different varieties:
Aqua – For bright and smooth appearance. Recommended for Oily Skin.
Bouncing – For anti-aging and skin whitening, it improves elasticity.
Clearing – For acne prone skin, clears pores and controls sebum secretion.
Moisturizing – For dry skin, improves skin texture and reduces wrinkles.
Shimmering – Focus on UV protection and skin brightening.
Each of these 'flavors' has a different SPF value and PF rating. Between them, they cover all skin types and provide medium to light blemish coverage.
Use sparingly – just a pea sized dollop goes a long way. Highly recommended for women in their 40s as it helps with the reduction of wrinkles and pores even as it brightens the skin tone.
These formulae are neither heavy nor light in texture. They're just about average and have a soothing effect on the skin on application. Very mildly scented and the fragrance fades away within an hour.
This is a fuss free product that is lightweight, easy to apply, can be worn all day, provides decent coverage for up to 16 hours, nourishes the skin, heals acne, lightens scars, works on dark circles and provides ample protection from sun damage.
Pro tips – Can be used as a standalone product. Just apply a thin layer and you're good to go. For a party ready, iridescent and shimmering glow, apply a layer of the Shimmering flavor underneath your foundation.
Finish: Varies with the product – all kinds available.
Recommended for: All Skin Types.
Pros
Very reasonably priced

Fresh faced appearance all day long.

Caters to all skin types.

Soothes the skin.

No breakouts after application.

Easy to apply, time efficient.
Cons
Contains parabens.

Different undertones across the five formulae - you might find the perfect match for your skin type but not for your color.

It does not effectively clear-up acne alone
---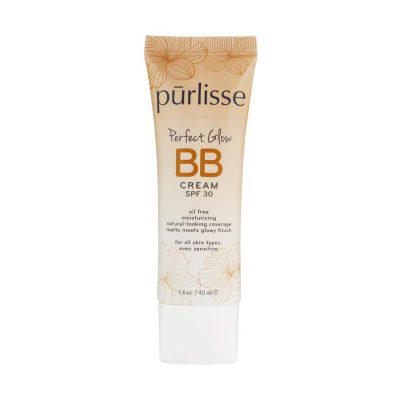 Why we like it:
It's the best Korean BB Cream made with all natural ingredients.
Editor's Rating:
Strictly speaking, purlisse isn't a Korean brand. It's manufactured right here in the US of A. It just happens to be created and helmed by a Korean CEO who brings age-old Korean wisdom and values to the brand. It uses all natural ingredients, promotes cruelty free testing, and relies on Asian herbs and natural oil extracts in its formulae to maintain authenticity and proximity to Korean cosmetics concoctions.
Purlisse BB Tinted Moisturizer Cream is a blend of moisturizer and blemish balm that's non-comedogenic, oil free, tinted, and vegan. It is a very thick formula that provides medium coverage along with the benefits of a moisturizer and foundation.
It comes in 8 different shades and caters to all skin colors. The formula is hypoallergenic and suitable for all skin types. Although the texture is thick, once it settles in, it is neither runny nor too dry. It provides a good natural finish when worn as a standalone product as well as creating a perfect base for makeup. The tint doesn't oxidize so the color stays the same once the product is absorbed.
Pro tip – Set it in with a little finishing powder – preferably a mineral powder, for a perfect finish that stays all day.
Finish: Flawless natural finish.
Recommended for: All Skin Types. Especially recommended for sensitive skin.
Pros
Wide range of shades to choose from.

Non-scented product.

Good for sensitive skin.

Good customer service.

Product doesn't sink into the skin despite being thick.
Cons
The shades run a little lighter than advertised, not so great for dark skin tones.

Coverage is good for naturally good and even skin tones, too sheer for uneven skin tones.
---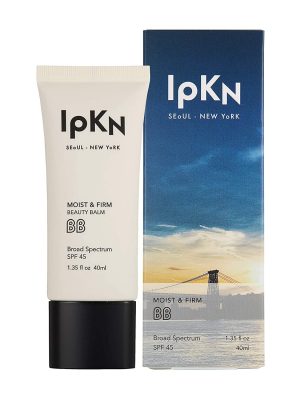 Why we like it:
It's the best Korean BB Cream for skin nourishment, healing, and rejuvenation.
Editor's Rating:
IPKN is an American-Korean brand that's well known across all continents for its cosmetic creams. The IPKN Moist and Firm BB Cream makes it on our list due to its gel like consistency that's excellent at moisturizing and keeping the skin hydrated for long durations.
It promotes collagen growth and contains ceramides that reinforce and restore the skin's natural barriers against inflammation, dryness, and sensitivity. It also contains a healthy dose of Vitamin E that helps in healing damaged skin cells. SPF 45 ensures all day long UV protection.
It comes in five different shades from medium tan to fair that cover most skin colors. The application is super smooth as the product gets absorbed into the skin and disappears completely, providing sheer to light coverage, and improving skin texture and appearance immediately.
Although coverage lasts for only a short period – between 2 to 4 hours, its health benefits for the skin keep working round the clock.
Pro tip – Set it with a little finishing powder to avoid a greasy look.
Finish: Dewy and Glossy.
Recommended for: All Skin Types. Avoid if you have sensitive skin.
Pros
No leakage. It doesn't transfer to other surfaces on contact.

It can be worn on top of your night cream as overnight nourishing gel cream.

Good coverage for most skin colors.
Cons
Coverage lasts for a short while until the product needs to be reapplied again.

A little expensive for everyday usage.

Extremely dewy: gives an oily appearance if not set properly with other products.
---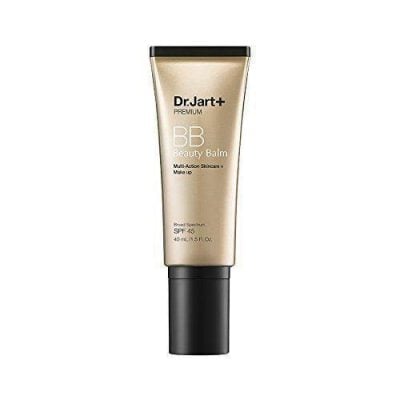 Why we like it:
It's the best Korean BB Cream for replacing your sunscreen as it provides excellent UV protection.
Editor's Rating:
Dr. Jart+ Premium Beauty Balm means business when it comes to providing skin care benefits. It stands apart for its use of Titanium-dioxide to provide an SPF value of 45.  It simply means that the formula is really safe for the skin as micro titanium particles sit lightly on the skin and never penetrate the dermal barrier as they do their work of protecting against UV rays. It also uses Zinc Oxide instead of sulfates and phthalates to act as an antibiotic and anti-inflammatory agent. In addition to these safe for the skin chemicals, it also contains Arbutin.
It's a five-in-one formula that protects, heals, moisturizes, rejuvenates, and enhances skin appearance. It has a light-weight texture which is smooth and easy to apply, provides medium to high coverage and has a dewy and slightly glossy finish. It can be used without makeup. It has great staying power and doesn't require frequent reapplication.
Pro tips – Mix both the shades – medium deep and light, in different ratios to get the perfect match for your skin tone. If you're using it on oily skin, set it with a generous helping of powder.
Finish: Dewy and Glossy.
Recommended for: Dry and Combination Skin.
Pros
Made without harmful Sulfates and Phthalates.

It can be worn by itself without additional makeup.

Superior SPF formula as compared to other BB Creams.

Long lasting coverage.

Works well with under-eye bags and dark circles.
Cons
Badly designed pump and tube. The last few dollops are hard to get to.

A little too shiny for pictures, has a flashback problem.

On the expensive end of the spectrum.

Available only in two shades.

Not suitable for darker skin tones.
---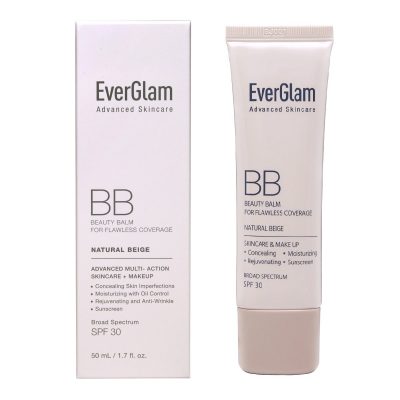 Why we like it:
It's the best Korean BB Cream for combination skin that's prone to acne breakouts.
Editor's Rating:
EVERGLAM is a well-known brand in South Korea and is only just making its presence felt on the American continent. The EVERGLAM BB Cream Skin Perfector with SPF 30 has a light and creamy texture that glides on easily when applied and provides medium to high coverage.
It also contains Zinc oxide as an antioxidant to reduce acne breakouts and scarring. It works better when used in combination with other products rather than as a standalone cream.  A small dollop is enough to cover the entire face.
Long term usage is recommended to improve skin texture, tone, and appearance. It provides excellent coverage for sun spots, acne scars, redness, dark circles and fine lines. The result is a very natural looking appearance with minimal makeup.
Pro tips – If you have dry skin, use with a generous helping of moisturizer to avoid flaky and pasty looking skin. Use a blending brush instead of applying with your fingers to improve coverage. For a longer lasting effect, set it with translucent powder.
Finish: Mildly dewy matte finish.
Recommended for: Oily and Combination Skin. It should be used in conjunction with a moisturizer for dry skin.
Pros
Oil control for acne prone skin.

No creasing even after all day wear.

It does not include any harmful Parabens.

Not tested on animals.

Lasts all day long, no touch-ups required.

Good for aging skin.

Silky smooth application.
Cons
Limited color choice as it is only available in two shades - light medium and natural beige.
---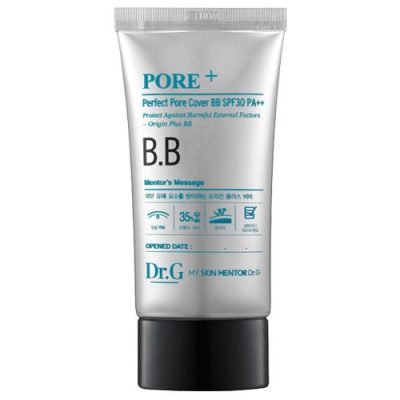 Why we like it:
It's the best Korean BB Cream for darker skin tones.
Editor's Rating:
Dr. G. Gowoonsesang BB Creams come in a couple of different formulations for different skin types:
Sensitive formula for acne prone skin.
Pore+ to combat pores and wrinkles problems.
Hydra Intensive Blemish Balm for regular skin.
Renewal Brightening Balm for damaged skin.
All these variations also differ in their shades from beige to neutral tones that offer widespread coverage. These formulae are also made up of all-natural ingredients like cabbage extracts, lime tree water, and Rosehip oil.
The creams are feather light and easy to apply. They're best used in combination with a concealer or tinted foundation as they provide very light to medium coverage. A natural looking even skin tone is what you get with the initial application. The product oxidizes gradually turning your skin a shade or two darker in appearance. Keep that in mind when you're blending it with other makeup products.
Pro tips – Apply it with a blender for more economical usage. Mix it with a tinted foundation, bronzer, or concealer to improve coverage. Just dab it on as opposed to blending it in. Set it with a face mist or finishing spray in summers. Skip the moisturizer and use it on top of an oil free serum in winters for a better finish.
Finish: Matte Finish.
Recommended for: Oily Skin. Pore+ is not recommended for dry skin.
Pros
Wide range of formulae to cater to different skin types.

Free of alcohol, GMOs, and mineral oils - perfect for sensitive skin.

It does not clog pores and reduces their appearance over time.

Sebum control for oily skin correction.

Good for color correcting.

Excellent formula for medium to dark skin tones.
Cons
The Pore+ formula is not recommended for sensitive noses as it has a strong scent.

Using the wrong formula might lead to skin breakouts.
---
Guide to Buying the Best Korean BB Cream
Now that you know what BB Creams are, what makes Korean BB Creams so special, and what the ten best Korean BB Creams available online are. Here are some more details regarding BB Creams and their usage, application, and benefits in order to help you make the best use of this information.
What Kind of BB Cream Is Best for My Skin Type?
Here's a quick look at what kind of BB Cream should you buy based on your skin type:
Oily Skin: Matte finish formulae, thick texture, preferably with natural extracts.
Normal Skin: Moisturizing and Brightening/Skin Whitening BB Creams.
Dry Skin: Dewy finish formulas with a gel like or light creamy consistency.
Aging Skin: Look for BB Creams with antioxidants, hyaluronic acid, and ceramides.
Pigment Correction: High SPF and PF rating, formulae with melanin arresting agents like Arbutin.
Sensitive Skin: Non-comedogenic, non-scented, oil-free formulae with natural ingredients.
What Shade of BB Cream Is Best for Me?
BB Creams come in a very limited number of shades and tints. The color and tone of the BB Cream should match with the color of your face and neck. Do not try a swatch on your hand as that can be misleading.
If you can't find a good match, try blending in two or more creams to get your perfect match. You can also lighten or darken their tint by combining them with color correctors, concealers, and tinted foundations.
When you're testing the color, observe it in daylight as well as under artificial lights. You'll notice a stark difference in the way light reflects off your skin under different kinds of lights. Choose a shade according to the time of usage.
Why Can't I Just Use a BB Cream as a Standalone Product?
BB creams are best used in combination with other cosmetics like concealers, CC Creams, foundations, primers, and moisturizers. Even though they provide decent concealment for skin blemishes while also hydrating the skin, the specialized products enhance the effect of the BB Cream and provide additional benefits like deep conditioning and total coverage.
Having said that, there are some BB Creams that can be used as night creams like the IPKN Moist and Firm BB Cream. Alternatively, there are standalone single-product, quick-fix solutions to your skincare problems like the Dr. Jart+ Premium Beauty Balm.
However, for complete and long lasting coverage, these are best used as a layer of makeup after the primer and before the application of concealers/color correctors/foundation creams.
How Should I Prep My Skin Before Using a BB Cream?
Cleanse your skin thoroughly with a mild facial cleanser to get all the products off, then wash it with a foaming facial cleanser to de-clog your pores.
Dab and dry it with a clean face towel.
Moisturize your skin thoroughly with a hydrating formula. Let the moisturizer get absorbed completely into your skin before you proceed to the next step.
Use a primer to create a safe barrier between your skin and the heavy chemicals that follow. This includes the BB Cream which may not contain a built-in primer in its formula to safeguard against the rest of the makeup items.
Note: You can also use a Blur Cream for this step but a Primer is the better option.
Your skin is now prepped and primed and all set for the application of a BB Cream.
What's the Best Way to Apply BB Cream?
Following the directions on the tube/jar is usually the best way to apply BB Cream on your face.
Begin by taking a pea-sized dollop of BB Cream on your fingers.
Gently dab little dots of the product all over your face.
Pat it in with the tips of your fingers until the cream blends in evenly. You can also use a clean makeup blender for better coverage.
Some BB Creams require only one layer of application while others need an extra layer for decent coverage. If you think the coverage is too sheer, apply another coat. Or, simply use some more cream on problem areas.
Let the BB Cream settle in for a few minutes before applying any other products.
Follow up with a CC Cream, concealer, moisturizer, or foundation as you see fit.
You can skip the last step if you're using the BB Cream as a standalone product.
And that's that. Nothing more to it. Here's a good Youtube tutorial that shows 7 different ways of wearing BB Creams.
Pro tip: If you have oily skin, use a sponge to apply BB Cream. Spritz the sponge with a facial mist before adding a drop of BB Cream so it spreads easily and evenly on your face. It isn't the most economical way but it's better for your skin as using fingers to dab in the cream makes your face more oily.
What Are the Advantages of Using BB Creams?
BB Creams are time and energy efficient. They can be applied quickly when you're in a hurry. They glide on easily and provide a fresh look even without the use of makeup. They're especially handy when you're traveling and do not want to follow an elaborate skincare routine.
You can eliminate several products from your skincare and makeup routine by replacing them with a good 3-in-1 or 5-in-1 BB Cream formula that provides the same number of benefits.
They serve the dual purpose of healing and protecting your skin while making it look even toned. Very useful when you have breakouts. Other cosmetics may irritate and further inflame the skin but a BB Cream formula for sensitive skin will soothe it and also hide the acne. No wonder they're called Blemish Balms.
If you're using a BB Cream with a high SPF, you don't need to wear sunscreen separately.
If you're going to be in the tropics or places with high temperatures, ditch heavy makeup as it will start running within minutes, and go with a light-weight, matte finish, BB Cream formula for fresh looking skin all day long.
Have an important event coming up where the cameras will be clicking constantly? Use a matte finish BB Cream to create the perfect complexion that appears bright and even toned under the flashlights and also makes for some pretty memories.
Most BB Creams are pocket friendly and economical in the long run as compared to other products with similar benefits.
You can take a break from your regular skin care and makeup routine and rely on a BB Cream to see you through the interval.
They're easy to carry around and come in compact packages.
Advanced BB Cream formulae come with additional benefits like anti-aging action, pore size reduction, skin texture enhancement, acne prevention, melanin inhibition, and more benefits that make them a must-have item in your makeup arsenal.
We hope you enjoyed this list of Korean BB creams and it has inspired you to think differently about your makeup process and how to take it to the next level. The creams we've listed here are all exceptional quality and will make your skin look and feel great while protecting you from the sun.