Top Picks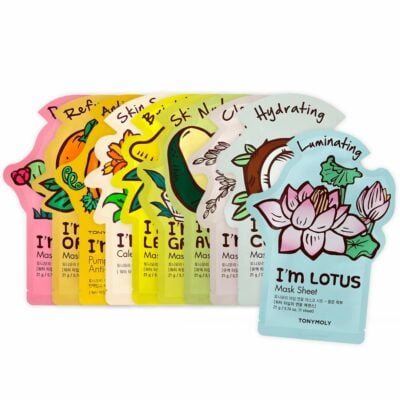 TONYMOLY I'm Real Mask Set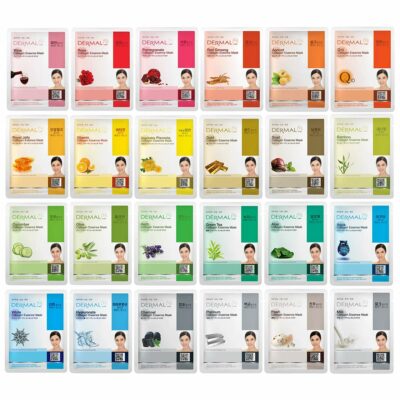 DERMAL Combo Pack Sheet Masks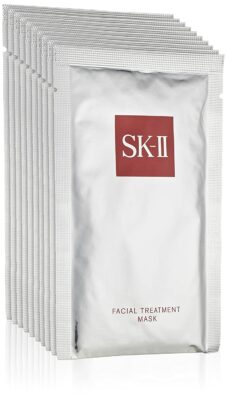 SK-II Facial Treatment Mask
Previous
Next
Sheet masks are the newest craze, and it seems everyone you know is using them. With how widespread and affordable they are, it's no wonder that they're becoming popular. They're efficient, effective, and the best way to bolster your skincare routine without needing you to shell out hundreds of dollars.

How to Choose the Right Sheet Mask
The right sheet mask is a great way to perfect your spa day or top off your skincare routine. You'll get the experience of being at a high-end spa without needing to spend nearly as much money. But you'll want to make sure you choose right when it comes to masks; after all, a wrong choice can easily contribute to a breakout.
Sheet masks, like many other skincare products, are applied directly to your face. That means you need to be extra careful when picking them out. We'll cover the main things to look for in sheet masks, though we'll go more in-depth here.
Types of Sheet Masks
The distinguishing factor between sheet masks is the materials that make up the mask, which we'll go into below.
Cotton/Fabric Sheet Masks
Cotton and fabric sheet masks are soaked with essence and sit on the skin. They're soft and absorbent but don't cling to the face as tightly as some other masks. This means there may be air pockets here and there. However, these are often a cheaper type of sheet mask. Our favorite cotton mask is the TONYMOLY masks.
Hydrogel/Bio-Cellulose Sheet Masks
These sheet masks are a little more transparent and cling to your skin tighter than the traditional cotton masks do. This allows for more of your face to feel the cooling effects and absorb all of the beneficial nutrients that a sheet mask provides. Our favorite hydrogel choice is the SKEDERM snail jelly mask.
Foil Sheet Masks
Foil sheet masks are some of the more expensive masks and have a foil sheet on one side with a cotton layer on the other. The foil itself keeps the nutrients from leaving the mask, making sure your skin has time to absorb all of the active ingredients. Our top choice for a foil sheet mask is the Elixir sheet mask.
Charcoal Sheet Masks
Charcoal sheet masks come in a black color and are infused with charcoal to help with detoxing the skin. Some of these masks may also bubble, and the powder within the mask can combat any extra oils that your face produces. Our top pick for a charcoal mask is the LAPCOS sheet mask.
Features to Consider When Buying a Sheet Mask
Before you get started with investing in some sheet masks, you'll want to make sure you know the main features to look for aside from type and material. Below are some other important factors to take into consideration.
Ingredients
When it comes to sheet masks and any other skincare product, the ingredients are the main thing to watch out for. Search for gentle ingredients that boost your skin, rather than harsh ingredients that may damage skin. This also means looking to see if it contains alcohol, or if there's any fragrance involved.
Price
Sheet masks aren't reusable, so you'll want to make sure that they fit within your budget. Some masks can be as cheap as 50 cents to a dollar, while others can be around the $30 mark. Alternatively, you can use cheaper sheet masks for your normal skincare routine and more expensive masks on at-home spa nights.
Brand
This ties in with price, since some brands may be more expensive than others. However, when it comes to masks, you may want to purchase from reputable brands so that you know the mask is made of quality ingredients.
Size
Some sheet masks are made in different sizes than others, so you want to make sure the mask you choose isn't too small. Getting a mask that's too large usually isn't a problem, since you can use it anyways and cut off the excess parts if they bother you.
Time Needed
Different sheet masks may need different application times. Some are meant to be used for 30 minutes, which may be too long for people with busier schedules. Others only need 15 minutes, a much shorter time commitment.
Now that we covered all the basics of sheet masks, let's get into our top choices with our favorite mask options. We've included a wide variety on the list for every occasion and skin type there is.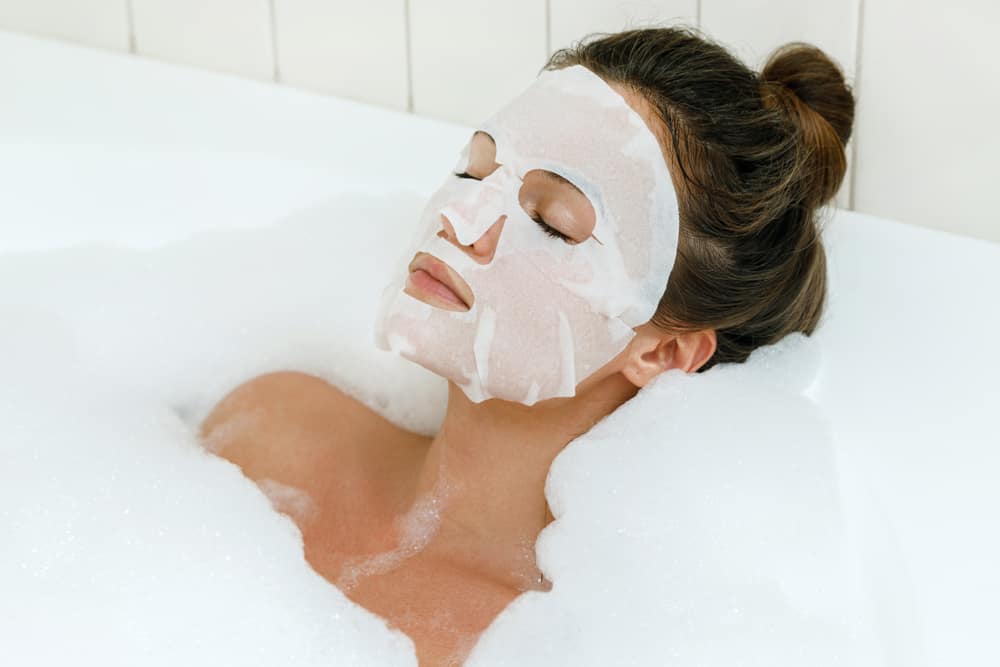 Top 10 Best Sheet Masks 2021
Guide to Picking the Perfect Sheet Mask

If you're curious about all the ins and outs when it comes to sheet masks, you've come to the right place. We'll cover the basics you need to know to get started, before showing you some tips and tricks to incorporate sheet masks into your current skincare routine. You can also get a summary of sheet masks here.
Introduction to Sheet Masks
Sheet masks originated from South Korea, and normally consist of a large piece of fabric or other material infused with essence. They're flexible, stretchy, and mean to be applied over a certain amount of time.
The mask itself comes with holes cut out for your eyes, nose, and mouth. Depending on the essence used, masks can have different benefits for your skin.
How to Use a Sheet Mask
When you're first opening a sheet mask package, you'll notice that it's dripping with essence. You'll want to tilt the package first to get the excess essence onto your fingers, before applying it to your face ahead of time. After that, you can remove and unfold the mask.
When placing it on your face, start by aligning the holes with your eyes, mouth, and nose. Once you have the holes in the right place, begin smoothing out the rest of the air bubbles and materials in the mask to increase its effectiveness.
After you have the mask on, you can just lay back on your bed and relax for as long as the mask needs. Set a timer so that you don't accidentally fall asleep, since leaving a mask on your face for too long can end up drying it out.
If there's still more essence left in the packaging afterward, you can apply this to your neck, arms, and other body parts to get the most use out of a single mask.
Most importantly, once you finish with the sheet mask, gently tap the rest of the essence into your face. Don't rinse it off, since it's all healthy for your skin. Instead, apply a moisturizer or oil afterward to help seal in all the good nutrients present in the essence.
Sheet Mask Benefits
When it comes to masking, the benefits are innumerable. Below, we'll have a short list of some of the common benefits that sheet masks provide.
Skin hydration
Evening out skin tone
Anti-aging properties
Soothing properties
Not sure about all the benefits that they hold? You can read more about skin health and sheet masks here.
Sheet Masks and Skincare Routines
If you plan on using sheet masks regularly as part of your skincare routine, you may be confused as to when you use it. Typically, you can fit a sheet mask into any step after you've cleansed and exfoliated, but before you moisturize.
Since the mask helps your skin absorb the nutrients already on there, you may want to apply them after you apply any toners, essences, treatments, and more. As long as you fit in the mask before you moisturize, you're set.
The main thing to remember about sheet masks is their flexibility. While you'll get the most use out of it after the cleansing and exfoliation step in your skincare routine, that's not to say you can't use them at other times. If you're exhausted and can't find the time for a proper cleansing routine, try applying your sheet mask anyways. They're meant to help you relax, and they certainly would never hurt your skin.
They can be added to your morning or nightly routine, although you should avoid masking two times a day. Instead, you can mask anywhere from once a week to daily depending on your skin type, which we'll get into below.

Sheet Masks and Skin Types
Depending on your skin type, the amount you should use a sheet mask and the type of sheet mask you use may vary. We'll give a rudimentary outline below.
Oily Skin
Those with oily skin should make sure not to overdo it with sheet masks, since you won't need the extra hydration. Instead, once or twice a week should be enough.
In addition, you may want to consider trying charcoal sheet masks rather than traditional sheet masks, since the powder in charcoal masks can help combat the oil. Our recommendation for sheet masks for those with oily skin types is the LAPCOS sheet mask.
Combination or Normal Skin
Those with combination skin or normal skin want a mask that's balanced all around. You'll probably find a traditional cotton mask that's suited for you, as long as you read the ingredient list carefully. You should be careful about masking too much, although three or four times a week shouldn't be an issue for you.
For normal skin, we recommend the OBS Lab masks. For combination skin, we would recommend that you check out the Face Shop facial masks.
Dry Skin
If you have dry skin, you may want to mask daily since it provides extra hydration. Look for hydrogel masks or bio-cellulose masks that cling to your face tightly, since they can also help your skin absorb extra moisture. You'll also want to keep an eye out for ingredients such as hyaluronic acid. Our favorite mask for dry skin is the Neutrogena Hydro Boost sheet mask.
Sensitive Skin
If you have sensitive skin, you'll want to stay away from masks that have fragrances or other harsh ingredients. Opt for masks that are gentler on the skin. We would recommend the Dr. Jart deep hydration dermask if it's your first time.
In addition, when you're first starting out, don't mask daily in case your skin has an adverse reaction to it. Instead, mask a few times a week at first and slowly work your way up.

Making Your Own Sheet Masks
Sheet masks can get expensive quickly, but if you have extra essence or serum at home, you can create your own budget-friendly sheet mask. All you'll need is fabric for a cotton sheet, and some skincare products to create the "essence" for your mask. We recommend these pre-cut sheet masks.
DIY sheet masks are also more tailored to your skin since you know exactly what your face needs. You can mix any number of serums, essences, and treatments in a small bowl, or add in a small bit of moisturizer to thicken the concoction if you'd like. Then, simply place the cotton masks in the bowl to soak up the essence, and apply it to your face.
If you keep leftover essence from some of the store-bought sheet masks, you can also use your plain cotton masks to soak them up. This way, you'll be able to get two uses out of one purchase, which can be cost-effective for the pricier masks.
Sheet Mask FAQ
If you still have questions about sheet masks, don't worry; we've answered the most common ones below.
How Often Should I Mask?
This depends on your skin type, which we get into here. However, as a general rule of thumb, aim for two to three times a week, though you could mask daily if you have drier skin.
How Can I Make the Mask More Effective?
Make sure you follow the instructions that come with the mask and keep it on your face for as long as you need it. Some extra advice would be to keep sheet masks in the fridge beforehand since cooler sheet masks can help tighten pores as you mask.
What Do I Do With the Leftover Essence?
You can either apply the extra essence to your arms, neck, legs, and more, or keep it to make your own sheet masks. Definitely make sure that you don't toss it away since the essence is beneficial to your skin and you've already purchased it.
Final Thoughts
When it comes to sheet masks, you'll have no shortage of options out there for you to pick from. The right sheet mask can upgrade your skincare routine to the next level, or completely revamp your at-home spa day.
You can say hello to relaxation once you apply your favorite mask, and lay back in your bubble bath to enjoy the moment.