Editor's Note: You might be as confused as I was when I first read about hydroquinone creams, as this product isn't talked about too much when it comes to skin lightening and fighting dark patches on the skin. However, this product is incredibly helpful for creating an even complexion and reducing the appearance of blemishes, dark spots, and even sun spots. Make sure you check out our considerations for hydroquinone creams and the FAQ section for more information about this unique, helpful product.
Hydroquinone creams provide a safe and effective solution to the damage our skin suffers under the stresses of everyday life, from sunlight to chemicals, pregnancy, aging, medicine, and everything in between. This damage often manifests itself as dark blotches on our skin (hyperpigmentation, or age spots, for example) that stand out from the surrounding unblemished areas and bring unwanted attention to the blemishes. Hydroquinone creams change the skin tone of these damaged areas by reducing the production of melanin—the pigment that colors your skin—so that the dark patches slowly lighten and blend back in.
You can safely buy and use many different over-the-counter hydroquinone creams. These will typically contain around a 2 percent concentration of hydroquinone; any higher than that and they are available only with a prescription. Even the over-the-counter versions are powerful products, so always remember to do a spot test on yourself before a first full application.
So which hydroquinone cream is the best? Well, first we need to understand what makes an effective cream.
Considerations When Looking for the Best Hydroquinone Cream
There are many different skin lightening creams that use hydroquinone as their main active ingredient. As such, we'd like to briefly look at what makes an effective cream, before presenting the ten best creams currently available.
Period of Time Until Visible Results
How long, with consistent usage of the product, will it take until you see a difference on your skin? Some of the creams work faster or slower than others, so knowing what kind of time-frame you can expect is exceptionally important.
Concentration of Hydroquinone
Skin creams that promise to lighten your skin but have a very low amount of hydroquinone aren't going to work as well as moderately more concentrated creams. Creams with 1.5 to 2 percent concentration are in the ideal range.
Value for Money
We're not just looking at how much cream you get for your money, but how much hydroquinone (and ingredients that complement it) is in that cream, how much of it you would need to use per application, as well as how long you should expect to use it for before seeing visible effects on your skin.
Extra Benefits
If a product if full of potentially-harmful chemicals, then it will not be on this list. If, however, a product is packed with other beneficial ingredients for your skin's health, then that will be taken into consideration. After all, skincare is an ongoing process. We're not just fighting present blemishes, but we're preventing future blemishes from manifesting.
Tip
Because of the lower level of melanin being produced when using a hydroquinone cream, your skin in the application area will be more sensitive to sunlight. As such, it's always best to put on sunscreen after applying your hydroquinone cream.
Top 10 Best Hydroquinone Creams 2023

Why we like it:
This is the best all-around option that will work on any skin type, with results promised within a four-week period. Thanks to its active ingredients, it effectively treats both hyperpigmentation and melasma, as well as most other skin blemishes.
Editor's Rating:
Time Until Visible Results
Admire My Skin is one of the very few products that dares to make a bold promise to its customers: it will take under four weeks to see a positive difference. But worries about breaking that promise are not an issue for this super-cream, because it delivers time and time again. It does this through a combination of its 2 percent hydroquinone concentration mixed with the mild acidic properties of its other ingredients. This allows it to effectively kill off the blemished area of skin so that you can peel it away and reveal the fresh, bright skin beneath it.
How to Apply
Spot test before first full application, and as always, follow the instructions fully. This is a powerful cream, so go easy with amounts. Start with one application a day, preferably at night, and gradually move up to two applications a day. Do not use for more than sixty days at a time on the same area, and allow thirty days rest before using it again on that area. Make sure to apply sunblock or sunscreen after applying the product, and if your skin is feeling dry, moisturize it well.
Value for Money
It's slightly pricier than some of its lesser-known competitors, but it's a product that's confident enough to make a claim about its effectiveness, and it's a product that can back that claim up.
Extra Benefits
It contains vitamin C to help moisturize your skin and leave it soft. The added acidic ingredients work in tandem with the hydroquinone to make it the most effective home-treatment available. It also comes in an attractive and easy to use application bottle.
Pros
Effective in under four weeks

Contains vitamin C

Powerful 2% hydroquinone combined with mild acidic properties

Highly effective against melasma

Can be applied to entire face/neck area
Cons
Might leave skin feeling dry, if not used in conjunction with daily moisturizer
---

Why we like it:
Designed specifically to target hyperpigmentation—the patches of damaged skin caused by an excess of melanin, this premium 2 percent hydroquinone gel is more effective on larger areas than the spot treating creams and serums.
Editor's Rating:
Time Until Visible Results
Stubborn hyperpigmentation takes time to fade no matter what cream, serum, soap, or gel you choose to treat it with. For this gel, on a large stubborn area, expect six to eight weeks to see clear changes. For those results, you need to stick to a routine and be persistent, especially in the first few weeks where it feels (and may look) like nothing is changing.
How to Apply
It's extremely important to exfoliate properly before application, or the natural oils of your skin are going to prevent the gel from working as well as it should. Once exfoliated, apply a small ball of gel to the area you wish to lighten and massage it in. Do this once to twice a day for best results. Expect the skin to feel dry in the immediate days after usage if you don't moisturize regularly. We recommend moisturizing twice a day while using the gel: once in the morning and once before bed, to keep your skin as hydrated as it deserves to be. Use a sunscreen before going outside to best complement the effects and protect your skin.
Value for Money
This is a reasonably high priced gel, but it also targets a larger area than most other treatments. Whether it's good value for money or not depends on both the severity of your hyperpigmentation and the size of the area that you're treating. There are more competitively priced creams for targetting single blemishes and even for medium areas, but if you need a heavy hitter of a hydroquinone treatment it can't be beat.
Extra Benefits
PCA gel, combined with a proper skin cleansing and moisturizing routine, will leave your skin feeling hydrated and soft while giving you an even complexion.
Pros
2% hydroquinone

More effective over larger areas than spot treatment creams

Evens out skin tone very well
Cons
Requires additional exfoliation, hydration, and sunscreen
---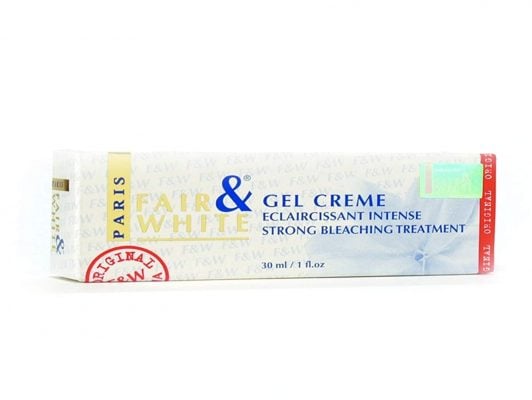 Why we like it:
This is the original and ever-popular F&W bleaching treatment, at a very reasonable price. It comes as an easy to apply gel, which is especially effective for oily skin types, as is the case for many acne sufferers. It's gentle on your skin but provides fast and effective results. This product contains 1.9 percent hydroquinone.
Editor's Rating:
Time Until Visible Results
As always this depends on the area you're treating and how large and stubborn the area is. But you should certainly see noticeable differences in the shade of the blemished area within four weeks.
How to Apply
Clean, wash, and exfoliate your skin thoroughly prior to any usage. Then let it dry, before rubbing in a tiny amount of the gel to the blemished spot or area. This gel is best used on the face and neck, and as always, please follow all instructions that are included to ensure the best possible results. Massage the gel in until it's fully absorbed, then follow it up with a good moisturizer. Once done, apply a liberal amount of sunscreen to protect the now-more-sensitive treated area.
Value for Money
It's not a huge bottle at only 30mL, however, the price is low. This makes it an ideal product to test on your hyperpigmentation for a six-week period (after which you should allow your skin to have a break, regardless). That should be plenty of time to see if the product works for you.
Extra Benefits
This gel is more effective than the majority of available creams for people who have oily skin.
Pros
Perfect for more oily skin types

Contains 1.9% hydroquinone

Trusted brand name
Cons
Doesn't work as effectively on non-oily skin types

Results can vary more from person to person than with other higher-ranked creams and gels
---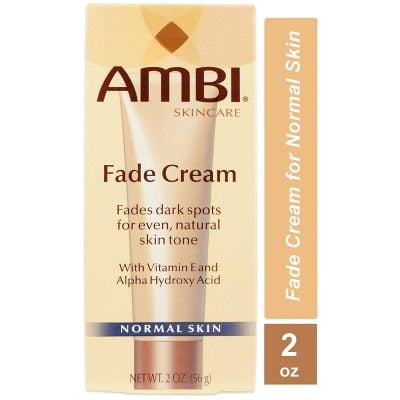 Why we like it:
This affordable cream contains 2 percent hydroquinone, sunscreen, and costs around five dollars. Thanks to the added vitamin E, it leaves your skin feeling smooth and soft, too.
Editor's Rating:
Time Until Visible Results
As always this can vary from person to person, depending on what exactly you're treating, the severity of the condition, and the size of the blemishes. You can expect to wait four weeks before noticing results, but in rare cases, it can take up to two months. Always follow instructions.
How to Apply
Best results require exfoliation prior to usage. This is a twice-daily cream that only requires a very thin layer to be applied to the problem area. One applied, wait for the cream to dry, then moisturize. This cream contains sunscreen, so unlike most other similar creams, you don't need to apply sunblock after. That's not to say it's a replacement for sunscreen—it's not. If you're going out in the sun after application, always apply the proper sunscreen for your skin.
Value for Money
This is the lowest priced cream available that contains 2 percent hydroquinone. If you've never used a hydroquinone cream before, then this is a sensible start as you can test out the effects on your own skin and blemishes without spending a fortune doing so.
Extra Benefits
Containing vitamin E to help leave your skin soft, it is also one of the few treatments that has sunscreen in its ingredients, as well as containing alpha hydroxy acid which can help enhance results.
Pros
Best value for money—perfect for testing

Contains vitamin E

Contains sunscreen

Attractive packaging
Cons
Can result in slight dryness
---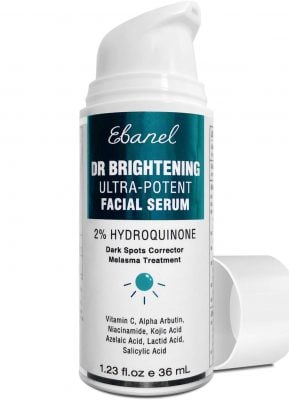 Why we like it:
Fast and effective, the 2 percent hydroquinone in this serum works in combination with a low concentration of salicylic acid to infiltrate the pores of your darker blemishes. In a matter of weeks, it will dry the problematic spots out, allowing you to peel them away to reveal the fresh, bright skin beneath.
Editor's Rating:
Time Until Visible Results
Expect the skin in the troubled area to start peeling after about two weeks, with complete results being achieved at around four weeks. Every round of peeling should reveal slightly lighter skin beneath. How many treatments it will take to fully remove your blemished area depends on your skin type and how stubborn and deep it runs. Remember to moisturize regularly to stop your skin from feeling irritated.
How to Apply
Spot test, then start by applying a small amount once every other day. Once your skin gets used to the treatment and isn't getting as irritated, switch to applying the serum once each day—but don't exceed that. Do not use for more than four weeks at a time, and if you've seen no improvements after four weeks, consult a doctor. Exfoliate before using and hydrate fully with a good moisturizer after. If leaving the house, make sure to apply sunscreen first as the ingredients inside this product can increase sensitivity to the sun.
Value for Money
It comes in a small bottle and is a bit more expensive than many hydroquinone creams, but it is competitively priced for a product that contains the highest concentration of hydroquinone available without a prescription.
Extra Benefits
It's packed full of exfoliants and vitamins that leave your skin healthy and refreshed. It also comes in what we think is one of the best bottle designs we've seen, with a well-positioned pump that gets everything out without it being a mess or a chore.
Pros
2% hydroquinone

Gorgeous and practical bottle design

Contains AHA, BHA, and vitamin C

Cruelty-free
Cons
A little more expensive than some other options
---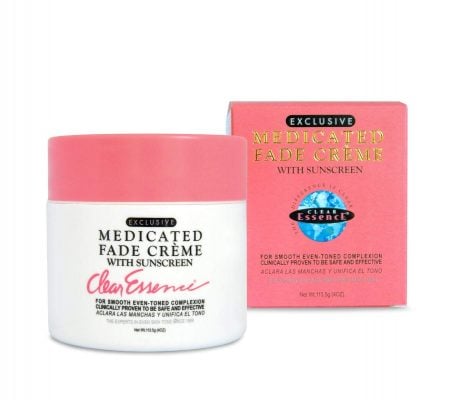 Why we like it:
This is a reasonably priced cream that is loaded with sunscreen (saving you an extra step), and is safe to wear beneath makeup—perfect for covering the damaged skin with foundation or concealer while at the same time working on the underlying issue.
Editor's Rating:
Time Until Visible Results
You can expect to wait 4 to 6 weeks before noticing results. It's always a good idea to take a picture of the area beforehand so that you can compare it to the area once you've finished treatment; gradual fading can be a difficult thing to notice as it's occurring.
How to Apply
Exfoliate the area thoroughly, then apply a pea-sized ball of cream to the area you wish to treat, massaging it in thoroughly. For best results apply twice a day: once in the morning, once in the evening. Let the cream dry, then moisturize. This is a cream that contains sunscreen, so as long as you're not doing any prolonged activity in the sun after application, then you don't need to worry about applying anything additional.
Value for Money
A well-priced medically-approved cream that gives provides fair value for money. It might also save you a little money on extra sunscreen—although please note that this product alone is not a replacement for sunscreen if you're going to be spending all day outside.
Extra Benefits
We love any skin whitening treatment that has sunscreen inside of it, as it saves an extra step in our application routine. Being able to use makeup over the treated area is a great bonus for many of its users.
Pros
Contains sunscreen

Can be used beneath makeup

2% hydroquinone

Pleasant smelling cream

Good value for money
Cons
Works more gradually than some other treatments on the list
---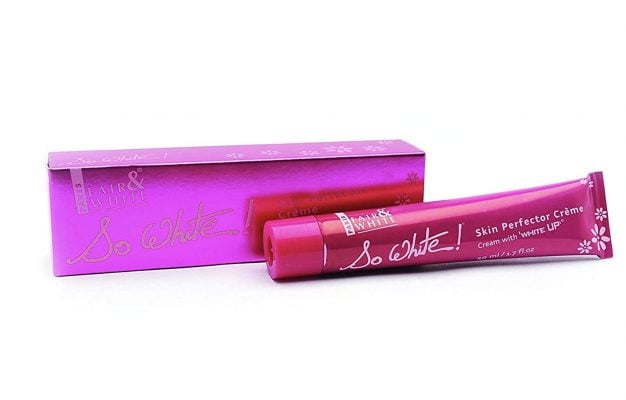 Why we like it:
Contains 1.9 percent hydroquinone, and is specifically designed to work on normal to dry skin types. It has one of the best looking application bottles that perfectly complements a pampering session.
Editor's Rating:
Time Until Visible Results
If you follow the application instructions and apply the cream diligently, expect to see changes to your skin tone within six weeks.
How to Apply
It's always best to apply a spot test and leave it overnight to see how your skin reacts. After the spot test, apply very small amounts to the target areas. Go easy, and only do this once a day, applying onto clean skin before bed for the entirety of the first two weeks. If all is well, then you can consider slowly upping the application to twice a day. Always apply sunscreen after usage to ensure your skin doesn't become damaged by sunlight.
Value for Money
It's a 50mL container and is priced reasonably for that amount. This is a reputable Fair & White product, so you are paying a little more for the name. It is still a decent value, however.
Extra Benefits
It comes in a bright, attractive pink container (and box) that is sure to complement a lot of bathrooms and bedrooms.
Pros
Attractive pink design

Competitively priced

Designed for dry skin
Cons
Can be hit or miss, depending on the stubbornness of the target area
---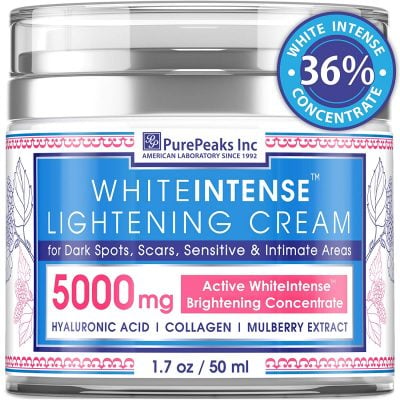 Why we like it:
Unlike most other creams on this list, this PurePeaks cream is specifically designed to treat sensitive areas. Great for your bikini area, armpits, or your face, your skin will look radiant and healthy, as well as gaining the desired even tone, thanks to the many moisturizers contained inside of this cream. It uses glycosylated hydroquinone in the form of arbutin, which is as safe and effective as the standard formulation.
Editor's Rating:
Time Until Visible Results
You should see results in four to six weeks, but it's not unusual to notice a difference in your skin tone within two weeks. For the harder to monitor areas, such as armpits and elbows, it's best to take a picture so that you can easily compare.
How to Apply
It's always better to exfoliate the area to maximize results, however, all that's necessary with this cream is making sure that the application area is clean and dry prior to usage. This product contains its own moisturizers, so you just need to make sure it's rubbed in until your skin fully absorbs it, and then you're ready to go.
Value for Money
It's not the cheapest cream on the list, but when you consider all the nourishing and revitalizing ingredients contained inside it, and the fact that you won't require additional moisturizer, it becomes a very attractively priced option.
Extra Benefits
Not only does it contains incredibly healthy ingredients, such as citric acid, aloe vera, and lemon oil, but it also has multiple moisturizing ingredients that will leave your skin feeling soft and hydrated, and most importantly, even-toned. This is a wonderful all-in-one hydroquinone cream.
Pros
Created for use on sensitive areas

Contains multiple moisturizers

Delightful aroma
Cons
Can take up to six weeks for visible results
---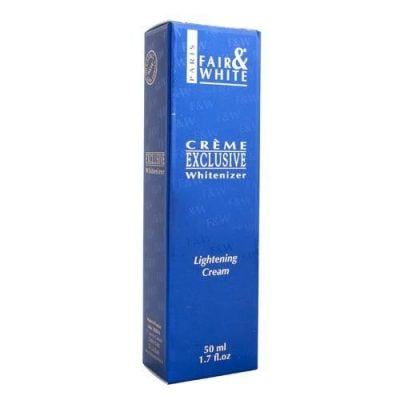 Why we like it:
Fair and White is one of the most trusted brand names in the skin lightening industry. This cream, aimed specifically at facial blemishes, contains 1.9 percent hydroquinone as well as complimentary moisturizing ingredients that will leave your skin soft and hydrated.
Editor's Rating:
Time Until Visible Results
Expect to notice changes after two weeks of usage, with full results taking up to six weeks (sometimes even up to eight). If you have not seen any changes after this time, please consult a skincare expert.
How to Apply
As with any new treatment, spot test prior to your first full application. Then start gently, using the product only once a day, preferably before you go to bed. Exfoliate thoroughly beforehand to maximize results, and moisturize every morning. Due to the nature of hydroquinone, it's best to follow your treatment with a slathering of 50 SPF sunscreen, as the treated area will be more sensitive to light.
Value for Money
This is a 1.7 fluid ounce bottle from a premium brand, and in that respect, we believe they've priced it very fairly. There are slightly cheaper options available, but this is still on the good value for money end of the spectrum.
Extra Benefits
The cream itself has a lovely sweet smell. It's a light, rich cream that will leave your skin glowing as it hydrates you—making it an ideal choice for those with dry skin. It also comes in an attractive blue squeeze-style bottle. What more could you ask for?
Pros
Trusted brand name

Contains 1.9% hydroquinone

Sweet-smelling

Perfect for dry skin
Cons
Doesn't work as effectively on all skin types, such as oily, so find out which you are before purchasing
---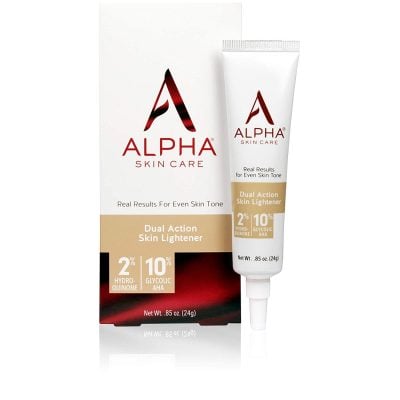 Why we like it:
This dual-actual lightening cream combines high-concentration hydroquinone and AHA with a host of anti-aging ingredients to both reduce blemishes and keep your skin looking healthy and youthful.
Editor's Rating:
Time Until Visible Results
If you apply this serum consistently and correctly, you should see visible results within about a month, though it may take a bit longer for some people. The effects on your skins health and texture should start to show up even sooner—after just a few days. What do we mean by correctly applying the serum? For this particular cream, that means applying it in small amounts twice daily. Using it more often than that won't help with your results, but it will waste your money. It also means remembering to moisturize after every usage, and using sunscreen post-application, too.
Which Areas and Conditions Is It Most Effective For?
This cream is usable on any area except for underarms and under the eyes, but we'd be a little careful on any areas you consider sensitive. Best results occur on facial blemishes such as age spots and acne scars, as well as with general melasma, and even help to ease wrinkles and fine lines.
Value for Money
Each bottle contains 25 milliliters of serum and holds the highest potency of hydroquinone available (2%). Unfortunately, you'll need to apply it a bit more frequently than most hydroquinone creams, so the value of this product isn't as exceptional as its performance.
Extra Benefits
The serum contains extra ingredients that are important for your skin's health and will leave it looking revitalized and youthful. Ingredients such as vitamin E and glycolic acid help to exfoliate your blemishes and protect and nourish your skin. Expect your skin to feel softer as well as look lighter and healthier.
Pros
Contains powerful anti-aging ingredients

2% hydroquinone

Effective on wrinkles, freckles, liver spots, and melasma

Suitable for face, knees, hands, and elbows
Cons
Not suitable for sensitive areas

A bit pricey
---
Guide to Buying the Best Hydroquinone Cream
What Is Hydroquinone?
Hydroquinone is a synthetic organic compound used to bleach skin. It works by lowering the production of melanin by inhibiting a required enzyme known as tyrosinase. Melanin is the pigment that provides your skin with its color, so by halting the production of it in selected areas, your skin color will slowly lighten. It is sold, non-prescription, in creams at up to a 2 percent potency. Because of the lowered melanin production, your skin will temporarily become more sensitive in the application areas. As such, if the cream you are using does not contain sunscreen in it (a few of them do), then you should apply sunscreen or sunblock yourself after application.
Hydroquinone is very effective at reducing many discolorations, such as skin damage from sun, liver spots, age spots, freckles, hyperpigmentation, and melasma.
Please note that hydroquinone is a perfectly safe ingredient at the 2%-and-below threshold. It's been used safely in America for the past fifty years.
What to Look for in a Hydroquinone Cream?
Each cream or gel will be slightly different, but a good rule of thumb when looking to purchase an effective product is to make sure it has a level of hydroquinone above 1.5 percent, with 2 percent being the maximum. Generally, a cream at the 2 percent concentration level should be visibly effective within four weeks and certainly within six.
Next, consider whether it's good a value for the money. Check the size of the product (how much cream) and the price, and compare it to other products with a similar level of hydroquinone. It can also be worth checking how long the product can remain usable after opening (most are fine for more than six months), and how much of the product needs to be applied per application.
Some creams and gels are suited to specific skin types, but most are general creams that will work perfectly well on anyone as long as they exfoliate beforehand.
How to Get the Most Out of a Hydroquinone Cream
Always read the instructions upon receiving the product and follow them thoroughly. We firmly believe you should spot test every new product before the first full application to make sure that your skin doesn't react badly to it.
We recommend thoroughly cleaning and drying your skin before using any cream. Start slowly with very small amounts, massaging it gently into your skin. Keep away from sensitive areas unless the instructions specifically say that it's okay to use in those places. It's usually best to apply applications once a day, ideally before bed, but some creams do suggest doing this twice a day. There are also creams that recommend only applying them once or twice weekly, so again, read the instructions.
After application, it's time to moisturize—this is extremely important as it helps keep the skin healthy and hydrated, preventing further damage from occurring. Some creams and gels are hybrid moisturizers, but not all of them. You will also want a high-level sunscreen or sunblock (preferably a 50 SPF sunscreen), as the application area will be extra sensitive to sunlight during treatment.
Typically, you'll want to use the product for a maximum of eight weeks at a time (sometimes six—read the instructions to check), and then give your skin a break for the next four weeks. If you've seen no improvement in that time, then it might be worth consulting a specialist. We'd recommend that you take before-and-after photos of the areas you're treating, as gradual change can often be hard to detect
F.A.Q
What's the best hydroquinone cream for my skin type?
While there are specific creams available that are intended to target certain skin types, if you clean and exfoliate your skin thoroughly before application, whatever your skin type is, you should be fine to use any of the creams on the list above.
That said, if you do want a cream for your specific skin type but you're not certain what your skin type is, you can find out in two quick steps:
Wash and dry your face, then wait three hours
Place a piece of blotting paper against your forehead
If the blotting paper comes away oily, then your skin type is oily. If there are flakes, your skin is a dry type. If there is nothing, then your skin is a normal type.
Is hydroquinone safe?
Yes, it's very safe. In low concentrations, as it is found in all the creams listed above (2 percent and under), it is perfectly fine to use on your skin. There was a concern in South Africa many years ago about a condition resulting from a treatment that included hydroquinone, but it turned out that a dangerous contaminant (mercury) in the cream was the cause. Hydroquinone creams purchased from reputable companies have been proven time and again to be a safe and trusted product.
Does it work on dark skin?
Hydroquinone creams should work on every skin type due to its melanin inhibiting action. Your skin will not produce its usual color pigments and will slowly pale back to the same shade as the rest of your skin.
The cream I purchased isn't working for me.
If you can't notice a visible difference in six weeks, then either the cream isn't working for your skin condition, or it's being applied incorrectly. Some creams only require one application a week, while others require two applications a day for best results. Double-check the instructions to make sure it's not the latter before buying a different cream or seeking out a specialist.
We recommend washing your skin, drying, then exfoliating prior to the application of any cream. This ensures that any oils that might be blocking your pores are removed, which will allow the creams to get into your skin and work effectively.
If you've been doing everything correctly and have still seen no change, then we'd recommend speaking to a specialist or trying a second product after letting your skin recover from the first product, which takes about a month or so.
It might also be worth testing your skin to find out what type you have (oily, dry, or normal). Then, you can pick a cream that suits your skin type better. It may take a bit of trial and error to get the perfect product for you, but we're sure that there's a hydroquinone cream on our lists that will meet your needs.