Top Picks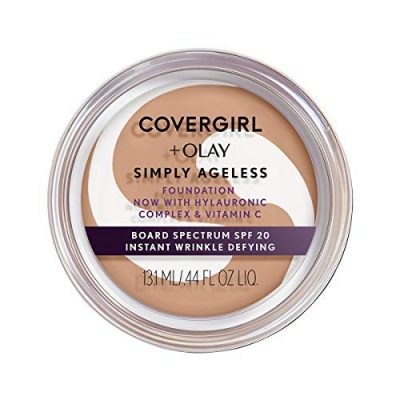 Covergirl & Olay Simply Ageless Foundation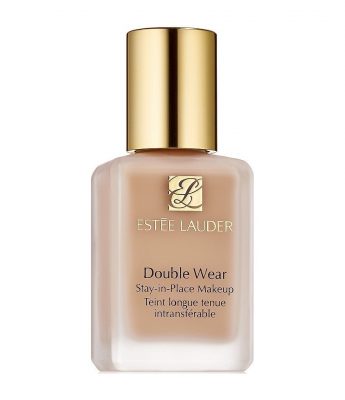 Estee Lauder Double Wear Stay-in-Place Makeup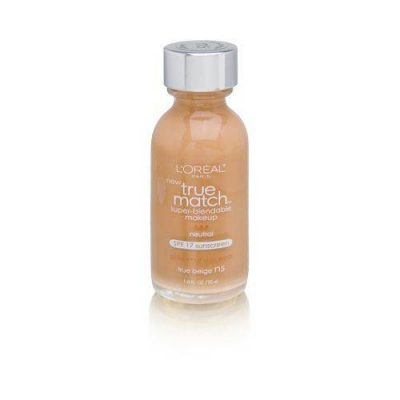 L'Oreal Paris Makeup True Match
Previous
Next
Old age brings many changes that affect your skin. Hormonal fluctuations and menopause can reduce your natural oil production, leaving you with unflattering wrinkles, lines, and dried-out skin. And don't forget about widening pores, duller color tone, and decades worth of sun damage. The result? That moisturizing cream you've been using since your 20s is not going to do much for your skin anymore.
As you age, your need for the perfect foundation will become more obvious than ever. Your mature skin has more texture than young skin, so fine lines and pores can easily make your foundation look like a mask.
Not every foundation that you slather on your skin will serve you right. A heavier foundation will typically settle into lines, but a foundation that's too light might not bring the results you're looking for. For this reason, it's important to find a foundation that will enhance your skin and give it that fresh and flawless look.
Finding a foundation that blends the right finish, shade, and consistency takes time. We've researched and rounded up the very best foundations for mature skin—the cream of the crop—so you can easily and quickly find a reliable product that will enhance the natural beauty of your skin.
What to Consider When Shopping for Foundations for Mature Skin
Choosing a foundation for 50- or 60-year-old skin isn't the same as buying foundation for 20-, 30-, or even 40-year-old skin. Here are some things to keep in mind when you start shopping:
Coverage
A good anti-aging foundation is lightweight and sheer in coverage. A lightweight foundation with sheer coverage and a buildable formulation makes it easy for you layer it up for a seamless and positive result.
Skin Type and Color
Select a foundation that balances the needs and concerns of your skin type and matches your skin color. We'll point out the ideal skin type for each product, and for color, we'll let you know what the lightest and darkest shade available, as well as how many options there are to choose from.
Formulation
Look for products that provide both hydration and skin-nourishing ingredients (such as flavonoids, antioxidants, and vitamins) that protect the skin and reverse premature aging.
Sun Protection
Your aging skin is more vulnerable to UVA and UVB rays during summer, so when shopping for a foundation, opt for products with high sun protection like SPF 20 or more.
When it comes to buying the best foundation for mature skin, it's more about disguising certain aspects and enhancing others instead of simply getting rid of what you don't like. The best foundations combine healthy skin-loving ingredients with hydration, protective properties, and lightweight sheer coverage.
Top 10 Best Foundations for Mature Skin 2021
Foundation for Mature Skin – Buyer's Guide
Buying foundation for mature skin isn't like shopping for foundation for youthful skin. A lot of things come into play, starting with your skin type and color. You want to make sure that you get a product that blends with your skin and evens out blemishes. If you have sensitive skin, you'll also want to ensure you get a foundation that doesn't irritate your skin or clog its pores. Otherwise, you will find yourself switching from product to product in vain.
The older you get, the drier your skin will become. You can't run away from this fact. Stick to hydrating formulas with lightweight texture like the Covergirl & Olay Simply Ageless Foundation. Such foundations are suitable for aging or old skin, as they can inject moisture into the skin and make it supple when it becomes dry from hormonal changes.
When shopping, also consider foundations with primers. Some of them are armed with antioxidants besides sunscreen and hydrating ingredients. Specifically, opt for a primer with light-reflecting properties like the Your Skin But Better CC Cream Foundation. This will give you a natural glowing skin without projecting your wrinkles or fine lines.
Sun protection is another factor. But it's not a big deal if you're already using sunscreen protection. If you're forgetful, though, a foundation with a high SPF like the Maybelline Dream Urban Cover Foundation will save you the agony of exposing your skin to harmful sun rays during sunny weather.
How to Find the Right Foundation for Your Skin Type
With hundreds of makeup foundations, it can be challenging to pick a foundation that will suit your skin. Sometimes you may find yourself alternating between a lightweight finish and going for full coverage. Luckily, nearly every brand has multiple shades, some upwards of 40. If you're not sure what will work with your skin, this section will help you.
Consider the intensity of your skin color – Basically, this refers to how light or deep your skin is. For some, it's medium, but for others, it's somewhere between extremely light, light, and medium light. At the other end of the spectrum, it could light-medium, medium-deep, or extremely-deep. If you're not sure, try comparing your skin color to a model or a makeup artist online, then see how you fare.
Determine your undertone – Take a look at your natural skin and see if it's golden or rosy (pink-toned). If your skin is golden, you likely have a warm undertone, but if it's rosy, it's probably cool. If it's a blend of the two (or you can't tell), then it's probably neutral.
Natural color vs. tan color – Many people today aren't always in their true base colors. For this reason, you want to make sure you match the foundation with the regular color of your skin. If you usually self-tan, take this into consideration. It's important to note that skin tone will vary from one area of the face to the other. Decide whether you want the foundation to match the base color or where the sun usually hits the skin (such as the forehead or nose).
Try it for 10 days – Don't rush into buying on a foundation you're not sure of. Take a couple of days to test the shade in various lights, mirrors, and photos.
Handy Tips for Using Foundation on Mature Skin
Once you select a foundation for your mature skin, it's natural to want to apply it properly. Read on to learn the best techniques:
Prepare the skin – Start by exfoliating the skin to get rid of dead skin cells. Doing so creates a smooth canvas for the foundation. Next, apply a moisturizer to the skin, even if it's oily. Hydration enables ingredients in the foundation to get deeper into the skin and regulates sebum production.
Use sunscreen – If you always forget to apply sunscreen separately, buy a foundation with SPF protection included.
Use a primer – Once the moisturizer sets in, apply a primer with high levels of dimethicone to the skin. It will create a protective barrier between the makeup and the skin, preventing breakouts and pores from blocking. This product will also create a smooth velvety feel and enhance the wearability of the makeup. To top it off, it will fill wrinkles and fine lines, leaving you with a leveled skin.
Use fingers or a damp sponge to apply foundation – Either use a damp sponge or your fingers when applying your foundation. A moist sponge adds hydration and prevents streaky marks. Don't use a brush at all. If the idea of using a sponge doesn't suit you, mix the formula with your bare fingers, then pat and press it gently onto your skin to create a smooth texture.
Avoid thick and creamy foundation – While they offer full coverage, they are not the best option as they have excess pigments that can cause your skin to dry out.
Opt for warmer shades – Always buy a foundation that matches your skin and one that's one shade warmer.
Common Foundation Problems and Solutions
If you have foundation problems and can't find the right solution, it's best to seek professional help before things get out of hand. But first, try the following:
My face comes off onto a person's jacket after a hug.
Fix: Press a velvet puff right on your face. It will absorb excess foundation and push it deeper into the skin. The other option is to apply a light veneer of translucent powder to set the foundation.
What is a finish, and how do I choose the right one?
Fix: A finish refers to the type of sheen (or lack thereof) that a foundation leaves on the skin. It's broadly categorized into matte, semi-matte, and luminizing. Semi-matte works for most people. Matte is suitable for people with dry or mature skin. It absorbs oil and leaves the skin with a powdery look. Luminizing is good for people with lackluster or sallow skin.
Why does my foundation settle in quickly after I leave the house?
Fix: Apply less makeup on your marionette lines and crow's feet and ensure they're moisturized as well. Don't try to fill them with makeup too.
Sponge, fingers, or brush, which should I use to apply?
Fix: Use a sponge if you want to create a sheer look or minimal coverage as it absorbs excess foundation. Use your fingers to apply creamy or water-based foundation as your body heat will warm up the pigments and make them easy to mix. We don't always recommend a brush, but if you must, use one with natural bristles.
My foundation has a moisturizing formula in the right shade, but the foundation looks cakey.
Fix: Always prepare your skin before you apply foundation (and makeup). Slough off dead skin first, then apply a foundation with a moisturizer (along with SPF and a primer).
As your skin changes, its needs change along with it, so it's important to switch to a foundation that's designed to let the natural beauty of your mature skin show through. Whether you need a basic all-purpose foundation, one that suits a specific skin type, or a premium makeup product that will let you truly shine, we're sure that this guide will help you find the perfect product for you.