Old age brings many changes that affect your skin. Hormonal fluctuations and menopause can reduce your natural oil production, leaving you with unflattering wrinkles, lines, and dried-out skin. And don't forget about widening pores, duller color tone, and decades worth of sun damage. The result? That moisturizing cream you've been using since your 20s is not going to do much for your skin anymore.
As you age, your need for the perfect foundation will become more obvious than ever. Your mature skin has more texture than young skin, so fine lines and pores can easily make your foundation look like a mask.
Not every foundation that you slather on your skin will serve you right. A heavier foundation will typically settle into lines, but a foundation that's too light might not bring the results you're looking for. For this reason, it's important to find a foundation that will enhance your skin and give it that fresh and flawless look.
Finding a foundation that blends the right finish, shade, and consistency takes time. We've researched and rounded up the very best foundations for mature skin—the cream of the crop—so you can easily and quickly find a reliable product that will enhance the natural beauty of your skin.
What to Consider When Shopping for Foundations for Mature Skin
Choosing a foundation for 50- or 60-year-old skin isn't the same as buying foundation for 20-, 30-, or even 40-year-old skin. Here are some things to keep in mind when you start shopping:
Coverage
A good anti-aging foundation is lightweight and sheer in coverage. A lightweight foundation with sheer coverage and a buildable formulation makes it easy for you layer it up for a seamless and positive result.
Skin Type and Color
Select a foundation that balances the needs and concerns of your skin type and matches your skin color. We'll point out the ideal skin type for each product, and for color, we'll let you know what the lightest and darkest shade available, as well as how many options there are to choose from.
Formulation
Look for products that provide both hydration and skin-nourishing ingredients (such as flavonoids, antioxidants, and vitamins) that protect the skin and reverse premature aging.
Sun Protection
Your aging skin is more vulnerable to UVA and UVB rays during summer, so when shopping for a foundation, opt for products with high sun protection like SPF 20 or more.
When it comes to buying the best foundation for mature skin, it's more about disguising certain aspects and enhancing others instead of simply getting rid of what you don't like. The best foundations combine healthy skin-loving ingredients with hydration, protective properties, and lightweight sheer coverage.
Top 10 Best Foundations for Mature Skin 2023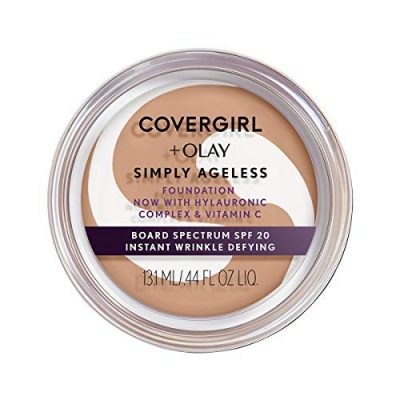 Why we like it:
It's a fantastic foundation that evens your skin tones and covers up most blemishes. The result is a soft, velvety, and crease-free face. Since Covergirl & Olay Simply Ageless doesn't react with sensitive skin, users can expect little to no breakouts.
Editor's Rating:
Quick Facts:
Colors: 12 options, from ivory to classic tan
Ideal Skin Type: All-purpose
If you want people to keep guessing your age, this is the right product for you. It provides medium-light coverage and comes with anti-aging properties that diminish the appearance of lines and wrinkles—though it does little to hide large pores. The outcome is supple, healthier skin.
Sun Protection
Covergirl & Olay's Simply Ageless works wonders on ladies with fair skin. As well as hydrating your skin, this foundation contains SPF 28, which protects skin from harmful UV sun rays. It's available in various shades, so you shouldn't have problems finding the best match for your skin.
Not only is it appropriate for people with mature skin, but it's a great product that you can wear in sweltering heat without feeling uncomfortable. Hot and muggy weather shouldn't come in the way of looking your best.
Moisturization
Unlike similar products, it doesn't worsen dry areas of the face. If anything, it covers dark circles and doesn't make the eye area look dry and patchy. You can also apply it after using facial oils such as argan or sweet almond. Once applied, this foundation will last until you finally wash your face. You won't need to touch it up throughout the day.
Application
The application is the easiest part. All you need is a soft and moist makeup brush. Swirl it gently onto the foundation then apply it in circles on each area until it blends smoothly. Start with the eyes and follow the same procedure. Doing your whole face takes less than 5 minutes, and the results are fantastic. The product, unfortunately, comes without an applicator sponge, so you'll need to pick some up to use it.
Pros
Anti-aging foundation that makes the skin look younger

Hydrating formula for a healthier-looking skin

Natural matte finish

Available in multiple shades

Soft, bright, and clear complexion
Cons
Tends to magnify pores

No applicator sponge
---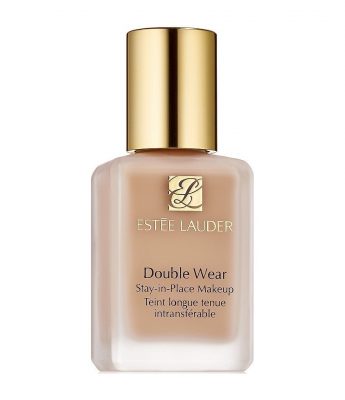 Why we like it:
This Estee Lauder foundation comes in many different shades, with colors that stay true. It is also versatile as a light coverage or combination foundation with oil-free ingredients that are perfect for oily skin types. The transfer resistance and waterproof foundation are excellent for different kinds of environments.
Editor's Rating:
Quick Facts:
Colors: 38 options, from ivory nude to espresso
Ideal Skin Type: Oily skin
Need to cover up uneven skin tones or hide other skin imperfections? Estee Lauder's Double Wear Stay-in-Place foundation can do wonders on your skin. You can wear it in different kinds of weather—be it a hot and humid day or even a rainy day—without worrying about the elements ruining your makeup. It is a lightweight, buildable foundation with medium coverage that's built to last a whole day. It's more expensive than most foundations for mature skin, but it's a worthwhile splurge that will leave your skin feeling healthy and beautiful.
Skin Type and Color
There are tons of shades available for different skin types. You choose the right tone for your skin, considering the undertone. With its 24-hour long-lasting coverage, you don't have to worry about retouching when you are busy at work. It also works great for oily skin, and it combines extremely well with mascara or other extras.
Skin-Safe
Oil-free, oil-controlling, transfer-free, non-acnegenic, and fragrance-free, there is no better way to take care of your skin than with the Double Wear. It works great with all undertones and comes with different shades to match your skin tones. And it stays true to color.
Application
You don't need much to apply the liquid foundation to your face. If you don't have a foundation brush or sponge, you can use your fingertips to blend the foundation into your skin. You should start from the center of your face, going outwards when blending. If you need full coverage, you simply need to apply more.
Pros
Hassle-free application process

Great for oily skin

Long-lasting liquid foundation

Beautiful
---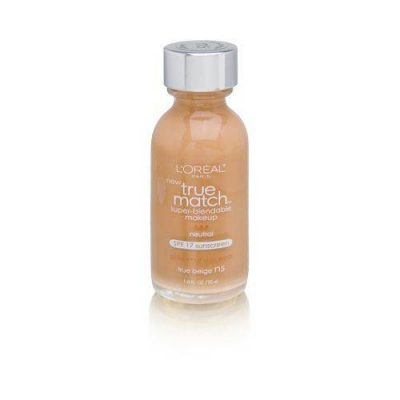 Why we like it:
It's a fresh, natural foundation that produces a well-balanced and finished look. Since it's free of pore-clogging chemicals, you can use it daily.
Editor's Rating:
Quick Facts:
Colors: 33 options, from fair ivory to chocolate
Ideal Skin Type: Dry skin
If you're looking for a super blendable makeup foundation, you won't go wrong with L'Oreal Paris Makeup. This is a fast-acting foundation that can restore the vibrancy and smoothness of your wrinkled skin. It's perfect for women who prefer a natural appearance over a cakey one. L'Oreal Paris does a fantastic job of matching users to their unique skin tone. The biggest drawback of this product is the bottle size—you don't get much, so expect to restock soon.
Skin Type and Color
True Match is a result of more than a decade of research. When shopping, you can choose from 33 amazing shades that span deep to light and three undertones of warm, cool, and neutral.  The formula contains five original color pigments, giving you a true-to-shade match. Thanks to their blue pigments, their formula goes deeper into the skin, brightening pigments and enhancing color vibrancy.
Moisturization and Sun Protection
Dry skin is a bane for anyone with mature skin. With L'Oreal Paris, you won't have to worry about breakouts or your skin drying out. Its hydrating formula provides medium coverage and a true natural finish that will keep your skin moist without being greasy. Thanks to its SPF 17 protection, your skill won't get harmed by UV rays.
Coverage
Coverage is light, fresh, and buildable. You can start by applying a light layer on your face then (after it dries) apply blend coverage to conceal scars and spots. The fact that it comes in multiple colors makes it great for contouring.
Blending
True Match is superior to many high-end foundations. What really stands out is the manner in which it blends well with other skincare products. Plus, it comes with enough colors to cover virtually any complexion. Moreover, this foundation is extremely blendable. When you apply it, no one call tell where the foundation ends and your skin begins.
Pros
Creamy and moisturizing

Suitable for everyday use

Lightweight to medium coverage

33 shades with undertones

Free of pore-clogging ingredients
---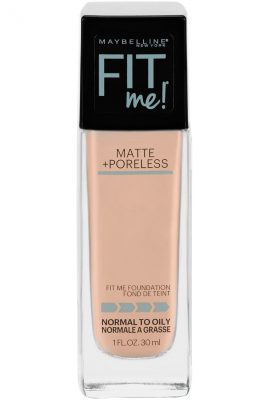 Why we like it:
Not only is Maybelline Fit Me Matte + Poreless Liquid Foundation cheap, but it has a superior formulation. It comes in a range of 40 different shades from fair porcelain to espresso. With this much variety, there is sure to be a match for every complexion.
Editor's Rating:
Quick Facts:
Colors: 40 options, from fair porcelain to espresso
Ideal Skin Type: All-purpose
In case you're wondering what can give your old cracked skin that natural dewy look, Maybelline Fit Me Matte Foundation might just be the perfect foundation for you. This foundation will conceal your dry, oily face and give it a natural finish without exaggerating your look.
Skin Type and Color
Finding a foundation that offers the right shade and consistency isn't easy. This product is available in a range of 40 plus shades with varying undertones. Whether you like it warm, cool, or neutral, you'll find a perfect shade for your complexion.
This foundation works on just about any skin type from oily, dry, or sensitive, so you don't have to worry about what effect it may have on your skin. Since it is oil-free, it doesn't clog your skin pores or cause breakouts. You can comfortably use it daily alongside your other beauty products.
Performance
Being lightweight and long-lasting, you can wear it the whole day without feeling uncomfortable. It does not oxidize or dry, so there is no need to go back to your kit to retouch your face. Once you apply it in the morning, you are good to go the whole day without any worries. It is also gentle to your skin, and does a better job than any other product on the market of reducing the appearance of pores.
Value
Unlike other foundations that are costly but ineffective, Maybelline Fit Me Matte Foundation looks like a bargain. You will be amazed by its affordable price and stunned by the amazing results it offers. Order one today, and we bet you will change your collection to include Maybelline Fit Me Matte Foundation forever.
Application and Removal
The product is a bit hard to use, as it doesn't come with a pump or any sort of application method. But, once you get it on, it works incredibly well, and removing Maybelline Fit Me Matte + Poreless liquid foundation is easy. You only need some cleansing water for gentle removal before you go to bed. And you can still use it to cleanse the face in the morning before you reapply the foundation.
Pros
Provides great coverage

Makes skin look very natural

Perfect for all skin types

Super affordable
Cons
Package doesn't contain a pump
---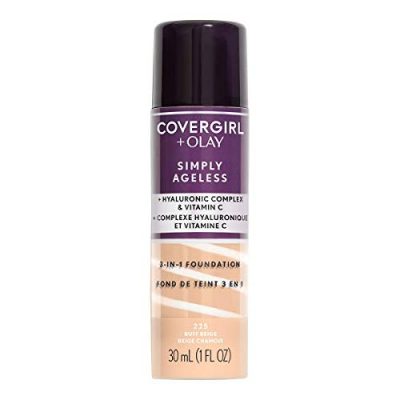 Why we like it:
The Covergirl & Olay Simply Ageless 3-in-1 does a splendid job of hiding your wrinkles and dark circles to give you a youthful and even-toned complexion, and the hydrating hyaluronic and vitamin C properties keep your skin healthy.
Editor's Rating:
Quick Facts:
Colors: 17 choices, from classic ivory to classic tan
Ideal Skin Type: Dry skin
Have you been looking for a way to get that youthful glow on your skin? Get ahold of Covergirl & Olay Simply Ageless foundation and watch your appearance transform into a stunningly youthful version.
Skin-Safe
Best of all, there aren't any side effects with the Covergirl & Olay Simply Ageless 3-in-1 Liquid Foundation. You will not get breakouts using it, even if you have extremely sensitive skin. This carefully formulated 3-in-1 liquid foundation gives your skin a smoother complexion by covering up the wrinkles for a more youthful look.
Moisturization
Buff Beige Covergirl & Olay Simply Ageless Liquid Foundation works great on dry skin. It moistens the skin without highlighting drier spots. It also neatly covers freckles and age spots without settling on finer lines. Besides the anti-aging properties, the foundation also gives you a more even skin tone by hiding away dark circles or other imperfections on your skin. It also comes packed with Vitamin C plus a hyaluronic complex to keep your skin moist and radiant throughout the day.
Application
The application is super easy. Just get a dot of the Buff Beige Covergirl & Olay Simply Ageless 3-in-1 Liquid Foundation on your forehead and cheeks and then spread it using your fingers or a makeup sponge. The liquid will easily last you a whole day without requiring a retouch—but it is a bit thick, so be careful not to overapply.
Pros
It is long-lasting with an easy application process

Packed with vitamin C and a hyaluronic complex that gives radiant skin

Easily covers fine lines and dark circles

Affordably priced liquid foundation
---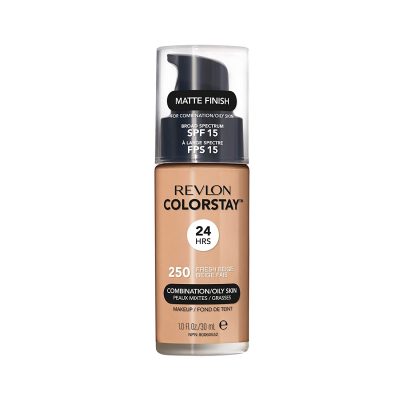 Why we like it:
Revlon ColorStay Makeup Oily Skin has an SPF 15 rating meaning it offers up to 93% UVB protection with full 24-hour coverage. It also features a medium buildable coverage so you can combine it with other products or for oily skin. The unique salicylic acid formulation helps with oily skin plus pore-less finish.
Editor's Rating:
Quick Facts:
Colors:

43 options, from buff to espresso

Ideal Skin Type:

Oily skin
If you have oily skin and are not sure of the right liquid foundation for your skin, give Revlon ColorStay Makeup a try. While its perfectly formulated for oily and medium skin, it's not the best for anyone with dry skin.
Sensitive Skin
One of the best things about the Revlon ColorStay Makeup for Combination/Oily skin is that it does not cause a breakout. It works well in most cases, even with sensitive skin. You can wear your matte finish liquid foundation without worrying about any skin reactions or flare-ups.
Sun Protection
Thanks to its SPF 15 properties, ColorStay Makeup Foundation from Revlon will give you all-day protection from UVB as well as radiant skin tone. Its matte finish evens out your skin tone for a flawless look that you can layer up. And it even holds up pretty well when you are swimming.
Application
It comes with a handy pump to help you apply your foundation without creating a mess. The application process is a cinch. Once you dab a small amount on your skin, you quickly spread it using their Buffing Foundation Brush. And it sets immediately. You honestly get a shine-free and an oil-free liquid foundation.
Pros
Super easy application with the pump

Can be combined with other layers for a sophisticated look or used alone

Comes in an impressive 43 shades

Offers UVB protection
Cons
Not the best for dry skin
---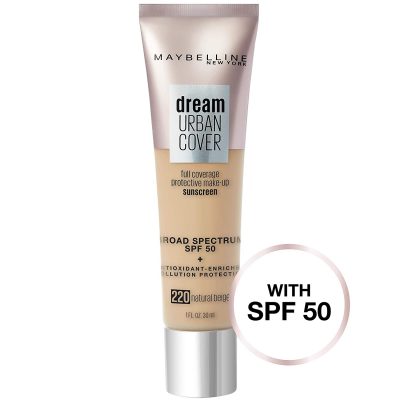 Why we like it:
The Maybelline Dream Urban Cover Foundation provides broad-spectrum protection from the sun with its SPF 50 rating. It also does a beautiful job on dry skin by giving it a lightweight natural look. With its all-day coverage, you get a flawless and natural-look without retouching.
Editor's Rating:
Quick Facts:
Colors: 16 options, from fair porcelain to java
Ideal Skin Type: Dry skin
Nothing beats a good liquid foundation with poreless medium coverage to give you that natural I-woke-up-like-this kind of look. Maybelline Dream Urban Cover Foundation is an excellent choice when you have a problem with dry skin or if you are looking for a combination foundation—though those with oily skin might find it a bit too thick. With a selection of 16 shades, the Dream Urban Cover will look good on you, no matter your skin tone and undertones.
Performance
The poreless foundation does an excellent job of hiding your pores. The result is a smooth and flawless finish. You can apply other styles on top of your matte foundation for a sophisticated look or add more poreless foundation for full coverage.
Sun Protection
Want to walk in the sun without fear of harmful UV rays? The Maybelline Dream Urban Cover comes with an SPF 50 rating that ensures you are always safe. This is far greater than any other foundation on our list, making it perfect for those who spend a lot of time outdoors but don't want to apply a standalone sunscreen beneath their foundation.
Application
Wondering how to get your Maybelline Dream Urban Cover on your face? Apply a small amount of Maybelline Dream Urban Cover on your face and blend using either a makeup brush or sponge. Start with the center going outwards. Don't have a makeup brush or sponge? No problem. You can just use your fingertips to blend the foundation gently.
Pros
Fantastic coverage

Impressive sun protection

Light, natural look
Cons
A little too oily if you already have oily skin
---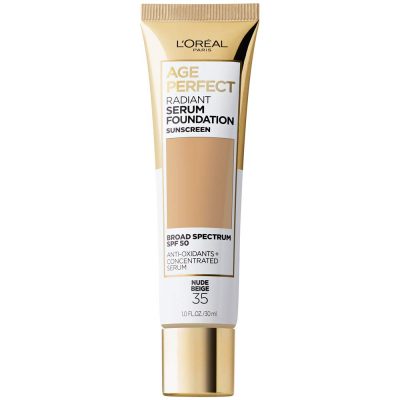 Why we like it:
This foundation features a hydrating serum that keeps your skin healthy and moisturized, while its SPF protects your skin and its beautiful tones look fantastic.
Editor's Rating:
Quick Facts:
Colors: 29 options, from ivory to espresso
Ideal skin type: Most effective with dry skin, but will work with any skin type
How would you like to rejuvenate your mature skin and give it that youthful vibrant look? L'Oreal Paris Age Perfect Radiant Serum Foundation can help you to moisturize your face while giving you a natural, fresh, and healthy look.
Formulation
The formulation for L'Oreal Paris Makeup True Match Super-Blendable is what makes it outstanding in the market. The foundation is formulated with essential vitamins for your skin protection. The main components are vitamin B3 and a hydrating serum that rejuvenates mature skin to keep it looking healthy and radiant. The foundation is lightweight, and it won't clog your pores or appear cakey.
Skin Type and Color
In case you have been having a hard time looking for a foundation that matches your skin tone, then look no more. L'Oreal Paris Makeup True Match Super-Blendable comes in a variety of shades for all skin tones and undertones ranging from light to dark and warm­—neutral and cool undertones for everyone's unique skin and taste.
Sun Protection
L'Oreal Paris Makeup True Match Super-Blendable has an SPF rating of 50. The hydrating properties of this foundation are a bonus for those with dry skin: your skin will get moisturized without causing breakouts or drying out all day long. Those with sensitive skin may want to proceed with caution, though, as the hydrating serum might cause some to break out.
Pros
Super easy to blend

Variety of shades for various skin tones

Contains SPF 50 for maximum skin protection

Great hydrating serum formula that moisturizes your skin
Cons
May not work for extremely sensitive skin
---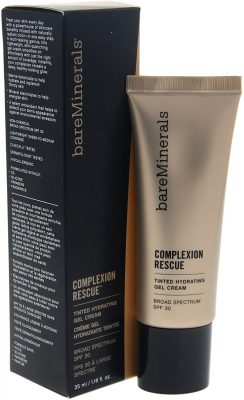 Why we like it:
Not only is this cream buildable, but it is also refreshing and non-acnegenic. It's formulated without parabens, and it has a mineral-based sunscreen that actually shields the skin from both UVB and UVA rays.
Editor's Rating:
Quick Facts:
Colors: 10 options, from opal to sienna
Ideal skin type: Oily skin
As you grow old, you might eventually feel uncomfortable in your mature skin. The vibrancy and suppleness of your youth fades, giving way to wrinkles, fine lines, and blemishes. bareMinerals Complexion Rescue Cream can restore your look and rejuvenate dry, wrinkled skin.
Formulation
bareMinerals Complexion has powerful hydration properties that are derived from natural skin-safe marine botanicals and coconut ingredients. These elements help nourish the skin and keep it moist, even in dry weather conditions. You will feel refreshed as its water encapsulation supplies the skin with an instant and cool burst of moisture.
Performance
As soon as you start applying the foundation, you will see results within a few days. So, no more waiting or guesstimating when you'll see results. Apply it with your favorite makeup and see positive changes in a matter of days. It's packed with energizing minerals such as magnesium and calcium, which replenish the skin and promote a healthy moisture balance. It is a bit oily, though, so it should typically be used by people with dry to medium skin, otherwise it might cause breakouts.
Sun Protection
Are you afraid of direct and prolonged exposure to sunlight? With this product, you don't have to worry about what will happen when you step outside. This cream has an SPF 30 factor that ensures that your skin remains protected from UVB rays even when you forget to apply your sunscreen lotion. It even has a recommendation from the Skin Cancer Foundation as an effective sunscreen, so you know you can trust it.
Pros
Effective broad-spectrum sunscreen

Lightweight coverage

Suitable for oily skin

Recommended by the Skin Cancer Foundation as an effective broad-spectrum sunscreen

Made from natural, skin-safe ingredients
Cons
Rather oily and shiny

May cause breakouts
---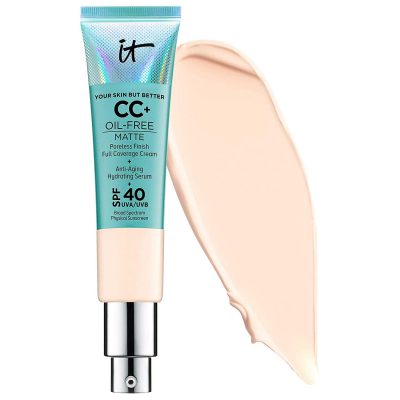 Why we like it:
You Skin But Better CC Cream with SPF 50+ foundation has excellent sunscreen protection with an SPF 50 plus rating for both UVA and UVB. It also has superb anti-aging properties with collagen, peptides, niacin, and antioxidants that make your skin glow and look younger and firmer.
Editor's Rating:
Quick Facts:
Colors: 12, from fair to deep
Ideal Skin Type: All-purpose
This foundation was actually developed by a group of plastic surgeons to simultaneously protect and beautify your skin. What's more, every package of Your Skin But Better CC Cream includes seven products in one—this product is a foundation, a sunscreen, a color corrector, a concealer, an anti-aging serum, a primer, and a day cream, all in one bottle. Unfortunately, with all of this included, the foundation is a bit heavy, so make sure you use a light touch when applying it.
Formulation
What you get from this combination of features flawless skin that looks younger and beautiful. The cream also has incredible wrinkle and dark spot covering abilities that hides away all the imperfections of your skin while keeping it moist and healthy. If you want to look young and vibrant, you cannot go wrong with the Your Skin But Better CC Cream. It also does a fantastic job of brightening color correction.
Application
Working with the foundation is super easy. You only need a makeup brush to blend the cream on your face gently. Use a circular motion to get the concealer all over your face.
Pros
Lasts all day long

Contains SPF 50+ UVA/UVB broad-spectrum protection

Conceals dark spots

Smooth and poreless finish
Cons
A bit heavy and easy to over apply
---
Foundation for Mature Skin – Buyer's Guide
Buying foundation for mature skin isn't like shopping for foundation for youthful skin. A lot of things come into play, starting with your skin type and color. You want to make sure that you get a product that blends with your skin and evens out blemishes. If you have sensitive skin, you'll also want to ensure you get a foundation that doesn't irritate your skin or clog its pores. Otherwise, you will find yourself switching from product to product in vain.
The older you get, the drier your skin will become. You can't run away from this fact. Stick to hydrating formulas with lightweight texture like the Covergirl & Olay Simply Ageless Foundation. Such foundations are suitable for aging or old skin, as they can inject moisture into the skin and make it supple when it becomes dry from hormonal changes.
When shopping, also consider foundations with primers. Some of them are armed with antioxidants besides sunscreen and hydrating ingredients. Specifically, opt for a primer with light-reflecting properties like the Your Skin But Better CC Cream Foundation. This will give you a natural glowing skin without projecting your wrinkles or fine lines.
Sun protection is another factor. But it's not a big deal if you're already using sunscreen protection. If you're forgetful, though, a foundation with a high SPF like the Maybelline Dream Urban Cover Foundation will save you the agony of exposing your skin to harmful sun rays during sunny weather.
How to Find the Right Foundation for Your Skin Type
With hundreds of makeup foundations, it can be challenging to pick a foundation that will suit your skin. Sometimes you may find yourself alternating between a lightweight finish and going for full coverage. Luckily, nearly every brand has multiple shades, some upwards of 40. If you're not sure what will work with your skin, this section will help you.
Consider the intensity of your skin color – Basically, this refers to how light or deep your skin is. For some, it's medium, but for others, it's somewhere between extremely light, light, and medium light. At the other end of the spectrum, it could light-medium, medium-deep, or extremely-deep. If you're not sure, try comparing your skin color to a model or a makeup artist online, then see how you fare.
Determine your undertone – Take a look at your natural skin and see if it's golden or rosy (pink-toned). If your skin is golden, you likely have a warm undertone, but if it's rosy, it's probably cool. If it's a blend of the two (or you can't tell), then it's probably neutral.
Natural color vs. tan color – Many people today aren't always in their true base colors. For this reason, you want to make sure you match the foundation with the regular color of your skin. If you usually self-tan, take this into consideration. It's important to note that skin tone will vary from one area of the face to the other. Decide whether you want the foundation to match the base color or where the sun usually hits the skin (such as the forehead or nose).
Try it for 10 days – Don't rush into buying on a foundation you're not sure of. Take a couple of days to test the shade in various lights, mirrors, and photos.
Handy Tips for Using Foundation on Mature Skin
Once you select a foundation for your mature skin, it's natural to want to apply it properly. Read on to learn the best techniques:
Prepare the skin – Start by exfoliating the skin to get rid of dead skin cells. Doing so creates a smooth canvas for the foundation. Next, apply a moisturizer to the skin, even if it's oily. Hydration enables ingredients in the foundation to get deeper into the skin and regulates sebum production.
Use sunscreen – If you always forget to apply sunscreen separately, buy a foundation with SPF protection included.
Use a primer – Once the moisturizer sets in, apply a primer with high levels of dimethicone to the skin. It will create a protective barrier between the makeup and the skin, preventing breakouts and pores from blocking. This product will also create a smooth velvety feel and enhance the wearability of the makeup. To top it off, it will fill wrinkles and fine lines, leaving you with a leveled skin.
Use fingers or a damp sponge to apply foundation – Either use a damp sponge or your fingers when applying your foundation. A moist sponge adds hydration and prevents streaky marks. Don't use a brush at all. If the idea of using a sponge doesn't suit you, mix the formula with your bare fingers, then pat and press it gently onto your skin to create a smooth texture.
Avoid thick and creamy foundation – While they offer full coverage, they are not the best option as they have excess pigments that can cause your skin to dry out.
Opt for warmer shades – Always buy a foundation that matches your skin and one that's one shade warmer.
Common Foundation Problems and Solutions
If you have foundation problems and can't find the right solution, it's best to seek professional help before things get out of hand. But first, try the following:
My face comes off onto a person's jacket after a hug.
Fix: Press a velvet puff right on your face. It will absorb excess foundation and push it deeper into the skin. The other option is to apply a light veneer of translucent powder to set the foundation.
What is a finish, and how do I choose the right one?
Fix: A finish refers to the type of sheen (or lack thereof) that a foundation leaves on the skin. It's broadly categorized into matte, semi-matte, and luminizing. Semi-matte works for most people. Matte is suitable for people with dry or mature skin. It absorbs oil and leaves the skin with a powdery look. Luminizing is good for people with lackluster or sallow skin.
Why does my foundation settle in quickly after I leave the house?
Fix: Apply less makeup on your marionette lines and crow's feet and ensure they're moisturized as well. Don't try to fill them with makeup too.
Sponge, fingers, or brush, which should I use to apply?
Fix: Use a sponge if you want to create a sheer look or minimal coverage as it absorbs excess foundation. Use your fingers to apply creamy or water-based foundation as your body heat will warm up the pigments and make them easy to mix. We don't always recommend a brush, but if you must, use one with natural bristles.
My foundation has a moisturizing formula in the right shade, but the foundation looks cakey.
Fix: Always prepare your skin before you apply foundation (and makeup). Slough off dead skin first, then apply a foundation with a moisturizer (along with SPF and a primer).
As your skin changes, its needs change along with it, so it's important to switch to a foundation that's designed to let the natural beauty of your mature skin show through. Whether you need a basic all-purpose foundation, one that suits a specific skin type, or a premium makeup product that will let you truly shine, we're sure that this guide will help you find the perfect product for you.