If you're looking for something creative to add to your tattoo collection, then inking an African queen tattoo will be a great idea. African queen tattoos can be very empowering, represent your resilience and strength, and be a subtle way to honor women's empowerment in general too.
The tattoo can also symbolize your cultural identity or interest in African monarchy, or simply mean how much you admire the beauty of ancient African queens.
The Most Famous Queens of Africa
Africa was once home to some of the most influential queens who led their kingdoms with power and precision. They played a major role in promoting the profound culture of the continent, which is why many ancient paintings and sculptures depict the beauty and authority of African queens.
This makes an African queen tattoo even more significant. So if you are up for it, consider these prominent queens of Africa for the tattoo design.
Queen Amina
Queen Amina was a Hausa warrior princess of the Zazzau region, which is in present-day Nigeria. She is known for her assertive and confident nature, which helped her to develop her military skills quickly. Queen Amina is also renowned as one of the greatest warriors of Africa, who helped to expand the borders of her kingdom through smart tactics and leadership.
Queen Nefertiti
Queen Nefertiti was a prominent queen of ancient Egypt and played a prime role in expanding the Egyptian kingdom. She was also at the forefront of the Egyptian culture and promoted the artwork and language of the kingdom. She was married to Pharaoh Akhenaten and the couple never shied away from displaying their love for each other in public.
Makeda, Queen of Sheba
Queen Makeda was known for her beauty and intellect, and considered a queen of incredible power. This Ethiopian queen has remained a mysterious figure in ancient texts, but she holds a special place in African American, Islamic, Ethiopian, and Jewish cultures. The Queen Of Sheba is also mentioned in the Bible and associated with King Solomon.
Queen Cleopatra
Queen Cleopatra was a popular political figure in ancient Egypt and inspired many historians and writers to create their masterpieces. The famous play by Shakespeare, "Antony and Cleopatra" is based on her life. Aside from her beauty and tumultuous love affairs, Queen Cleopatra is also known for tackling crises, such as famine and drought, dexterously and putting the people of her kingdom first.
Apart from these famous names, you can also choose any of the other well-known African queens to ink, such as Queen Candace, Queen Nzingha, or Queen Modjaji, or even go for ancient warrior queens. As there are not many clear images of any of these African queens, there is a lot of room for creativity. You can imagine how they may have looked like and accessorize the tattoo with other symbolic elements too.
Here are some of the most creative African queen tattoo ideas that you can go for, or customize them to suit your style.
1. Tribal African Queen With Butterflies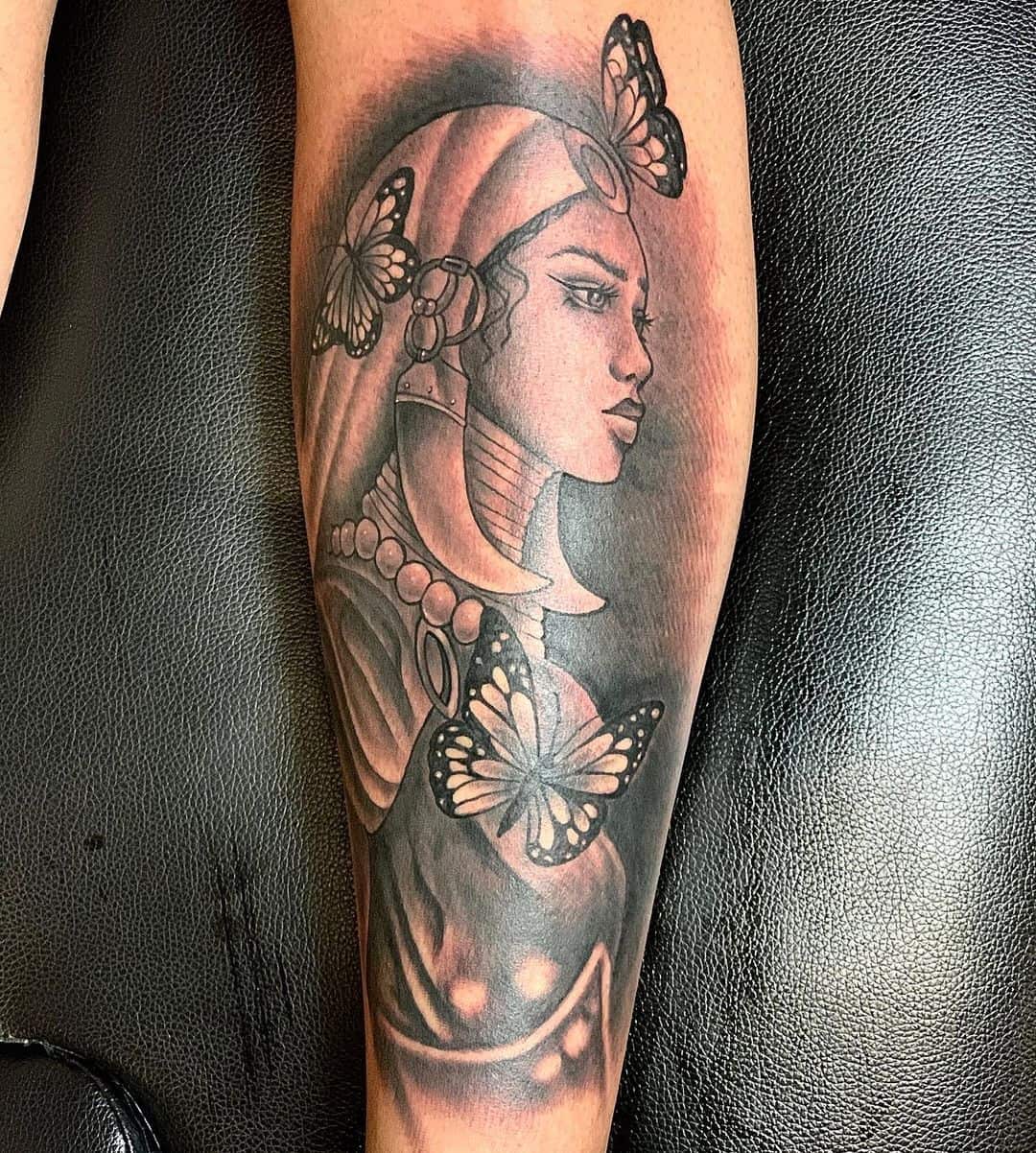 This African warrior queen tattoo can be a sign of boldness, bravery, and courage. The design features an African queen in her cultural attire prepared for battle, and adding butterflies in the design represents the innate beauty of all women. Butterflies also symbolize freedom and change, which makes it a great tattoo idea to express many deep and powerful meanings.
2. Queen Nefertiti With Pyramids and Moon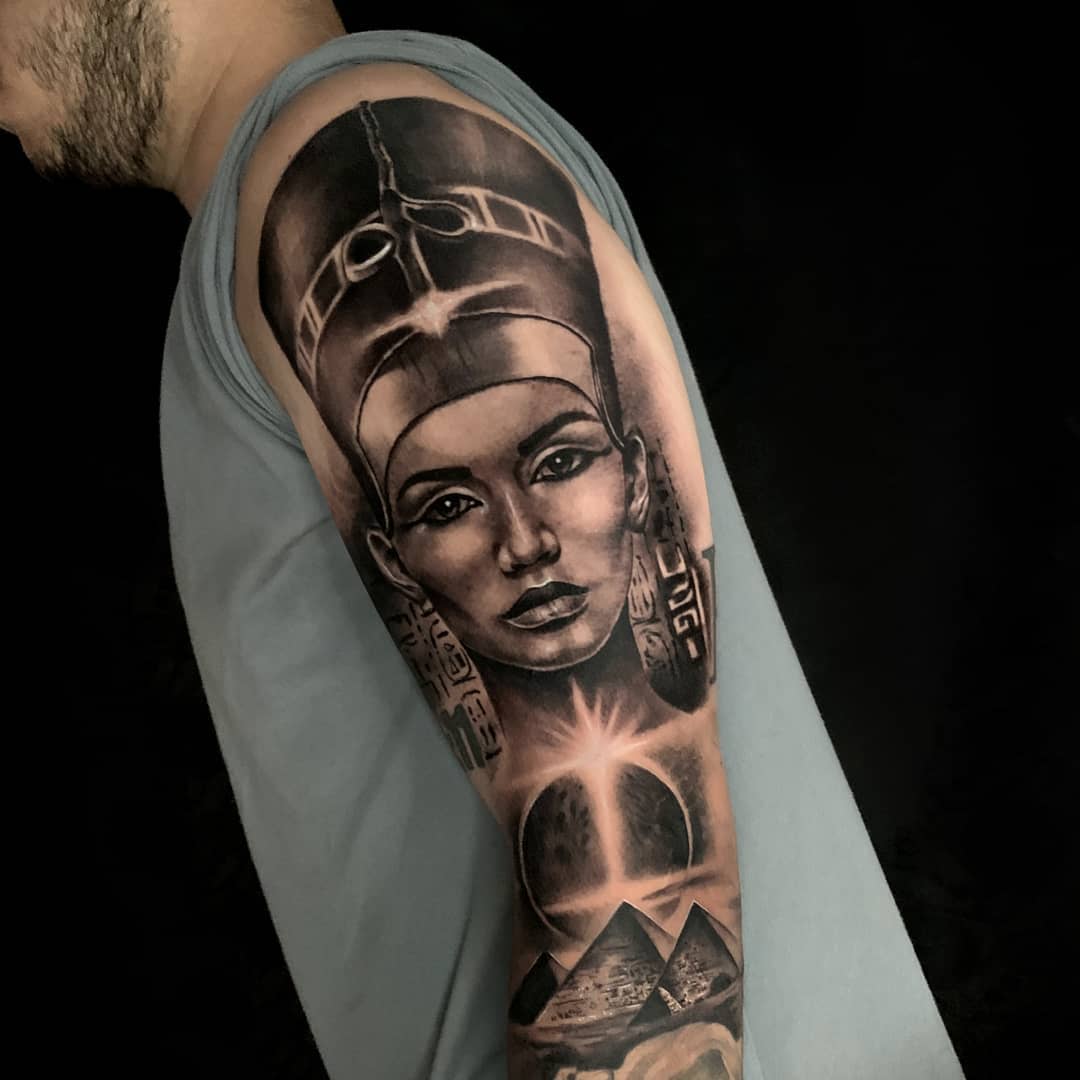 This aesthetic tattoo design pays tribute to the ancient Egyptian times with Queen Nefertiti and pyramids. Pyramids were considered the symbol of providing new life to the dead in ancient Egyptian culture. In modern times, pyramids can represent self-improvement and a constant desire to seek the light. This gives a special meaning to the tattoo while showing your admiration for beauty, power, and development. The full moon in the tattoo can symbolize completion and clarity, and can be a way to reflect on your achievements in life.
3. Queen Cleopatra With Vulture Headdress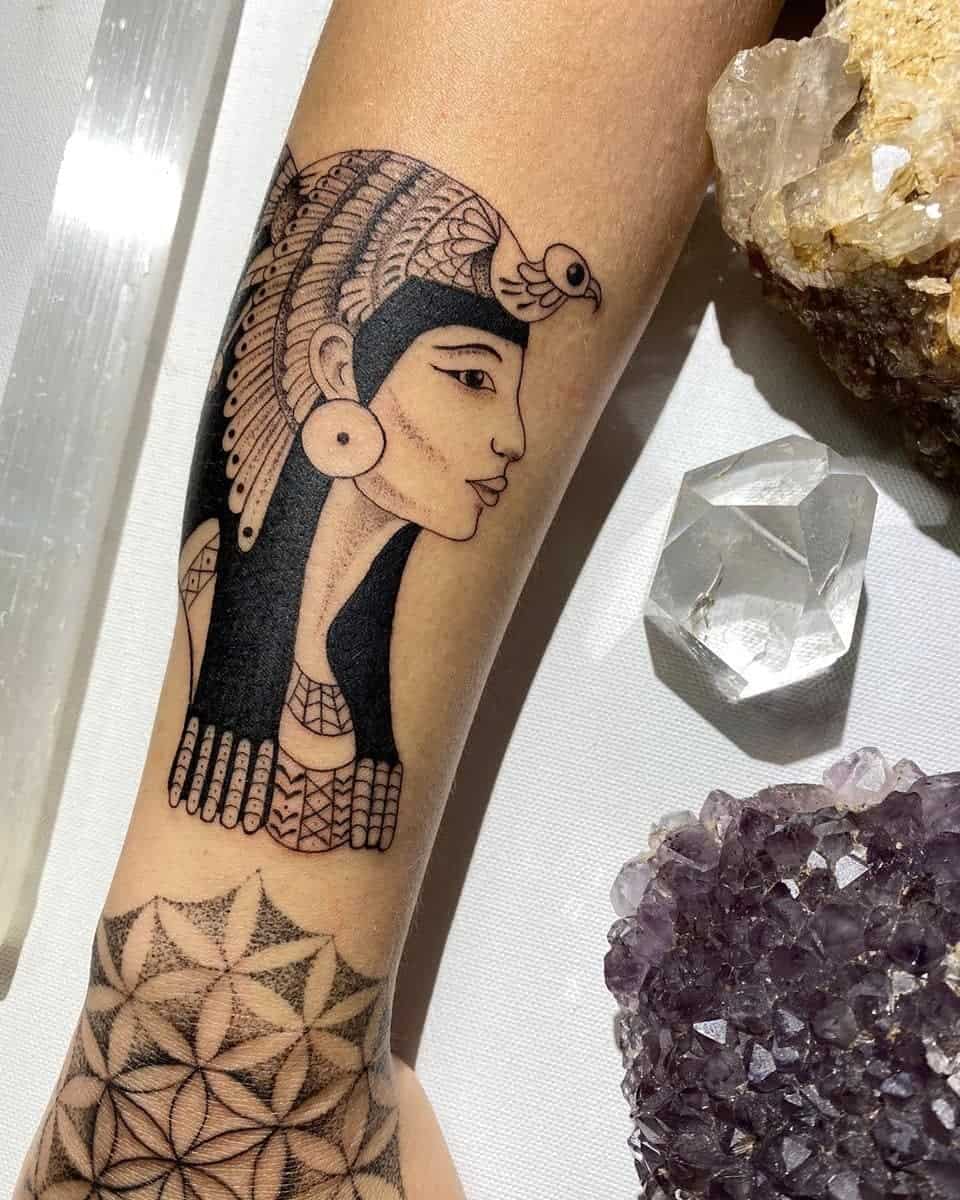 Vultures were considered the symbol of royal protection in ancient Egyptian culture. This tattoo design exemplifies Queen Cleopatra in her regal glory with her famous vulture crown. As vultures can also symbolize vigilance, intelligence, and wisdom in modern times, this tattoo can have a deeper personal meaning for you. It can also symbolize the time to break free and bring more focus on the real you.

4. African Queen With Sunflowers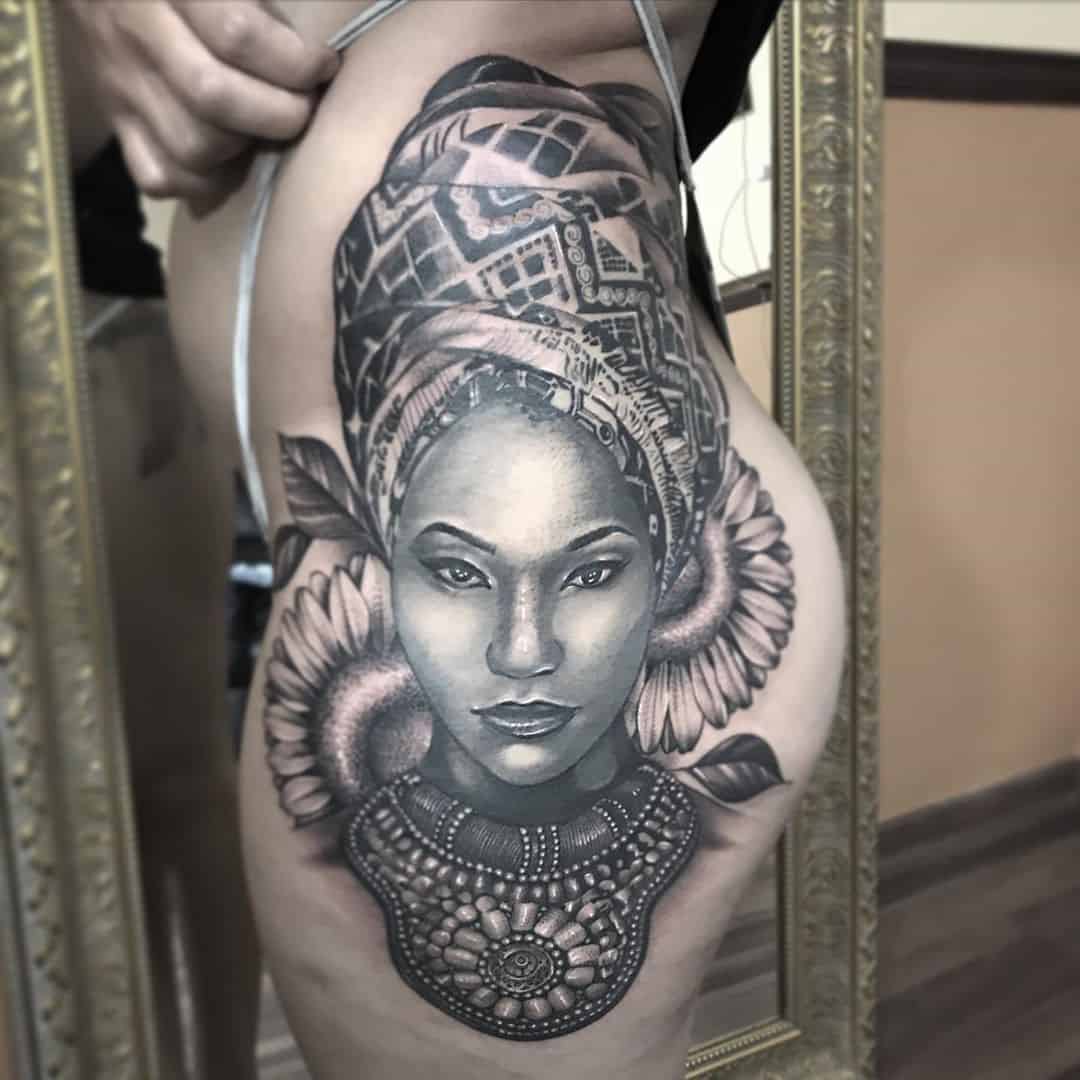 This artistic black and gray African queen tattoo symbolizes authority, power, strength, and boldness. The inclusion of sunflowers further adds traits like endurance, intelligence, faithfulness, and wisdom to the tattoo design. This can be your ideal way to express your personality and the way you have prepared yourself to face every situation in life. The African queen in the tattoo design can be customized to represent your partner or mom too, who has always tackled life with her wits and bold nature.

5. Queen Amina With Tribal Symbol-Filled African Silhouette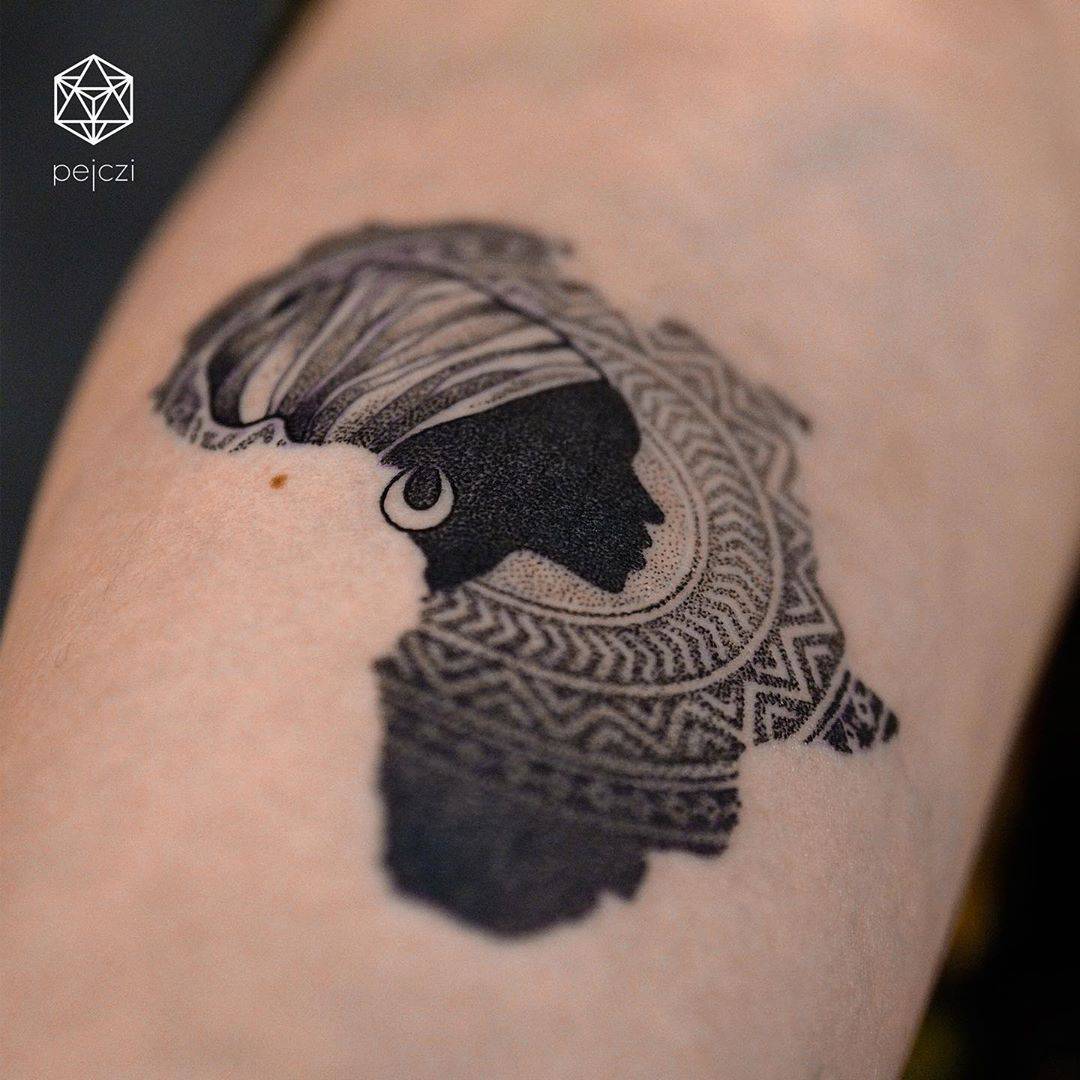 African tribal tattoos have always symbolized bravery and courageousness. As Queen Amina was known for her audacity and boldness, this tattoo design perfectly justifies her character. This tattoo design can signify that you yearn to embody the intrinsic personality of the warrior queen in life. It can also be your unique way to express your inner strength and fearlessness, and say it out loud that no matter what comes in life, you always find the strength to overcome the challenges.

6. Minimalistic Headshot of Queen Nefertiti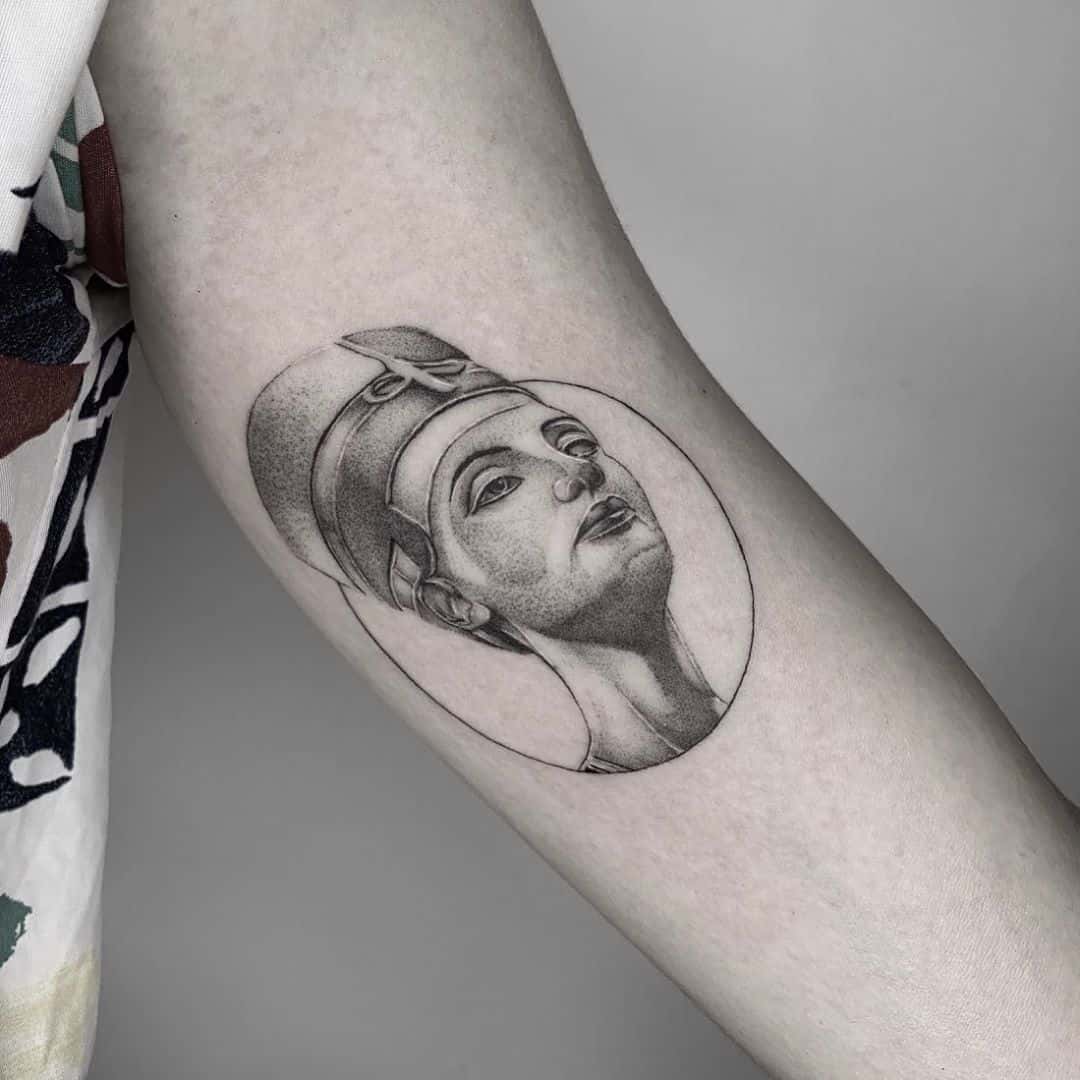 If you are looking for a minimalistic African queen tattoo idea, then this one will suit your needs in the best way. The simple yet artistic Queen Nefertiti tattoo can be a delicate way of revealing your inner strength and confidence. You can also ink this tattoo to express your love and affection toward your partner and silently declare that you are not afraid to show it to the world, just like Queen Nefertiti.
7. Queen Cleopatra With Red Lilies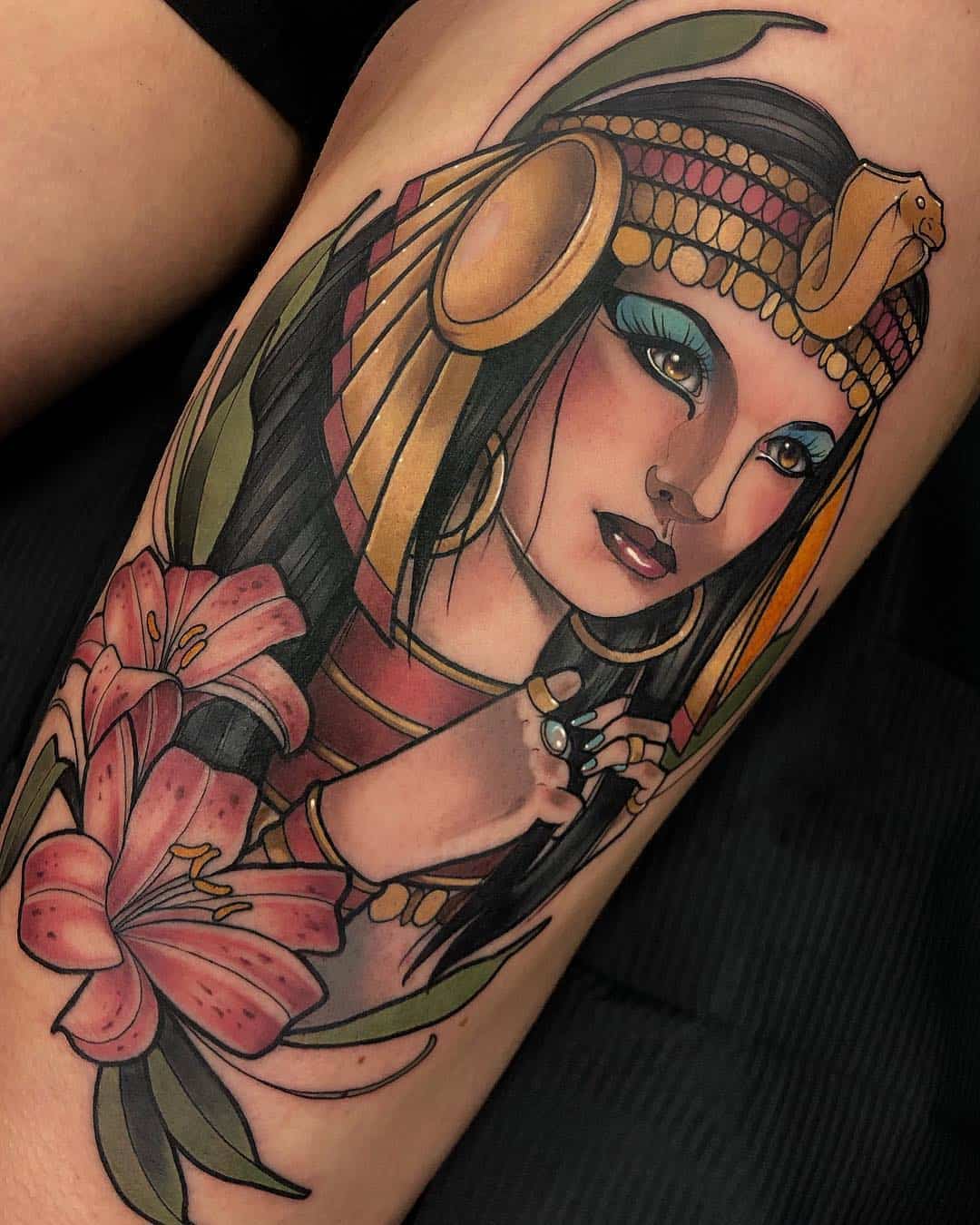 This artistic tattoo design features the classic depiction of Queen Cleopatra with a serpent headdress. While the African queen in the tattoo can symbolize beauty, power, and confidence, the serpents in the royal diadem can represent patience, wisdom, fertility, and knowledge. The inclusion of red lilies in the tattoo further add the traits like purity, prosperity, ambition, love, and passion to it, which can make it more special to you.

8. A Representation of Egyptian Queen Medusa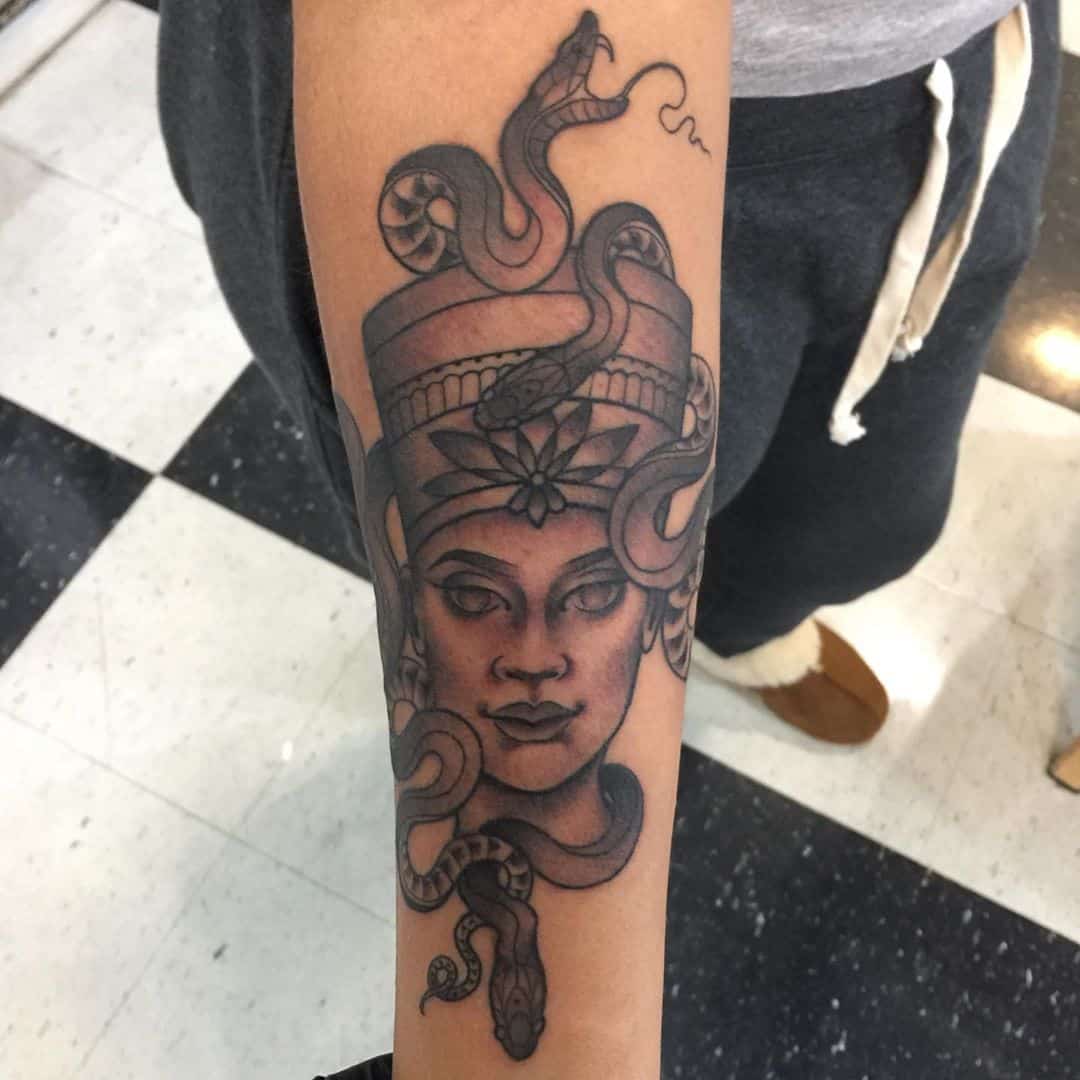 Medusa is widely known as a mythological character with snakes in her hair. However, it is also believed that Medusa was an African serpent-goddess queen who had dreadlocks and used to wear a gorgon mask and carry a pouch with live snakes in it. No matter what you believe in, this tattoo can be a mythical and unique design to ink on your body. The serpents in the tattoo design can also symbolize creative life force, knowledge, wisdom, or patience, which add more meaning to it.

9. Queen Nefertiti With Sunflower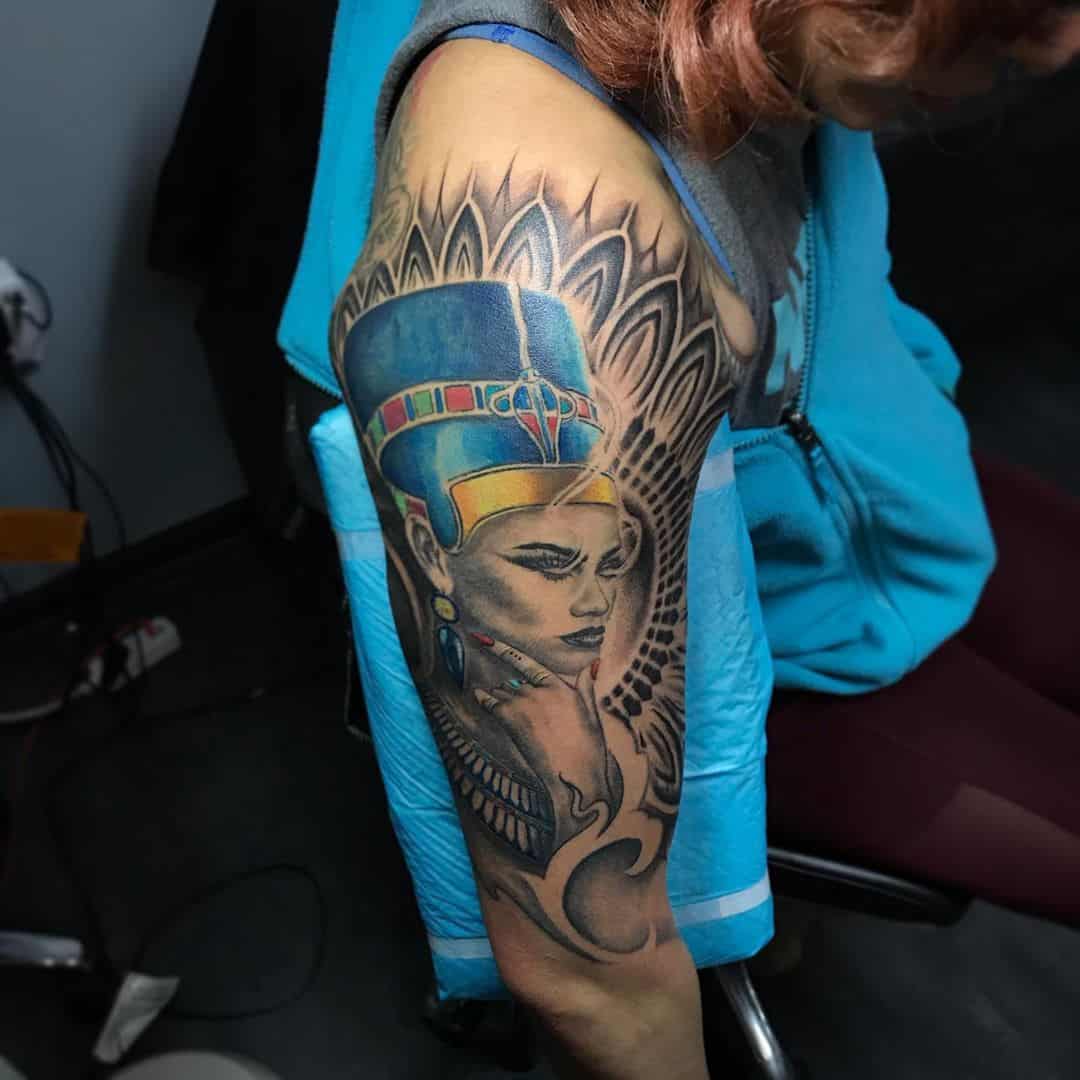 This is a colorful and vibrant version of the African Queen With Sunflowers tattoo design. Here, Queen Nefertiti is perfectly depicted as an authoritative and confident woman like what she is known for. The sunflower in the tattoo design forms a royal aureole around her head to add to the majestic influence of the ancient African queen. This not only makes it appealing to the eye but also gives more significance to the tattoo design.
10. Headshot of Warrior Queen Cleopatra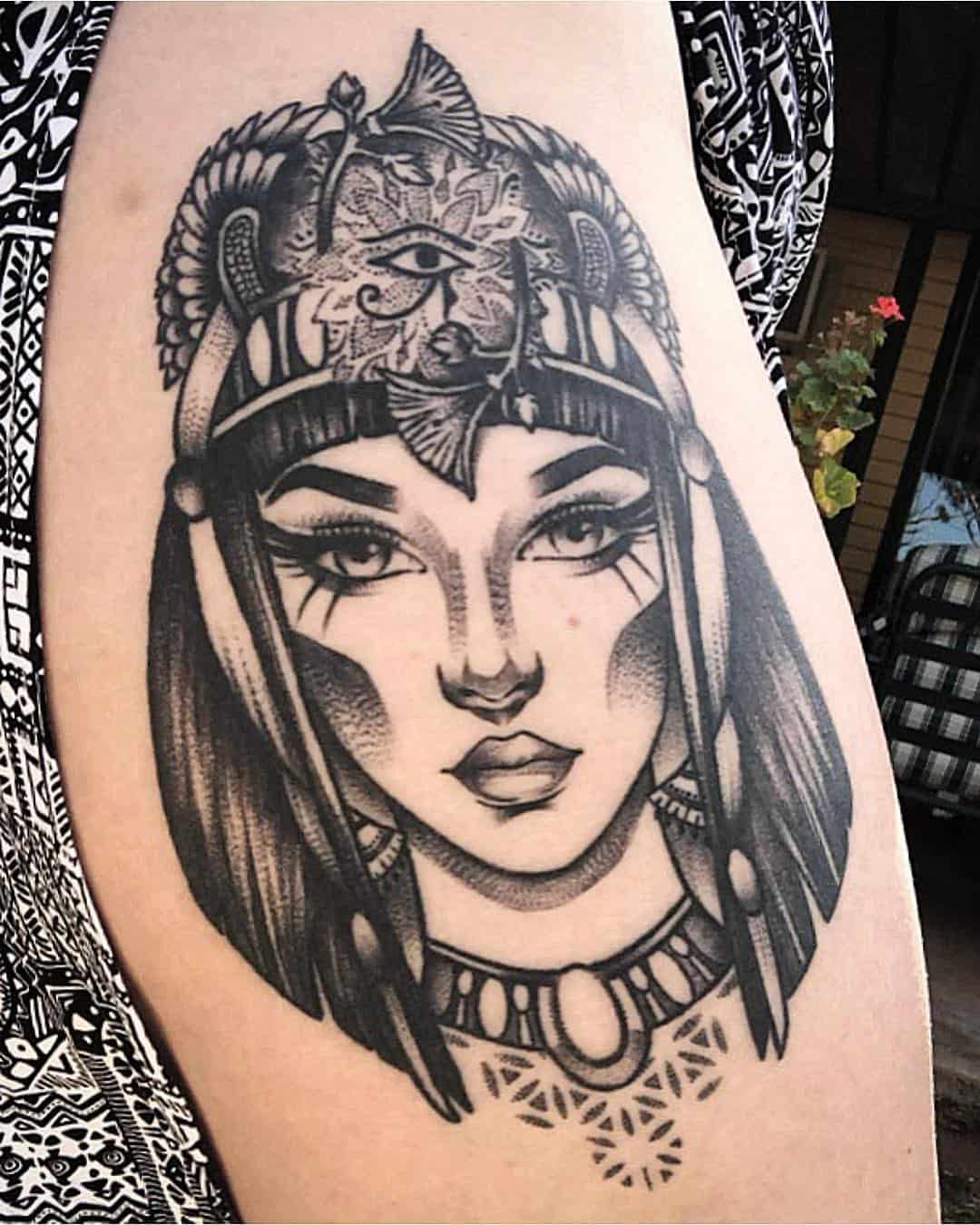 Although most ancient artworks and sculptures depict the magnificence and majestic beauty of Queen Cleopatra, she is also known as one of history's most prominent female warriors. This simple tattoo design can symbolize many different things and even have a deeper connection with your inner self. It can represent your fights in life and signify how you emerged as a champion in every situation with confidence and self-belief.
11. African Queen With Clock, Eye, and Ankh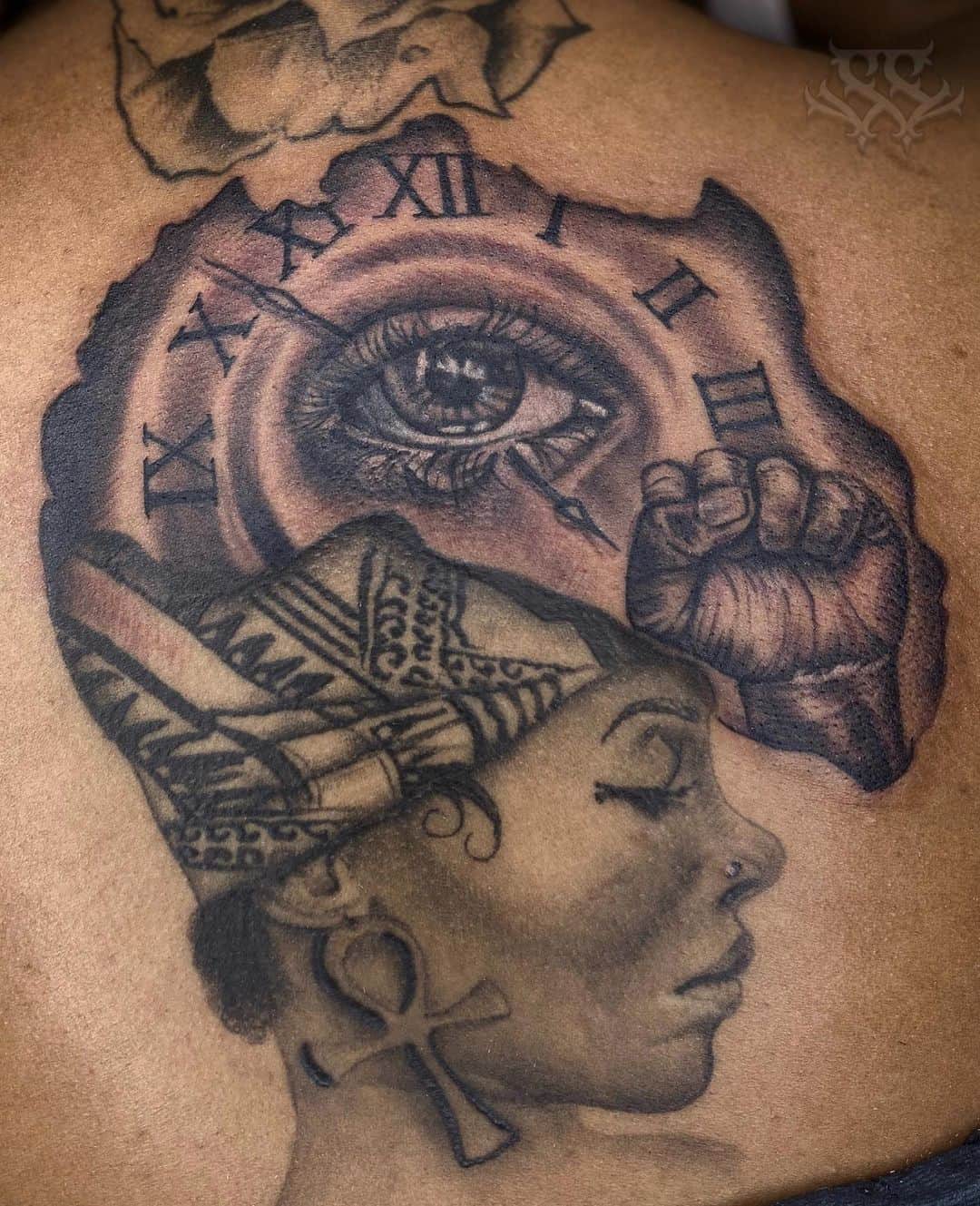 Clock tattoos generally symbolize life and death, and that no one can stop time by any means. As the Egyptian cross or Ankh is considered a hieroglyphic symbol of life, including it as the African queen's earring adds more meaning to the tattoo design. At the same time, the clock within the African outline can represent transformation over time, while including a fist can mean strength and solidarity. The eye on the clock further elevates the meaning of the intricate design and can symbolize constant guidance from a divine source.
12. African Queen Outline With a Modern Touch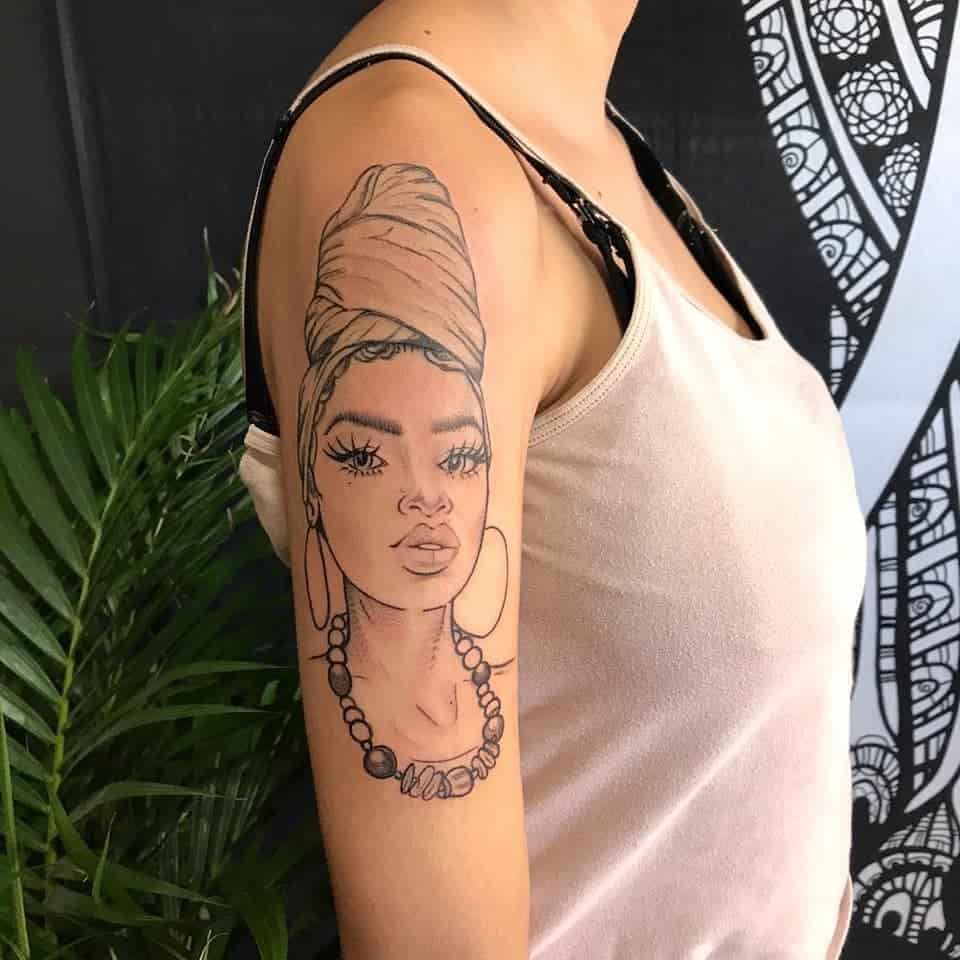 If you are looking for something simple and less intricate, then this tattoo design can be a good choice for you. The simple yet modern take on the African queen tattoo idea also opens up a lot of room for creativity. It can feature any African queen whom you admire and whose character you want to personify. Or it can be a special woman in your life whom you want to honor like a queen.
13. Queen Nefertiti With Pharaoh Akhenaten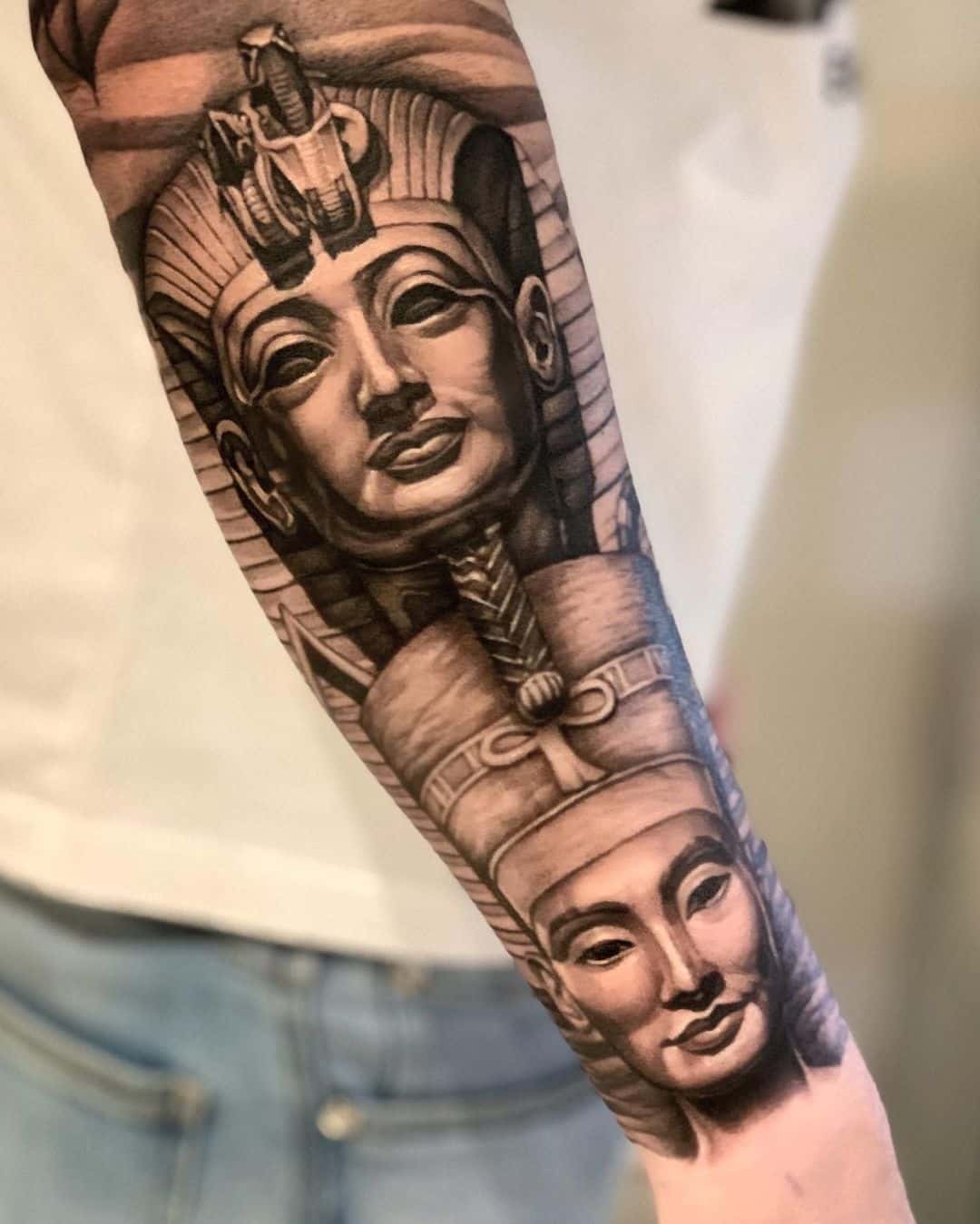 If you want an intricate African queen tattoo on your forearm, then this tattoo design will match your needs in the best way. The couple, Queen Nefertiti and Pharaoh Akhenaten, can represent your love and commitment toward your partner and delicately express how much you value them in your life. You can even customize the tattoo design to include a portrait of your partner as the African queen.
14. Graceful Representation of Queen Cleopatra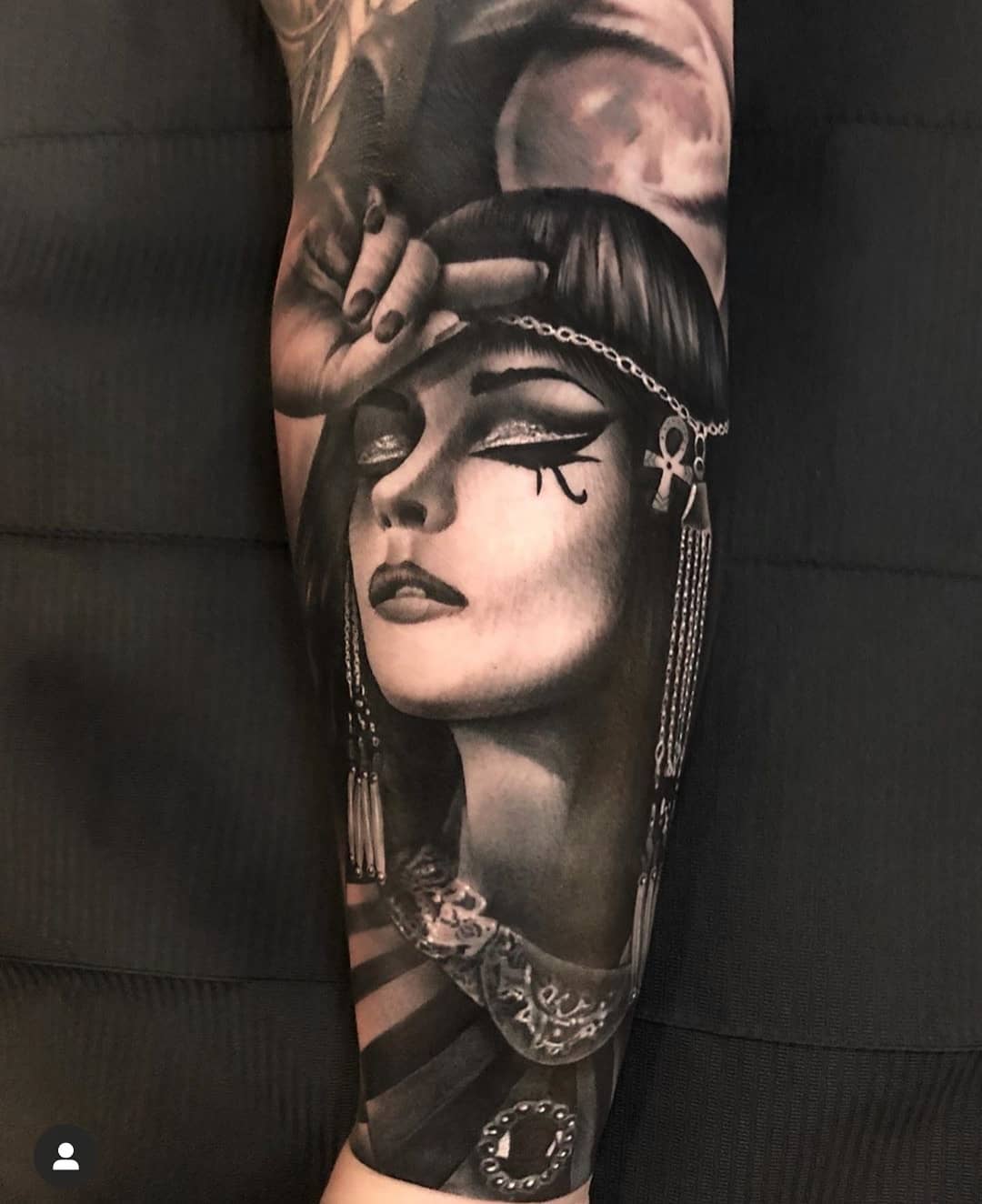 This elegant black and gray portrait of Queen Cleopatra can be a beautiful pictorial design on your body. The tattoo design features the gorgeous Egyptian queen in a relaxed but thoughtful posture, which signifies how she was always worried about her kingdom during her reign. The Queen Cleopatra tattoo can be coupled with other flower tattoo ideas as well to get a magnificent full-sleeve tattoo or to add a deeper personal meaning to it.
15. African Queen With Folded Hands and African Silhouette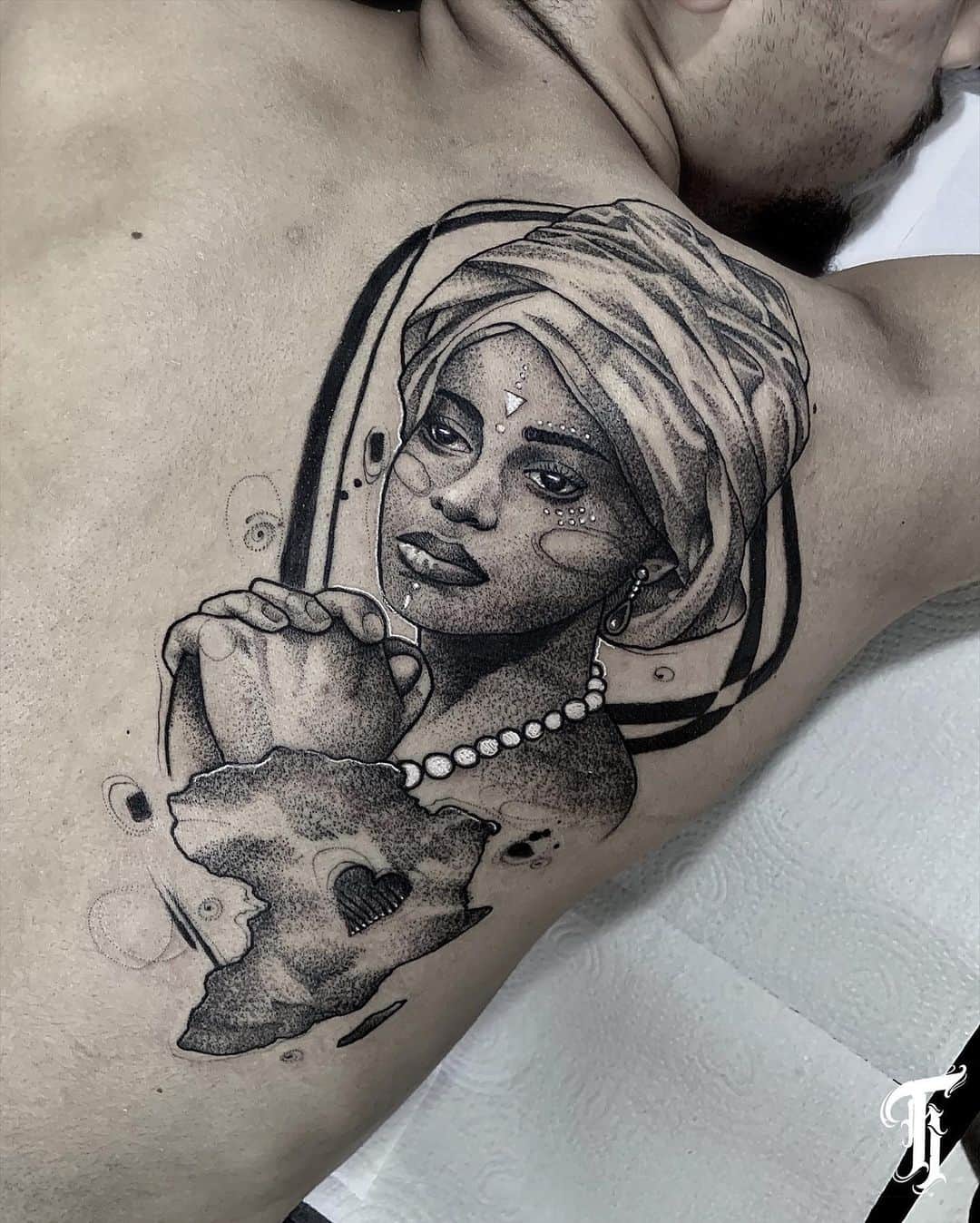 Africa is considered the motherland of humanity. This tattoo design can be a subtle way of commemorating all the influential African queens and your love for the continent. The inclusion of a heart shape in the African silhouette gives it a special meaning of love towards Africa, while the representation of the African queen praying with clasped hands can symbolize hope and aspiration for a bright future.
16. African Queen With Lilies, Butterfly, and Crescent Moon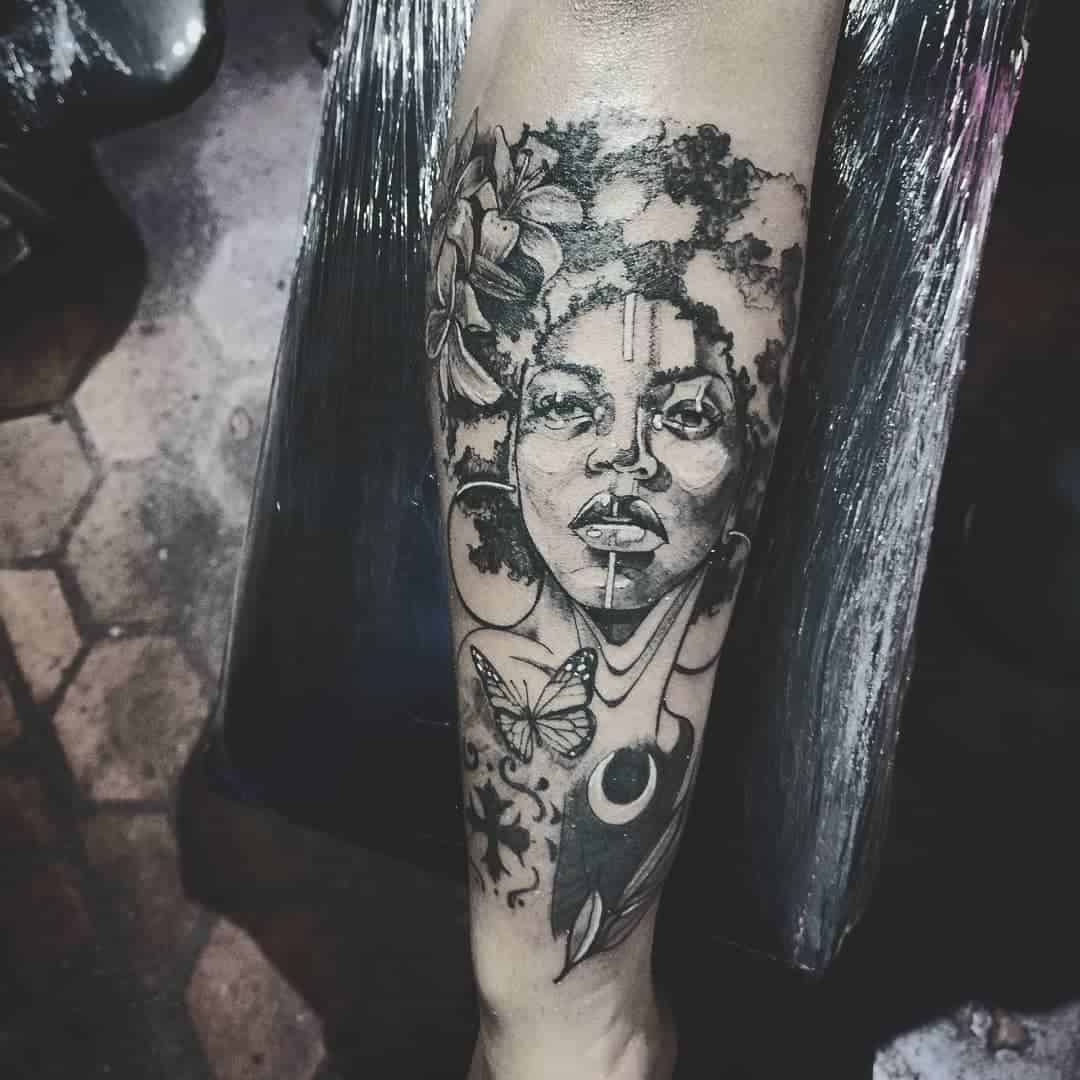 This regal tattoo design features an African queen, a butterfly, a crescent moon, and lilies. Collectively, these elements in the tattoo can mean different things like prosperity, ambition, freedom, beauty, transformation, growth, creativity, or contemplation. The addition of a Greek cross in the tattoo gives it an artistic twist, while honoring the age-old relationship between Greeks and Africans. Meanwhile, the hair of the African queen symbolizing the African forest can represent your connection with nature.
17. African Queen With Anemone Flower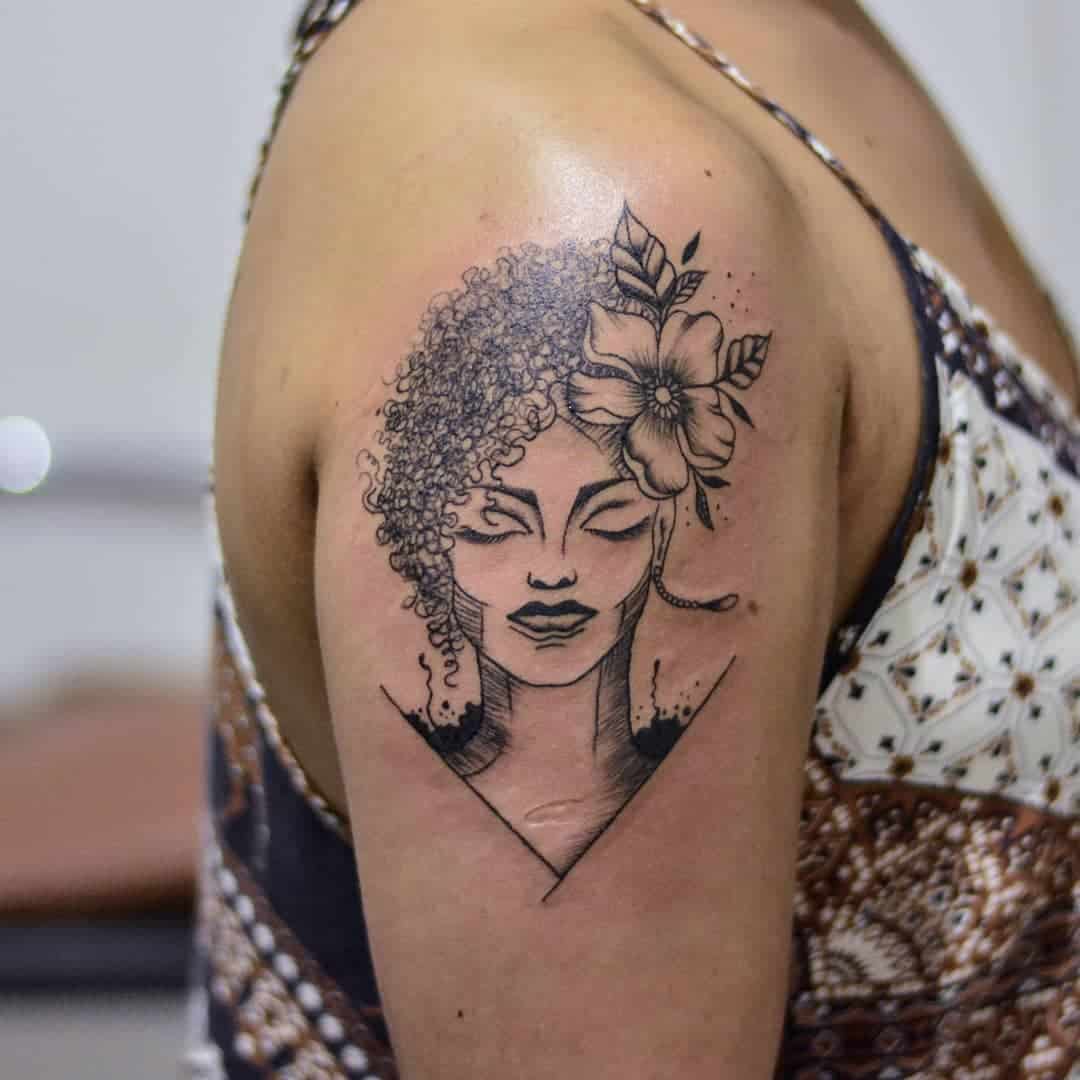 If you liked the minimalistic appeal of the Queen Nefertiti headshot tattoo, but wanted a customized design, then this one can be a great choice. Anemone flowers symbolize anticipation, hope, beauty, and change. The African queen on the tattoo can be anyone special whom you want to honor. In Greek mythology and Christianity, the flower can also represent death. So you can also have this simple tattoo design inked to remember a loved one you have lost.

18. Realistic Portrait of Queen Nefertiti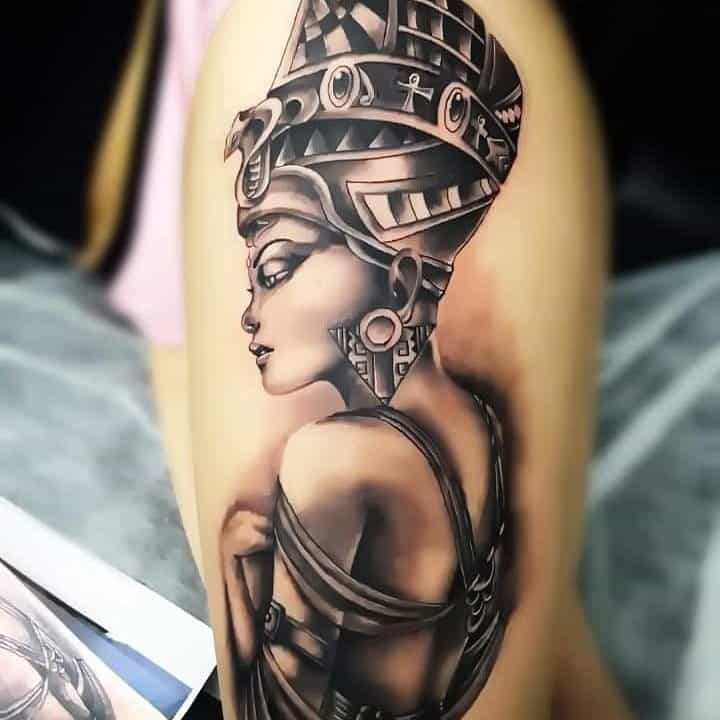 The name Nefertiti means, "A beautiful woman has come," and this tattoo totally captures the beauty of Queen Nefertiti. If you are not concerned about the specific symbolic meaning of your tattoo and simply want an appealing African queen design to draw everyone's attention to it, then this one will be the right choice for you. However, the tattoo can still represent courage, boldness, confidence, and authority, which is always an added perk of inking African queen tattoos.
19. Dramatic Illustration of Queen Cleopatra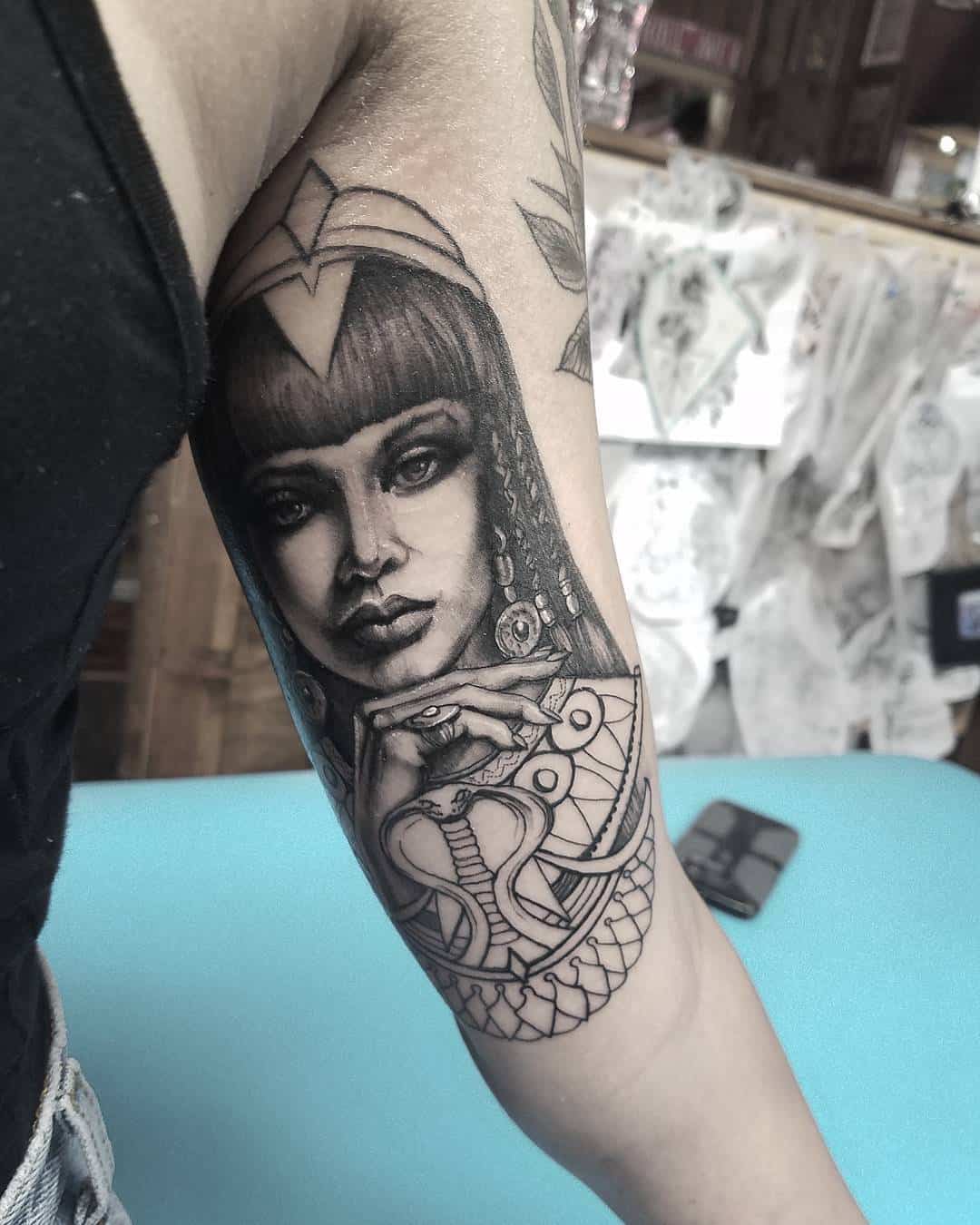 Queen Cleopatra was known for her graceful looks and splendor. Roman historians described her as "a woman of surpassing beauty," while others add "irresistible charm, sweet voice, persuasiveness, and stimulating presence" to her personality. This impressive representation of Queen Cleopatra perfectly personifies that, while reflecting on her intelligence and charm. The serpent here is on her breastplate instead of the crown, which puts the traits like patience, wisdom, and knowledge at the forefront.
20. Artistic Portrayal of Queen Medusa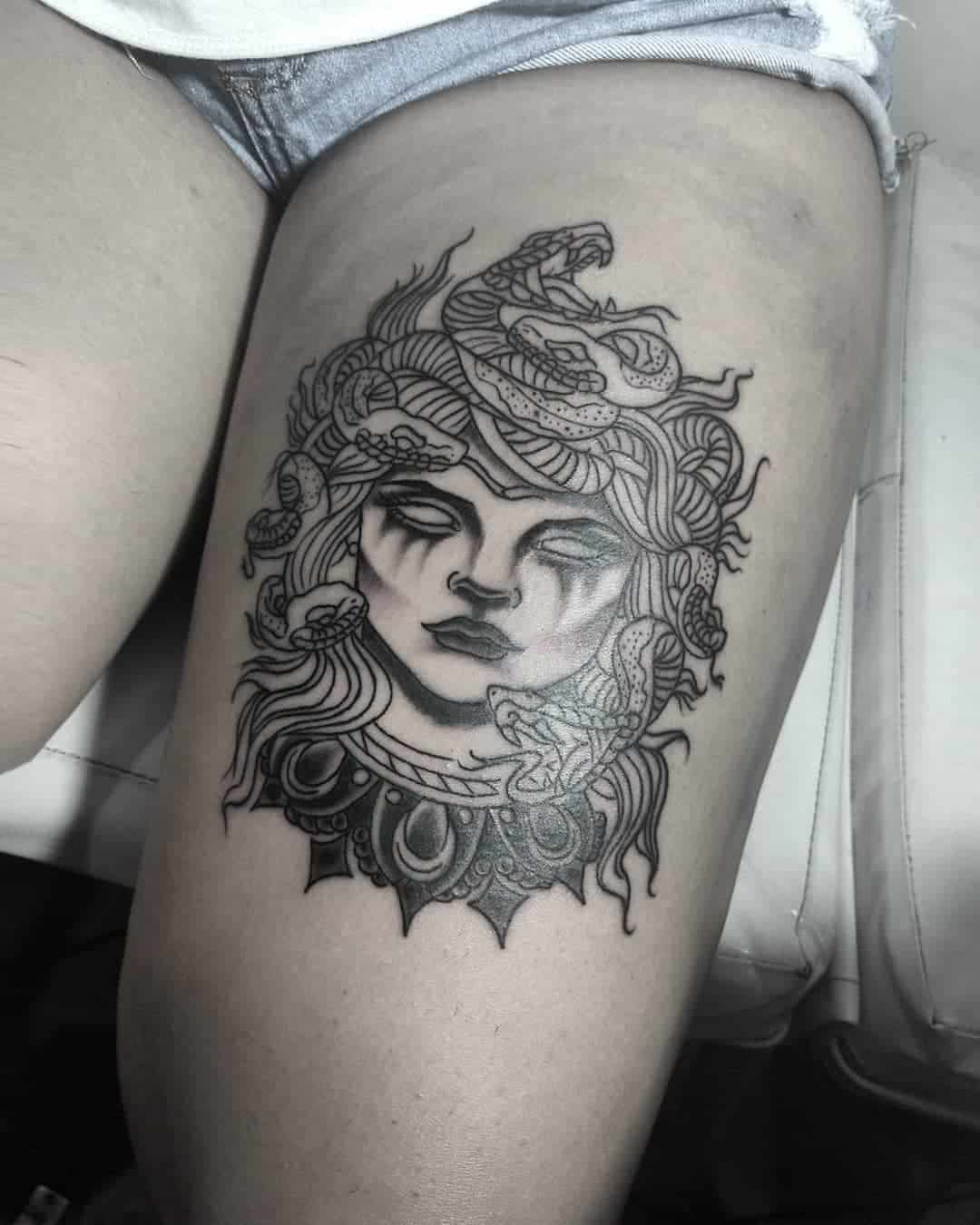 This tattoo design is very different from the Symbolic Representation of Egyptian Queen Medusa. Here, the artistic illustration fully embodies the mythological side of the story and gives you a unique tattoo design. This makes it a symbol of protection against evil that is depicted in ancient Greek texts. However, it can also be your own symbol of strength and a steady reminder to never let anyone hold you down.
21. African Queen With a Clock and a Rose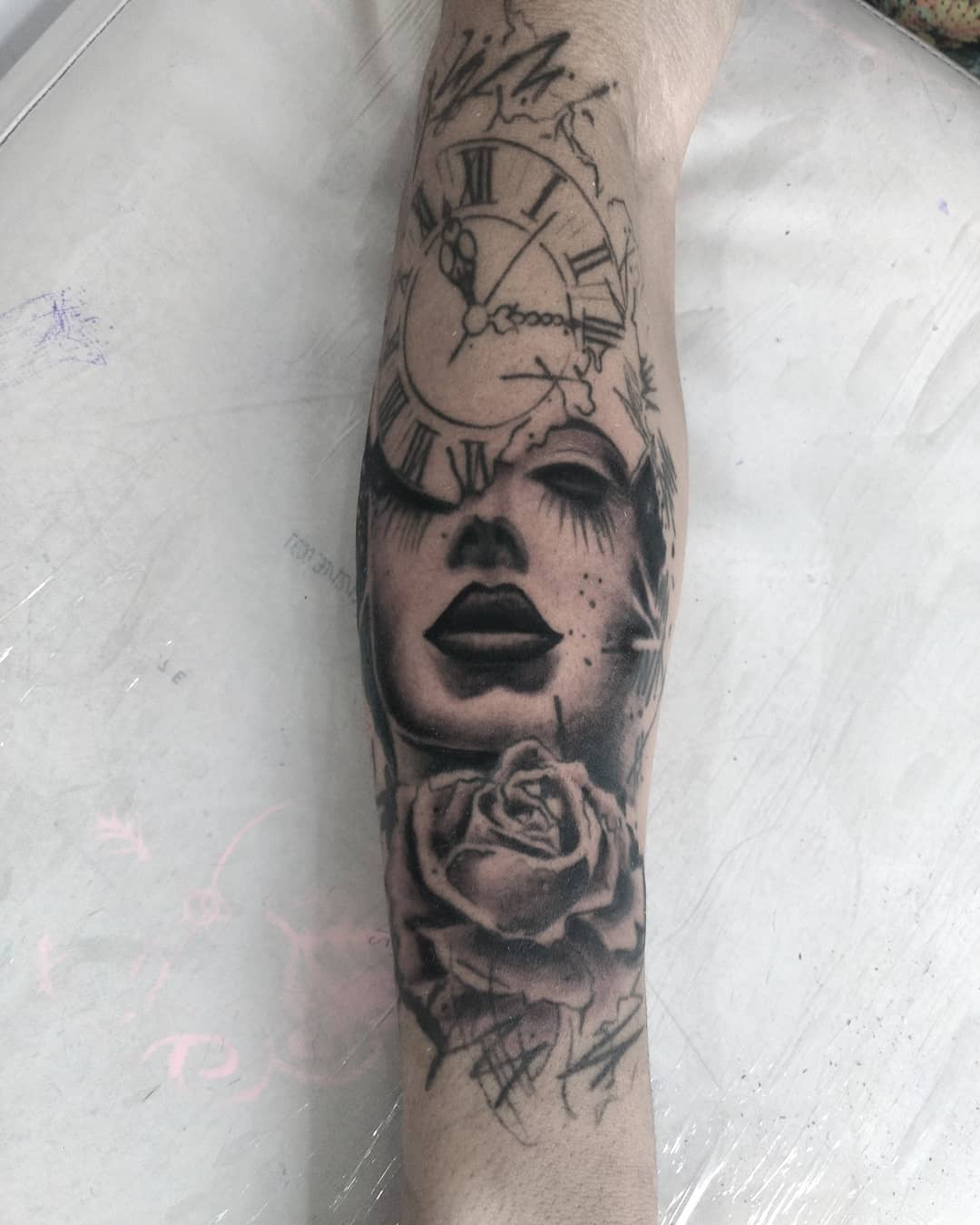 Roses have a special place in tattoos designs and it is not limited to flower tattoo ideas alone. Roses can be added to any tattoo to accentuate the appeal of the design and to give a deeper symbolic meaning to it. A rose in the African queen tattoo can symbolize promise, hope, and new beginnings. In some cultures, roses also represent balance. As the clock on the top signifies unstoppable time, the tattoo will constantly remind you to hold fast to your self-belief and keep going no matter what comes your way.

22. Queen Cleopatra With Sphynx Cat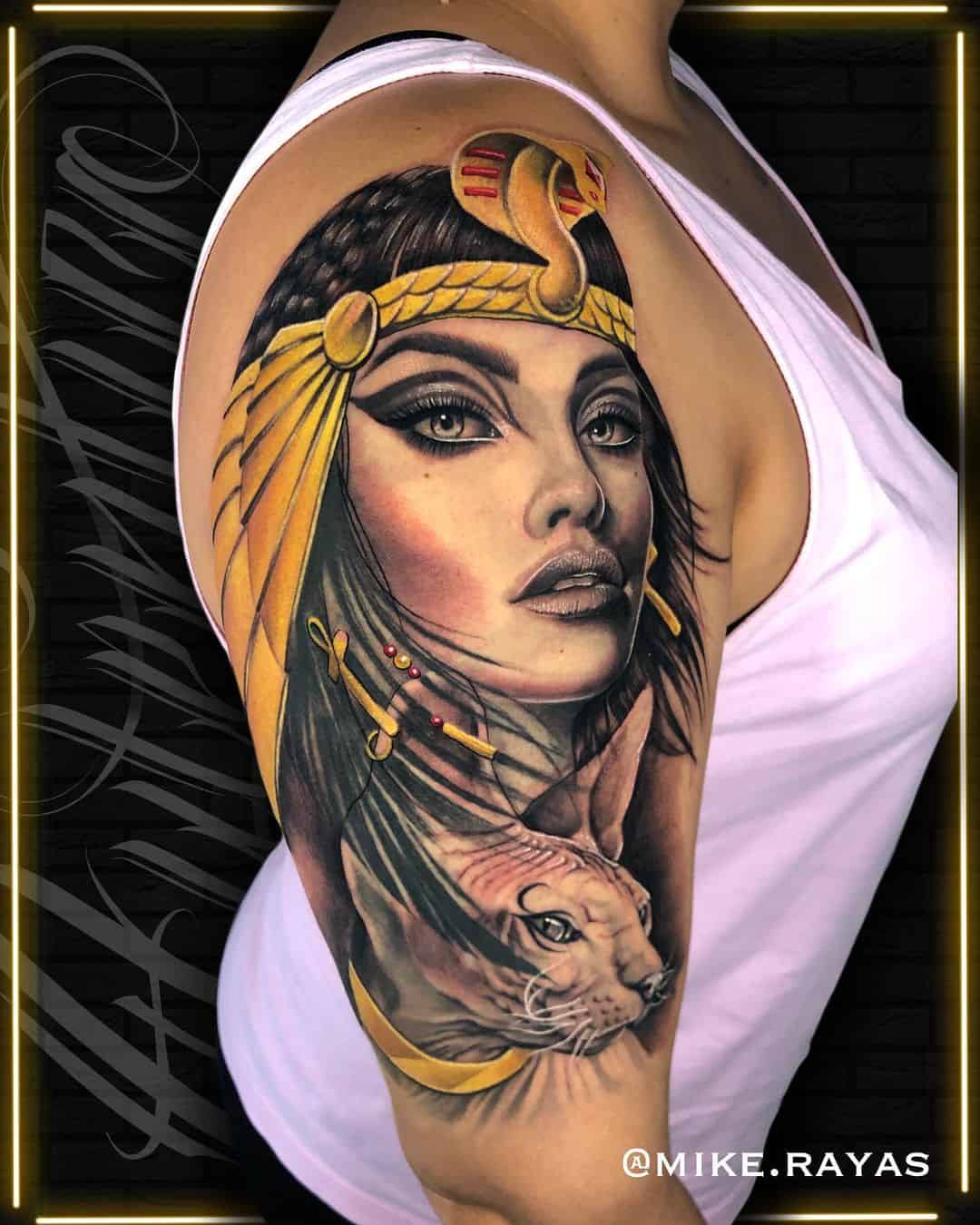 Sphynx cats are quite unique and are viewed as a symbol of good fortune and luck in many cultures. Sphynx cats are also popular among royalties and symbolize status and prosperity. Including a Sphynx cat in the African queen tattoo can represent the mythical sphinx creature, symbolizing power and authority. Even without any symbolic meaning, the artistic portrait of Queen Cleopatra can draw everyone's attention to the tattoo.
23. Modern Woman and Ancient Queen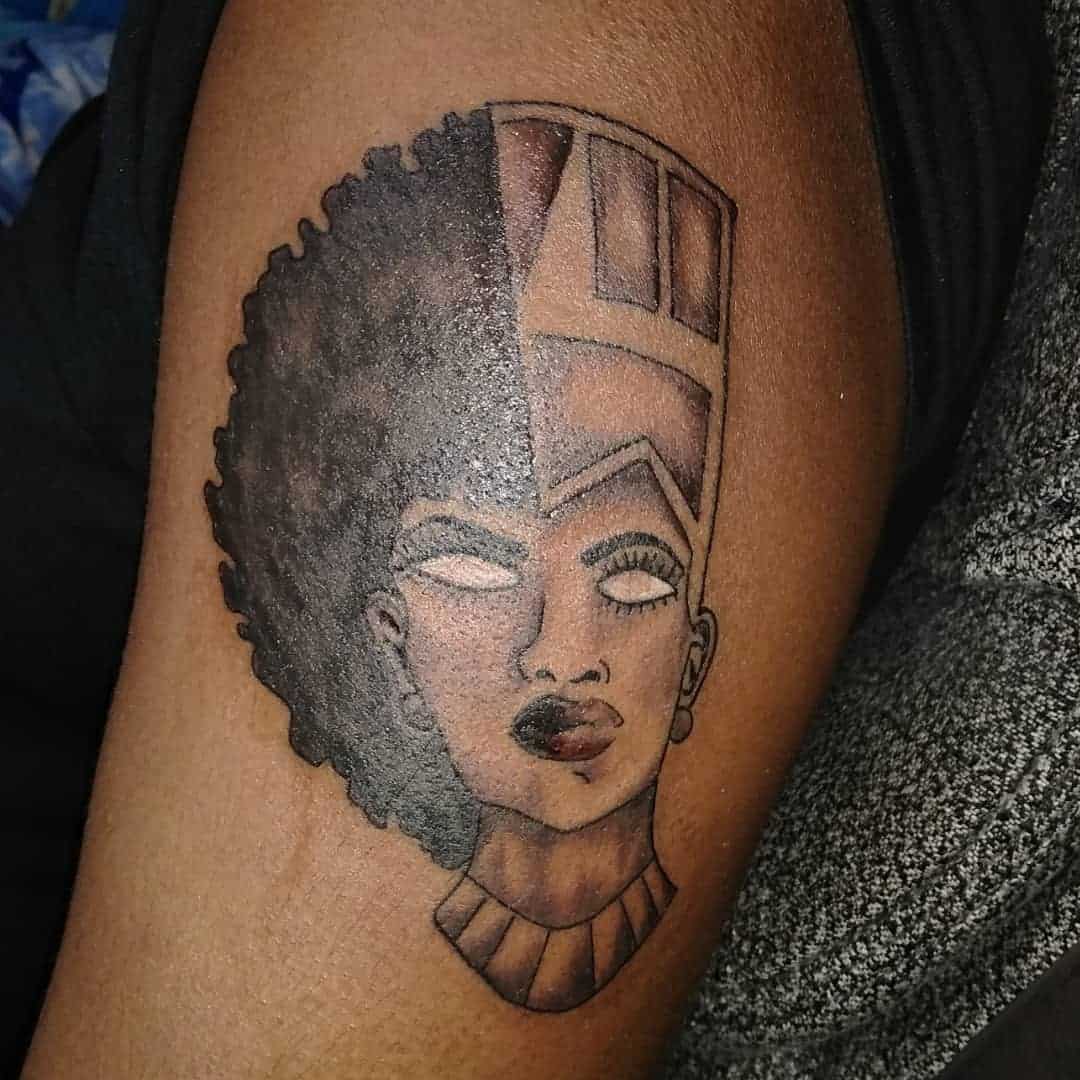 This unique tattoo design combines a modern woman with an ancient queen, which can be Nefertiti, Makeda, or anyone else. The tattoo can symbolize the change in time or can represent how you have transformed over the years by overcoming the challenges in life. It can also depict that even though some women are known for their loving, caring, and affectionate nature, there is a bold, brave, and valiant side within that can come forward whenever needed.

24. African Queen on African Silhouette With a Rose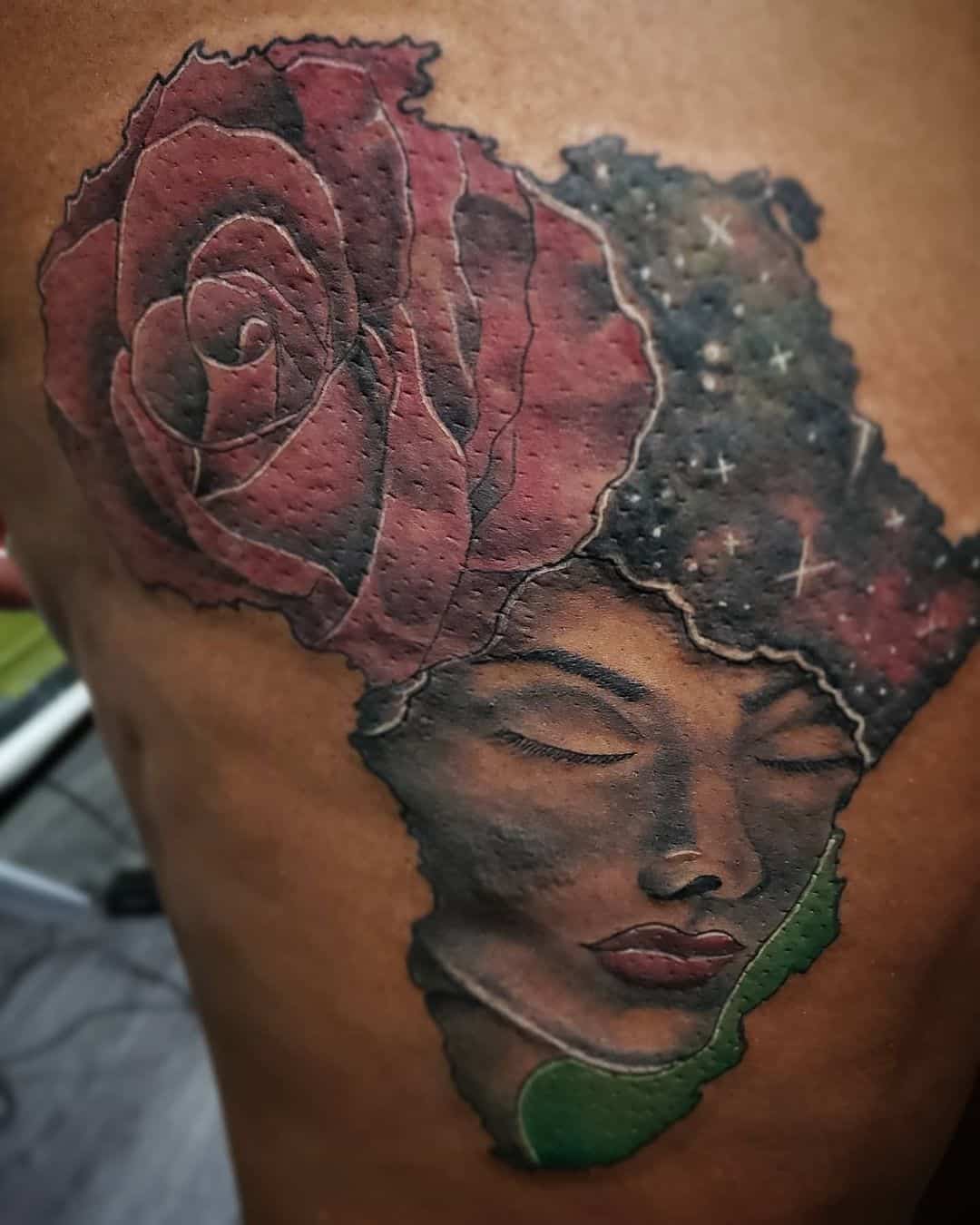 If you are looking for a simple yet powerful way to portray the fascinating traditions and profound landscape of Africa, then this tattoo design will suit you the best. Here, the face of an African queen is embedded on an African map silhouette with a red rose on the top and greenery on the bottom. On the other hand, the hair of the African queen is represented as stars in a dark sky. Together, the different elements in the tattoo symbolize the colors of the Pan-African flag, which can be a subtle way to show your respect for Africa.
25. African Map Outline With Queen Amina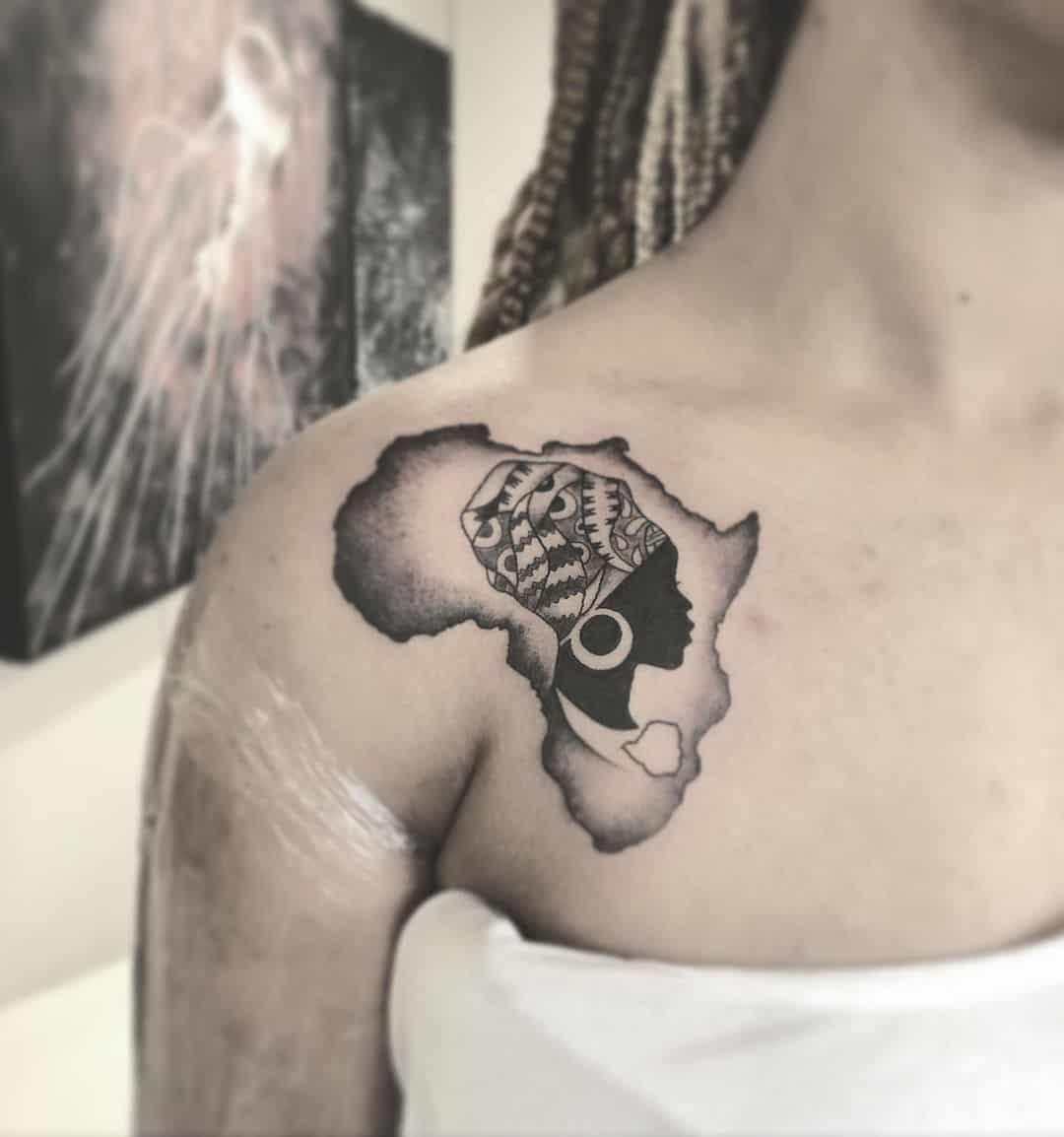 This is another version of the Queen Amina With Tribal Symbol-Filled African Silhouette tattoo design. Here, the African warrior queen is depicted wearing an ethnic headwrap with Afrocentric patterns, which can symbolize status, hierarchy, or commitment to tribal African roots. This tattoo design can be yet another great way to show your respect for African traditions and culture.
26. Queen Cleopatra With Pyramids, Sun, and Sacred Scarab Beetle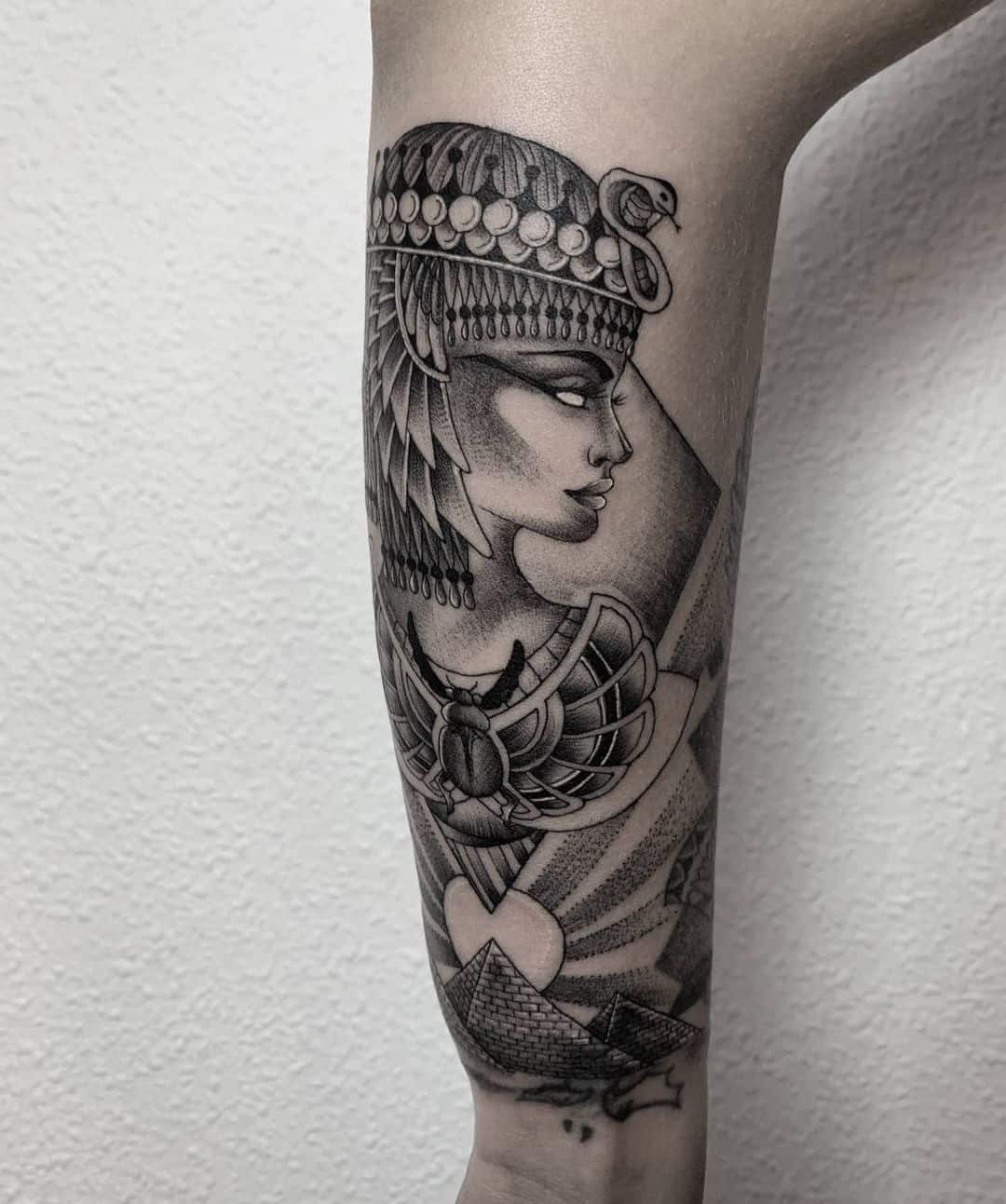 The ancient Egyptians viewed the sacred scarab beetle as an incarnation of the sun god Ra. It was also one of the most popular amulets in ancient Egypt and considered a symbol of resurrection, immortality, transformation, and protection. The pyramids and the sun, on the other hand, represent life and death, and ascending towards the light of the sun. Collectively, this tattoo can symbolize how you have achieved light and peace by conquering a dark or difficult situation. It can also be a unique way to honor your partner and convey that she is the sun in your life.
27. African Queen With Bush Lilies and Elephant Head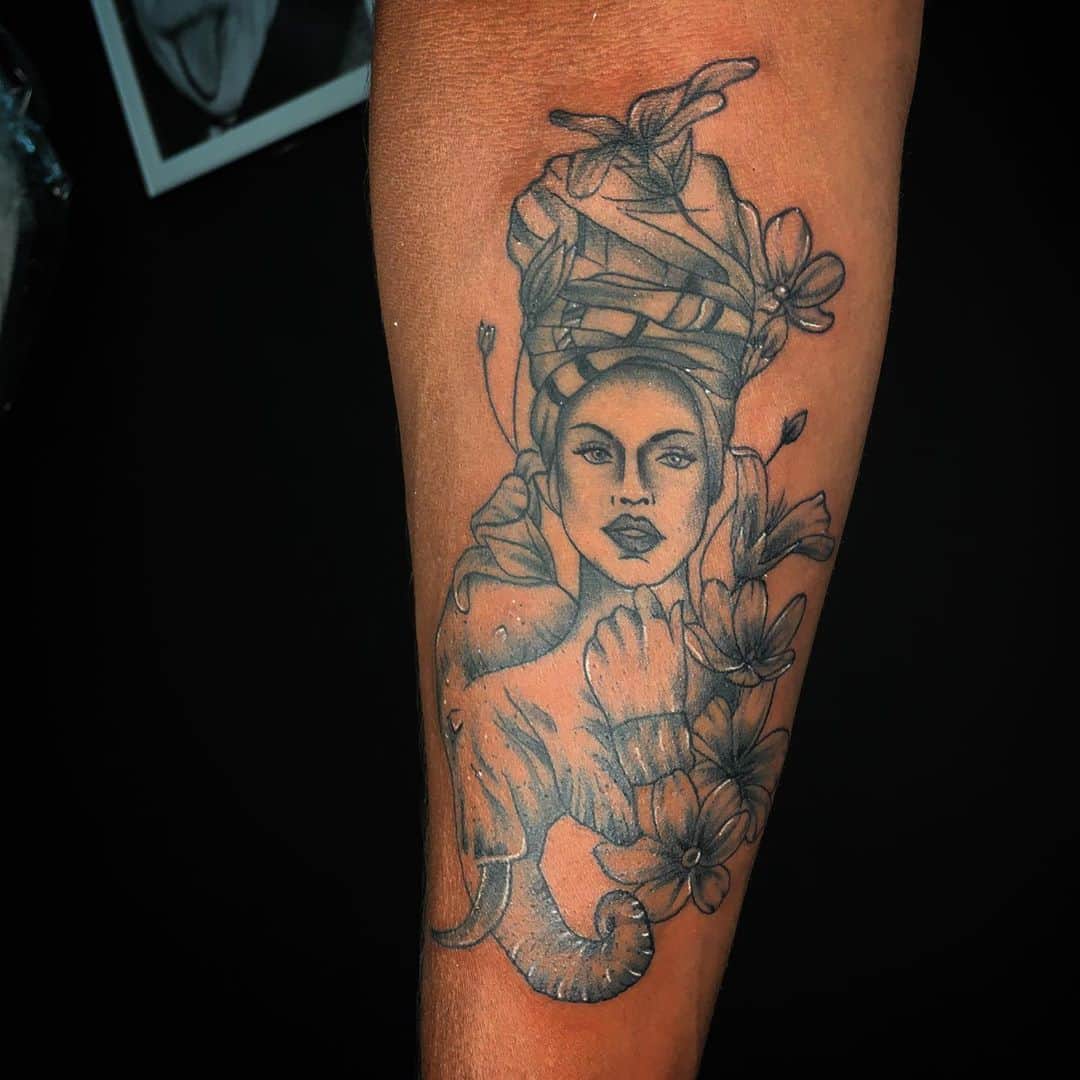 Elephants are known for their admirable wisdom and considered a symbol of strength, loyalty, good luck, and divinity. With the African queen standing there with confidence and audacity, these symbolic virtues of elephants make this tattoo design more special. Adding bush lilies on the tattoo not only makes it look complete but also gives it the added traits of femininity, passion, and royalty.
28. African Tribal Warrior Queen With a Wolf Silhouette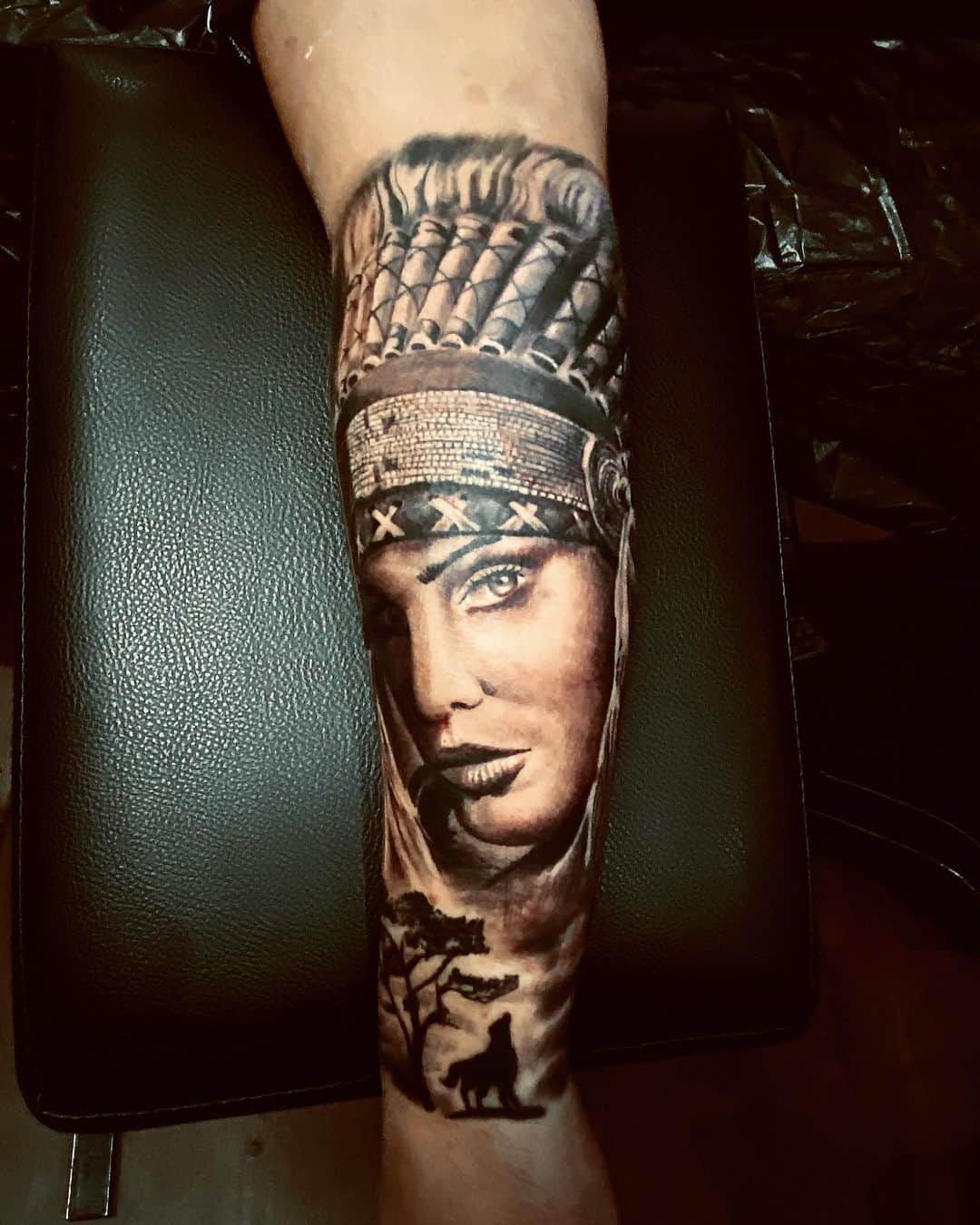 Ancient African tribal warriors were known for their strength and resilience, which gives this tattoo a significant meaning. The African tribal warrior queen is depicted in her traditional attire in the tattoo design, gazing with confidence. The wolf silhouette on the bottom symbolizes family ties and commitment to your loved ones. Overall, the tattoo will remind you to value your relationships and be prepared to battle every situation in life like a warrior.
29. Queen Cleopatra Lying in Desert With Pyramids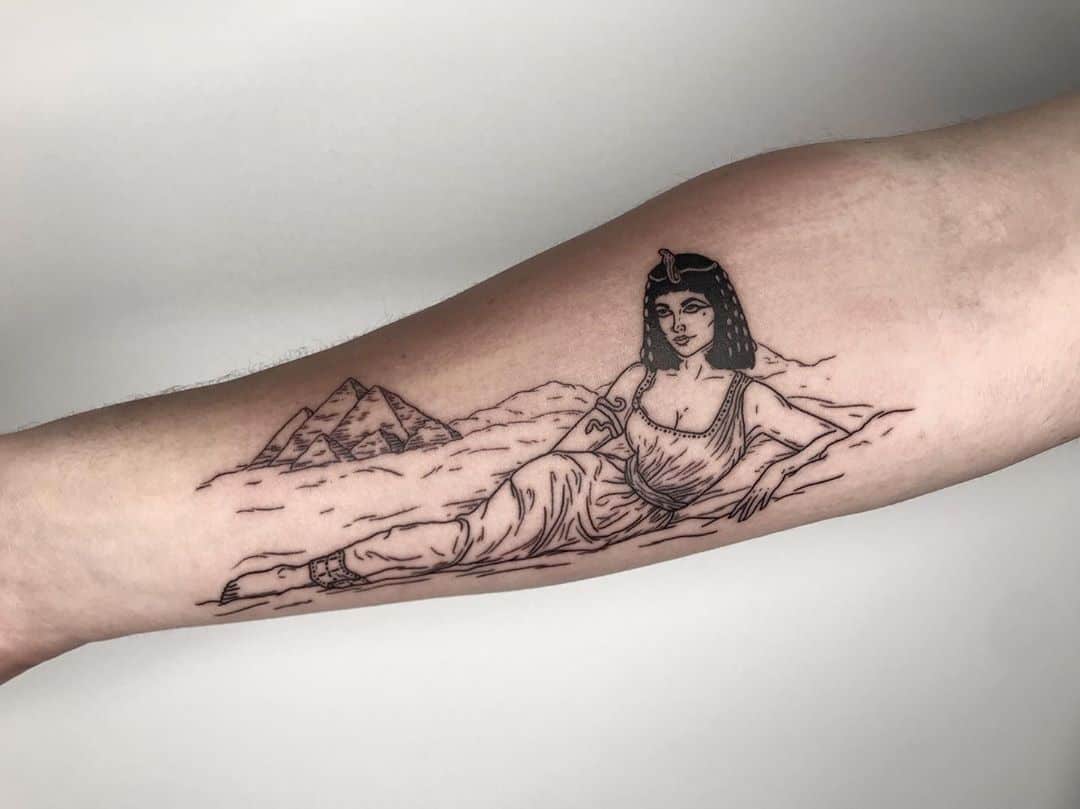 This is one of the most unique ways to portray Queen Cleopatra and admire her beauty. The simple tattoo features a cozy Queen Cleopatra lying on desert sand with some pyramids in the background. It all seems like a dreamy scene that was shot for a movie, which gives this tattoo a modish appeal and will surely draw the attention of everyone with a single glance. Nonetheless, it can still mean how you long to embody the influential character of Queen Cleopatra.
30. Portrait of an African Tribal Queen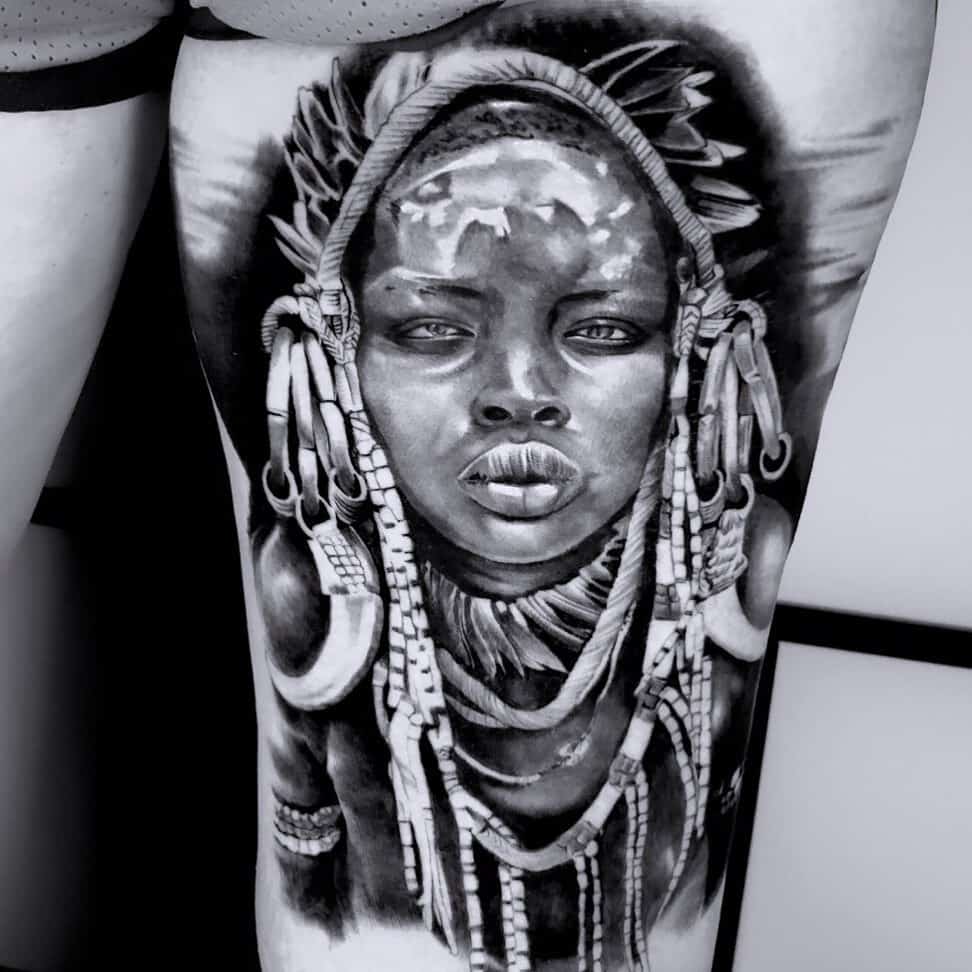 If you love portrait tattoos and intricate designs, then this one will be an ideal choice for you. The African tribal queen can be customized as a special person in your life, wearing ethnic tribal attire and jewelry. This can be a great way to express your admiration for the culture and heritage of the African continent.
31. Slender African Queen With a Lily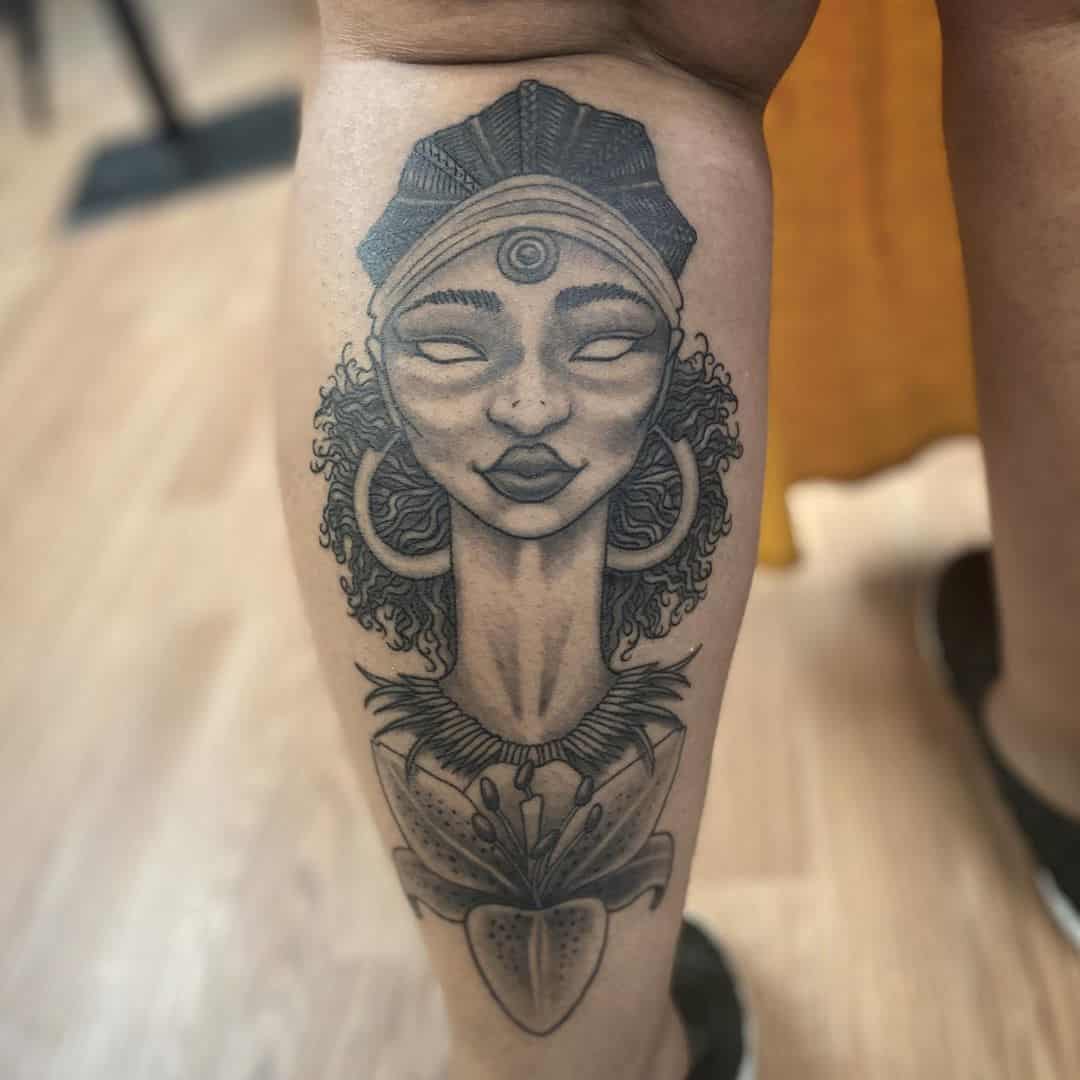 Lilies represent good luck, fertility, rebirth, and purity. In some cultures, lilies are also associated with passion and devotion. Adding a lily to your African queen tattoo can be a simple way to show your respect for the ancient African cultures. At the same time, the tattoo can also mean how you have conquered the tough times in life and transformed yourself through the challenges.

32. A Graceful Illustration of Egyptian Queen Nefertiti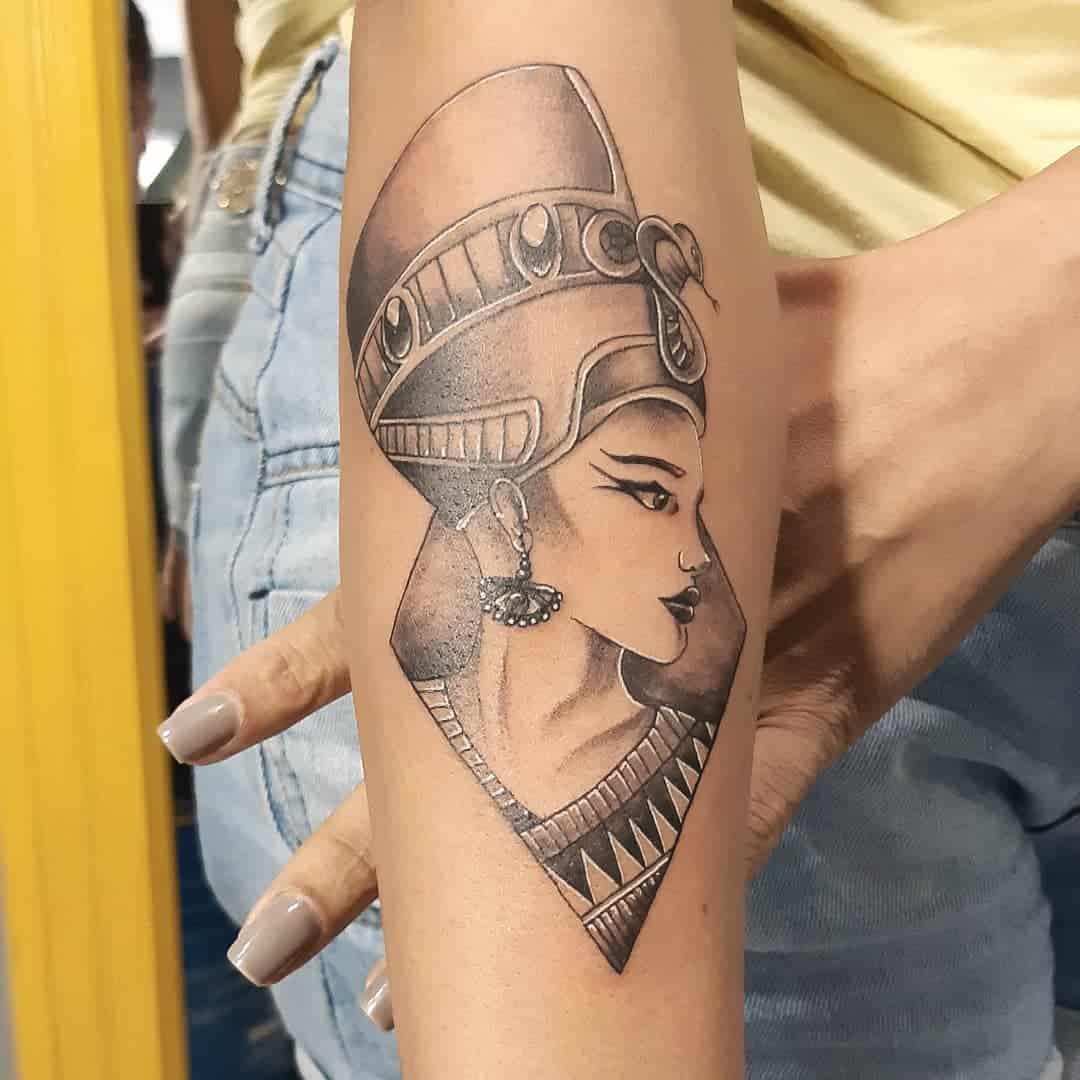 This elegant tattoo design is neither overly intricate like the Realistic Portrait of Queen Nefertiti tattoo nor overly simple like the Minimalistic Headshot of Queen Nefertiti. It brings a subtle complexity to the design while keeping the headshot clean and appealing. This makes the tattoo an ideal way to express your admiration for Queen Nefertiti's innate beauty and charm.
33. Queen Cleopatra With Pyramids and Moon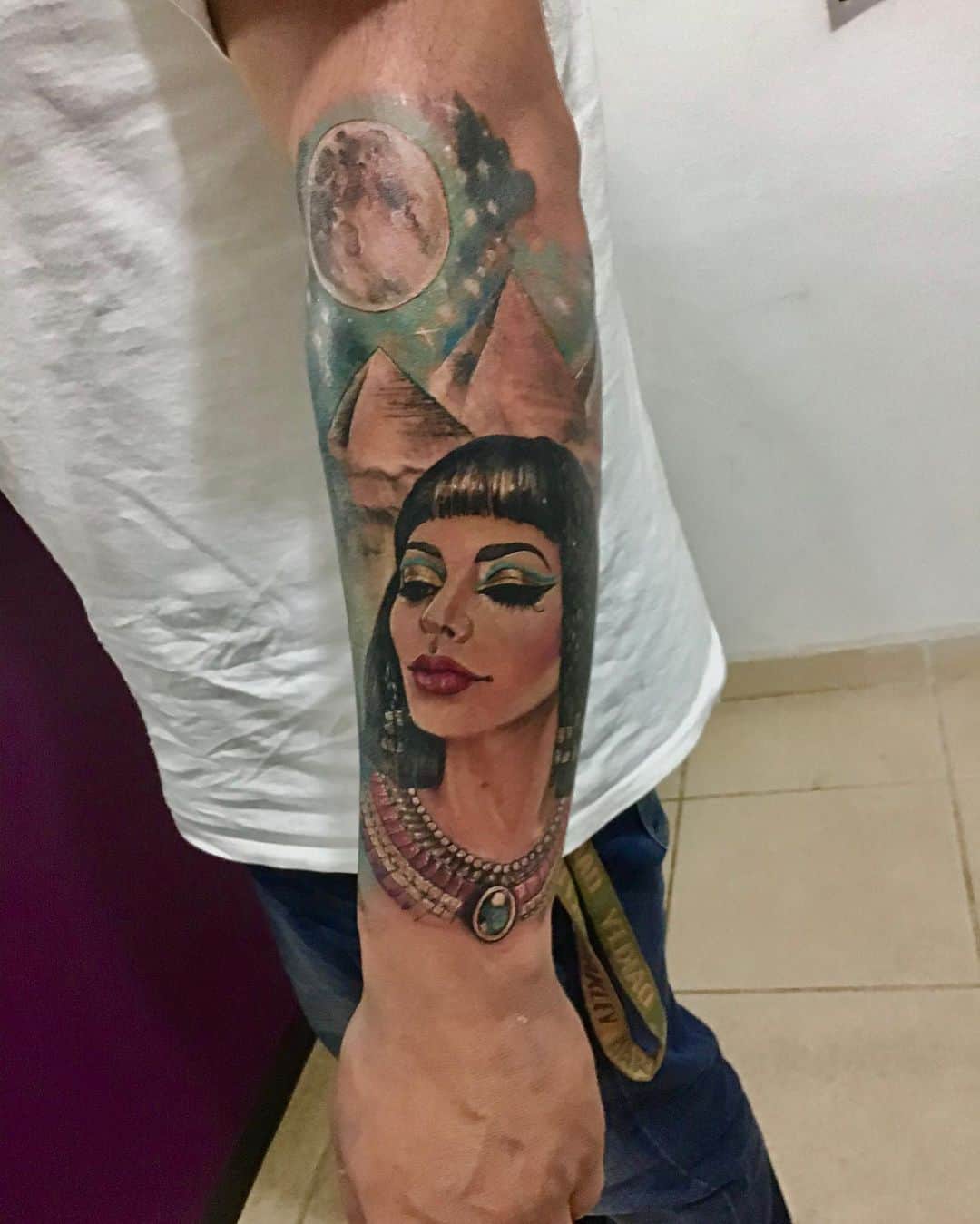 This realistic representation of Queen Cleopatra perfectly depicts her splendor and royal grandeur. The pyramids and moon in the tattoo design do give it a symbolic meaning of unity, determination, growth, and power. Yet the elegant and confident look of Queen Cleopatra in the tattoo will draw the most attention and portray how the natural power of beauty and self-belief can conquer anything.
34. African Queen With Elaborate Headwrap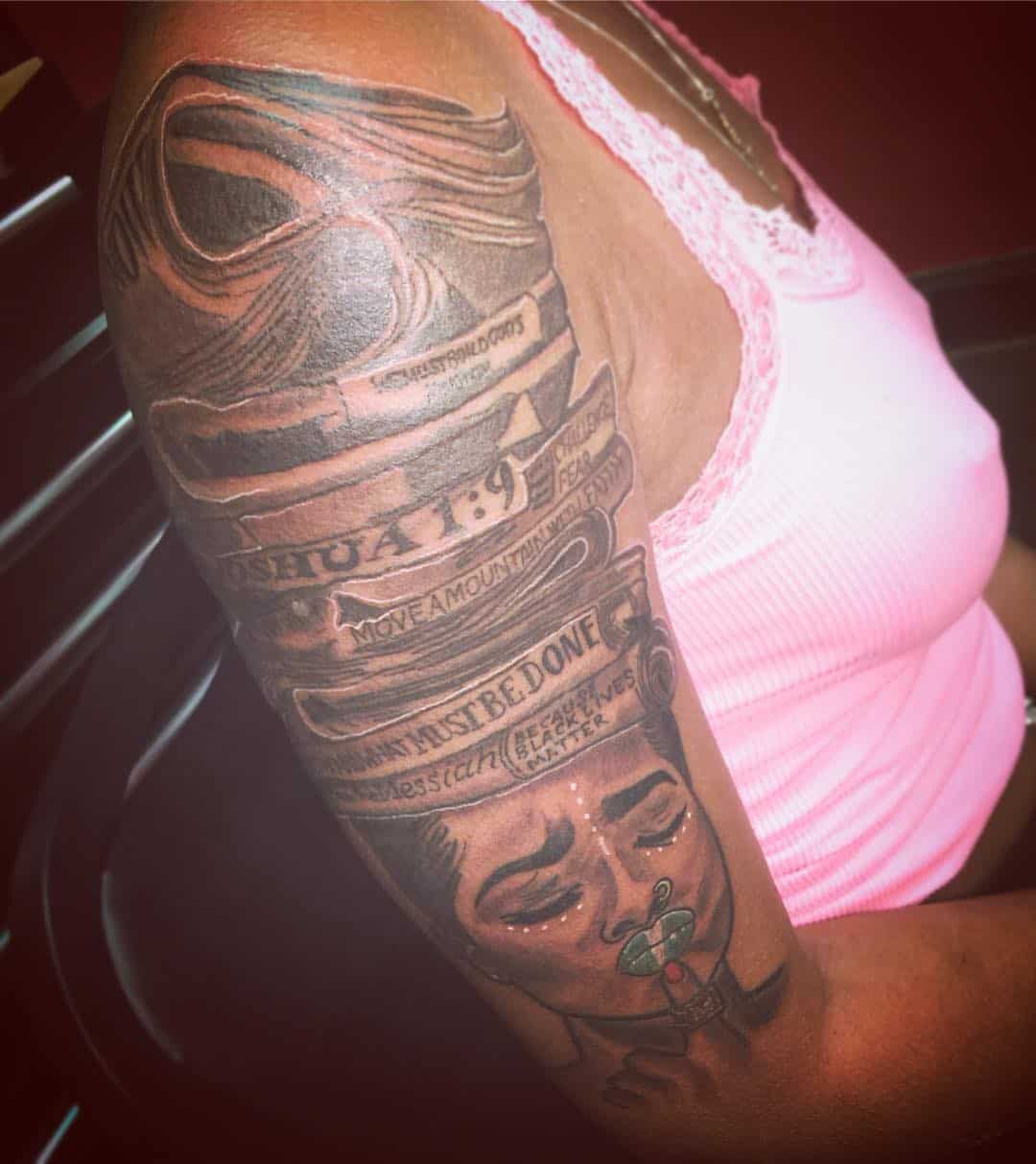 African people have long been associated with their stylish and unique headwraps. This tattoo design upholds the culture with an elaborate headwrap, and even includes a Biblical reference to Joshua 1:9 that says, "Be strong and courageous." This can be a great way to remind yourself to stand fast to your faith and self-belief, and conquer every challenge like the ancient African queens.
35. Ndebele Queen Wearing Bronze Neck Rings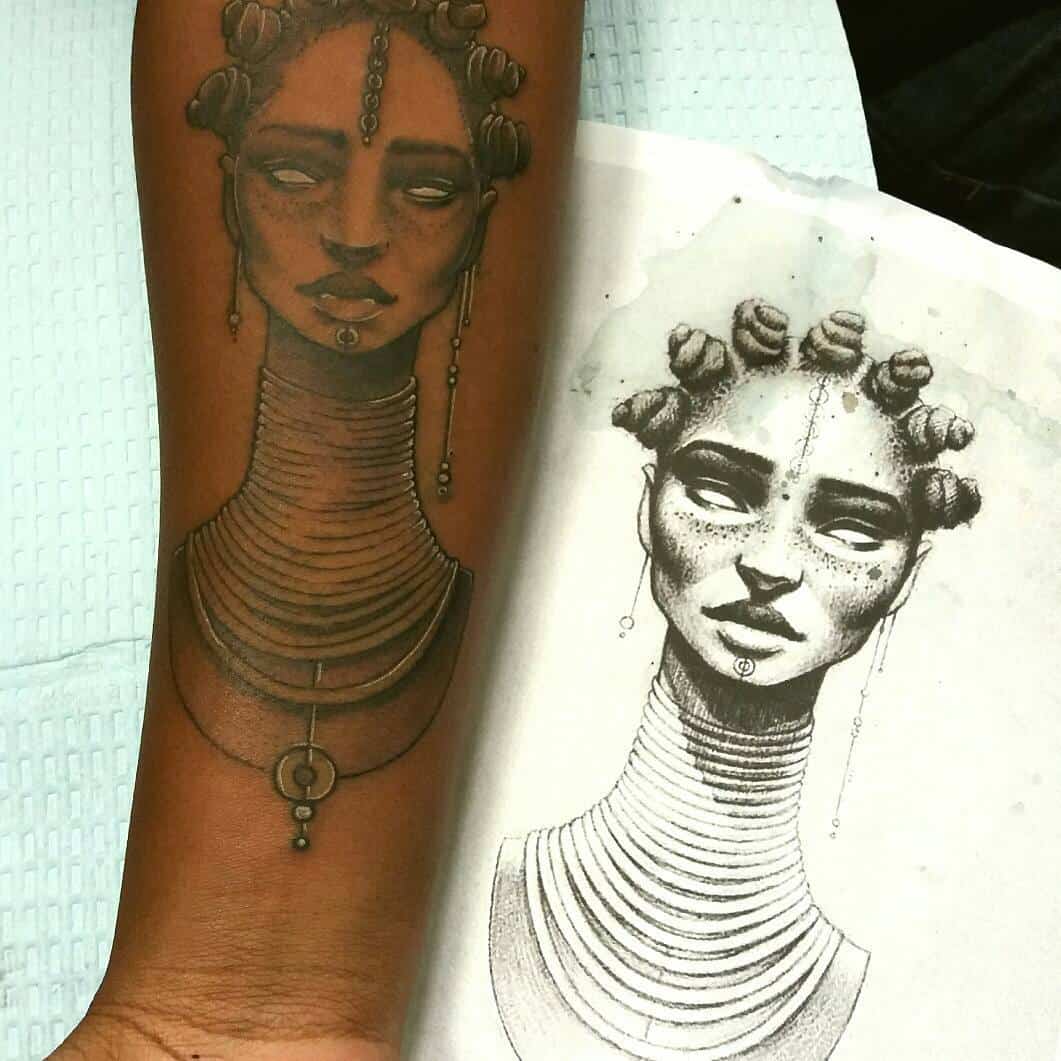 There is not much information available about the ancient African queens of the Ndebele people. This means that the tattoo design can be customized as per your creativity. Yet the one thing that you must keep intact to pay tribute to Ndebele women is their bronze neck rings. The Ndebele people were renowned for their decorative homes, outstanding workmanship, and distinctive attire and ornamentation. So inking an Ndebele queen tattoo can be a unique way to express your creativity.
36. Queen Nefertiti With African Map and Wildlife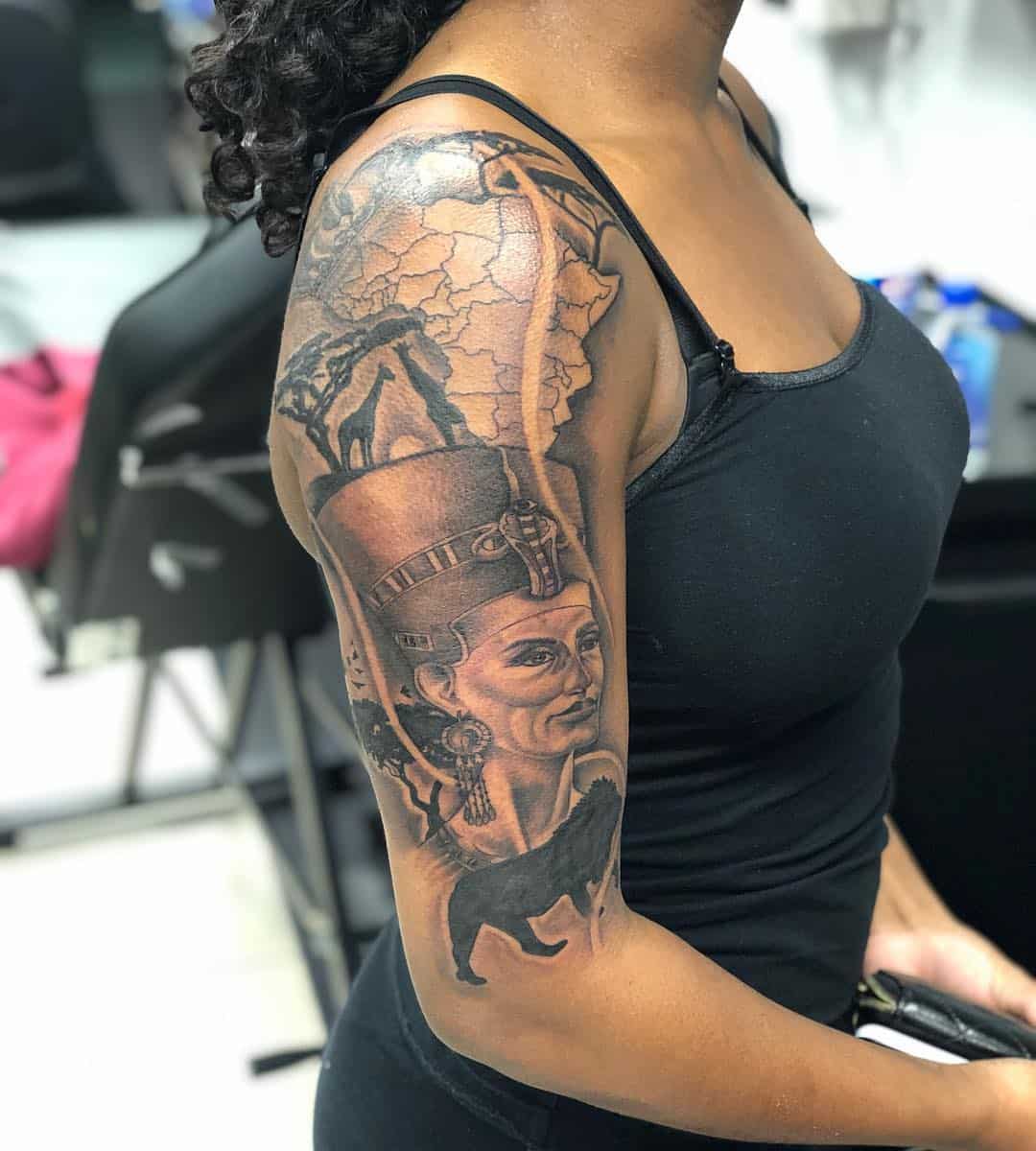 Africa is known for its rich biodiversity with over 50,000 known plant species, 1,500 bird species, and 1,000 mammal species. This African queen tattoo design can be a subtle way to show your responsibility toward nature as well as pay respect to the wide variety of plant and animal life on the continent. Meanwhile, the lion silhouette right below Queen Nefertiti can symbolize your bravery, courage, and fearlessness.
37. Black and Gray Portrait of Queen Cleopatra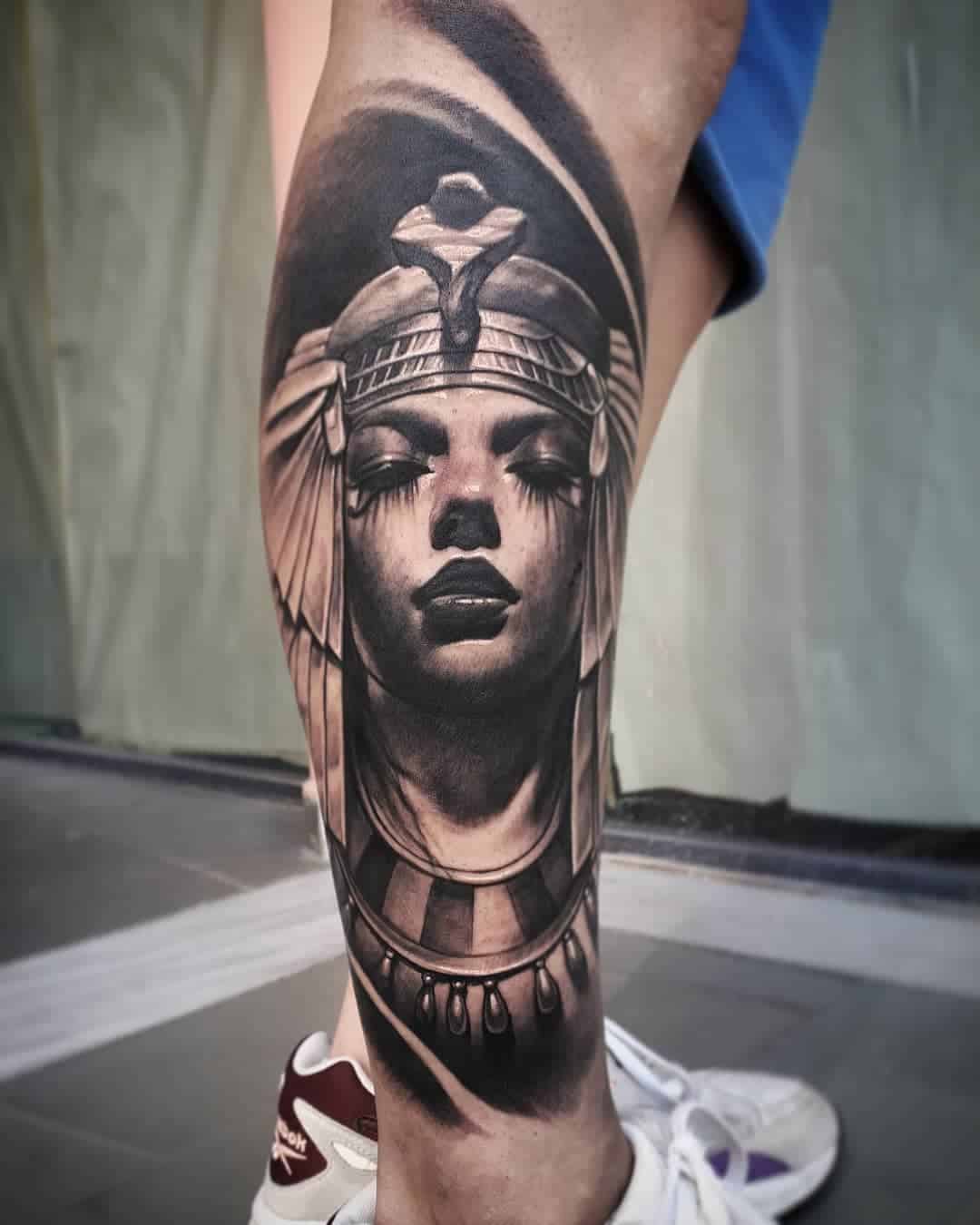 This is another majestic representation of Queen Cleopatra with her serpent crown. The Egyptian queen was quite talented and intelligent, and she knew how to make people feel that they were the focus of her attention. This tattoo design somewhat expresses that side of Queen Cleopatra and can be a symbol of supreme beauty and elegance. The serpent on the diadem can symbolize transformation, rebirth, and healing.
38. African Queen's Hair Forming African Outline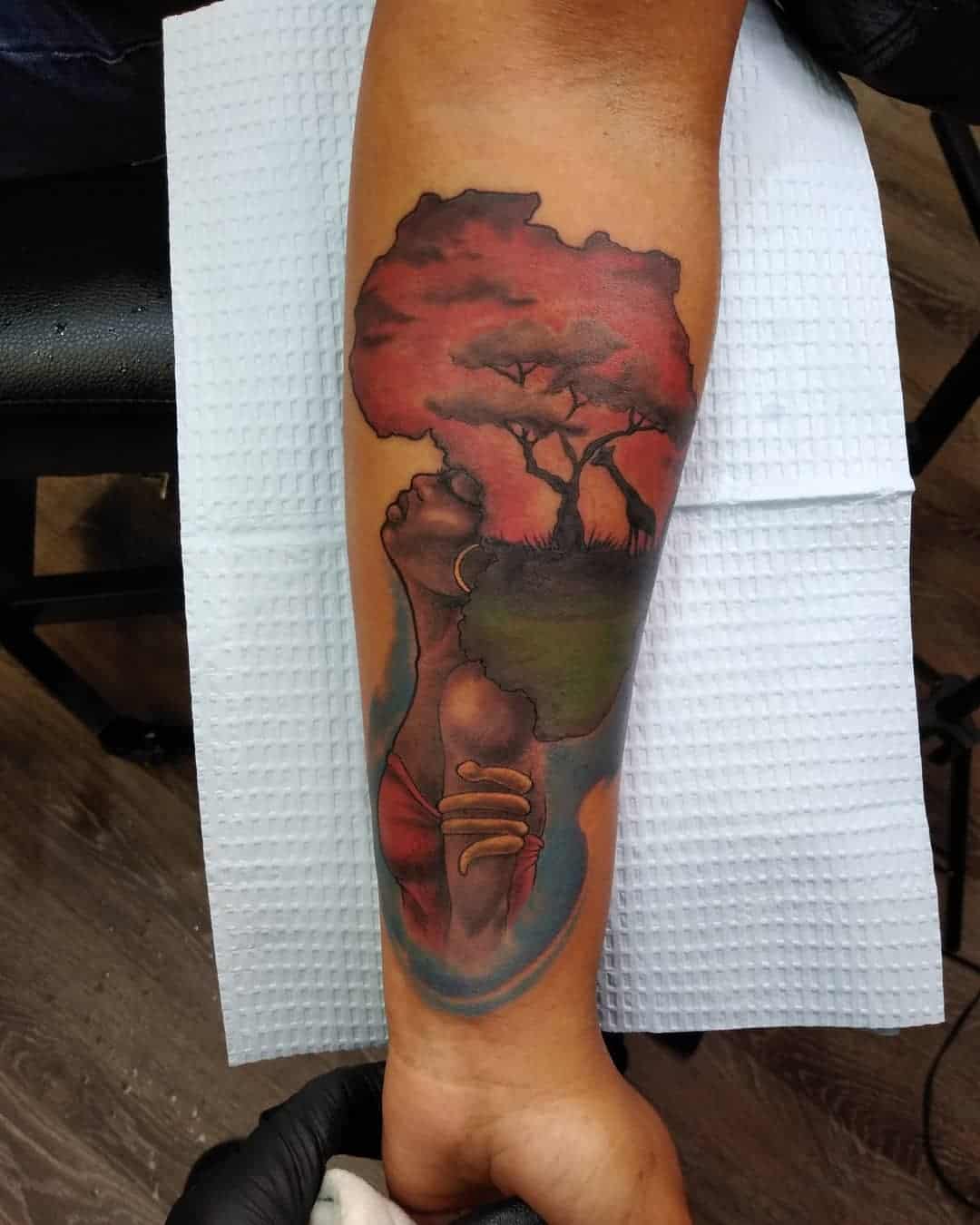 This tattoo design is a different version of the African Queen on African Shape with a Rose tattoo idea. Here, the African queen is leaning backward making it seem like her hair is forming the African map outline. The African shape further includes a picture of the rich African forests in twilight with a red glow. This gives the tattoo a touch of the Pan-African flag colors, while expressing the beauty of nature and African wildlife.
39. African Queen With an Elephant and Flowers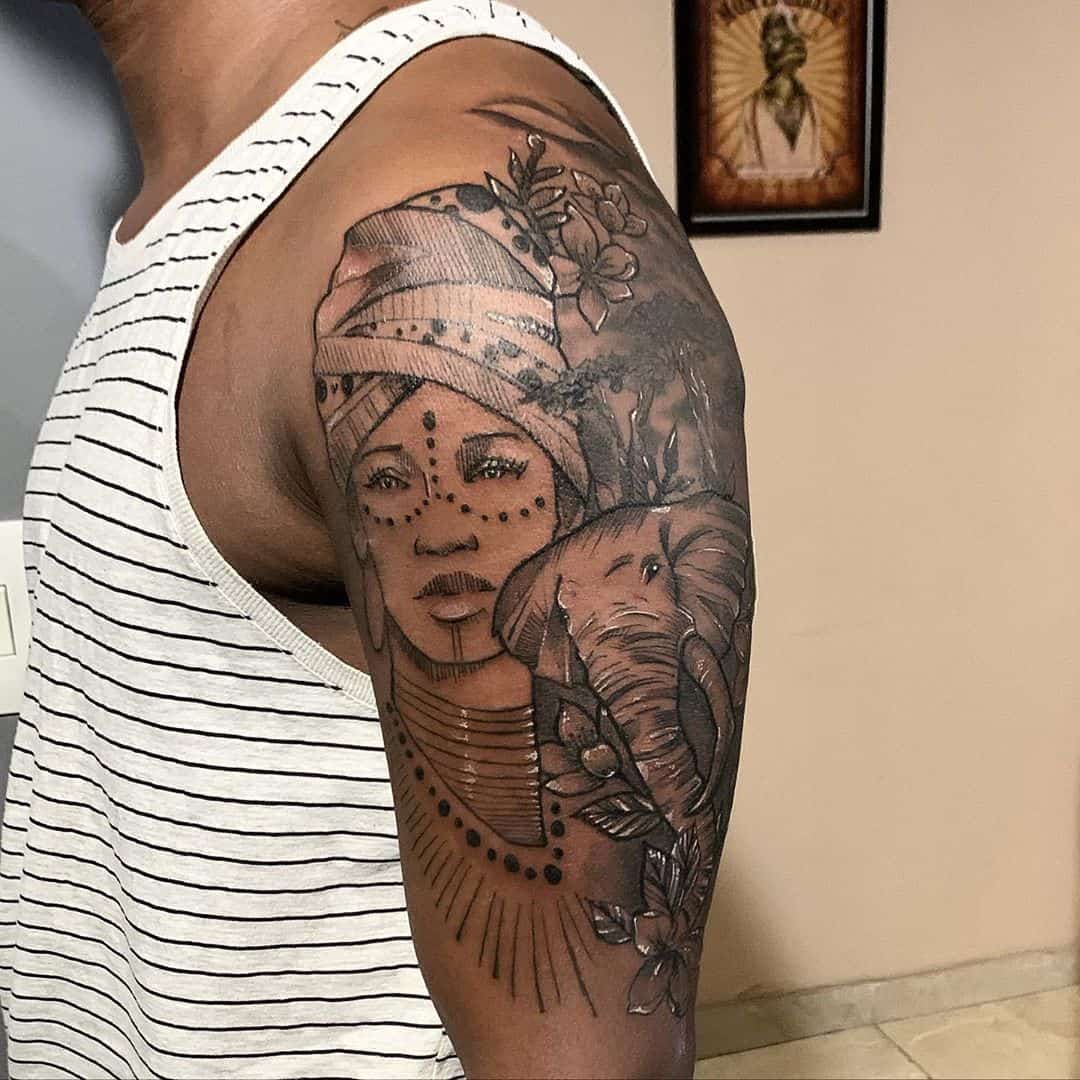 In African culture, elephants are considered a wise chief with traits like strength, wisdom, and power. This gives your tattoo a deep spiritual meaning, while adding flowers and trees to the design allows you to pay tribute to the wildlife. The African queen in this tattoo design is customized to fit in the different makeup, attire, and ornamental styles of the Kalenjin, Ndebele, and Yoruba tribes. This can symbolize the powerful meaning of unity in diversity.
40. Queen Cleopatra in Royal Armor With Sphinx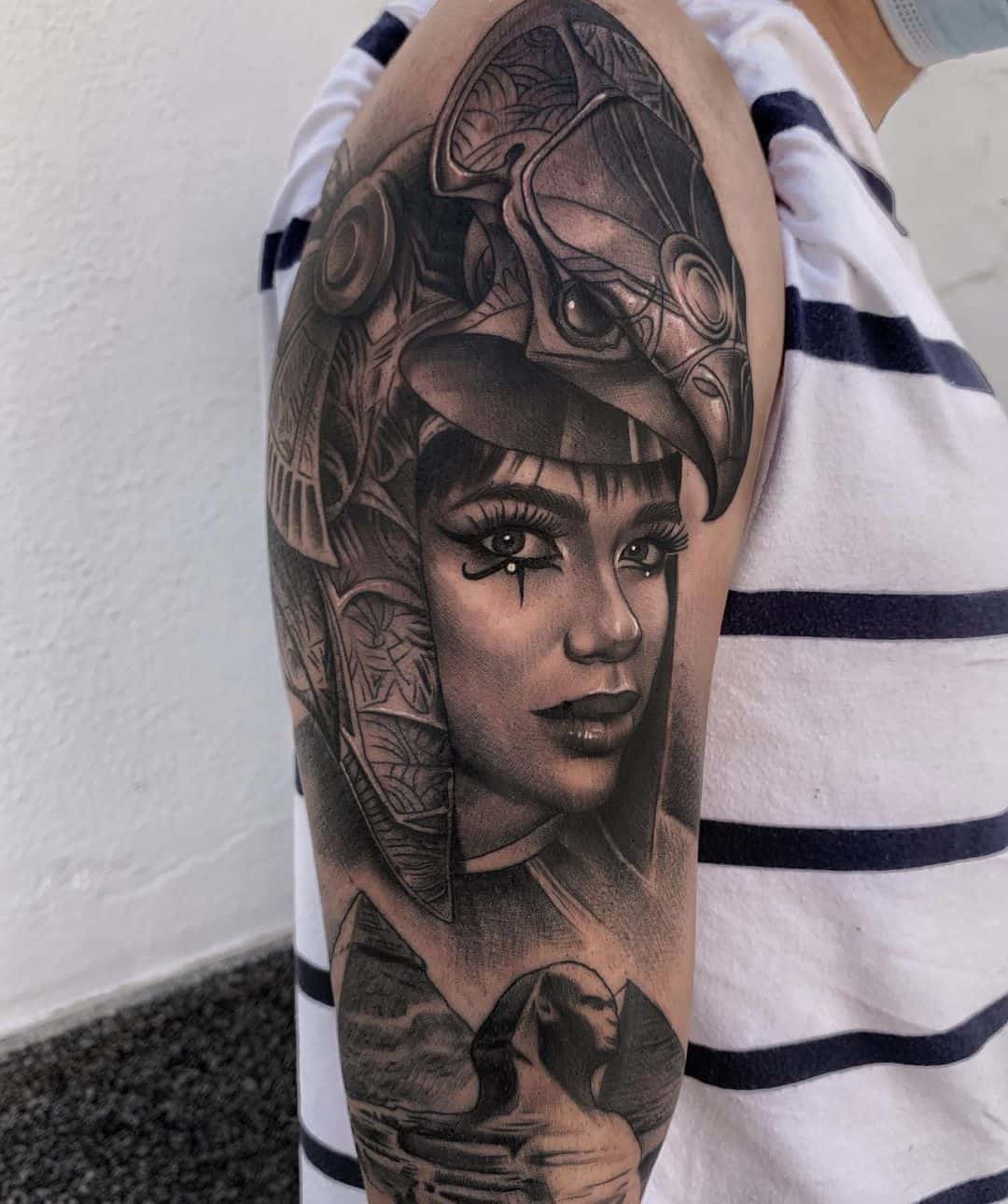 This realistic African queen tattoo depicts Queen Cleopatra in her royal armor, featuring a metallic vulture on her headdress. The vulture in the tattoo can symbolize intelligence and stand for the wisdom and knowledge that Queen Cleopatra was known for. The sphinx, which is a mythical creature with a human head and the body of a lion, can symbolize protection, strength, and valor. This makes the African queen tattoo more significant for representing your personal traits.
41. Fashionable Queen Nefertiti and African Map Outline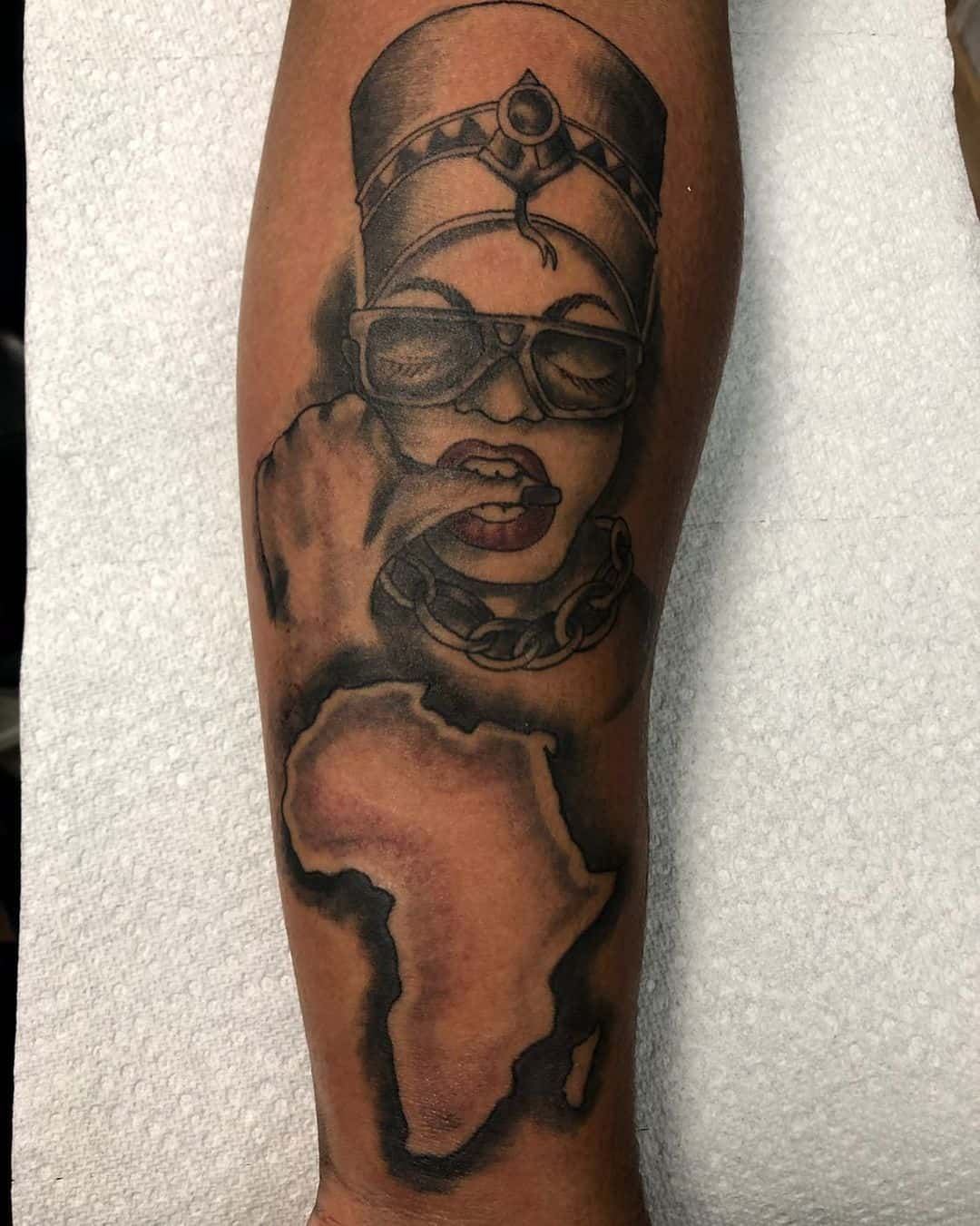 If you are looking for a distinctive and stylish African queen tattoo idea, then this one will fulfill all your demands. The tattoo design re-imagines how Queen Nefertiti may have looked like in modern times and gives her a fashionable touch. This can be a great way to convey that you are connected with the past of Africa but have evolved into a new self over time.
42. Tribal African Queen With Duafe Symbol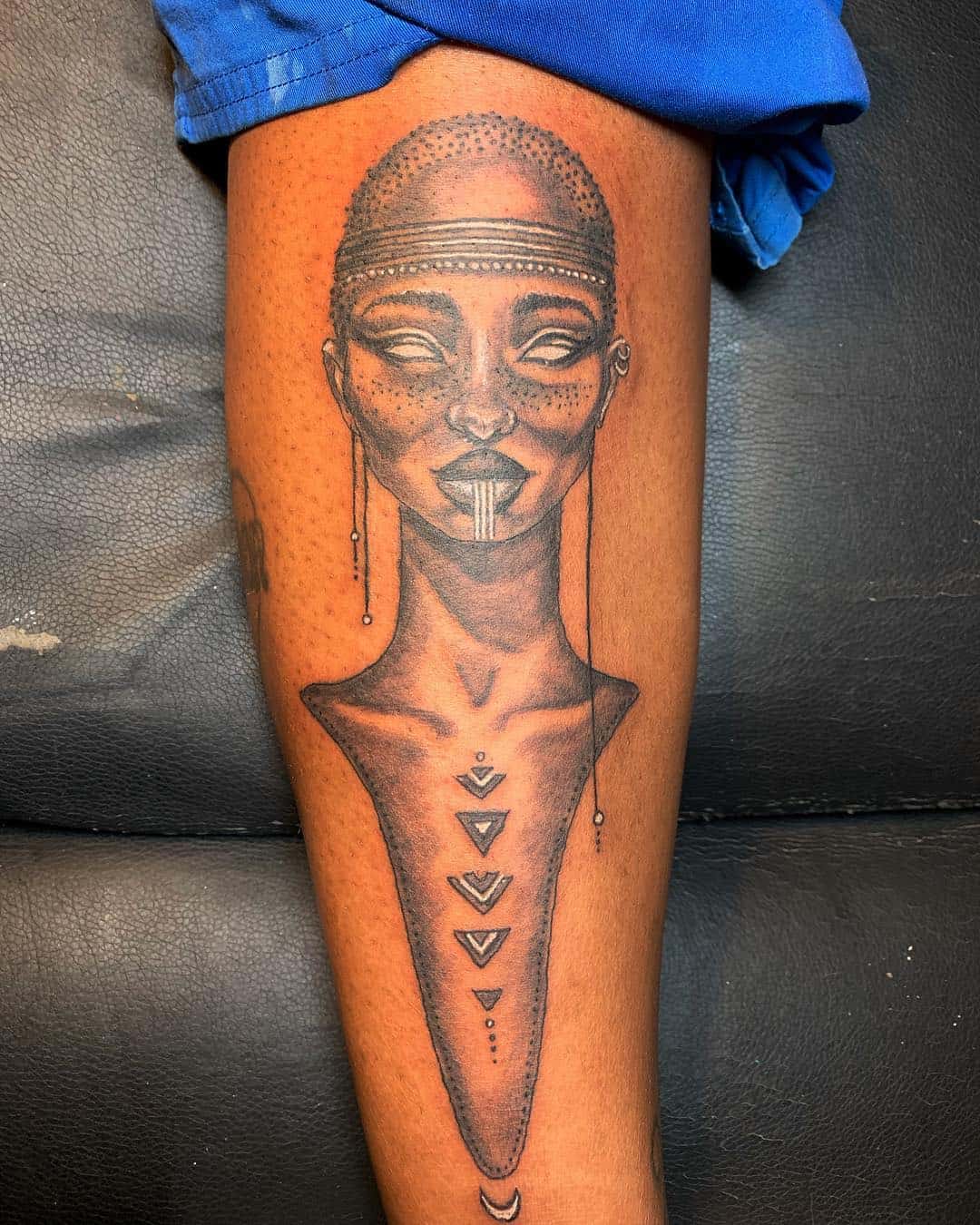 The duafe symbol represents femininity and traditionally feminine qualities, such as love, care, patience, prudence, and purity. It is depicted by a wooden comb and can be a subtle reminder of your African roots. This tattoo design includes the duafe symbol on the lips of the African queen just like many tribal women used to do in ancient times to infuse the symbolic meaning in their character.
43. Queen Cleopatra as Goddess Isis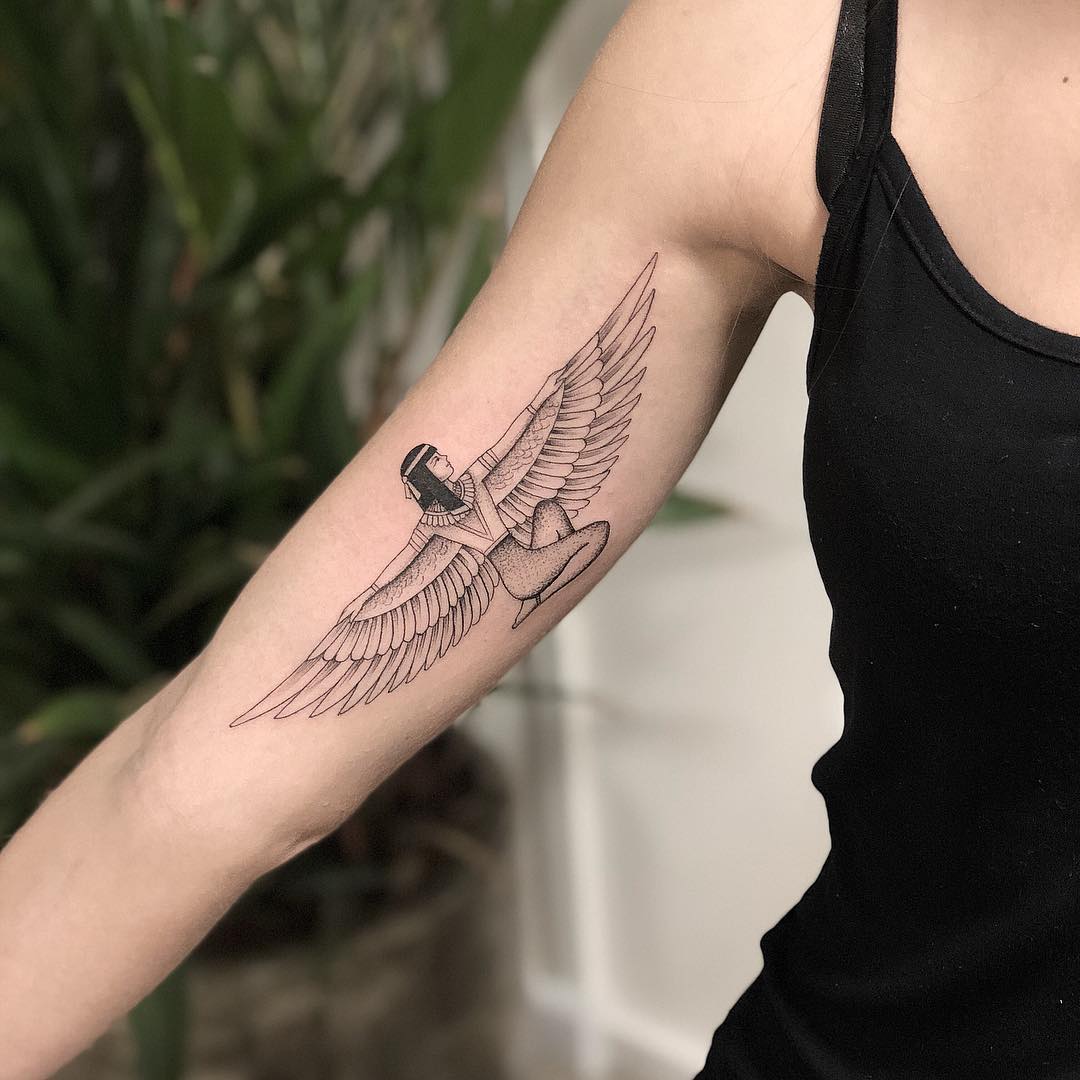 Queen Cleopatra believed herself to be a living goddess and often associated herself with Isis, the ancient Egyptian goddess of healing and magic. She even had portraits and sculptures made to depict herself as the goddess Isis and to have more influence over her rivals. This simple tattoo features Queen Cleopatra as goddess Isis to portray that side of the Egyptian queen, while adding symbolic meanings like motherhood, fertility, freedom, and power to the tattoo design.
44. Cute Queen Nefertiti With Big Eyes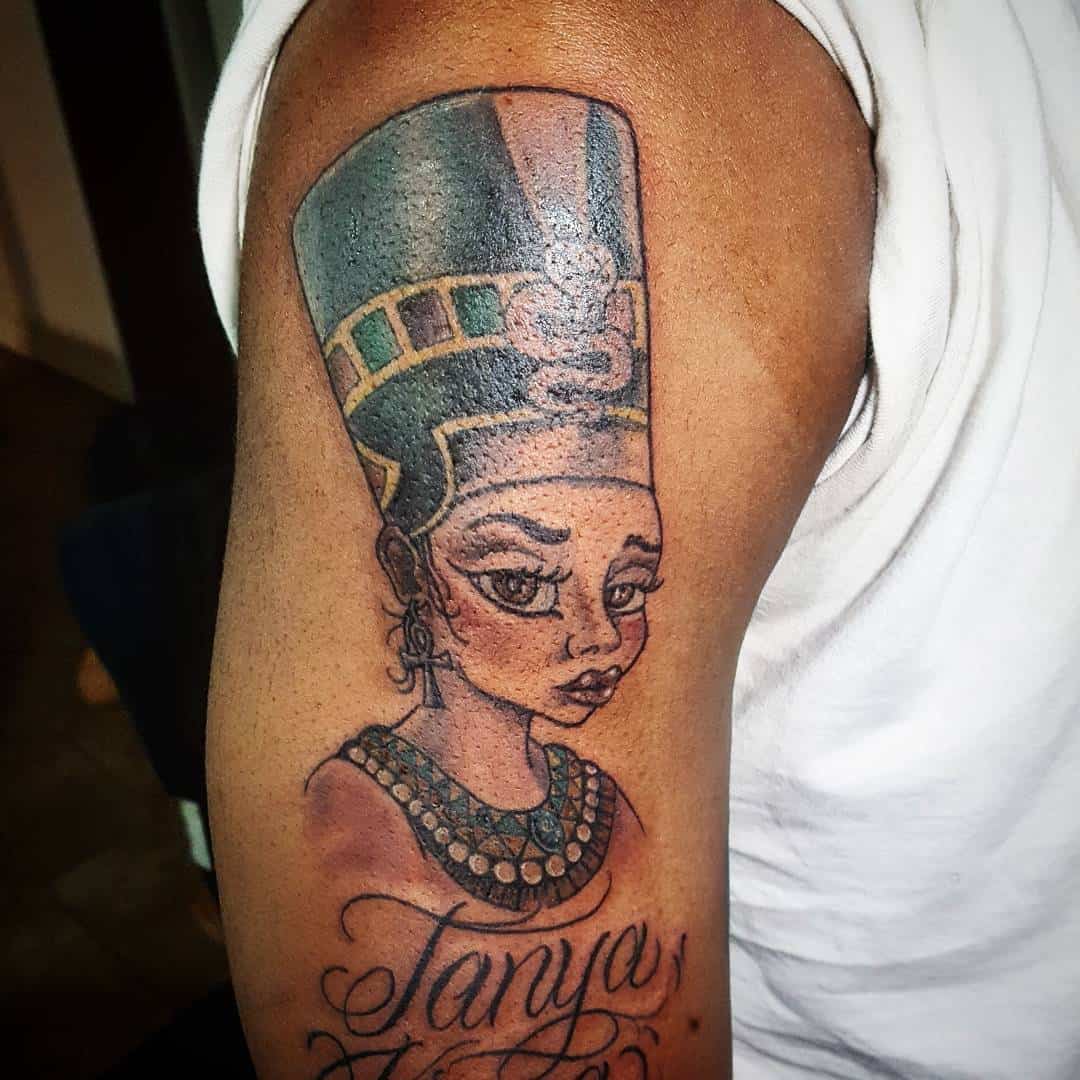 This is a re-imagined, modern take on the simple Queen Nefertiti tattoo idea, which features big eyes and makes the African queen look more adorable. You can also include your partner's name in the tattoo design to express that she is the real queen in your life. The tattoo design can be customized as per your partner's facial characters as well.
45. African Queen Portrait With Sunflowers and African Profile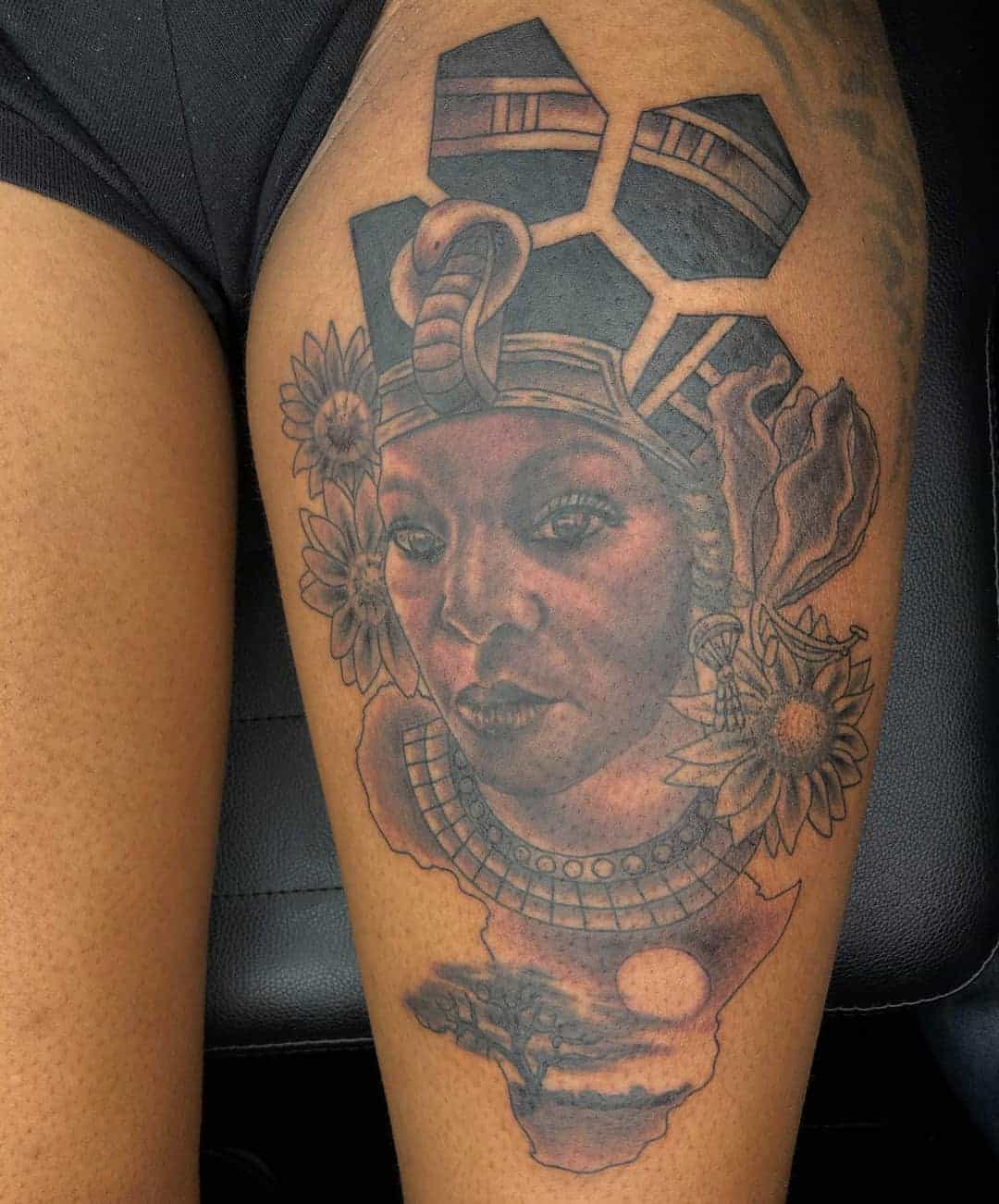 If you are looking for a custom-designed African queen idea, then this one will perfectly suit your needs. This tattoo features an artistic portrait of the special woman in your life as the African queen, wearing the serpent crown of Queen Cleopatra. The tattoo also includes an African silhouette representing the rich plant life of the continent, while the sunflowers on the tattoo give it a deeper symbolic meaning. This personalized tattoo can be the best way to honor your partner, mother, or grandma.
46. African Queen With Floral Headwrap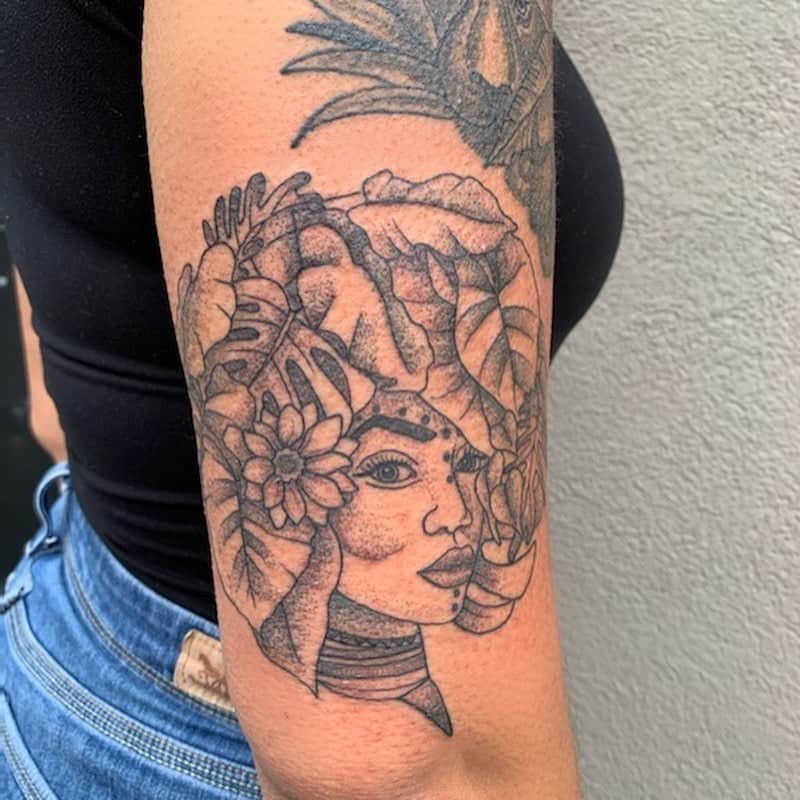 The Kalenjin people are known for their distinctive facial makeup and attire. This tattoo design pays tribute to the African tribe by adding a headwrap made of flowers and leaves. This not only makes the African queen tattoo look more beautiful but it also symbolizes your regard for nature and connection to your African roots. You can even add any preferred flower in the headwrap to give it a personal touch.
47. Realistic Portrait of Queen Cleopatra With Green Eyes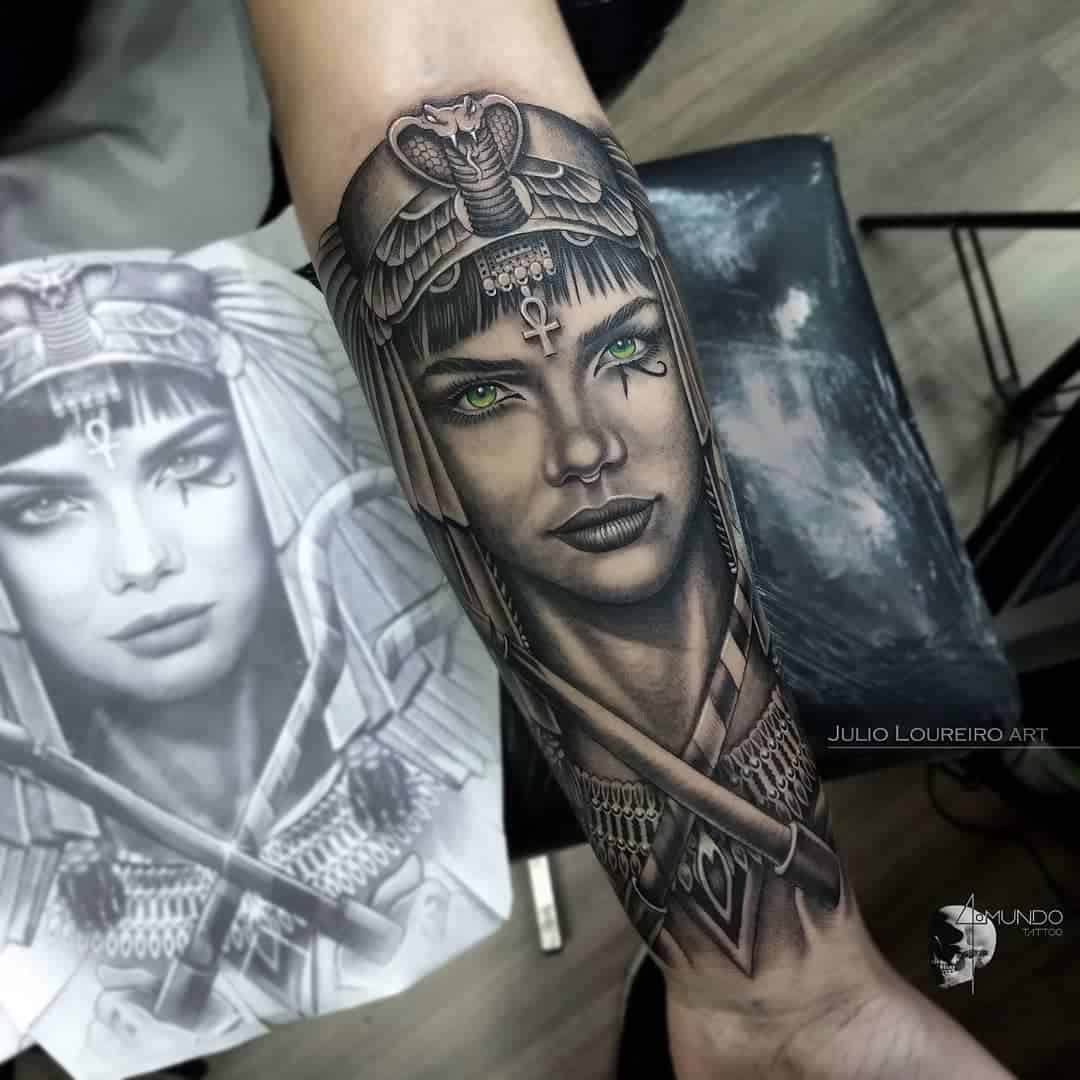 Queen Cleopatra was known for being a fashion-forward woman, and she even intertwined Greek and Egyptian fashion to create new trends. She is also renowned for her distinctive eye makeup that accentuated her looks. This realistic tattoo design is an attempt to reinterpret the intrinsic beauty of Queen Cleopatra with green eyes. There are also elements like the ankh on her serpent crown and the royal crook and flail in her hands. All of that creates a mystical tattoo design that will draw everyone's attention to it in a single glance.
48. Ndebele Warrior Queen With Lion Head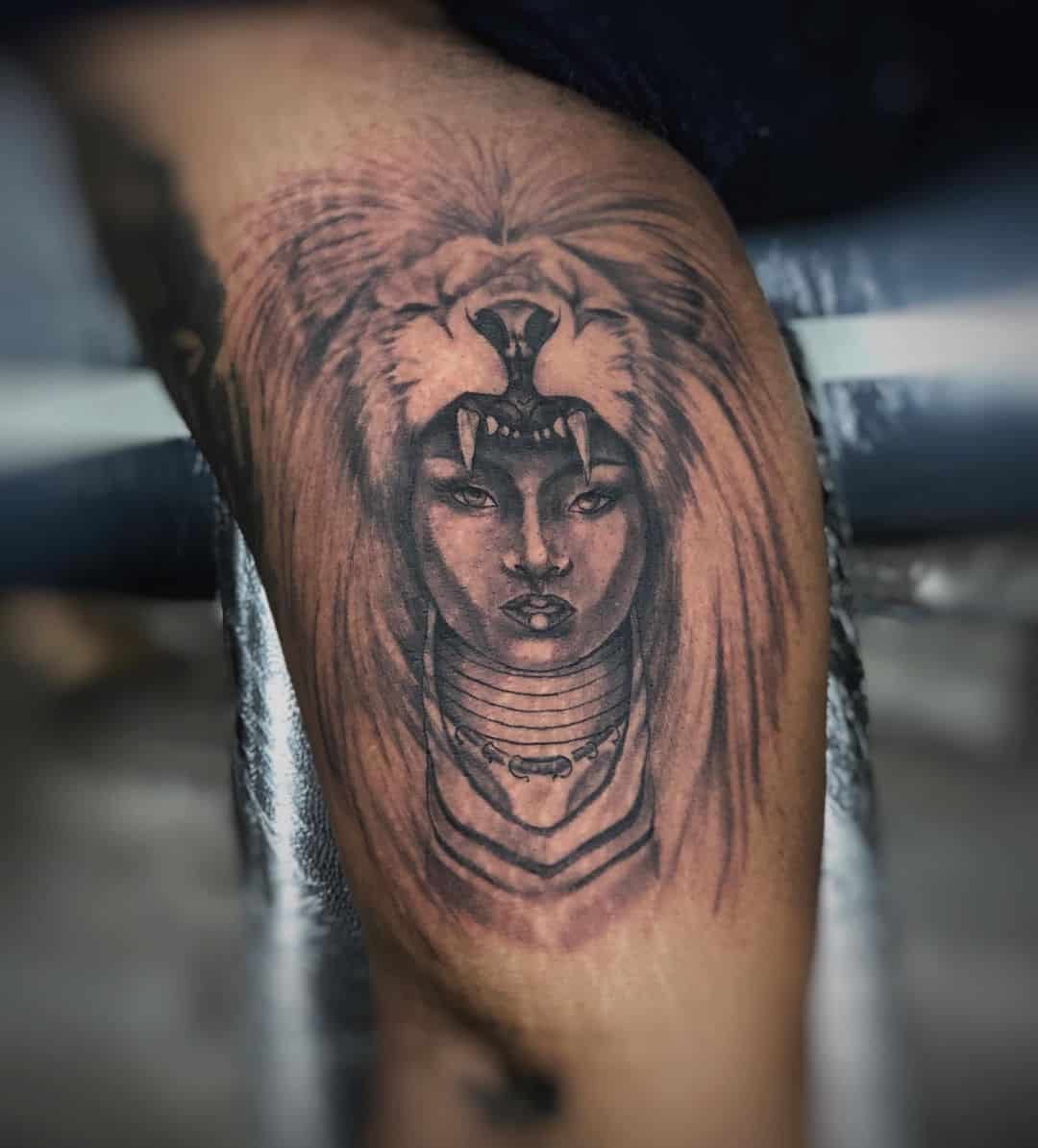 The Ndebele people were great warriors in ancient times and known for their smart tactics and skills. The warrior queen in this tattoo can be anyone you imagine, while adding the bronze neck rings to the design will make it more special. The lion head over the warrior queen can represent strength, victory, power, and authority. Overall, this tattoo can symbolize your triumph over past challenges while expressing your respect for ancient African cultures.
49. African Queen's Headshot Forming African Continent Silhouette
This is another creative representation of an African queen with the African continent silhouette. Here, the face of the African queen, who can be any special woman in your life, is merged with the African map outline in a way that makes it look like she is kissing the continent. This can be a great way to show your love for and affiliation with African traditions and its rich landscape. You can also include the name of your beloved partner in the tattoo design to make it more special.
50. African Queen With African Lion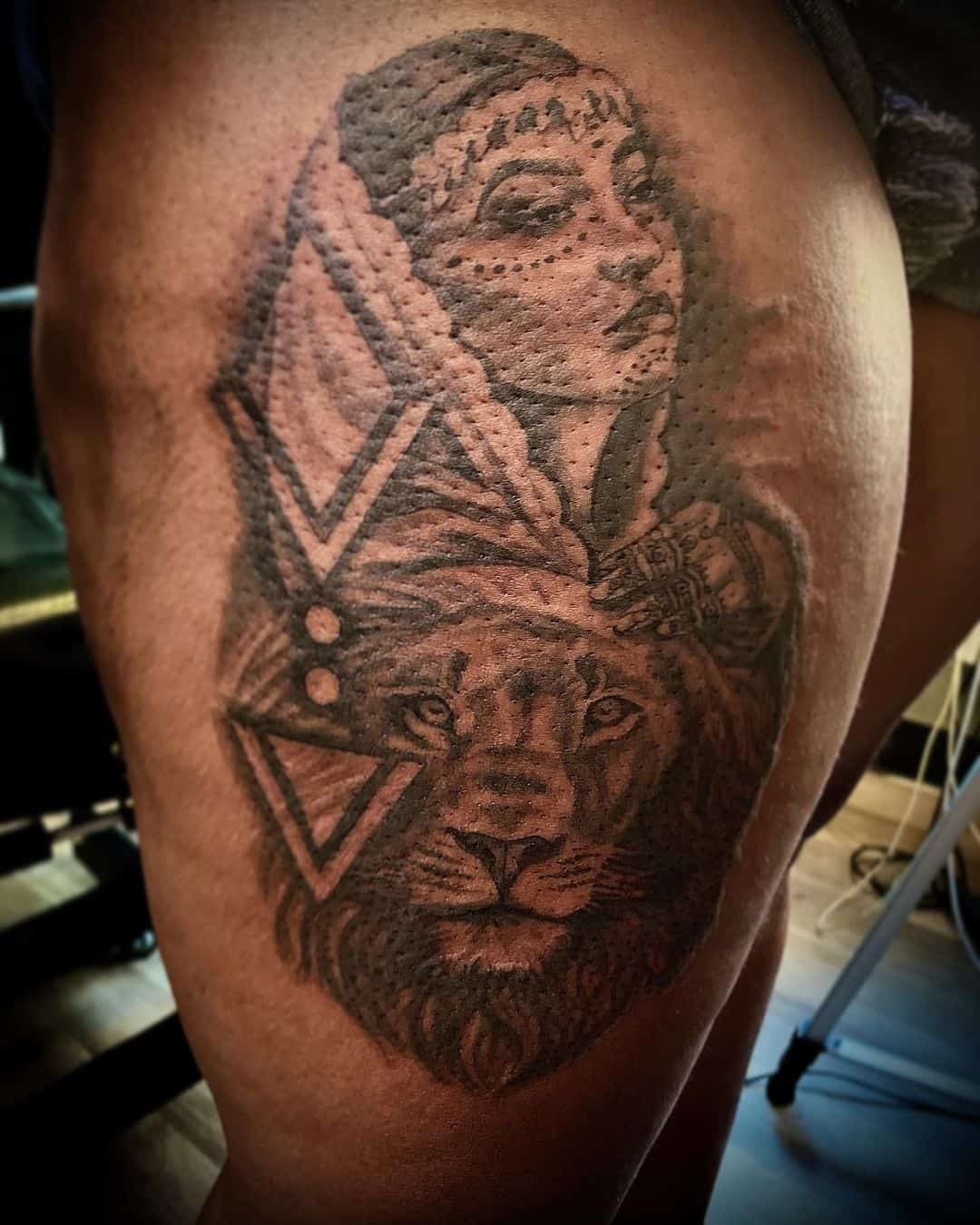 This intricate black and gray tattoo design features a beautiful African queen with a fierce African lion. As lions are considered a symbol of majesty, wisdom, strength, courage, protection, and justice, this tattoo can mean a lot to the wearer. It can be your way of representing your achievements or your commitment to your loved ones. Likewise, it can also symbolize your obligation to nature and wildlife as well as a strong desire to preserve African cultures.
Finding the Best African Queen Tattoo Idea
There can be a thousand reasons to get a tattoo inked, but in most cases, it will be because of the personal meaning symbolized by the tattoo design. For some, it could be a way of marking an important experience or their triumph over a challenging situation in life. For others, it can be a way of remembering their loved ones or someone they have lost. In the case of African queen tattoos, it can be just because of the aesthetic appeal of the tattoo designs.
No matter what the reason behind your decision to get a tattoo is, you should make sure that the tattoo design holds a special meaning for you and can act as an expression of your personality. The above-mentioned tattoos symbolize different meanings, while being elegant and regal as an African queen. There are options to customize the tattoo designs as well, which may make choosing the best African queen idea for you somewhat simpler. It all depends upon your personal choice though.
In any case, make sure to let the tattoo heal properly and apply a moisturizer to keep it moist for at least 2 to 4 weeks. Designs like the Queen Nefertiti With Sunflower tattoo and the Queen Cleopatra With Sphynx Cat tattoo may take even more time. So make sure to buy a good-quality moisturizing lotion like INKEEZE Ink Enhance or the Green Goo Tattoo Care Salve for proper tattoo aftercare.