Vitamin E, a fat-soluble vitamin found in many of the foods we eat, is quickly gaining popularity as a must-have supplement in any beauty routine. This super skin healer can combat skin ailments such as dark spots, acne scars, or excessive skin dryness. When used regularly, it can even help boost the overall appearance of your skin, reducing wrinkles and making you look more youthful.
There are many vitamin E oil products available on the market today, each with their own offered benefits and drawbacks. It can be a confusing process to begin shopping for a vitamin E oil and understand the differences between each product.
Fortunately, we're here to make the process a little simpler. We've done our research and put together a list of the best vitamin E oil products available.
Why Use Vitamin E Oil?
Vitamin E oil can combat a number of skin imperfections such as skin dryness, dark spots, and inflammation. It has long been regarded as one of the best supplements available to help improve overall skin and hair health. For more in-depth information on the benefits of vitamin E oil, jump down to our complete guide.
Things to Look Out for in Vitamin E Oil
When selecting a vitamin E oil, there are several things you should consider when deciding if a product is a good fit for your needs.
Natural vs. Synthetic Oil
Vitamin E oil can either be derived naturally from plant-based substances such as soybean oil and wheat germ oil, or created synthetically in a lab. On an ingredients list, naturally derived oils can be recognized as "d alpha-tocopherol." On the other hand, a synthetic oil created from petrochemicals will be listed under its scientific name of either "dl-alpha-tocopherol" or "dl alpha-tocopheryl."
Studies have shown that the naturally derived form of vitamin E is preferred by the body; it is more than two times as potent as synthetic vitamin E. However, it is also more expensive than the man-made kind.
Ingredients
Any quality product should be made without an excess of artificial additives such as fragrances, colorings, and preservatives. For products that are designed to be taken orally, you should look for something without any artificial chemical flavorings or sweeteners.
Ingredients which can enhance a vitamin E oil include other vitamins such as B, A, and C, and calming essential oils like chamomile and lavender. When combined with vitamin E, these natural ingredients can further increase the oil's benefits for your skin. If a product like this interests you, we suggest you look at the Bio-Oil Skincare Oil.
Form of Oil
There are many different forms of vitamin E oil that you can purchase. The right one for you depends on how you intend to use it.
Straight: Straight vitamin E is the pure oil, either from a capsule or from a bottle. It is best rubbed directly on skin or mixed into a moisturizer. You can typically ingest this type of oil.
Carrier Oil: Sometimes straight vitamin E is mixed with other carrier oils such as jojoba or rosehip. This makes the substance less thick and easier to apply to the face or skin.
Serum: A serum is water-based and mixed with skin-friendly ingredients. It is best used to treat multiple skin issues at once.
Spray: Sprays are designed to deliver a quick hydrating mist infused with vitamin E. They are great as an occasional boost to your skincare routine.
Potency
An important factor, especially when taking vitamin E orally, how potent an oil is affects the safety of the product. Potency is measured in IUs – International Units. These units are an internationally accepted source of measurement for fat-soluble vitamins such as E, A, and D. The latest science says the average adult should intake no more than 15mg (22.4 IUs) a day. Vitamin E overdoses are possible, so be sparing with high-strength oils and follow the instructions.
When used topically, higher IUs are better for treating very dry skin or for addressing acute skin issues. A lower IU is preferred for maintenance or general skin improvement.
Now that we've discussed what to look for in a Vitamin E oil, let's head straight into our list!
Top 10 Best Vitamin E Oils 2023

Why we like it:
Nature's Bounty Vitamin E Oil is amazingly versatile and perfect for anyone who wants a product that can do it all.
Editor's Rating:
This vitamin E oil is the perfect product for anyone looking for a multiuse oil. Nature's Bounty can be mixed into juice, water, or food to be taken as a supplement, or it can be applied directly to your skin as a moisturizer. The oil is not too thick and leaves skin feeling soft and moisturized.
There is a small amount of lemon oil mixed in with this oil. This can help both with the taste and the smell of it. When applied to the skin, you can tell there is a faint lemon scent, but it is not too overpowering. Additionally, no extra artificial colors or flavorings are used in this product.
Unfortunately, this product is made with synthetic vitamin E oil which may cause reactions in some people and be less potent in terms of benefits. If you are searching for a pure, plant-derived vitamin E oil that still has multiple uses, we suggest Horbaach Natural Vitamin E Oil.
Pros
Can be used topically or ingested

Oil is not too thick

Light lemon scent

No artificial flavors or colors
---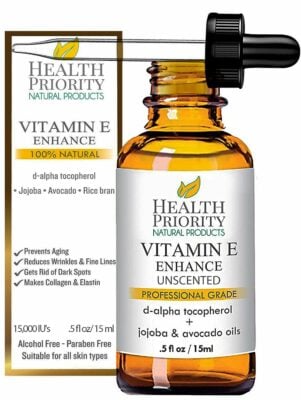 Why we like it:
This natural vitamin E oil is hand-blended in California and crafted with only high-quality natural ingredients.
Editor's Rating:
Healthy Priority's Natural Vitamin E Oil is plant-derived and all-natural. The formula is crafted by hand in California at a small boutique store. Each product is guaranteed to be completely natural and full of premium ingredients. It is a great choice for someone who values sustainably sourced products.
The formula for this vitamin E oil is infused with jojoba and avocado oils. These oils enhance the moisturizing properties of the vitamin E oil and enhance any skin brightening effects. The oil is also much less sticky since it is mixed with other carrier oils. And if you are interested in products that have more user-friendly formulas, also check out Bio-Oil Skincare Oil.
This product does come with a premium price and is more expensive than other items on our list. It is also packaged in a smaller bottle than most of its competitors. It may not be the best choice if you are on a budget or looking for a more long-lasting product.
Pros
Infused with jojoba and avocado oils

Non-sticky formula

High-quality, natural oils

Blended by hand in California
Cons
On the pricier side

Small bottle
---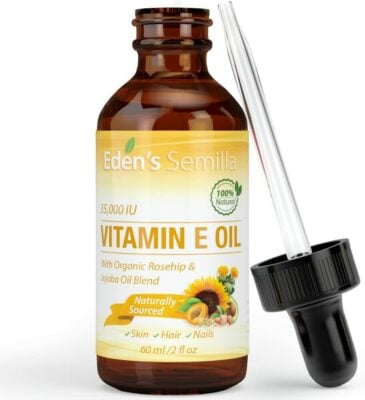 Why we like it:
Eden's Semilla Vitamin E Oil Blend is fast-absorbing and affordable for anyone looking for skincare on a budget.
Editor's Rating:
This vitamin E oil is packaged in a much larger bottle than most of its competitors. It is also cheaper, coming in at under $10 a bottle. It is a great choice for someone who wants a good quality oil that won't break the bank.
The oil itself is fast absorbing. Once applied to the skin, it fully sinks in and doesn't leave behind any greasy residue. It is mixed with rosehip and jojoba oil to make the formula less dense. The company offers a no questions asked, money-back guarantee on their product that enables you to buy without fear of not liking the oil and wasting money.
Even though this product is unscented, it does tend to have a stronger "oil" odor to it than other products. This makes the oil smell similar to generic cooking oil, which can be overwhelming and unpleasant for some. It is not the best choice for someone who is sensitive to strong scents. In addition, the dropper on the bottle is poorly made and can cause you to spill oil on occasion, making a mess.
Pros
Fast absorbing product

Affordable

Money-back guarantee

Larger bottle
Cons
Unpleasant scent

Dropper can be defective
---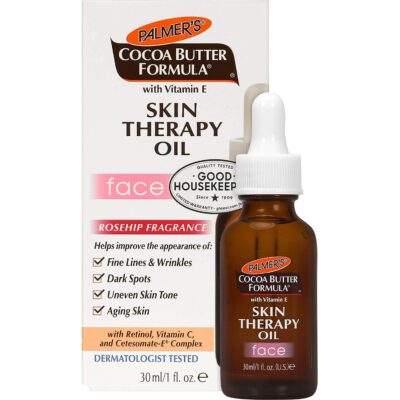 Why we like it:
This lightweight oil is perfect for evening out skin tones and brightening your face.
Editor's Rating:
Palmer's Cocoa Butter Formula vitamin E oil features cocoa butter, coconut oil, and a vitamin E complex that capably delivers skin healing properties. When using this product consistently, you can start to see significant results in as little as 8 weeks. It is great for anyone looking for a faster-acting oil.
The formula has a lightweight texture to it that is perfect for using on the face. It does not feel greasy or leave pores feeling heavy or clogged. A little goes a long way with just two or three drops needed each time you use the oil. It makes a good option if you prefer a more economical product.
Palmer's does contain added fragrances and preservatives. It may not be the best choice if you are looking to avoid chemicals in your vitamin E oil. We recommend a chemical-free product such as PURA D'OR Organic Vitamin E Oil if you want to avoid excessive additives.
Pros
Perfect for use on face

Lightweight texture

A little goes a long way

Significant results in 8 weeks
Cons
Contains fragrance and preservatives
---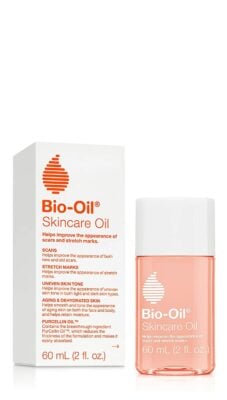 Why we like it:
Bio-Oil is specially crafted by skincare specialists to effectively boost the overall appearance and feel of skin.
Editor's Rating:
Bio-Oil is expertly blended with other skin soothing ingredients such as retinol, chamomile, lavender, and rosemary. Each of these botanicals works to soften and heal skin, providing their unique anti-inflammatory, skin brightening benefits. This makes it a great choice for someone looking to heal irritated dry skin or acne scars.
The non-comedogenic formula of this product is great for moisturizing skin without clogging pore and causing breakouts. It is perfect for healing stretch marks due to the combination of vitamin E and retinol, plus the smooth, easily applied formula.
Due to the presence of other botanical ingredients, this vitamin E oil may irritate very sensitive skin. If you are prone to skin reactions or allergies, we suggest check out a more pure, yet still heavily moisturizing, product such as Kate Blanc Cosmetics Vitamin E Oil.
Pros
Non-comedogenic formula

Perfect for healing stretch marks and scars

Blended with skin-softening ingredients

Anti-inflammatory
Cons
May irritate sensitive skin
---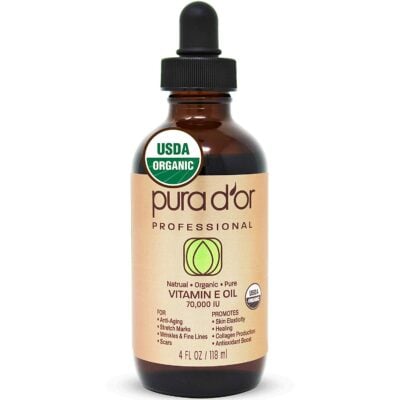 Why we like it:
PURA D'OR's Organic Vitamin E Oil is certified organic and has no added chemicals or artificial ingredients.
Editor's Rating:
This vitamin E oil is created without the addition of chemical ingredients. It is a great choice for someone who prefers a purer product. It is a USDA certified organic item and each ingredient that is blended into the formula comes from a quality sustainable source.
This product works well for sensitive skin due to the lack of preservatives and chemicals added. It is also intensely moisturizing, so those with especially dry skin or skin irritation caused by eczema or psoriasis can benefit from the oil. It can be used all over the face and body safely.
PURA D'OR does have a natural floral fragrance added into it, though this is not disclosed on the selling page. The oil is on the thicker side, which may make it hard to spread without first blending it into another oil or moisturizer. If you would prefer an oil that is on the more spreadable side, be sure to check out Leven Rose Vitamin E Serum.
Pros
Completely chemical free

USDA certified organic

Good for sensitive skin

Works well on dry skin
Cons
Has an added floral fragrance

Oil is on the thicker side
---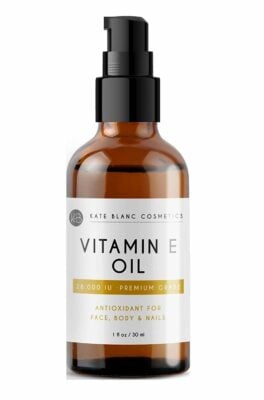 Why we like it:
This extra moisturizing vitamin E oil comes from a line of quality professional cosmetics.
Editor's Rating:
Kate Blanc Cosmetics is a professional skincare line known for its range of products that feature vitamin E oil. This particular product's only ingredient is a thick, highly moisturizing, synthetically derived vitamin E oil. There are no other ingredients or fillers in the formula, making it perfect for adding into moisturizers or homemade skincare recipes.
This product comes with a one-year warranty. If you don't like the product at any time over the course of a year, you can return it for a full refund. Plus, with every purchase you will receive a usage guide detailing the best ways to use the product and a DIY recipe guide to help you get the most out of your oil. It is a great product choice for someone looking to use their vitamin E oil as an ingredient.
Because the formula only contains a pure vitamin E oil without any carrier oils, it does have a much stickier texture. Once you rub the product into your skin, the stickiness disappears a little bit, but if you would rather go for a more lightweight feeling product, we suggest looking at Palmer's Skin Therapy Oil instead.
Pros
One-year warranty

Included usage and recipe guide

Professional cosmetics brand

Highly moisturizing
---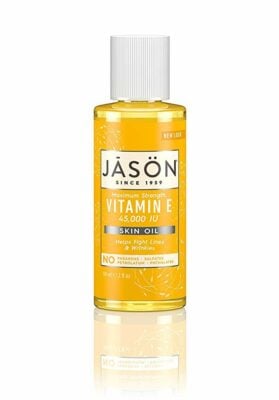 Why we like it:
JASON's Vitamin E Skin Oil is available in different strengths so you can be sure to find the one that works best with your skin.
Editor's Rating:
This vitamin E oil features a blend of 7 different antioxidant-rich oils all designed to boost skin elasticity, hydration, and brightness. With consistent use, this product works to deeply condition skin and fade the appearance of fine lines and wrinkles. It has no added parabens, sulfates, or petrolatum, making it a good choice for anyone who wants an all-natural oil blend.
There are multiple strengths available of this product, with the maximum strength variety being 45,000IUs. This allows you to choose the IUs that work best with your skin and specific skin concerns. It is a great option if you are a veteran of using vitamin E oil and know exactly what works well with your skin.
This oil does not absorb into skin as easily as other products. It can take a while to massage it into the skin to achieve proper hydration and absorption. This may be a drawback for anyone who is looking for a product that is easy to apply and quicker to absorb, like Eden's Semilla Vitamin E Oil Blend.
Pros
Blend of 7 antioxidant-rich oils

Maximum strength oil at 45,000IU

No added parabens, sulfates, or petrolatum

Available in different strengths
Cons
Does not absorb into skin easily
---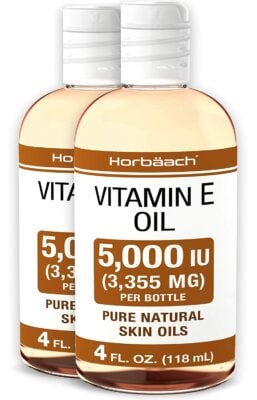 Why we like it:
Horbaach's Natural Vitamin E Oil is gentle and designed for use on the face, hands, skin, and hair.
Editor's Rating:
Designed to be used to condition and revitalize hair, Horbaach's Natural Vitamin E Oil has a non-irritating formula. The product is blended with other skin and hair-friendly ingredients such as almond oil and rice bran oil. It has a very gentle formula which makes it a good choice for someone who has either sensitive skin or a sensitive scalp.
This product comes in a 2-pack, adding extra value. Each bottle has a strength of 5,000IUs, making it great for anyone new to using vitamin E oil looking to try out a simple, entry-level product. It is created with clean beauty standards in mind and does not have any extra added mineral oils, preservatives, or colorings. It is also cruelty-free.
The consistency of this product may be a little too watery for some users due to the addition of the other oils. This can make it dispense out of the bottle too fast, so caution needs to be used when applying the oil to avoid wasting product. You may also have to apply more product to get the same moisturizing results you would receive with a thicker oil.
Pros
Comes in a 2-pack

Designed to be used in hair

Clean beauty formula

Gentle on skin and hair
Cons
Consistency may be too watery
---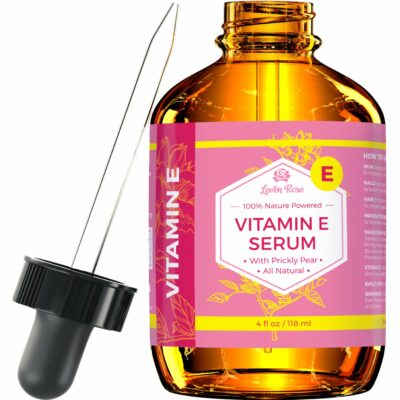 Why we like it:
This vitamin E serum is filled with skin healing ingredients that can help improve both the look and feel of your skin.
Editor's Rating:
This oil is packaged in a high-quality dark glass. Dark amber glass helps to protect the oil from sunlight and stops oxidization, further preserving the shelf-life of your product. The glass dropper is easy to use and accurate in the amount of oil it dispenses. If you value quality packaging, this product may be a good choice for you.
There are several ingredients in this vitamin E serum which help to heal skin. One of the most notable, prickly pear cactus, is fundamental in helping skin stay hydrated and youthful looking. It is gentle enough for all skin types and boosts complexion. Additionally, sea buckthorn oil helps to reduce inflammation and treat acne.
Unfortunately, this product can cause dry skin or irritate sensitive skin over time. The best way to avoid this is by doing a patch test to see how your skin reacts to the product and then using it sparingly to prevent skin from forming an aversion to it. You could also look into a more sensitive skin-friendly product like PURA D'OR Organic Vitamin E Oil.
Pros
Quality packaging

Added prickly pear cactus for improved complexion

Helps treat acne
---
Complete Guide to Purchasing Vitamin E Oil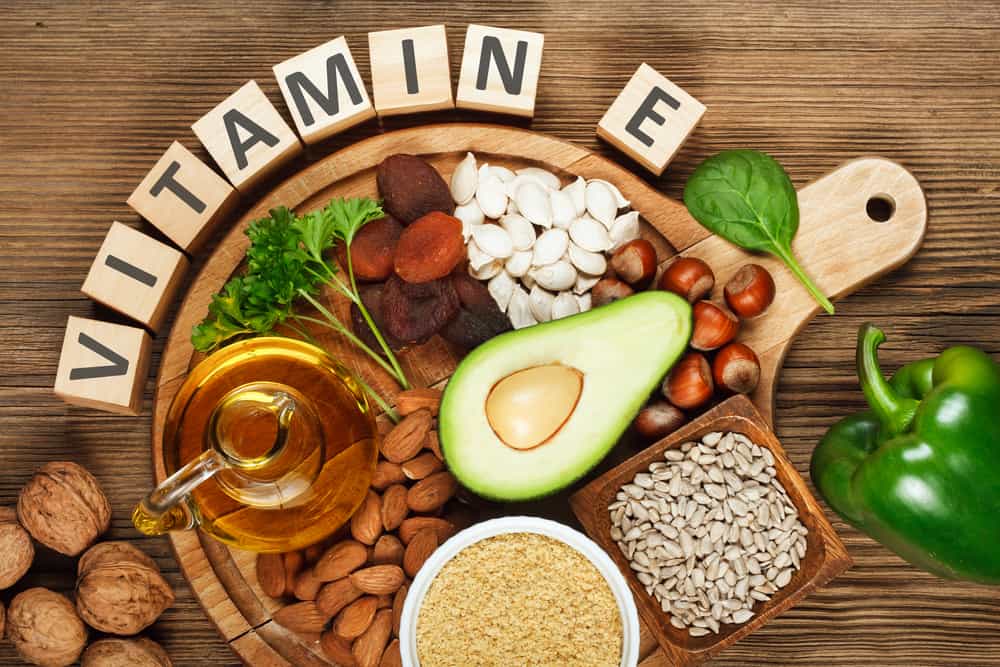 If you still have questions about vitamin E oil, don't worry! In our complete guide, we will discuss any considerations you should have before purchasing a product and the long-term benefits and risks associated with vitamin E oil use.
Benefits of Using Vitamin E Oil
There are multiple benefits to using vitamin E oil that make it a powerhouse of skin healing and repair.
Dark Spots
Vitamin E is known to improve areas of hyperpigmentation, especially when combined with other oils such as vitamin C or vitamin A. Even if you don't have dark spots, you can use vitamin E oil to brighten your skin and rid dark under-eye patches.
Acne
Incorporating more vitamin E rich foods in your diet and applying vitamin E topically may help to reduce the occurrence of acne and acne scars due to the vitamin E balancing out your skin's oil production.
Moisturizing
Vitamin E is one of the skincare world's best natural moisturizers. When applied topically, the oil can help rehydrated intensely dry or damaged skin. It can even heal skin affected by eczema or psoriasis, and cure chapped lips.
Scars and Wrinkles
By increasing circulation and cell regeneration, vitamin E can help to reduce the appearance of scars and stretch marks and increase their healing speed. It can also reduce fine lines and wrinkles from anywhere on the body.
Inflammation
Due to being an antioxidant and having the ability to fight free radicals (damaging cells) in the body, vitamin E can reduce inflammation when applied topically to the skin. When taking as a supplement, it can help fight damage in the body and improve skin and hair health from the inside out.
Strengthening
When used on hair and nails, vitamin E oil can strengthen and encourage growth. This will leave you with strong, healthy-looking hair and nails, plus some extra shine on your locks.
How to Use Vitamin E Oil
Vitamin E oil can be used a multitude of ways. Below, we have some general guidelines on what to do with your vitamin E oil.
Make sure to check your product for specific usage instructions before following any guidelines or recipes. You should also consider a patch test on a small area of skin before use to ensure your product doesn't trigger any reactions.
Day Time vs. Night Time
The time of day you apply your vitamin E oil can have a difference on the exact benefits it gives you. Applying it first thing in the morning can enhance its free radical fighting abilities, especially if you combine it with a moisturizer or vitamin C. Night time application can be more beneficial for those with drier skin as it will give you intense overnight hydration.
Whichever time of day you choose to apply it, you should be using vitamin E oil as the last step in your skincare or haircare routine – because the oil will seal everything else in.
For Hair
When used on hair, vitamin E can prevent spilt ends, encourage hair growth, and give hair a shinier, healthier look. In the shower, you can apply the oil directly to your wet hair as a mask before shampooing, rinsing it off after about 15 minutes. You could also add the oil into your conditioner, giving your hair extra strengthening support every time you condition.
After showering, you can apply the oil directly to wet or dry hair in order to tame frizz and promote shine.
For Skin
For your skin, you can apply vitamin E oil to wherever you have problem spots, dry skin, scars or stretch marks. You should gently massage the oil into your skin once or twice a day. Alternatively, you can add the oil into a moisturizer for dry skin and use that on your skin daily. If you are a fan of DIY recipes, you can use vitamin E oil to spice up any homemade skincare product you're working on.
Besides applying it topically, you can ingest vitamin E supplements to help with improving your skin. This method does tend to yield slower results than applying the oil directly, but it is a good alternative if you don't want to put anything on your skin.
For Nails
You can use vitamin E oil alone or mixed in as part of a cuticle oil to encourage nail health. Rub the oil directly on your nail beds, cuticles, and the skin around your nails to promote nail strength and growth. Doing this can also prevent yellowing nails and dry, peeling cuticles.
How Much Vitamin E Oil Should You Use?
How much vitamin E oil you use depends on the specific product you have. A thicker oil like Kate Blanc Cosmetics Vitamin E Oil only needs to have one or two drops applied directly to skin or into a moisturizer. A thinner oil that is intended for full body use like Bio-Oil Skincare Oil will usually need around a nickel-sized amount to be applied.
Typically, as long as you are not applying so much vitamin E oil to the point where you are beginning to irritate or cause reactions in your skin, you can use however much you see fit.
How Long Does It Take to See Results?
The amount of time it takes to see results depends on your skin condition and the problems you are trying to treat. If you are just aiming to get more hydrated skin and a healthy glow, you could see the results of applying oil topically within a week. For more intense repairs such as stretch marks or acne scars, it could take up to a month to begin seeing results.
You should also note that it will take longer to see improvements from ingesting vitamin E supplements than it will from applying vitamin E oil directly to your skin and face. These results could take a month or two to start becoming evident.
Can You Use Vitamin E Oil Daily?
Yes, you can use vitamin E oil daily on your skin and hair. However, as with all supplements, it is a good idea to take a short break every now and again to allow your body time to reset. You also don't want to risk overdoing it with the oil and eventually developing a reaction to it.
Can Vitamin E Oil Clog Pores?
Vitamin E oil can clog pores and aggravate skin that is already oily or prone to breakouts. If you have this type of skin, you can try and avoid these negative reactions by washing the oil off of your skin about 15 minutes after applying instead of letting it absorb all day or night. You may also consider taking vitamin E orally rather than applying it topically.
Storing Your Vitamin E Oil
Keeping your vitamin E oil properly stored is the best way to ensure your purchase lasts for as long as possible. When not being used, your oil should be tightly sealed and kept in a cool, dark place. You do not need to refrigerate it, and in some cases, refrigeration can ruin the oil.
If it is pure vitamin E oil either in capsule or liquid form, it should last 2 to 3 years when stored properly; pure oil doesn't typically turn rancid.
If you have a vitamin E oil that is mixed with other ingredients, there is the potential for it to expire. To check if your oil is still ok for use, you can take a light whiff of it. If it smells rancid it is expired. Another sign of expiration is if the oil is clumpy or separated. You should throw the oil away in either case.
Side Effects and Risks of Vitamin E Oil
While generally considered safe for use, you run a slight risk of developing any one of these side effects when using vitamin E oil.
Skin Reactions
As is the case with all products we apply to our skin, you run the risk of developing a reaction to it, and vitamin E oil is no different. You may develop itching or swelling when using this product, which could indicate an allergic reaction. You may also breakout or have your skin begin to dry out. This risk is greater if you are using a vitamin E oil that has been mixed with other ingredients and oils.
If you notice any of these symptoms, it is best to discontinue use of the product and consult with a doctor or a dermatologist.
Internal Symptoms
If you choose to take your vitamin E oil by mouth, you are at a greater risk of experiencing symptoms from it. These can include nausea, stomach cramps, diarrhea, fatigue, weakness, blurred vision, and headaches. The higher the dose of oil you take, the greater the risk of developing any one of the symptoms.
Always remember to never intake more than 1000mg of Vitamin E a day, as this can be a potentially dangerous dose.
Symptoms of Vitamin E Deficiency
Before purchasing a vitamin E oil, you may be wondering if it is possible to tell if you are lacking in vitamin E in the first place. There are a few symptoms that may indicate you need to add more vitamin E into your life, but you should always consult with a doctor before making any medical decisions or adding supplementation to your diet.
Difficulty walking or staying coordinated
Muscle pain or weakness
Fatigue
Vision problems
Keep in mind that true vitamin E deficiency is rare in most cases and symptoms can often be explained by other causes. Contact a doctor if you are experiencing any of these symptoms.
Natural Foods to Boost Vitamin E
Adding foods naturally rich in vitamin E to your diet is a great way to promote overall skin, hair, and body health. It is almost impossible to intake too much vitamin E when you are getting it only from food sources, so go crazy and start adding these ingredients to all your recipes.
That being said, if you are ingesting a vitamin E supplement, you shouldn't also be loading up on vitamin E rich foods on the daily.
Vegetable Oils
Vegetable oils such as wheat germ, sunflower, safflower, corn, and soybean oils are great sources of vitamin E. These oils are where most natural vitamin E oil products derive their vitamin E concentration from.
Green Leafy Vegetables
Spinach and broccoli are fantastic sources of vitamin E. This category also includes things like turnip greens and mustard greens.
Nuts and Seeds
Almonds, peanuts, and hazelnuts have the highest percentage of vitamin E in them. Sunflower seeds, pine nuts, and brazil nuts are also good options.
Fruits
Fruits such as avocados, mango, and kiwifruit are all delicious and high in vitamin E. Avocados in particular are also a great source of biotin, which can help improve skin appearance.
Fish
Salmon, rainbow trout, and cod are all excellent sources of vitamin E. They can be paired with any of these vegetables or a vitamin E fortified grain for a supremely skin-healthy meal.
Recipes featuring these ingredients are easy to find, but you can also visit this article which has specific, plant-based vitamin E filled ideas.
Enhancing Your Skincare Routine
Vitamin E oil might be one of the simplest and most benefit packed, products you could add to your skin and hair care routine. It can help heal a variety of skin complaints and strengthen hair and nails, making it an overall excellent oil to use.
With today's abundance of vitamin E oil products available, it can be difficult to select the best one for your needs. However, if you focus on specific ingredients and keep the pros and cons of each item in mind, you will be right on track to selecting a product that can enhance your entire skincare routine.