Top Picks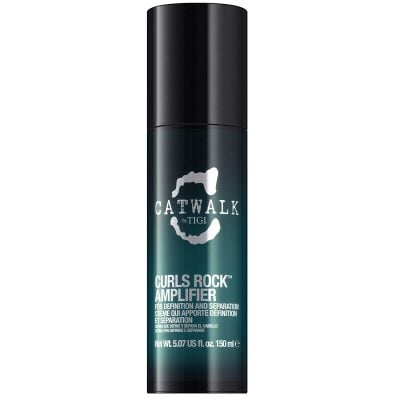 TIGI Catwalk Curls Rock Amplifier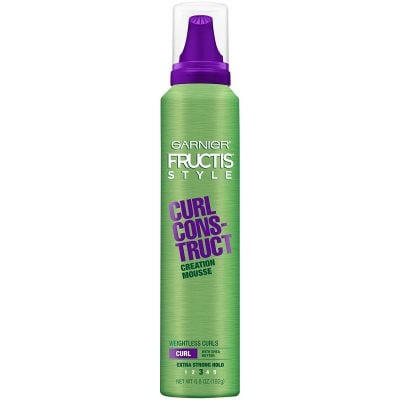 Garnier Fructis Curl Construct Creation Mousse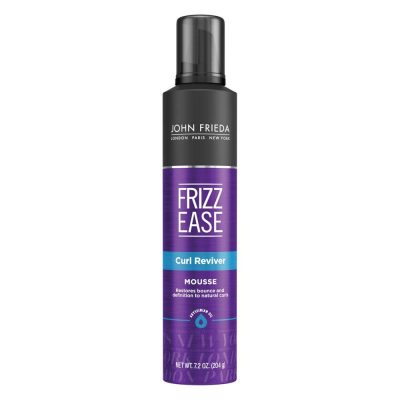 John Frieda Frizz Ease Curl Reviver
Previous
Next
A hallmark of the 80s, hair mousse, otherwise known as styling foam, has been making a comeback in recent years. The product is being revisited not for just its major volumizing properties, but for its ability to nourish and define a number of different hair types, most notably curly hair.
All types of curly hair can benefit from mousse. It hydrates damaged hair, plumps up curls, and gives you the soft, tumbling locks of your dreams. It is also great for using with natural coily hair to moisturize and strengthen the strands.
With so many different curly hair mousses available today, it can be hard to know which one will benefit your hair the most. Fortunately, we've gathered a list of the best mousses out there and broken down the benefits of each one, so you don't have to. Read on to learn all about our favorite products.
What You Need to Know About Hair Mousse
Before we dive into the top options available, let's explore some of the must-know info about hair mousse, including what features to look for.
Why Use Hair Mousse?
Mousse is a fantastic multipurpose product that can work wonders on curly hair. There are multiple strengths of hold available, ranging from flexible to strong, and it creates lift and bounce in natural curls. It's one of the easiest styling products to use on curls too – simply scrunch it into damp hair after a shower then air dry or diffuse. Plus, thanks to today's updated formulas, most mousses won't leave your hair feeling crunchy to the touch like they did during the days of "mousse mania."
Mousse can be used on virtually any curl type and pattern (we discuss hair types more later), and usually have a combination of curl enriching, frizz-fighting ingredients, such as coconut oil and polymers. This makes it an easy styling solution to many of curly hair's problems.
What to Look for in a Hair Mousse
There are certain things you want to look out for when shopping for a hair mousse. It's important to keep in mind your hair type, curl patterns, and what type of style you are after to ensure you pick the product that fits you best.
Ingredients
Mousses can be blended with a variety of ingredients, natural or not, that help to strengthen curls and boost shine. Some of the more popular additions are coconut oil, shea butter, and essential oils, such as citrus oil.
If you have hair on the drier side, shea butter-based mousses will be more beneficial for you. For fine or thin hair, coconut oil will be light enough to give you curl definition without weighing down your hair.
Sometimes chemical ingredients such as silicones, parabens, and alcohols are added into mousse. If you are following the Curly Girl Method or want to support clean beauty products, keep an eye out for these ingredients so you can avoid them. A great option for a natural product is Shea Moisture's hydrating mousse.
Texture
Texture is another important factor in buying a mousse. You want something that will work with your hair and not be too light or too heavy. Thicker, more coarse hair or coily hair can benefit more from a heavy textured mousse such as OGX Locking Coconut Curls. Fine hair, wavy hair, or thinner hair will have more luck with a lightweight mousse like Design Essentials.
Now that you've got the basics of hair mousse down, let's look at the best ones for curly hair!
Top 10 Best Hair Mousses for Curly Hair 2020
Full Guide to Hair Mousse for Curly Hair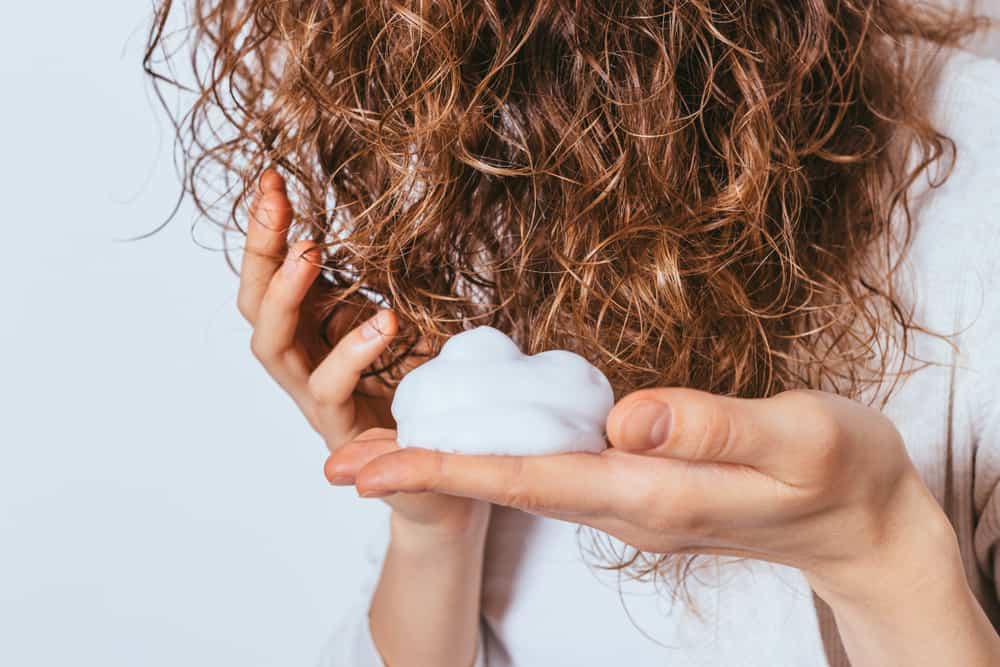 It can be pretty overwhelming trying to decide which hair mousse is best. If you still have questions about the benefit of mousse or want tips on how to manage your curly hair, you can read our full guide for all of that need-to-know information.
Mousse vs Gel
Hair gel is thicker than mousse and has a much stronger hold. It is great for keeping hair in place, such as when you want to rock a mohawk, but can make longer hair appear stiff, and can make curls appear wet or weighed down.
Mousse is a much lighter product. Thanks to aerosol cans, it often dispenses with a foam-like texture that is easy to spread through hair. It's versatile enough to be used on every hair type, and comes in a range of different holding strengths. However, mousse does not hold styles in place as long as gel does.
How to Apply Mousse
You always want to apply mousse to wet or damp hair. When applied to dry hair, mousse clumps up curls and can make them look greasy. Below, we have some simple steps to follow for achieving the perfect mousse application.
Starting with wet hair, use a microfiber towel or cotton t-shirt to remove excess water from your locks. Gently squeeze your hair in the fabric to achieve this.
Flip your hair upside down. Applying mousse from this direction helps to add volume to your hair.
From this position, work an egg or palm sized amount of mousse into your hair, starting from your roots and working your way down.
Flip your hair back up and arrange it the way you would like it to dry if air drying. If you are blow-drying or diffusing your hair, you can do this now.
Once your hair dries, you can style it further, or just leave it as is.
Mousse and the Curly Girl Method
The Curly Girl Method is a well-known set of tips and tricks that helps with caring for curly hair. A good mousse can easily be worked into, or become a vital step in, your personal Curly Girl method.
If you are unfamiliar with this method, we have listed some of the core principles of it for you below.
Curly Girl Basics
These basic tips are the foundation of the Curly Girl Method. Keep in mind that each person's hair is different, so it may take some mixing and matching to find the perfect set of tips and products that work for your curls.
Cut down on, or completely eliminate, shampoo. It may seem strange, but most shampoos can strip your hair of the natural oils it needs to keep your curls looking healthy. Most curly hair is naturally dry, so skipping shampoo can keep it looking hydrated. If you absolutely need to use shampoo, you can pick one from a Curly Girl approved product list.
Avoid sulfates, silicones, alcohol, and fragrances. These are all ingredients that can dry out your curls and encourage breakage. Avoiding them will increase the health and hydration of your curls.
Try to avoid heat styling tools and brushes. Heat styling, as most of us know, can damage your hair with repeated use. This is especially true for curly hair. Brushing your hair out while it is dry can also ruin your curl pattern and cause hair to break off. To brush your hair, the Curly Girl Method suggests finger combing in the shower, or using a wide-toothed comb on your hair while it is wet.
Plop your hair. "Plopping" is the act of wrapping your hair up in a t-shirt or microfiber towel as it dries. This helps absorb water and excess frizz from your hair. You can leave it like this until it dries completely, or leave it up for 10-20 minutes and then diffuse the rest of the way.
There are a number of other techniques and approved products in the Curly Girl method that can help you. We suggest reading more the techniques here. You can also compare some of your favorite haircare items to this database of accepted products to see if the ingredients are a match. As for our list, both Garnier's Curl Construct and Shea Moisture's hydrating mousse are Curly Girl approved.
How to Avoid Crunchy Curls
The best way to avoid crunchy curls is to use less mousse. Mousse is supposed to put a slight cast on hair, as this is what protects and preserves the curls. Some mousses may be more prone to creating stiff, or crunchy, casts than others. If you find yourself having a problem with stiff looking hair, use less product.
Another great way to get rid of crunchy curls is to "scrunch" them. As we just mentioned, mousse creates a cast on your hair. You can break this by sectioning out your hair and putting your palm around the bottom. Move your hand up and close your palm around the hair, "scrunching it", to break the cast. This helps to gently break the seal on your hair and lets loose softer, defined curls.
The longer you leave this seal on your hair, the longer your hair will stay defined once you scrunch out that crunch.
Can You Leave Mousse in Overnight?
Yes, you can. Mousse works well as an overnight styling solution for curls. However, you should only use a light amount in your hair to avoid waking up with stiff or crunchy locks. You also want to be sure not to do this often, as consistently leaving mousse in your hair overnight can lead to product build up and potentially damage your hair.
What Kind of Curly Hair Do I Have?
Curly hair has four different designations. Knowing your exact curl type and pattern can help you decide what products to buy and which ingredients will work best for your curls.
Curl Types
There are three categories of curl (A, B, and C) within the levels of 1-4. These letters denote the curl pattern of your hair. A is the straightest and C is the curliest. Below, we breakdown these categories.
Type 1 Hair
Type 1 hair is straight. It can be shinier than the other hair types. Volumizing and shape-defining mousses like Got2b Kinkier's Gloss 'n Define work well for this hair.
1A hair is very fine, straight and soft. 1B has a medium texture and more body. 1C is going to still be straight, but it will have a coarser texture and can require extra strength hair products to manage it.
Type 2 Hair
If you have waves in your hair, you are likely a type 2. The S pattern found in this hair type is somewhere in between straight and curly hair. Wavy hair frizzes very easily, and would probably benefit from using a mousse such as OGX's Quenching Frizz-Defying Mousse.
2A hair has light waves, and it can occasionally be thin. 2B has clear, developed waves and 2C hair will have a thicker texture. 2C hair is the most prone to frizz.
Type 3 Hair
Type 3 hair has either a tight S shape or a loose coil pattern to it. This type is springy, and it will often bounce back into place after you pull it out. Type 3 also frizzes pretty easily.
3A hair has loose curls. It can be fairly shiny. 3B can have loose spirals or ringlets, or even tight corkscrew curls. 3C hair has tight curls; a moisturizing mousse like Shea Moisture would work well with this type.
Type 4 Hair
People with type 4 hair usually have natural hair. It has very tight curl patterns, either S-shaped or Z-shaped, and appears coily or kinky. This type requires a lot of moisturizing; a cream mousse like OGX's Locking Coconut Curls can be very helpful.
4A hair is thick, with S-shaped curls. It is usually not too coarse. 4B and 4C have a Z-shaped curl patterns. Both types are dense and can be prone to breakage. A mousse like Aussie's Sprunch that doubles as a leave-in conditioner is a good option for this hair type.
You can take a look at the pictures in this article to get a better idea of which hair type you belong to.
Hair Texture
Determining your hair texture can help you decide which formula of mousse to go with. More lightweight mousses work well on finer hair, while heavier mousses are better at taming thick locks. To find your hair texture, follow these steps.
Wash and condition your hair. You want the strands to be completely product free in order to get accurate results.
Let your hair air dry and pluck a piece out. Try to get a full piece of hair; pulling it from the back of your head will be easier.
Cut a length of sewing thread and lay it next to your plucked hair. Compare the two of them.
If your hair is thinner than the thread, you have fine hair. If it is the same size, you have medium hair, and if your hair is thicker than the thread, you have thick hair.
You can read about other ways to determine your hair texture and type here.
Other Ways to Enhance Curly Hair
Use a diffuser instead of a hair dryer. It helps to further reduce frizz and doesn't destroy your curl pattern like a using a hair dryer without the attachment would.
Consider switching to a silk pillowcase. The soft texture of silk won't tangle and frizz up your curls as you sleep. This is especially helpful if you shower at night and sleep with wet or damp hair.
Invest in a microfiber towel. A microfiber towel slowly wicks away moisture from your hair, unlike a regular towel. This leaves your hair looking healthier and more hydrated, and will help it hold any styling products you apply.
When air drying your hair, try not to touch it. Once product is applied and it begins to dry, any excess movement or touching can create frizz. If you have the time, sit down and read a book or watch an episode of your favorite show to give your curls time to settle.
How to Sleep With Curly Hair
Often times, curly hair requires its own nighttime routine to keep it looking fresh the next morning. There are a few things you can do to prevent your curls from looking like a tangled mess every time you wake up.
Change Your Sleeping Position
The worst thing for curly hair is to sleep directly on it. Doing this crushes the hair follicles and presses out the curls, leaving your hair looking flat and tangled. If you want to leave your hair down while you sleep, trying sleep on your side or stomach with your hair spread out away from you.
Protect Your Hair at Night
Protecting your curls can be done a number of ways. The most popular technique is to create a "pineapple." This is a high ponytail on the very top of your head that allows your curls to spill down, looking very much like a pineapple. It helps to keep your curls out of the way all night, no matter how much you toss and turn.
This video can show you how to properly create a pineapple.
Wear Braids
Another foolproof technique for preserving curls overnight is to braid your hair. This keeps the strands protected and lets you easily move your hair out of the way while you sleep. Of course, if you use this method on wet or damp hair, you may wake up with your hair slightly wavier than you want it to be.
Get the Definition Your Curls Deserve
Your curls deserve to be healthy, voluminous, and shiny. With the help of the right mousse, you can achieve this look over and over again, putting others in awe of your flawless style. All you have to do is keep in mind your curl type and hair texture, and the key ingredients you want in a hair mousse to find the perfect product for you. We hope this list has helped make your search for the best mousse easier, and that your curls stay forever defined.