Tattoo lotions are an essential part of tattoo aftercare and the overall healing process. After getting a tattoo, regular use of a lotion provides protection to your skin and helps stop your tattoo from becoming excessively dry or flakey. They can also prevent that annoying itch that accompanies a healing tattoo, as the last thing you want to do is scratch at your new ink – it is an open wound, after all!
Choosing a tattoo lotion can be an extremely daunting process. You want to be sure to purchase something that is both free of skin-irritating ingredients and sufficiently moisturizing. To help you make your decision easier, we've collected a list of the top 10 tattoo lotions out there and analyzed the benefits of each one. Keep reading to learn about our favorite options!

What to Look for in a Tattoo Lotion
There are several things to consider when looking at tattoo lotions. Everything from ingredients, to the texture of the lotion, to your particular skin type should be factored into your decision so you can find a product perfectly suited to your needs.
Types of Lotions
Lotions come in more than just the creamy blend we typically think of. There are several different formulas of tattoo lotion out there that can benefit your tattoo.
Creams
Creams are what most people think of as lotions. They are smooth and usually thicker in consistency, but they are highly moisturizing. Creams/lotions go on light and allow the skin to breathe. Most formulas contain natural ingredients such as coconut and olive oil, but some can leave behind a greasy residue. If you're looking for a non-greasy lotion, a great option on our list is After Inked Tattoo Moisturizer.
Balms
Balms are designed to sit on top of the skin and not be absorbed completely. They are great for providing a protective layer over your tattoo and helping to prevent infection. Balms often contain beeswax, which works to soothe and repair skin, but they are not as deeply moisturizing as other lotion varieties. That's fair, since they're not necessarily meant to moisturize, just to protect a healing tattoo.
Salves and Ointments
Ointments are thicker in substance and often regarded as more medicinal. They are blended with a variety of herbs and essential oils that can help speed up healing and prevent infection. However, you have to be careful when using ointments, because applying too much can smother your tattoo and not allow it to breathe, prolonging the healing process.
Salves are a subset of the ointment category, but has the same basic healing properties. The only difference is that salves are softer in consistency than balms, but slightly harder than ointments. This allows them to deposit their healing formulas more deeply into the skin without completely preventing the surface of the skin from 'breathing.' Ora's Amazing Herbal Tattoo Salve is a fantastic healing salve from our list.
Ingredients to Look Out For
When shopping for tattoo lotions, always be sure to read the ingredients list. Not only does it let you find ingredients you may be allergic to, but it will also help you understand the exact benefits each lotion can provide to your skin.
Things to Consider
Moisturizing ingredients such as aloe vera, coconut oil, and vitamin E are all great things to have in a lotion. You may also want to select a lotion that has shea butter or soothing plant extracts, like chamomile, as part of its formula.
Be sure to select a lotion that is non-comedogenic. This means the lotion will work to moisturize without clogging pores, an especially important consideration for a new tattoo. Lotions without the non-comedogenic label can impede healing and cause breakouts.
Things to Avoid
Colorants, alcohols, and strong preservatives should all be avoided. These ingredients can irritate skin or lead to an infection in someone with very sensitive skin; completely avoiding them will help ensure your tattoo heals healthily.
Strong fragrances are another ingredient to steer clear of. Fragrances are often the cause of allergic reactions, and your tattoo runs the risk of becoming infected due to overly perfumed lotions. Light, naturally scented lotions may be ok for some people, but especially if you have sensitive skin, fragrance-free is the best way to go.
Now that we've discussed the basics of tattoo lotions, let's head straight into our list!
Top 10 Best Lotions for Tattoos 2023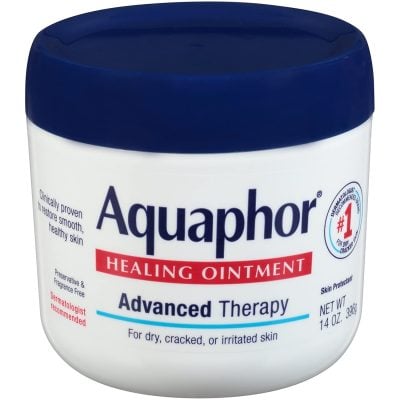 Why we like it:
Aquaphor is a go-to lotion for many tattoo artists and their clients. Its fragrance-free formula can be used anywhere on the face or body.
Editor's Rating:
Quick Facts:
Lotion Type: Ointment
Active Ingredients: Petroleum Jelly
Aquaphor is one of the most recommended lotions for moisturizing a tattoo. While it is an ointment, it provides a semi-occlusive barrier, meaning the lotion forms a protective barrier over the skin, but will still allow for oxygen to reach the wound. This is great for anyone who wants extra protection over their tattoo that will still let the skin heal normally.
This product is both fragrance and coloring free, and it can be safely used anywhere on the face and body. It makes a great choice for when you have tattoos in delicate areas, or if you have sensitive skin that may react to dyes and perfumes.
Because it is an ointment, Aquaphor may not be the best choice for long-term use. It is great for the first few weeks of tattoo healing, but for prolonged use it might be too heavy. A lightweight lotion such as Aveeno Sheer Hydration could be a better option if you plan on using your lotion long-term.
Pros
Provides semi-occlusive barrier

Can be used anywhere on the face and body

Fragrance and coloring free
Cons
Not good for long-term use
---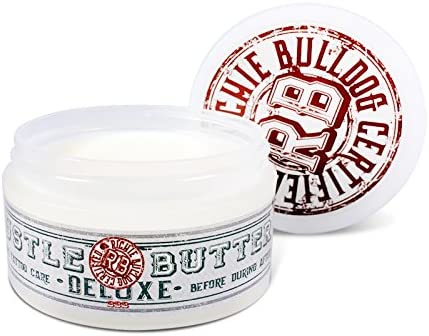 Why we like it:
Hustle Butter is designed for use during all stages of the tattoo healing process. It's vegan and 100 percent natural, making it a perfect premium aftercare lotion.
Editor's Rating:
Quick Facts:
Lotion Type: Cream
Active Ingredients: Shea Butter, Coconut Oil, Vitamin E
For lovers of clean beauty products, Hustle Butter Deluxe is an excellent choice. It is vegan and formulated with 100 percent natural ingredients, including the powerfully soothing coconut oil. While this lotion does have a scent, it is derived from these same natural ingredients. If you are looking for a scented lotion that has a low chance of irritating your healing skin, this is it.
The texture of the lotion is smooth and leaves skin feeling very soft. It can even be used by your tattoo artist before starting your tattoo to help soften your skin, making the process slightly less painful. Even after your tattoo has completely healed, Hustle Butter can be used to ensure the skin stays soft and healthy.
It does take a little while for this product to absorb into the skin. You don't want to rub it into your skin too hard, so you may end up waiting several minutes to half an hour for it to fully absorb. If you want an equally moisturizing lotion that will sink in faster, look at After Inked Tattoo Moisturizer.
Pros
Vegan and 100 percent natural

Smooth texture

Leaves skin very soft

Naturally scented
---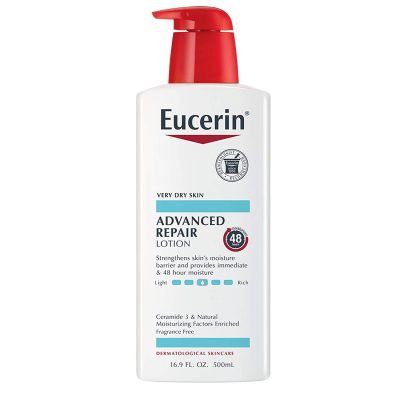 Why we like it:
Perfect for reducing the itchiness of new tattoos, Eucerin comes in a large, affordable bottle that gives you a great bang for your buck.
Editor's Rating:
Quick Facts:
Lotion Type: Cream
Active Ingredients: Shea Butter, Ceramide-3
If you're looking for a great bargain buy, Eucerin may be the best product for you. It comes in a large 16.9-ounce bottle that is sure to last you for the duration of your tattoo healing and beyond. Its price range fits most budgets, so you don't have to worry about overspending on this item.
Eucerin Advanced Repair is fantastic for stopping itchiness. It provides up to 48 hours of hydration and relief from dry skin and itch. It also contains ceramide-3 as one of its main ingredients. Ceramide-3 is a key factor naturally found in the skin barrier; by adding more via this lotion your skin will gain a boost in protection and hydration.
This is not a preservative-free product, so if you have especially sensitive skin, you may want to stay away from this lotion. It can also have a sticky texture that makes it a little hard to spread on skin. For a more easily spreadable product, check out Sanibalm Plus.
Pros
Great for stopping itchiness

Ceramide-3 for skin healing

Large, affordable bottle
Cons
Contains preservatives

Sticky texture
---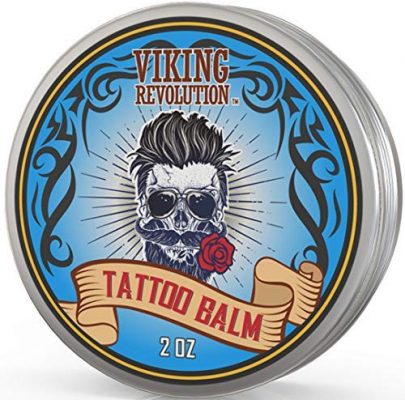 Why we like it:
Viking Revolution's Tattoo Balm is chemical-free and packaged in an easy-to-carry tin so you can moisturize your tattoo wherever you are.
Editor's Rating:
Quick Facts:
Lotion Type: Balm
Active Ingredients: Grapeseed Oil, Shea Butter, Beeswax, Chamomile Extract
The chemical-free formula in Viking Revolution is enhanced by chamomile extract, a perfect ingredient for soothing skin. This balm helps to protect and lightly moisturize your tattoo using shea butter, beeswax, and grapeseed oil.
This product is packaged in an easy-to-carry tin that will effortlessly fit into a pocket or a purse, making it great for anyone who needs to take care of their tattoo while still on the go. The texture is a bit harder than typical, but it will soften and melt as it comes into contact with your skin.
Viking Revolution advertises their balm as vegan, but because it includes beeswax, it is actually not. If you are looking to buy a certified vegan product, Hustle Butter Deluxe is a better choice.
Due to the high concentration of extracts, some users report that this balm can give a rash. To be sure this product will work for you, do a patch test on a small part of your normal skin and wait at least 24 hours before applying it to your tattoo.
Pros
Chamomile extract for calming skin

Easy to carry tin

Chemical-free
Cons
Can cause rashes

Not vegan as advertised
---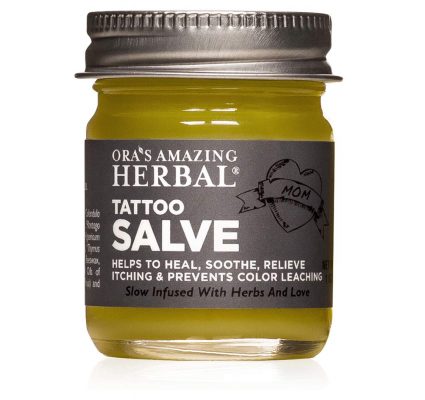 Why we like it:
Similar to the all-natural and vegan
Hustle Butter
, Ora's Amazing Herbal Salve is formulated with plant-based ingredients that promote wound healing.
Editor's Rating:
Quick Facts:
Lotion Type: Salve
Active Ingredients: Grapeseed Oil, Comfrey, Beeswax, Vitamin E
A great choice for anyone who's shopping for an organic option, Ora's Amazing Herbal Tattoo Salve is almost entirely composed of organic herbs and essential oils. It does contain beeswax, which excludes it from being vegan, but all the ingredients are specially selected to prevent infection and promote healing.
The addition of comfrey is particularly helpful in reducing inflammation and speeding up healing. Comfrey is one of the best natural products you can use on an open wound. This lotion is a great choice if you want your tattoo to heal as quickly as possible so you can start showing it off.
Due to the addition of many herbs and essential oils, Ora's does have a very strong scent. It is rich and herbal, but may be too overpowering for some. If you find yourself preferring a fragrance-free product, take a look at Aquaphor Healing Ointment instead.
Pros
Essential oils to prevent infection

Organic ingredients

Added comfrey for wound healing
---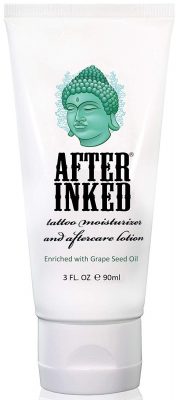 Why we like it:
This quick-absorbing lotion sports a non-greasy formula and orange oil to reduce inflammation in skin.
Editor's Rating:
Quick Facts:
Lotion Type: Cream
Active Ingredients: Grapeseed Oil, Shea Butter, Orange Oil
After Inked Tattoo Moisturizer is quick-absorbing; as soon as you put it on your skin you can feel it begin to hydrate and nourish. It has a non-greasy formula, so after application you won't be left with any kind of residue on top of your skin. This is great if you don't have the time to wait around for something like a balm to sink in.
This lotion is PETA certified cruelty-free and certified vegan. Orange oil is blended into the formula to help reduce inflammation and allow the lotion to properly moisturize the wounded skin. It is also soothing enough to be used after laser tattoo removal.
It does have a thicker texture than other lotions, so if you prefer a thinner lotion that is still absorbed fairly quickly, you can look into Eucerin Advanced Repair.
Pros
Quick absorption

Non-greasy

PETA certified cruelty-free

Can also be used after laser tattoo removal
---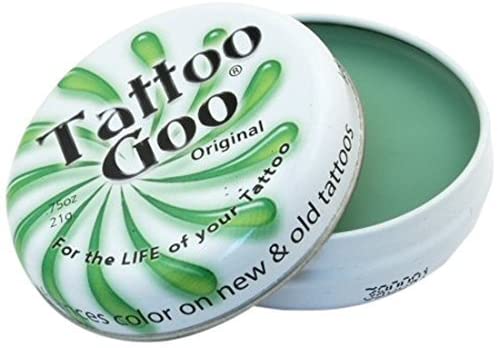 Why we like it:
Featuring wheat germ oil for prime hydration, Tattoo Goo is a classic tattoo aftercare product that helps heal skin and decrease swelling.
Editor's Rating:
Quick Facts:
Lotion Type: Salve
Active Ingredients: Olive Oil, Beeswax, Wheat Germ
Wheat germ oil is a fantastic ingredient for promoting skin health. It locks in moisture, preventing dry, flaky skin and promotes blood circulation. Increase blood circulation means more oxygen is reaching the skin, which leads to a faster healing tattoo.
The additions of olive oil and lavender oil make this lotion extra soothing to the skin. These ingredients are great for use on sensitive skin and help to keep any swelling around your new tattoo to a minimum. A little can go a long way with this salve, with a small tin being enough to last you throughout the entirety of your healing process.
The formula of Tattoo Goo contains colorings and is greasier than its competitors. It is not the best choice if you will have your tattoo covered up with clothes most of the time, because the lotion will likely stain the fabric. For a less greasy lotion still packaged in a convenient tin, check out Viking Revolution's balm.
Pros
Wheat germ for increased blood circulation

Helps keep swelling down

A little goes a long way
Cons
Very greasy

Contains coloring
---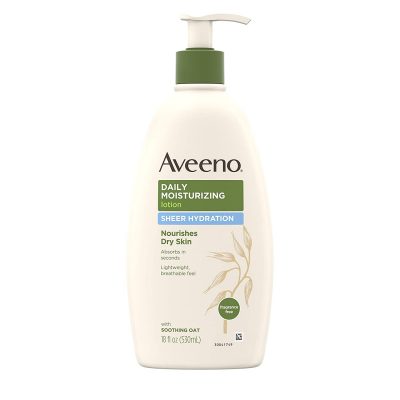 Why we like it:
For over 65 years, Aveeno has created a top-quality, lightweight lotion that will work for new tattoos and sensitive skin alike.
Editor's Rating:
Quick Facts:
Lotion Type: Cream
Active Ingredients: Oat Extract
If you have sensitive skin, this lotion is a great choice for you. It is formatted to be soothing, with added oat extracts that help prevent itch, act as inflammatory agents, and protect the skin. They also function as an antioxidant, which allows the skin to repair itself and correct any visible surface damage.
The lightweight formula of this lotion is sheer and easy to apply. It doesn't feel excessively sticky or greasy. This product is a good option for long-term tattoo care because it will never be too heavy or over-cover your tattoo.
Unfortunately, Aveeno Sheer Hydration does contain several strong preservatives, such as phenoxyethanol, which can irritate the skin. For this reason, it is not recommended for use around delicate skin areas or the face. If you would prefer your lotion to be completely preservative-free, Ink Scribd is a good alternative.
Pros
Perfect for long-term use

Lightweight formula

Soothing oat extract

Great for sensitive skin
Cons
Not good for use around the face

Contains preservatives
---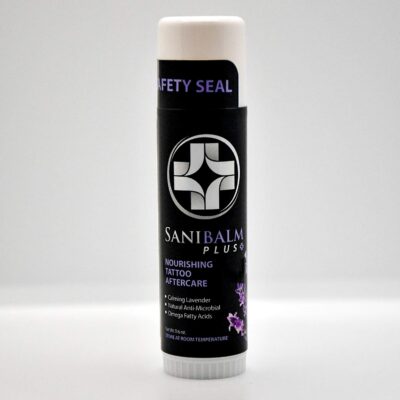 Why we like it:
Packaged in an easy to use roll-on stick, Sanibalm is both versatile and highly hydrating for your skin.
Editor's Rating:
Quick Facts:
Lotion Type: Balm
Active Ingredients: Coconut Oil, Sea Buckthorn, Silver Nanoparticles
Silver nanoparticles are a popular cosmetic additive that can increase delivery of beneficial ingredients into the skin. They promote healing and the repair of chronically dry skin. Blended with sea buckthorn, an ingredient renowned for its ability to treat damaged skin, this product makes a great choice for anyone looking to receive maximum benefits from their lotion.
It is packaged into a roll-on tub, making it very easy to apply. All you have to do is roll up a little bit of the balm at a time and gently rub it over your tattoo. This also makes it mess-free, because you do not need to get your hands or fingers involved in the lotion application process. Those who are often on the go will love a product like this.
Sanibalm may not be the best choice for someone with sensitive skin. The combination of nanoparticles and other herbal ingredients can cause allergic reactions or irritate very sensitive skin. Make sure to do a patch test elsewhere on your body before applying this lotion to your tattoo.
Pros
Easy to apply

Mess-free

Silver nanoparticles boost skin health

Sea Buckthorn treats skin damage
Cons
Not good for sensitive skin
---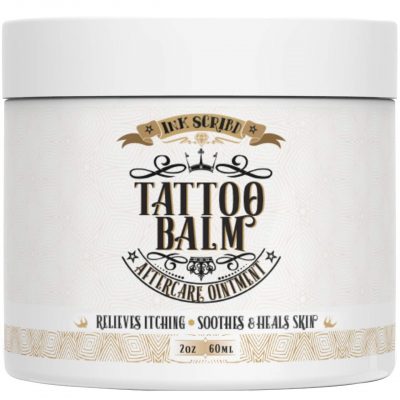 Why we like it:
Ideal for using with both new and old tattoos, Ink Scribd helps protect your skin while bringing out the best of your ink's colors.
Editor's Rating:
Quick Facts:
Lotion Type: Ointment
Active Ingredients: Coconut Oil, Aloe Vera, Shea Butter
For anyone looking to enhance the vibrancy of their tattoo's color, Ink Scribd is the best lotion for the job. It is technically an ointment because of the many herbs and essential oils blended into it, but it isn't as thick as a true ointment such as Aquaphor.
It is a great product to use even if your tattoo is already healed. After a few weeks of consistent use, the colors in your older tattoos will be brighter and more defined. Ink Scribd even offers an amazing 365-day money-back guarantee that provides you with ample time to try the lotion and see the results before deciding if you like it.
There are a few essential oils, including citrus oils, mixed into this lotion that can be potentially drying to your skin. This lotion isn't the best if you are looking for something to help with extremely dry skin and itching within the first few weeks of receiving your tattoo. For that, we recommend something more hydrating, like After Inked Tattoo Moisturizer.
Pros
Brings out tattoo colors

Great for use with old tattoos

365-day money-back guarantee
Cons
Added essential oils can dry out skin
---
Your Guide to Tattoo Care
Believe it or not, the easiest part of getting a new tattoo is the inking process. Tattoo aftercare can be very involved with many steps meant to safeguard the health and healing of your tattoo. To help you get started with this occasionally overwhelming process, we've laid out a few pointers in our guide to tattoo care.
Tattoo Aftercare Guidelines
There are quite a few dos and don'ts when it comes to caring for tattoos. Our basic guidelines should help you with the fundamentals, but remember to always check with your tattoo artist and follow any care instructions they give you.
Leave the Bandage Alone
Once your artist is finished tattooing, they will wrap your new ink in a sterile bandage. Depending on instructions, this should stay on for 3-24 hours. In the first 24 hours, even if you change your bandage, you should try to always have your tattoo covered.
Wash Your Tattoo
You should be washing your tattoo at least twice daily after the first bandage change. Use a mild soap and your hand (don't scrub or exfoliate) to gently clean it, and then pat it dry with a clean towel or paper towels. This washing process should continue for at least a month as your tattoo completely heals.
Don't Touch It
No matter how much it itches or peels, don't touch your tattoo. Scratching it can cause damage to the skin, as can peeling. The only time you should be touching your new ink is to wash it and to apply lotion.
Use Lotion
After the second or third day (depending on care instructions), you can start applying lotion to your tattoo after washing. This will help ensure it stays protected and doesn't get too dry. Use our guide to figure out which lotion is best for you.
Tattoo Healing Speed
Depending on the placement, size, and your specific care routine, it could take anywhere between 2 and 6 months for your tattoo to be completely healed. The first month is the most critical in the process where you will need to pay the maximum amount of attention and care to your tattoo.
The healing process can be broken down into four stages:
The first stage starts from the moment you leave the tattoo shop. It involves redness surrounding the design. You may also see your skin leaking fluid or ink. This is normal and shouldn't last more than a week.
Throughout the end of the first week and the second week, your tattoo will likely become incredibly itchy. This is also when you can start to see flaking across the top of the tattoo. Applying a lotion during this phase is very important and can help minimize any discomfort. For this period you'll be applying a tattoo lotion multiple times a day.
Peeling begins during the third phase of healing. Don't try to speed up this process by picking at or attempting to pull off any skin. Your skin will peel and fall off naturally and it is a part of the healing process; keep up your aftercare routine to prevent any infection or dirt entering into the wound.
After about a month, your tattoo should appear fully healed. This means that there are little to no visible signs of peeling, flaking, or dry skin, and that the area surrounding the tattoo appears normal.
Your tattoo may take several more months to completely heal under the surface of the skin, but once you've safely reached phase four, the risk of developing infections and healing complications decreases dramatically. Apply lotion periodically but you no longer have to be as diligent about cleaning and moisturizing.
Tips for Speeding up Healing
The best way to encourage quick healing of a tattoo is to take care of it diligently. Make sure to wash and moisturize it every day, don't submerge it in water, and keep it out of direct sunlight.
The more you exposed your tattoo is to oxygen, the quicker it will heal, so try not to constantly have it wrapped up in clothing or covered up. It is recommended in most cases that you don't rebandage it until after the first 24 hours.
How Long Should Lotion Be Used?
For the first two weeks, you should be moisturizing your tattoo every time after cleaning, about 2 to 3 times a day. After these first couple of weeks, you can lower it to once or twice a day, but many choose to moisturize for months, or even years, to keep the ink in their tattoo looking fresh.
Overuse
While moisturizing is important, keep in mind that you don't want to go overboard with your lotion. Overuse can lead to too much moisture being held against the skin, not allowing the tattoo to heal properly. This is especially important if you are using a thicker lotion, like an ointment. A light, thin layer of lotion 2 to 3 times a day is the perfect amount to expedite healing without smothering the tattoo.
Natural Alternatives to Lotion
The best alternative to a store-bought tattoo lotion is coconut oil. It is moisturizing and has antimicrobial properties, meaning it fights off bacteria and infection. Coconut oil has also been known to help wounds heal faster, which in the case of a new tattoo couldn't be more perfect.
You could also use natural oils like vitamin E oil or grapeseed oil. These products moisturize the skin while still letting it breathe.
Always remember to check with your tattoo artist or doctor before putting a natural lotion alternative on your skin.
How to Sleep With a New Tattoo
In the first 24 hours, most tattoo artists recommend you keep the bandaging on without touching it. This will protect your tattoo from brushing against your sheets or potentially staining areas on your bed.
The next couple of nights after receiving your tattoo, you should bandage it gently. Too tight will restrict blood flow to the area, so make sure that whatever bandage you have over the tattoo allows it to breathe.
Try to choose sleeping positions that don't put direct pressure on your tattoo. For instance, if you have a hip tattoo on your right side, try to sleep on your left side to avoid aggravating the tattooed skin.
You should rotate your bed sheets as often as possible over the course of the healing process. This will reduce the chances of a buildup of dust, dirt, or residue that can come in contact with and infect your tattoo.
Showering With Your Tattoo
Most experts recommend that you wait a day after receiving your tattoo before jumping in the shower. You new ink needs time to settle and your skin needs to recover from the trauma of tattooing.
After the first 24 hours have passed however, you are free to take a shower – just don't soak your tattoo. Wash it lightly with alcohol- and fragrance-free soap (Dove or Dial sensitive-skin options are recommended) and try to keep it out of the direct shower stream as much as possible. You can do this by filling your hands with water and splashing it on your tattoo when washing it.
Keep in mind that the shower temperature shouldn't be too hot. Heat can cause skin to dry out, and dry skin will only make your tattoo itchier.
After showering, pat your tattoo dry with a clean towel or a handful of paper towels. Never rub at or scrub your tattoo because not only will it hurt, you risk infecting your it and ruining the look of the ink. Apply your favorite lotion after drying and you're good to go.
Dealing With Tattoo Pain
Your tattoo will likely be sore for anywhere between 3 and 7 days after receiving it. The exact number depends on your aftercare routine and the placement of your tattoo.
To minimize pain and itching, try to reduce friction around the tattoo. This can involve wearing loose clothing (or no clothing, if you have a tattoo where that's possible!) that won't restrict or constantly brush against the affected skin.
Be careful when you walk and try not to bump into anything. If your tattoo gets hit or scraped against hard enough, there could be some lasting damage, so the best thing you can do is be especially cautious during the first few weeks of healing.
Choose a lotion with anti-inflammatory ingredients such as Aveeno Sheer Hydration or Ora's Herbal Tattoo Salve to get extra relief every time you moisturize.
What to Do When Your Tattoo Isn't Healing
If you notice your tattoo isn't healing properly, you need to immediately seek out the advice of your tattoo artist or doctor. Tattoo infections are less common these days thanks to more sterile practices, but they are still dangerous when they do occur and can cause unsightly complications.

Signs of Infection
Excessive redness or itchiness, swelling, or discoloration around the tattooed skin may be an indication of infection. There could also be discharge from the area. If any of these symptoms are accompanied by a fever or chills, you need to seek medical attention immediately.
Washing and proper aftercare can prevent the possibility of infection. Using a sterile lotion like the options of our list can drastically reduce the likelihood of infection.
Tattoo FAQs
As your tattoo heals, you may have some questions about the process that just can't wait. Luckily, we're here to help you get some answers.
Will My Tattoo Lose Color as It Heals?
After the first week of healing as your tattoo starts to peel, you may notice a little blurriness or fading. This should go away after the dead skin falls off. Your tattoo may not be as dark as it first was once completely healed, but a tattoo brightening lotion like Ink Scribd can help you get the best color out of your ink.
Colors that tend to fade the fastest over time are yellow, hot pink, white and light green. More fade-resistant colors are red and black.
Why Is Vaseline Bad for Tattoos?
Vaseline, a popular brand of petroleum jelly, is not recommended for new tattoos. This is due to the fact that it has a moisture trapping effect, that while hydrating on severely chapped skin, seals your tattoo off from air. Proper airflow over your tattoo is essential to the healing process.
Petroleum jelly can also seal in dirt and germs, trapping them against your wounded skin. This can cause infections which may lead to improper healing and scar tissue.
Why Is My Tattoo Raised?
New tattoos can look raised or bumpy during the healing process. This is a result of the skin trying to heal from trauma and will usually subside as you keep up your aftercare and the tattoo heals. In some cases, it may take a couple of months to look normal.
If this skin bumpiness is accompanied by other signs of infection, seek advice from your tattoo artist and/or doctor immediately to mitigate any potential damage.
How Long Will the Peeling Last?
The peeling stage of your tattoo should only last for one to two weeks. As the skin sheds its top layer, the vibrant colors of your design will begin to show through. Peeling occurs near the end of the tattoo healing process.
The Best Lotion for You
The best lotion for you is the one that moisturizes your skin while helping to soothe any irritation or itching. Today, there are a number of lotions available with varying formulas that can help you achieve these goals. Keep in mind which ingredients and lotion benefits you prefer when selecting, and you will be well on your way to the perfect lotion and later, a wonderfully healed tattoo!