If your cuticles are rough these days, you're not alone. Everything from stress, frequent hand washing, manual labor, and more can cause cuticle damage. And while keeping your hands clean is essential for good health and hygiene, it can really take a toll on your hands.
Mangled cuticles don't only look bad, they can also be really painful, letting dirt and bacteria into your skin and even become infected. While your nails may get a lot of attention, it's even more important to take care of that sensitive skin around them. That's where cuticle oils come into play.
What Is Cuticle Oil?
It's not a hand cream or nail treatment, so what exactly is cuticle oil? Cuticle oil is a concentrated moisturizer made specifically for your cuticles. It contains nourishing plant-based oils to soothe and heal that sensitive skin around your nails.
You may be wondering why you need cuticle oil. Wouldn't hand cream do the exact same thing? Hand cream is a great defense against chapped and cracked skin on your hands, but it may not be quite enough for your cuticles. That skin is especially delicate and prone to tearing. Giving it an extra soothing boost can really make a difference in the health and growth of your nails. It can also protect you from torn skin and fungal infection.
Types of Cuticle Oil
Even though cuticle oils are, well, oil-based, they can still come in a few different forms. Here are the styles of cuticle oil we review on our list.
Liquid
This is the most common form of cuticle oil. It doesn't need any stabilizers or waxes added when left in its liquid form. This style often has the simplest ingredients list as a result. Liquid cuticle oils will often come in a small bottle that will have a dropper or brush attached to the lid for application.
Some liquid options will come in an applicator pen. This is the most convenient form of liquid cuticle oil. The pens will have a twist feature to push the oil up and a brush on the end to apply it to the nail.
Solid
There are also a few solid forms of cuticle oil on the market that may be a good choice if you find liquids to be messy or inconvenient. Solids that are waxier can also provide an extra layer of protection to keep your cuticles from drying out as quickly when exposed to the elements.
Creams
Somewhere between a solid cuticle oil and a liquid one is a cream option. A cuticle oil cream feels similar to hand lotion but provides more concentrated nourishment. Some people prefer the way it feels on their skin since it won't feel oily or waxy the way liquid or solid options might.
Here are the ten best cuticle oils we've found on the market. Along with rating them, we'll break down all the important product details you need to know.
Top 10 Best Cuticle Oils 2023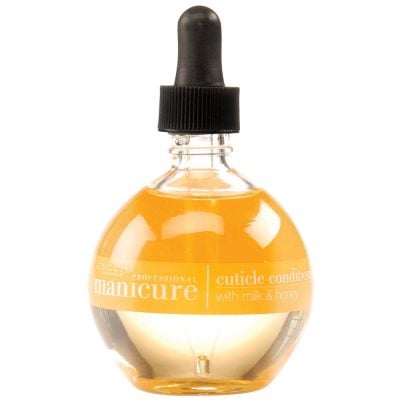 Why we like it:
This oil smells delicious and deeply moisturizes the sensitive skin of your cuticles with natural ingredients.
Editor's Rating:
Quick Facts:
Style: liquid, brush applicator
Main Ingredients: safflower, sunflower, and cotton oils
Cruelty-Free: yes
Product Overview
Cuccio's cuticle oil uniquely blends real milk and honey extracts with their cocktail of plant oils. Milk and Honey have been used for millennia to hydrate and revitalize skin. Cleopatra herself was reported to bathe in milk and honey to stave off the dryness of the desert.
Modern science backs up what that Egyptian queen already knew: milk can soothe and soften dry and irritated skin, and honey acts as a humectant to draw in and trap moisture. This can help your skin experience long-lasting hydration between applications.
This blend of oils is also enriched with vitamin E and a light paraben-free fragrance. It absorbs quickly without leaving behind any oily or sticky residue as it deeply moisturizes your cuticles.
The Downsides
While the added fragrance is mild, for people with sensitivities to added perfume, it may be a problem. It will smell much stronger in the bottle than on your hands since you're using such a small amount per application, but for those with a serious allergy, it can still be an irritant.
The round bottle can also be a hassle to deal with. It can be hard to secure the dropper lid back on top. Some leakage can occur and cause you to lose precious product.
For a cuticle oil that combines a fragrance-free formula with an easy to use applicator, check out our pick from Bliss Kiss.
Who It's For
If you work in an environment where you need to constantly wash your hands and regular hand cream just isn't cutting it, this is a great option. It's easy to keep at your desk or work station and since it absorbs quickly, you won't have to worry about it interfering with a fast-paced job.
People who pick at or bite their cuticles may also find this useful. It can help heal the damage and relieve any discomfort. The mild scent can also be a reminder for you not to bite your cuticles. When you put your hand up to bite without thinking about it, the scent can be a sensory clue that will stop you from indulging in your bad habit.
Pros
Soothing milk and honey additives

Quick absorbing formula

No residue

Deeply moisturizing
Cons
Bottle is difficult to reseal

Has added fragrance
---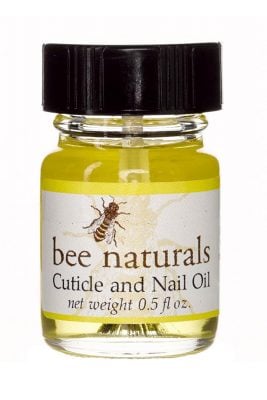 Why we like it:
High-quality oils combine with soothing essential oils to create a natural and effective product.
Editor's Rating:
Quick Facts:
Style: liquid, brush
Main Ingredients: olive, avocado, and apricot oils
Cruelty-Free: yes
Product Overview
This cuticle oil from Bee Naturals comes at a higher price per ounce than most, but a little goes a long way and packs a healing punch. Their recipe combines rich oils like avocado and apricot kernel with vitamin E and essential oils.
Avocado is high in fatty acids and is a natural source of vitamin E. Apricot kernel oil also contains vitamin E as well as vitamin A. These vitamins are often added to face creams in their natural or synthetic forms for their revitalizing and anti-aging properties.
The essential oils in the mix not only smell delicious but have benefits for your skin health as well. Lavender oil is antioxidant-rich and can help kill bacteria and reduce inflammation. Lemon essential oil is an astringent that conditions skin and helps kill fungal infections. An anti-inflammatory and anti-fungal powerhouse, tea tree oils rounds out the formula.
The Downsides
This bottle comes with a brush applicator attached to the lid which may seem more convenient and neat than dropper styles. However, the brush can be difficult to use. The bristles are quite stiff and can become bent. It can also be hard to get a tight seal on the bottle which may lead to leakage.
In spite of the all-natural ingredients, some people may find the scent of this product to be too strong. Tea tree oil, in particular, can smell a bit medicinal to some. Unfortunately, there are very few cuticle treatments that are completely free from fragrance or plant extracts that create odors. Our pick from Bliss Kiss is the only one available entirely fragrance-free.
Who It's For
If you have sensitive skin that suffers in dry winter weather, this richly nourishing oil can help prevent damage. If you work with your hands or love being outdoors in cold and windy weather, this could be the treatment you've been looking for.
For people with damaged cuticles or those who are prone to fungal infections in their nails, this is also a great option. The essential oil blend featured in this product can help treat and prevent bacterial and fungal infections in nail beds and cuticles. Our pick from Chamuel is also a great choice if you're looking to treat certain skin ailments or have serious fungal issues.
Pros
Vitamin-rich plant oils

Healing and soothing

Anti-fungal essential oils

Conditions and reduces inflammation
Cons
Brush is stiff and hard to use

Essential oil scent is very strong
---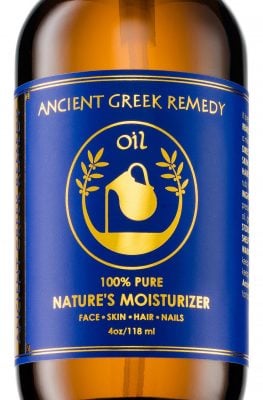 Why we like it:
This multi-purpose moisturizer works wonders on hands and nails.
Editor's Rating:
Quick Facts:
Style: liquid, spray
Main Ingredients: olive, lavender, almond, and grapeseed oils
Cruelty-Free: no
Product Overview
This blend of Mediterranean oils comes in a convenient spray pump bottle, featuring cold-pressed olive oil as the main ingredient. In spite of their recipe containing a clean blend of high-quality oils, this option has one of the best prices per ounce on the market
This treatment uses almond and grapeseed oils for a well-balanced formula. Almond oil is a particularly gentle and soothing skincare additive safe for all skin types, often featured in lip balms and as a carrier oil for essential oils. It can improve skin tone and can help balance moisture absorption with its emollient properties.
Grapeseed oil is a "dry" oil. This means it absorbs quickly without leaving residue. It's also rich in vitamins C and E, which can both improve elasticity and reduce aging in skin. Antioxidant lavender completes the recipe for this moisturizing oil.
The Downsides
This oil is intended for use all over the body, so it can be a little heavier than many cuticle specific oils. It can take longer to absorb, so when applying it, you'll need to give it a moment to soak in before doing anything with your hands. For quicker absorption, our pick from Cuccio does better.
Some may find the amount of lavender used in this recipe to be more concentrated than they'd like, and since it comes in a spray bottle for body applications, it can be hard to apply to just your nails without wasting it and risking oil spillage.
Who It's For
For people who want an intense all-purpose moisturizer that can heal their cuticles, this is a great option. It's convenient to carry with you and spritz on to wherever you're feeling dry and cracked. For winter hands, this will help clear up dry patches and nourish your cuticles at the same time.
It's heavy-duty enough for people who suffer from eczema and psoriasis. And its strong concentration of lavender can be especially beneficial to the nails for killing bacteria and fungus as well.
Pros
Soothing oils for all skin types

Use for whole-body moisturizing

Rich in vitamins C and E

Helps with certain skin conditions
Cons
Heavier and slower to absorb than cuticle-specific oils

Very strong lavender concentration

Hard to apply neatly to cuticles
---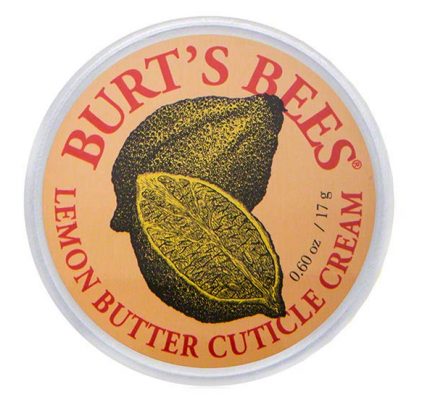 Why we like it:
This solid option is great for intense healing on the go.
Editor's Rating:
Quick Facts:
Style: solid
Main Ingredients: almond, cocoa seed, and lemon oils
Cruelty-Free
Product Overview
Many of us feel nostalgic about Burt's Bees as one of the first natural and organic brands we experienced. It's not just nostalgia that keeps us coming back, though. This cuticle cream is a great staple to keep in your bag.
It combines soothing and non-irritating sweet almond oil with omega-rich cocoa butter and lightweight sunflower oil to create a thick, nourishing balm. The oils are set in vegan candelilla wax, which makes this product easy to travel with—no risk of leaks here.
The balm is enriched with lemon oil, which not only smells fresh and clean without being overpowering, but also helps condition your skin and kill bacteria. Another interesting additive is beta carotene. This natural source of vitamin A helps improve the health of your skin and protect it from UV exposure.
The Downsides
For people who are used to liquid cuticle moisturizers, this can be a transition to a solid balm. The product can feel waxy if applied too heavily, and it needs to be massaged in. Since the oils are suspended in wax, your skin can drink it up the same way. For a product that still has the nourishing benefits of using a plant seed butter, but is in liquid form, you may want to try our option from California Mango.
Some people may also dislike the smell. While the lemon peel scent will fade after application, when it's first applied, it can be strong. It may remind people of lemon-infused cleaning products.
Who It's For
If you're always on the go and need something that can be stowed easily in a bag or pocket, this cuticle cream is a great convenient option. It can be rubbed into dry patches on other parts of your hands if they are experiencing cracking and peeling as well.
The waxiness of this, while making it need more massaging to apply, can be an asset. The wax can help form a barrier to keep the oils trapped in your skin. During frequent exposure to cold and wind, this can really make a difference.
It does a good job of healing torn cuticles and helping your skin and nails have a more healthy appearance. Users with conditions like eczema can also find it soothing.
Pros
Easy to travel with

Provides UV protection

Wax creates a protective barrier on skin
Cons
Takes longer to massage into the skin

Lemon scent can smell like cleaning products
---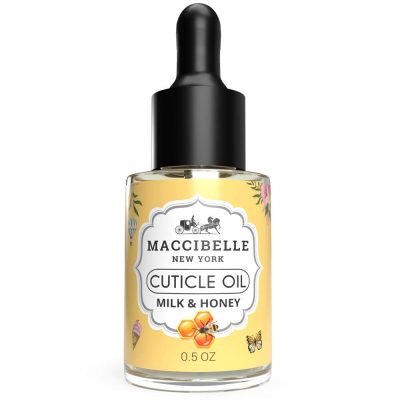 Why we like it:
Made in the USA, Maccibelle offers a lactic acid-infused oil to condition cuticles.
Editor's Rating:
Quick Facts:
Style: liquid, dropper
Main Ingredients: safflower and sunflower oils, lactic acid
Cruelty-Free: yes
Product Overview
This lightweight oil from Maccibelle is very moderately priced and includes a few interesting ingredients. To soften and condition skin, this oil contains lactic acid extracted from cow's milk. It also contains the beloved skincare ingredient, vitamin E.
The softening and conditioning properties of this oil, along with its light consistency, soak into your skin quickly and easily, so even thick or calloused skin can be easily hydrated.
The oil comes in a high-quality dropper-based bottle. Using a dropper instead of a brush helps keep your oil from becoming contaminated with bacteria on your hands. The glass dropper allows you to add a drop of oil where you need it without touching your skin.
The Downsides
This product is very similar to our pick from Cuccio. There are a few key differences that may make this less suitable for some people, though.
This cuticle oil has a very thin consistency. While this can be good for certain situations, it's not always what you want. It can be messy to apply, running everywhere when you use the dropper to apply it. It also absorbs very quickly and may not offer adequate moisture for very parched skin.
The scent smells a little artificial, which some users may find unpleasant.
Who It's For
If you've noticed the skin on your cuticles feeling quite thick and tough, this oil is a good option. It will help soften the skin so you can trim it back if it's growing down over your nail. The lighter weight oil is easily soaked up by this harder skin and can make it more manageable.
The packaging is well-designed and of higher quality than some other brands on our list too. It looks cute and the top stays securely closed. The dropper is made of smooth, high-quality glass, making it easy to use.
Pros
Contains softening lactic acid

Will soak into thick, tough cuticles

High-quality packaging and applicator
Cons
Very liquidy and thin

Strong fragrance
---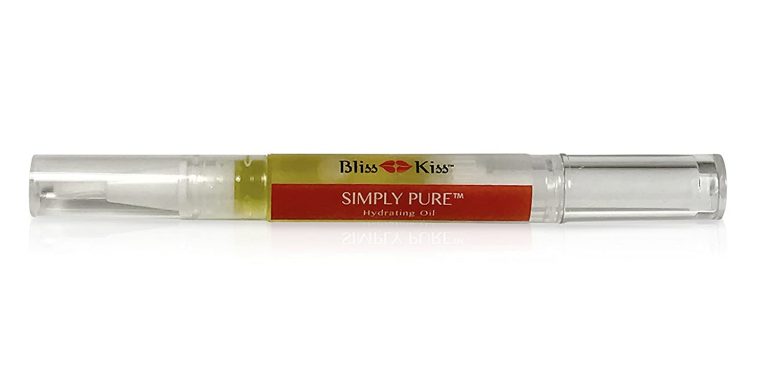 Why we like it:
Take the messiness out of oils with this convenient cuticle pen applicator.
Editor's Rating:
Quick Facts:
Style: liquid, stick
Main Ingredients: jojoba, olive, and grapeseed oils
Cruelty-Free: yes
Product Overview
Available in two scents or a fragrance-free option, this cuticle oil uses jojoba oil as its base. Jojoba is a well-known carrier oil that can help your skin absorb other ingredients more easily. On its own, though, it can help reduce redness and inflammation. This makes it a great option for chapped, dry skin.
Combined with hydrating olive oil and vitamin-rich grapeseed oil, this product promises to reduce nail brittleness and help you grow longer and stronger nails. It can also rejuvenate aging skin around your nails. We often spend a lot of time worrying about our faces, but hands need ant-aging care too.
The company provides a recommended use guide for nails, but also for skin. It's recommended to use this oil for small and especially dry patches as a potent boost of moisture.
The Downsides
While this is one of the most convenient ways to use cuticle oil and ensure leaks and spills won't happen, it's also one of the most expensive ways to buy cuticle oil. The price per ounce is much higher than most other options.
Since it's such a small amount, many users may find that it runs out very quickly, especially if you use it throughout the winter when your skin needs extra conditioning. The oil itself isn't as ultra-hydrating as options with richer oils as the base, which can also lead you to use more. If you're prone to extreme dryness, you may want something with a little more hydrating power like our pick from Burt's Bees.
Who It's For
If you prefer liquid cuticle oils but are always on the go, this is one of the most convenient options available. It's discreet and easy to use. If you're a fragrance person, this has two options that are very pleasant, but you can also choose the fragrance-free version if that's your preference.
When used in conjunction with hand cream, it can offer the little extra boost you need to keep your cuticles in good condition. It can also help you work towards growing out your nails and keep your hands looking youthful as you get older.
Pros
Convenient pen applicator

Scented and fragrance-free options

Anti-aging properties

Can reduce redness and inflammation
Cons
May run out quickly

High price per ounce

Not an ultra-rich, deep moisturizer
---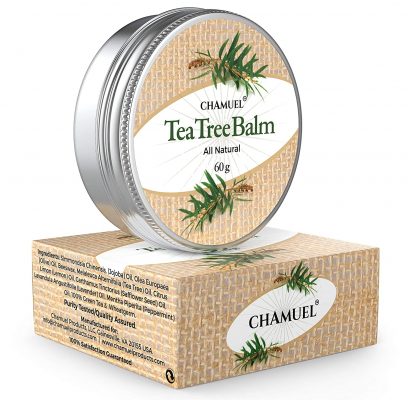 Why we like it:
For really troubled skin, this balm can be healing and moisturizing at the same time.
Editor's Rating:
Quick Facts:
Style: solid
Main Ingredients: jojoba, olive, and essential oils
Cruelty-Free: yes
Product Overview
This beeswax balm is loaded with essential oils, green tea extract, and hydrating plant oils. The essential oils blend contains tea tree, lavender, peppermint, and lemon oil. These not only give the product a distinctive scent, they also soothe the skin with their balancing and anti-fungal qualities. This combination of ingredients also helps speed up healing.
The product was originally designed not as a cuticle oil, but as an all-purpose balm for sensitive skin troubled by conditions like eczema, psoriasis, and fungal infections. Green tea is an especially common ingredient for sensitive skin products. It's full of antioxidants and can help restore balance to irritated skin. Interestingly, this balm also contains wheat germ, which is full of vitamins to further nourish your skin.
This balm can be rubbed into the cuticles for deep conditioning and healing. It contains beeswax, which helps create a moisture trapping barrier to protect your skin longer.
The Downsides
This balm has a very thick consistency and can take a long time to rub into your skin and become fully absorbed. It doesn't have as high of an oil content as our other solid choice from Burt's Bees, so it's quite dense and seems to have more wax. This product doesn't put as much moisture into your skin but rather, creates more of a protective layer.
While the essential oils in this blend all have skin benefits, some people may find them too strong. The scent of the tea tree oil is the strongest and when applied to broken skin, it may sting slightly. Some people may also experience irritation from essential oils applied topically.
Who It's For
If you struggle to find something that can clear up fungal infections or dermatitis around your cuticles, then this product just might save the day. It isn't just designed to add in moisture the way many cuticle oils are, but to heal your skin more deeply. It also helps reduce redness and inflammation.
The waxier texture will also be useful for people who work with their hands, need to wash their hands very frequently, or spend a lot of time outdoors in the winter. The wax helps keep your skin from losing too much of its natural moisture, so it's a good idea to apply this immediately after washing your hands.
Pros
Soothing and balancing ingredients for dry skin

Anti-fungal essential oil blend

Creates a protective barrier on your skin
Cons
Dense waxy texture

Essential oils may cause irritation
---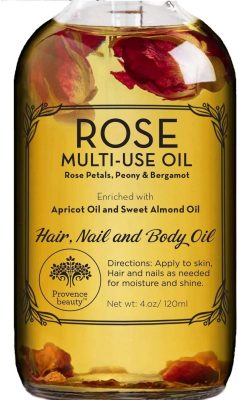 Why we like it:
This moisturizing oil blend has a luxurious feel and scent.
Editor's Rating:
Quick Facts:
Style: liquid, dropper
Main Ingredients: Capric Triglycerides, apricot, and sweet almond oils
Cruelty-Free: yes
Product Overview
While this body oil totes itself as being made of 100% pure plant extracts, the main ingredient, Capric Triglycerides, may raise a few eyebrows. They aren't exactly found in your back garden. However, the compound is created by combining coconut oil with glycerin and then chemically separating the liquid. It's considered to be a safer and more natural additive than many other lab-engineered cosmetic ingredients.
Capric Triglycerides acts as an emollient. This means that it helps trap moisture in your skin and softens it. This product combines the Capric Triglycerides with apricot kernel oil and sweet almond oil to replenish your skin's vitamins and moisture gently.
Real rose petals are submerged in the oil to infuse their fragrance and skin-improving compounds into the mix. They also give the product a striking look like something from a high-end spa.
The Downsides
Unfortunately, this oil has an artificial fragrance added to it which can overpower the natural scent of the rose petals. The fragrance can leave a soapy aroma behind that's surprisingly strong. Even after the oil is absorbed, the scent can linger for a while.
Since this product also uses a processed vegetable oil derivative in the form of Capric Triglycerides, there is some risk of sensitivity. Even if you often use plant-based oils on your skin, due to the way it's processed in this form, you may react differently. Medium-chain triglycerides
pose a risk for contact dermatitis in some people.
It's always a good idea to spot test a new product before you dive into daily use. This gives you a chance to see if you have an allergy to any of the ingredients. If you're sensitive to Capric Triglycerides, or just want to stick with oils in a more natural form, try this other all-purpose option from Ancient Greek Remedy.
Who It's For
If you like a good all-over oil and like a rosy scent, you may love this product. For the price, you get a lot of moisturizing oil that can be used not just on your cuticles but on the back of your hands, dry elbows and knees, and even your face and scalp.
If you find that oils absorb quickly in your skin and leave you feeling dry again, the emollient properties of this blend can help your skin trap moisture for longer. If you don't like using solid cuticle creams that use wax as a protective barrier, then this is a liquid option that will give you a similar experience without the waxy feeling.
Pros
Traps moisture in your skin

Contains vitamin-rich oils

Contains rose petals and scent
Cons
Fragrance may be soapy for some

Some may be sensitive to the added Capric Triglycerides
---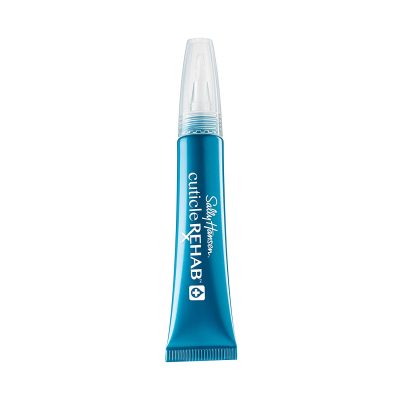 Why we like it:
Drug store staple brand, Sally Hansen, lets you target spots that need extra moisture with this easy-to-apply cream.
Editor's Rating:
Quick Facts:
Style: cream
Main Ingredients: sunflower and safflower oils
Cruelty-Free: no
Product Overview
This gel-like cream from Sally Hansen comes in a small tube with a pointed brush tip for easy spot application. It's convenient to toss in your bag on the go and comes as a part of the company's full nail care line. It absorbs quickly into your cuticles and softens thicker, tougher cuticle skin.
The oils in the cream are very similar to many other cuticle oil blends. Sunflower and safflower are the two main oils at the foundation of this product. Sunflower oil is non-comedogenic, which means it won't clog your pores while delivering moisture. Safflower oil can help soothe irritation and delivers antioxidants to your skin.
In addition to the fragrance in this product, it also contains jasmine and rose extracts. These add to the scent but are also plants that have been used to beautify and soothe skin throughout the world for thousands of years.
The Downsides
If you're looking for a clean ingredients list, you're probably going to need to look elsewhere. Beyond the plant oils and flower extracts that make up about one-third of the ingredients, the rest can be a little questionable, depending on your preference.
There are quite a few synthetic oils and alcohol derivatives in this product. Parabens and petroleum-derived mineral oils make up the body of this cream. And just like our Rose Multi-Use option, this product also contains Capric Triglycerides which can be an irritant for some.
The formulation of this product makes it very similar to petroleum jelly, which has sparked debate over its natural components in the past (namely, it creates a non-breathable layer on your skin which can trap bacteria if your skin is torn or irritated). This product, overall, feels like a boosted Vaseline with a few extra plant additives. Depending on your feelings about Vaseline, that might be a plus, but it could also call into question the price of this product which costs significantly more than petroleum jelly.
Who It's For
If you like a creamy petroleum jelly moisturizer, then this might be a good option for you. It certainly traps moisture against the skin and won't let it out. For the coldest, windiest days, or for people who spend a lot of time submerging their hands in water, this could be the ideal choice.
The tube and easy applicator make this convenient to keep in your bag or pocket for use at work or even on the ski slopes. Since it's not a liquid, you won't have to worry about it leaking. The application is clean and simple too.
Pros
Traps moisture in skin

Easy to carry and apply

Plant extracts to soothe irritation
Cons
Many chemical additives

Can trap bacteria in broken skin

Very similar to petroleum jelly
---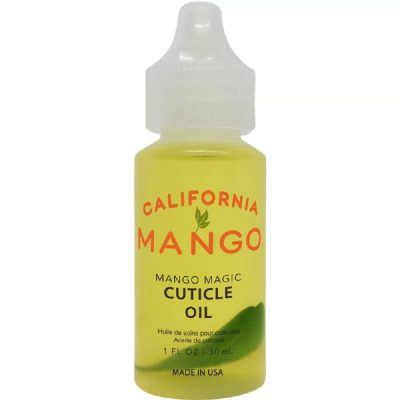 Why we like it:
This salon brand has a nourishing blend of oils and give your nails a glossy finish.
Editor's Rating:
Quick Facts:
Style: liquid, dropper
Main Ingredient: mango seed butter, safflower, sunflower, and jojoba oils
Cruelty-Free: no
Product Overview
If you've had to miss a few salon appointments and feel your nails suffering because of it, this cuticle oil from California Mango might be familiar to you. Starting as a salon brand, their products are now available to consumers directly.
Featuring mango seed butter, this product promises to improve not just your cuticles but your nails as well. Mango butter is a natural emollient due to its high fatty acid content. It softens your skin and helps prevent moisture loss. Other gentle and moisturizing plant oils combine with added aloe vera and vitamin E.
It has a fruity scent and comes in a small dropper top bottle for contactless application
The Downsides
This cuticle oil is a little thinner and wetter feeling than some formulas. This can make it a little difficult to apply via the dropper top bottle. It can also require more frequent reapplications if your skin is very dry.
The scent of the product can be a little strong when it's first applied and can smell slightly artificial. As with any added fragrances, some people will be irritated by it.
While the plant-based ingredients are all beneficial for skincare, it's not a miracle in a bottle. It can help damaged cuticles and nails, but it certainly won't give dramatic results overnight.
Who It's For
For people who miss that glossy salon finish, rubbing this into your cuticles and nails can help give you a similar effect. It offers a natural emollient option if you're uncomfortable with the overly processed ones in products like Sally Hansen's cuticle treatment.
Some people will love the fragrance, but for others, it may be a deal-breaker.
Overall though, it gives a decent amount of moisture to your cuticles, and cuticle health is the key to nail health. Regular application can see your nails become stronger, which will help them grow longer without breaking or cracking.
Pros
Natural mango butter emollient

Gentle plant-based oil blend

A salon-style experience at home
Cons
Strong fragrance

Lightweight, thin formulation

May not yield dramatic results
---
Having the Best Cuticle Oil Experience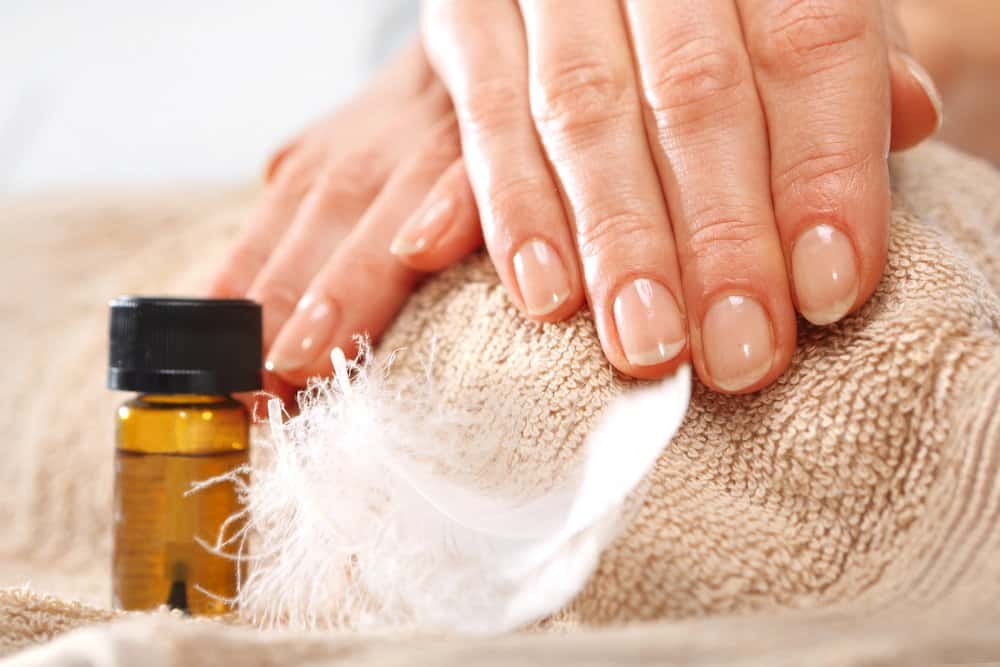 Everyone's needs are different and people will respond differently to certain ingredients. The first step is to be educated about your own health and the products you use. This section is meant to help answer your questions about cuticle oils so that you can choose the one that is right for you.
How Often Should You Use Cuticle Oil?
You can use cuticle oil as a preventative measure daily or you can introduce it after you've had some issues. Some people may only use it seasonally if they experience dryness in the winter, but have humid summer weather.
The best time to apply it is right after you wash and dry your hands. Before spending time outside and exposed to the elements, it's also a good idea to put some on. Rubbing a little cuticle oil into your skin as part of your nighttime routine is also recommended to help your body repair any jagged skin while you sleep, products made with essential oils can help contribute to a calming nighttime, self-care routine.
If your skin is already in relatively good condition, you may only apply it once or twice a day just for maintenance. But if you're experiencing a lot of dryness and cracking, then you may want to bring it with you for multiple applications throughout the day.
What Are the Best Oils to Use on Your Cuticles?
All of the cuticle oils on our list are blends that include various vegetable oils, but the recipes vary. Choosing the best oil for you will largely be based on personal preferences. But here are a few of the most common oils you'll see.
Safflower and Sunflower
These two oils are often used together in cuticle oils. They are inexpensive carrier oils that blend well, which makes them attractive to many manufacturers. Lightweight and easy to absorb, they offer a few good perks. Sunflower oil is non-comedogenic, meaning it won't clog your pores. Safflower oil is antioxidant-rich and can help reduce redness and inflammation.
Olive Oil
Not just delicious in salads, olive oil is also a great moisturizer for the skin. It's vitamin and antioxidant-rich as well as being deeply hydrating. For many with dry, sensitive skin, olive oil can improve both texture and appearance.
Jojoba Oil
While technically jojoba oil is a wax, it's used as an oil in many recipes. Jojoba is special because it mimics your skin's natural oils, making it a great way to bring balance to dried-out skin. It's also a natural source of vitamin E and can protect your skin from further moisture loss.
Grapeseed Oil
Grapeseed oil has a dryer feeling than most oils. It absorbs quickly and doesn't leave a heavy residue behind. It is a natural source of vitamin E and omega-6 fatty acids. Studies have shown that grapeseed oil can also help your skin increase its natural collagen production.
Plant Butters
Plant butters are a richer form of oil often found in the seed of a plant. Cocoa butter and mango seed butter appear in products on our list for very good reason. They are both very high in fatty acids, vitamins, and antioxidants. They also have a creamy texture that helps them penetrate the skin. For skin that needs deep, penetrating hydration, a plant butter is a great choice.
Can Cuticle Oil Make Your Nails Longer?
Healthy nails start with healthy cuticles. While your own genetics play a role in determining the length and quality of the nails you can grow, a cuticle oil can help you grow better nails.
Keeping your cuticles clean and well-nourished will help prevent fungal infections and make sure that your body isn't focusing on healing torn skin. It can then put those resources toward growing healthier nails. With a healthy cuticle, the nails you grow will be less dry and prone to cracking. Even the act of massaging cuticle oil into your skin can increase circulation to the area, which can help encourage growth.
Some oils can help soften thick cuticles as well. This makes it easier to push back the skin, revealing more of your nail and giving them a longer appearance. If there are no jagged edges, you're also less likely to bite your cuticle and nails, potentially helping you break a bad and unhygienic habit.
Keep Your Hands Looking Good
Our hands do so much for us, but sometimes we might forget to give them the care that they need until something goes wrong. Choosing and using a cuticle oil is only a part of keeping your hands looking and feeling their best. But you don't need to get a manicure every week to take care of your hands. There are a few simple habits you can practice from home.
You may need to use a lotion or hand cream daily or seasonally depending on your skin and climate. On cold, windy days, you might choose to protect your hands with a thick pair of windproof gloves as well. Regularly trimming your cuticles and your nails can also keep them healthier. For tips on how to make your nails stronger, check out this article on nail strength and health.
Hopefully, this guide has helped you figure out how best to care for your cuticles. They really are an essential, but often overlooked part of nail and hand care.