Top Picks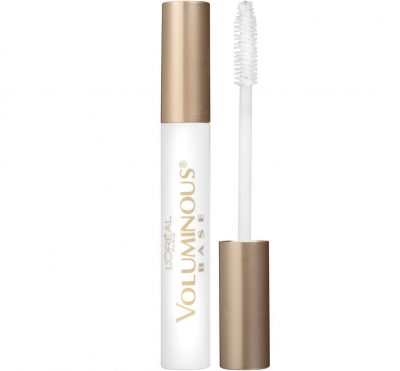 L'Oreal Voluminous Base Eyelash Primer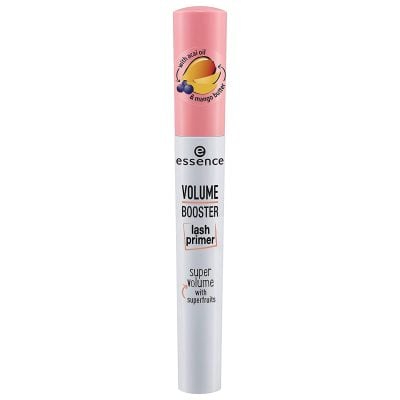 Essence Volume Booster Lash Primer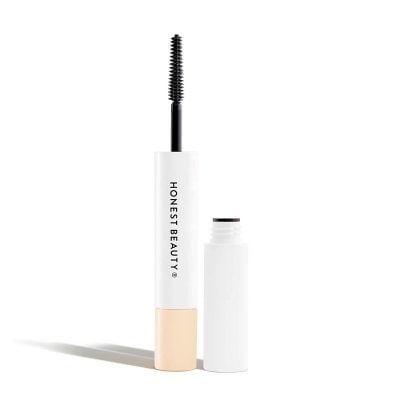 Honest Beauty 2-in-1 Extreme Length Mascara and Lash Primer
Previous
Next
Have you always wanted to have luscious, fluttery eyelashes like celebrities on the red carpet? Do you have difficulties achieving that look even with mascaras that boast having some of the most advanced formulas?
The truth is that most makeup artists use one secret ingredient to get beautiful, long eyelashes that look like extensions. That secret ingredient is an eyelash primer. Applying a layer of eyelash primer to your lashes can lead to incredible volume and length.
Eyelash primer comes in the same type of tube packaging as mascara and is designed to be worn under mascara. It's basically a base coat for eyelashes that will add length and volume and protect your lashes from any harmful chemicals in the mascara. This product will also make colored mascara stand out even more and prevent it from smudging or flaking off throughout the day, so your lashes look pristine no matter how busy your day has been.
How to Choose the Best Eyelash Primer
There are many different types of eyelash primers on the market. Choosing the right one can take some time. You really need to consider the type of product that you're using and how well it will pair with your mascara. Let's take a look at some of the more important factors that you should consider when narrowing down your choices.
Formula
Each eyelash primer is made from different ingredients. As eyelash primers are designed to condition and lengthen eyelashes, it's crucial that you take a look at the ingredient list and make sure that the product you are choosing contains some healthy fatty acids and oils. Some of the more popular active ingredients to look for include:
Vitamin E. This natural antioxidant can strengthen, thicken and lengthen your eyelashes. They can prevent free radical damage and also protect your eyelashes from environmental pollution. This healthy oil can stimulate eyelash growth and moisturize and condition brittle or dry lashes, so they look shinier and healthier.
Vitamin B3, otherwise known as niacin. Niacin can increase blood circulation to the hair follicles that support lash growth. This helps your body to create more eyelashes, so they look thicker and longer.
Vitamin B5, also known as panthenol or pantothenic acid. This is another type of vitamin that can help give you thicker and longer-looking lashes. Vitamin B5 does a great job at conditioning and moisturizing lashes to give them that healthy shine that you've been dreaming of.
Microfibers. Almost all eyelash primers contain microfibers, which are tiny threads. These fibers will cling to your lashes to give them a thicker, fuller look. It'll also help bond mascara to your lashes, so you can get that red carpet look with ease.
Peptides. There are different types of peptides that can do wonders for your eyelashes. These amino acid chains can strengthen your lashes and condition them. They can also help them grow more in the long run, so you'll look like you naturally have eyelash extensions.
Many eyelash primers also contain other oils and butters that condition and lengthen eyelashes. We'll go through some of the active ingredients in each product, so you get a better idea of what the formula of each eyelash primer can do for you.
Application
Next up, you want to look for an eyelash primer that is easy to apply and goes on smoothly. For one, you'll need to consider the texture of the primer. Look for something that isn't too thick or thin. The right consistency will coat your lashes without getting them stuck together. You should also choose an eyelash primer that goes on smooth.
Another thing to consider is the type of applicator that the eyelash primer comes in. Most eyelash primers come in the same type of packaging as mascara. The wand is easy for you to hold onto with one hand. The difference between mascara and eyelash primer is that you'll want to look for a product that comes with a narrow, short-bristled brush. This type of brush will help separate each lash to ensure that each one is coated with some of the primer.
Noteworthy Features
Some eyelash primers are designed to protect and condition your lashes and protect them from environmental pollution. Others are designed to help stimulate eyelash growth or make your eyelashes pop. Each eyelash has its own noteworthy features that you should consider.
For example, tinted eyelash primers can give you a better idea of whether you've applied the primer evenly on your eyelashes. This is great for beginners who don't have a lot of experience applying makeup. If you're looking to make your eyelashes stand out, you can also look for an eyelash primer that's tinted brown or black. These eyelash primers can be worn by themselves without any mascara although you'll get more volume and length if you do apply mascara overtop.
Some eyelash primers are also waterproof, so you can wear them and go swimming. Each primer on our list has its own notable feature that makes it stand out.
Now that you know what to look for in an eyelash primer, let's explore the very best ones on the market today.
Top 10 Best Eyelash Primers 2021
A Complete Guide to Eyelash Primers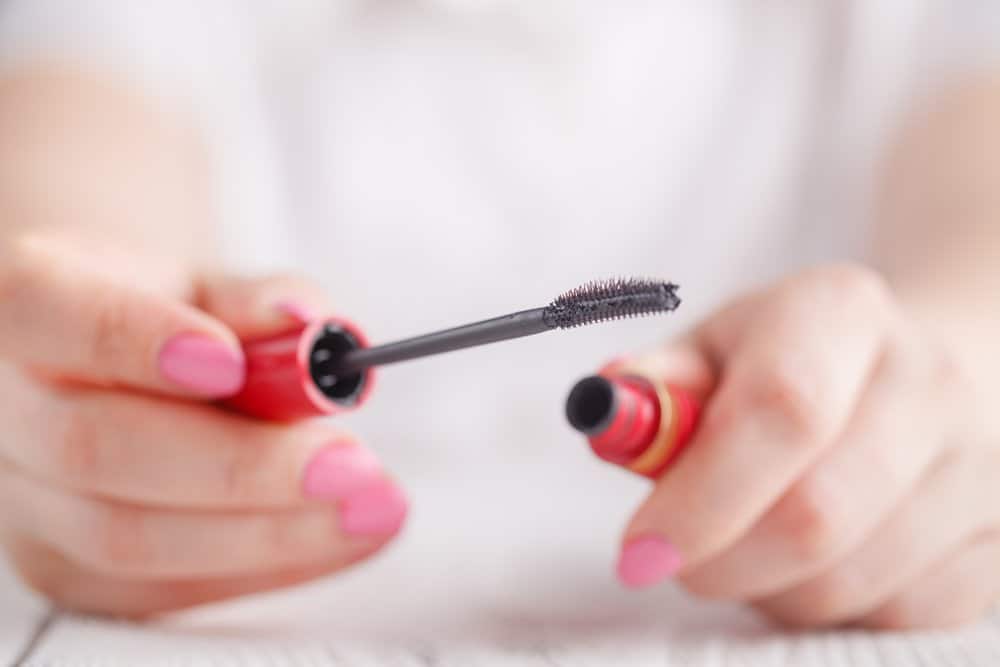 Eyelash primers are the ultimate beauty hack. They're also one of the best kept secrets in Hollywood. Many people don't realize that they need to apply an eyelash primer underneath their mascara to get that beautiful red carpet look that makeup artists are able to achieve. Eyelash primers give your lashes that extra boost of volume and length that will make mascara stand out.
It's such a simple beauty hack, yet very few people know about it.
This guide will go through everything that you need to know about eyelash primers, including the benefits that they offer and how to apply them.

7 Benefits of Applying an Eyelash Primer
A good eyelash primer is a great tool to have in your makeup bag. It can do wonders for your eyelashes and can offer many benefits. Here are 5 of them.
#1. It Protects Your Mascara and Holds It in Place
Have you ever gotten raccoon eyes after a long day of running around? Has your mascara somehow smudged underneath your lower lash line to give you an unkempt and disheveled look? Do you admire those who look picture perfect even after a long day?
An eyelash primer can be the solution to your problems. The formula is a bit sticky, so it will cling onto the mascara and bond it to your eyelashes. This means that your mascara is much less likely to smudge off and will stay in place throughout the day. If you apply eyelash primer on in the morning, your mascara will still look great late at night.
#2. It Adds Length and Volume
Many people spend a fortune on eyelash extensions and false eyelashes nowadays to get that red carpet mascara look. The truth is that they could potentially save a lot of money by picking up an eyelash primer instead. Eyelash primers can add length and volume to your lashes to give you that sultry, glamorous look you want.
#3. It Can Help Hold Your Curls
Many people notice that their lashes will uncurl throughout the day. This is particularly true for those with thick, straight lashes. An eyelash primer can help hold the upward curls in your lashes, so they look longer. You'll also get a more fluttery-looking finish.
#4. It'll Condition and Moisturize Your Lashes
The moisturizing and conditioning ingredients in eyelash primers will nourish your lashes back to life. They'll transform dry and brittle lashes into healthy, shiny ones. This can help strengthen your lashes and protect them from environmental pollutants. Some people do notice that mascara may dry their lashes out. By applying an eyelash primer underneath, they can avoid all of the negative side effects of using mascara.
#5. It Can Stimulate Lash Growth
Most eyelash primers have ingredients in them, like vitamin B3 and B5, that stimulate eyelash growth. If you use the eyelash primer consistently over time, you may see a noticeable difference in the length and volume of your natural lashes. They'll appear thicker, shinier and healthier. You may also notice less fall out.
#6. It Can Make Colored Mascara Stand Out Even More
If you're using colored mascara, your eyelash primer may help make the color stand out even more. Some eyelash primers are tinted in colors like blue or red. If you apply this type of primer underneath a blue or red-colored mascara, it can make your lashes pop even more. These eyelash primers are great for those who are going for some dramatic or artistic looks.
#7. It May Make It Easier for You to Remove Your Mascara
Some people claim that they have a much easier time removing their mascara if they apply an eyelash primer underneath. The mascara may wash off with just a little bit of warm water, as the primer loosens from the lashes and grabs the mascara with it.
How to Apply Eyelash Primer
The video above gives you a good idea on how to apply the Benefit They're Real! Tinted Lash Primer. The model shows you the huge difference in lash length and volume between applying a lash primer underneath a mascara and using only mascara.
Applying an eyelash primer over your lashes is one of the easiest things that you can incorporate into your makeup routine. Here are some tips on how you can add incredible volume, length and thickness to your lashes.
Step 1: Curl Your Lashes
Prepare your lashes before applying any product on them. The first thing that you should do is wash your face, wipe your lashes to clean them and then curl them. Make sure that your eyelash curler is clean, so you don't accidentally end up smudging any gunk or germs onto your lashes. By curling your lashes, they'll look fuller, thicker, longer and more glamorous. Start curling from the base and work your way outwards to the tip to get a seamless, natural-looking curl.
Step 2: Apply the Lash Primer
"Only apply the product from the mid-shaft to the ends in order to avoid clumps. If the primer gets into the root, the lashes tend to clump together, but it does wonders to elongate the lash when used generously at the tip."
Kelli J Bartlett, Glamsquad artistic director
Eyelash primer comes in the same type of packaging as mascara. You'll get a wand with bristles at the end. Start at the mid-shaft of your lashes and work your way up to the tip. It's best to avoid the root closest to your lash line. If the eyelash primer gunks up there, it may make your eyelashes look unnatural. You can also consider applying another layer of primer to your lashes if you want a more dramatic look.
Step 3: Let the Primer Dry a Bit
There are some conflicting opinions on how long you should let your eyelash primer dry for. However, the consensus is that you should let it dry a little bit. Depending on the type of mascara that you're using, you'll want your primer to be at a different level of dryness. Your primer shouldn't be completely dry, as your mascara may not glide on easily.
We recommend that you play around with your eyelash primer and your chosen mascara to see what works. Some eyelash primers may take up to 30 seconds to dry while others should still be a little wet when the mascara goes on. This way, the primer can bind with the mascara to enhance the length of its wear.
Step 4: Apply Mascara
The next step to completing your look is to apply a coat of mascara overtop. The mascara should glide on smoothly and make your eyelashes look thicker. It's easier to build volume with your mascara if you've applied an eyelash primer underneath.
How to Get Healthy Looking Lashes
Although you can achieve fantastic results with an eyelash primer and mascara, you can also boost your lash profile significantly by taking care of your lashes. Not many people spend a lot of time caring for their lashes. In fact, it's probably one of the least cared for facial features. Most people spend most of their time and money on skincare, their lips or even their eyebrows.
Beautiful lashes can change your entire face. After all, your eyes are the windows to your soul. Here are some tips and tricks on how you can take care of your lashes and get healthier and longer-looking ones with time.
Be Mindful of What You Eat
You can change your lash profile by simply being mindful of what you eat. Consider eating foods that contain more proteins and vitamins, like fish and eggs. In particular, you want to look for foods that are rich in iron and omega fatty acids if you want to get longer lashes. Foods that are rich in fatty acids and anti-inflammatory properties can promote better blood circulation at your lashes to promote healthy hair growth.
You also want to look for foods that have lots of vitamins in them. Vitamin B, in particular, is great for stimulating lash growth. Vitamin E can also protect your lashes from free radicals and vitamin H can encourage growth. A healthy diet filled with vegetables, fruits and proteins will contain just about every nutrient your lashes need.
Consider Applying a Lash Serum
Lash growth serum can also improve lash growth and thicken your lashes. Some people will apply a natural serum like coconut oil, which can strengthen wimpy lashes, while others may choose to dip a cotton pad with green tea and apply that to their lash line. Keep in mind that each product will work differently on each individual.
Brush Your Lashes
Brushing your lashes can also help distribute natural oils throughout the entire length of the lashes. It's basically the same as brushing your hair. To brush your lashes, get a good lash styling wand. Be as careful as possible while brushing your lashes in an upward motion that follows the natural curls of your lashes. Try to avoid brushing near the roots as you may accidentally end up pulling or tugging your lashes.
Check the Shelf Life of Your Mascara
Old mascara can damage your lashes. It can cause them to become brittle and dry, and it can also introduce bacteria to your lashes. Mascara has a shelf life of about 3 months. Toss any mascara that's older than that in the trash.
Gently Remove Mascara Every Night
Last but not least, make sure that you always wash your face before bed and remove any mascara that you've applied onto your lashes. If you sleep with mascara on, the mascara could potentially dry up your lashes and cause them to become stiff and brittle. This can cause your lashes to become more prone to breakages.
Wash your mascara off as gently as possible. Most makeup experts recommend soaking a cotton pad with a gentle makeup remover with no alcohol. Let the cotton pad sit on your eyes for about 20 seconds or so to soften up the mascara before washing it off.
Get Beautiful Looking Lashes
You don't necessarily have to wear an eyelash primer underneath your mascara. You can wear tinted eyelash primers on their own to give your lashes a subtle dramatic flair. Or, you can even apply an eyelash primer on your lashes overnight to help condition your lashes. Over time, this can help you get healthier, shinier and longer lashes since most eyelash primers are full of healthy ingredients that do wonders for your lashes.
So, what are you waiting for? Go ahead and prime those lashes. The results you'll get are worth the extra effort. You'll have stronger, longer and healthier-looking lashes that will make your eyes pop. This is definitely a product that's worth looking into. It can make a huge difference to the volume, length and thickness of your lashes, and, best of all, it takes less than a minute to apply. An eyelash primer can also protect your lashes from environmental pollutants and external elements and keep them hydrated, soft and luscious-looking.
It truly is one of the best kept secrets in Hollywood. Many top makeup artists and celebrities wouldn't go a day without it!