Top 16 Best Shampoos for Permed Hair 2023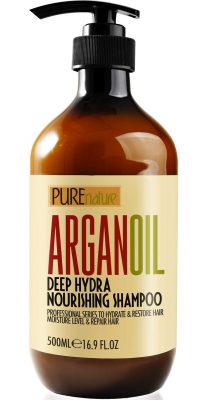 Pure Nature Luz Spa Argan Oil Deep Hydra Nourishing Shampoo is a fantastic shampoo if you want to hydrate, moisturize, nourish and repair frizzy, dry, and damaged hair due to excessive styling or chemical treatments. It also contains UV and thermal protectants that can mitigate the damages caused by overexposure to sunlight and heat-styling products.
Safe and healthy to use for colored and keratin-treated hair, this shampoo contains no sulfates, parabens, sodium chloride, gluten, or phthalates that may cause irritation and disease to the hair and the scalp. It's also perfectly suitable for frizzy, curly, wavy, fine, or thick hair, so if you don't want to keep perming your hair anymore, you can still use this.
This shampoo is also great at moisturizing the hair to make it soft, manageable, and shiny. It also smoothens frizz and softens and defines curls. Lastly, it contains vitamin E that helps make the hair stronger, thicker, and younger-looking.
It's not organic, so if that matters to you you'll need to spend a bit more to get something like the Hask Coconut Milk & Organic Honey Curl Care Shampoo.
Ingredients
This shampoo contains hydrolyzed wheat protein, coconut oil derivative products, unsaturated essential fatty acids, and vitamin E, all of which can hydrate and restore hair moisture levels while providing the proper nourishment that damaged hair needs.
Pro Tip: For soft, shiny, manageable, clean, and easy to style hair, use the Deep Hydra Nourishing Shampoo with its counterpart conditioner, Deep Moisture Repair Conditioner.
---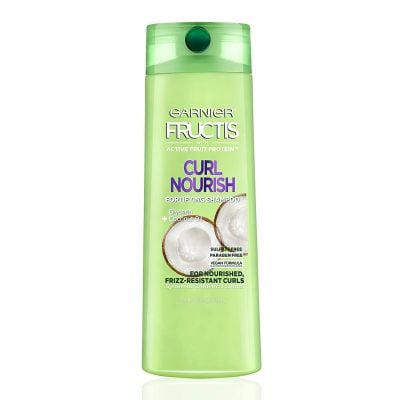 Garnier's Fructis Curl Nourish Shampoo is a great choice for those who are looking for a budget shampoo that contains natural ingredients and has no parabens or sulfates. It boasts an 'Active Fruit Protein' formula which apparently includes an exclusive combination of vitamins, citrus protein, natural extracts, and special conditioners that are formulated for healthier and stronger hair.
It also has coconut oil that gently cleanses the hair so that it's not stripped of its natural moisture. If you suffer from dryness, this shampoo can also deeply nourish your strands so that you can get well-defined and frizz-resistant curls that can last throughout your entire day.
It's not great for thick curls, though, so if you've got a heavy set of curls you might want to try something made for detangling like the Maui Moisture Curl Quench + Coconut Oil Shampoo.
Ingredients
The natural extracts for the Active Fruit Protein formula include fruit and plant extracts like sugar cane extract, lemon peel extract, lemon protein, macadamia ternifolia seed oil, jojoba seed oil, radish root ferment filtrate, and camellia sinensis leaf extract, among many others.
In addition to all these natural extracts, Fructis Curl Nourish Shampoo also uses fragrance ingredients naturally occurring in essential oils such as hexyl cinnamal, linalool, coumarin, limonene, geraniol, and citronellol.
Pro Tip: To complete the Curl Nourish hair care routine, after washing your hair with the shampoo, condition your hair with Curl Nourish Conditioner, and then after you've taken a bath and your hair is only damp, apply the leave-in treatment Curl Nourish Butter Cream.
---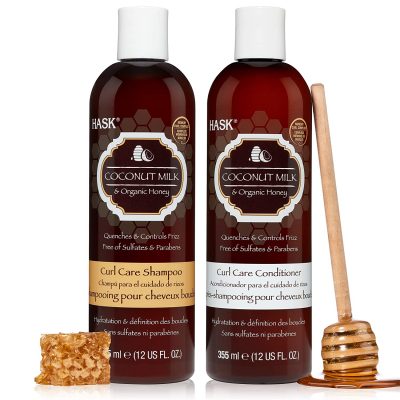 Adding shape and bounce to your curls, the Hask Coconut Milk & Organic Honey Curl Care Shampoo hydrates hair from the inside so that the split ends are sealed and the curls are always kept shiny and smooth. It can also tame even the most aggressively frizzy strands and let you wear your hair down without worrying about humidity.
If you tend to experience dryness, you don't have to worry about that anymore with this shampoo at your disposal. It can keep your hair soft and lustrous even as you go about your day. Lastly, it's also free of chemicals like sulfates, parabens, phthalates, gluten, drying alcohol, and artificial colors.
The biggest downside to this shampoo is the price, but if you're willing to overlook that to make your hair the best it can be, then this shampoo is for you. It's also not great for anyone who has dyed hair—anyone who colors their hair would likely be better served by something color-safe like the Nioxin 6 Color Safe Cleanser Shampoo.
Ingredients
With hydrating coconut milk extracts and nourishing organic honey additives, the shampoo cleanses your hair without stripping it of its natural oils so that your curls are left defined, frizz-proof, and shiny.
Pro Tip: The Curl Care Shampoo is best used with its partner Curl Care Conditioner which quenches thirsty curls for an even better bounce and shine in your hair.
---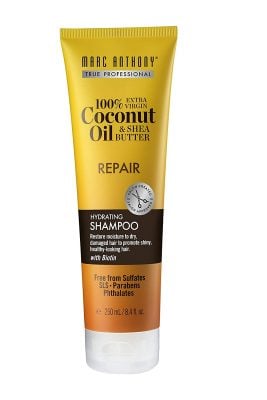 Marc Anthony Strictly Curls Curl Defining Shampoo is specially formulated to reduce moisture loss in permed or curly hair.
It can smoothen your hair's cuticle layer, which lets the shampoo penetrate your hair shaft and nourish your strands from within. It revives dry and frizzy hair, allowing you to get shiny and manageable hair that also repels humidity. Lastly, it can deeply cleanse your hair and hydrate, strengthen, and add shine to it so that it's soft when touched.
In addition to these, the Curl Defining Shampoo is also sulfate and paraben-free and also has no phthalates and SLS. It won't add volume like the Pure Nature Argan Oil Deep Hydra Nourishing Shampoo, and it's not great for damaged hair like the Arvazallia Advanced Hair Repair Moisturizing Shampoo, but for most people it'll fit the bill perfectly.
Ingredients
The product has hydrolyzed silk that not only strengthens your hair, but also makes it shinier, softer, and more manageable. It also has shea butter that is very moisturizing for the hair and scalp, prevents breakage, and can also reduce scalp irritation.
Alongside these, the shampoo is also infused with sunflower seed oils, aloe extract, and vitamin E that together, can redefine your curls and help nourish the scalp.
Pro Tip: For a more complete hair care regimen, simply follow it up with Strictly Curls Frizz Sealing Conditioner and also with styling products from the Strictly Curls collection.
---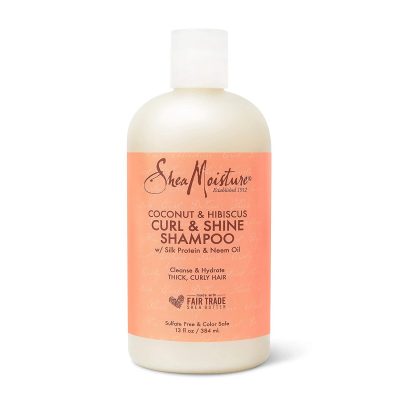 Instead of sulfate, the SheaMoisture Curl and Shine Coconut and Hibiscus Shampoo uses organic shea butter to cleanse the hair of its impurities without taking away any essential natural oils. This is reinforced with coconut oil in the formulation that gently hydrates, moisturizes, and protects the hair while replenishing lost nutrients. Hibiscus flower extracts are also added to improve hair elasticity, which helps reduce hair breakage and split ends.
Aside from shea butter, coconut oil, and hibiscus flower extracts, the SheaMoisture Shampoo has many other natural ingredients in its formulation for naturally fragrant, frizz-free, shiny, and bouncy curls.
Ingredients
The shampoo is formulated with various natural ingredients. Aside from coconut and hibiscus, this shampoo has rosemary and aloe oils that can give the hair even more hydration, silk protein that smoothens the hair for a smooth, silky feel. It also has neem oil that controls frizz, as well as adds shine and luster to your strands.
Pro Tip: The shampoo is best for curly hair (3A, 3B, and 3C) and coily hair (4A, 4B, and 4C). It also works best with its complementary conditioner, the SheaMoisture Coconut & Hibiscus Curl & Shine Conditioner.
---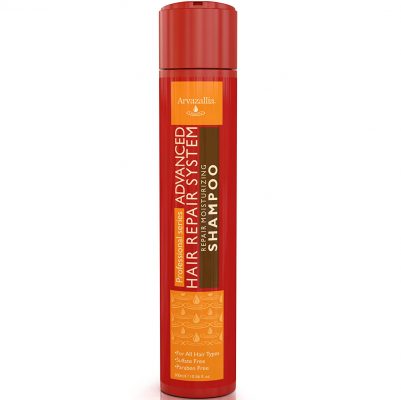 If your permed hair is dry and damaged, perhaps due to too many treatments or heat-styling, then this shampoo is for you.
The Arvazallia Advanced Hair Repair Moisturizing shampoo boasts a special formula that can repair, restore, and strengthen hair, particularly those damaged due to excessive styling and chemical treatments. It can even lock in moisture to keep the hair hydrated and moisturized, improving its texture and manageability for a more vibrant and healthy-looking hair.
Additionally, the product is sulfate and paraben-free, making it safe for use even for those who have undergone keratin or color treatments. It utilizes gentle but effective cleansing agents that can deeply cleanse your strands without drying it out or stripping it of its color and moisture.
Ingredients
This shampoo is very rich in natural ingredients that can make hair more beautiful without any adverse effects. For instance, it contains the vitamin and nutrient-rich argan oil and macadamia oil, two oils that can nourish hair of all types, including permed hair. They can even encourage healthy hair growth while giving the hair a luminous shine.
Pro Tip: The Arvazallia Advanced Hair Repair Moisturizing Shampoo is specially formulated to work together with Arvazallia Advanced Hair Repair Daily Hair Conditioner, Hydrating Argan Oil Hair Mask, and other Arvazallia Professional Series products, including Premium Argan Oil Hair Treatment and Ultra Curl Defining Cream.
---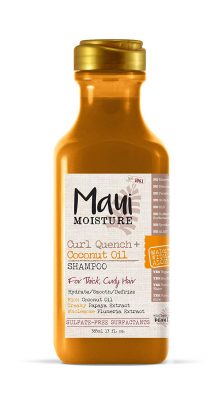 The Maui Moisture Curl Quench + Coconut Oil Shampoo is a great product for those whose hair easily tangles and becomes frizzy. Thanks to its natural ingredients, this shampoo helps keep frizz at bay and maintain well-defined curls. It has coconut oil, papaya butter, and plumeria extract that can enhance your hair's softness and elasticity, leading to bouncy and shiny curls.
Ideal for thick, curly hair, this sulfate-free shampoo hydrates your hair from within, leaving your locks looking healthy and shiny. It's also pH-balanced, paraben-free, and silicone-free.
Ingredients
This shampoo has plenty of natural ingredients in its list. Not only does it contain coconut oil, papaya butter, and plumeria extract, it also has aloe vera leaf extracts, coconut water, and tapioca starch.
Pro Tip: Maui Moisture's Coconut Oil collection suits high porosity hair best while its Coconut Milk collection works well with low porosity hair. Their Hibiscus Water and Shea Butter shampoos, on the other hand, are more suitable for naturally oily hair.
---

L'Oreal Paris EverCurl Hydracharge Shampoo has coconut oil that deeply hydrates and moisturizes the hair. In fact, this product claims that it can keep your curls well-defined for up to 48 hours. It can also provide additional nutrients to replace your hair's lost natural oils.
Made for color-treated hair, it also has no harsh sulfates, salts, or surfactants that can strip, dull and damaged hair.
Ingredients
Aside from coconut oil, the Hydracharge shampoo also has grape seed oil, orange peel oil, and hibiscus esculentus seed extract for a sensorial lush, luxurious lather and a fresh aromatic fragrance
Pro Tip: For the best effect of defined curls up to 48 hours that are soft, manageable, hydrated, and without frizz and weigh down, use the shampoo with EverCurl Hydracharge Conditioner. You can also try it with EverCurl Sculpt & Hold Cream Gel for curl definition and anti-frizz.
---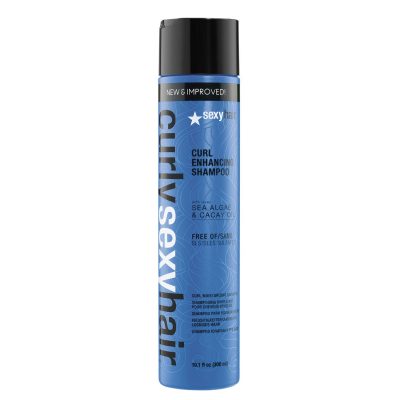 SexyHair Curly Curl Enhancing Shampoo's moisturizing formula is infused with cacay oil and sea algae extract that gently cleanses, nourishes, and protects your curls from frizz. The formula is also lightweight so there is no need to worry about weighing your curls down. Color-safe and ideal for all curly hair types, the shampoo is suitable if you want to enhance your curls daily.
It is a little bit drying, however, so if you've already got a dry scalp you might want to choose something more moisturizing like the SheaMoisture Curl and Shine Coconut and Hibiscus Shampoo.
Ingredients
As mentioned earlier, the key ingredients to the curl enhancing formula are the cacay oil and sea algae extract.
---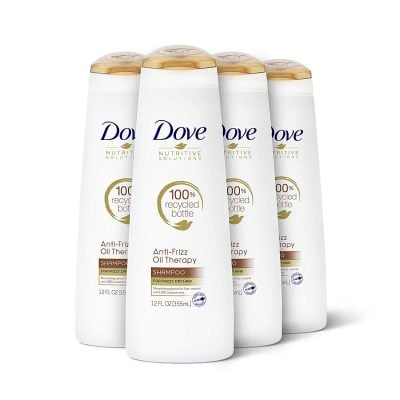 With Dove Nutritive Solutions Anti-Frizz Oil Therapy Shampoo, your dry and frizzy  hair can feel soft and manageable. The shampoo contains a unique blend of Nutri-Oils that removes frizz and makes the hair smooth.
Pro-Moisture Complex that nourishes your hair from within for longer-lasting up to 10 times damage resistance. It also has a non-greasy and lightweight moisturizing formula so it won't weigh your hair down nor leave it feeling greasy.
The gentle formula also makes it suitable for use in your daily hair washing routine. It also makes the hair 10 times more resilient to daily damage caused by grooming and brushing the hair.
Ingredients
The Oil Therapy Shampoo's Nutri-Oils blend includes sweet almond oil, kernel oil, hydrogenated coconut oil, and mineral oil among others. It also has fragrance ingredients extracted from essential oils such as hexyl cinnamal, limonene, and linalool.
While these ingredients are safe and effective, they're not exactly natural. Anyone looking for an organic alternative would probably be best served by the Hask Coconut Milk & Organic Honey Curl Care Shampoo.
Pro Tip: For more comprehensive benefits, use the shampoo with Dove Anti-Frizz Oil Therapy Conditioner.
---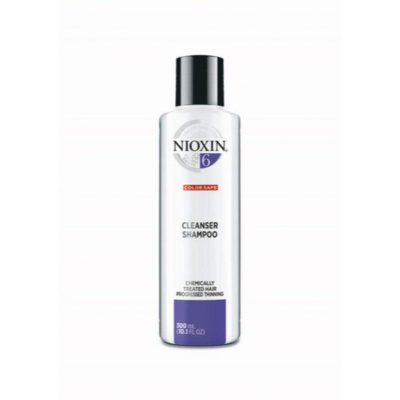 The Nioxin 6 Color Safe Cleanser Shampoo has a Scalp Access Delivery System 2.0 technology that removes sebum, fatty acids, and other environmental residue from the scalp and hair which deeply cleanses the scalp and provides thicker, fully-looking hair.
Ingredients
This derma-purifying shampoo contains peppermint oil, wild mint leaf oil, camellia sinensis leaf extract, hydrolyzed silk, candlenut seed oil, sweet fennel fruit extract, yeast extract, and many other ferments.
Pro Tip: For thicker, fuller hair in 30 days, use the Nioxin System 6 complete 3-part kit together.
---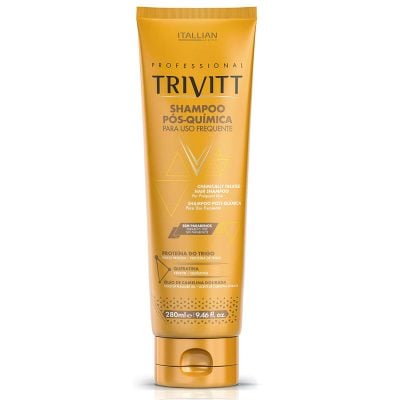 The entire Professional Trivitt Hair product series are developed from natural elements among technological active ingredients to provide advanced hair hydration, cauterization, damage repair, and highlight the hair's natural shine.
In particular, the Chemically Treated Hair Shampoo gently rinses without leaving the hair dry and brittle and makes detangling easier by recovering hair fiber lost from chemical services after a Brazilian blowdry, straightening and relaxing service, or coloring and bleaching to restore your hair's elasticity and make it less susceptible to breakage. It repairs hair damage, replenishes moisture, and provides shine and smoothness to the hair resulting in soft and shiny hair.
The shampoo contains natural ingredients that provide omega 3 and omega 6 which helps restore the natural oils in your hair and strengthens your hair fibers.
Ingredients
This daily cleansing shampoo contains hydrolyzed wheat protein, vegetable oil, and camelina sativa seed oil.
---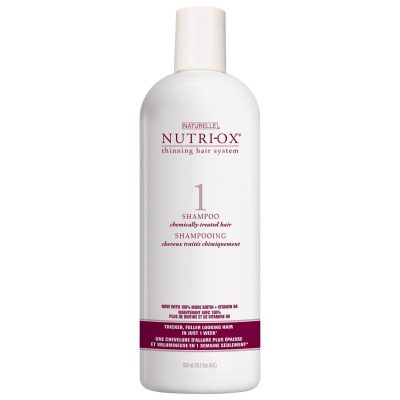 In just as short as a week, Zotos Nutri-Ox Chemically-Treated Hair Shampoo can help your chemically-treated thinning hair become a fuller, thicker, and healthier-looking hair. The shampoo stimulates hair follicles and promotes circulation to reduce or slow down hair loss.
It also gently cleanses and fortifies the scalp, safeguarding it against chemical and toxin buildup. The shampoo also protects against color-fading which is ideal for those who dyed their hair.
Ingredients
This product doesn't make use of any natural ingredients.
---

The MATRIX Total Results Curl Please Shampoo cleanses the hair gently to control the frizz. It moisturizes curly hair not only to control the frizz but to also define the curls through supporting the hair structure and adding strength to each curl strand.
Ingredients
The Curl Please Shampoo has Jojoba Oil as key ingredient for a humidity-resistant formula that nourishes the hair while providing full-defined and lively curls.
---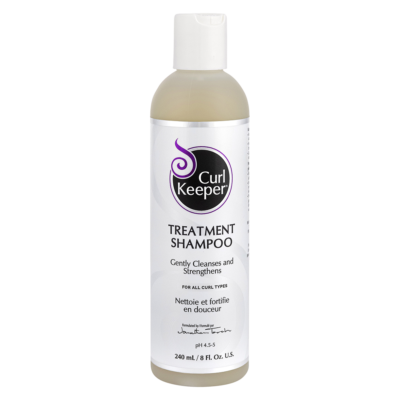 The Curly Hair Solutions Treatment Shampoo gently cleanses and strengthens your hair. It is also formulated with concentrates of Panthenol and Magnesium that strengthen the hair's elasticity to reduce hair breakage.
Perfect for dry, damaged, lifeless, and brittle hair, the Treatment Shampoo has silk amino acids that soften and repair hair cuticles. It has generous amounts of ingredients that rebuild chemically-damaged hair. With continuous use, the effects are more lasting and the results of coloring, perming and relaxing hair are prolonged.
Ingredients
In addition to the silk amino acid, the shampoo also contains citric acid that adjusts and balances the pH level of the shampoo for curly hair.
---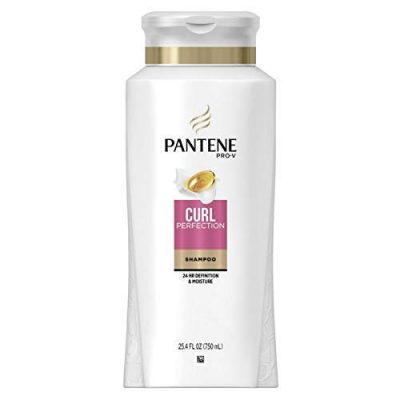 Also available in 12.6 oz and 20.1 oz, the Pantene Pro-V Curl Perfection Shampoo defines your curls, controls frizz, and allows your hair to easily air dry so that your hair is bouncy, manageable, shiny and moisturized for up to 24 hours.
The shampoo aims for gentle cleansing and nourishment of your curls through Frizz Calming Complex that seals and smoothens cuticle edges to avoid too much loss of natural oils.
Formulated with antioxidants to help prevent protein loss, the Curl Perfection Shampoo also has surfactants to cleanse your hair, and conditioning agents to keep your moisturized.
Ingredients
Pantene Pro-V uses citric acid as a pH adjuster to keep the shampoo pH gentle enough even for permed or color-treated hair. It also has Hexyl Cinnamal which is a fragrance ingredient found naturally in the essential oil of chamomile for a jasmine-like scent in the shampoo.
Pro Tip:
To achieve until 24 hours of defined and hydrated curls, Pantene Pro-V Curl Perfection Shampoo is best followed up with the Curl Perfection Conditioner.
---