Whether you have a packed schedule or just don't feel like washing your hair multiple times a week – dry shampoo can be your best friend.
Dry shampoos use varying active ingredients to remove dirt, absorb excess oil, and add volume and texture. However, people with dark hair have one major concern when it comes to dry shampoo – a persistent white residue that takes forever to blend in. Powdery roots or sticky, heavy hair are also common complaints.
Important Factors to Consider When Buying Dry Shampoo for Dark Hair
White residue isn't the only factor when picking a dry shampoo. Ingredients, hair type, spray-on versus powdered dry shampoos, and scent also play a role.
White Residue
The whole point of using dry shampoo is that it cleans your hair in minutes. However, many dry shampoos leave a layer of white residue behind.
In some cases, you can blend this residue into your hair via repeated brushing, which can be time-consuming. Other times, it leaves your hair looking ashen and grimy.
All of this negates the point of a quick fix.
Dry shampoos specifically made for brown or black hair often leave little to no residue on your hair. This is also true for some dry shampoos that cater to all hair types.
Dry Shampoos Sprays vs. Powders
Dry shampoos come in two forms – aerosol cans/sprays or powders. Both of these clean well but can affect your hair differently.
Spray-on dry shampoos usually come in aerosol cans and provide a quick cleanse. You simply spritz it onto your hair a couple of times and brush through to spread it out evenly.
Aerosol dry shampoos are the most likely to leave a noticeable residue on dark hair unless specifically designed for the hair type.
Powdered dry shampoos come in bottles. You pour an appropriate amount onto your fingers or directly on your hair and gently brush or massage it. You can also drizzle some on your hairbrush and comb your hair with it.
The choice between powder or aerosol dry shampoo also depends on hair type. For example, if you have fine hair, then a dry shampoo spray is the way to go. Powdered dry shampoo is better for thick hair.
Powdered dry shampoos tend to have more organic ingredients, making it more suitable for people with sensitive scalps.
Spray-on dry shampoos are easier to apply, while powdered ones require a little time to learn how to use them correctly.
You can find out more about both forms of dry shampoos below.
Harmful Ingredients
Like most beauty and hair care products, users should read the ingredients label before buying. Knowing what's in your dry shampoo and how it can affect your hair is essential.
Often drugstore or cheap online dry shampoos contain harsh ingredients such as butane, isobutane, and propane. They also use parabens, which are toxic chemicals that can damage your hair.
While these chemicals don't usually have any significant side effects on those with normal dark hair, they can harm fine hair or sensitive scalps. Long-term use could lead to hair damage.
If you are sensitive to certain common chemicals, fret not. There are plenty of organic, and even vegan, dry shampoo options for you.
With all these factors to consider, we know choosing the right product can take forever, but you can use our handy guide to help you out.
Top 10 Best Dry Shampoos for Dark Hair 2023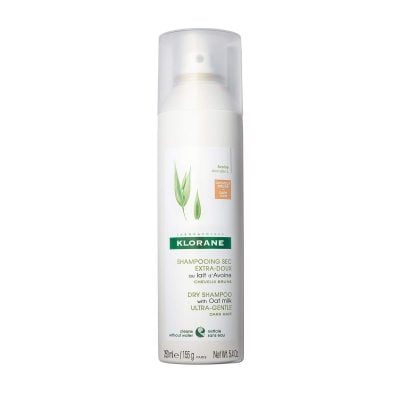 Why we like it:
An ultra-gentle dry shampoo that uses natural mineral pigments to cater to dark hair.
Editor's Rating:
Klorane is a top-notch beauty brand from France. Their hair care products are revered at salons, with experts and stylists swearing by their effectiveness. Their dry shampoo is no exception.
Klorane's Dry Shampoo with Oat Milk is ultra-gentle and made specifically for brown or darker hair shades. It uses oat extract and rice starch to cleanse your hair thoroughly while also protecting it from external elements. If you have a sensitive scalp, you'll love this dry shampoo.
The shampoo is vegan and uses a plant-based formula – a specialty that Klorane has prided itself on since its inception in 1965. It doesn't contain any parabens, sulfates, preservatives & silicone – a rare feature for dry shampoo sprays.
Klorane's dry shampoo also adds texture and volume. So, your hair is not only clean, but it looks fabulous as well.
Is It Good for Dark Hair?
This dry shampoo is excellent for brunettes or those with dark hair shades. It snags the top spot for its effectiveness on all hair types, be it fine, thick, or curly.
Klorane's dry shampoo combats the chalky residue problem by using natural mineral pigments. When applied onto your hair, the spray delivers an ultra-thin layer of beige powder.
Isn't that still a residue, you ask? Well, no. For one, the beige powder is hardly visible on brown or dark hair. Second, it is super easy to brush through to get an invisible finish. It blends in within minutes.
While there are rare complaints of a residue, these most often stem from improper application. Klorane instructs users to hold the can 10 inches away from their hair while spraying, leave it for 2 minutes, and then brush through it.
As long as you follow those instructions, you'll end up with clean, amazing-looking hair in around 5 minutes. The shampoo also has a mild and pleasant scent.
Klorane's dry shampoo does everything you want a dry shampoo to do and doesn't ruin your hair.
Pros
No white residue

Plant-based vegan formula

Uses oat extracts and starch to protect the scalp

Does not contain parabens, preservatives, silicone, phenoxyethanol
Cons
Not the cheapest but provides value for money
---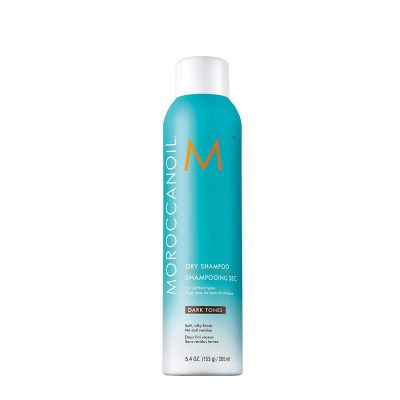 Why we like it:
An incredibly alluring, iconic scent paired with a rapid-cleansing formula makes Moroccanoil a must-try.
Editor's Rating:
Known for its signature scent that is reminiscent of a relaxing day at the beach, Moroccanoil is an argan oil-infused dry shampoo that is well-loved by consumers and experts.
The dry shampoo's main ingredient is argan oil, which is rich in antioxidants, fatty acids, and vitamins. As a result, Moroccanoil's dry shampoo nourishes and strengthens hair without leading to dryness or flakiness.
This dry shampoo is perfect for those worried about dryness or oiliness. The shampoo's formula aims to absorb excess oil and dirt without drying out your scalp.
Moroccanoil isn't cheap by any means, but it's well worth the splurge.
Is It Good for Dark Hair?
Moroccanoil's Dark Tones dry shampoo is slightly tinted but leaves no residue behind after a quick brush through.
The shampoo utilizes ultra-fine rice starch to provide a tint. This tint makes it easier to blend into brown or black hair since the rice-starch particles break down almost immediately when massaged or brushed through.
One downside to this product is that it can stain your fingers and face if not used properly. Moroccanoil suggests spraying from at least 6 to 8 inches away. Spraying it on while holding it too close will lead to a residue.
Overall, Moroccanoil's dry shampoo works great for dark hair. It's a treat for your tresses as well your nose with its fantastic scent.
Pros
Cleanses and strengthens hair simultaneously

Does not lead to dryness/flakiness

A signature, enticing scent that relaxes users
Cons
The scent might not be suitable for everyone
---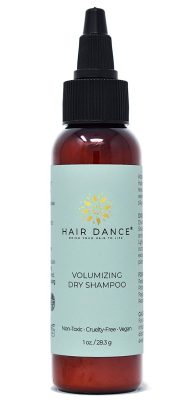 Why we like it:
Hair Dance's dry shampoo is all-organic. It deep cleans and adds plenty of volume. It also supports a good cause.
Editor's Rating:
Hair Dance's dry shampoo powder comes in a tiny bottle but packs quite a punch.
You need to apply a minimal amount of this powder to clean and add tons of volume to your hair. The bottle helps you control the amount you use with its funnel-shaped cap, that gently drizzles the product onto your hair.Since minimal amounts are required every use, a 1-ounce bottle lasts for months!
The powder is vegan, cruelty-free, and eco-friendly. The ingredients are natural and very soothing on the scalp. Rice starch absorbs dirt and oil, lavender oil nourishes your scalp and smells heavenly, and organic oatmeal and olive leaf particles add volume.
The small bottle size means you can just throw it in your bag and carry it wherever you go. To add on a feel-good factor, Hair Dance donates 10% of its proceeds to Mercy Ships, an organization that provides life-saving surgeries for those in need.
One concern is that it doesn't deliver as strong a scent as spray-on dry shampoos like Moroccanoil or Batiste. The lack of a rich scent is because Hair Dance doesn't have as many chemical deodorizers. You'd be better off using scented dry shampoo spray products like the Moroccanoil Dry Shampoo if you need to get rid of a strong odor.
Is It Good for Dark Hair?
There are no worries about a white residue with this product with Hair Dance's dry shampoo. When initially applied, there is a little white powder, but you can easily massage it into your hair.
Hair Dance's powder is one of the best dry shampoos for dark hair, but it takes some time to learn to use it the right way. The company recommends leaving this in your hair for a few minutes before brushing through. This is longer than most conventional dry shampoos, but the results are worth the wait.
Pros
Nourishing and soothing all-natural ingredients

A 1-ounce bottle is usable for months

Does not use toxic chemicals like parabens, aerosol, and LPG

Purchasing this shampoo supports a good cause in Mercy Ships
Cons
Isn't as strong a deodorizer as spray-on dry shampoos

It takes time to learn proper usage methods
---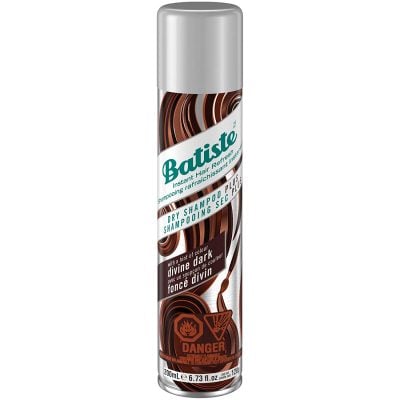 Why we like it:
Batiste's Divine Dark is a pocket-friendly dark-tinted dry shampoo that effortlessly merges into brown or black hair.
Editor's Rating:
Batiste has been a prominent dry shampoo brand for decades and has garnered a good following in the US as well.
The brand carries around 13 shades of dry shampoo, including one specially made for dark hair named Batiste Divine Dark.
This tinted dry shampoo disperses excess product build-up, oil, and dirt from your roots while also adding texture. So you get clean, voluminous hair in just a few minutes.
Additionally, Batiste lists the Divine Dark shampoo's fragrance notes as bergamot, white peach, and vanilla bean, but the strong scent is not for everyone.
For a budget dry shampoo, you get more than what you paid for. The product does leave your hair feeling a bit heavy, especially if you have thin hair.
The Divine Dark dry shampoo contains harmful chemicals like butane, isobutane, and propane. But, expecting all-organic dry shampoos at this price range is unrealistic.
Is It Good for Dark Hair?
Batiste is brilliant on dark brown to black hair. It is a tinted spray dry shampoo that creates a thin layer of brown residue atop your hair. Unlike white residue, however, Batiste's tint blends right in. If you need to touch up your roots or cover up some grey hair, this shampoo is the right pick.
Pros
A dark-tinted dry shampoo that does not leave a white residue

Great for root touch-ups or covering up grey hair

Good oil absorption
Cons
Leaves hair feeling heavy

The generic scent might overwhelm or irritate some customers
---
5.

Best Volumizing Dry Shampoo Powder:

Acure Dry Shampoo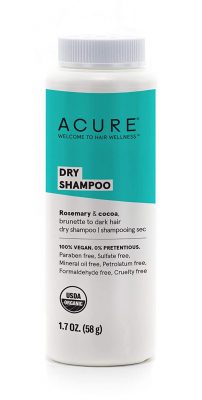 Why we like it:
ACURE is a volumizing dry shampoo powder that uses all-natural organic ingredients to cleanse your hair rapidly.
Editor's Rating:
Much like Hair Dance's dry shampoo powder, ACURE's product is vegan. It is also cruelty-free and does not contain any mineral oils, petrolatum, formaldehyde, parabens, or sulfates.
ACURE's dry shampoo cleans dirt and absorbs oil effectively. It also adds a lot of volume to your hair. So, if that's your main goal, this is the right product for you.
With ingredients such as rosemary oil, peppermint oil, clay, cocoa powder, and corn starch, this shampoo nourishes your hair and is perfect for maintaining both scalp and hair health. People with oily hair would love this shampoo.
Despite the organic ingredients, this dry shampoo powder uses baking soda (sodium bicarbonate), which is a great cleanser but does alter your scalp's normal pH level and lead to dryness. If you already have dry hair, it could leave your strands looking lifeless.
Is It Good for Dark Hair?
This dry shampoo is made specifically for dark hair, but it has a slight brown/pink color that makes it more suitable for brunettes. It might need a bit more brushing for those with dark brown or black hair.
Pros
Organic ingredients without any mineral oils, petrolatum, formaldehyde, parabens, or sulfates

It absorbs oils effectively

Suitable for most hair types, especially oily hair

It uses oils and scents to relax users
Cons
Takes longer to blend in than other powders

Uses baking soda (sodium bicarbonate)

Not recommended for people with dry hair
---

Why we like it:
Living Proof uses patented technologies to ensure that hair is cleaned thoroughly and stays clean for longer.
Editor's Rating:
Living Proof expertly fulfills the main objective of a dry shampoo. The brand's Perfect Hair Day dry shampoo uses patented Triple-Action Cleaning Technology to thoroughly eliminate excess oils and sweat in just a few minutes.
This dry shampoo deep cleans and leaves your hair looking fresh and feeling light. Living Proof's dry shampoo also contains odor neutralizers and releases a fragrance from time to time to keep your hair smelling good for longer.
This product is PETA-certified cruelty-free and does not contain parabens, phthalates, or silicones.
Is It Good for Dark Hair?
Living Proof's Perfect Hair Day dry shampoo provides exceptional results for dark-haired individuals. Dark-haired users should leave the product in their hair for a little longer than the 30 seconds mentioned on the can. There is a slight white cast when you initially spray it, but it's easy enough to blend into your hair. The dry shampoo also has a mild, pleasant scent.
Another added benefit is Living Proof's dry shampoo does not contain cornstarch, so your dark hair won't look ashen after a long day. Instead, the brand uses its Healthy Hair Molecule technology to repel dirt, and resist humidity.
Pros
Deep cleansing formula for fresher hair

Gets rid of sweat and odor

Keeps hair clean for longer than other products

No harmful ingredients such as parabens or silicones.
Cons
Slightly harder to blend in compared to its counterparts

Price is quite high compared to other products
---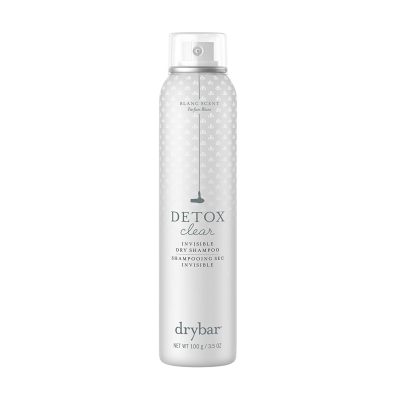 Why we like it:
Drybar Detox offers a hydrating dry shampoo spray that is virtually invisible on dark hair.
Editor's Rating:
Invisible dry shampoos are an excellent option for dark-haired users, and Drybar Detox's Clear Invisible is the best in this category. When you apply this dry shampoo, it leaves a fine mist atop your hair while cleaning out dirt and absorbing oils. Natural ingredients like potato starch help get rid of oils, odor, and sweat.
Drybar Detox's products focus on creating and maintaining the best blowouts. Their dry shampoo is also meant for this purpose and adds a ton of volume to your hair.
This dry shampoo contains amla oil for hydration and carries a Blanc scent with notes of coconut, amber, and vanilla. The smell might be overpowering if too much is applied.
This shampoo isn't the best for cleansing and could do with better oil absorption, but it'll get you through the day while leaving your hair feeling soft and sheer. For people with particularly oily hair, though, something like the ACURE dry shampoo might work better.
Is It Good for Dark Hair?
Drybar Detox Clear Invisible is an excellent choice for dark hair since it has no tint. The shampoo uses ultra-fine rice powder, which becomes translucent in your hair, leaving very little to no residue.
Even if there is a light white residue when you first spray it on, give it a minute or two and then brush it in. Voila! No more powdery hair. Also, remember not to hold the can too close to your hair when spraying.
The downside with the transparent layer is that it could leave your hair looking dull or grimy if not applied properly.
Pros
No white residue

Organic ingredients for better hair health

Is paraben, sulfate, phthalate, and cruelty-free
Cons
On the higher end of the price range

Oil absorption could be better
---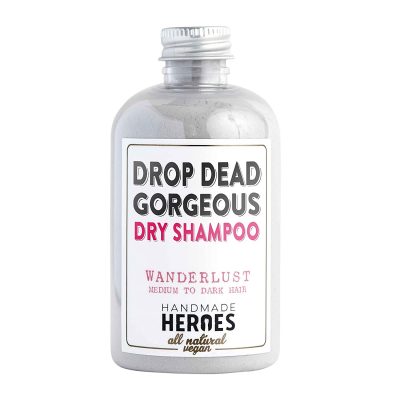 Why we like it:
Handsome Heroes' vegan dry shampoo powder is tinted a light grey, which makes it easy to blend into dark hair.
Editor's Rating:
Handsome Heroes' Drop Dead Gorgeous dry shampoo powder has a slight upper hand over Hair Dance in the scent department – it uses activated coconut charcoal to keep your hair smelling clean for longer. The scent smells very neat and isn't overpowering at all.
The shampoo contains geranium and lavender oil – ingredients known to relax users and promote emotional wellness.
When it comes to cleansing, Handsome Heroes uses rice powder to absorb sebum and excess oils efficiently. It also strengthens and brightens your hair.
Like its counterparts, Handsome Heroes is all-natural, vegan, and cruelty-free. There are no parabens, preservatives, or synthetic chemicals in its formula.
Is It Good for Dark Hair?
Handsome Heroes' Drop Dead Gorgeous Dry Shampoo is a light grey powder, which can highlight grey roots. The powder is excellent for brunettes. It blends in really well and does not leave a residue behind, though it might take more effort to blend into dark brown or black hair.
Pros
Strong deodorizing properties

Relaxing scents

Uses rice powder for effective cleansing
Cons
Takes longer to blend into dark brown and black hair

Grey tint can highlight greying roots and hair
---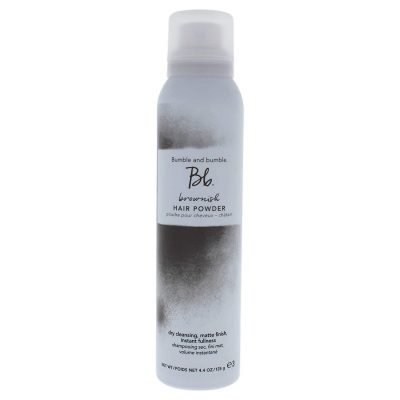 Why we like it:
Bumble and Bumble's dry shampoo is a tinted cleanser that adds texture to all hair types.
Editor's Rating:
Bumble and Bumble is a popular haircare brand in salons because of its wide range of products. Their dry shampoo is a non-aerosol spray that cleans expertly while simultaneously adding texture.
They have many shades of dry shampoo sprays, but their Brownish Hair Powder is best suited for dark hair.
Bumble and Bumble's Brownish Hair Powder is aerosol-free and uses silica to absorb oils well, magnesium carbonate to prevent caking, and Vp/Va Copolymer for hair strengthening. All these chemicals can harm users with sensitive scalps.
It's also the most expensive dry shampoo on this list, so if you're willing to splurge for runway-like hair, Bumble and Bumble is the way to go.
Is It Good for Dark Hair?
Bumble and Bumble's Brownish Hair Powder is great for brown to dark brown hair. The spray-on shampoo is tinted and leaves a fine brown layer atop your hair.
Because the tint is already brown, blending in is fast and easy. There is no white residue left behind. The tinted spray can also cover greying roots and hair.
There is no specific shade for black hair, so users must make do with the dark brown version. You could get better-suited products for black hair for cheaper.
Pros
Can be used for general cleaning or styling

Adds volume and texture

Is tinted for easy blending
Cons
Uses toxic chemicals like silica and magnesium carbonate

Is expensive

Is slightly harder to blend in on black hair
---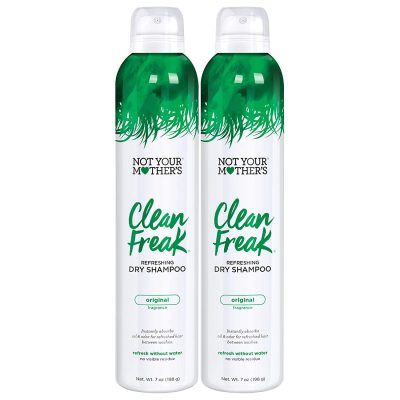 Why we like it:
Not Your Mother's Clean Freak is a super budget-friendly dry shampoo that cleans dark hair effectively
Editor's Rating:
You might have seen Not Your Mother's products in Target, Walmart, or other supermarkets. The brand has attracted a loyal following not just for its clever name but because its products are trustworthy.
It's also super budget-friendly. You can get two cans of Not Your Mother's Clean Freak Refreshing dry shampoo for around $9!
Their mildly scented dry shampoo adequately cleans all hair types. It provides an instantaneous lift and also deodorizes your hair.
Like most drugstore brands, however, potentially harmful chemicals are present – lots of them.
Not Your Mother's can weigh down your hair and leave it feeling a bit crunchy. The dry shampoo's oil absorption is quite mediocre.
Is It Good for Dark Hair?
Not Your Mother's dry shampoo is not specifically made for dark hair, but the brand claims that it doesn't leave a persistent white residue on dark hair.
It does deliver a white powder on the hair, but this can be brushed and blended. It's a bit harder to blend on dark hair, especially if you apply too much.
Pros
Inexpensive

Subtle, clean scent that is pleasing

Deodorizes hair and cleanses adequately
Cons
Contains harmful chemicals

Isn't as easy to blend in on dark hair
---
Choosing and Using Dry Shampoo for Dark Hair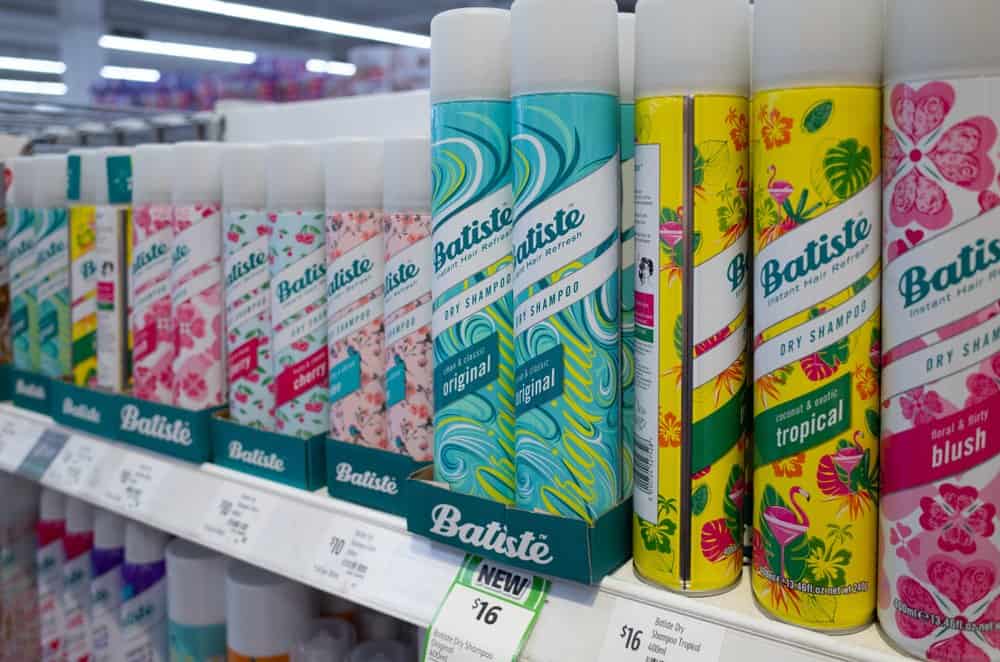 If you're still not sure of the benefits of dry shampoo, the right product for you, or how to properly use it, read on to learn everything there is to know.
Keeping Your Hair Healthy
When talking about dry shampoo, the most common questions users ask are along the lines of "Can you use dry shampoo on dark hair?", "Can dry shampoo cause baldness?" "How many days in a row can you use dry shampoo?".
To answer these questions in simple terms – dry shampoo can be used on dark hair. However, it is a temporary quick fix. It cannot permanently eliminate dirt, excess oil, and any other substances that irritate your scalp and hair.
You should use dry shampoo for a maximum of 2 days in a row. You must wash your hair at least once or twice a week. Failing to do so can lead to problems like hair loss and baldness.
Dry shampoos should be used as part of a healthy hair care routine rather than on its own.

Ingredients
The critical aspect of any beauty product is the ingredients used to make it. These elements directly affect your skin or hair, so pay attention to what's in your dry shampoo.
Helpful Ingredients
Dry shampoos with organic ingredients are generally better for your hair than chemical-filled ones. Natural ingredients cleanse, nourish, and strengthen your hair without adversely affecting it.
Natural oils such as rosemary oil and lavender oil promote hair growth by maintaining a healthy scalp. They also smell really good and can relax users.
Rice powder and rice or corn starch have been a well-kept secret for glorious hair in Asian communities. They are incredibly efficient in absorbing sebum and excess oils. They also clear up product and dirt build-ups well.
Clay and charcoal are used to add texture and volume. Clay is great for absorbing excess oils without leading to dryness.
Ingredients to Avoid
On the other side of the spectrum, here are some ingredients that you should generally avoid:
Parabens
A common preservative used in many beauty products to boost shelf life by months or even years. Parabens can cause many side effects, with the most notable one being disrupting hormone function by mimicking estrogen. Parabens are also bad for the environment.
LPGs (Butane, Propane & Isobutane)
Liquid petroleum gas is very common in aerosol dry shampoos. LPGs are proven to be horrible for the environment. Inhaling this gas is also harmful to people, and could lead to headaches, nausea, and, in some cases, breathing difficulties.
Alcohol
Alcohol is typically used to absorb excess oil and moisture from the scalp. But it also absorbs natural oils that are crucial for healthy hair and scalp. Long-term usage can lead to hair and scalp damage.
Silicones
Silicones have a complex relationship with hair. They give your hair that much-desired silky, smooth feel while helping avoid frizz. But this synthetic compound sticks to your hair, preventing necessary moisture from reaching your strands.
While avoiding all harmful ingredients might be impossible, you can choose products with a primary focus on natural ingredients. Some common dangerous chemicals are unavoidable, but it's better to be aware of these and note their effects on your hair.

Dry Shampoo Sprays for Dark Hair
Sprays are often the most popular choice for dry shampoo users. They typically come in aerosol cans. You simply spray it onto your hair, let it dry for a few seconds to a few minutes, and then brush or massage to blend it into your hair.
These sprays get your hair feeling fresh and smelling clean in under 5 minutes. They are very convenient to use and come in different shades to match varying hair colors. Perfect for people always in a hurry.
A major downside of spray-on dry shampoos is their tendency to leave a persistent white residue. This is why the ones we have recommended, like Klorane, Living Proof, and Drybar Detox, are mostly tinted or invisible.
Another downside is that spray-on dry shampoos contain one or more of the harmful ingredients listed in the section above.
While some of these chemicals are necessary for aerosol cans to spray correctly, others are added as preservatives or artificial cleansers and volumizers.
Toxic ingredients are a major turn off for some buyers, but experts and stylists have noted that short-term, appropriate usage does not cause any significant damage.
For optimum hair health, you need to pick a product that primarily uses natural ingredients and avoids parabens, phthalates, silicones, etc. Most of the products on our list fulfill these criteria, and something like Living Proof go above and beyond by combining an absence of harmful ingredients with a plethora of healthy ones.
Dry Shampoo Powders for Dark Hair
Dry Shampoo powders are gaining popularity in the beauty community as more people realize their benefits.
Dry shampoo powders come in bottles, typically with dotted openings. You need to section off your hair, pour some powdered dry shampoo onto your fingers, scalp or hairbrush, and then massage it into your hair.
Dry shampoo powders take a little longer to apply and blend in on dark hair. If misapplied, the powder will get everywhere – be it your hair, clothes, or bathroom counter. Using too much powder at once will lead to a white residue.
Many users, especially those sensitive to common chemicals or overpowering smells, prefer dry shampoo powders over sprays. Their choice is made easier because powdered dry shampoos, like ACURE are all-natural and use a vast range of organic ingredients.
Hair Type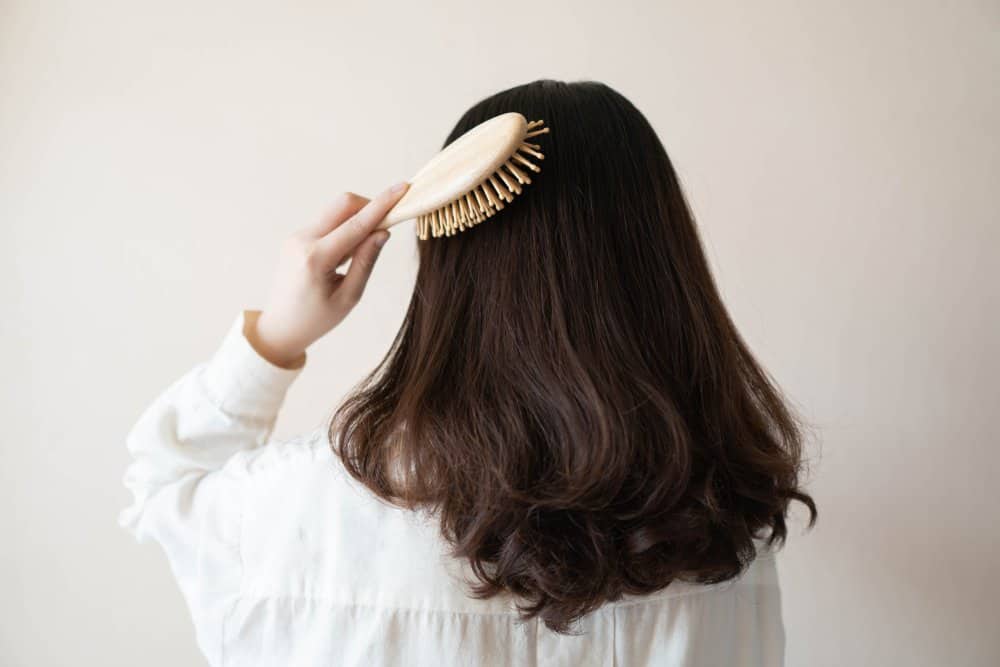 Experts and stylists have varying opinions on which type of hair requires which type of dry shampoo. But everyone can agree that products can have varying effects, based on hair type. It is important to pick a dry shampoo that suits your hair type.
Expert hairstylist Adriana Tesler, for example, told Allure that people with fine hair are better off with dry shampoo sprays since powdered ones may weigh their hair down. Spray and aerosol shampoos also have the advantage of added volume.
Those with thicker and oily hair are better off with dry shampoo powders since they are better at soaking up oil.
Similarly, people with curly or dry hair need more moisture.
Usage
Your selection of dry shampoo also depends on your end goal.
Scent
Ideally, you want a pleasant scent on your hair since it surrounds you the entire day. Over-powering, generic scents can be a turn-off for you and those around you.
Often, drugstore dry shampoos have strong scents that stick to you. Think "old grandma" or "baby powder," it's fair to say most people don't want these around constantly. Pricier options don't guarantee amazing smells, either.
This is a crucial factor for people with a strong sense of smell. Many people can get headaches or feel nauseous due to unpleasant odors.
Since everyone's tastes are different, you'll only know what you like after you've tried it.
If you're buying dry shampoo at a store, ask for a sample can or bottle and take a sniff. If you're shopping online, use a small amount and see if you like the scent. If not, you can always return it.
Alternatively, you can choose a dry shampoo that is very mildly scented or completely unscented.
How to Use Dry Shampoo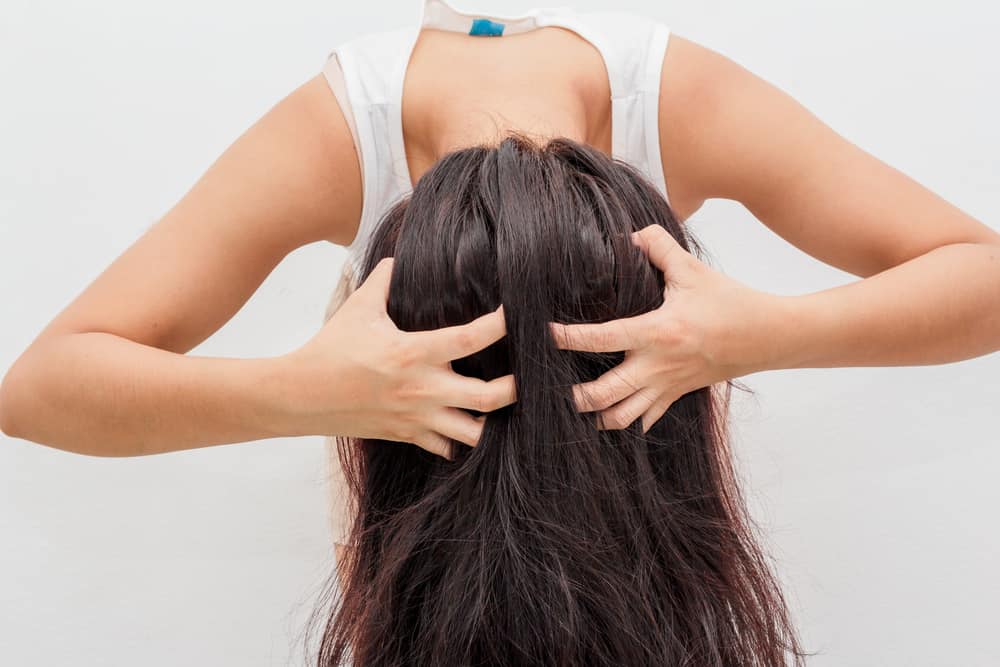 Now that you've decided which shampoo to buy, here are a few tips on how to use it correctly:
How to Use Dry Shampoo Spray
Shake the bottle or can well before use.
Use a brush to part your hair into small sections. Don't forget the back of your hair.
Alternatively, you can choose to use the dry shampoo only on specific sections.
Hold the bottle or can at least 6 inches away from your scalp unless the can states otherwise. Klorane, for example, recommends a gap of 10 inches.
Holding the can too close leads to the formation of white residue.
Aim for the roots and spray gently.
Too much pressure can lead to too much product in one place. This build-up takes a while to even out.
Let the shampoo dry for 30 seconds to a minute.
Massage it into your scalp using your hands to spread it out evenly.
If you notice a residue after the massage, use a brush to comb through and disperse any build-up.
How to Use Dry Shampoo Powder
Start by sectioning off your hair into smaller portions, using a brush.
Pour a small amount of the dry shampoo powder onto your fingers, scalp, or hairbrush.
If applying directly on the hair, then aim for the roots.
If you're using your brush to apply, then gently comb from the roots to the ends.
You can massage the product into your hair with your fingers.
If you notice a residue after the massage, use a brush to comb through and disperse any build-up.
Pro Tip: Do not use dry shampoo on wet or damp hair!
Final Thoughts
Dry shampoos are a convenient and effective alternative to standard shampoos, but dark-haired people often avoid them out of fear of covering their hair in an ugly white cast. But, as long as you match your hair color to the perfect dark-hair-specific dry shampoo, you can enjoy the benefits of dry shampoos too!