Top Picks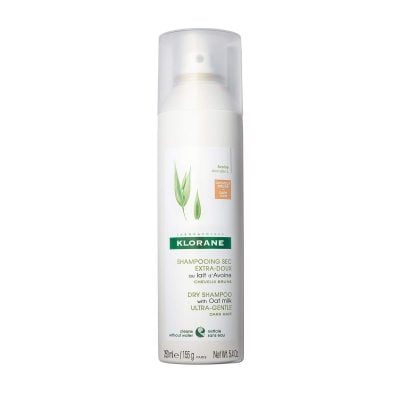 Klorane Dry Shampoo With Oat Milk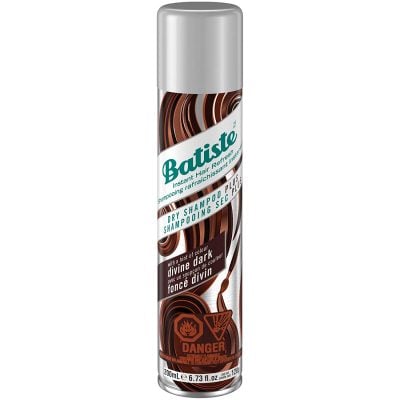 Batiste Dry Shampoo, Divine Dark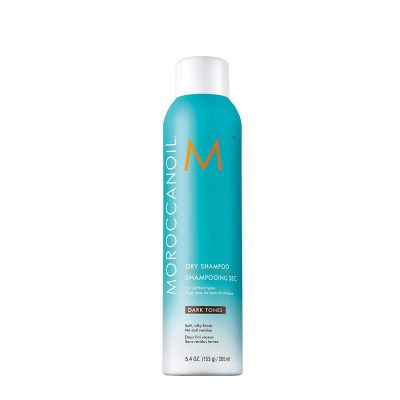 Moroccanoil Dry Shampoo
Previous
Next
Whether you have a packed schedule or just don't feel like washing your hair multiple times a week – dry shampoo can be your best friend.
Dry shampoos use varying active ingredients to remove dirt, absorb excess oil, and add volume and texture. However, people with dark hair have one major concern when it comes to dry shampoo – a persistent white residue that takes forever to blend in. Powdery roots or sticky, heavy hair are also common complaints.
Important Factors to Consider When Buying Dry Shampoo for Dark Hair
White residue isn't the only factor when picking a dry shampoo. Ingredients, hair type, spray-on versus powdered dry shampoos, and scent also play a role.
White Residue
The whole point of using dry shampoo is that it cleans your hair in minutes. However, many dry shampoos leave a layer of white residue behind.
In some cases, you can blend this residue into your hair via repeated brushing, which can be time-consuming. Other times, it leaves your hair looking ashen and grimy.
All of this negates the point of a quick fix.
Dry shampoos specifically made for brown or black hair often leave little to no residue on your hair. This is also true for some dry shampoos that cater to all hair types.
Dry Shampoos Sprays vs. Powders
Dry shampoos come in two forms – aerosol cans/sprays or powders. Both of these clean well but can affect your hair differently.
Spray-on dry shampoos usually come in aerosol cans and provide a quick cleanse. You simply spritz it onto your hair a couple of times and brush through to spread it out evenly.
Aerosol dry shampoos are the most likely to leave a noticeable residue on dark hair unless specifically designed for the hair type.
Powdered dry shampoos come in bottles. You pour an appropriate amount onto your fingers or directly on your hair and gently brush or massage it. You can also drizzle some on your hairbrush and comb your hair with it.
The choice between powder or aerosol dry shampoo also depends on hair type. For example, if you have fine hair, then a dry shampoo spray is the way to go. Powdered dry shampoo is better for thick hair.
Powdered dry shampoos tend to have more organic ingredients, making it more suitable for people with sensitive scalps.
Spray-on dry shampoos are easier to apply, while powdered ones require a little time to learn how to use them correctly.
You can find out more about both forms of dry shampoos below.
Harmful Ingredients
Like most beauty and hair care products, users should read the ingredients label before buying. Knowing what's in your dry shampoo and how it can affect your hair is essential.
Often drugstore or cheap online dry shampoos contain harsh ingredients such as butane, isobutane, and propane. They also use parabens, which are toxic chemicals that can damage your hair.
While these chemicals don't usually have any significant side effects on those with normal dark hair, they can harm fine hair or sensitive scalps. Long-term use could lead to hair damage.
If you are sensitive to certain common chemicals, fret not. There are plenty of organic, and even vegan, dry shampoo options for you.
With all these factors to consider, we know choosing the right product can take forever, but you can use our handy guide to help you out.
Top 10 Best Dry Shampoos for Dark Hair 2021
Choosing and Using Dry Shampoo for Dark Hair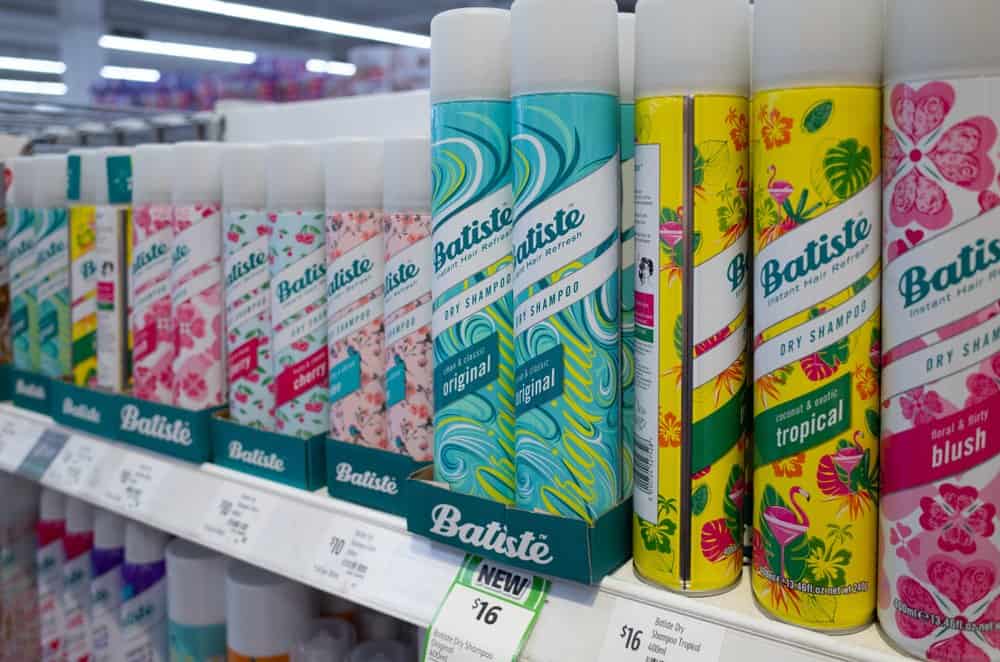 If you're still not sure of the benefits of dry shampoo, the right product for you, or how to properly use it, read on to learn everything there is to know.
Keeping Your Hair Healthy
When talking about dry shampoo, the most common questions users ask are along the lines of "Can you use dry shampoo on dark hair?", "Can dry shampoo cause baldness?" "How many days in a row can you use dry shampoo?".
To answer these questions in simple terms – dry shampoo can be used on dark hair. However, it is a temporary quick fix. It cannot permanently eliminate dirt, excess oil, and any other substances that irritate your scalp and hair.
You should use dry shampoo for a maximum of 2 days in a row. You must wash your hair at least once or twice a week. Failing to do so can lead to problems like hair loss and baldness.
Dry shampoos should be used as part of a healthy hair care routine rather than on its own.

Ingredients
The critical aspect of any beauty product is the ingredients used to make it. These elements directly affect your skin or hair, so pay attention to what's in your dry shampoo.
Helpful Ingredients
Dry shampoos with organic ingredients are generally better for your hair than chemical-filled ones. Natural ingredients cleanse, nourish, and strengthen your hair without adversely affecting it.
Natural oils such as rosemary oil and lavender oil promote hair growth by maintaining a healthy scalp. They also smell really good and can relax users.
Rice powder and rice or corn starch have been a well-kept secret for glorious hair in Asian communities. They are incredibly efficient in absorbing sebum and excess oils. They also clear up product and dirt build-ups well.
Clay and charcoal are used to add texture and volume. Clay is great for absorbing excess oils without leading to dryness.
Ingredients to Avoid
On the other side of the spectrum, here are some ingredients that you should generally avoid:
Parabens
A common preservative used in many beauty products to boost shelf life by months or even years. Parabens can cause many side effects, with the most notable one being disrupting hormone function by mimicking estrogen. Parabens are also bad for the environment.
LPGs (Butane, Propane & Isobutane)
Liquid petroleum gas is very common in aerosol dry shampoos. LPGs are proven to be horrible for the environment. Inhaling this gas is also harmful to people, and could lead to headaches, nausea, and, in some cases, breathing difficulties.
Alcohol
Alcohol is typically used to absorb excess oil and moisture from the scalp. But it also absorbs natural oils that are crucial for healthy hair and scalp. Long-term usage can lead to hair and scalp damage.
Silicones
Silicones have a complex relationship with hair. They give your hair that much-desired silky, smooth feel while helping avoid frizz. But this synthetic compound sticks to your hair, preventing necessary moisture from reaching your strands.
While avoiding all harmful ingredients might be impossible, you can choose products with a primary focus on natural ingredients. Some common dangerous chemicals are unavoidable, but it's better to be aware of these and note their effects on your hair.

Dry Shampoo Sprays for Dark Hair
Sprays are often the most popular choice for dry shampoo users. They typically come in aerosol cans. You simply spray it onto your hair, let it dry for a few seconds to a few minutes, and then brush or massage to blend it into your hair.
These sprays get your hair feeling fresh and smelling clean in under 5 minutes. They are very convenient to use and come in different shades to match varying hair colors. Perfect for people always in a hurry.
A major downside of spray-on dry shampoos is their tendency to leave a persistent white residue. This is why the ones we have recommended, like Klorane, Living Proof, and Drybar Detox, are mostly tinted or invisible.
Another downside is that spray-on dry shampoos contain one or more of the harmful ingredients listed in the section above.
While some of these chemicals are necessary for aerosol cans to spray correctly, others are added as preservatives or artificial cleansers and volumizers.
Toxic ingredients are a major turn off for some buyers, but experts and stylists have noted that short-term, appropriate usage does not cause any significant damage.
For optimum hair health, you need to pick a product that primarily uses natural ingredients and avoids parabens, phthalates, silicones, etc. Most of the products on our list fulfill these criteria, and something like Living Proof go above and beyond by combining an absence of harmful ingredients with a plethora of healthy ones.
Dry Shampoo Powders for Dark Hair
Dry Shampoo powders are gaining popularity in the beauty community as more people realize their benefits.
Dry shampoo powders come in bottles, typically with dotted openings. You need to section off your hair, pour some powdered dry shampoo onto your fingers, scalp or hairbrush, and then massage it into your hair.
Dry shampoo powders take a little longer to apply and blend in on dark hair. If misapplied, the powder will get everywhere – be it your hair, clothes, or bathroom counter. Using too much powder at once will lead to a white residue.
Many users, especially those sensitive to common chemicals or overpowering smells, prefer dry shampoo powders over sprays. Their choice is made easier because powdered dry shampoos, like ACURE are all-natural and use a vast range of organic ingredients.
Hair Type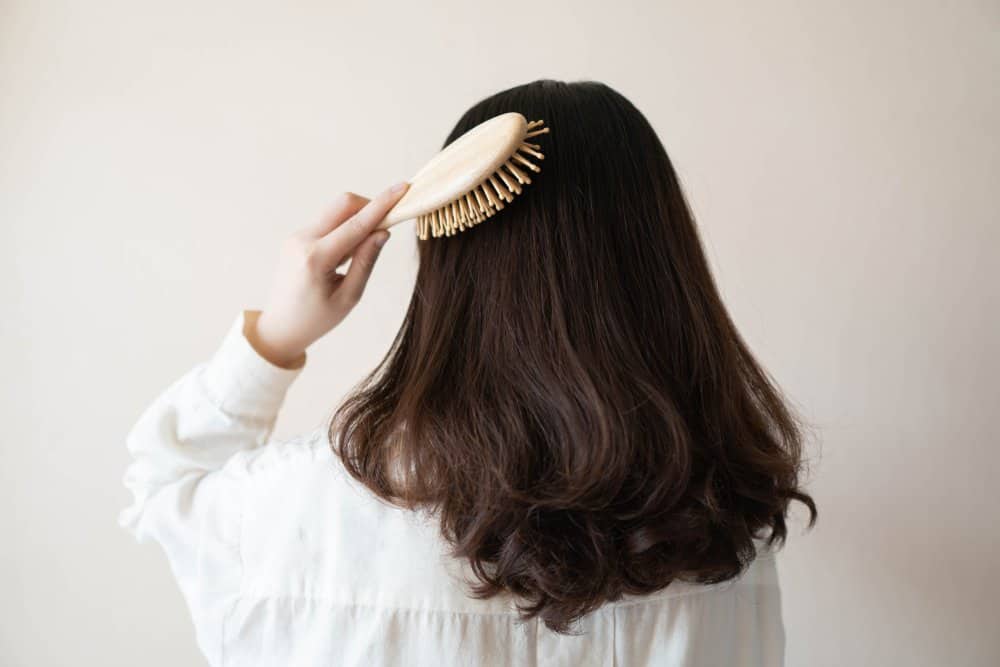 Experts and stylists have varying opinions on which type of hair requires which type of dry shampoo. But everyone can agree that products can have varying effects, based on hair type. It is important to pick a dry shampoo that suits your hair type.
Expert hairstylist Adriana Tesler, for example, told Allure that people with fine hair are better off with dry shampoo sprays since powdered ones may weigh their hair down. Spray and aerosol shampoos also have the advantage of added volume.
Those with thicker and oily hair are better off with dry shampoo powders since they are better at soaking up oil.
Similarly, people with curly or dry hair need more moisture.
Usage
Your selection of dry shampoo also depends on your end goal.
Scent
Ideally, you want a pleasant scent on your hair since it surrounds you the entire day. Over-powering, generic scents can be a turn-off for you and those around you.
Often, drugstore dry shampoos have strong scents that stick to you. Think "old grandma" or "baby powder," it's fair to say most people don't want these around constantly. Pricier options don't guarantee amazing smells, either.
This is a crucial factor for people with a strong sense of smell. Many people can get headaches or feel nauseous due to unpleasant odors.
Since everyone's tastes are different, you'll only know what you like after you've tried it.
If you're buying dry shampoo at a store, ask for a sample can or bottle and take a sniff. If you're shopping online, use a small amount and see if you like the scent. If not, you can always return it.
Alternatively, you can choose a dry shampoo that is very mildly scented or completely unscented.
How to Use Dry Shampoo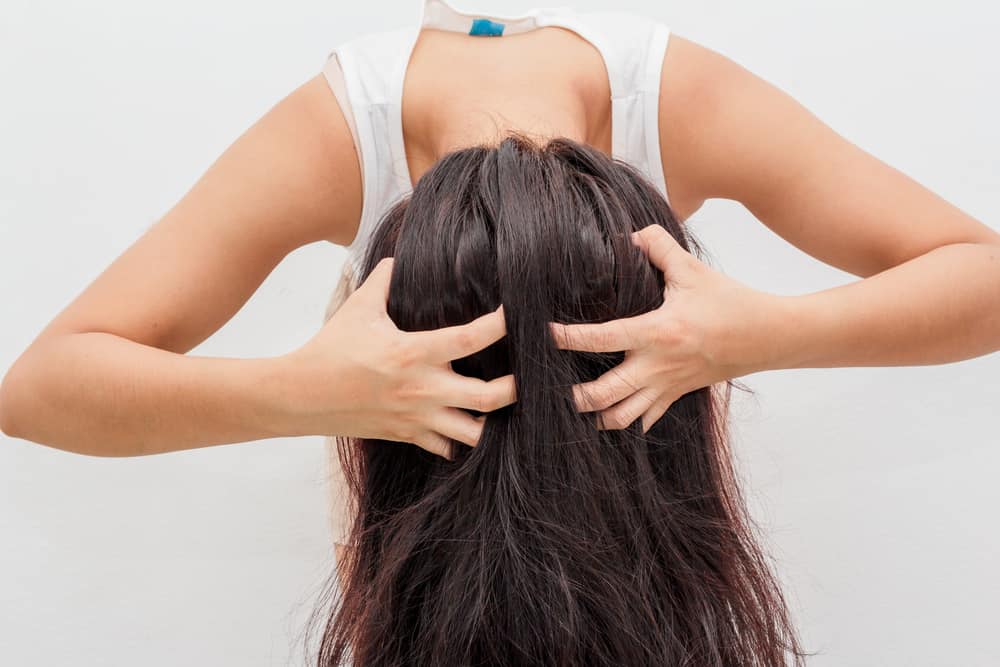 Now that you've decided which shampoo to buy, here are a few tips on how to use it correctly:
How to Use Dry Shampoo Spray
Shake the bottle or can well before use.
Use a brush to part your hair into small sections. Don't forget the back of your hair.
Alternatively, you can choose to use the dry shampoo only on specific sections.
Hold the bottle or can at least 6 inches away from your scalp unless the can states otherwise. Klorane, for example, recommends a gap of 10 inches.
Holding the can too close leads to the formation of white residue.
Aim for the roots and spray gently.
Too much pressure can lead to too much product in one place. This build-up takes a while to even out.
Let the shampoo dry for 30 seconds to a minute.
Massage it into your scalp using your hands to spread it out evenly.
If you notice a residue after the massage, use a brush to comb through and disperse any build-up.
How to Use Dry Shampoo Powder
Start by sectioning off your hair into smaller portions, using a brush.
Pour a small amount of the dry shampoo powder onto your fingers, scalp, or hairbrush.
If applying directly on the hair, then aim for the roots.
If you're using your brush to apply, then gently comb from the roots to the ends.
You can massage the product into your hair with your fingers.
If you notice a residue after the massage, use a brush to comb through and disperse any build-up.
Pro Tip: Do not use dry shampoo on wet or damp hair!
Final Thoughts
Dry shampoos are a convenient and effective alternative to standard shampoos, but dark-haired people often avoid them out of fear of covering their hair in an ugly white cast. But, as long as you match your hair color to the perfect dark-hair-specific dry shampoo, you can enjoy the benefits of dry shampoos too!