Top 9 Best Hair Straighteners 2023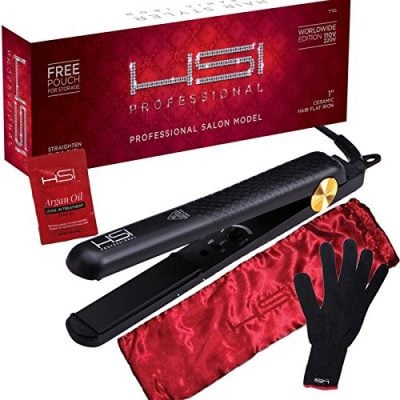 Type: Flat iron
Hair Types
This flat iron is suited for lots of different types of hair. It's capable of turning even a super-curly mane into a perfectly sleek & straight hairstyle in 20 minutes. You can use it with both thick and fine hair, normal hair & damaged hair.
HSI sports 1″ plates, which means it's good for really short hair and even bangs, but it will work with long cuts, too. The downside? Longer hair will take you a while to style, as 1″ is rather thin for a flat iron.
Temperatures
This is one of the factors where this hair straightener truly shines. The heat settings are VERY adjustable. You can pick anywhere between 140-450°F. You most likely won't even need such a wide range, but it's good to know that it's there if you want it.
HSI also has built-in microsensors that prevent heat damage even further. Lastly, the mix of tourmaline and ceramic plates goes a long way in protecting your hair from too much heat & damage.
Extra Considerations
Instead of just a hair straightener, you receive a decently-sized styling set. You'll get a velvet bag to store the flat iron in, a glove to keep you safe from heat, and even a travel-sized argan oil hair treatment, which is great for the health of your hair. And speaking of travel, this straightener is dual voltage, so you can still use it when you travel abroad.
With a wide range of temperatures, a round shape which makes it a decent curling iron, and a powerful range of styling capabilities, this flat iron impressed us through and through.
---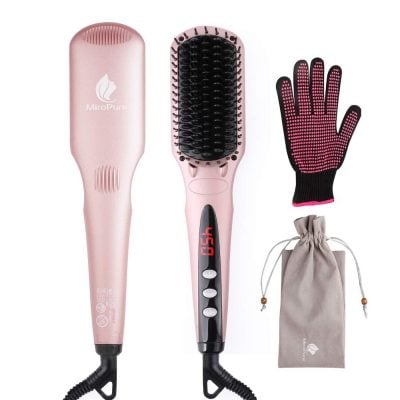 Type: Straightening brush
Hair Types
Some straightening brushes just don't cut it when it comes to curly & thick hair, but not this one. From full-on curls to gentle waves, with enough time, you can straighten just about anything.
In addition to dealing with the impossible & taming the untamable, it's great for damaged hair.
The heat distribution here is close to outstanding. You won't have to treat your hair multiple times, because all along the length of the brush, the heat will remain the same.
The high density of the comb makes it suited for even ultra-fine hair. No matter your hair type, you'll be capable of achieving a really smooth look with this product.
Temperatures
While the range of temperatures is not as impressive as in the HSI Professional Glider, it's perfectly acceptable. You can choose between 300-450°F. This covers the most popular temperatures used in hair straighteners.
The design allows you to get quite close to the scalp without hurting yourself, so you don't really have to worry about having an uneven hair texture.
Extra Considerations
Straightening brushes all have their perks and downsides, but this one has more of the former. It's astoundingly powerful for a brush, super-gentle, and easy to use — so much so that you can gift this to a pre-teen and let them explore hairstyling from an early age.
It could definitely be easier to clean. Prepare to spend a little time doing that. We also like that it works with wet hair (which flat irons do not), but you'll achieve a faster and better effect if you dry your locks first.
---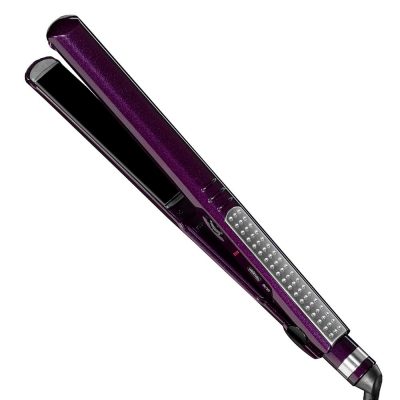 Type: Flat iron
Hair Types
The use of tourmaline means that you can use this iron on just about any type of hair without risking damage. The straightening effect here is fairly gentle but effective — just be prepared to run the plates over your hair more than once if your hair is super curly.
We especially recommend this straightener for fine hair, hair that has recently been dyed or bleached, and damaged hair. Most of all, this is the best hair straightener for short hair. 1″ plates ensure that you'll be able to straighten even shorter strands. However, if you've got really long hair, you may find the process a little tedious with an iron this small.
Using this flat iron promises a silky-smooth finish. Your hair will look healthy & will be delightful to run your fingers through.
Temperatures
For a tourmaline flat iron, this hair straightener has an impressive maximum heat setting of 455 degrees Fahrenheit. This makes these rather effective even on tightly coiled and curled hair that other tourmaline plates might not be able to deal with.
The plates are ceramic-coated, which further adds to the security of this flat iron. There's a downside: if the ceramic coating wears off, you'll likely want to replace these.
Extra Considerations
For a gentle flat iron, it really packs a lot of punch. The heat settings are impressive, as you can choose from up to 30 different levels. The design promotes a no-frizz kind of look, so even if your hair is naturally somewhat straight, you'll see satisfactory results. Most of all, it's delicate and not big at all, so you can use it close to the scalp without worry.
---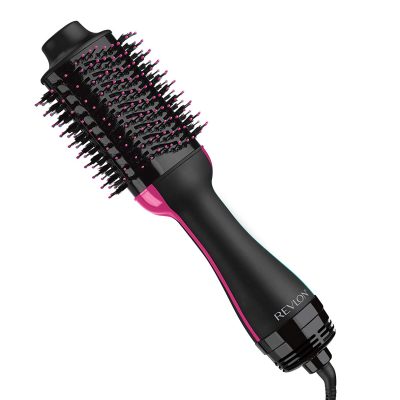 Type: Styling hot air brush
Hair Types
This is a styling/straightening brush, so it works well with almost any hair type. It certainly won't damage hair that is fine, weak, and frizzy — on the contrary, it should smoothen it out and give it a new life.
If you have very thick, curly hair (type 3 & 4) you may struggle with achieving a perfect smoothness using this brush. On the other hand, if your hair is prone to tangling, you might find that this brush is exactly what it needs to stay smooth.
Temperatures
As far as heat settings go, this brush is not that impressive. It only boasts two heat settings and a cooling option (great for styling). However, the use of ceramic in the comb and the plate protects your hair from all types of damage & makes it nice and smooth.
One awesome thing about this brush is that it doubles as a hairdryer. Yeah, that's right! Use it on damp hair and style it as it dries — cut down the time on styling by over half. Don't be afraid to bring this brush close to your scalp
Extra Considerations
If you don't want to have multiple devices for different hairstyles, it's good to combine them all in one. This brush allows for that. You can straighten your hair, curl it, give yourself salon-worthy waves, and more — all of this without damaging your locks. You won't straighten your hair as you would with a flat iron, but a natural wave is entirely possible. You'll also love the volume-boosting qualities of this brush.
---
Type: Flat iron
Hair Types
This hair straightener sports a mix of titanium and ceramic. This means it offers some protection, but also a really quick & strong heat up.
Despite being a budget pick, Remington does a good job with thick hair without damaging the finer strands. You can use it to go from curls to totally straight in a short amount of time. While it's fairly delicate, you should still be extra careful on damaged hair. At the very least, use some sort of a hair protectant.
Keep in mind that this iron is fairly thin, measuring at just an inch in width. Perfect for shorter cuts and bangs, decent for long hair if you've got enough patience.
Temperatures
Remington has digital controls and an LCD panel that displays the current heat setting. The temperature ranges are okay, from 310°F to 410°F. It's all you'll really need, but if you want something with a wider range, check out Kipozi Titanium Flat Iron.
Extra Considerations
For such an affordable pick, Remington has a lot to offer. The high-heat setting is good enough to help you style even thick hair. It heats up quickly, in just about 30-seconds, and allows you to do more than just straighten your hair out — you can also curl it, as this is a rounded iron. It's versatile and all-around decent for the price.
---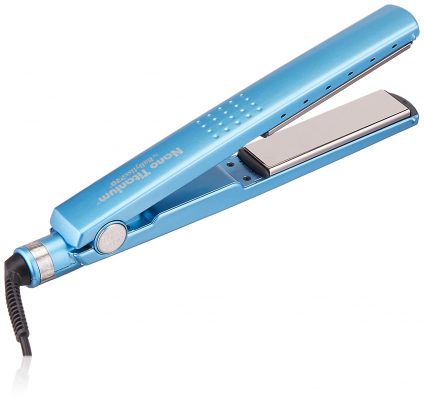 Type: Flat iron
Hair Types
BaByliss is a brand well-known for their hair products, so it's no wonder that this hair straightener is really good at dealing with thick hair. If you find that your hair takes half an hour to simply blowdry, this is the straightener for you. The titanium plates are highly conductive and provide fantastic heat that deals with even tight coils & curls.
Like the other flat irons with titanium plates, you may want to stay away if your hair is damaged. Try out a tourmaline hair iron instead, such as the INFINITIPRO Tourmaline Flat Iron.
These come in either a 1 ¼" plate size or 1 ¾", which means you can use them with all lengths of hair.
Temperatures
The highest temperature you can achieve with this iron is 450 degrees Fahrenheit. There aren't many situations in which you'll need to go all the way up on the temp, but if you ever do, it's good to have the option.
The heat-up times on BaByliss are more than adequate. It takes less than 15 seconds for this flat iron to be ready to go.
Extra Considerations
We'll be honest — this is not a cheap hair straightener. You can definitely get one much cheaper. But for the durability & effectiveness it provides, it's worth the extra expense. Especially if your hair is "problematic" — as in, other flat irons didn't do the job — we recommend BaByliss for its amazing strength and reliability.
---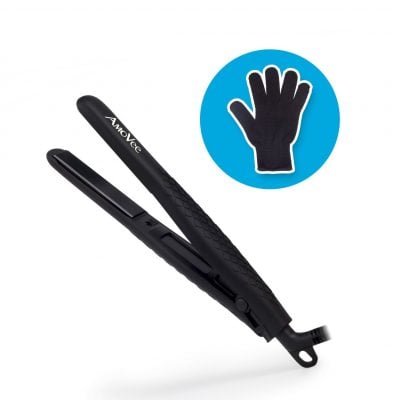 Type: Mini flat iron
Hair Types
This is a small flat iron, but it packs a big punch. It'll deal with thick, coarse hair up to type 4C without issues. It might do a slightly better job with hair that is on the wavy/lightly curly side, though. If your hair is really thick, you'll spend a longer amount of time styling it.
There's no gap in the plates, so you don't have to worry about painful hair snagging. The plates are made out of ceramic & tourmaline and are perfect for fine hair.
As the plate width is travel-sized, this flat iron is small. You can get it in a 1.4″ width size, but the length is shorter than that of regular flat irons.
Temperatures
For a product so small, the temp ranges are rather impressive. Secure & gentle tourmaline and ceramic heat up to 410 degrees Fahrenheit. The downside? Just one heat setting, so if that is too high for you, we don't recommend buying this mini straightener.
Extra Considerations
Sometimes you just want something to take with you on the go. Or perhaps you only need some touch-ups, you've got bangs or a rather demanding hairstyle that needs a lot of maneuverability. Whichever one it is, it's good to own a small flat iron that can really get in there and do the job.
---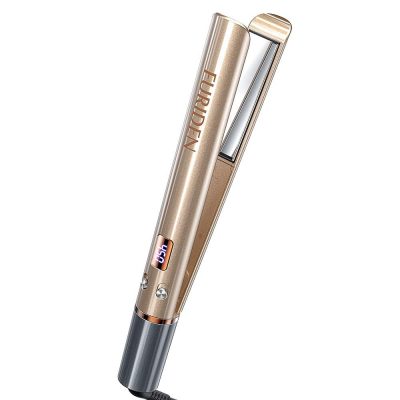 Type: Flat iron & hair curler
Hair Types
While this is suited for most hair types, it works best on normal hair. This means that for super-thick hair, you'll need to go over the strands a few times to achieve a desirable effect.
The plates are made out of a mix of tourmaline and ceramic. Use this curling/straightening iron on fine hair if you need to. They're gentle enough to be used every day, but of course, follow proper hair care if you do.
This entire flat iron is very rounded. This allows for both straightening and curling your hair. You can achieve a beautiful beach wave look with these.
Temperatures
There are 20 heat settings in this product, ranging from 265 to 450 degrees Fahrenheit. Such a temperature range is suitable for almost every single hair type.
Extra Considerations
Much like the Revlon One-Step Hot Air Brush, this hair straightener/curler combo is versatile. This is a 2-in-1 that will answer most of your styling needs in just one product. While thick hair will take a long time to style, normal hair is very easy to manage.
---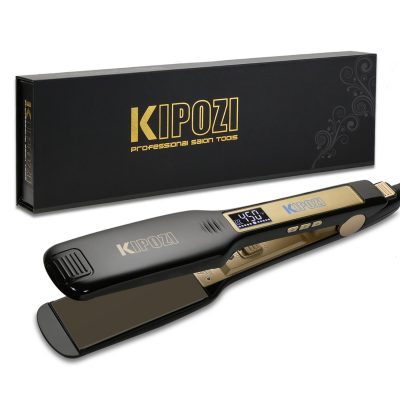 Type: Flat iron
Hair Types
This flat iron will straighten just about any type of hair, even type 4C, with ease. The titanium plates make it distribute heat evenly as well as generate the highest possible amount of warmth. Styling should be quick, with a head full of hair going from tight coils to perfectly straight in around 15 minutes.
We don't recommend using titanium plates for very damaged hair, however. While this hair straightener has a number of safety measures in place, it's still not the best choice if your hair needs some gentle care.
As far as the size goes, Kipozi's flat iron is rather wide, measuring at 1.75″ in plate width. This contributes to quick straightening even on long hairstyles. However, you shouldn't attempt to use it on short cuts or bangs, as it's too wide for that. You need a smaller iron, such as the INFINITIPRO Tourmaline Flat Iron.
Temperatures
The temperature ranges here are really rather impressive! Ranging from 170°F to 450°F, this flat iron allows you to adapt the heat to what your hair needs the most.
Extra Considerations
Titanium plate flat irons are always in a league of their own, but this one shines amongst all the other good contenders. It'll deal with just about any type of hair really, really quickly. It has an LCD screen that makes it easy to see what temperature setting you're currently using.
The heat distribution is more-than-satisfactory, as expected of a titanium plate. Lastly, it has a dual voltage (110v – 220v), so you can take it on a trip. Keep in mind that some countries still require an adapter.
---