When it comes to trendy nail ideas, French tips are up there on the list. The classic look evolved from the nude base polish and white tip style favored by the posh ladies of Paris back in the 1900s. Along the way, many fantastic twists on the French manicure have sprung up, which leaves you with a smorgasbord of choices literally at your fingertips.
By bringing the spotlight to French tip nail designs that are trending right now, you'll find it super easy to showcase your style. With the right nail art technique, your look can range from seriously chic and eye-catching to disco diva and over the top. Also, given that you can experiment with different types of polish, shapes, accents, and embellishments, it's easy to create a matching look or style for any outfit or occasion at any time of the year.
Choosing the Right French Tip Nail Designs
French tip nail ideas are versatile, and there's always an idea that aligns with your quirks, sense of beauty, and at-home nail design skills. Here's what you need to consider if you want to keep your nails fashionable with a design that's right for you:
Nail Shape
Choosing the right nail shape is all a matter of which look you're trying to achieve and whether you can sport them at your next event. There are several common nail shapes to consider, with most of them having a self-explanatory name.
Round – they make your fingers appear slim, longer, and chic. Suitable for any occasion.
Oval or Almond – these two shapes create an elongated, effeminate look that helps you look fashionable and soft around the edges. Ideal for any event where you need to look cultured.
Square – these help you to achieve a trendy, modern, and edgy look. For instance, you can pair them with a suitable goth or indie outfit when attending your next concert.
Stiletto – the shape is long and pointy to create a dramatic effect.
Ballerina – this shape is very similar to a stiletto nail, only the tip is square. It's a favorite, ultra-chic option for many nail enthusiasts. Paired with the right colors, you can easily impress and stand out from the crowd with this choice.
Nail Polish Types
The kind of polish you use also weighs in on your overall look. For instance, matte nail polish generally works better for lighter and darker shades, and tends to give your nails a modern and understated appeal.
On the other hand, glossy nail polish offers more color options and adds sparkle to your outfit. You can also try a look that's halfway between matte and glossy or add a metallic touch to keep things interesting and eye-popping.
Level of Upkeep Required
Shorter nails are easier to maintain if you're going to be doing a lot of work with your hands. That's because the more your tips creep past your fingertip, the more they clash with everything they come in touch with. In the same vein, acrylic nails typically win the durability test over gel or natural ones.
As far as trendy French nail tip designs are concerned, beauty is in the eye of the beholder, and the number of choices is sky-high! So buckle up and prepare to be inspired by these awesome 50 top French nail ideas.
1. Classic and Glossy French Tip Nails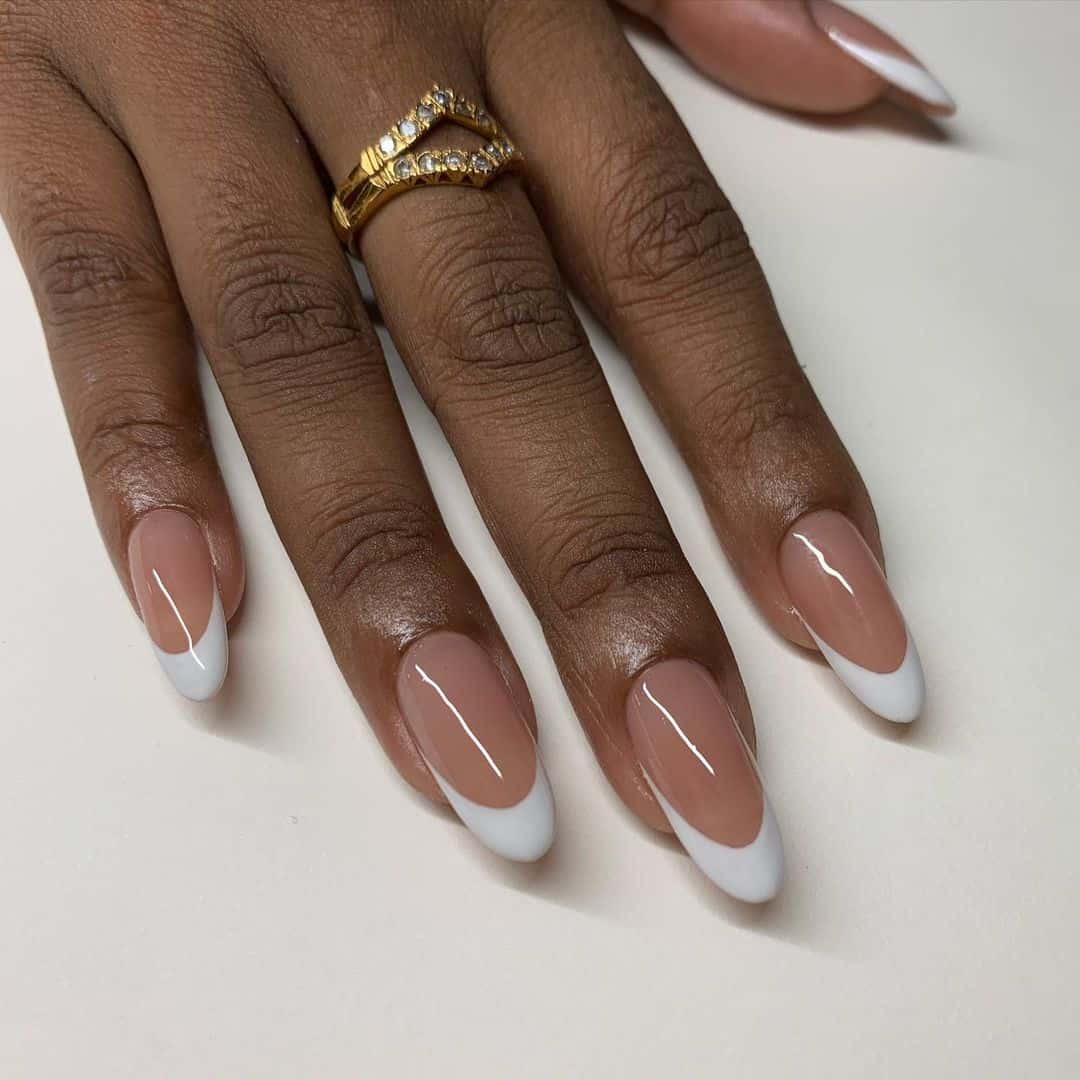 This is a medium-length design with elegant and long oval tips. The style does an excellent job of mirroring the natural and traditional French mani style, with a nude base color and contrasting perfect white tips. These nails ooze class, and the glossy coat will brighten any outfit and help you stand out on any occasion. You can also experiment with a clear polish to lighten the look and emphasize your understated sense of style.
2. Green French Tip Nails and Gold Glitter Strips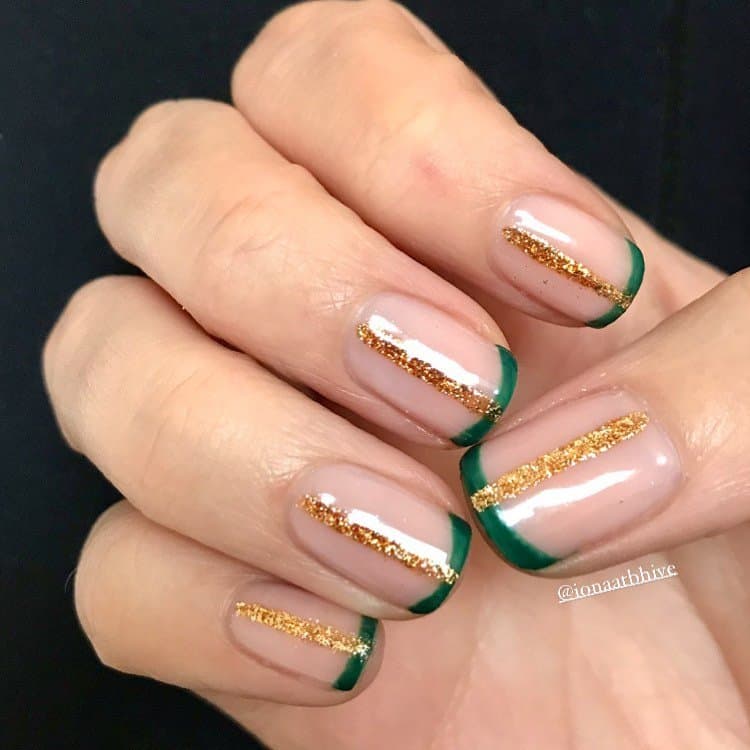 French nail designs can quickly get boring if you don't mix things up sometimes. This fun but simple option begins with a demure coat of clear polish. It then adds a small pop of color with dark-green tips, but the thin strip of metallic gold glitter gives an exciting flair to the overall look. If you want to get into the festive spirit or simply live it up a little, this is a unique go-to option.
3. Double French Tip Nails With Glitter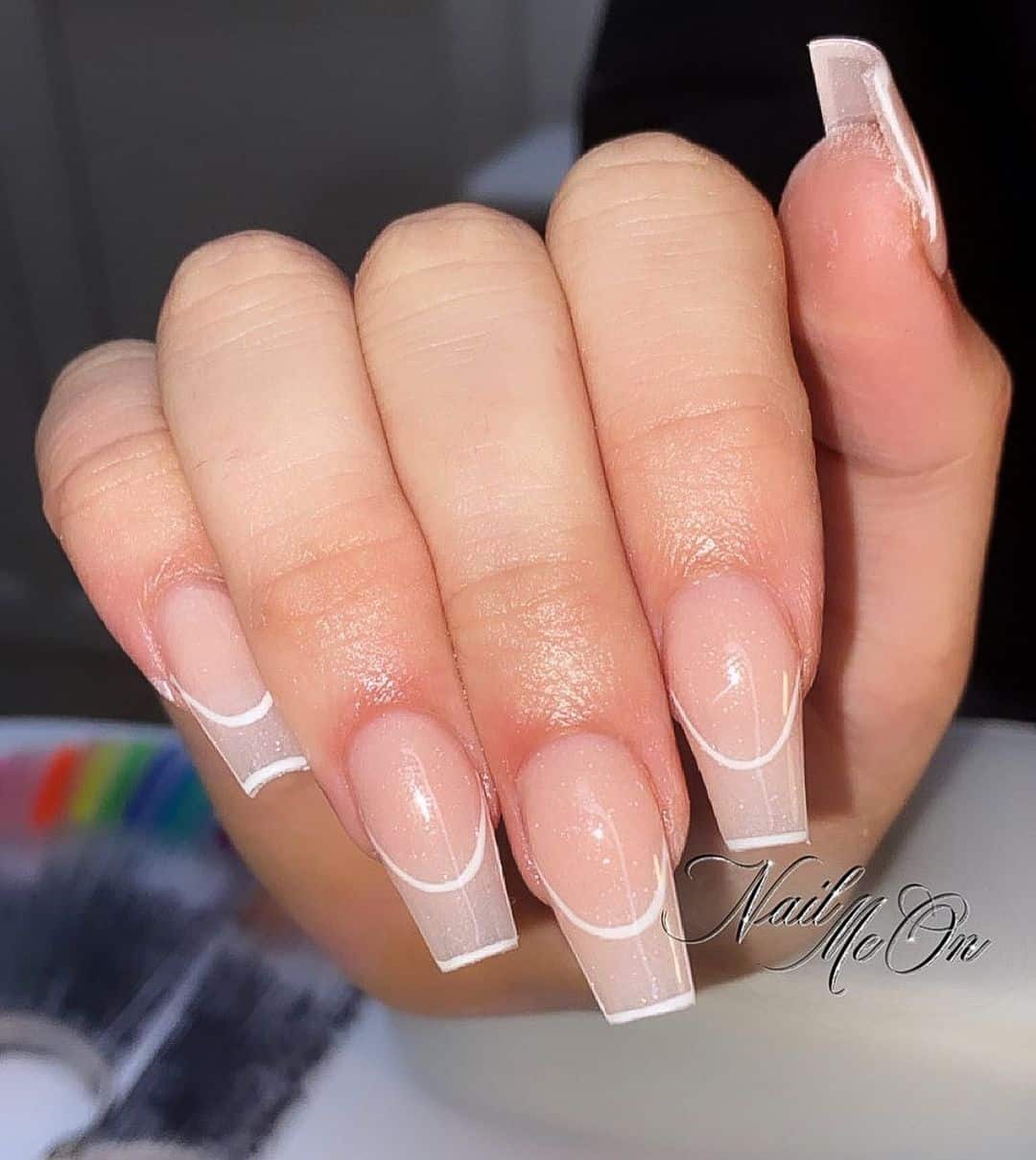 If you're forever in love with the traditional French tip nail design, you can try this to emphasize the classy appeal. The long, clear nails are tapered with two white lines. The smiling accent line creates a fake French tip, but the second, straight line is the real French tip. The nails have a smattering of glitter for a light silver, starry look to keep things interesting. This look works perfectly if you want to double the elegance while adding a touch of fun.
4. Rose and Metallic Gold French Tip Nails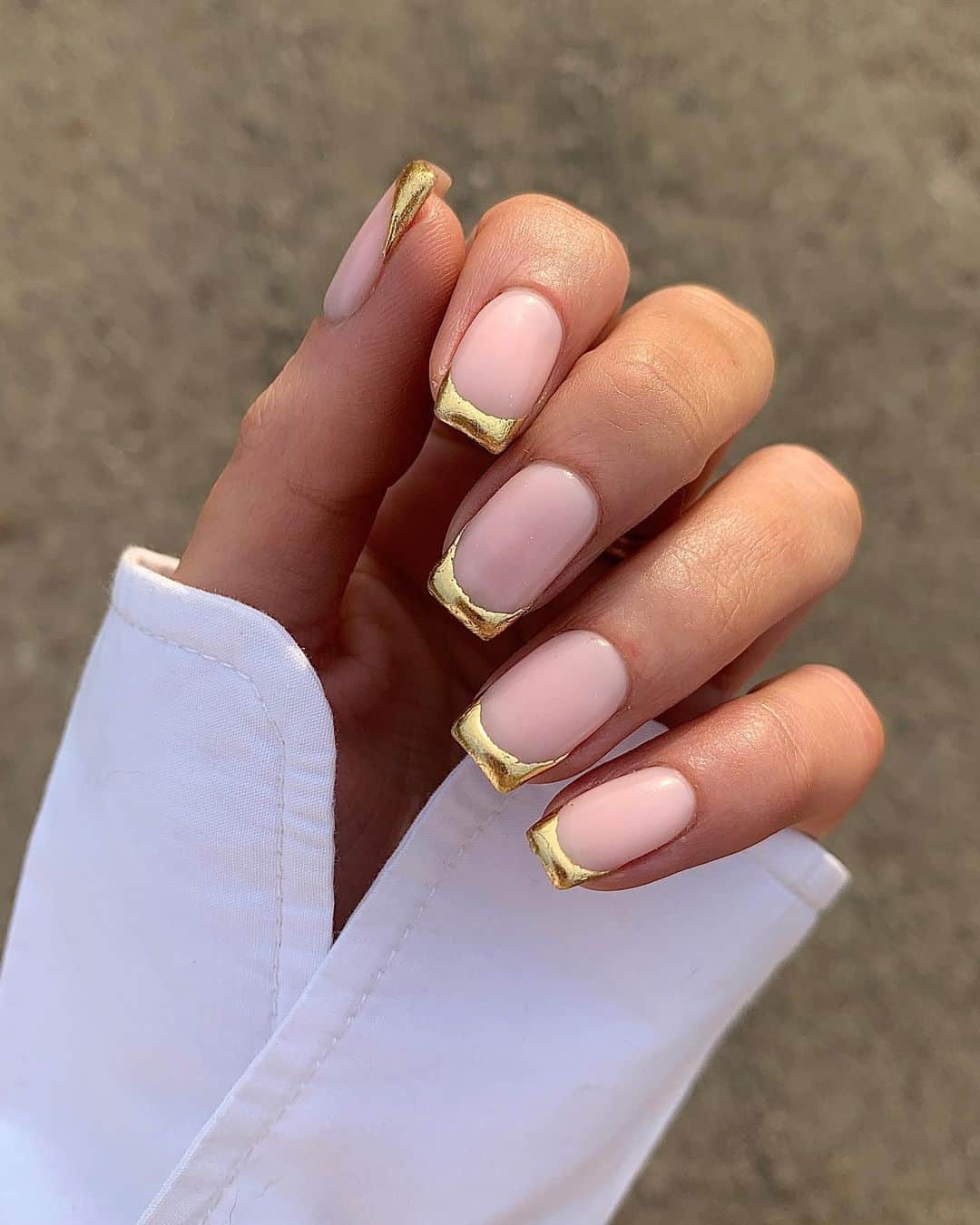 This special gold foil French tip design on a rose-colored base coat certainly hits all the right notes when it comes to elegance, class, and eye-catching appeal. You'll be leaving a trail of admiring looks everywhere you go. The design also pairs well with gold accessories, like rings and bracelets, and you can add it to any outfit for that Midas touch.
5. Turquoise French Tip Nails With a Pop of Gold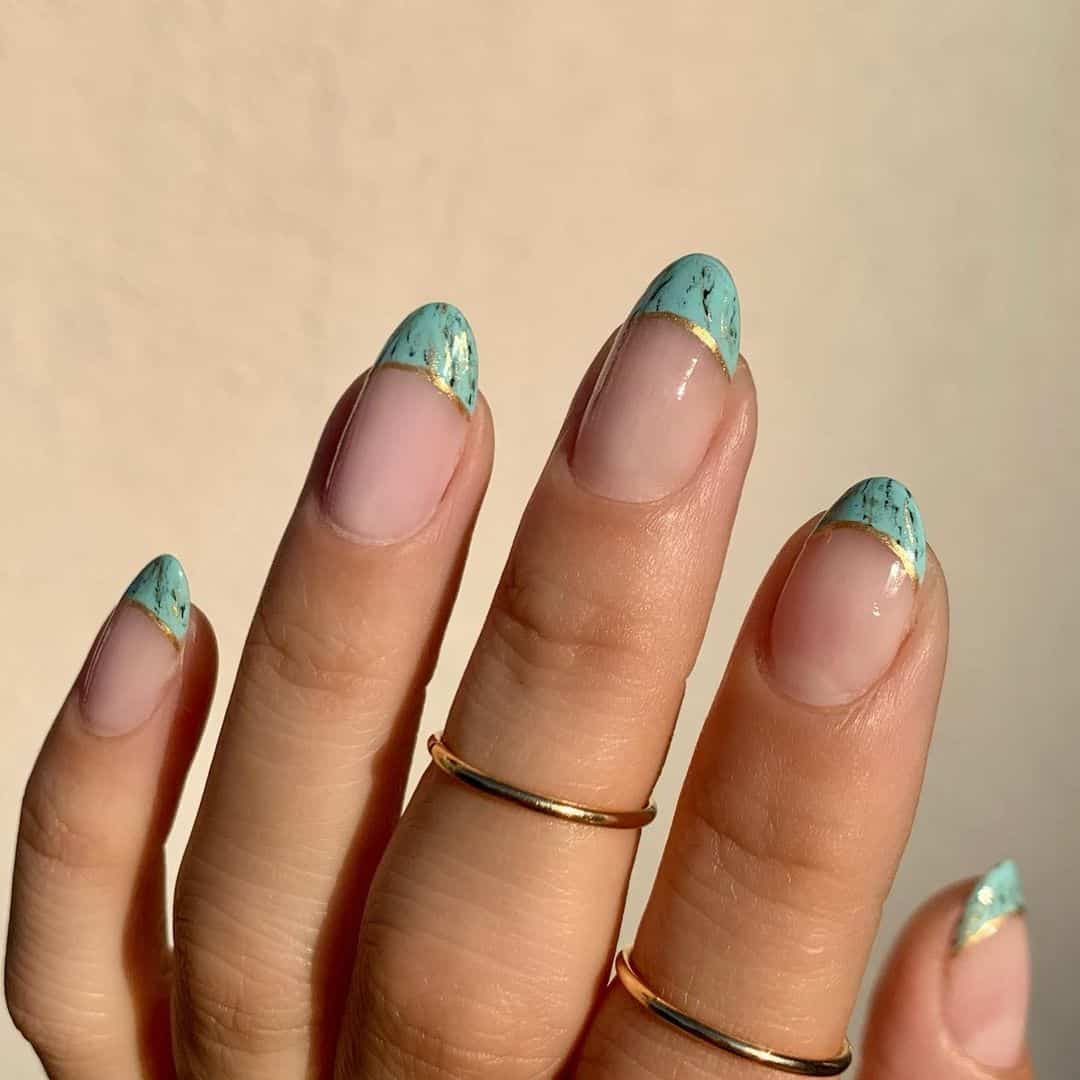 A very chic French tip with clear base nail polish and flecked turquoise tips. Each nail has a golden line to create an attractive accent that draws the eye. The glossy polish also adds to the charm, and as you can see, the combination goes well with gold accessories on the model's fingers. The oval shape is perfect, but you can also switch things up with a square shape for a more noticeable look.
6. Classy Long and Nude French Tip Nails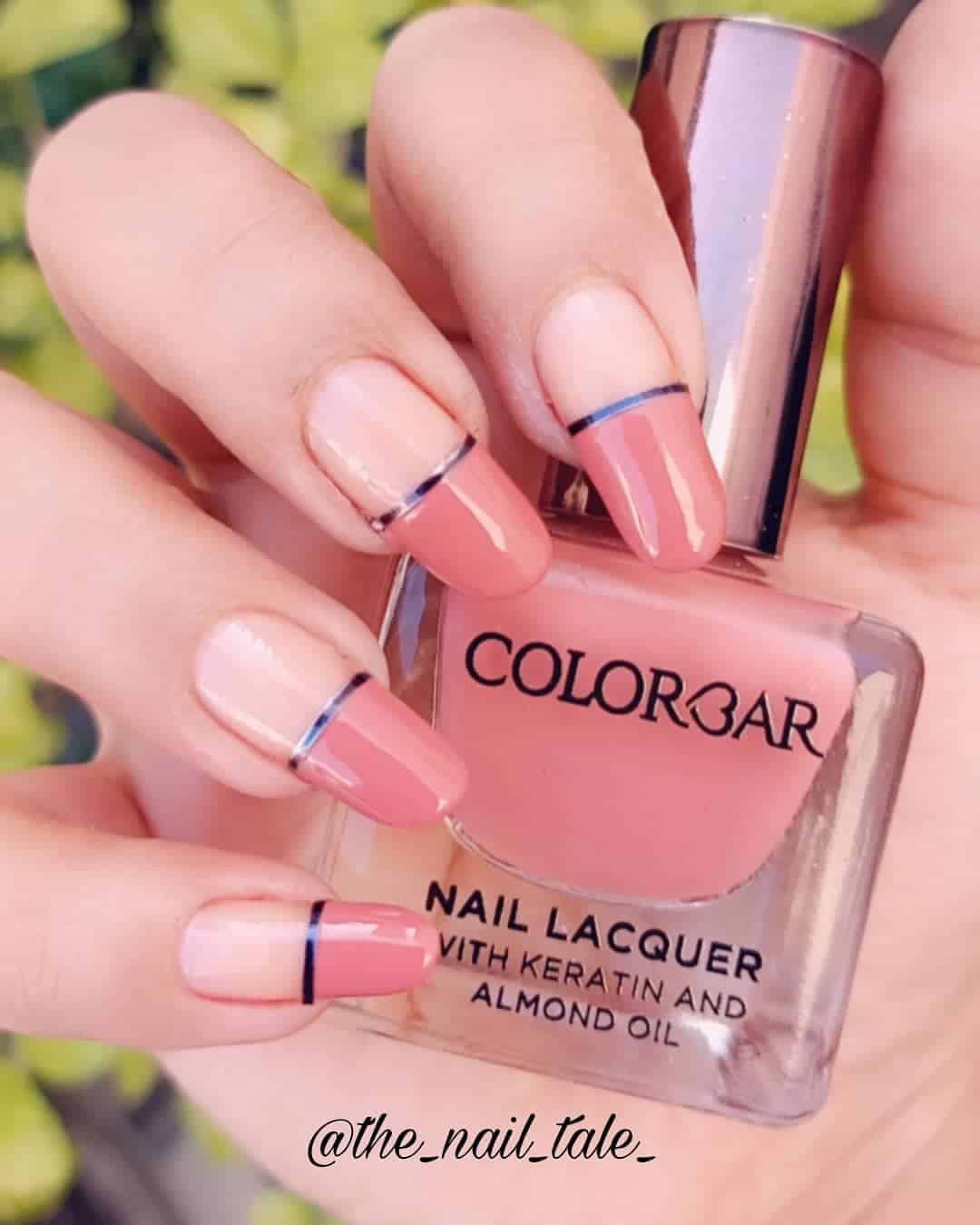 This is a refreshingly modern French nail tip design. The nails are based with nude polish and tipped quite thickly with a chic, pink polish. There's a black accent line you can easily replace with a different color, like gold or white, to create several delightful takes of the same manicure design. The "squoval" shape works well to emphasize the thick tips while giving the nail a long and feminine look.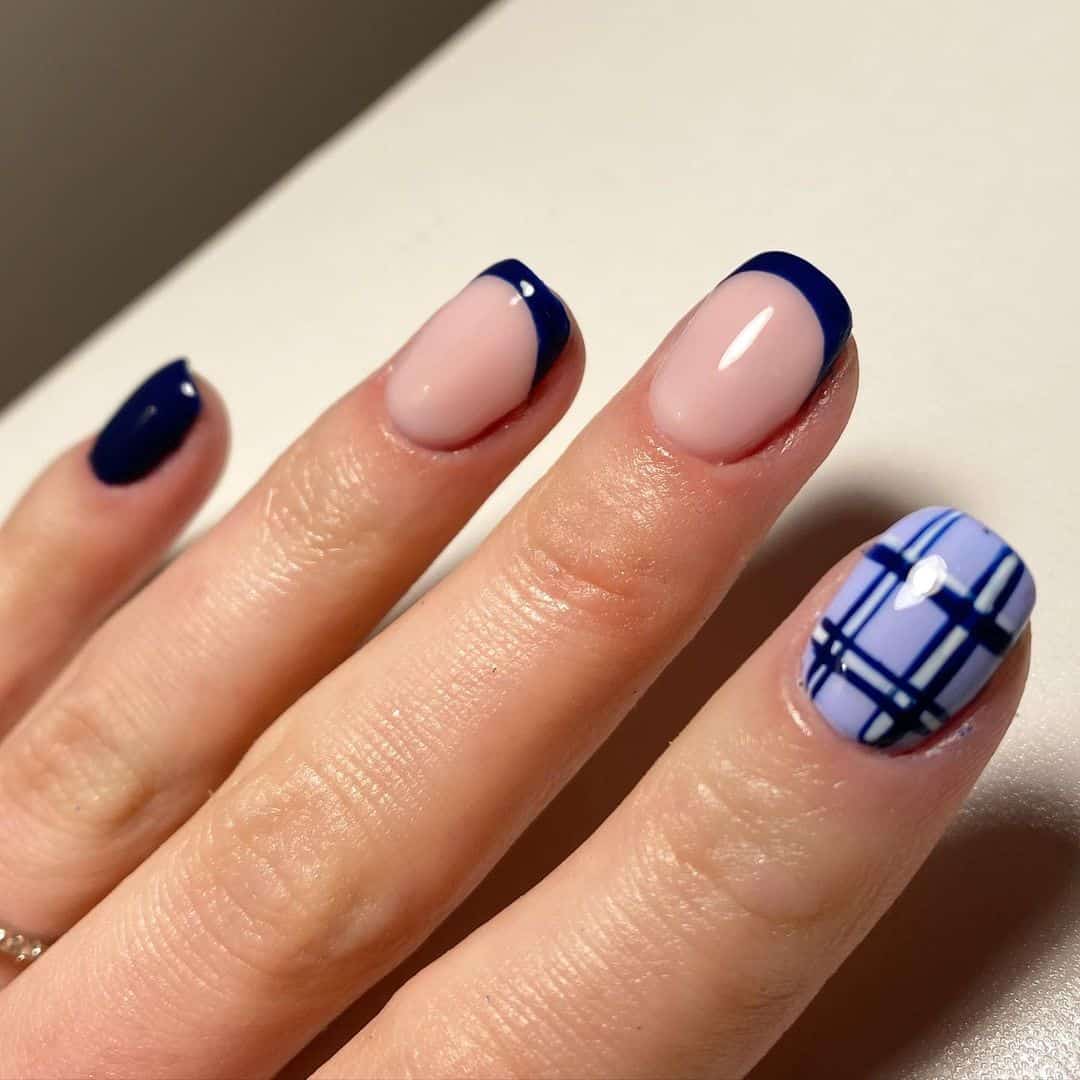 You'll find a lot of creative tartan designs out there. But this one is simple to put on while managing to look voguish. It's a navy-themed design that also gives off charming, festive vibes. The model's pinky finger is painted navy blue. The next two fingers have a soft peach base coat with square navy tips. The forefinger pops out more with a light purple base coat and only a few navy blue lines that crisscross each other, along with a few white lines to create a unique contrast. All in all, it's a lighthearted look you can sport at parties and fun get-togethers.
8. Brown Crocodile Print French Tip Nails
Animal print has always been a stylish look that can be adapted to French tip nail designs. This particular look takes a detour from the more common leopard prints and uses a croc print that's edgier and distinctive. The model's forefinger and pinky have a nude base coat that complements any skin tone plus squared dark brown tips with an arching design. The two fingers in-between take center stage by using the same colors to create striking crocodile nail art that showcases your inner diva.
9. Electric Blue French Tip Nails With Celestial Design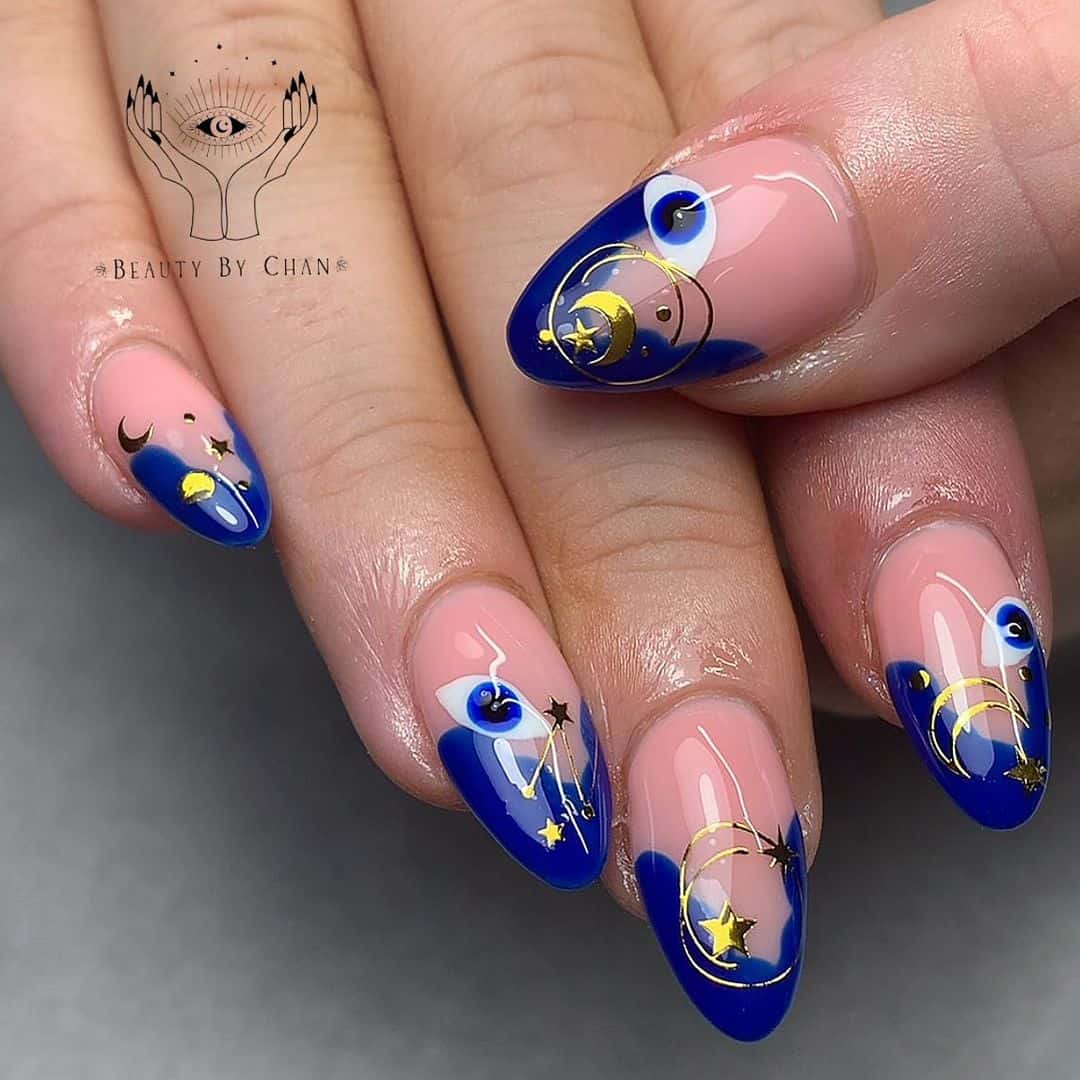 A rose-colored base polish and electric blue tips bring this French manicure idea into the limelight. The nails also have gold stars, moons, small planets, and swirls to create a heavenly look. The "eye of Horus" nail art adds further to the theme. The whole look will easily resonate with spiritual-minded individuals. The moon and stars are a common feature in astronomy, and it's believed their configurations have a strong pull on your destiny.
10. Minimalist Nude French Tip Nails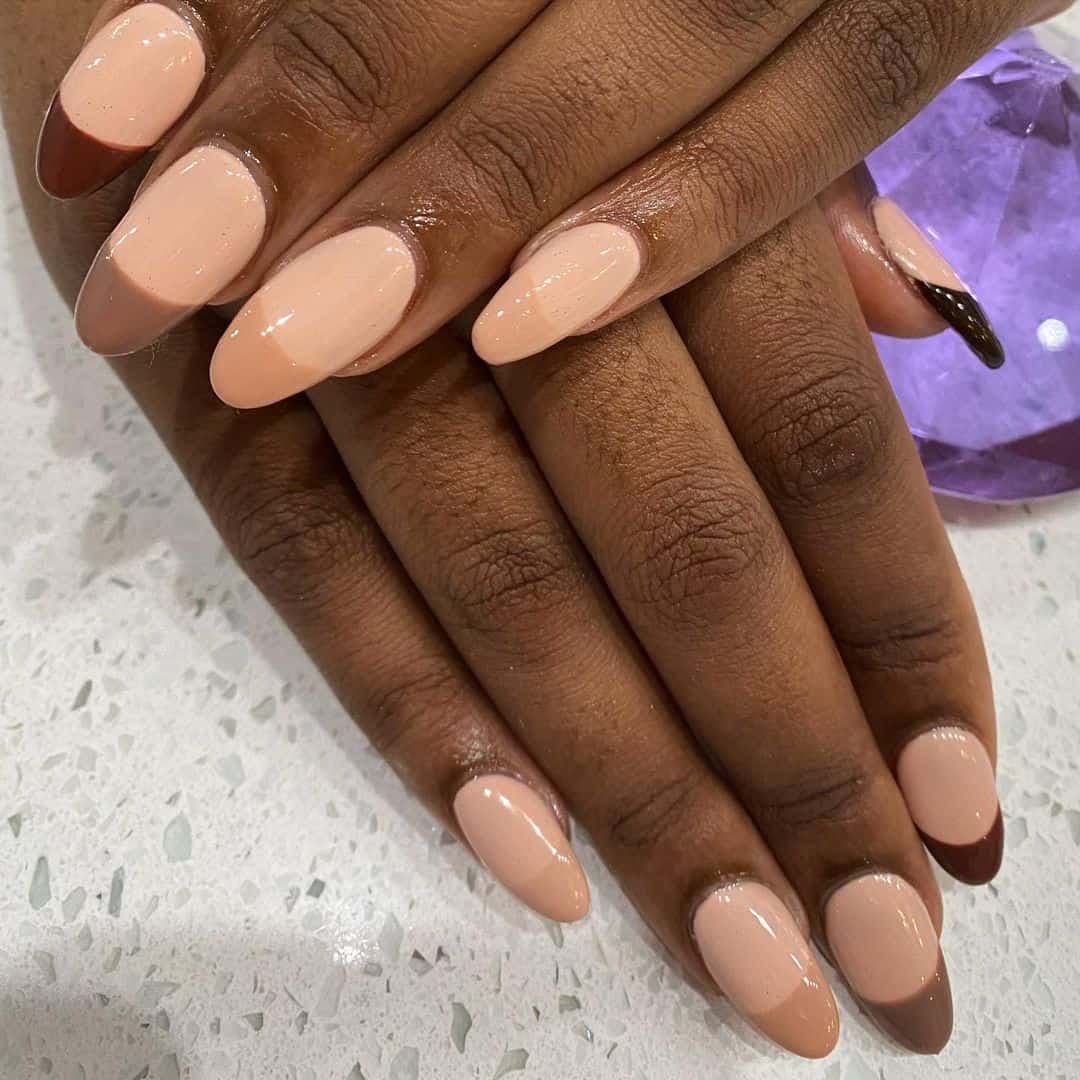 Nude colors are beautiful and suitable for most skin tones. The model's nails all have a glossy and nude base polish with oval tips in lighter or darker nude colors for an elegant contrast. What's more, the tips create a color gradient from light to dark, starting with the pinky. The design looks very classy and will make your fingers appear longer and graceful.
11. Light Green French Tip Nails With Brown Accent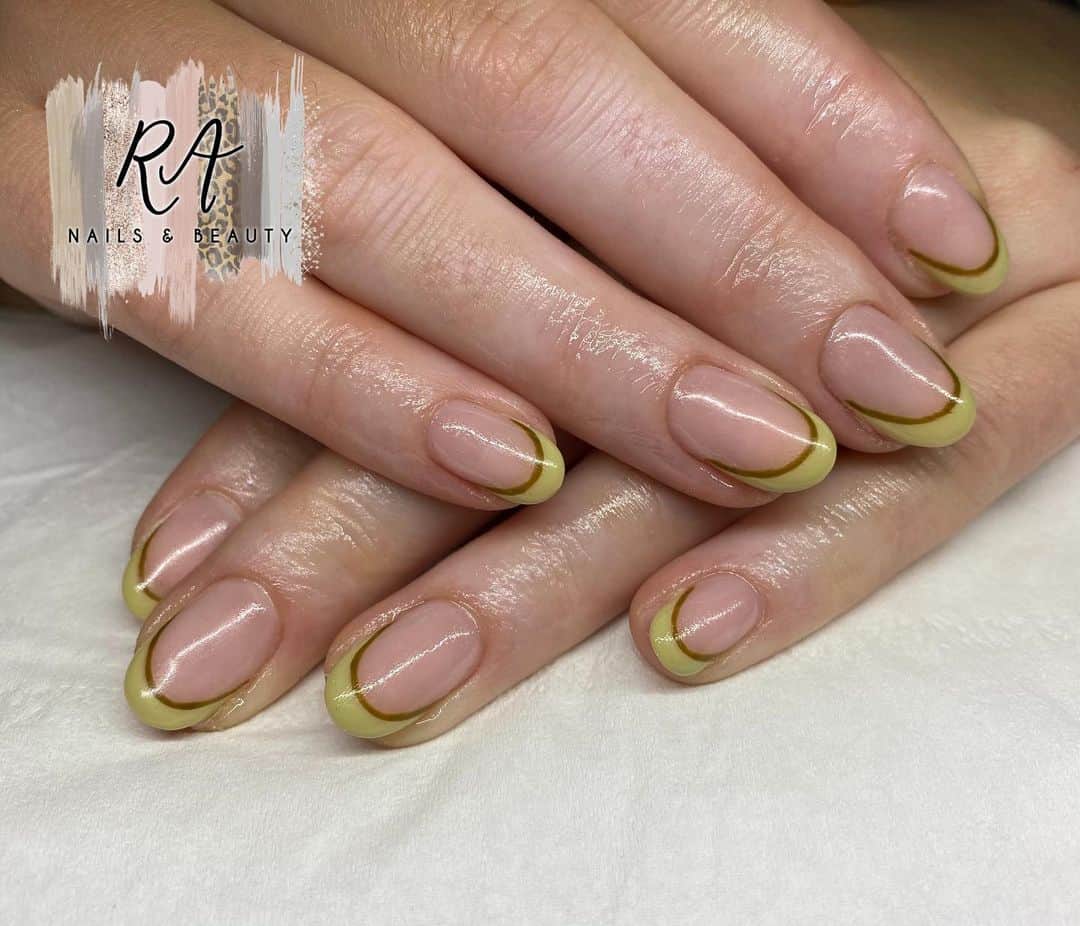 Start your own classy trend with this light green-tipped nail design on a clear base polish. To create a delicate but distinctive accent, simply add smiling brown lines. The green and brown combo will suit all nature lovers, and this is a great design for outdoor events and activities. Pair it with khaki outfits or a cute sundress to create the perfect outdoorsy look.
12. Minnie Mouse-Inspired French Tip Nails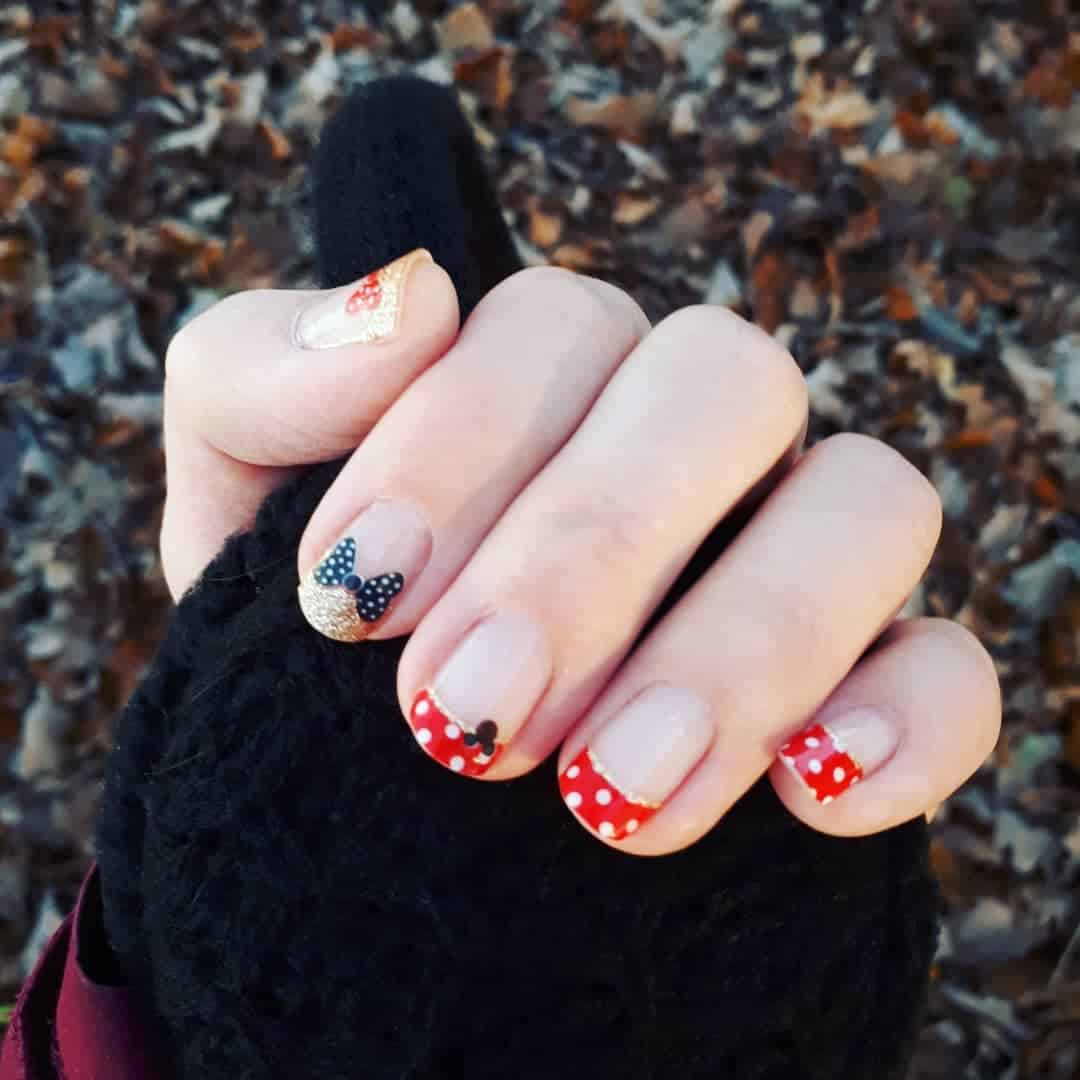 Go for a funky nail idea that plays by a different set of rules. One hand features three red polka dot nails, a forefinger with solid gold glitter polish, and only the thumb having a gold tip on a clear base coat. The other hand has French twists on all its nails, from red polka dot tips accented with gold lines to gold tips with red and black polka dot bows. There's also a creative and cute Minnie Mouse design on one finger, making this look a fun way to showcase your playful and animated spirit.
13. Edgy Flame French Tip Nails With Different Colors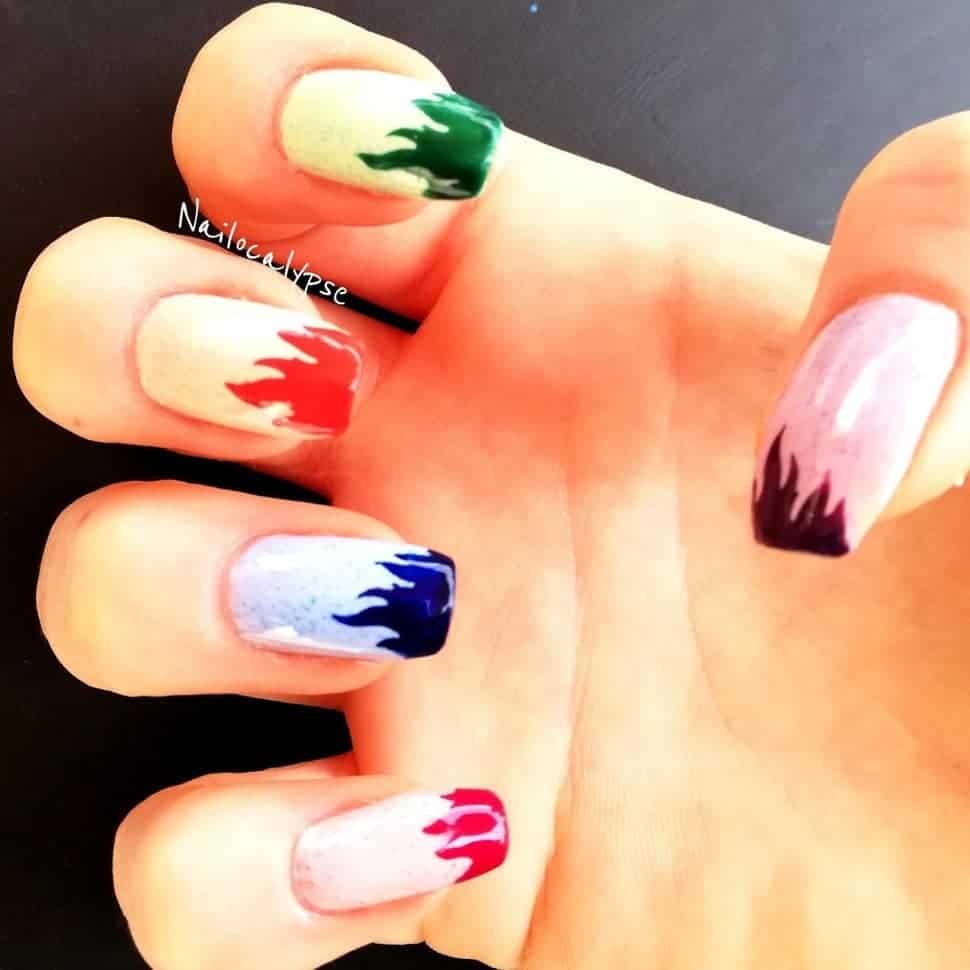 Go for a burning look that represents renewal and rebirth with these fire-tipped nails. You can start by painting each nail with a flecked pastel base coat and then using a darker matching color to create the flames. The artist has picked red, blue, purple, and green, and you can experiment with different shades for a more personalized look.
14. Cute Candy Cane French Tip Nails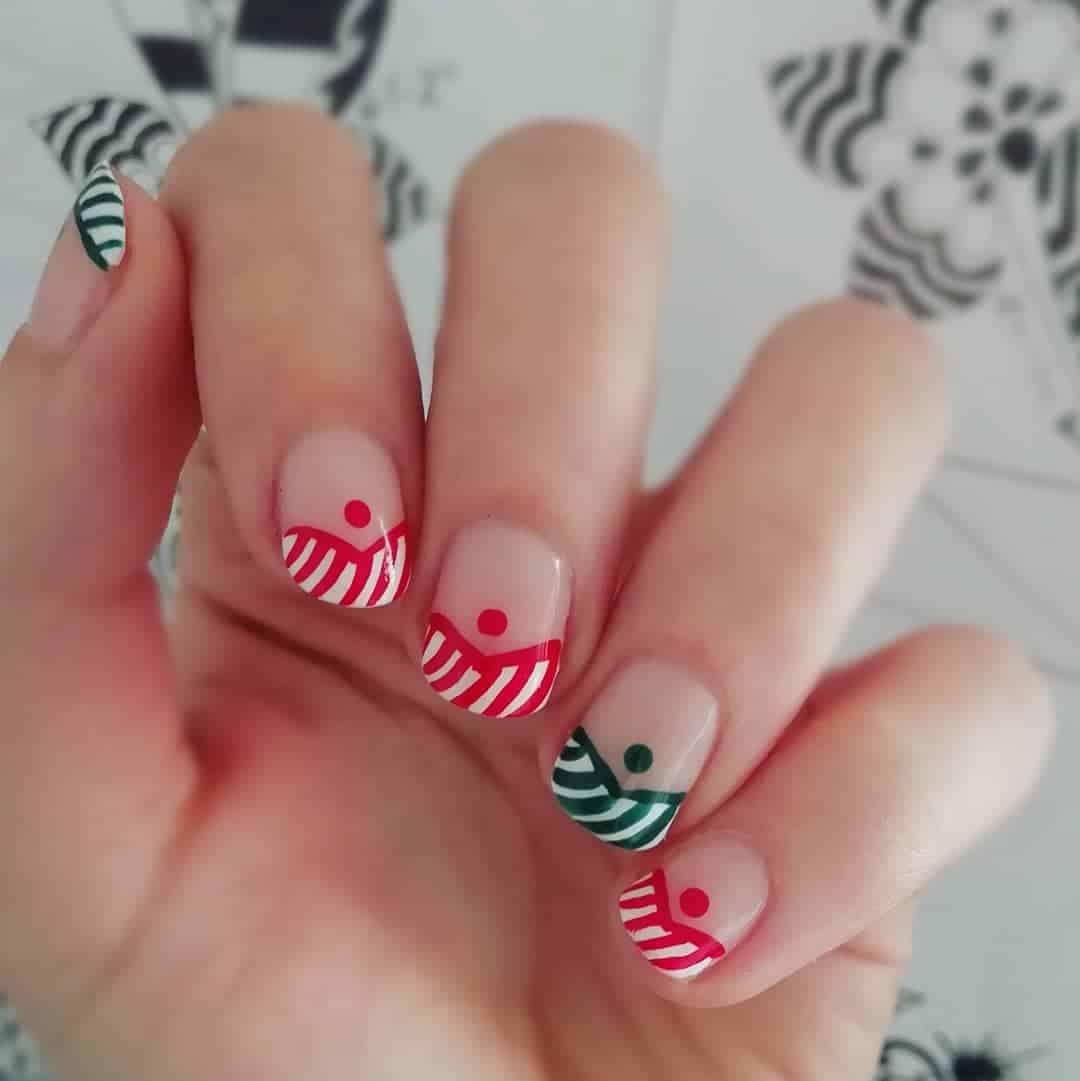 If you want delicate and glam nails for a trendy December look, try this candy cane theme. These start with a clear coat and thick white tips. Each nail has a red or green V-shaped accent line with a small, matching dot set in the dip. Same color lines are then drawn inside each V shape, leaving striped white tips. This nail design embodies the merry spirit and good cheer of Christmas and will certainly keep you in a vibrant mood.
15. Olive Green French Tip Nails With White and Gold Accents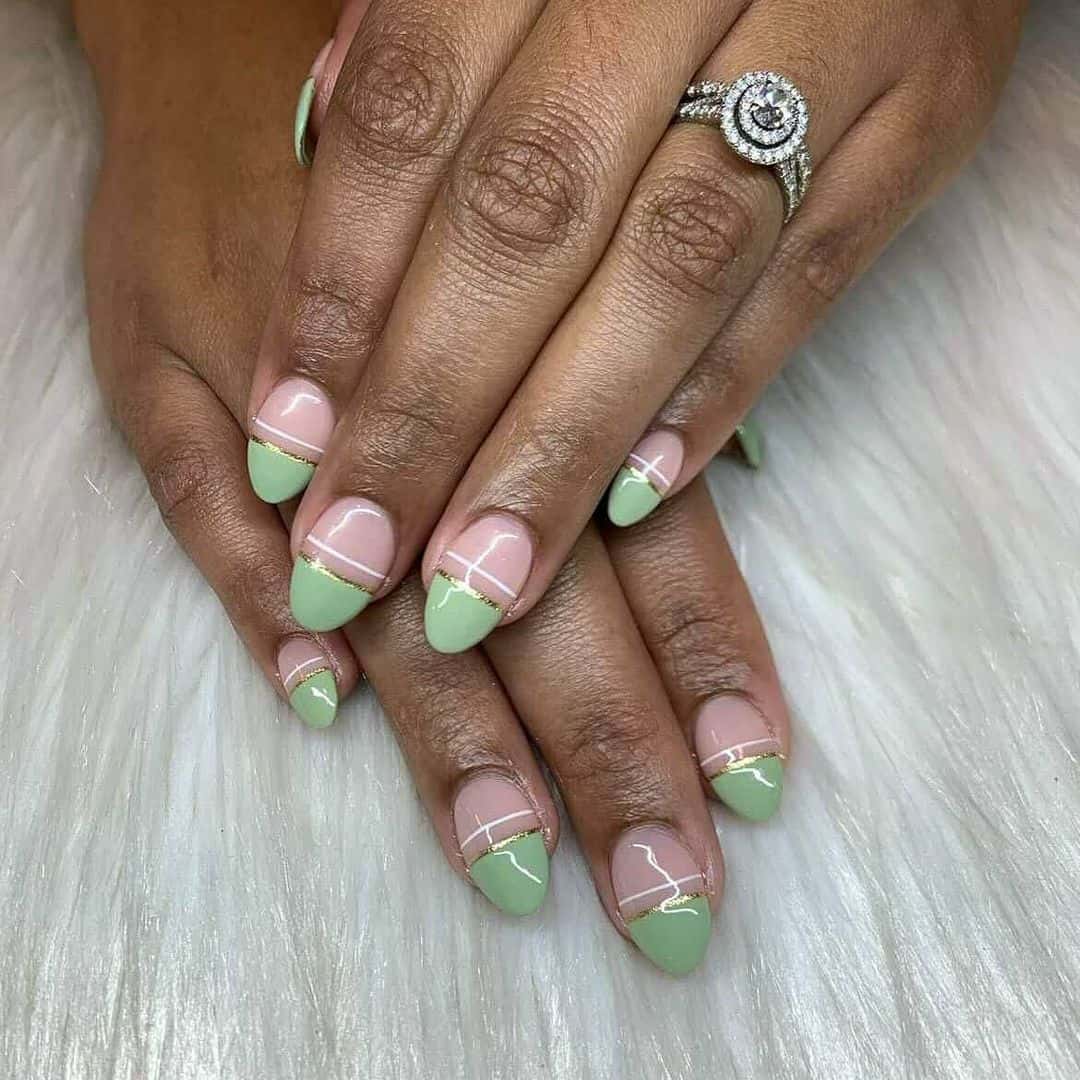 Olive green is the color of elegance, and these almond-shaped nails are bursting with class. You can easily achieve this look with a clear base polish and a gold line to accent the thick olive tips. A straight white line drawn across each nail creates another gorgeous accent. This is perfect for any formal or business affair where you're wearing a sharply tailored suit.
16. Vibrant Turquoise With Shimmery French Tip Nails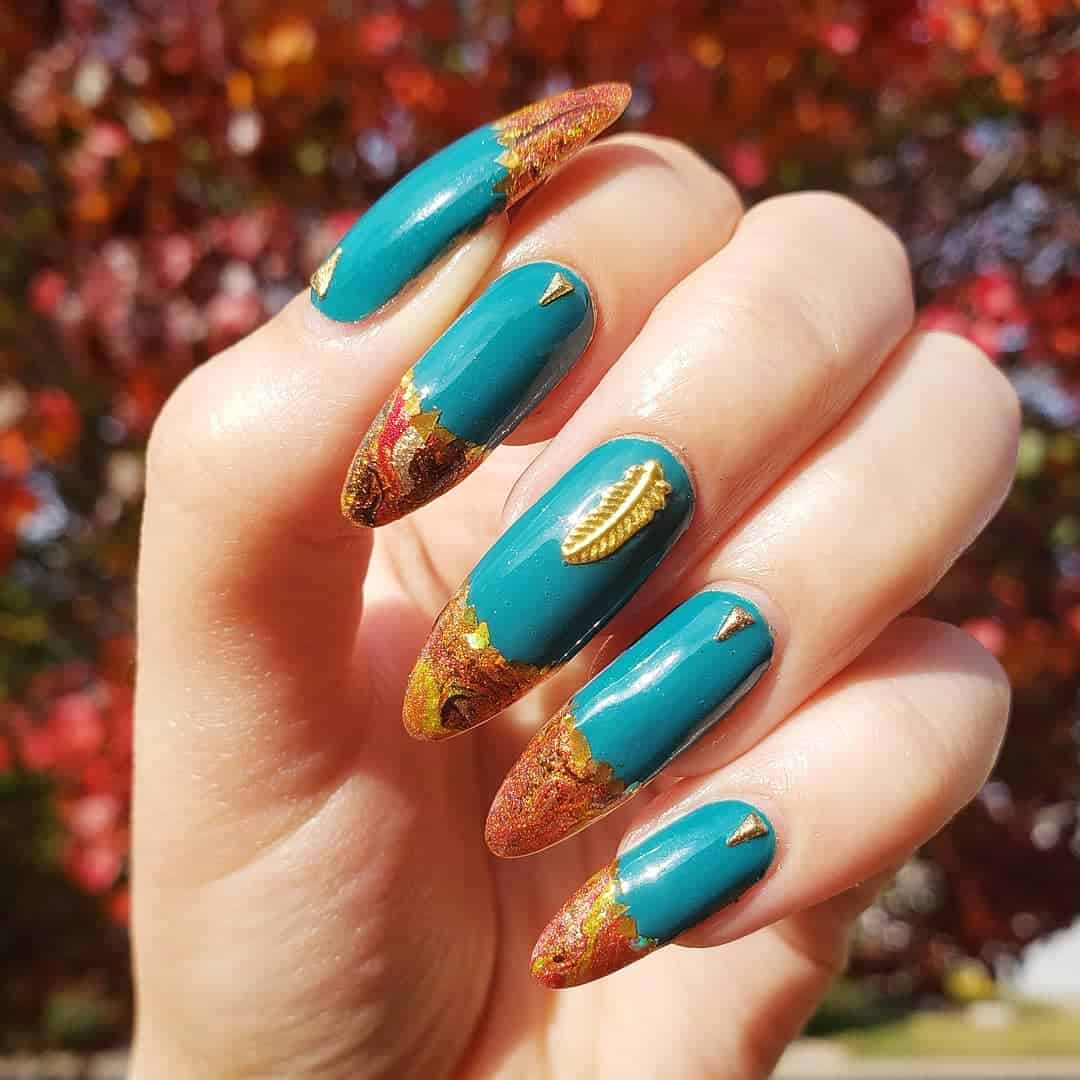 Long turquoise nails are paired with tips that sparkle in an almost iridescent and golden hue. Each half-moon has a delicately placed triangular gold stud, except the middle finger, which outshines with a gold leaf stud for extra bling. This colorful style is for anyone who likes a strong signature look and isn't afraid to take center stage with a bright and conspicuous style.
17. Gold French Tip Nails With Animal-Print Baubles
Gold tips are great if you want to go for a regal or blinged-out look. They pair well with a glossy and clear base polish. This particular design incorporates leopard and zebra print baubles hanging from a black thread and tied off with adorable bows. Having the print art on just two of the nails keeps this design clean and simple, and it's an easy look to replicate if you want to add a festive vibe to your outfit.
18. "Eye of Horus" Black French Tip Nails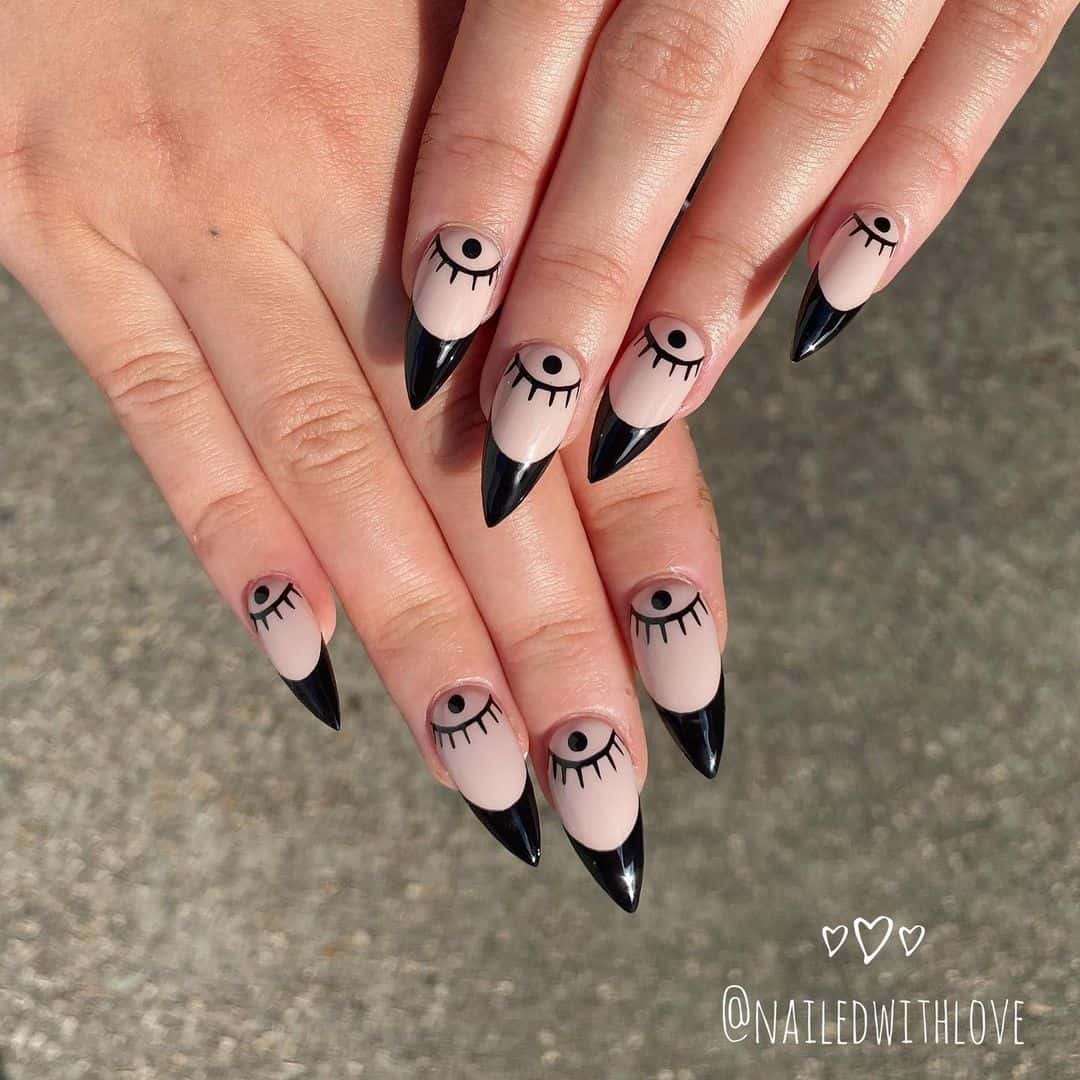 This black-tipped nail design has an all-seeing eye on each half-moon. The eye of Horus is an ancient and protective Egyptian symbol that represents healing, although some in the modern world have associated it with darker meanings. Depending on how you see it, the look can be freaky or stylish. Oval or square tips will help soften the look, and you can pair this off with a goth or cute outfit.
19. Wavy White French Tip Nails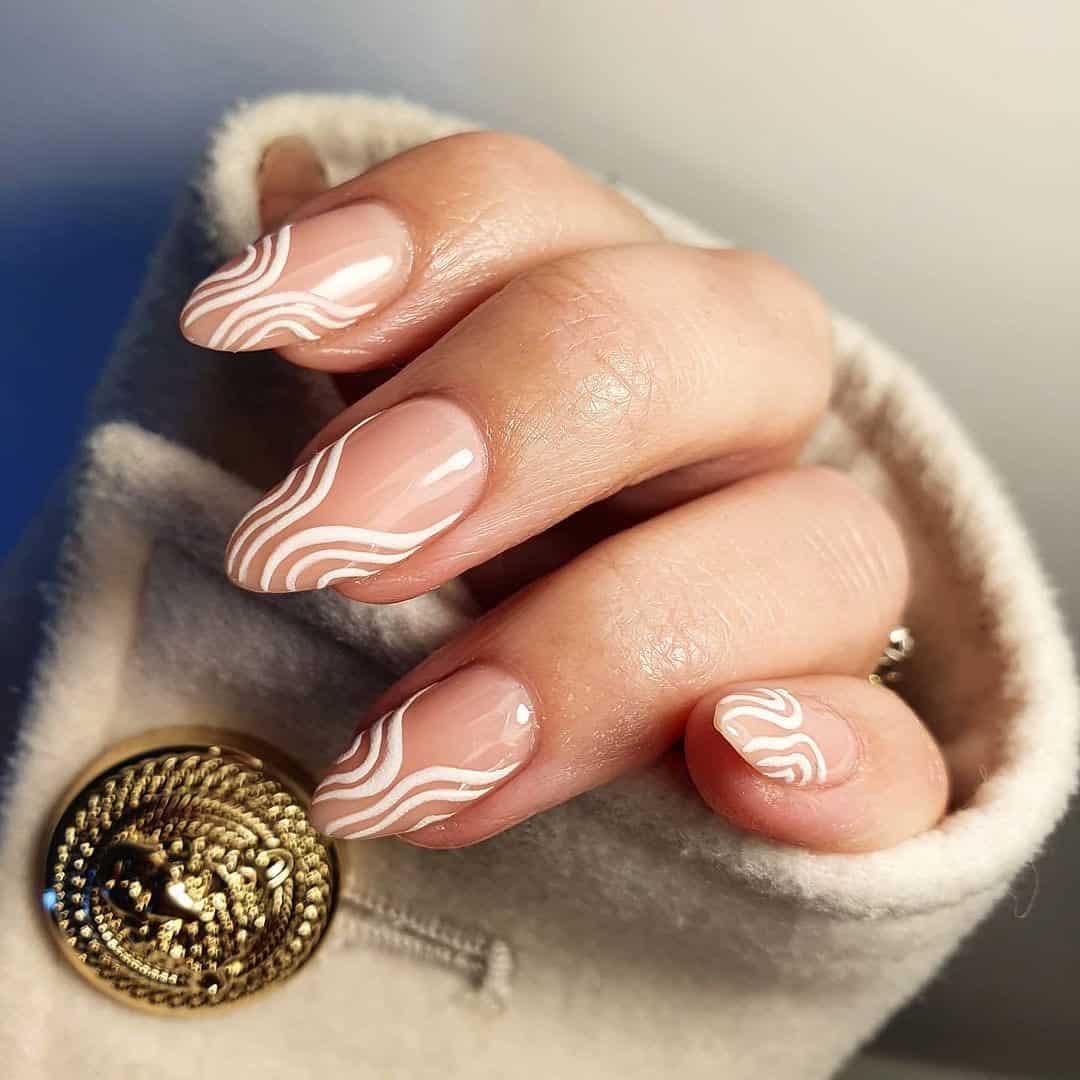 This design is an adventurous take on the traditional straight white tips on nude base polish. However, they still manage to keep things graceful with white wavy lines in the shape of a parting waterfall. The long, oval shape adds to the elegant and warm look, which can be worn for any occasion.
20. Black French Tip Nails and Spider Web Design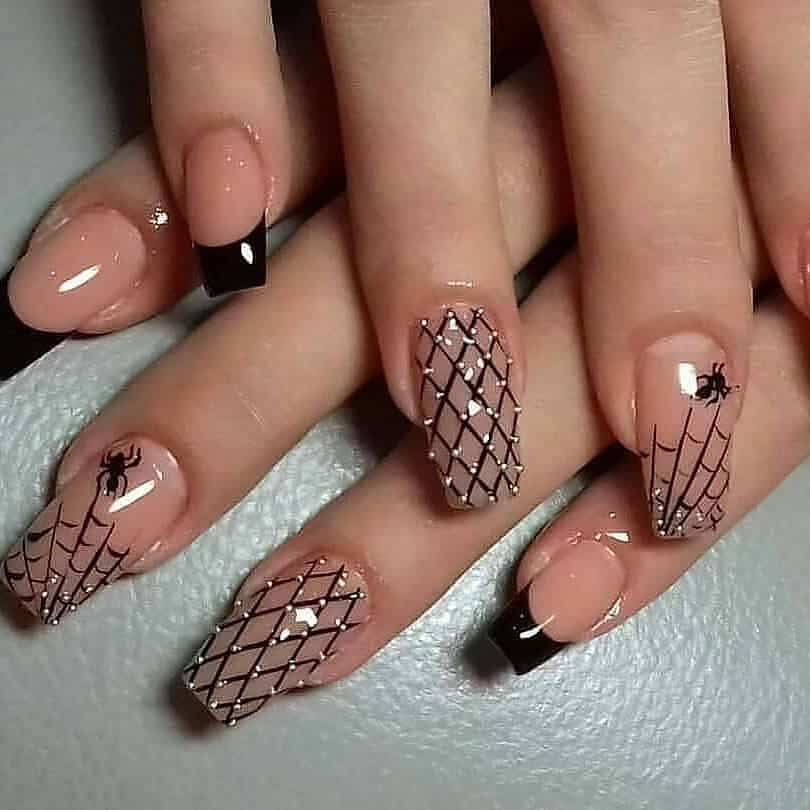 Tapered, square black tips create a unique look, especially when paired with a glossy peach coat. This look takes it up a notch with spider web art and pearl studs for a goth-and-bling combo that can also be very tasteful. You can also try this design with stiletto tips for an edgier look.
21. Romantic Pink Glitter French Tip Nails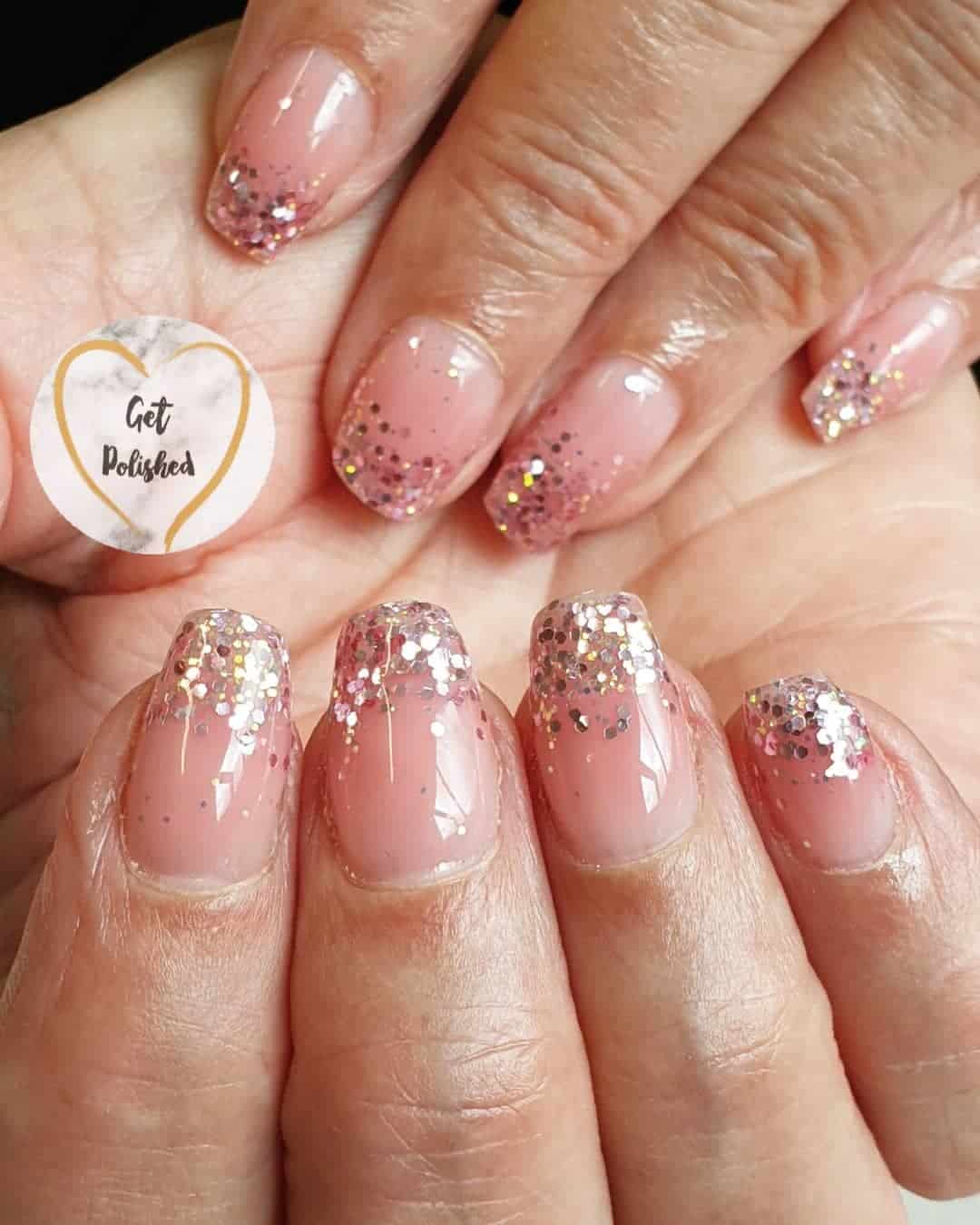 These glitter-tipped French nail designs also have a clear rose-pink base coat that perfectly matches the model's skin tone. The overall look is soft and romantic, which makes it perfect for a fun date night. Adding glitter to the tips is a great way of expressing your lighthearted personality, and it is sure to catch your partner's eye.
22. Glam and Glitter Ombre French Tip Nails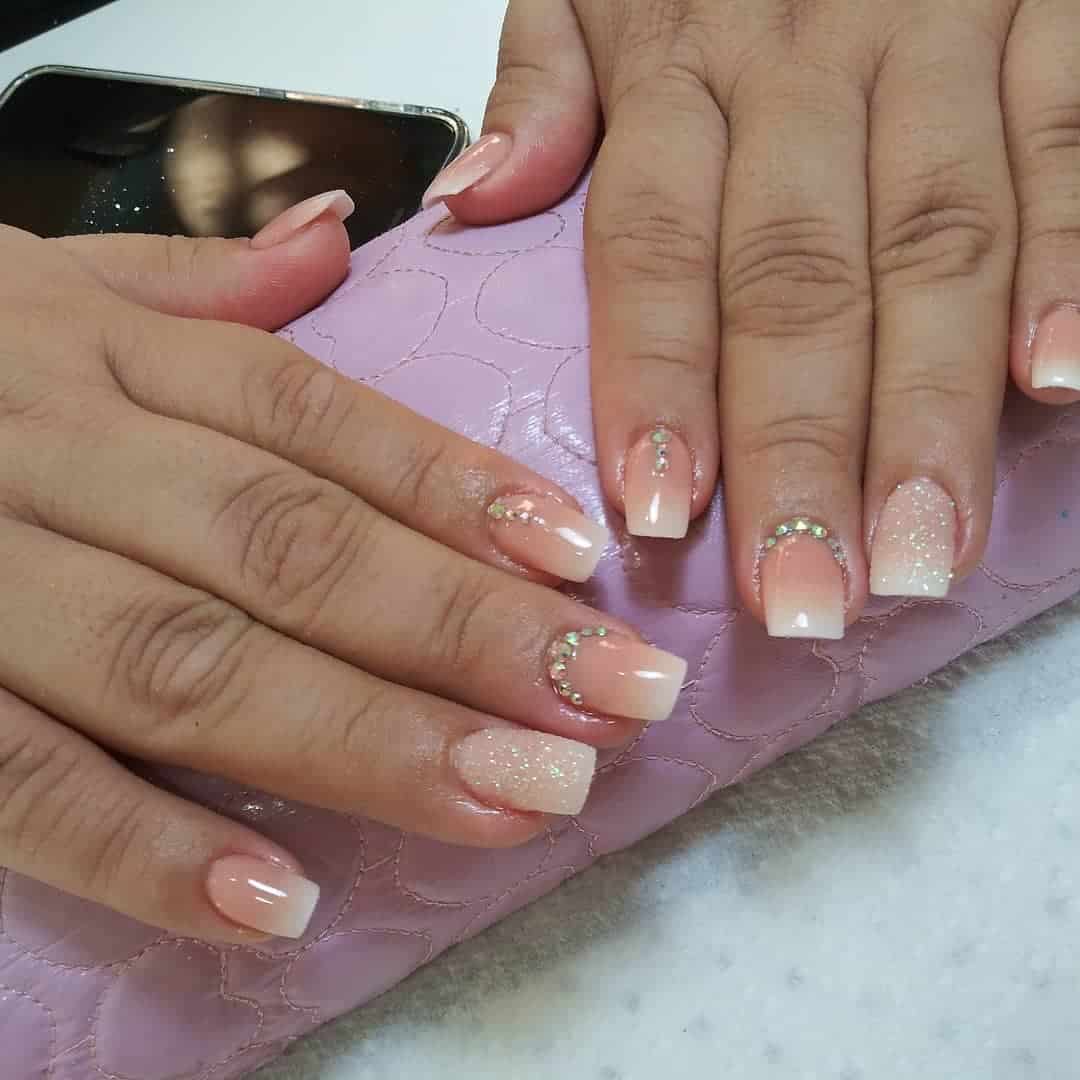 Glitter and diamonds set off this whole design. Each nail has blush pink polish and white tips in an ombre design, while the ring finger has an additional all-over coat of glitter powder. The middle and forefinger also have a string of diamonds with different arrangements to add unique interest. It's an ideal design for anyone who wants to personalize the traditional French manicure. Even with the embellishments, this design still rocks with a classy outfit.
23. French Tip Nails With Modern Line Art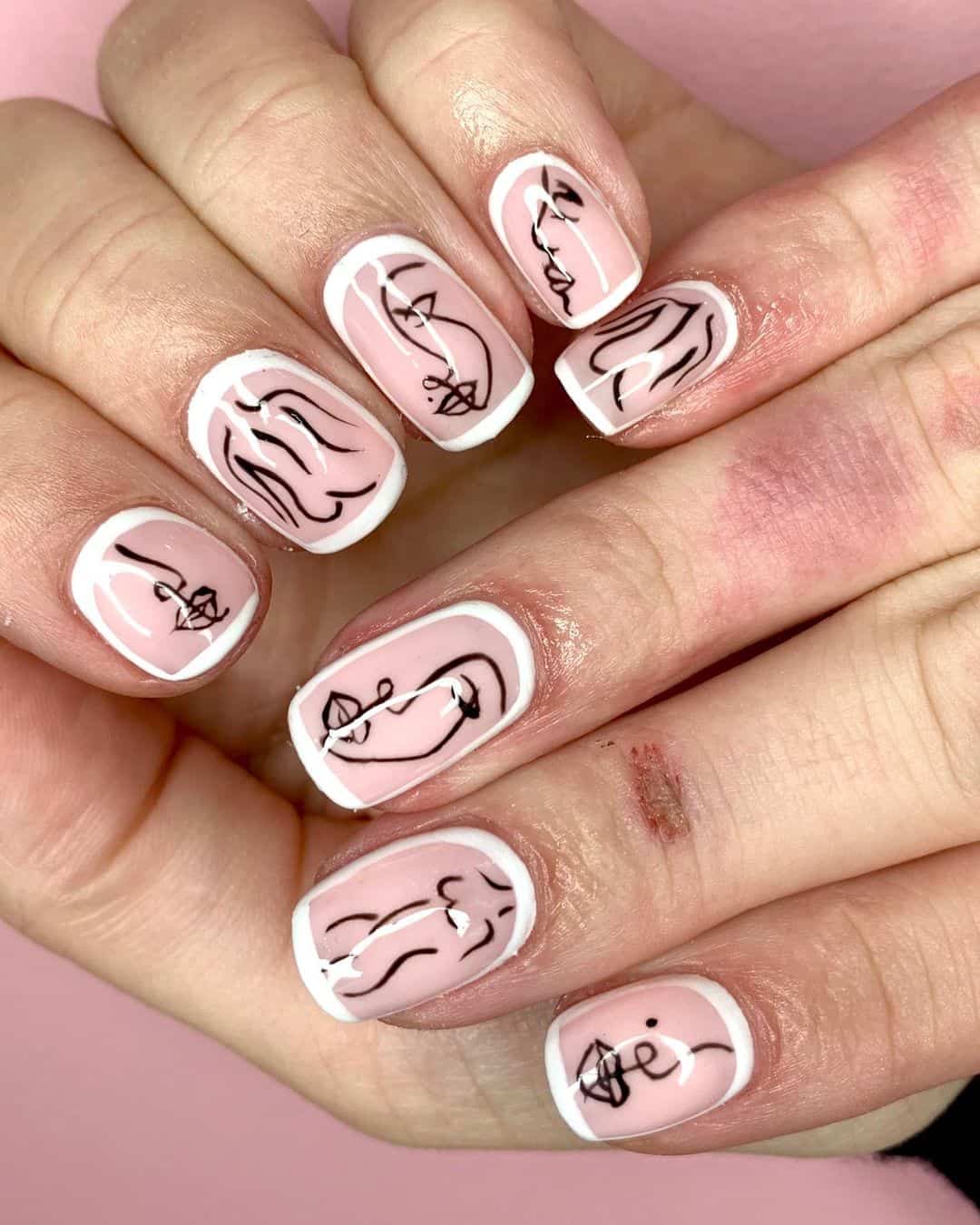 Create an art gallery with your nails with this super-artistic design. Here the French white tips extend all around the fingernail to create a frame for the white design within. All the designs are bold, black sketches centered on face and body shapes. This is a trendy look that will resonate with all the creatives and art lovers out there.
24. Purple French Tip Nails With Butterflies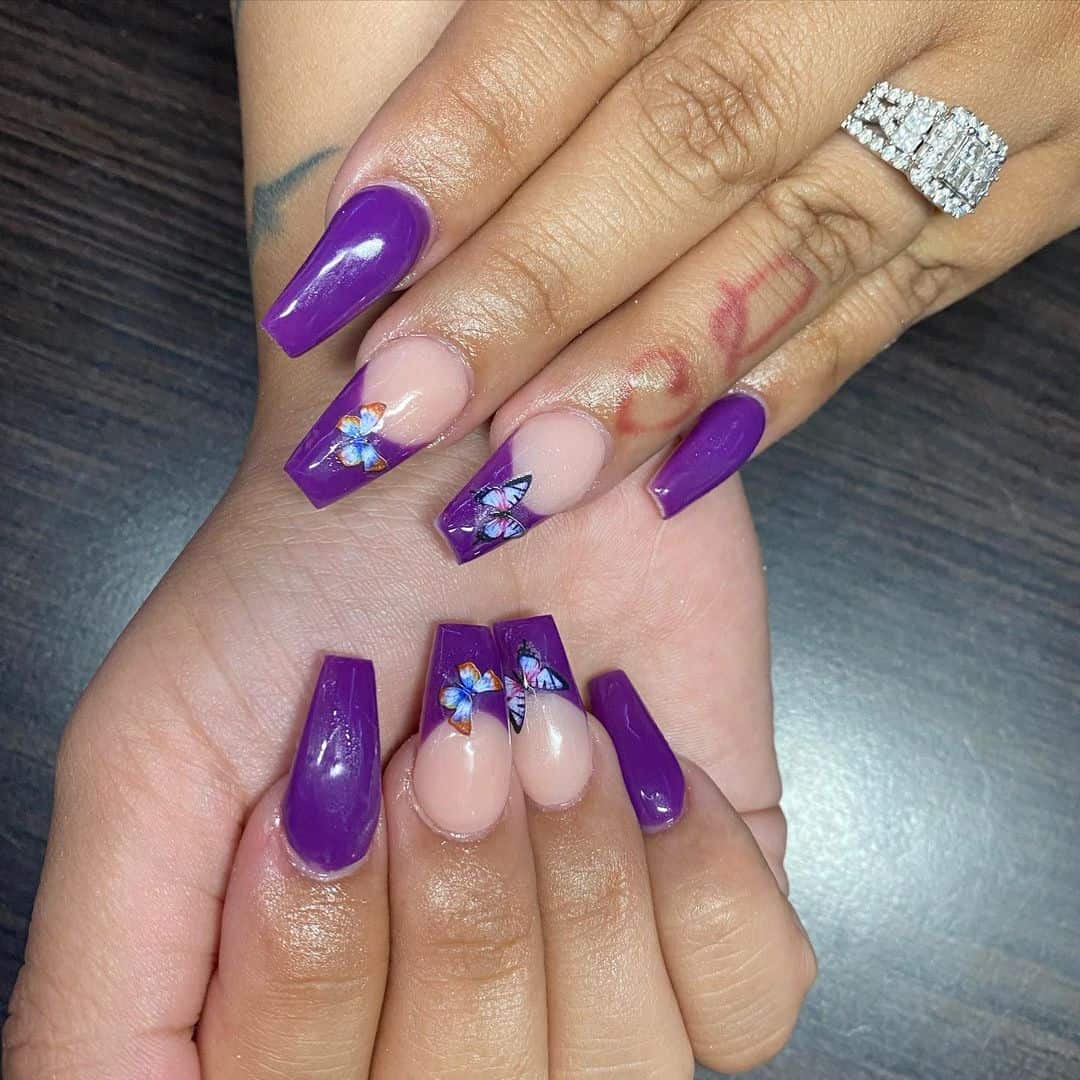 If you're looking for a gorgeous French nail design that takes things outside the box, then this look is a top option. The dark, matte purple tips are paired with a light nude base, and the pinky and forefinger are solid purple. The butterfly accents work very well with the matte polish making these the perfect, playful nails.
25. Hot Pink French Tip Nails With Gold Glitter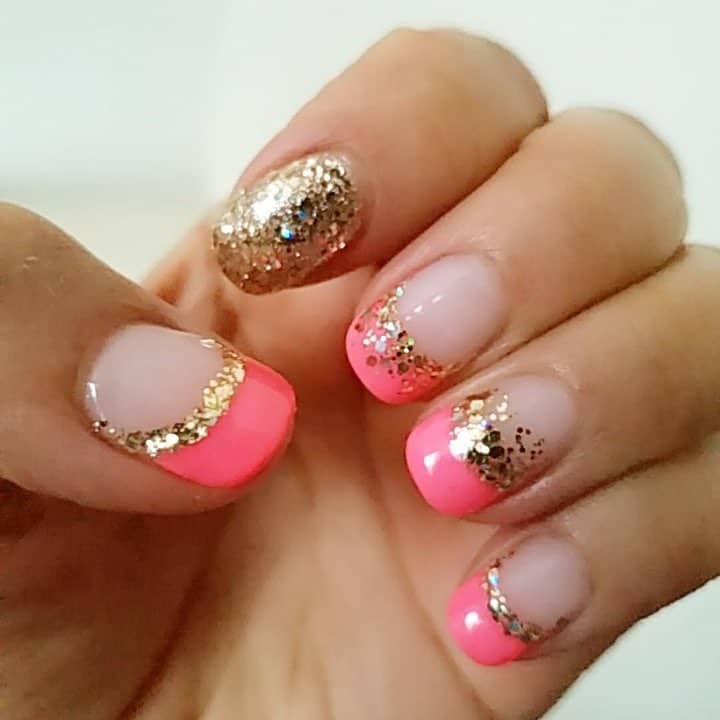 Hot pink and gold glitter – nothing showcases your feminine side better than this nail design. It's not over the top because the glitter is an accent, playing around the edge of the French tips and filling the forefinger's nail entirely. The nude base also keeps things from getting too flashy. The combo works great with a cute outfit for a party or an afternoon get-together with friends. If you want to switch things up, try a ballerina or stiletto shape.
26. Colorful Yellow Plaid French Tip Nails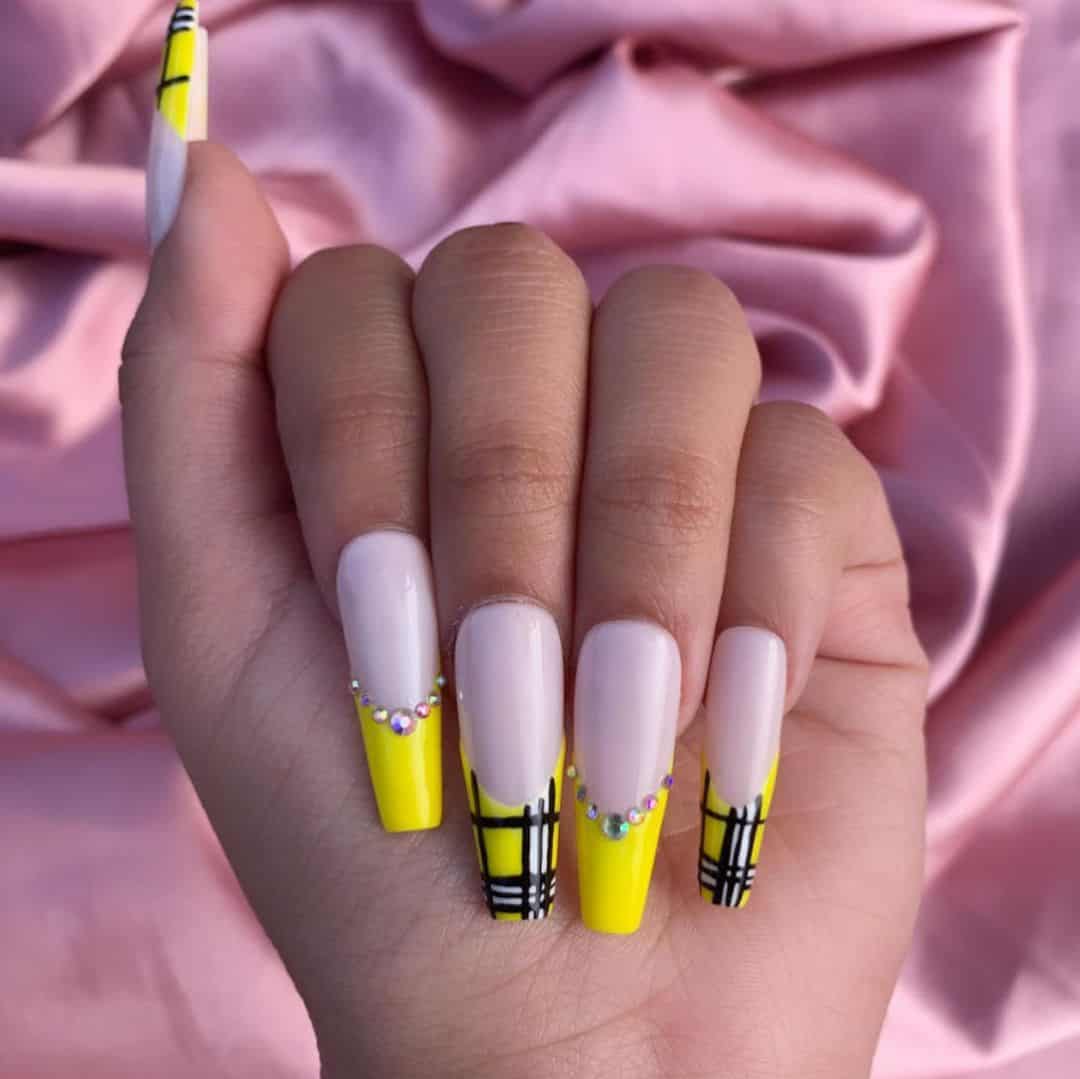 The baby pink nail polish, the yellow tips, the black plaid lines, and the diamonds combine to give a warm and vivid effect. Yellow is a bright, luminous color that quickly draws the eye. These nails pop out, and you won't be hard to miss. Traditionally, yellow is also associated with happiness, sunshine, and optimism, so you'll also be giving off good vibes.
27. French Tip Nails in Neon Green and Lilac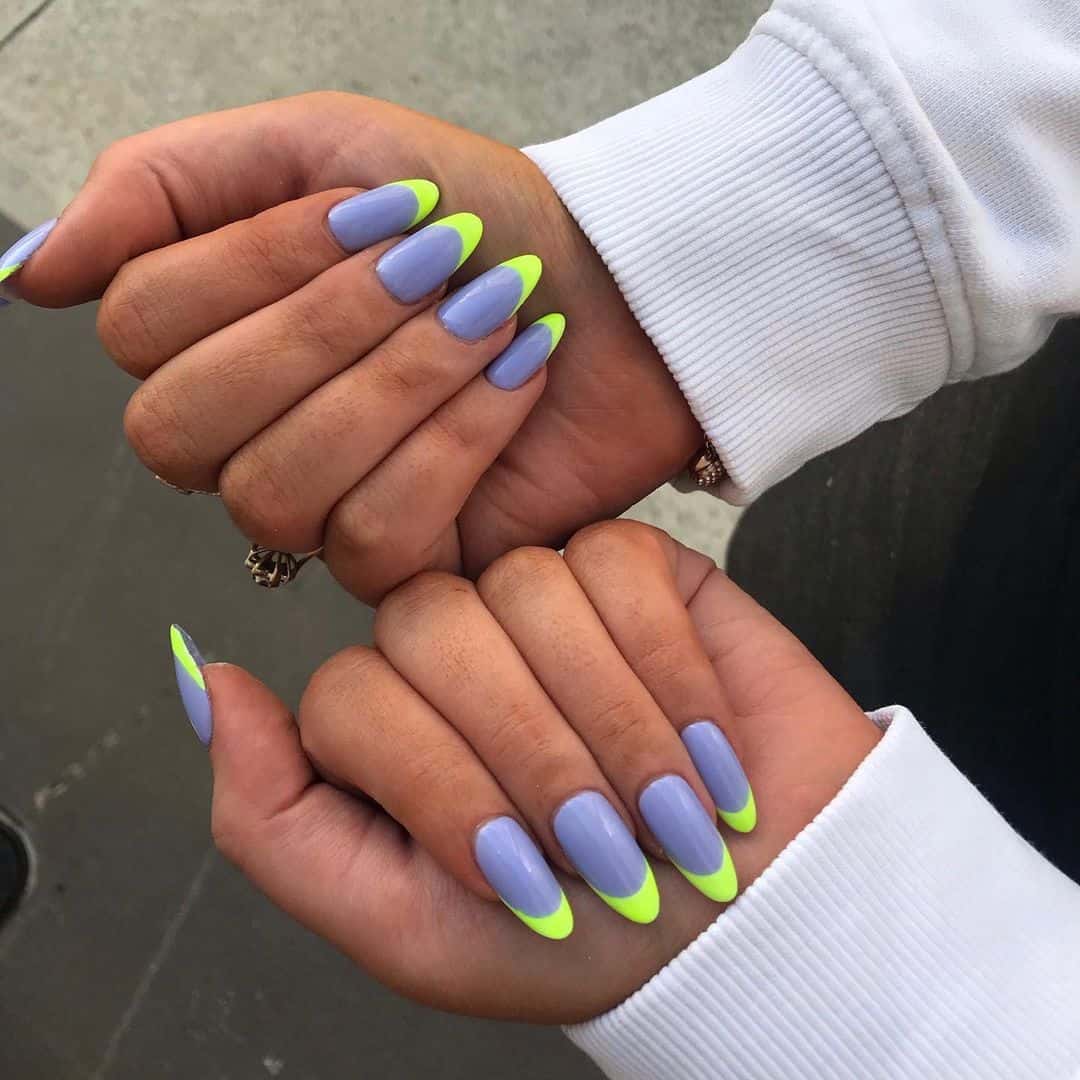 With neon green tips matched against a lilac base coat, this on-fleek combo shows no color rules for French manicures. The model has chosen an almond shape, but you can also wear them longer and squared for an even more pronounced splash of color. You can even come up with fun color combos of your own if you want to flaunt your youthful and experimental side.
28. Multi-Colored Glittery French Tip Nails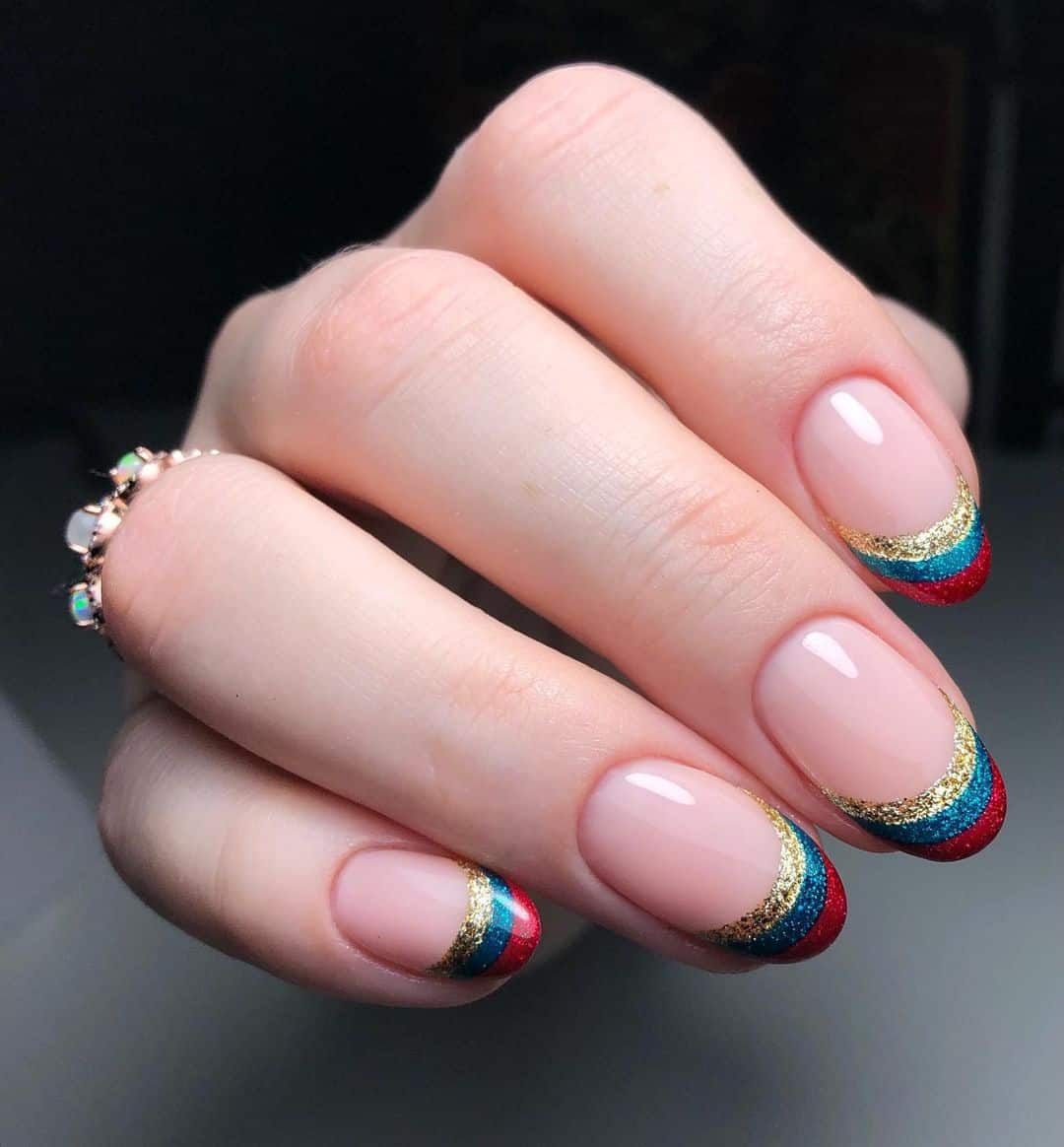 A clear base coat and colorful tips are one of the favorite and modern twists to French manicures. This one takes it up a notch with ruby tips accented with a beautiful evergreen and ocean color blend. This is further accented with gold glitter polish to create three stripes that have fantastic contrast. This look is perfect for festive occasions. Although it's simple enough to achieve, it still manages to showcase the beauty of accented French tips.
29. Glittery Pastel French Tip Nails With Pearl Studs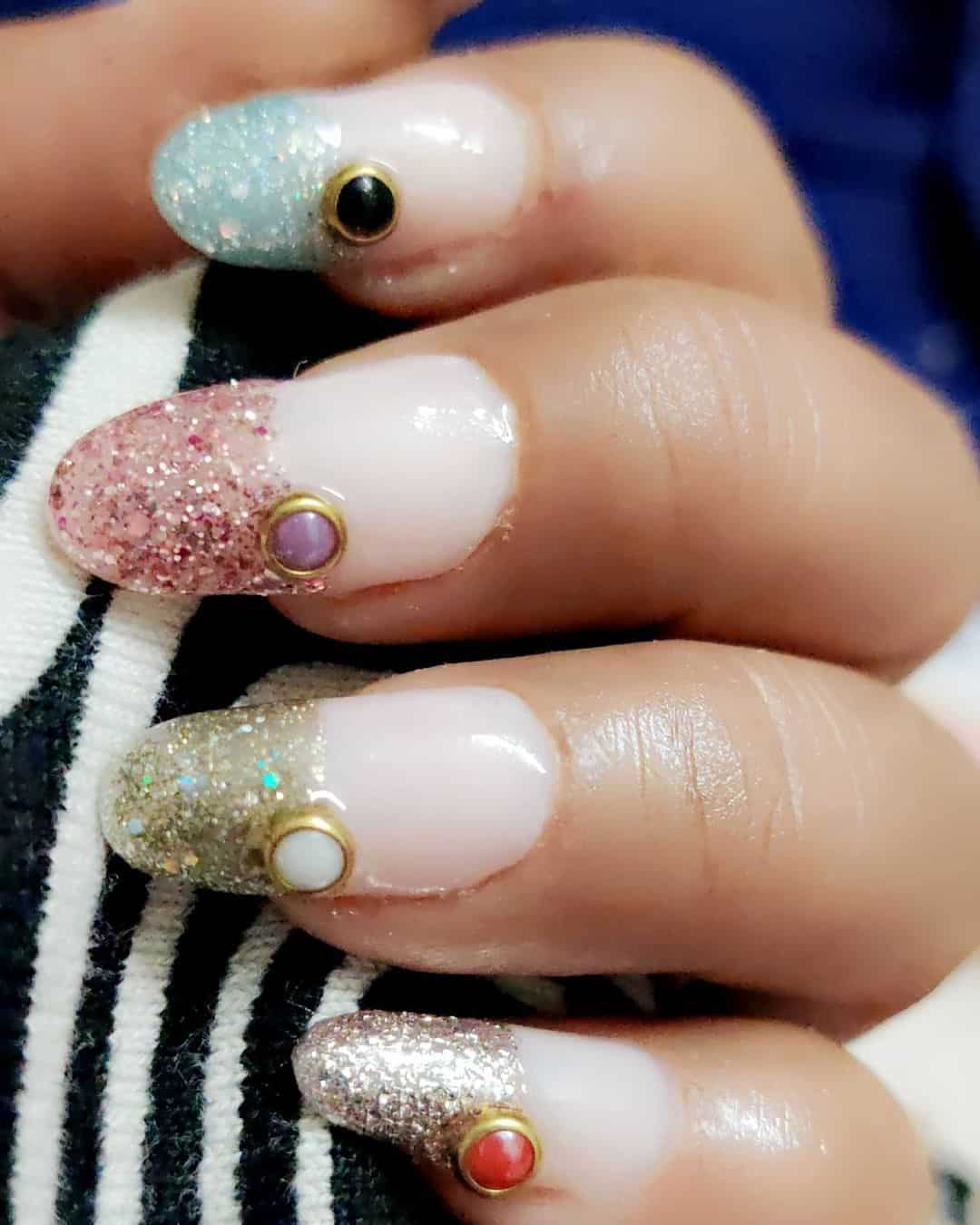 You'll be the shining belle of the ball with these oval and colorful glitter tips. This bright, glitzy nail idea is great if you want something fun and sparkly. The pale base coat keeps the look from getting too distracting, and the different colored pearl studs are a brilliant touch that takes the look from interesting to something with a bit more oomph.
30. Ivy French Tip Nails With Gold Glitter Accent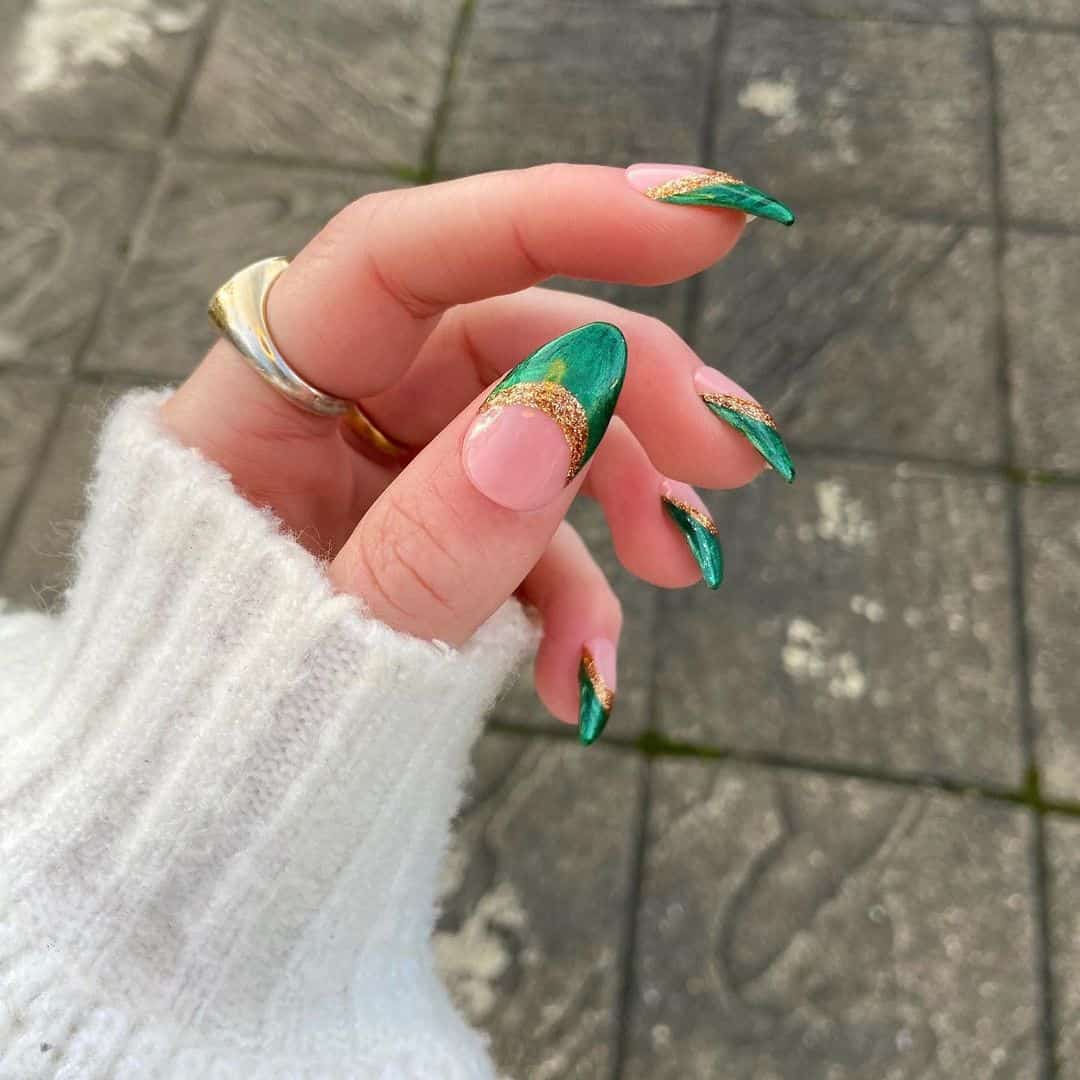 Ivy is such a rich and gorgeous color that puts one in mind of the Christmas season. The gold glitter accent certainly emphasizes the festive vibe. The model has chosen to pair off her manicure with a gold ring for a classy look that's always on point at parties. The almond shape is excellent if you want your fingers to appear longer and graceful, but oval and stiletto shapes work well as substitutes.
31. Whimsical Cow Print French Tip Nails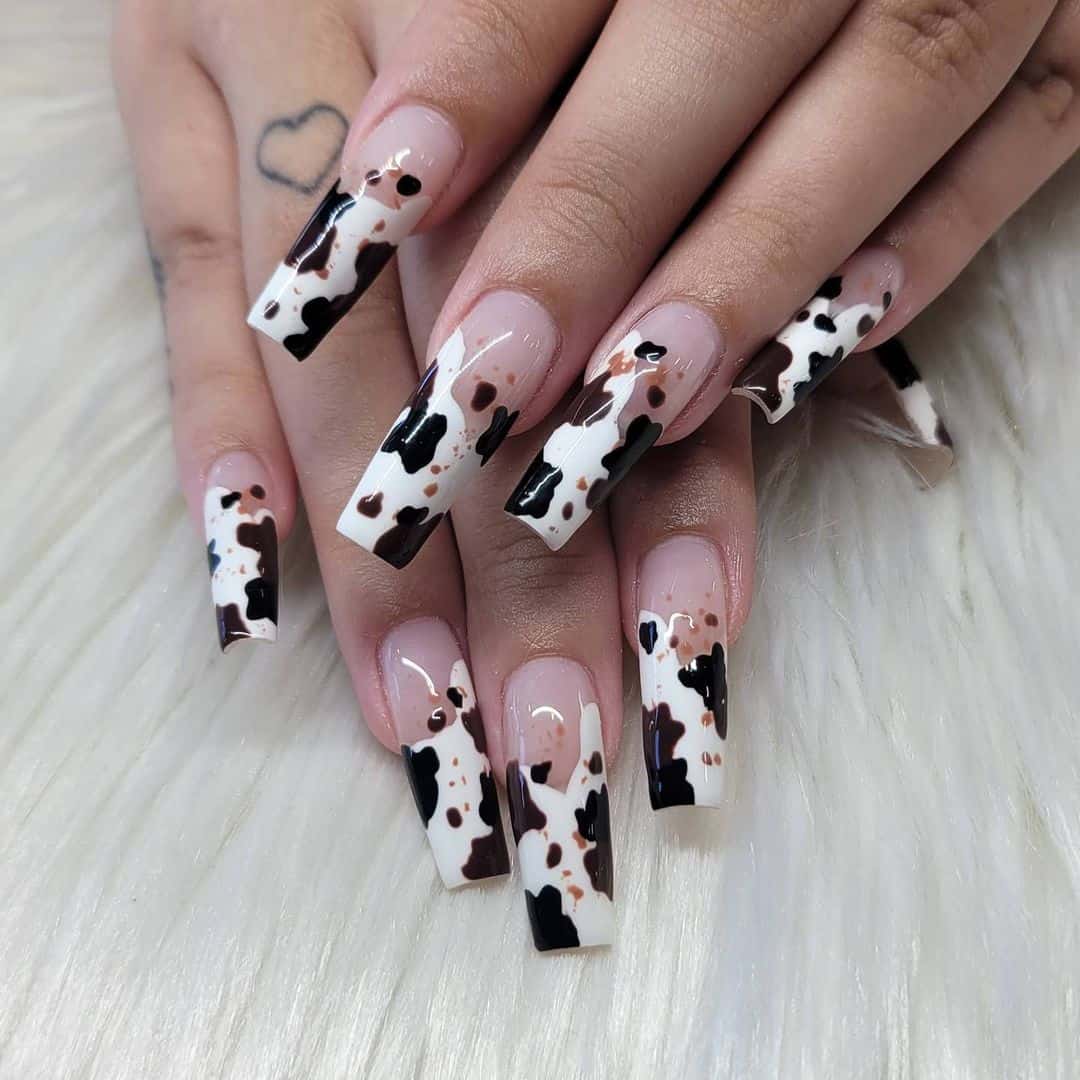 Anyone would love this tasty look that starts with a clear base polish and long, squared tips. Cow print is a cute and flirty version of black and white French nail tip designs. The artist has also added a smattering of chocolate for a milkshake effect. If you're going for this adorable look, you'll want to skip short nails or stiletto shapes since they won't be able to showcase this French tip nail idea to full effect.
32. French Tip Nails With Matching Half Moons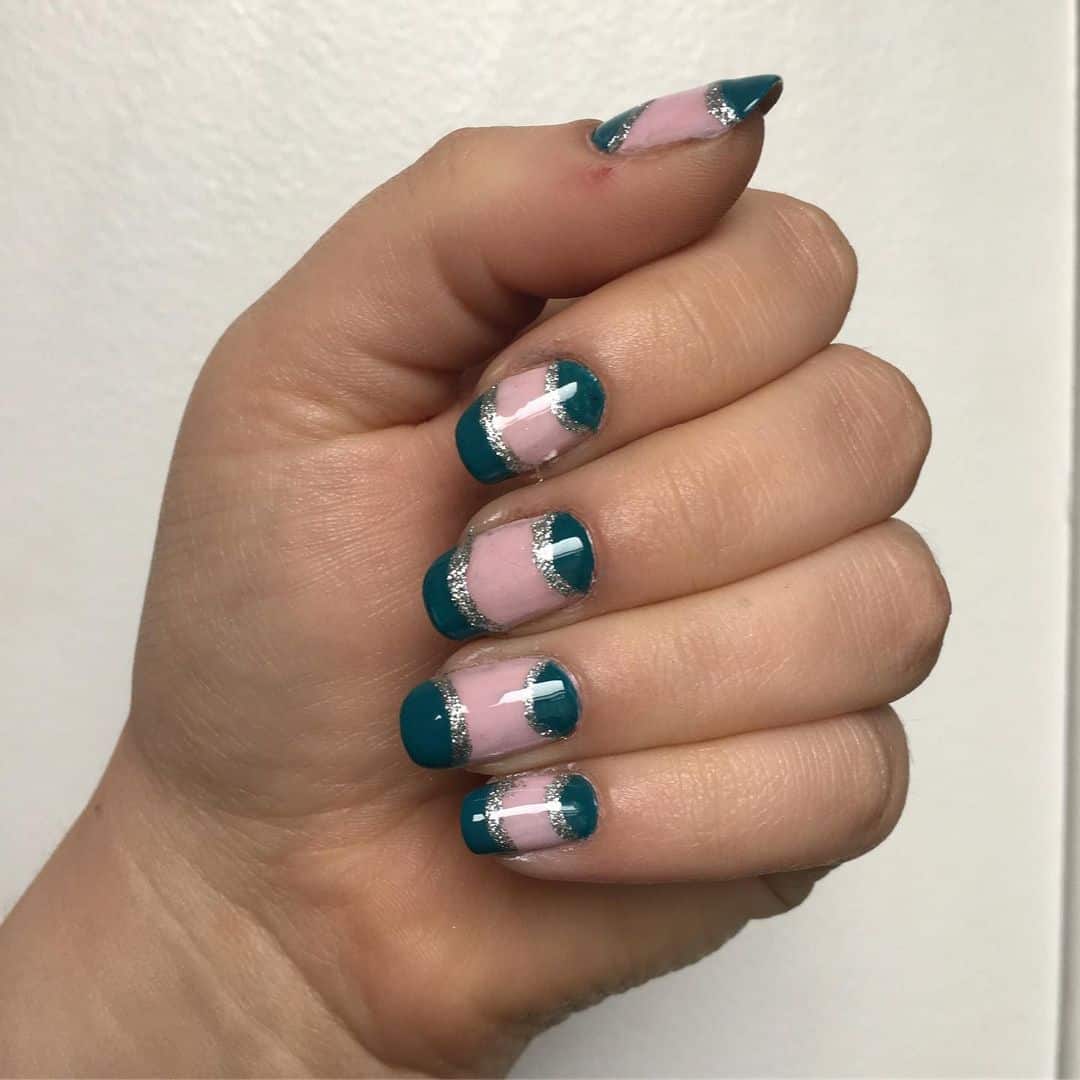 If you want a distinctive French manicure, then accenting each nail's half moon is another great idea. Keeping the middle space negative creates even more contrast, while the dark green tips and glitter accent have an almost Christmassy appeal. The design can work well with longer nails, but there's something balanced about the whole look when the nails are kept short. You can sport the design on any occasion, but if it's a festive one, the glitter and sparkle will fit right in.
33. White French Tip Nails With Colorful Butterflies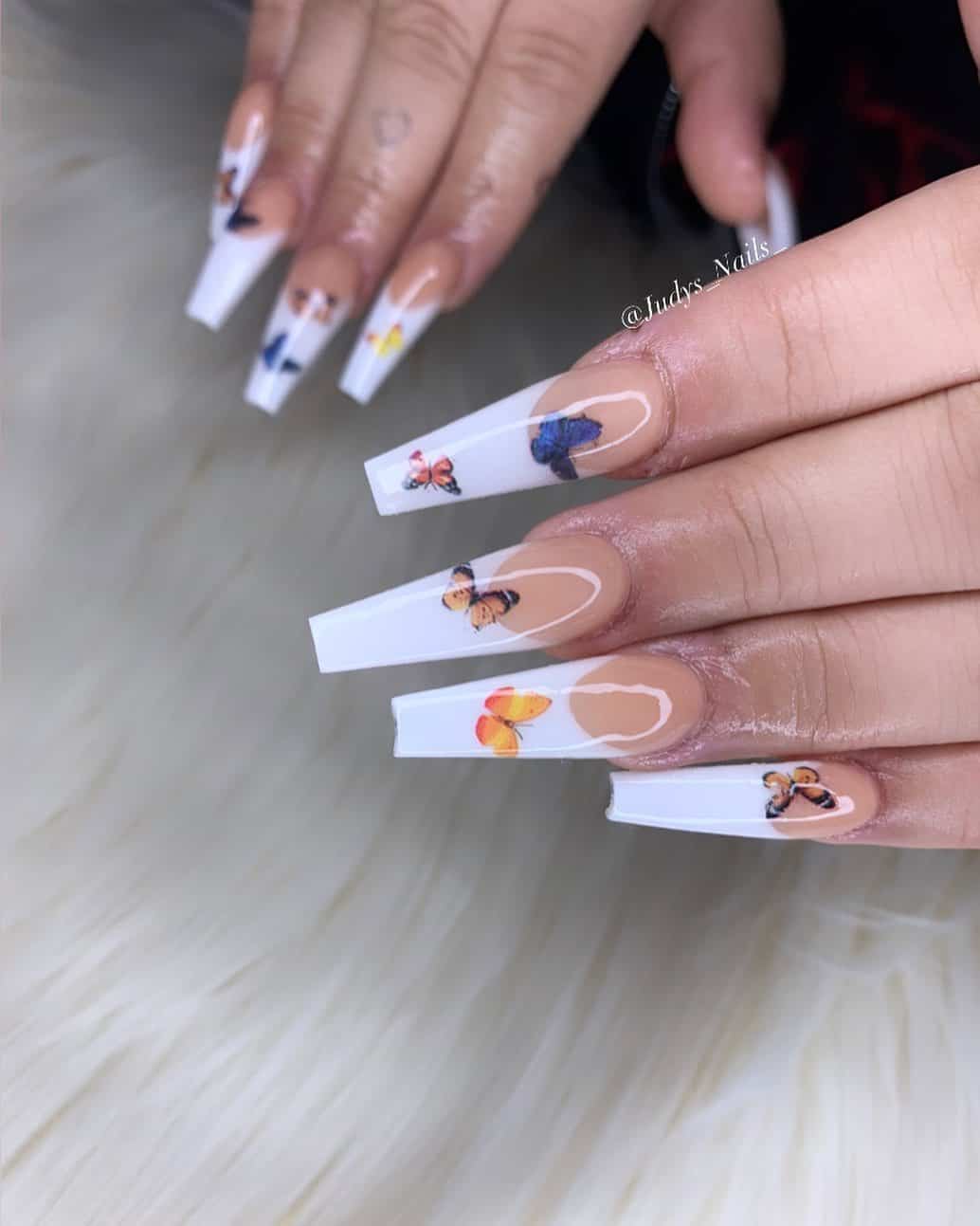 What better way to show off the classy French manicure than these long tapered snow-white tips with a lovely peach base coat? The beauty of French tip nail designs is that they allow you to express your feminine side in any way you want. The artist has used vibrant butterfly art on each nail to create a pretty look fit for any Disney princess. Butterflies are known for their grace and their brilliant colors on delicate wings. Every time you show these around, they'll be a pleasure to look at for anyone who sees them.
34. Bright Blue French Tips Nails With Stitch Design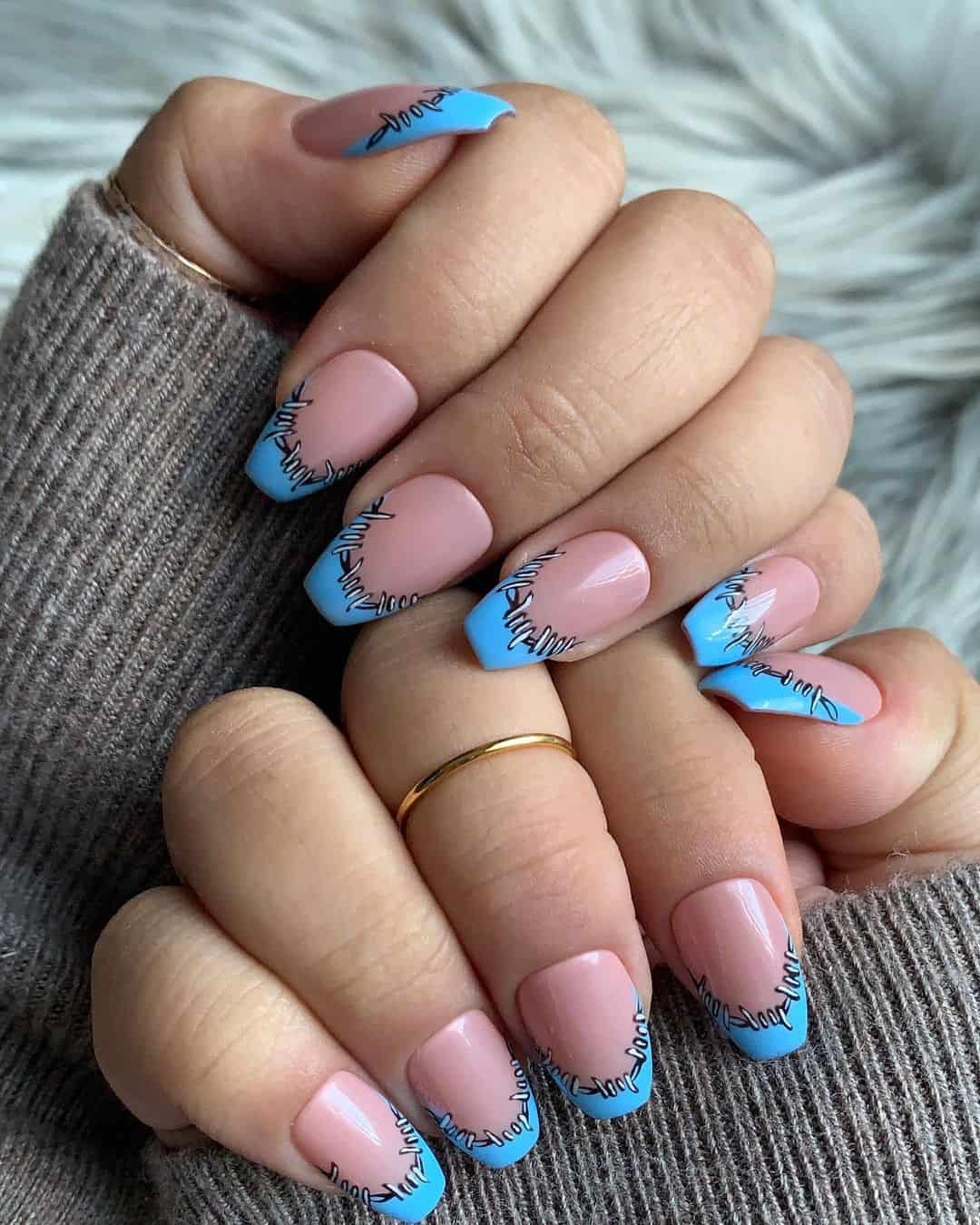 This nude base polish combines beautifully with squared blue tips. The look is already an eye-catcher, but it's the stitching or barbed wire artwork that gives it something extra. It's certainly not a look you'll see every day, and you'll score a lot of points when it comes to creative French nail tip ideas. All in all, it's a design that pleases the eye, starting with the bright pop of blue, the soft nude polish, and then the artwork, and finally, the way these elements all fall together to create a design you can instantly fall in love with.
35. Chic Blue Knitwear-Inspired French Tip Nails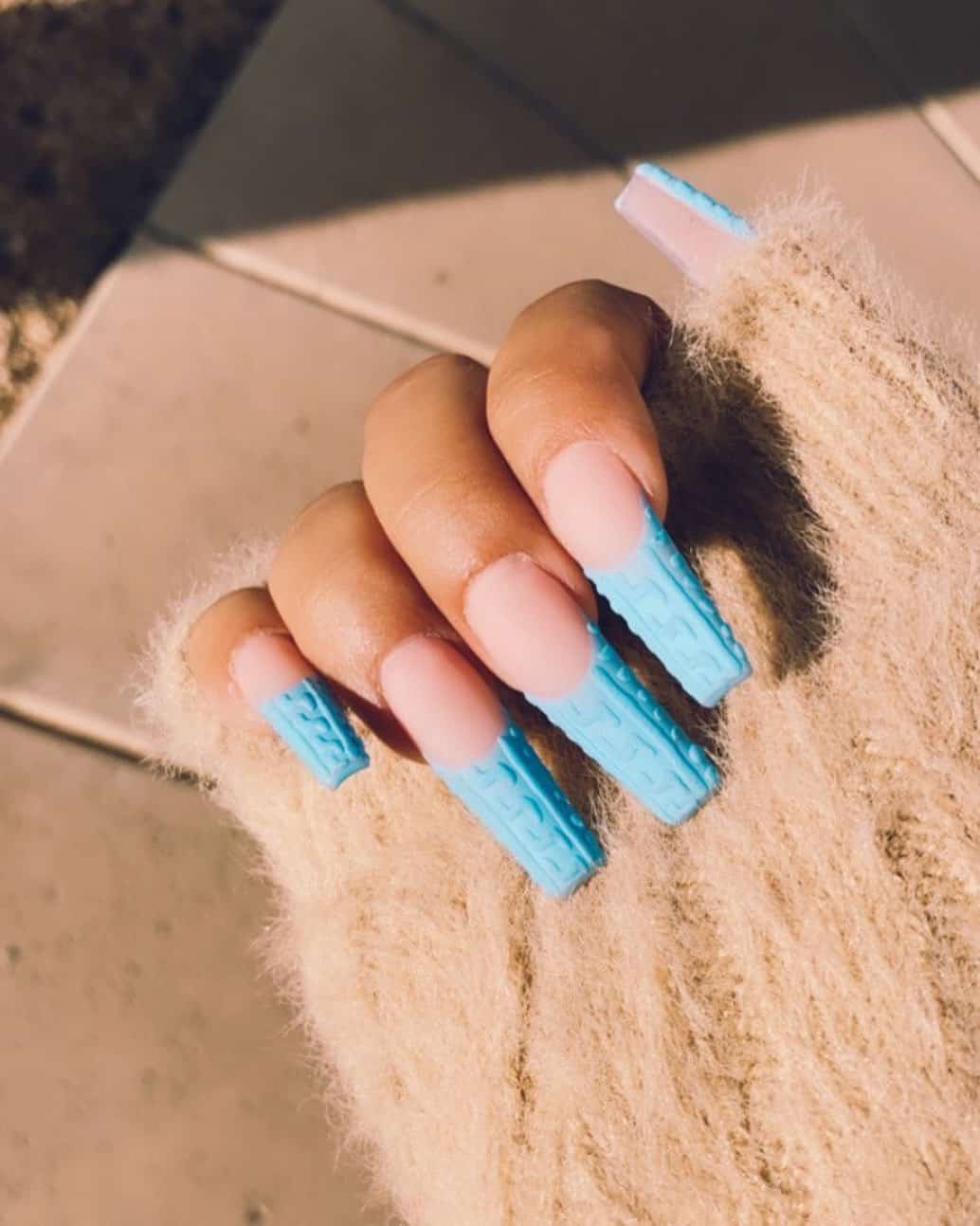 Dress up your French tips with this warm and beautiful sweater design. The long tapered tips are set in a delicate shade of blue while the base coat is matte. Reminiscent of cable knitwear, this charming design is perfect when the weather gets a little chilly outside. They certainly match well with the model's sweater and are guaranteed to brighten any cold moments.
36. Metallic Chrome Nails With Gold French Tips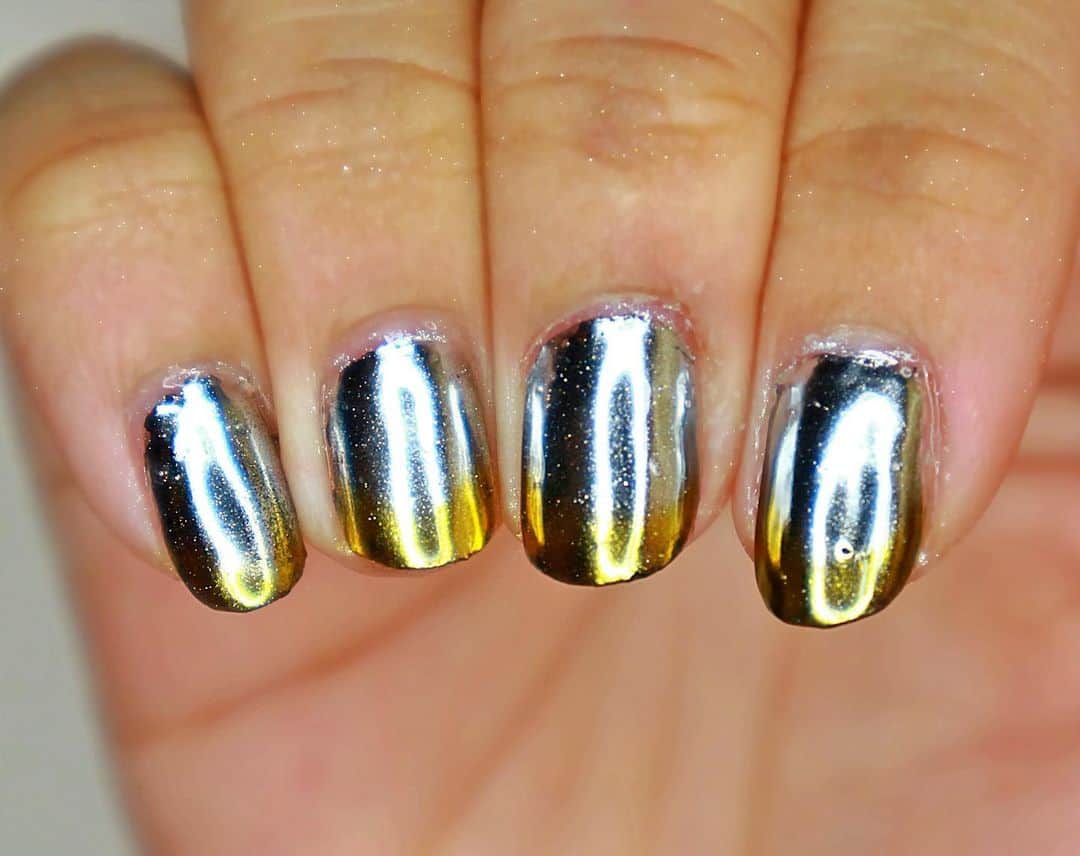 If you're raring to achieve this almost blinding look, start by applying a metallic silver coat and then simply add gold chrome nail polish or powder to the tips. The metallic trend is huge in the French manicure ideas circle, and this design has gone all out with no apologies. It's the sort of look you could pair with a glamorous outfit for a night out with the superstars. The nails will undoubtedly keep everyone entertained once the spotlight shines on you. You can experiment with different colors like rose and bronze or tone the glamour down by going for a design with negative spaces.
37. Gorgeous Green Fluorescent French Tip Nails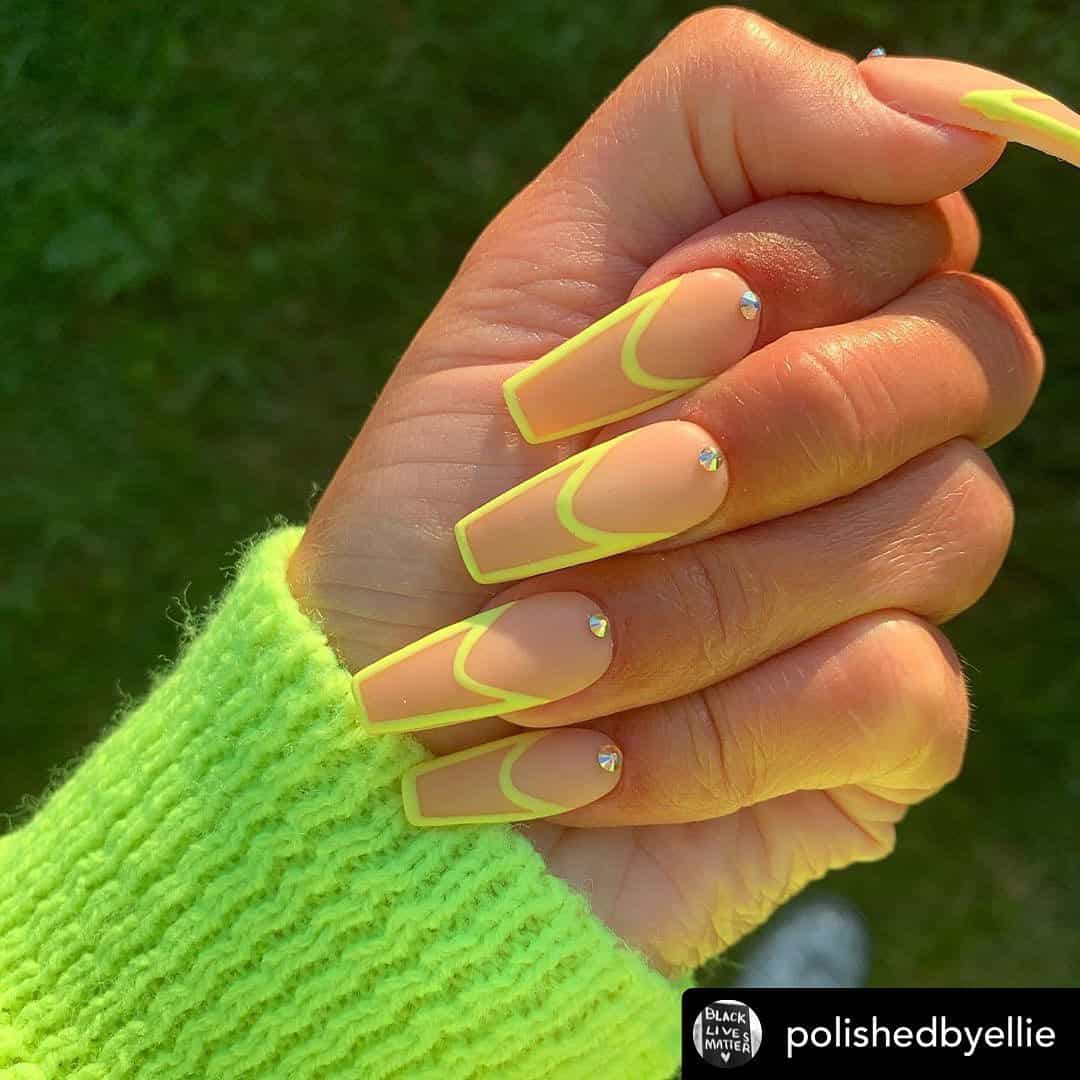 Green must be the poster color for fluorescent nail designs because these French tips are out of this world. The color contrasts and the little peek we have of the model's neon green outfit are all gorgeous. A nude base coat has never looked better with bright green lines for accent. This design is more fun because it's your eye that fills in the French tips rather than having to paint them a different color. To add more glamour, there are small diamonds that earn an extra nod of approval and an enthusiastic thumbs-up for the whole look.
38. Nude and Floral French Tip Nails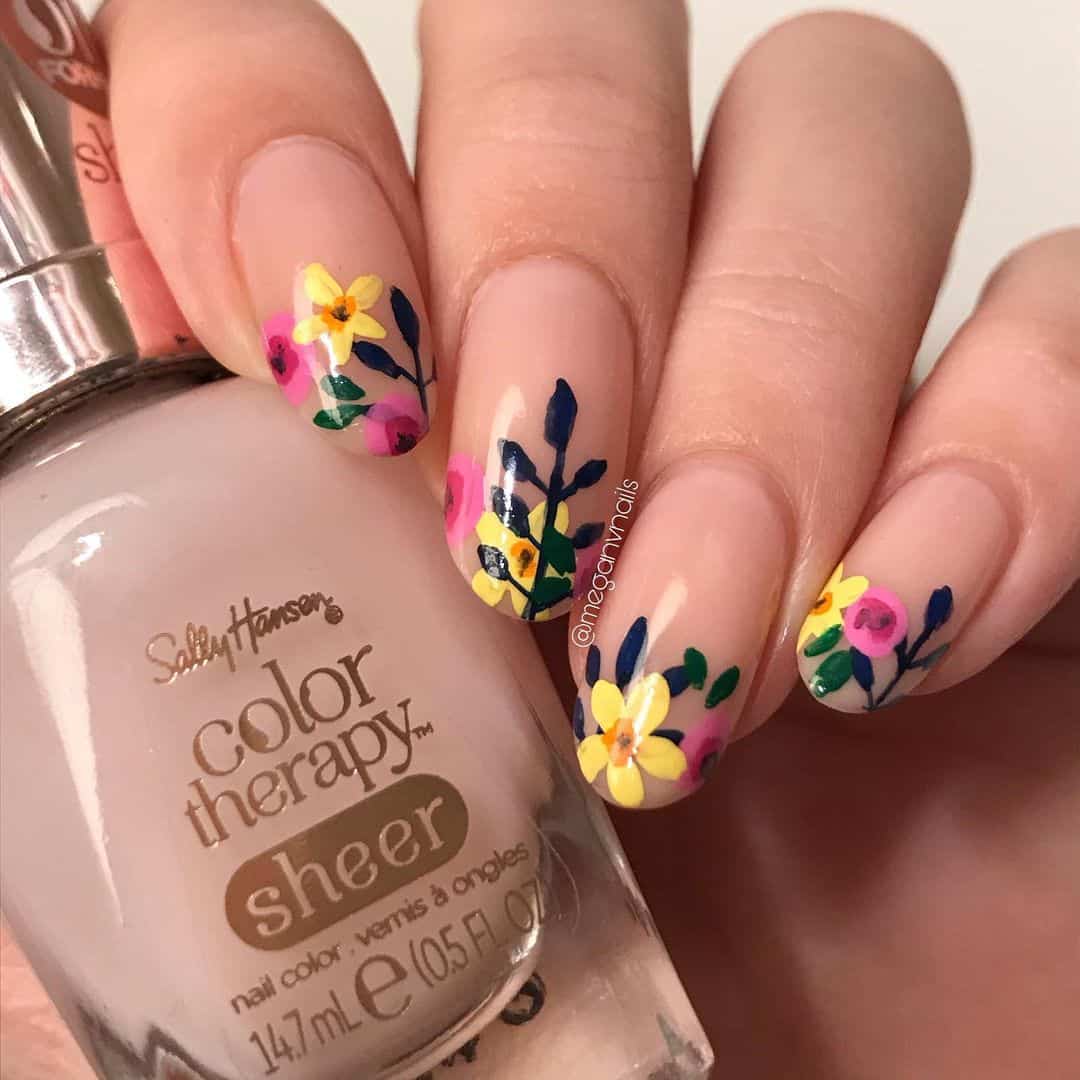 Floral designs never stop being fashionable and you can adapt them to create cute and girly French tips. Some people feel that floral designs are a little every day but using them to create a French manicure makes things more exciting. Because the tips are already colorful, this design blends flawlessly with the nude base tone, which complements the model's skin tone.
39. French Tip Nails With 3D Gold Accents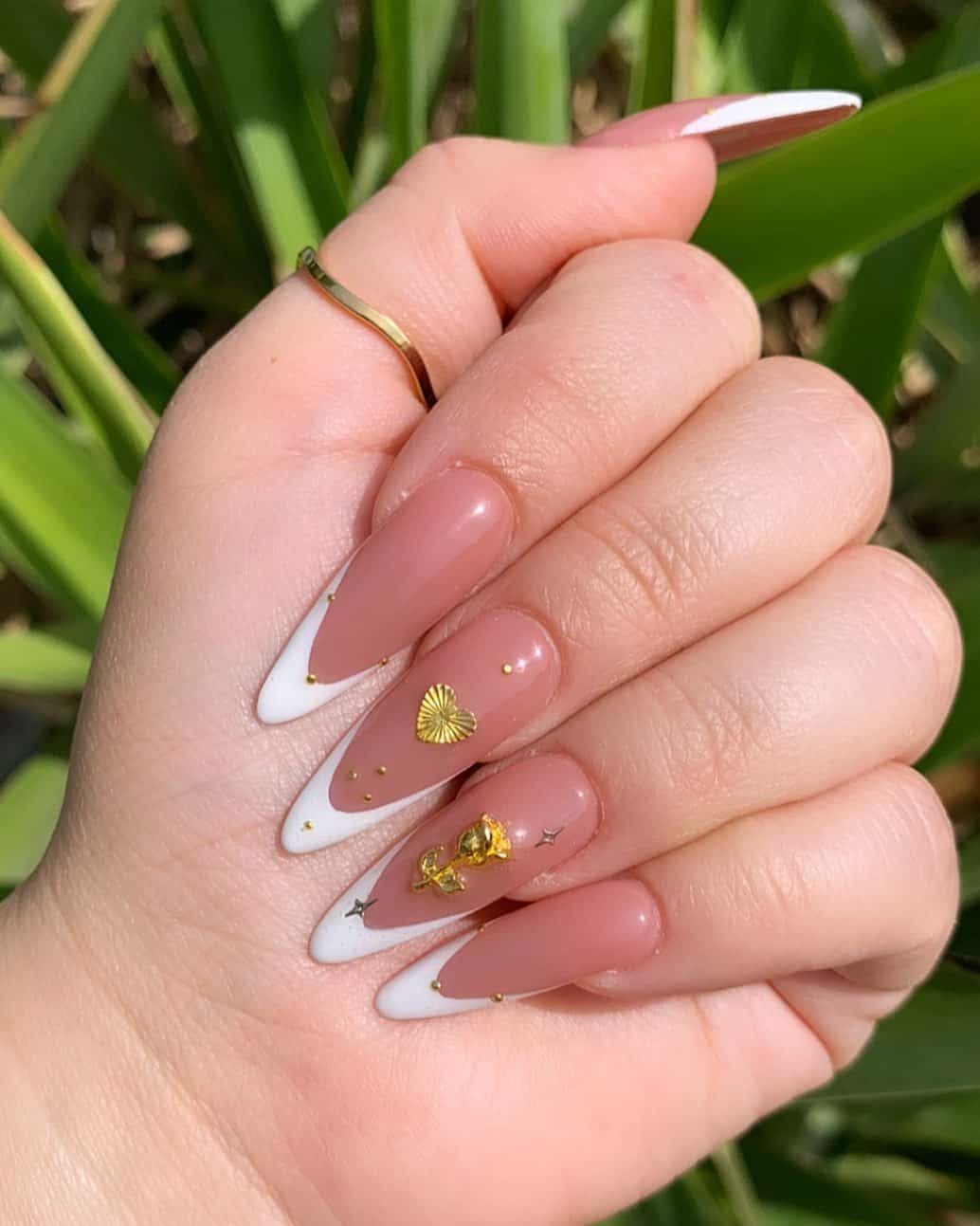 A peach base coat and white tips are the primary themes for this design, which shows that the classy traditional design is unbeatable time and time again. But as usual, there's always a twist to be made, and this look makes a statement by going with perfect stiletto tips and gold accents. Too much accent can overwhelm your French manicure, and it's great that this design has limited most of it to two fingers. If you want to add more accents, throwing on some jewelry will do the trick, as you can see from the model's simple thumb ring.
40. Neon Geometric French Tip Nails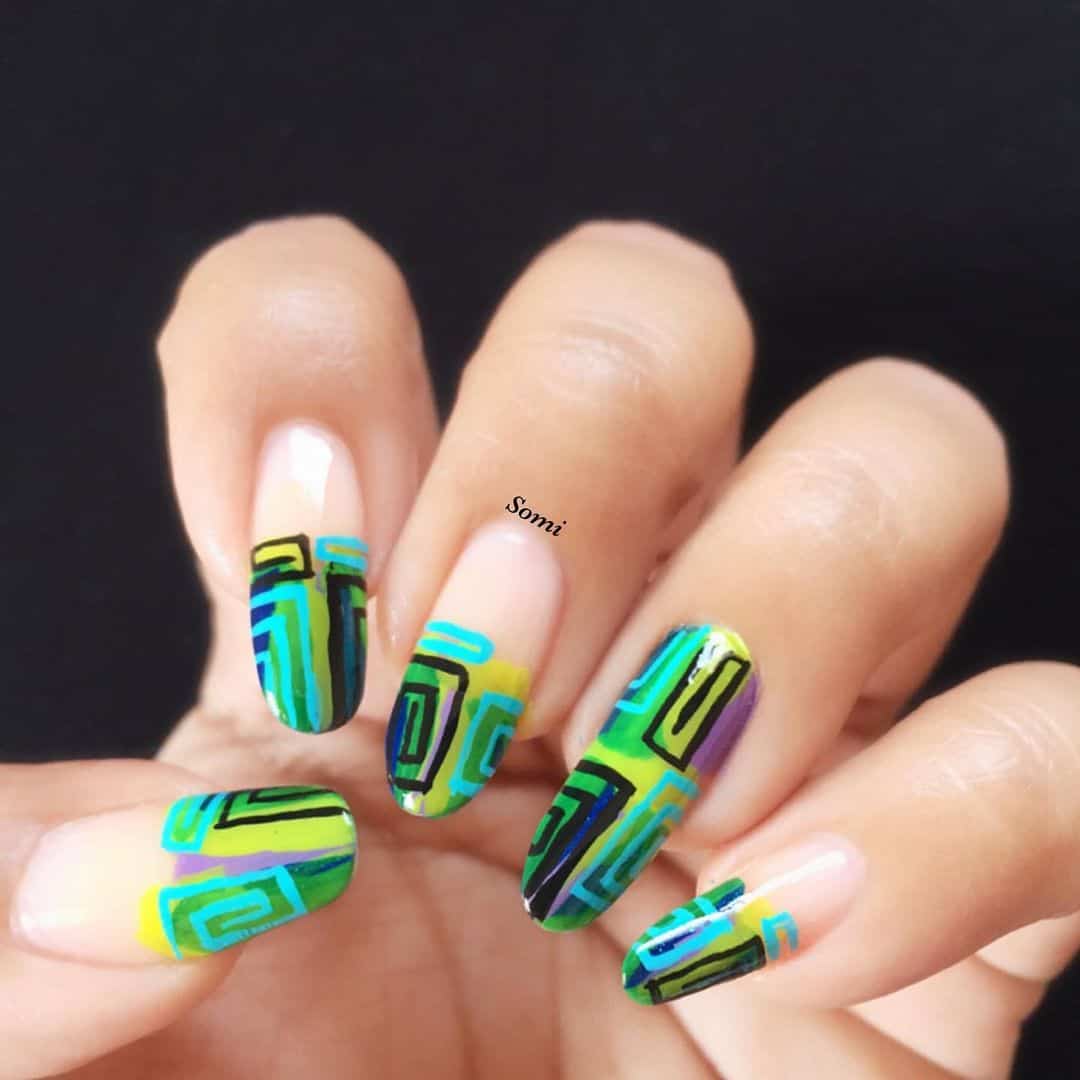 French tips designs are always in a state of flux, and enthusiasts hunt for bold and brilliant twists to the classy look all the time. This geometric artwork has nailed it – it's bright, bold, vibrant, and a look you can easily achieve at home. You're bound to have lots of fun using your nails to achieve the perfect art gallery. To make the look even more pronounced, one of the nails has this design all over while the others have negative spaces. This look works perfectly during the summer season, along with your cute hot weather outfits.
41. Rainbow Cow Print French Tip Nails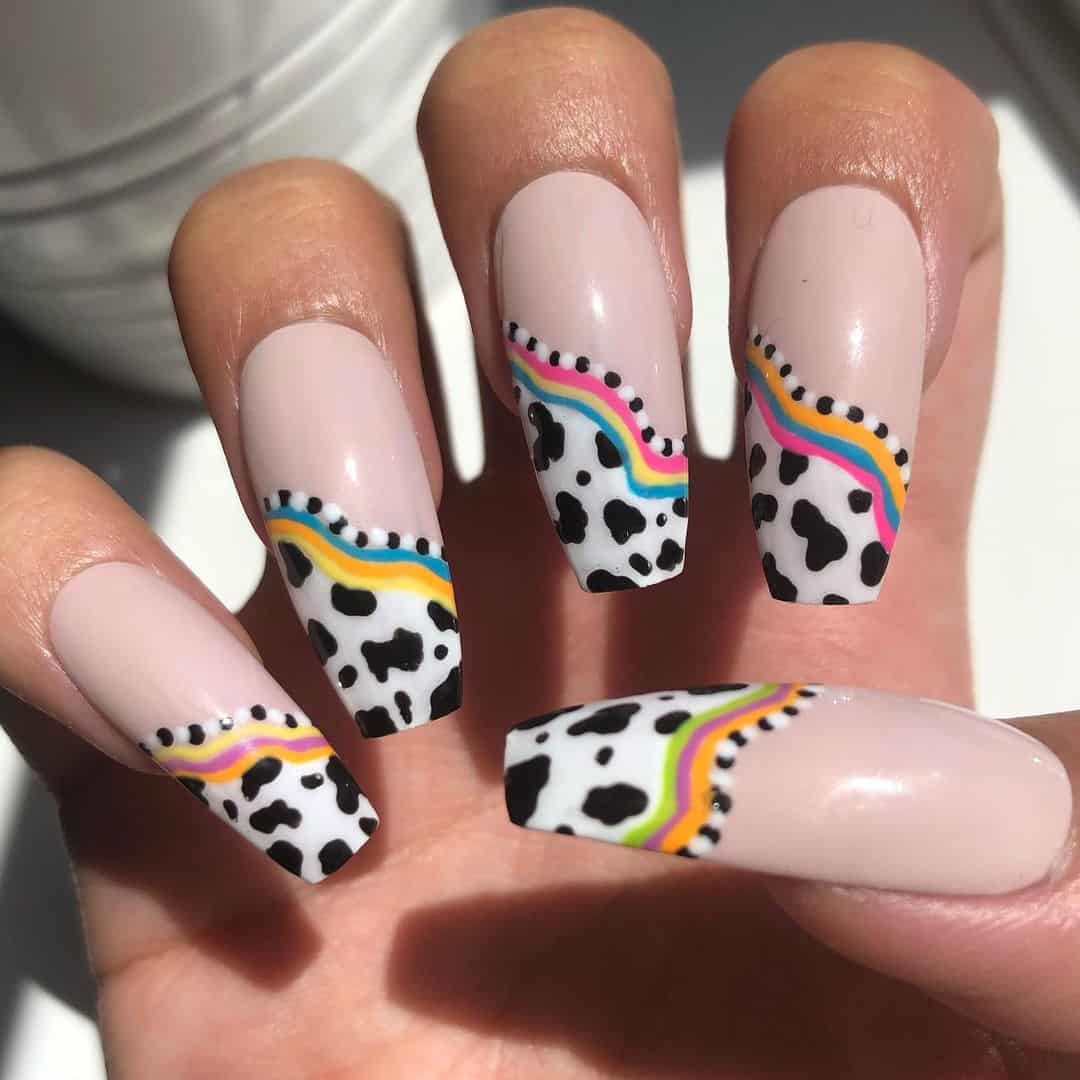 Explore your playful and adventurous side with these rainbow and cow print theme. The negative space sets off everything nicely, and the thick white tips create the perfect canvas for the artwork. You'll have a lot of fun making this look with plenty of laughs all around when people admire it. One of those French nail tip designs you can settle down with if you have a fun-loving spirit.
42. Hip Hop Flame French Tip Nails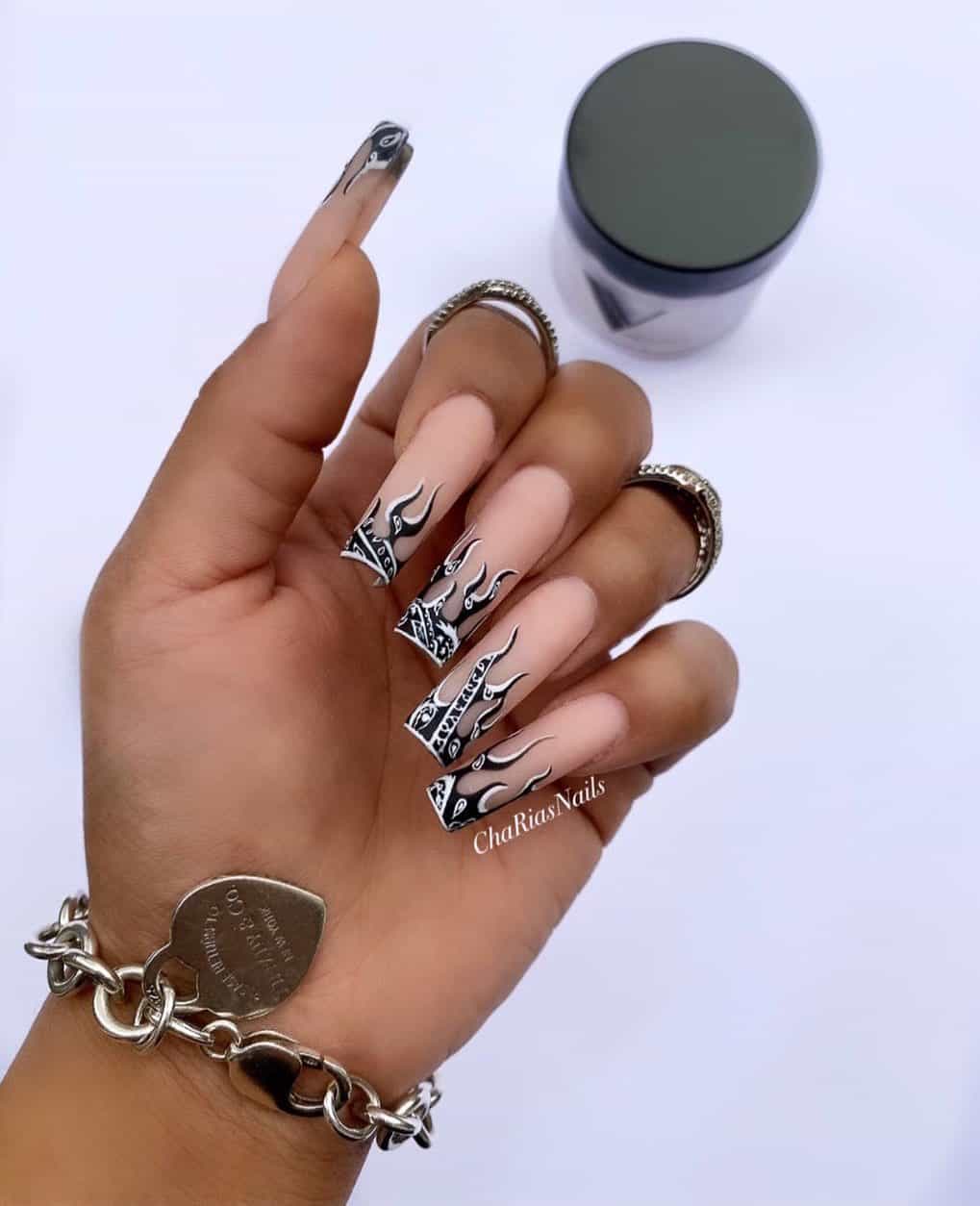 The only thing traditional about this look is the nude base coat, which is matte. The tips are long and squared with black and white tips that cleverly combine flame and bandana designs. Flames on nails always give one an edgy look, but these will make you pause because it's not a look you often encounter. The bandana pattern inside the flames gives off a hip hop feel, which can be cool and trendy when paired with the right attire. Overall, this French tip nail design has a bold and super noticeable twist that'll make a statement everywhere you go.
43. Aqua Blue and Gold French Tips Nails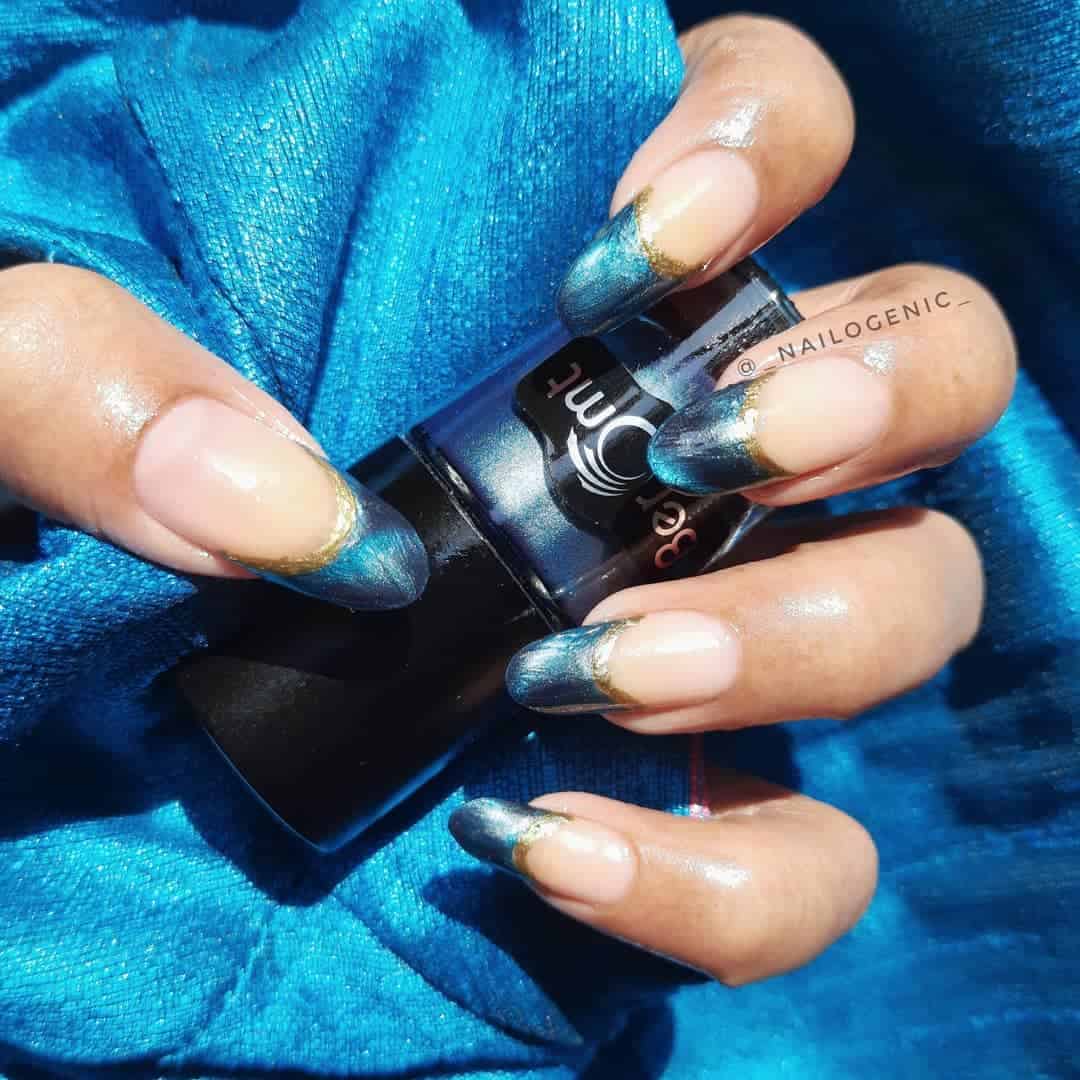 These iridescent tips are designed to grab attention if you're in the mood for some admiring and appreciative glances. Many will approve of the vibrant but not over the top color choice and the gold accent. The model shows how elegant and glamorous this design would look if worn with a matching and sophisticated evening gown. You would certainly look gorgeous and magnetic. However, the design also works superbly if you want to add a bit of sparkle to all your regular outfits.
44. Mix-and-Match Colorful French Tip Nails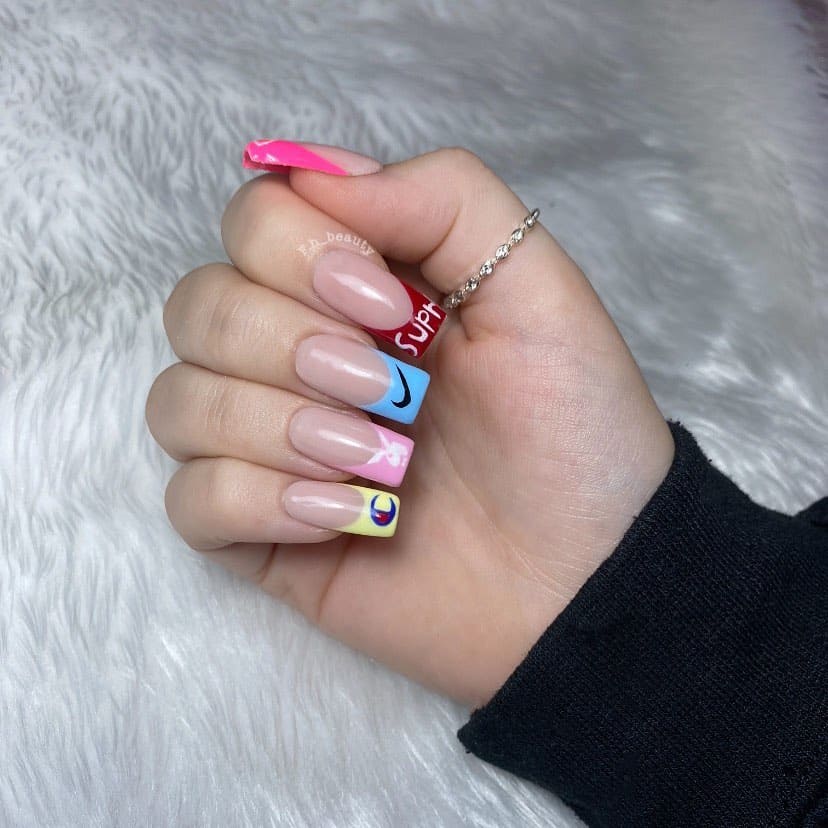 While there are many beautiful French tip nail designs out there, the common worry is finding easy but outstanding options you can do yourself while sitting on the couch. This mix and match French tip design ticks works great for that. It depends entirely on how creative you can get and how many designs you can come up with to make each nail unique. The tips are squared with smiling lines and the right thickness, so you have room to work your magic.
45. Black and Rainbow French Tip Nails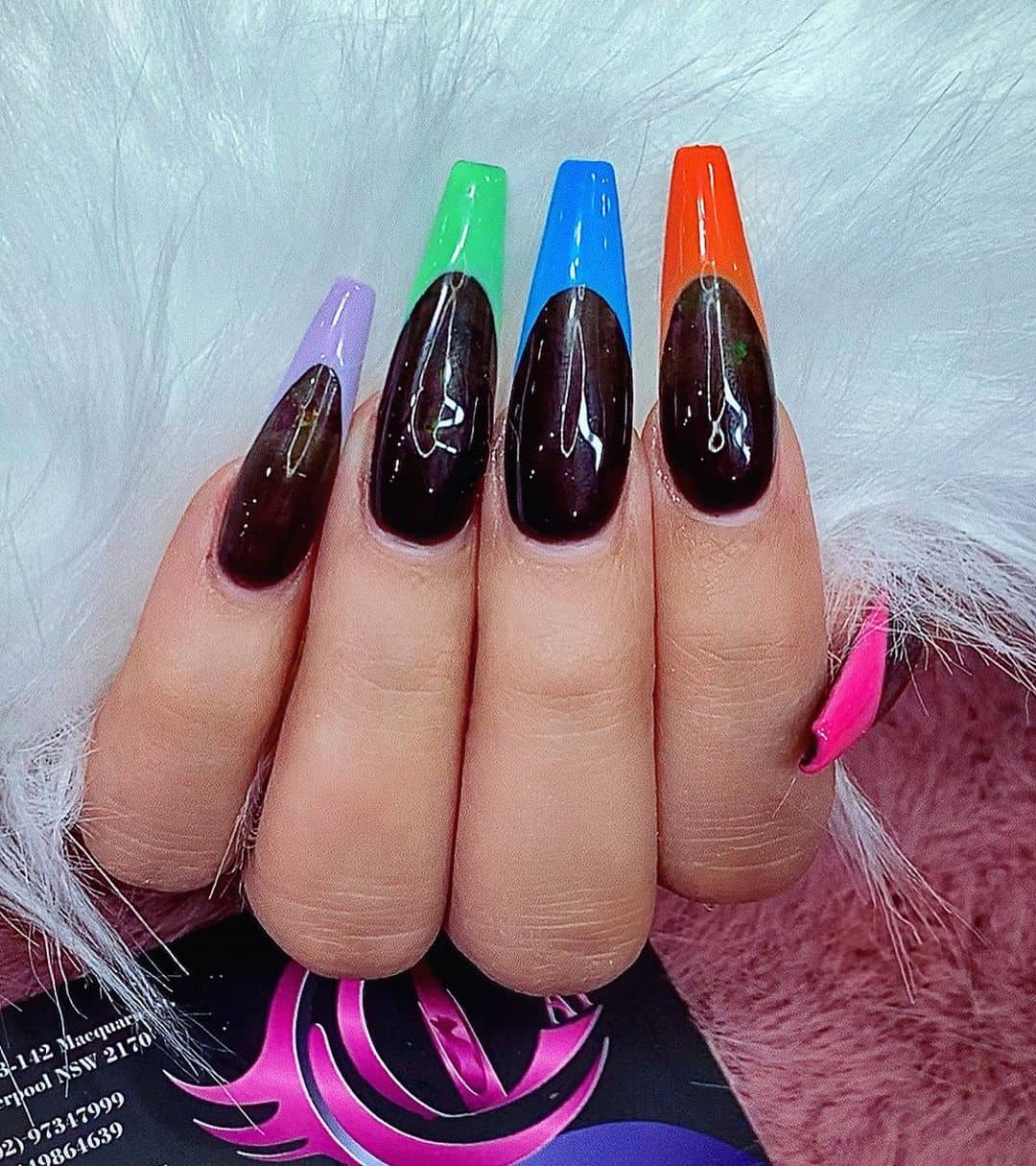 Black nails are always edgy, and these colorful tips emphasize the edginess rather than take away from it. The design adds a splash of brightness that's different for each tip. This contrasts nicely with the glossy, black-as-night nails, making this manicure loud, cool, and great for any edgy outfit. Going for shorter oval or almond-shaped nails instead of ballerina also works if you want the black polish to stand out more.
46. Matte French Tips Nails With Chanel Logo
Matte polish is subtle and elegant, and these nails have an exquisite color combo. The nude base coat is paired with dark green tips that have been accented by the double C Channel logo. Designer nails are another trendy French tip nail idea that makes you look like a million dollars when worn with a glamorous or chic outfit. It's an easy at-home design that always ends up looking high-end and polished when choosing the right colors, accents, and polish. The ballerina shape is perfect for the look, but these might not work well with short, oval, or almond tips.
47. Colorful Rainbow French Tips for Short Nails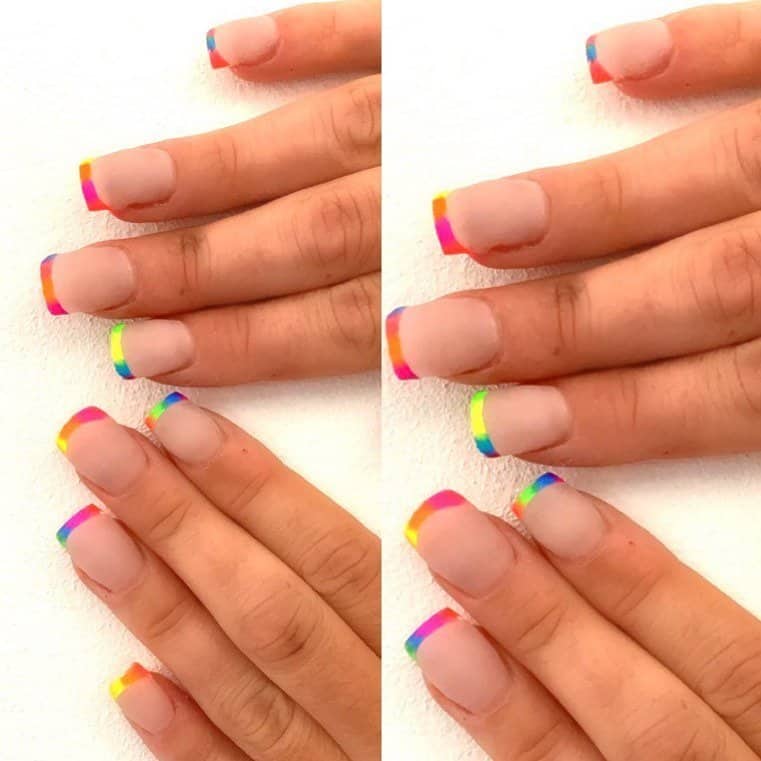 Short nails are super easy to maintain, and you can keep them longer. These pretty short nails have a nude base coat and rainbow tips to brighten up your day. The design is ideal if you want to achieve the perfect summer look. It has a bright, airy feel that'll give off positive, feel-good vibes when you're out and about with your friends.
48. Bright Green Animal Print French Tip Nails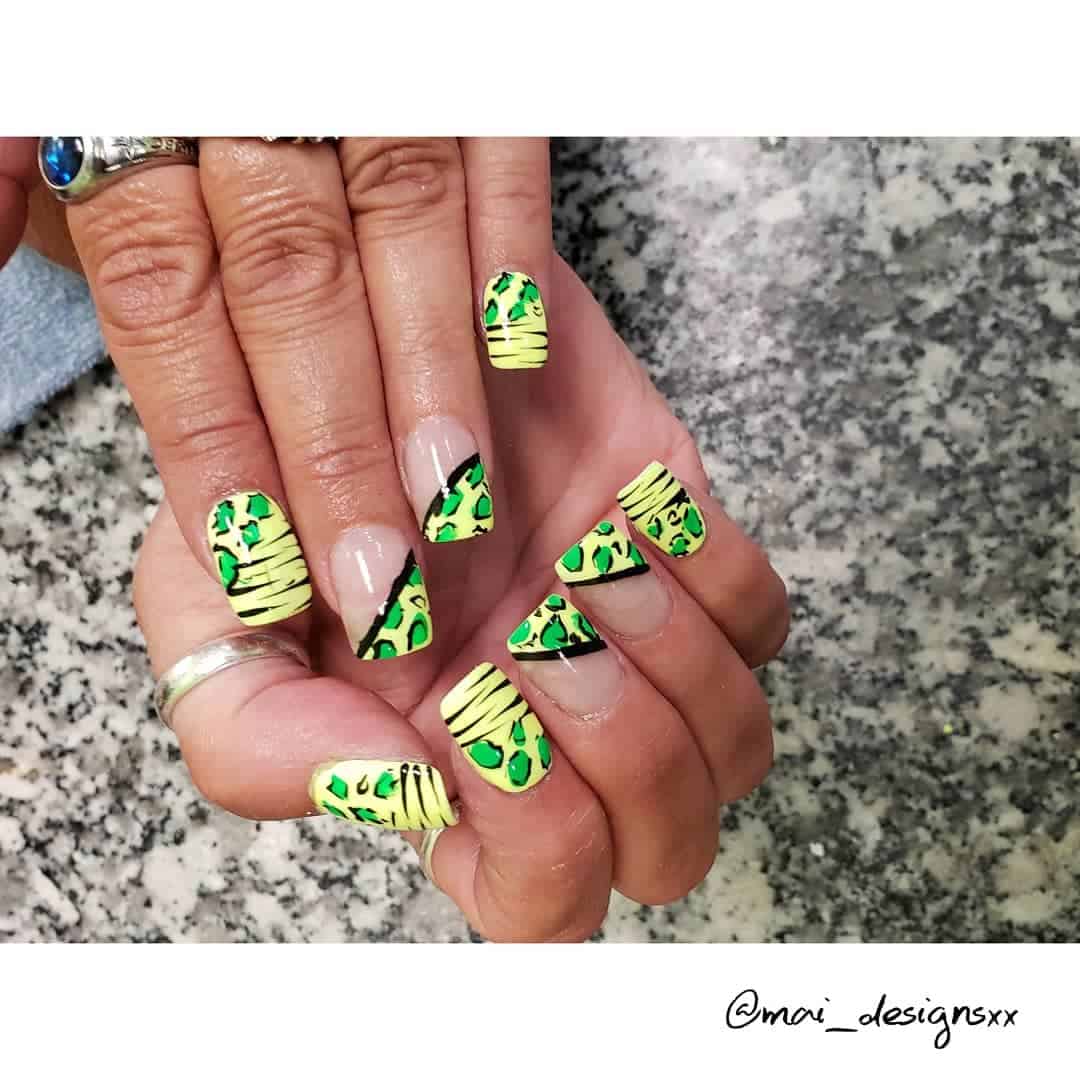 This stunning French manicure twist doesn't just give you a pop of color – it lights up the whole room. It's refreshing and super colorful without looking overdone. The slanting lines are also a unique take on the French tip nail design, and here black makes the perfect accent, while the squared tips help create that diagonal shape. You can add the tips on more than two fingers if you want to minimalize the look. The clear base polish also helps to keep things toned down. Overall you can't go wrong with this bright green, animal-print-inspired design.
49. Bright Yellow Nails With Zebra French Tips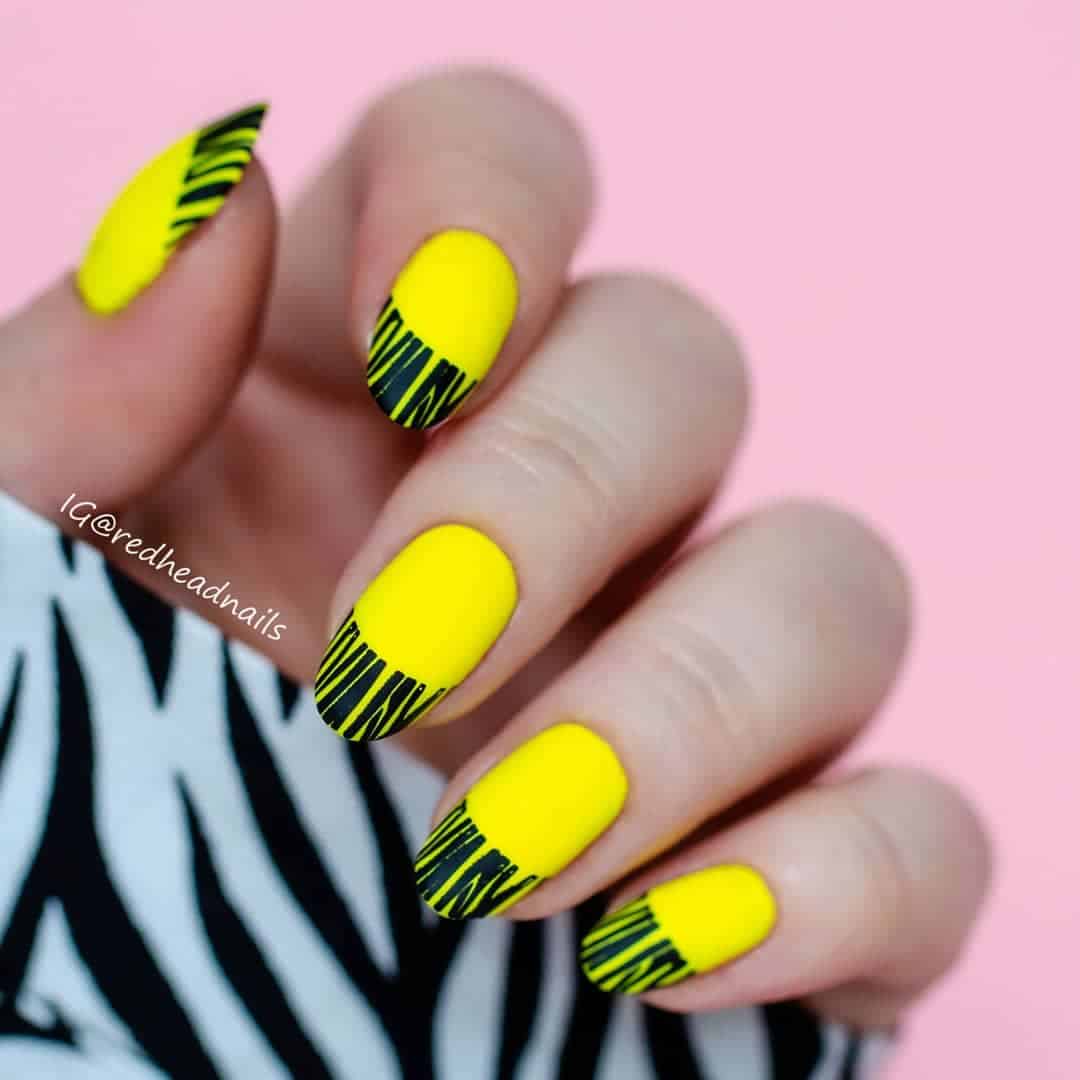 Neon colors are fun, summery, and the perfect choice if you want a free-spirited French tip nail design that's shockingly different, but in a good way. These bright sun yellow nails are certainly unconventional, and the zebra tips complement this amazingly bright look to perfection. What's more, they are an easy DIY design that you can achieve in no time at all. You'll be a bright ray of sunshine everywhere you go. You can also experiment with different neon colors like green or try a square shape to bring out the zebra print more.
50. Goth and Girly French Tip Nails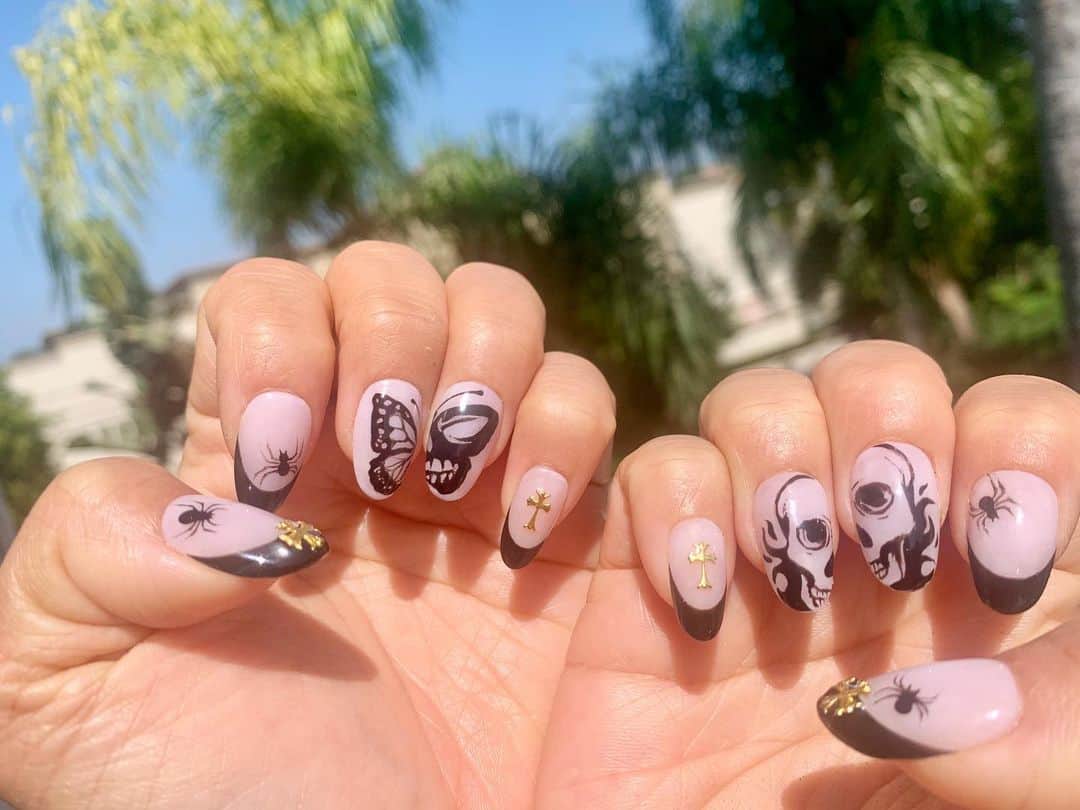 If you're an addict for trendy French nail designs, this option is for you since it manages to prove there's no limit when it comes to what you can incorporate in your French Mani. You can adapt this Halloween themed look to match your style, whether it's by changing the nail art, colors, or gold accents. Pick up all the designs you love and see how many you can add to your nails while still giving off the French tip vibe. There's much fun to be had and creativity to be explored when creating this look at home.
How to Pick the Perfect French Tip Nail Design for You
These French tip nail designs are trendy takes on the traditional and classic look. Choosing a French tip nail design that suits you best is easy if you consider a few things first. For instance, consider your skin tone. Nail colors that clash with your skin tone might upset the look you're trying to achieve. Using the Romantic Pink Glitter French Tip Nails as an example, you can see how the model's skin tone perfectly complements the design.
You'll also want to consider the type of attire or outfit you'll be wearing with your chosen nail outfits. When people take in your whole appearance, your design should fit in with your clothing, makeup, and accessories. The best thing is to determine if your chosen design is edgy, chic, classy, or casual. Then you can look up different outfits that would match the design. For instance, these Bright Yellow Nails With Zebra Tips are bright and summery.
When you look up summery outfits, you'll likely come across this cute dress, which is an excellent choice for this look. When it comes to different occasions and seasons, you can simply replace the outfit with one that matches the event's theme or feel. For instance, this lovely dress is another equally great choice for a cocktail affair if you still want to rock your bright yellow French manicure.
Your personality should chip in as well when picking the right French Tip design. Don't be afraid to let your personality shine through because you can still be trendy while wearing a design that resonates with your true self. These Metallic Chrome Nails With French Tips will help express your glam-loving persona. In contrast, these Minnie Mouse-Inspired French Tip Nails represent a fun-loving nature. Likewise, you can find trendy French tip nail ideas that express your sophisticated, elegant, edgy, or bold side, plus any other vibe you're aiming for.
It's all about having the right French manicure tools at your disposal, especially if you're doing the designs at home. You'll undoubtedly need a quality protective top polish coat like this one to make sure your design lasts, while this nourishing and moisturizing hand lotion will keep your hands soft as you go about your business.