If you've developed a scar, either through an accidental injury or surgery, you may have already tried every trick you've ever heard of to lessen its appearance and gotten nowhere. You may even be wondering if there is anything left you can do to fade out your scar. Thankfully, the solution to your problems can be found in a scar removal cream.
Scar removal creams are designed to help fade scars and improve the appearance and texture of scarred skin. They come in a variety of formulas with varied specialized active ingredients that work to target different types of scars. Some creams can even be used on every type of scar, new or old.
With all the options out there today, selecting the best scar removal cream for your needs can be difficult. To help you out, we've researched exactly what you want to look for in a scar removal cream and created a list of the best products out there to make your choice easier.

Why Use Scar Removal Cream?
If you are struggling with how your scar looks, using a scar removal cream to fade it into nonexistence can be a great help in improving your self-confidence and the overall appearance of your skin. People use scar removal creams for different personal reasons, but the consistent goal of them is to make skin appear more natural-looking and lessen the look of a scar as much as possible.
Keep in mind that while scar removal creams can greatly reduce how prominent a scar is, your scar cannot be completely removed from your skin since it is a part of it.
Ingredients to Look For
Scar removal creams are made with a number of different ingredients. Each one is selected to give you the most skin healing benefits possible. That being said, there are a few important ones you should keep an eye out for.
Vitamin E
Vitamin E promotes healing in the skin. It has both antioxidant and anti-inflammatory benefits that improve overall skin appearance.
Glycerin
A type of moisturizer, glycerin hydrates skin and locks in moisture, so scars start to heal.
Vitamin A
Vitamin A promotes healthy cell regeneration that creates new skin, smoothing scars.
Type of Scar
Scars typically fall into five main distinction categories. These categories determine the level of healing you can achieve with each scar.
Hypertrophic Scars
This type of scar can occur as a result of cuts, burns, piercings, or stitches. They are typically redder in appearance, thicker, and can be slightly raised from the skin.
Atrophic Scars
Atrophic scars form as the result of skin traumas such as acne or burns. They may have a pitted, sunken appearance that makes the skin look uneven. These scars are usually localized to the exact injury point.
Keloids
A keloid is a raised scar that often looks like a bump or growth. It is typically puffy and round, and grows outside of the original boundaries of the injury. Keloids can be caused by piercings, tattoos, or acne. There is a genetic component to whether or not you are prone to developing keloids.
Contracture Scars
This type of scar forms when skin is burned. It is flat, shiny, and may cover a large area of skin. Depending on the severity of the burn, the scar may affect tissues and muscles beneath the skin.
Stretch Marks
Stretch marks form after a rapid change in the skin, such as during pregnancy, weight loss, or growth spurts. They can also appear around wounds that are located on a joint like the knee or elbow.
Type of Formula
There are two primary types of formula when it comes to scar removal creams – silicone-based and water-based. Both formulas are great at healing scars, but there are a couple of differences.
Silicone-Based
When used on scars, silicones work to prevent the collagen overgrowth that results in raised up or textured scars. It also creates a barrier over the skin that limits moisture loss from the scarred area. However, there is a slight risk of developing an allergic reaction or skin irritation over time when using a silicone-based formula.
Water-Based
Water-based formulas are more likely to be blended with natural ingredients that all work to moisturize and encourage cell repair in the skin. They are typically better at lightening and fading scars, but not the best for the intense removal of large, raised scars or scars that have been around for a while.
Now that you know what to look for in a quality scar cream, let's get to our list of the top 10 products available!
Top 10 Best Scar Removal Creams 2023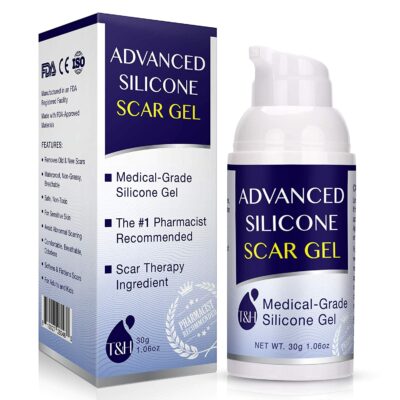 Why we like it:
This scar remover is gentle enough for all skin types and blended with peppermint for a cooling sensation.
Editor's Rating:
Quick Facts
Formula: Silicone
Best for: All scar types
Additional Benefits: Soothes itches
If your scars are on the itchier side, then this product may be the best for you. Peppermint is blended into the silicone formula and acts quickly to cool skin and soothe itches every time you apply it onto your scar. It gets to work healing swiftly and is especially helpful on new scars that may be inflamed.
The formula of this product does not have any added colors, fragrances, or harsh preservatives. It is gentle enough to be used on all types of skin and can be used on children's skin without being too irritating. It is a great choice if you want a product that can help heal scars for the whole family.
Terez and Honor is on the expensive side and comes in a little smaller sized container than its competitors. The cream itself may also clog your pores and cause sensitive skin to breakout over time. A more non-comedogenic product such as CeraVe's Retinol Serum may be a better choice if you are prone to breakouts.
Pros
Cooling peppermint oil soothes itchy skin

Gentle enough for all skin types

No added colorings or harsh preservatives
Cons
Expensive

May cause skin breakouts
---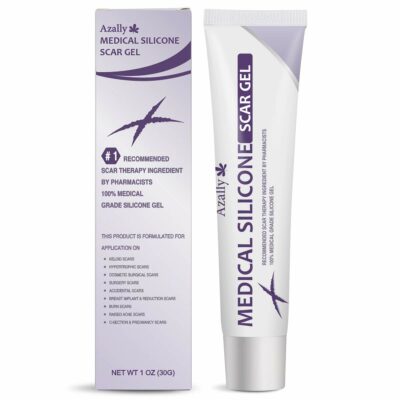 Why we like it:
AZALLY's scar gel has a lightweight feel and easily absorbs into skin for optimum skin repairing benefits.
Editor's Rating:
Quick Facts
Formula: Silicone
Best for: New scars
Additional Benefits: Lightweight gel
An affordable option among scar removal creams, AZALLY's scar gel is great for using on newer scars. It works quickly and effectively to promote cell regeneration, encouraging the growth of new normal skin and reducing a scar's overall appearance.
This formula easily absorbs into the skin without feeling greasy or sticky. It has a lightweight feel, which is great for someone who prefers their creams to be more sheer. You will not be able to feel it sitting on top of your skin once it is applied.
This product is not the best option for older scars and for acne scars. It tends to clog pores and is not very effective at fading scars on the face. If you are looking for something that is perfect for older scars, we recommend you check out TCM's Scar Removal Cream.
Pros
Easily absorbs into skin

Affordable

Great for new scars

Lightweight feel on the skin
Cons
Does not work as well on older scars
---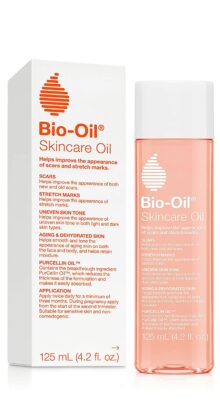 Why we like it:
This oil-based skin care product is perfect for reducing stretch marks and lightening all types of scars.
Editor's Rating:
Quick Facts
Formula: Oil
Best for: Stretchmarks
Additional Benefits: Added essential oils
Even though Bio-Oil is formulated with calendula oil, it has a non-greasy feel. It absorbs into skin without becoming sticky or leaving behind residue. The oil works to lock in moisture, allowing your skin to regenerate and repair itself without interference. Added essential oils such as chamomile, lavender, and vitamin E help to heal skin, leaving it looking smooth and even in tone.
For anyone who is trying to reduce their stretch marks, this product is a good choice. It can be used during and after pregnancy to combat the occurrence of stretch marks and keep skin smooth. Bio-oil will also lighten and fade the appearance of older scars anywhere on the body. And if you are primarily interested in a product that can effectively lighten scars, we also suggest looking at Cicatricure Face & Body Scar Gel.
While Bio-Oil can be used on any scar, this product is not the best choice for someone who is trying to flatten raised scars. The formula is not potent enough to level out this type of scar or encourage the significant collagen regrowth that can lessen the height of a scar.
Pros
Non-greasy

Great for healing stretch marks

Oil locks in moisture

Added essential oils for skin health
Cons
Not as effective for healing raised scars
---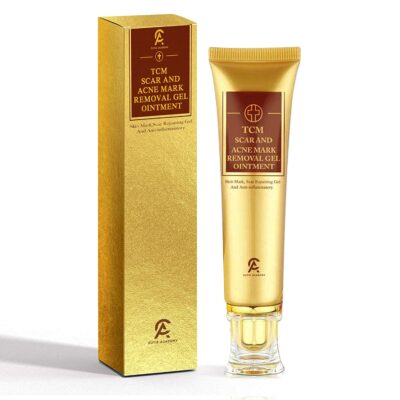 Why we like it:
TCM Scar Removal Cream is water-based and blended with natural ingredients that work to remove old scars.
Editor's Rating:
Quick Facts
Formula: Water
Best for: Facial scars
Additional Benefits: Allantoin for cell growth
One of the main ingredients of this cream is allantoin. Allantoin is found in several natural plants and can increase cell regeneration when used topically. It is a key ingredient in many anti-aging and moisturizing creams. It is perfect for anyone with sensitive skin due to its non-irritating nature.
This product's formula is blended with natural ingredients and is gentle enough to use on the face. It works well on old scars that are found anywhere on the body, and the cream itself has a pleasant light shea smell to it.
Due to a lack of chemical ingredients and silicones, this product may take longer to work than other creams. It may also vary in the intensity of results it provides based on your individual scars and skin texture. If you are looking for a quicker acting cream that still has a water-based formula, we recommend Cicatricure Face & Body Scar Gel.
Pros
Pleasant smell

Blended with natural ingredients

Added allantoin

Works especially well on old scars
Cons
Takes longer to see results
---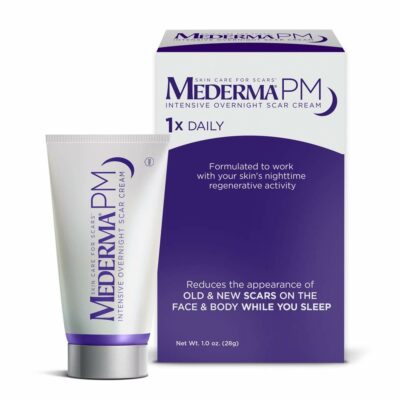 Why we like it:
Mederma PM is designed to provide intense repair and hydration overnight, so your scar disappears while you sleep.
Editor's Rating:
Quick Facts
Formula: Silicone
Best for: All scar types
Additional Benefits: Intensive overnight repair
This cream is easy to use – it only has to be applied once a day before you go to sleep. Skin regenerates more quickly at nighttime and this cream is designed to take advantage of that. It is a great choice for anyone who wants a potent scar removal cream that requires less maintenance and fewer applications.
Onion bulb extracts are blended into this product's formula. Studies have shown that onions can reduce discoloration on the skin and improve the overall appearance of a scar. And if you like the sound of these benefits but would rather have a daytime cream, Mederma has an equally potent cream for that too.
This product does have quite a few additional added chemicals. It also has artificial fragrances and preservatives blended into the cream. If you have more sensitive skin and wish to avoid these chemicals, but still want a silicone-based product, take a look at Aroamas Advanced Scar Gel.
Pros
Also available as a daytime cream

Easy to use

Onion extract reduces discoloration

Intense overnight repair
Cons
Cream may irritate skin

Added fragrances and preservatives
---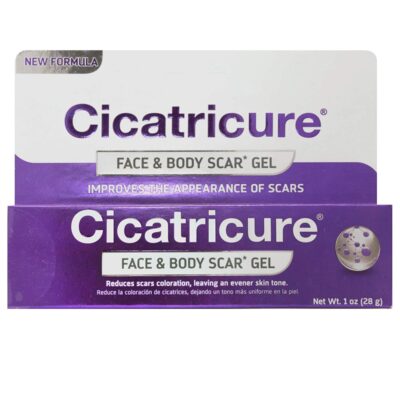 Why we like it:
This cream has a quick-acting formula that effectively lightens and improves the overall appearance of scars.
Editor's Rating:
Quick Facts
Formula: Water
Best for: Lightening scars
Additional Benefits: Works quickly
Providing results in as little as eight weeks, Cicatricure Scar Gel has a quicker acting formula than most of its competitors. With consistent use, you can start to see results within a few weeks, with significant improvements in color around week 8 of use. This product uses an onion bulb extract to reduce scar discoloration.
The overall texture of a scar and the skin surrounding it can be improved by using this cream. It works to hydrate and soothe skin with the help of chamomile and aloe extracts, leaving skin soft and smooth to the touch. It is a good option for anyone who has rougher areas of dry skin around their scar.
Cicatricure is not the best scar removal cream for use on medical scars or keloids. It is not potent enough to heal up scars that are deeper or raised, and does not help as much with skin regeneration. For a product that is better suited to healing more intense scars, check out Aroamas Professional Silicone Scar Sheets.
Pros
Quick-acting formula

Reduces scar discoloration

Improves texture of the skin
Cons
Not the best for medical scars

Does not work well on keloids
---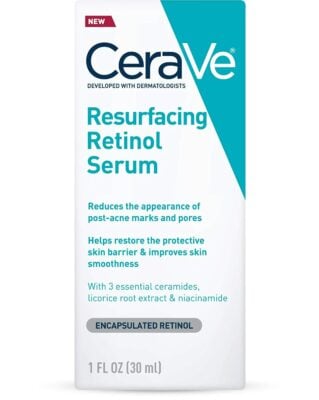 Why we like it:
CeraVe's Retinol Serum features retinol to assist in the resurfacing of old and new acne scars, leaving skin healthier and clear.
Editor's Rating:
Quick Facts
Formula: Water
Best for: Acne scars
Additional Benefits: Added retinol
CeraVe is one of the top brands recommended by dermatologists for treating acne and improving skin texture that has been affected by acne. Retinol increases cell turnover, speeding up cell regeneration and effectively clearing skin. It is a good choice for someone who has current acne and old acne scars they wish to remove.
The formula of this product is non-comedogenic, meaning it won't further clog pores or cause breakouts. Ceramides and licorice root work together to restore the skin's natural barrier, improving hydration and the overall appearance of pores.
Since this product is an acne treatment serum, it is not a good product to be used on scars across the rest of the body. Users with sensitive or dry skin may also want to avoid it due to the fragrance and harsher chemicals blended in. We suggest Bio-Oil Skincare Oil if you are looking for a product that won't irritate skin and can be used on scars across the body.
Pros
Retinol helps to clear acne

Non-comedogenic

Improves overall appearance of pores

Dermatologist recommended
Cons
Not able to be used on rest of the body

May irritate sensitive or dry skin
---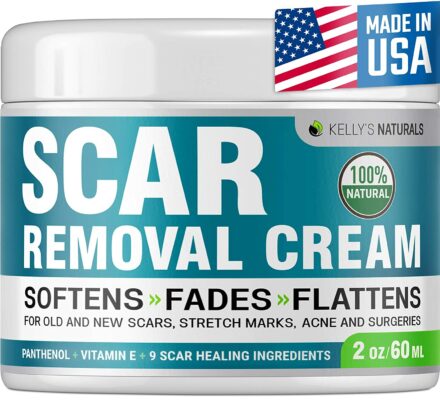 Why we like it:
Kelly's Naturals Scar Removal Cream is formatted with 100 percent natural ingredients and uses powerful botanicals to safely heal scars.
Editor's Rating:
Quick Facts
Formula: Water
Best for: All scar types
Additional Benefits: Panthenol for skin elasticity
An all-natural product, this cream is created with 100 percent natural ingredients. It features 9 different scar healing nutrients. Each botanical ingredient is carefully selected to soften, fade, and flatten all kinds of scars. There are also no GMOs or harsh preservatives in this product. It makes a good choice for anyone who prefers a more natural scar removal cream.
Panthenol is a key ingredient in this cream and helps to repair the skin's natural barrier. It hydrates skin and improves skin elasticity, making skin look and feel smoother.
This cream has a stickier texture than most of its competitors. It can be unpleasant to rub onto skin because of this. It may also leave behind a greasy residue that can rub off on or stain clothing. You may want to select a product that absorbs more easily like AZALLY Advanced Scar Gel if these issues are a drawback for you.
Pros
100 percent natural ingredients

Panthenol improves skin elasticity

Botanicals work to soften, fade, and flatten scars

No GMOs
Cons
Leaves a greasy feeling on skin

Cream texture is sticky
---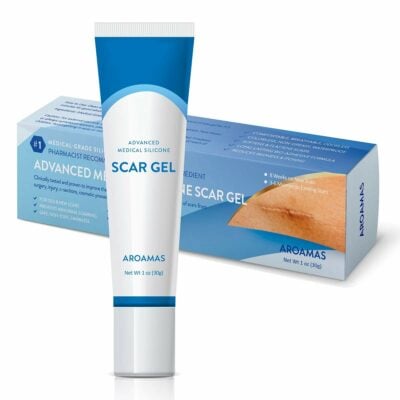 Why we like it:
The Aroamas Scar Gel has an odorless formula that works on all scars, no matter how old they are.
Editor's Rating:
Quick Facts
Formula: Silicone
Best for: All scar types
Additional Benefits: Odorless formula
For anyone with sensitive skin looking for an effective scar cream, this product is a good choice. It has limited ingredients and is completely odorless, meaning there is no chance of experiencing an adverse reaction to added fragrances.
This scar gel works on both old and new scars, and can help reduce the appearance of stretch marks and other pregnancy scars. It has a long-lasting bio-adhesive formula that lets the gel attach to your skin and stay in place as long as possible for maximum benefits.
The formula may be too watery for some users, making it a hassle to apply. This also causes the gel to take longer to absorb fully into the skin. If you are interested in a more rapidly absorbing product, check out AZALLY Advanced Scar Gel.
Pros
Great for sensitive skin

Works on all scar types

Long-lasting bio-adhesive formula

Odorless formula
Cons
Formula can be too watery
---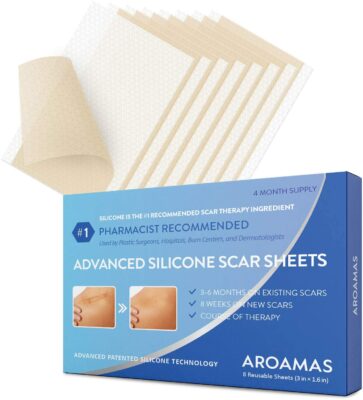 Why we like it:
These scar sheets are the perfect alternative for someone who wants to reduce the appearance of their scars without the hassle of applying a cream.
Editor's Rating:
Quick Facts
Formula: Silicone
Best for: Raised scars
Additional Benefits: Reusable sheets
Scar sheets are designed to provide a slight pressure to the scar, mimicking the natural barrier of healthy skin and flattening it. It helps to restore skin back to its natural texture and color, improving the overall feel of the scar. It is great for use with medical scars or anything that has required stitches.
Aroamas's Silicone Scar Sheets are flexible and breathable. When worn, they do not itch or further irritate skin. They are completely washable and reusable for up to 2 weeks if given the proper care. The sheets make a good option for anyone who values more economical products.
This product is not the best option for acne scars, especially acne scars that are on the face. The sheets cannot easily be applied to the facial area. The adhesion is also fairly weak, causing the sheets to fall off of your skin easily if you are sweating or happen to get them wet.
Pros
Washable, reusable sheets

Works to flatten scars

Great for use with medical scars

Improves feel of scar
Cons
Not good for acne scars

Sheets do not adhere to skin well
---
Your Complete Guide to Scar Removal Creams
Reducing the look of a scar can be a tricky procedure and one that takes a lot of patience. If you still have questions about the process, you can find the answers here in our complete guide.
Benefits of Using Scar Removal Cream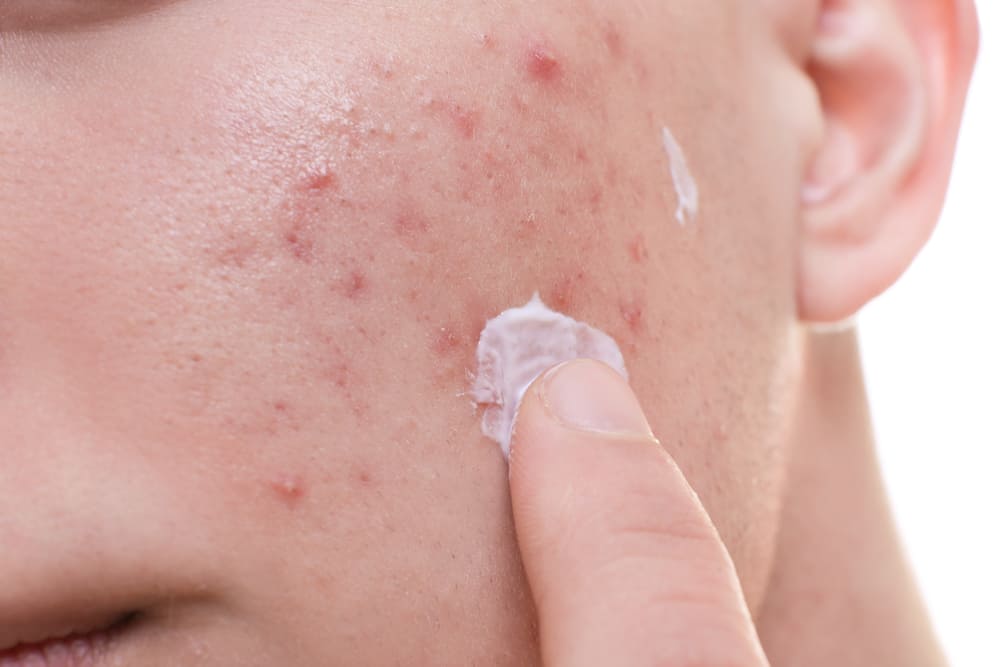 Scars are a natural part of the body's healing process. Though they do not typically present any physical health problems, scars can often cause mental health issues like stress or anxiety due to their cosmetic impact. Using a scar removal cream can help improve these issues and many more.
Rebalance Collagen Structure
A vital part of making a scar fade away, scar removal creams can help rebalance your skin's collagen structure. This means that with consistent use, collagen production will be increased and cell regeneration will speed up so your scarred skin will return to normal.
Improved Confidence
Lessening the appearance of a scar can improve a person's confidence. As a scar fades, less stress and anxiety is felt, and a person is more confident to wear what they want and feel comfortable with themselves.
Improved Skin Condition
In addition to lessening and fading scars, skin removal creams can boost the overall appearance of skin. This can make it brighter, smoother, and more youthful looking.
How to Use Scar Removal Cream
Whichever cream you use will have specific instructions on how it should be applied. However, the general rule for scar creams is that you want to apply it to the skin 2 to 3 times a day for maximum benefits.
When applying the cream, be sure to thoroughly massage it into your skin. This massage helps to stimulate healing and even out the texture of the scar.
Also, always be sure to use scar removal creams on unbroken skin that has completely healed. Do not use it on any open wounds that are still healing.
Considerations Before Using Scar Removal Cream
The results of using a scar removal cream differ from person to person; there is no one guaranteed outcome. Keep in mind these considerations before using a cream to get a rough idea of the results.
Age of Scar
How old a scar is dictates how fast it will heal. If your scar is older, it may take longer to begin to fade than a newer scar. A cream like TCM Scar Removal Cream is better for older scars.
Type of Scar
The types of scars we discussed above play an important role in determining how the scar will heal. Try to choose a cream that is tailored to reducing your specific type of scar for best results.
Intended Look
The intended look you have for a scar is a vital factor in deciding on a scar removal cream. If you just want to lighten the look of a scar, a cream like Cicatricure Face & Body Scar Gel may be better. If you are trying to flatten a raised scar, Aroamas Scar Sheets could be a good choice.
Keeping the intended look for your scar in mind while browsing scar removal creams will help you select the best product for your needs.
Should You Massage a Scar?
Massaging a scar is a highly recommended procedure for reducing the appearance of scars and improving skin texture. It has a number of benefits, including increasing blood flow to the area of the scar and aiding in evening out the scar structure. Massage may also trigger a hormonal release of oxytocin, which can help you feel less pain.
You should note that massage only significantly helps scars that are less than 2 years old.
The Scar Healing Process
Understanding the healing process of a scar can help you understand the best ways to minimize and reduce the appearance of them.
When you get a wound or a surgery that damages the dermis, the thick layer of tissue underneath the epidermis (the top layer of skin), the body attempts to repair it by sending new collagen fibers to fix the damage and protect the wound from bacteria. This results in tissue that has a different appearance and texture from the rest of the skin – a scar.
In cases where there is too much collagen produced, scars will be raised. This type of scar is more commonly found in darker skinned people and younger people. Scars that are pitted or sunken, like acne scars or surgery scars, are the result of fat or muscle lost underneath the dermis that scar tissue then forms on top of.
Do Scars Look Worse Before They Get Better?
In some cases, you may find your scar looks worse as it begins to heal. This is a result of the body attempting to make the scar as impenetrable as possible to protect the wound. You may notice your scar getting harder or redder before it settles down and fades out a little bit.
Over the course of using a scar removal cream, your scar may become slightly more inflamed around the edges or itchier as it heals. A mild amount of this is considered normal, but if applying the cream causes excessive itching, rashes, or pain, you should discontinue use of the cream.
How Fast Do Scars Fade?
Without using a scar removal cream, scars may continue fading for up to two years after an injury is sustained. It is unlikely your scar will become any lighter or flatter naturally after this time period.
When using a scar removal cream, you may start to see results in as little as 6 to 8 weeks if you purchase a quick-acting lightening cream such as Cicatricure Face & Body Scar Gel.
With more traditional silicone-based or water-based creams, it could take up to 3 months to begin seeing results. The older the scar is, the longer it will take to for it to begin to fade.
Alternative Scar Healing Methods
In addition to scar removal creams, there are several other options that can help you reduce the appearance of your scars.
Steroid Injections
A course of steroid injections can be administered by your doctor to help flatten a scar. They may also help to soften a keloid or hypertrophic scar, reduce itching, and prevent any pain that surrounds a scar.
Filler Injections
Typically used as plastic surgery to fill in wrinkles on the face, filler injections can help raise sunken or pitted scars up to the normal level of the skin. The effects of fillers do fade over time, and you may choose the get the procedure repeated in order to keep your scars looking even.
Microneedling
The technique of micro-needling involves creating many small puncture holes into the top superficial layer of skin where the scar is located. This can stimulate collagen production and can be used as a way to directly introduce collagen stimulators to the scar in order to reduce its overall noticeability.
Dermabrasion
Dermabrasion removes the surface of skin using special equipment. It can be used to fade the irregularities of a scar and blend it into the skin surrounding it. A related treatment, microdermabrasion is a less invasive form of this procedure that can help smaller, newer scars.
Surgery
In extreme cases of scarring, surgery can be used to alter a scar's appearance and make it less noticeable. Surgery will not completely remove a scar and cannot be used on keloids and hypertrophic scarring as there is a chance worse scars will form as a result of the procedure.
Cryosurgery
Cryosurgery involves freezing a scar in order to reduce the size, pain, or any discoloration. It can also help decrease itchiness or scar hardness. This method is typically combined with steroid injections.
Radiotherapy
A high-risk treatment, radiotherapy is only used in extreme cases where other methods of scar treatment are not an option. Low doses of radiotherapy are used to reduce and prevent the recurrence of severe raised hypertrophic scars or keloids. There is a risk of significant long-term side effects associated with this treatment.
Out of all of these options, investing in a scar removal cream is the most cost-effective and the simplest thing to get started with. If you can, try to reduce your scar with cream first before consulting a doctor or a dermatologist about any of these other removal methods.
Pro Tips for Selecting Scar Removal Creams
There are a couple of important things you need to keep in mind when purchasing a scar removal cream. These pro tips will help you select a product that is sure to be effective.
Regard Claims With Caution
You may see scar removal creams with claims guaranteeing to completely remove scars in record times. You should always regard claims such as these with caution. It is not possible for a cream to completely remove your scar, but it can significantly fade it to a point it is no longer visible.
It will also take you at least two months before you start seeing results with any product, as it takes the body a long time to begin healing with the help of cream. If a product is offering you overnight results, it should be considered with suspicion.
Try Products One at a Time
It may be tempting if you don't see results with one cream to start mixing and matching creams or changing up products every couple of weeks. This should be avoided, as it can be irritating to your skin to constantly have different formulas applied. And, if one cream does begin working, you will not be able to easily figure out which one it is.
Scar removal creams require consistency and patience as they work. If you are not seeing results after using one cream for around three months, discontinue use and try a different cream. Always use one product at a time.
Other Creams to Consider
Here are some other creams you may want to consider adding to your beauty arsenal.
Cuticle Cream – An important part of your nail's health, the right cuticle cream can help your hands look and feel better.
Puffy Eye Cream – This type of cream helps eliminate swollen and puffy skin around your eyes.
Tattoo Removal Cream – Sometimes, getting that tattoo was a mistake. These creams help make the ink less visible.
Achieving Confidence With Your Look
For many, scars cause a great amount of stress and anxiety. In these cases, a scar removal cream can be a great option for helping to reduce the appearance of a scar and improving overall skin texture. Whether you want to lighten your scar, flatten a raised scar, heal stretch marks, or even out old acne marks, there is a perfect skin removal cream out there that can help you achieve the utmost confidence in your look.