Top Picks

The Honest Company Conditioning Detangler Spray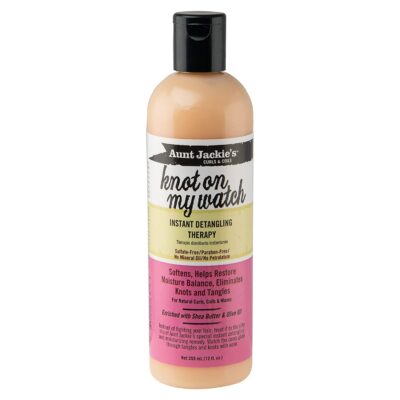 Aunt Jackie's Knot On My Watch

amika The Wizard Detangling Primer
Previous
Next
Waking up to a mess of tangles and knots is not fun for anyone. Neither is the painful experience of trying to brush these knots out, potentially pulling out chunks of hair and damaging your precious locks. In these cases, a hair detangler is the best product to painlessly smooth out your hair.
A quality hair detangler will coat your hair, allowing you to comb through it and eliminate knots without breaking or damaging hair strands. Many hair detanglers also offer the benefits of adding shine, hydrating hair and stopping frizz from forming.
When looking for a hair detangler, you want to be sure to purchase a product that will help smooth out your hair easily and without fuss. It can be confusing at first to select a detangler from the many products available today, so we've decided to help you out with a list of the top 10 hair detanglers out there.

Why Use a Hair Detangler?
If you have hair that is prone to knotting, thick hair, or curly or coily hair, a detangler is a valuable product that can help you brush and style your hair. It is a great product for smoothing out knots and tangles painlessly, leaving your hair looking soft and flawless.
Detanglers can also be used to condition hair, make curls more defined and manageable, and prevent frizz from forming.
Selecting a Hair Detangler
There are several important things to consider when selecting a hair detangler. These factors can set a good product apart from a great product.
Ingredients
In most detanglers, you will want to look for variations of these ingredients; they are what makes a hair detangler work effectively.
Silicones: Usually listed as dimethicone or cyclomethicone, silicones coat hair and add shine to it.
Hydrolyzed Proteins: These help to repair damaged keratin and smooth broken hair strands.
Oils: Oils repair damaged and dry hair, making it softer and reducing the chance of tangles. Olive and coconut oils are the most frequently used.
Acidifiers: This is a ​chemical that lowers the detangler's pH of the detangler. It works to smooth and tighten hair strands.
Cationic Surfactants: These bind to hair, leaving a positive electrical charge and reducing static.
It is important to note that you will not always have both silicone and an acidifier in a hair detangler. It is more common for one or the other to be used, but more potent products may have them both.
Any combination of these ingredients can be used in hair detanglers, but it is important that your detangler at least has oils in it to help add slip to the hair and effectively smooth it out.
Formula
There are two major formula types of hair detangler, spray and cream. They are very similar in terms of ingredients, but their method of application sets them apart.
A detangler spray is applied as a mist, squirted over the whole head. You can then comb it through your hair, letting it work its detangling magic as you brush. This is easier than using a cream formula detangler, but it may not provide you as intense coverage.
Cream formula detanglers need to be applied directly to your hair using your hands. You work the detangler into each strand and then comb your hair, brushing out knots. This formula requires more time to apply, but it does give your hair a more even coating. It can be better for very thick or curly and coily hair.
Additional Benefits
Some hair detanglers have extra ingredients added to give them benefits beyond just eliminating knots. Look for things such as vitamin E, essential oils, plant botanicals, and static-free formulas to find a product that does the most for your hair. The Honest Company Conditioning Detangler Spray is a great example of this.
Now that you know what to look for in a hair detangler, let's get to our list of the top 10 best hair detanglers available! For other hair related info, make sure to see our reviews of essential oils for dandruff control and our tutorial for moisturizing dry hair.
Top 10 Best Hair Detanglers 2021
Your Complete Guide to Hair Detanglers
If you still want to know more about hair detanglers, don't worry! Our complete guide will give you all the information you need to be an expert in hair detangling.
How Does Hair Detangler Work?
It may seem like magic, but a hair detangler is a great example of chemistry in action. Even though there are multiple formulas of detangler available, they are all designed to do the same thing – alter the surface of your hair to make it smoother and more manageable.
This alteration is done using the ingredients we discussed above. These ingredients coat hair, tightening the surface of each strand and smoothing the outer surface of the cuticle. This allows the knots to unwind and lay flat as you brush your hair instead of being pulled out by a comb or brush.
Some hair detanglers may also leave a positive electrical charge on the hair that helps to prevent static and frizz from forming; static and frizz are often the number one culprit of tangles. From our list, a great static reducing detangler is The Honest Company Conditioning Detangler.
Benefits of Using Hair Detangler
Besides just eliminating knots, hair detanglers provide many benefits when used regularly on your locks.
Reduce Shedding
When using a detangler to smooth out your hair, you will not be losing as much hair to your comb or brush. Detanglers can also strengthen hair, preventing future hair loss.
Hydrate Hair
A hair detangler, especially one with conditioning ingredients like MIZANI 25 Miracle Milk, can increase moisture content in the hair, hydrating it and repairing dry or damaged strands.
Add Shine
Using a hair detangler regularly can increase your hair's shine. This is due to the oils and smoothing agents used to tame your locks. You may also notice your hair seems to be more full-bodied.
Act as a Heat Protectant
If you use heated styling tools often, using a hair detangler can help to prevent heat damage to your hair. Detangler coats each hair strand to smooth it, but this can also protect it from various types of environmental and heat damage. amika The Wizard Detangling Primer is a perfect example of a product that does this.
How to Use Hair Detangler
How you use your detangler depends on the brand you buy. Always check with your product for specific instructions before using it. Below, we have a general method for how to effectively use your hair detangler.
Detangling Wet vs. Dry Hair
The debate on whether to detangle your hair wet or dry is a long-lasting one. However, the way you choose to detangle your hair really comes down to personal preference and your individual hair type.
It is more commonly recommended that you use a detangler on hair that is damp but not soaking wet. This can help you comb through the strands more easily and will give you more shine as the detangler product dries in your hair. However, it is not always completely realistic to have your hair wet before combing it out.
Using a detangler on dry hair is recommended when you don't have time to waste pre-wetting your hair. More frizz and static are prevented when you detangle dry hair. On the other hand, you run a higher risk of breaking or damaging your hair while detangling if you don't fully saturate your locks with detangler.
If possible, the best way to detangle hair is to lightly mist your dry hair with water and then apply the detangler. This can help you get the best of both worlds.
Method
The first step in using a detangler is to apply it to your hair. If you are using a spray formula, apply it liberally around your head. For cream formulas, work the detangler carefully into each strand.
Once your hair is saturated with detangler, separate it into sections. If you have curly/coily hair or very thick hair, consider making several smaller sections. Those with thinner or fine hair may be able to make just one or two sections.
Take a wide-toothed comb (you could also use your fingers to comb) and move it slowly through your hair, starting at the root. If you encounter any snags, gently work the comb through them until they become loose. Do not pull or tug. Continue until all of your hair has been brushed out.
If you have very thick unmanageable hair, or curly and coily hair, you may want to consider investing in a dedicated detangling brush. This type of brush is specially designed to help you smooth out knots and tangles without tugging or pulling at your hair.
How Often Should You Use Hair Detangler?
Typically, you should be detangling your hair every time you wash and condition it. If you have curly or coily hair, you may go several days between washes, but you should still try to detangle your hair at least once a week.
You can use detangler every day if you want to, but keep in mind that this could lead to a build-up of product in your hair and may give your hair a greasy or sticky feel to it. After using detangler, be sure to wash your hair to prevent a product build-up.
Preventing Hair Tangles
Before even using a hair detangler, there are steps you can take to reduce the occurrence of knots and tangles in your hair.
Brush Hair Before Washing
A quick brush through your hair before washing it can prevent any knots from forming when you go to shampoo. However, if you have curly or coily hair, it may be a better idea to comb your hair in the shower to prevent hair from breaking.
Always Use Conditioner
Conditioning your hair is a great way to keep your hair smooth and soft. Apply it generously and pay special attention to the ends of your hair. If you have particularly thick hair, curly, or coily hair you may need to condition it twice.
Gently Dry Your Hair
When drying your hair, don't scrub or rub at it with a towel. Consider tying it up in a towel to absorb excess moisture before letting it air dry. You may also want to use a microfiber towel to prevent breakage and frizz, and go easy on blow-drying, as too much heat can damage hair.
Use Hair Oil
On dry hair, you can apply a hair oil like argan oil or vitamin E to seal ends, hydrate hair, and prevent breakage.
Protect Your Hair
If you are exercising, pull your hair back to prevent it from becoming sweaty and tangled. Additionally, if you are out in extreme wind, try to protect your hair with a scarf or a hat; wind can twist your hair around forming tight knots that are painful to remove. During sleep, tie your hair up or use a scarf to prevent it from forming knots in the night.
Try Satin
Cotton pillowcases can be rough on hair. To prevent tangles while you sleep, try switching to a silk or satin pillowcase. This material will be smoother on your hair, preventing frizz and knots from forming.
Alternative Hair Detangling Methods
If you don't have a hair detangler on hand and you need knots removed asap, try these simple home remedies to smooth out your hair.
Wet Your Hair
Getting your hair slightly wet can help you work out those knots. The water makes hair slippery and more prone to detangling.
Use Conditioner
You can apply conditioner to either wet or dry hair in an attempt to loosen knots. Apply it liberally to the tangles and comb through your hair. Make sure to rinse out the conditioner once your hair is smooth.
Apple Cider Vinegar
A natural conditioner, you can mix up to a teaspoon of apple cider vinegar with 2 cups of water to detangle your hair. Apply the mix to your hair and then rinse with warm water. You can then comb through your hair while it is still wet. You can use lemon juice in the same way, with the same ratio of juice to water.
Mayonnaise
A seemingly strange remedy for knots, mayonnaise is unexpectedly good at smoothing out hair. Simply apply it to the knotted parts of your hair and let it sit for a few minutes. Rinse it out and then brush through the troubled areas, removing the knots. You can also use peanut butter in the same way.
Try Oils
Any household oil like coconut oil or olive oil can be applied to hair to detangle it. Even baby oil can help. Applying oils may also make your hair shinier.
DIY Detangler
Creating your own detangler at home is a surprisingly easy process. It can usually be done with ingredients you already have around the home.
Ingredients
For this DIY detangler, you will need a plastic spray bottle, 2 to 3 tablespoons of your favorite conditioner, and hot water. You may also want to include a few drops of essential oil for scent, or a hair hydrating oil like vitamin E oil.
Instructions
Add the conditioner into your spray bottle then fill the rest of the bottle up with hot water. Add in your optional oils, fasten the lid, and shake the bottle until everything is thoroughly combined. You can now apply it to your hair.
If you prefer more of a cream formula detangler than a spray one, only fill up the hot water to about halfway in the bottle before shaking it to combine. You can then unscrew the lid and apply the product using your hands.
Obtaining Smooth Hair Painlessly
Tangles and knots can certainly be a nightmare – they're painful to remove and can cause so much damage to your hair. Fortunately, with the help of a good hair detangler, you will be able to loosen those knots and brush out your hair without even a flinch.
When selecting a hair detangler, be sure to keep in mind the type of formula and benefits you prefer, and you will easily be able to find a product that gives you smooth, shining hair completely pain-free.