Raise your hand if you've ever woken up before an important job interview or exciting date with your eyes looking puffy and swollen. We've been there too!
For some folks, those puffy eyes are a regular occurrence, while for others they only pop up after the occasional night of indulgence. There are a few different beauty practices and routines that can help you deal with puffy eyes, and a great eye cream is an important part of that. Today we'll give you the low-down on undereye puffiness and recommend the best puffy eye creams to help you out!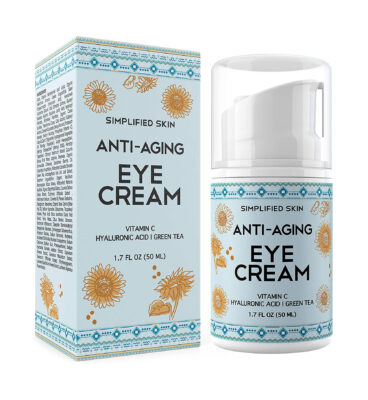 Simplified Skin's Anti-Aging Eye Cream is powerful enough to visibly reduce puffiness after just one use, while also being gentle enough for those with sensitive skin to use around the delicate eye area. Its richly nourishing, anti-aging formula features vitamin C, green tea, hyaluronic acid, peptides, witch hazel, rosehip oil, and matrixyl 3000; it's also cruelty-free, and doesn't use fragrances, gluten, sulphates, or parabens. You can use it both in the morning and evening for all-day protection and hydration!
View on Amazon
The Low Down on Puffiness
Before you can find the right puffy eye cream, it's important to understand what causes puffiness in the first place, as well as which features you should look for in an eye cream.

The Two Types of Undereye Puffiness
There are two major types of undereye puffiness, so in our reviews, we'll let you know which type each eye cream addresses. There are also many complex reasons that lead to these different types of eye puffiness, which we discuss in detail later on.
Temporary Fluid Retention
The first type is temporary fluid retention, which leads to a type of swelling known as "edema".  It can be caused by diet, alcohol consumption, and even just from sleeping incorrectly. It's very common, but it's also fairly easy to reduce with a basic, soothing eye cream and a few of the tips we give towards the end.
Long-Term Puffiness
This type of puffiness sticks around for the long-term, and it's usually age-related. With age, collagen levels deplete in the skin so it loses its firmness. As a result, both fat and fluids shift around and sink, often collecting in the hollows under the eyes. This kind of puffiness is more permanent and harder to deal with.
Certain depuffing ingredients (which we outline below) may still help reduce its prominence, but it's a long term process. It's often better to be proactive and use ingredients that will help prevent puffiness in the first place.
Finding the Perfect Puffy Eye Cream
Don't let puffy eyes get you down! These are a few factors and features you should consider when buying eye cream for puffiness.
Types of Eye creams
Our list focuses on results, so it includes a few different kinds of eye cream products, going beyond the traditional. These are the types of eye products you'll want to consider, from lightest to richest:
Eye Serums are light and fluid so they're quick to penetrate into the skin and deliver active ingredients. They're not very moisturizing, but they're potent.
Gel Eye Creams are light and hydrating so they're perfect for skin that gets oily or is prone to milia. They sink in deeply so they're great for delivering depuffing ingredients, they often have a cooling effect, and they're better at moisturizing than serums.
Eye Lotions, often marketed as light eye creams, are a little richer than gel-creams with a slightly oilier texture. They still sink in well, but they also leave a slight moisturizing film over the surface of the skin.
Eye Creams are creamy and very nourishing, so they're good for very dry skin. They take longer to sink in, so they're best at night-time, though some people find that they exacerbate their morning puffiness or contribute to oiliness and milia.
You'll want to keep your own skin type and concerns in mind when selecting the right type of eye cream for you. We get into this in more detail later.
Depuffing Ingredients
From retinol to caffeine, there are a few skincare ingredients that actually reduce puffiness. Some work slowly while others give quick but temporary results. There are also protective agents that prevent future puffiness! We examined eye creams with a wide range of depuffing effects, and we explain exactly how each one works in our reviews.
You can learn about the different depuffing ingredients, one by one, right here.
Gentleness
The skin around the eyes is extremely sensitive so eye creams have to be gentle. Unfortunately, it's often the case that the more effective an eye cream, the likelier it is to irritate the skin. We tried to give a balanced selection, and we'll let you know in our reviews when a product is likely to irritate the skin. Fragrances are often irritating as well, so we'll let you know about the scents used in each product (though we gravitated towards fragrance-free options).
Cooling Touch
Some eye creams, simply because of their texture, have a cooling effect the second they come in contact with the skin. This is a great way of getting light relief from morning puffiness without intense ingredients. That's why many of the eye creams on our list have a cooling touch.
Moisturization
Traditionally, an eye cream is a moisturizer for the delicate eye area, so even though our main goal is to recommend depuffing eye creams, we still want some moisturizing effects. The most depuffing eye creams are often less moisturizing, but you can layer them under a moisturizing one for double results.
With all of these factors in mind, let's deal with that gosh darn puffiness! Check out the best puffy eye creams we've uncovered and analyzed.
Top 10 Best Puffy Eye Creams 2023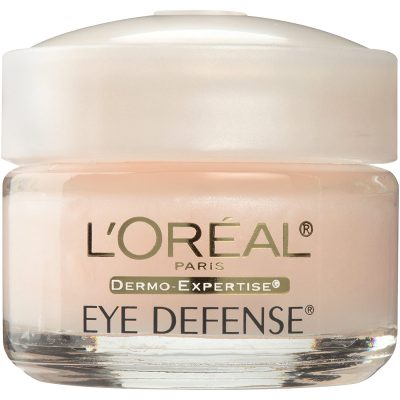 Why we like it:
This cooling gel eye cream works gently on a few different levels. It has a gentle, moisturizing formula that firms the skin with a touch of caffeine. It's depuffing but not intensely so, so it's great for those with sensitive skin.
Editor's Rating:
Quick Facts:
Type: Gel-Cream
Size: 0.5 oz
Cruelty-Free/Vegan: No
Quick Fix or Long Term: Both (But Gently)
Key Ingredients: Glycerin, Jojoba Oil, Caffeine
Scent: Fragrance-Free
This light gel-cream is our favorite middle-of-the-road puffy eye cream option. It has a gentle effect that never irritates or dries out the skin. It's very moisturizing but it's not heavy, so if you want depuffing results along with gentle hydration, this is the eye cream you should try.
The light, gel-cream formula is a true moisturizer, with glycerin and light jojoba oil, making it an effective remedy for both dry and dehydrated skin. It contains a touch of caffeine which, in combination with the cooling sensation it imparts, depuffs the skin quickly. You can learn more about how this amazing ingredient works here.
This gel-cream works especially well when refrigerated! It also contains oat extract which gives additional soothing effects and some antioxidant protection.
The amount of caffeine in this blend isn't extremely high, especially when compared to an intense formula like The Ordinary Caffeine Solution. Don't expect a dramatic or instant tightening effect – just subtle firming, combined with great hydration, and important antioxidant protection.
All-in-all, we love this product as a safe and gentle choice, although we think L'Oreal made a small mistake with its marketing. They claim that this product can actually reduce fine lines and dark circles, which sets shoppers up for disappointment when they don't experience dramatic results.
This gel-cream comes in a jar, so grab it along with a skincare spatula to keep things hygienic.
Pros
Light and cooling

Excellent moisturizing effects

Gently skin firming with caffeine

Soothing ingredients

Reasonable price
---
Why we like it:
If you're looking for long-term results this retinol-based eye cream is a must. It targets age-related puffiness from the root and can reverse the look of fine lines while also moisturizing the skin.
Editor's Rating:
Quick Facts:
Type: Lotion
Size: 0.5 oz
Cruelty-Free/Vegan: No
Quick Fix or Long Term: Long Term
Key Ingredients: Retinol, Glycerin, Copper Gluconate
Scent: Fragrance-Free
If you're looking for long term results and serious age-prevention, a retinol eye cream is a must-have. This one from RoC is one of the best we've seen. If you're not familiar, retinol is a form of vitamin A that is the gold-standard cosmeceutical for reversing signs of aging like fine lines and wrinkles. We discuss its mechanism of action here.
Using a retinol-based eye cream can work especially well to prevent and slightly reverse existing puffiness because it induces collagen production and firms the skin from below. Retinol is not as intense as prescription-strength vitamin A, so it's gentle enough for the eye area.
However, those with sensitive skin should still be careful when using it and pay close attention to signs of irritation. It makes the skin a bit more sensitive to the sun, so it's important to wear sunscreen when using it.
This cream is very light so it sinks into the eyes quickly, and there's no need to worry about intense richness causing the eyes to puff up in the morning. It contains glycerin, which is our favorite hydrating agent, along with light and gentle emollients that help to soften the skin. It also provides antioxidant protection with copper gluconate.
We recommend using this eye cream in the evenings for long-term results while using an instant depuffer like the Dr. Brandt Depuffing Gel in the daytime.
Pros
Most effective long-term puffiness solution

Light moisturizing formula

Helps fade fine lines and wrinkles
---
Why we like it:
This super affordable eye serum is also the most powerful product we dare to share with you! It contains a ton of caffeine for both instant and long term results, along with fiercely antioxidant EGCG.
Editor's Rating:
Quick Facts:
Type: Serum
Size: 1 oz
Cruelty-Free/Vegan: Yes and Yes
Quick Fix or Long Term: Both
Key Ingredients: Caffeine, Green Tea-Derived EGCG
Scent: Fragrance-Free
It's not immediately obvious that this is an eye product, and yet, it's one of the best treatments for under eye puffiness both in the long and short term! Made by The Ordinary, it was formulated to be as simple and effective as possible, and at a very reasonable price point. It's a great budget option, especially when taking into account that it has double the quantity of the average eye cream.
The star ingredient in here is caffeine which is used at an impressive 5% concentration. Caffeine is an excellent choice for undereye puffiness regardless of its cause because it works against both fat deposits and water retention. Hundreds of users find that, in practice, this eye serum helps both in the short and long term with under eye puffiness as well as with blue or purple under eye circles.
The second ingredient of note is EGCG, a soothing antioxidant compound taken from green tea. It's not the most thoroughly researched ingredient, but there is good reason to believe that it can protect the skin from photodamage, which causes puffiness in the long term.
While this serum does contain some very effective hydrating ingredients like hyaluronic acid and urea, they are no match for the caffeine, which can be drying. At this high concentration, it's also a little more likely to irritate the skin, so those with sensitive skin should be careful. If the skin around your eyes is severely dry or super sensitive then this serum might not be a great choice. You'll want something with less caffeine like L'Oreal Eye Defense.
If your skin isn't particularly sensitive, we still recommend using this eye serum in conjunction with a more moisturizing eye cream, like CeraVe Eye Repair.
Pros
Depuffing both in short and long term

Prevents irritation and fine lines with EGCG

Very high concentration of caffeine

Very affordable
Cons
Can be a little drying and irritating
---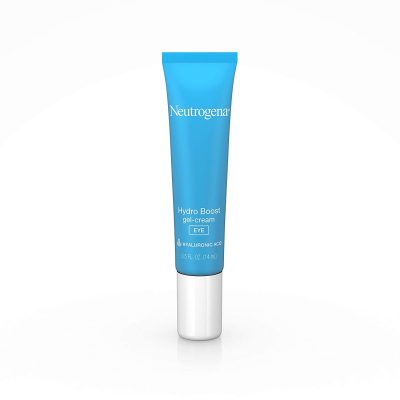 Why we like it:
This gentle gel eye cream doesn't include any intense depuffers, but it still refreshes with a cooling effect that reduces the intensity of temporary puffiness. It's also thoroughly hydrating and free of ingredients that can irritate sensitive skin.
Editor's Rating:
Quick Facts:
Type: Gel-Cream
Size: 0.5 oz
Cruelty-Free/Vegan: No
Quick Fix or Long Term: Quick Fix
Key Ingredients: Glycerin, Hyaluronic Acid, Dimethicone
Scent: Fragrance-Free
A lot of the products we recommend on this list are quite intense, so this eye cream is a step back. It's not extremely depuffing, but that's the exact reason why we want to recommend it. It's our favorite choice for those with sensitive skin who simply need a cooling eye product that won't make puffiness worse by over-moisturizing.
It's part of Neutrogena's Hydro Boost line of deeply hydrating but gentle skincare products infused with hyaluronic acid, glycerin, and moisture-sealing dimethicone. If you're prone to puffiness, it's a great go-to eye cream that won't make the situation worse but will still thoroughly nourish your skin.
Since it's a gel-cream formula it has a cooling effect when applied to the skin, which can be very helpful for reducing temporary morning puffiness caused by a late night or overindulgence in alcohol or salty snacks.
It's very light, so it won't exacerbate oiliness or milia, and it'll look great under makeup. It's still emollient enough, so you can use it in combination with a cool compress or face roller to get rid of morning puffiness (we explain this process below). If you'd prefer like a gentle and moisturizing puffy eye cream with richer texture, pick up CeraVe Eye Repair instead.
Pros
Great for sensitive or oily skin

Cooling effects depuff in the morning

Very hydrating but light
Cons
No intense or long-term depuffing effects
---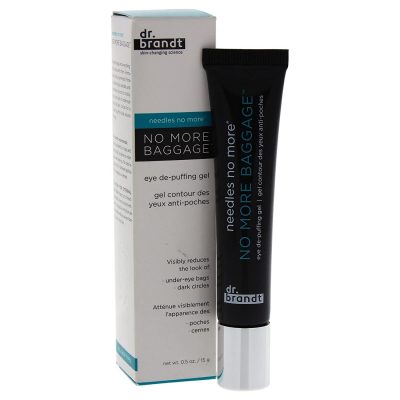 Why we like it:
This premium product gives instant results, so it's worth having on hand for emergencies. The formula creates a film over the skin to instantly depuff while in the long term, active ingredients have strengthening and anti-aging effects.
Editor's Rating:
Quick Facts:
Type: Thick Gel-Balm
Size: 0.5 oz
Cruelty-Free/Vegan: No
Quick Fix or Long Term: Both
Key Ingredients: Film-Formers, Peptides, Caffeine
Scent: Fragrance-Free
This is as close as an eye cream can get to being an instant fix for puffiness. It's an odd product that takes a bit of getting used to, but it's worth buying if you want a fast solution.
This product is advertised as a gel, but that's not quite right: it's a hybrid between a gel and a paste or balm. It's water-based and semi-transparent, but it also has a certain heaviness to it. The reason for the odd texture is a blend of film-forming ingredients that tighten over the skin and reduce puffiness.
The film formers make it hard to get the gel out of the tube at first, but once dispensed, it's easy to smooth it over the skin. A lot of film-forming skincare products can feel uncomfortable on the skin, but that's not the case here! In addition to firming, the gel also cools and refreshes on contact.
That's not the end of the cosmetic effects! Since this gel is tinted orange it color-corrects blue or purple discoloration under the eyes. The level of pigmentation is low, so it's comparable to a color-correcting primer.
Finally, cosmetic fixes aren't enough! This is a skincare article, after all. This is still a skincare product, and a darn good one. It contains a ton of the ingredients you want to see in puffy eye creams: our beloved caffeine, anti-aging peptides, hydrating hyaluronic acid, and soothing centella asiatica. With daily use, this product absolutely helps to moisturize the skin and reduce signs of aging. It's even a suitable choice for sensitive skin since it's free of likely irritants.
It's pricey, so if you're on an extreme budget, you can save it just for the days when you really need the extra help, and use something more affordable the rest of the time.
Pros
Instant firming and brightening effect

Skincare ingredients for long-term effects

Moisturizing and soothing

Suitable for sensitive skin
---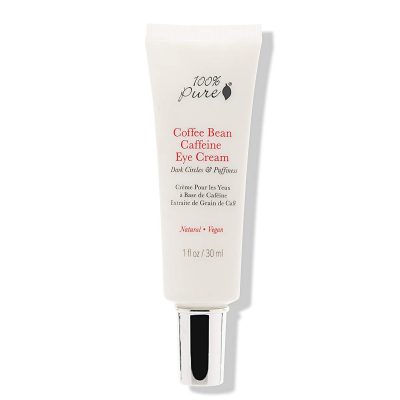 Why we like it:
This light lotion firms up puffy eyes with a natural blend of coffee bean and tea extracts. It also has long term anti-aging benefits thanks to antioxidant natural ingredients.
Editor's Rating:
Quick Facts:
Type: Lotion
Size: 1 oz
Cruelty-Free/Vegan: Yes and Yes
Quick Fix or Long Term: Both
Key Ingredients: Coffee Extract, Green Tea, Vitamin C
Scent: Coffee-Vanilla
If you're committed to only using natural beauty products, this is the puffy eye cream to try! It's a light lotion that moisturizes gently while also helping depuff tired eyes.
The formula is made with coffee and tea extracts, which act as a natural source of caffeine. They have a skin-soothing effect and act as vasoconstrictors to tighten things up both in the short and long term.
There are a lot of antioxidants in this eye cream, from the green tea and coffee extracts to vitamin C and rosehip seed oil. These ingredients protect the skin from external damage caused by pollution and sun exposure, which helps to slow down the aging process and keep the skin under the eyes firm for years to come.
The texture is light and moisturizing, with aloe vera helping to hydrate. It's not the intense hydration of the Neutrogena Hydro Boost Gel Eye Cream, but it's enough for those with normal skin around the eyes.
While it might seem a little pricey at first glance, this eye cream is actually quite comparable to the other options on our list. It comes in a 1 oz tube, which is double the amount of most eye creams and makes the price reasonable.
Really, the only drawback to this product is that it contains a few essential oils. This could make this a poor choice for those with sensitivity to fragrances.
Pros
All-natural formula

Firming effect from caffeine and tea

Potent antioxidant protection
Cons
Contains potentially-irritating fragrance

Not enough for dry skin
---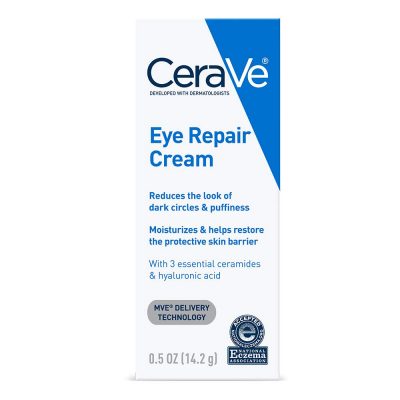 Why we like it:
This creamy eye cream is gentle and deeply moisturizing. It has a rich, emollient texture that's fantastic for dry skin, and niacinamide which gives antioxidant protection and helps reduce puffiness related to irritation.
Editor's Rating:
Quick Facts:
Type: Cream
Size: 0.5 oz
Cruelty-Free/Vegan: No
Quick Fix or Long Term: Long Term (But Mild)
Key Ingredients: Niacinamide, Ceramides
Scent: Fragrance-Free
CeraVe never stumbles when it comes to skincare. This is one the best eye creams on the market right now—although it's not the most depuffing, which is why we placed it low on our list. If you have sensitive or irritation-prone dry skin, this is the eye cream to buy.
The key ingredient here is niacinamide, an anti-inflammatory agent that soothes the skin, so it can reduce puffiness caused specifically by irritation. The combination of niacinamide and moisturizing ceramides and hydrators in this blend makes for a very skin soothing and fortifying formula.
It also has anti-aging benefits as an antioxidant, so it seriously prevents (and even helps reverse) the collagen degradation that leads to increased puffiness later on in life. It's a great alternative to the Neutrogena Hydro Boost Gel Eye Cream, with a slightly richer texture and fewer silicones.
Note that it's not as intense an anti-aging treatment as RoC Retinol Correxion, but it's significantly more skin-soothing while also offering those anti-aging benefits.
While this wouldn't be our first choice for countering temporary puffiness, we think it'd be fantastic in conjunction with a light, caffeine-based serum that can cause dryness, like The Ordinary Caffeine Solution.
Pros
Creamy and moisturizing

Mild puffiness prevention

Soothing and antioxidant
---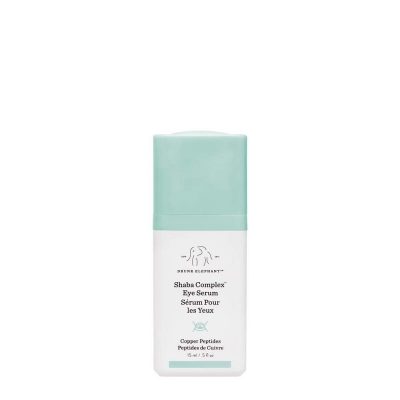 Why we like it:
This unique eye lotion is expensive, but it's loaded with beneficial depuffing ingredients. It works in the long and short term to firm the eye area, but the ingredients are gentle and non-irritating.
Editor's Rating:
Quick Facts:
Type: Lotion
Size: 0.5 oz
Cruelty-Free/Vegan: Yes and Yes
Quick Fix or Long Term: Both
Key Ingredients: Black Tea Ferment, Peptides, Niacinamide
Scent: Fragrance-Free
This natural eye cream comes from cult-favorite brand Drunk Elephant, and while it's very pricy, it's also impressive. At this price point, we expect a product to work on a few levels, and this one does, though it's generally better for long-term results.
Its short term skin-firming effects come from a black tea ferment complex which has a natural astringent effect. It also includes a crystalline ingredient that helps reflect light, making the skin under the eyes appear smoother should you use it without makeup.
This eye cream primarily addresses puffiness caused by aging and loss of tone, but in a different way to the others on this list. It's made with a wide range of peptides, which have an anti-aging effect that's just slightly weaker than retinol but without the potential to irritate. It also includes a lot of very powerful antioxidants, including niacinamide, beta carotene-rich sea buckthorn oil, and CoQ10.
If your primary desire is to improve age-related puffiness and you don't have sensitive skin, you can opt for the stronger RoC Retinol Correxion.
If you want a natural product with a stronger fast-acting effect, 100% Pure will do the trick, although it's not as anti-aging and it contains a potentially irritating fragrance.
All-in-all, this formula is incredible, though the price point is exorbitant. If you have sensitive skin and a strong desire for long-term results, this is the product to choose. If you expect a quick fix when you spend a lot of money, Dr. Brandt is the luxury product to choose.
Pros
Firms the skin in the short and long-term

Preventative anti-aging effects

All-natural formula
---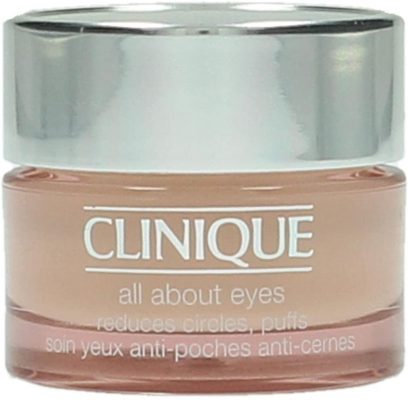 Why we like it:
This eye cream contains all of the ingredients we look for in a depuffing formula, although it's a little richer than we'd normally recommend. If your skin prefers a heavier texture, this is the product to choose.
Editor's Rating:
Quick Facts:
Type: Cream
Size: 0.5 oz
Cruelty-Free/Vegan: No
Quick Fix or Long Term: Long Term
Key Ingredients: Silicone, Caffeine, and Green Tea
Scent: Fragrance-Free
Clinique has been around for decades, with a reputation for making consistently decent, non-irritating products at a mid-level price point. That's exactly the case with this eye cream, which has a rich and creamy formula with some excellent depuffing ingredients.
It's a little richer than we'd normally suggest, with a silky, silicone-based formula that those with severely dry skin may welcome. Because of the texture, it penetrates more slowly into the skin, which also helps to reduce the chances of irritation. Despite being rich, it's not greasy, which we appreciate.
It contains a small amount of caffeine, which is ever so important, as well as green tea extract. It also includes antioxidants galore, including vitamin C, vitamin E, and mulberry extract (which is also a great ingredient for counter hyperpigmentation around the eyes).
Because of these, it can absolutely help with long term puffiness, although in the short term we don't think it'll penetrate fast enough to have a major impact. It's like a creamier version of L'Oreal Eye Defense, but at a higher price point.
Pros
Creamy and moisturizing

Firms with caffeine and green tea

Prevents premature aging
Cons
Potentially too rich

A little expensive
---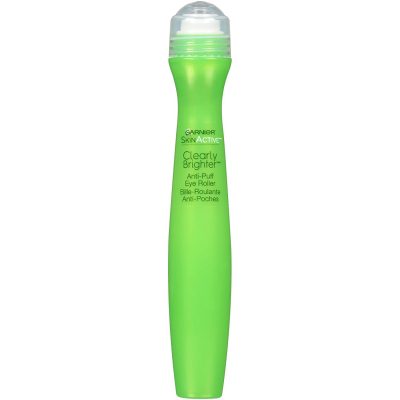 Why we like it:
This eye serum works swiftly to depuff the skin, with a built-in eye roller that gives a soothing massage. It's made with caffeine and peppermint, so it's cooling but a little intense.
Editor's Rating:
Quick Facts:
Type: Roll-On Serum
Size: 0.5 oz
Cruelty-Free/Vegan: No
Quick Fix or Long Term: Quick Fix
Key Ingredients: Caffeine, Peppermint
Scent: Clean and Fresh
This Garnier eye roller is an iconic product for under eye puffiness. The most important detail that sets it apart is the cooling roller, which breaks up temporary fluid retention and saves you the need for a separate face massager.
It contains the ingredient we always look for in puffy eye creams: caffeine. While Garnier does not disclose the percentage, based on its positioning on the ingredient list we feel safe to assume that it's enough for gentle firming effects over time.
It also contains peppermint oil which is a little controversial but can have depuffing benefits. The amount in the eye roller is low enough that it will be safe for most, but it's still not a great idea if you have sensitive skin.
This product is also advertised for helping with dark undereye circles, but those are notoriously difficult to treat with cosmetics, so the claim sets it up for failure. If Garnier focused on the depuffing effects when marketing this product we think shoppers would be consistently happier with it.
The blend does contain alcohol, which we believe is perfectly fine in small concentrations. The alcohol is important here because it thins out the formula and ensures that it won't clog up the roller. It also allows the other ingredients to better penetrate into the skin.
Alcohol can be dehydrating, so we do recommend using this roller in conjunction with a more moisturizing eye cream like the Neutrogena Hydro Boost Gel Eye Cream or CeraVe Eye Repair.
This product does work, and it's extremely affordable, but it also has some potential to irritate because of the peppermint, so we'd recommend keeping it in the fridge just for the days when you really need that depuffing effect. For the long term, we'd recommend using something more gentle like L'Oreal Eye Defense.
Pros
Cooling roller and mint instantly soothe puffiness

Caffeine helps reduce puffiness in the long term

Sinks deeply into the skin
Cons
Contains skin sensitizers

Can dry the skin
---
The Full Guide to Puffy Eyes and Firming Eye Creams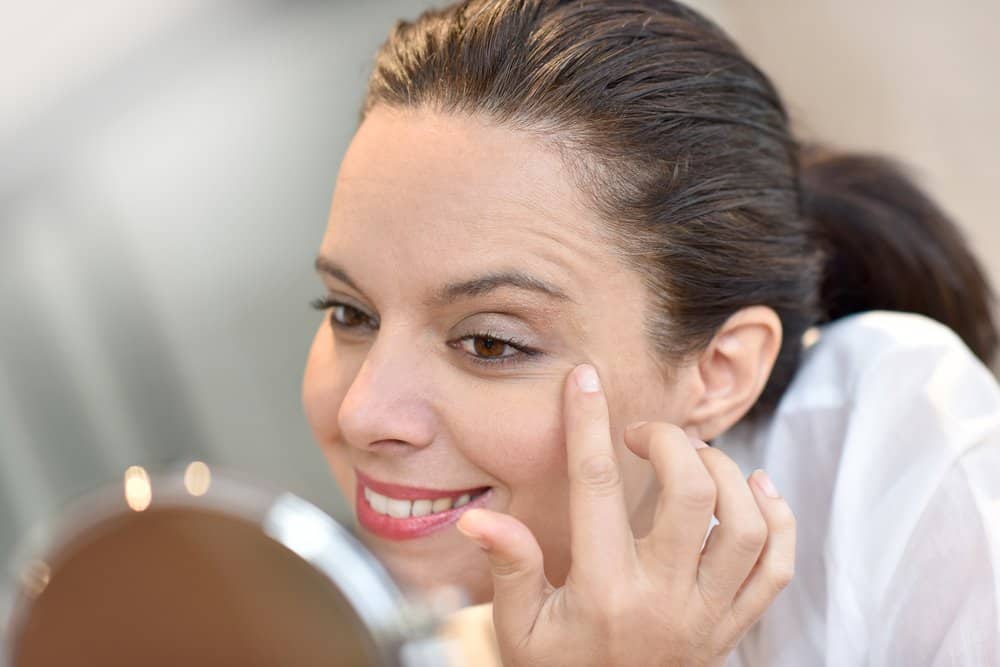 There are so many factors that go into choosing an eye cream, especially when it comes to puffiness. We'll break it down step-by-step so you can break down that puffiness under your eyes!

Best Ingredients for Under Eye Puffiness
For a puffy eye cream to be effective it often just needs to have a cooling effect, but in general, here are some ingredients we look for!

Caffeine
It's almost a cliche to say, but a bit of coffee in your cup and on your eyes is exactly what will wake you up after a wild night. Caffeine is the gold standard ingredient for dealing with puffiness under the eyes. It works on a few different levels to firm up the skin, and it has both long and short term effects, which is not very common in skincare.
In the short term, it acts as a vasoconstrictor, so when applied topically, it penetrates quickly and helps to constrict the capillaries below the skin, which has an instant firming and mild anti-inflammatory effect. This perks up the eyes instantly, making it the ideal morning remedy.
It's just as useful in the long term! From studies on cellulite, we know that it can help undo fat accumulation in the cell. This is a slow process, but short of going under the needle, a regular application of eye cream or serum with at least 3% caffeine is the best way to reduce existing puffiness caused by fat accumulation. If that sounds good to you, The Ordinary Caffeine Solution is the perfect choice of treatment.

Retinol
When it comes to anti-aging, retinol is the star. A lot of skincare ingredients supposedly help with aging and collagen-loss, but this vitamin A derivative has the strongest scientific evidence backing up its efficacy.
Research shows, again and again, that by improving collagen synthesis and increasing the thickness of the epidermis, it's an effective anti-aging ingredient. It triggers cell renewal on the deep levels of the skin, and actively improves skin firmness.
If you're in it for the long-haul, a retinol eye cream like RoC Retinol Correxion is going to be the best solution for age-related puffiness and loss of tone under the eyes (as well as fine lines, crow's feet, and hyperpigmentation).
Tea Extracts and EGCG
Green tea (and its constituent EGCG), black tea, and white tea extracts are all fantastic skincare ingredients that are especially useful for puffiness.
Like caffeine, the polyphenolic constituents in tea extracts also act as vasoconstrictors so they can give an immediate tightening effect. Research also shows that they have a potent anti-inflammatory effect which helps reduce irritation. Lastly, teas are rich in antioxidants, which we discuss in more detail at the end of this list.
Many of the eye creams on our list feature tea extracts, including 100% Pure Coffee Bean Eye Cream and Drunk Elephant Shaba Complex.
Peptides
Peptides are probably the most exciting ingredients in skincare right now. They are these tiny amino acid molecules that are considered "epidermal growth factors" – this means that they can help stimulate new skin cell production.
There is a massive range of them, and while research is still in the early stages, they're promising. With regular use, there's reason to believe they could help tighten the skin and reduce puffiness by increasing collagen production. They're not as scientifically-backed as retinol, but they are a great alternative for those who have sensitive skin and cannot tolerate its intensity.
The Dr. Brandt Depuffing Gel and Drunk Elephant Shaba Complex both include tea extracts.
Antioxidants
The major external reason for skin aging is exposure to aggressors called free radicals, which include UV rays and pollution. They cause a disruptive chain reaction that breaks down skin cells and leads to premature aging and photodamage, which in turn can cause long term and difficult to improve puffiness under the eyes. Antioxidants are an important part of every skincare routine because they neutralize those free radicals and keep the skin protected.
We've already mentioned green tea and caffeine, both of which contain antioxidants, but there are lots of other antioxidant sources in skincare, including many other botanical extracts, niacinamide, vitamins C and E, and even most plant oils.
It's integral to use antioxidant-rich eye creams if you care not only about the present but also about preventing future undereye puffiness. Most of the eye creams on our list include at least a few antioxidant compounds!
Mint Essential Oil
Mint essential oil and its main constituent, menthol, are controversial in skincare. We think they deserve a mention here, especially when it comes to undereye puffiness. Menthol is a counter-irritant, which is how it works in pain-relief creams. It creates this cooling sensation that's quite refreshing in the morning and can help with temporary puffiness. That's why it's a common addition to eye sticks and rollers like the Garnier SkinActive Eye Roller.
However, mint has a strong fragrance and can actually end up causing contact dermatitis, so it's not appropriate for most shoppers with sensitive skin. It can be a nice remedy once in a while, but it's also not something we recommend for daily use.

Causes and Solutions for Puffiness Under the Eyes
We've already discussed the two major types of undereye puffiness, but in this section, we get into the wide range of reasons in more detail, along with some simple solutions!
Poor Sleeping Habits
When you don't get enough sleep the veins under the eyes can dilate, which leads to puffiness, while sleeping on your belly can cause fluid to collect under the eyes. Both types of puffiness can be slightly reduced in the morning with a cooling eye cream, but the best long-term solution is to get at least 7-9 hours of sleep every night and to learn to sleep on your back.
Alcohol and Sodium
You may have noticed that you're more likely to wake up with puffy eyes after a wild night of drinking or after you've eaten a very salty meal. This is because fluid retention correlates with dehydration, which can be caused by alcohol or sodium. The body attempts to balance things out and protect itself by retaining water, which ends up causing all kinds of bloating, including under the eyes.
Abstaining from booze and salty snacks is the easiest way to prevent puffy eyes in the morning, but any cooling, fast-acting eye cream will help once the deed has already been done.
Irritation
Irritation is actually the one cause of puffiness that's neither fluid retention nor fat deposits. Instead, it's plain and simple inflammation, and it's usually the result of having sensitive skin or an allergic reaction to something. The eyes can appear very swollen after a bout of crying because of the double hit of congestion and irritation from rubbing the eyes.
Look for soothing formulas that are free of irritants and contain anti-inflammatory ingredients like green tea or niacinamide. Our favorite soothing eye creams are CeraVe Eye Repair and Clinique All About Eyes.
Disease
Cardiovascular, kidney, or liver diseases, as well as hypothyroidism, can all cause fluid retention, so puffy eyes can pop up as a symptom. While one of our more intense quick-fix eye creams, like The Ordinary Caffeine Solution, can help with the symptom, it's much more important to see a doctor who can diagnose and treat the underlying illness.
Allergies and Congestion
Congestion, whether it's caused by a cold or seasonal allergies, often causes fluid to accumulate under the eyes, and it often also comes with purple or blue dark circles. While a firming eye cream might help momentarily, taking an antihistamine and treating the actual allergy or sickness will net the best results.
Age
As we explained at the start of the article, age-related collagen loss is the main cause of long term puffiness. You can try to prevent it by using eye creams rich in antioxidants, but once your skin is already showing that puffiness, it's best to use more intense products with retinol or peptides, like RoC Retinol Correxion or Drunk Elephant Shaba Complex.
Make sure to follow other anti-aging strategies as well, like wearing sunscreen every day and avoiding skin-destroying habits like tanning or smoking.

Other Concerns to Keep in Mind
While puffiness under the eyes might be your primary concern, you might have other under-eye conditions or issues you should keep in mind when making your eye cream selection.
Dry Skin
The skin around the eyes has fewer oil glands, so it's very prone to dryness. As a result, it can look dull and rough, while issues like fine lines or puffiness can seem more prominent. By loading the skin up with moisturizing emollients (ingredients like oils, fatty acids, and silicones) and hydrating humectants (ingredients like glycerin, hyaluronic acid, and panthenol), you can combat that dryness.
The most effective depuffing ingredients can also be a little drying to the skin, so it's important to either choose formulas that contain them along with moisturizing agents like Clinique All About Eyes or to combine an intense depuffing eye cream along with another one that's a little more simple and moisturizing like CeraVe Eye Repair.
Oily Skin and Milia
If the skin around your eyes gets very oily, you need a light eye product that will feel nice and light around the eyes, while still helping to depuff the skin. Avoid any of the eye creams we describe as creamy or rich, and stick to gel formulas like L'Oreal Eye Defense or Neutrogena Hydro Boost Gel Eye Cream.
Like those with oily skin, if you suffer from milia (hard keratin plugs that resemble whiteheads and usually pop up around the eyes), you might want to avoid heavy eye creams, and stick to lighter formulas.
Sensitive Skin
Finding an eye cream that will treat puffiness when you have sensitive skin is a balancing act. The most effective depuffing treatments can often be a little irritating, so it's important to be very careful. Additionally, you can look for added ingredients that are known to be soothing, as they will help keep any irritation away.
L'Oreal Eye Defense is a great choice because it's made with both small amounts of depuffing agents as well as skin-soothing oat extract. CeraVe Eye Repair is a richer option that will help specifically with irritation thanks to a dose of niacinamide.
Dark Circles
Dark circles are a complex subject that deserves its own article. For many, dark circles are caused by poor circulation, which can be related to some of the same factors that cause puffy under eyes, like allergies and congestion. In that case, any caffeinated eye cream will help. If your dark circles are the result of photodamage and hyperpigmentation, an eye cream like
Clinique All About Eyes can help target that.
Eye Cream Safety
We don't play games! A lot of the puffy eye creams we recommend in this article are quite intense, but even the mild ones should be approached with care. No matter which eye cream you choose or how sensitive your skin is, make sure to patch test your eye cream for a few days.
Apply the cream to an area of your skin where an allergic reaction won't be a big deal. The best spots to choose are the inner, upper arm, or behind the ear. If the product doesn't jive with your skin, you'll probably see a reaction within 4-5 days of regular use, in which case it's not a good choice for your skin type. If all goes well, you can proceed to use it around your eyes.
Why Do Some Eye Creams Make the Eyes Puffy?
Some dermatologists and estheticians believe that using too much eye cream or too thick of an eye cream can actually cause puffiness under the eyes. Different professionals cite different reasons why this might be the case: perhaps the eye creams themselves irritate the skin, or too much rubbing causes the skin to swell.
We're not convinced that this is entirely true, partially because it hasn't been reported on in any research or medical literature. However, this is the experience of many eye cream users, so if you've noticed that it happens to you, we recommend choosing a light formula like L'Oreal Eye Defense.
How Do You Apply Eye Cream?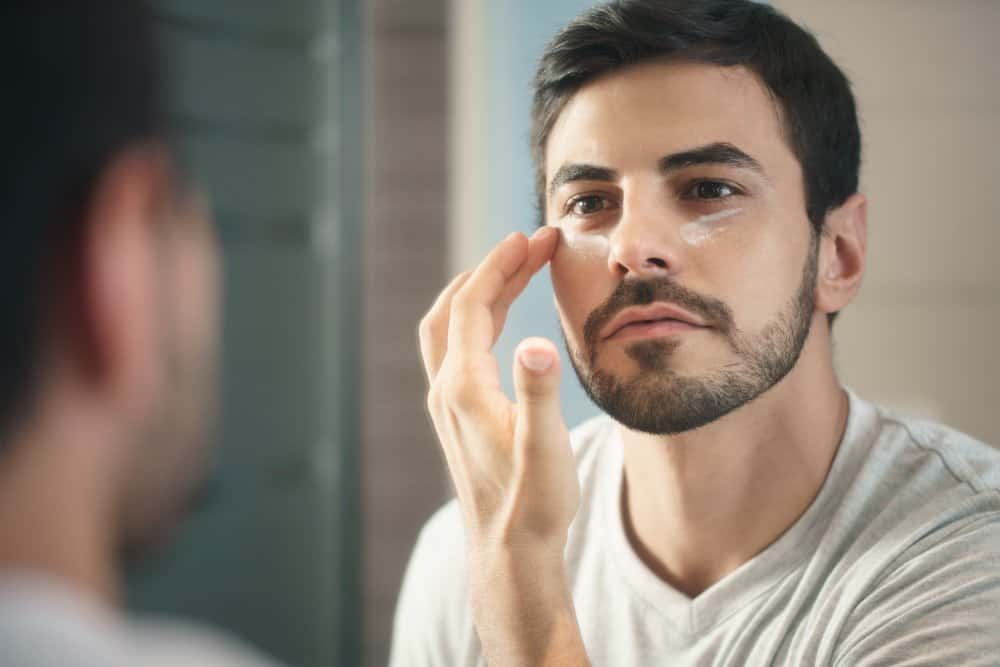 This gentle technique helps your eye cream sink into the skin and banish puffiness without any tugging or unneeded irritation.
To start, make sure that your skin is totally clean!
Dispense a small amount of eye cream on the tip of your ring finger – most sources suggest using a pea-sized amount of eye cream for both eyes, but that's usually way too much! A "lentil-sized" amount will do.
Start below the inner corner of the eye, and dab the eye cream on gently with your ring finger. Use a pressing or tapping motion, since dragging will cause needless irritation.
Follow the curve of your orbital bone, going all the way around the eye and over the crease. Be careful not to get too close to the eye itself – the product will migrate on its own to where it needs to go.
Once all of the eye cream is absorbed and your skin feels refreshed you can go on about your day!
Pro Tip: Keep your eye cream in the fridge to boost its cooling effect.

How Do You Get Rid of Puffy Eyes Quickly?
With skincare, slow and steady usually wins the race, but some mornings, slow and steady just doesn't cut it! If you wake up with the skin around your eyes unusually puffy, we have a few emergency tips that'll help you deal with it.
First thing first, reach for that fast-acting eye cream and tap it on. If it's already cold from the fridge, even better!
Take things to the next level by massaging the skin under the eyes with a jade or quartz roller (we recommend a few in our guide to the best face massagers). This will do an amazing job of dispersing that fluid build-up. Bonus points if you keep it in the fridge next to your eye cream!
If you don't have a jade roller on hand, you can make a DIY cold compress. Choose a soft face cloth or fabric and run it under very cold water.
Next, press it against your eye for about 10 minutes. The cool touch will help reduce the swelling, and if you use it over a thin layer of eye cream, it'll also help the product penetrate a little better.
Say Goodbye to Puffy Eyes
Puffy eyes are no match for a lot of knowledge and a great eye cream! Once you understand the reason for your undereye puffiness, you can make those small lifestyle changes that'll clear it up. That, in combination with the puffy eye cream that catches your eye, will allow you to tackle puffiness like a pro and keep it from ever getting worse.