Top Picks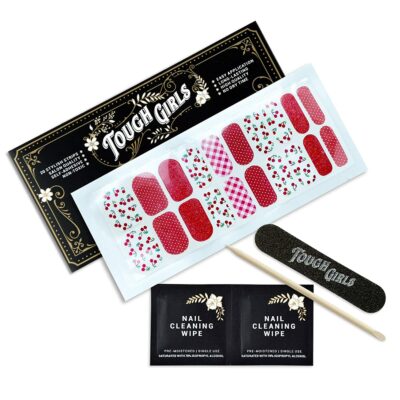 TOUGH GIRLS Nail Polish Strips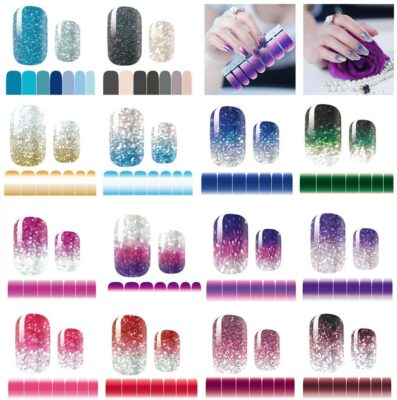 mwellewm Glitter Gradient Color Shine Nail Polish Strips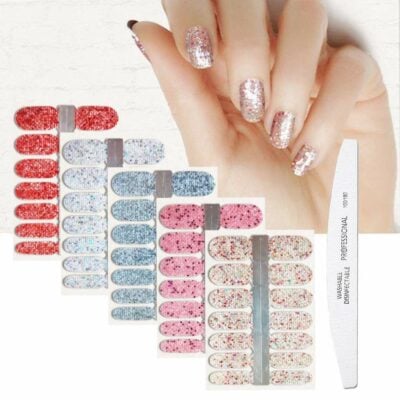 BornBeauty Glitter Nail Polish Decal Strips
Previous
Next
Nail art has come a long way from the days of yore when our grandmas applied matted oil paints to their nails and called it a day. These days, even a palette of nail varnishes isn't enough to create the kind of nail art that can be Instagrammed. Also not required are the multiple trips to the nail salon to get professionally done nails. You can create high art at home with the help of the latest in nail art fashion.
Nail strips are the answer to all your nail decorating prayers. They're easy to apply, come in various chemical and organic concoctions that are easy on the cuticles, double up as a creative DIY project, and give you professionally done nails that can help you nail those Pinterest and Instagram likes.
How to Choose the Best Nail Polish Strips
There are various things to consider before buying a strip of nail polish stickers. You can consult this quick checklist to see if you're on the right track:
Longevity
A good nail strip sticker is composed of multiple coats of nail polish and should last as long as a professionally done nail job. Anything that lasts more than a week, or up to 10 days, is good to go.
Easy to Apply and Lightweight
The softer the nail strip, the easier it is to apply. The thinner the sticker, the easier it sits on your nails. Coarse and heavy stickers feel unnatural and heavy on your nails.
Most good brands these days offer self-adhesive strips so you don't have to follow complicated steps or buy a separate glue gel to use the strips.
Odorless
Most nail polish strips have a distinct smell that lingers for a while after you've applied the stickers. Go for the ones that are odorless or have very subtle odors. Nail polish strips that smell a lot indicate the use of excessive chemicals.
Safe Ingredients
Go for strips that boast of as few chemical ingredients as possible. Avoid PVC, plastic, vinyl, and other synthetic substances if you can. Toxic chemicals can turn your nail bed weak and give it a yellowish and decaying appearance in the long run.
And now, let's have a look at the top 10 best nail polish strips you can purchase online that also check all of the above boxes.
Top 10 Best Nail Polish Strips 2021
Complete Guide to Nail Polish Strips
While we've tried our best to bring to your notice a good roundup of popular as well as up and coming nail polish strip brands, this list and guide would be incomplete if we didn't point out the most widely popular nail polish strip brands available:
Incoco – This is a 'Made in USA' brand that's quickly gaining popularity with all kinds of nail care experts and nail art influencers. It gets top marks for ease of application, quality of strips, being free of toxic chemicals, and lasting for up to 2 weeks! Although it costs higher than the average nail polish strip, it's totally worth the money. You can sample this 'Mermaid Tale' nail polish strip by Incoco to check it out for yourself.
Color Street – #colorstreet brings up around 750k posts on Instagram, just a quarter shy of a million. This is a testament to the popularity of this brand in the nail polish strips niche. Based out of NYC, this brand is the go-to solution for easy nail art for novices and professionals alike. You can sample this 'Dripping in Diamonds' decal by Color Street to give them a try.
Lastly, how can any good list of nail polish strips be complete without the inclusion of some professional-looking 'French Tips'? We recommend the Blulu French Manicure Nail Art Stickers to finish your nails with some classy French tips. If you're looking for French tips in shapes other than the regular crescent, say curves and other fancy decals, go for the VAGA French Manicure Strips for more stylish cuts.
That rounds up our list of the top ten best nail polish strips that you can buy online. Now, let's take a look at how to apply your newly-chosen strips and everything else you'll need to know.
How to Apply Nail Polish Strips
Here's an easy 9 steps guide to applying nail polish strips to get a nail salon like outcome.
If you are a beginner, follow the instructions on the package to a T to get the best results. The manufacturers know their product the best and it's usually safe and smart to do it the way they recommend. If you have a little experience in the field, you'll have figured out that there are a few basic steps to follow that ensure the best possible nail salon finish. They're listed below for those who would like to know:
Wash and clean your nails. Do not apply nail polish strips on already worked on nails.
Time to file your nails as well as buff them. Most nail polish strip kits come with a nail filer and buffer, along with a cuticle stick, so this step shouldn't be a problem.
Try to push back your cuticles so you get more nail space to work with.
Align the strip with your nail's width and length. Every strip comes with stickers of varying widths to accommodate different fingernails. In this step, you'll have the stickers ready and sized up to go on the right nails. Do the thumbs last!
To make the strip last longer, rub it between your fingers before peeling it off. This heats up the lacquer and makes it easier to apply and quicker to settle in. Now remove the clear film and peel off the strip without touching the sticky part.
Place the strip on your nail bed in the right position – as close to the cuticle as possible. Do not place the strip directly over the cuticle.
Gently press it down from the cuticle end and follow it up to the nail tips. This will get rid of any air bubbles and give your nail a smooth finish. Do this a couple of times until you have a wrinkle-free applique.
Once you've stretched, smoothened, and adjusted the strip on your nail, crease off the ends, and file them. Use a cuticle stick to get the excess sticker off from the sides of your nails.
Optional: Now seal it in with a top coat of clear nail polish. This layer is usually transparent and ensures that the strip adheres to the nail for a much longer duration, has a protective top coat of varnish to protect its integrity, and lasts longer than it would without this step. Some brands also recommend the application of a clear base coat before applying the decal for the best results.
If you are more of a visual learner, here are a couple of Youtube videos by popular nail polish strip brands Color Street and Incoco on how to apply nail polish strips. And this one, here, will walk you through all the steps listed above on the best way to apply nail polish strips.
Although nail polish strips do not require any downtime or drying off time – you can get back to your work immediately, most brands do specify that you should avoid getting your nails wet for the next few hours. This could be anywhere from 2 to 8 hours to ensure that the nail strip lasts for a longer duration. And that's about it!
How long do nail polish strips last?
If you follow the basic steps mentioned in our guide above and seal in the strip with a nice top coat layer, the strip can last for a good week to 10 days. This is also dependant on what you're doing every day. Frequent exposure to water and abrasive substances will lead to chipping and peeling and the strip will most likely start coming off within the week.
Are nail polish strips harmful to your nails and cuticles?
In the short term – no. But, most nail polish strips use self-adhesive glue which is a chemical substance. THPH or Triphenyl Phosphate is another toxic chemical that's found in most nail varnishes. Exposure to such harsh chemicals over a prolonged period can eventually cause permanent damage to your nails and cuticles as well as open you up to other toxic side effects. Maintain the integrity of your nails by allowing them some breathing space in between subsequent nail polish strips applications.
Whether you're using regular nail polish or strips, getting a good cuticle cream can play a large role in the health and appearance of your cuticles.
What's the point of applying a top coat?
A layer of top coat seals in the strip and elongates its life. You can get more out of your nail polish strips if you perform this extra step that prevents the strip from chipping and breaking easily. It extends the life of your nail polish strip by a good 3 to 5 days. You can skip this step if you aren't in the mood for additional work – it isn't a must, but it's good if you do.
How long should I avoid water after applying nail polish strips?
See the instructions on the box. If a time frame isn't mentioned, you can take 2 to 8 hours as a safe estimate. Afterward, you can indulge in your favorite water sports without any fear of the applique breaking, chipping, or slipping off as most nail polish strips are waterproof in varying degrees.
What's the best way to remove nail polish strips?
If you are using nail polish strips that are made of 90%+ dry nail polish, then you don't need anything besides regular nail polish remover to get rid of them. If you are using vinyl, PVC, or other hard forms of nail polish strips, submerge your nails in acetone for a good few minutes, then rub the strips off with cotton. You can also try to lift the strips off with an orangewood stick. Lacquer nails on the other hand can be wiped off with acetone.
Final Words
The popularity and ease of availability of easy to apply, salon finish, nail appliques that don't require professional help have enabled even novice fashionistas to get salon-worthy nails in a jiffy. Nail polish strips do away with the hassle of applying multiple coats of colors and varnishes and the wait-times in between each coat. You also don't need to be an expert at handling delicate brushes to get the perfect finish.
Just order a nail polish strip online, follow the steps mentioned on the pack, and voila! You have professionally done nails within a few minutes. Try a nail polish strip today and let your inner fashionista bask in the glow of these perfectly finished nail polish strips.