One of our favorite things to do is relax at home – and we're sure we're not alone! If you find yourself wishing you were a little cozier when you take your morning coffee or shivering after your showers, a robe may be the answer.
Robes introduce a new level of comfort and style into your everyday life and can be used in almost any situation. So next time you find yourself reading in bed, you may want to pull out your own robe and get snuggled up!
How to Choose the Right Robe
Robes are good for many occasions, but which robes are the best? Whether you want something to cozy up in after a relaxing bath or wear around your home, we'll walk you through the steps of picking out the perfect robe! Here's a quick overview of what you need to know before we jump into our product reviews. For a deep dive into our selection process, you can head over to our complete buying guide.
Types of Robes
The first thing to decide on is the style of robe you want. Below are the main types of robes to look for when you make your first purchase.
Classic Robes
The classic robe is the most used one, with a belt that ties around the waist and pockets on the sides. They normally have a collar as well and are made of all sorts of fabrics. This means you'll almost always be able to find a classic robe that suits the occasion you need.
Kimono Robes
Kimono robes are some of the more comfortable ones and normally don't have a collar. They're lighter than the classic robes and are made of thin material that often has high absorbency. They're best suited for spas and saunas, though some are used as dressing gowns or shower robes as well.
Spa Robes
Spa robes are thinner and lighter robes that are often worn around the house for extended periods of time. They may be made with fleece, chenille, or other materials and are either tied around the front or zipped up with a zipper. They're also more durable and suited for everyday use if you'd like to pull it over your pj's or walk around in them.
Factors to Consider When Buying a Robe
As well as the main types outlined above, robes also come in different shapes and sizes, so you'll definitely want to take that into consideration before making a purchase. Here are the different factors you should consider below.
Material
Perhaps the biggest thing that differentiates between robes is the material that it's made out of. Some are more absorbent than others, some keep you cozy and warm, and some are soft on the skin! The material's absorbency is an important consideration here. After all, when you're just getting out of the shower, a fluffy and absorbent robe can take away the need for a towel, and you won't have to worry about excess water getting everywhere!
There are many possible materials that robes can be made out of, and we go more in-depth on potential materials here.
Size
Just like with all clothing, you want to pick something that fits you well! With robes, we recommend going for a looser fit so that you can stay comfortable without the robe clinging to you too much. If you plan on buying the robe for a friend, or you're not too sure about sizing, we also have a sizing guide here.
Length
Robes can come in different lengths, with some covering your entire body and others only reaching to your knees. The length you want will depend on your environment and temperature since you won't want to get too hot or too cold after your shower. The three main lengths are full-length, knee-length, and thigh-length robes.
Color
Some robes come in muted shades of gray and brown, making them suitable for everyday occasions. Others come in more vibrant colors! Depending on personal preference, you may prefer one color and style of robe over another.
Design Extras
We note any extra things that the best robes may have included in their designs to make your life easier! This includes things like pockets, inner ties to keep the robe secure, and how easy it is to use in general.
Maintenance
You'll likely want a robe that is lower maintenance, so you won't have to worry about it as much. This can depend on the material the robe is made out of, as well as how often you plan on wearing it. You can also read more about maintenance here.
When picking out the best robes to make our list, we kept all these features in mind. Now that we have covered the basics of robes for women, we'll get into our top choices below!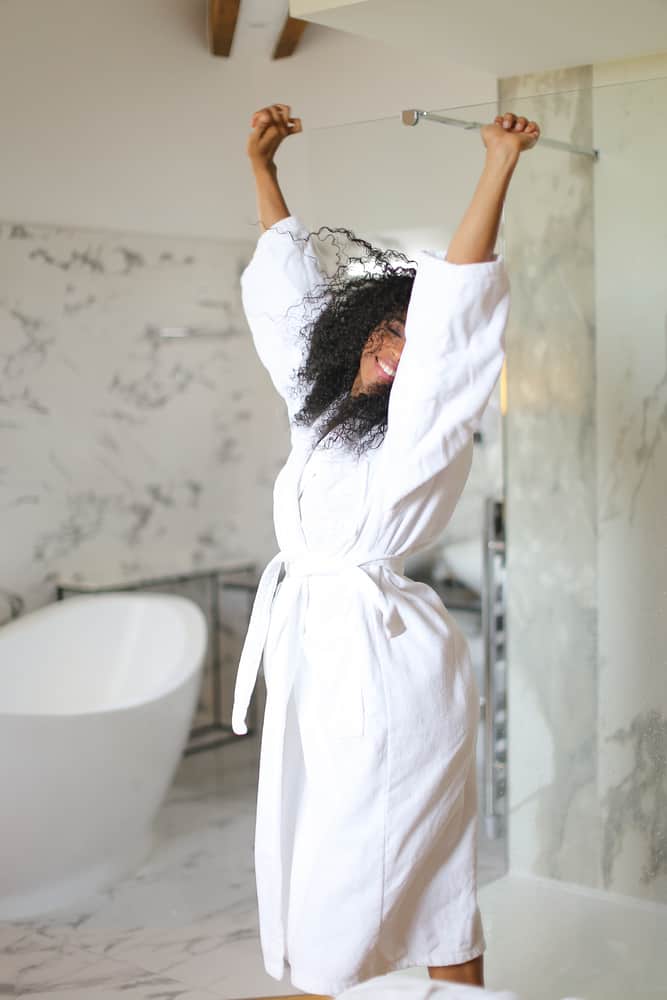 Top 10 Best Robes for Women 2023

Why we like it:
The Alexander Del Rossa robe is made with 330 GSM fleece, and it comes with an additional hood to make sure you never get cold. The risk-free guarantee only shows how lovable and snuggly this robe is!
Editor's Rating:
Quick Facts:
Type: Classic
Material/Weave: Microfiber fleece
Colors: Comes in 13 colors
Length: Full length
Size range: XS-4XL
The Alexander Del Rossa fleece robe was designed in the classic robe style and runs longer than some of the other options to make sure you're fully covered. Made with high-quality fleece fabric, it's also sure to keep you warm and cozy. In addition, it comes with a risk-free guarantee, where you can refund it anytime you want if you're not satisfied with the quality!
It also comes with inner ties to keep the robe secure, and the adjustable belt tie makes it fit most sizes. Even better, there's an in-depth size chart to make sure you get your optimal fit when it comes to the robe. The robe is great at wrapping around your figure, no matter your size, so you'll always stay cozy with this purchase!
What Sets It Apart
Unlike the other robes, this one also comes with a hood to provide even more warmth for the user. You'll be able to get snuggly quickly once you bundle yourself up in the robe, and it'll get you through even the coldest of nights. The robe itself is also created with 330 GSM coral fleece, which is the thickest fleece fabric there is!
What Could Be Better
Since this fleece robe is thicker, it's not suitable for warmer summer nights. As a result, you may want to purchase a separate lighter robe for summer, such as the Natori Shangri-La robe.
Pros
High quality 330 GSM fleece fabric

Comes with a hood for extra warmth

Risk-free guarantee and good refund policy

Good at wrapping around your figure to keep you warm

Durable and built to last
Cons
Not as suitable for summer and warmer nights
---

Why we like it:
Plush Necessities provides a high-quality robe that is versatile enough for any situation. The premium microfiber construction and small stitches provide a durable robe that will last for years if you take good care of it!
Editor's Rating:
Quick Facts:
Type: Spa
Material/Weave: Microfiber with terry cotton lining
Colors: Comes in 5 solid colors
Length: Full length
Size range: XS-3XL
Like all microfiber robes, this one is luxurious and soft on the skin, though it is one of the more expensive options. It has the traditional shawl collar, and the exterior belt has double belt loops for a more secure fit. In addition, the front pockets are large enough to be useful, and the cuffs are tailored to stay out of the way as you work.
Unlike some of the other robes, this robe can be suitable for winter or summer. It's light enough for the hotter days but still warm and cozy enough for colder nights. You can easily slide it over your pajamas or wear it when you first leave the shower. If you only want to make one purchase that can be useful for all occasions, you'll want to go with Plush Necessities.
What Sets It Apart
If you want a robe that covers everything you need, the Plush Necessities robe is perfect for you. It's built to be durable, and the 100% fine brushed microfibers feel smooth to the touch. In addition, the company prides itself on having up to 50-60% more stitches per inch when compared with the competition, which ensures that it'll last much longer.
What Could Be Better
The only real downside to this robe is the cost since it's an expensive microfiber robe. A more affordable microfiber robe would be the Monarch plush-lined bathrobe.
Pros
High-quality microfiber construction

Suitable for all climates

Has 50-60% more stitches per inch

Double belt loops provide a more secure fit

Specially tailored cuffs
Cons
More expensive robe due to its higher quality
---

Why we like it:
The NY Threads fleece bathrobe balances price with quality, giving you a soft and cozy robe without costing a fortune! It's low cost and low maintenance, making this the perfect robe if you don't want to spend too much time taking care of it.
Editor's Rating:
Quick Facts:
Type: Classic
Material/Weave: Flannel fleece robe
Colors: Comes in 6 solid colors
Length: Full length/calf length
Size range: S-XL
If you're looking for an affordable robe to spruce up your nights, the NY Threads robe fits your criteria just right. This robe doesn't cost much and is relatively low-maintenance since you can machine wash and tumble dry the robe. In addition, you'll be able to easily slip the robe over your pajamas for the day and use it as a robe to lounge around in as well.
This robe is also created from flannel fleece just like the Oksun fleece robe, though it is much more cost-effective. It's a soft and fluffy option that can keep you warm on most winter nights, though it's not suited for warmer days.
What Sets It Apart
The quality that comes with the low price for this robe can be hard to match! It's significantly cheaper than all other soft and fluffy robes, and you can get cozy in the robe easily. In addition, the adjustable waist belt makes it so that you won't have to worry about fitting the size precisely. Paired with the soft lining and material, you now have a solid budget option!
What Could Be Better
The colors are vibrant, but there aren't many muted colors available aside from maroon, black, and white. In addition, the lower cost means quality compromises have been made, and this robe won't be as durable as other options that are available.
Pros
Affordable flannel fleece robe

A soft and comfortable robe is easy to snuggle in

Adjustable waist belt makes sizing easier

The robe is low maintenance and can be machine washed and dried

Good at retaining heat for colder nights
Cons
Not as durable as other robes

Colors may be too vibrant for some tastes
---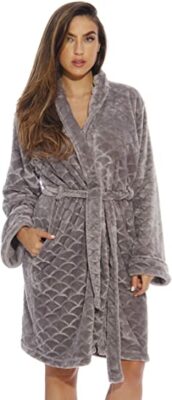 Why we like it:
If you're looking for a soft fleece robe that's just a little more extravagant, look no further than the Just Love robe. It's soft and cozy, with a scalloped pattern on the robe that's not present on other choices. The simple design elevates the feel, and you'll feel stylish every time you wear it!
Editor's Rating:
Quick Facts:
Type: Kimono
Material/Weave: Velour and fleece robe
Colors: Comes in 10 solid colors
Length: Knee-length
Size range: XS-3XL
The Just Love velour kimono robe is for those with extravagant taste who want the finer things in life. The robe itself is thick and versatile, and you'll be able to slip it over your pajamas or wear it after the shower. The robes are created with quality in mind, and you'll be unlikely to discover any unraveled seams or loose threads when you wear it!
The fleece itself is soft to touch, and the robes come in a slight scalloped pattern that lets it stand out from other robes since it's the only one with this design. In addition, it's tailored to fit well around your shoulders and arms and won't lose color when you machine wash it. The chevron texture just adds to the elegant feel of the robe.
What Sets It Apart
The vibrant colors, the classy design, and the unique feel of the robe are unmatched by others! The slight texture and pattern elevate the robe without compromising on quality, and it feels just as soft as you would expect a fleece robe to feel. It's perfect for fall, winter, and spring nights, though you may want a lighter robe for summer.
What Could Be Better
Unfortunately, this robe is a little heavier than other robes due to the material and construction. It's better suited for snuggling up in rather than walking around the house in. In addition, the scalloped texture does start to fade after multiple washes in the machine, unlike the Turkuoise robe, which gets better with every wash.
Pros
The thick robe feels extravagant

Scalloped pattern and design sets it apart from other robes

Comes in vibrant colors that don't fade

Soft fleece robe is easy to snuggle in

Robe fits well around your shoulders and arms
Cons
Heavier than other robes

Scalloped texture fades with machine washing
---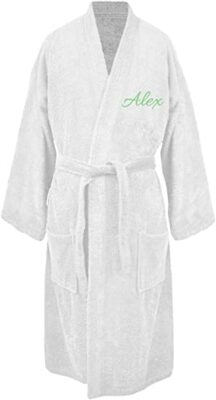 Why we like it:
The Turkuoise women's robe is the most customizable option as you can add your name to the front or back of the robe. In addition, the organic Turkish cotton helps the material get softer with every wash, so it only gets better with time!
Editor's Rating:
Quick Facts:
Type: Kimono
Material/Weave: Cotton terry cloth and toweling robe
Colors: Comes in 22 solid colors
Length: Knee-length
Size range: S-2XL
The Turkoise women's terry cloth robe is made of 100% premium Turkish cotton and gets softer after each wash. The robes are also chemical-free and only use natural dyes, so you can be sure that it won't hurt your skin. In addition, just in case you're not satisfied with the robe, they offer a 30-day money-back guarantee, so this is a safe purchase if you want to just try it out.
All of the sizes come with specific measurements, so you'll know which ones fit you best, and the guide is much more in-depth when compared to other sizing charts. It also comes with two front patch pockets, and the Turkish cotton is also known for its absorbent properties. This also makes the robe perfect for when you exit your shower or bath.
What Sets It Apart
Unlike other robes, this one can be fully customized! You can pick out your favorite colors and even add your own name to the robe. In addition, you choose 13 different fonts for your name to be embroidered in, and 12 different colors for the thread. If you plan on giving a bathrobe as a gift, this could add the right amount of flair to it to impress your friends and family.
What Could Be Better
The robe itself can feel a little flimsy despite its high absorbency, and the sleeves for the robe can run a little long. The Fishers Finery terry robe is plusher than this robe but isn't 100% cotton and doesn't come with the same embroidery options.
Pros
Fully customizable as you can embroider your name on it

13 different fonts and 12 different colors for embroidery

Made of 100% cotton

Turkish robe gets softer with each wash

Highly absorbent robe
Cons
Robe feels a little flimsier than other plush robes

Sleeves for the robes can run long
---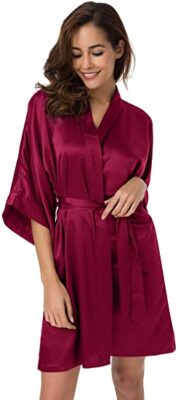 Why we like it:
The SIORO satin kimono robe is one way for you to feel elegant without needing to spend much money. It's low cost and low maintenance.
Editor's Rating:
Quick Facts:
Type: Kimono
Material/Weave: Satin robe
Colors: Comes in 22 colors
Length: Thigh-length
Size range: S-2XL
If you want an inexpensive robe that can help you feel elegant, look no further than the SIORO satin robe! This robe has a silky touch to it and is affordable enough that you can buy multiple in different colors and shades. If you have a bridesmaid party coming up and you want matching robes for your best friends, this is also an option for you.
The robes themselves are shorter than some of the others by design, only reaching to your calf. It's lightweight and designed to be a kimono-style robe, complete with a belt and inner tie. You can easily machine wash it with cold water, though you'll want to make sure to keep bleach away from it. It also comes in five different sizes, so you'll be sure to find a fit!
What Sets It Apart
This robe is designed to be flattering for your figure, and it can offer a quick boost of confidence that the more traditional robes can't. It comes nicely packaged and ends up being more "flowy" and softer once you wash it. The light fabric also makes sure that you won't overheat if you choose to wear it in the summer, and the robe itself is thin and easy to move around in.
What Could Be Better
Keep in mind that because this robe is thinner, it is also flimsier and may not be as durable as some of the other choices. That being said, if you do want a durable robe that's also lightweight, you may want to consider the Natori Shangri-La robe. The sizes also come a little smaller than you may expect, so you may want to order a size up just in case.
Pros
One of the more affordable robes

Comes in 22 different colors

Soft, smooth, and silky to the touch

Flatters and compliments your figure

Comes in all sizes
Cons
Not as durable as other robes

Sizes run a little small
---

Why we like it:
The Monarch plush and microfiber bathrobe lets you bring the luxurious lifestyle right to your own home! You'll be able to feel more elegant and graceful as you wear the same robes used in five-star hotels and cruises, all while knowing it's just as durable as it is fancy.
Editor's Rating:
Quick Facts:
Type: Spa
Material/Weave: Microfiber plush robe
Colors: Comes in 8 colors
Length: Full length
Size range: S-2XL
Microfiber robes are known for being some of the most luxurious robes available due to the fine strands and resource-intensive construction. The Monarch robe fits the bill just right as a full-length robe that's sure to last.
Not sure how luxurious this robe is? Monarch supplies them to famous hotels such as Four Seasons, Omni, and others! You'll be able to get your own slice of luxury once you try on this robe.
In addition to the two pockets typically seen on a robe, the Monarch ones also come with a chest pocket for extra storage. The robes are also outfitted with shoulder pads to make them more durable when hung up, and it features industrial strength seams that get rid of any potential puckering. The robes also feature a closed bottom hem so that it won't get turned inside-out when you're doing the laundry.
What Sets It Apart
This microfiber robe gives you a taste of luxury in your own home. Built to be just as durable as it is soft, you likely won't need to worry about purchasing a second robe for years, if ever. After all, there's a reason that prestigious hotels call on Monarch to supply them with robes! This robe is your quickest way to get a little bit of that five-star experience into your own home routine.
What Could Be Better
Since this robe is microfiber, it does cost a little more than some of the other robes available. In addition, all robes are only 48 or 50 inches long, so it may be closer to calf-length rather than a full-length robe, despite being advertised as the latter.
Finally, while the shoulder pads add to the durability of the robe, they may make your figure have a more "boxy" appearance rather than flattering it, compared to the Plush Necessities microfiber robe that doesn't have shoulder pads.
Pros
A high-quality microfiber robe that is built to last

The same company supplies robes for five-star hotels

Created with industrial-strength seams

Robes have a closed bottom hem that keeps it from turning inside out

Shoulder pads add to the durability of the robe
Cons
Costly

Shorter than advertised

Shoulder pads can make your figure look boxy
---

Why we like it:
The Oksun full-length fleece robe is sure to keep you warm no matter how the weather is! It's soft, fluffy, and gentle to the touch, with everything you're looking for in a traditional robe.
Editor's Rating:
Quick Facts:
Type: Classic
Material/Weave: Flannel fleece robe
Colors: Comes in 10 solid colors
Length: Full length
Size range: M-XL
The Oksun fleece robe is warm, fluffy, and soft, and it's probably what comes to mind when you envision the ideal bathrobe. It's thick and fluffy enough that you can use it for any occasion, whether you want it for at-home wear or just as a nightgown. Its versatility helps it shine, though you'll probably get the most use out of it during the colder months since the flannel is good at retaining heat.
This robe also has a specific sizing chart on the page, so you'll know exactly whether it fits or not! It's easy to take care of, and you can machine wash or dry it – just make sure to stay away from bleach.
The robe also keeps its softness and fluffiness even after multiple washes due to the durability of the material. It has two pockets, a typical shawl collar, and is cinched around the waist with a self-tie belt.
What Sets It Apart
Constructed as a fleece flannel robe, this will definitely keep you warm even on the coldest nights! The thickness of the robe makes it okay to wear for most occasions, whether you're inviting guests over or want to use it as a nightgown. The robe is gentle to the touch both inside and out, and it's designed to last years if taken care of properly.
What Could Be Better
Unfortunately, this robe only comes in medium, large, and extra-large sizes, with the small size noticeably missing. While robes still generally fit even if they are a size larger, those who have particularly small frames may not be able to find their perfect match.
The sleeves are also soft and thick and won't stay rolled up. In addition, it might be a little short for taller women.
Pros
Fleece flannel robe retains heat well

Can be used to greet guests or as a nightgown

Comes with a specific sizing chart

Gentle and soft both inside and out

Doesn't lose its fluffiness when it is machine washed
Cons
Does not come in a small size

Sleeves won't stay rolled up

Robe runs short for taller women
---

Why we like it:
This Turkish style robe is made with a blend of bamboo viscose and cotton, and the natural properties of the materials make it one of the more absorbent robes available! The design of the robe helps it wick away water quickly without compromising on its softness.
Editor's Rating:
Quick Facts:
Type: Spa
Material/Weave: Cotton, bamboo, and chenille terry robe
Colors: Solid white
Length: Full length
Size range: One size (S/M)
The Fishers Finery robe is made of 70% bamboo viscose and 30% cotton, so you know that the robe comes from all-natural ingredients. This special blend of materials creates a breathable option for you, though it won't be as fluffy as some of the flannel robes available.
It's modeled after Turkish-style robes and includes a tie on the inside around the waist so you can keep the robe secure as you wear it. Just keep in mind that it's not made with genuine Turkish cotton, unlike the Turkuoise women's robe.
The chenille and micro-terry fabric also work to wick away water quickly, so you can pull this robe on right after your shower! The bamboo viscose and cotton blend is absorbent and keeps the robe fresh for multiply uses. As for cleaning – you can relax when it comes to this robe. As long as you machine wash it in cold water, you're all set to go!
What Sets It Apart
All ingredients are naturally sourced, and this is the only robe on our list to use bamboo's absorbent qualities in addition to the more traditional materials. This combination also makes the robe plush and soft, getting you usability without trading away any of the comfort.
In addition, the fabric stays light and breathable as you wear it, so you won't have to worry about overheating.
What Could Be Better
Unfortunately, the sizing for this robe is not as specific. The size does run a little large, so smaller women could find that the robe doesn't fit very well. This robe can also run a little too long for shorter women.
In addition, if you decide to dry it by air rather than the dryer, the plush fabric takes painfully long to lose all its moisture.
Pros
Bamboo and cotton material are naturally sourced

Bamboo has extra-absorbent qualities

Micro-terry and chenille wicks away water

Inner ties keep the robe secure when you wear it

Soft and plush robe to snuggle in
Cons
Sizing is too general

It may be too big for women with smaller frames and heights

The plush fabric takes a long time to dry by air
---

Why we like it:
The Natori Shangri-La robe is created with a blend of synthetic fabric, and it's perfect to wear during hotter days in the summer. The robe itself is lightweight and thin while staying durable, and the production of the robe is environmentally friendly.
Editor's Rating:
Quick Facts:
Type: Kimono
Material/Weave: 65% Modal, 35% Polyester
Colors: Comes in 10 solid colors
Length: Full length
Size range: XS-2XL
This Shangri-La robe is made in a model blend jersey style, with lightweight materials perfect for summer months. The materials are breathable when worn, and the streamlined design makes it perfect for travel. It closes with a tie around the waist and doesn't cling to the body, unlike other jersey-knit robes.
The robe itself stretches down to three-fourths the length of your body, and it is made of thinner materials than most other robes. This provides a more flattering and light fit, and the material is durable enough to be machine washed without becoming damaged.
Keep in mind that because the robe is created from thinner fabric, it can be see-through, so you may not want to greet guests with it. In addition, a more affordable version of this robe would be the SIORO kimono robe.
What Sets It Apart
The robe is created from modal and polyester, both of which are synthetic, lightweight, and durable. The material also makes it one of the thinnest available, and it's smooth to the touch. The modal fabric also carbon-neutral and eco-friendly, which makes this a solid choice if you like preserving the environment.
What Could Be Better
Unfortunately, the thinner fabric means that it does show off your outline a little more and doesn't hold its own shape. This blend of materials is also a little more prone to shrinking if it's washed in higher heat. In addition, the inside of the robe doesn't have a loop sewn on the neck for you to easily hang it up in the bathroom, so you'll need to make sure you have a hanger for it.
Pros
Made of lightweight and breathable material

Thinnest robe compared to others on the list

Modal fabric is eco-friendly and carbon-neutral

The streamlined design makes it suitable for travel
Cons
The robe doesn't hold its own shape as well

More prone to shrinking when washed in high heat

Inside of robe doesn't have a loop to hang it up by
---
Guide to Picking the Perfect Robe

Picking out the perfect robe can be a challenge, so we'll break down the process fully here. After that, we'll cover how to take care of your robe to get the most use out of it. But first, why should you buy a robe?
Why Should I Get a Robe?
When it comes to your first robe, you may be hesitant. After all, your towel seems to be enough after your baths, right? Below are some of the biggest reasons why a robe can improve your life for the better.
1. Convenience
When you have a robe, all you have to do is pull it on after you shower or take a bath. You can wear it over your pajamas as well when you get cold, and you can even wear the robe on its own as a simple outfit at home. No more worrying about changing after your showers!
2. Versatility
You can wear your robe everywhere in your home, not just after you take a bath. Some robes can even be worn when you have guests over, so you won't have to worry about your outfit for the day. Robes are perfect for snuggling up in with a cup of coffee or tea when you're curled up to your favorite book or watching tv.
3. Comfort
No matter the brand or type, as soon as you slip one on, you feel like you're living a life of luxury. Robes are often soft, and the gentleness of the fabric can give your mood a quick boost for the day.
4. Warmth
Getting a bathrobe can be a quick way to keep cozy without spending more on your heating bill. Materials and fabric such as fleece or polyester are especially good at helping you retain body heat – and keeping drafts out! Bathrobes are an easy way for you to feel warm and comfortable in your own house.
5. Style
With all of the possible robes out there, it'll be easy to find one that suits your style and taste! Whether you prefer muted gray or vibrant red tones, there's a robe designed with that color pallet. It's hard not to feel good about yourself when you get a peek in the mirror, bundled up in your new robe.

When to Use a Robe
When you're first purchasing a robe, you might not know how to take full advantage of it. Below are some of the best times and places to use your robe!
Early Mornings
When you first wake up, we all know how cold the chilly air can be. If you have a robe draped by your bedside, you can simply pull it over your pajamas to add a layer of warmth before starting your day.
Having it already there just makes life easier for you since you'll be able to reach it easily and boost your mood for the day as you pull on your luxurious robe.
Showers and Baths
The most common time to use a robe is after you just got cleaned up with one of your favorite bar soaps or body washes. The robe can absorb any extra moisture that the towel didn't get, and it keeps you cozy, so you don't have to worry about the freezing walk back to your room. In fact, some robes may be even more absorbent than a towel, depending on the material!
Relaxing
When you want to relax, a robe can be the perfect way to get you in the mood. Maybe you've had a long day at work or just finished a stressful meeting. Once you slide into your bathrobe, the relaxed and loose fit is sure to help you de-stress. You can use it to relax anytime you're at home just by pulling it over your clothes!
Spa Days
Whether you're at an actual spa or having an at-home spa day, a robe is a perfect way to complete the scene. Pull on your fluffy and luxurious garment and settle in for a relaxing afternoon. You'll be able to feel the tension melting away while you're using a mud mask.
Hotels and Vacations
A robe is a good way of bringing a small piece of home with you on your travels, and it makes sure you can relax at the end of the tiring vacation day.
Greeting Visitors at Home
If you plan on having family and friends over, but you don't want to plan a comfortable outfit, a robe is the way to go! Robes are stylish on their own, and they're soft enough that you'll feel right at home when you're playing the host for your guests. You'll be able to look presentable without any of the extra stress of dressing up.
As you can see, robes are versatile and useful in many situations! No matter where you might be, adding a robe to your wardrobe won't hurt.

Materials
Now you know the benefits of a robe, and when they can be used, it's time to give you a deep dive into common robe materials. While there are dozens of materials that robes can be constructed with, we'll go over the most common ones below.
Keep in mind that the materials can be paired with different weaving styles to create a unique feel to the bathrobe, and we'll explore those in the following section!
Cotton
Cotton bathrobes are the most common type and are known for their absorbent properties. After all, cotton has hydrophilic properties to soak up the excess moisture, making them perfect for using after your bath or shower so you can dry off. They can hold almost 25 times their weight in liquid!
There are subcategories within the cotton fabric group, such as Egyptian cotton and Turkish cotton. Egyptian cotton is known for being more absorbent, while Turkish cotton is better at keeping a soft texture over a number of years. Our favorite imported cotton robe would be the Turkuoise Turkish robe.
Silk
Silk is a high-end fabric and is smooth on the skin while introducing elegance to your wardrobe. However, they're also thinner and don't provide much warmth or absorbency, which is why we opted for satin in our review list instead.
Satin
Satin material is cheaper than silk while feeling almost as smooth. They're usually seen in shorter bathrobes and are perfect for summer nights when you don't want to overheat. In addition, they can be used during spa or beauty treatments.
Just like with silk, they don't offer much warmth or absorbency, so stay away from satin bathrobes if you need a robe to help with drying off. However, satin is an inexpensive option when compared to silk robes. Our favorite satin robe is the SIORO kimono robe.
Fleece
Fleece comes from polyester and is great for keeping you warm and cozy. They mimic the benefits that wool bathrobes have, but they're also lighter and more affordable. In addition, they can also be machine washed, but they are prone to pilling if you don't dry and store them right away.
If you need a bathrobe for colder winter months, fleece robes may be what you're looking for. They offer a lot of the same benefits as cotton and wool robes, but they're eco-friendlier since manufacturers can create the fabric from recycled and reprocessed PET containers. Our favorite robe from this material is the Oksun fleece robe.
Microfiber
Microfibers are one hundred times finer than human hair and half the diameter of a fine silk fiber. This also makes them more lightweight and breathable when compared to synthetic fibers such as fleece, and they can be weaved to feel the same as satin or silk. However, due to the small fibers, they're also much more water-absorbent.
Unfortunately, one downside is the cost, as microfiber bathrobes are higher-end. They're considered to be luxury bathrobes, and all the pros from the material make it easy to see why! Our favorite microfiber choice would be the Plush Necessities robe.
Cashmere
Cashmere bathrobes are usually created from special animal fur or hair fibers and retain a lot of heat, so they're more suited for winter than they are for the summer months. However, they aren't quite as absorbent as other materials such as cotton, so they're better for relaxation and general lounging around instead.
Unfortunately, the cost of the robe extends past the initial purchase. They often have to be dry-cleaned as well, which can be difficult and expensive to take care of. For this reason, no cashmere robes made our top 10 list.
Chenille
Chenille robes are created from pure polyester material and have been getting popular over the past few years. They're light and soft to the touch, though lower-quality robes may not be as comfortable. They also have lower water absorbency, which makes them not as great for post-shower wearing.
However, one benefit of chenille (or micro-chenille) robes is their insulating properties. Due to the high amounts of polyester, they can retain body heat well. It may be difficult to tell high and low-quality chenille robes apart, though. Our favorite robe with chenille is the Fishers Finery terry robe.
Wool
Wool is a common robe material that will help keep you feeling warm and snuggly. However, wool robes have the tendency to retain the water that they absorb, so it can get heavy rather quickly. They're also one of the bulkier robes when compared to materials like satin and silk, which is why none made our list.
Special Weaving Styles for Robes
The weaving of the fabrics can create different textures, and some weaving styles help upgrade your bathrobe's luxurious feel! These styles are commonly used and often blend together multiple materials and fabrics for the final product. Below are some of the more common weaving styles to look for.
Terry Bathrobes
One of the most comfortable and luxurious weaves is the terry bathrobe, which uses a pile fabric and loops. The loops may be longer and denser to make the bathrobes more absorbent, and they're designed to soak up a lot of water.
There's a large variety in weights and thread count for these bathrobes, so make sure you look at the details. The best terry robes are usually made of cotton. In addition, they're perfect to use after your shower! Our top recommended terry robe is the Turkuoise robe.
Velour Bathrobes
Velour robes are a knit fabric that looks and feels like velvet. This can stretch more and may be made from cotton or polyester. It's known for looking a little classier than the traditional bathrobe and is often seen in fancier styles.
However, they don't absorb as much moisture as traditional terry style robes. Our favorite velour bathrobe would be the Just Love velour kimono robe.
Toweling Bathrobes
When you think of the traditional bathrobe, you may be thinking of toweling bathrobes. They're made from a mix of cotton and polyester, and they're often fluffy and absorbent. This makes them perfect for soaking up moisture after your shower and keeping you cozy when you make the trip to the bedroom.
However, these need to be washed in cold water since they're more prone to shrinking when compared to the other types. If you plan on choosing a towel for your colder nights, these are the ones that we recommend. Our recommended toweling robe would be the Turkuoise robe.
Flannel Bathrobes
Flannel robes are good at keeping the user warm, and they are often made with a mixture of wool and cotton. They're soft to the touch and provide extra comfort when worn, especially when compared to waffle bathrobes.
They're also one of the first bathrobes weaves available, and they've stuck around for a reason! Our top choice for an affordable flannel robe would be the NY Threads robe.
Consider the Season
Do you plan on wearing the robe during the summer or the winter? Is your house in the south or closer to the north? Depending on how and when you plan on using your robe, you may want to invest in different materials and styles.
You may even find that you want more than one robe throughout the year, each with different materials and designs. After all, the driving factors of picking out the material should be a mix of comfort and circumstance.
During the summers, opt for a lightweight robe made of thin fabric. You may even want a shorter one that's only thigh-high or knee-length, instead of your full-length winter robe. Over the fall and spring, you may want to find a robe that balances between your summer and winter bathrobes. And of course, through the winter, you'll want a cozier robe that can keep you warm.

Sizing Guide for Robes
Picking out a robe is a slightly different process compared to picking out normal clothes. After all, some robes even come in a one-size-fits-all style, which a lot of clothing doesn't. The first thing you'll want to do is look for a size that's closest to your regular clothes. If you need to, you can upgrade a size, but you should never downgrade a size.
After that, you'll want to look at the height of the belt loops. Higher-quality robes may have more than one so that you'll be able to tie the belt directly around your waistline. If you're not sure about your size, and the robe doesn't have an adjustable belt loop, you may want to consider purchasing another option.
Keep in mind that robes are meant to have a looser fit, so you may want to upgrade a size anyway! If you're normally a size small, getting a medium could give you enough space to relax in the robe without it getting too stuffy.
Other Features in Robes
While we covered some of the main features of robes above, here are a few more criteria that you may want to consider!
Collar Design
The design of the collar varies between robes and, at least partly, determines how cozy they may be. Below are the three main types of designs to look for.
Shawl: The most common collar that's relaxed and drapes around the neck.
Kimono: Kimono collars are often seen on kimono robes and are more streamlined than a shawl.
Hooded: Hooded bathrobes have a hood sewn into the collar as well to keep you extra snug.
Weight
Depending on the material and design, some robes may weigh more than others. If you only plan on snuggling on your bed after the shower, the weight may not matter as much. However, if you want to move around the house or get some chores done in your robe, you may want a lighter one with thinner material that's easy to move in.

Maintenance and Care Pro Tips
Once you do make the purchase, you want to make sure that your robe will last for as long as possible! After all, they can get expensive, and you don't want to have to purchase a replacement that quickly.
Here are some pro tips to help your robes last a little longer.
Pay attention to the care instructions that come with the robe.
User lower temperatures when washing so the robe won't shrink.
Use mild or gentle detergent that won't affect the color of the robe.
Use gentle cycles when you're rinsing the robe.
Avoid bleaching bathrobes.
Check to make sure fabric softeners won't damage the robe.
Wash bathrobes in their own cycle to avoid piling.
Don't iron bathrobes since the heat can scorch the fabric.
Launder your robes before each use.
Hang the robes to dry, and don't fold them when they're moist.
To keep the fluffiness, try using a dryer to dry your robes.
For fluffier robes, make sure you don't put them in tight places.
That may seem a lot to remember, but the main thing to keep in mind is to respect your robes and treat them gently when you're washing and drying this. This way, they'll be able to feel just as luxurious when you wear them even after years of use!
Robes for Women FAQ
Here are the answers to the most frequently asked questions when it comes to robes for women.
How Often Should I Wear a Robe?
This is up to you! Some people wear robes daily, while others only break them out for special occasions. However, if you're short on ideas, you can read this section to see when you can put your robe to use. They can be a daily article of clothing that's put into your wardrobe.
How Much Should I Spend on a Robe?
The amount you spend on the robe depends on the brand, material, and weave of the robe. More luxurious robes from higher-end brands can cost upwards of several hundred dollars! However, there are also many budget-friendly options for you to choose from if you're just looking for a simple robe after baths.
How Do I Make Sure I Pick the Right Size?
As long as you order the robe that's on the larger side, you're on the right track. You want to make sure that your robe isn't too tight since they are supposed to fit loosely. You can read more about sizing here.
How Often Do I Wash My Robe?
This depends on how often you use the robe and what you use it for. In general, you'll want to aim for washing it after 3 or 4 uses if you wear it daily. However, if you've recently worn your robe outside of your home, such as at a hotel or spa, you may want to wash it immediately after. Just make sure you keep your robe hygienic and clean to prevent bacterial breeding.
Final Thoughts
Picking out a robe is no small feat, but we've walked you through all the small details. With a robe, you can easily elevate your routine after showers and baths to be much more luxurious! They introduce comfort into your everyday activities, and if you find yourself stuck at home a little more, getting a robe can be a solid investment.
No matter how you envision yourself getting cozy on a cold winter night, there's definitely a robe out there that can help!