Top Picks

Zoya 3-in-1 Remove Plus
Cutex Ultra-Powerful Nail Polish Remover

Mineral Fusion Nail Polish Remover
Previous
Next
Peeling off your nail polish with your fingers is like wiping off heavy make-up with your bare hands. No one ever thinks "I can't wait to get to the part where I remove my nail polish" but if you don't do it properly, you risk damaging your nails. This can happen if you don't use the right nail polish remover.
Whether you're at an important job meeting, a date, or a simple outing with family members, the cleanliness and health of your nails will say a lot about you. Formulas are now healthier and the process of removing nail polish doesn't have to be a burden if you do it right. So let's discuss what makes a good nail polish remover and how it can affect your nails.
What You Need to Know About Nail Polish Removers
Before we dive into the best nail polish removers available, there are a few important things to be aware of to help you choose the right one for you.
Should You Choose a Nail Polish Remover With Acetone?
There are two main types of nail polish removers: those that use acetone and those that don't.
Acetone Nail Polish Removers
If you're on a tight budget and just want the nail polish removed as fast as possible, this is the most common option. Nail polish removers with acetone use it to strip away the old nail polish quickly and thoroughly. It is excellent for removing acrylic nails, dark polish, or glitter polish.
The problem is that it dries the nails out, removing their natural oils. While effective, if you plan on using nail polish removers often, avoid using an acetone remover as frequently; twice a month should be fine. Like with any chemical that is used often, it can cause damage, and in this case it means rendering your nails brittle, even causing them to peel or split.
Look for acetone nail polish removers that have hydrating formulas, which keep your nails well-nourished. For more straight-forward acetone removers, make sure to keep your hands moisturized so they won't dry out during the process. This can be easily done by using cuticle oil and vitamin E.
Acetone-Free Nail Polish Removers
There are typically no harsh ingredients in this type of nail polish remover. Acetone-free removers are perfect for removing nail polish off of acrylic nails, or any other false nails. Of course, it also works on natural nails since it doesn't dry out the skin.
It uses some of the compounds used in acetone removers but it contains oils that keep the nails nourished. However, removing nail colors can take much longer than it does with an acetone-based remover.
Nail Polish Remover Type
You will encounter five main types of nail polish removers on our list.
Bottled Liquid
This is most common way in which you will commonly see nail polish removers sold in stores. You can choose acetone or acetone-free bottled nail polish removers. Some of these liquids can be soaked into cotton pads or cotton balls, which you then apply to your nails.
Remover Pads
These are individual pads that come pre-soaked in acetone or acetone-free formulas. They can remove two coats of nail polish in no time and they are easy to carry around.
Remover Sponges
Similar to pads, these sponges are pre-soaked with acetone or acetone-free formulas. All you have to do is insert your fingers or toes and twist them around on the sponge until there is no more nail polish.
Corrector Pen
Much like using a corrector pen when writing, these thin companions are easy to transport and elegant to use, especially if you often apply nail polish. They are ideal for removing excess nail polish that deposits on your cuticles.
Instant Nail Remover Pot
This is another type of remover that works fast and is travel-friendly. They work like a magician's hat trick: you put in a finger with nail polish and you take it out without!
Since this removing ritual is a necessity in your beauty process, we scoured the internet to find the best nail polish removers that you can spoil your nails with. These are all reliable removers that will cause minimal damage to your nails, if used correctly.
Top 10 Best Nail Polish Removers 2021
A Guide to Buying the Best Nail Polish Remover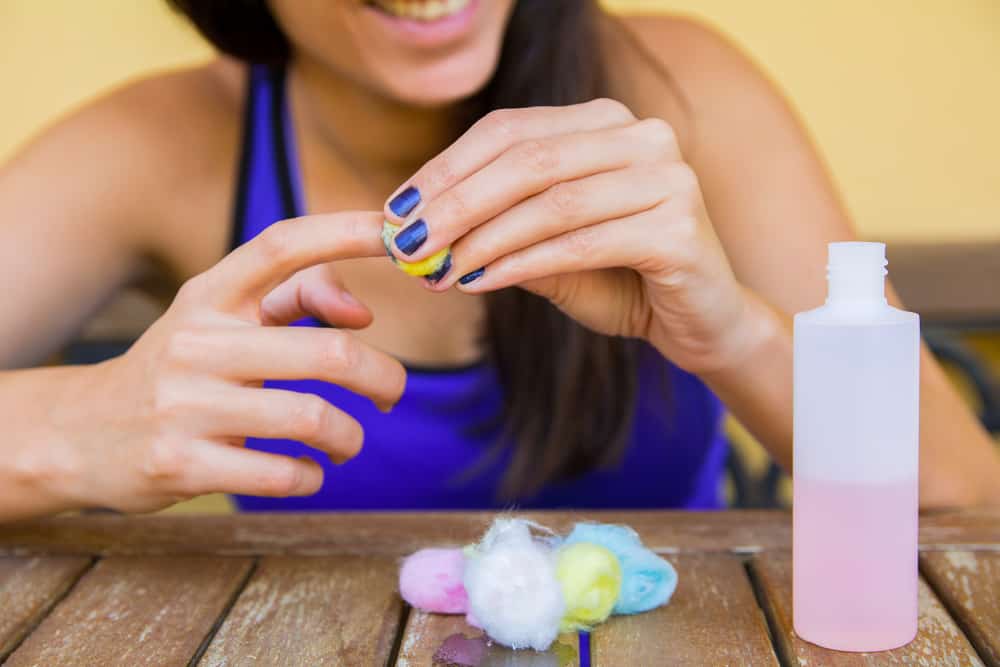 Now you have a grasp on what differentiates good nail polish removers from inferior ones. Let's delve into more detail about what sets the good ones apart from the rest, as well as from each other.
What Is Nail Polish Remover and How Is It Made?
There are labs filled with scientists whose sole activity is developing nail polish removers that work for you. A remover dissolves the hard nail polish coating off your nails into a liquid that can be easily wiped off. Since this process can leave your nails brittle or cause them to split, beauty scientists mix different amounts of certain solvents to find the right mix, so that the removing process won't seem like such a chore anymore.
The perfect mix contains just enough chemical solvents to be time- and effort-effective, and enough healthy ingredients to restore the nails' health. Smell is also a factor that beauty product brands take into consideration. The more acetone a nail polish remover uses, the more it will smell like there was an accident in Dexter's lab.
Acetone vs. Acetone-Free Nail Polish Removers
It can be difficult to decide between a nail polish remover that contains acetone and one that steers clear of this harsh-yet-effective ingredient. Luckily, we help make the decision as simple as possible by telling you everything you need to know.
Acetone
Most powerful and fast-acting nail polish removers use acetone. The way acetone works is by breaking the nail varnish apart. The polish is stripped from the nail plate surface so it comes off completely.
Because of its effectiveness, it is harsh on the nails because it strips them from the natural oils of the skin. Using too much acetone can lead to your skin looking pale or white, because it has dried out. Make sure you use a nail polish remover that also includes other ingredients meant to revitalize your nails and cuticles, like all the ones on our list.
If you love dark nail polish or glittery models, you will spend much less time removing them if you use an acetone-based remover. In fact, acetone is even used as a house or car cleaning item. Some of the popular uses for acetone include:
Removing window tint, paint, and glue
Cleaning tools
Dissolving superglue
Cleaning stains off dishes
Removing ink stains or permanent marker
Removing stubborn stickers from metal or glass
Sanitizing your keyboard, phone, or other surfaces that are prone to gather bacteria
Bearing these additional acetone uses in mind, women that already have dry or splitting nails should opt for non-acetone removers, even if the process will last even longer. For women that have no problem using it, it is important to always moisturize the hands after using an acetone-based nail polish remover.
Acetone-Free
There are good nail polish removers on the market that don't use acetone in their formula. Some removers try to make up in effectiveness, like the Zoya 3-in-1 by Remove Plus, which uses glycerin. Others have non-toxic formulas like the Ella+Mila Soy Nail Polish Remover which is even vegan.
The downside to acetone-free removers is that it takes much longer to dissolve the nail polish, especially if you have dark or glittery polish. Since it takes a longer time to remove the polish, the skin and cuticles are exposed to these solvents for a longer time, which affects them.
You won't have to worry about the acetone smell, though. Some non-acetone removers like the Mineral Fusion Nail Polish Remover have distinct pleasant fragrances, such as mango.
What Other Ingredients Are Often Included in a Nail Polish Remover?
The best nail polish removers also rely on other ingredients that moisturize, prep, or condition the nails so that they stay hydrated and don't dry out. The most popular other ingredients used are oils and vitamins.
You can find lavender, apricot seed, grape seed, flax seed, and parrilla oils in both acetone and acetone-free nail polish removers. These help the nails recover the natural oils they lose during the removing process.
Commonly used vitamins are A, C, and E, which help to revitalize the nails and not make them feel stripped. If you use nail polish removers that don't contain any vitamins, consider purchasing separate moisturizers or nail conditioners to keep them nourished.
Different Types of Nail Polish Remover
Not all nail polish removers are sold in bottles. You can find dependable pads such as the Cutex Advanced Revival Nail Polish Remover Pads or wipes, like the Karma Naturals Organic Nail Polish Remover Wipes. These dry removers are travel-friendly and you usually only need one to remove the polish off all 10 fingernails or toenails. Also, they usually don't stink up the room, because you have to press them on the nail to extract the remover liquid, so they'll only smell a bit after the solution is on.
Other formats nail polish removers come in are pots, like the Nails Inc. Express Nail Polish Remover Pot, or sponges, like the Pretty Nails Regular Nail Polish Remover. Although they contain acetone, these are less effective because they don't require scrubbing or wiping. This means that there will still be some nail polish residue left around the cuticles, which will imply purchasing a nail corrector pen. Added up, this will be a longer and more expensive process.
Size and Packaging of Nail Polish Removers
The size of containers is important based on the circumstances you will use the nail polish remover in. If you know you'll only be doing this ritual at home, you can go for larger sizes, like the 15 ounce bottle that OPI Expert Touch Lacquer Remover offers as an option. You can get the same remover from OPI as a small TSA-approved 1 ounce bottle if you just need it for a few days while you're traveling away from home.
Pear-shaped containers that have a larger base are better for not tipping over. Some containers, like Zoya 3-in-1 by Remove Plus, even come with a pump dispenser that makes it spill-proof.
Nail Polish Remover's Smell
Another disadvantage of using acetone on anything is the chemical smell. Some companies developed removers that use acetone but don't smell like it, such as the The Stripper by Deborah Lippmann or Sally Hansen's Nail Polish Remover, which smell like soap or lavender (due to the use of the hydrating lavender oil). Although it is not pleasant to use, scientists say it isn't hazardous. The most that can happen if you accidentally inhale too much is getting a cough or a sore throat.
Best Nail Polish Remover F.A.Q.
What Is the Difference Between Using Pure Acetone and a Nail Polish Remover?
Acetone is only one of the ingredients used in some types of nail polish removers. The best ones have a formula that also includes other ingredients that make up for the damage the acetone causes the nail. Some nail polish removers don't use acetone, but instead they have other milder solvents that aren't as harsh on the nails. Some of these solvents are propylene carbonate, isopropyl alcohol, and ethyl acetate.
How Damaging Is Nail Polish Remover to Your Nails?
Acetone-based nail polish remover can dry your nails out, which eventually causes splitting, peeling, and even nail breakage. Watch out for nail polish removers designed specifically for gel nails, as they usually contain acetone exclusively, due to how strong the gel is. To further help your nails regenerate their natural oils and vitamins, opt for removers that use these ingredients in their formula, or consider purchasing separate nail moisturizers and conditioners.
How Do You Use Nail Polish Remover From a Bottle?
First, use a cotton ball and dab a little remover over each nail. Use another cotton ball to wipe the nails clean, and more remover if needed.
If you use gel nail polish, you have to soak each nail in pure acetone individually. You can place foil wraps or clips over your fingers and let the acetone do its trick while they're on. If you use pads or wipes, you only have to press one wipe (or more if they dry out too fast) over each nail, and rub away until the polish starts to come off. For a more detailed look into how to use nail polish removers, let this video be of further guidance.
Find the Best Nail Polish Remover for You
Which nail polish is best comes down to what works for you, depending on the type of nail polish you use, how comfortable you are with harsh chemicals, and the health of your nails. Carefully consider all the information in this guide, and use it to find the one that will work best for you and your needs.
The right polish can make removing nail polish almost as enjoyable as applying it. After all, when you have clean, strong, healthy nails, it means you're ready for your next stylish manicure!