Moisturizer is an essential part of any skincare routine, even if you have combination skin. With combination skin, however, it can be tricky and frustrating to find something that will effectively hydrate your skin without causing a breakout or leaving you greasy.
In this guide, we'll talk about what makes a good moisturizer for combination skin, give you some tips on choosing and using moisturizer, and then show you our top 10 favorite moisturizers for combination skin in 2022.
How to Choose a Moisturizer for Combination Skin
The most important feature to look for in a great moisturizer for combination skin is a lightweight formula. It should absorb quickly and not feel heavy or greasy. In addition to that, you want something with gentle ingredients and, ideally, some sun protection. We'll look at each of those features below.
Lightweight Formula
The best formulas for your skin type are ones that are lightweight. This prevents them from clogging pores or sitting on skin too long, blocking air flow, and causing irritation. Within the category of "lightweight" moisturizers, there is still a surprising amount of variety.
For combination skin, you mainly want to look for either oil-free or water-based formulas.
Oil-Free
While oils make for incredible natural moisturizers, most oil-based formulas are simply too greasy for combination skin.
Oil-free formulas tend to rely on glycerin and other artificial moisturizers to repair skin. While these are less likely to cause breakouts or trigger excess oil-production, they aren't perfect. Their biggest drawback is that they only work as long as you use them.
Where oils can provide deep repair and hydration, artificial moisturizers only offer surface-level repairs. Your skin will look and feel hydrated after you've applied it but if you miss a day or two, it will quickly revert to its difficult, combination state.
Water-Based
Water-based formulas provide a compromise that allows you to enjoy the natural, long-lasting hydration of an oil without the breakouts or other side effects that your combination skin might experience as a result. They do this by diluting the oil significantly with water so that you get a much thinner, fast-absorbing oil moisturizer.
In our list, you'll find a mix of oil-free and water-based options.
If you have acne-prone skin, stick to oil-free options like CeraVe. If you aren't prone to breakouts, go for the water-based options like Burt's Bees as the added moisturizing power of a dash of oil can really help even out your skin.
Gentle Ingredients
While the main ingredient will usually be water in any moisturizer that is lightweight enough to use on combination skin, you also want to make sure the rest of the ingredients are gentle. The dry areas of your skin are likely more sensitive to harsh chemicals.
This is mostly an issue with formulas that boast "oil-control" properties. While that phrase isn't inherently a red flag, you do want to be on the alert.
"Oil control" could mean that the moisturizer is soothing and hydrating enough to stop your skin from producing sebum, as in this all-natural formula from Maryann Organics. But it could also mean that the moisturizer contains harsh ingredients that dissolve oil.
Dissolving ingredients are nice to have in a face wash that you rinse off immediately, but they aren't something you want to leave on your skin all day long unless your skin genuinely needs it.
A common oil-dissolving ingredient that sometimes appears in moisturizers is salicylic acid. This highly effective oil control ingredient is great for especially oily T zones but might be overkill on skin that only gets a little shiny during the day.
If you do want the benefits of stronger oil control, use a moisturizer like Aveeno Clear Complexion at night only.
Sun Protection
With all the emphasis on hydration and oil-control, shoppers with combination skin often overlook the necessity of sun protection in keeping their skin healthy and even. However, it is just as important.
For the dry patches, exposure to sunlight can exacerbate the problem, leaving your skin parched and flakey.
For oily patches, the risk of sunburn is lower but oily skin is likely to tan quicker. If your entire face was oily, this might be fine. If your T-zone is the only oily area on your face, this difference in reaction to the sunlight could create an uneven skin tone.
So, you should definitely consider moisturizers with a high SPF like this CeraVe formula. It will protect the dryer parts and prevent the oily parts from tanning faster than the rest of your face.
With this deeper understanding of what makes a moisturizer great for combination skin, take a look through our top 10 picks below:
Top 10 Best Moisturizers for Combination Skin 2023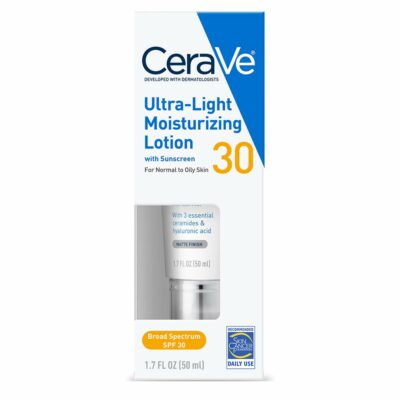 Why we like it:
This nourishing and hydrating formula with a high SPF hits all the marks when it comes to making a great moisturizer for combination skin.
Editor's Rating:
Quick Facts:
Oil-Free
Main Ingredient: Hyaluronic Acid, Avobenzone, Homosalate, Octisalate, Octocrylene
SPF: 30
CeraVe is one of the most trusted brands in skincare for any skin type that is tricky to care for. This face moisture provides everything your combination skin needs to keep oil at bay while providing real hydration at the same time.
Formula
The hyaluronic acid is a natural moisturizer that restores collagen and repairs dry, flaky skin. The ceramides help strengthen your skin's natural barrier to protect against pollution and other external irritants. The formula is lightweight, oil-free, and fragrance free to avoid clogging pores or triggering acne in oily zones.
To top off this incredibly effective moisture, CeraVe has blended it with sunscreen to offer a high SPF formula that is as effective at preventing damage as it is at repairing it.
The use of chemical sunscreen ingredients does make this formula slightly greasier than you might prefer. However, it is balanced out by the ceramides and other ingredients that help slow down oil production.
So, it will be greasier than a zero-SPF moisturizer but less greasy than a pure sunscreen. If you'd rather sacrifice the sun protection and get a completely grease-free formula, consider the Neutrogena Hydro Boost.
Use
This is best to reserve for daytime use only. While it would help to repair skin at night, the portion size is small. Since there's little need for sunscreen at night, you can stretch this moisturizer a lot further by using it only in the mornings.
You could pair it with CeraVe's more affordable face and body moisturizer as your night moisturizer. Both formulas have healing ceramides and hyaluronic acid.
Pros
SPF 30 sun protection

Hyaluronic acid to hydrate and repair skin

Essential ceramides to restore your skin's protective barrier

Oil-free formula won't clog pores
---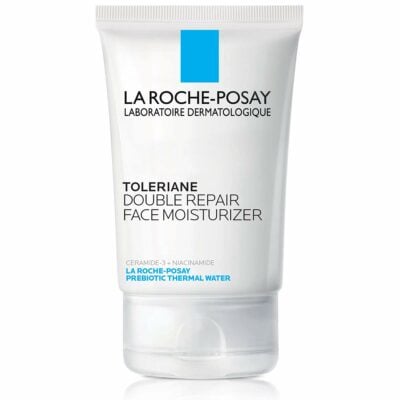 Why we like it:
This oil-free formula is lightweight, gentle, and packed with prebiotics and other ingredients that repair and nourish skin while it hydrates.
Editor's Rating:
Quick Facts:
Oil-Free
Main Ingredient: Ceramides, Niacinamide
SPF: 0
La Roche-Posay is a popular brand for sensitive and combination skin types. This moisturizer, with its essential ceramides and skin-brightening niacinamide can repair and restore skin while evening out tone and combating both oil and dryness.
Formula
The most unique component of this formula is the prebiotic water that forms its base. This promotes healthy bacteria on your skin which can both improve oil-control and protect your skin from drying out.
In addition to prebiotics, this formula includes ceramides that repair your skin's natural protective barrier and niacinamide which brightens and evens out skin tone.
Overall, it's one of the most effective moisturizers you could find that doesn't rely on oils to provide those hydrating benefits.
Unfortunately, there is no SPF in this formula so you would need to use a separate sunscreen with it if you're using this as your daytime moisturizer. If you'd prefer something that builds sun protection into the formula, consider the Neutrogena Oil-Free Moisturizer with SPF 35.
Use
This is effective as both a day and night moisturizer, but we'd recommend it primarily as a night moisturizer. The deep repair properties make it a great option for overnight healing. Moreover, the lack of sunscreen means you'd have to buy a separate sunscreen to use with it if you're using it in the morning.
However, the oil-free formula sinks into your skin quickly so you would be able to apply make up or other skincare products in the morning if you did opt to use it as your daytime moisturizer.
Pros
Prebiotic water promotes healthy bacteria to heal and protect skin

Ceramides restore skin's natural barrier

Niacinamide brightens and evens out skin tone

Oil-free formula
---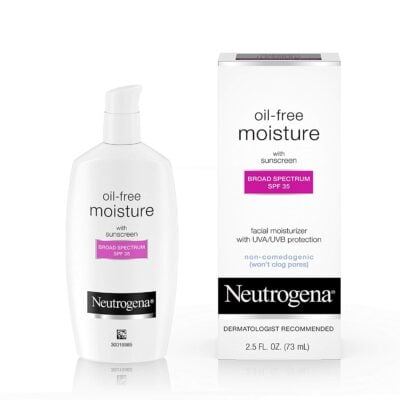 Why we like it:
This oil-free, hypoallergenic moisturizer provides a high SPF and a soothing, low-cost formula that feels incredible on your skin.
Editor's Rating:
Quick Facts:
Oil-Free
Main Ingredient: Soy glycerin
SPF: 35
Neutrogena has created an incredible low-cost moisturizer with this product. It provides instant relief for dry skin while also packing in serious sun protection and keeping the formula irritant-free to avoid causing breakouts in oily zones or redness in dry zones.
Formula
This formula is oil-free, fragrance-free, alcohol-free, and hypoallergenic. It's as gentle as can be for such an affordable moisturizer. It won't clog pores, cause breakouts, or irritate your skin.
The SPF 35 broad spectrum sunscreen that they've included will provide great protection from sun damage. This will allow your skin to avoid new damage and heal itself which can help reduce both dryness and oiliness in the long run as your skin becomes less distressed.
Use
Our favorite thing about this formula is the way it feels on your skin. It's creamy yet lightweight and absorbs immediately thanks to its oil-free formula. It also provides the instant appearance of smoother, healthier skin.
It's light enough to be used as your daytime moisturizer and will absorb quickly enough that you can apply makeup over it a couple minutes later. It's also safe enough to use as a night moisturizer.
However, due to the artificial nature of the formula, it provides no long-term results. If you use it regularly, it will continue to keep the surface of your skin looking hydrated and vibrant. However, it doesn't penetrate down and give you that deep restoration that you might want, especially in a nigh moisturizer.
For something with better restorative properties, try Maryann Organics Eye Cream.
Pros
Feels great on skin and sinks in fast

SPF 35 sun protection

Oil-free formula

Won't irritate skin or cause breakouts
Cons
No natural hydrating ingredients
---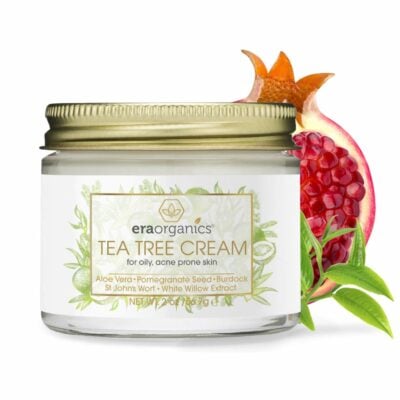 Why we like it:
Using a combination of natural, hydrating ingredients and powerful oil-control ingredients, this will reduce shine and keep your skin healthy at the same time.
Editor's Rating:
Quick Facts:
Water-Based
Main Ingredient: Aloe, Tea Tree Oil, Salicylic Acid, St. John's Wort, Zinc Oxide, Pomegranate Seed Oil, Burdock Root, Dandelion Root, Goldenseal, White Willow Extract
SPF: 0
This natural moisturizer uses a water-based formula to provide a grease-free but seriously hydrating experience that controls oil and repairs parched, dry skin. It's formulated to help with cystic acne, rosacea, and other inflammation so you know it's a soothing and restorative blend.
Formula
This blend includes ingredients for repairing dry skin as well as for combatting oil. The tea tree oil and salicylic acid help dissolve oil while also evening out skin tone and smoothing texture. The aloe, pomegranate seed oil, and other essential oils help repair dry, flaky skin.
Use
The salicylic acid makes this a great option for treating acne-prone skin or fighting breakouts without drying out your skin. However, if you aren't acne, it may be best to limit your use of this product. Use it as your night moisturizer to combat oil and then switch to a gentler formula like Garnier during the day.
You can also keep it on hand as your go to moisturizer for use while fighting breakouts.
Pros
Reduces oiliness

Calms dry, irritated skin

Great for healing and preventing acne

Provides long-term repair for dry skin

Evens out skin tone and texture
Cons
Salicylic acid not recommended for frequent use unless you're acne-prone
---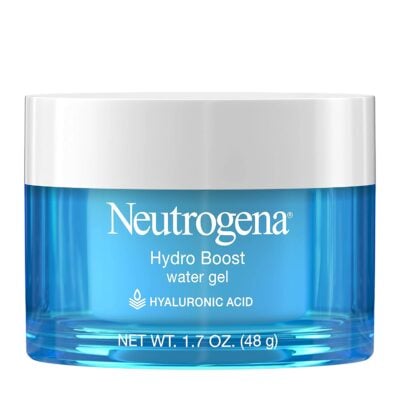 Why we like it:
This water gel is lightweight, cool and nourishing at the same time, leaving your skin feeling refreshed after each application.
Editor's Rating:
Quick Facts:
Oil-Free
Main Ingredient: Hyaluronic Acid
SPF: 0
Neutrogena's water gel is a great way to gently moisturize your skin without the slightest greasy residue or heavy feeling. It includes healing hyaluronic acid and a gentle, noncomedogenic formula.
Formula
At first glance, hyaluronic acid might sound like it would be too harsh for the dryer areas on your face. However, it's actually a naturally occurring gel-like substance that your own body produces. It's the stuff that keeps your tissues lubricated and healthy.
This is why you get this unique gel texture that sinks into your skin instantly and provides lasting moisturization.
It's the best of both worlds. You get the fast-acting, fast-absorbing benefits of an oil-free formula with the long-term restorative benefits of natural hydration.
Our only two reservations about this product are the lack of SPF and the presence of fragrance. The scent is far from overpowering but it's just an unnecessary ingredient that doesn't need to be on your skin.
If you'd rather use a fragrance-free formula or get a moisturizer with SPF, try Neutrogena's other oil-free formula.
Use
This sinks in fast enough to be a reliable morning moisturizer that will allow you to leave the house without feeling greasy. You will need to pair it with a sunscreen, though. It can also work as a night moisturizer although you might prefer something that's capable of more intensive repairs at night.
Pros
High levels of healing hyaluronic acid

Oil-free formula

Fast-absorbing gel texture
Cons
No SPF

Contains synthetic fragrance
---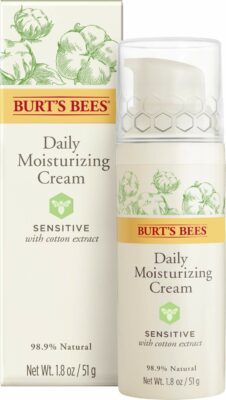 Why we like it:
This natural formula hydrates your combination skin with a blend of cotton extracts and aloe vera for deep, long lasting effects.
Editor's Rating:
Quick Facts:
Water-Based
Main Ingredient: Aloe, Cotton Extracts
SPF: 0
Burt's Bees is one of the best brands for affordable natural skincare products. Their moisturizer for sensitive skin is a great example of how they blend nourishing and powerful natural ingredients into formulas that are gentle enough to prevent breakouts or irritation.
Formula
The water-based formula relies mainly on aloe and cotton extracts to provide lightweight hydration that can penetrate beneath the surface to provide lasting effects. It repairs damage like flakiness, inflammation, and redness while also helping strengthen the skin's natural barrier.
With a stronger barrier to keep your skin protected from environmental irritants, your pores are less likely to produce excess sebum so this can help with oil-control. It's not as powerful as a moisturizer that actively dissolves oil like Era Organics but it will act as a preventative treatment to provide a long term decrease in oil production.
Those who are acne-prone might find this formula a little on the oily side. While it is lightweight and noncomedogenic, it's still too rich for skin that is easily irritated.
Use
We recommend this primarily as a night cream. The oils in the formula are noncomedogenic but they are still slower to sink in than many of the other moisturizers on this list.
The pump bottle that comes in can get messy. It leaves a lot of product behind, so you usually want to open it up when it stops pumping out enough moisturizer. But using up the rest of the product in the bottle without the convenient pump action is difficult to do.
For those who prefer a moisturizer that makes it easy to use every last drop, try the Neutrogena Hydro Boost which comes in a convenient tub design.
Pros
Aloe and cotton extracts provide lightweight hydration

Essential oils help restore and strengthen skin's natural barrier

Great for repairing damage

Helps prevent excess oil production in the long term
Cons
May be too rich for acne-prone skin

Bottle design makes it difficult to use all of the product
---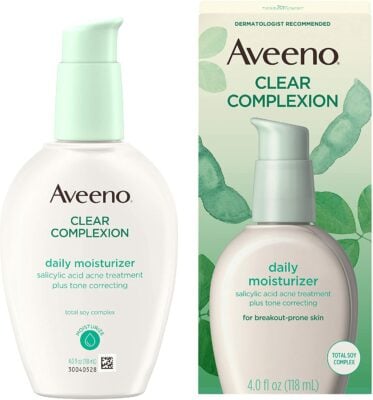 Why we like it:
For skin that breaks out with every other moisturizer, you can't beat Aveeno's unique clear complexion formula with salicylic acid for maximum oil-control.
Editor's Rating:
Quick Facts:
Oil-Free
Main Ingredient: Salicylic Acid, Soy Complex
SPF: 0
Aveeno Clear Complexion is a great option for handling oily zones that feel impossible to control. It balances a powerful oil dissolving acid with a deeply hydrating moisturizer that doesn't clog pores.
Formula
This oil-free formula with salicylic acid is great for combination skin that is also prone to breakouts. If you've given up on using moisturizers because your skin seems to react to every formula, this is a good one to try.
It will get rid of oil while the soy complex provides fast-absorbing hydration that also evens out skin tone. The formula is hypoallergenic and noncomedogenic so it's gentle enough to use, even on the most easily irritated skin.
There is no SPF in this formula and applying salicylic acid to your skin in the morning can make your skin more sensitive to sun damage during the day. So, we highly recommend pairing this with a high SPF sunscreen.
If you need a sunscreen that is safe for acne-prone skin, try Neutrogena Clear Face Sunscreen. It's an SPF 55 sunscreen with an oil-free formula that's been specifically crafted for acne-prone skin.
Use
Because of the salicylic acid, we would highly discourage using this in the daytime without a sunscreen. It's a much better option for your nighttime moisturizer since the oil control and skin repairing effects can do their work while you sleep, leaving your skin renewed and ready for your morning.
We do wish it came in a better bottle design. This larger, pump bottle makes it just about impossible to use up every last bit of the product. Fortunately, it's not one of the more expensive moisturizers so you won't feel too terrible leaving a little behind.
However, if you'd prefer a moisturizer that allows you to effortlessly use up all of the product, try the Garnier moisturizer.
Pros
Great option for powerful oil control

Soy complex moisturizers and evens skin tone

Great choice for acne-prone skin

Hypoallergenic

Oil-free formula
Cons
No SPF

Bottle design makes it difficult to use all the product
---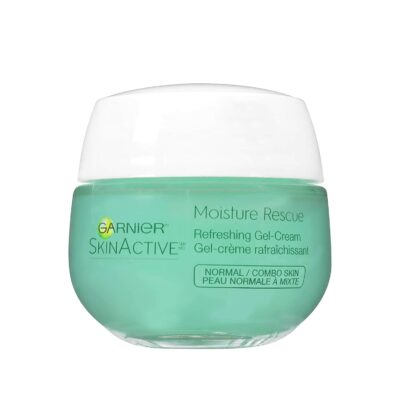 Why we like it:
This lightweight gel locks in moisture and nourishes skin with a unique antioxidant complex that includes Vitamin E.
Editor's Rating:
Quick Facts:
Oil-Free
Main Ingredient: Vitamin C, Vitamin E
SPF: 0
For something that feels incredibly refreshing against your skin but doesn't cost an arm and a leg, this luxurious yet affordable formula from Garnier is a great pick. Its unique gel formula absorbs instantly and restores life to your skin, thanks to the antioxidant complex.
Formula
The oil-free formula offers a powerful blend of antioxidants including vitamins C and E that protect your skin from pollution and other environmental irritants. This helps calm your skin which will, in turn, reduce the amount of oil it produces.
The gel cream sinks in quickly and provides instantly softer skin while locking in moisture.
As refreshing and restorative as this moisturizer feels, it doesn't provide the best hydration. It's definitely a reliable moisturizer for skin that doesn't suffer from excess dryness. However, if the dry areas of your combination skin are dry to the point of flakiness or redness, you'll need something that overs stronger hydrating powers than this does.
In your case, try a richer formula like Burt's Bees that's still lightweight enough to use on combination skin.
Use
This works best as a daytime moisturizer. It soaks in quickly and creates a protective barrier that will help prevent damage throughout the day. However, it doesn't provide the kind of deep repairs you would want in a night moisturizer.
Keep in mind that a little goes a long way. The gel texture makes it feel like you're hardly putting anything on but that's how it should feel. You only need the thinnest of layers to lock in moisture and infuse your skin with antioxidants.
You can apply a little extra at night if you want to go for deep hydration. However, during the day, only apply a small dab across the entire face. It spreads easily so start with less than you think you need.
Pros
Powerful antioxidant blend to prevent damage to skin

Lightweight gel texture absorbs instantly

Immediately softens and smoothes skin
Cons
Not as hydrating as other formulas
---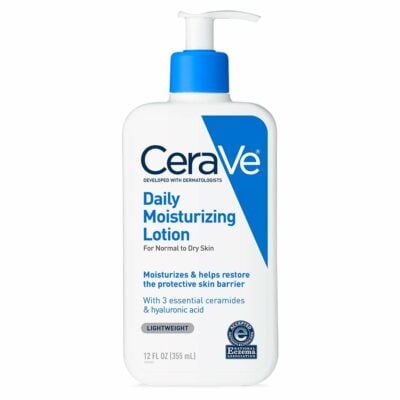 Why we like it:
This dry skin moisturizer is equally great for combination skin since it offers on oil-free formula that repairs and rebalances your skin.
Editor's Rating:
Quick Facts:
Oil-Free
Main Ingredient: Hyaluronic Acid, Niacinamide, Essential Ceramides
SPF: 0
This daily moisturizer from CeraVe is affordable and comes in a generous bottle size. It's also loaded with essential ingredients to provide deep, long-lasting repairs to your skin that can help control oil and heal dry skin.
Formula
This is an all-purpose lotion with a very similar formula to CeraVe's face moisturizer. It's got hyaluronic acid for optimal hydration, niacinamide to brighten and even skin tone, and essential ceramides to strengthen your skin's natural barrier.
The key difference is the lack of sunscreen. Otherwise, it is formulated to be safe to use on your face and contains the same gentle, oil-free moisturizers that the other one does.
By opting for this version, you get a much larger 12 oz. bottle rather than the smaller, 1.7 oz. bottle so it's a cost-effective way to get the same incredible results that CeraVe is famous for. You'll just need to add a separate sunscreen to your routine to make up for the missing SPF.
Use
This can be used as your body moisturizer as well as your face moisturizer. While you might feel weird putting a "body lotion" on your face, this has been formulated for that purpose. It's suitable to use as either a day or night moisturizer. For best results, use it for both.
For treatment of especially dry areas on your skin, this might feel a little lacking. This will be even more of a problem if you live in a dry climate. In your case, you really should go for a water-based formula that still contains some natural oils like Maryann Organics to provide more lasting protection from arid conditions.
Pros
Formula includes hyaluronic acid, niacinamides, and essential ceramides

Cost-effective alternative to CeraVe's face moisturizer

Oil-free formula is safe for all skin types

Safe for use on face and body
Cons
No SPF

Formula not hydrating enough for dry climates
---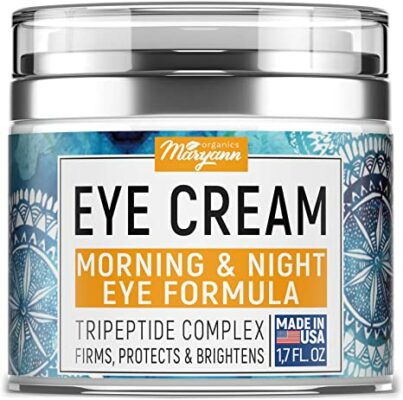 Why we like it:
With hyaluronic acid, Vitamin E, and a tripeptide complex, this provides incredibly deep hydration that's safe for combination skin.
Editor's Rating:
Quick Facts:
Water-Based
Main Ingredient: Aloe, Hyaluronic Acid, Vitamin E, Tripeptide Complex, Caffeine
SPF: 0
While this is marketed as an under-eye cream, that's precisely what makes it such a great choice for combination skin. It's a lightweight formula that is gentle enough to avoid irritation but strong enough to repair the uniquely fragile skin under your eye.
Formula
Hyaluronic acid and aloe work together to provide lightweight, fast-absorbing moisturization that will actually repair damaged skin.
The tripeptide complex promotes collagen and evens out texture. The vitamin E acts as a powerful antioxidant that can protect your skin from pollution and other irritants that trigger oiliness. Caffeine will brighten and even skin tone.
The result is a formula that can gently heal your skin so that it isn't triggered to produce as much sebum as it usually does while the dry areas smooth out and plump up.
Unfortunately, the packaging makes more promises than it can keep. While we love this as a general, daily-use face moisturizer, it's not going to magically erase wrinkles or even out skin tone.
It will brighten skin and providing long-lasting moisturization, though. So, if you get it with the expectation that it will be a great moisturizer, you will be happy.
Use
We like this as both a day and night moisturizer but it's especially beneficial for nighttime use. The nutrient-packed formula can nourish and repair skin while you sleep. Then, refresh it with a new layer of moisturizer in the morning for all-day nourishing and healing.
Since it doesn't contain any sun protection, you'll need to use this with a sunscreen if you use it during the day.
One trick you can try for added soothing properties is to keep it in the fridge. Then, when you apply it, it will be cool and refreshing. This is an especially useful trick for nighttime applications when your skin might be feeling irritated from washing your face.
The pump action design is inconvenient. You'll think you've run through this product in a matter of weeks if you don't just unscrew it and use it and dab it out with your fingers like a normal tub container.
For a moisturizer with better packaging, try Era Organics.
Pros
Nourishing formula with tripeptides and antioxidants

Aloe and hyaluronic acid hydrate and repair damaged skin

Gentle enough to use on your combination skin
Cons
No SPF

Bottle design makes it difficult to use product
---
How to Treat Your Combination Skin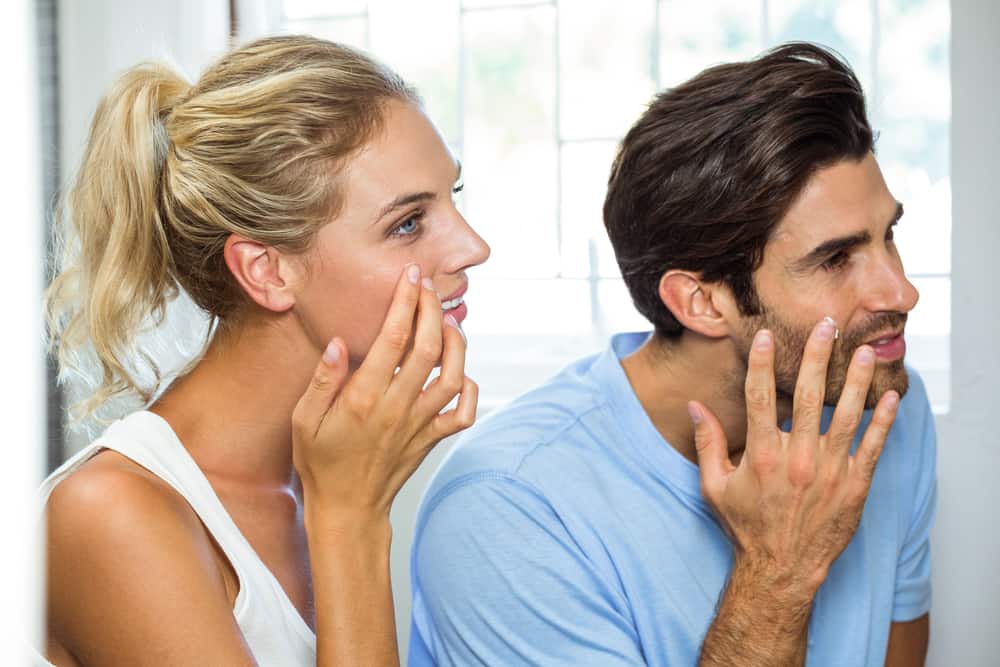 Caring for combination skin can be challenging. From choosing the right skincare products to figuring out the right routine, it can be tough to figure out the right balance between managing oiliness and healing dryness. In this section, we'll give you some more information about your skin type, how to choose the perfect moisturizer for you skin type, and how to provide the best possible care for your combination skin.
Which Moisturizer Is Best for Combination Skin?
The best moisturizer for combination skin is one that is lightweight enough to not clog your oily zones but still hydrating enough to nourish your dry skin. Beyond these basic requirements, you also want to think about how your skin reacts to different ingredients and environmental factors.
If you're prone to breakouts or inflammation, you need a more serious moisturizer like Era Organics or La Roche-Posay that works to repair damaged skin as well as moisturizer.
If you're skin is otherwise normal aside from having a somewhat oilier T zone, avoid heavy-duty formulas and look for something milder like Garnier or Neutrogena Hydro Boost.
Here are a few more tips for finding something that will with your skin type:
Consider products made for sensitive or acne-prone skin as well as ones for combination skin
When you're using a new brand for the first time, only apply it to a small, discrete area on your face and wait a day to see how your skin reacts to it.
When trying a new brand, don't change any other part of your skincare routine until you see how your skin responds to this new moisturizer.
How Do You Apply Moisturizer to Combination Skin?
With combination skin, it can be tempting to apply moisturizer only to the dry areas while depriving your oily zone. However, this is not the best practice. Oily skin needs nourishment and hydration, too!
Here are some tips for applying moisturizer without feeling greasy afterward:
Start with less than you think you need and build up from there to avoid applying too much.
While you should definitely apply moisturizer to your entire face, use a slightly thicker layer over dry zones and a thinner layer over oily zones.
Massage it gently and avoid pressing, pulling or otherwise irritating your skin.
Let the moisturizer sink in completely before applying makeup or any other products.
The Best Skincare Habits for Combination Skin
Here are a few tips to help you build the best skincare routine to care for your combination skin:
Wash Your Face at Night Only
For combination skin, you want to avoid washing your face excessively. This can be tough at first because when your T zone gets oily, you feel a strong urge to wash away that oil. However, doing so can irritate the skin which will only trigger it to produce more oil.
So, limit face washing to once a day and preferably at night.
In the morning, avoid as many harsh ingredients as possible. Your face needs to reserve as much of its natural barrier as possible to better protect itself during the day. So, skip the cleanser in the morning. If your face got oily during the night, rinse it with plain, cold water and gently dab it dry with a soft towel.
At night, use a gentle, alcohol-free cleanser to thoroughly wash away make up or dirt. Immediately follow it with a moisturizer.
Use Moisturizer Daily
You should apply moisturizer twice a day, in the morning and at night. The main purpose of moisturizing in the morning is to provide better protection for your skin. Meanwhile, the main purpose for moisturizing at night is to heal and repair any damage that happened.
Depending on the formula you choose, one moisturizer might be able to handle both jobs. However, some ingredients, like salicylic acid, that are great for repairing damage can also make your skin sensitive to sunlight. In this case, formulas that use the ingredients should only be used at night or paired with a strong sunscreen if used during the day.
At the same time, there's no real reason to wear a moisturizer with SPF at night. If you're paying for a premium moisturizer with SPF, it makes sense to get a separate product to use at night so that you can make the SPF moisturizer last longer.
Use Sun Protection Daily
Sun protection is important for all skin types, but it can be especially beneficial to combination skin. One side effect of sun damage is dry, cracked skin. So inadequate sun protection can lead to dryer dry patches.
It will also trigger your already overactive oily zones to produce more oil in an effort to protect itself from sun damage.
So, choosing a moisturizer with SPF like CeraVe is a good idea. However, you can also just add a face sunscreen to your morning routine if your favorite moisturizer doesn't already come with SPF.
Avoid Physical Exfoliants
Any exfoliator that scratches away dead skin by use of small beads or flakes will irritate your skin, triggering it to produce more oil to protect itself. For combination skin, it can actually be better to avoid exfoliating of any kind.
Just let your skin go through its natural exfoliating cycle on its own. If you do want to exfoliate, use chemical based exfoliants that dissolve the dead skin rather than rip it away like physical exfoliants do.
Always follow an exfoliation with a moisturizer to soothe skin and jump start the process of repairing the skin barrier.
Drink Water
Moisturizers can make up for a lot, but they can't fix chronic dehydration. If you're not drinking enough water, your skin is going to be in a continuous state of distress which is what helps create those dry and oily zones.
To help add more water to your daily routine, add it to your skincare regimen. Drink a full glass before your morning and evening routines. This habit can eventually help you remember to drink more water throughout the day.
Other Products to Complete Your Skincare Regimen
For complete control over your combination skin, you'll want to round out your skincare regimen with a full line of hydrating, cleansing products that are safe for your skin type. Here are some other skincare products that work with combination skin:
Face Washes for Oily Skin. These are formulated to provide deep cleansing power while also dissolving excess oil for a flawless, matte result.
Face Masks for Blackheads. Face masks like these can exfoliate without scratching or irritating your skin, making them great for combination skin.
Toners for Oily Skin. Toners help balance out skin tone and texture in preparation for putting on makeup or even just as part of your no-makeup skincare routine.
Final Word
Choosing the best moisturizer to treat your combination skin comes down to finding the perfect formula. It should be lightweight and gentle enough to avoid triggering a breakout but still hydrating enough to soothe your dry areas.
You'll also have to decide whether serious oil-control, as offered by Aveeno or Era Organics is worth the risk of irritating dry skin from frequent use.
The most important thing, however, is to start moisturizing your skin right away. Neglecting this important skincare step will only make combination skin worse in the long run as dry areas get dryer and oily zones produce more oil in the effort to compensate. So, find your dream moisturizer and start giving your skin the treatment it deserves today!