Top Picks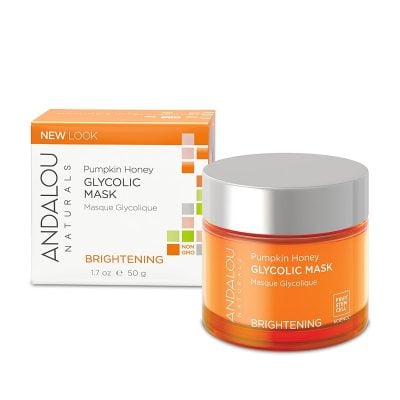 Andalou Naturals Pumpkin Honey Glycolic Exfoliating Mask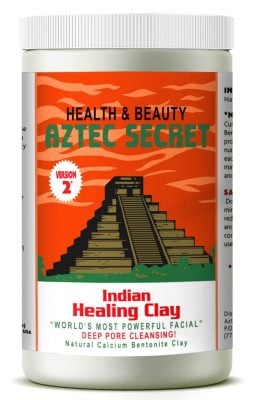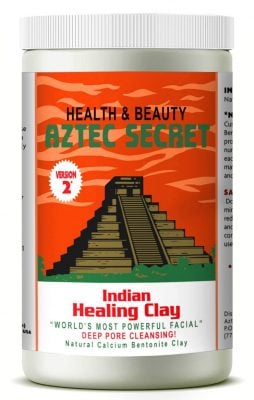 Aztec Secret – Indian Healing Clay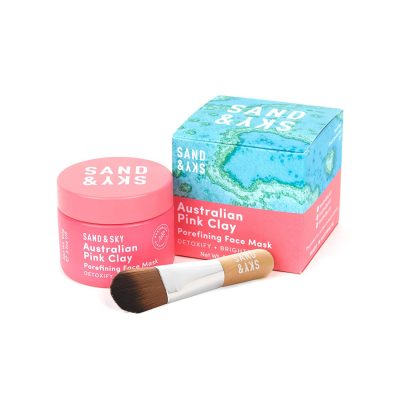 Sand & Sky Australian Pink Clay Porefining Face Mask
Previous
Next
If you're reading this then you're probably very familiar with the annoying little black dots that grace your beautiful face. To understand how you can combat the issue of blackheads, you should know a little bit about your skin, as well as the tools available to you in this battle.
What You Need to Know About Face Masks for Blackheads
To help understand how and why face masks for blackheads work, we'll explore what blackheads are and the best ways to treat them.
What Actually Are Blackheads?
Firstly, what blackheads aren't – they're not dirt, and don't really reflect on the hygiene of the person. They also don't reside in your sweat pores.
Blackheads are formed in the hair follicle, which is commonly referred to as a pore, and is not to be confused with a sweat pore. Within the hair follicle you will find sebaceous glands that excrete oil, also referred to as sebum. Through a combination of excess sebum, dead skin cells, and bacteria, the pore can expand and fill up, appearing as a black dot upon oxidation with air.
Difference Between Blackheads and Sebaceous Filaments
There is an important distinction to make between a sebaceous filament and a blackhead. As previously described, a blackhead is a mixture of excess sebum, dead skin cells, and bacteria, resulting in an enlarged, blocked pore. A sebaceous filament, however, is the sebum coating found within the hair follicle.
Now, hold up – it's not as contradictory as it may sound. A sebaceous filament is a natural and necessary occurrence. This coating of sebum along the hair follicle aids in wicking away the sebum from the gland onto the surface of the skin, resulting in oiliness – nature's moisturizer.
The sebaceous filaments do appear as tiny little dots, most often seen on the nose, and can be easily mistaken for blackheads. Difference being, the sebaceous filament is a perfectly normal part of your skin that maintains its health, while a blackhead is a blockage of the follicle resulting in an unsightly appearance.
The filaments are often observed on oily skin, particularly the T-zone, as well as the trunk of the body in some people. If your skin is oily most likely these sebaceous filaments are more noticeable while not necessarily being true blackheads.
So How Can You Treat and Prevent Blackheads?
While it may be tempting, you don't want to pick at the sebaceous filaments and attempt to remove them, as you risk damaging and scarring your skin for a temporary solution. The sebum will come back within days. This is important to remember as when pampering your skin you don't want to damage. You must be patient and not give in to the temptation of a quick fix.
By keeping your skin exfoliated and clean you can minimize the appearance of these sebaceous filaments and prevent blackheads from forming. It's all about being regular and consistent, rather than using a harsh treatment once in a blue moon. Regular masking to exfoliate and absorb excess sebum will greatly help with the fight against blackheads.
If you need a little more guidance with choosing the right mask for you, or you're simply interested in the detail, there's an in-depth guide at the bottom of this article to take you through skin types, ingredients, and more.
Now, it's time to jump into the best face masks for blackheads available.
Top 9 Best Face Masks for Blackheads 2021
The Ultimate Guide to Picking a Face Mask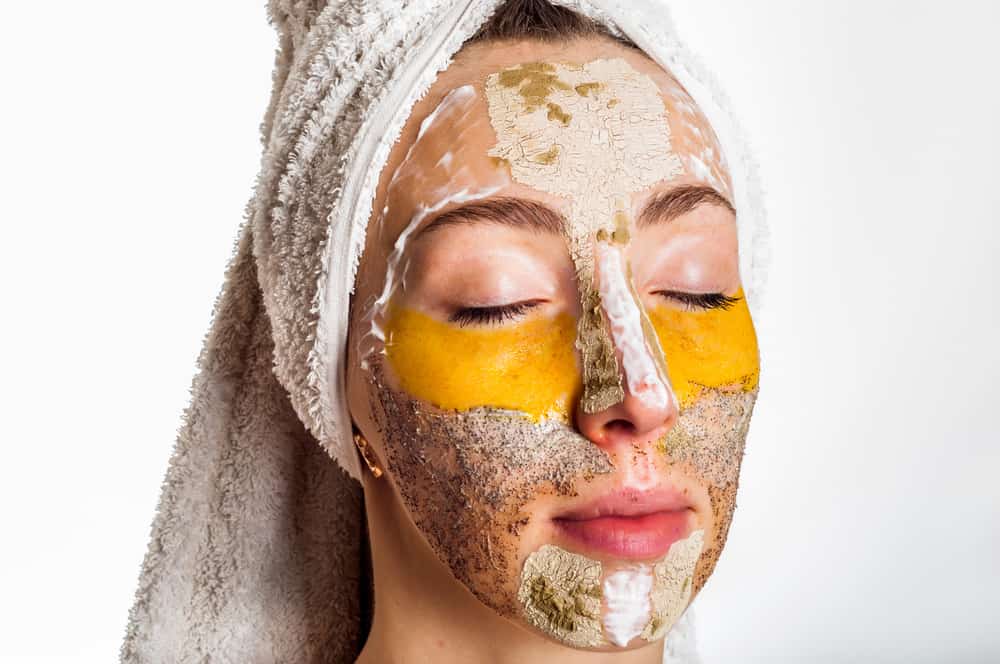 Treating blackheads is a multifaceted problem that isn't as simple as doing a single treatment once in a while. Blackheads are something anyone will struggle with at some point in their life, and the only way to keep them under control is to have a good skincare routine to prevent, rather than treat.
Here we will dive a little deeper into the cosmetic content so you can make a better decision regarding what your skin needs and how you want to treat your blackheads. Also, we've included a mention of things that don't work and can even damage your skin.

Skin Types
Knowing the type of skin you have will greatly help you to pick out what's best for it and avoid unnecessary irritation. Working with your skin rather than against it will greatly improve its health and appearance, and you will simply have a much easier time caring for it. The aim is to help skin be balanced – not too oily, not too dry, but nourished and healthy.
Oily
Oily skins tend to produce an excess amount of sebum often resulting in clogged pores and a shiny appearance. The biggest mistake with this skin type is the sheer determination to suck all life out of it by drying it up. By doing this, your skin will rebel and produce even more oils to bring it back to the greasy state.
To prevent this and keep skin happy, proper cleansing and moisturizing are crucial. Not using a moisturizer will backfire and is detrimental to your skin. Using clay masks such as the Sand & Sky clay mask and exfoliators to clear out the pores and absorb the excess sebum is fantastic, but do remember that your skin needs moisture afterward.
Remember – if you put enough moisture onto your skin yourself, your skin won't have to do it for you. Choose moisturizers and oils that are good for oily skin and non-comedogenic to keep those blackheads and excess sebum at bay.
Dry
Dry skin doesn't produce a lot of sebum resulting in delicate, thin, and sometimes flaky skin. Of course, dry skin still can produce sebum and hence develop blackheads. In such cases using harsh scrubs and exfoliators, as well as strong clays, can often irritate and burn skin as it dries out even more.
For dry skin, using a very hydrating moisturizer after drying masks is crucial to avoid further dryness. A lot of the times opting in for oil cleansers as opposed to clay masks can be much better at getting rid of blackheads without damaging skin.
Combination
This is when you have both oily and dry skin at the same time. Usually the T-zone will be oily, while the cheeks and sides of the face are dry. It's important to remember that there are people who have their own unique spots that are dryer or oilier than others.
For combination skin, multimasking is life. While using more than one mask may seem excessive and annoying, if you're after results, taking care of your skin's needs in a more strategic manner can have a great payoff. If you have blackheads specifically on your nose, for example, you don't need to apply the clay mask all over your face – apply it just to this specific problem area.
Sensitive
Skin sensitivity has nothing to do with how oily it gets. There are people with dry and sensitive skin, just as there are people with oily sensitive skin. People with more resistant skins, rather than sensitive ones, often will find that they can use the strongest treatments out there such as Aztec Secret clay and get great results.
However, people who have sensitive skin need to be more careful with what they put on their faces, in order to avoid irritation and breakouts. Looking out for sensitizing and irritating ingredients, such as fragrance, is a way to minimize the potential risk of irritation of your skin.
The people who don't have sensitive skin can of course use products marketed for sensitive ones – there is nothing wrong with using more gentle products. Just because your skin can take the abuse, doesn't mean it should!
Acne-Prone
Having acne-prone skin is yet again a whole new realm to skincare. You can have any combination of the above skin types and also be acne-prone. The treatment of acne is a topic for another day as not only do you have different types of acne, but a whole host of other considerations. If you're struggling with acne, we highly advise you to visit a dermatologist to get it treated correctly.
However, as for remedying it yourself at home, it's important to remember that, whatever you do, you need to be gentle. Treating your skin aggressively by scrubbing, over-exfoliating, and drying it out is a sure way to end with hyperpigmentation and scars instead of glowy clear skin.
Avoid any kind of mechanical exfoliators and treatments such as pore strips (unless advised by your derm). Opt for gentle masks such as the Moroccan red clay mask that will keep your skin balanced, rather than ones that will leave you with irritated, red skin and potentially open wounds. While blackheads are part of acne, and you want to remove them, be gentle, and follow the advice of your derm.
Types of Masks
Pretty much all the masks fall into one of the three categories – wash-off, peel off, and sheet masks. Though you may encounter the odd leave-on mask, which is basically just a moisturizer. All of them have their pros and cons which we cover below.
Peel-Off
These are the masks that often have a more of a jelly consistency due to the addition of ingredients that will form the base which you peel off your skin. As the name suggests you put the mask on, it dries and then you peel it off for a residue-free finish. If you're lucky that is, as some bits always seem to hang around.
While these masks are satisfying to peel off, the benefits are limited. Ingredients tend to work best when they're in a liquid form on our skins, maximizing the contact area. Once a mask dries down you won't reap many benefits keeping it on any longer.
In the worst case, you can get masks that will just wax your face, and peel the skin off along with the mask – looking at you, pore strips. Which leads us to….
Pore Strips

You could say that these are a subcategory of a peel-off mask, but they became so popular now they get a category of their own. The goal and marketing of these, is to cling onto the gunk in your pores (as well as the peach fuzz), and pull out these columns of sebum out as you peel off the strip.
In reality, it gives you a wax while pulling out the occasional blackhead. It can be extremely irritating to sensitive skin, as well as delicate, thin and mature skin, as these masks tend to just rip off the top layer of skin. Yes, beauty is pain, but this is just ineffective and unnecessary. Unless you're into being a masochist every so often, or want to wax your face.
Wash-Off
The most common type of mask by far, you put it on, leave it for 10-20 mins and then wash it off. Simple. You can find a mask from this category for any skin and any pocket. These masks can cost from just a few dollars such as Aztec Secret clay mask to literally hundreds of dollars.
You have nourishing masks, brightening, detoxifying, purifying, anti-aging, firming, soothing, you name it – the chances are it exists. Most of the blackhead treatment masks, aka purifying/detoxifying ones, fall into this category. The clay is a core ingredient in the purifying masks and requires washing off.
Overnight
These are a subcategory of the wash-off mask. Overnight masks tend to be highly nourishing, as you leave them on while you sleep, allowing them to do their magic. They tend to be like a very thick, rich, heavy moisturizer, and while they can leave a mess on your pillow at times, it shouldn't be any worse than if you used a heavy cream.
People with the driest of skins often use these masks as a moisturizer with great results. As for the blackheads – they won't remove them, and if anything for some people they can make the blackheads worse.
However, it's a treatment to consider if you're struggling with dry skin or if you go crazy on the clay treatments. Drying out your skin to a raisin is only a temporary satisfaction of having 'minimized pores' before they blow open again, as your skin tries to restore some semblance of moisture.
Sheet Masks
You could say these are something in between the peel off and wash-off masks. They come in individual packets as a sheet of material pre-soaked in serum that you put on your face. Leave it for 10-20 mins, and slide it off. The serum left on your skin should be rubbed in and allowed to dry – no need to wash it off, as that will just defeat the point of doing a sheet mask.
These masks are very popular as a quick little treatment, with minimal mess but good results. The downsides? It's not exactly an environmentally friendly practice, especially if you like to mask often. While they are more convenient than a wash-off mask, using these multiple times a week will produce a substantial amount of waste that is just unnecessary. While companies are trying to produce biodegradable masks and recyclable packaging, it's something to keep in mind if you're environmentally conscious.
While these masks won't contain any substantial amounts of clay to treat the blackheads, they can contain exfoliating acids as the active ingredient. They're nice to use, and will keep your skin in good condition preventing the blackheads from popping through in the first place.
Common Exfoliating Ingredients

Getting rid of blackheads is really a constant battle but there are many different weapons in your arsenal. From the brute force of mechanical exfoliation, to the strategic and diplomatic chemical exfoliation, there's something out there for everyone. With the main goal to achieve being – get the sebum out of the pore.
Many of the different exfoliating ingredients that claim to remove blackheads are found in masks, so knowing how to treat your skin and which ingredients to go for is the best bet for success. Here are some specific examples of the treatments you will encounter on your journey to clearer skin.
Mechanical Exfoliation
This is the traditional brute force of skincare. It relies on physically taking off the top layer of skin by the means of scrubs or dermabrasion. The extraction of pimples and blackheads is also a mechanical treatment as you apply force to pop the sebum out.
Mechanical treatments are the harshest but can give you instant results. However, they can be very damaging to skin as it's easy to over-exfoliate and remove too much of the skin, ultimately leaving it irritated, red, and with micro-tears. TLC got it right – no, we don't want no scrubs.
Sugar
Sugar scrubs are the lesser evil of scrubs, but should still be reserved for the body rather than the face. The sugar grains start with sharp edges that can hurt if you rub too hard, but with the addition of liquid, these grains start to dissolve making them more round and gentler on skin. While you can abrade the top layer of skin making the access to the pores and blackheads easier, it does nothing to directly remove the blackheads.
Nut Shards
From coffee grounds to walnut shards, these scrubs are the root of all evil for your face. With sharp irregular edges and different sized grains, nut shards will shred your skin. While initially you may feel that your skin is softer and fresher, in reality you would have just introduced micro-tears to the skin, and most likely your skin will rebel to let you know what you did to it.
Particularly if you're acne-prone, and have a breakout, using sharp grit on the face can lead to straight up open wounds – would not recommend. Plus it will do nothing for your blackheads.
Dermaplaning/Microdermabrasion
If you really need that hit of mechanical exfoliation, a visit to your aesthetician or dermatologist is the safest bet. They will be able to gently abrade your skin, minimizing the damage by using a razor or a 'sandpaper vacuum'. Microdermabrasion with the suction can be particularly useful for the removal of blackheads.
Chemical Exfoliation
This type of exfoliation may sound scary but it's actually a lot more gentle on your skin than scrubbing it. There are constant innovations regarding the chemistry of beauty and how to take care of your skin.
Chemical exfoliators act by dissolving the dead skin cells revealing fresh healthy skin underneath. As these exfoliators are molecules that can penetrate skin, they're able to clean out the pores and destroy excess sebum. As you can vary the strength of the compounds by adjusting their concentrations, it's a lot easier to formulate products that will cater to different skin types. These will aid you to have beautiful skin in the long run, effectively aiding your body processes rather than getting in their way.
AHA vs BHA
AHAs and BHAs are the two categories of exfoliating acids you can buy. AHAs are water-soluble and they can't go into the pore, meaning they act on the top surface of the skin.
BHAs such as salicylic acid, are lipid-soluble and so have a much easier time getting into the pore to do its job. It's the statistically significant treatment of blackheads. However, for the exfoliant to be effective the pH has to be low enough (3-4) to prevent neutralization.
This is the acid that is most often used as a pore cleansing, blackhead clearing treatment. It exfoliates not only the top layer of the skin but is able to exfoliate within the pores as well. It's the best ingredient to use for blackheads. It's difficult to find a good mask with salicylic acid though, most often the ingredient being incorporated in cleansers and toners.
It's the most researched AHA so you can be sure there's plenty of info out there about this gem of an ingredient. It not only exfoliates skin by removing dead skin cells, but also can help with reducing dark spots and hyperpigmentation. Some people may be sensitive to glycolic acid in which case either try a lower concentration of the acid or minimize its use.
As with other AHAs, it exfoliates skin sloughing off dead skin cells. Besides, it helps with skin hydration and is an overall amazing ingredient for any skin type including acne-prone and sensitive skin.
Comes from citrus fruits as you might expect by looking at the name. It's because of this acid that some hacks recommend rubbing lemons on your face. As an AHA it's an exfoliant and will remove dead skin cells revealing fresh skin beneath. However, it may not be the best choice if you have sensitive skin.

Kaolin
This is a naturally occurring mineral that is ground to a white fine powder. It's not as aggressive as bentonite, but it's still effective at absorbing sebum out of the pores. However, because kaolin isn't as harsh, it's also less irritating and drying compared to bentonite, making it more suitable for sensitive and dry skin. Kaolin is also used as a colorant to make the cosmetics more opaque and white.
Bentonite
Bentonite is a super common ingredient in all kinds of clay masks, and it's very effective at its job of oil absorption, hence removing and preventing blackheads. Not only that, but there's research showing that bentonite can actually improve symptoms of eczema and psoriasis as it's able to remove pathogens and bacteria out of the pores.
You may notice that clays come in different colors, and sometimes the ingredients list will specify the color. This is because bentonite consists of montmorillonite and other minerals that give the clay its color.
Montmorillonite
Often used as a synonym for bentonite, you could say montmorillonite is pure, clean bentonite without any extra mineral content. It absorbs sebum and can be quite drying as it's good at what it does. Some research shows it can be a treatment for skin irritation like contact dermatitis.

Sulfur
The same stuff you've learned about in your high school chemistry classes. It has antibacterial and antifungal properties which makes it super effective as an acne treatment as well as a treatment for other skin conditions. It works very well with other acne remedies such as salicylic acid, keeping those pores clear and minimized.
It's not too popular nowadays due to the unpleasant smell as people do want to use something pleasant if they already go into the effort of masking. However, if you're serious about your acne and blackheads this is a treatment definitely worth considering. If you have more sensitive skin do a patch test beforehand to make sure the sulfur concentration in the product isn't too high for your skin.
Niacinamide
Also known as vitamin B3, niacinamide is an amazing anti-acne ingredient that will help with hyperpigmentation and will also soothe the skin. Niacinamide also helps to make skin stronger and healthier, by extension allowing you potentially access some of the harsher masks later down the line, which will help to keep the blackheads at bay.
Tips to Get the Most Out of Your Mask
To get the most out of your mask, the pre- and post-mask treatments are important, but this doesn't mean you need to get a ton of other cosmetics.
1. Prepare Your Skin for the Treatment
Take the time to remove your makeup (if you wear any) and thoroughly cleanse your face. Starting with clean skin will mean the mask will be a lot more effective than simply slapping it on dirt. Don't scrub your skin however, especially if you will follow up with a clay mask as this can make your face burn.
2. Enjoy the Masking Process
Treating your skin with a mask should be a pleasant time to yourself. Apply the mask to your entire face, or play around with applying different masks to different areas of the face depending on what your face needs. Leave the mask on for the desired time but listen to your skin to avoid any irritation.
3. Post-Mask Care
Depending on the mask used either wash it off with some lukewarm water or rub the remaining serum into your face. If using a wash-off mask, make sure to put a protective layer back on your skin to prevent the blackheads from coming back as quickly. Daily care for your skin is even more important than the purifying masks to get rid of blackheads – prevention is much better than the treatment.
While you can put on a mask at any time during the day, it's best to do it before bed to allow the skin to rest after the treatment, instead of it having to deal with the daily sweat and pollution straight after the cleansing.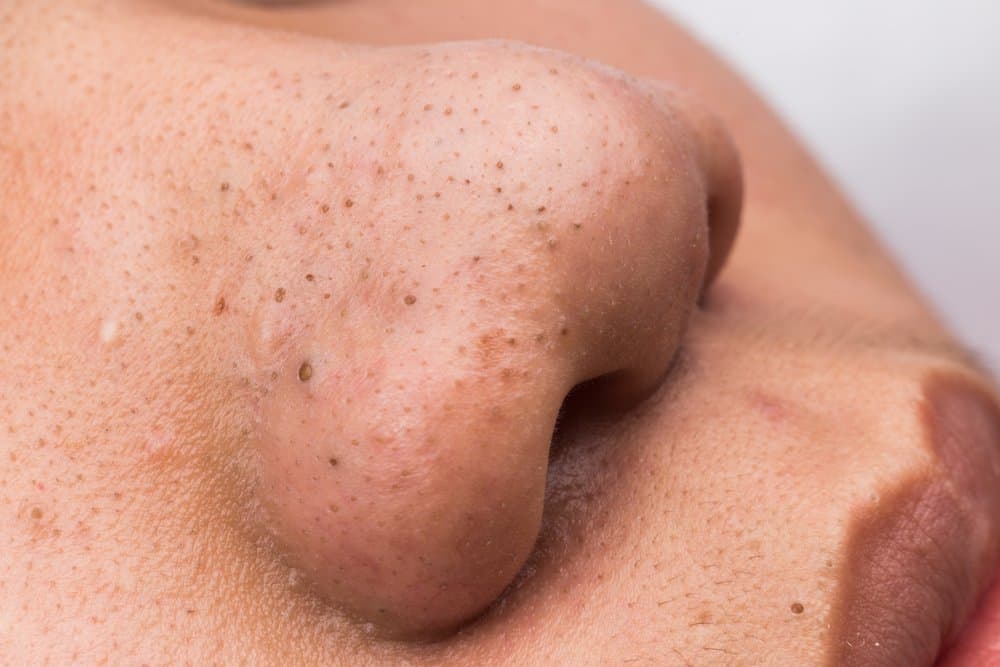 Things That Don't Work for Your Blackheads

There are many hacks out there along with traditional myths and folklore on how to remove blackheads and keep your skin looking great. Unfortunately, most of them don't work, and for all of them, you have better commercial alternatives.
Beautiful, clear skin requires consistent care and knowing your body. Skin is an organ that takes a constant beating from the environment to protect you, so you should take care of it to keep it healthy. Trying out a hack every so often is simply not useful, and by trying to get results fast you will end up damaging your skin instead of helping it.
Here are some examples of popular things that actually don't work, and will do nothing to pull the blackheads out of your face:
Egg whites
PVA glue
Sellotape
Detox stuff
Treat Yourself to the Best Face Mask for Blackheads
Finding the right face mask to suit your blackhead removal needs can be a tricky business, but hopefully, armed with the information in this article, you'll be better equipped to choose the right product for you and your skin.