Do you want to know a secret? Despite being 100% makeup-obsessed, we hate touching up our makeup throughout the day! Once we put it on, we don't want to keep fussing or messing with it.
That's why makeup setting sprays are so essential. A quick spray is all it takes to create a miraculous protective barrier that allows makeup to stay put, no matter how hot, rainy, or humid the day happens to be.
Ready… Get Set!
Before we get into reviews, you might want to know what all the hype is about. We've put this section together to explain what setting sprays do, and how you can identify a great one.
Setting Sprays vs. Fixing Sprays
There's a lot of confusion between setting sprays and fixing sprays. It's basically the Wild West out there, with brands and bloggers alike using the terms interchangeably. In reality, they are two totally different products but with no official definitions!
We decided to define them based on the most iconic products in each category: the Urban Decay All Nighter Setting Spray is the most well-known setting spray, while MAC Prep + Prime Fix + is the most iconic fixing spray.
Setting Sprays
Makeup setting sprays are like hair spray but for your makeup. Their job is to keep you looking flawless for hours and hours on end. They're made up of a mixture of water, alcohol, and film-forming polymers, along with other additives that make the formula feel nicer on the skin.
Many shoppers expect that their setting spray will change the finish of their makeup or keep their face looking matte. However, unlike pressed powders or primers, we find that most setting sprays don't succeed in changing the skin finish or controlling oil in any meaningful way.
Fixing Sprays
Whereas setting sprays are meant to create a barrier over makeup, fixing sprays actually sink into the makeup and transform it. Sometimes they're called finishing sprays or hydrating sprays. They don't contain any alcohol or polymers but include hydrating agents and plant extracts, instead.
They allow layers of foundation and powder to meld together into one layer. This helps with longevity a little, but much more importantly, it gets rid of a powdery or cakey look and makes makeup look more natural.
We focus on setting sprays throughout this article, but we also review the top 3 fixing sprays in the second half.
Features to Look for in Setting Sprays
So now that you know what setting sprays are and what they're supposed to do, here are the features we considered when deciding which makeup setting sprays are truly incredible and worthy of purchasing.
Effectiveness
The key feature that's absolutely a must from any setting spray is the ability to put your makeup on lockdown. With a fixing spray, it's more important that it provide a nice finishing effect. These are the baseline expectations we have for every product on our list.
Nice Nozzle
One of the greatest pitfalls a great setting spray can have is a bad nozzle. For a setting spray to work well, the nozzle has to distribute the spray gently and evenly. Aggressive sprays distribute large droplets that don't dry down quickly and can disrupt your makeup. Some of the setting sprays we include are more aggressive than others, so we'll let you know what to expect.
Pleasant Skin-Feel
There's a small trade-off between the skin-feel of a setting spray and its effectiveness. The strongest and most long-lasting film-formers can feel a little heavy on the skin, while the more lightweight ones don't offer great longevity. Most setting sprays are somewhere in the middle. We'll let you know which ones feel a little lighter and which ones are a little heavier.
Pleasant Scent
The actual ingredients that make a setting spray work don't smell very good. Brands rely on all kinds of scents to mask that fact, which may or may not work. We'll let you know exactly what fragrance you can expect out of each setting spray we review. We also made sure to include some fragrance-free options for those with sensitivities.
Skincare Ingredients
Helpful skincare ingredients can be a nice addition, especially in a fixing spray. We appreciate when brands add ingredients that are a good fit for the specific skin type the spray is made for.
Without further ado, here are our reviews for the best makeup setting sprays for every skin type and budget. Let's go!
Top 7 Best Makeup Setting Sprays 2023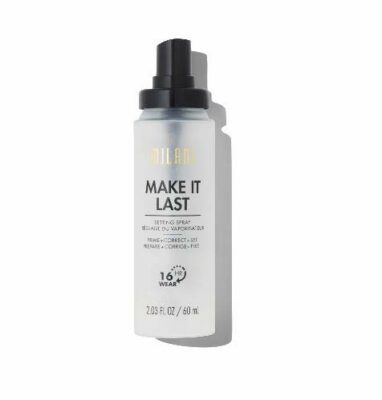 Why we like it:
This setting spray offers fabulous hold at a reasonable price. It's made with a dose of skin-loving ingredients and has an exceptional nozzle that sprays a fine mist.
Editor's Rating:
Quick Facts:
Quantity: 2.03 Fl. Oz.
Scent: Roses
Cruelty-Free/Vegan: Yes/Yes
Milani is not the most well-known makeup brand out there, but somehow this setting spray has developed a massive following. It's a favorite for a ton of beauty influencers across all social media platforms and turns out it's for a good reason.
This setting spray comes in a few different versions, but the original is our favorite by far. It is made with PVP in combination with a bit of Poloxamer 407. The film formers show up on the ingredient list after niacinamide, which is an antioxidant skincare ingredient that has benefits for all skin types.
We expected that because the polymers show up a little later than normal, their effects wouldn't be as strong. Well, we were wrong. This setting spray holds up extremely well, and the 16-hour claim is well-earned. Makeup simply does not budge, and it holds up well even against oily skin or water. The only spray that outperforms it is the Urban Decay All Nighter Setting Spray, though unlike Milani, it can feel a little heavy on the skin.
As far as packaging goes, this is probably the classiest drugstore setting spray we've seen. The bottle feels solid and more importantly, the nozzle is fantastic. It emits a fine mist that covers the face easily.
The formula is scented with a rose fragrance, which is quite lovely. It does a great job of masking the alcohol and it'll blend well with a lot of perfumes. However, if you prefer a fragrance-free setting spray, the Maybelline Facestudio Lasting Fix Spray is a good choice, instead.
Finally, we appreciate that this setting spray is totally affordable! The bottle is a little smaller than many other options on this list while the price is about average, so it's certainly not dirt cheap. However, it still delivers fantastic results at a price that's accessible to most makeup lovers.
Pros
Fantastic longevity

Skin-loving ingredients

Affordable

Well-made nozzle

Gorgeous scent
Cons
Smaller bottle than most sprays
---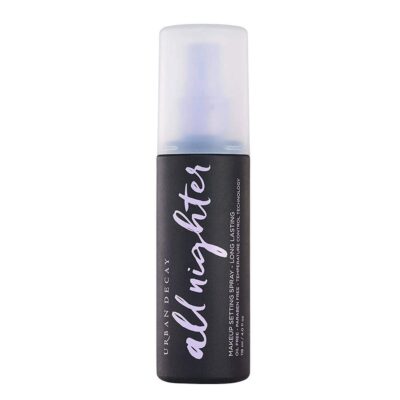 Why we like it:
This is the original setting spray, and it's still one of the best. It has an intense formula that helps makeup last for hours. It won't change the finish of your makeup, so it's a solid choice for all skin types.
Editor's Rating:
Quick Facts:
Quantity: 4 Fl. Oz.
Scent: Clean Fragrance
Cruelty-Free/Vegan: Yes/Yes
This is the original setting spray that started the craze! It's the blueprint for all other setting sprays, and it's still one of the best options out there.
The formula means business. PVP (Poly Vinyl Pyrrolidone) is the star polymer, followed by a long list of other powerful film-formers that work together to make a bullet-proof formula.
Like Milani, Urban Decay also claims that their spray works for up to 16 hours. If your makeup routine includes other steps to increase longevity (we have some tips for that), we find that it can last a lot longer! However, be aware that it can feel a little heavy on the skin, especially when compared to the lighter Milani formula. For many, the increased longevity is worth it.
It comes in a simple, plastic bottle, with an excellent sprayer that lets out an even and gentle stream of liquid. It's very easy to use, even if you're a beginner.
Since Urban Decay is a slightly more high-end brand, this spray is definitely not cheap, though we don't find it overly expensive either. If you're intrigued by it, but nervous about the cost, you can pick it up in a travel size. Since L'Oreal is Urban Decay's parent company, we find that their Infallible Pro-Spray is another more affordable alternative, although the sprayer on it is a little less nice.
The only drawback to this spray is its scent. It contains a fragrance, but it's only there as an attempt to mask the smell of the various film-formers used in the formula. Many users don't notice any smell, but those with sensitive noses might still notice an odd underlying scent.
Pros
The first mainstream setting spray

Bullet-proof formula

Extremely long-lasting effect

Excellent spray nozzle
Cons
Odd smell

Can feel a little heavy
---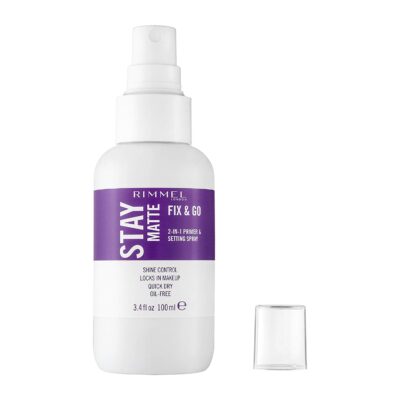 Why we like it:
This super affordable spray will set your makeup even if you're on a tight budget. The formula is very effective, with some hydrating ingredients that make it useful both over and under makeup.
Editor's Rating:
Quick Facts:
Quantity: 3.4 Fl. Oz.
Scent: Cucumber
Cruelty-Free/Vegan: No
This setting spray from Rimmel is relatively new, especially compared to the other products we profile here. Perhaps that's the reason why it stands out as so unique and effective.
The film formers in here are polyurethane-14 and Amp-Acrylates Copolymer, with the former being known as especially flexible. It has a fabulously non-sticky texture and excellent skin-feel. If you haven't had success with setting sprays in the past, we think this one is still worth a try because the technology in it is so different.
Rimmel recommends using this spray as a primer, as well. While it won't have the same effects as a typical silicone primer, it can still offer some hold to the makeup you apply on top of it.
Because of this added use, the formula was reinforced with some hydrating ingredients like sodium PCA, urea, and glycerin. These ingredients give it the ability to slightly meld makeup together like a fixing spray.
Despite the name, we don't find that this setting spray mattifies the skin, though it does do a great job of keeping facial oils from breaking down makeup throughout the day. Because of that, we think it's a fine choice for all skin types. If you're looking for an actively mattifying face spray, the Maybelline Facestudio Lasting Fix Spray is the only one that truly impressed us in that regard.
The main flaw of this setting spray is unfortunately common with drugstore setting sprays: The nozzle is very aggressive, so it lets out a strong spray instead of the fine mist we love in the Milani and Urban Decay setting sprays. We give some tips below that will help you apply a setting spray even if it has a strong sprayer.
Pros
Light, non-sticky texture

Super budget-friendly

Long-lasting effect

Hydrating skincare ingredients
Cons
Hydrating skincare ingredients

Doesn't actually mattify
---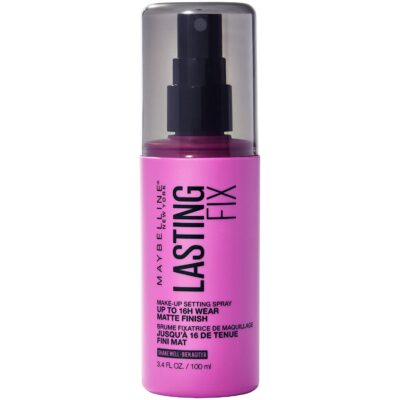 Why we like it:
This talc-infused setting spray gives the most matte finish we've seen. It holds makeup in place very well and can help blot away shine throughout the day.
Editor's Rating:
Quick Facts:
Quantity: 3.4 Fl. Oz.
Scent: Fragrance-Free
Cruelty-Free/Vegan: No
This affordable setting spray is totally worth trying, especially if you have oily skin. Out of all of the setting sprays we've profiled, we found this one to offer the most intense mattifying effect.
The reason this setting spray mattifies so well is that it's made with talc. The powder infused in the liquid actively absorbs oils, so it can actually change the finish of your foundation. It even works well for touch-ups throughout the day, instead of powder or blotting sheets.
If you were considering buying the NYX Makeup Setting Spray specifically because of its mattifying claims, we actually think Maybelline is the better choice. However, on dry and normal skin it can actually be a little drying and uncomfortable.
The formula of this setting spray is based on Amp-Acrylates/Allyl Methacrylate Copolymer and PVP which offers a barrier almost a strong as the Urban Decay All Nighter Setting Spray.
The only major drawback to this setting spray is the spray nozzle. It's not as aggressive as the Rimmel Stay Matte Setting Spray nozzle, but it also doesn't provide as fine a mist as the Milani Make It Last Setting Spray. If you hold it too close to your face you can end up with some bigger droplets of liquid that can disrupt the makeup.
Finally, like other fragrance-free setting sprays, it does smell strongly of alcohol and film-formers. Many shoppers describe the scent as akin to hairspray, which we don't mind, but it helps to know what to expect before using it. Despite the intense smell, the lack of fragrance actually makes it a good choice for those with fragrance allergies.
Pros
Very mattifying

Excellent hold on makeup

Affordable

Fragrance-free
Cons
Mediocre spray nozzle

Strong alcohol smell
---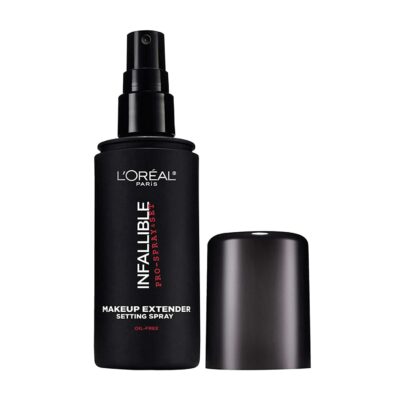 Why we like it:
This formula is nearly identical to Urban Decay but at around half the price. The packaging is not quite as nice, but it's the perfect alternative if you already love the intense All-Nighter Spray.
Editor's Rating:
Quick Facts:
Quantity: 3.4 Fl. Oz.
Scent: Clean
Cruelty-Free/Vegan: No
We'll tell you a secret: L'Oreal owns Urban Decay. As it turns out, the parent company has access to the same special ingredients used in the original Urban Decay All Nighter Spray, and they make good use of them.
Both sprays contain the same main film-formers, so while there are some formulation differences, they're barely noticeable when it comes to performance. This setting spray has the same impeccable longevity and heavy-duty feel. In other words, it's nearly identical.
There are still a couple of notable differences between the two setting sprays. First, this spray from L'Oreal is much more affordable, coming in at around half the price of the All Nighter spray per ounce. If you're on a budget but intent on enjoying the powerful effects of Urban Decay, definitely pick up L'Oreal's spray instead.
However, the L'Oreal spray also has its flaws which might push you towards the original All Nighter spray. The main way L'Oreal keeps this spray affordable is by cutting costs on packaging. The plain spray bottle doesn't look great, but more importantly, the nozzle is a little aggressive and doesn't distribute the fine mist that Urban Decay does. If you're careful with your application, you might not mind, especially considering the lower cost for what is essentially the same formula.
Pros
Incredible longevity

Identical formula to Urban Decay

Affordable drugstore price
Cons
Heavy skin-feel

Aggressive spray nozzle
---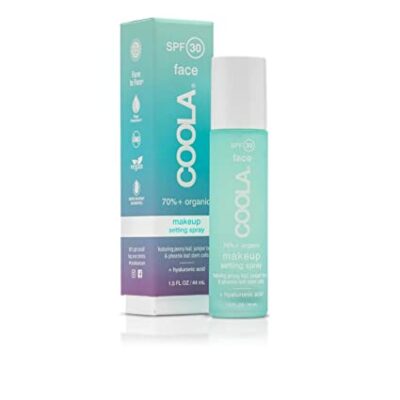 Why we like it:
This organic spray allows you to set your makeup while protecting your skin from the sun. It's not the strongest setting spray but it still helps with makeup longevity.
Editor's Rating:
Quick Facts:
Quantity: 1.5 Fl. Oz.
Scent: Green Tea
Cruelty-Free/Vegan: Yes/Yes
If you're a makeup wearer who spends a lot of time out in the sun, then you absolutely need a product that will reinforce your sunscreen without destroying your look. There are lots of options out there, but a setting spray with SPF is a perfect choice that works well for all skin types.
It sets the makeup with PVP, so while it's not quite as intense as most other options on our list, it still increases the longevity of your makeup. Some users find that it helps to mattify their skin a bit, while others find the finish to be more natural.
In addition to offering sun protection, it also contains a wide range of organic plant extracts that offer soothing, hydrating, and antioxidant effects. As a result, it can help refresh the look of your makeup when you reapply it.
For cosmetic chemists, combining setting effects and SPF is not very easy, which is why we're willing to forgive this spray's faults. First, it has a very strong scent from the alcohol and sun filters which the green tea fragrance doesn't totally hide. The smell dissipates eventually, but upon first application, it's just not pleasant.
Second, this spray leaves a bit of a sticky texture on the skin. It's not visible, but it can feel unpleasant. You definitely don't want to get it in your hair or on your clothes when spraying.
Finally, it's important to mention that many shoppers with sensitive skin might not be able to tolerate the chemical sunscreen filters used here. If that's the case for you, we recommend using a gentler setting spray like the NYX Makeup Setting Spray and relying on a mineral sunscreen powder for reapplications instead.
It comes in a glass container, which feels very luxurious but does make it a little less convenient to travel with.
Pros
Allows you to apply sunscreen over makeup

Made with skin-loving organic ingredients

Slightly extends the longevity of makeup
Cons
Sticky texture

Minimal setting effect

Strong smell
---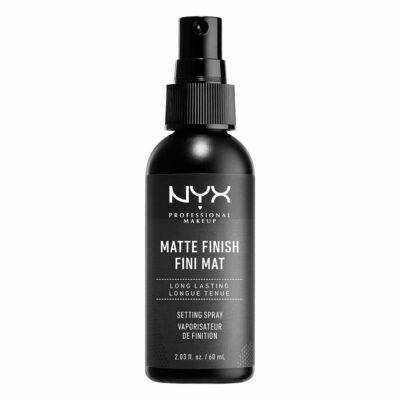 Why we like it:
This fragrance-free setting spray may not mattify the skin, but it helps hold makeup in place with minimal chances of irritation.
Editor's Rating:
Quick Facts:
Quantity: 2.03 Fl. Oz.
Scent: Fragrance-Free
Cruelty-Free/Vegan: Yes/Yes
If you have sensitive skin, you might be interested in trying this gentle, fragrance-free setting spray.
The main polymer in this setting spray is VP/VA Copolymer, a strong-hold polymer that's more water-resistant than other film-formers. That's why it stands up all on its own in this formula, without the need for additional reinforcement. Admittedly, that also means that it feels a little heavier on the skin. However, it's a great option for those whose skin chemistry doesn't jive with other setting spray formulas.
When you first apply it to the skin it adds a bit of a sheen, but it dries down very quickly and settles into a natural finish–despite the "matte finish" claim NYX makes. If you have oily skin, the Maybelline Facestudio Lasting Fix Spray is the better choice.
From a skincare perspective, there are a few nice additions to this formula. It includes sodium salicylate, a skin-soothing agent that's related to salicylic acid and aspirin, and niacinamide which is famed for its antioxidant properties and its ability to soothe the skin.
Since the formula is fragrance-free, in practice it smells a little chemical-y from the actual ingredients. It's not particularly pleasant, but the smell fades pretty quickly after you apply it, and it's also a better choice for those with fragrance-allergies.
Another drawback to this setting spray is the nozzle, which lets out an aggressive stream of liquid. Because of that, we recommend holding it a little further from your face than you would other setting sprays, just so it feels more comfortable and you're at less of a risk of overapplying.
The price is on the higher end of the drugstore range, but if you fall in love with this product, you can always pick it up in the 5 oz jumbo container, which will last you quite a while and costs less per ounce of product.
Pros
Excellent oil-control

Soothing skincare ingredients

Reasonable price

Fragrance-free
Cons
Aggressive spray nozzle

Raw material smell

Slightly heavy skin-feel
---
Top 3 Best Fixing Sprays 2023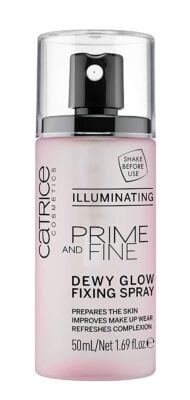 Why we like it:
This gorgeous fixing spray is fantastic for dry skin. It has a strong hydrating effect, but it's also infused with finely-milled mica minerals that add an additional dewy sheen.
Editor's Rating:
Quick Facts:
Quantity: 1.69 Fl. Oz.
Scent: Floral
Cruelty-Free/Vegan: Yes/Yes
Fixing sprays have this magical ability to give makeup a glowy, hydrated look that's fantastic when you have dry skin. There are a lot of true setting sprays that claim to have this effect, but in practice, none compare to fixing sprays.
Of all of the fixing sprays out there, though, this one gives the most intense glow/ The formula consists of water and different humectants that help to rehydrate powder and foundation. They allow different products to meld together into a smooth, seamless layer.
What really kicks it up a notch in this fixing spray is the addition of mica minerals. These tiny minerals are very reflective, so they add a sheen to the skin. They're very small so they give a diffused, moist-looking glow rather than an actual shimmer. This effect is stunning on dry skin, but it'd look downright greasy on oily or combination skin types.
With other fixing sprays, like MAC Prep + Prime Fix +, the hydrated look comes from moisture-binding ingredients, so their glowy effect may dissipate after a few hours. With this fixing spray, however, there's a double punch of both hydrating agents and reflective minerals, so the glow lasts for the entire day.
If you have dry skin and want both the hydration and longevity, you're better off using this fixing spray first, and then layering a setting spray like the Milani Make It Last Setting Spray on top for added longevity.
Pros
Melds layers of makeup together

Hydrating effect from a humectant blend

Adds a dewy sheen from finely-milled mica minerals
Cons
Can make oily or combination skin look greasy
---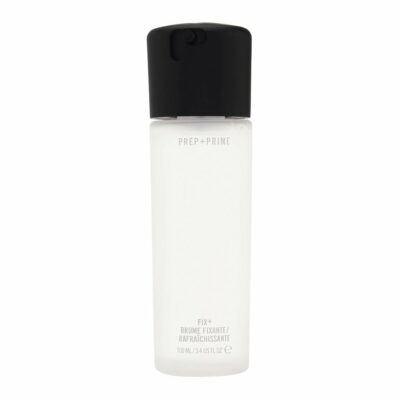 Why we like it:
This iconic spray is one of the first fixing mists. It melds makeup together with a blend of hydrating and soothing ingredients. It's lovely for any skin type at any time of day.
Editor's Rating:
Quick Facts:
Quantity: 3.4 Fl. Oz.
Scent: Fresh
Cruelty-Free/Vegan: No
MAC Fix+ is the original post-makeup face spray. It predates most of the other setting and fixing sprays by years, though it's always been a confusing product. Even these days, some shoppers still purchase it and expect it to perform like a setting spray.
In reality, this is an exceptional post-makeup spray for reducing a caky appearance and for adding a hint of glow to the skin. It's made with glycerin, which actively pulls moisture into the skin and makeup, taking away powderiness and refreshing your overall look.
You can use it no matter your skin type, but if you have dry skin you might prefer the added glow that the Catrice Dewy Glow Spray offers.
It also features a whole range of soothing ingredients, including chamomile and green tea extracts. While these aren't particularly beneficial when applied on top of your makeup, they do make Fix + a wonderful hydrating mist on makeup-free days.
The nozzle on the bottle has been perfected over the years, so it emits a very gentle and delicate mist that will never disrupt your makeup. It has a gorgeous scent, although we do wish MAC would release a fragrance-free option for those with allergies. If you do want a fragrance-free option, Bella Jade Makeup Setting Spray is a great choice.
Since it's a MAC product it's not cheap, which is the only major drawback we can identify.
Pros
Ideal fixing spray for all skin types

Hydrating and soothing on bare skin

Extremely gentle misting nozzle
---

Why we like it:
Though it's called a setting spray, this is a fixing spray through and through. It's made with natural skin-soothing extracts and has a light hydrating effect that refreshes makeup nicely.
Editor's Rating:
Quick Facts:
Quantity: 4 Fl. Oz.
Scent: Fragrance-Free, Natural Tea Scent
Cruelty-Free/Vegan: Yes/Yes
This is another one of those fixing sprays that contributes to the mass confusion. It's called a setting spray, though it won't set your makeup at all. We still like it as a fixing spray or as a light hydrating mist throughout the day, especially for those who prefer natural products. The nozzle itself is fantastic, and it puts out a really nice, fine mist that spreads on the skin lightly and evenly.
The formula is heavy on the soothing, all-natural skincare ingredients. Green, white, and rooibos tea extracts are rich with polyphenols that are calming and protective to the skin. There is also MSM, a compound that's been extolled as a soothing and anti-aging ingredient in recent years. Finally, the formula is fragrance-free, so it'll be great for those with sensitive skin.
It also contains sodium PCA, which has a mild hydrating effect. It's not as intense as the humectants in the MAC Prep + Prime Fix +, so it won't refresh dry-looking makeup to the same extent. However, if you prefer something that will be a little more weightless, this is a great option.
Pros
All-natural formula

Skin-soothing ingredients

Disperses a very fine mist
Cons
Confusing name

Not extremely hydrating
---
The Complete Guide to Fixing & Setting Sprays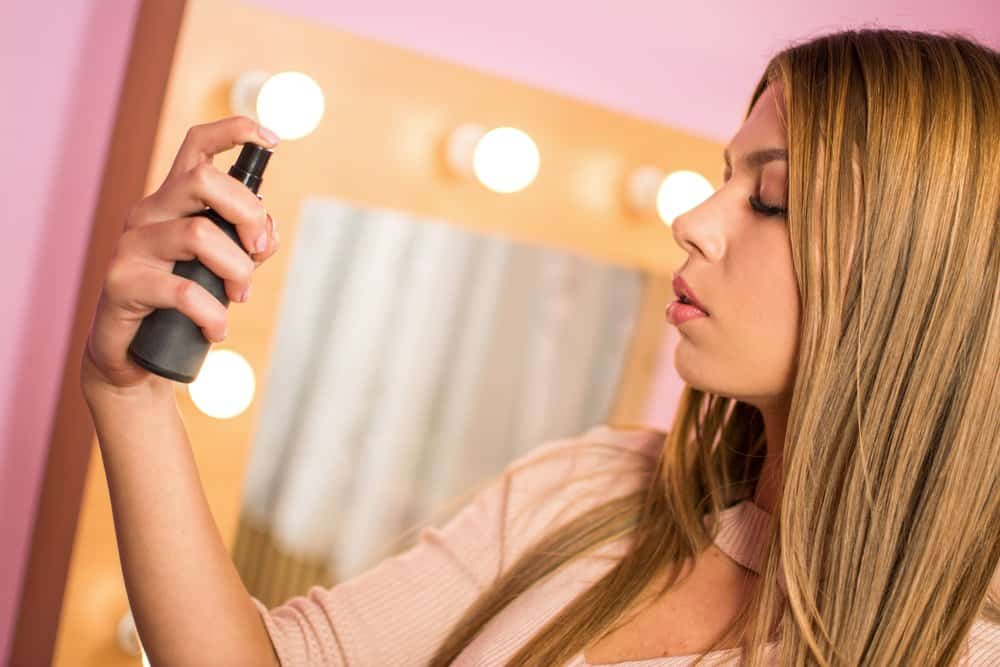 So many amazing sprays, but how will you choose the right one for you? We added this guide to help you out.
Deciding Between a Setting Spray or Fixing Spray
If you're trying to decide between a setting or a fixing spray, these are the details to consider.
Choose a Setting Spray if…
Your makeup smudges or fades easily throughout the day.
You have severely dry skin and need a replacement for setting powder that won't make things look worse.
You have an extra-long day planned when you need your makeup to look great for longer
You're expecting extra humid or sweaty days when your makeup is at a higher risk of smudging.
Choose a Fixing Spray if…
Your makeup often looks dry or powdery.
Your skin gets dry or dehydrated throughout the day.
You want something to bolster the effects of your setting spray.
Pro Tip: When you wear both foundation and powder, using both a fixing spray and a setting spray will give you the most budge-proof beat.
The Right Spray for Your Skin Type
Most setting and fixing sprays are great for all skin types, but we still have a few tips to help you choose the best one for you.
Oily
If your skin produces a lot of oil throughout the day you might want a stronger setting spray like the Urban Decay All Nighter Setting Spray even if it'll have a slightly heavy skin-feel. Such a setting spray will do a job better of keeping your makeup intact even as your skin produces oils that can break it down.
While we find that most setting sprays don't live up to the promise of "mattifying" the skin, the major exception is the Maybelline Facestudio Lasting Fix Spray, which helps tame some of that shine.
If you'd like to also use a fixing spray, the Bella Jade Makeup Setting Spray is an excellent, light choice.
Dry
If your skin doesn't produce much oil and it's prone to tightness, dullness, or flakiness, then you have dry skin. In that case, setting sprays are a fantastic replacement for powders, which can emphasize dryness. Any setting spray will do, although the Milani Make It Last Setting Spray is a particularly nice choice since it feels light on the skin.
More importantly, introducing a fixing spray rich in hydrating ingredients like the Catrice Dewy Glow Spray or MAC Prep + Prime Fix + will go a long way towards giving your makeup a glow. You can use a fixing spray every day for added moisture, and then also use a setting spray on days when you need better longevity.
Sensitive
If your skin gets red or irritated easily, the ingredient most likely to cause issues for you is fragrance. The NYX Makeup Setting Spray is a great fragrance-free setting spray option for all skin types, while the Maybelline Facestudio Lasting Fix Spray is excellent for oily skin.
Even so, you should avoid using your setting spray throughout your makeup application, but only at the very end so it doesn't come in close contact with your skin.
When it comes to a fixing spray, the Bella Jade Makeup Setting Spray is filled with skin-soothing ingredients that will actively calm your skin when it's irritated.
Is Setting Spray Bad for Your Skin?
Setting sprays aren't fantastic for the skin, but they're not that bad either. The important film-forming ingredients can sound a little scary but they're completely safe. The consumer safety organization the Environmental Working Group rates both PVP and VP/VA copolymer as posing no risk.
The other ingredients that can be worrying are alcohol, which can be drying, and fragrances, which can be irritating. However, in a setting spray, they're applied over layers of moisturizers, primers, and makeup, so they don't make much contact with the skin and don't pose significant harm as a result.
Can You Use Hairspray as Setting Spray?
Please don't! This old "makeup hack" is not particularly safe. While we did compare makeup setting sprays to hairsprays, there are major differences. Hair sprays come in aerosols, so they contain propellants (liquefied gas chemicals), which makes them a greater eye contact and inhalation risk because the spray mechanism is much more powerful.
According to the National Capital Poison Center, if hairspray gets in the eyes or breathing pathways it can be quite irritating. Regular inhalation of hairspray can even cause long term adverse effects.
Additionally, since they're intended for the hair, they usually contain a higher amount of fragrance than setting sprays, so they are more likely to irritate the skin.

How Do You Use Makeup Setting Spray?
Setting spray can be amazing, but it can also wreck your makeup if you apply it incorrectly. Avoid the pitfalls and learn a few bonus tips by taking our advice on how to apply makeup setting spray.
The best time to apply setting spray is after you've finished almost all of your makeup. The only exception is if your mascara is not waterproof, in which case spray first and have mascara be your last step.
Hold the spray bottle slightly above your face, about 8-10 inches away. This guarantees it will distribute evenly and gently.
Close your eyes and mouth tightly as you press down gently on the nozzle.
As you're spraying, move your face side to side so it gets totally covered in mist.
To cover the lower part of your face, lower the spray bottle slightly while still keeping it a good distance away.
Once your face is covered, wait a few minutes before touching your makeup to allow the setting spray to dry down.
If your setting spray has a more aggressive nozzle it's better to apply it like you would apply a strong perfume. Spray it in the air and then allow the mist to fall over your face.
You can use a fan to speed up the spray drying time.
For a more intense effect, spray your face with the setting spray throughout your makeup application.
You can apply a layer on top of your primer, after foundation, and after setting powder. You can experiment until you find the order of operations that gives you the best results.
What Else Can You Do to Get Your Makeup to Last?

A setting spray makes a huge difference, but we have a few tips to help keep your makeup in place all-day and all-night-long.
Before starting your makeup application, apply a face primer that's suitable for your skin type. This will prevent foundation from settling into pores or fine lines while also extending makeup longevity.
You can also try using your setting spray as primer. Some users find that the spray creates a sticky layer that grips foundation very well.
When applying cream foundation and concealer, be conservative. The thinner the layers, the less the product will move around or smudge throughout the day.
Before setting sprays, powders were the best option for setting creamy products like foundation. Using a setting spray allows you to skip the powder, but using both guarantees the best longevity.
The condition of your skin will also influence how well your makeup lasts. The more hydrated your skin, the better the results, so make sure to follow a good skincare routine.
Finishing Touches
Setting sprays and fixing sprays can be very confusing, but understanding how they actually work is totally worth it. They give that finishing touch to your look and keep your face looking fresh and flawless all day long. With the right setting spray, you can face the toughest conditions with nothing but confidence.