Top 10 Best Primers for Dry Skin 2023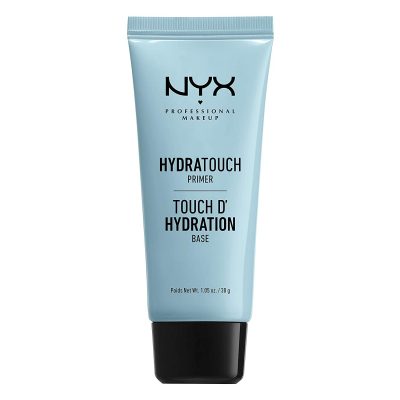 In contrast to heavier silicone-type primers that are not kind to dry skin, this hydrating water-based primer from NYX has a gel-like consistency, which glides on smoothly and is extra-moisturizing. It's deceptively thin, but don't be fooled: this primer goes a long way in smoothing out dry, flaky skin while still being lightweight enough to put on your whole face.
Ingredients
The NYX primer is packed with awesome ingredients that your dry skin will love, like Centella asiatica (tiger grass) extract, cuspidatum root extract, and licorice root extract. A lot of these ingredients have become popular in K-beauty and other Asian skin care products for their hydrating and soothing properties for dry, irritated skin. NYX Cosmetics is a cruelty-free brand and this primer is paraben-free. This product does include artificial fragrance, which most love but might be something to watch out for if you are sensitive to smells.
Hydration
Because of the ingredients we just told you about plus others that are specifically designed to help the skin retain moisture, this is one of the most hydrating primers on the market. It has a watery lotion-like texture that melts smoothly into the skin, allowing you finally to say bye-bye to those dry spots that look flaky under your foundation. Even if you've found other primers too drying, you won't have that problem with this NYX primer.
Staying Power
The NYX primer helps your makeup stay on your face as well as the most expensive high-end products. Even after those long workdays, your makeup will stay firmly in place – and best of all, it won't look patchy or dry. It helps that it's so lightweight, which means you can spread it on every part of your face, even your eyelids. No more runny eyeliner!
Affordability
This is one of the most affordable primers on our list, only outdone by our budget pick, the e.l.f. Hydrating Face Primer. If you want quality ingredients for a fraction of the price of department store brands, this is the primer for you.
---

Although all of the primers on this list are fantastic for making sure that foundation doesn't settle into fine lines, those with mature skin might appreciate a little something extra-luxurious for anti-aging effects. This Dual Action Face Primer from Monica Ann Beauty is the perfect thing, with ingredients that help minimize the look of fine lines and even prevent wrinkles to begin with. Plus, the company does its part to make a difference: they contribute money to breast cancer research with every purchase.
Ingredients
This primer boasts two key ingredients to give your skin a youthful glow. First, vitamin C brightens your skin and reduces the look of pores, which foundation can settle into. Vitamin C also protects your skin from harmful free radicals. The primer also includes hyaluronic acid in its list of its ingredients, which is known as one of the most premium anti-aging ingredients out there for its plumping and moisturizing effects.
The product is also free from all parabens, sulfates, and phthalates and is cruelty-free. We couldn't ask for more!
Hydration
The ingredients in this dual-action primer, especially the hyaluronic acid, make it luxuriously moisturizing – so much so that you'll even start to see an improvement in your actual skin. Especially for dry mature skin that is starting to see some fine lines, this primer will be moisturizing enough to fill those lines in and give you that goddess-like glow.
Staying Power
This primer is so good for your skin that it serves as both moisturizer and anti-aging cream too, which means that you might want to wear it just on its own. If you do decide to pair it with foundation, you'll find that your makeup looks flawless until the end of your workday and beyond.
Affordability
This primer is a bit of a splurge, but for good reason. If it's out of your budget but you want some of the same anti-aging benefits, check out Covergirl & Olay Simply Ageless Primer.
---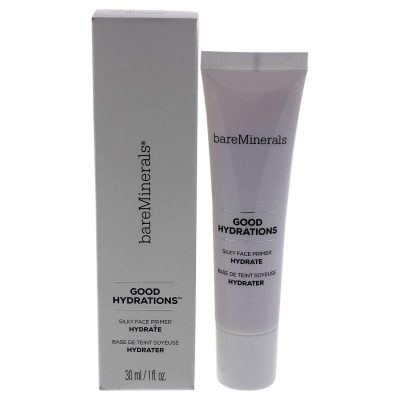 Mineral powder can be trickier to apply than regular liquid foundation, especially if you have dry skin, because powders tend to absorb oil which is something that your skin already lacks. If you're a devoted mineral makeup fan, priming your skin will go a long way in making sure that your makeup stays in place and doesn't dry out your skin. This option from bareMinerals is our favorite primer to go underneath mineral foundation – and best of all, the primer itself contains a fantastic mineral blend as well.
Ingredients
All of bareMinerals' products contain a blend of clean minerals and is free from harmful chemicals like parabens, is mineral oil-free, and cruelty-free. These are all of the reasons why we love mineral products!
Hydration
On top of those ingredients, this primer includes ingredients like hyaluronic acid, glycerin and coconut alkanes that are specifically designed to provide moisture for your skin. Even though it's an oil-free primer, it will smooth away any dry patches and get your skin looking soft and supple.
Staying Power
Some primers don't do well underneath mineral powder, but since the folks at bareEssentials are the gods of mineral makeup, it comes as no surprise that their primer helps mineral powder go on smoothly without clumping up. It does help makeup stay on for longer than it would without it, but if you need your makeup to stay on for a 10-hour shift at work, you might want to try the Clinique Super Universal Primer.
Affordability
Especially considering its high-quality ingredients, it might be surprising to you that this is one of the most affordable options on our list.
---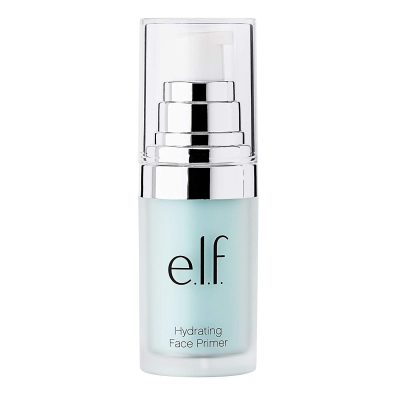 This primer is the perfect choice if you're looking for something that gives you smooth, flawless, moisturized skin without breaking the bank. It does a great job at minimizing pores, and of course makes sure that foundation does a better job at staying in place – a must for any primer. e.l.f. has a few different primers available; they're all excellent, but their Hydrating Primer is the best for dry skin.
As a bonus point, all of e.l.f.'s products are cruelty-free and 100% vegan, which is a wonderful surprise considering its low price.
Ingredients
This hydrating formula includes ingredients that are rich in vitamins that give your skin some much-needed nutrition, like vitamins A, E, and C. e.l.f. boasts that their cosmetics are free from phthalates, parabens, nonylphenol ethoxylates, triclosan, triclocarban, and hydroquinone. Of course, it doesn't hurt to know that this primer is cruelty-free; vegan or not, no one wants their primer to have hurt animals.
Hydration
e.l.f.'s primer is so hydrating that it makes even the driest, flakiest skin feel like buttery velvet. Its vitamin-packed formula provides so much hydration that it can even be used on its own, without a moisturizer underneath. If you have combination skin or any oily days whatsoever, this might not be the moisturizer for you.
Staying Power
Because this primer makes your face so soft, makeup glides on smoothly over it. It minimizes the look of pores while still helping makeup stay in place for longer than it would without it. Overall, it offers great staying power for the price, but if keeping your makeup looking flawless all day is your main concern, it might be worth it to spend a little more on Benefit's Porefessional Primer.
Affordability
This is our budget pick, so it won't come as a surprise to you that this primer comes at a shockingly affordable price. It's not perfect, but it's hard to complain when it costs about the same as a cappuccino.
---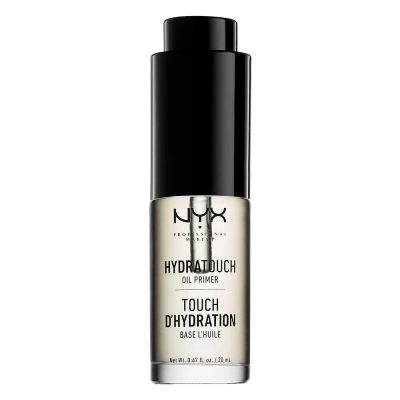 If you have super dry skin, then a mattifying or oil-free primer isn't going to work for you; you need the opposite. This priming oil, another pick from NYX Cosmetics, primes your skin for makeup while giving it a healthy, youthful glow. No dryness here! This is the only priming oil on our list, so if you're looking for that dewy look under your makeup, give this primer a try.
Ingredients
The best thing about this priming oil is that it has just a few different ingredients: primarily different moisturizing oils like sweet almond oil, safflower seed oil, and jojoba oil. This ensures that your skin is basically getting an oil bath to restore its natural moisture and give you a glowy, illuminated look. Like we said earlier, NYX is a cruelty-free brand, and this product is also paraben-free.
Hydration
Hydration and moisture is where this priming oil really rocks. Although you might hesitate to put oil directly on your skin, if you have dry skin it's probably parched for it and will thank you. It might feel greasy at first but will glide on smoothly and you'll end up with a soft, glowing, dewy (not oily) look.
Staying Power
This product "primes" your face in that it helps your makeup glide on smoothly and gives you a healthy glow underneath foundation, but it doesn't do very much in terms of helping your makeup stay on throughout the day, and might even make your eyeliner look messy. If staying power is the most important thing to you, you might want to go with a primer that's not an oil (basically, any other primer on this list).
Affordability
All of NYX's products are amazingly affordable, and this primer (plus our other pick from NYX) is no exception.
---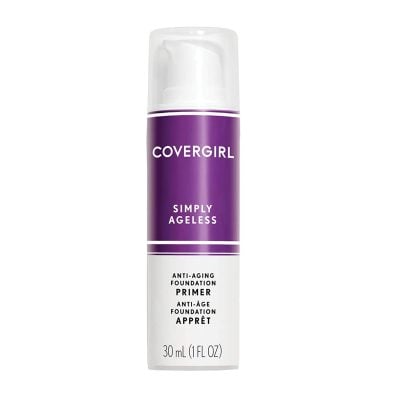 Ingredients
This primer includes the holy grail of anti-aging products: hyaluronic acid. This is one of the best ingredients for anti-aging benefits and gives your skin that dewy, supple look that you've been trying to achieve. It also includes vitamin C which is great for brightening up your skin and protecting against free radicals. This product is not paraben-free, but it is certified cruelty-free.
Hydration
Since one of the causes of wrinkles is not enough moisture in the skin, this primer's ingredients go a long way to hydrate and moisturize to smooth away fine lines. Even if you don't have mature skin, hyaluronic acid is fantastic for making your skin soft, supple, and packed with plenty of moisture. Although it does include silicones, it also has a high water content so it's creamy and easy to spread.
Staying Power
This primer helps makeup stay on for most of the day. Not only that, but the ingredients make your skin look so good that you can absolutely wear this without any foundation over it at all! It does smooth out your skin, but doesn't do much in terms of smoothing out pores, so you might find your foundation sinking in.
Affordability
Covergirl and Olay are both drugstore brands, so this primer comes at drugstore prices; great for those on a budget. If you're looking for similar ingredients but a more high-quality, luxurious product, check out our premium pick, the Dual Action Primer from Monica Ann Beauty.
---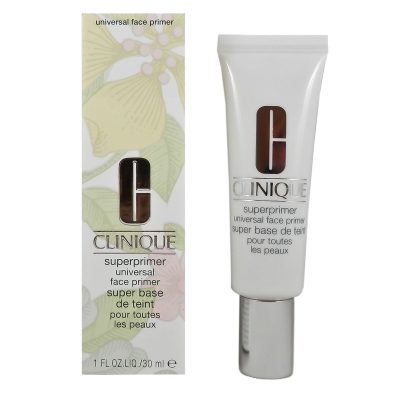 Not everyone who has dry skin has dry skin all the time. If you find that your skin goes from dry to normal to oily within a week, then this face primer might be for you. It's perfect for all skin types: it's not too greasy for oily skin, but is hydrating enough for dry skin. We love that it's hypoallergenic and that we can count on the Clinique standard.
Ingredients
All of the ingredients in this universal primer are hypoallergenic and free of parabens and phthalates – a great start. It also includes lots of natural skin-loving ingredients like different algae extracts and Green Tea Leaf extract. Clinique products are always 100% fragrance-free, so you can trust that it's not going to cause any irritation or breakouts.
Hydration
If you have super dry skin on every area of your face, then you might want to get an extra-moisturizing primer like the NYX Hydra Touch Oil Primer. If you have dry spots in patches, however, you'll find that this primer makes your skin feel silky smooth without being overly greasy in areas like your t-zone.
Staying Power
This primer has incredible staying power and will help your makeup stay on flawlessly until the end of your workday and beyond. Even though it's hydrating, it also keeps the oil down so you can look glowing but not greasy all day long.
Affordability
Clinique certainly isn't known for being cheap, so this is one of the more expensive options on our list.
---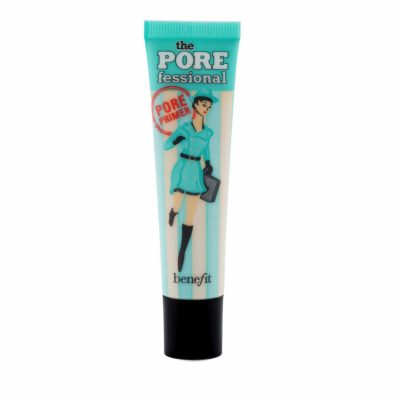 This primer has almost reached cult-classic status for one reason: its incredible ability to erase any visible pores from your face. This leaves your skin looking and feeling baby-soft, and of course, you can say bye-bye to large pores messing up your makeup forever.
Ingredients
This primer contains vitamin E, which is known for reducing UV and other free radicals' damage on your skin. It does also include a lot of silicones, but it'd be hard to get that pore-blurring effect without that. We couldn't find anything to indicate this product is cruelty-free, so if that's important to you, you might want to try the bareMinerals Silky Face Primer.
Hydration
This is the one product on our list that's not specifically designed for dry skin. We thought it was still worth including because it doesn't dry skin out, which some primers can do, and its pore-erasing power is its standout feature. However, if you have really dry skin, you'll probably want to pair this primer with a moisturizer. You can also go for another, more moisturizing primer on our list, like Monica Ann Beauty's Dual Action Primer.
Staying Power
This primer is heavily silicone-based; that means although it's not as moisturizing as some of the other options on our list, it does an amazing job at getting makeup to stick to your skin and stay there all day long.
Affordability
This product isn't one of the most expensive on our list, but it's not the cheapest, either. However, keep in mind that you get less than 1 oz of product for the price.
---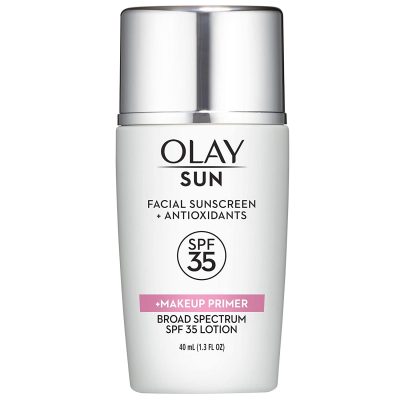 Creating a smooth canvas for your foundation is important, yes, but so is protecting your skin from UV radiation. But makeup lovers know that products with SPF can often leave your face feeling heavy and greasy, messing up your foundation.
This SPF face lotion and primer from Olay is a fantastic choice to take care of your skin's health while still getting that silky-smooth feel that a good primer provides. Olay has a similarly named product that's for shine control, so make sure that you buy the makeup primer.
Ingredients
This primer does boast that it contains fewer ingredients than SPF lotions usually do so that you can't tell that you're wearing a primer at all, and certainly not one with sun protection. It's non-comedogenic, which means it won't clog your pores, and it has some added ingredients that are good for your skin like antioxidants, vitamin E, and vitamin B3. The SPF ingredients are not natural, so keep that in mind if you stay away from chemical sunscreens.
Hydration
This product doesn't dry you out like some other primers, and is gentle enough for dry, sensitive skin caused by conditions like rosacea. If you have really dry skin, though, you might find that you might need to pair this primer with another moisturizer to get the hydration you need. If plenty of moisture is what you're looking for, you might want to try the NYX Hydra Touch Oil Primer.
Staying Power
This is a great primer on its own and will make your skin smooth under foundation. But its SPF protection is one of its main features, and SPF needs to be reapplied every few hours to work as it's intended to, so that would obviously defeat the purpose of having your makeup stay in place all day. When just used as a simple primer, though, you'll find that your makeup glides on smoothly and stays on.
Affordability
This product costs about what you'd expect for classic drug store brand Olay and is one of the more affordable picks on this list.
---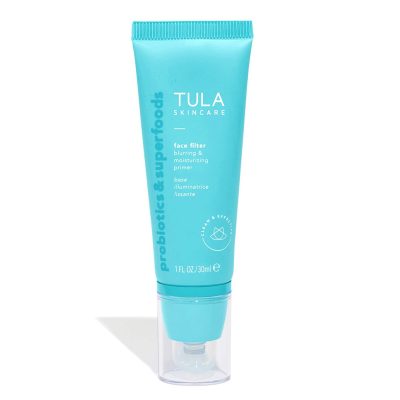 If you're wondering what in the world probiotic skincare is, let us explain. Just like probiotics help the good bacteria in our gut to start working well and make us feel good, the same goes for probiotics for our skin. It's kind of gross, but our face is host to lots and lots of bacteria, which can become unbalanced and cause flare-ups and dry skin. This probiotic primer from TULA is here to save the day, helping your skin bacteria get back in balance.
Ingredients
Of course, the main draw of this primer is its probiotic ingredients. It not only is full of probiotics, but also includes prebiotics, ensuring that your skin bacteria is perfectly in balance. It's also full of other skin-loving ingredients like chia, turmeric, and licorice which help your skin achieve that ever-elusive luminous glow. It also has "glow particles" which – you guessed it – add even more of a warm glow.
Hydration
The probiotics and prebiotics in this primer work to lock in moisture, which makes it great for sensitive and mature skin. Despite that, though, you might need to back it up with a moisturizer during the winter or any other time when your skin is super dry. If you're needing a lot of moisture, try the NYX Hydra Touch Oil Primer.
Staying Power
This primer does an excellent job at helping create a smooth canvas for your makeup and helping it stay on a lot longer than it would without it.
Affordability
We'd expect a higher price for all of the probiotic ingredients that this primer includes. It's definitely not the cheapest product on our list, but it's still well within the range of affordable.
---