When our skin is healthy it has a gorgeous natural glow. It looks as though it's lit from within! Unfortunately, the stresses of life and exposure to the elements take that sheen away, leaving skin looking dull or discolored.
Thankfully, brightening serums are total skin-savers! They perk up your skin and brighten away dark spots. If you've come here, chances are these are the effects you want, so keep reading to discover the best brightening serums.
Get That Glow!
Any company can take a liquid, slap the word "brightening serum" on its label, and charge big bucks for it. We don't want you to spend a ton of money and end up disappointed, so we kept some important factors in mind when selecting the best brightening serums for our list.
Brightening Ingredients
There are some amazing ingredients out there that combat pigmentation and give the skin a glow! They include vitamin C, niacinamide, hyaluronic acid, and many others. In the "Quick Facts" section we'll give a rundown of the main active ingredients in each serum, then, throughout the reviews, we'll explain how they actually work.
We've identified three ingredient categories that brighten the skin in three different ways. We explain them in detail here, so you can pin-point the best ingredients for you.
Good Stability
Stronger pigmentation-lightening ingredients like vitamin C or retinol are highly unstable. When exposed to light and air, those ingredients degrade quickly and lose their effectiveness. In our reviews, we discuss how stable these serums are, whether through packaging or formulation.
Pleasant Fragrance
Vitamin C and other skin brightening ingredients generally don't smell very good, but fragrances can be irritating for some users. If you have sensitive skin, you'll prefer the fragrance-free options we've included, but if you don't, you might want a nicely scented product. That's why we mention the fragrance in the "Quick Facts" section of every review.
Good Value
Brightening serums are rarely cheap, but they don't have to cost an arm and a leg, either. We prioritize recommending affordable products. While there are a few higher-priced options on our list, they offer something special that justifies their cost. Sometimes it seems like a product is cheap when it actually comes in a smaller quantity, so we also mention how much serum you get in each bottle.
Now that you know our selection criteria, you must be curious about the brightening serums we picked! Here are our favorite skin brighteners.
Top 10 Best Brightening Serums 2023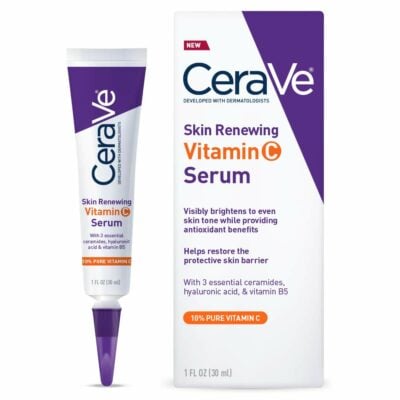 Why we like it:
Stable, effective, and gentle--what else could we possibly want out of a brightening serum? This serum has a research-backed ascorbic acid formulation that moisturizes the skin thoroughly, so it fights both pigmentation and dullness.
Editor's Rating:
Quick Facts:
Key Ingredients: 10% Ascorbic Acid, Ceramides, Hyaluronic Acid
Quantity: 1 Fl. Oz.
Fragrance: Fragrance-Free
Cruelty-Free/Vegan: No
Best Time to Use: AM
This brightening serum is a quintessential CeraVe product, which means that it's reasonably-priced, gentle, and genuinely effective at its main purpose, which is to brighten the skin.
The brightening effect comes from 10% ascorbic acid, which is the most potent form of vitamin C. While the amount isn't huge, it's enough to have an effect on hyperpigmentation.
Smaller brands often formulate with higher amounts of vitamin C because they have a harder time keeping it stable. They have to use more to ensure some effectiveness. A larger brand like CeraVe is able to formulate and package their vitamin C in a way that prevents oxidation and keeps it fresh.
Beyond that, the serum is formulated with signature CeraVe ingredients that moisturize the skin and reinforce its barrier functions, like moisture-locking dimethicone, barrier-restoring ceramides, and hydrating hyaluronic acid.
If you're looking for a serum that can give the skin hydrated luminosity while also targeting pigmentation, this one absolutely fits the bill! If you'd prefer a slightly stronger de-pigmenting product, even if it'll be less moisturizing, we'd recommend you try SkinCeuticals C E Ferulic.
The blend of ingredients gives it a texture somewhere between a lotion and a serum, which can be especially nice for dry skin, while those with oily skin could use it instead of moisturizer. It comes packaged in a hygienic metal tube that keeps all of the ingredients stable and fresh. Because the formula is dimethicone-based it might ball up if you apply sunscreen too soon after applying the serum.
Because it's fragrance-free and made with so many reparative ingredients this is one of our favorite skin-brightening serums for sensitive skin. However, if your skin is too sensitive for vitamin C, you can try The Ordinary's Alpha Arbutin 2% + HA, instead.
Pros
Brightens hyperpigmentation

Restores dull or dehydrated skin

Affordable

Stable, convenient packaging
Cons
Can ball up under sunscreen
---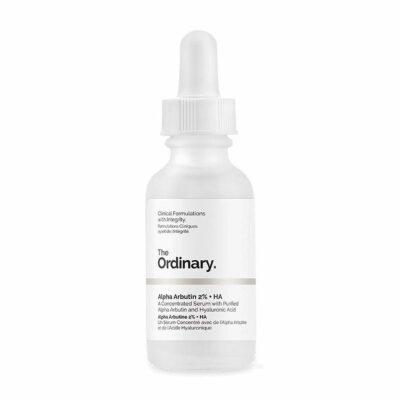 Why we like it:
This brightening serum is simple, gentle, and super-affordable. It's a great alternative or companion to vitamin C serums for targeting pigmentation.
Editor's Rating:
Quick Facts:
Key Ingredients: Alpha-Arbutin, Hyaluronic Acid
Quantity: 1 Fl. Oz.
Fragrance: Fragrance-Free
Cruelty-Free/Vegan: Yes/Yes
Best Time to Use: AM or PM
The Ordinary is a beloved budget skincare brand. While they have a ton of different skin-brightening options, we think their alpha-arbutin serum stands out as both unique and quite effective.
The main ingredient in here is alpha-arbutin, a derivative of the much more intense and slightly controversial hydroquinone. It's a promising pigmentation treatment, and many users find that it helps reduce post-acne marks, melasma, and sunspots. The formula also includes hyaluronic acid, so it gives a boost to your moisturizing routine and adds luminosity to the skin.
Arbutin hasn't been directly compared to other skin brightening ingredients like vitamin C, but most users find that it's a little less intense. Visible results can take a few months to show up, but if your skin doesn't respond well to vitamin C, it's one of the best alternatives.
It can also be used in combination with other brightening serums! For example, you can use the CeraVe Vitamin C Serum in the morning and alpha-arbutin at night. Some users find that regular exfoliation also increases the efficacy of arbutin, in which case we'd recommend also purchasing the L'Oreal Revitalift 10% Glycolic Acid Serum.
The Ordinary also sells vitamin C serums and suspensions, although we find that their texture is often lacking. They've released a promising serum that combines arbutin and vitamin C, though the jury is still out on how well it works.
Pros
Gently fades hyperpigmentation

Fantastic alternative to vitamin C

Very affordable

Contains hydrating hyaluronic acid
Cons
Not as strong as vitamin C
---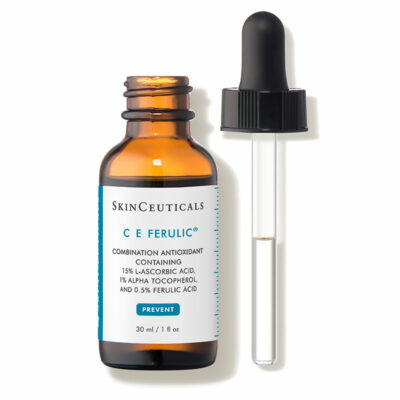 Why we like it:
Thanks to a patented blend of antioxidants, this is the most stable and effective vitamin C formulation on the market. It's expensive, but it's fantastic for countering hyperpigmentation and giving skin an anti-aging boost.
Editor's Rating:
Quick Facts:
Key Ingredients: 15% Ascorbic Acid, Ferulic Acid, Vitamin E
Quantity: 1 Fl. Oz.
Fragrance: Fragrance-Free
Cruelty-Free/Vegan: No
Best Time to Use: AM
This brightening serum is famous for its potent formula and its high price-point. It's a great option for fading hyperpigmentation and it also has some serious anti-aging benefits.
SkinCeuticals did groundbreaking and expensive research that proved that by combining ascorbic acid with antioxidants vitamin E and ferulic acid at a low pH, the result is a more effective formula that's also stable for a lot longer. This is why they can justify the high price tag when many other brands can't.
There are clinical studies backing the efficacy of this specific formula when it comes to repairing photodamage (i.e. sun-induced skin damage), protecting from the aging effects of sun exposure, and lightening pigmentation. While formulas like CeraVe's Vitamin C Serum are also stable and effective, this one is stronger so you can expect faster results, although you won't enjoy the same level of moisturization.
This formula is patented so other brands using this combination of ingredients have to reduce the pH to avoid patent infringement. This makes those formulas likelier to irritate the skin.
Because of its simple, lightweight texture and fragrance-free formula, we can safely recommend this brightening serum for all skin types. If you have sensitive skin, we recommend introducing it slowly and gradually to avoid irritation.
As with other vitamin C serums, you can boost results by using this in conjunction with a more intense skin renewer like the L'Oreal Revitalift 10% Glycolic Acid Serum or the Eva Naturals Skin Clearing Serum in the evening.
Pros
Clinically proven effective

Patented and stabilized formula

Anti-aging and brightening effects

Appropriate for sensitive skin
---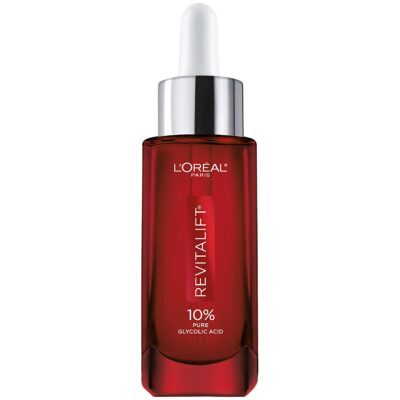 Why we like it:
This exfoliating serum eliminates dead skin which gives a glow. It helps to speed up the effects of other brightening serums but is also helpful when used alone.
Editor's Rating:
Quick Facts:
Key Ingredients: Glycolic Acid, Glycerin
Quantity: 1 Fl. Oz.
Fragrance: Fragrance-Free
Cruelty-Free/Vegan: No
Best Time to Use: PM
This serum from L'Oreal is a little different from the rest of our selection. It's not an alternative to the other brightening serums on this list, but instead, it's a complementary serum that can significantly boost their efficacy.
It's made with 10% glycolic acid, so it's a fantastic exfoliant. It breaks down the connective material between dead and live skin cells and helps the skin to shed its top layer.
This gets rid of damaged or pigmented skin cells and allows other brightening serums to penetrate more deeply into the skin. Using a brightening serum like the CeraVe Vitamin C Serum or The Ordinary Alpha Arbutin 2% + HA will brighten the skin slowly, but adding this glycolic acid serum to the mix will speed the process.
Even if you're just dealing with dull skin, this serum is still a great choice. Dead skin build-up makes the skin look dull, so exfoliation can brighten it quickly. Glycolic acid also has moisture-attracting effects (boosted by the addition of glycerin), which is another way that this serum helps to increase glow.
Glycolic acid makes the skin a little more sensitive to the sun so make sure to use a good sunscreen in the daytime. Exfoliating too frequently can irritate the skin, so while this serum might be fine on a daily basis, those with sensitive skin should only use it a few times a week.
Introduce it into your routine gradually to see what works for you. If your skin can handle really intense exfoliation, you can go even stronger and choose the Eva Naturals Skin Clearing Serum, instead.
Pros
Boosts the effects of other serums

Increases glow by getting rid of dead skin

Light hydrating effect
Cons
Makes the skin sun-sensitive

Overuse can irritate skin
---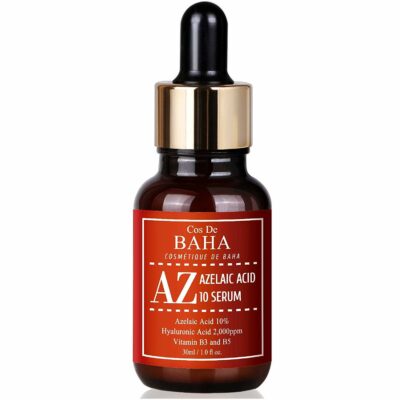 Why we like it:
This simple, affordable serum contains azelaic acid, one of the most reliable skin brightening agents for those with dark skin. This formula also has soothing, hydrating, protecting, and anti-acne effects that prevent further pigmentation while giving a glow.
Editor's Rating:
Quick Facts:
Key Ingredients: Azelaic Acid, Niacinamide
Best Time to Use: AM or PM
Quantity: 1 Fl. Oz.
Fragrance: Eucalyptus
Cruelty-Free/Vegan: Yes/Yes
Those with darker skin are often more prone to hyperpigmentation than light-skinned folks. While we still recommend vitamin C serums for their protective and anti-aging effects, many people of color find that they're not effective for countering hyperpigmentation.
Instead, one of the best skin brightening ingredients for shoppers with dark skin to use is azelaic acid. It's also a fantastic treatment for those dealing with acne, rosacea, and skin sensitivity.
The reason why we azelaic acid works well for darker skin is its unique method of action. It has a selective effect on abnormal melanocytes, so it brightens hyperpigmentation without changing the overall skin tone.
We love that this serum also includes niacinamide which boosts its brightening action and offers antioxidant protection from external aggressors. It also contains hydrating hyaluronic acid and panthenol that give the skin a general glow.
If you heave hearty, non-sensitive skin, you can combine this serum with renewing treatments like the Eva Naturals Skin Clearing Serum (one in the day, one in the night) for faster results.
One minor drawback is that the serum can crystalize in cold weather, which is a sign of an overly-minimalist formulation. It's easy to fix by submerging the serum in warm water, but we know that a serum from a larger company wouldn't have such issues. It also includes a few essential oils that make it inappropriate for those with fragrance sensitivity.
It's not easy to find good azelaic acid serums (especially not at such a low price) which is why we're willing to overlook these small issues. If money isn't a factor for you, Paula's Choice makes a more elegant but also pricier azelaic acid product.
Pros
Pigmentation-fighter for darker skin

Anti-acne and anti-redness effects

Very affordable
Cons
Crystallizes in cold weather
---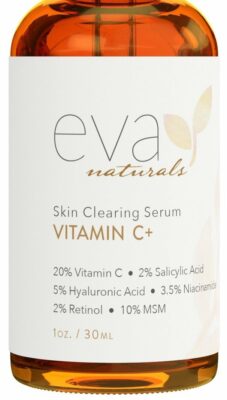 Why we like it:
This potent renewing serum brightens the skin while combatting premature aging and acne. It's intense, so while it gives amazing results, it must be approached with caution.
Editor's Rating:
Quick Facts:
Key Ingredients: Retinol, Niacinamide, Salicylic Acid, Sodium Ascorbyl Phosphate
Quantity: 1 Fl. Oz.
Fragrance: Tea Tree
Cruelty-Free/Vegan: Yes/Yes
Best Time to Use: PM
This is a skin-renewing and brightening serum that also targets acne and premature aging, especially for those with oily, non-sensitive skin.
It features retinol, an ingredient that increases the skin turnover rate while encouraging the shedding of dead skin cells. It's particularly helpful for improving skin texture and reducing fine lines, but it also has anti-pigmentation effects. There's also niacinamide, which has its own mild brightening effects.
The final ingredients worth noting are salicylic acid, an acne-fighting exfoliant, and tea tree oil which has some antibacterial effects (but gives a strong medicinal smell). Because of these, this serum simultaneously combats breakouts while fading the pigmentation that pimples can leave behind.
While there is vitamin C in here, it's a stabilized form that has antioxidant and anti-acne effects but doesn't reduce existing pigmentation.
Putting so many potent compounds in one tiny bottle is an ambitious endeavor, and it resulted in a powerful skin-renewing product that has the potential to irritate.
We always recommend allergy-testing new skincare on a small patch of skin, but with this product, this safety measure is even more important. We also suggest only using it a few times a week at first, to prevent over-exfoliating the skin. The retinol and essential oils in here can make the skin more sensitive to the sun, so it's also important to be religious about sunscreen use.
For best results, use this at night while using a gentle melanin-inhibitor like the CeraVe Vitamin C Serum in the daytime. If you love the idea of skin renewal but don't want to use something so strong, you can try the L'Oreal Revitalift 10% Glycolic Acid Serum, instead.
Pros
Potent skin renewer

Prevents breakouts while fading pigmentation

Has anti-aging effects

Affordable
Cons
May irritate or over-exfoliate

Strong medicinal scent
---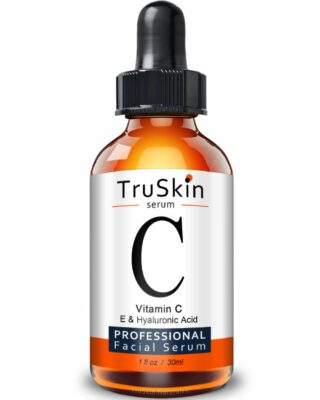 Why we like it:
This natural vitamin C serum gives a lovely glow to the skin! It's thoroughly hydrating yet lightweight, and it gives antioxidant support that prevents pigmentation and premature aging.
Editor's Rating:
Quick Facts:
Key Ingredients: Sodium Ascorbyl Phosphate, Botanical Polysaccharides, Vitamin E
Quantity: 1 Fl. Oz. or 2 Fl. Oz.
Fragrance: Mildly Floral
Cruelty-Free/Vegan: Yes/Yes
Best Time to Use: AM
If you're an avid fan of natural, vegan-friendly cosmetics you may like this natural brightening serum. It's made with 72% organic ingredients in a very lightweight formula that can work especially well for combination and oily skin.
As far as the brightening effects of this serum go, this is not the most powerful serum on our list. It won't fade hyperpigmentation, but it can prevent it while giving your skin a glow and countering dullness. The formula is very hydrating thanks to plant-derived polysaccharides that pull water into the skin and make it look bouncy and healthy.
This formula is made with a not-so-potent but still helpful derivative of vitamin C. Sun exposure and pollution can cause the skin to misbehave and produce melanin in an irregular manner, but the stabilized vitamin C offers antioxidant protection that prevents this damage. This ingredient is also helpful for preventing acne breakouts, so we're happy to recommend this serum for acne-prone skin. However, if your skin is more on the dry side then you might prefer Klairs Freshly Juiced Vitamin Drop, instead.
If this is your first time trying a serum and you're a little nervous, this is a very beginner-friendly option. It might not be strong, but it's not likely to irritate the skin. The only thing that prevents this serum from being truly appropriate for everyone is the addition of some floral essential oils that can be irritating for some.
Pros
Beginner-friendly serum

Prevents hyperpigmentation

Gives hydrated glow
Cons
Doesn't fade existing pigmentation

Potentially irritating fragrance
---
8.

Best Brightening Serum for Stubborn Pigmentation:

PCA SKIN Pigment Gel

Why we like it:
This intense formula is made with hydroquinone, a potent but somewhat controversial pigmentation-fading agent. If you've tried other serums to no effect, this is the brightening serum for you.
Editor's Rating:
Quick Facts:
Key Ingredients: 2% Hydroquinone, Lactic Acid, Azelaic Acid, Kojic Acid
Quantity: 1 Fl. Oz.
Fragrance: Fragrance-Free
Cruelty-Free/Vegan: Yes/Yes
Best Time to Use: PM
Like the Eva Naturals Skin Clearing Serum, this is another intense brightening serum that we recommend with a few caveats. You should only use it if you have very stubborn pigmentation that hasn't budged in the face of any other serums.
The key ingredient in this serum is hydroquinone, which is a pigmentation-reducing medication with a ton of research proving its effectiveness. At 2% it's available over-the-counter, but any higher and it requires a prescription. It is the fastest-acting and most powerful option for reducing pigmentation, although it can also have side-effects like irritation.
We love this specific hydroquinone formulation because it's incredibly comprehensive, and features other skin brighteners that support its action, like azelaic acid and kojic acid. There is also lactic acid which exfoliates and speeds up the overall effects of this serum.
We don't recommend using this along with other exfoliating serums, but it's fine in conjunction with a gentle serum like the CeraVe's Vitamin C Serum. Once you achieve the results you want you can keep using the gentle brightening serum for maintenance.
Because of the lactic acid, it's extremely important to use sunscreen diligently while using this serum. Be aware that hydroquinone is usually not recommended for those with darker skin tones (especially not without the oversight of a doctor) because overuse can lead to ochronosis. Finally, it also cannot be used during pregnancy.
Pros
Strongest pigmentation-fading serum

Highly researched ingredients

Exfoliates skin
Cons
Incredibly intense

Can have negative side-effects

Can't be used during pregnancy
---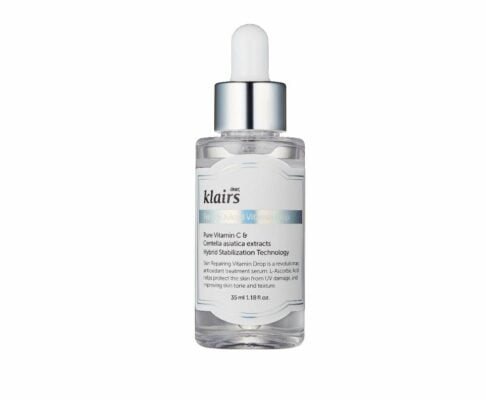 Why we like it:
This light and gentle Korean serum gives the skin a hydrated glow while also gently fading and preventing hyperpigmentation with a small dose of vitamin C.
Editor's Rating:
Quick Facts:
Key Ingredients: 5% Ascorbic Acid, Centella Asiatica, Botanical Extracts
Quantity: 1.18 Fl. Oz.
Fragrance: Faint Citrus
Cruelty-Free/Vegan: Yes/Yes
Best Time to Use: AM
K-beauty always offers something fun and exciting, and this also applies to brightening serums! This brightening serum, in particular, is a good entry-level option that will introduce you both to vitamin C serums and to Korean skincare.
The main skin brightening ingredient in this serum is ascorbic acid, which is used at 5%. While it's a fairly low amount, there is still research showing that it's effective at improving the appearance of sun-damaged skin, and it still gives the skin an important antioxidant boost.
Users find that Klairs helps with pigmentation, but maybe not as quickly as higher-percentage serums like the CeraVe Vitamin C Serum.
There are a ton of other useful ingredients in here for overall skin luminosity, clarity, and hydration! Centella asiatica, for instance, is a powerful skin soother that improves overall skin tone and may also help with pigmentation. Otherwise, there are lots of hydrating agents and antioxidant-rich plant extracts that make the skin just generally bouncy and glowy.
This serum contains natural orange and lavender fragrances which make it quite pleasant to use, but add a small sensitivity risk.
There is one other drawback to this product. It comes in a clear dropper bottle that doesn't do a great job of keeping the serum stable. We'd love to see Klairs switch to a dark, airtight container. The brand recommends keeping it in the fridge to keep it fresh for longer, but even then it can oxidize (i.e. turn brown and lose its efficacy) within 4-6 months of opening.
Pros
Great entry-level vitamin C serum

Brightens skin slowly overtime

Includes soothing centella asiatica
Cons
Fragranced

Unstable packaging
---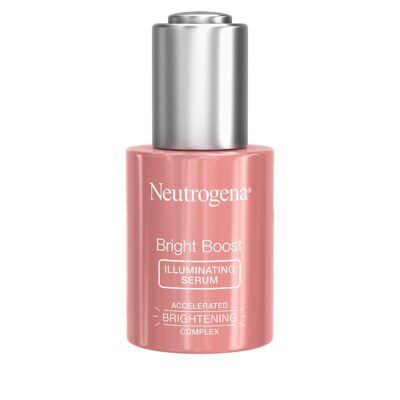 Why we like it:
More makeup than skincare, this serum gives the skin a literal glow with reflective pigments. The formula features some nice antioxidant ingredients that have some promise as pigmentation-fading agents, though research is poor.
Editor's Rating:
Quick Facts:
Key Ingredients: Acetyl Glucosamine, Tetrahydrocurcumin
Quantity: 1 Fl. Oz.
Fragrance: Clean Scent
Cruelty-Free/Vegan: No
Best Time to Use: AM
This serum generates some mixed feelings for us. We usually love Neutrogena for offering simple, affordable skincare without over-the-top claims. This serum, while not a bad choice, doesn't quite measure up to their usual standards.
It's claimed to be a serum that can target pigmentation while also giving the skin a glow. However, the depigmentation ingredients Neutrogena chose, though promising, are also under-researched. It seems to us as though they prioritized having an exclusive and easy-to-stabilize formula over having the same well-researched ingredients all the other brands use.
So it's not that this serum is bad: the key ingredients in it may help fade discoloration, and they certainly have antioxidant and skin-soothing effects. The issue is that they're not as well-studied as more proven ingredients like ascorbic acid or even the relatively mild arbutin. In practice, this serum doesn't give the same results with long-term use.
If you do decide to try this serum, we recommend giving the acetyl glucosamine in it a better chance to work by also using a serum with niacinamide, like the Cos de BAHA Azelaic Acid 10% Serum, since the two ingredients have a synergistic effect.
While we're not super impressed, this serum does give the skin an immediate glowy look that some shoppers may like. The glow comes from reflective mica pigments. Paired with moisturizing glycerin and dimethicone, it doubles as a skin-illuminating primer that gives a dewy look whether it's worn alone or under makeup. It can work for all skin types, but those with oily skin may find that it makes them look greasy rather than dewy.
We usually don't want our skincare to also act like makeup, but if all you want is some instant glow then there's nothing wrong with choosing this serum.
Pros
Mica gives skin an instant glow

Hydrating primer-like effect

Antioxidant and soothing ingredients
Cons
Fragranced

Overblown ingredient claims

More makeup than skincare
---
Your Guide to Brighter Skin
With so many amazing brightening serums, which will you choose? And how will you put them together? Keep reading for our must-know advice!

How Different Brightening Serums Work
Brightening serums come with all kinds of ingredients and effects. To make it easier to understand how they work, we split them into three main categories.
Brightening Serums for Hyperpigmentation
When searching for a brightening serum, we know most shoppers are looking specifically for a serum that can reduce hyperpigmentation (i.e. irregular melanin-production that leads to sunspots, melasma, or post-acne scarring.)
The best pigmentation fighting ingredients, like vitamin C, arbutin, azelaic acid, and hydroquinone, disrupt the melanin-production process which evens out the skin tone over time. It's a slow process, and results usually take a couple of months at a minimum.
The strongest anti-pigmentation serum on our list is the PCA Skin Pigment Gel, but it's also the most likely to have negative side-effects.
The next strongest option is the SkinCeuticals C E Ferulic serum, while the CeraVe Vitamin C Serum presents a more gentle and affordable option.
Brightening Serums for Achieving Glowy Skin
If you're not dealing with hyperpigmentation, you might be looking for a brightening serum that can just get rid of dullness and make your skin glow. Dullness is usually caused by dehydration or a damaged skin barrier.
The best brightening serums to fix that are made with hydrating and skin-repairing ingredients like hyaluronic acid and ceramides, as well as various soothing and healing vitamins and vitamin-rich plant extracts. The majority of the serums on our list include some of these ingredients!
If all you need is a gentle boost of moisture without strong treatments then the TruSkin Vitamin C Serum and the Klairs Freshly Juiced Vitamin Drop are both great choices!
If your skin looks dull because of dead skin buildup, then check out this next category, as well.
Brightening Serums for Exfoliation and Skin Renewal
Whether you're dealing with pigmentation and dullness, we also recommend skin renewers. These are serums that help the skin shed dead cells and trigger cell turnover. They include chemical exfoliants like glycolic, lactic, and salicylic acids, as well as retinol.
The top layer of the skin is made mostly of dead skin cells. When it's thick with buildup, the skin looks dull and skincare products don't penetrate well. Ingredients like retinol and AHA solve the issue by getting rid of the excess dead skin!
This makes the skin look brighter and allows it to absorb hydrating and depigmenting ingredients. It also speeds up the overall repair and renewal process that's needed to eliminate pigmentation in the skin.
The strongest renewing option on our list is the Eva Naturals Skin Clearing Serum which is made with both retinol and salicylic acid. The L'Oreal Revitalift 10% Glycolic Acid Serum is a slightly more gentle (though still intense) choice.
This class of ingredients can make the skin more sensitive to the sun, so it's extremely important to use sunscreen while using them.
Brightening Serums for Dark Skin
While people of color are more prone to hyperpigmentation, there is less research out there on what kind of products work best for fixing discoloration in darker skin.
Estheticians that focus on deeper skin tones like Tiara Willis have noted that vitamin C serums aren't as effective for hyperpigmentation, although they're still very beneficial as antioxidants.
Dermatologist Dr. Alexis Stephens recommends that those with darker skin use arbutin, like in The Ordinary's Alpha Arbutin 2% + HA, or azelaic acid like in Cos de BAHA's Azelaic Acid 10% Serum.
There are also some ingredients that should be avoided, like hydroquinone or very high percentages of glycolic acid (although it's considered fine in small amounts like 5%-10%).
How to Use a Brightening Serum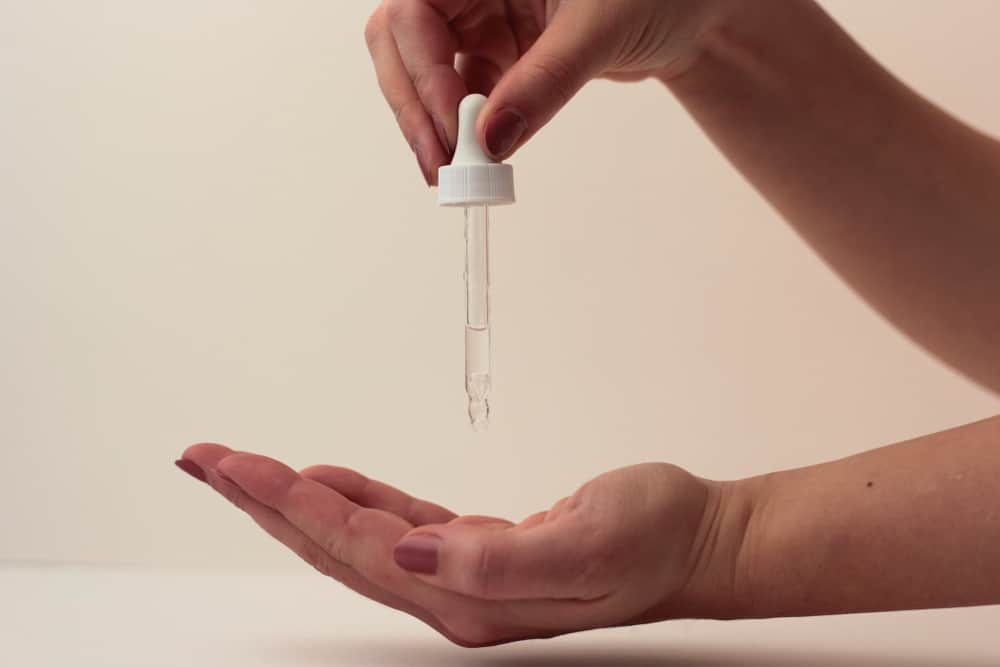 We have some important tips when it comes to getting the most out of your brightening serum!
Apply your brightening serum directly to clean skin, in gentle, pressing motions.
Allow the serum to sink into your skin completely, and then follow it up with a moisturizer or sunscreen.
Serums with vitamin C, niacinamide, and other antioxidants are best used in the daytime.
Intense serums with glycolic acid, hydroquinone, or retinol are best used in the evening.
Always wear sunscreen! Even in the winter, UVA rays can penetrate through the clouds and worsen your skin issues, rendering your brightening serum useless.
For best results, use one brightening serum at night and another in the daytime. We give some pairing suggestions throughout the article.
Shine On
Skincare might be complicated, but the results it gives are magical. Putting in the effort to figure out what will work for you is totally worth it. So now that you know everything there is to know about brightening serums, go ahead and get your glow on! After all, nothing feels better than having shiny, healthy skin.