Top Picks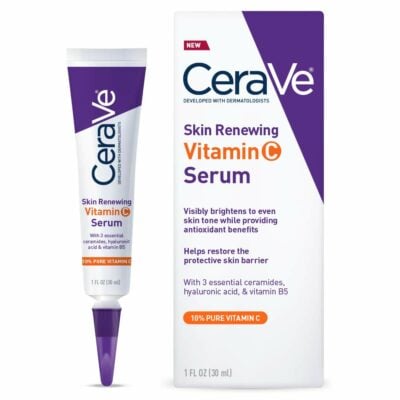 CeraVe Vitamin C Serum with Hyaluronic Acid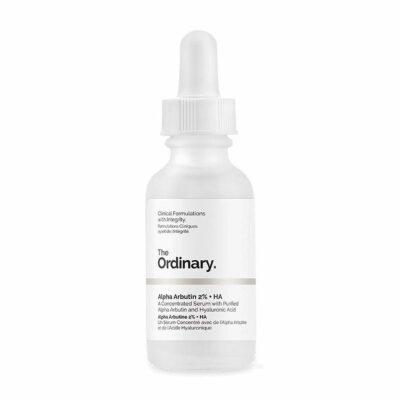 The Ordinary Alpha Arbutin 2% + HA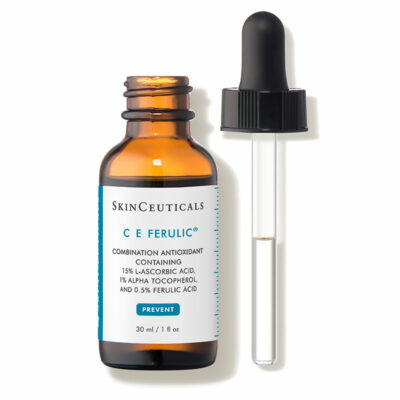 SkinCeuticals C E Ferulic
Previous
Next
When our skin is healthy it has a gorgeous natural glow. It looks as though it's lit from within! Unfortunately, the stresses of life and exposure to the elements take that sheen away, leaving skin looking dull or discolored.
Thankfully, brightening serums are total skin-savers! They perk up your skin and brighten away dark spots. If you've come here, chances are these are the effects you want, so keep reading to discover the best brightening serums.
Get That Glow!
Any company can take a liquid, slap the word "brightening serum" on its label, and charge big bucks for it. We don't want you to spend a ton of money and end up disappointed, so we kept some important factors in mind when selecting the best brightening serums for our list.
Brightening Ingredients
There are some amazing ingredients out there that combat pigmentation and give the skin a glow! They include vitamin C, niacinamide, hyaluronic acid, and many others. In the "Quick Facts" section we'll give a rundown of the main active ingredients in each serum, then, throughout the reviews, we'll explain how they actually work.
We've identified three ingredient categories that brighten the skin in three different ways. We explain them in detail here, so you can pin-point the best ingredients for you.
Good Stability
Stronger pigmentation-lightening ingredients like vitamin C or retinol are highly unstable. When exposed to light and air, those ingredients degrade quickly and lose their effectiveness. In our reviews, we discuss how stable these serums are, whether through packaging or formulation.
Pleasant Fragrance
Vitamin C and other skin brightening ingredients generally don't smell very good, but fragrances can be irritating for some users. If you have sensitive skin, you'll prefer the fragrance-free options we've included, but if you don't, you might want a nicely scented product. That's why we mention the fragrance in the "Quick Facts" section of every review.
Good Value
Brightening serums are rarely cheap, but they don't have to cost an arm and a leg, either. We prioritize recommending affordable products. While there are a few higher-priced options on our list, they offer something special that justifies their cost. Sometimes it seems like a product is cheap when it actually comes in a smaller quantity, so we also mention how much serum you get in each bottle.
Now that you know our selection criteria, you must be curious about the brightening serums we picked! Here are our favorite skin brighteners.
Top 10 Best Brightening Serums 2020
Your Guide to Brighter Skin
With so many amazing brightening serums, which will you choose? And how will you put them together? Keep reading for our must-know advice!

How Different Brightening Serums Work
Brightening serums come with all kinds of ingredients and effects. To make it easier to understand how they work, we split them into three main categories.
Brightening Serums for Hyperpigmentation
When searching for a brightening serum, we know most shoppers are looking specifically for a serum that can reduce hyperpigmentation (i.e. irregular melanin-production that leads to sunspots, melasma, or post-acne scarring.)
The best pigmentation fighting ingredients, like vitamin C, arbutin, azelaic acid, and hydroquinone, disrupt the melanin-production process which evens out the skin tone over time. It's a slow process, and results usually take a couple of months at a minimum.
The strongest anti-pigmentation serum on our list is the PCA Skin Pigment Gel, but it's also the most likely to have negative side-effects.
The next strongest option is the SkinCeuticals C E Ferulic serum, while the CeraVe Vitamin C Serum presents a more gentle and affordable option.
Brightening Serums for Achieving Glowy Skin
If you're not dealing with hyperpigmentation, you might be looking for a brightening serum that can just get rid of dullness and make your skin glow. Dullness is usually caused by dehydration or a damaged skin barrier.
The best brightening serums to fix that are made with hydrating and skin-repairing ingredients like hyaluronic acid and ceramides, as well as various soothing and healing vitamins and vitamin-rich plant extracts. The majority of the serums on our list include some of these ingredients!
If all you need is a gentle boost of moisture without strong treatments then the TruSkin Vitamin C Serum and the Klairs Freshly Juiced Vitamin Drop are both great choices!
If your skin looks dull because of dead skin buildup, then check out this next category, as well.
Brightening Serums for Exfoliation and Skin Renewal
Whether you're dealing with pigmentation and dullness, we also recommend skin renewers. These are serums that help the skin shed dead cells and trigger cell turnover. They include chemical exfoliants like glycolic, lactic, and salicylic acids, as well as retinol.
The top layer of the skin is made mostly of dead skin cells. When it's thick with buildup, the skin looks dull and skincare products don't penetrate well. Ingredients like retinol and AHA solve the issue by getting rid of the excess dead skin!
This makes the skin look brighter and allows it to absorb hydrating and depigmenting ingredients. It also speeds up the overall repair and renewal process that's needed to eliminate pigmentation in the skin.
The strongest renewing option on our list is the Eva Naturals Skin Clearing Serum which is made with both retinol and salicylic acid. The L'Oreal Revitalift 10% Glycolic Acid Serum is a slightly more gentle (though still intense) choice.
This class of ingredients can make the skin more sensitive to the sun, so it's extremely important to use sunscreen while using them.
Brightening Serums for Dark Skin
While people of color are more prone to hyperpigmentation, there is less research out there on what kind of products work best for fixing discoloration in darker skin.
Estheticians that focus on deeper skin tones like Tiara Willis have noted that vitamin C serums aren't as effective for hyperpigmentation, although they're still very beneficial as antioxidants.
Dermatologist Dr. Alexis Stephens recommends that those with darker skin use arbutin, like in The Ordinary's Alpha Arbutin 2% + HA, or azelaic acid like in Cos de BAHA's Azelaic Acid 10% Serum.
There are also some ingredients that should be avoided, like hydroquinone or very high percentages of glycolic acid (although it's considered fine in small amounts like 5%-10%).
How to Use a Brightening Serum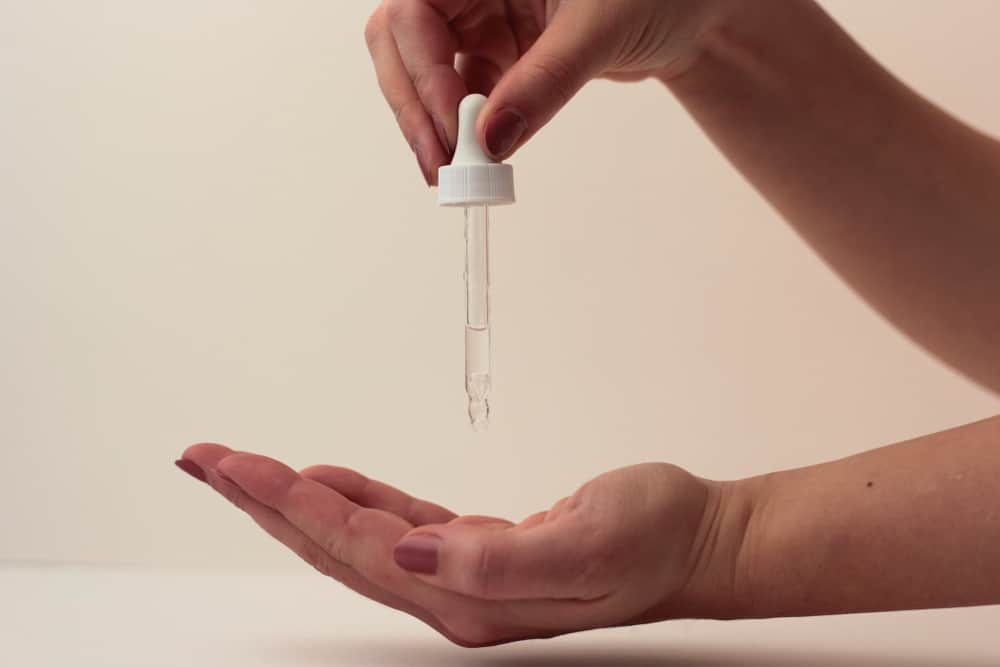 We have some important tips when it comes to getting the most out of your brightening serum!
Apply your brightening serum directly to clean skin, in gentle, pressing motions.
Allow the serum to sink into your skin completely, and then follow it up with a moisturizer or sunscreen.
Serums with vitamin C, niacinamide, and other antioxidants are best used in the daytime.
Intense serums with glycolic acid, hydroquinone, or retinol are best used in the evening.
Always wear sunscreen! Even in the winter, UVA rays can penetrate through the clouds and worsen your skin issues, rendering your brightening serum useless.
For best results, use one brightening serum at night and another in the daytime. We give some pairing suggestions throughout the article.
Shine On
Skincare might be complicated, but the results it gives are magical. Putting in the effort to figure out what will work for you is totally worth it. So now that you know everything there is to know about brightening serums, go ahead and get your glow on! After all, nothing feels better than having shiny, healthy skin.