Top Picks

Panasonic Heated Curler Comb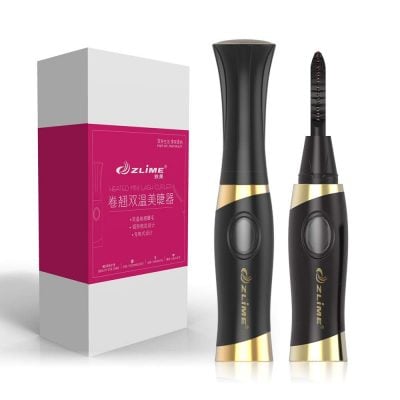 ZLime Eyelash Curler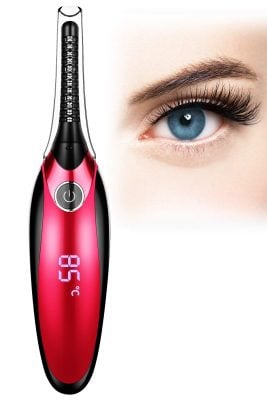 JDO Electric Eyelash Curler
Previous
Next
Long, dramatic lashes are at the top of every makeup lover's wish list. But for some of us, lashes that luscious don't come easily. Instead, we turn to eyelash enhancement techniques such as eyelash curlers. And these days, to replace those outdated metal curlers, you can get a heated eyelash curler – a modern solution to the problem of eyelash length.
Heated eyelash curlers are specially designed to quickly and effectively curl your eyelashes without the stress of using a regular metal curler. There is less risk of pinching your skin, and your eyelashes will stay curled for a longer period of time.
While there are many different options and styles of heated eyelash curlers today, we're here to help you narrow down the best option for you. We've gathered a list of the top 10 best heated eyelash curlers out there, so read on to learn all about them!
How to Choose the Right Heated Eyelash Curler
When purchasing a heated eyelash curler, there are some things to keep in mind. You want to pick the one that suits your needs and lifestyle, so it's important to consider things such as the type of the curler and the portability of it. Below, we've listed some of the major deciding factors you can look for in a curler.
Style
There are two main styles of heated eyelash curler. The first, clamp style, takes after regular eyelash curlers. To use it, you insert your lashes into the opening and squeeze close the device, pushing your lashes against a heated pad. The combination of the angle and the heat create the desired curve in your eyelashes.
The other popular type of curler is a wand curler. These work in the same fashion a mascara wand does. You simply heat it up and slowly brush it along your eyelashes at an upwards angle to form a curl.
Battery
Heated curlers can either be rechargeable via USB, or run on batteries. If you are someone who plans on heavy use of your curler, a rechargeable one like the Wu-MingLu Eyelash Curler would be a good choice. No one wants to run out of battery mid-eyelash curl.
For users who plan on light use or who don't want to wait for their curler to recharge, a battery operated curler such as the TOUCHBeauty might be a good option.
Safety Features
We all know it can be a slightly anxiety inducing to bring something heated so close to your eye. Make sure to look out for features such as safety guards and insulated designs that help protect your eyelid from the heat. Curlers may also have variable temperature settings that let you control how much heat you want to use.
Size
Size is important to consider when buying a heated curler since it determines how portable a curler is. A small curler like the Hizek is better for tossing into a travel bag or makeup bag for carrying around, while a larger product like the JDO is better for home use.
Now that we've discussed some important features, let's get to our list!
Your Complete Guide to Heated Eyelash Curlers

If you're interested in learning all about heated eyelash curlers, our guide will tell you everything you need to know and more!
Benefits of a Heated Eyelash Curler
Heated eyelash curlers provide a number of benefits that you won't be able to get with a regular eyelash curler. The most important of these is the fact that heated curlers are safer than a typical mechanical curler. With a mechanical curler you run the risk of pinching your eyelid and causing serious injury to the eye, or pulling and ripping out your eyelashes. Additionally, a regular curler can cause lashes to become weak and break off when used repeatedly.
Heated curlers are gentler on your lashes. They do not pull or pinch at them, nor do you run the risk of serious eye injury; many heated curlers have safety features to protect your eyelid from damage.
Curled eyelashes will also hold their shape longer when they have been curled with heat. While mechanically curled lashes might only last a few hours, heated eyelash curlers can create a style that lasts for up to 24 hours! Check out our pick for the longest hold, BeMyLady, if you're interesting in a product that provides serious longevity.
How to Use a Heated Eyelash Curler
Though it may seem complicated at first, using a heated eyelash curler is actually pretty simple. You can follow this basic set of steps to get started.
Make sure your lashes are clean and dry. If you are applying mascara before you curl, make sure it is completely dried before applying heat to your eyelashes.
Test the temperature of the curler. Tap it lightly against your fingertips to make sure it is warmed up but not too hot for use.
Gently move the curler across your lashes. For a more dramatic effect, apply light pressure as you drag the curler upwards. Always be sure to start near the root and move away and up to create a curl.
Add mascara. If you started out with mascara, you might not need to apply more, depending on what style you are going for. More dramatic looks require mascara before and after curling; a natural look probably only needs a coat of mascara after applying heat.
Remember to not over curl your lashes. It is better to just curl your lashes once a day to limit your exposure to the heat. Over curling can also lead to eyelash damage or your eyelashes eventually refusing to hold a curl.
Mascara or No Mascara?
A timeless debate, the answer on whether to curl your eyelashes before or after applying mascara can be unclear. There are devoted users on both sides of the argument, but ultimately, the answer comes down to which curler you are using and the style you are after.
Some curlers, like the WU-MingLu Rechargeable Curler, work very well when mascara is applied before use. Others, such as the JDO Curler, fall flat when it comes to curling mascara coated lashes. When picking a curler, be sure to read the instructions and any product reviews that might indicate the best order for applying mascara and curling.
For a more natural look, you can apply mascara after curling your lashes. This accentuates the soft curve that is created by your heated curler. If you are after a more dramatic look, you can apply mascara before curling, and then again after, to add extra volume and length.
Do Heated Eyelash Curlers Work on Extensions?
Yes, they do! Unlike a regular mechanical curler which will likely damage your extensions, heated eyelash curlers are fine to use. A wand style curler like Panasonic Heated Curler Comb would be the best option for using here; it will gently apply the heat without the risk associated with a clamp style curler.
You can also use a heated curler on false eyelashes as long as the heat is at a very low setting to enhance their curl.

Natural Ways to Lengthen Your Eyelashes
Ready to ditch your curler but still want long lashes? There are several natural ways to make your eyelashes appear both fuller and longer.
Use Coconut Oil
You can use natural oils such as coconut, olive, and castor to enhance your lashes. Simply put a few drops into a small dish and dab it onto a cotton ball. Rub the cotton over your eyelashes; try to get as close to the base as possible without getting any in your eye. You can do this at night after washing your face and leave it on until the morning. Be sure to wash it off when you wake up. Doing this every night for two to three months can result in thicker, longer lashes.
Brush Them
It may sound simple but brushing your lashes every day can help to stimulate growth. You can use an old, clean mascara wand to comb through your lashes for no more than five minutes a day. Old lashes will be removed, and the remaining lashes will be strengthened with each brush.
Remove Makeup
Making sure to remove all of your makeup at night is one of the best things you can do for your skin and eyelash health. Leaving eye makeup on for extended periods of time can clog the hair follicles, making eyelash growth next to impossible. By removing your eye makeup before you sleep, you give eyelids and lashes a chance to breathe and naturally repair themselves.
Eyelash Perms
An eyelash perm is a treatment that claims to add a curl into your lashes anywhere from four weeks to three months. This time differs so much because it depends on the rate at which your eyelashes grow.
To get an eyelash perm your lashes are first applied with a special adhesive and then rolled into a curled position. From there, a perming solution will be gently painted onto your eyelashes and allowed to sit before a neutralizing solution is applied. The whole process takes about 45 minutes to an hour in a salon. Once all the chemicals are washed off, your eyelashes should have a permanent, unyielding curl.
Though it sounds good, eyelash perms are actually not FDA approved. Perming solution can be a very toxic substance if it is not used properly, and the area around your eyes is some of your most sensitive skin. It is important to understand the risks behind eyelash perming and find a qualified professional to perform one for you to avoid significant injury or blindness.
Cleaning Your Curler
Some of the curlers on our list come with a cleaning brush to help you keep it in top shape. However, if your favorite curler doesn't come with a cleaning brush or you're looking for alternative cleaning methods, here are some tips:
Use an orangewood stick: Also known as a cuticle pusher, the pointed end of an orangewood stick can help you remove any residue and dirt stuck in between the comb of your curler. All you have to do is gently push it in between the bristles to remove build up.
Wipe the surface with rubbing alcohol: Another great alternative to a cleaning brush, rubbing alcohol can help you remove stuck on residue and stains. To use this method, soak a cotton ball in isopropyl alcohol and carefully wipe in between the bristles or across the clamp part of your curler. Wipe any remaining alcohol away with a dry cotton ball.
Ideally, your curler should be washed every week, but cleaning every two weeks to a month is fine as well. Also take note that should you get an eye infection, your curlers and other makeup tools need to either be replaced or cleaned after every use.
Problem Solving
Sometimes curling your eyelashes isn't as simple as it is made out to be. You may run into a variety of problems that stop you achieving the long-lashed look of your dreams. Below, we've gathered some of the most common problems with tips on how to solve them.
Lashes Won't Stay Curled
If you have stubborn lashes, a heated curler might not even add a curl to them. If this is the case for you, waterproof mascara might be your new best friend. To help your lashes stay curled, apply heat to your bare lashes, and as soon as you remove the curler, seal the curl with one to two coats of waterproof mascara. This type of mascara hardens quicker and can help hold stubborn eyelashes in place.
Keep in mind when using waterproof mascara that it can be very drying, so if you plan to use this trick a lot, you may want to look into an eyelash repair serum, or one of our natural ways to strengthen your lashes.
Mascara Keeps Running Off
When using a heated curler, there is always the chance that it might melt or clump together any mascara you have applied before using. To prevent this, make sure that your mascara is completely dry before applying heat. It is best to wait two to three minutes before using your heated eyelash curler.
Mechanical Curler Doesn't Curl
If you're using a regular mechanical curler, you may be having issues getting your lashes to curl in the first place. To help with this you can add a little bit of heat to the clamp part of your mechanical curler before use. The best way to do this is blow dry the end of it for several minutes until the metal is warm, and then directly apply it to your lashes.
The Best Heated Eyelash Curler for You
Heated eyelash curlers come in all shapes and sizes. While the search to find the best one for you can be confusing at first, all you have to do is keep in mind the factors that matter most to you, like style, battery, and safety. We hope that this list makes your search easier and that you will soon be on your way to lusciously curled eyelashes.