When you've put some serious effort into making your hair look good and you have an important event coming up, your life can feel like a constant battle to keep those locks in pristine condition. One of your main opponents will be humidity, which makes hair dry and frizzy.
If you know you're going to be walking through a high-humidity area to get to a party or even a work meeting, you might have tried hairspray to keep your perfect 'do in place.
Unfortunately, many of us end up disappointed – although hairspray is supposed to keep our hair in place, it often fails to withstand high-humidity environments.
But there's a solution. Anti-humidity hairsprays are made of different stuff (literally), and they won't let you down. So, how can you separate the phenomenal from the frauds?
What to Know When Buying a Hairspray for High Humidity
Skeptical that there's really a hairspray tough enough to shield you from humidity? Let us convince you why this special bunch is different from the rest and teach you how to pick the right hairspray for your needs.
Useful Ingredients
Since you're in the market for an anti-humidity hairspray, you're probably wondering what exactly a hairspray in this category has that a standard hairspray doesn't. Basically, the chemical polymers in anti-humidity hairsprays are modified to be humidity-resistant.
They might also contain special ingredients that help build the hair's protective layer to stop moisture from escaping. The main items to look out for are proteins like keratin.
Aerosols vs. Pump Sprays
As you're probably aware, aerosols come in a container that's packed under pressure and emit their contents as a mist. In contrast, non-aerosols are liquids that are diffused using a pump.
The vast majority of hairsprays on the markets are aerosols, but some brands also offer a pump option.
Hair Type
Not every hairspray is suitable for all hair. For instance, some hairspray ingredients strip the hair, which can ruin color-treated locks. Others work best with specific hair types, like straight or curly hair.
Most importantly, the thicker the hair is, the stronger a hairspray you'll need – and that leads nicely to our next point.
Strength
All the hairsprays on this list are effective at tackling humidity, but they don't all hold your hair up with the same intensity. Do you plan on making sure your hair looks "nice" and non-frizzy or holding up a gravity-defying hairstyle?
As mentioned already, the thickness of your hair influences the hairspray strength you're likely to need. Also, the greater the humidity, the stronger the hairspray should be.
Scent
Since hairsprays are mostly made of alcohol and chemicals, their natural scent isn't exactly pleasant. Therefore, most manufacturers include strong artificial fragrances in their hairsprays to make them tolerable.
But these can be very divisive. Do you prefer something medicinal, floral, fruity, or as neutral as possible?
Quick-Drying
If you head out into the humidity before your hairspray has dried, set, and taken effect, was there really any point in putting it on in the first place?
To avoid this tragedy, opt for a quick-drying hairspray.
Long-Lasting
Some hairsprays last for a few days (yes, really!), while others only remain effective for a few hours. Depending on what you intend to use your hairspray for, you might prefer a product that's long-lasting or easy to wash out.
UV Protection
Many anti-humidity hairsprays on the market offer protection from all kinds of weather – not just humidity. If you like the idea of having UV protection thrown in, this is something else to look for.
Hair damage (including that caused by UV rays) can contribute to frizz and make our hair less effective at resisting humidity.
Cruelty-Free
Unfortunately, many major haircare brands still test on animals. But don't worry – there are also plenty of cruelty-free choices.
So, you believe us that hairsprays able to withstand humidity are a real thing and not just an urban myth? Great! Now we can get to the good part and actually take a look at the best options out there.
Top 10 Best Hairsprays for High Humidity 2023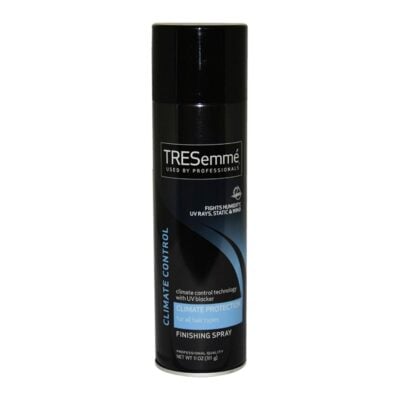 Why we like it:
Providing comprehensive protection against humidity for all hair types while keeping you looking good is no easy task, but this hairspray is the rare breed that pulls it off. Keep your locks safe from UV rays and wind, too!
Editor's Rating:
Quick Facts
Size: 11 oz.
Hairspray type: Aerosol
Hair type: All hair types
Strength: Moderate
Scent: Floral and fruity
Cruelty-free: No
TRESemmé is a respected brand in the haircare world for a reason: it creates great products! Each of its hairsprays has a specific focus, and this one hones in on protecting you from the elements.
Thankfully, it doesn't come at the cost of your hair's vibrancy and shininess. The hairspray leaves minimal residue on your hair, and it has a fairly light feel, ensuring that your locks still look healthy.
As for disadvantages, there's not much to fault TRESemmé on here. The main drawback is simply that it isn't cruelty-free. If this is important to you, consider Living Proof Humidity Shield instead.
Formula Quality
This hairspray's formula contains a special blend to offer control against the climate. The star ingredient is keratin, a protein that gets inside your hair's inner layers and cells, giving it extra protection from the elements while keeping frizziness at bay.
It also contains olive oil, which helps keep moisture in your hair so it continues to look radiant.
The combination is so strong that it won't just keep humidity at bay – UV inhibitors ensure it can also help with UV rays, and it can probably tackle just about anything the elements throw at you.
Pros
Has keratin and olive oil to strengthen the hair

Also protects you from UV rays

Suitable for all hair types
---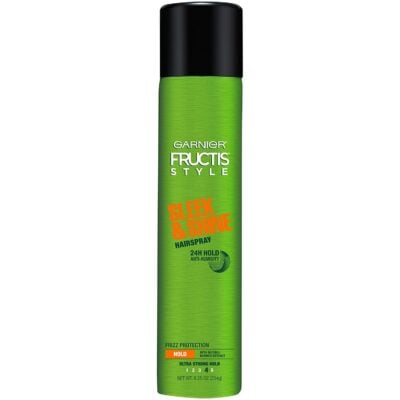 Why we like it:
The two major strengths of this Garnier hairspray are the attention it gives to keeping your hair sleek and the duration it can last for. Who said that high-humidity hairsprays are one-trick ponies?
Editor's Rating:
Quick Facts
Size: 8.25 oz.
Hairspray type: Aerosol (also has pump spray version)
Hair type: Finer hair
Strength: Medium to high
Scent: Fruity
Cruelty-free: No
Most people will probably never need to keep their hair perfectly intact for 24 hours on end during a high-humidity environment – but just in case you do, this is the hairspray that can get you through it.
It lasts for a full 24 hours, all while giving your hair an extra boost of smoothness and sleekness! Plus, it smells lovely and fruity. But the best part is that it won't break your budget, with a bottle that costs just a few dollars.
You can also buy it as a non-aerosol.
Sadly, it's not cruelty-free. Another drawback is that it gives more of a lighter hold that's best-suited to finer hair – if you want something stronger, then try the John Frieda Frizz Ease hairspray.
Formula Quality
The formula used creates an "invisible shield" around your hair, stopping environmental stressors from getting in to cause mayhem and make your hair frizzy.
It's also free from parabens, harmful preservatives that can damage your hair. Instead, there are nourishing ingredients like bamboo extract – a natural source of biotins (which promote hair growth) and silica, a mineral that keeps the hair healthy.
Pros
Lasts for 24 hours

Free from parabens

Keeps the hair sleek and smooth

There's also a pump spray version
Cons
Not cruelty-free

Best for finer hair
---

Why we like it:
With a special protective barrier to keep out external stressors that cause frizz, this John Frieda hairspray is the perfect choice for nightmare weather conditions. It will keep your hair looking amazing for up to 24 hours!
Editor's Rating:
Quick Facts
Size: 12 oz.
Hairspray type: Aerosol
Hair type: All hair types (especially thicker hair)
Strength: Firm hold
Scent: Mild/neutral
Cruelty-free: No
John Frieda is one of the best-known haircare brands around, and this Frizz Ease Hairspray shows why. As the name suggests, its primary aim is to tackle frizziness and keep your hair smooth – and since humidity is one of the main contributors to frizz, it's excellent at handling high-humidity environments.
Another great thing about it is the lightness. Although it holds your hair firmer than most hairsprays, it doesn't feel too heavy, and you can easily brush it out at the end of the day. This means that, although it's best for frizzy and thick hair, you can also use it for finer hair.
The scent is also milder than the overpowering fruitiness of some hairsprays, which will be a relief for anyone wanting to go about their day inconspicuously.
And the caveats? It can leave your hair feeling stiff, and it isn't cruelty-free.
Formula Quality
What makes the John Frieda hairspray stand out from other options is its special moisture barrier. This consists of keratin, which helps to lock moisture into your hair while stopping outside moisture from getting in, alongside other ingredients.
It also has UV filter protection to keep your hair safe from sun damage.
Pros
Lasts for 24 hours

Great for thicker hair

Protective moisture barrier
Cons
Not cruelty-free

Can make hair feel stiff
---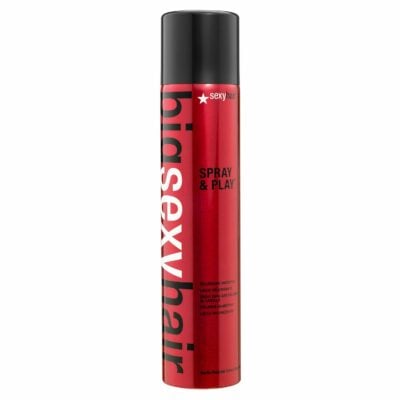 Why we like it:
Why choose a hairspray that leaves your hair the same as before when you could choose one that makes it look even better? With its volumizing and enhancing properties, the SexyHair spray ticks that box with ease.
Editor's Rating:
Quick Facts
Size:10 oz.
Hairspray type: Aerosol
Hair type: All hair types
Strength: Medium to firm
Scent: Chemical
Cruelty-free: No
There's no point in using hairspray to keep your hair intact if there's nothing worth preserving underneath. This is a hairspray that gives your hair an extra boost of volume while protecting it from humidity, ensuring you have something to show off
Did you think that a hairspray that lasts 24 hours was impressive? Oh, you poor thing – think again. This one lasts for 72 hours! Hopefully, nobody needs to go that long without having the chance to head home and redo their hair. But just in case you do, SexyHair has you covered!
It also dries quickly.
Unfortunately, the brand has opted for a more neutral, chemical smell rather than a flowery scent – this is rather divisive, and not everyone likes it. If you're looking for a fruitier smell, consider Garnier Fructis Style Sleek & Shine instead.
Formula Quality
To give your hair the extra protection it needs to avoid humidity, this spray contains keratin amino acids and wheat protein to coat each strand's inner layers and seal your hair cuticles.
It also contains botanicals like pequi seed oil to add some shine to your locks. This is known for decreasing frizz and making the hair stronger; it's often used to nourish curlier hair.
Pros
Gives hair extra thickness and volume

Has a light finish

Lasts for 72 hours
Cons
Not everyone likes the smell

Not cruelty-free
---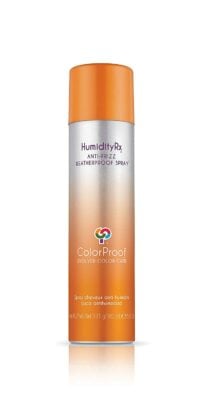 Why we like it:
As if it wasn't enough to have a hairspray that tackles humidity while protecting color-treated hair, this hairspray also has high-quality ingredients and offers heat protection. A real dream come true!
Editor's Rating:
Quick Facts
Size: 5 oz.
Hairspray type: Aerosol
Hair type: All hair types (especially color-treated)
Strength: Moderate
Scent: Coconut wood essence
Cruelty-free: Yes
Finding a hairspray that's suitable for not just high humidity but also color-treated hair is a lot to ask for. Luckily, it's not too much to ask for, because ColorProof has created a hairspray for that sole purpose!
ColorProof is a brand that dedicates its entire range to color-treated hair, so you can trust them with your precious locks.
The HumidityRx hairspray comes out as a fine mist spray and feels light on the hair. Yet despite the soft touch, it's still extremely effective at protecting you from the elements.
Unlike most hairsprays, it's also cruelty-free and vegan, which differentiates it significantly from the competition. Even better, you can recycle the bottle!
One downside is that you need to reapply it every few hours for full protection. If you'd prefer a more long-lasting hairspray, consider SexyHair Big Root Spray instead. It lasts up to 72 hours, but it's not quite as suitable for color-treated hair.
Formula Quality
ColorProof uses cold-pressed sunflower seed extract to protect your hair from high-humidity environments, which is full of antioxidants and healthy fatty acids that keep your hair strong to protect it from outside forces.
But it's far more than just an anti-humidity hairspray. It will also provide your hair with protection from heat (up to 450 degrees) and UVA and UVB radiation, thanks to the special FlexShield Technology.
This formula is also free of parabens, sulfates, and salts to minimize your hair's exposure to chemicals and keep it as healthy as possible. Finally, a combination of botanicals, including rosemary and sage, give your hair an extra boost and keep it looking shiny and healthy.
Pros
Cruelty-free and vegan

Free from sulfates and parabens

Also has heat protection
Cons
Need to top it up every few hours

Only moderate strength
---

Why we like it:
If you're not one to mess about waiting for your hair to dry, the Lock It Bold hairspray is the perfect go-to. Whatever hair type you have, it will keep you instantly safe from humidity and water.
Editor's Rating:
Quick Facts
Size: 8.25 oz.
Hairspray type: Aerosol
Hair type: All hair types (but best for finer hair)
Strength: Firm
Scent: Mint
Cruelty-free: No
When you're in a rush, you're in a rush! Even if you were happy to walk out the door with the telltale signs of hairspray lingering, this would counteract all the anti-humidity benefits you bought a hairspray for in the first place! Luckily, this L'Oréal Paris hairspray dries within just a few minutes.
It will then continue to last for up to 48 hours! Not bad – especially considering this is one of the more affordable hairsprays on the list.
Although it produces a fairly light mist, the Advanced Hairstyle Lock It has a 4 for strength in L'Oréal Paris' 5-tier system – basically, it's pretty strong. Although best-suited to people with finer, straighter hair, this is potent enough to work for those with thicker hair too.
However, the mint scent isn't for everyone – it's very strong and can be overpowering.
Formula Quality
The Lock It Bold hairspray uses an advanced formula called Fibralock Tech, which locks each strand of your hair in and protects them from humidity and heat.
Although L'Oréal doesn't go into great detail about what their special formula contains, it's resistant to humidity, water, and heat alike. Not a bad deal!
Pros
Quick dry

Lasts up to 48 hours

Very affordable
Cons
Not cruelty-free

Mint scent can be overpowering
---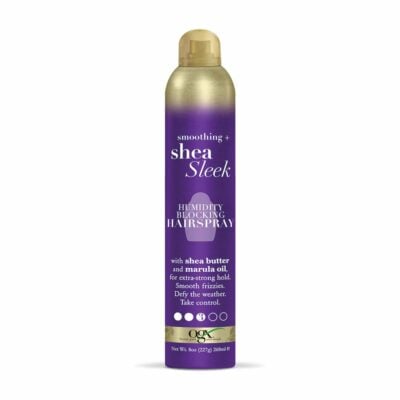 Why we like it:
Protect your hair from humidity while you also nourish it with the OGX humidity blocking spray. With moisturizing ingredients like shea butter and glycerin, it will keep your hair looking shiny and healthy over the long run.
Editor's Rating:
Quick Facts
Size: 8 oz.
Hairspray type: Aerosol
Hair type: Finer hair
Strength: Moderate
Scent: Herbal
Cruelty-free: No
Most people want a hairspray for high humidity so their hair can continue to look sleek and shiny throughout the unfavorable weather conditions. But why not go one step further and choose a hairspray packed with ingredients that actively make your hair more vibrant?
Overall, it leaves the hair feeling light, smooth, and free from frizziness.
However, it's not the strongest hairspray on the block, and it might be too weak for some people – especially those with thick, curly hair. If that's you, check out the John Frieda Frizz Ease hairspray.
The herbal smell is also rather divisive (as you might have noticed, this is a common theme among hairsprays).
Formula Quality
As the title gives away, it contains shea butter, a known ingredient for nourishing our locks. Other ingredients that keep your hair smooth include the moisturizing glycerin and marula oil, which has both antioxidants and moisture-binding properties.
The collection of humidity-blocking ingredients ensure that your hair is ready to tackle environments with high humidity. Above all, the keratin keeps your hair coated and protected from the outside environment.
It will also enable your locks to withstand heat styling.
Pros
Contains moisturizing ingredients

Also protects from heat

Leaves hair feeling light
Cons
Less suitable for thicker, curlier hair types

Not cruelty-free
---

Why we like it:
If giving your hair six times more protection from humidity while making it zero times more heavy sounds like something you could get used to, the Living proof hairspray could be a great option.
Editor's Rating:
Quick Facts
Size: 5.5 oz.
Hairspray type: Aerosol
Hair type: All hair types (including chemically- and color-treated)
Strength: Moderate
Scent: Herbal
Cruelty-free: Yes
Although there are a few lighter options, no other hairspray on this list screams "weightless," quite like the Living Proof No Frizz hairspray. Considering you already have to deal with high humidity, the last thing you want is a load of weight from a heavy hairspray weighing you down further.
The minimalist design on the cover makes a refreshing change from the rest of the industry, and the hairspray itself is no disappointment. Living proof claims the formula provides you with six times more humidity protection
However, the herbal scent could be overpowering – it's more herbal and medicinal than fruity and floral. For something more palatable, consider the Garnier Fructis Style hairspray. The hold is also a lot lighter than a lot of other options.
Formula Quality
The star ingredient here is Living proof's patented Healthy Hair Molecule, which is a special polymer formulated to fight humidity.
It's a conditioning agent and a high-refractive emollient, which is basically a very scientific way of saying that it can get into your hair cells' inner layers and protect those strands from a humid environment.
Another advantage is that it's free from silicones, phthalates, and parabens, which are all harsh chemicals that can potentially damage your hair. Oh, and it's cruelty-free!
It also provides static control (which is closely linked with frizziness and humidity) and UV protection.
Pros
Suitable for chemically treated hair

Cruelty-free

Free from harsh chemicals
Cons
Hold is light

Scent is quite medicinal
---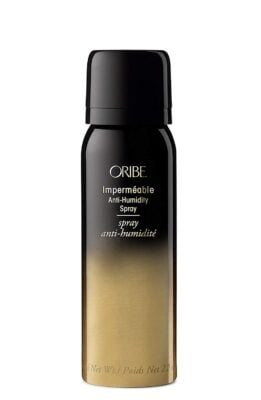 Why we like it:
Break the cycle of endless damage with the Oribe Impermeable spray, designed to thicken and strengthen your locks. It could be your next haircare secret!
Editor's Rating:
Quick Facts
Size: 2.2 oz.
Hairspray type: Aerosol
Hair type: All types (including color- and keratin-treated)
Strength: Light to moderate
Scent: Botanical
Cruelty-free: Yes
Damaged hair is more vulnerable to humidity, yet the more the humidity affects our hair, the more inclined we are to use products that could damage it. It's a cruel, vicious cycle! Fortunately, the Oribe Impermeable hairspray might just be the thing that helps you to break free.
If by any chance you're from Miami, you're in luck. This spray has been tested in the high-humidity climate there – and it passed with flying colors!
At 2.2 Oz, the bottle is tiny – you can either see this is as a plus (it's great for traveling) or a disadvantage (it won't last long). But considering the high price tag this product carries, most people will probably agree it's more of a drawback than anything. For a cheaper alternative, you could try the Garnier Fructis Style hairspray.
Formula Quality
Oribe uses its own specially formulated copolymer to ensure that your locks are safe from humidity. The formulation also includes UV protection, keeping your hair looking sleek in all climates.
It's packed full of various vitamins, including pro-vitamin B5, which builds volume and thickness in the hair. There's also panthenol to swell the hair shafts, along with retinyl palmitate and tocopheryl acetate, two chemicals that provide extra vitamins.
Plus, it's free from parabens and sodium chloride, two preservatives that can damage the hair. Phew! This selection of high-quality ingredients partly makes up for the high price tag.
Pros
Cruelty-free

Contains ingredients that strengthen and thicken the hair

Free from parabens and sodium chloride
Cons
Bottle is very small

Expensive
---

Why we like it:
Exposing your hair to all kinds of harsh, nasty chemicals doesn't have to be an unavoidable consequence of using a hairspray. BIOLAGE offers a more natural solution, and we can't get enough of it.
Editor's Rating:
Quick Facts
Size: 10 oz.
Hairspray type: Aerosol
Hair type: Fine hair
Strength: Moderate
Scent: Floral
Cruelty-free: It's Complicated
If you've ever tried to look for a natural hairspray before, you'll know how hard it is to find a product that lives up to your expectations. The BIOLAGE Styling Freeze Fix hairspray is a rare gem indeed. Free from parabens, artificial colorants, and mineral oil, it will nourish your hair instead of damaging it.
It's also a more sustainable option – all Biolage products are carbon-neutral, made with sustainable energy, and 100% recyclable.
Slightly confusingly, BIOLAGE is cruelty-free yet not vegan. Its parent company is L'Oréal, which does test on animals, yet this formula only uses vegan ingredients. Go figure. For an option that does both, check out Humidity Rx Hairspray.
As for its effectiveness as a hairspray, it does a great job. It dries fast, stays put all day, and is water-free. The main downside is that it's not the strongest option on the market, making it less suitable for thicker hair.
Formula Quality
The BIOLAGE hairspray focuses on nourishment and strengthening your hair to the max. One of the key ingredients is blue agave core, which repairs damage by helping the hair retain moisture.
It also has other moisturizing ingredients like glycerin, which coats the hair and makes it better at withstanding humidity.
Pros
Free from parabens, mineral oils, and colorants

Contains nourishing ingredients

Ingredients sustainably sourced
Cons
Not totally cruelty-free

Only works for thin hair
---
Guide to Finding the Perfect Hairspray for High Humidity
Do the ten hairsprays we looked at above sound so good that you can't narrow it down to just one of them? Or maybe there's something about your hair that makes you worried it would react differently. Either way, you should find the answers you're looking for below.
How Can Hairsprays Help With Humidity?
All hairsprays are made of a solvent with polymers. When we spray the solvent to our hair, the solvent evaporates, leaving the polymers, which stiffen on our hair. The two polymers in question are polyvinylpyrrolidone, a water-soluble polymer that can pass through the body, and polyvinyl acetate, often found in wood glue.
You can think of it like putting an invisible, chemical hairnet around your head for protection. Then, as the hairspray dries, the polymers bond with each other and leave the hair stiff, locking everything into place.
But hairsprays that help with humidity go one step further – they contain polymers that have been specially formulated to seal our hair or create a water-resistant barrier, preventing it from getting frizzy.
The best ones also make our hair healthier with more volume and texture.
Should I Choose an Aerosol or a Pump Hairspray?
It's fair to say that aerosol hairsprays get a bad reputation. That's mostly because, a few decades ago, they contained chlorofluorocarbons – chemicals now known to contribute to environmental damage.
This is no longer the case – hairspray manufacturers use alternative ingredients – so there's no need to opt for a pump if your sole worry is ecological responsibility.
But this isn't the only difference between aerosols and pumps! They also have a different impact on the hair – aerosols are lighter, so they're best for fine, straight hair. In contrast, pumps are thicker, so they're a great option for thicker and curlier hair – or anyone who wants the heavy-duty treatment.
If you think a pump hairspray is the right choice for you, the Garnier Fructis Style hairspray has a pump spray version.
Harmful Ingredients in Hairsprays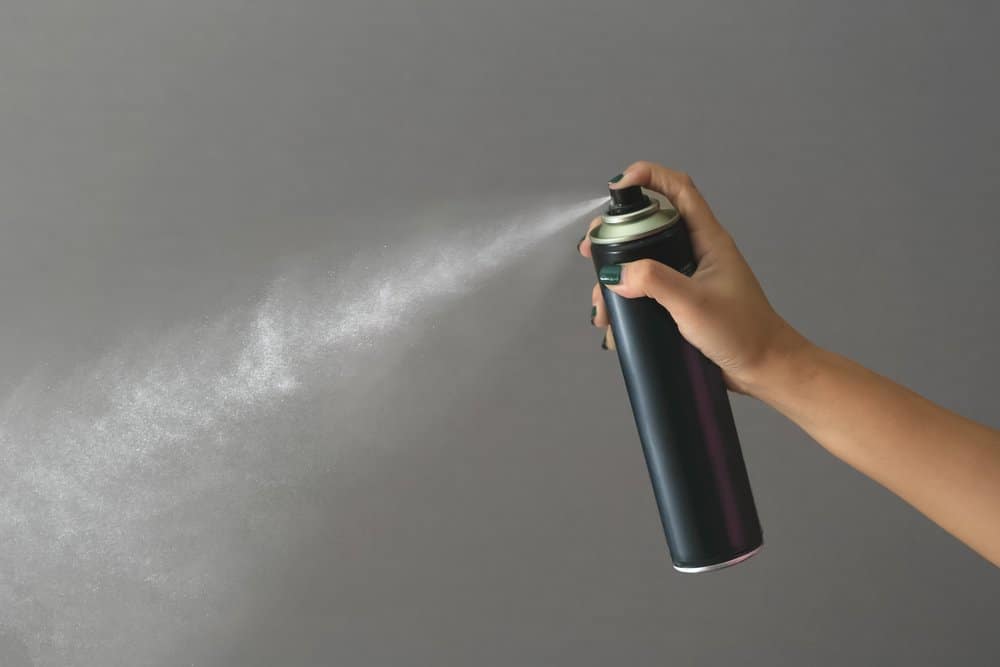 As you might have guessed after learning that hairsprays are made of a solvent and polymers, they're not exactly the purest and most natural product out there.
Unfortunately, no hairspray is completely free of chemicals – a "natural" hairspray would be practically impossible. But the idea that "natural" is always superior to "chemical" isn't necessarily true.
There are plenty of hairsprays out there that won't damage your hair, especially if you only use them occasionally.
One of the more natural options is the BIOLAGE Styling Freeze Fix Hair Spray. It's free from parabens, artificial colorants, and silicones.
Here's a quick breakdown of some ingredients you might want to be wary of.
Parabens
Parabens are chemical preservatives, but they're also linked to a range of health conditions, including cancer. This shouldn't be an issue in small doses, but some people prefer to steer clear.
Silicones
Many hairsprays contain silicones, which make your hair dry more quickly and give it a smoother finish. However, some people might prefer to avoid them since they have a drying effect on the hair.
Sodium Chloride
Sodium chloride doesn't cause issues for everyone, but it can be an irritant for some people – stay clear if you have a sensitive scalp. Also, it can reverse keratin treatment.
Artificial Fragrances
It's a well-known fact that hairsprays smell disgusting, so it shouldn't come as a surprise that almost every hairspray contains artificial fragrances. Unfortunately, they can also be a common irritant.
Artificial Colorants
Although the use of artificial fragrances can't always be helped, the use of artificial colors certainly can. They're another common irritant, so avoid them if you can.
Choosing the Right Anti-Humidity Hairspray for Different Hair Types
And there you were, thinking that choosing an anti-humidity hairspray with the right ingredients sounded complicated. That's only the start – you also need to think carefully about which hairspray is right for your hair type.
Fine Hair
Some hairsprays are thicker than others – excessively strong hairsprays might be too much for anyone with finer hair. If that's you, an option like the OGX Smoothing hairspray could be a good fit.
Thick Hair
On the other end of the spectrum, you might have very thick hair – in which case, a stronger hairspray is exactly what you need! Consider the John Frieda Frizz Ease hairspray.
Color-Treated Hair
If you've spent a fortune on getting your hair the perfect color, you probably feel sick at the idea of hairspray ruining it. Unfortunately, hair spray can have a stripping effect on the hair if you use it too much, which is bad for all hair but fatal for dyed hair.
To give your hair the best shot, use the ColorProof HumidityRx Hairspray. It's specially formulated for color-treated hair.
Developing a Haircare Routine to Tackle Humidity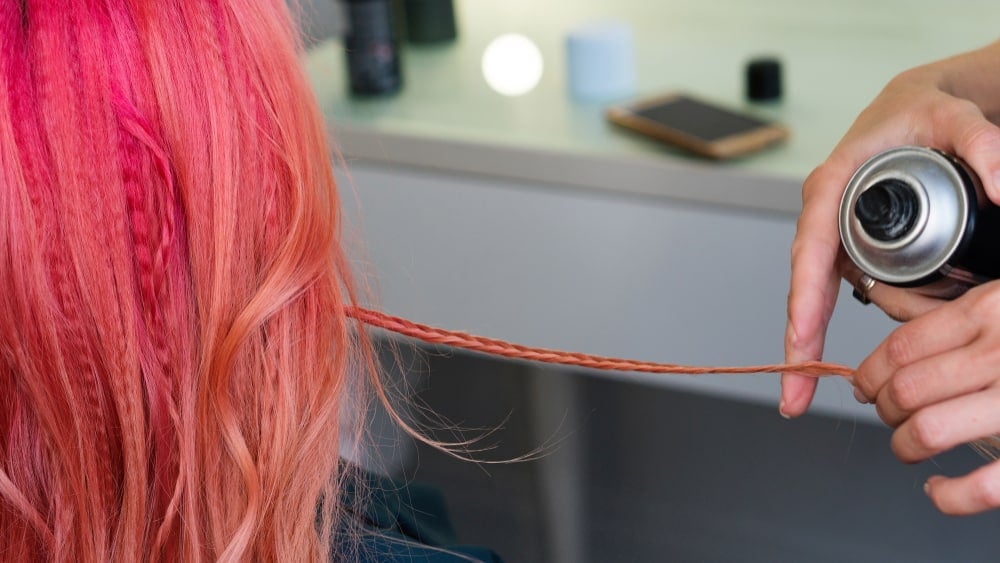 Although choosing a great anti-humidity hairspray goes a long way toward keeping your hair sleek and avoiding the problems associated with humidity, you don't have to stop there.
Many brands also offer anti-humidity shampoos, conditioners, and mousses – taking advantage of all these products certainly helps.
You'll also make your life easier if you opt for a hairstyle that's not a million miles away from your natural hair type. If you know you'll be facing high humidity, don't straighten your curly hair or curl your straight hair.
Hairspray With UV Protection
You might have noticed that many of the choices on this list also provide protection from UVA and UVB rays. But is this really something you need? And what are UVA and UVB rays, anyway?
First, let's go back to basics – the sun emits ultraviolet (UV) radiation, which can be classified into narrower categories. UVA rays are the longest wavelength, UVB rays are medium wavelength, and UVC are the shortest wavelength.
These are all problematic for slightly different reasons – we know most about the harm to the skin, but they can also damage our hair cuticles or dry our hair.
For a hairspray that can shield you from these, consider the ColorProof HumidityRx Hairspray, which has both UVA and UVB protection.
FAQs
We try to be as comprehensive as possible, but there's always something more to say! Here are some common questions people have about hairsprays in general and those for high humidity.
Does Hairspray Help With Humidity?
If you're still doubtful that hairsprays can help tackle humidity at this point, we've obviously done something wrong! Yes, hairsprays can do a fantastic job of dealing with humidity. They coat the hair with a protective layer that stops moisture from causing havoc.
Are Hairspray Fumes Harmful?
Although hairspray usually smells rather unpleasant, it's unlikely to be dangerous unless you inhale a very large amount. Still, we recommend against it.
Is Hairspray Bad for Hair?
Hairspray isn't bad for your hair, especially if you choose one with nourishing ingredients. However, it can cause damage if you brush your hair after spraying it with hairspray, and excessive use of hairspray can make your hair duller.
Can Hairspray Be Used As Setting Spray?
Hairspray might be fine to use on your hair, but using it on your skin is a recipe for disaster. The chemicals hairspray contains aren't safe for the skin and can cause a range of problems, from clogged pores to serious rashes. Avoid, even in emergencies!
Don't Let the Humidity Get You Down
Hairspray was created in the 1960s to glue up women's beehive hairdos. Since then, it's gone from strength to strength (get it?) – now, it can even help save us from humidity!
Finding your perfect anti-humidity companion can take a little work. We're all slightly different, so depending on the humidity level where you live and your hair type, your needs will be different. But if you analyze your situation carefully, you're less likely to get it wrong the first time around!
Give yourself a little time to assess your options and look at your hair with fresh eyes. Then, you'll be ready to take on the world – no matter how humid it happens to be that day!