Are you on the lookout for the safest way to change your hair color or restore its original gloss? Organic hair dyes could be your answer.
Organic hair colors are made up of natural and are free of harmful chemicals, such as Paraphenylenediamine (PPD) which may harm your hair or scalp. Good organic dyes are long-lasting and nourishes the hair with nutrients, such as proteins and other natural ingredients, to give your locks a healthy and vibrant look.
There are plenty of products on the market today, each claiming to be the best. To help you out, we have reviewed the best available natural hair dyes, outlining the steps to enjoying the maximum benefits of organic color.
Factors to Consider When Choosing Organic Hair Dye
It's not enough to simply choose any hair dye labeled as organic and hope for the best. If you want a product that is not only safe for yourself and the environment but also helps you look your best, keep the following in mind.
Colors
If a hair dye isn't offered in the color you're looking for, it won't work for you no matter how otherwise excellent it is. For this reason, we're going to discuss the color options available for each product. Some are offered in multiple colors, while others specialize in a single shade.
Formulation
Though organic hair dyes tend to be much safer than their traditional counterparts, that doesn't mean you can totally ignore safety considerations. These products contain a wide variety of ingredients, some of which can harm your hair if misused. On the other hand, many of these organic hair dyes also contain helpful ingredients that bolster the health of your hair.
Performance
A good hair dye, organic or otherwise, needs to do a few things. It should be relatively easy to apply, and once applied it should produce a vibrant color that stands the test of time. Some of these organic hair dyes are semi-permanent and will look washed out if not totally reapplied every few months, while permanent dyes will only need less frequent touchups. In addition to application and longevity, we'll also consider how the product leaves your hair looking and feeling.
If you are looking for the perfect organic dye, look no further. We have reviewed a list of the best organic hair dyes currently available on the market.
Top 8 Best Organic Hair Dyes 2023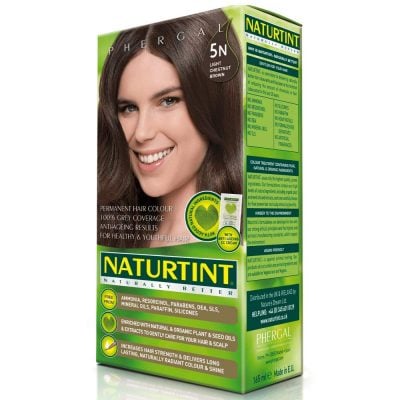 Why we like it:
The Naturtint Permanent Hair Color is an all-natural dye. It is environmentally friendly and safe on your hair and scalp, and its range of radiant colors should suit everyone's needs.
Editor's Rating:
Quick Facts:
Colors: 26 natural colors from ash blonde to ebony black
Size: 5.5 oz
Formulation
It is a chemical-free formulation that has been on the market for over 25 years. You can expect excellent hair treatment from the popular product and a reliable manufacturer. The dye comes from seed oils and plants, which are carefully selected and formulated.
There are over 28 mixable shades available, so Naturdint Permanent dye gives you a wide variety of dyes to find your perfect combination. It lacks harsh compounds, such as ammonia, artificial fragrance, parabens, heavy metals, silicon, gluten, PPD, and animal products. It does contain hydrogen peroxide, which most won't react poorly to, but some may.
Performance
Naturtint Permanent hair color contains oleic acid deduced from olives. The acid helps in the fortification and strength of the hair, serving an anti-oxidation action to protecting your follicles.
The meadow seed oil reduces frizz, repairs split ends, and conditions the hair making it shiny. You'll feel like a million dollars as you step out into the limelight.
Pros
Free from harmful parabens and chemicals, such as ammonia and sulfate

All botanical-permanent dye

A variety of colors
Cons
Hydrogen peroxide may react poorly with some hair
---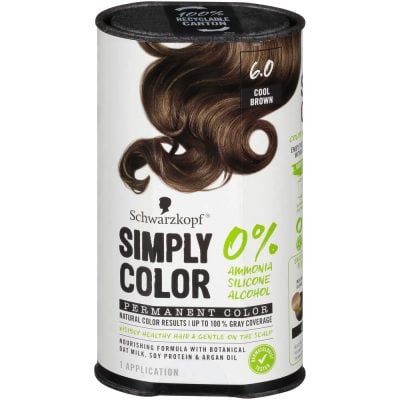 Why we like it:
Schwarzkopf's organic hair dye is as non-harmful as it gets, and will provide you with an excellent shade while keeping your scalp safe and free from irritation.
Editor's Rating:
Quick Facts:
Colors: 6 shades of brown, from almond brown to intense espresso
Size: 7.5 oz
Formulation
Schwarzkopf Simply Color is exclusively botanical. It does not contain harmful compounds, such as synthetic chemicals, peroxide, metals, alcohol, ammonia, or silicone. Instead, it uses oat milk, soy protein, and argan oil to nourish and protect your hair and scalp.
Performance
The dye is not only safe on your hair and scalp but also nourishing from root to tip. It is a creamy dye, which provides consistent hair color results with every application. It doesn't go very far, though, so despite the size of the container you may need to purchase two of the product to complete an application on hair that goes much beyond shoulder length.
Pros
Easy to apply

Free from harmful chemicals, like ammonia

Nourishes and conditions the hair

Consistent hair color results
Cons
A lot of product is required
---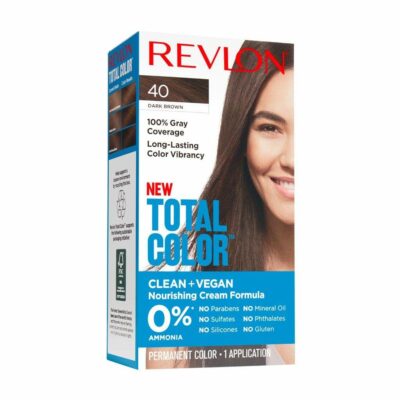 Why we like it:
Revlon's natural, vegan line of hair colors is free from ammonia, parabens, sulfates, silicones, and other harmful ingredients.
Editor's Rating:
Quick Facts:
Colors: 32 colors, from extra light blonde to black
Size: 3.5 oz
Formulation
Revlon combines an exclusion of harmful ingredients like ammonia, parabens, sulfates, silicones, phthalates, gluten, and minerals with an inclusion of nourishing hemp seed oil to create a line of hair dyes that is as gentle as it is effective. On top of that, certain shades add in bonus ingredients that further boost your's hair health—from chamomile in blonde dyes to black tea in darker ones.
Performance
Despite not using any harsh ingredients, Revlon Total Color works quite well. You should expect complete coverage to last about six weeks, and the clean nourshing formula will keep your hair from being fried and your scalp from being harmed. Unfortunately, the colors here aren't as vibrant as you'll see with more expensive organic hair dyes, but for the price the natural coloration can't be beat.
Pros
Long-lasting coverage

Huge variety of colors

Natural ingredients and nutrients, which condition the hair making it healthier
Cons
Colors are natural, but they lack vibrancy
---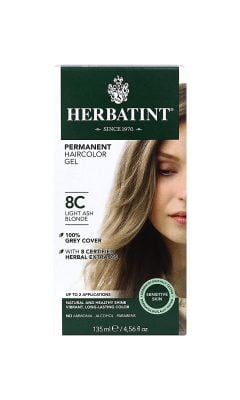 Why we like it:
Herbatint Permanent Hair Color Gel is all-natural, with natural ingredients to condition and nourish the hair. It benefits anyone who likes to feel well-groomed with minimal effort.
Editor's Rating:
Quick Facts:
Colors: 23 natural colors from light golden blonde to dark chestnut
Size: 4.5 oz
Performance
Herbatint Permanent Hair color gel covers gray hair effectively while protecting and nourishing the hair. It features a carefully balanced formulation that is safe, nourishing, biodegradable, and attractive.
It's easy to apply, and shouldn't cause much of a mess. The process only takes a few minutes, aside from the 40 minute waiting period for the product to set.
Formulation
It stands out from other hair color gels because it is composed of eight organic herbal extracts that are carefully selected to enrich the hair and protect the scalp. These also improve the intensity of your hair color, giving you a beautiful and long-lasting look. You should get about two months out of a single application of this product.
Organic compounds
Aloe vera for protecting and nourishing the hair during the coloring
Limnanthes Alba (meadowfoam) for moisturizing and adding foam to the wash
Betula Alba (white birch) for the toning and soothing properties
Cinchona calisaya for protecting and strengthening the scalp
Hamamelis virginiana (witch hazel) for flavonoids and essential oils, which further protects the scalp
Echinacea Angustifolia for a natural moisturizing agent and purifier
Juglans regia (walnuts) for intensifying the color and further purification
Rheum palmatum (rhubarb) for conditioning the skin and enhancing the color
Pros
Conditions the hair making it thicker, shinier, and healthier

Cruelty-free dye

Environmentally friendly and biodegradable

100% gray hair coverage
Cons
Not available in bold colors or black
---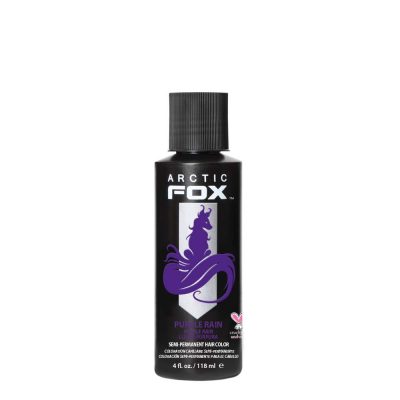 Why we like it:
Arctic Fox is chemical-free and can be mixed with other Arctic products to create a custom color. It's perfect for anyone looking for bold, bright colors. You can count on it to make lightened hair glow vibrantly while giving dark color tints to darker hair. It is also effective in revamping faded hair color.
Editor's Rating:
Quick Facts:
Colors: 23 colors including shades of deep purple, bright yellow, green, red and pink
Sizes: 4 oz and 8 oz
Compatibility with other shades
Purple Rain is compatible with other shades from Arctic Fox. You can use the instruction guidelines in the manual to make safe custom hair colors by mixing different dyes in the right proportions. For instance, you might mix it with Poseidon to achieve a deep indigo, or with Wrath for burgundy.
Safety and health benefits
Purple Rain is made without any animal by-products. The manufacturer also avoids the use of synthetic chemicals, such as ammonia, ethyl alcohol, paraphenylenediamine (PPD), and peroxide.
Your hair will be free of harmful chemicals that could break it or leave it with brittle ends. The active natural ingredients and nutrients condition and nourish your hair, making it shiny, thick, and healthy without the usual damage of the dyeing process.
To sweeten the deal, it comes with a floral scent, and it's ideal for home dyeing.
Longevity
The dye lasts between four to eight weeks (or four to ten shampoo washes), giving you a chance to explore the beauty behind different hair colors. Others might prefer a longer-lasting shampoo, though.
Pros
Attention-grabbing, vibrant color

Improves hair health

No toxic chemicals
---
6.

Best Permanent Organic Hair Dye

ONC NaturalColors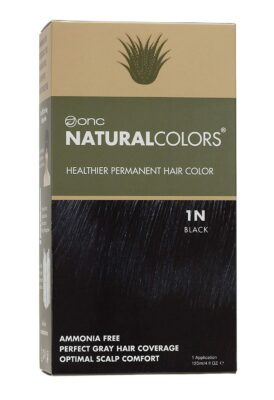 Why we like it:
This permanent organic hair dye does an excellent job of supplying your hair with deep, rich, consistent coloring, while also being very gentle on your skin.
Editor's Rating:
Quick Facts:
Colors: 29 colors, from platinum blonde to black
Size: 4oz
Formulation
ONC Naturalcolors hair dyes are made of argan oil, coconut oil, aloe vera, chamomile, and other extracts that combine to give you a deep color that doesn't cause irritation. They don't include ammonia, parabens, silicone, or any other harmful ingredients or allergens.
Performance
Unlike most organic hair dyes, this product made by ONC is permanent. You'll need to apply it carefully, but once you do you should be left with healthy, beautiful hair that won't need even a touchup for over three months. On top of that, they offer one of the best varieties of colors around, so just about anyone should be able to find their perfect match.
Pros
Full, beautiful coverage in many colors

Free from harmful ingredients

Environmentally friendly

Incredibly gentle
---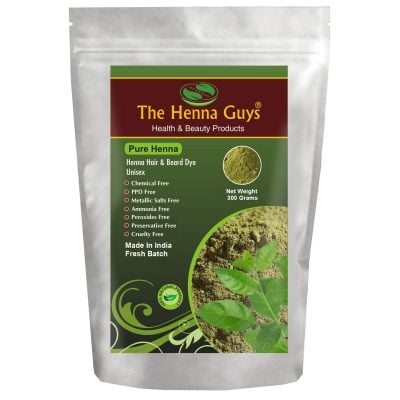 Why we like it:
The pure and natural henna powder is 100% natural hair coloring and conditioning products. It is free from harmful additives, such as chemicals and metallic salts.
Editor's Rating:
Quick Facts:
Color: Henna dyes darken hair and give it a slight reddish tint
Size: 300 grams
Formulation
It comes as a smooth triple-sifted powder that you add water to to form a paste. When applied to the hair alone, the Pure & Natural Henna Powder results to a dark reddish color on a light-colored hair. Combining it with indigo powder and other herbs in the right proportions provides different shades, though, ranging from light brown to jet black.
Henna works as a fantastic alternative to the traditional box dyes and is also the safest option if you are allergic to other dyes—though some might be allergic to henna itself, so be sure to spot test before you apply it fully.
Performance
Pure & Natural Henna Powder covers gray hair completely. It also conditions the hair, improving growth and health with every application. With Pure & Natural Henna hair dye, you can say goodbye to the frequent irritations, bruises, and burns associated with chemical-based hair dyes.
Pros
100% botanical

Offers a variety of shades to suit different hair colors

The best alternative for people who are allergic to chemicals
Cons
Some herbal extracts may cause an allergic reaction.
---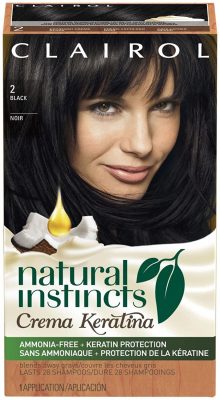 Why we like it:
The Clairol Natural Instincts Cream has keratin for protecting and nourishing the hair with semi-permanent properties. It also has hydrating conditioners and the non-drip ammonia-free formula for conditioning the hair.
Editor's Rating:
Quick Facts:
Colors: Five colors, from light brown to black, including shades of red
Size: Enough for one application
Formulation
The dye uses hydrating conditioners and coconut oil to reduce the frizz and smoothen the hair's coarseness for a healthier look.You can easily apply the cream using the non-drip ammonia-free formula. The base of this dye is fully natural, and excludes harmful chemicals. Once applied, it blends away grays throughout the hair without causing undesirable effects.
Performance
The keratin content adequately protects the hair from damage during the coloring process. As a semi-permanent hair color, it does not consistently penetrate the hair shaft but covers the hair with a lively color for a glossy look.
Pros
Texture improved by non-drip ammonia-free formula

No harmful chemicals, such as peroxides or metals

Hydrates your hair and scalp
Cons
The coloring results may not be consistent, depending on the natural hair type and color
---
Guide to Buying the Best Organic Hair Dye
Coloring your hair is an exciting part of grooming and expressing a unique identity.
The products you can use for coloring come in two broad groups—chemical-based colors and organic hair dyes. Due to the beauty and health benefits attached to the organic hair colors, many people today are moving away from the use of chemical dyes that have dominated the market traditionally.
Why the change? We explore the industry trends below.
Chemical Hair Colors vs. Organic Hair Colors
The use of non-organic hair colors implies the use of products composed of peroxide, ammonia, PPD, sulfate, and other chemical compounds. These products are effective but well-known as detrimental to your hair and scalp.
Organic hair dyes are alternative products to color your hair, which are produced with the least application of synthetic chemicals and more organic botanicals. It typically contains 98% natural ingredients and 2% synthetic pigments or stabilizers.
Benefits of Natural Hair Dyes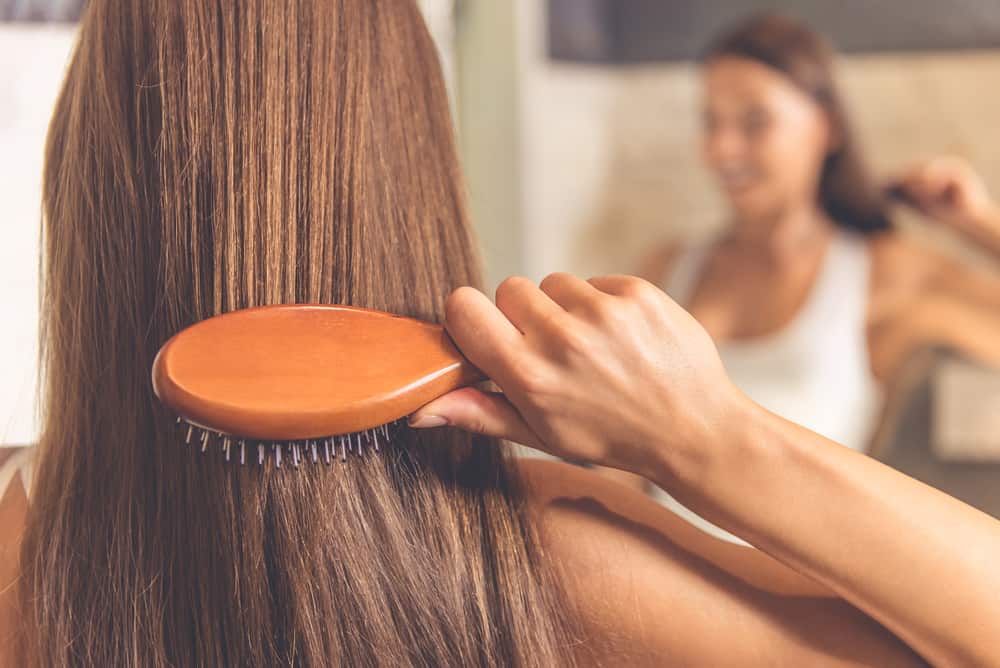 Below are the reasons you should always go for organic hair dyes when you think of changing your hair color.
It Lacks Harsh Chemicals and Additives
Organic hair dyes are extracted from safe, natural ingredients with only up to 2% synthetic compounds present in the dye. Such natural components are helpful in coloring properties, but also helpful for the health of the hair. Unlike the non-organic hair dyes, which contain harmful compounds, such as ammonia and peroxide, organic hair dyes are beneficial to the hair in the long run.
Maintains Hair Health
Frequent usage of chemical hair dyes causes breakage and hair loss. The case is different when it comes to organic hair dyes, though. Say goodbye to the awful salon or home hair therapies that leave your hair with venerable ends.
Nourishes the Hair
Organic hair dyes have numerous natural ingredients and essential nutrients, which are beneficial to your hair. Your hair will be nourished and conditioned after every coloring, becoming stronger, shinier, thicker, and healthier.
Safe to Use
One of the outstanding benefits of organic hair dyes is its universal application. It is odorless and has minimal side effects. People with sensitive skin can enjoy using it, too, as well as pregnant mothers.
Eco-Friendly
Since organic hair dyes use natural ingredients, it poses minimal threats to the environment. It also doesn't cause pollution, and it is biodegradable.
Organic hair dyes are equally effective as any other regular hair color, with the proven ability to color your hair from root to tip.
Types of Hair Dyes
There are many colors available today. Understanding the available products on the market will enable you to select your best choice with certainty, which could help you gain confidence and have fun with your looks.
The common types of hair dyes include temporary, semi-permanent, demi-permanent, permanent, highlights, root color, bleach, and henna.
Temporary Hair Color
Temporary hair dye, also known as a washout, covers the hair shaft on the outside temporarily—a single shampoo wash will remove the entire effect and revert the hair to its natural shade. These products, like the Clairol Natural Instincts Hair Color Kit give you another chance to try a different hair dye if you love having fun with it. Continued application of a temporary color on a damaged hair could cause it to look stained over time, though.
Semi-Permanent Hair Dye
Semi-permanent hair dye extends the temporary look a little further.
It takes four to ten shampoo washes for the dye to wash out, but there are other benefits to consider. It is ammonia-free and an ideal option for gray hair coverage, for example. It is also conducive to home treatment when you can't access the salon right away.
Your hair may retain the semi-permanent color longer if it is porous.
The benefits attached to this type of dye include:
Revamping dull hair by adding gloss and shine
Ideal for growing out a permanent color
Suitable for providing temporary root touch-ups
Permanent Hair Color
Permanent hair dyes like ONC NaturalColors works well for individuals who want to stick to a given hair color for a while. Its preparation process involves a complex use of chemicals, which enable it to penetrate deeper into the hair. The permanent hair color has various applications, such as providing quality gray hair coverage, lightening your hair, darkening it, or toning it. It can take weeks before you notice any signs of discoloration on your hair, but you will need to reapply the permanent dye to cater to new hair growth.
Henna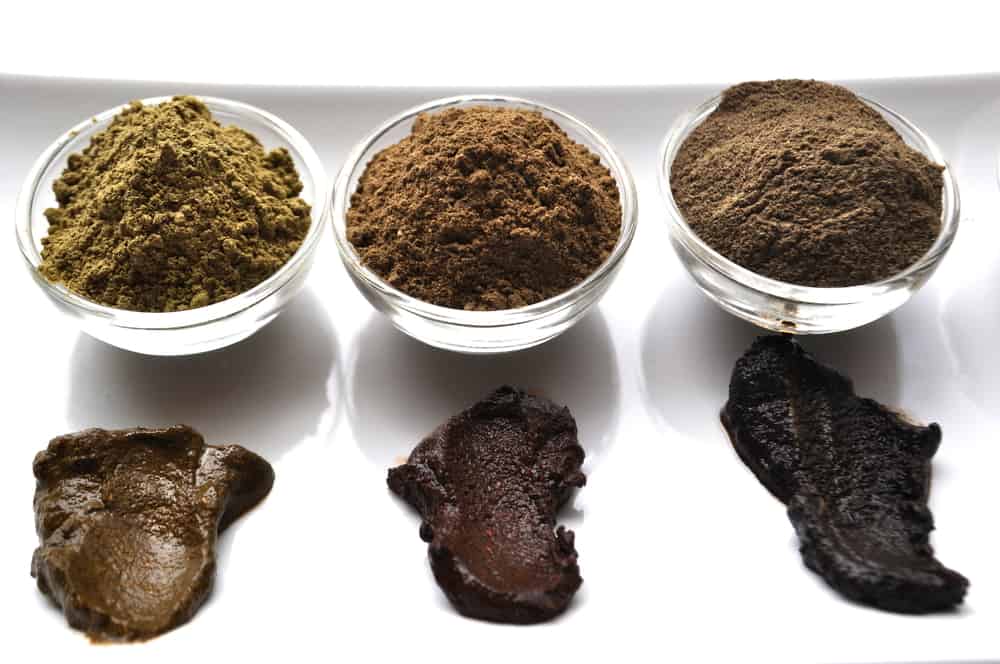 Henna dyes like 100% Pure & Natural Henna Hair are most suitable for people with itchy, flaky skin or dandruff. It is hypoallergenic and ideal for people who are allergic to other types of hair dye.
It gives a reddish complexion to the hair making it vibrant and shinier.
How to Get the Most Out of Organic Dyes
The products on this list are fairly straightforward to use with the included instructions, but do the following to get the maximum benefit from your organic hair dye.
Be Mindful of How You Wash and Maintain Your Hair
Some hair cleaning agents, such as shampoo and conditioners, affect the effectiveness of organic dye on your hair. For instance, the use of silicon shampoo may reduce or prevent the absorption of an organic dye onto your hair. The thick shampoo covers the hair strands, inhibiting the absorption of color.
Instead, stick to biodegradable and natural washing products to reap more hair color benefits. Those products have compounds that are gentle enough to take care of your hair fiber.
Seek Professional Advice
Due to the wide variety of organic dyes available in the market, you may need the help of a professional stylist to choose your best option for an organic dye. The expert will not only advise on the safest options but also asses your hair color, advising you on the results that you are likely to achieve from the alternative organic dyes.The state of your hair also determines how well the dye will penetrate the hair. For instance, hair that is damaged will grip the color faster than thick, healthy hair, but it may not last as long.
Chemicals to Avoid When Choosing an Organic Hair Dye
It's difficult to find purely natural hair dyes. There are chemicals present in most products.
If these harmful chemicals are used in slightly higher levels than recommended, it can lead to serious side effects. Most of the products on this list are totally free of these ingredients, but we've mentioned the few exceptions where they aren't. So, it's best to look out for the following before deciding on a final product selection:
Phenylenediamine (PPDs)
Excessive PPD usage in hair treatment may lead to lung cancer, bladder cancer, nervous system, kidney disorders, and severe allergic reactions.
Check the concentration levels for the PPD in every color dye before purchasing a product or applying it to the hair. In natural hair dyes, it should be 1% or less.
Resorcinol
Resorcinol is classified by the European Union as an irritant, harmful to eyes and skin. It is also a threat to the environment, and it may alter the hormonal functioning (leading to hypothyroidism, for example).
Ammonia
Ammonia irritates the eyes, the skin, and the respiratory system. It also aggravates asthma and other breathing problems but is less toxic than PPD.
Persulfates
Potassium, sodium, and ammonium sulfates are some of the building components present in hair bleaches and dyes. The persulfates should be applied at a maximum concentration of 60% as it is highly toxic. Inhalation might lead to lung damage or asthma, so regular and long-term use is highly discouraged.
Hydrogen Peroxide
Hydrogen peroxide is a building block for hair bleaches—it is also corrosive and restricted in some countries. According to the Agency for Toxic Substances, it intoxicates the respiratory system, and the nervous and digestive systems at low dosages. It is also suspected to damage DNA and increases the risk of cancer.
Lead Acetate
Lead acetate is used for gradual darkening and is present in a few hair dyes. The toxic chemical has been linked to damaging the nervous system and the brain.
4-ABP
Also known as 4-aminobiphenyl4-ABP, this chemical is present in some hair dyes on the market today. The substance is a known carcinogen and has been linked to an increased risk of bladder cancer. You should always be keen on what you apply to your hair to avoid exposing yourself to a health hazard.
Many European countries and Japan have banned the use of such harmful chemicals in cosmetics. Dyes containing toxic chemicals are still being sold in many parts across the world, though, so be vigilant in your buying decisions.
Safety Precautions When Using Organic Hair Dyes
Few synthetic compounds are employed in the preparation of organic hair dyes, but it should not be assumed to be safe because the label says "organic." The following safety precautions are paramount when coloring your hair:
Don't leave the dye on your hair for too long
Protect your hands with gloves when applying the dye
Strictly follow instructions on the package and ingredients
Never combine different hair color products, unless directed by the manufacturer
Do a patch test for any allergic reactions before coloring your hair
Never dye your eyebrows (it may cause blindness or make the eyes vulnerable to infection)
Final Thoughts
If you want to color your hair, you will be spoiled for choice in today's varied market. Not every product will work well or be suitable for your personal needs, so stay informed and be sure to check the list of ingredients before you purchase anything. Some products might even pose a risk to your health and wellbeing, so don't make any rushed decisions when buying a hair dye.