Top Picks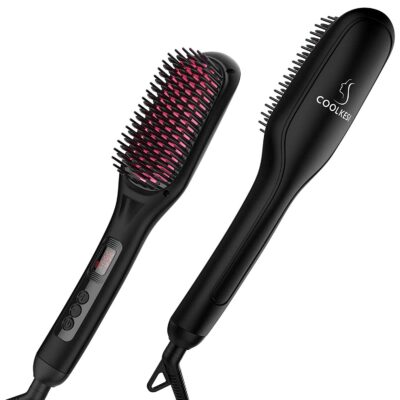 COOLKESI Hair Straightener Brush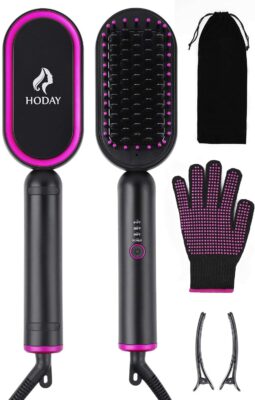 HODAY Hair Straightener Brush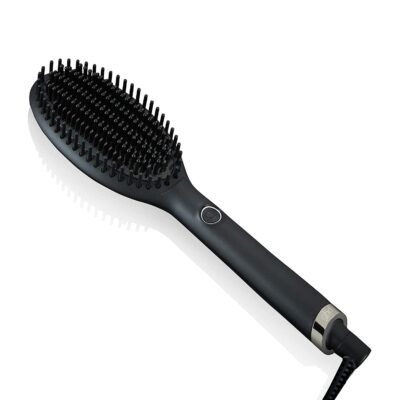 Ghd Hair Straightener Brush
Previous
Next
Straightening your hair used to be a time-consuming ordeal but nowadays, you can straighten your hair simply by brushing it. Over the last few years, hair straightening brushes have been perfected and can now target hard-to-reach areas like your roots and the back of your head.
Today, the challenge isn't straightening your hair so much as it is finding a quality hair straightening brush amongst the sea of mediocre options online — and all for a fair price, too. In this guide, you'll find the best hair straightening brushes along with some tips on how to straighten your hair like a pro.
Features to Consider in Quality Hair Straightening Brushes
Consider the following features when making your pick — it can help you choose the best hair straightening brush for you.
Heating Plate Material
When shopping around for a hair straightening brush, consider their heating plates, as some distribute heat better than others. You have a few options to choose from, but depending on your hair type, some options may not reach high enough temperatures for you.
Ceramic
Ceramic is one of the most commonly used heating plate materials. But some heating plates are made of pure ceramic while others offer a metal base that is covered with a ceramic coating that can chip away over time. Once chipped, the metal can cause damage to your hair. However, this all depends on how often you use your brush and how thin your hair is.
If you have straight or wavy thin hair, you can side with a hair straightening brush that has a ceramic coating. Not only are they slightly cheaper, but chances are, you won't overuse them and so chipping won't occur. If you have thick or curly hair and straighten your hair daily, you'll benefit from selecting a straightening brush made of pure ceramic.
Ceramic heating plates heat up quickly, evenly distribute heat, and are built to deliver quality results for many, many, years. Ceramic hair straightening brushes won't damage your hair as much as other options will. So, that's definitely something to keep in mind if you have split ends or damaged hair. They can be a little more expensive but they're worth paying extra for due to their marvelous results.
Ionic
Hair straightening brushes made with ionic heating plates are also a great option. Not only are they less expensive than their ceramic counterparts but they charge the hair with negative ions. This is perfect for people with frizzy hair, as it helps to tame it. It also makes the hair appear shiny and smooth.
However, since ionic heating plates do not distribute heat as evenly as ceramic heating plates do, it may take you longer to straighten your hair. For this reason, we recommend that you side with ceramic heating plates if you have thick hair.
Temperature Control
Some hair straightening brushes allow you to choose your preferred temperature setting while others have limited options or a simple on-off switch. It's important to have control of the temperature settings because high temperatures can damage your hair, whereas low temperatures can be ineffective. The sweet spot is 300-400 Fahrenheit (°F), with the lowest setting being ideal for thin hair and the highest setting ideal for thick hair.
Brush Size and Bristle Type
You'll also want to pay close attention to the brush size and bristles when selecting a hair straightening brush. Smaller brushes with medium-sized bristles work well with thin and short hair because they can target smaller sections at a time. Large brushes with long and sturdy bristles, on the other hand, are perfect for people with thick and long hair because they cover more ground and offer a better grip.
Cord Length and Features
Hair straightening brushes cannot be charged and must be plugged into an outlet. For this reason, we recommend keeping the cord length in mind when making your pick. Some brushes also offer a hanging loop and a tangle-free swivel cord for easy storage and operation.
If you have never used a hair straightening brush before, we invite you to check out our full guide, where we explain how to straighten your hair using this device. We'll also cover how to clean your hair straightener brush to ensure that it lasts you for many years to come.
Let's delve right into our favorite picks of the year.
Top 10 Best Hair Straightening Brush 2021
Guide to Buying the Best Hair Strengthening Brush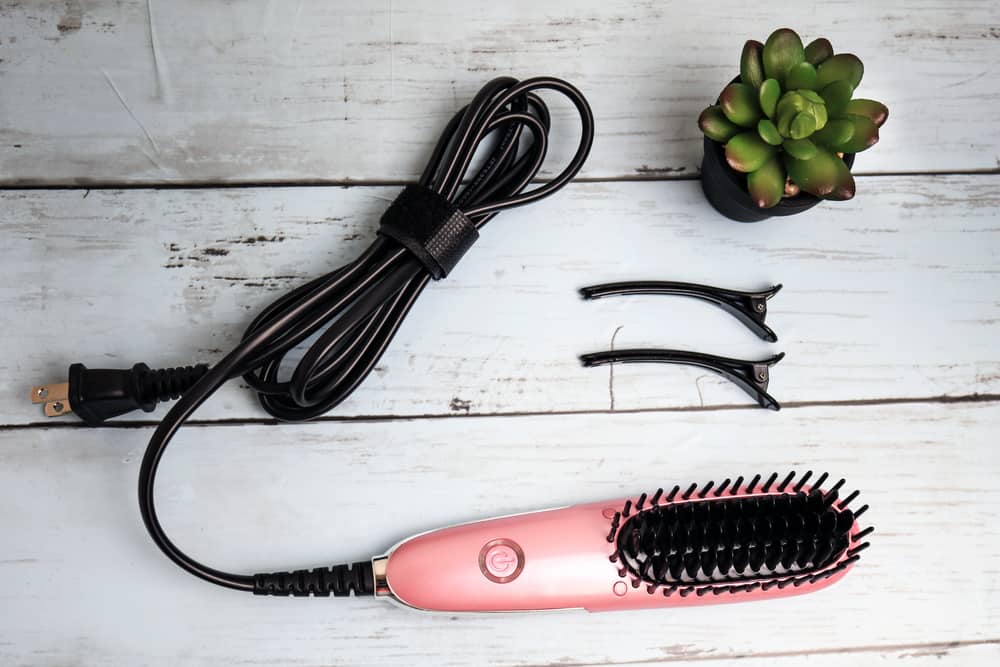 One quick search on the internet will show you that there are hundreds of hair straightening brushes to choose from. However, when you consider your individual needs, the search narrows itself down very quickly.
In this guide, we'll give you a rundown on how to use and clean a hair straightener brush, inform you on some of the other tools you may need, and guide you through how to pick the best option for you.

How to Straighten Your Hair Using a Hair Straightener Brush
No matter your hair type, performing the following steps will lead to gorgeous and shiny straight hair. But if you have thin and straight hair to begin with, you can skip number 4, as the final results will be the same.
Protect your hair using a heat protectant product. This step is optional but recommended, especially if you have damaged hair.
Air dry or blow-dry your hair. If you have very curly or thick hair, we recommend blow-drying it straight first for better results.
Select the heat setting of your choice. The thinner your hair is, the lower the heat setting should be. To find the right heat setting for your hair, take a look at this article.
Section your hair using hair clips. The thicker your hair is, the more sections you will want to create. Doing so gives the hair a more uniform look while allowing you to easily target your roots.
Start straightening the lower parts of your hair and work your way up to the top of your head. Brush the hair straightener through your locks, from root to tip.
Style your hair the way you like it and make some final touches by running the straightening brush through your hair like you would a normal hairbrush.
Turn off the hair straightening brush and unplug it.
How to Clean Your Hair Straightening Brush
It's important to clean your hair straightening brush to expand its lifetime. Its bristles can accumulate dirt, oils, and residue over time — especially if you apply a heat protectant or other products to your hair before straightening it.
A good rule of thumb is to clean your hair straightening brush once every two weeks if you use it daily, or once a month if you use it weekly.
Unplug your hair straightening brush, giving it time to cool down completely.
Gently remove any loose strands of hair or debris from the bristles.
Select a non-abrasive cloth.
Lightly dampen it with the cleaning solution of your choice.
Gently wipe it down, paying close attention not to disturb any of the bristles. You can use a Q-tip to target hard-to-reach areas.
Allow your hair straightener brush to fully dry before using it.
Although some hair straightening brushes, like the GLAMFIELDS, come with a cleaning tool, a cleaning tool isn't always necessary. You can easily clean your apparatus using the method above.
Other Tools You May Need
When straightening your hair using an electric brush, you'll want to have a few other tools in your arsenal.
Hair Products
It's never a bad idea to protect your hair before straightening it — especially if you straighten your hair daily. We recommend using a heat protectant spray like HSI Professional. It's infused with argan oil, which can help protect your hair from hot temperatures.
Hair Clips
If you plan on sectioning your hair before straightening it, you'll want to have a handful of hair clips at your disposal. These will preferably be styling hair clips due to how easy they are to slip in and out of hair, but any hair clips will do.
Some of the hair straightening brushes on our list, like the JUMPHIGH and the HODAY, come with free hair clips amongst other gifts.
A Brush Or a Heat Resistant Glove
Your hair will get hot very quickly while brushing it with your straightener, which is why it's best to use a brush or a heat resistant glove to protect your free hand throughout this process. The COOLKESI includes a heat resistant glove, a hairbrush, hair clips, and a travel bag with every purchase for a very reasonable price.
Other Important Factors to Consider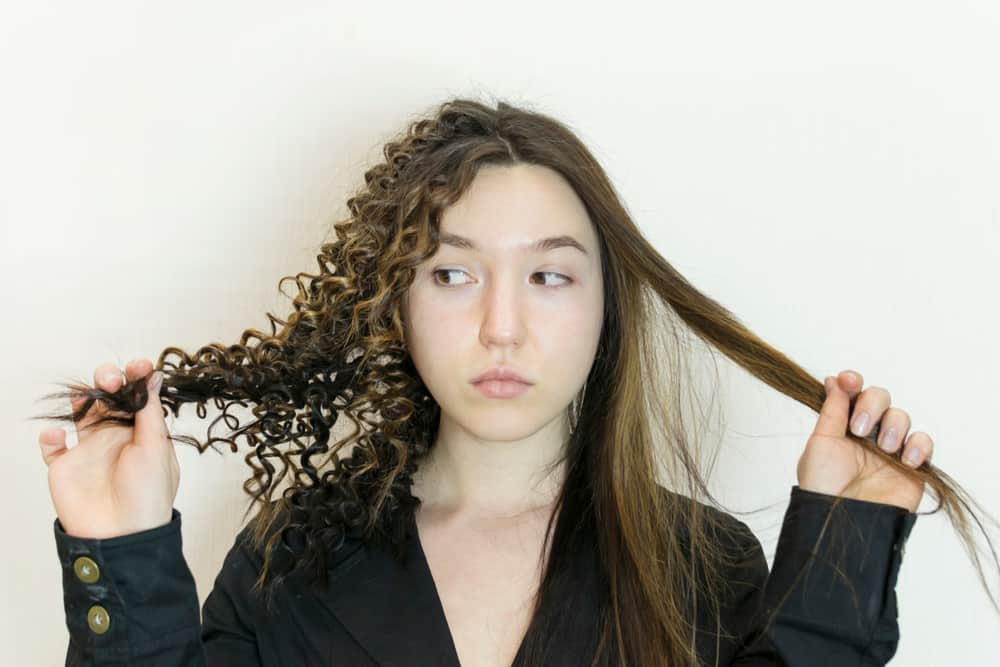 In the end, it doesn't matter how good of a reputation a hair straightening brush has; what really matters is whether or not it is compatible with your needs. Consider the following factors to ensure that your hair gets the treatment it deserves.

Your Hair Type
Your hair type will determine which straightening brush is best suited for you. We linked the best straightening brushes for each hair type down below.
Fine/Thin
The thinner your hair is, the more you'll want to protect it. Selecting a hair straightening brush that has flexible bristles and an anti-burn shell can stop you from damaging your hair. We highly recommend the GLAMFIELDS for those of you with fine hair.
Thick
When you have thick hair, you can afford to kick things up a notch in the heat department. You'll want a hair straightening brush that has high-density bristles and a ceramic heating plate. The COOLKESI is a great option for people with thick hair.
Coily
Coily or kinky hair is the hardest to straighten and the easiest to damage due to it having fewer cuticle layers. To retain its beauty, it's important to hydrate and protect coily hair before applying heat to it. The TYMO RING Hair Straightener Brush has an anti-burn shell and a maximum temperature of 410°F. It has rings of ceramic coating instead of bristles which prevent breakage, making it our top pick for natural hair. Keep in mind, however, that for it to work as expected, you must brush out your hair ahead of time.
Your Hair Goals and Expectations
Consider your hair goals and expectations when making your pick. Are you looking for a hair straightening brush that can deliver pin straight results? Or would you rather side with one that can give you a voluminous salon look?
Pin Straight Hair
A hair straightening brush doesn't press the hair between two heating plates like a regular straightener does which is why it is less effective. To achieve a pin-straight look, you may want to combine both of these technologies.
Volume and Bounce
If you're on the hunt for a hair straightening brush that leaves your hair feeling light, bouncy, and shiny, you've got a few options. If you have thin hair, look no further than the HODAY. If your hair is thick or coily, the TYMO RING will give you a nice blowout look.
Second Day Hair or Touch Ups
You may be looking for an inexpensive hair straightening brush that you can store at the office for touch-ups or use to tame second-day hair. If this is your goal, we recommend the Bed Head Hair Straightener Brush.
Frequently Asked Questions (FAQs)
In case you still have questions about hair straightening brushes, we've answered some of the most common ones below.
Can I Use a Hair Straightener Brush on Wet Hair?
A hair straightening brush should not be used on wet hair because it can fry your hair and cause damage. If you're looking for a hair straightening brush that can be used on wet or damp hair, you may want to consider shopping around for a hair dryer brushes instead.
Is a Hair Straightening Brush Less Damaging?
Hair straightening brushes are less damaging than traditional straighteners because they do not press your locks between two heated plates. This prevents damaged hair from snapping or getting caught in the straightener. If you have damaged hair, check out the EZBASICS Hair Straightener Brush.
Which Hair Straightener Brush Is Best for Curly Hair?
If you have curly hair, you know that straightening your hair is no walk in the park. It can take a lot of time to straighten your locks, which is why a hair straightening brush may have some appeal. You'll want an electric brush that offers a wide range of heat settings so you can select the best one for your hair type. You can also benefit from one that has high-density bristles, as these can separate your curls while applying enough pressure to flatten them. The COOLKESI Hair Straightener Brush is our top pick for people with curly hair.
Can I Straighten My Beard With a Hair Straightening Brush?
If you have a long beard that is getting a little scraggly, you may seek to use a hair straightening brush to give it a coiffed appearance. The InStyler STRAIGHT UP MINI Straightening Brush is small enough to target facial hair. It also has long and sturdy bristles that make gripping onto shorter hairs possible.
Last Thoughts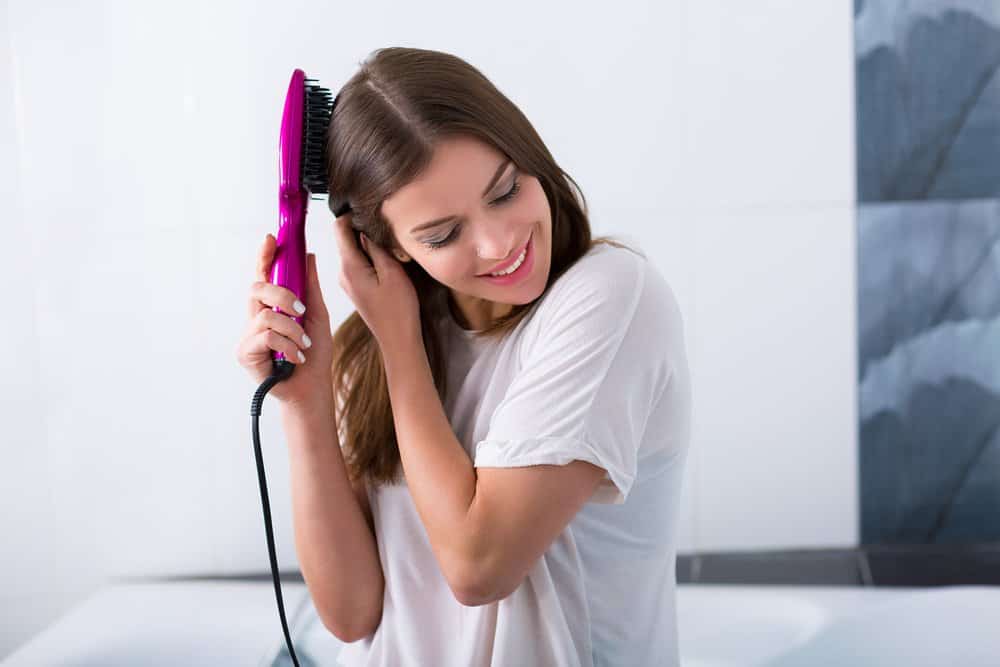 Straightening your hair doesn't have to be a time-consuming ordeal. Thanks to new technologies like hair straightening brushes, you can quickly and efficiently straighten your hair — no matter your hair type or length. We hope that our guide has helped you determine which hair straightening brush can make your hair goals a reality.