When Valentine's Day is around the corner, it's time to indulge in your love of pinks, reds, and purples, along with lots of glitter, gloss, and hearts! Go all out with your manicure, as this could be that special day when you end up snagging some serious bling to complement your carefully decorated nail art.
Running short on ideas? We've got you covered with 50 Valentine's Day nail art ideas that are sure to brighten up your love life this year.
Nail Art As a Language of Love
Nail art is a language of its own, and you can use it to express everything from your mood to your political opinions. It's no wonder then that when the most romantic day of the year is close that parlors, nail salons, and beauty clinics are busy trying to come up with new and inventive ways of expressing the language of love in the form of nail art.
Whether you're single and ready to mingle, in the initial days of dating, getting serious, expecting a proposal, already committed, married, or celebrating years of being together, you can use nail art to express your state of mind and happiness.
Valentine's Day Nail Art Themes
Nail art is just as varied and diverse in nature as traditional art, and there's no way of neatly classifying all designs into clear boxes. Just because it's a manicure that aims at showcasing romantic feelings doesn't mean it has to be elaborate, flashy, or intricate. While some of you might want a busy mishmash of colors and textures, others might want to go for understated nails that reflect their personality.
Classic Valentine's Day Nails
Understated nails look great in a single or a maximum of two colors, especially with some accents for a bit of pop. Acrylics with glossy finishes, metallic accents, French tips, and professionally done nudes are some examples of this theme.
Glittery, Glossy, and Sparkly Nails
Glitter finish nails stand out from the crowd. Whether it's a rough glitter texture or a smooth sparkly finish, you can play with different colors, floral or heart accents, and glossy finishes to enhance the look of your manicure.
Rainbow Nails
Rainbow-colored nails can be used to signify happiness, your political stance on a wider range of issues, as well as your personal preferences. Little hearts, unicorn accents, flags, and unique symbols can help you personalize your rainbow-themed Valentine's Day nails.
Geometric Nails
Want to introduce some method to the madness in your nail art? How about geometric designs that emphasize symmetry, balance, planning, and attention to detail as personality traits alongside a romantic look?
Gothic Chic Nails
Gunning for edgy, rock chic, grimdark looks? Think you're too metal and steampunk is the language of your heart? A mix of blacks, bloody reds, diamond accents, and emotionally expressive designs will help you nail this look.
Cutesy and Candy Colored Valentine's Day Nails
On the opposite end of the edgy spectrum is the cuteness overload theme. Pastel shades, lots of hearts, twee messages, and nails that showcase your peppy persona are the way to go.
Without further ado, here's a resourceful gallery of fantastic Valentine's Day nail art ideas that you can use for inspiration this year.
50 Valentine's Day Nail Design Ideas
1. Classic Hot Pink Valentine's Day Nails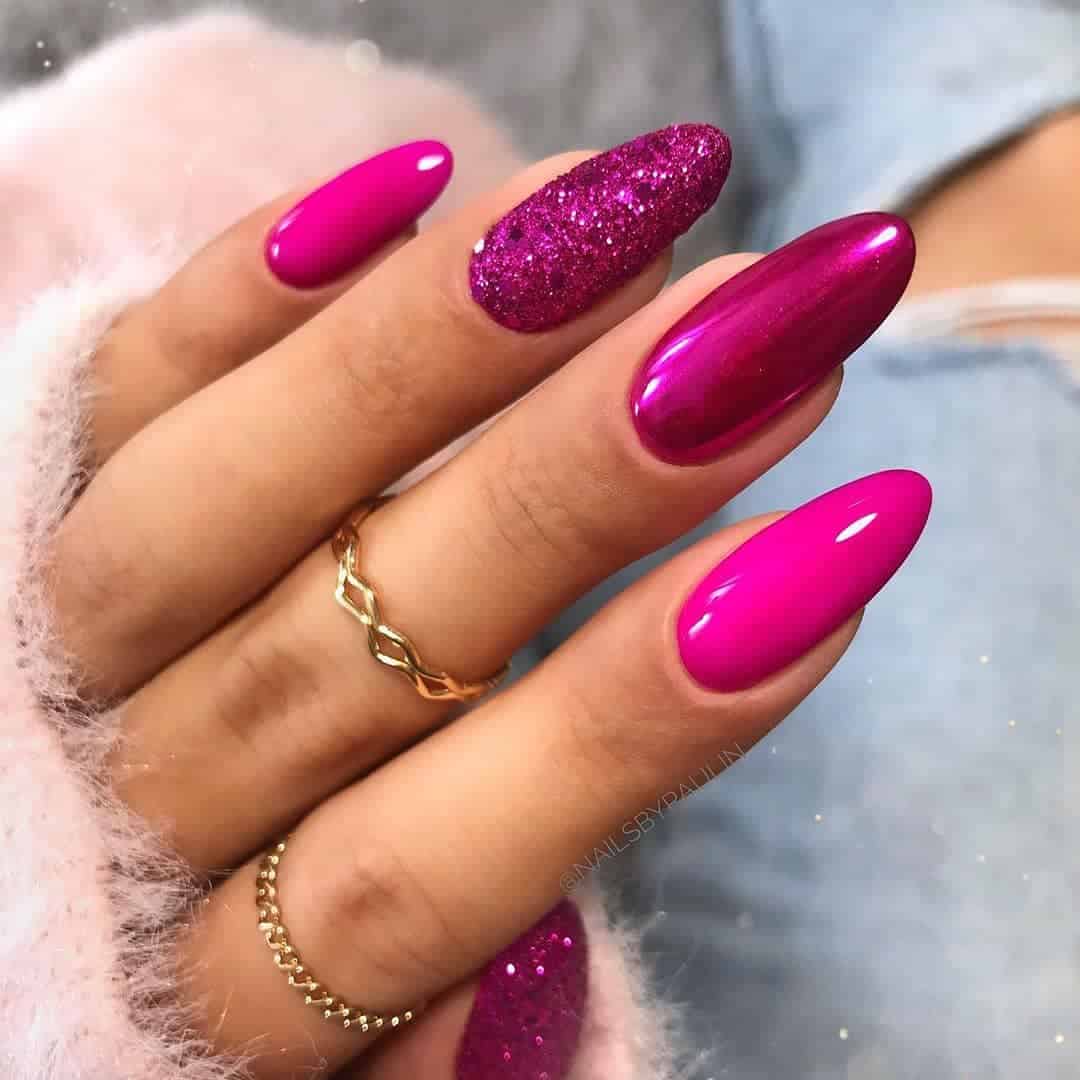 Pink and its various dark and light pigments are the bedrock of Valentine's Day nail art. They're versatile, evergreen, easy to apply, can be lightened or darkened in a jiffy to match any mood, dress, style, or occasion. You can't ever go wrong with pink.
Make the look more interesting by playing with different textures, as shown in this image. One glitter pink nail along with one glossy finish, one matte finish, one velvet finish, or other variations should round out a roster of solid pinks.
2. Nude Pink Nails With Art Deco Gold Tips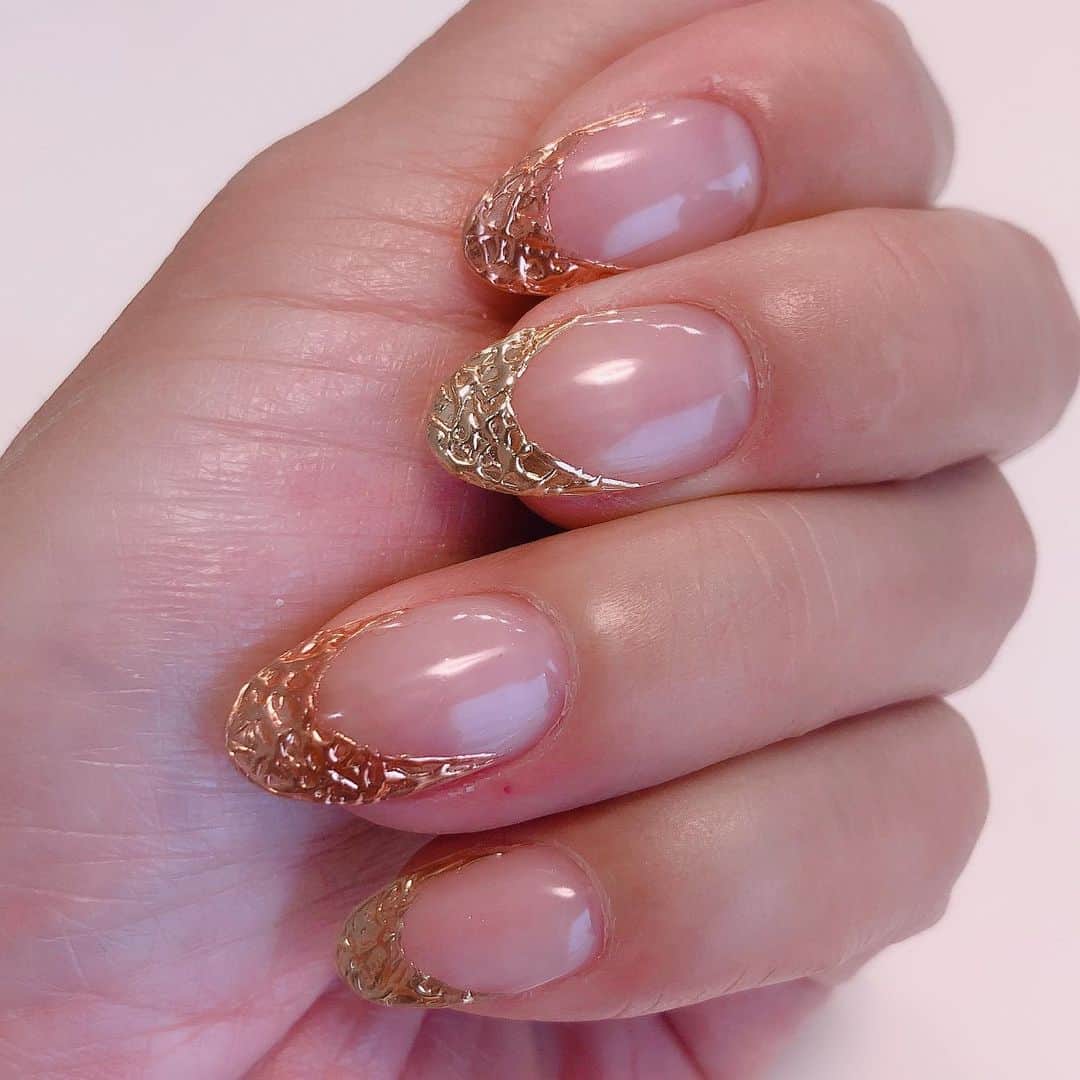 If nude nails are your signature look, spice them up with some art deco golden tips this Valentine's Day. These are gel nails with pre-made golden tips that you need to apply very carefully. The end result has a very delicate princessy vibe to it. You can also modify the shade to blend in with your natural nails color.
3. Pearly Pink Nails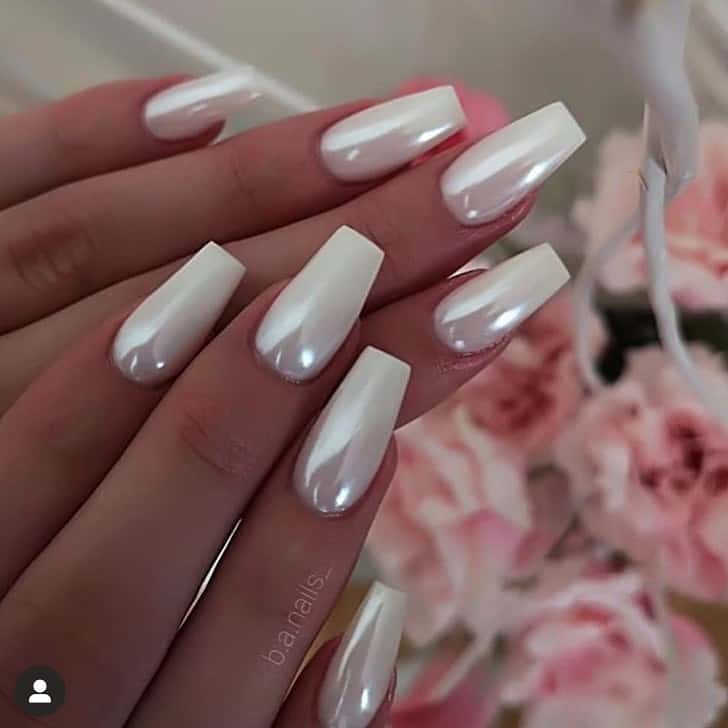 Why stop at nude when you can have pearlescent nails in a natural pink shade? This is a relatively new varnish that gives you natural iridescent tips that can elevate any classic Valentine's Day look. Go for different shades of naturally occurring pearls like off-white, pink, gunmetal black, and more. You can also vary the length to suit your personal style if long acrylic nails aren't your cup of tea.
4. Stone Heart Nail Art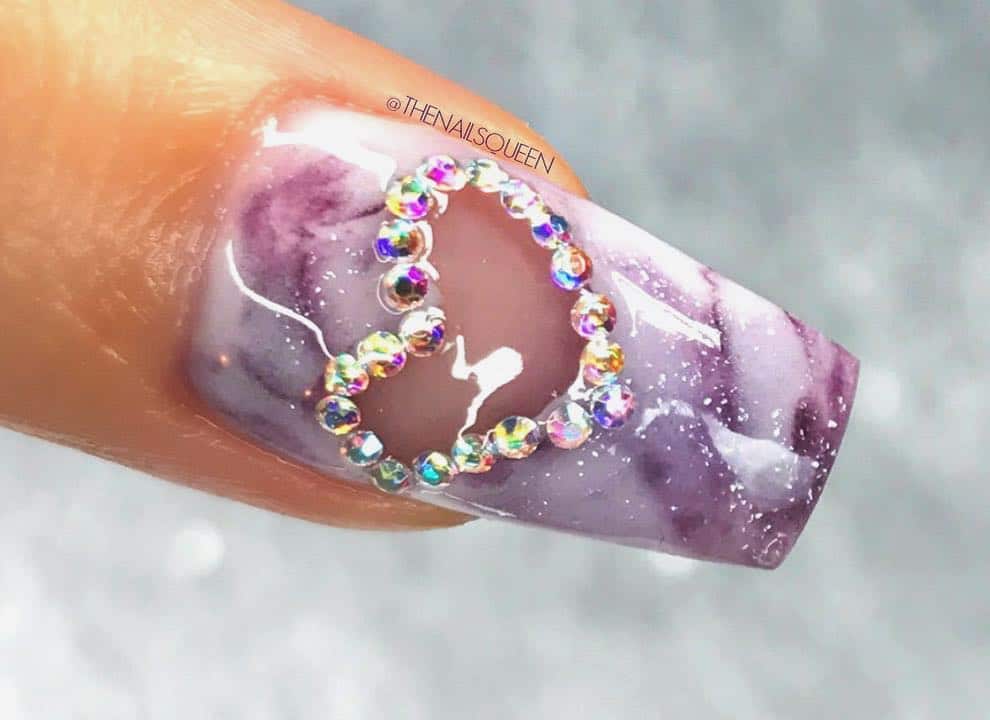 This idea is to make a heart out of stones, resulting in a literal stone heart. Use clear gel on the base and have a rough outline of the heart. Stick on small stones on this outline. You can create this design on an acrylic base or one you've created with layered nail lacquers. A marble finish base would complement this heart perfectly.
5. Lilac Floral Nail Art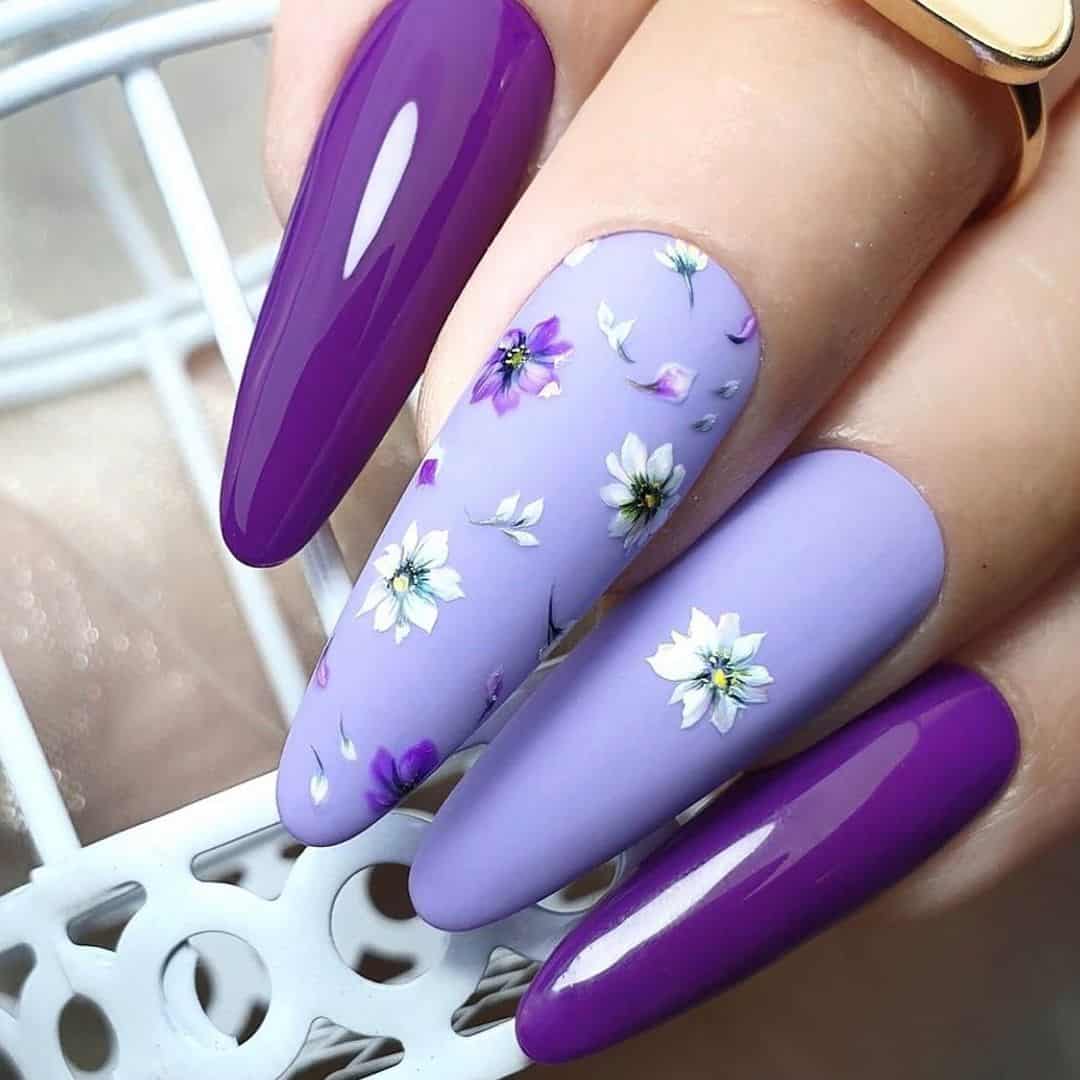 If pinks and reds aren't your colors, go for a purple theme. Choose various shades of purple like lavender and lilac to create a 'shades of purple' theme. Paint the flowers on the lightest colored nails. Go with any flower of your choice, but keep them small and cutesy.
6. Understated Marble Pink Nails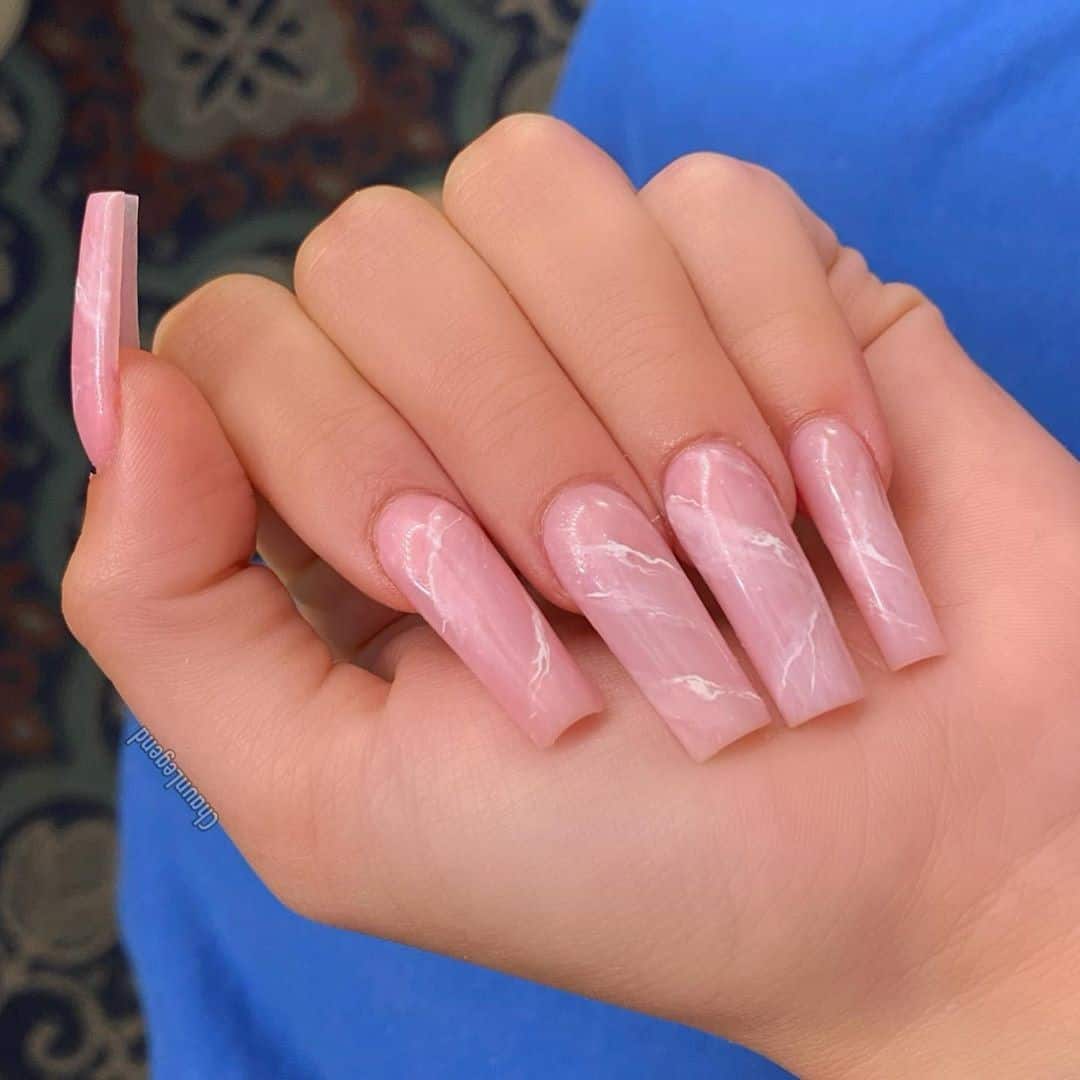 This is another simple, no-fuss idea that can be done at home. You can opt to buy fully finished acrylic marble finish nails online or sculpt them using a hard gel polish, clear gloss, or white varnish. If you can pull it off, then go for the latter option as it affords you greater flexibility in terms of colors and finishes.
7. Lattice Nail Art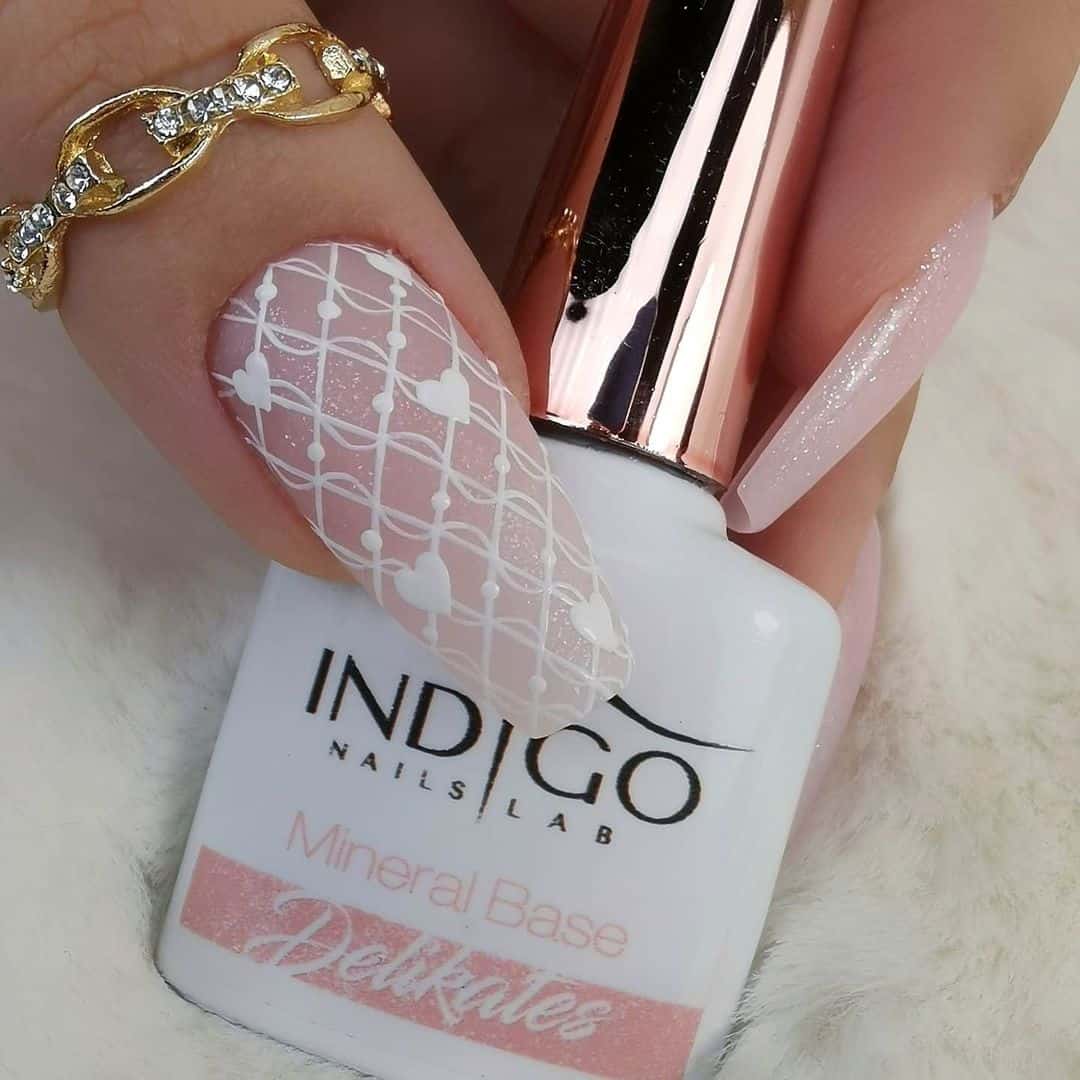 Draw on a lattice pattern using straight lines, wavy lines, or both together on your nails, then add hearts, polka dots, diamonds, and other motifs to enhance the lattice pattern. You can add single stones or pearls to these motifs to bling it up a little. Glitter in a few squares can also be added to spice it up, or choose contrasting shades for the nail base and the lattice pattern to make it noticeable.
8. Red Nails With Metallic Gold Accents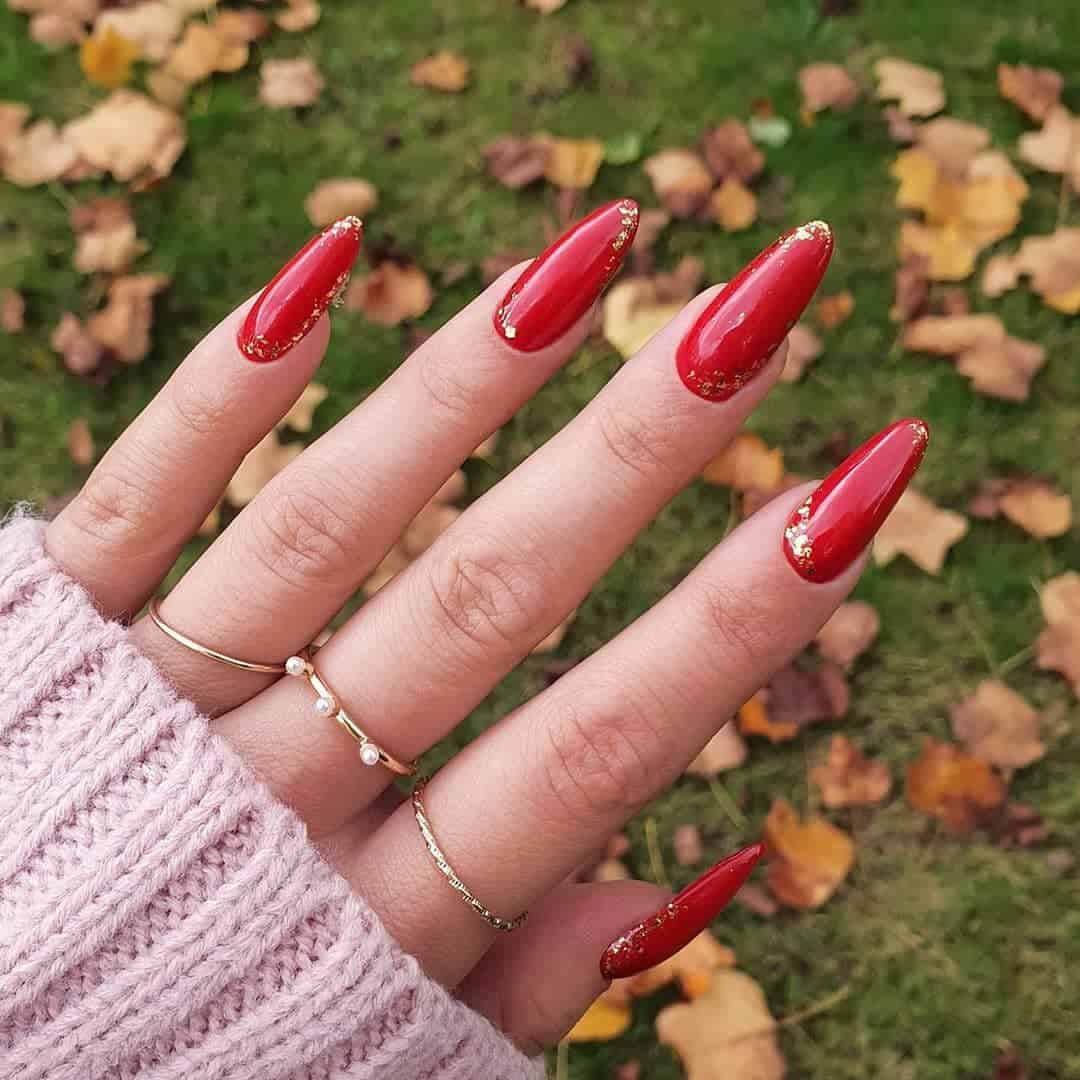 Red is often associated with power, it's also the color of romance. While blood red is the go-to color to express beating hearts, a slightly autumnal red along with gold accents will help you stand out in a sea of standard red nails. Use the metallic gold highlights sparingly to create minimal drama and keep the look classy. Lots of stacked gold rings are the perfect accessories to enhance this look.
9. Iced Chrome Hot Pink Nails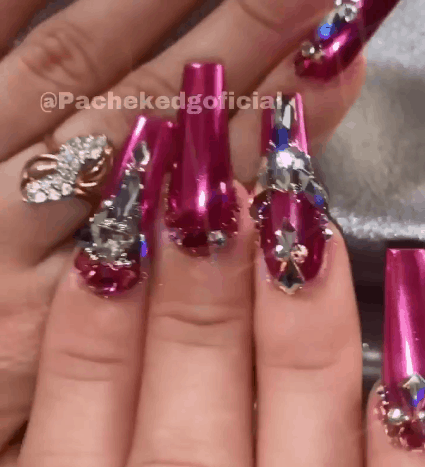 Whether using hot pink, blood red, fiery orange, or a jewel-toned aubergine, this idea can be implemented on any dark color with red tones. This look calls for chrome finish nails, so you can either use chrome finish acrylics or use chrome powder.
Once the base is set, go for big sparkly stones to ice out the look. Create different designs on different nails to get the 'assortment of fine jewels' look. Pair this look with oodles of confidence for the perfect finish!
10. Pixie Dust Nails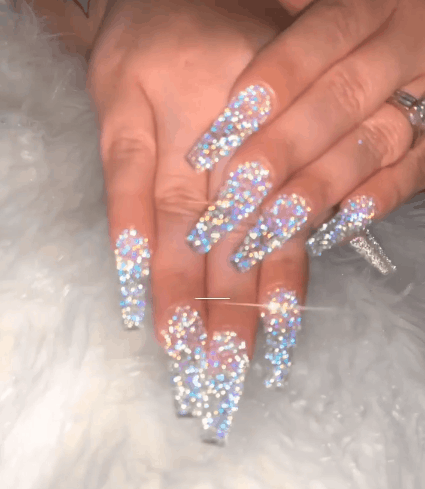 Go all out on bling this Valentine's Day with Swarovski pixie dust to glam up your tips. These Swarovski crystals are cut in a way to reflect maximum light. Best used on a nude base, they light up your nails like they've been dipped in pixie dust. If you're expecting a ring to grace your fingers on this special day, how about adding these mini glass crystals to bring out the size of your rock?
11. Glitter Hearts Nail Art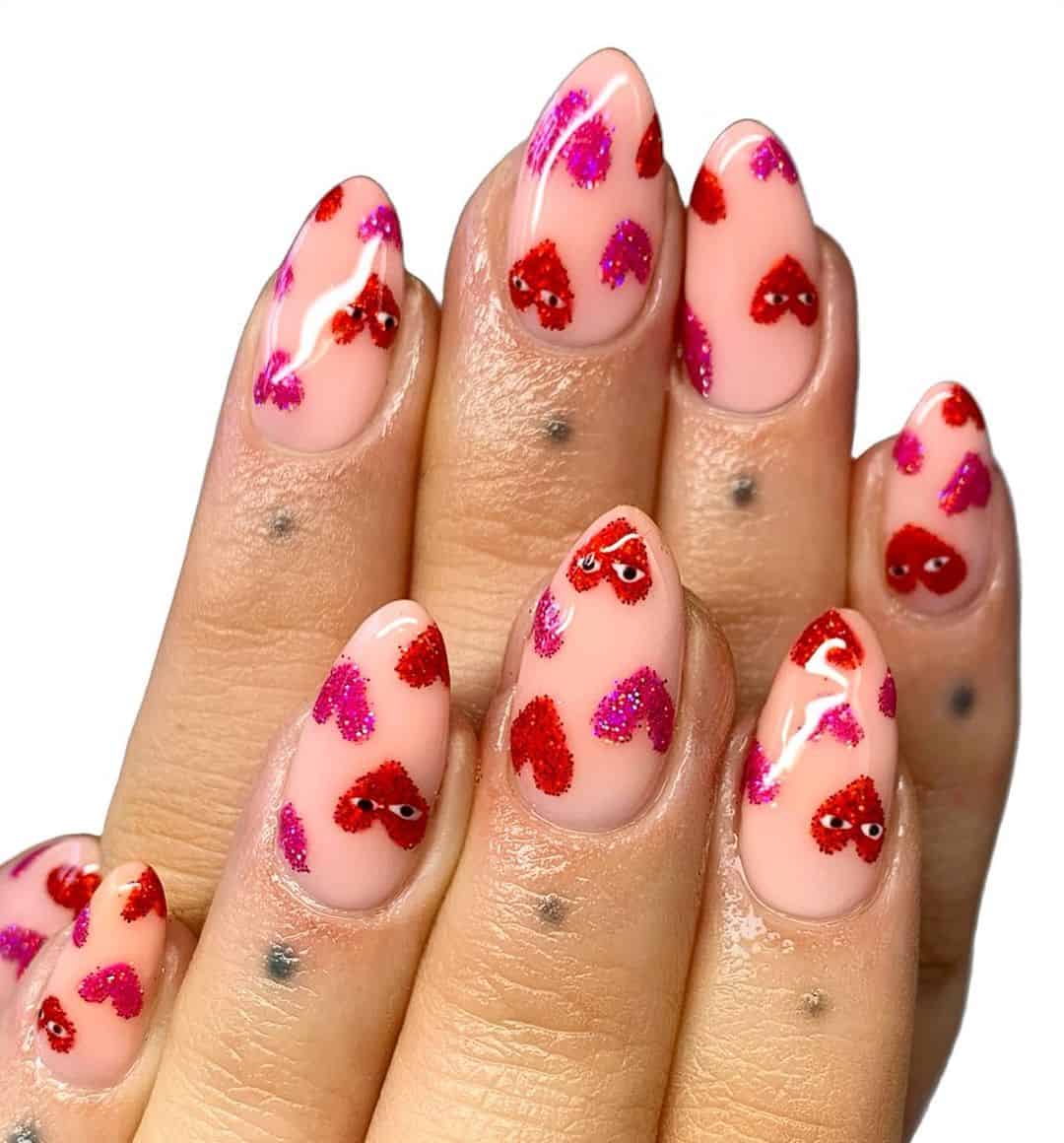 Choose a pastel shade for your base color and apply it. You can go for an ombre finish if you like. Now draw polka hearts instead of polka dots on all your nails. Fill them in with red glitter. You can also choose to draw and fill in the hearts with golden glossy paint. Give your hearts eyes or smiley lips to add a bit of quirkiness. And that's it, your nail hearts are ready to be taken out on their Valentine's date.
12. Steampunk Valentine's Day Nails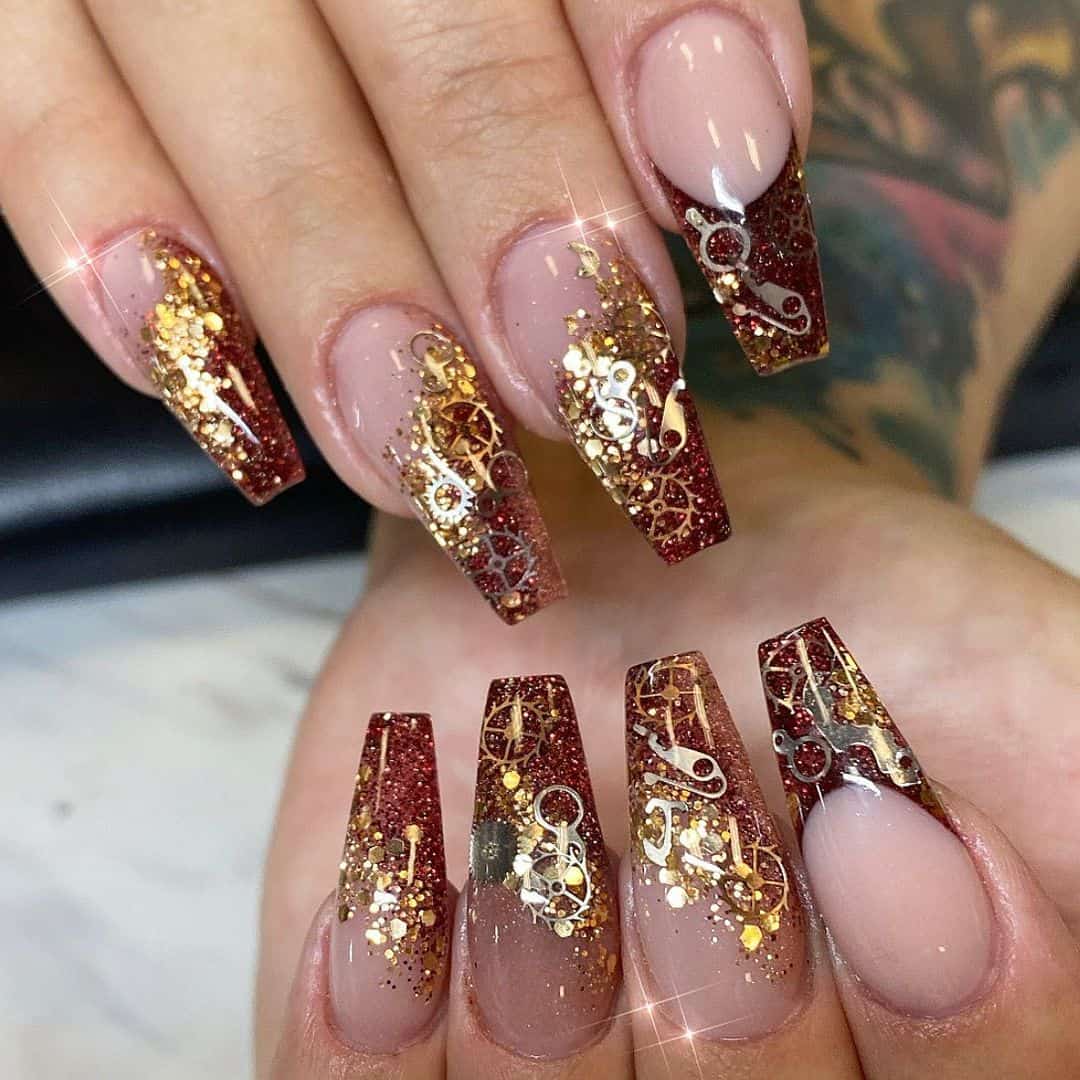 This idea helps you use steampunk themes on your Valentine's Day outing. It keeps the nude and pink elements for the day's theme intact and uses gold flakes, pressed accents in steampunk motifs, and a little glitter to add elements of steampunk to the look. You can create this look with other jewel-toned colors and metallic shades.
You can also flip the design to have the metallic accents on the nail bed and the ombre finish tapering out at the tips.
13. Strawberry Hearts Nails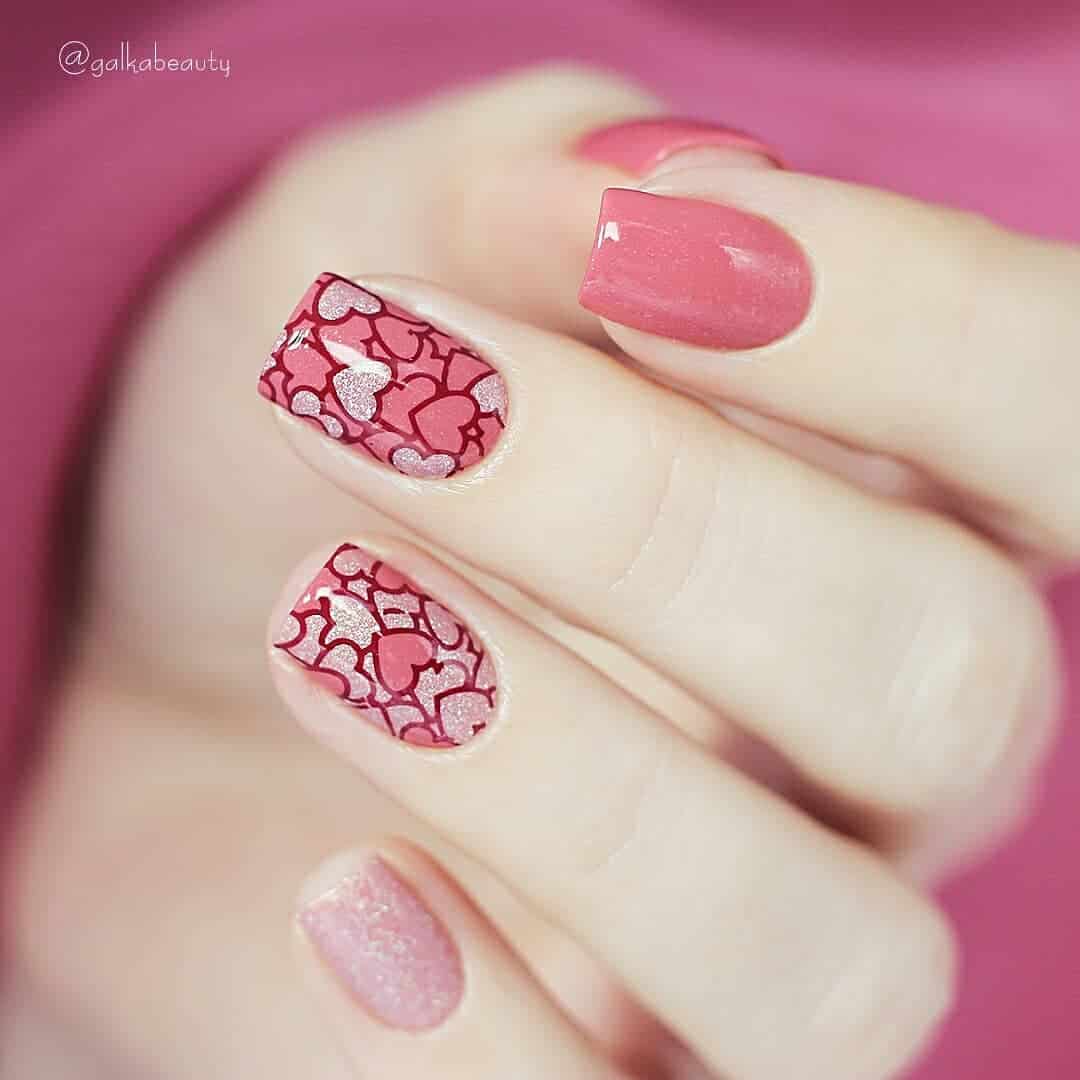 If you aren't sure about elaborately drawn art, use this stamp-on heart stencil to create cute strawberry colored nails with hearts galore. Fill-in these hearts with glitter, stones, or other nail-jewelry to customize it to your liking.
This stencil works best with contrasting shades in the same hue. If you're going for deep reds or purples, make sure the hearts are stenciled on a slightly lighter shade and then filled in later to emphasize them.
14. Red Rose Nail Art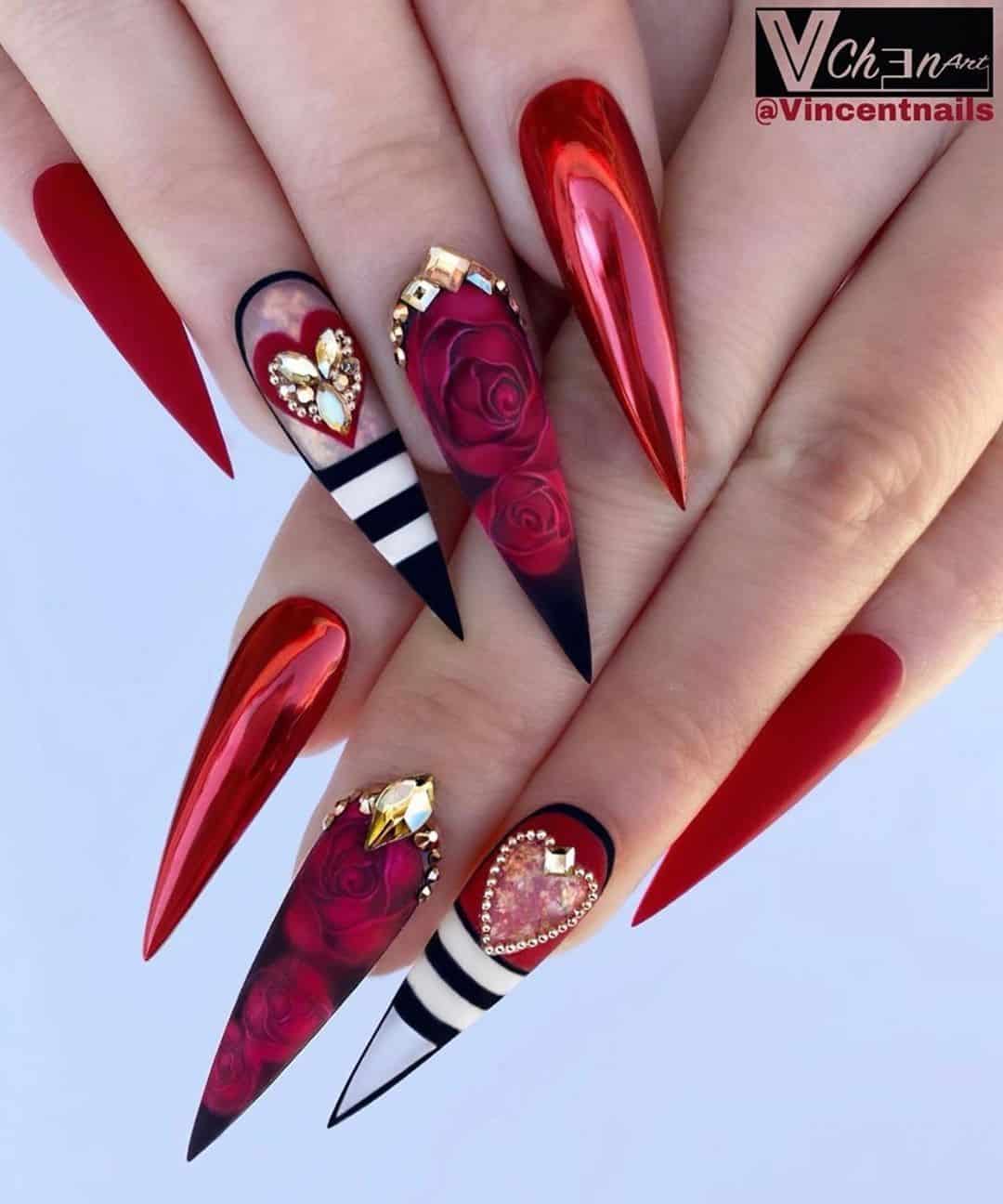 Turn in any direction on Valentine's Day and you'll notice red roses everywhere. You can incorporate this symbol of love in your nail art along with a heart, some bling, and a few black and white stripes to break the monotony of red and create an on-fleek look that blends in with the day's celebrations. The deeper the shade of red, the better this look will be.
15. Long Elaborate Valentine's Day Nails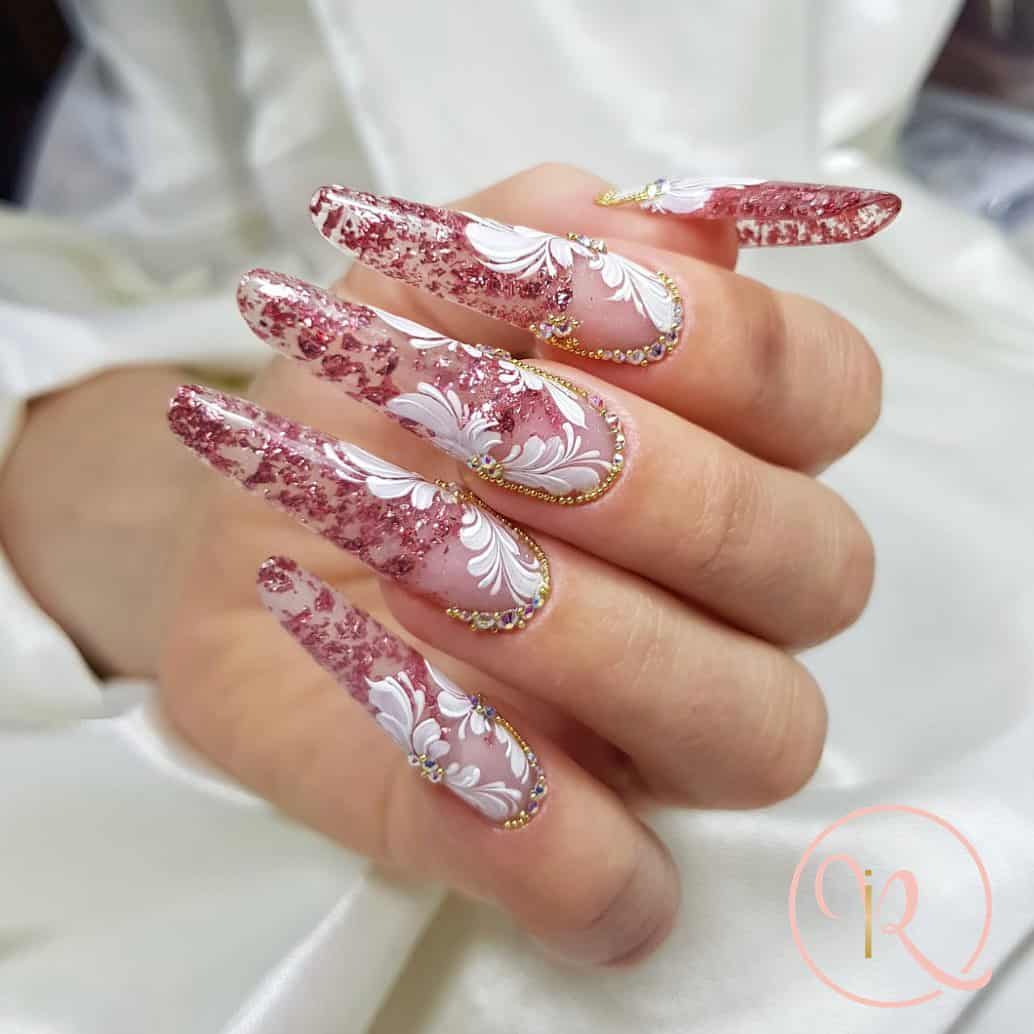 This is a very elaborate design that requires various elements, including a clear builder, glitter flakes, hard gel base, white nail paint, and a skillful or professional nail art applicator to execute this concept with finesse. You can play around with different colors and even go for a different burst of white design on the nail bed.
16. Paisley Print Nails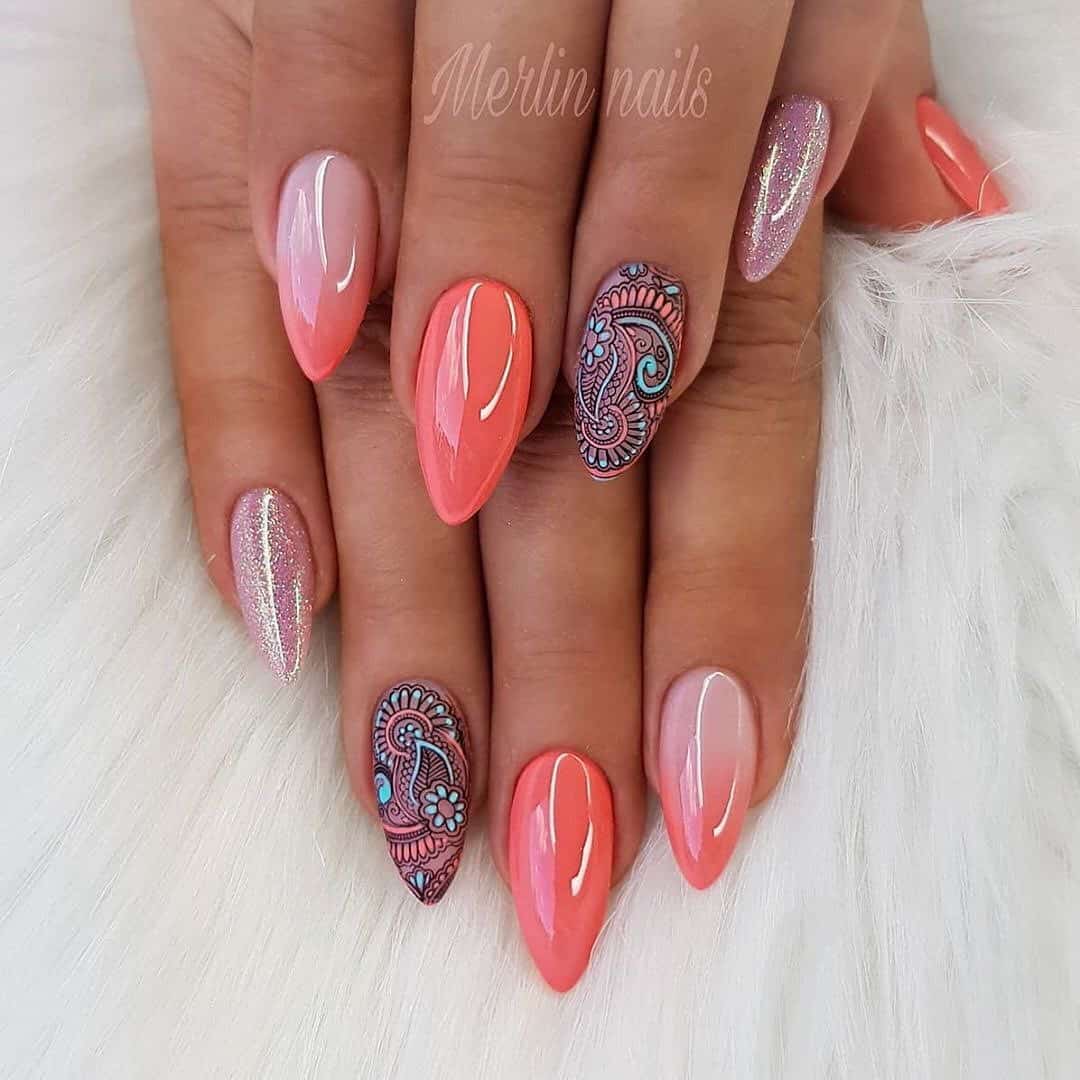 Valentine's Day is usually depicted with hearts, kisses, lips, and love messages, but this idea takes a different route with a paisley print design. Since paisley is a busy pattern, you might want to use this stencil on one or two nails only.
The rest of the nails can be painted to match the color of your outfit or to pick out the accents from the paisley print. Ombre, glitter, or velvet, this design can be used with all kinds of nail varnish finishes.
17. Metallic Gold and Glitter Nails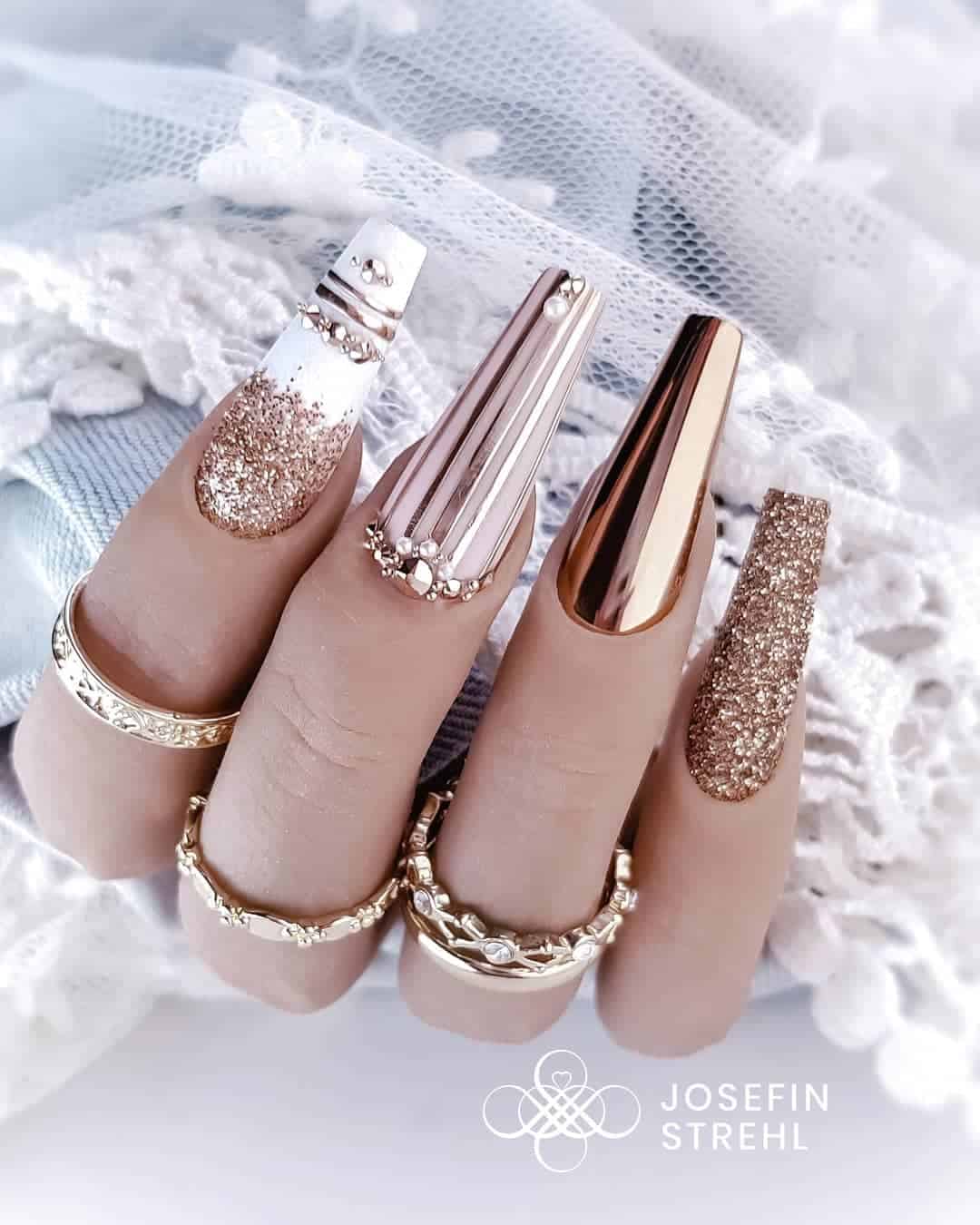 This idea incorporates a chrome finish, a gloss finish, and a glitter finish, all in golden hues for different fingers. A French tip, strategically placed nail stones, and lots of midi rings round up this look. The glitter dust compliments the gloss finish nails, and the stones add to the sparkle of the golden base while the French tip provides a contrast that balances all the sparkle.
18. Pearls and Polka Dots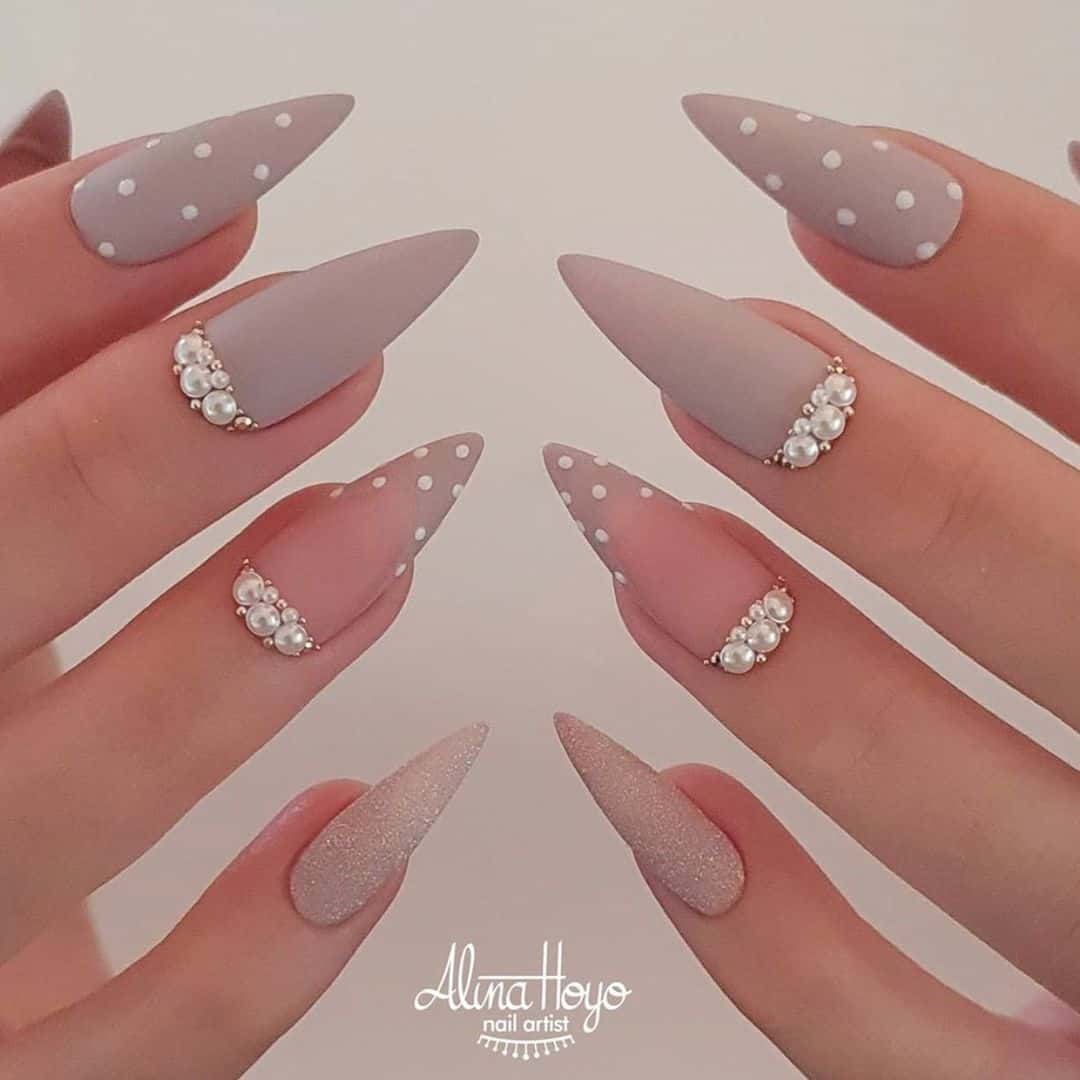 Start with matte finish ombre nails in pastel pink and grey tones. You can go for other colors as long as the ombre shades do not clash. Now apply polka dots to the tip of a few nails. Glitter up one and apply pearls to the nail beds of the rest. Flaunt this unique, understated, and elegant look with a chic suit and some pearl jewelry.
19. Ruby Gemstone Nails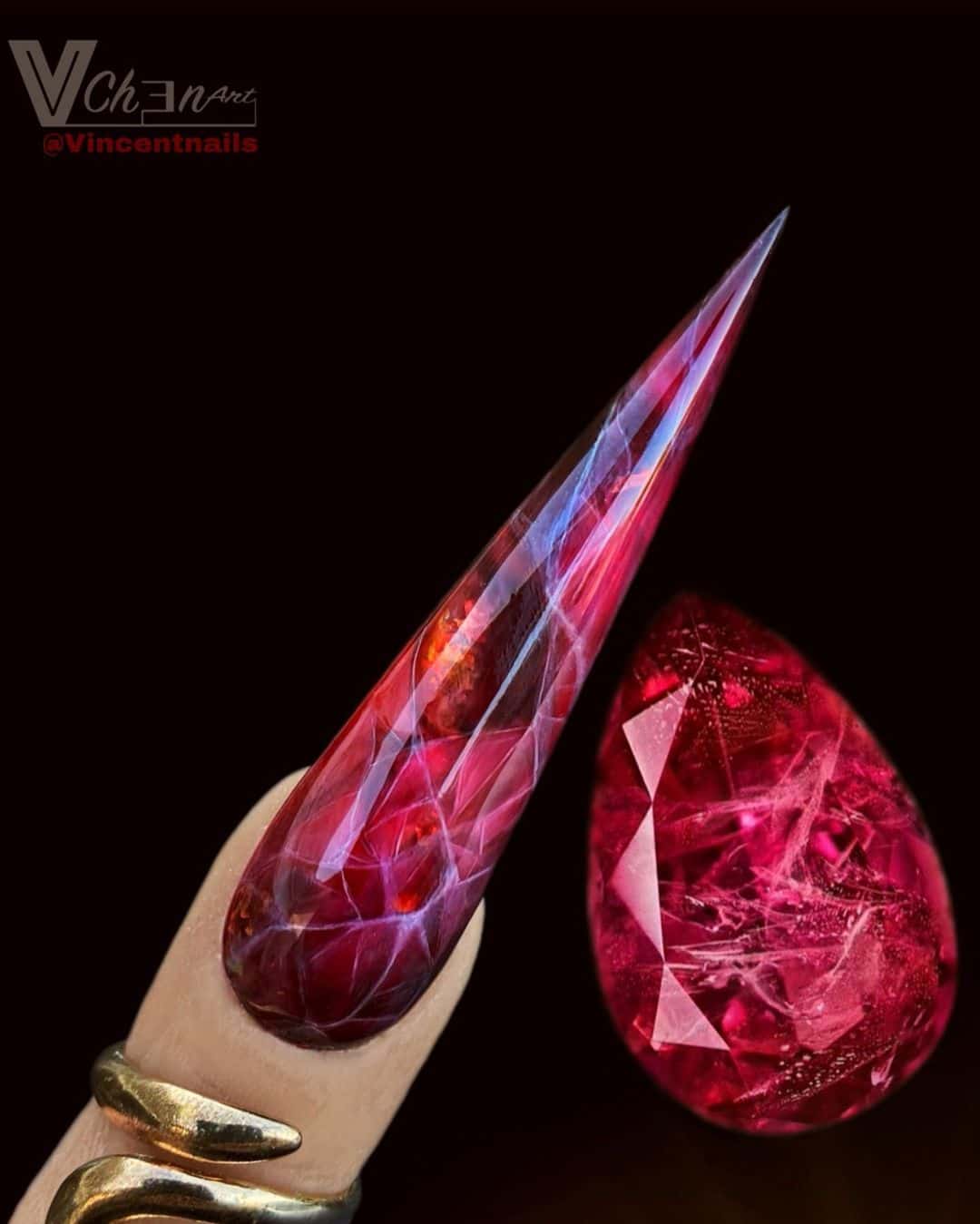 Instead of going for red bling for your fingers, turn your nails into red bling. This nail art technique uses various shades of red, layers of lacquer, and application techniques to turn your nails into looking like well-cut ruby stones. You can use this technique to mimic the look of any gemstone you like. Pair this look with lots of midi rings to turn your digits into animated gemstones.
20. Golden Tipped Nails With Glitter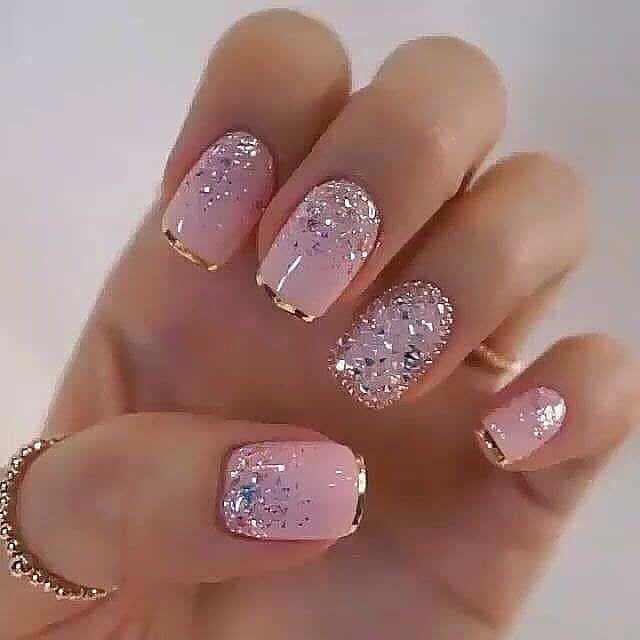 This idea is a different take on the French manicure technique. Use any color of your choice as the base – red, pink, or purple as this pertains to Valentine's Day. Now use a metallic color like gold, silver, copper, bronze, and so on in a glossy finish and apply it to the tips.
Dust the nail bed with a light sprinkling of glitter in the same shade as the tips. You can also change it up by doing one or two full nails up in glitter. Apply a clear coat to set in the design with a clear sheen. Voila! You're ready to rock your Valentine's date.
21. Gothic Black and Red Nails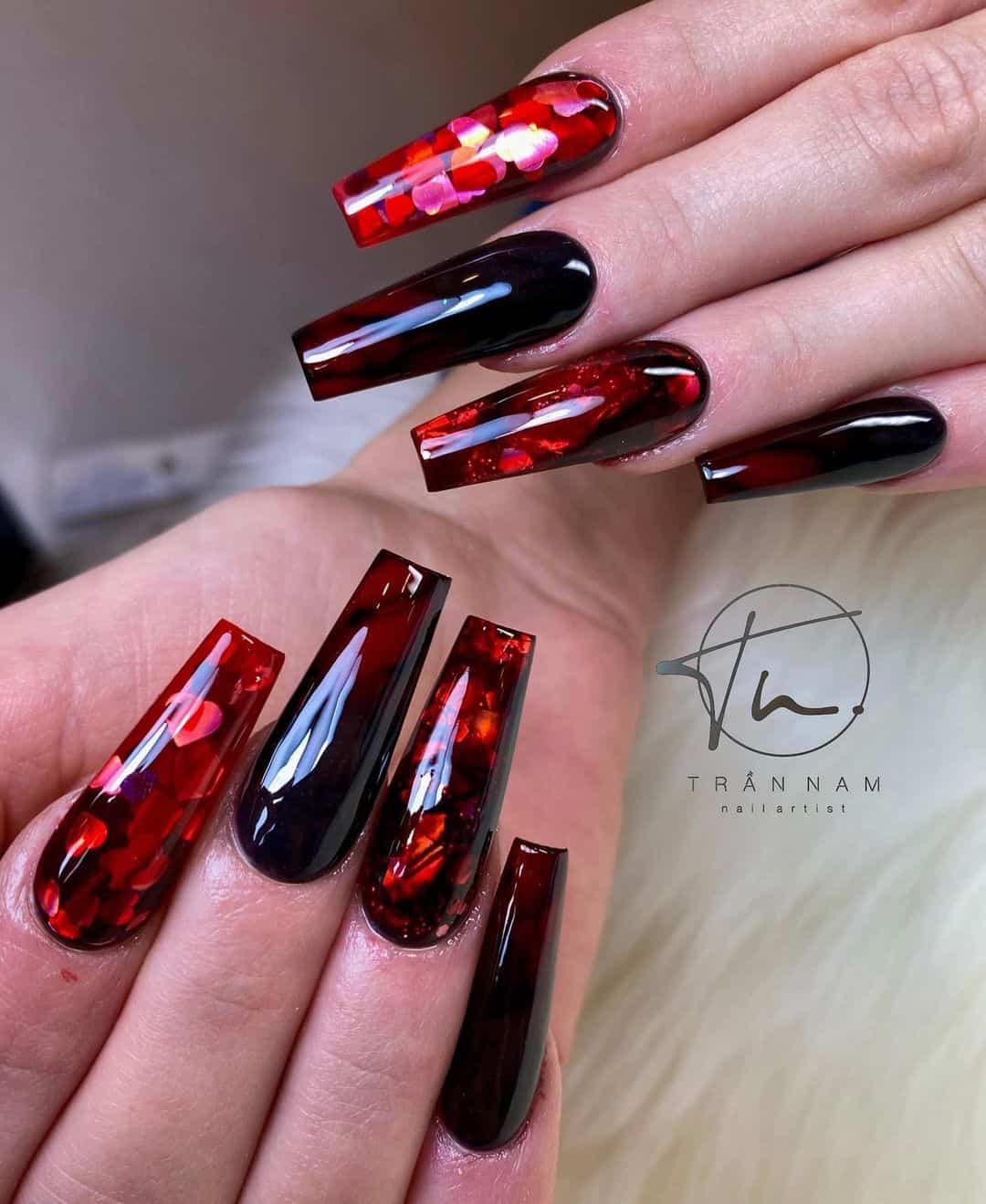 This is a classic goth themed nail art idea. Black and red are the prime colors used to create gothic art. You can buy these acrylics and apply them directly. There's no going wrong with this basic concept. To add that romantic touch, turn a few of the red splotches into mini hearts.
22. Gold Flecked Flower Nails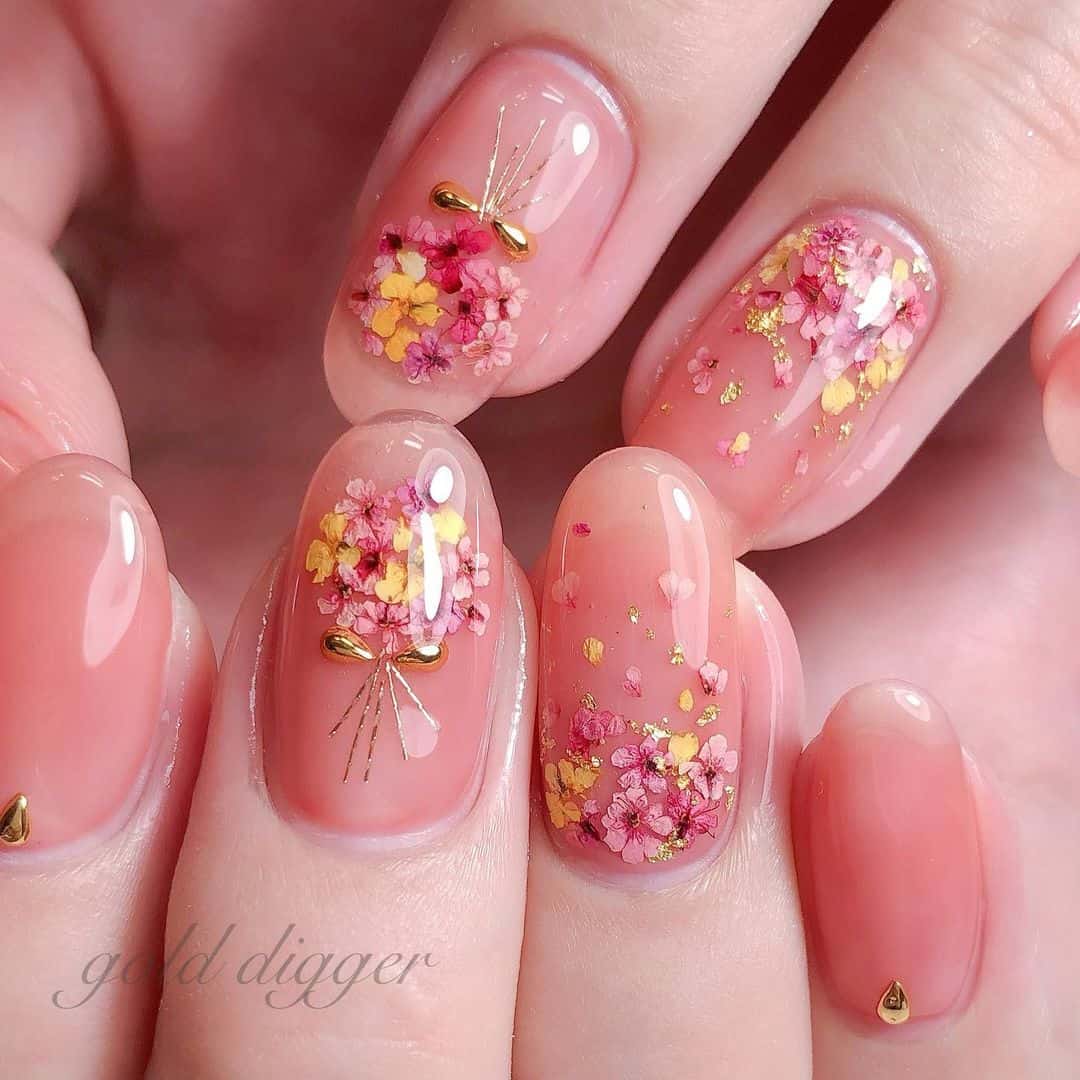 If you're looking for really cute nails with intricate details, this floral bouquet design should appeal to your senses. Choose a neutral or an elegant shade of coral for the base. Draw miniature flowers on a few fingers and bouquets on others. Add golden flecks to these flowers and a golden bow to the bouquet. Settle the design with a clear coat and you're ready to rock your summer floral bouquet nail art for Valentine's Day.
23. Valentine's Butterfly Nails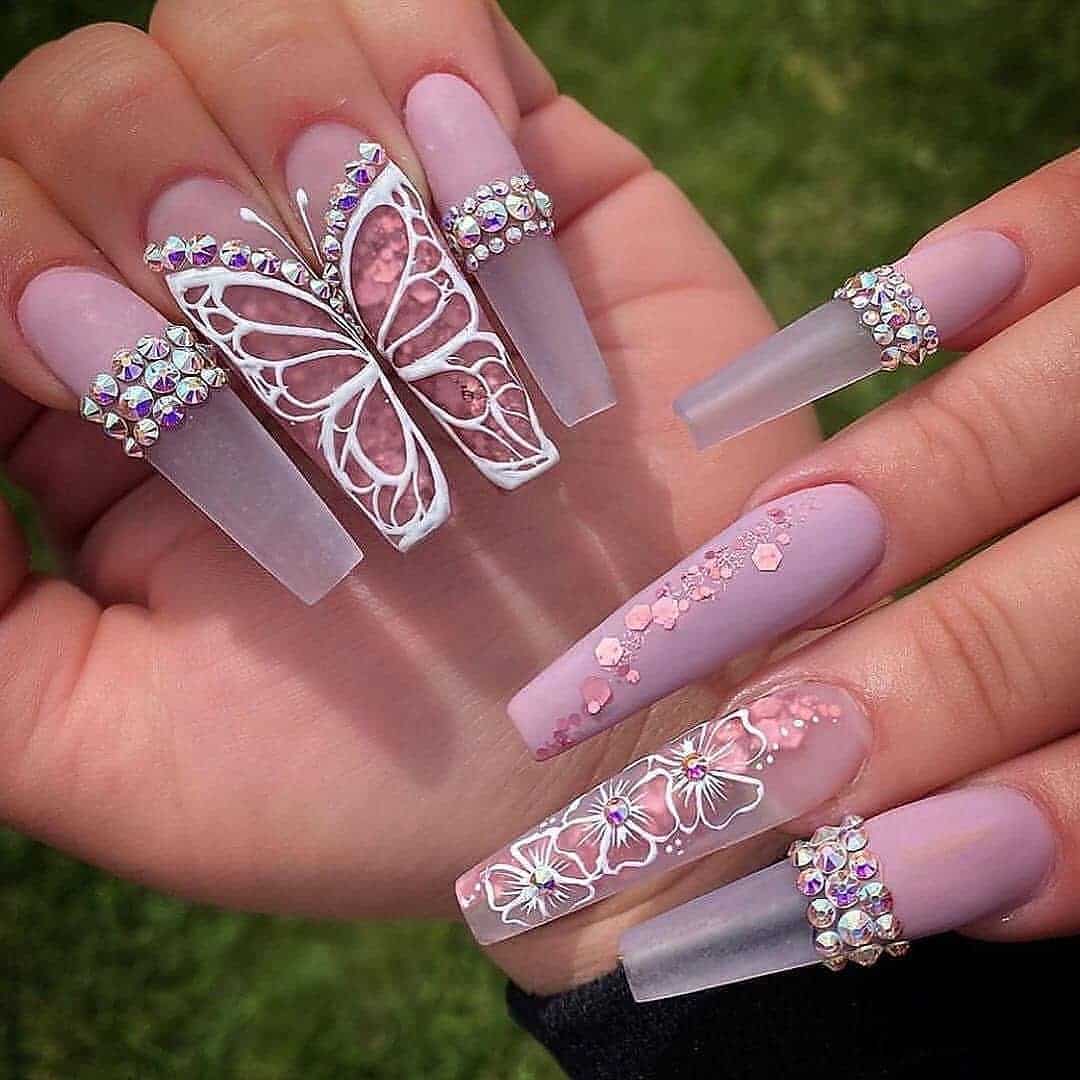 This concept explores the idea of creating a nail art piece as a whole and treating all five fingers as a continuous canvas. Instead of going for different designs on each fingernail, one composite design is spread across all the nails.
When looked at separately, the design looks like a random set of nails with a theme, but when looked at as a whole, a pattern emerges that brings the design together. In this image, the nails have a butterfly pattern when looked at together. You can choose to draw any design of your liking if you are good at it.
24. Bold Valentine's Day Nails With Crystals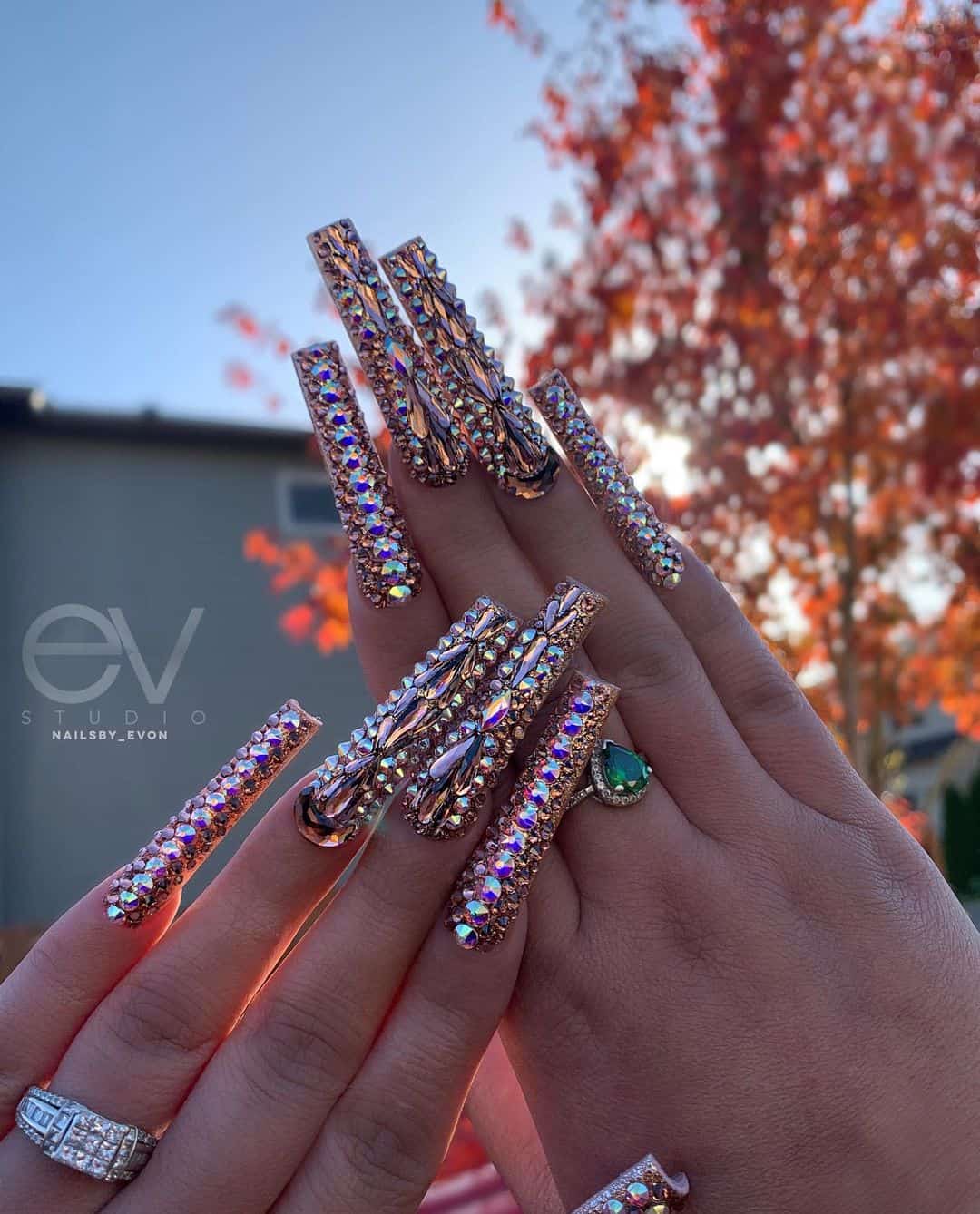 What would happen if you were to go all out on the ice for your nails? Like, from the nail bed to the tip, crystals all over, with no base showing through? Why not try it? This would be a very expensive look, as it requires numerous crystals in different sizes.
You can create a monochromatic look as shown in this image, or go for a two-toned or multi-colored look by using crystals in different colors. We think this single colored look is the way to go, esp for Valentine's Day.
25. Mix & Match Valentine's Day Nails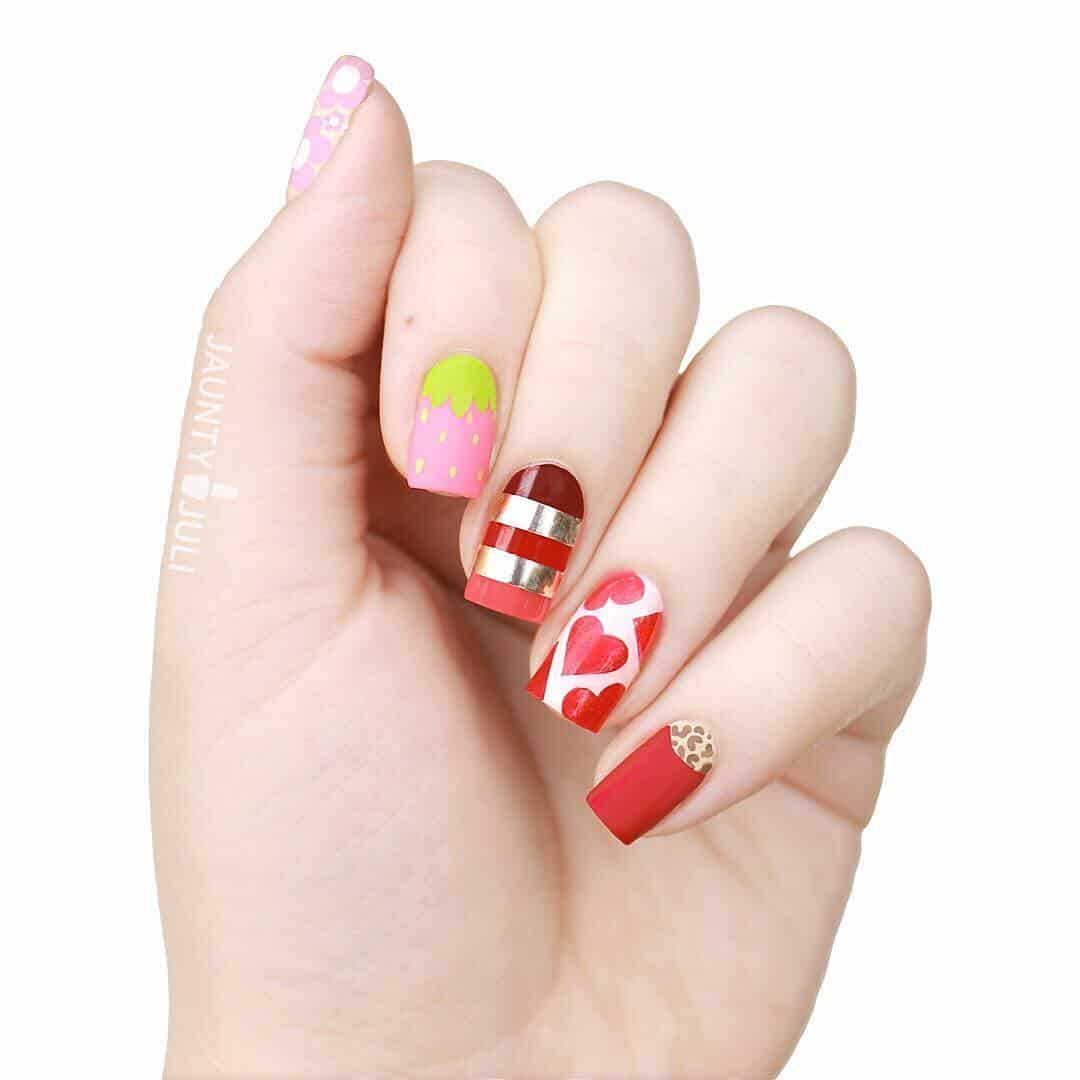 Why go for one design when you can do up all 5 nails differently while still sticking to Valentine's Day theme? Here's a look at how you can mix and match different patterns like stripes, hearts, strawberries, deep reds, animal prints, and golden accents to create unique Valentine's Day nail art.
26. Valentine's Day Chain of Hearts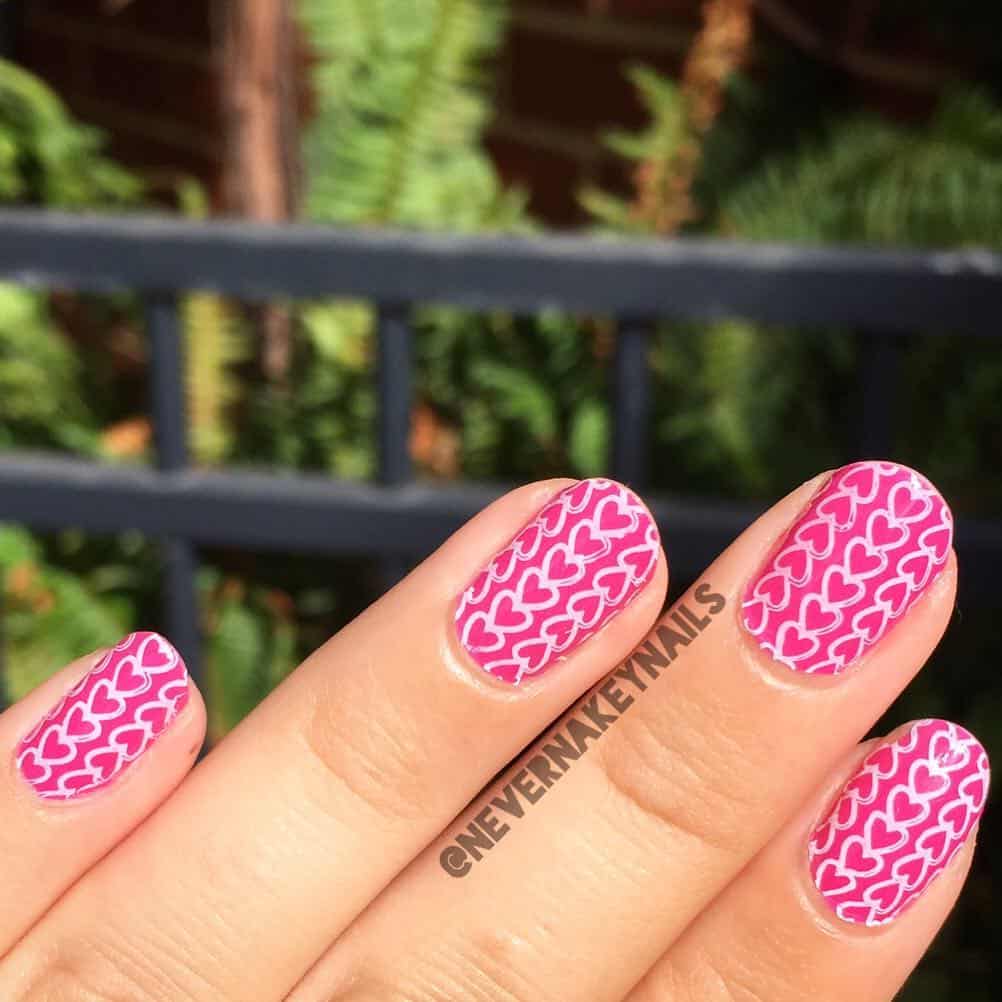 What better way to signify strong bonds of love than a chain of linked hearts? This will be a precision painting job but requires only two nail colors at the most and can be created on a very light budget. Just choose a color for the nail bed and another for drawing the hearts over them.
Alternate chains of hearts should be going in different directions to make the best use of space. Mix and match this pattern with a single central heart or stripes around the nail bed.
27. Valentine's Day Designer Logo Nails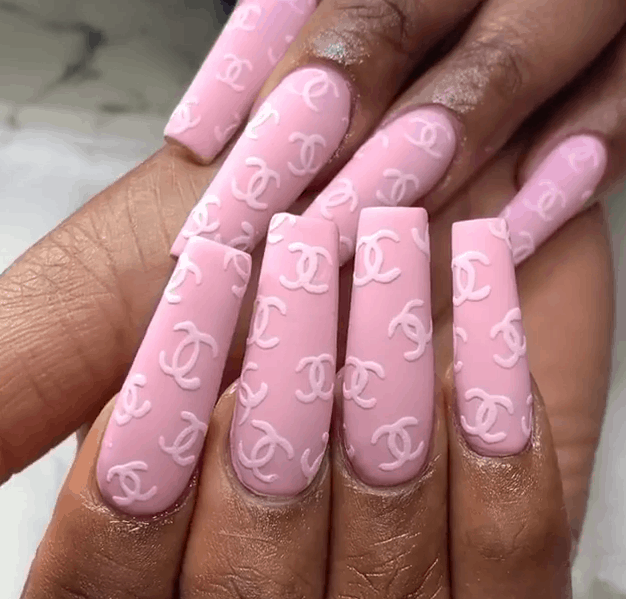 The idea here is to incorporate a well-known luxury brand's logo in your nail art. Choose a base color in matte finish so the logo that's painted on with a finer brush stands out. Now use a fine brush to draw the logo of your favorite brand – like Chanel as shown in this picture, LV, or Gucci. You can use stencils for this purpose if you aren't skilled at miniature drawing.
28. Kawaii Candy Colored Nails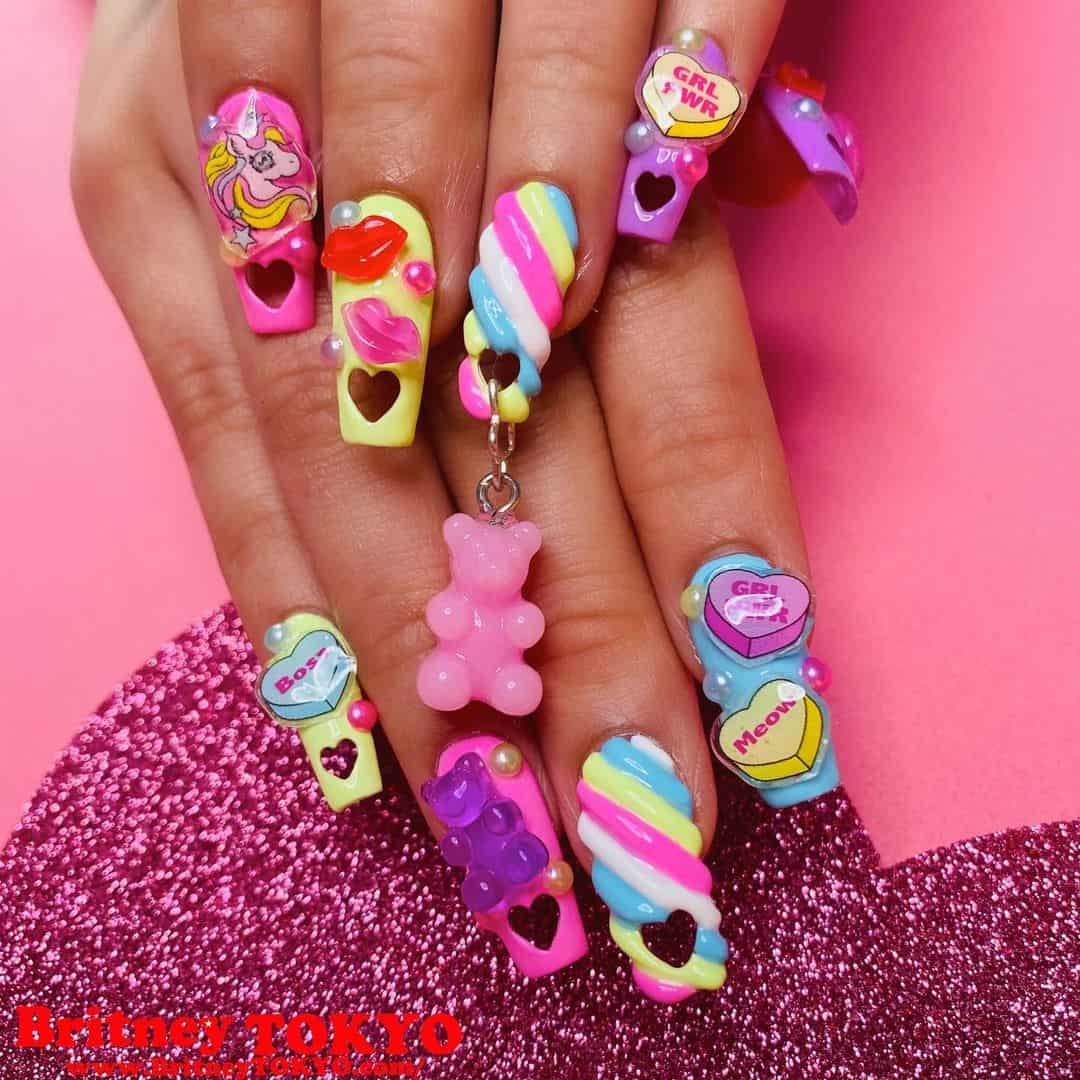 These aren't easy DIY nails, so you'll likely have to go to a professional salon and pay top dollar to get this look. However, if you are an artist who likes a challenge, you can attempt this gel nail look in candy colors. The tip all are finished with hearts and nail accessories that aren't easy to carry.
29. Love Letters Nails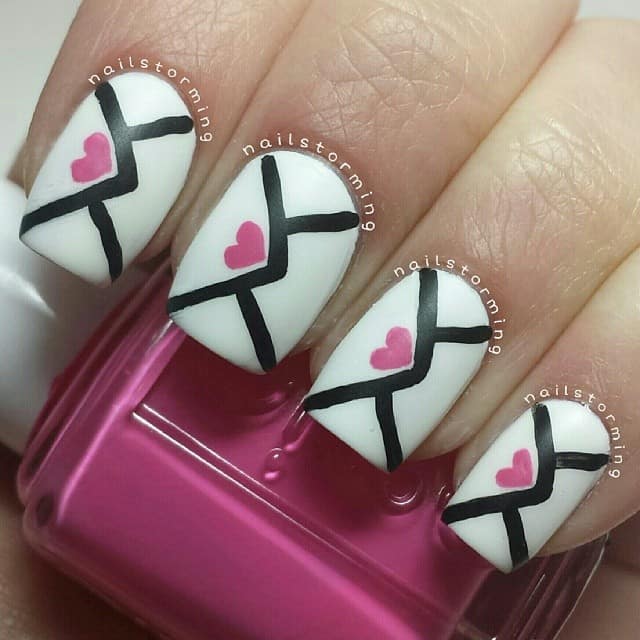 You're already aware of the idea of spelling out L.O.V.E. on your nails, so we aren't going to add that age-old idea to our list. But you can indicate that you're waiting for a special message by drawing closed envelopes sealed with hearts on your nails for Valentine's day. You can use your nails to tell your special someone about what your stance is regarding the relationship and your expectations going forward.
30. Gothic Lace Heart Nails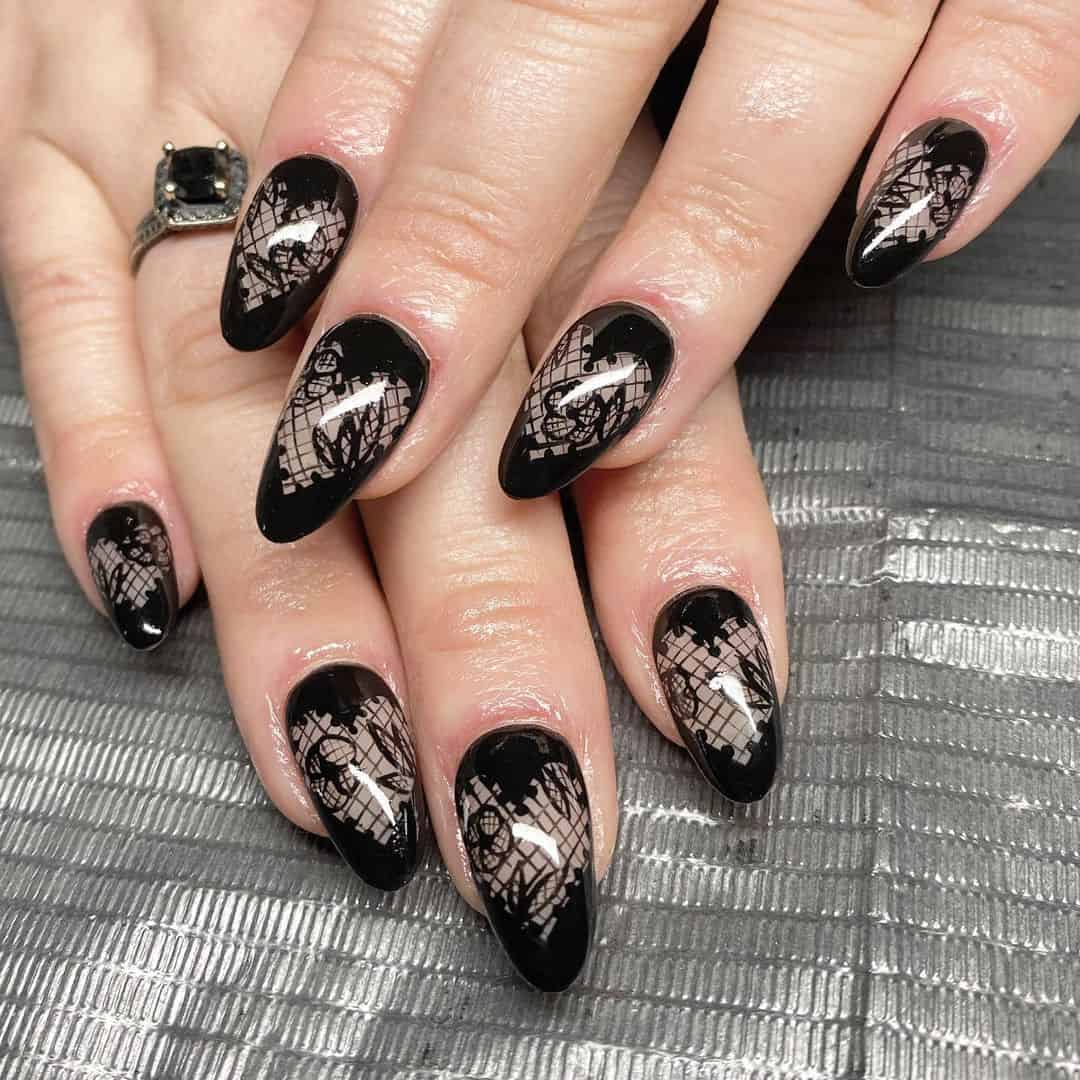 You've already seen a sample of cute latticed hearts. This design goes in the opposite direction and uses black lace to signify your gothic leanings. This is another hand painting job that requires precision and skillful application. Obviously, press-on gothic nails are always available in the market if you aren't sure of your skills. Doing these nails with a deep red background will have an equally enchanting effect.
31. Jeweled Red Nails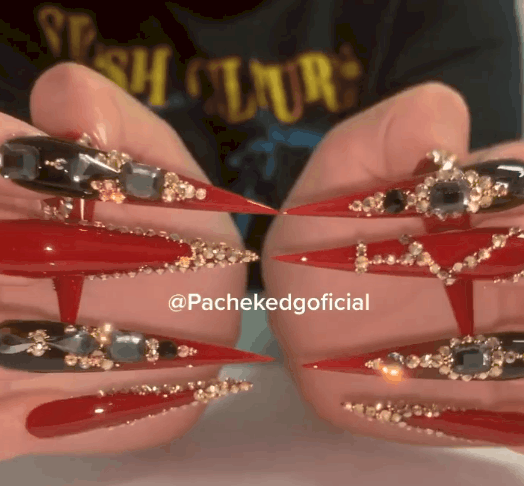 Why stick to stones in a single color if you can use nail bling in many colors to bring out the color of your dress or the color of your eyes. This look is created on a base of fiery red nails with pointed tips. Nail stones in various sizes, shapes, and colors have been added strategically to give them the appearance of gemstone encrusted jewels.
Smaller stones surround the big ones like traditionally set precious gemstones. While the idea itself is quite simple, you can create your own unique jewelry design to customize this look.
32. Night Themed Purple Nails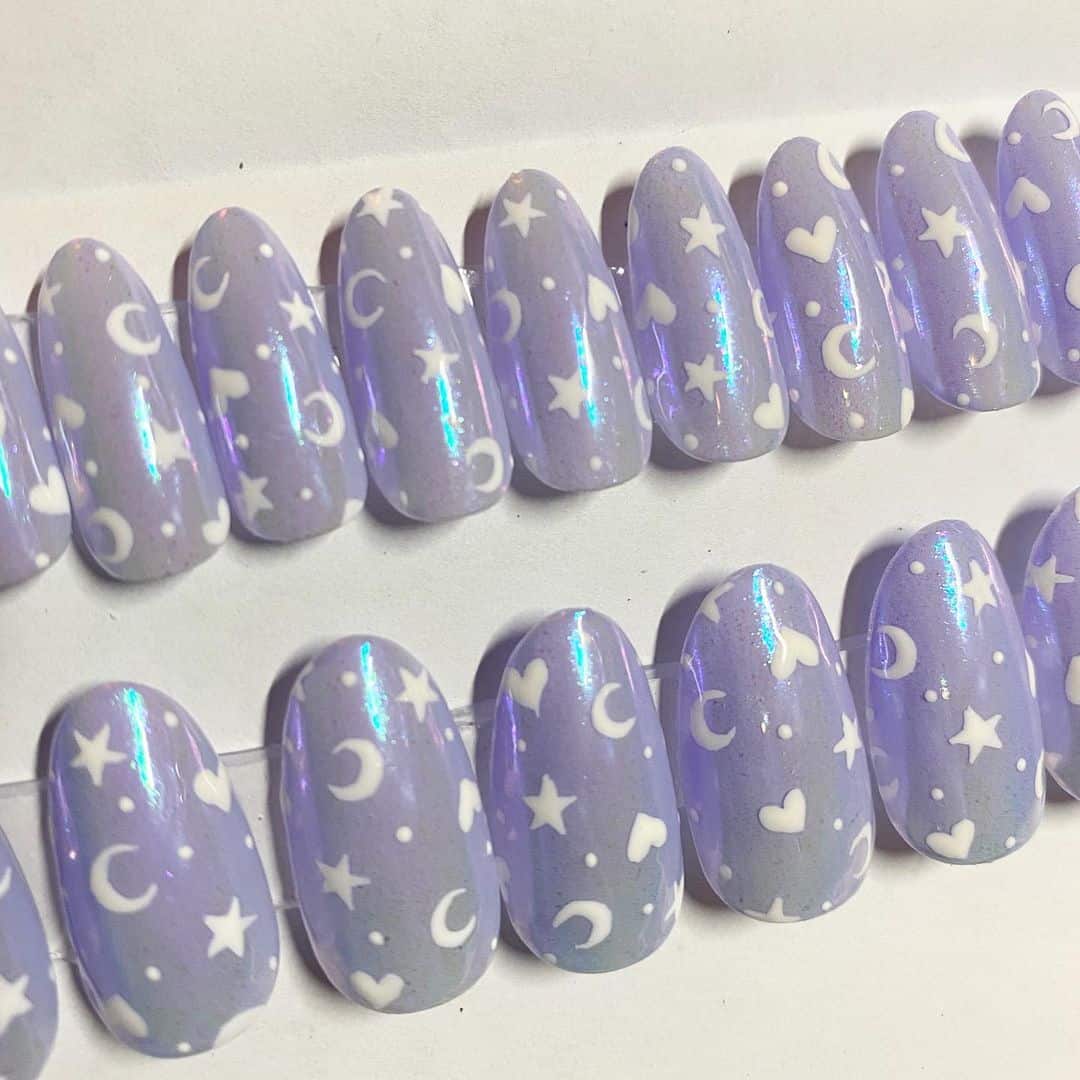 Pair the timeless symbol of love – hearts – with stars, crescents, and dots on a laidback lilac nail bed. You can add glitter flakes to create the starry night effect. Or, just stay with the matte finish to create an understated look.
Alternatively, you can draw this design on an iridescent background for a lit starry night look.
33. Floral Quartz Nails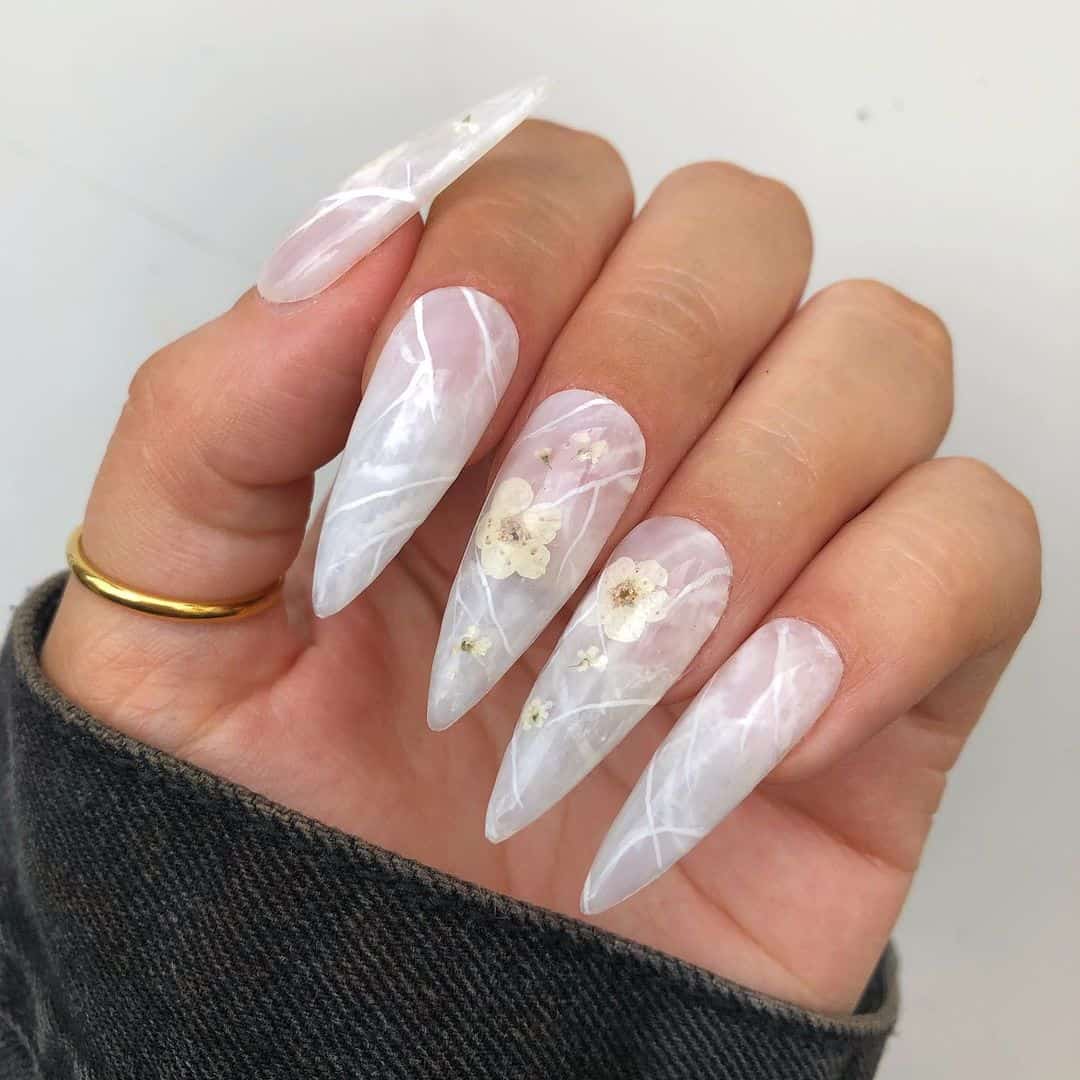 Quartz-finish nails mimic the crystal quartz in look and feel. You can add some spice to this in-demand look by incorporating white flowers. This requires precision painting and professional help might be in order to get them to look good for real.
34. Bubblegum Hearts Nail Art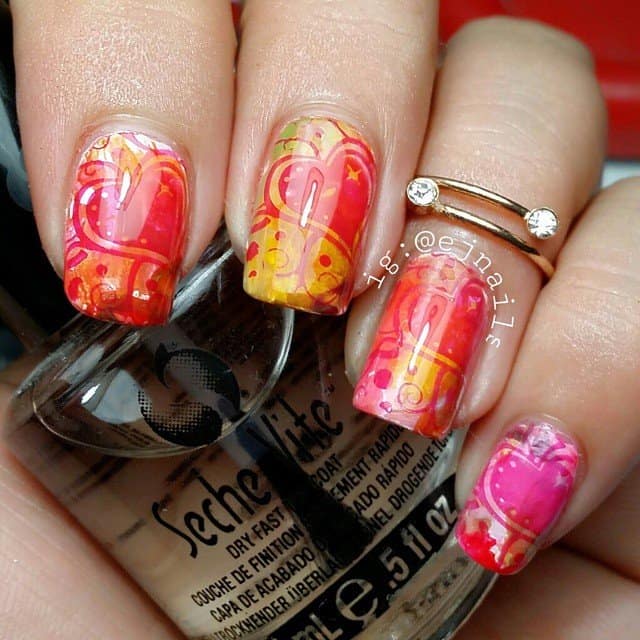 Grab the pink, red, and orange nail polishes in your closet and get down to work drawing bubblegum hearts. Once your hearts are in place, fill them in. Decorate the rest of the nails with warm summer colors like yellows and greens, and freestyle strokes and motifs to round up the peppy look.
35. Neon Heartbeat Nails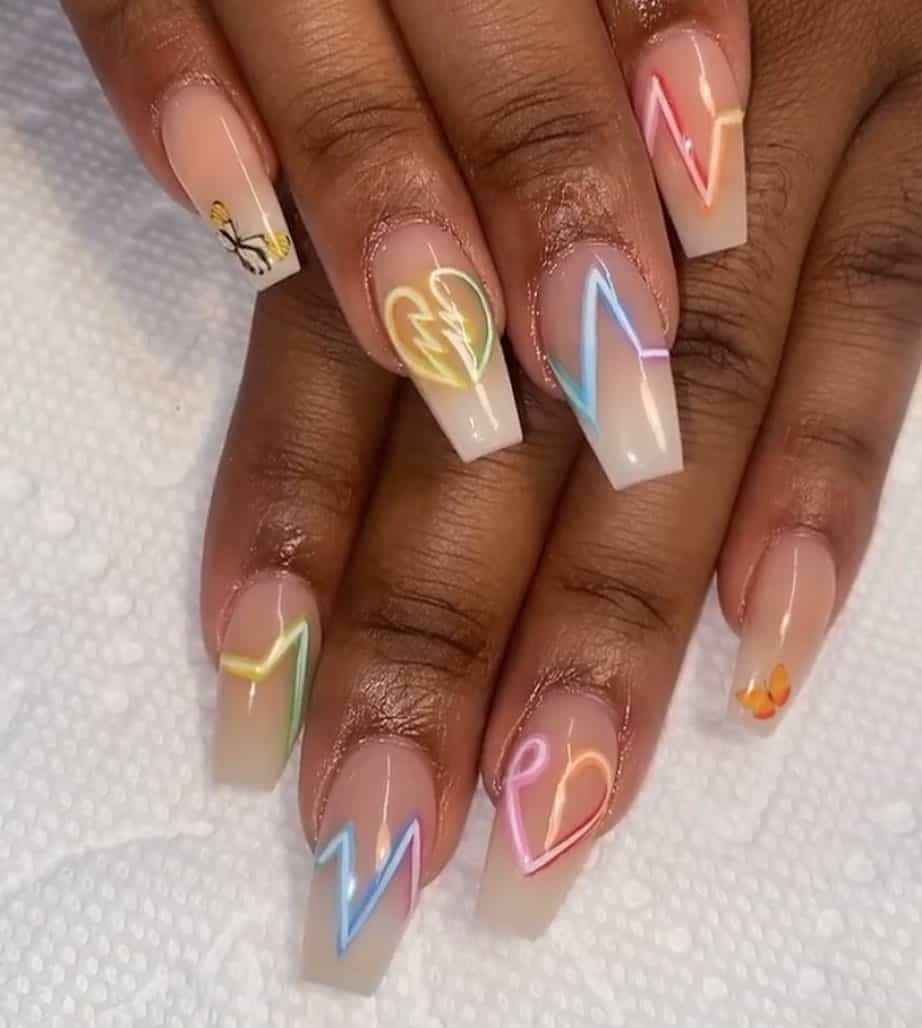 Paint your nails with symbolic heartbeat waves in neon colors to show your SO that your heart beats to their rhythm. Pair this motif with hearts, butterflies, and crosses. Give your heartbeat an edge by giving them shadows and making them appear 3D. An ombre background will bring out the shaded waves of the heartbeat even more starkly.
36. Tough Love Nails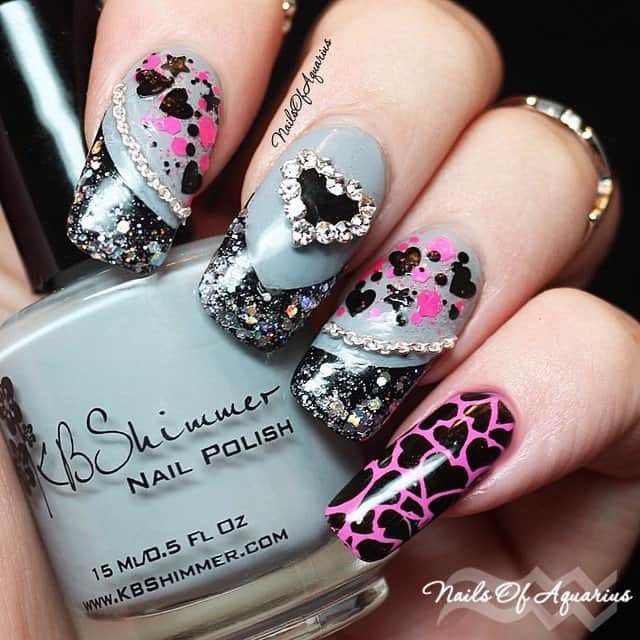 Here's another nail art concept that touches on the gothic and tough love theme with the use of black along with pinks. The black and grey varnishes provide a somber palette to frame the theme. Crystal hearts, glitter flakes, handpainted hearts, nail jewelry, and heart stickers finish the look with aplomb.
37. Leopard Spot Heart Nails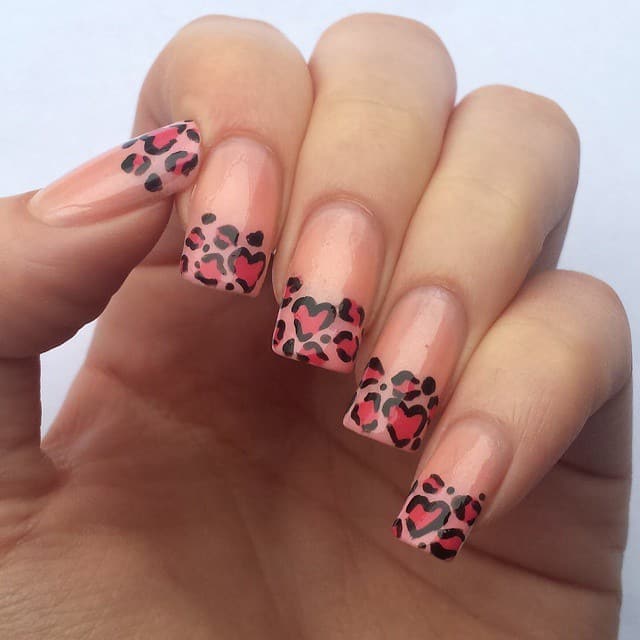 If you think you've seen all the different ways you can draw a heart in nail art, think again. Here's a cool depiction of hearts as leopard spots. While leopard spots usually appear like rosettes, this design shows them as hearts. You'll have to handpaint these spots and fill in the hearts with a color that contrasts with the nailbed varnish.
38. Valentine's Day Ocean Nails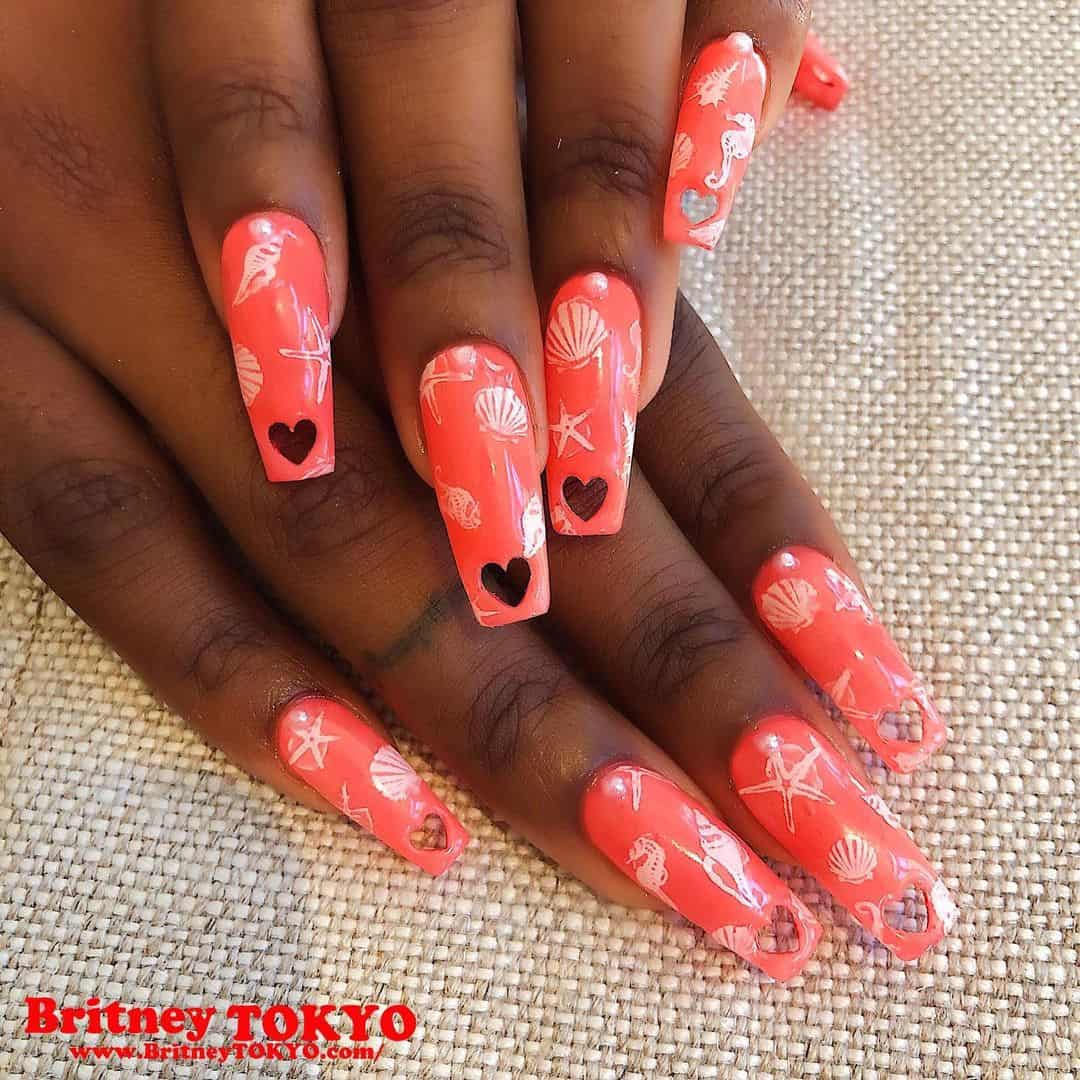 Use motifs like jellyfish, seahorses, anchors, seashells, starfish, and more along with prominent hearts on the tips of the nails. Creating this nail art in purple hues would be ideal. Make the hearts more prominent by doing them up in glitter, crystals, or contrasting colors.
39. Love at First Sight Nails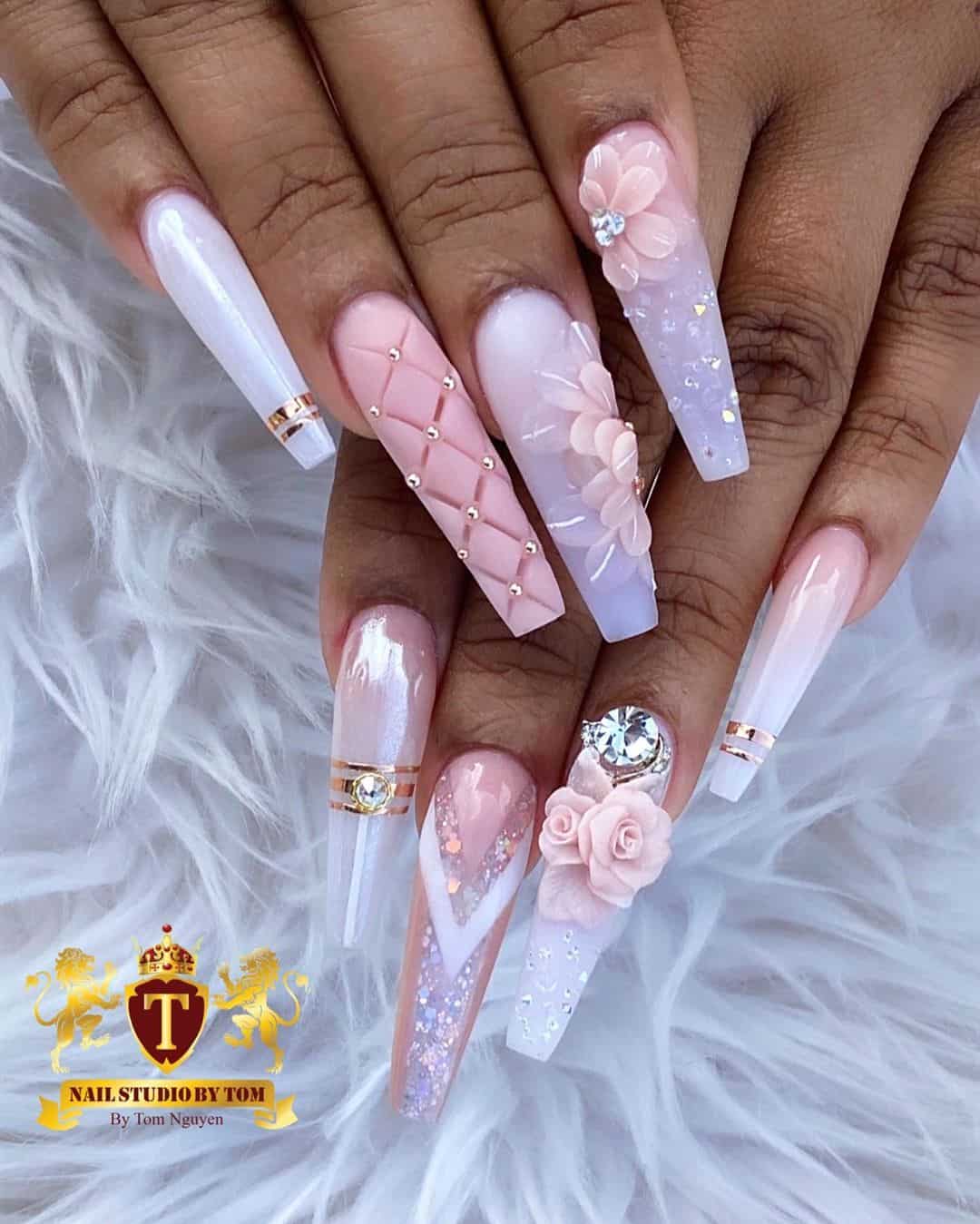 Take nail art to the next level with this idea that employs multiple layers of lacquer and different application techniques to create a collage of 3D nails that will have everyone doing a double-take. Make everyone fall in love with your nails at first sight with this unique 3D design that has flowers, painted on midi rings for the nails, some ice to bling out the look, ombre shading, and a quilted look to boot!
40. Gothic Lace Nail Art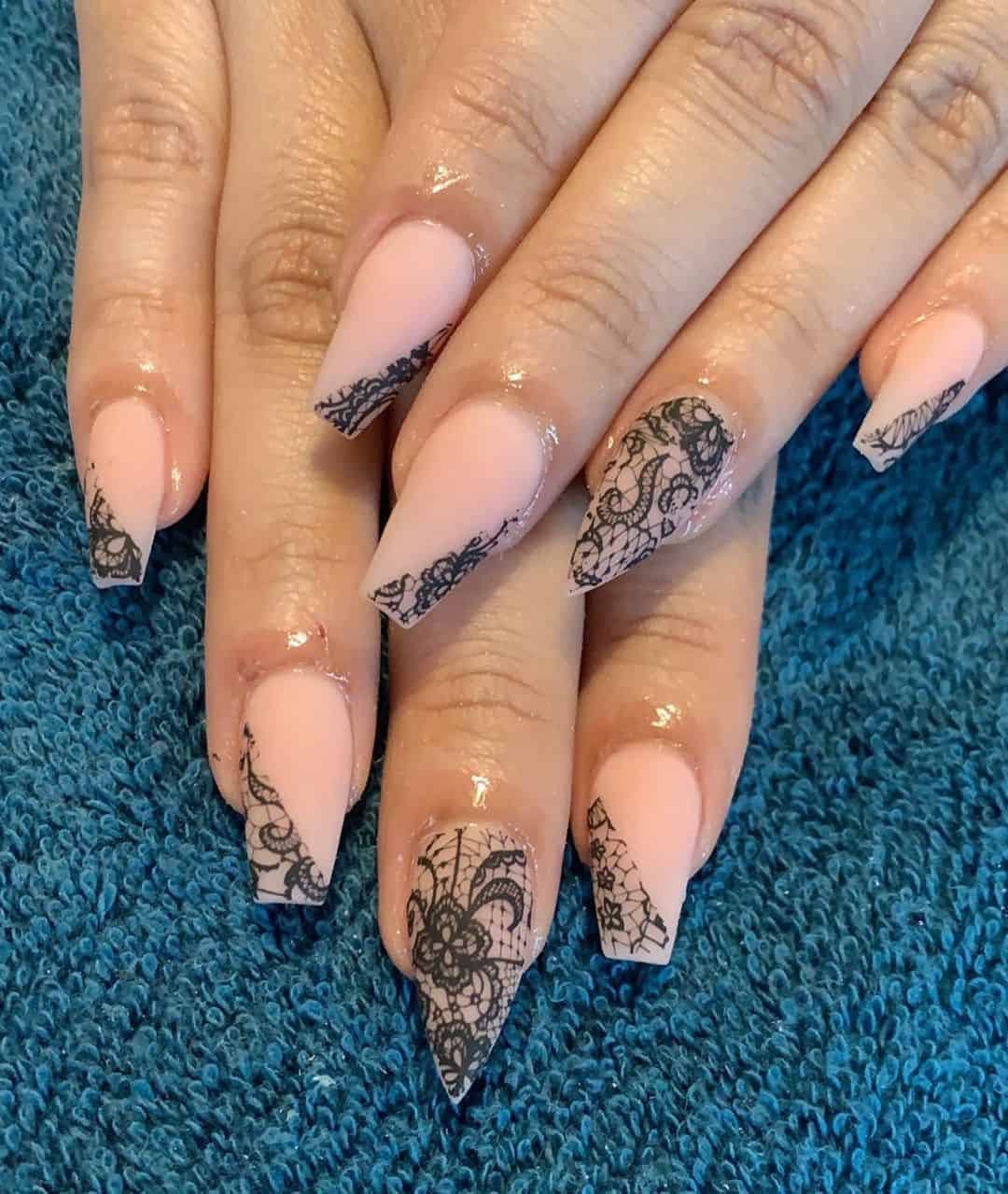 You can apply these intricate black lace layers over matte finish nails as well as gloss finish nails. You can choose to cover the entire nail with lace or only use it only a small portion. Apply the lace to the intended area, cut off the excess and seal with clear nail polish. It looks good with all shades of pink and red, and you can include black crystals in this look to add a bit of sparkle.
41. Candy Heart V-Cut Nails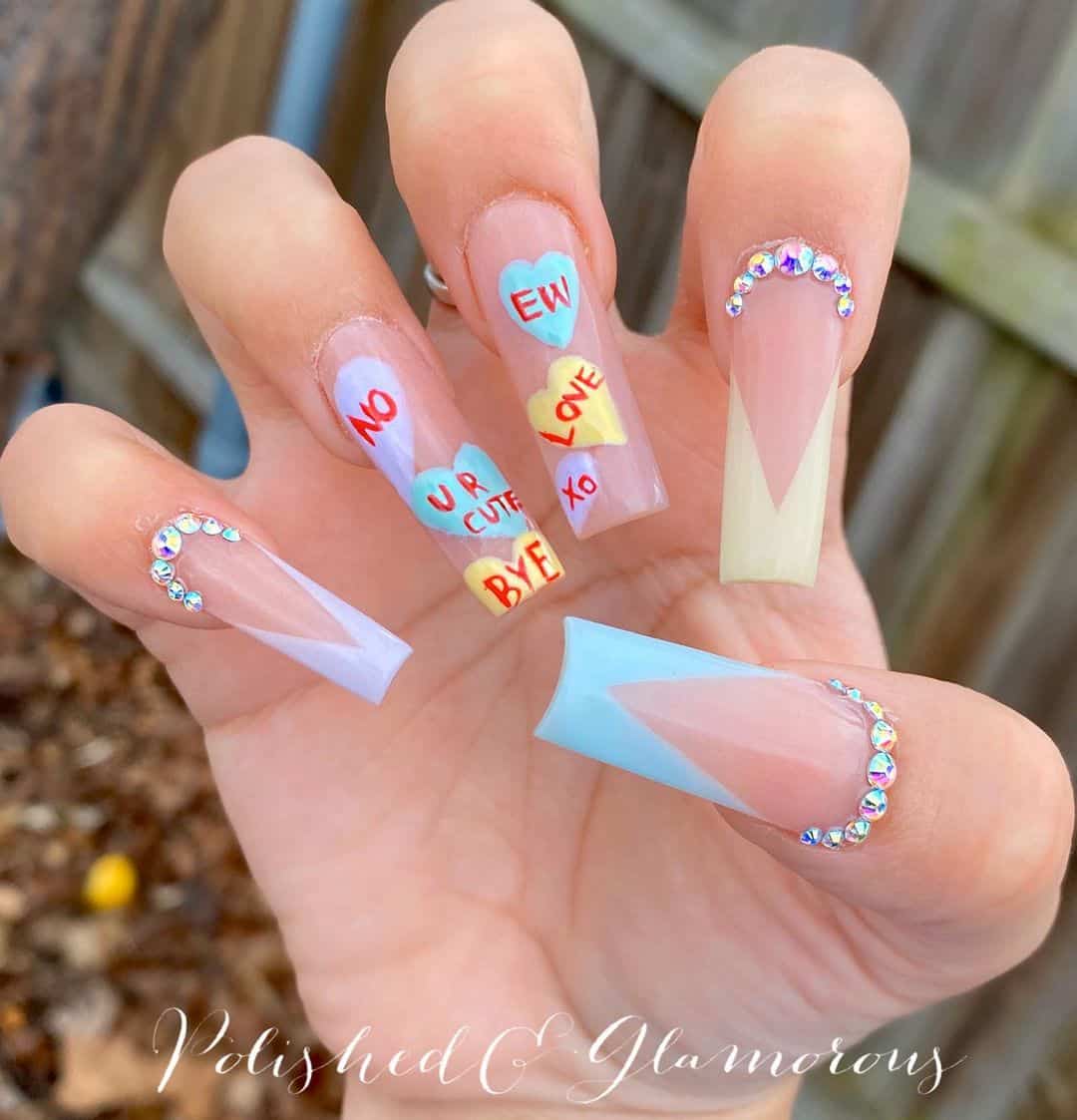 This is a quirky nail art idea that requires minimal effort. Use a candy-colored neutral base and then paint on a few small hearts in other candy colors. Writing cutesy messages will require a little bit of skill and precision. You can customize the message to your liking. This concept is cool for those who are single or hanging out with friends on Valentine's (or Galentine's) Day. The V-cut is a design concept where the tapering tips are painted in such a way as to make them look like sharp claw points.
42. Valentine's Day Newspaper Nails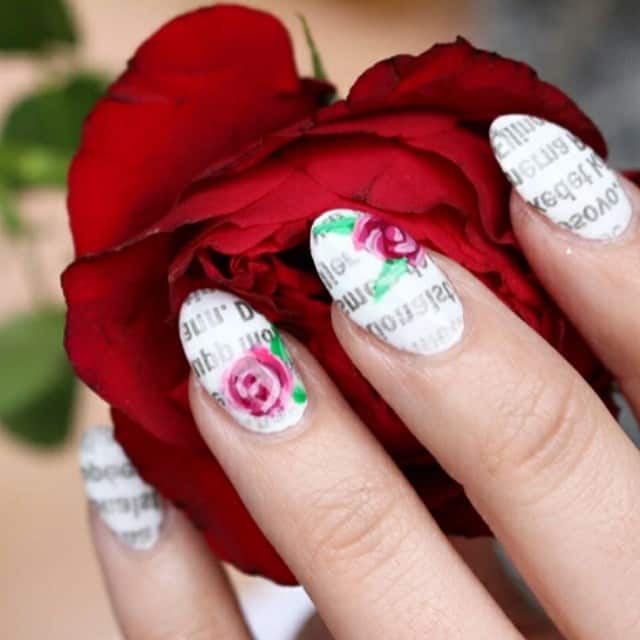 Are you an avid reader? Would you like to showcase that in your nail art? Well then we've got just the right concept for you. This idea uses newspaper print as the background for nail art. You can order this press-on applique online. Once the newspaper print base is in place, you can either draw or use another sticker to place the rose in the foreground. You can also use a heart motif instead of roses. Use the rose motif sparingly to create a balanced look.
43. Blinged-Out Valentine's Day Nails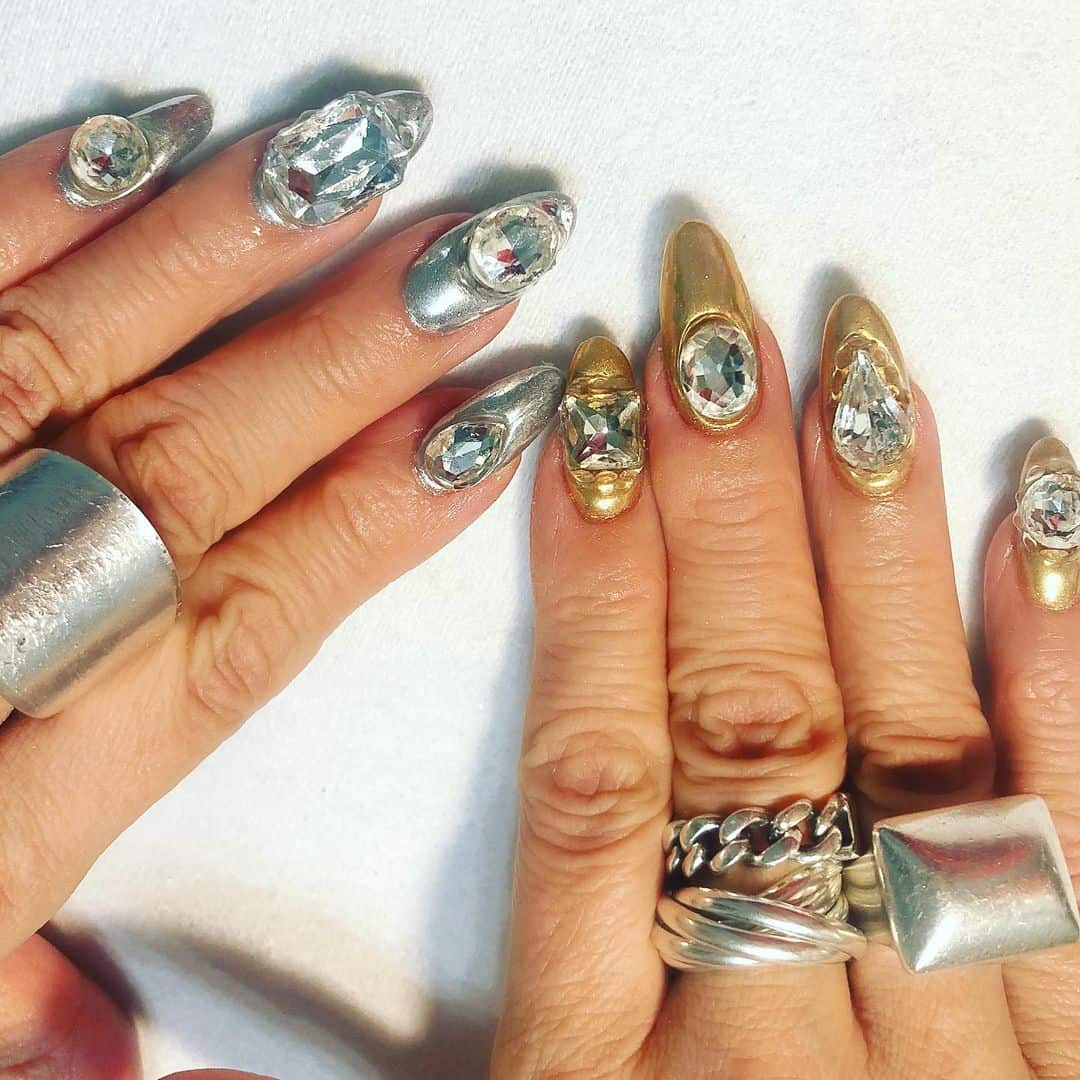 You've seen nail art ideas that use a lot of crystals to create a blinged out look from nail bed to the tips. But, this idea takes it to the next level by using big stones that cover the entire nail. One stone per nail and you have truly iced out fingers. Before applying the stones, you have to color your nails in a glossy metallic shade. Then add gold, silver, or sparkling white stones to finish the look.
Obviously, finding such huge stones is a bit of a reach so you can go for the biggest pieces you find, and then surround them with smaller ones to make them appear bigger in size.
44. Glitter Pastel Rainbow Nails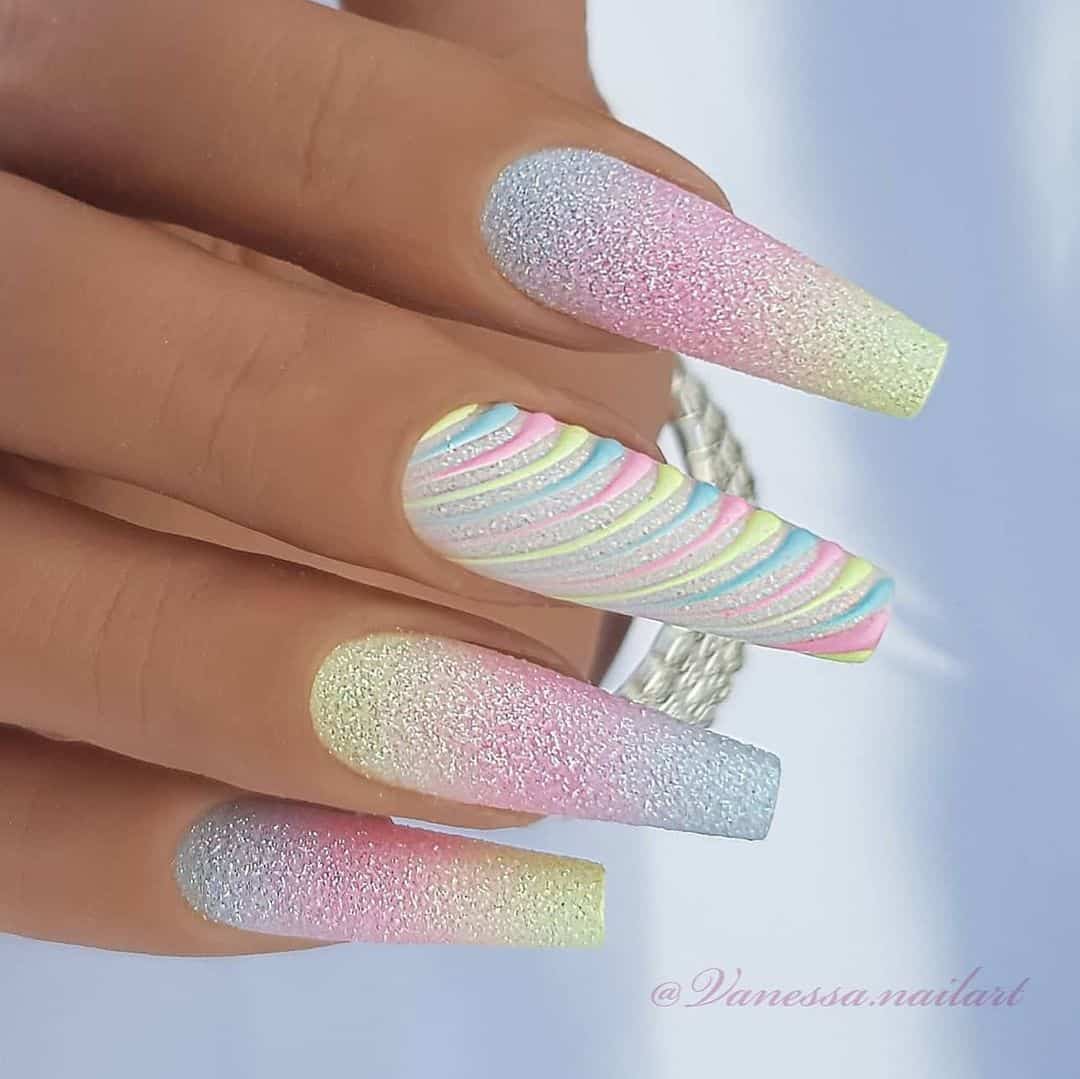 Take rainbow nail art to the next level by introducing glitter, 3D texture, and ombre shading to the design. Play with the order of the colors for different nails. Add a 3D gel design to one of the nails, and finish the look with a generous sprinkling of muted glitter sparkle.
If mute pastels aren't your style, you can create this look in more flamboyant colors and gold glitter as shown here.
45. Marsala Gold Valentine's Day Nails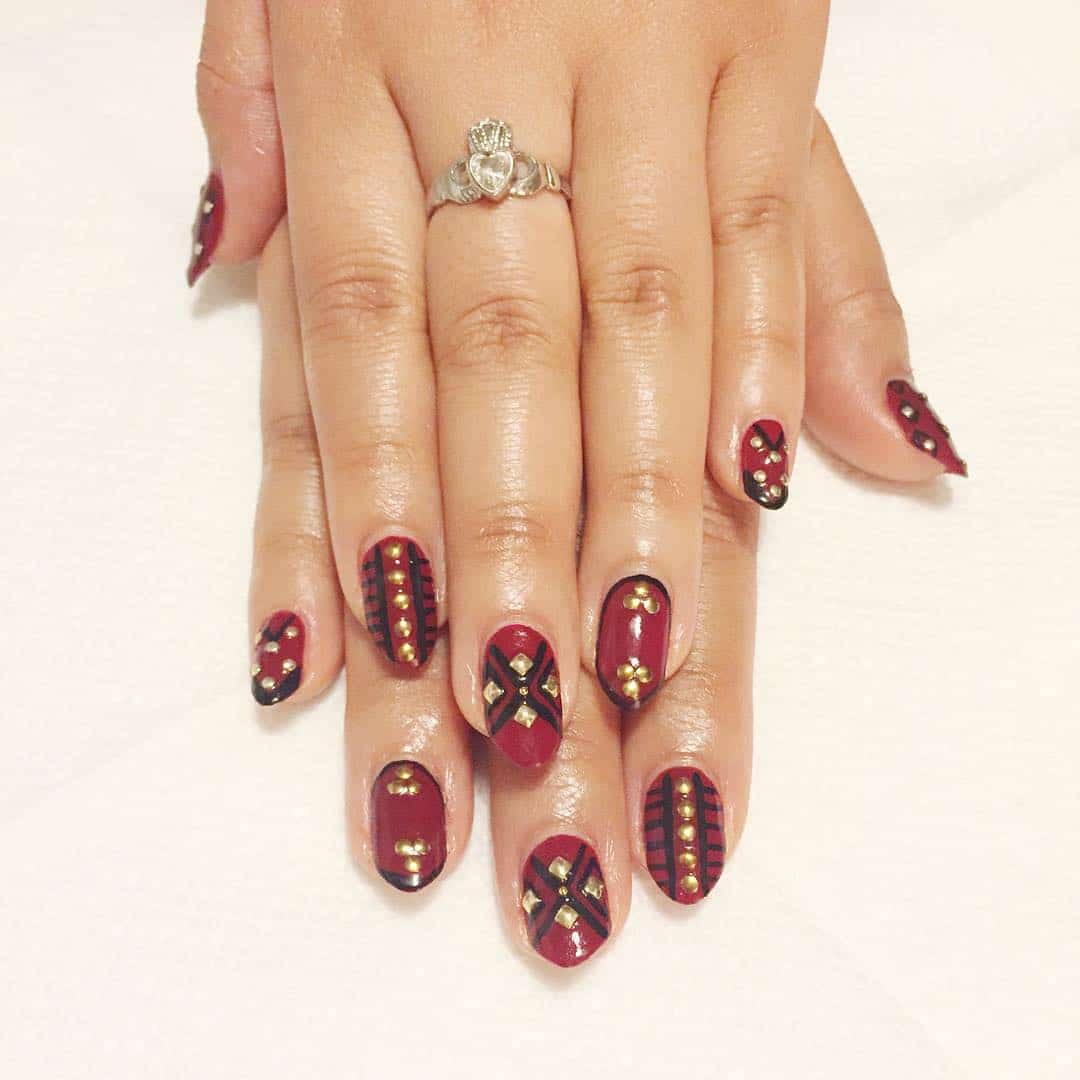 Marsala was a hot and happening color in haute couture circles until recently. This means the trickle down effect will ensure that it remains a hot and happening color for the regular public in the foreseeable future. So here's a nail art design that incorporates this color along with gold accents and black paint to create a very medieval royal couture look.
46. Red Glittery Valentine's Day Nails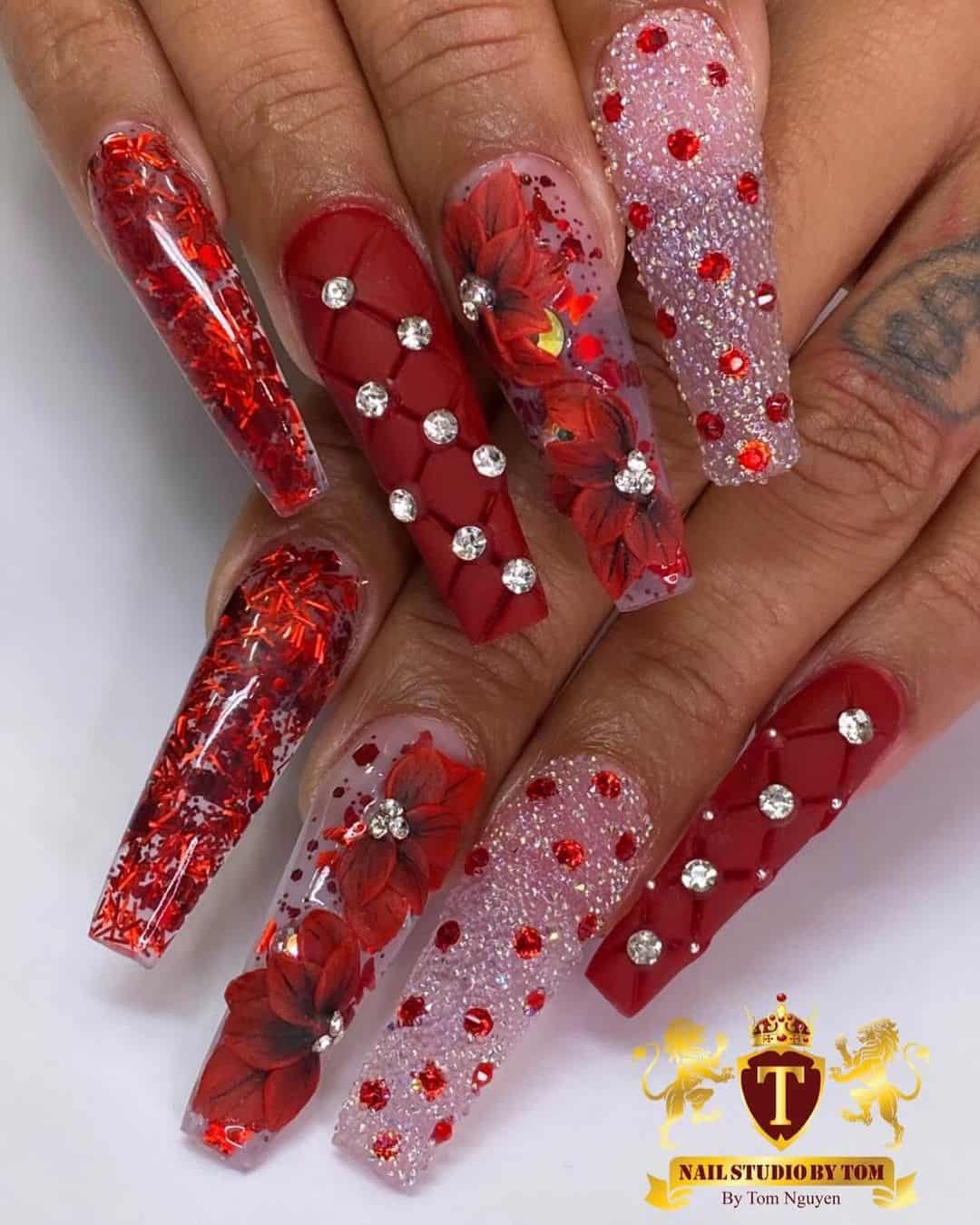 Go bold with some seriously iced out nails on a red base. But, why go for a boring old red base when you can go for red flowers, quartz red, and red ice on a pixie dust pink base. This look uses a lot of stones in different sizes to spice up the red Valentine's theme. The 3D finish of the nails is another reason why you'll stand apart from the crowd if you go for this manicure.
47. Abstract Valentine's Day Nails
In a sea of reds, pinks, and purples, this design incorporates a dash of blue to create abstract art for nails. Golden glitter accents used sparingly complete the look that is painted over a nude-colored base. Contrast is also provided by a dash of a darker shade of the nude used as the base. You don't have to stick to this exact pattern and can create your own abstract shape when applying this concept.
48. Fiery Valentine's Day Nails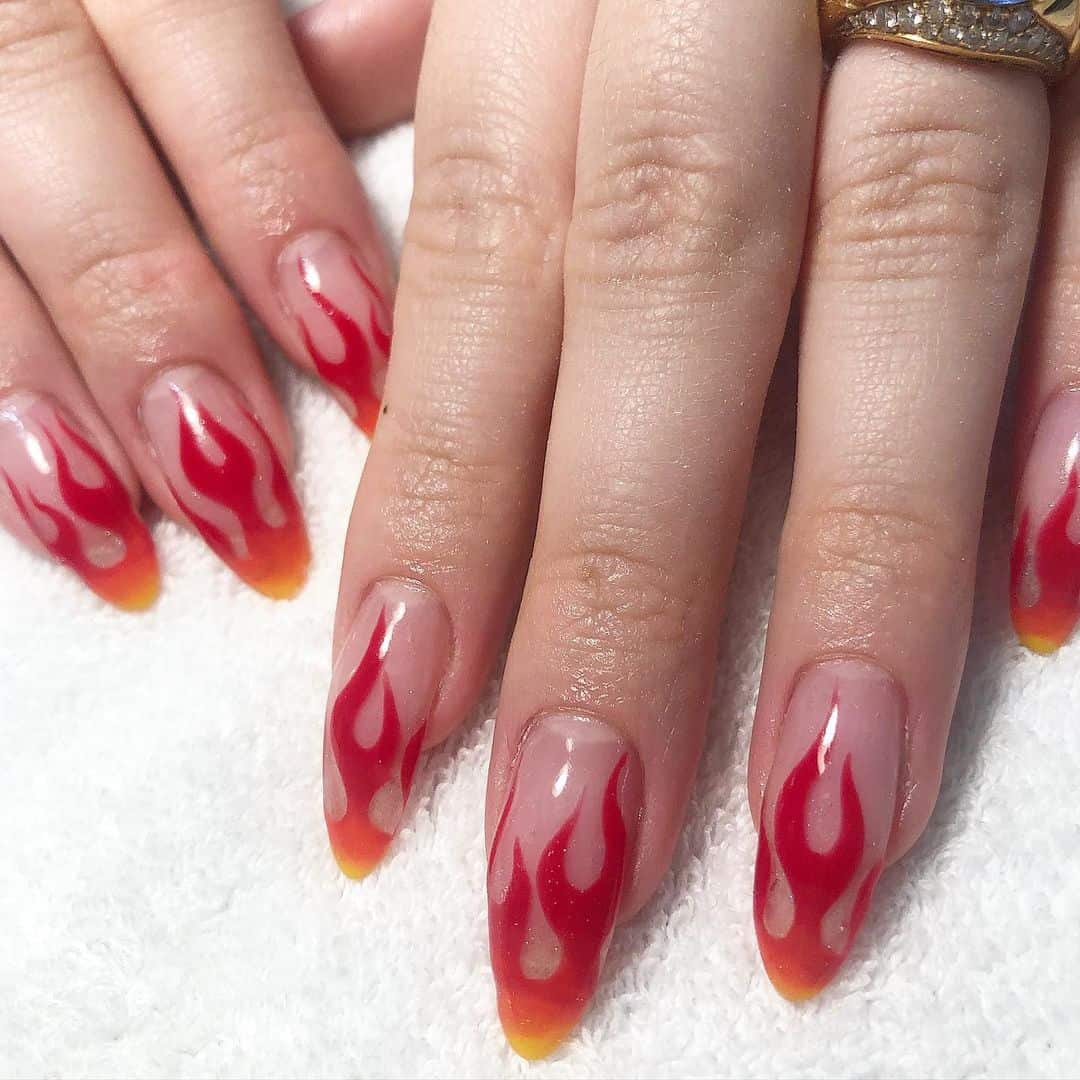 Showcase your nail art skills and burning desire by creating this fierce nail art that shows burning red embers originating from your tips. Use ombre shading techniques to get the right tone for the reds, orange, and yellows and create a flame that looks realistic. This design works best with nude-colored nail beds.
49. Valentine's Day BDSM Nails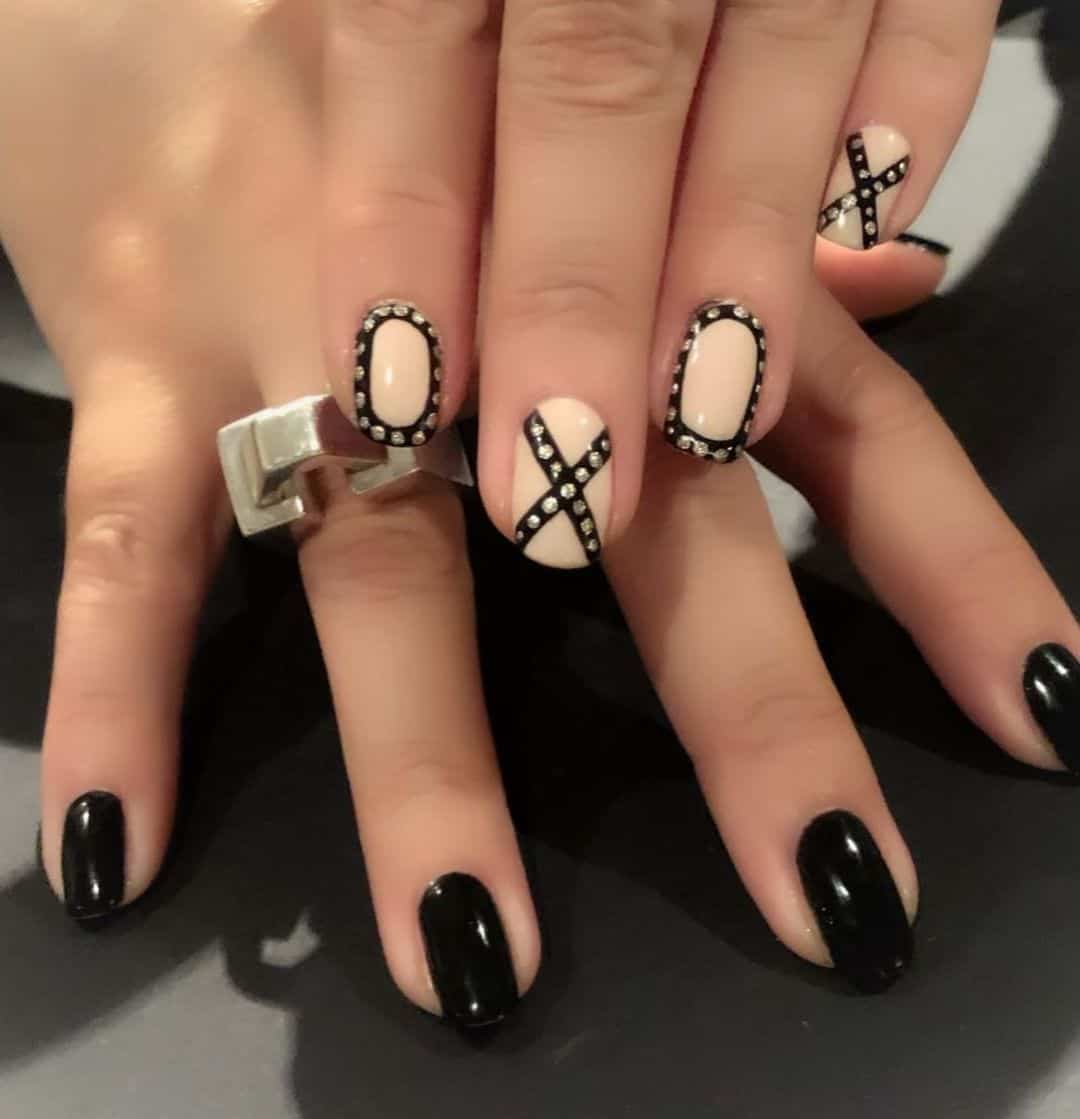 Show your kinky side with this discreetly BDSM-themed nail art. Instead of the regular old xoxo, here the Os frame your nails while the Xs look like crosses. Black on pink or red will highlight the theme clearly. Use glitter or stones to give the outlines the appearance of studded belts. You can repeat the theme for both hands, but we recommend that you go for a more subdued look for the other hand.
50. Geometric Valentine's Day Nails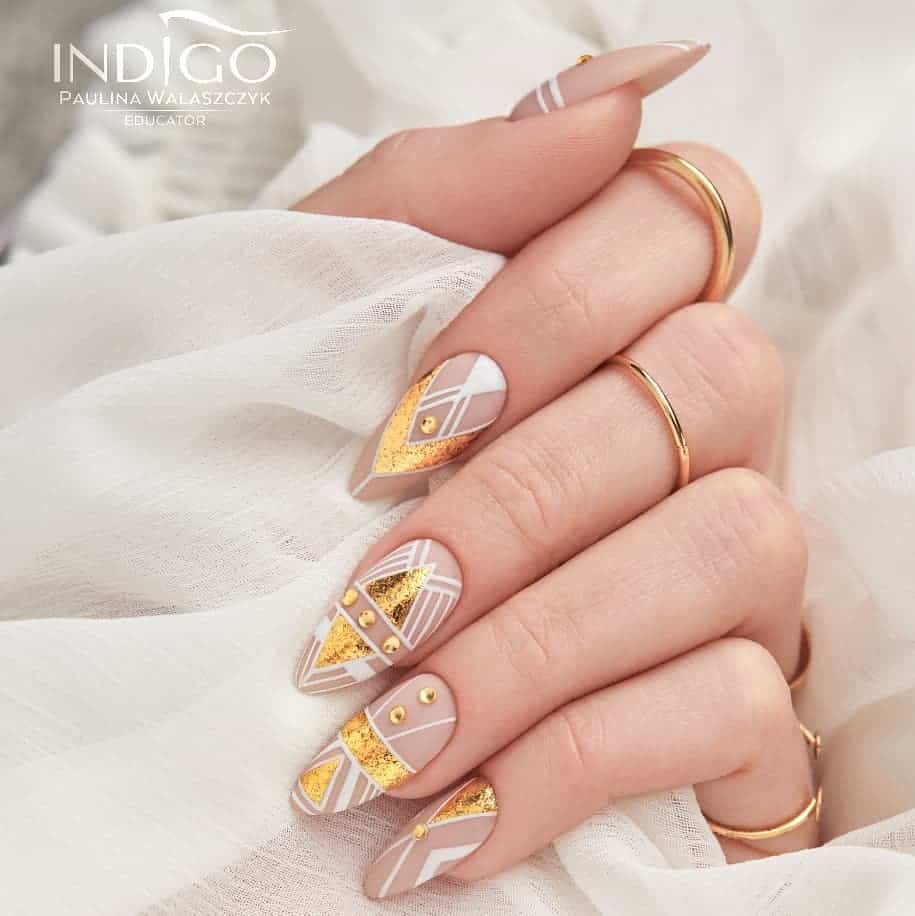 Clean geometric lines create their own form of art. When these lines, triangles, squares, and other well-defined shapes are incorporated in nail art, you get unique designs and patterns like the one shown here. This particular design evokes Aztec imagery as it uses only gold glitter to create the geometric shapes over a nude-colored base.
Choosing Perfect Valentine's Day Nails
The best Valentine's Day nail art for you is the kind that reflects your personality, your likes, dislikes, and works well with your fashion sense. If you're conservatively dressed but sporting gothic nails, there's a mismatch in the overall picture. So, even if it is very tempting to give a try to that latest Valentine's Day manicure sported by a certain Instagram Influencer, think about the overall picture before you go for it.
Just because it's the latest craze in romantic themed manicures, doesn't mean it would look good on you. It could, but you'll have to adjust the entire look accordingly. Your Valentine's Day nails should be chosen in accordance with your dress style for the day. Regardless of your personality, if you want to try something new and exciting, go for it. But, plan your entire look for the day accordingly, don't just change your nail art while the rest of the look stays the same.
Fingers and nails come in all sorts of shapes and sizes. Some nail art looks better on broader nail beds, while other themes require narrow and tapering tips. Go with a design that looks best for the kind of nails you have.
You don't need to have 8 inch nails to mimic the design concepts shown here. You can reduce the length and edit the design to fit onto the shorter length nails. Try it on cheap fake nails first and see if the execution still works. Don't try the edited design directly on the nails.
Try on the design and art a few days before if you can so you know how the final result will look like. Don't try the design the very first time on Valentine's day unless it's a simple look.
Final Thoughts
Valentine's Day is a special day and a very special time of the year. Big life-changing events could unfold, so choose your special nail design carefully. Use the gallery of Valentine's Day nail art above for inspiration and customize the designs to express your love, feelings, and uniqueness by adding your own personal touch. Happy Valentine's Day!