Top Picks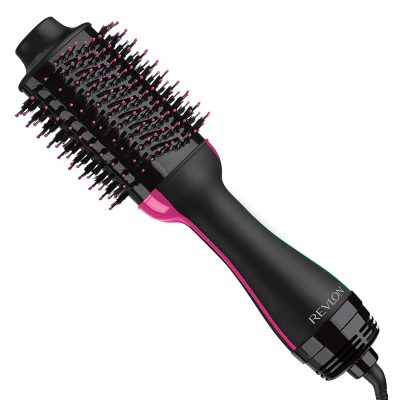 Revlon One-Step Hot Air Brush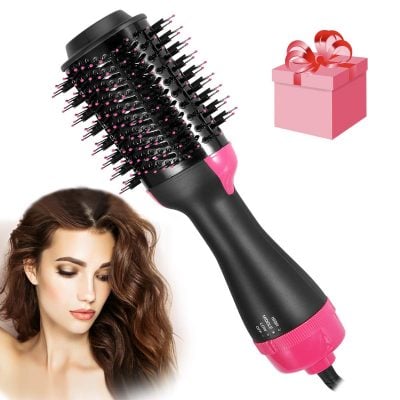 Crislan Hair Dryer Brush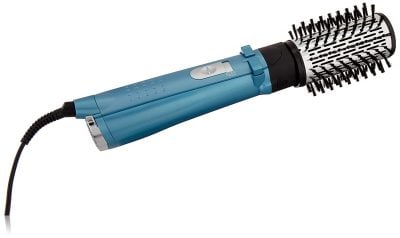 BaBylissPRO Nano Titanium Rotating Brush
Previous
Next
We all know the feeling of having a Bad Hair Day at the worst possible time. Important meeting. Long-awaited date. Job interview. Dinner with the in-laws. We could go on, but we're not here to remind you of the times when it was bad. We're here to show you how to go from "super frizzy; possibly just been struck by lightning" to "had a quick trip to L.A. for a haircut done by a celebrity stylist" in a couple of minutes.
Styling hair is hard for the best of us. It's fortunate that technology is on our side and has blessed us with the gift of the hair dryer brush. These round, heated contraptions combine a hair dryer and a round brush to save time, money, and most of all, your sanity.
Now, there are good hair dryer brushes and then there are great hair dryer brushes. How do you pick the best one? We've got you covered! Check out our ultimate guide to the best hair dryer brushes in 2020.

Hair Dryer Brushes — A Quick Guide
Hair dryer brushes, also known as hot air brushes or hot air stylers, can seem confusing to a first-time user. Before we send you off on a journey to find your new hot air brush, we want to show you a few things to keep your eyes peeled for as you shop. But first, let's answer the question that some of you may be asking: what even is a hair dryer brush?
What Are Hair Dryer Brushes?
A hair dryer brush is basically what it says on the label — it's usually a corded, round brush that dries your hair while you use it. This replaces the traditional combo of a hair dryer and round brush. It blows heat from the inside as you brush your hair, granting you a whole new level of flexibility.
With a hot air brush, you won't have to use both your hands. If you find yourself struggling with styling your hair or spending ages on it every morning, this just might be the quick solution that changes your life for the better.
If you want to learn the full benefits of a hair dryer brush, jump down to our section on the various uses of a hot air brush.
Things to Consider
Okay, so you know the pros of hair dryer brushes, but the question remains: how to pick the best one? Don't worry, we've got you covered.
Hair Type
Hair type plays a huge role in what type of brush is good for you, so we will make sure to point it out to you in each and every product review. Once you know what your hair type is, keep an eye out for this section of our reviews. As an example, you should never use titanium hot air brushes on damaged hair. On the other hand, a simple ceramic hair dryer brush may not be able to handle thick & coarse Type 4c hair.

Brush Type
Hair dryer brushes come in several types, varying by brush head style and the coating that covers it. We will give you a full rundown of all the different types in the buying guide section.
Round brushes are the best if you want to style your hair in many ways. You can straighten using these, but you can also create waves, loose curls, or style your bangs.
Paddle brushes are large and flat. You won't be able to do much in the way of styling with one of these, but you'll straighten your hair better than you would with a round brush.
Aside from the type, pay attention to what the brush is made of.
Tourmaline brushes are recommended for hair that needs gentle treatment. If you've got fine hair in need of smoothing, go with this one.
Titanium is very effective and heats up to high temperatures quickly. You'll style your hair fast, but you may not enjoy the high heat. We recommend titanium for thick, coarse hair.
Ceramic is an affordable option that combines the two above variants. It's less effective, but it works with most hair types and is generally inexpensive.
Barrel Size
Barrel size is the diameter of the barrel in your hot air styler brush. Most brushes are somewhere between one and two inches, but you may find both smaller and bigger models.
If you plan to use your brush for curls, a smaller diameter will be helpful in creating accurate locks. Similarly, shorter hair will do fine with a smaller barrel of 1″. On the other hand, if you've got hair reaching to your shoulders or more, aim for 1 ½" or even 2″. We will always inform you about the barrel size to make it easier for you.
Heat Settings
Similar to flat irons, hair dryer brushes should have several heat settings. This is especially important if your hair is delicate and/or damaged — you don't want to go too high on the temperature. You should also consider using a heat protectant. We've made sure to point out the temps in our reviews so that you don't have to search for them.
Price
You may think that the more expensive a brush is, the better it will be, but that's not always true. We point out products that offer the best value for the money, such as Crislan Hair Dryer Brush.
We also aim to guide you through the pricing without taking up your time, so here's a quick rundown of our price grading system:
$$$$ — $150 and above
$$$ — $100-150
$$ — $50-100
$ — under $50
If you'd like to be fully prepared to buy yourself the best hair dryer brush, we suggest that you check out our complete guide below before jumping on ahead!
We're not only here to show you what to look out for, we're here to guide you through the process of finding your dream hair dryer brush. Keep reading to check out the best 10 models on the market right now.
Top 10 Best Hair Dryer Brushes for Beautiful Hairstyles 2021
A Full Guide to Hair Dryer Brushes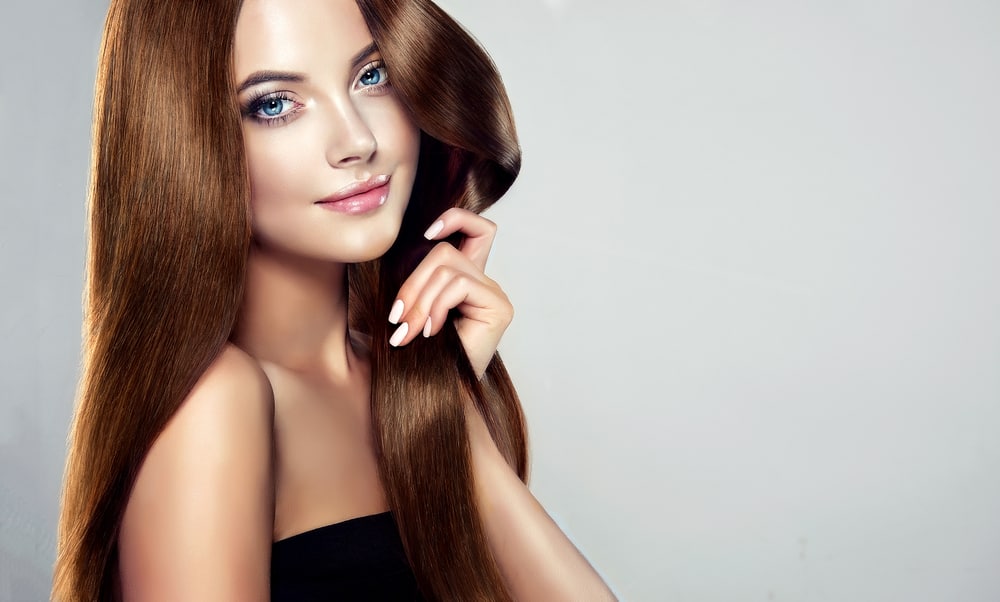 You've seen all of the best hair dryer brushes that we wanted to show you. But do you know it all when it comes to these lovely Bad Hair Day preventatives? What do you need, what do you have to keep in mind? And how do you even use these things?
No worries — we're here, we're up to date on our know-how, and we're going to guide you through this whole process. Keep reading to learn how to pick your new hair dryer brush, how to style your hair, and so much more.
Sounds exciting? Hold on just a moment. First, let's talk about the many reasons why you might NEED one of these devices.

Benefits and Uses of Hair Dryer Brushes
What can you do with a hair-dryer brush? A lot. You might find it replacing your blow dryer, curling iron, and hair straightener all in one.
This kind of brush will keep your hair smooth & remove the frizz most of us get from using a simple hair dryer.
It will dry your hair in a gentle way that a blow dryer won't always offer. Additionally, unlike a hair straightener, it's safe to use on wet hair.
Round hot air brushes add volume to your hair like nothing else. If you feel like your hair is a bit flat, you'll be blown away by the results.
These brushes are also quite awesome at straightening your hair. Even if you've got natural, thick curls, enough time with one of these will give you the straight style you've been dreaming of.
Lastly, they can double as curling irons — of sorts. Don't expect tiny little ringlets, but you can definitely give yourself nice waves.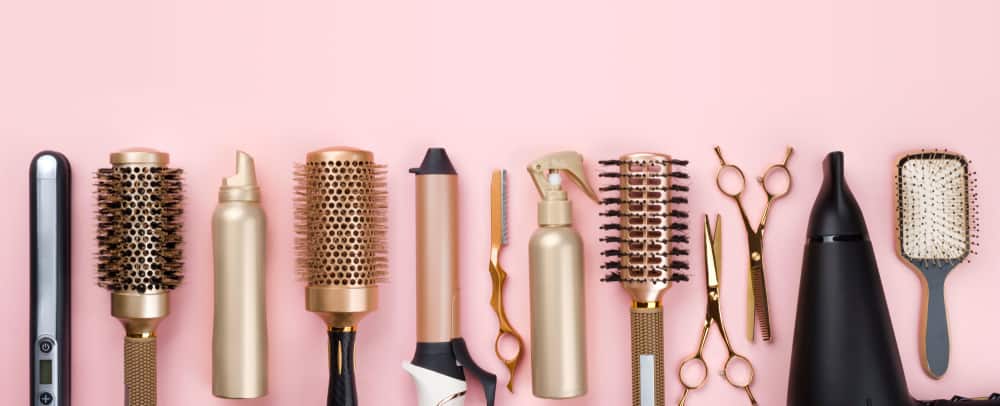 Hair Dryer Brushes VS Flat Irons VS Curling Irons
All of these things serve their own purpose and excel at their designated uses.
A hair dryer brush is the halfway point between a curling iron and a hair straightener. It will remove frizz, smooth out your hair, and help you style it. It's superior to the other two simply because you can safely use it to dry damp hair.
A curling iron will create locks and curls when you wrap your hair around the plate. A hot air brush can do the same, but it's less effective than a regular curling iron.
Similarly, a hair straightener (a flat iron) will give you a perfectly sleek & straight hairstyle. Your hair will be straighter than with a hair dryer brush, but flat irons tend to be more damaging to use long-term.
Choosing the Best Hair Dryer Brush

It's time for the most important thing — how do you even choose the right brush for you? Sure, you can pick up any old hot air brush at your local electronics store, but is that going to treat you right? Probably not.
We already covered some things you need to be mindful of in our quick guide above. Below, we will cover all the important qualities for you to consider on your quest for the best hair dryer brush.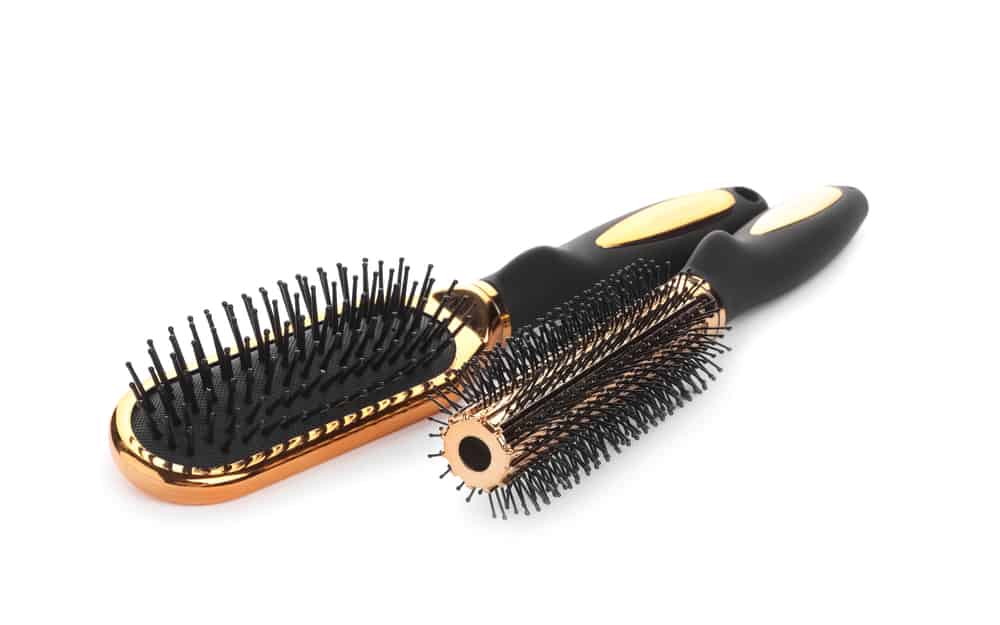 Brush Type
Hair dryer brushes come in several variants. The first thing you'll notice is that while some of them are rounded and resemble a typical round brush, others have a large, flat, paddle-like shape. These brushes look more like your standard hairbrush. What's the difference between the two?
Round brushes are more commonly used for styling of all sorts. They boost the volume of your hair and they can be utilized to either create waves or straighten it out.

Fun fact: some electric round brushes have rotating heads which make it even easier to create waves and curls. They're also fantastic for bangs.

Paddle brushes are more straightforward. They help you brush out your mane, get rid of frizz, and straighten your hair while you dry it.
Most of the good hot air stylers utilize ceramic for the surface of the brush. Ceramic can be found in hot air brushes, flat irons, and curling irons. However, there's more than one type.
Tourmaline ceramic
This is a crystal-born silicate material which improves the smoothing process. It generates 20 times more moisture-locking ions than the other surfaces, making it really gentle for your hair. This type of brush will be the best at smoothing out your locks, especially if they're quite damaged.
Tourmaline ceramic is ideal for the following hair types:
Thin to coarse
Normal to damaged
Titanium
Titanium is far less gentle than tourmaline ceramic, but it is a great deal more effective. It heats up way faster & it helps you style your hair quicker. However, as it can reach really high temps, you need to be careful with it. We don't recommend titanium to first-time users, be it flat irons or hot brushes.
You can use titanium with the following hair types:
Thick to coarse
Normal to very strong
Ceramic
Ceramic without the addition of tourmaline is also found in hair dryer brushes. While not as strong as the other two, ceramic alone is affordable and makes for a good value for the money option. You can use it for basic hair straightening and day-to-day styling.
Ceramic is recommended for the following hair types:
Thin to thick
Damaged to normal
Extras
Some hair dryer brushes come with extra functions, such as the addition of interchangeable brush heads.
If the hair dryer has more than one brush head, it means that you'll be able to swap from round to paddle, or even a heating comb in some cases. This, again, gives you more flexibility in terms of hairstyling.
Rotation
Rotation is one of the other extra features found in a hair dryer brush. This is a feature that lets you achieve a salon-quality hairstyle without ever leaving the house.
Rotation is only found in circular brushes. As the brush blows out hot air to dry your locks, the barrel rotates. This boosts the volume of your hair and makes it easier to create more elaborate hairstyles rather than simply blow-drying.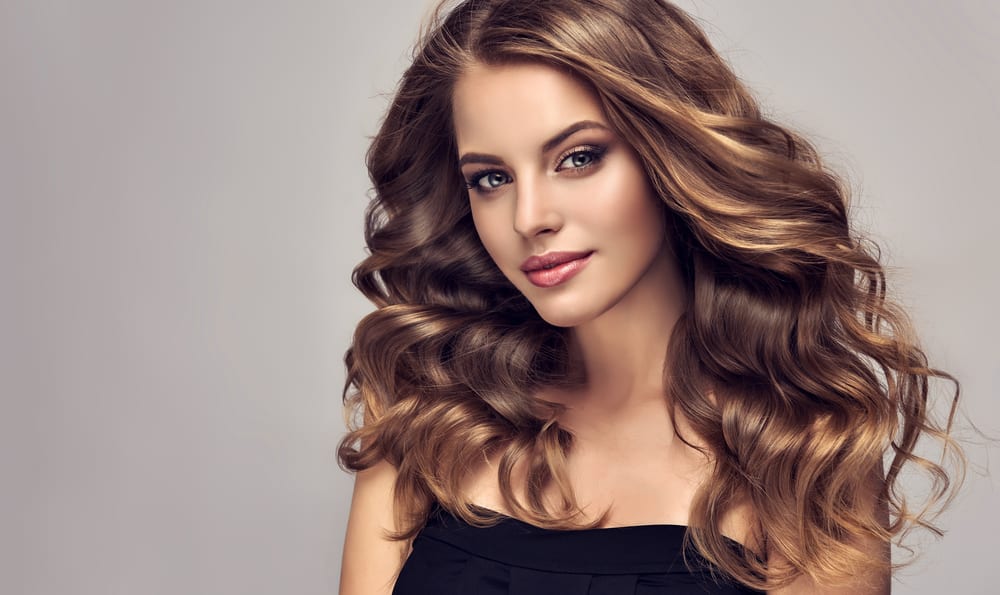 Heat-Up Time
If you tend to do your hair in the morning, look for hair dryer brushes with a quick heat-up time. These may sometimes be made out of a mix of ceramic and titanium, so if your hair is in a bad condition, be extra careful.
Time is of the essence? Check out Bed Head One-Step Hot Air Brush, a brush known for its really quick heat-up.
Bristles
When buying a plain old brush, bristles are one of the first things you look at. They're what makes the magic become reality, and a hair dryer brush is no different in that regard. However, keep in mind that in an electric brush, the bristles will be dealing with immense amounts of heat. You should look for a brush that is fully heat-resistant and equipped to handle high temperatures for a long time.
If you have short hair, you can go with short bristles, but medium to long hair is fine with a standard length. As far as coarseness goes, that is up to your preference, but don't use coarse bristles on very damaged hair. Go with something softer instead, such as HOT TOOLS Professional Dryer & Volumizer.

Weight, Cord Length, & Grip
As styling your hair can take anywhere between five and thirty minutes, you should value your comfort of use just as highly as the other factors.
Weight is important for two reasons. The lighter the better, of course, but keep in mind that the lightest hot air styling brushes will be made out of cheap plastic. This makes them far less durable. This is why you should check what material the brush was made of.
Cord Length — This is another tricky factor. A very long cord may get tangled, so it's best to go with a tangle-free option. On the other hand, if the cord is too short, you'll struggle to style your hair the right way.
Grip — Most hair dryer brushes feature an ergonomic, anti-slip grip. We don't recommend buying one that doesn't have some sort of a safety measure to prevent your fingers from slipping.
We especially like Bed Head One-Step Hot Air Brush in terms of how easy it is to use & hold for prolonged periods of time.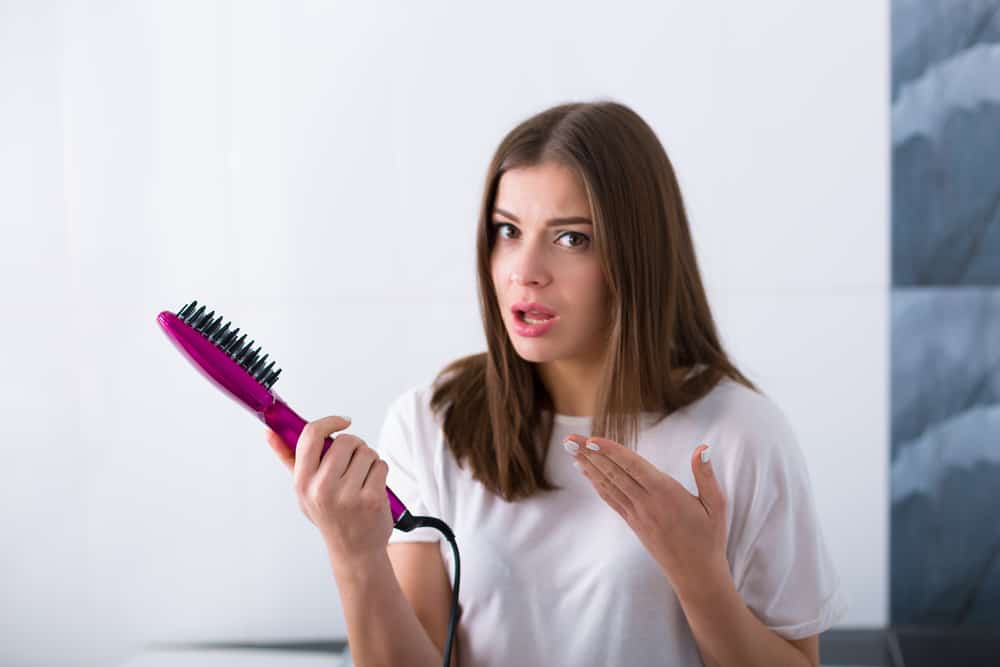 How to Use a Hot Air Brush Correctly
Like flat irons, hot air brushes are easy to use, but also easy to use the wrong way. While the results are usually not as catastrophic (you're unlikely to end up with burnt off sections of hair here), they're still pretty bad.
Using your hair dryer brush incorrectly may result in you having to go over several sections more than once. This is not ideal for your hair, and simply put, it's a bit of a waste of time. That's why it's important to learn how to style your hair with a hair dryer brush.
We're here to help you. If you're a first-time user, check out our guide below.
Make sure your hair is damp. Damp hair is optimal for a hair dryer brush. This means that you should dry it as much as possible with a towel prior to using your brush. Don't bother with trying to style fully dry hair — the result will be underwhelming.
Let the tool heat up properly. Some hair dryers have an LCD screen that displays the current temperature. If yours doesn't, allow it a couple of minutes to heat up.
Consider applying a heat protecting spray, especially if your hair is rather frail.
Sectioning your hair is a great idea. It will save you time (you won't repeatedly dry the same strand of hair) and it will keep your hair safe. If you're not sure what to section your hair with, most clips will do.
Use the lowest possible heat setting at your first attempt with a new hair dryer brush.
Once you're ready to begin brushing, start at the root of your hair and move towards the top. Go over each section more than once if you need to straighten it perfectly, but try not to overdo it.
For curling, make sure to wrap the entire strand around the brush and allow it to absorb heat for a few seconds. Here's a quick guide on curling with a hot air brush.
Use cool shot if your brush offers it. This "locks in" the hairstyle that you want & gives your hair a moment to breathe after all that heat.
When you're happy with all the sections, remove the sectioning clips, unplug the brush, and allow it to fully cool down.
Extra Tips
Here are a few more things to keep in mind when styling your hair.
Hair care products are great. We mentioned heat protectants, but there are also voluminous sprays[/amazon] or sprays for straight hair[/amazon].
ALWAYS let your brush warm up properly before you use it. It's important enough for us to restate that.
Pick the right barrel size — if your hair is too short, a 2″ brush will do nothing but frustrate you. Check out Conair 2-in-1 Hot Air Brush for short cuts.
Clean your brush regularly. The more hair gets stuck in there, the less happy you'll be with the performance.
Don't pull too hard. You may feel tempted to, but it won't do anything for your hair other than to damage it & hurt you. The straightening effect comes from repeatedly heating up sections of your hair, not from pulling on it until tears appear in your eyes.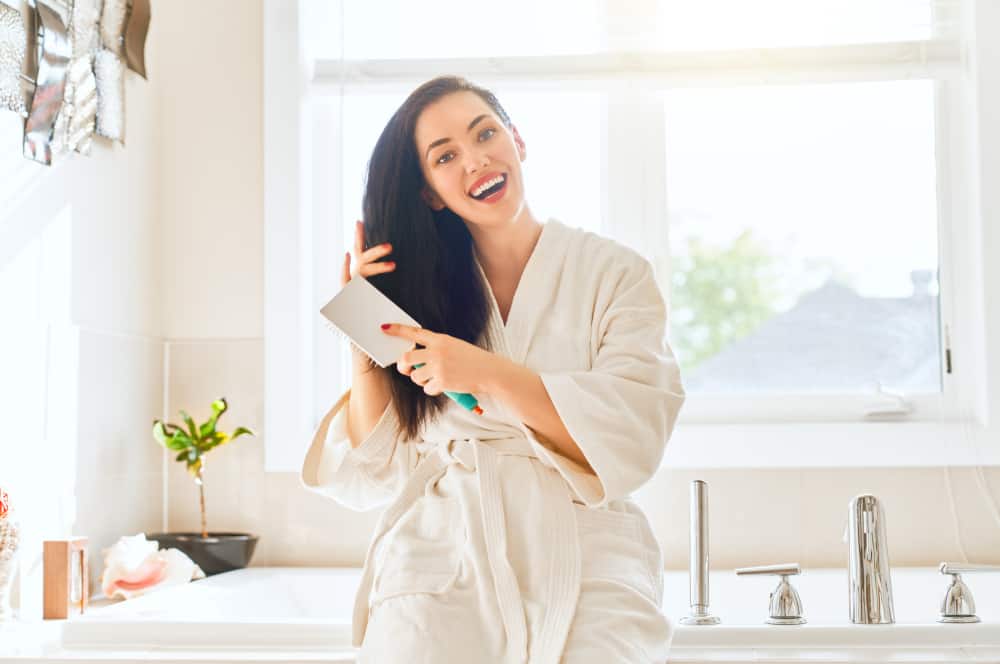 Be Your Own Hairstylist!
We're not going to lie to you — we're not all natural-born hairstylists. If that were the case, we'd all have been spared the mortifying sensation of a self-experiment gone wrong. If you've ever had to go to school after a failed attempt at giving yourself bangs in your teens, you know the drill.
Whether you've got the skill of a master stylist or you, like many others, curse under your breath as you try to tame your mane, a hair dryer brush is bound to help you look your best. Give it a try. You've got nothing to lose and so many cute selfies to gain when you try out your new look!