Top 10 Best Hair Dryer Brushes for Beautiful Hairstyles 2023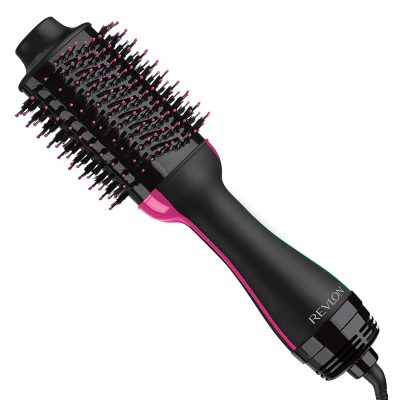 Quick Facts
Brush Type: Round/Oval
Material: Ceramic
Temperature Settings: 2 heat settings + 1 cool setting
Cord Length: 6 ft.
Hair Type: All types; medium to long length
Price Range: $-$$
Voltage: 120V
Barrel Size: 2″
Overview
This is an oval hair dryer brush with a 6 ft. cord and a whole lot of super-useful features. It's quite affordable for how effective it is, as it is capable of bringing Type 4c hair down to a sleek, fully straight hairstyle.
It sports nylon pin & tufted bristles that prevent tangling & boost the volume of your hair. As the barrel is rather large, we don't recommend it for short hair. However, if you've got a head full of locks, you'll love how easily this brush can tame them. If you'd like to see how others do it, you can watch this video on styling your hair with Revlon.
It's rather lightweight and easy to use. You can take it with you on your travels and not regret it! Just remember that it has a voltage of 120V and should not be plugged into voltage converters or you may damage it. As a result, it won't work in every area of the world.
Features
Revlon offers two heat/speed settings. These settings affect how well it will style your hair and also how fast it heats up & is ready to go. The use of a ceramic plate on the brush ensures quick & even heat distribution. On the other hand, there's also a cooling setting that is necessary for certain hairstyles.
It can be used for all hair types, as ceramic is safe even towards damaged hair. However, if you want to be extra-safe, go with tourmaline ceramic such as in the Crislan Hair Dryer Brush.
You can use this for the creation of elaborate, professional hairstyles, but it can also be your daily companion as you get ready for work or school.
---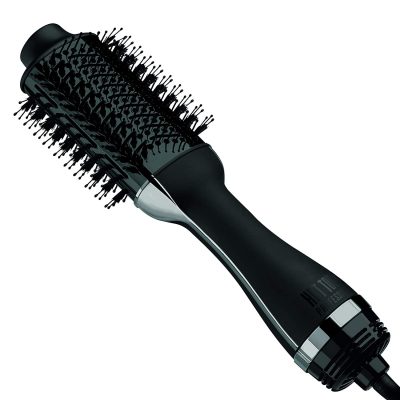 Quick Facts
Brush Type: Round/Oval
Material: Ceramic
Temperature Settings: 2 heat settings + 1 cool setting
Cord Length: 8 ft.
Hair Type: Normal, not damaged
Price Range: $$
Voltage: 110V
Overview
Some of us dislike being tied to the length of a cord. On the other hand, most hair dryer brushes are corded and don't give you too much freedom of movement. As a result, you may feel incapable of styling your hair the way you like. Fortunately, HOT TOOLS provides a much longer cord than most dryers – a whopping 8 feet. This will grant you perfect access to every part of your hair, ensuring that your hairstyle comes out the right way.
Other than the long cord, even the barrel itself is large in this brush. It measures at about 2.8″, so you can use it on medium and long hair, but not so much on short hair. Like many others, it cannot be used internationally due to the lack of dual voltage.
Features
This hair dryer brush offers quick & efficient drying. It has three different heat settings, so you can be pretty versatile with how you use it & on what kind of hair. If your hair is fine and thin, you might want to stick to the lowest heat setting due to the great heat conduction in this brush. There's also a cool shot button that allows you to quickly switch to a blast of cold air.
The bristles are a mix of boar and charcoal-infused bristles. They're soft, so if you prefer something coarse, you should check out Revlon's One-Step Hot Air Brush instead.
As long as you don't mind the softness of the bristles, you're bound to like them. Your hair won't get tangled in these — they brush out even knotted hair with a surprising delicacy. As for the brush itself, the use of ceramic plates ensures that it's gentle on all hair types. On the other hand, it's not as powerful as titanium on thick, coarse hair.
---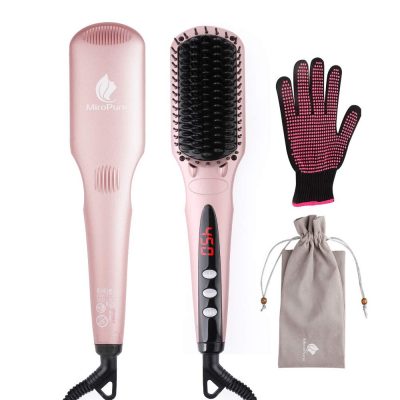 Quick Facts
Brush Type: Paddle
Material: Ceramic
Temperature Settings: 16 temperature settings (300-450 degrees Fahrenheit)
Cord Length: 6 ft.
Hair Type: All types, including damaged hair
Price Range: $
Voltage: 100-240V AC 50/60Hz
Overview
Don't want to style your hair endlessly? Do you just want it to be perfectly straight & silky smooth with little effort? You've got it! Even if you feel like your mane is a beast that can't be tamed, it's possible that this paddle hair dryer brush will prove you wrong.
Suited for all kinds of hair, including fine and frail types, this paddle brush features a metal-ceramic heater technology. The heat is spread evenly throughout the surface of the brush, ensuring that you get consistently gorgeous results when you use it. In a hurry? No problem — the heat-up time falls below 60 seconds.
The Nano comb bristles on this brush are really high-density, which means that your styling time is cut down considerably. It's gentle on your hair & massages your scalp as you use it. However, nothing is perfect — this brush cannot be used on really wet hair. Dry your hair with a towel and make sure it's just damp & not dripping.
One thing that sets it apart from other brushes, other than the paddle design, is the fact that this is a travel brush. It can be used all over the world due to its dual voltage.
Features
The number of temperature settings on this affordable little guy is mind-blowing! You get to choose from 16 temperature settings in the 300-450°F range. However, there's no cooling option, so keep that in mind.
MiroPure comes with a dedicated travel bag and a heat-resistant glove to prevent burns when you use it. It's suitable for all kinds of hair, although full-on Type 4 curls might take a long time to straighten out.
This is a straightener & hair dryer combo. It cannot be used for curling your hair, so if you're after some lovely waves, check out the Dyson Airwrap Complete Styler instead.
---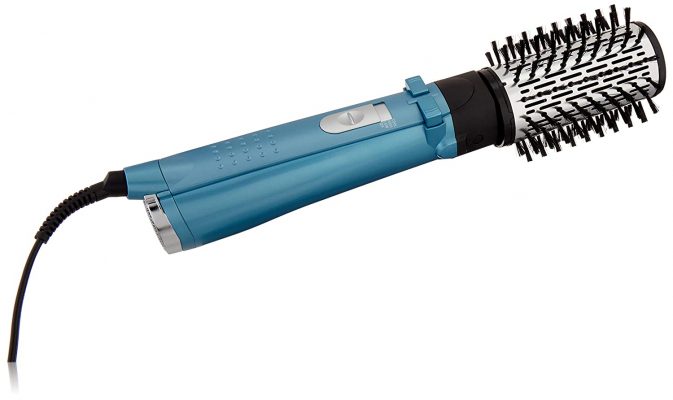 Quick Facts
Brush Type: Round
Material: Titanium
Temperature Settings: 3 heat settings
Cord Length: 6 ft.
Hair Type: Most hair types
Price Range: $$-$$$
Voltage: 110V
Overview
This BaBylissPRO brush is going to give you the styling experience of a lifetime — even if you're super new to all this! It's remarkably easy to use, powerful, and durable. This is largely due to the way it was built, with the use of an aluminum barrel covered in chrome plating. The addition of pure ceramic makes this a safe bet for most types of hair, even if your hair is rather damaged.
The barrel is on the larger side here, measuring at 2″. Chin-length and longer hair will do just fine with BaByliss, but if you've got a short cut, you will struggle to use it. The synthetic Nano Titanium bristles were made to reduce static and frizz. The result? A shiny hairstyle pulled straight out of a shampoo commercial.
You don't need to have any prior styling experience to use BaByliss. Whether you want a smooth blow-dry, a sleek, perfectly straight mane, or a head full of loose curls, all of those are 100% doable with this product. As long as you're willing to give it a few tries as you learn, you'll be satisfied. It also has a steady grip that makes it easier for you to practice.
Features
This brush features a multi-direction rotating design. It rotates forward and backward, doing half the work for you. It has three heat settings, which is not too bad by any stretch, but it could have more for a premium product. If you want to have a large variety of heat settings, check out MiroPure Heat Brush.
---

Quick Facts
Brush Type: Round
Material: Tourmaline
Temperature Settings: Heat setting, cool setting
Cord Length: 5 ft.
Hair Type: All types, including damaged hair
Price Range: $$
Voltage: 125V
Overview
Ah, rotating brushes. They do have a bit of a learning curve, but once you master yours, you'll love the hair volume that you'll get in return. If using a regular hair dryer and a round brush is the maximum effort, then an electric hot air brush halves it. By that equation, using INFINITIPRO requires about 25% of the effort while delivering salon-worthy hairstyles.
This is a large, but not too big, tourmaline ceramic hair dryer brush. The barrel measures at around 2″, so it can be used for medium or chin-length hair. However, anything shorter and you might struggle to use it without hurting yourself.
Conair does a good job at reducing frizz & static thanks to the antistatic boar and nylon bristles. They're semi-soft and will do well even with damaged hair. The build is lightweight, so you can take this with you when you travel. Keep in mind the single 125V voltage that won't work outside of the US and Canada.
Features
As this is a rotating brush, it comes with several different settings. Temp settings are not too impressive — just two: hot and cold. The rotation has a set of settings of its own. You can make the brush spin in both directions or allow it to stay put. However, you won't be able to use the rotation feature while you're using the "cooling" setting.
You can use this brush for straightening your hair, pumping up the volume, or giving yourself some gorgeous loose curls.
---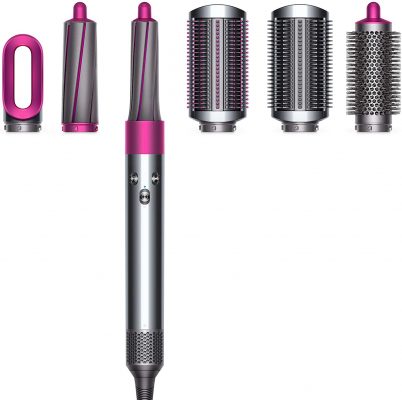 Quick Facts
Brush Type: Round and Paddle Attachments
Material: Varies Depending on Attachment
Temperature Settings: Three settings: high, medium and cool
Cord Length: 8'9″
Hair Type: Normal, thick, coarse
Price Range: $$$$
Voltage: 110V
Overview
This is a premium hair dryer brush that combines several hairstyling tools into one amazing package. The price tag may scare you away, but stick around for a moment — you'll see why this is a worthy investment.
Dyson offers an interchangeable brush head with three different extensions. You get to choose between the 2″ barrel for creating loose waves, the 6″ barrel — perfect for loose curls, or the firm smoothing brush. The last extension minimizes hair frizz and helps you straighten your mane into a sleek hairstyle. You're also getting 1.2″ and 1.6″ Airwrap rotating barrels.
Due to the barrel size, chin-length bob is probably the shortest hair you can use this on. Medium and longer lengths are ideal, while really short cuts just won't work with the barrel size.
Features
Other than the impressive set of different brush heads, this hair dryer brush also has quite a few settings. There are three air speeds, which means you can adjust accordingly to what you're doing — high for a quick dry and low for an elaborate hairstyle. Similarly, Dyson offers three heat settings, only two of which are warm. There's also a cold shot that helps you set your hair and minimizes frizzing.
---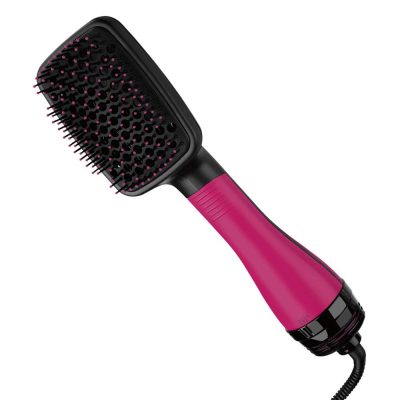 Quick Facts
Brush Type: Paddle
Material: Ceramic
Temperature Settings: Two heat settings and a cool option
Cord Length: 6 ft.
Hair Type: All types, especially coarse, thick hair
Price Range: $
Voltage: 120V
Overview
As we established in our guide to the best hair dryer brushes, paddle brushes are renowned for their straightening capabilities. This wide paddle-style hot air styler is capable of taking you from Type 4c hair to perfectly straight in a short time.
With 1100 watts of drying power, this one doesn't just style well, it also dries your hair quickly. Slept in? No problem — jump out of the shower and be out the door in minutes with a perfect hairstyle.
The pad in this brush is soft, resembling a real hairbrush. It's topped off by plastic bristles with a detangling design. The downside lies in the handle, which, while ergonomic, is huge. If your hair is a piece of work, your arm will start hurting by the end of your styling session.
With a 110V voltage, it can be used anywhere in the US and Canada, but not anywhere else in the world. Some people use socket converters, but Revlon advises against this.
Features
Revlon offers two heat settings and two speed settings, which is not outstanding, but it's enough for a paddle brush. However, some paddle brushes have way more. As an example, MiroPure Heat Brush has sixteen!
Revlon utilizes ionic technology, saturating the airflow and locking moisture within your hair. This is partly why it's so good at hair straightening — the strands feel like silk & look as though you'd just undergone a keratin hair treatment.
The price you pay for perfectly smooth hair is small in comparison. What is it? The brush heats up considerably, so you have to be careful not to burn yourself when you touch it. Despite this, you can safely get it all the way to the roots and the bristles won't burn you.
---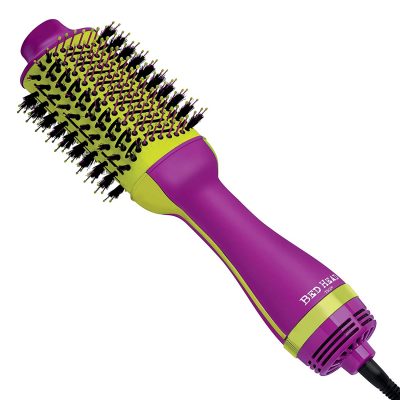 Quick Facts
Brush Type: Round
Material: Tourmaline
Temperature Settings: 3 heat settings/speed settings
Cord Length: 6 ft.
Hair Type: All types, including damaged hair
Price Range: $-$$
Voltage: 120V
Overview
We stressed the importance of a steady grip & lightweight build in our dedicated section. If you've got long hair that takes ages to style, you'll like this brush simply because it's easy to hold for extended periods of time.
This brush is rather wide, measuring at 4.5″ with the bristles included, which amounts to anywhere between 2-2.5″ without the bristles. You can still use it on shorter hairstyles, but not for curling — just take advantage of the volumizing properties. It has a lightweight build and an adequately sized grip.
Bed Head truly lifts up your hair and gives the impression that you've just stepped out of a hair salon. The best thing about it is definitely the fact that styling takes very little time. You can give yourself a beautiful blow-dry in just a few minutes.
Like many other brushes on our list, this one doesn't offer dual voltage. If you want to take your brush overseas, take a look at Conair 2-in-1 Hot Air Brush.
You'll also like the use of tourmaline ceramic in this hair dryer brush. It's gentle on all hair types, but still effective, even on coarse hair.
Features
This vibrantly colored brush has 3 heat settings (high, medium, cold) and 3 speed settings, combined with 1100 watts of power. While it doesn't rotate, it has an oval design that further boosts volume.
The heat settings both provide ample heating, in some cases — too much. It heats up fast, so try out the lowest setting first and check whether it's within your comfort zone. We definitely recommend using a heat protectant with this — we like HSI Professional.
---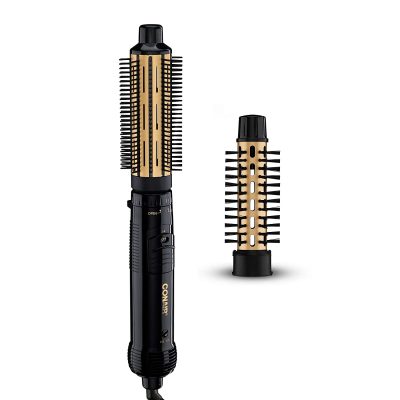 Quick Facts
Brush Type: Round
Material: Aluminum
Temperature Settings: 2 settings (high and low)
Cord Length: 6 ft.
Hair Type: All types
Price Range: $
Voltage: 110V-240V
Overview
A hair dryer and an effective curler all in one? Yeah, it's possible, and yes, this is it. Conair, unlike most other hair dryer brushes, is not just effective on short hair. It also doubles as a curling iron, having the capability to give you some gorgeous, long-lasting locks. For some ideas on how to style your hair using this hot air brush, check out this video.
For such a low price, it's almost shocking that this product actually comes with two interchangeable brush heads. You get a 1.5″ curling brush and a 1″ aluminum bristle brush that can be used for all kinds of styling. The latter also lets you build up volume.
The curling brush has rather hard bristles, while the all-purpose brush is a little softer. Overall, if your hair is very frail, you might want to avoid this brush and leave curling for later.
Going on a trip? No problem! This is a hair dryer brush that can be used internationally thanks to the dual voltage.
Features
In terms of heat settings, we're not too impressed. With just two — high and low — it's difficult to adjust to your hair type. We recommend starting out with the low setting and moving up as needed.
Heat-up time is not overly impressive here, as it does have just 300 watts of power. However, once you've got it on the right temperature, it boosts volume, straightens your hair, or curls it very efficiently.
As the heads are replaceable, you may run into the issue of the brush head feeling loose. This is easily avoided. There is a ring around the base of the brush that has a lock and unlock position. All you have to do is line up the indent on the brush with the indent on the replaceable head and push it in slightly until you hear a click.
---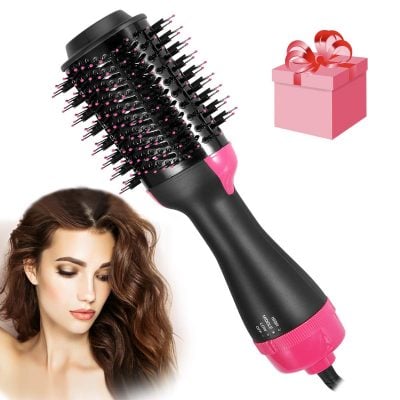 Quick Facts
Brush Type: Round
Material: Tourmaline
Temperature Settings: 3 adjustable heat levels
Cord Length: 6.5 ft.
Hair Type: All hair types, including damaged hair
Price Range: $
Voltage: 110V
Overview
You don't have to spend a fortune to give yourself a hair-salon-worthy look. This affordable tourmaline ceramic hair dryer brush offers the best bang for your buck that you can dream of.
The use of tourmaline boosts the negative ions that this brush releases. This locks down the moisture in your hair and protects it more efficiently than a titanium or plain ceramic brush would. We recommend this one for all types of hair, especially fine or damaged.
It has a really large barrel of 3″. Perfect for long hair, it will be impossible to use on shorter cuts. Also, much like Revlon, this one can only be used in US sockets and should not be plugged into a converter.
Features
Despite being cheap, this brush is actually pretty powerful with its 1000 watt motor. It takes a bit of time to heat up, but once it's ready, you can swap between three different temperature settings. There are also 2 speed settings for you to choose from.
This brush will straighten just about any type of hair, and it will do so gently. The end result is smooth as silk & frizz-free. You can also use it to replace a curling iron, but due to the size of the barrel, aim for beach waves and not tight curls.
---