Top 10 Best White Eyeliners 2023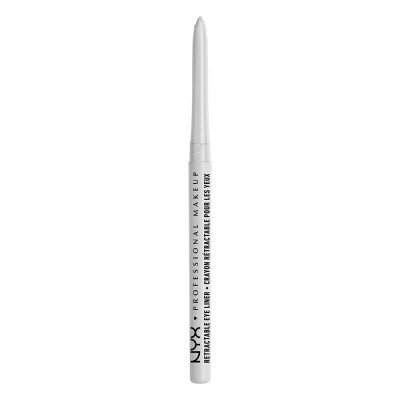 Quick Facts
Type: Retractable pencil
Shade & finish: Matte white
Cruelty-free
 NYX rules the white eyeliner game, with this one being our top favorite. It truly is the ideal white eyeliner for a waterline application.
It comes in the form of a thin, retractable pencil, so it takes up nearly no space in your makeup bag and it doesn't require a sharpener. This is convenient when you're on the go!
This product is waterproof which also means that it has fantastic longevity. If you apply it to your waterline first thing in the morning, you can expect it to look vibrant well until the afternoon. It also fades away nicely, without clumping together or pooling near the tear duct, so you'll still look fine without touching it up.
The formula is very creamy so it glides on the waterline without any issues, and the pigmentation is high so one swipe is all it takes to brighten up your eyes. The only drawback to this amazing level of creaminess is that the pencil can break easily. We have a tip for avoiding that: don't roll it up too high when you use it and always roll it back down once you're done. If you prefer a more solid formula, even if it means the eyeliner will be less gentle, consider L'Oreal Infallible Eyeliner instead.
Finally, the value is hard to beat since, like all NYX products, it comes in at the low end of typical drugstore prices.
---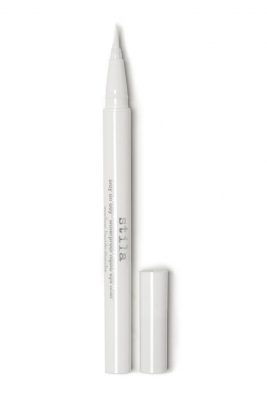 Quick Facts
Type: Liquid pen
Shade & finish: Matte white
Vegan and cruelty-free
The white winged eyeliner look has been having a moment, and we can't think of a better product for creating it than this Stila liner (perhaps in combination with the black liner from the same range).
If you're not familiar with liquid eyeliner pens, let us rave about them for a second: they have a built-in barrel of eyeliner liquid that connects to a felt tip. The liquid feeds into the tip, so you get a very controlled amount of eyeliner. They're super easy to apply and they always give a crisp, sharp line that's perfect for a winged look.
This particular liquid liner pen stands out for having fantastic pigmentation. Some white liquid eyeliners can come out a little patchy, but that's not the case here. You get an opaque line of white with just one swipe.
It's even more impressive for its longevity. The formula is famously waterproof and long-wearing, so it looks amazing for well over 10 hours, even in the face of rain or tears. The only similar product that surpasses it for longevity is NYX Epic Wear Liquid Liner.
Since it's a liquid, it's not intended for use in the waterline and we don't recommend trying it. The liner would probably run into your eyes and cloud your vision.
---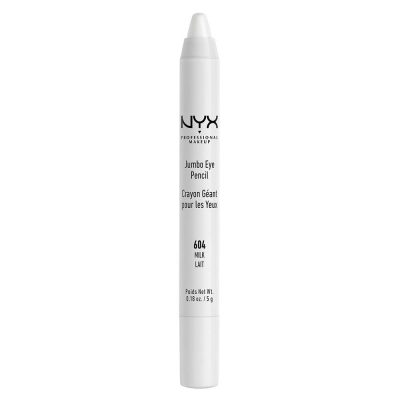 Quick Facts
Type: Jumbo sharpenable pencil
Shade & finish: Matte white
Cruelty-free
This is the best budget option on our list, not only because it's so affordable but also because it's multi-purpose. We've identified three awesome ways to use it, although we're sure you could come up with more.
The first is, of course, as a liner for the waterline. It is extremely soft and very pigmented, so it goes on the lash line beautifully! Just make sure that the tip is nice and pointed (you can run it sideways over a tissue to make sure of that), and it'll apply a clean line in seconds.
The second way to apply it is to use it as an eyelid primer before using powder eyeshadows. Because it's jumbo-sized, it's easy to apply it all over the lid, and any eyeshadows you apply on top will last longer and appear much more vibrant.
The third is one of our favorite discoveries! Since this formula is so creamy and the tip is so large, you can use it as though it were a gel liner. Run your favorite eyeliner brush over the tip and you'll pick up enough product to create a white liner wing or a graphic look.
In other words, it's one product that does the job of three, which definitely helps a budget-conscious lifestyle. If you do get it, make sure you also have a jumbo-sized sharpener on hand.
However, if you only want white eyeliner for the waterline, NYX Retractable Eyeliner is going to be the better choice. It's slimmer and doesn't require a sharpener, and since it's waterproof it lasts a little longer in the waterline.
If you like the idea of a white jumbo pencil with a highlighter-esque shimmer, we'd suggest also trying the Rimmel Scandaleyes Shadow Stick.
---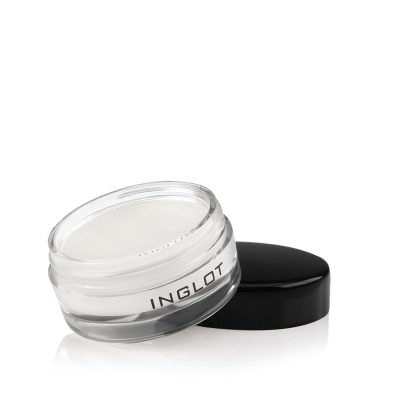 Quick Facts
Type: Gel liner
Shade & finish: Matte white
Vegan and cruelty-free
There aren't many white gel eyeliners available to makeup enthusiasts, which is unfortunate because they offer so much versatility. This is one of the few white eyeliner gels we were able to find, and boy is it impressive!
Inglot's AMC eyeliner gels, in general, are pretty iconic, especially with professionals. They come in an incredible range of colors, and they have exceptional longevity even when exposed to water.
This formula can be used in many different ways, which reminds us of NYX Milk but in a gel format. It can be applied on the waterline with a slim concealer brush, and it'll stay looking stark and pristine for up to 6 hours, beating pretty much all of the other waterline-appropriate liners on our list for longevity. In fact, removing it might be a little tough, so make sure to use an oil-based makeup remover to get it off.
Because it's a gel in a jar you can totally change up the effect you get from it depending on your brush. You can apply it on the lid with a firm, flat-topped brush and it'll actually self-set as a nice cream eyeshadow. You can also use it as an eyeshadow primer, although you'll have to work quickly to apply your powders over it before it has a chance to set.
When applied with a thin liner brush it's as fantastic for winged eyeliner looks as Stila Stay All Day, though it would require a touch more expertise. You can even use it with a bigger brush for face painting.
It's priced somewhere between the mid-end and premium level, but a single jar lasts a long time and it offers so many application options so we think that it still offers good value. Keep in mind that this versatility also depends on the size of your makeup brush collection.
---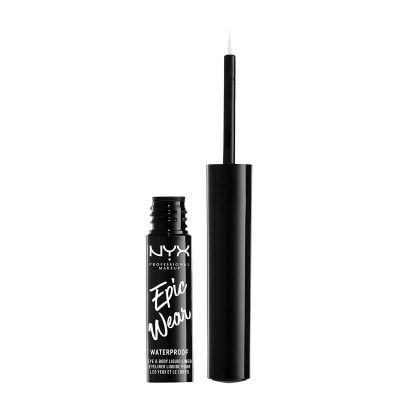 Quick Facts
Type: Liquid
Shade & finish: Matte white
Cruelty-free
If you like to get very creative with your makeup then we highly recommend this white liquid eyeliner, also from NYX. It has an impressive formula with some very specific benefits.
What differentiates the Epic Wear liners from other NYX eyeliners is their longevity. They are designed to go above and beyond, so not only are they waterproof, but NYX even claims that they can stay in place for 3 days. We wouldn't recommend wearing your eye makeup for that long, but if you're looking for a liner for festival season or for cosplay, it will surely come in handy.
This is the type of liquid eyeliner that comes in a simple tube, with an extra slim brush attached to the handle. The formula is as pigmented as other NYX formulas and because of the brush, it goes on the skin in an itty-bitty, precise line. This makes it a great choice for makeup lovers with a little more experience.
Manipulating the brush takes more skill than Stila Stay All Day, but the line it creates is much more delicate. Like Stila, it can't be used on the waterline, and we find it's especially useful for creating graphic eye makeup looks with interesting linework. It also costs around half the price of Stila, which might make it the better pick if you're budget-conscious.
---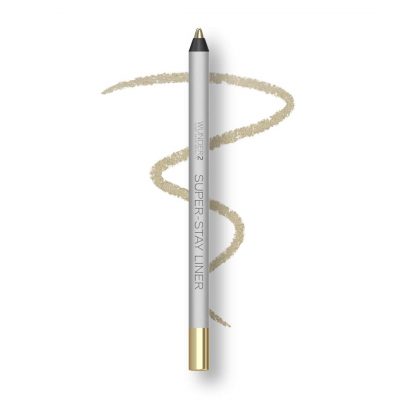 Quick Facts
Type: Gel pencil
Shade & finish: Metallic white-gold
Vegan and cruelty-free
This metallic white eyeliner is a lovely choice for special occasions or when you just want to spice things up. It's a gel pencil, which means that while it does require some sharpening, the actual formula inside is very soft and pliant, similar to a gel.
As you might be able to guess from the name, its color is a metallic white-gold hybrid. Depending on how it catches the light it can appear more gold or more white, which is a beautiful effect.
It works well in the waterline, but it's also very pretty when diffused over the eyelid as an eyeshadow or used in the inner corner of the eye as a highlighter. Because this pencil is so soft we don't recommend it for attempting graphic looks or a sharp wing.
Though it is supposed to be waterproof, we find that its wear time is underwhelming, especially in the waterline. It looks good for up to 4 hours, but after that, it's almost guaranteed to fade. It can last longer on the lid, though it may smudge on oily skin. If you're oily and want all-day wear we'd suggest setting it with powder.
---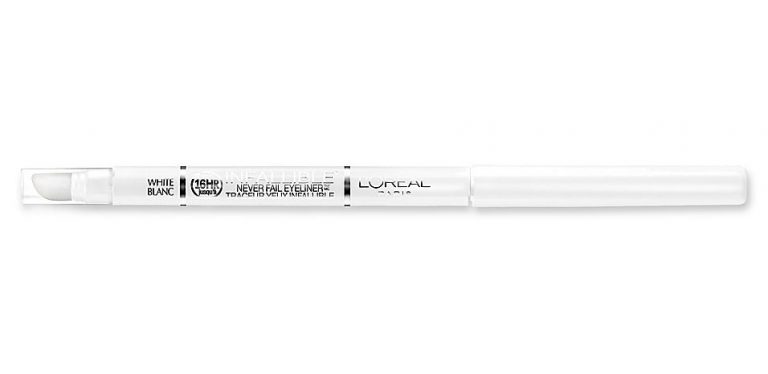 Quick Facts
Type: Retractable pencil
Shade: Matte white
This is another fantastically simple retractable white eyeliner for wide-awake eyes. It has a bold, opaque color that brightens the eyes beautifully, so it's a great option for the waterline.
The end of the liner is fitted with a smudger, which we don't find particularly useful. What's cool is that the smudger is removable, and there's a small "tip sharpener" on its end. This is perfect if you like your eyeliner to have a very small, sharp point at all times, and it allows for a very precise application.
The tip is the least breakable of the ones we've tried, but it's also because the formula is a little harder. It can be difficult to get it to deposit color on the waterline without a bit of tugging, but you can run it over the back of your hand to get it to heat up, which fixes the issue. Once it softens the color is opaque.
If you prefer something softer, opt for NYX Retractable Eyeliner.
Once applied, this product stays put and looks great for a very long time. We'd say its longevity is comparable to NYX Retractable Eyeliner, so taking it off definitely requires a good makeup remover.
The only real drawback is that L'Oreal is not considered cruelty-free, so if that's important to you stick to NYX.
---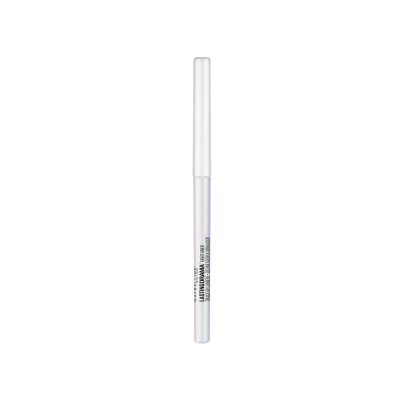 Quick Facts
Type: Retractable pencil
Shade: Pearlescent white
We're spicing up our list with something fun and pretty! This is a frosted white eyeliner with a beautiful shimmer that would be a great addition to any extravagant makeup look.
The pigmentation of this product is interesting. The base of the cream is a sheer white with a lot of pearlescent flecks embedded in it. The result is that it lets a bit of skin peek through, but still brightens impressively.
The color is actually very similar to Rimmel Scandaleyes Shadow Stick, but because this is a retractable pencil it gives a thinner line. As a result, it works very well in the waterline or as a highlight in the inner corner of the eye, but doesn't give as many additional uses.
All-in-all, it has totally acceptable staying power, a pleasantly soft texture, and lovely effects. If you're looking for a touch of shimmer in a small and convenient package, it's a great option.
Really, there are very few drawbacks to this product, but it is admittedly niche. We don't think many people require a slim, pearlescent white eyeliner. It could definitely enhance your makeup collection, but it's not a must-have the way a more traditional white eyeliner would be. Finally, if you're committed to only using cruelty-free products, Maybelline sadly does not qualify.
---
Quick Facts
Type: Jumbo pencil
Shade: Pearlescent white
This is another jumbo pencil that gets us excited! Though it's marketed as an eyeshadow stick, it absolutely works as a white eyeliner, and it has a frosted finish that adds a lot of glam to any look.
It's very comparable to NYX Milk, with the most major difference being the finish. NYX Milk is a matte white, while Scandaleyes has a pearlescent finish. Because of that, it's lovely as a highlighter in the inner corner of the eye or as a lid color. Because the formula is so creamy, it can even double as a cream highlighter for the cheeks!
The formula is advertised as waterproof, which it very well might be, but we still find that its longevity is slightly worse when compared to other options on our list. When used alone on the lid, it starts fading after 6 hours or so, although it will last much, much longer if you set it with a powder. In fact, one of our favorite uses for it is as an "eyeshadow primer" in which case its longevity jumps by quite a bit, and it adds a bit of extra luster to any eyeshadow.
It's definitely gentle enough for the waterline, and it even gives a very special effect when applied. However, it requires re-application since it starts fading after 3 hours and is usually totally gone by hour 4.
The formula is extremely soft – almost too soft, so you'll have to be very careful when sharpening it. You can make sharpening an easier process by popping it in the freezer for 20 minutes to get the cream to harden a little.
---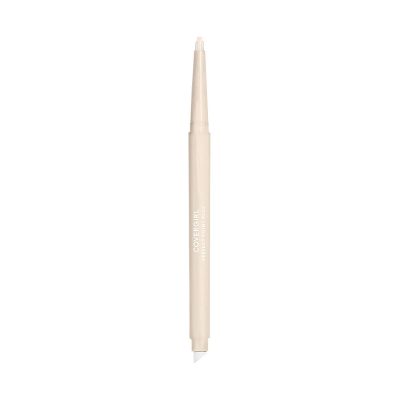 Quick Facts
Type: Retractable pencil
Shade & finish: Shimmery off-white
Cruelty-free
With a name like White Out, we were pleasantly surprised to realize that this shade was actually more of a champagne. If you want the effect of a white eyeliner but with a color that's less stark, we think Perfect Point is a great choice.
Like NYX Retractable Eyeliner, this is also a simple white eyeliner that rolls up and down. The major difference is the color, of course. We find that CoverGirl looks more natural on those with darker skin, while the true white of NYX really sticks out.
The tip on this liner is extremely soft so you need to be extra careful when using it to avoid breakage. As a result, it doesn't work well on the upper lash line, but the benefit is that it's extremely gentle on the waterline.
The longevity on this liner is on the shorter end of acceptable, for us. It looks nice and subtle for the first 4 hours, and then it starts to fade pretty dramatically. It's a fine choice for short occasions or if you're happy to reapply it throughout the day.
This pencil is fitted with an angled smudger tip on the end, but we don't find it particularly helpful – a white smoky eye isn't really a thing.
---