Top Picks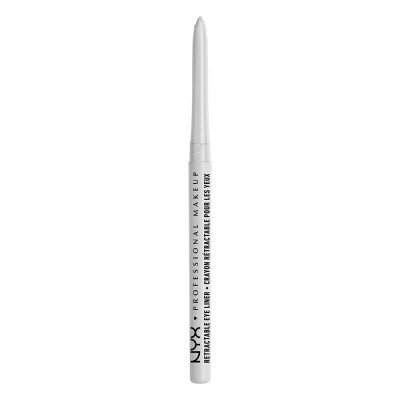 NYX Cosmetics Retractable Eyeliner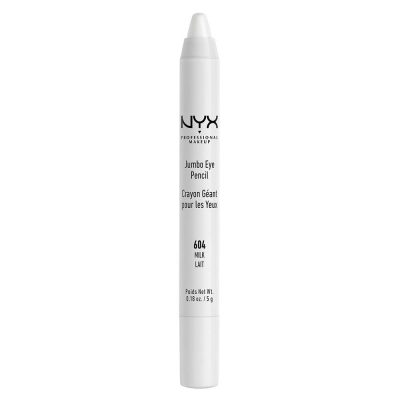 NYX Cosmetics Jumbo Eye Pencil Milk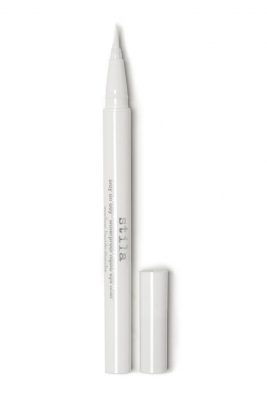 Stila Stay All Day Waterproof Liquid Eye Liner
Previous
Next
White eyeliner is every makeup artist's secret for making the eyes look massive. If your love of makeup runs deep then you've probably already tried adding that thin line of white and achieved glorious effects! If not, we'll help show you the ropes and add this secret weapon to your makeup arsenal.
What even hardcore beauty enthusiasts may not know is that white eyeliner can have other uses. It's great for sparking creativity. There are different types of white eyeliner, and each one is better for a different makeup style. Sadly, not all options are suitable for the delicate waterline. Keep reading to find out about all of the best white eyeliners for every makeup look!
Things to Know About White Eyeliner
Before getting into the reviews, there's some important information you might like to know about white eyeliner. We cover it all in this section and will get into even more detail later on.
Where Do You Use White Eyeliner?
The most signature use for white eyeliner is in the waterline, which is the rim of skin between the lower lash line and the eye. When applied there, white eyeliner makes the eyes look bigger by matching the whites of the eyes and reflecting light. Not only does it widen the eyes, but it also hides redness from sleepless nights. You can learn how to do this yourself with our easy guide.
However, white eyeliner has other purposes too, from doubling as a great highlighter or eyeshadow primer to boosting your most creative eye makeup looks! If you'd like to get inspired, check out all of the other ways you can use white eyeliner!
Types of White Eyeliners
White eyeliners come in a few different types, and each one is better for a different kind of application. We'll let you know what category each eyeliner falls into in the reviews.
Pencils are perfect for lining the waterline because they're semi-soft and easy to apply. They come in either sharpenable or retractable formats.

Liquid eyeliners are ideal for graphic liner looks because they're pigmented and long-lasting, but they don't work in the waterline.
Gels come in a little jar so they have to be applied with a separate brush. They're great if you like to get very creative or to cover a lot of space, although they don't always work in the waterline.
We get into even more details about subtypes, how each type performs, and what kind of look it's best for you further on.
Features to Look for in White Eyeliner
When looking for a great white eyeliner, these are the features we always keep in mind.
Creaminess
If you're going to use eyeliner on the waterline it must be creamy and soft. This way, the formula glides over the sensitive skin and manages to impart an adequate amount of product. With a hard liner, you risk scratching or irritating your eye area.
At the same time, super creamy eyeliners, especially in pencil form, can break very easily, and sometimes they don't have enough of a drag to impart color anywhere but the waterline. It's a fine balance, and is something to consider depending on where you plan to apply your liner. We'll let you know exactly what kind of texture you can expect from each liner on our list, and how it performs best.
Pigmentation
Pigmentation refers to how much pigment or color is in a particular makeup product vs. the amount of filler. With white eyeliners, we want good pigmentation so that they can cover the skin and leave behind an opaque white line. Otherwise, they can look patchy or uneven, which totally defeats the purpose!
Longevity
It's very hard to get makeup to stay on the waterline because of how close it is to the eye and tear duct, so longevity is a key feature for every white eyeliner. When applied to the waterline, we expect a white eyeliner to last for at least 4-5 hours. Even if you don't use it on the waterline, you still don't want your hard work to fade or smudge during the day. When applied to the lash line or lid, we expect a minimum of 8 hours of wear.
With all of this in mind, let's find out which white eyeliners measured up to our standards!
How to Choose the Best White Eyeliner for You

There are so many white eyeliner options and they all sound so good! If you're struggling to narrow down your selection, this section will help.
Choosing the Right Type of White Eyeliner
Pencils and liquids and gels… oh my! Learn what makes each type of white eyeliner unique to figure out which will be best for you.
Retractable Pencil
These pencils are made of plastic, with a mechanism that allows the makeup component to roll up and down. They're a very convenient choice because they don't require other tools like brushes or sharpeners. The eyeliners themselves are made of either natural or synthetic wax mixed with white pigment, which is soft enough for the waterline but also still firm enough to give a neat line on the lash line.
If you're looking for an eyeliner for the waterline, chances are you'll end up with a retractable pencil like our top pick, NYX Retractable Eyeliner. If you want something firmer, you'll prefer L'Oreal Infallible Eyeliner.
Pencil
Just like your school pencils, white pencil liners are thin and require regular sharpening. Once upon a time, they were the only choice for eyeliner, but retractable pencils have replaced them in most brand portfolios.
The main exception is the gel pencil, like Wunder2 Super-Stay, which is a type of sharpenable pencil with a very creamy, gel-like texture instead of the more solid wax-based texture of a typical pencil.
They often have a metallic finish and are very soft and gentle on the waterline. They're sometimes too soft to give a precise line and they can break when sharpened. The best way to get around both issues is to let them harden in the freezer for 5-10 minutes before using or sharpening them.
Liquid
Every beauty enthusiast has a black liquid eyeliner in their makeup bag for drawing on a sharp and sexy cateye, but white liquid liners are a little more niche. They became a bit more popular last year when many celebrities were spotted wearing white winged liner instead of the traditional black.
Liquid liners cannot be used in the waterline, but they're great for adding precise lines of white to your lash line or elsewhere on your face. They have a liquid texture and can come either as a pen, like the Stila Stay All Day or in a tube with a brush attached to the lid, like the NYX Epic Wear Liquid Liner. When applied to the skin they look very precise and they tend to have very good longevity, especially with waterproof formulas.
Gel
Gel eyeliners, sometimes also referred to as cream eyeliners, are pretty magical because they combine the effects of both pencils and liquid liners. They come in a little jar, and they have a creamy texture that is somewhere between a pencil and a liquid. They tend to have fantastic longevity and some formulas are safe to use in the waterline.
The coolest thing about gels is how versatile they are. They can be used anywhere on the face with very different effects depending on the kind of brush you use. The only drawback is that you have to own additional tools to use them, and they're not convenient in a rush. They're a good choice for more intense makeup enthusiasts.
White gel eyeliners are not particularly common, but Inglot Gel Eyeliner is an exception that also happens to perform extremely well.
Jumbo Pencil
Jumbo pencils can seem a little gimmicky, but they're actually very useful. They're just an oversized version of the typical eyeliner pencil or gel pencil. Their formulas are usually soft and creamy so they have a lot of the same functionalities as a gel liner. They are sometimes marketed as cream shadows instead of as eyeliners, although they can still be used in the waterline.
The benefit they have over gel liners is that they can be applied directly without the need for a brush, although note that they can only be sharpened with a jumbo-sized cosmetic sharpener.
NYX Milk is a great jumbo pencil in matte white, while Rimmel Scandaleyes Shadow Stick offers a shimmery take on the concept.
Choosing the Right Shade and Finish
The color "White" is not as clear cut as you'd think, and there are a few shades and finishes you can choose from.
Matte White
For the most part, when we think of white eyeliner, we imagine a crisp white shade with a matte finish. Matte white is great for widening the eyes and it works well with almost all makeup looks. Most of the eyeliners we've selected are matte white.
Frosted White
However, white eyeliners also come with metallic or frosted finishes, which means that they're shimmery and reflective. Those liners double well as highlighters, and they're really nice for glitzy makeup looks. The metallic liners on our list include Maybelline Lasting Drama Light and Rimmel Scandaleyes Shadow Stick.
Off-White
Finally, there are also off-white eyeliners that can look softer and more natural, especially for darker skin. That includes Covergirl Perfect Point which is a champagne, and Wunder2 Super-Stay which is a white-gold.
White Eyeliner FAQ
If you still have some questions or would like some tips to make the most out of your white eyeliner, we've got you covered!
How Do You Use White Eyeliner to Make Eyes Bigger?
It's easy to explain how to widen the eyes with white eyeliner, but actually making it happen takes a bit of practice – especially if you're not used to rocking liner in the waterline.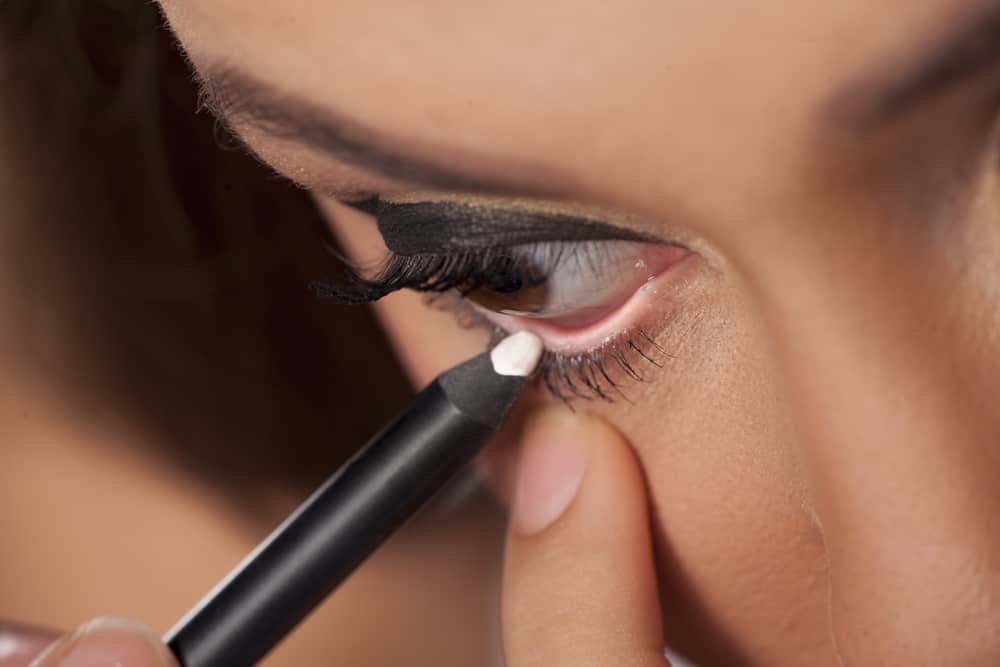 The best time to pop white eyeliner on is after you've finished your eyeshadow but before mascara.
With your finger, gently pull down on the skin right under your eye to reveal your waterline.
With your other hand, begin applying the eyeliner to the waterline. Start near the outer corner of the eye and slowly bring the color inwards.
If you can do it all in one stroke, that's great, but if you need to blink occasionally, that's okay too. Just apply it in short, overlapping strokes to make sure that the entire waterline is covered.
You're done! If you smudged any eyeliner on your bottom lashes, use a cotton bud to wipe it off.
Finish off your look with a coat of mascara.
Is It Safe to Wear White Eyeliner in the Waterline?
It's fair to be a little concerned when it comes to a product that goes so close to the eye. As we can learn from a study published in the official journal of the Contact Lens Association of Ophthalmologists, when you apply makeup directly to the waterline, some of it will probably migrate into the eye itself.
If it's a well-formulated product from a reputable brand, it might cloud your vision for a bit until you clear it out with eye drops. However, if the product isn't appropriate for the eyes or if you don't remove it properly at the end of the day, you can risk irritating your eyes or ending up with an eye infection. The FDA has a few tips to help you keep your eyes in good shape:
Never share or swap eye makeup.
Always keep your products sealed.
Apply your makeup with clean hands.
Don't use anything past the expiry date.
Finally, for the love of makeup, never try to put eyeliner on in a moving vehicle!
Are There Any Other White Eyeliner Looks to Try?
White eyeliner in the waterline is classic, but there is so much more you can do with this product:
White eyeliners like NYX Milk can also double as an eyeshadow! Simply smudge the liner over your eyelid, and then use your finger or a fluffy brush to blend it out. You can use it alone or as part of a more complex eyeshadow look.
White eyeliner works beautifully as an eye primer to prevent your eye makeup from creasing and fading. Apply a thin layer of it to your lid and set it with any eyeshadow. The eyeshadow will end up looking brighter and more vivid than it would over a regular eye primer.
Winged liner is always stunning, but it's extra special when double-stacked a la Sophie Turner. First, apply a thin line of black liquid liner along your lash line, and then apply a line of white eyeliner like Stila Stay All Day or Inglot Gel Eyeliner right above it with a sharp, long wing.
Gel and pencil white eyeliners (especially with a shimmer) can work as highlights under the brows and in the inner corner of the eyes. You can apply them alone or under a pearly shadow to give it more pop.
Channel your inner Ariana Grande and create a negative-space wing in white! NYX Epic Wear Liquid Liner is especially well-suited for creating this kind of look.
Get inspired by Gigi Goode, and add a few lines of white liquid or gel eyeliner over your lid to enhance your eyeshadow.
If you're into K-beauty, both shimmery and matte white eyeliners can work well for creating the illusion of an "aegyo sal", which is a small protrusion of baby fat under the eye. A simple line of white under the lower lash line is perfect for creating the look.
Final Thoughts
Using white eyeliner for the first time is an eye opening experience… literally! It's surprising just how many things you can do with white eyeliner, and how different liner formulas work best for different purposes. We hope we inspired you to start using this underrated product and helped you find a few options that you'll be excited to reach for every morning.