Glossier's Cloud Paint is the favorite blush of many beauty enthusiasts thanks to its lightweight feel and incredibly natural finish. However, the Glossier Cloud Paint does carry a more premium price tag that many users may not have the budget for on a regular basis. Fortunately, there are many dupe products available today that may fill the role of Glossier's Cloud Paint for a more reasonable price.
Below, we have compiled a list of the best dupes for Glossier's Cloud Paint that are on the market today. We'll break down the pros and cons of each one in addition to giving you some tips to help you evaluate your own Cloud Paint dupes. You'll also be able to read some important frequently asked questions that can help you understand exactly how to use your new favorite product.
What Is Glossier Cloud Paint?
Featuring a lightweight, silky-smooth formula, Glossier Cloud Paint has risen to a spot of notoriety in the beauty world. The line of gel-cream blushes offers 6 different colors with varying undertones that are designed to be easily applied and give the appearance of a subtle natural flush. Many of the product's loyal fans love the way Cloud Paint melts into their skin for a dewy finish, without leaving any streaks or a dry feeling.
On the downside, Glossier Cloud Paint is priced on the more expensive end of the spectrum. A 10 ml (3.3 fl oz) tube often costs around $18.00, which can be a drawback for those shopping on a budget or those who use a lot of the product. Fortunately, this is where our list of Cloud Paint dupes comes in handy.
Understanding the Glossier Cloud Paint Color Range
When purchasing Glossier Cloud Paint directly or searching for a dupe product, it is important to have a good idea of the shades that you want. To find accurate swatches of Cloud Paint, you can access the images on Glossier's website or use this blog for comparisons. Below, we have also included a brief description of each blush color available for easy referencing.
Storm – a reddish plum color with subtle warm undertones
Dawn – a coral, medium orange color with warm undertones
Puff – a cool-colored light pink
Dusk – a dark peach with warm brownish undertones
Haze – a medium berry color with cool undertones
Beam – a light coral color with warm undertones
"Storm" is one of the most popular Cloud Paint shades as its richness and undertone look good on practically every skin tone and color. You can also mix and match these shades to create the perfect color for your skin tone.
The below dupes are the best of the best when it comes to replicating Glossier's famous Cloud Paint blush.
Top 4 Best Glossier Cloud Paint Dupes 2023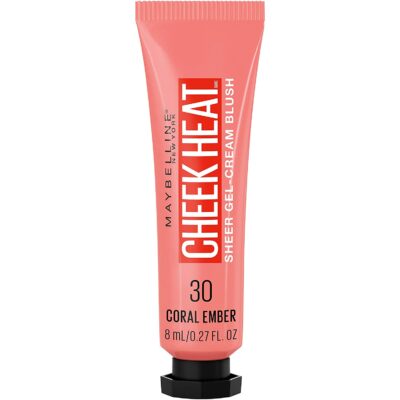 Why we like it:
Maybelline's Cheek Heat blush features a gel-cream formula similar to Cloud Paint and 6 similar shades.
Editor's Rating:
Much like Glossier's Cloud Paint, Maybelline's Cheek Heat Gel-Cream Blush features a sheer, lightweight formula that goes on skin easily. It provides a natural-looking dewy finish that doesn't dry out skin or accentuate the appearance of fine lines or pore. It makes a great choice for those who love the final finish of Cloud Paint.
Maybelline's Cheek Heat also comes in 6 shades, like Glossier's Cloud Paint, so it won't be too hard to find a shade that is similar to your original favorite. The colors are a pretty close match in terms of overall color and undertone. Plus, the Maybelline product is priced at under $10 by most retailers, making it a great, affordable option.
You should keep in mind that while the colors are fairly close matches for Cloud Paint, they may not be as pigmented. This means you may have to put on several layers to build up the same look you would get with one application of Cloud Paint.
Pros
Offers 6 shades similar to Glossier

Sheer, lightweight formula

Provides a natural-looking, dewy finish

Fits most budgets
Cons
Colors are not as pigmented
---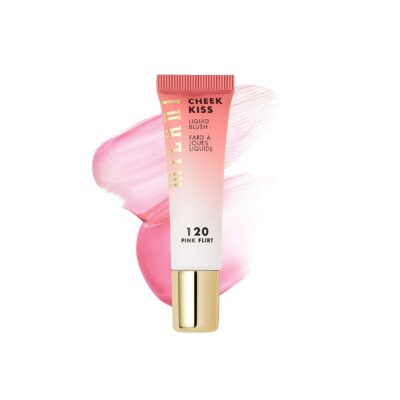 Why we like it:
The Milani Cheek Kiss Blush is a fantastic 2 in 1 product that is infused with hydrating ingredients.
Editor's Rating:
Milani strives to make their Cheek Kiss Blush as hydrating and beneficial for the skin as possible by infusing it with pomegranate, rose extract, and watermelon. The formula of the product is creamy and very buildable, and as an added bonus, it is completely vegan. It makes for a great choice for someone who wants a blush similar to Glossier's that packs in the skin benefits.
This is a 2 in 1 product, meaning that it can be used on the cheeks and the lips. Some users may find this especially beneficial in cutting down their makeup routine and in creating a natural "no-makeup" look.
Unfortunately, the staying power of this blush isn't long and the color tends to fade away after several hours. It may also be a little difficult to blend as it dries quickly, so you will need to move fast to blend it out or you may be left with a slightly streaky look.
Pros
Infused with hydrating ingredients

Can also be used on lips

Very buildable creamy formula

Vegan
Cons
Color doesn't last long

Can be hard to blend
---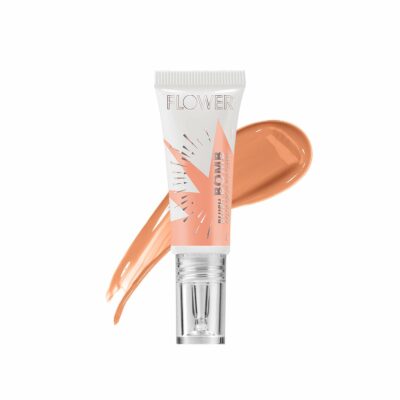 Why we like it:
This cruelty-free brand provides a highly pigmented, affordable alternative to Glossier's Cloud Paint.
Editor's Rating:
Flower Beauty is a committed cruelty-free brand, much like Glossier. This makes it a great option for someone who wants a more affordable dupe from a company that places animal welfare at the forefront of their standards.
Certain shades of Flower Beauty's Blush Bomb are identical to those offered by Glossier, making it a good choice for someone who wants their dupe to be as identical as possible. The formula of the blush blends easily and the colors are highly pigmented, meaning a little will go a long way.
On the downside, the formula of Flower Beauty is a little waterier than that of Glossier's Cloud Paint. This may turn away users who prefer a more whipped texture and can make it hard to dipsense blush from the tube, as it tends to all come out at once.
Pros
Certain shades are identical to Glossier's

Cruelty-free brand

Blends easily

Highly pigmented colors
Cons
Formula is on the watery side
---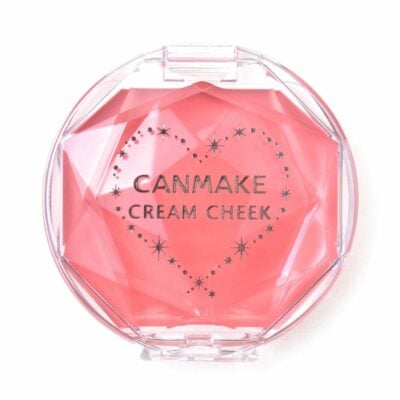 Why we like it:
Canmake's Cream Cheek blush features a light, whipped gel texture and is incredibly long-lasting.
Editor's Rating:
The light, whipped gel texture of Canmake's Cream Cheek blush is a great choice for anyone who loves the weightless feel of Glossier's Cloud Paint. Several blush shades offered by Canmake are exact matches for the Glossier product, and they have an extensive line of additional colors – great if you are someone who loves the extra variety.
The Cream Cheek blush is very long-lasting and won't fade away from your cheeks; you may not even need a setting spray or powder to keep it in place throughout the day. The blush itself comes in a durable plastic compact that is small enough to take traveling or on the go without issue.
It is important to note that a few of the Canmake blush shades do contain a fine glitter. This may be a drawback for those who prefer to stay away from glittery colors. Additionally, the blushes have more of a matte finish to them, which may turn away anyone who is looking for a natural dewy finish like the one offered by Cloud Paint.
Pros
Light whipped gel texture

Very long-lasting

Several shades are exact Glossier matches

Durable packing
Cons
Some shades contain a fine glitter

Has more of a matte finish
---
Your Full Guide to Glossier Cloud Paint Dupes
Finding the best Glossier Cloud Paint dupe can be a little challenging; if you want to explore beyond the options on our list, you can use these pointers to help you find the perfect product.
What to Look For in a Cloud Paint Dupe
When looking for a Cloud Paint dupe, be sure to keep these factors in mind in order to find the most similar product possible.
Shades
The shades available in any makeup dupe are especially important to look at. The original Glossier blush offers 6 different shades of natural-looking colors, many of which possess warm undertones. You may be able to find dupes for certain shades across other brands and you can use the comparison charts on Temptalia for more help determining if a shade is a close enough match.
From our list, we recommend the Maybelline Cheek Heat blush, as it has the most similar shade range to Glossier Cloud Paint.
Formula
The Cloud Paint formula is lightweight and blends into the skin easily. Any dupe you select should offer a similar lightweight feel, dewy finish, and ease of use. If you want a true dupe for the Glossier blush, you should try and stay away from powder, stick, and thicker cream blushes, as they will be heavier than Glossier's liquid-gel-cream blush hybrid.
Longevity
If there's one drawback to Glossier's Cloud Paint, besides the price, it is the ease with which this product fades away from your cheeks; it works best when partnered with a finishing spray or powder to help keep the color in place. When selecting a dupe, make sure that it has at least several hours of staying power, much like the original Glossier blush.
Cruelty-Free Status
Glossier is known for its vocal stance on being cruelty-free.The brand vets all of its suppliers to ensure the individual ingredients are cruelty-free and refuses to sell products in countries that require animal testing. If you want to find an exact dupe, you should look for brands with similar cruelty-free statuses.
From our selected dupe products above, Flower Beauty is a reliably cruelty-free brand.
Glossier Cloud Paint Dupe Frequently Asked Questions
Checking out these frequently asked questions can help put any remaining confusion about using your Cloud Paint dupe to rest.
How Do You Use Liquid Blush?
Liquid blush is fairly easy to use and doesn't take a lot of effort to apply. For a simple natural look, dab a drop or two of the blush on your cheeks. You can use a small brush or your fingertips for this. Apply the blush to the apple of your cheek and pull it outwards towards the edge of your face.
Blend the blush into your skin by dabbing lightly with your fingertips until the color is uniform. You can also use a blush brush or a Beauty Blender. Take care not to drag or streak the makeup, as this will create an unnatural look.
Once the blush is in place, you can add a setting spray or powder on top to ensure it stays in place all day long.
Is Liquid Blush Buildable?
You can build up coverage with liquid blush, though some brands are better for this than others based on the formula. To build coverage with liquid blush, simply add a few drops of pigment to your cheeks at a time, repeating the gentle blending step until you have reached your desired effect.
The key to building coverage with this type of blush is to apply a little bit at a time because it is very easy to add too much at once and have to start over.
Can You Use Liquid Blush on Bare Skin?
Yes, you can use liquid blush on bare skin. In fact, many people prefer to use a little bit of blush on bare skin to complete a natural "no makeup" look, which you can learn more about creating with the help of this video.
Will Liquid Blush Ruin Your Foundation?
Something many consumers worry about when it comes to liquid blush is the blush lifting their foundation off and ruining its appearance. However, this is not too much of a concern unless you are using a stick blush or a thicker cream blush.
Liquid blushes are designed to be lightweight and blend easily, so you should have no trouble applying them over foundation and gently blending them in. Just remember not to push down on the blush or blend too hard, as this will result in an unnatural look.
Can You Apply Liquid Blush Over Powders?
While you can apply a liquid blush over a powder, we don't recommend it. Depending on the formula of the blush you may find the powder rubbing off of your cheek or affecting the color of your blush too much. In general, it is better to apply your liquid blush first before any type of powder.
This is very much a trial and error process, however, so if you don't mind experimenting, you can switch things up once in a while and see what works for you.
Blushing Beauty on a Budget
Finding the perfect blush can be difficult, even more so if you are looking for a dupe of Glossier's famous Cloud Paint blush. Fortunately, there are several alternative products out there that are available at a much more budget-friendly price range, so you can afford to wear your blush as often as you want. Make sure to keep in mind the shade and formula you desire when selecting a dupe product, and you should have no trouble becoming a blushing beauty even on a budget.