Makeup and skincare are important staples in many people's day-to-day lives. However, it can be confusing or even difficult to choose brands that line up with your values.
For many, it's important that products are not tested on animals. For those who are vegan, products with animal ingredients are an absolute no-go. Sustainability is also becoming increasingly important as we learn more about how consumerism can negatively impact the environment.
Today, we're going to look closely at the brand Glossier. We'll cover whether or not it's cruelty-free and vegan and take a look at the sustainability efforts the company is making.
Glossier's Cruelty-Free Statement
Glossier has a statement on animal testing on their website. This is what they have to say:
"We're committed to being cruelty-free: this means we do not test on animals at any stage of product development, and we will only work with vendors who uphold the same standards. We are proud to share that our products are certified cruelty-free by Leaping Bunny, the only internationally recognized certification organization for cruelty-free companies. Being Leaping Bunny certified also means we'll have regular independent audits to ensure we're compliant."
This is a very promising statement. However, there are many companies that are cruelty-free in some senses, but not others (for instance, a company may sell cruelty-free products in the US but also sell products in China that are not). Let's dive a little deeper into Glossier's cruelty-free certification.
Is Glossier Cruelty-Free?
Glossier is a cruelty-free company and none of its products are tested on animals anywhere in the world, just like its statement claims. The company is certified cruelty-free by an organization called Leaping Bunny. While there are a few different organizations that certify companies as cruelty-free, Leaping Bunny has some of the strictest standards.
To meet these standards, a company cannot test any of its products or ingredients on animals. It also cannot purchase ingredients from a third-party manufacturer that does so. Furthermore, companies that are Leaping Bunny certified cannot sell products in countries that require animal testing.
Finally, Leaping Bunny requires companies to undergo independent audits from time to time to prove that their products are not being tested on animals, and companies must commit to annual recertification.
Is Glossier Owned by a Parent Company That Tests on Animals?
Sometimes, cruelty-free brands are owned by parent companies that are not cruelty-free. Luckily, this is not the case for Glossier, which is an independent, privately-held company. It was created by a group of beauty editors in 2014, helmed by Emily Weiss who is the main founder and CEO of the company.
As you can see, Glossier is not owned by another large beauty conglomerate like some other popular brands. Because of this, you do not have to worry that purchasing products from Glossier will support a parent company that engages in animal testing.
Is Glossier Vegan?
Before we discuss whether or not Glossier's products are vegan, we'll briefly explain the difference between vegan and cruelty-free products.
Cruelty-free means that a product has not been tested on animals. Vegan means that a product does not use any ingredients derived from animals.
Glossier is cruelty-free, but not vegan. Glossier has some products that use animal ingredients such as beeswax, lanolin, honey, carmine, and ambrettolide.
Although Glossier is not completely vegan, it does sell a number of vegan cosmetics. Products on the website are clearly marked as vegan in the product description, making them easy to sort out.
Glossier's Sustainability Efforts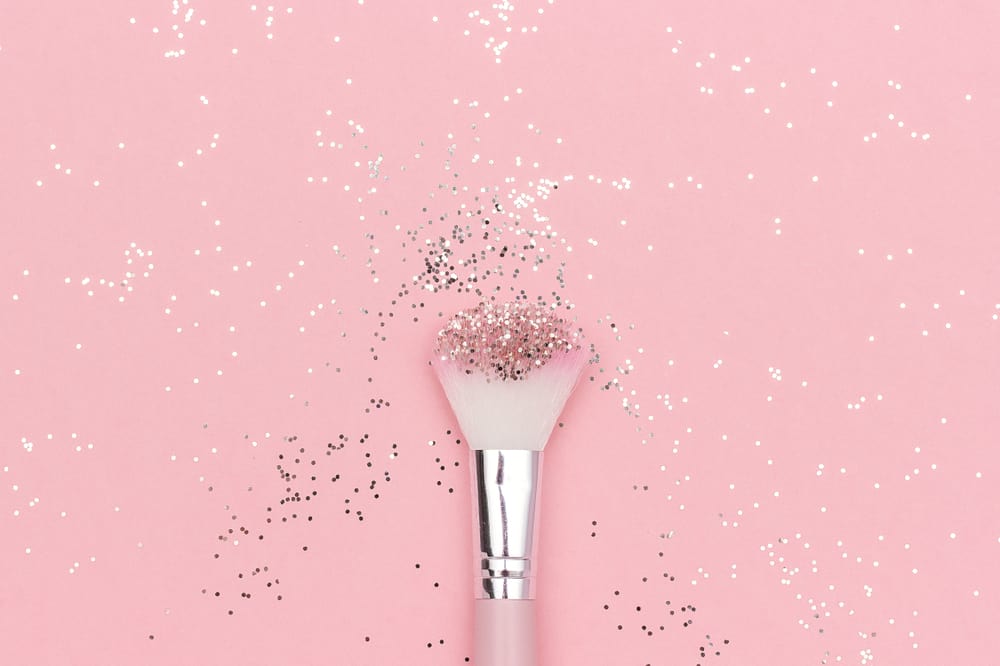 Many who shop for cruelty-free or vegan products are also looking for eco-friendly products. As we grow more and more aware of the damaging effects consumerism can have on the environment, we look for ways to reduce personal waste and leave a smaller footprint.
One of the ways individuals can have a positive impact is by supporting companies that are sustainable. So what is Glossier doing, if anything, to be more sustainable?
Limited Packaging
When you purchase something online from Glossier, you have the option to choose "limited packaging" at checkout. This allows you to receive products with the least possible packaging, and thus fewer items that you will have to throw out. Many of Glossier's products are delivered with a pink pouch which is not included when one chooses limited packaging.
Recycling at Stores
Speaking of the pink pouch, if you've ordered from Glossier multiple times (especially before the limited packaging option was available) you may have many of these pouches and no need for them.
Glossier provides a way for you to recycle them; you simply have to bring them to a Glossier location. Even if the Glossier location is only a temporary one, it will still accept pink pouches for recycling.
Recyclable Shipping Boxes
Glossier's shipping boxes are made from 100% recyclable materials. Once you've unpackaged your products, you can simply throw the box in your recycling bin. Glossier didn't always have completely recyclable shipping boxes, so this was definitely a great upgrade.
Discontinuing Glitter
Glitter is gorgeous, but it isn't great for the environment. Studies suggest that glitter is harming rivers, lakes, and oceans by inhibiting the growth of plants and algae. Because it is made of microplastics, it takes an incredibly long time to degrade.
Glossier discontinued its Glitter Gelée product in March of 2020 after receiving customer feedback about how glitter can be damaging to the environment. Since then, the company has not created any glitter products, stating that it has not yet found a way to produce a quality glitter product that is also environmentally friendly.
Pro Tip: If you do use glitter, remove it from your face using one of our favorite makeup wipes or other disposable makeup removers. Rinsing glitter down the drain makes it more likely to end up in waterways.
Bottom Line: Should You Purchase From Glossier?
Glossier is cruelty-free without any caveats: it doesn't test on animals anywhere in the world, ever. Glossier doesn't work with manufacturers or vendors that do, either. Though the company is relatively young, having been founded in 2014, it's making an effort to reduce waste, especially when it comes to packaging.
The only reason you may wish to avoid Glossier is if you are vegan. While it does have a decent selection of vegan products available, at the end of the day, it's not a vegan company because it does use animal ingredients in some of its cosmetics. Only you can decide if this is a problem for you or not.
Whether or not you should purchase from a company is a personal choice. It may be important to you that the company lives up to certain values. However, Glossier seems to be making an effort to provide products that match the beliefs of its consumer base.