Top Picks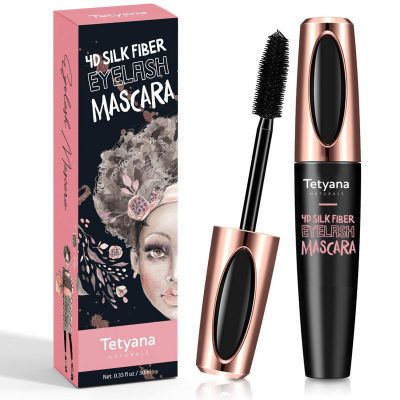 Tetyana 4D Silk Fiber Eyelash Mascara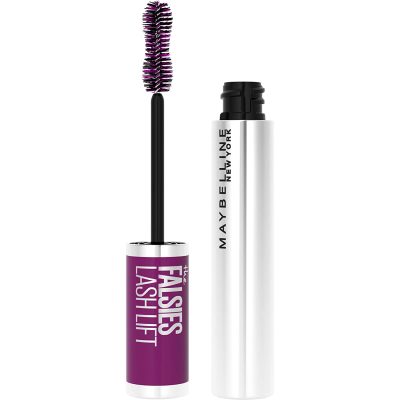 Maybelline The Falsies Lash Lift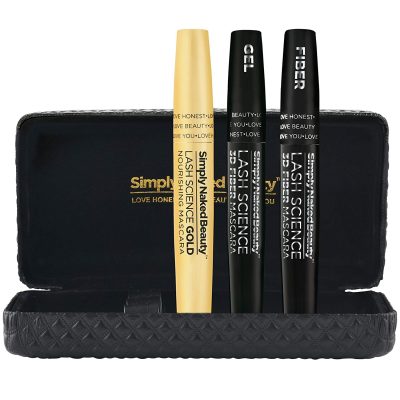 Simply Naked 3D Fiber Lash Mascara
Previous
Next
Many women will claim that they absolutely cannot leave their home without applying a little bit of mascara. In fact, this beauty product is one of the staples of any makeup bag, regularly used by 59% of women and quite a lot of men too.
Fiber mascaras are the cosmetic industry's latest invention. The innovative formula has infused fibers that will attach to your lashes in order to give them more volume and length. These mascaras create more dramatic looks than regular mascaras and will make a huge and noticeable difference to your look, especially for those who have short lashes.
Other than the infused fibers, the composition of the formulas is essentially the same. These mascaras contain the same emulsifying agents, waxes and oils needed to coat your lashes and give them a lift.
How to Choose the Best Fiber Mascara
Your eyes are the windows to your soul, and your lashes frame your eyes and help shape them. Fiber mascaras draw attention to your eyes by giving your lashes more definition, volume and length. They're a great addition to any makeup bag and can replace the need for eyelash extensions and false lashes.
Choosing the right fiber mascara is no easy task. There are so many to choose from. We've done the research for you and broken down each product into three factors: features of the product, the type of applicator it comes with and the overall look and finish.
If you're already confident you know what you're looking for, you can go straight to our picks for the best fiber mascaras around today.

What's the Difference Between 3D and 4D Fiber Lash Mascara?
When looking at fiber mascaras, you'll see the term '3D' and '4D' appear quite often. The difference lies in the type of base that is used.
4D silk mascaras contain a type of cream that is thicker than 3D fiber mascaras, which uses either a magnifying or transplanting gel. The creamy texture of 4D mascaras helps add definition and volume; however, they are more prone to clumping and smearing. 4D mascaras are great for parties and important events.
The texture of 3D mascaras is similar to regular mascara. The formula is much more fluid and easier to apply. However, it may not be the best option for those looking to add more volume and definition. While it is better at adding volume and definition than regular mascaras, it doesn't do as great of a job as 4D mascaras.
Features to Consider in Fiber Mascaras
Fiber mascaras are known for their ability to add volume and length to lashes, so that's basically a given. However, each formula may offer additional features, such as:
Curling
Curling can help you build even more intensity with just a few coats. These fiber mascaras usually contain some type of filmifying polymer that will contact once it's applied. This gives your lashes a noticeable curl.
Waterproof
Waterproof fiber mascaras usually contain mineral oils and waxes that help them stay put. They're also a great choice for those who have oily eyelids!
Lash-defining
This offers you additional thickness and length. These mascaras tend to have a thicker and heavier consistency to give you lashes even more definition.
Hypoallergenic
Hypoallergenic mascaras like this one are an ideal choice for those with sensitive skin and for those who wear contact lenses. Hypoallergenic formulas prevent eye irritation and usually contain nourishing ingredients like vitamin E or aloe. These ingredients can protect fragile lashes and prevent them from drying.
Non-clumping formula
These mascaras contain polymers that prevent them from clumping. These mascaras tend to be easier to apply and will give you a smoother finish.
Brush Style
In short, nylon bristles will help with clumping while plastic bristles will give you more definition. The type of brush that the mascara comes with will make a huge difference to the application. Some brushes are better at adding volume and length while others are better at getting to the roots of smaller lashes and lower lashes.
Other factors that may affect the performance of the mascara are the number of bristles that are on the brush and how they are spaced apart. The position of the bristles can also play a role. Bristles that are more finely spaced together will offer more definition while bristles that are spaced further apart tend to create more volume.
Some fiber mascaras come in several different tubes, and each tube may have a different applicator that may be better suited for the product.
There are many types of applicators. We go into a huge amount of detail about each in our full guide below. There, we'll discuss all the different types you can expect to find: ball, classic, comb, curved, hourglass, inverted, jumbo, miniature, pointed, rectangle, skinny, spiral, s-shape and tapered kinds of applicators.
Overall Look and Finish
Last but not least, consider the overall look and finish of the mascara. This includes how evenly the mascara applies onto your lashes and whether it coats each lash from root to tip. We'll talk about how well the formula is able to define your lashes and whether the formula works with your brush to separate your lashes, giving you that fluttery look that you'd see on the red carpet.
It's also important to understand the amount of volume that the fiber mascara adds and how much it can lengthen your lashes.
Finally, we'll consider whether the mascara is lightweight or heavy and sticky, with the former being preferred, and whether it leaves your lashes feeling crunchy or soft. Finally, a good fiber mascara should also stay put throughout the entire day without flaking, smudging or running!
With these three key factors in mind, let's get into the list and find the perfect mascara make our lashes look glorious.
A Complete Guide to Fiber Mascara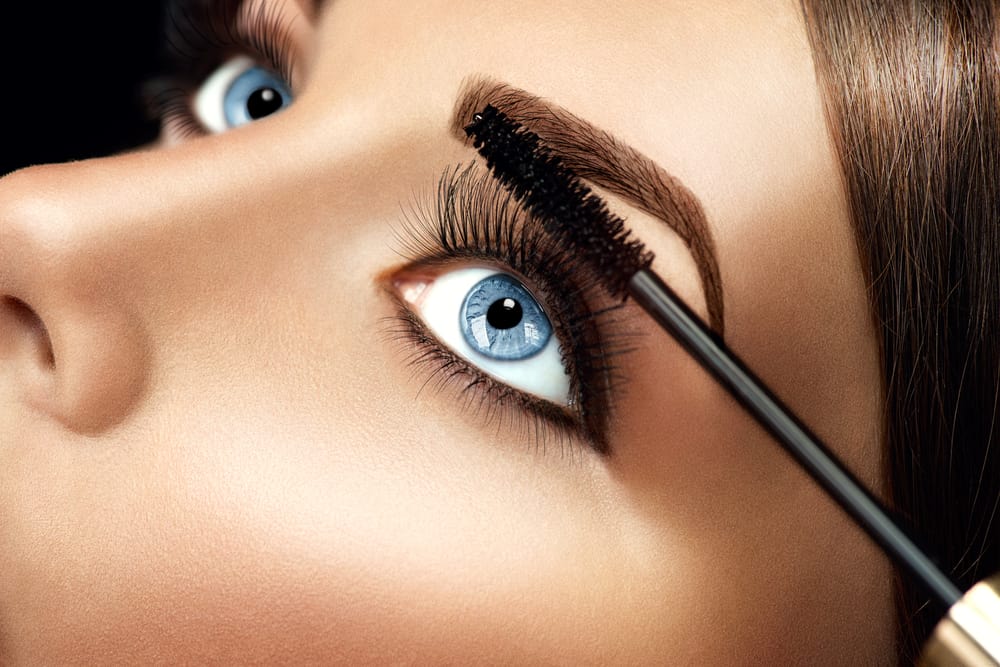 Fiber mascara is a gift from the gods for those with short, thin lashes. The fibers that are infused in the mascara adds a considerable amount of length and volume with every swipe. Most people won't need more than one application to get the results that they need.
Finding the right fiber mascara, however, can be difficult. This isn't a beauty product that you hear about very often. However, it is very popular and is beloved by many renowned makeup artists.
Now, we'll go into more depth about applicators and other factors. You can also skip ahead to read our tips on how to get the most out of your fiber mascara.
Applicator Types
We talked a lot about the different types of applicators in our reviews. Here is our full rundown of the types you can find on the market in all kinds of mascaras.
Ball
This type of wand looks pretty funny, as it's in the shape of a ball, but it's a great wand if you want to concentrate on only a few lashes at a time. A ball wand will offer excellent mid-lash to tip coverage, and will coat each lash evenly. It does a better job than most traditional brushes in this sense.
With that said, this type of brush doesn't always reach the roots. Due to this reason, it's not the ideal choice for those with blonde or fair lashes.
This isn't your typical mascara brush, so it's not surprising if you're not sure what to do with it. For best results, position the wand at the base of your lashes and wiggle it while moving it upwards. This technique will also give it some added curl.
Classic
This is probably the brush style that you're most familiar with. Classic brushes are straight, have a rounded tip and have short, thick bristles that are dispersed equal distances from one another. These brushes are best for volume and separation. Our best overall fiber mascara uses a classic applicator.
Comb
A comb brand looks a bit like a curved wand. It is curved, but the bristles are on the inside of the curve. This type of applicator is best for those who have short, thin lashes. It does a good job of coating each individual lash without clumping.
Curved
A curved wand is great at curling lashes because it can mimic the natural curl of your lashes. It has the shape of a banana. This type of brush is particularly useful for those with long lashes, as the curve effect will be even more noticeable. Many makeup artists recommend starting with an eyelash curler to lock in even more curl.
Hourglass
For a more dramatic look, look for mascara with an hourglass applicator. This type of brush has arches on both sides that will lift your lashes. The thick, stiff bristles add more volume by doubling the impact of a pigmented formula. It's an ideal choice for those who love dark, thick mascara.
Inverted
Inverted brushes are ideal for those who are aiming for a wide-eyed look. These brushes help add volume and length. The top part of the brush is wider than the bottom. The smaller bristles will actually grab onto the roots of the lashes and pull them upwards and outwards.
Jumbo
This type of brush is huge. It's essentially like the classic brush, but a lot bigger. This type of applicator is great for thickening the lashes in half the time.
Miniature
A miniature wand is the perfect choice for those who are looking for a brush specifically for their bottom lashes. These brushes prevent smudging and help you get to the roots.
Pointed
Pointed brushes are similar to tapered brushes, but the tip is pointier and the base is not as wide. This type of wand is great for full coverage. You would use the middle of the wand to apply mascara as you normally would, but you can use the pointed tip to add length. The precision tip is also great for building on mascara, as it will easily separate the inner and lower lashes. It'll also prevent clumps from forming during the application.
Rectangle
This wand is also an excellent choice for adding volume and length. The bristles will pull on your lashes to give it that extra boost in length. The only problem with this type of wand is that it's a bit chunky, so it can't get to the smaller lashes at the corners of your eyes.
Skinny
This type of wand looks like a larger version of the miniature wand. It's also another ideal choice for short lashes, as the skinny nature of the brush will let you get to the root of smaller, shorter lashes, giving it more definition and length. If you don't want to buy a mascara with a miniature brush specifically for your lower lashes, you can also try using a skinny brush. It can coat your lower lashes without smudging if you're careful.
Spiral
If you want to curl your lashes while add volume, you'll want to go with a spiral wand. This type of brush will lift your lashes as you roll outwards. It's also godsent for those with fine, short lashes. When using this type of wand, make sure to wiggle the brush from the root to the tip in a zig-zag motion. This type of brush is also prone to clumping, so make sure to wipe excess mascara off before using it.
S-Shape
An s-shaped wand has double the number of curls as a curled wand. The bristles are spaced slightly apart, so they're great for creating fluffier lashes. This type of applicator can add both length and volume. The wand is usually smaller than other brushes, like the classic, so it's also an ideal choice for those with short lashes. Our best budget pick has an s-shaped applicator.
Tapered
Also known as the cone brush, tapered brushes have a thinner end that makes it an excellent choice for reaching the small lashes at the inner and outer corners of your eyes. These brushes are also great for your lower lashes, as the pointed tip makes it easier to apply lashes on thin lashes.
Other Considerations
Although we've already touched upon some of the biggest factors to consider when choosing a fiber mascara, there are some other ones that can still affect the overall finish that you'll get. Knowing all of the features that are involved can help you narrow down your choices even more.
Wiper
The plastic ring inside the mouth of the tube is called the wiper. This small part of the mascara wipes off excess formula and can have a huge impact on overall performance. If the wiper is too tight, it will remove too much of the formula from the wand before you can apply it, leading to uneven coating. If the wiper is too large, it will leave too much formula on the wand, causing the mascara to become clumpy and dry slowly. This also increases the risk of smudging.
It's always best to find an adjustable wiper if possible. That's not always possible, but if you go for a wiper that offers a tighter fit, you'll get more definition. If you get one that has a looser fit, you'll be able to achieve a more dramatic look.
Easy to Remove
Find a mascara that is easy to remove. Nothing is worse than having to scrub your eyes to remove the mascara. If you try too hard, you may end up damaging your eyes and your lashes, causing your lashes to fall out. Look for a mascara that can be easily removed with any type of soap or cleanser.

Tips and Tricks on How to Get More Volume and Definition
One thing about fiber mascara is that it will add a considerable more amount of volume and length than regular mascara. You'll get dramatic results. This type of mascara is perfect for those who have naturally short and thin lashes.
With that said, there are some tips and tricks that you can keep in mind to make sure that the fiber mascara does its job. With the tips and tricks below, you can add even more volume and definition.
Blot the Mascara Wand
Excess mascara on the wand can cause clumping and an uneven application. When you pull the mascara wand out, take a careful look at the brush to make sure that it's not loaded with too much product. If it looks like it grabbed a lot of product on its way out, wipe some of the product off on a tissue or a napkin.
Apply a Primer or Even Some Baby Powder
To get even more definition and volume, consider applying a primer. A blue-tinted primer will make a black mascara stand out even more. If you don't have any primer handy, brush a little bit of baby powder or translucent powder onto your lashes using a small shadow brush. You can apply this powder in between every coat of mascara that you apply to make your lashes look even thicker.
Curl Your Lashes
Curling your lashes can add a lot of shape and definition. Use an eyelash curler before applying mascara. Ease the curler over your lashes and as close to your lids as possible. Squeeze for about 15 seconds and then gently remove the curler. For an even more intense curl, use a heated curler.
Don't Pump
You've probably seen it on the TV or watched it in a movie. Your favorite female actress will pump her mascara before applying it. Don't do this. Pumping your mascara will do more harm than good, as it actually forces air into the product. This makes it easier for bacteria to spread and will also dry out the formula. Instead, to distribute the product evenly on the wand, pull the wand upwards while twirling it.
Switch Up the Way You Apply the Mascara
The way that you apply your mascara can make a huge difference. Switch up the direction that you hold your wand. If you hold your wand horizontal to your lashes, you'll notice that your lashes will look thicker. If you hold the want vertical to your lashes, it will lengthen it. If you wiggle the wand from your lash line to the tip, it'll help hold curls.
Check the Formula
Like with all beauty products, the ingredients in the formula should sway your opinion on whether you're going to try the product. Avoid products that contain ethyl alcohol, as this ingredient can dry out lashes and cause them to become brittle. You should also avoid any formula that contains parabens or phthalates. Instead, keep an eye out for rich, nourishing ingredients, like vitamin E.
3 Tips on How to Prevent Mascara from Smudging
One of the main downsides about fiber mascara is that it can clump and smudge. While most formulas are smudge-free, it's still a good idea to implement some preventative measures that prevent smudging. Let's take a look at 3 of the most effective tips below.
1. Use Oil Absorbing Paper to Blot Around Your Eyes
The oils on your skin are the biggest culprit for smudging. They interact with the formulas in the mascara and cause them to break down. To prevent smudging, blot your eyes with oil-absorbing paper. It'll leave you with matte, fresh skin.
2. Apply Some Eyelid Primer to Your Lids
A little bit of primer can go a long way in preventing it from smudging. It basically preps your skin and prevents the oils excreted by your skin from reaching your lashes. It'll also prevent mascara transfer throughout the day.
If you already apply a face primer, apply the same formula under your eyes and on your eyelids. If you're not in the habit of using a primer, apply a bit of eye primer around your eyes.
3. Bake Under Your Eyes with a Translucent Powder
Adding some translucent powder underneath your eyes can also make a huge difference. Use a small, soft brush and put on a generous amount of baby powder or translucent powder under your eyes. You want to "bake" this powder by letting it sit for anywhere from 5 to 15 minutes.
Once it's done "baking," dust away the excess powder. This powder will reduce oil, shine and also prevent mascara transfer throughout the day as well.
Take a look at the video below for a step-by-step instructional video on how to do this step!
Frequently Asked Questions
Even some of the most experienced makeup gurus may have difficulties working with fiber mascara. While this type of mascara has been out on the market for some time, it surprisingly has yet to surpass regular mascara. Many people are hesitant to use fiber mascara because they don't know what to expect. We'll look at some of the most frequently asked questions below.
How Long Does Fiber Mascara Last?
Mascara expires three months after being opened. After three months, you should replace your mascara to reduce the risk of bacterial infections that can lead to eye infections and irritation. Studies show that expired mascara can contain high levels of pathogenic microorganisms that are hazardous to one's health.

Can I Use Fiber Mascara if I Have Sensitive Eyes or Wear Contact Lenses?
If a mascara claims to be ophthalmologist-tested, you should still perform a sensitivity test to confirm, as some mascaras are the most likely culprits for dermatitis and allergies. Apply some mascara on your arm or on the back of your hand and wait about 15 to 30 minutes. If you have a reaction to the mascara, you're likely allergic to it. If you apply it to your lashes, it may become easily irritated and inflamed.
Furthermore, those with sensitive eyes may want to avoid waterproof mascara, as the ingredients inside them can dry out lashes and cause them to fall out with time. As waterproof mascara is difficult to remove, you might also be more likely to sleep in it. This will cause even more damage.
In general, you want to look for mascaras that contain as few ingredients as possible. These mascaras are less likely to cause any type of irritation. The downside is that these products also tend to have worse staying power.
How Do I Remove Fiber Mascara?
In general, you'd remove fiber mascara the same way that you'd remove regular mascara. Use a cleanser of some type on a cotton pad and gently wipe away the mascara from your lashes. If the mascara is waterproof or difficult to remove, consider placing the cotton pad on your lashes for several seconds and letting the cleanser work its magic.
If you're trying to remove waterproof fiber mascara, you might find the task to be a bit trickier. In general, most of the waterproof mascaras like this one on our list are relatively easy to remove. If you're having difficulties, try using oil-based Micellar water to remove any stubborn amounts that may still be clinging to your lashes.
Fiber Mascara Creates Beautiful, Voluminous Lashes
Fiber mascaras are on a whole different level when it comes to giving your lashes more volume and length. They are able to give you that salon lash lift effect without having to go through the same amount of hassle. It's also a lot more affordable to pick up a fiber mascara than to get your lashes professionally done.
Although they are similar to normal mascaras, you may need a little bit of practice to get the best out of them, as the texture tends to be thicker. Working with the fibers can also be a bit challenging. If you are looking for more standard mascaras, we have articles about mascaras that are suitable for sensitive eyes and mascaras that are waterproof.
However, if you're looking to achieve a dramatic look without false lashes or lash extensions, this is it! Fiber mascara will give you the results that you want!