Top Picks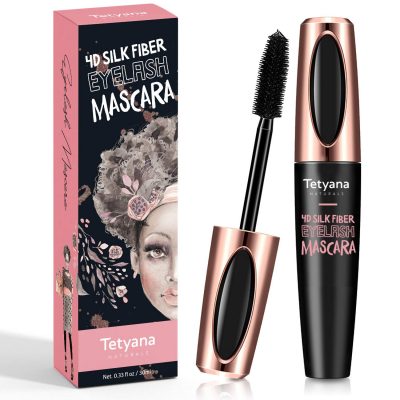 Tetyana 4D Silk Fiber Mascara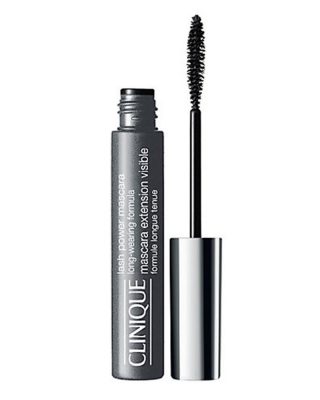 Clinique Lash Power Mascara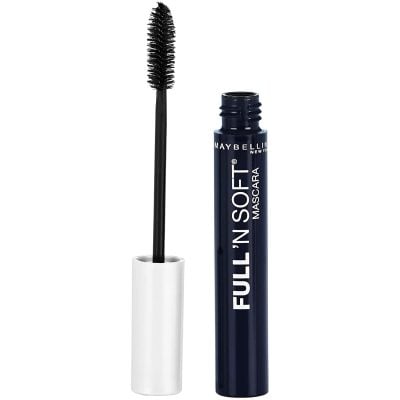 Maybelline Full 'N Soft Mascara
Previous
Next
Anyone with sensitive eyes knows that finding the right mascara is as difficult as it is essential. Old contact lenses, allergies, and other factors can cause hypersensitive eyes to turn red, water, or itch. Reactions to eye makeup are one of the leading causes of eye irritation, so anyone who deals with these problems should pay attention to how well-suited a product is for sensitive eyeswhen buying your next mascara.
While there is no way to be 100% sure to know if your mascara will irritate your eyes, there are a few ingredients to look for when choosing a product that won't make your eyes itchy and red. Hypoallergenic mascaras, for example, are considered safer for sensitive eyes. Descriptions like "waterproof," "safe for contact lenses," and "fragrance-free" are hints that the mascara of your choice won't irritate your eye area, but following these cues isn't enough. There's more than meets the eye when it comes to ensuring that your mascara doesn't harm your eyes, so read on.
Factors to Consider Before Buying a Mascara for Sensitive Eyes
So, what are the features to take into consideration when buying new mascara for sensitive eyes? Although there are numerous factors to consider when purchasing mascara, these five are the most essential.
Application
Nothing is worse than a mascara that won't hold. The perfect mascara should be user-friendly and easy to maneuver, so there is no fear of poking your eyes. Mascara that is easy to apply gives highly defined lashes that create a dramatic look, making your eyes stand out.
Removal
One thing that can irritate your eyes is scrubbing your lashes and trying to remove the extra mascara. When it is too difficult, there's even the temptation to give up and wake up the next day with a "panda look." If mascara is too hard to remove, it can affect the delicate skin surrounding your eyes.
Duration
High-quality ingredients are vital for holding length and color to the lashes. If you are buying a new type of mascara for sensitive eyes, it needs to last all day. It is also essential that toxic and damaging ingredients such as parabens aren't used to preserve the mascara's longevity.
Drying
Nowadays, we are on the run and don't have time to wait for the mascara to dry. But, if you don't let it dry fully, this too can irritate your eyes. A good mascara for sensitive eyes is one that dries out quickly and efficiently.
Performance
The best mascaras for sensitive eyes stretch your lashes with their high-quality ingredients and formulas. Most mascaras contain natural moisturizers that help create a fully covered look from the tip of the lashes to the roots, delivering a dramatic look that turns heads.
When shopping for your new mascara, look for labels like allergy-tested, hypoallergenic, or ophthalmologist-tested. "Hypoallergenic" indicates the brand has tried to exclude some allergens that can cause eye irritation for some people. However, there is no 100% guarantee that any product is completely allergy-proof. Likewise, "ophthalmologist-tested" implies a specialized eye doctor did the testing, but this still isn't enough to be completely sure.
Top 10 Best Mascara for Sensitive Eyes 2021
Guide to Buying the Best Mascara for People With Sensitive Eyes
So, whether you are looking for a lengthening mascara or volumizing mascara, there is a formula for you. In this section, we will discuss the factors that you need to consider when choosing the best mascara for your sensitive eyes.
Why Are Some Eyes More Delicate Than Others?
Some people are born with sensitivities, while others develop allergies after later in life for various reasons. Many things could cause eye infections like certain product ingredients, dirty makeup brushes, and natural predispositions.
Not all sensitive eyes are alike. Before you purchase a mascara for sensitive eyes, recognize your symptoms.
Red Rosie: Are you the type of person who wears sunglasses at home because you have red eyes? If yes, you belong to the "Red Rosie" club.
Flaky Flora: Your skin around your eyes looks dry, and no matter how much serum or cream you apply, flakes of skin appear.
Puffy Pippa: Numerous factors can cause swollen or inflamed eyes. Still, make sure to pick the right mascara for you to avoid additional irritation.
The best way to understand why your eyes are sensitive is to see a specialist. Some of the common reasons for eye sensitivity are ingredient intolerance, contact lenses, and makeup buildup.
How Can a Mascara for Sensitive Eyes Help?
The best mascara for sensitive eyes contains natural ingredients like jojoba oil, aloe, keratin, or beeswax, instead of harsh chemicals. These organic ingredients are clean and gentler on the skin.
Mascara for sensitive eyes is also easier to remove than other formulas. When mascara consists of organic and natural ingredients, you can remove it with water and soap or makeup remover – no more scrubbing and rubbing.
Things to Consider When Buying a Hypoallergenic Mascara
Application
Some mascaras have long and thin brushes, while others have thick ones. There are also straight and curly brushes. You should choose one as per your preferences. If you have longer lashes, it is best to use longer bristles.
Mascaras with smaller brushes are useful for volume but not perfect for adding length to your lashes. Do a little homework on your lashes and match up the right mascara brush to do magic. It is also vital for the brush to be soft and rounded to avoid any possible irritation or redness.
We all have different opinions when it comes to the length and size of the wand that comes with the mascara. For some, long rods are convenient, while for others, they are troublesome. A short wand is an optimal choice – helps you get a good grip and gives complete coverage.
Washable vs. Waterproof
Washable mascaras are made with higher liquid content and are easy to remove. They are excellent for contact-lens wearers and people with sensitive eyes. Washable mascaras cause less damage to your eyelids. You can wear washable mascara for a simple, minimal makeup look without feeling heavy-weighted or dry. Although they don't add the same level of drama and volume to your eyes, they are healthy for everyday use.
Waterproof mascaras, on the other hand, are concentrated, high-quality formulas created with less water, so the makeup remains unaffected by tears, sweat, and so on. The mascara sticks longer on the lashes and creates a dramatic, classy look. If you are more into waterproof mascara, find one that is easy to remove.
Consider the Ingredients
Ingredients are crucial when choosing a new mascara. Some formulas contain parabens and toxic materials that are not suitable for sensitive eyes. It is better to opt for natural, organic products and mascara with non-toxic ingredients. The harsh materials used in mascara can make it difficult to wash off.
Removing the Mascara
Although removal is one of the most neglected factors, it should be at the top on your priority list when buying new mascara. The more comfortably you can remove a mascara, the better for the user. There is no scrubbing, therefore no eye irritation or redness. You can easily remove mascaras with high water concentration.
What Is Your Lash Type?
If your mascara is always clumpy or smudging, there is a good chance you are not using the right mascara. While there are a few one-size-fits-all mascaras, knowing your lash type can be an essential factor in finding the best mascara for your sensitive eyes.
Short Lashes
If you struggle to see your lashes, you are going to need a hypoallergenic mascara that understands your challenge. L'Oreal Lash Magnifying and Honest Beauty Extreme Length Mascara build impressive length without causing discomfort or weighing down your lids.
After a swipe or two of these two mascaras, your lashes will look pretty and full, but not too dramatic. The result is so natural, elegant, and classy that your friends may start to wonder "is she born with these beautiful lashes?"
Curly Lashes
Not sure if you have straight or curly lashes? Take a cue from Kim Kardashian, whose lashes are famously curly. Before you apply your new mascara, don't forget to brush your lashes with a spoolie. It is a simple but essential step that will separate your lashes and help the mascara deliver perfect definition. If you want to look like Kim K and have beautiful curly lashes, give Covergirl Lash Blast Volume Mascara or Tetyana 4D Silk Fiber Lash Mascara a try.
Whether you pick Covergirl or Tetyana, you can't go wrong. Both mascaras give that "no makeup" makeup look. If you want natural definition, these hypoallergenic mascaras are perfect for you. There is also no need to worry about making a mess as each bristle grabs hairs to form thick and long lashes.
Straight Lashes
If you think the curling mascara doesn't work for you, you are a straight lash type. When you aren't using an eyelash curler, your eyelashes turn down. If you are desperate to bring them up, there are great mascaras for sensitive eyes you can use. Regardless of what you are looking for in a mascara, washable or waterproof are your best friends. Both of these types won't smudge and are perfect for people whose eyelashes touch their under-eyes.
Maybelline Full 'N Soft Mascara and Simply Naked Beauty 3D Fiber Lash Mascara will make your lashes look fuller and longer. Both are gentle and very effective mascaras that will keep your eyes protected, without any irritation. They are easy to use and even more comfortable to take off. Whether you use Maybelline or Simply Naked, your lashes will never look tangly or clumpy.
Natural Ingredients
Natural equals less irritation, allergies, or redness. There are great organic mascaras that deliver glamorous results. Non-toxic and natural ingredients such as jojoba oil or aloe vera are less irritating than others. Mascaras with non-toxic materials ensure minimal redness, no flaking or clumping.
Made from 100% natural, non-toxic ingredients, W3II People Natural Expressionist Mascara is enriched with pure mineral pigments and provides impressive coverage and volume. W3II mascara creates black and highly defined lashes. No petroleum or artificial chemicals are in the formula. It is cruelty-free, paraben-free, coal tar-free, and gluten-free – a clean and organic mascara, suitable for everyday use.
Dermatologist- and Ophthalmologist-Tested
To ensure your eyes are safe from irritants and toxic materials, look for a mascara that is dermatologist- and ophthalmologist-tested. This way, you will never have to worry about breakouts around your eyes, mainly because they are the most sensitive parts of your face. The last thing you want is red eyes and irritated skin.
Almay Thickening mascara is fragrance-free, dermatologist-tested, and hypoallergenic – the perfect product for anyone with contact lenses or sensitive eyes. Another great product is Neutrogena Healthy Lengthening Mascara. It is a safe formula for contact lens wearers and people with sensitive eyes. This Neutrogena mascara is tested by ophthalmologists and has earned a lot of good reviews from users with sensitivity and allergies.
Final Words
Mascara is a fundamental part of any makeup routine. Be that as it may, this component may cause various problems, especially for those who have sensitive eyes, as well as for people who wear contact lenses.
Luckily, you don't have to change your makeup routine to avoid irritation. By choosing a great mascara from this list, you can enjoy bold lashes while keeping redness and inflammation away.