Top Picks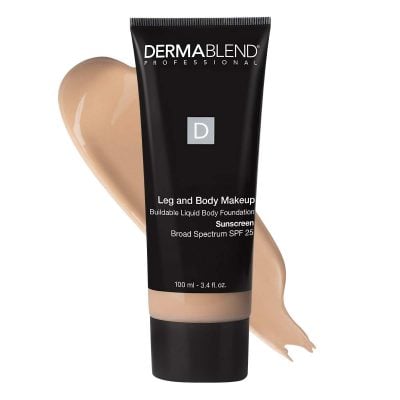 Dermablend Professional Leg and Body Makeup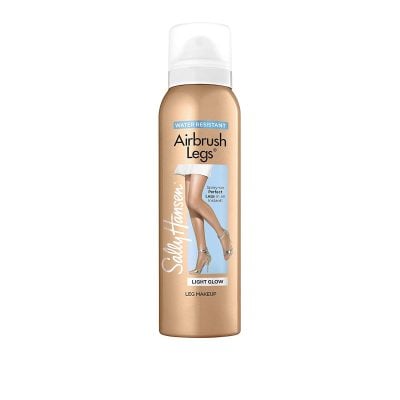 Sally Hansen Airbrush Legs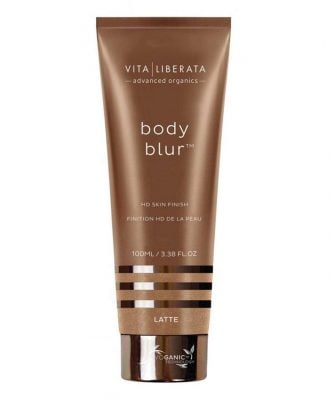 Vita Liberata Body Blur
Previous
Next
We've all seen those celebrities and influencers online who appear to have the most impossibly flawless, smooth legs. In some cases, their legs even appear to be glowing with impeccable tans. However, while some of this may be natural, many women (and men!) actually use leg makeup to assist them in obtaining the best-looking legs of their life.
Leg makeup is one of today's most popular products among celebrities and beauty gurus alike. One step-up from a face foundation, leg makeup is designed to be used on the body and helps to cover skin imperfections such as blemishes, bruises, uneven skin tone, and scars. The right product can even help you cover up a tattoo!
Whether you've always known you wanted to use leg makeup, or if this is your first time hearing of it (and you love the idea!), searching for the best product can be a difficult task. To make things a little easier for you, we've gathered a list of the best leg makeups available today. Keep reading to learn more about our top picks and to find out how to choose the one for you!
What to Consider in Leg Makeup
Leg and body makeups are comprised of many different formulas and coverage levels. Shades and ingredients also vary between brands. Understanding the differences between each is the key to purchasing a product perfect for your needs.
Formula
There are three main formula types for leg makeup: liquid, spray, and powder. Each one comes with its own unique texture and application process.
Liquid
The most common type of leg makeup, liquid formula foundations are creamy in texture and typically provide heavier coverage. They are usually durable, and great for when you need reliable coverage that holds up under pressure. Our most long-lasting makeup pick, Westmore Beauty Body Coverage Perfector, has a liquid formula.
Spray
Leg makeup in spray formulas are typically very easy to apply. The spray nozzle aids you in evenly coating your legs without blending and directing the makeup exactly where you want it to go. This type of formula is great for when you want a no-fuss, quick application product.
Powder
Powder leg makeup is very similar to powder foundation. You cannot typically use body powders by themselves as they don't provide the best coverage. Instead, they are more helpful when setting a liquid or spray makeup. You can also use powders between layers of liquid and spray makeup to enhance coverage.
Ingredients
Ingredients of leg makeup vary from brand to brand, but some products are better for your skin than others. Keep an eye out for things such as aloe, shea butter, vitamin E, and any natural and organic ingredients to make sure you're giving your skin the best. From our list, SugarBaby Radiance Bronzing Moisturizer Cream is a particularly skin-friendly option.
Coverage
The amount of coverage you need in a leg makeup depends on the type of skin imperfections or markings you are trying to cover. Coverage ranges from sheer to heavy, with many makeups being buildable so you can work up to the perfect amount of opaqueness. Sheer and light coverage is better for smoothing out skin-tone and covering light blemishes, while medium, full, and heavy coverage is better used on scars, moles, and tattoos.
Shades Available
The number of shades available is especially important when selecting a leg makeup. You can select makeup that is close to your natural skin tone, or you can choose a color that is a shade or two darker to give your legs a slightly tanned look. If you need help determining your exact skin undertones, check out our guide below for help.
Now that we've covered the basics of leg makeup, let's head straight into our list of the top 10 best products available!
Your Full Guide to Leg Makeup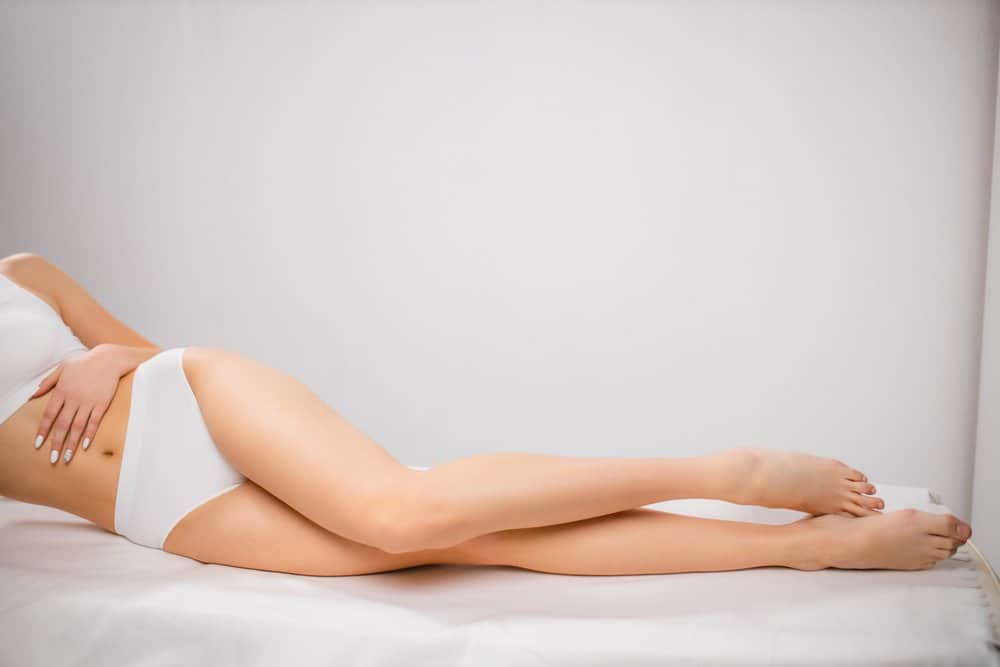 Buying leg makeup is not as simple as it seems – with so many factors to consider it's no wonder things can get confusing. If you still have questions about leg makeup and how to obtain natural leg beauty, we will be going over all the answers in our full guide to leg makeup.
The Benefits of Using Leg Makeup
Leg makeup can provide a number of benefits to anyone who uses it, young or old. It can help you cover up unsightly bruises, cuts, scrapes, or scars. It may also be beneficial in hiding dark spots and varicose veins, correcting uneven skin tone, and covering up tattoos.
If you are attending a special event such as a party or a wedding, leg makeup can give your legs that flawless glow that looks great in person and in pictures. Even if you are just planning on running a few errands outside the home, leg makeup can give you the confidence to wear the shorts and skirts you've always dreamed of.

Determining Your Skin Undertone
Understanding your skin undertone can help you pick a shade of leg makeup that will flatter you and match the rest of your skin, instead of leaving you too pale or too dark. Your undertone can be warm, cool, or neutral, and there are a couple of tests you can perform at home to figure out your exact type.
Look at Your Veins
To perform this test, stand in natural lighting and look down at your exposed skin, either on your forearms, chest, or legs. If your veins are blue or purple in color, your undertone is cool. If they appear to be green or are olive-colored, your undertone is warm. If you can't tell an exact color or if they are blue-green, you most likely have a neutral undertone.
Try on Some Jewelry
Take out any silver or gold jewelry you have and lay them next to each other on your leg or arm. If silver appears to make your skin pop more, you have a cool undertone. If gold is more flattering, you have a warmer undertone. If both of them happen to look great on you, you have a neutral skin undertone.
The Best Way to Apply Leg Makeup
How you apply leg makeup depends on which formula you purchase. A spray makeup like Sally Hansen's Airbrush Legs is applied differently than a liquid makeup such as Dermablend's Leg and Body Makeup would be. Below, we give you a basic application process for both types.
Liquid Leg Makeup
With liquid leg makeup, the trick to making it look flawless is to blend it properly and use a setting powder, especially if you are trying to build coverage.
First, apply one light layer of your chosen leg makeup. Use gloved hands or a beauty blender to smooth the product over your legs. Make sure to work quickly and from the top of your legs to the bottom to prevent a blotchy or streaky appearance.
After you've completed this first application and let it dry slightly, use your setting powder. Lightly dust it over the top of your makeup using a blending brush. Be careful not to press too hard onto the makeup or you risk smudging it.
Once you've applied the setting powder, you are good to go. If you wish to build coverage, add another layer of makeup over the setting powder and repeat the process as many times as you need, making sure to finish with a layer of setting powder. This will help your makeup stay on as long as possible.
If you are going for a dewier look rather than a matte appearance, you can skip the setting powder altogether. Keep in mind that this may make your makeup more prone to transferring onto clothes or being rubbed off.
Spray Leg Makeup
The application process for this is usually quicker than using liquid leg makeup. You do not have to blend out spray makeup in order to get an even appearance. Instead, simply take your makeup and spray it on your legs, working from top to bottom. Try to move quickly, but not too quick that you overlap sections as this will make the coloring uneven.
Once you have covered your legs, take a paper towel and blot off any extra makeup or drips that may have formed (behind the knees is a great place to check for this). Be very gentle so you don't end up wiping the makeup off completely.
If you desire more coverage or a darker color, repeat the application with another layer of spray and blotting. When you are happy with the appearance of your legs, you can optionally follow up with a setting powder to further perfect the look.
Coverage for Scars and Blemishes
If you have scars, dark spots, or blemishes on your legs that you wish to completely cover, you will likely have to put multiple layers of makeup on to fully hide them. The best way to do this is by spot covering these areas with one or two layers of makeup before moving on to the full leg application. This will give you the most even skin tone and fullest coverage possible.
Alternatively, you can just cover the skin imperfections with one or two layers of makeup and opt out of the full leg covering. Glossive Full Cover Skin Concealer is great this kind of skin spot concealing. Ultimately, whichever method you feel most comfortable in will be the best one for you.
Can You Use Face Foundation on Legs?
Technically, the answer to this question is yes: you can wear face foundation on legs. However, that might not be the most effective and comfortable way to achieve full leg coverage.
Face foundations and leg makeups are made with the same base ingredients. However, leg makeup is formulated to make it spread easier over your skin and deposit more vibrant colors. It is also more durable and lasts longer on your skin, sometimes up to three days, like in the case of Westmore Beauty's Body Coverage Perfector.
Applying a face foundation to areas on your legs make be ok if you are in a pinch, but it is not recommended to do this consistently, especially if you want to cover your entire leg. Face foundation will be heavier on your legs and smudge-easily. It may also not give you any kind of shimmer or a glowing tan look like many leg makeups, such as Melanie Mills Body Radiance, are designed to do.
Achieving Flawless Looking Legs
If you want fantastic looking legs without the help of makeup, there are some things you can incorporate into your daily routine that, over time, will give you the legs of your dreams.
Exercises
Certain exercises can be done as part of a larger workout circuit or on their own to build up and tone your leg muscles. Squats, lunges, and leg lifts are some of the best bodyweight workouts for all over leg toning, and, as an added bonus, your booty will also get a nice tone to it. This article goes more in-depth on how to execute some of the best leg-shaping exercises out there.
Skin Care
To give your legs a naturally smooth look, begin adding exfoliation into your beauty regime. Exfoliation removes all the dead skin cells from your legs, and leaves them soft to the touch. It also reduces your risk of developing ingrown hairs and irritation bumps from shaving.
Always make sure to moisturize after exfoliation to soothe any dryness and protect your skin from environmental damage.
Hydration
Staying hydrated is one of the best things you can do to take care of your skin. Having an adequate water intake will shrink your pores, make your skin appear vibrant, and boost elasticity in your skin, giving you that youthful plump look all over your body.
You should aim to drink around 8 glasses of water a day in order to keep your body fit and your skin youthful and healthy.
Home Remedies to Reduce Skin Imperfections
There are DIY remedies to everything, and skin imperfections are no different. There are several simple tricks you can use to reduce the appearance of everything from scars to dark spots and bruises.
Scars
The trick to reducing a scars' appearance is to gradually lighten it until it becomes less noticeable. These remedies are unlikely to make the scar disappear completely, but they will speed up the fading and healing process.
Aloe Vera: Take a fresh aloe vera leaf and scoop out the light green inside. Apply this gel to your scar in a circular motion and let it sit for half an hour before rinsing with cool water. Repeat this process twice a day.
Coconut Oil: Warm coconut oil so that it is liquified, but not hot. Massage it into your scar for approximately 10 minutes and then let it absorb into your skin for at least an hour. You can repeat this 2 to 4 times a day.
Lemon: Cut a wedge of a fresh lemon. Hold it against your scar, lightly pushing it so the juice coats your skin. Leave it there for about 10 minutes and then wash off with cool water. Repeat this once a day, preferably at the same time each day.
Dark Spots
Dark spots are the result of an uneven concentration of melanin in the skin. This can be caused by sun exposure, hormone imbalance, and aging among other things. These DIY remedies can help reduce the appearance of dark spots in approximately 4 to 6 weeks.
Buttermilk: Apply fresh buttermilk to dark spots and leave it on for 15 to 20 minutes. Rinse it off with lukewarm water and apply moisturizer to your skin.
Apple Cider Vinegar: Take a small bowl and mix apple cider vinegar and water in a 1:1 ratio. Apply it to your dark spots with a cotton ball and let sit for 10 to 15 minutes. Rinse your skin with lukewarm water when finished.
Bruises
The result of skin traumas, bruises are burst blood vessels that sit visibly underneath the skin. They typically disappear by themselves, but these DIY methods can help speed that up and reduce their visibility.
Ice: Ice reduces blood flow to an area. As soon as possible after injuring your skin, apply ice cubes, an ice pack, or even a bag of frozen vegetables to the bruised area. This should prevent swelling and bring down the appearance of any redness.
Arnica: Arnica is an herb that reduces pain and inflammation. You can purchase or make an arnica cream at home and use it a couple of times a day to heal your bruise.
Vitamin C: Vitamin C is anti-inflammatory and promotes wound healing. You can spread it topically on your bruise or take vitamin C supplements to help speed up healing.
The Journey to Perfect Legs
Attaining flawless looking legs is something that many people, celebrities or not, desire. When you haven't got time for leg exercises and hydration to work their magic, or you just want your legs to look extra-perfect for a special occasion, leg makeup is there to save the day.
Choosing a leg makeup may seem like a daunting task, but when you take time to consider how much coverage you need and what formula fits you the best, the journey to obtaining perfect legs becomes much easier.