We've all seen those celebrities and influencers online who appear to have the most impossibly flawless, smooth legs. In some cases, their legs even appear to be glowing with impeccable tans. However, while some of this may be natural, many women (and men!) actually use leg makeup to assist them in obtaining the best-looking legs of their life.
Leg makeup is one of today's most popular products among celebrities and beauty gurus alike. One step-up from a face foundation, leg makeup is designed to be used on the body and helps to cover skin imperfections such as blemishes, bruises, uneven skin tone, and scars. The right product can even help you cover up a tattoo!
Whether you've always known you wanted to use leg makeup, or if this is your first time hearing of it (and you love the idea!), searching for the best product can be a difficult task. To make things a little easier for you, we've gathered a list of the best leg makeups available today. Keep reading to learn more about our top picks and to find out how to choose the one for you!
What to Consider in Leg Makeup
Leg and body makeups are comprised of many different formulas and coverage levels. Shades and ingredients also vary between brands. Understanding the differences between each is the key to purchasing a product perfect for your needs.
Formula
There are three main formula types for leg makeup: liquid, spray, and powder. Each one comes with its own unique texture and application process.
Liquid
The most common type of leg makeup, liquid formula foundations are creamy in texture and typically provide heavier coverage. They are usually durable, and great for when you need reliable coverage that holds up under pressure. Our most long-lasting makeup pick, Westmore Beauty Body Coverage Perfector, has a liquid formula.
Spray
Leg makeup in spray formulas are typically very easy to apply. The spray nozzle aids you in evenly coating your legs without blending and directing the makeup exactly where you want it to go. This type of formula is great for when you want a no-fuss, quick application product.
Powder
Powder leg makeup is very similar to powder foundation. You cannot typically use body powders by themselves as they don't provide the best coverage. Instead, they are more helpful when setting a liquid or spray makeup. You can also use powders between layers of liquid and spray makeup to enhance coverage.
Ingredients
Ingredients of leg makeup vary from brand to brand, but some products are better for your skin than others. Keep an eye out for things such as aloe, shea butter, vitamin E, and any natural and organic ingredients to make sure you're giving your skin the best. From our list, SugarBaby Radiance Bronzing Moisturizer Cream is a particularly skin-friendly option.
Coverage
The amount of coverage you need in a leg makeup depends on the type of skin imperfections or markings you are trying to cover. Coverage ranges from sheer to heavy, with many makeups being buildable so you can work up to the perfect amount of opaqueness. Sheer and light coverage is better for smoothing out skin-tone and covering light blemishes, while medium, full, and heavy coverage is better used on scars, moles, and tattoos.
Shades Available
The number of shades available is especially important when selecting a leg makeup. You can select makeup that is close to your natural skin tone, or you can choose a color that is a shade or two darker to give your legs a slightly tanned look. If you need help determining your exact skin undertones, check out our guide below for help.
Now that we've covered the basics of leg makeup, let's head straight into our list of the top 10 best products available!
Top 10 Best Leg Makeups 2023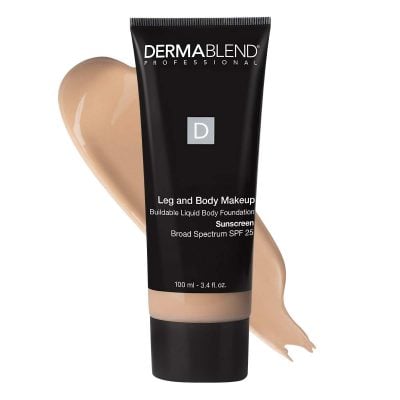 Why we like it:
This professional brand offers buildable coverage and SPF 25 sun protection all in one smooth liquid formula.
Editor's Rating:
At a Glance:
Formula: Liquid
Coverage: Medium to Full
Shades Available: 12
Boasting a diverse shade range, Dermablend is perfect for legs of all colors and shades. Each color is designed to match a specific skin undertone, so you can be sure you will find your perfect color match in this product. The formula is smooth and spreads easily, which makes it a great choice for first-time users of leg makeup.
If you're concerned about sun exposure on your skin, this product may be the best for you. It has SPF 25 added into the formula to help protect your legs from UV exposure and damage, in addition to offering a buildable coverage that is perfect for hiding skin imperfections such as veins, uneven skin tone, and bruises.
While you can achieve full coverage with this product, it is not the best if you are looking to try and cover up a tattoo. Too many layers would be required to completely hide your tattoo, and that would make your skin appear uneven. For perfect tattoo coverage, we recommend Bairly Sheer Tattoo Cover.
Dermablend can also be messy when not applied correctly with a setting powder; you will need to purchase this powder separately. When used together, this foundation transfers far less and becomes significantly more long-lasting, but some users may not want to go through the hassle of using two separate leg makeup products.
Pros
Diverse shade range

Great for hiding skin imperfections

Smooth, spreadable texture

Added SPF 25
Cons
Messy if not used with setting powder

Not the best for tattoo coverup
---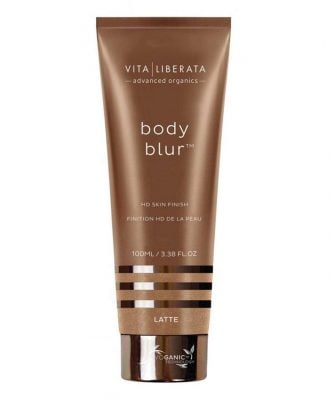 Why we like it:
Viva Liberata is created with organic and natural ingredients and gives legs an irresistible glow thanks to its HD Skin Finish technology.
Editor's Rating:
At a Glance:
Formula: Liquid
Coverage: Medium
Shades Available: 5
This premium leg makeup is designed with an HD Skin Finish technology. The formula blurs and covers skin blemishes and imperfections, and reflects light, giving skin a natural-looking shimmer. It is perfect for someone who wants an effortlessly subtle glow on their legs.
The foundation is very blendable and offers medium coverage. Both organic and natural ingredients are added into this product, with aloe and shea butter extracts working to moisturize your legs. If you have drier skin on your legs, this may be a great choice for you.
Viva Liberata is water-resistant and will not melt off when it encounters sweat or a small amount of water. However, if you do get a little bit of water on your skin, you should wait for it to dry naturally or attempt to blot it off; since this product is washable, it will wipe off with water.
This product transfers easily to clothes, so it's best to wear it when you know you won't be sitting on or touching too many things with your legs. It also takes longer to dry than its competitors; you may be waiting upwards of 30 minutes for the makeup to fully settle. Check out Sally Hansen Airbrush Legs if you want a more quick-drying product.
Pros
HD Skin Finish for glowing skin

Very blendable

Water-resistant

Formulated with organic and natural ingredients
Cons
Transfers easily to clothes

Takes a while to dry
---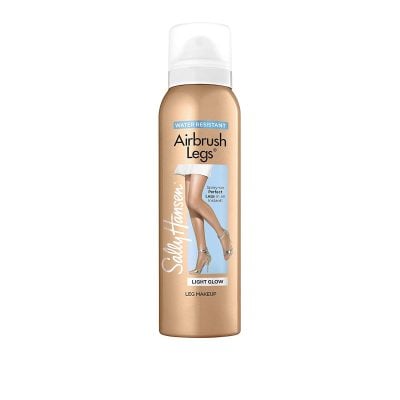 Why we like it:
This easy to apply spray is quick-drying and affordable, making it one of the best budget leg makeup options available today.
Editor's Rating:
At a Glance:
Formula: Spray
Coverage: Light
Shades Available: 5
More universally affordable than its competitors, Sally Hansen Airbrush Legs comes in a 4oz spray bottle. Even with daily use, this bottle should last you a long time. The makeup is easy to apply, with the spray nozzle helping you to reach every inch of your legs and evenly apply color. It is a great product if you don't want to spend too much time blending your leg makeup.
The formula in this product is quick-drying. After applying, you just need to wait for a minute or two for the makeup to set before it is safe to touch. Coverage is light and gives legs a seamless natural look; it also feels light on the skin. It is great for anyone who wants to wear leg makeup but doesn't want to feel like their legs are sticky or weighed down.
The shades of Sally Hansen's Airbrush Legs do run dark. Even the lightest color, "Fairest," can make pale skin look a little orange. For a more true-to-color product, we recommend Westmore Beauty's Body Coverage Perfector.
Pros
Easy to apply spray

Quick-drying

Light coverage for a natural look

Affordable
---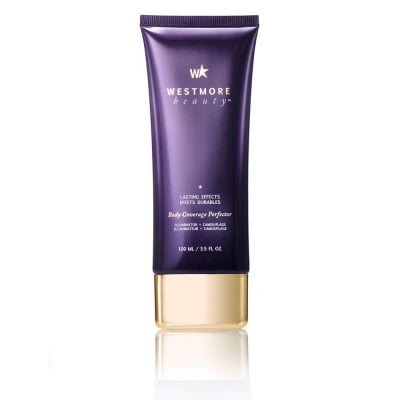 Why we like it:
A professional brand founded by the makers of Hollywood's best makeup products, Westmore Beauty provides users with an authentic, true to color, and long-lasting leg makeup.
Editor's Rating:
At a Glance:
Formula: Liquid
Coverage: Light to Medium
Shades Available: 4
Westmore Beauty's Body Coverage Perfector is very true to color. While there are only four shades in the color line, they are sure to fit users with both light and dark skin. Once applied, the makeup blends perfectly into the original skin color. It makes a great option for anyone who is overwhelmed by multiple different shade choices.
This product will last at least 24 hours on your skin. It can last up to three days depending on how active you are and what it comes into contact with. Once dry, this makeup will not transfer onto clothes or other fabrics. To remove it, you must use an oil-based soap. It is a great option for someone who wants their leg makeup to be as long-lasting as possible.
If you want heavy coverage, this may not be the best product for you. It does not coverup dark tattoos very well and you must use multiple coats to get super-opaque coverage. Combined with the slightly sticky texture of the product, this can make your skin feel very dry or weighed down. For a lighter wearing product, look into Sally Hansen's Airbrush Legs.
Pros
True to color

Lasts at least 24 hours

Does not transfer onto fabrics
Cons
Must use multiple coats for heavy coverage

Texture can be sticky
---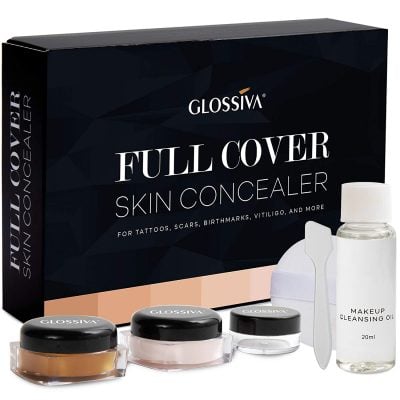 Why we like it:
Glossiva is a wonderful, long-lasting skin concealer great for hiding scars, dark spots, and blemishes whenever the need arises.
Editor's Rating:
At a Glance:
Formula: Liquid
Coverage: Full to Heavy
Shades Available: 2
The shades offered by Glossiva in this Full Cover Skin Concealer kit are customizable. Simply take a small amount of the light shade and mix tiny drops of the dark shade into it slowly, stopping when your desired skin tone has been reached. For anyone who struggles in finding a foundation to match their skin tone, this product may be a good option. It is important to note however, that Glossiva does not carry darker tones that would be suited for use on darker black or brown skin.
This product works great as a spot concealer. Coverage is full, but with added layers, you can obtain heavy coverage that completely obscures dark spots, skin rashes, blemishes, and noticeable veins. It is both durable and long-lasting, and makes a good choice for anyone who will be especially active while wearing it.
Glossiva is not the best choice for completely covering legs. It works well in small amounts for spot coverage, but is a poor choice if you're looking for a product that can be applied to your entire leg. A product like our best overall pick, Dermablend Body and Leg Makeup, is more suited to the challenge of entire leg coverage.
Pros
Great spot concealer

Customizable shades

Durable
Cons
Limited colors for dark skin

Not the best for covering entire legs
---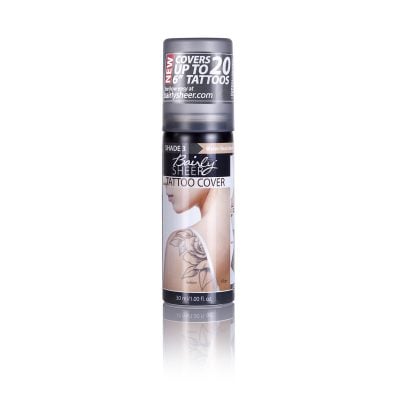 Why we like it:
This spray formula makeup is great for use on sensitive skin and perfect for situations when your tattoos need to momentarily vanish.
Editor's Rating:
At a Glance:
Formula: Spray
Coverage: Medium
Shades Available: 3
Bairly Sheer is a completely fragrance-free spray makeup. It can be used anywhere on the body, not just legs, and provides medium coverage. It is perfect for covering up tattoos and dark spots on the skin. If dark spots are your main concern, we also recommend looking at Glossive Full Cover Skin Concealer.
This product is dermatologist tested to ensure its safety. The formula is non-irritating and sprays on evenly; it will not dry out your skin when used regularly. It is a great choice for anyone who has sensitive skin, as it is both paraben and alcohol-free.
The colors in this makeup do tend to run light. The lightest color has more of a pink undertone, and the darkest one is not quite dark enough if you have deep brown or black skin. For darker African-American skin tones, Melanie Mills Hollywood Gleam is a better makeup option.
Pros
Fragrance-free

Great for tattoo coverage

Dermatologist tested for sensitive skin
---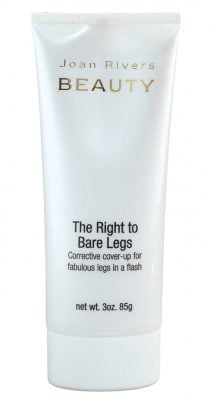 Why we like it:
The Right to Bare Legs smooths skin texture and leaves you with natural-looking legs so flawless you won't want to wear pants ever again.
Editor's Rating:
At a Glance:
Formula: Liquid
Coverage: Sheer to Light
Shades Available: 3
The sheer to light coverage provided by Joan Rivers' The Right to Bare Legs is fantastic for creating a smooth skin appearance. It is guaranteed smudge-free, so once you apply and blend it, it is definitely staying in place. If you are concerned about skin texture or just want your legs to appear naturally seamless, this makeup is a good choice.
Translucent derma-technology is a central part of this makeup's formula. It is a specific blend of ingredients that allows the makeup to provide a flawless light coverage, covering imperfections while still letting your natural skin color show through. It makes a good option for anyone who values a very natural look to their leg makeup.
While this product does come with an attached sponge applicator to help speed up application, it breaks very easily. This can leave you having to break out your other beauty blenders in order to apply the makeup properly. If you want to skip this hassle altogether, take a look at a spray makeup such as Sally Hansen's Airbrush Legs.
Pros
Great for a smooth skin appearance

Smudge-free formula

Translucent derma-technology for flawless light coverage
Cons
Sponge application breaks easily
---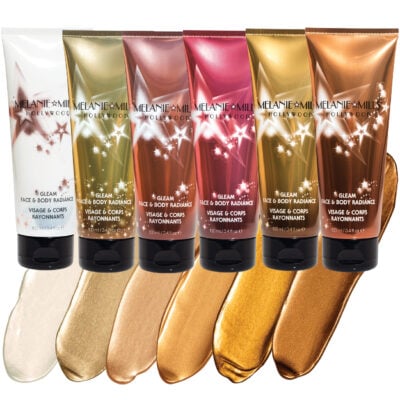 Why we like it:
This shimmering makeup is sure to give skin a rich glow, and is perfect for nights out or for attaining that glowing tanned look.
Editor's Rating:
At a Glance:
Formula: Liquid
Coverage: Medium
Shades Available: 7
This shimmering leg and body makeup gives skin a rich, shimmering radiance that is terrific for a night out. It also works well for giving your skin a glowing tanned look. There are 7 shades available, with several being designed specifically for darker or African-American skin tones. The shade swatch provided by Melanie Mills helps you visualize exactly how each shade would look on your skin.
The formula of this product is vegan and both gluten and cruelty-free. It also has skin nourishing, anti-aging ingredients such as green tea, aloe vera, and vitamin E added into it. The makeup itself can be used anywhere on the body and fills wrinkles on the skin, leaving you with a polished airbrushed look.
Melanie Mills Body Radiance may be too glittery for some. It gives skin a dynamic glow, but if you are looking for a more subtle looking leg makeup, this is not the product for you. Look at Viva Liberata's Body Blur for a more natural-looking, but still glow depositing, makeup.
Pros
Vegan, gluten, and cruelty-free

Gives skin a rich, shimmering glow

Fills wrinkles

Shade designed for darker skin
Cons
May be too glittery for some
---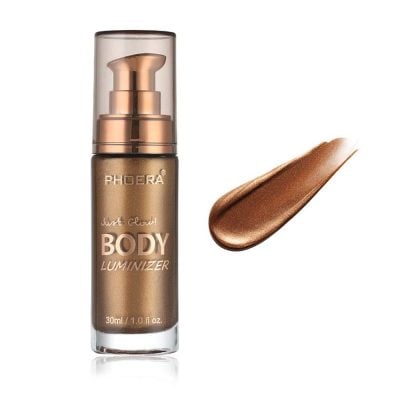 Why we like it:
A highlighting leg makeup that is best for giving skin a soft, dewy look, Phoera Body Luminizer both nourishes and illuminates your skin.
Editor's Rating:
At a Glance:
Formula: Liquid
Coverage: Medium to Full
Shades Available: 3
Unlike the matte finish of several other options on our list, Phoera's Body Luminizer creates a soft, dewy look on skin. It has a luminous highlight in it which makes it perfect for illuminating and brightening skin. It is shimmery, like the Melanie Mills Body Radiance makeup, but it instead has a more understated gentle glow to it.
Phoera Body Luminizer is very pleasantly scented. The smell is light and not too overpowering. There are also numerous ingredients added into the formula intended to promote skin elasticity, such as aloe vera, olive oil, and brown seaweed extract. If you're looking for a subtle glittery appearance mixed with skin-nourishing components, this product may be a good choice for you.
The texture of this leg makeup is a little thin. It can also feel greasy on the skin, and may appear streaky if you use too much of it. To cut down on both of these negatives, use only small amounts of this product, and make sure your skin is properly cleansed and exfoliated before use.
Pros
Gives skin a luminous highlight

Pleasant fragrance

Ingredients to promote skin elasticity

Creates a softer, dewy look
Cons
Can feel greasy

Might appear streaky
---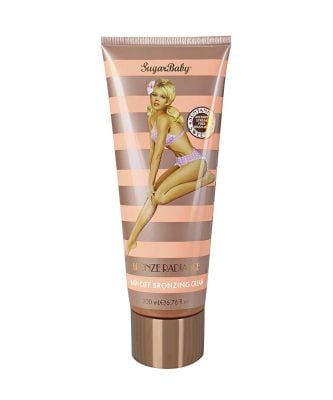 Why we like it:
SugarBaby's Bronzing Moisturizer Cream goes on smooth and hydrates skin, all while leaving behind a radiant bronze glow.
Editor's Rating:
At a Glance:
Formula: Liquid
Coverage: Sheer
Shades Available: 1
SugarBaby's vegan-friendly moisturizing cream is slightly different than traditional leg makeup. It works like a moisturizer, going on smooth for a non-streaky application. The bronze tint in the cream leaves behind a color on your legs that makes you appear to have a slight tan.
This product is great for skin tone corrections and when you need very light coverage, but is too sheer to hide things such as tattoos (Bairly Sheer Tattoo Cover is best for that). Additionally, because it is a moisturizer, it has a number of hydrating ingredients, like aloe and vitamin E, blended into the formula. It makes a great choice if you are primarily looking for a leg moisturizer that will add a slight amount of tint.
There is only one shade of this product, so it may not be the best choice if you want to tailor or customize the makeup's color to your skin. It also has a stronger chemical smell that can be unpleasant or overwhelming for some. Phoera Body Luminizer has a much better fragrance if that is something that is important to you.
Pros
Vegan-friendly

Hydrates skin with aloe and vitamin E

Non-streaky application

Great for skin tone corrections
Cons
Only one shade

Strong smell
---
Your Full Guide to Leg Makeup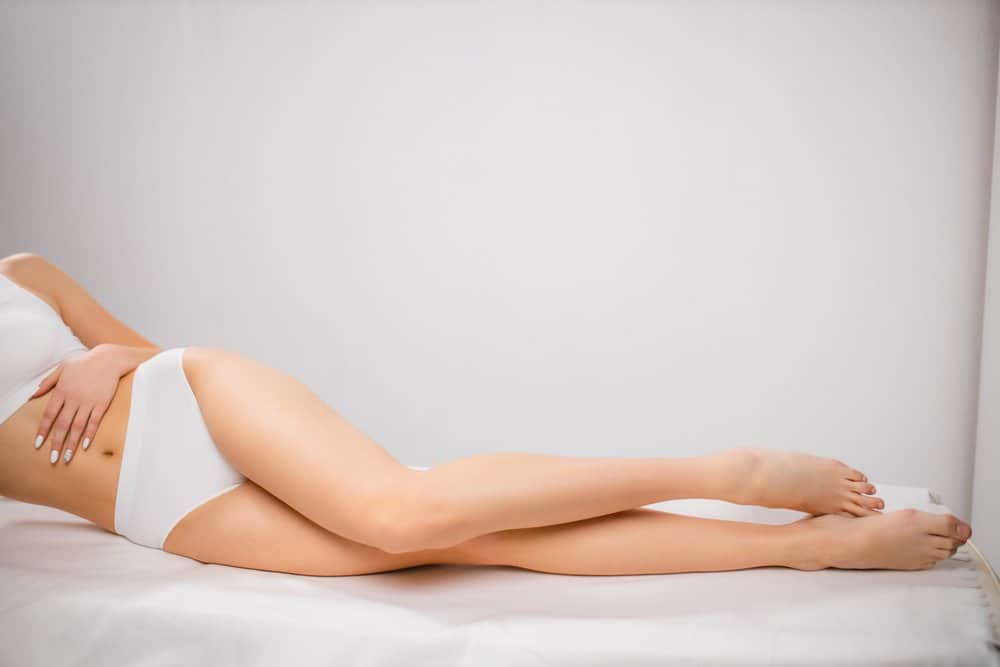 Buying leg makeup is not as simple as it seems – with so many factors to consider it's no wonder things can get confusing. If you still have questions about leg makeup and how to obtain natural leg beauty, we will be going over all the answers in our full guide to leg makeup.
The Benefits of Using Leg Makeup
Leg makeup can provide a number of benefits to anyone who uses it, young or old. It can help you cover up unsightly bruises, cuts, scrapes, or scars. It may also be beneficial in hiding dark spots and varicose veins, correcting uneven skin tone, and covering up tattoos.
If you are attending a special event such as a party or a wedding, leg makeup can give your legs that flawless glow that looks great in person and in pictures. Even if you are just planning on running a few errands outside the home, leg makeup can give you the confidence to wear the shorts and skirts you've always dreamed of.

Determining Your Skin Undertone
Understanding your skin undertone can help you pick a shade of leg makeup that will flatter you and match the rest of your skin, instead of leaving you too pale or too dark. Your undertone can be warm, cool, or neutral, and there are a couple of tests you can perform at home to figure out your exact type.
Look at Your Veins
To perform this test, stand in natural lighting and look down at your exposed skin, either on your forearms, chest, or legs. If your veins are blue or purple in color, your undertone is cool. If they appear to be green or are olive-colored, your undertone is warm. If you can't tell an exact color or if they are blue-green, you most likely have a neutral undertone.
Try on Some Jewelry
Take out any silver or gold jewelry you have and lay them next to each other on your leg or arm. If silver appears to make your skin pop more, you have a cool undertone. If gold is more flattering, you have a warmer undertone. If both of them happen to look great on you, you have a neutral skin undertone.
The Best Way to Apply Leg Makeup
How you apply leg makeup depends on which formula you purchase. A spray makeup like Sally Hansen's Airbrush Legs is applied differently than a liquid makeup such as Dermablend's Leg and Body Makeup would be. Below, we give you a basic application process for both types.
Liquid Leg Makeup
With liquid leg makeup, the trick to making it look flawless is to blend it properly and use a setting powder, especially if you are trying to build coverage.
First, apply one light layer of your chosen leg makeup. Use gloved hands or a beauty blender to smooth the product over your legs. Make sure to work quickly and from the top of your legs to the bottom to prevent a blotchy or streaky appearance.
After you've completed this first application and let it dry slightly, use your setting powder. Lightly dust it over the top of your makeup using a blending brush. Be careful not to press too hard onto the makeup or you risk smudging it.
Once you've applied the setting powder, you are good to go. If you wish to build coverage, add another layer of makeup over the setting powder and repeat the process as many times as you need, making sure to finish with a layer of setting powder. This will help your makeup stay on as long as possible.
If you are going for a dewier look rather than a matte appearance, you can skip the setting powder altogether. Keep in mind that this may make your makeup more prone to transferring onto clothes or being rubbed off.
Spray Leg Makeup
The application process for this is usually quicker than using liquid leg makeup. You do not have to blend out spray makeup in order to get an even appearance. Instead, simply take your makeup and spray it on your legs, working from top to bottom. Try to move quickly, but not too quick that you overlap sections as this will make the coloring uneven.
Once you have covered your legs, take a paper towel and blot off any extra makeup or drips that may have formed (behind the knees is a great place to check for this). Be very gentle so you don't end up wiping the makeup off completely.
If you desire more coverage or a darker color, repeat the application with another layer of spray and blotting. When you are happy with the appearance of your legs, you can optionally follow up with a setting powder to further perfect the look.
Coverage for Scars and Blemishes
If you have scars, dark spots, or blemishes on your legs that you wish to completely cover, you will likely have to put multiple layers of makeup on to fully hide them. The best way to do this is by spot covering these areas with one or two layers of makeup before moving on to the full leg application. This will give you the most even skin tone and fullest coverage possible.
Alternatively, you can just cover the skin imperfections with one or two layers of makeup and opt out of the full leg covering. Glossive Full Cover Skin Concealer is great this kind of skin spot concealing. Ultimately, whichever method you feel most comfortable in will be the best one for you.
Can You Use Face Foundation on Legs?
Technically, the answer to this question is yes: you can wear face foundation on legs. However, that might not be the most effective and comfortable way to achieve full leg coverage.
Face foundations and leg makeups are made with the same base ingredients. However, leg makeup is formulated to make it spread easier over your skin and deposit more vibrant colors. It is also more durable and lasts longer on your skin, sometimes up to three days, like in the case of Westmore Beauty's Body Coverage Perfector.
Applying a face foundation to areas on your legs make be ok if you are in a pinch, but it is not recommended to do this consistently, especially if you want to cover your entire leg. Face foundation will be heavier on your legs and smudge-easily. It may also not give you any kind of shimmer or a glowing tan look like many leg makeups, such as Melanie Mills Body Radiance, are designed to do.
Achieving Flawless Looking Legs
If you want fantastic looking legs without the help of makeup, there are some things you can incorporate into your daily routine that, over time, will give you the legs of your dreams.
Exercises
Certain exercises can be done as part of a larger workout circuit or on their own to build up and tone your leg muscles. Squats, lunges, and leg lifts are some of the best bodyweight workouts for all over leg toning, and, as an added bonus, your booty will also get a nice tone to it. This article goes more in-depth on how to execute some of the best leg-shaping exercises out there.
Skin Care
To give your legs a naturally smooth look, begin adding exfoliation into your beauty regime. Exfoliation removes all the dead skin cells from your legs, and leaves them soft to the touch. It also reduces your risk of developing ingrown hairs and irritation bumps from shaving.
Always make sure to moisturize after exfoliation to soothe any dryness and protect your skin from environmental damage.
Hydration
Staying hydrated is one of the best things you can do to take care of your skin. Having an adequate water intake will shrink your pores, make your skin appear vibrant, and boost elasticity in your skin, giving you that youthful plump look all over your body.
You should aim to drink around 8 glasses of water a day in order to keep your body fit and your skin youthful and healthy.
Home Remedies to Reduce Skin Imperfections
There are DIY remedies to everything, and skin imperfections are no different. There are several simple tricks you can use to reduce the appearance of everything from scars to dark spots and bruises.
Scars
The trick to reducing a scars' appearance is to gradually lighten it until it becomes less noticeable. These remedies are unlikely to make the scar disappear completely, but they will speed up the fading and healing process.
Aloe Vera: Take a fresh aloe vera leaf and scoop out the light green inside. Apply this gel to your scar in a circular motion and let it sit for half an hour before rinsing with cool water. Repeat this process twice a day.
Coconut Oil: Warm coconut oil so that it is liquified, but not hot. Massage it into your scar for approximately 10 minutes and then let it absorb into your skin for at least an hour. You can repeat this 2 to 4 times a day.
Lemon: Cut a wedge of a fresh lemon. Hold it against your scar, lightly pushing it so the juice coats your skin. Leave it there for about 10 minutes and then wash off with cool water. Repeat this once a day, preferably at the same time each day.
Dark Spots
Dark spots are the result of an uneven concentration of melanin in the skin. This can be caused by sun exposure, hormone imbalance, and aging among other things. These DIY remedies can help reduce the appearance of dark spots in approximately 4 to 6 weeks.
Buttermilk: Apply fresh buttermilk to dark spots and leave it on for 15 to 20 minutes. Rinse it off with lukewarm water and apply moisturizer to your skin.
Apple Cider Vinegar: Take a small bowl and mix apple cider vinegar and water in a 1:1 ratio. Apply it to your dark spots with a cotton ball and let sit for 10 to 15 minutes. Rinse your skin with lukewarm water when finished.
Bruises
The result of skin traumas, bruises are burst blood vessels that sit visibly underneath the skin. They typically disappear by themselves, but these DIY methods can help speed that up and reduce their visibility.
Ice: Ice reduces blood flow to an area. As soon as possible after injuring your skin, apply ice cubes, an ice pack, or even a bag of frozen vegetables to the bruised area. This should prevent swelling and bring down the appearance of any redness.
Arnica: Arnica is an herb that reduces pain and inflammation. You can purchase or make an arnica cream at home and use it a couple of times a day to heal your bruise.
Vitamin C: Vitamin C is anti-inflammatory and promotes wound healing. You can spread it topically on your bruise or take vitamin C supplements to help speed up healing.
The Journey to Perfect Legs
Attaining flawless looking legs is something that many people, celebrities or not, desire. When you haven't got time for leg exercises and hydration to work their magic, or you just want your legs to look extra-perfect for a special occasion, leg makeup is there to save the day.
Choosing a leg makeup may seem like a daunting task, but when you take time to consider how much coverage you need and what formula fits you the best, the journey to obtaining perfect legs becomes much easier.