Top 10 Best Eye Makeup Removers 2023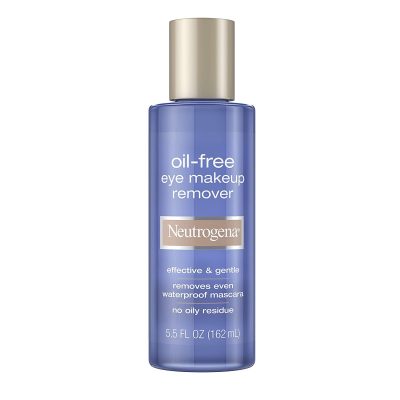 Quick Facts
Key Ingredients: Aloe Vera, Cucumber Extract
Skin Type: Normal
Effectiveness
This remover is highly effective. For regular makeup, it can easily remove a layer in one swipe, cutting down on swab use and scrubbing. Waterproof makeup may need a little more attention, but this remover still gets the job done. Neutrogena Oil-Free Makeup Remover is gentle on the skin but tough on makeup for an easy, end-of-day skin care option.
Skin Care
This eye makeup remover contains aloe vera and cucumber extract to soothe the skin after cleansing. Its oil-free formula avoids over-moisturizing the face or clogging pores, and leaves the eyes feeling conditioned and smooth. The formula is specifically formulated for eye makeup and is a non-irritant to the eyes.
Clean Up
All you need to get started with this remover is a cotton round or towelette. One of the benefits of oil-free eye makeup remover is that you don't need to use extra products on your face after using it. This makeup uses a silicone formula to achieve the silkiness of an oil-based remover, so you may want to wipe your face with warm water or a damp cloth afterwards.
Smart Buyer Facts
This remover is ophthalmologist and dermatologist approved to be safe for contact wearers!
---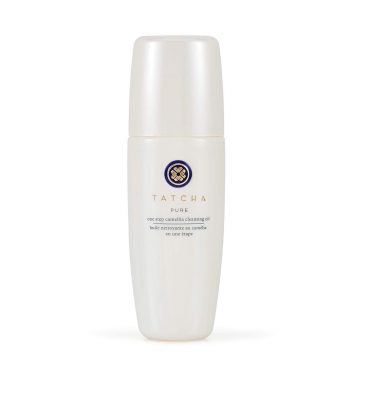 Quick Facts
Key Ingredients: Camellia Oil, Uji Green Tea, Okinawa Mozuku Algae, Akita Rice
Skin Type: Normal
Intensity
This eye makeup remover is a step up in both price and quality from our Best Overall Pick, and it earns its position as our premium eye makeup remover. It may be expensive, but it's effective enough that you won't need to replace it any time soon. It only takes one pump to remove an entire face of makeup, including heavy-duty mascara, jet-black eyeliner, and waterproof eye makeup.
Skin Care
Perhaps the best thing about this eye makeup remover is that it works to nourish and heal the skin without catering only to one skin type. The camellia oil emulsifies completely, meaning that it will nourish dry skin without lingering on already oily skin. Camellia oil is appreciated by cosmetics gurus for its moisturizing effects and antioxidant activity on multiple skin types. It contains more oleic acid that other botanical oils, and is rich in vitamins A, B, D and E, as well as skin-healing Omegas 3, 6, and 9. A balanced skin biome is serious business, and this makeup remover meets the challenge.
Tatcha's formula includes uji green tea, Okinawa mozuku algae, and akita rice, which are referred to in Japan as the Hadasei-3 complex, widely loved for their anti-aging benefits. Even better, Tatcha Cleansing Oil is formulated without mineral oil, synthetic fragrances, sulfate detergents, parabens, urea, DEA, TEA or phthalates, meaning that the cleansing action of this oil is entirely natural and won't strip your skin.
Clean Up
This oil is meant to be applied on dry skin, but to remove the oil itself, you must rinse your face and hands with warm water. Apply one to two pumps and massage into the skin, then either hop in the shower or rinse your face at the sink with warm water. Your face will be fresh and makeup-free.
Smart Buyer Facts
You may have to rinse your face, but there's no ethical clean-up involved with this product: this eye makeup remover is cruelty-free and vegan-friendly.
---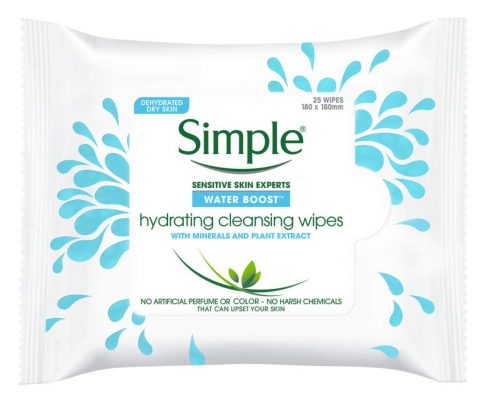 Quick Facts
Extra Ingredients: Plant Extracts
Skin Type: Normal
Intensity
These makeup wipes are tough enough to remove waterproof mascara with a little work, and one wipe is strong enough to take care of makeup on both eyes. They aren't quite as strong as liquid removers are, but any makeup wipe is going to be less intense than using a cotton ball and remover solution.
The Cleansing Face Wipes offer the strongest formula, followed by Exfoliating Face Wipes. The other two options, oil-balancing and hydrating, are effective, but not quite as tough on waterproof makeup and dark eyeliners.
Skin Care
One of the reasons we love Simple Face Wipes so much is because they give you so many skin care options. These wipes offer hydrating, cleansing, exfoliating, and oil-balancing versions, so you can select the perfect blend for your skin care needs.
For anyone with dry skin, the hydrating wipes will leave your face feeling conditioned and moisturized. If you're dealing with tough dead skin or clogged pores, the exfoliating wipes are a great option. The cleansing wipes are the strongest for removing makeup, and the oil-balancing wipes can help reset your facial oils after using drying cosmetics or washes.
Simple Face Wipes are also hypoallergenic and all except the exfoliating wipes are great for sensitive skin. They are free of irritating perfumes and scents, and there are options with micellar water for anyone looking to avoid chemical removers.
Clean Up
The draw for any good makeup wipe is how easy they are to use. Keeping a pack in your car, your purse, or next to your bed can make taking care of your skin simple and convenient. These wipes are a great option for frequent travelers, as they can be used on the go, and are generally considered airport safe.
Smart Buyer Facts
These wipes cannot be flushed, but you can easily dispose of them at home or in a trash can.
---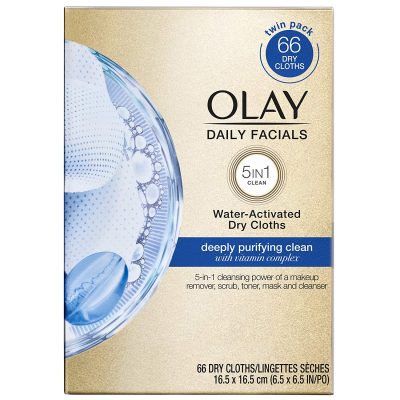 Quick Facts
Key Ingredients: Salicylic Acid, Witch Hazel, Vitamin E
Skin Type: Oily, Combination
Intensity
Olay's facial wipes offer deep cleansing action and exfoliation in one product. The wipes lather up nicely and remove even waterproof makeup. One side of the wipe is gently textured, and the other is smooth for a personalized experience based on how much makeup you need to remove. The Deeply Purifying variety offers the most cleansing action, but all Olay 5-in-1 Daily Facial wipes can keep up with most tough makeup.
Skin Care
The Deeply Purifying wipes are ideal for oily and combination skin, but Olay 5-in-1 wipes are also available in hydrating, nourishing, and gentle options so you can find a formula that works with your skin type. Be aware however, that using the wrong wipe for your skin type can lead to serious acne breakouts and sensitive skin.
All their wipes have a smooth and an exfoliating texture on their wipes, so you can remove dead skin and build-up in the pores with the exfoliating side or be gentle with your skin using the smooth side.
Its 5-in-1 capabilities mean it removes makeup, exfoliates the skin with a scrub, tones it to prevent acne and dirt build up, cools the skin like a mask, and cleanses it with salicylic acid. Its claims are a little over the top: these wipes do not offer a premium skin care experience and cannot compete with a full skin care routine that uses separate steps to cleanse, tone, and apply facial masks. However, they are a great all-in-one option if you want to take care of your skin but lack the time or space around the sink.
Clean Up
These wipes are water activated, so you will need a sink, but they offer eye makeup remover and cleansing in one product.
Smart Buyer Facts
These makeup wipes are soap-free and include a variety of natural ingredients, but they are not guaranteed cruelty-free.
---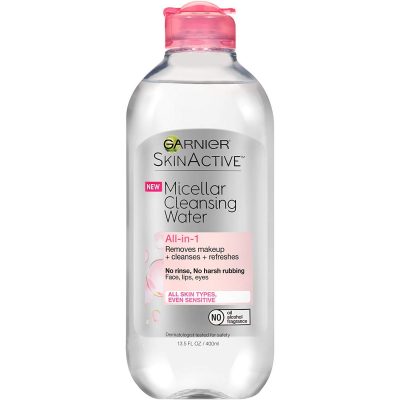 Quick Facts
Key Ingredients: Micelles
Skin Type: Normal
Intensity
Garnier SkinActive uses micelle technology to lift makeup from the skin. Micellar water is water with lipid molecules in it that attract the makeup molecules off your skin, lifting them and rinsing them away. Micelle technology is a great way to remove makeup without using harsh or unnatural-feeling chemicals and stripping the skin of vital oils. Garnier SkinActive All-in-One can easily handle most makeup, but it may have some trouble with dark eyeliner. Garnier also sells micellar water designed specifically for waterproof makeup that offers a more intense formula than their all-in-one variety.
Skin Care
Micellar water avoids the drying effect of traditional eye makeup removers. The gentle properties of micellar water are ideal for anyone with sensitive skin or who needs a eye makeup remover that won't imbalance a skin care routine with extra oil or chemicals. The All-in-1 Micellar Water is gentle and neutral on skin, but Garnier also offers eye makeup removers with a mattifying formula for oily skin or a hydrating formula for dry skin.
Clean Up
Because micellar water doesn't have an oil or silicon base, you don't need to rinse your face after removing your makeup. This makes it ideal for late nights when you just want to remove your makeup without mess, or for makeup adjustments on the go. This also makes it perfect for refreshing or touching up only one aspect of your makeup, rather than re-doing your entire face. Simply pour onto a cotton ball, press the remover to your skin for a few seconds, then wipe away—no rubbing or scrubbing required. However, it can leave an oily or "sticky" feeling behind.
Pro-tip: Pour a little micellar water onto a Q-Tip to spot-correct a makeup look if your eyeliner goes off course or your mascara misbehaves.
Smart Buyer Facts
Garnier SkinActive is made in the USA.
---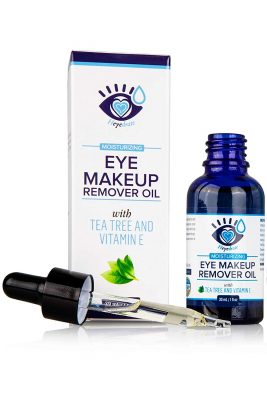 Quick Facts
Extra Ingredients: Grapeseed Oil, Jojoba Oil, Tea Tree Oil, Vitamin E
Skin Type: Dry
Intensity
This eye makeup remover's strength is less in how effective it is at removing makeup than its gentleness on painful skin, but it is still an effective eye makeup remover. As an oil-based remover, it uses all-natural ingredients to lift makeup particles off the skin without scrubbing. It may seem pricy, but it only takes a few drops on a cotton ball to remove thick layers of makeup.
Skin Care
Where this eye makeup remover shines is in its serious focus on skin care. Dry skin is reactive and prone to inflammation. Both applying makeup and removing it can be painful if the product is too harsh or heavy on your skin. Not only is this remover entirely natural, it also soothes angry skin, and is a great resource for anyone dealing with blepharitis, demodex mites, styes, and dry eyes. It moisturizes and conditions the skin anywhere it is dry or cracked and is infused with Vitamin E to cut down on free radicals and keep the skin youthful and glowing.
Clean Up
This eye makeup remover is both a remover and a conditioner, making it convenient and low mess. The dropper attachment makes it easy to apply the perfect amount to a cotton ball, and as it is all natural, there is no need to rinse with additional products after use.
Smart Buyer Facts
Ethically and morally, this product is untarnished. It is vegan, cruelty-free, and made by hand in South Carolina with non-GMO ingredients.
---

Quick Facts
Key Ingredients: Silicone Solvent and Poloxamer Emollient
Skin Type: Normal, Combination
Intensity
Mary Kay has a long history of high-quality makeup, and this makeup earns its position as our favorite sensitive skin eye makeup remover. It only takes a few drops to take off a full face of makeup, even waterproof mascara, and its no-frills formula cuts down on the possibility of a bad reaction. This specific remover is quite similar to our Best Overall option, Neutrogena Oil-Free Remover, but offers a more gentle formula to keep the skin balanced.
Skin Care
This eye makeup remover is simple and gentle. To avoid irritating the skin, it sticks to the basics, avoiding potentially irritating fragrances, harsh cleansers, or pore-clogging oils. The silicone base provides a silky texture without the greasy residue of an oil-based remover.
Because of its neutral formula, it's a great option for anyone with combination skin. The same remover can be used in both the oily T-Zone and dry or flaky areas of the face, and it won't disrupt your skin's oil-balance.
Clean Up
This remover will need to be used near a sink. While it isn't greasy or irritating, you will need to rinse your face after using this remover. You will also need to shake the product well before using so that its biphasic ingredients will mix correctly.
Smart Buyer Facts
Mary Kay can also be purchased from a distributor; however, when purchasing Mary Kay products from a non-major retailer, you are more at risk of scams.
---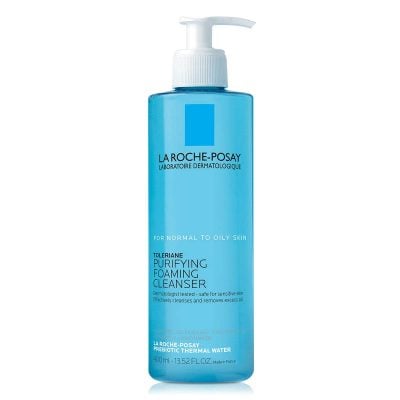 Quick Facts
Key Ingredients: Prebiotic Thermal Water, Glycerin, Niacinamide, Ceramide-3
Skin Type: Oily
Intensity
This eye makeup remover uses prebiotic thermal water and glycerin for a foaming eye makeup remover that removes most makeup without aggravating sensitive, oily skin. It isn't as powerful as other options on our list and isn't very effective on waterproof makeup, but it can keep up with Olay's 5-in-1 wipes at removing makeup.
Skin Care
This remover is at its best when used to balance and protect oily skin. Some eye makeup removers designed for oily skin are designed with the incorrect assumption that oily skin needs products to dry it out. In fact, oily skin is at its healthiest when care is taken to replenish stripped skin and balance the pH. La Roche Posay Face Wash removes excess oil and cleanses the pores of dirt and impurities, then attends to the needs of oily skin by rehydrating the lipids in the skin with Ceramide-3 and locking the pores to seal in moisture.
Pro Tip: Even for oily skin, it's important to moisturize. Apply a gentle moisturizer after using this face wash to hydrate the skin.
Clean Up
This face wash is best used at the sink or in the shower. Because it is foamy and lathers up, it offers a satisfying and thorough cleansing experience without scrubbing. Take care not to spill water on it, however, as the pump may leak, allowing the face wash to be diluted.
Smart Buyer Facts
La Roche Posay takes care to avoid harsh chemicals or potentially aggravating ingredients. This face wash is soap-free, sulfate-free, oil-free, fragrance-free, allergy-tested, and paraben-free. Dermatologists have approved it as non-comedogenic, so you don't have to worry about clogged or blocked pores.
---

Quick Facts
Key Ingredients: Glycerin (Plant-derived), Cucumber Extract, Aloe Vera, Olive Extract
Skin Type: Normal, Sensitive
Intensity
This eye makeup remover is effective on basic makeup but may have some difficulty cutting through darker dyes and waterproof makeup. Because it is oil-free and uses natural ingredients, it relies on glycerin to dissolve the makeup.
Pro Tip: Instead of scrubbing, allow the cotton ball to rest on your eyelid for 10 to 15 seconds to more thoroughly dissolve tough makeup.
Skin Care
This all-natural makeup is gently moisturizing and ideal for sensitive skin. It hydrates without adding excess oil to the face, and the cucumber extract and aloe vera cool and soothe irritated or rough skin. It is fragrance-free, cutting down on the risk of an allergic reaction.
Clean Up
This remover doesn't need to be rinsed after application, making this a great, one-step eye makeup remover. A few drops on a cotton ball will remove most makeup and leave the skin feeling soft and moisturized.
Smart Buyer Facts
This makeup is derived from entirely natural plant sources and made in Greece. It is free of parabens, paraffin oil, silicone, & mineral oil. However, the price is higher than some other options.
---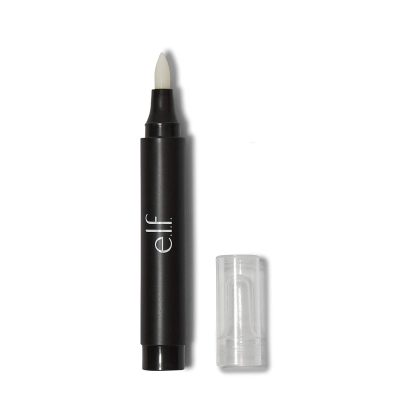 Quick Facts
Key Ingredients: Isododecane, Cyclomethicone, Chamomile Extract, Cucumber Extract
Skin Type: Normal
Intensity
Whether you're a makeup master or new to the game, we're all bound to make mistakes. This eye makeup remover pen is a great way to sharpen up eyeliner, clean mascara residue, and tighten borders of bright colors. It cuts easily through eye makeup, but you will need to store it upside down and use it sparingly. Don't try to take off a whole face of makeup with this product.
Skin Care
This remover doesn't aggravate the skin and includes chamomile and cucumber extract to cool the skin. It's a great way of correcting makeup without having to put your face through the ordeal of scrubbing and starting over.
Clean Up
Makeup can be reapplied immediately after using this pen, making it great for touching up eye makeup while out and about or for starting out with a clean, polished look.
Smart Buyer Facts
This eye makeup remover pen is vegan, cruelty-free, and made without phthalates, parabens, nonylphenol, ethoxylates, triclosan, triclocarban, and hydroquinone.
---