Top Picks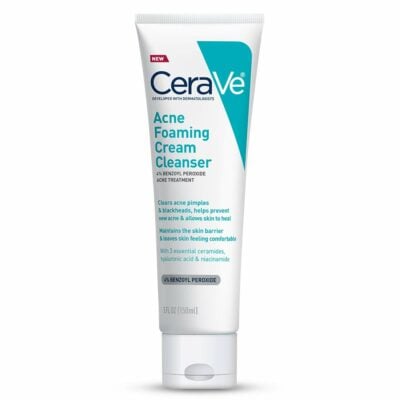 CeraVe Acne Foaming Cream Cleanser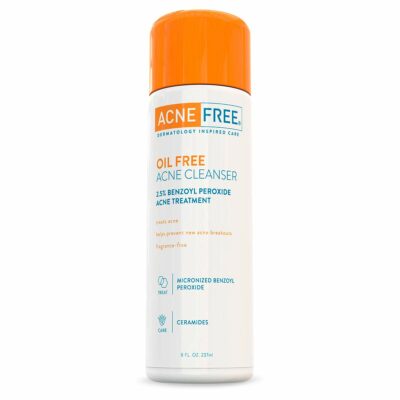 Acne Free Oil-Free Acne Cleanser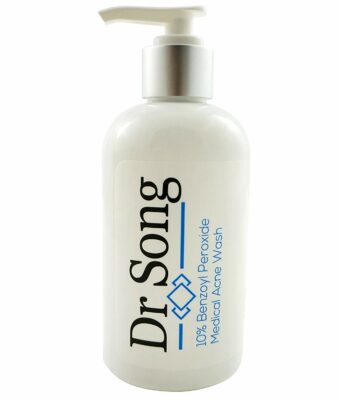 Dr Song Medical Acne Wash
Previous
Next
Acne can be a stubborn foe and extraordinarily difficult to get rid of. If you're currently waging war against your acne, a face wash may be just the thing to help you out. Face washes can help you treat your acne by cleansing pores, removing surface bacteria, and distributing various acne medications over the skin.
Finding a face wash that's perfect for treating your acne can be a challenge and may involve an unhappy amount of trial and error. However, we're here to help you make an informed decision about which face wash to pick so you can get the right product on your first try!
We've created a list of the top 10 face washes you should know about when it comes to treating acne. This product review list, in addition to our complete guide below, will aid you in selecting the best product to finally eradicate your acne.
What You Should Know About Acne Face Washes
Before we head into our list, we first need to discuss the several important factors that make up a great acne-fighting face wash. But first, why should you use one.
Why Use a Face Wash for Acne?
A face wash can bring multiple benefits to your acne-prone skin. It will cleanse pores, fight bacteria, fade existing breakouts, and prevent future ones. Some face washes can even brighten your skin or make it smoother, like Botanic Tree's Exfoliating Cleanser. You can read more about these benefits below in our full guide.
Ingredients to Look Out For
Many face washes for treating acne involve some type of medication or acid. You need to understand the purpose of these active ingredients in order to determine which would be a good fit for your skin.
Salicylic Acid
Derived mainly from willow bark, salicylic acid is oil-soluble and penetrates into pores. There, it dissolves dirt and debris, deep cleans pores, and works to fade breakouts. It can often be used as a spot treatment to dry out a blossoming breakout overnight. It works best for treating blackheads and whiteheads.
Benzoyl Peroxide
Slightly more potent than salicylic acid, benzoyl peroxide is great for treating inflammatory acne such as cysts and papules. It works to eliminate bacteria and dead skin cells and may even be effective at fading acne scars.
On the downside, its strength makes it slightly more irritating to the skin than other acne medications, and it can bleach any fabric it comes in contact with. Always be sure to wash benzoyl peroxide off your face thoroughly before towel drying
Glycolic Acid
Glycolic acid is classified as an alpha-hydroxy acid – a group of acids that are derived from foods. It is a fantastic exfoliator and can be used to remove dead skin cells and bacteria, speeding up the healing process of acne and acne scars.
Plant Extracts
Plant extracts such as tea tree oil, witch hazel, or aloe vera can all help to improve the appearance of acne. You may find one of these ingredients or a combination of them in your face wash. Our organic pick Christina Moss Naturals is full of pore purifying plant extracts.
Choosing a Face Wash Formula
Face washes are available in several different formulas. Each one gives you a different cleaning experience, so be sure to pay attention to the formula type when selecting a product. We highlight the formula type for every product that made our list.
Gel
This is the most popular type of face wash formula. Gels are typically clear and provide a light lather. They leave your skin feeling fresh and clean but can sometimes be slightly drying. It is a good idea to apply a moisturizer after using a gel face wash.
Cream
Cream-based face washes are richer in texture. They often look milky in appearance and can provide a little more hydration to the skin.
Foaming
Face washes that are foaming tend to start out as a gel or cream first. Once you apply them to your skin, they lather up into a tingling foam. They are great at deep cleaning skin and a good choice for someone with combination skin.
Now that you know the most important things to look for in an acne face wash, let's get to our list!
Full Guide to Using Face Washes for Acne

Treating your acne with a face wash can be an effective part of your skincare routine. Read our full guide to find out the best way to use your face wash and the possible reasons behind your acne.
The Benefits of Using an Acne Face Wash
A designated face wash for acne can come with a multitude of skin-clearing benefits that do more than just treat and prevent acne.
Brighten Skin
As your face wash removes dirt, dead skin cells, and bacteria, it will leave your skin looking brighter – clearer pores lead to clean, glowing skin.
Improve Skin Texture
Many acne face washes have ingredients such as glycolic acid or other exfoliants. These exfoliants treat your acne and will also help to fade any bumps or rough skin texture caused by blemishes. If you're interested in a face wash that is perfect for exfoliating, check out Botanic Tree Exfoliating Cleanser.
Reduce Fine Lines
The alpha-hydroxy acids (AHAs) that are found in so many acne face washes not only treat acne, they can also reduce the appearance of fine lines and wrinkles. Over time, AHAs promote collagen growth, leaving you with youthful-looking, acne-free skin.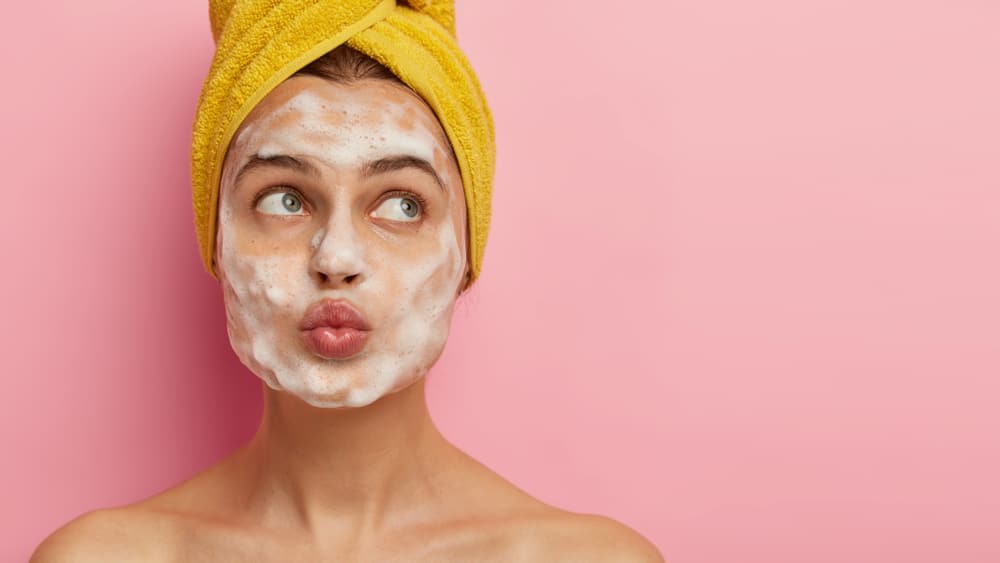 How to Use a Face Wash for Acne
The way you apply your face wash can change how effective it is. You can follow our step-by-step guide for how to use your acne face wash for an idea of what to do. As always, make sure to read the specific instructions on your face wash before applying.
Wet your face with lukewarm water. Make sure it is not too hot as this will dry out the skin.
Apply the cleanser to your fingertips and begin massaging it into your face.
Rub the wash in a circular motion, starting with your jawline and working your way up. Pay extra attention to any patches of acne.
Let the cleanser sit on your face for a minute or two, as tolerated. This allows your skin to fully absorb the active ingredients.
Rinse your face gently with lukewarm water and pat dry. You can now apply toner or follow up with a non-comedogenic moisturizer.
The Reasons You Develop Acne
Unfortunately, there are many possible reasons behind your acne, and it can be hard to pinpoint exactly what is causing your skin problems. Sometimes, it is a combination of things. Take a look at our list of potential acne causes and apply them to your life in order to find a culprit.
Hormones
One of the biggest reasons behind acne, especially for women, is the fluctuating cycles of hormones. Hormones can cause skin inflammation, excess oil production, and encourage the growth of acne-causing bacteria Propionibacterium Acnes.
With all of these things happening on your skin at once, it is easy to see why breakouts happen. Hormonal acne in adults typically forms around your lower cheeks and chin.
Stress
Not only is it bad for our immune systems, but stress can also wreak havoc on your skin. Stress causes slower wound healing and inflammation, meaning your acne will stay on your skin longer and probably be more painful. Try one of our stress-relieving tips to fight this type of acne.
Genetics
Sometimes, despite your best efforts, your genetics determine the fate of your skin. Often times, acne that doesn't respond well to treatment is a result of your genes – your skin is more prone to developing blemishes and staying inflamed. A strong acne treatment like Neutrogena's Rapid Clear is a good choice for this acne type.
Oily Skin
If you have naturally oily skin, chances are you are more prone to acne. Oil clogs pores and traps dirt, creating more areas for bacteria to increase on your skin and cause breakouts. Consistent daily face washing with a product like Bioré Charcoal Acne Clearing Face Wash can be helpful for this.
Medications
Certain medications like corticosteroids or DHEA can cause full breakouts or small spots of acne on the skin. A face wash may help with this, but you may want to speak with your doctor if the acne becomes too unmanageable as a side-effect.
Diet
A poor diet consisting of mostly processed or junk foods has the potential to cause breakouts. Foods that have a high-glycemic index, such as sugar or white bread, can also lead to spikes in your blood sugar and affect your hormones, causing breakouts. A low-glycemic diet may be helpful in getting your acne under control.
Types of Acne
It's important to understand the different types of acne that can form on your skin so you can be better prepared to treat whatever comes your way.
Noninflammatory Acne
This type of acne does not involve swelling, and acne spots are not red or inflamed. A salicylic acid treatment is the best for this type of acne.
Blackheads: Also known as open comedones, these occur when a pore is clogged with dirt and dead skin. The top stays open, exposed to air, and turns your pores the noticeable black color.
Whiteheads: Often called closed comedones, whiteheads form the same way as blackheads, except the top stays closed, and the appearance of the acne remains white.
Inflammatory Acne

Inflammatory acne is accompanied by swelling, redness, inflammation, and spots that are painful to the touch. This type of acne responds better to a stronger treatment like the kind found in our best overall pick.
Papules: Papules result from the surrounding cells of a clogged pore breaking down, forming a small, hard bump. They are usually pinkish in color and painful to touch.
Pustules: A pustule is a papule that is formed with pus. They often push to the surface of the skin, forming a larger, redder bump. They may have a yellow or white top.
Nodules: Nodules grow deep under the skin and are the result of swollen pores growing larger due to irritation. This type of acne often needs prescription medication.
Cysts: Pores that are clogged by oil, dead skin, and bacteria form cysts. They are large, red or white, and painful to touch. Cysts are typically further below the surface than nodules.
Creating an Acne-Fighting Skincare Routine
When experiencing acne, especially if it is persistent, you should try and tailor your other skincare and makeup products to be as non-irritating as possible. Here are a few suggestions for daily changes you can make in your skincare routine.
Use Oil-Free Products
Reducing the amount of oil that goes on your skin will help to prevent future breakouts. Consider switching to oil-free foundations and moisturizers, and maybe invest in a product like Neutrogena's Oil-Free Acne Wash.
Don't Forget Moisturizer
It may seem tempting to skip skin moisturizing, especially if your skin is already oily, but moisturizing is a great way to keep your skin from becoming too dry and creating excess oil– the main factors in acne formation. Moisturizing helps to balance out your skin (a product like Bioderma Sébium Foaming Gel can also help with this), preventing excess oil and keeping breakouts under control.
Use a Toner
Using a dedicated toner for treating acne or oily skin after your face wash will help remove any remaining oil and clarify pores. Toners can be somewhat drying, so make sure to follow up with a moisturizer, and if you have naturally dry skin, you should invest in a more hydrating toner like this one.
Home Remedies for Acne
If you're looking for a way to start treating your acne but don't have the time or budget to make a trip to the store, home remedies are there to save the day. Everything from apple cider vinegar to tea tree oil and aloe vera can be used to treat acne. Check out this guide to home acne treatment for more information.
Treating Acne Scars
Lingering acne scars that stay on your skin once you've eradicated your acne can be an even bigger nuisance than the acne itself. Acne scars are stubborn and may take a while to fade, but it can be done.
Topical treatments such as vitamin E or vitamin C serums can fade the appearance of these scars and improve your skin texture. You may also want to consult a doctor for a procedure such as laser resurfacing, if your scars are pronounced enough. You can read more about acne scar treatment in this article.

Acne Prevention Tips
Wondering what you can do to stop your acne from forming in the first place? Check out these pro tips for acne prevention.
Clean Your Skin Regularly
Maintaining a regular cleansing ritual is vital to preventing acne from forming. Wash your face at least once a day with your acne face wash, twice a day if you are prone to oily skin. You can also invest in an acne body wash to treat acne on other areas of your body.
Consider Oral Contraceptives
If you're a female and really struggling with acne, especially hormonal acne, oral contraceptives may be a good solution for you. By altering your hormones, oral contraceptives can reduce the amount of oil on your face and stop acne from appearing. Consult your doctor for more information on this.
Reduce Stress
Excessive stress will do nothing for your skin except prolong an acne breakout or make it more painful. Consider setting aside time for yourself every day to meditate, practice yoga, or develop a self-care routine.
When to See a Doctor
If your acne is affecting your confidence to the point you don't wish to go out anymore, or if it has become too painful to touch, you should probably book an appointment with your doctor or dermatologist.
At this appointment, your skin will be medically evaluated, and you can receive a prescription acne medication; it will either be a stronger topical medication or an oral treatment, such as antibiotics or isotretinoin.
Your Journey to Clear Skin
Fighting off acne is not one of life's most enjoyable tasks, but it is necessary if you want to experience clear skin. With the help of a face wash, you can eliminate bacteria and dead skin cells, effectively treating and preventing breakouts. Adding a quality acne face wash into your skincare routine is the best way to start your journey towards acne-free skin.