Editor's Note: As many of us can attest to, having acne-prone skin is a nightmare, and it's often difficult to try out new moisturizers or makeup products without experiencing a troublesome breakout. It's no secret that non-comedogenic moisturizers are supposed to be a key product for those of us with acne-prone skin. I find that many of the products on our list are great solutions for when you need to moisturize but don't want to risk the pore-clogging side effects that many other popular moisturizers on the market offer.
Finding a moisturizer when you have acne-prone skin can be an arduous process. Every time you slather a new product on your skin there's a bit of worry niggling at the back of your mind: is this lotion going to bring on a major breakout? Will you have to battle a new bout of acne for the next month?
Our mission is to ease your concerns and assuage your fears, with a selection of non-comedogenic moisturizers that'll nourish your skin while keeping acne from rearing its ugly head.
Choosing a Moisturizer for Acne-Prone Skin
Before reading our recommendations, there are a few important things you should know about choosing a non-comedogenic moisturizer.
Is Moisturizer Good for Acne?
Moisturizing is a must even when you have acne-prone skin! Per the American Academy of Dermatology, moisturizers can prevent the overproduction of oil in the skin and alleviate the irritating effects of acne-medications. By trapping moisture in the skin, moisturizers can also soothe redness and irritation that are often symptoms of active acne, and may even help speed up its healing!
What Does Non-Comedogenic Mean?
When a product is non-comedogenic it means that it doesn't clog pores, so by extension, it doesn't cause acne breakouts. It's not a clear-cut term – the rabbit ear studies historically used to determine if an ingredient is comedogenic are far from perfect, and in practice, acne triggers can be very different from person to person.
The term is helpful when you're trying to narrow down which products are more likely to work for your acne-prone skin, but we still recommend always conducting a patch test, which we explain how to do here.
Types of Non-Comedogenic Moisturizers
Non-comedogenic moisturizers come in a variety of textures, which we list here from lightest to heaviest.
Gels are very light with a semi-transparent appearance, bouncy texture, and hydrating effect.
Gel-creams are also light but a little more opaque and creamy than a gel, so they leave the skin a bit dewier.
Lotions are the next step up, with a thin yet creamy texture that offers both moisture and hydration.
Creams are the thickest and slowest to penetrate into the skin, but also best for combating dryness.
In general, those with oily skin will probably want a lighter moisturizer while those with dry skin will want something a little heavier. It's not a rule so much as a guideline, so if you prefer a moisturizer with a thick texture despite having oily skin or vice versa, that's totally fine!
Features to Look For
Non-comedogenic moisturizers are not one-size-fits-all, but there are a few features that everyone should consider.
Evidence of Non-Comedogenicity
It's not always easy to tell what's comedogenic and what isn't. To determine how likely a moisturizer is to cause breakouts, we analyzed its ingredient list and also considered a diverse range of user experiences. Naturally, we did not include any moisturizers we considered likely to cause acne, so you can feel safe with any of our recommendations!
If you'd like to learn more about the process, we give a more thorough explanation about how you can judge product comedogenicity further on.
Effective Ingredients
For a moisturizer to be effective it has to contain ingredients that actually moisturize, so that's a non-negotiable part of our selection criteria. However, non-comedogenic moisturizers can do a lot more than just moisturize. Their ingredients can help with a wide range of concerns. Here are additional effects you might want your moisturizer to have:
Acne-fighting
Brightening
Anti-aging
Soothing
Pore minimizing
We'll let you know exactly what kind of ingredients each moisturizer includes and what kinds of effects you can expect from it, and we've also included a detailed guide to choosing moisturizers based on specific concerns.
Right for Your Skin Type
We prioritized including moisturizers with a light texture that'll feel nice on oily skin, but we also included a few thicker moisturizers for those who have dry skin and still experience the odd breakout. Technically, all of the moisturizers we selected are safe for all skin types, but some will work better for one skin type than the other.
In each review, we'll let you know which moisturizer is best for which skin type. If you're not sure what your skin type is, we've put together a guide that makes it easy to tell.
Good Value
There are a few factors that go into determining good value. The price per ounce of product is very important, of course, so we'll let you know the quantity you get in each moisturizer bottle. However, additional effects, special ingredients, or luxury elements may justify a price increase.
Tolerable Fragrance
In general, we prioritized including fragrance-free moisturizers, since many people with sensitive skin have fragrance allergies. However, for some, fragrance makes for a more enjoyable skincare experience, so we included a few moisturizers that have a light, pleasant fragrance. We'll let you know what kind of scent you can expect out of each product.
Now, let's get to the good part! Read our reviews of the best non-comedogenic moisturizers for every skin type, preference, and need.
Top 10 Best Non-Comedogenic Moisturizers 2023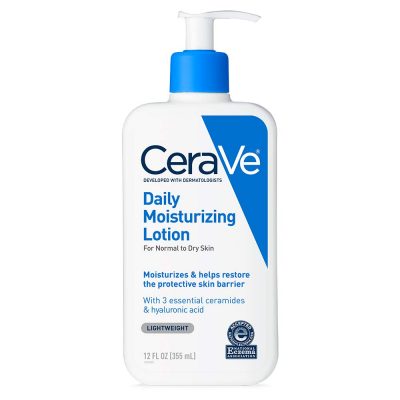 Why we like it:
This light moisturizer is a safe choice that is regularly recommended by dermatologists for its mildness and tolerability. It moisturizes effectively and fortifies the skin barrier, so it's awesome in combination with targeted acne-medications.
Editor's Rating:
At a Glance
Moisturizer Type: Lotion
Best For: Combination Skin
Concerns Addressed: Dehydration, Dryness, and Damaged Skin Barrier
Size and Packaging: 12 or 19oz Pump Bottle
Fragrance: Fragrance-Free
Effects
CeraVe is the Toyota of skincare brands. It's not particularly fancy but dermatologists and consumers alike know that they can trust it to always deliver what they expect at a totally reasonable price. If CeraVe is Toyota, this lotion is the Corolla. It's safe, simple, and it does the job well.
The formula is based on skin-identical ceramides, which have emollient effects (see definition). When the skin is damaged or dry, chances are what's lacking is these naturally-occurring ceramides which are extremely important for keeping the skin soft and moisturized. Because they're skin-identical, they're very gentle and unlikely to cause breakouts.
Admittedly, they don't work for everyone. If you're one of the odd few that can't tolerate ceramides, try a formula like Vanicream, which has similar nourishing effects despite having a very different ingredient list.
It also hydrates well with trusted humectants like glycerin and hyaluronic acid. Beyond this, it doesn't include much else and it doesn't have additional effects. There are no fragrances or strong actives that may irritate the skin. This makes it a little boring, sure, but it also guarantees that it'll work for both sensitive and acne-prone skin. There is also a cream version of this product that comes in a tub. It's a little heavier but still non-comedogenic, so you may prefer it if your skin is dry.
Value
A massive 19oz bottle of this stuff costs less than $20. If you only use it on your face it will easily last you for an entire year, but if you also use it as a body moisturizer you can still expect it to last for 3-4 months.
Pros
Effective moisturizer

Extremely gentle and non-irritating

Very affordable

Good for everyone
---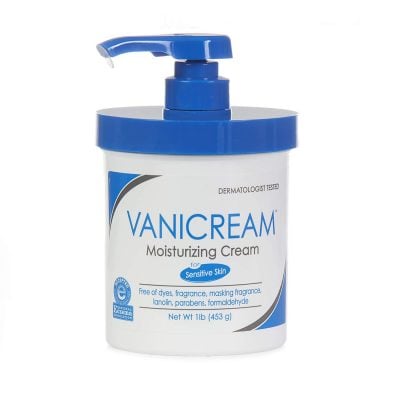 Why we like it:
This ultra-simple and mild formula is phenomenal for moisturizing dry and sensitive skin. Despite its occlusive texture, it's still safe for acne-prone skin.
Editor's Rating:
At a Glance
Moisturizer Type: Lotion
Best For: Dry Skin
Concerns Addressed: Dryness and Dehydration
Size and Packaging: 16oz Pump Bottle
Fragrance: Fragrance-Free
Effects
This is one of the simplest moisturizer formulas we've ever seen, and that's exactly why it's worth recommending. It's a fantastic choice for dry, acne-prone skin and it's also suitable for extreme sensitivity.
It has the texture of a lotion, so it sinks into the skin easily, though it has intensely moisturizing effects and it leaves behind a dewy finish. The main ingredient here is petrolatum, which is a strong occlusive, which means that it creates a moisture-locking barrier over the skin. A lot of people with dry acne-prone skin can have a very difficult time finding a cream that moisturizes adequately without causing breakouts, but this one is that magical solution.
You'll occasionally hear that petroleum-derived cosmetic ingredients are comedogenic, but that's based on an outdated understanding of comedogenicity, as this study by the late Dr. Albert Kligman (the most important researcher in the field of skincare) explains.
Otherwise, it features a lot of water and a simple but very lightweight humectant called propylene glycol (another ingredient that is unjustifiably maligned). The other ingredients are mild emollients and emulsifiers that keep the formula smooth and stable.
Value
Coming in at less than a dollar per ounce, this is the most affordable non-comedogenic moisturizer we've seen. It's not complex and it doesn't offer additional benefits, but it's mild and could be used by the entire family.
Pros
Extremely moisturizing

Super affordable

Very safe, mild, and gentle
Cons
No additional skin benefits
---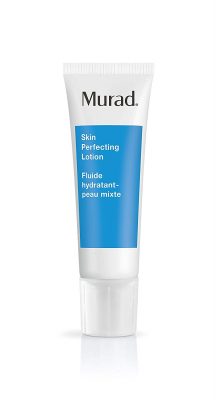 Why we like it:
This light lotion is loaded with powerful ingredients that refine skin texture, prevent premature aging, and help fade acne and acne scars. If you're looking for results, this is the lotion to buy.
Editor's Rating:
At a Glance
Moisturizer Type: Light Lotion
Best For: Oily and Combination Skin
Concerns Addressed: Dehydration, Acne, Texture, Redness, and Signs of Aging
Size and Packaging: 1.7oz Squeeze Tube
Fragrance: Mild Citrus
Effects
Our best premium pick is a great non-comedogenic moisturizer for aging skin. The key ingredient in it is a powerhouse called retinol!
Retinol has been scientifically proven to improve collagen production and reduce the appearance of fine lines. It hasn't been researched for acne, but many users find that it reduces their breakouts and minimizes the look of pores after a month or two. Note that it might be too strong for the eye area.
If you're new to retinol you can expect a touch of skin peeling and perhaps a "purge" (i.e. an initial but not harmful breakout – learn more about it here). After a few weeks, the skin adjusts and comes out looking clearer and smoother.
There is so much more in here that impresses! To mitigate the potentially irritating effects, this lotion includes soothing oat proteins, allantoin, and arnica, which can also soothe the redness and swelling of active acne. It also includes high amounts of fireweed extract, vitamin C and other extracts with antioxidant effects (see definition).
As a moisturizer, it's light yet effective with a fluid texture that's great for oily skin. The moisturizing ingredients include glycerin, squalane, honey, and hyaluronic acid, though it is low on occlusive agents. If your skin is combination-dry or you live in an arid climate, you can use it under a thicker moisturizer like Vanicream.
Value
Despite being a premium product with a price to match, this lotion offers good value. While more affordable retinol products like Neutrogena Rapid Wrinkle Repair exist, this one is better-formulated and suitable even for extremely oily skin.
Pros
Powerfully anti-aging and skin-refining

Soothing ingredients prevent irritation

Lightly hydrating but non-greasy
Cons
Intense and may cause purging

Low on moisture-sealing ingredients
---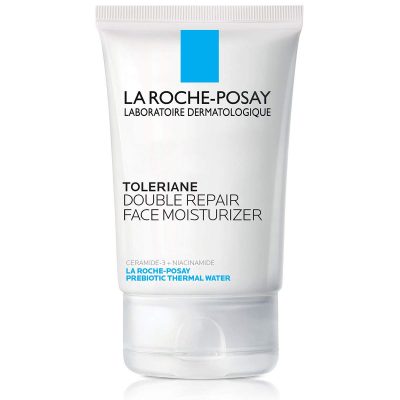 Why we like it:
This super gentle moisturizer is hydrating and moisturizing, but it also targets more specific skin concerns including premature aging, oiliness, and acne.
Editor's Rating:
At a Glance
Moisturizer type: Cream
Best for: Dry and Combination Skin
Concerns addressed: Dehydration, Premature Aging, Pigmentation, Sensitivity, and Damaged Skin Barrier
Size and Packaging: 2.5oz Squeeze Tube
Fragrance: Fragrance-free
Effects
If your skin is easily irritated, consider this cream. It's one of the best non-comedogenic moisturizers for sensitive skin, and it's frequently recommended by dermatologists.
The most exciting ingredient in here is niacinamide, which is a "do-it-all" with universal benefits, like preventing premature aging and improving moisture-retention abilities. Other benefits are specific: it brightens hyperpigmentation, slightly reduces oil production and pore size, and for some, it helps prevent breakouts.
It's not as strong as actives like salicylic acid or retinol, but it's much less likely to irritate the skin. There is a tiny but vocal minority for whom it causes irritation or breakouts, but for most users it does the reverse, helping to soothe the skin and reduce blemishes.
If your skin is so sensitive it cannot even tolerate niacinamide, then Vanicream is the perfect alternative.
The formula hydrates well with a lot of glycerin, smooths the skin with ceramide NP, and locks moisture in with dimethicone, which is also known for being wonderful under makeup. Since the texture is creamy, we think those with combination and dry skin will enjoy it the most since it leaves the skin visibly nourished. This effect can make oily skin appear greasy, however.
Value
La Roche-Posay is a French pharmacy brand, so it's considered to be a little more high-end than drugstore brands. Despite that, this moisturizer is quite affordable when the size of the tube is taken into account. It costs around the same as some of our drugstore options, but you get a bit more product.
Pros
Safe and gentle

Very moisturizing

Has anti-aging, brightening, and oil-reducing effects
Cons
Some users don't respond well to niacinamide

Can make oily skin look greasy
---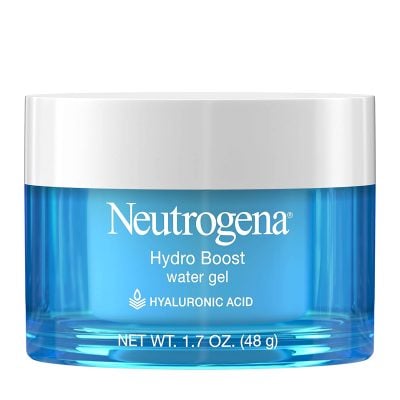 Why we like it:
This velvety gel moisturizer feels like a luxury product and is a famous crowd-pleaser. It has a formula that deeply hydrates and moisturizes but is suitable even for extremely oily skin.
Editor's Rating:
At a Glance
Moisturizer Type: Gel
Best For: Oily and Combination Skin
Concerns Addressed: Dehydration and Dryness
Size and Packaging: 1.7oz Jar
Fragrance: Subtle Clean Fragrance
Effects
This was one of the first affordable gel moisturizers ever released, and it has a huge fanbase. Today, it remains one of the best non-comedogenic moisturizers available on the mainstream market. Its most unique feature is the texture of course, which is bouncy and weightless. It sinks into the skin extremely quickly and doesn't leave behind any residue unlike some of the lotions on this list.
The primary concern it targets is dehydration, with a formula designed to saturate the skin with a ton of water. Neutrogena chose to focus on hyaluronic acid in marketing, but it's clear that glycerin is the real ingredient responsible for this gel's hydrating effects. Even if your skin is dry, this moisturizer might still work since it contains barrier-forming dimethicone and a few film-forming polymers.
It also doesn't contain any active ingredients, which means it suits a wider range of people. However, it doesn't target any additional concerns beyond dryness and dehydration.
If you've tried the CeraVe Daily Lotion before and found that it was too oily for you, this gel is much lighter and yet it offers similar effects, so give it a try.
Though it's not fragrance-free, the scent is mild and not particularly likely to irritate the skin. If you prefer a fragrance-free product, Neutrogena also makes a slightly richer Gel-Cream that has a similar formula and makes for a great alternative.
Value
This moisturizer's cost falls on the higher end of drugstore prices, especially considering it comes in a relatively small 1.7oz jar. However, it feels and performs like a high-end product, so if you're normally a luxury buyer we think you'd be pleasantly surprised by it.
Pros
Light and luxurious gel texture

Extremely hydrating

Suitable for a wide range of skin types
Cons
No added benefits beyond moisturization

Slightly too expensive for a drugstore product
---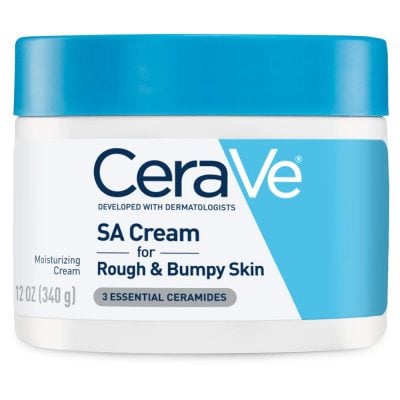 Why we like it:
This moisturizer isn't just non-comedogenic! It actively fades breakouts with exfoliating salicylic acid. It's deeply moisturizing to both face and body, and features niacinamide for a range of added benefits.
Editor's Rating:
At a Glance
Moisturizer Type: Cream
Best For: Dry and Combination Skin
Concerns Addressed: Acne, Texture, Pore Size, Dryness, Dehydration, Signs of Aging
Size and Packaging: 12oz or 19oz Jar
Fragrance: Fragrance-Free but Medicinal
Effects
This intense cream might seem overly greasy at first glance, but it's actually one of the best non-comedogenic moisturizers you can find to actually treat acne, whether on your face or on your body.
It's deeply moisturizing with classic CeraVe ingredients like barrier-restoring ceramides and hyaluronic acid, as well as paraffin, which is a strong occlusive (see definition).
The intriguing ingredient here is salicylic acid, a chemical exfoliant that breaks down the connective material that keeps dead skin cells attached. It's considered a topical medication for the treatment of acne, but it also helps with general skin smoothness.
If you're beginning your search for acne-treatments, this is a great place to start before pursuing intense treatments with potentially drying effects. The blend also includes niacinamide, so it can give antioxidant protection and skin brightening effects while also regulating oil production.
The texture is a little heavy for the face, so it's better to use this at night. There is also a lighter lotion version of this product that unfortunately lacks niacinamide. If you're new to chemical exfoliants, it's important to introduce it slowly. First, only use it a few times a week, and gradually increase frequency. Avoid using it around the eyes.
If you'd like to try a non-comedogenic moisturizer with a similar texture but without all of the strong actives, Vanicream is a great option that also works on the body.
Value
This cream costs about the same as most 1.7oz drugstore moisturizers, but it comes in a jar that's nearly 7 times the size, so it offers extremely good value. This is magnified by the highly effective ingredients it includes.
Pros
Highly effective anti-acne ingredients

Very moisturizing

Can be used on face and body
Cons
Heavy texture

Too intense for the eye area
---
Why we like it:
This is an ideal daytime moisturizer for those with oily skin, particularly because of its cosmetic elegance. It has a mattifying formula that controls oil throughout the day and excellent sun protection.
Editor's Rating:
At a Glance
Moisturizer Type: Light Lotion
Best For: Oily Skin
Concerns Addressed: Sun Protection, Excessive Oiliness, Signs of Aging, Hyperpigmentation
Size and Packaging: 4oz Airtight Pump Bottle
Fragrance: Fragrance-Free
Effects
We're featuring this lovely moisturizer not because of any special effects it has on the skin, but because of its remarkable performance as a cosmetic. When you have oily skin, it can be extremely difficult to find a sunscreen that you can use comfortably. A lot of sunscreens and moisturizers with SPF can be greasy or leave a residue, but this one is a big exception.
Using sunscreen is extremely important, since sun exposure is the main external cause of wrinkles and pigmentation, not to mention it poses the risk of sunburn and skin cancer.
Cetaphil Pro combines moisturization with SPF, and it acts as a mattifier to keep sebum under control. It has 30 SPF with chemical filters that act against both UVA and UVB, which is perfect for daily use.
As a moisturizer, it hydrates lightly with glycerin and keeps the skin occluded with dimethicone. It's the least moisturizing cream on our list, but it's also the most mattifying. If you're not worried about dehydration but struggle with looking shiny throughout the day this is by far the best option.
The mattifying effect comes from what Cetaphil calls "Micropearl technology" which we think is just a fancy way of referring to silica which, in combination with dimethicone and film-forming agents, works beautifully to absorb oils and keep the skin shine-free. This moisturizer also includes some nice skin-soothing agents, but the concentrations are so low that we don't think they're particularly meaningful.
If you need stronger SPF protection or your skin can't tolerate some of the chemical sunscreen ingredients here, give EltaMD UV Clear a try, instead.
Value
This moisturizer is very reasonably priced, especially considering that products with SPF are often a little more expensive. It's not dirt-cheap, but it's still very affordable.
Pros
Beautiful mattifying effect

Broad-spectrum sun protection

Lightly hydrating
Cons
Not suitable for dry skin

No additional skincare effects
---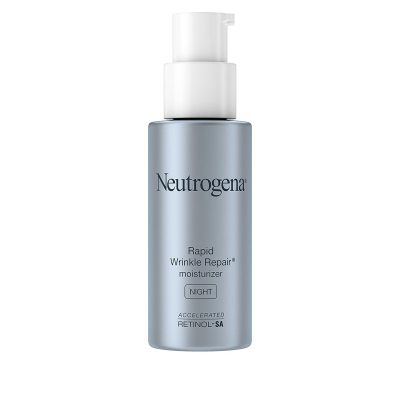 Why we like it:
This affordable cream offers anti-aging and anti-acne benefits, and it's a great choice for newcomers to retinol. It's light but moisturizing, so it's a wonderful choice for combination and dry skin.
Editor's Rating:
At a Glance
Moisturizer Type: Cream
Best For: Dry and Combination Skin
Concerns Addressed: Dehydration, Signs of Aging, Acne, and Texture
Size and Packaging: 1oz Airtight Pump Bottle
Fragrance: Mild Fresh Scent
Effects
If you're looking for an affordable non-comedogenic moisturizer for aging skin this is our pick! It's a gentle retinol cream so it's great for first-time users who want a combination of anti-aging and anti-acne effects.
Neutrogena actually sponsored a sizable clinical study in which they found that this product is indeed effective at reducing the appearance of fine lines. You can expect a visible transformation if you have never used skin-renewing products before.
Compared to Murad Acne Control, this formula is simpler but it's also creamier and more
moisturizing. It contains lovely hydrators like hyaluronic acid and glycerin, along with occlusive silicones. If you have combination or dry skin it would work beautifully as a moisturizer, though if you have oily skin you might find it a little too heavy.
What it's missing, however, is the long list of skin-soothing and antioxidant agents that the Murad lotion contains. Neutrogena does include some antioxidant ingredients like vitamin C and myrtle extract, but they show up later on the ingredient list when compared to Murad.
Value
Retinol is not a cheap skincare ingredient, so while this isn't the most affordable moisturizer on our list, it's extremely well-priced considering its active ingredient. If you're looking for an anti-aging boost on a budget, it's a fantastic choice.
Pros
Creamy and moisturizing

Anti-aging and anti-acne effects

Affordable retinol product
Cons
Has a fragrance

Might be greasy for oily skin

Doesn't include many other beneficial ingredients
---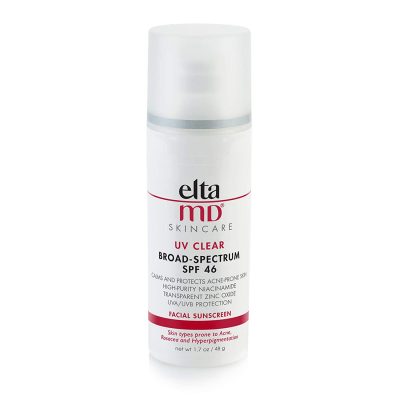 Why we like it:
This product offers high SPF protection with gentle sunscreen filters that are great for sensitive skin. It's lightly moisturizing and features antioxidant niacinamide.
Editor's Rating:
At a Glance
Moisturizer Type: Lotion
Best For: Combination Skin
Concerns Addressed: Sun Protection, Signs of Aging, Hyperpigmentation, Dryness, Oiliness, and Sensitivity
Size and Packaging: 1.7oz Airtight Pump Bottle
Fragrance: Fragrance-Free
Effects
EltaMD UV Clear is pretty iconic, and we think it can double as a fantastic daytime moisturizer. Though it's not marketed as a day cream, it does have moisturizing effects, so it works alone or on top of a light moisturizer.
Compared to Cetaphil Pro Oil Absorbing Moisturizer, the other SPF option on our list, UV Clear is a little creamier and it doesn't have that same strong mattifying effect.
It offers stronger sun protection with sunscreen ingredients that are more appropriate for sensitive skin: zinc oxide and octinoxate. These filters offer broad-spectrum protection against both skin-burning UVB rays and skin-aging UVA rays. Because of the zinc oxide, you'll have to rub the sunscreen into your skin for a couple of minutes to get its white cast to fade into your skin.
It's a bit of a cliche to mention, but sunscreen will always be the best anti-aging product you could use. This one offers anti-aging effects with more than just sun filters. It includes a significant dose of niacinamide which offers added antioxidant protection and also helps to brighten the skin and control oils. It also helps to hydrate the skin with hyaluronic acid and lactic acid, while occlusive ingredients maintain moisture in the skin.
Those with severely dehydrated skin may want to layer it over something more humectant-rich like Neutrogena Hydro Boost.
Value
The downfall of amazing SPF products is usually their price, which is exactly the case with this product. It costs about double what Cetaphil Pro does for the same amount of product. However, it also offers more skincare benefits and has a formula that's less likely to irritate the skin, which makes us willing to overlook the higher price point.
Pros
Very high SPF protection

Offers diverse skin benefits

Appropriate for sensitive skin
Cons
Expensive

Slight white cast

Not very hydrating on its own
---
Why we like it:
This is the lightest moisturizer we've seen, with a texture that borders on liquid and sinks into the skin quickly. It's simple and hydrating to suit oily skin, with a touch of acne-fighting tea tree oil.
Editor's Rating:
At a Glance
Moisturizer Type: Gel-Cream
Best For: Oily Skin
Concerns Addressed: Dehydration, Acne
Size and Packaging: 3oz Pump Bottle
Fragrance: Tea Tree Oil and Citrus
Effects
This unique moisturizer comes from cult-favorite Korean brand COSRX. It's hard to find a comparable product from Europe and North America since it has the most remarkable texture. It's a gel-cream (maybe more of a gel-lotion) that borders on liquid, so it's great for severely oily skin.
The main ingredient here is birch sap juice, which replaces water in the formula, and boosts the overall antioxidant and amino acid content. This makes this moisturizer more hydrating and protecting. It also includes humectants like butylene glycol and glycerin as well as occlusive dimethicone, so it's definitely a comprehensive moisturizer.
What's impressive to us is the addition of tea tree oil, which is a fantastic natural alternative to mainstream acne treatments like the salicylic acid in CeraVe SA. We would have loved to see a few more antioxidants or skin soothing agents, but it's still a lovely product.
It does contain lemon peel oil, which gives a nice citrus scent but is unfortunately also sun sensitizing and potentially irritating to sensitive skin. Make sure to use a daily sunscreen when using this moisturizer.
Value
This product lands smack-dab in the middle when it comes to price. Since the package holds 3oz of product, it's more affordable than similarly priced options that come in 1.7oz containers but not as affordable as products that come in massive packages.
Pros
Sinks into the skin very quickly

Hydrates well

Contains natural acne-fighting tea tree oil
Cons
Contains sun sensitizing lemon peel oil

Fragrances potentially irritating to sensitive skin

Lacks additional beneficial ingredients
---
Detailed Buying Guide for Non-Comedogenic Moisturizers
Are you not sure which of these non-comedogenic moisturizers will be right for you? This section goes over all of the factors you should consider when choosing the right cream for your individual needs.

How to Tell if a Moisturizer is Non-Comedogenic
Telling if a product or ingredient is comedogenic isn't easy. In fact, it can be extremely frustrating! Sensitivities vary from person to person, comedogenicity ratings are often deceiving, and it's also important to remember that it's often the dose that makes the poison. Here is our breakdown of everything you need to know to figure out comedogenicity.
Oil-Free Formulas
In general, greasy ingredients and oils are often more likely to cause breakouts, so checking that a formula is oil-free makes for an easy shortcut. It's not a perfect solution. Some oils, like rosehip seed oil and grape seed oil, are considered excellent for acne-prone skin, while non-oil ingredients like lanolin or algae are more likely to be comedogenic. However, if something is advertised as oil-free, chances are it doesn't include other comedogenic ingredients either.
Comedogenicity Ratings
Many skincare ingredients were given comedogenicity ratings through studies conducted on rabbit ears in the '80s. These ratings go from 0 (not comedogenic at all) to 5 (very comedogenic). When examining a product, you can look up its ingredient list and comedogenicity ratings on a website like CosDNA.
However, these days, most researchers accept that these early studies were too sensitive and that ingredients with high comedogenicity ratings in rabbit ears aren't necessarily going to be comedogenic to humans.
What makes things even more complicated is that there are many people who find that ingredients that are generally regarded as non-comedogenic, like certain fatty alcohols, silicones, or skin-identical ingredients still break them out!
The Dose Makes the Poison
Historically, comedogenicity was tested with ingredients at full concentration. In later studies, when something comedogenic was tested at a lower concentration, its rating went down to 1 or 0. This means that a small amount of a comedogenic ingredient at the end of an ingredient list is probably safe.
Other Users' Experiences
You can also read about other people's experiences with a product. In general, if most people don't break out from something, it's likely non-comedogenic. That said, we don't know of any product out there that has never broken anyone out… just because something worked for a lot of other people doesn't mean that it'll work for you, and vice versa!
Personal Experience
If you have a history of using an ingredient without breaking out then you don't need to suddenly stop using it after finding out it might be comedogenic. When it comes to new products, the best way to know if they're comedogenic for you is to try them! We explain how to do a patch test here, so you can tell if a product is comedogenic for you without triggering a terrible breakout all over your face.

How to Figure Out Your Skin Type
Just because you have acne-prone skin doesn't mean you're oily. Your skin type is determined by how much sebum (i.e. oil) your skin produces, and folks with all skin types may want a non-comedogenic moisturizer!
There are two ways to figure out your skin type:
The easier way is to look at the size of your pores (see definition), although it's not always accurate.
A face wash test makes things easier! Wash your face with a gentle, non-drying cleanser, and then wait for 30 minutes to an hour without moisturizing, and see how much oil your skin produces.
It's worth mentioning that "skin type" is a cosmetic distinction that makes it easier to select products that will feel good on your skin. It's not a medical term nor is it a skin concern to be fixed – more so, it's just a factor that influences what product types you will or won't enjoy.
Oily Skin
Having large pores over most parts of the face is usually the surest sign that you have oily skin, so that's the first thing to examine. They are usually largest in the T-zone, which includes the forehead, nose, chin, and sometimes the inner part of the cheeks. The pores on the jawline and cheeks are usually medium-sized.
If you're in your teens to mid-30s, looking at the size of your pores is the surest way of determining your skin is oily, but from the late 30s and onward it's quite common for the skin to become dry without the pore size changing. In that case, it's better to do a face wash test. If your skin gets shiny and a little greasy all on its own after the face wash test then you have oily skin.
If your skin is oily you'll do better with lighter gel or gel-cream moisturizers, like Neutrogena Hydro Boost or COSRX Oil-Free Lotion. Light lotions can also work, especially in the evenings.
If you notice both oiliness and a dry, tight feeling then you might be experiencing dehydration in addition to having oily skin. You can learn how to deal with dehydration here.
Dry Skin
The reverse of oily skin is dry skin, with very little sebum production often accompanied by tiny pores or flakey skin. If your pores are very small (perhaps with a few medium-sized ones dotted over the forehead and nose) then you definitely have dry skin.
However, with age, the skin loses collagen and elastin so even those who don't have oily skin may find that their pores stretch out. If you're older, it's better to check whether your skin feels tight after a wash test.
If your skin feels dry and you don't see any shine or greasiness start to pop up then you have dry skin. The best non-comedogenic moisturizer for you would be a rich one that replenishes what your skin naturally lacks, like Vanicream.
Combination Skin
Combination skin exists somewhere in the middle of the spectrum between oily and dry. Usually, it manifests as having an oily T-zone and dry cheeks. Some people can have combination skin that leans oily while for others it might lean dry. Because it's so broad it's probably the most common skin type, but it's also the most confusing!
If you're going to go off of pore-size to determine your skin type, simply look for intense variation, with larger pores in the T-zone and smaller ones elsewhere on the face. You can also try the face wash test. If some parts of your skin stay matte while others (especially the forehead and nose) start producing oil then you have combination skin.
The best moisturizers for combination skin are usually lighter lotions like CeraVe Daily Lotion.

Choosing a Moisturizer Based on Specific Concerns
We like it when a moisturizer can go above and beyond, but how it does that depends on individual concerns. In this section, we'll help you identify common skin concerns, and let you know what kind of moisturizers can address each one.

Dehydration
Dehydration is a condition where the skin lacks water, and it can happen irrespective of skin type. When the skin is dehydrated it feels tight and uncomfortable, and it looks a little dull, flakey, or saggy. It's also more susceptible to damage, which is why dehydration and breakouts often come hand-in-hand.
Humectants are key for combating dehydration. They get into the stratum corneum and saturate the skin with water. Occlusives are also useful because they create a layer that prevents moisture loss, although they're less integral for those with oily skin or for those living in humid climates.
All of the products on our list can help, but the best non-comedogenic moisturizers for dehydration are Neutrogena Hydro Boost and La Roche-Posay Double Repair.
Active Acne
If you're looking for a non-comedogenic moisturizer, chances are you deal with breakouts on a regular basis. There are a lot of myths surrounding acne and its causes, but in reality, it's a complex skin disease that merits dermatological treatment.
However, your moisturizer can also help your acne treatment. If you're already using an acne medication that's drying out your skin, any moisturizer will help mitigate that side-effect. If you're not on any acne medication, you can use moisturizers with ingredients that help fade existing acne, like salicylic acid, tea tree oil, and retinol.
Skin-soothing agents like allantoin can also help by bringing down the redness and swelling of active breakouts. The best moisturizers we've identified for treating acne are CeraVe SA and COSRX Oil-Free Lotion.
Pore Size and Skin Texture
We hate to be the bearers of bad news, but for the most part, you can't radically alter the size of your pores or the texture of your skin. In the short term, you can make the skin look smoother by hydrating it. Moisture plumps up the skin, which makes pores appear tighter, and emollients smooth down dead skin cells which makes the skin look and feel smoother.
However, you can lightly refine skin texture in the long term with products that increase the cell-turnover rate. Active ingredients like salicylic acid or retinol are especially useful! By getting rid of old skin cells and helping bring new skin cells to life, these ingredients slowly improve the texture of the skin and make the pores appear a little tighter.
It's a slow process and the results are minor, but skin-renewing ingredients also have anti-aging and anti-acne benefits, so they're well worth a try. We particularly recommend CeraVe SA and Murad Acne Control for these purposes.
Acne-Scars and Hyperpigmentation
Hyperpigmentation is a condition when the skin overproduces melanin in patches or spots over the skin. It can be caused by sun exposure, genetics, or after the skin experiences some sort of trauma, including after a bad breakout.
Hyperpigmentation isn't harmful – sometimes it's even considered charming, like having a smattering of freckles! Sadly, for many, it's a source of consternation, especially when it's a reminder of pimples past.
Whether you're trying to treat or prevent hyperpigmentation, it's extremely important to use sunscreen during the day, even on cloudy days. UVA rays, which penetrate through cloud cover, will make all kinds of pigmentation worse. Both Cetaphil Pro Oil Absorbing Moisturizer and EltaMD UV Clear are broad-spectrum sunscreens, so they'll serve you well.
To reverse hyperpigmentation, skin-renewing ingredients are key. Retinol, vitamin C, niacinamide, and salicylic acid are all helpful, so you can try Neutrogena Rapid Wrinkle Repair for radical results or La Roche-Posay Double Repair for mild effects.
Sensitivity
If your skin gets red or irritated easily, it's a sign that you're more sensitive. Sensitive skin can be the result of conditions like rosacea or eczema, it can be a side-effect of medication, or it can be the result of allergies that manifest as skin irritation.
Whatever the cause, it's important to find a mild-moisturizer that won't aggravate your sensitivity. Like comedogenicity, the ingredients that irritate the skin can also differ from person to person. Fragrances are frequent culprits, so it's better to stick to fragrance-free formulas. Active ingredients are iffy, and it can be confusing: some people with sensitive skin thrive when using products with niacinamide or salicylic acid, while for others those same ingredients wreak havoc.
In general, the best moisturizers to start with when you have sensitive skin are La Roche-Posay Double Repair and CeraVe Daily Lotion. Each one of those moisturizers is made with a different selection of very mild ingredients, so if you react badly to one it's worth trying the next one. Like those with acne-prone skin, those with sensitive skin should also make sure to patch test their products before applying them all over the skin.
Signs of Aging
Fine lines, wrinkles, sagging skin… Those are the common signs of aging that the skin likes to taunt us with. There are a few different classes of ingredients that can help both prevent and reverse those signs.
When it comes to prevention, sunscreen is key! UVA rays are the leading external cause of skin aging, so blocking them is the best way to keep the skin looking youthful. Any broad-spectrum sunscreen will work, but EltaMD UV Clear is especially nice because it also contains antioxidant niacinamide.
Then there are the skin-renewing ingredients, like retinol, that help energize the skin in a way that boosts collagen, firms the skin, and reverses the look of fine lines. The best moisturizers for that are Murad Acne Control and Neutrogena Rapid Wrinkle Repair.
Choosing a Day Cream vs. a Night Cream
You might not want to use the same moisturizer in the day and at night, so consider what features you want for each time of day.
Day Cream
The most important thing about your morning skincare routine is that it'll protect you from the sun. This means that your AM moisturizer should either include a sunscreen, like Cetaphil Pro Oil Absorbing Moisturizer, or it should have a nice, light texture like Neutrogena Hydro Boost that won't feel heavy on your skin when worn under sunscreen.
In the morning, it's also worth adding, you'll probably want a moisturizer with a lighter texture that sinks into the skin fully. That way, you don't have to worry about it pilling or mixing awkwardly with your makeup.
Night Cream
In the evening you don't need to worry as much about product texture. Instead, the night is the perfect time to focus on moisturizers that are a little richer and contain active ingredients like retinol that might be too intense for the daytime. At night, while you're sleeping, your body is also working hard to renew itself so it's the best time to use transformative moisturizers.
We don't recommend using a moisturizer with an SPF at night since not only is it unnecessary, but sunscreen ingredients also take up the space of beneficial ingredients.

How to Patch Test a Moisturizer for Acne-Prone Skin
We frequently recommend patch testing products for sensitive skin, which can be done on the forearm or behind the ear. However, when you patch test for acne you have to test the product on a part of your skin that can break out. A small patch on the forehead or chin is usually a good spot.
The amount of time it takes to experience breakouts changes from person to person, so you need to patch test the moisturizer for as long as it normally takes you to break out from something. That could mean 2-3 days or it could mean 2 weeks. If you don't experience any unusual breakouts during the allotted time, eureka! You've discovered a moisturizer you can use all over!

Be Aware of Purging
Moisturizers that have skin-renewing ingredients like salicylic acid or retinol can cause a short period of unusual breakouts. As the skin sheds its old cells, clogs that were just starting to form come to the surface, which looks like a mild breakout.
This process is called "purging" and it can last for about a month or two while the skin totally renews itself. Once the purge ends, the skin looks a lot clearer than it did before.
It's hard to tell the difference between purging and a regular breakout, but purging will only happen with stronger active ingredients. Purging only happens in areas where you normally already break out, the pimples will be closer to the surface of the skin, and they won't be overly inflamed.
Acne-Prone Skin Glossary
Some of the terms we use throughout the article are pretty specific, so we included a glossary in case you run into an unfamiliar word.
Comedogenic
A product or ingredient that is more likely to cause acne. Whether an ingredient is comedogenic or not depends on the dose and also differs from person to person. Old scientific models of determining comedogenicity with rabbit-ears have fallen under doubt in recent years.
Sebum
Sebum is the oil-like substance that the human skin excretes. It's composed of a few different substances, including triglycerides and wax esters, but it's often referred to as an oil.

Pores
Small openings in the skin through which sebum is secreted and from which hairs grow. The word pore is interchangeable with "hair follicle," although the former is more commonly used in skin-related topics.
Pimples
Pimples are clogged pores that get infected with acne bacteria, so they become inflamed and irritated as a result. If the clogged pores aren't inflamed, then you're dealing with blackheads or whiteheads. The term pimple is often used to refer to lesions of varying severity, although dermatologists get more specific with terms like "pustule," "papule", and "cyst."

Humectant
An ingredient that is able to absorb water from products or the air and then pull it into the skin. It hydrates and plumps up the skin. Common humectants in skincare include glycerin, hyaluronic acid, panthenol, lactic acid, and honey.

Occlusive
An ingredient that creates a barrier over the skin that prevents moisture loss. Common occlusives in skincare include dimethicone, mineral oil, lanolin, and squalene.

Emollients
Emollients are ingredients that fill in gaps between the dead skin cells that make up that outermost layer of skin. They help make the skin feel smoother and also improve its ability to block out contaminants like the acne bacteria. A lot of occlusives also work as emollients.

Actives
Actives or active ingredients are ingredients with strong transformative effects. They include anti-acne treatments like benzoyl peroxide, exfoliants like salicylic, or skin-regenerating ingredients like retinoids or vitamin C. Because they're so powerful they're also slightly more likely to irritate the skin.
Anti-Inflammatory
A soothing or calming ingredient that can reduce inflammation or its symptoms. It can reduce the redness, swelling, or pain associated with acne and skin sensitivity.

Antioxidant
A substance that protects the skin cells from the degrading effects of external aggressors like pollution and sun exposure. Most plant oils and extracts have some antioxidant properties, but other popular antioxidants include vitamin C, niacinamide, and green tea extract.
Bottom Line
Acne is a complicated subject so figuring out how to find a moisturizer that won't aggravate it is no easy matter. However, if you take time testing and consider your personal needs, you can end up with a fantastic lotion that gives your skin a glow and may even keep your acne at bay. Here's to having gorgeous, nourished, clear skin!