Top Picks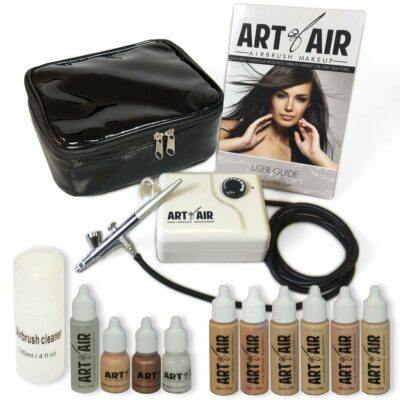 Art of Air Professional Airbrush Cosmetic Makeup System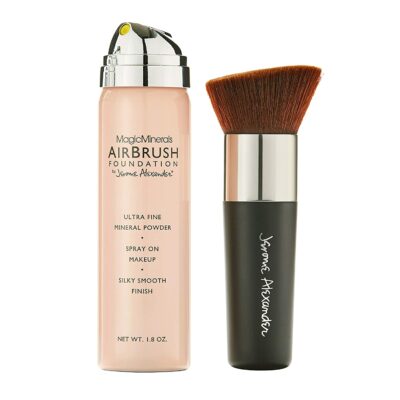 MagicMinerals AirBrush Foundation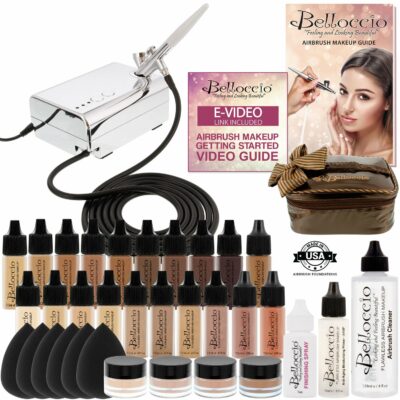 Complete Professional Belloccio Airbrush Cosmetic Makeup System
Previous
Next
That velvety finish that celebrities and models always seem to have isn't most often achieved by amazing genetics and an expensive skincare routine (though that can help). In most cases, the secret is airbrushing. An airbrushed foundation layer can give you an impossibly smooth finish that makes your skin look poreless.
Choosing an airbrush can be intimidating. It's an expensive investment, but it just might be worth it to streamline your beauty routine like you never imagined. In this guide, we're going to walk you through the best airbrush kits we've found on the market and a few cheats that give you a similar effect without the fuss.
What You Need to Know About Airbrush Makeup Kits
Before we jump to our product reviews, let's explore the most important info to know and consider when selecting an airbrush makeup kit.
What Is Airbrush Makeup?
Airbrush makeup is liquid makeup that passes through a spray during application. In the most traditional form, it will be loaded into an airbrush wand that's attached to an air compressor. The air atomizes the liquid and distributes it as a fine mist over your skin.
The most common makeup you'll see in an airbrush is foundation. It makes perfect sense because foundation has the most skin to cover, and having it blend in and look natural is extremely important. More options are available, though. Highlight, bronzer, and blush are also popular options found in some kits. An airbrushed primer or setting spray will help seal your makeup to keep it looking perfect all day.
There are a few different options when it comes to the type of airbrush.
Different Types of Airbrush Makeup
Some would argue that sprays that are powered by an air compressor are the only true airbrush makeup options. And, in a sense, that's right. But we've expanded our definition slightly to consider the convenience and budgetary restrictions of the average consumer. There are less traditional methods that still perform well and create an airbrushed finish.
Air Compressor
When you think of an airbrush, this is probably what comes to mind. They're used in the art and culinary world as well to give an even application of pigment. Powered by an air compressor, these often need to be plugged in and can be large pieces of equipment. The power they have behind them makes them more ideal for use in professional settings or for more heavy-duty makeup applications.
Mini Air Compressor
The basic idea is the same between a larger scale and mini air compressor. An electronic device pulls air in and passes it through. However, there are a few miniature air compressor options that have appeared on the market in recent years. They combat some of the challenges of a traditional air compressor system by being small, light, and rechargeable. This means they don't necessarily have the same heartiness as a larger air compressor device, but they are a lot more travel-friendly and take less set up.
Aerosol
This option is definitely not traditional. Instead of having an outside power source, this style of makeup will use an aerosol can to propel pigments. This can still give a surprisingly nice finish but can be messy since the application is less precise. Many people may find that they still need to blend with a sponge or brush to get the effect they want. Some also find it less of a hassle to apply the product directly to a sponge or brush.
Pump
A pump bottle spray is the least likely option when it comes to giving you a super smooth and even coverage, which is why only one made it onto our list. Pump sprays tend to distribute more randomly sized droplets over a wider and harder to contain area, so they are less ideal for giving an airbrushed look. They are easy to use and more environmentally friendly though.
Here are 10 airbrush makeup options we've found. Our ratings take into account how well they perform when it comes to giving a good, long-lasting finish to your makeup, how easy and accessible the system is for a newbie, and the quality and shade range of the makeup itself.
Top 10 Best Airbrush Makeup Kit 2021
Answering Your Questions About Airbrush Makeup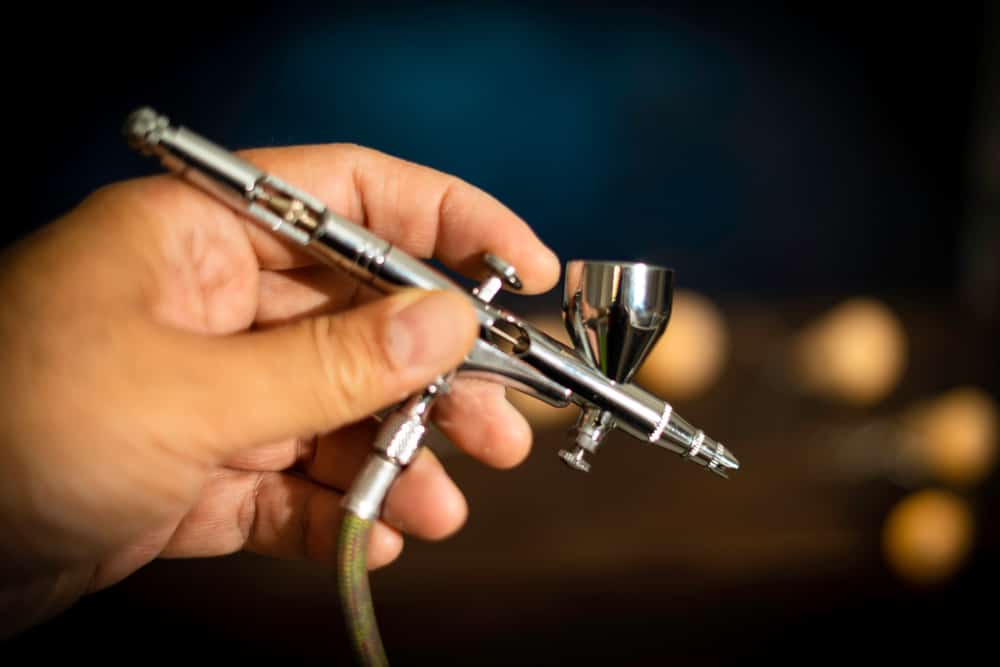 Airbrushing is very different than the other methods of applying makeup that you're probably used to. It may take a few tries for you to feel comfortable and find an application method that you like. There are a few basics to learn in advance that can help you have a better experience.
How Do You Apply Airbrush Makeup?
If you're using a traditional air compressor model, there are a few steps to take before applying. You'll need to set up your machine by connecting the pump to the wand. Then you'll need to load up a few drops of makeup to the wand. Most brands recommend 5-10 drops, but always read the instructions on your particular makeup.
After that, it's time to turn on the machine. This will start the air flowing through your wand, but the makeup won't spray out until you engage the trigger on the wand. If your machine has adjustable airspeed you can play with the levels until you find one that feels comfortable.
Once you're set-up, you can start applying the makeup. You'll want to have your hair pulled back and your skin prepared before starting. Most machines will have a recommended distance to hold the wand away from your face, usually a couple of inches. Slowly engage the trigger and move the wand in a circular motion as you move around your face.
If you're applying blush, it's recommended to take a top-down approach on your cheekbones, rather than spraying up over them.
Once you've applied it all over, you can use a brush or sponge to blend out any areas that need it. You can also take another pass at any blemishes or discoloration that's still visible. Then, you can complete your look with a setting spray and any lip or eye makeup you want.
Aerosol Application
To apply aerosol airbrush makeup, the technique is a little different. First of all, you get to skip all the setup. The only prep you need is to shake the can a bit. Similarly, though, you will probably want to pull your hair back and you may want to cover your clothing if you're dressed for the day. Aerosol spray is less precise and can get particles everywhere.
Then you can spray it directly on your face from a few inches away, stopping to blend out with a brush or sponge every few inches. You can also apply the foundation directly to a brush or sponge and blend it out in a circular motion with your tool.
After that, you can add any setting spray and complete your makeup look.

Can You Use Any Liquid Foundation in an Airbrush?
This topic is hotly debated by enthusiasts and professionals alike. The short answer is yes, you can use your own liquid foundation with an airbrush. The full answer is a little more complicated though.
Just pouring a standard liquid foundation into your airbrush will probably end in disaster. You'll need to thin it somehow so it doesn't clog up your machine or send big blobs of makeup out onto your face. The recommended method is to use an actual foundation thinner made for just this purpose. In a pinch, though, you can thin your makeup with a runny moisturizer or even water.
Always make sure you pay extra attention to cleaning your tools afterward if you decide to use a traditional foundation in your wand. Airbrush makeup is designed to go through these devices, and even it can clog when not cleaned properly.
What Occasions Should I Use Airbrush Makeup For?
Some people like a full face of flawless makeup everyday. And they're willing to take the time and make the effort every morning to set up a full compressor to get that look. Many of us, though, like to keep things simpler. That doesn't mean that we can't pull out all the stops sometimes, though.
Weddings
By far, weddings are the most popular occasion people use airbrush makeup for. Especially if you're in the bridal party, you'll be photographed all day in between dancing and eating. You'll want a flawless, long-lasting finish that will look great in whatever lighting you find yourself. Really, any party or event with dancing is a good reason to use long-wearing airbrush makeup.
Photo Shoots
Are you doing a photo shoot for a fashion blog, creator page, or even to announce a new addition to your family? The silky look of airbrush makeup makes it ideal for photography. It also softens and hides imperfections, so you can focus on whatever the occasion is, instead of looking back at your pictures and picking at your flaws.
Business Events
If you're attending or even presenting at an all-day seminar, you probably want to look your best and avoid touch-ups throughout the day. Meeting with a big client to negotiate a deal? You probably slipped into your power-suit, but you may also want to put on your power-face to give you confidence and help you look put-together and in control.
Does Airbrush Makeup Work with Aging Skin?
Aging skin often requires different treatment than tight, fresh, "I'm-still-in-college" skin. Airbrushing can actually be a great option for mature skin. Since it goes on very lightly with ultra-fine pigments, airbrush makeup is less prone to caking and settling into lines.
Use a moisture-rich primer as your base to help plump and smooth. Then follow it up with an airbrush like our pick from Luminess to look absolutely radiant.
Final Thoughts
Airbrush makeup can seem like a lot. You might think it's out of your depths and best left to the professionals. But if you struggle to find a foundation that gives you flawlessly natural coverage, then airbrush makeup may be just the thing for you.
Whether you want a full-blown professional option or something that cheats a little to give you that look without all the machinery, we hope you've found a product on our list that gives you the courage to step outside your liquid or powder comfort zone and try something new.