That velvety finish that celebrities and models always seem to have isn't most often achieved by amazing genetics and an expensive skincare routine (though that can help). In most cases, the secret is airbrushing. An airbrushed foundation layer can give you an impossibly smooth finish that makes your skin look poreless.
Choosing an airbrush can be intimidating. It's an expensive investment, but it just might be worth it to streamline your beauty routine like you never imagined. In this guide, we're going to walk you through the best airbrush kits we've found on the market and a few cheats that give you a similar effect without the fuss.
What You Need to Know About Airbrush Makeup Kits
Before we jump to our product reviews, let's explore the most important info to know and consider when selecting an airbrush makeup kit.
What Is Airbrush Makeup?
Airbrush makeup is liquid makeup that passes through a spray during application. In the most traditional form, it will be loaded into an airbrush wand that's attached to an air compressor. The air atomizes the liquid and distributes it as a fine mist over your skin.
The most common makeup you'll see in an airbrush is foundation. It makes perfect sense because foundation has the most skin to cover, and having it blend in and look natural is extremely important. More options are available, though. Highlight, bronzer, and blush are also popular options found in some kits. An airbrushed primer or setting spray will help seal your makeup to keep it looking perfect all day.
There are a few different options when it comes to the type of airbrush.
Different Types of Airbrush Makeup
Some would argue that sprays that are powered by an air compressor are the only true airbrush makeup options. And, in a sense, that's right. But we've expanded our definition slightly to consider the convenience and budgetary restrictions of the average consumer. There are less traditional methods that still perform well and create an airbrushed finish.
Air Compressor
When you think of an airbrush, this is probably what comes to mind. They're used in the art and culinary world as well to give an even application of pigment. Powered by an air compressor, these often need to be plugged in and can be large pieces of equipment. The power they have behind them makes them more ideal for use in professional settings or for more heavy-duty makeup applications.
Mini Air Compressor
The basic idea is the same between a larger scale and mini air compressor. An electronic device pulls air in and passes it through. However, there are a few miniature air compressor options that have appeared on the market in recent years. They combat some of the challenges of a traditional air compressor system by being small, light, and rechargeable. This means they don't necessarily have the same heartiness as a larger air compressor device, but they are a lot more travel-friendly and take less set up.
Aerosol
This option is definitely not traditional. Instead of having an outside power source, this style of makeup will use an aerosol can to propel pigments. This can still give a surprisingly nice finish but can be messy since the application is less precise. Many people may find that they still need to blend with a sponge or brush to get the effect they want. Some also find it less of a hassle to apply the product directly to a sponge or brush.
Pump
A pump bottle spray is the least likely option when it comes to giving you a super smooth and even coverage, which is why only one made it onto our list. Pump sprays tend to distribute more randomly sized droplets over a wider and harder to contain area, so they are less ideal for giving an airbrushed look. They are easy to use and more environmentally friendly though.
Here are 10 airbrush makeup options we've found. Our ratings take into account how well they perform when it comes to giving a good, long-lasting finish to your makeup, how easy and accessible the system is for a newbie, and the quality and shade range of the makeup itself.
Top 10 Best Airbrush Makeup Kit 2023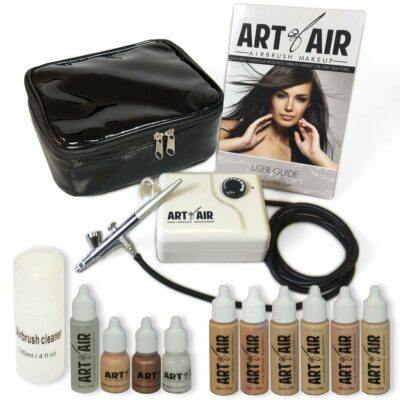 Why we like it:
he Art of Air offers a truly complete airbrush set for a range of experience levels.
Editor's Rating:
Quick Facts
Type: Compressor
Makeup Included: Foundation, Blush, Bronzer, Shimmer, Primer
Available Shades:14
Highlights
For a pretty moderate price, this airbrush kit offers a professional experience. This particular set comes with Art of Air's six fair to medium foundation shades to help you get the best possible match or work with multiple people. You can purchase a set with just their 4 dark shades or tan shades as well.
Besides the foundation, this kit includes other face makeups, like blush, bronzer, shimmer, as well as a primer. The makeup is free from fragrances and runs smoothly through the airbrush, which itself is easy to use and clean.
The compressor plugs in to charge and allows you to adjust it between three levels of pressure to get the application you want. It also has a holder for you to rest the airbrush wand when not in use. It's a good balance of power and convenience.
Downsides
The makeup in this kit has more of a matte finish. If you tend to have oily skin and need something that will help control shine, you may want to use different makeup. On very dry skin, the matte airbrush finish can look chalky or even crack if not applied over moisturizer or primer.
Art of Air does offer some "satin finish" makeup which has more of a dewy finish but it must be purchased separately. For a dewier, more hydrating finish, you may want to try our pick from Mineral Air.
The airbrush itself will also need to be cleaned frequently to avoid clogs or interruptions in the spray. This can be a bit of a hassle if you're applying multiple layers of makeup to several people.
Who It's For
If you're looking for an airbrush with an adjustable spray, this works very well. As with most airbrushes, there will be a slight learning curve. For a close-to professional experience at a good value though, many people will find this to be the ideal option whether it's their first time using an airbrush, or they have a little more experience.
Those with oily skin may find that the foundation works really well for them, but drier complected individuals will probably need to use a moisturizing primer first to get the most out of it.
Pros
Full range of shades

Controls shine

3 pressure settings

Easy to use and clean
Cons
Needs frequent cleaning

Foundation not ideal for dry skin
---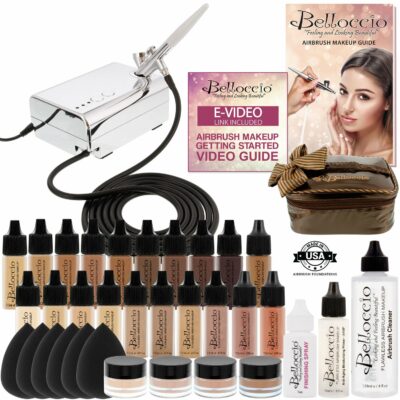 Why we like it:
This kit truly has everything for any hobbyist or beginning professional.
Editor's Rating:
Quick Facts
Type: Compressor
Makeup Included: Foundation, Blush, Shimmer, Bronzer, Primer, Concealer
Available Shades: 17
Highlights
Belloccio's kit combines a fine-mist airbrush with a full range of water-based foundation, blush, shimmer, primer, and bronzer. It goes the extra mile by including 4 shades of concealer, a setting spray, and blending sponges, as well as a carrying bag. It truly feels like a complete kit.
Since the makeup is water-based, there are no oils or additives to clog your pores. This allows for a lighter finish and works better for people with sensitive skin. And with an included range of 17 foundation shades, it's not hard to find one that matches your tone and gives a natural look.
With three compressor settings, you can adjust to cover more heavily or build up in sheer layers. The mist is even and gives natural-looking coverage that looks smooth even on skin with fine lines or dry areas.
Downsides
While this airbrush performs well, it's a delicate system. Cleaning it very thoroughly after each use is essential to keep it performing well. Otherwise, it can clog and sputter, interrupting the even mist.
The makeup isn't water-resistant either, making it susceptible to running when rain or sweat are introduced. For best results, you should use both the included primer and setting spray. The multi-layer application process combined with cleaning makes it a more time-consuming process than you might be used to.
If you're looking for a quick and easy everyday option, using an aerosol spray (like our pick from MagicMinerals) may be better.
Who It's For
If you need a more professional set up and a wide range of shades for photography or wedding party makeup, this kit has a lot to offer. It gives soft coverage that will look great in photos and has enough variety to suit almost anyone you're working with. The included shimmer and bronzer can help create a subtle contour effect
This kit will probably be a bit much for people who just want an airbrushed effect to their makeup every day, however.
Pros
Gentle water-based makeup

Fine mist application

Looks natural

Full range of makeup included
Cons
Need frequent cleaning

Makeup is not water-resistant
---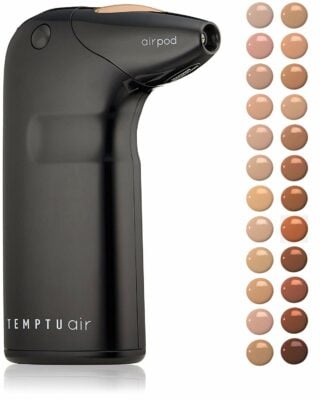 Why we like it:
Temptu provides even coverage in a travel-ready kit.
Editor's Rating:
Quick Facts
Type: Mini Compressor
Makeup Included: Foundation
Available Shades: 24
Highlights
This compact and ergonomic airbrush device is conveniently charge-and-go. The long-lasting charge means you can take this with you for perfect makeup while traveling; since the charging cord is micro USB, you can take it with you to charge anywhere.
The mini air compressor is self-contained, so there's no separate gun, and noise and vibration are kept to a minimum. Rather than pour drops into the sprayer, the Temptu comes with a pod of makeup that gets inserted into the device.
At the top of the device, there's a soft touch button that allows you to control the amount of makeup being released. You can also adjust the airspeed with three different speed settings.
Downsides
Since the Temptu Air is designed to be used with their specific pods, you're locked into using their makeup. You can't customize your experience or refill with your own favorite foundation. While many people will find that the semi-matte finish works well for them, it can settle into scars and wrinkles.
It can also sometimes cling to fine, peach-fuzz hairs on your face. This means that it may require additional blending to get proper skin coverage.
Who It's For
This system is one of the best options for individual use. It doesn't take up a lot of room or have complicated pieces to assemble. Instead, everything is contained in one device, making it easy to keep on your counter or toss in your overnight bag.
You don't have to waste money on unnecessary shades either. If you're only buying an airbrush for personal use, you won't use most of the shades included in more professional kits. Temptu offers a range of 24 so you can pick the perfect one for you.
Pros
Great for travel

Minimal noise and vibration

Control speed and makeup amount

Wide range of shades
Cons
Can only use their makeup pods

May settle in scars or wrinkles

Additional blending may be required
---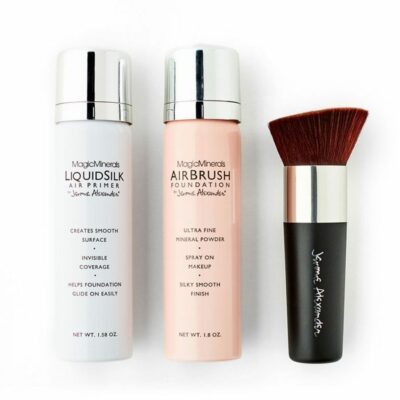 Why we like it:
This selection from MagicMinerals offers a quick, no-fuss option for an airbrushed look.
Editor's Rating:
Quick Facts
Type: Aerosol
Makeup Included: Foundation
Available Shades: 12
Highlights
If you want the benefits of airbrush coverage, but don't want an expensive and complicated kit to set up and clean every morning, MagicMinerals has you covered. Rather than using an air compressor system, this option puts the foundation in a handy aerosol can. A primer and an angled foundation brush are included to help you blend it out for an even finish.
The sheer mineral formula provides a soft veil of coverage that reduces the look of fine lines. It feels light on the skin and has a slightly dewy finish, rather than making you look dry and cakey. The sheerness of the foundation makes it ideal for building up with other products or gradually layering over areas that need more coverage.
Downsides
While this will save you the hassle of having to clean out an airbrush wand after every use, you may have to clean your bathroom, since the spray can be hard to focus. You may find some residue on your clothes or even your walls if you're not careful. We recommend applying it to the brush rather than directly on your face, to prevent making a mess. If you do want to mist it directly on your skin, a tissue or towel will help to protect your clothes.
Additionally, because this product is an aerosol, you may have trouble getting it shipped outside the contiguous United States.
Who It's For
This spray foundation is a great option for people who like to keep their routine simple, but still want to look flawless. If you're intimidated by the idea of using an air compressor to do your makeup, this might be the perfect compromise. It won't be as versatile as a full airbrush kit, but for most people, it will do the trick.
Get a great all-day airbrushed finish without spending a lot of money or getting a lot of equipment involved.
Pros
Easy to apply

Sheer buildable coverage

Smooths fine lines

Included blending brush and primer
Cons
A little messy to apply

Doesn't ship everywhere
---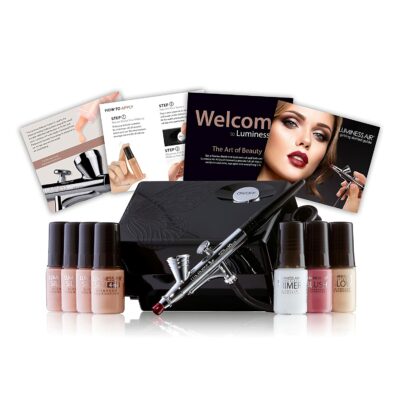 Why we like it:
This kit softly smooths over lines and imperfections.
Editor's Rating:
Quick Facts
Type: Compressor
Makeup Included: Foundation, Primer, Blush, Highlight
Available Shades: 12
Highlights
With lower air pressure than some compressors, Luminess promises soft coverage that's comfortable and natural-looking. This helps it lessen the appearance of lines with a light coat of foundation.
The 4-in-1 silk finish foundation included in this kit is a water-based formula that's suitable for sensitive skin. The product has been dermatologist-tested and is non-comedogenic. When used with the included primer, the makeup is rated for up to 18 hours of wear and will be resistant to running when it encounters rain or sweat.
While it will need regular cleaning, like most airbrushes, it's a fairly quick and easy process that can be done at the end of your application session.
Downsides
You will find yourself tethered while using this product because unlike a charge-and-go system such as our pick from Temptu, it has to be plugged in at all times to use it. This makes it inconvenient for travel and some bathroom setups.
The foundation itself is gentle, but it takes a long time to dry. If you're looking to apply multiple layers for more coverage, you may have to wait a while between passes to ensure you're fully dry. The foundation also has some limits in its range of shades. Particularly, darker shades with warmer, more yellow undertones seem to be absent from their options.
Who It's For
This kit performs well overall as a traditional airbrush. The lower pressure application gives a nice soft feel to the spray and helps distribute makeup over wrinkles and lines in a flattering way. If you're looking to freshen up your makeup to create a more youthful appearance, this is a great option. You can do your makeup in the morning and not have to worry about it for the rest of the day.
Pros
Reduces signs of aging

Suitable for sensitive skin

Water-resistant

Soft pressure airbrush
Cons
Must be plugged in to use

Slow drying

Hard to match warm undertones
---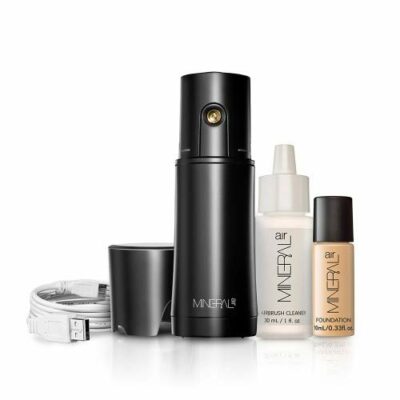 Why we like it:
This travel-friendly kit is small, approachable, and loaded with nourishing extracts.
Editor's Rating:
Quick Facts
Type: Mini Compressor
Makeup Included: Foundation
Available Shades: 11
Highlights
This pint-size airbrush is rechargeable so you're free to apply your makeup anywhere, not stuck by an outlet. The reservoir head can be changed out so you can apply different shades one right after the other or follow up your foundation with Mineral Air's airbrush blush option.
The liquid foundation for this is loaded into the reservoir by the drop, similar to the way you load a traditional airbrush. Mineral Air's formula is designed to be used with their airbrush and doesn't clog up the device while in use. It also doesn't need as much cleaning as a traditional airbrush.
The foundation itself is free from possible allergens like synthetic fragrances, talc, and even gluten, to give you peace of mind while you wear it. It's also infused with argan oil, olive squalene, algae, and pomegranate extracts for extra hydration and a dewy finish.
Downsides
Due to the extra hydrating ingredients, this product may not be ideal if you need some shine control. While the makeup has decent staying power, you may need to blot the oil that surfaces on your t-zone during the day.
The airbrush is easy to use, but it doesn't offer as much adjustability to sprayer speed as other cordless models like the Temptu. Instead, it has one button that determines the amount of makeup being released, but the spray is consistent.
Who It's For
If you want the smallest and lightest air compressor system for applying makeup, this might be it. Charge it up and take it with you, but you will have to bring your makeup separately. Even though it's smaller than our pick from Temptu, the foundation pods of that model make it wholly self-contained.
Even though it's separate, the makeup is one of the better airbrush options for people with dry skin. It lightly moisturizes the skin to keep it from getting dry and flaky under your foundation.
Pros
Rechargeable for cordless use

Light and compact

Can change reservoir head

Moisturizing foundation
Cons
Less spray control

Develops shine throughout the day

Must pack makeup separately
---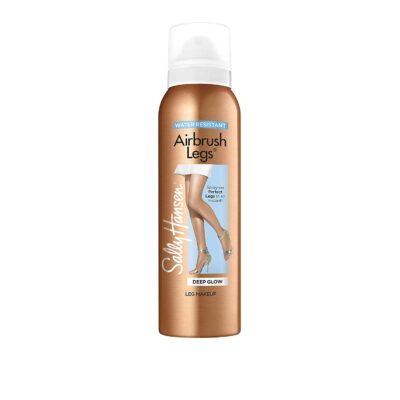 Why we like it:
This is a great option to give your legs (or arms) a tanned and streamlined look.
Editor's Rating:
Quick Facts
Type: Aerosol
Makeup Included: Bronzer
Available Shades: 6
Highlights
Self-tanner has been a beauty essential for many people for decades. People crave that golden glow but have learned that sun damage can be dangerous. Sally Hansen's Airbrush Legs offers a glowing, full-coverage spray to give a tanned look without sun damage or blotchy staining.
This aerosol spray is not a self-tanner; it just mimics the look of a tan. It's makeup like the other airbrush options on our list and it will wash off in the shower. But the formula is water and sweat resistant once set.
It gives your legs a sheen that mimics the look of stockings while adding a sun-kissed color effect. It can also help disguise the look of scars, bruises, and veins, making your legs look more perfect and smoother. Some users may also use it on their arms, or even apply it with a sponge to their face as a bronzer.
Downsides
While this product is surprisingly transfer-resistant once it has fully set, the drying time does take a while. You may need to wait about 5 minutes or so before you can safely put on clothing or sit on upholstered furniture.
While this product promises full coverage of spider veins and scars, it has more of a tanning effect than a concealing effect. The shades are definitely more geared toward helping fair-skinned people look more tan, and the shade options are limited. For people with darker skin, it may be hard for them to find a shade that will be dark enough to give them natural-looking coverage for skin imperfections rather than just adding a golden sheen.
Who It's For
If you're looking to give yourself an airbrushed beauty queen look for your legs, this is one of the best and easiest ways to do it. You don't have to worry about streaks and blotches. Apply it when you need it, and wash it off when you're done. Since it doesn't stain your skin, you can use it on any part of your body where you want to add a little more color and soften the look of discoloration or scars.
It has some off-label applications as well, such as using it as a bronzer for a little highlight on your cheekbones.
Pros
Replaces self-tanner and stockings

Transfer-resistant once dry

Softens the look of discoloration

Can be used as a bronzer
Cons
Takes a long time to dry

Not as full coverage as promised

Limited shade options for darker skin
---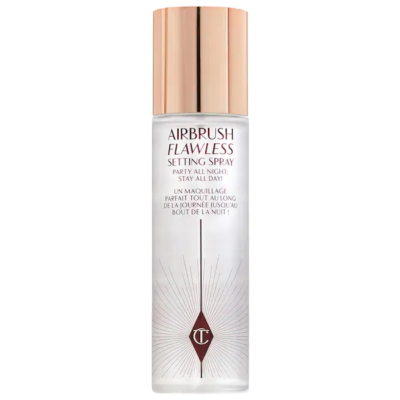 Why we like it:
This setting spray will give your makeup a semi-matte, long-wearing finish.
Editor's Rating:
Quick Facts
Type: Pump
Makeup Included: Setting Spray
Available Shades: Translucent
Highlights
Free from alcohol and oil, this setting spray from the popular British brand Charlotte Tilbury promises to give your makeup an airbrushed finish. This pump bottle mist distributes this spray evenly over your skin to perfect the finish and prevent your makeup from melting and running.
It can be used as both a primer and a setting spray. When applied on top of your makeup, it gives a smooth, slightly blurred finish to mimic the effect of airbrush makeup. But it can be used over any makeup you want to give whatever level of coverage you prefer. It will also set heavier eye makeup.
Throughout the day, the setting spray will help keep your makeup in place, but it will also help control shine. It gives your skin a semi-matte finish that doesn't look too powdery or too dewy.
Downsides
When applied, this spray tightens the skin slightly to set. While this is key to keeping everything in place, it may not be a positive feature for people who have dry or mature skin. That tightening can feel too dry if you already struggle to keep your skin moisturized. It can also emphasize the texture of lines and wrinkles.
This product also includes a rather unnecessary synthetic fragrance. This can be problematic in an otherwise sensitive skin-friendly formula. While the scent isn't too overpowering, some people are very sensitive to using chemical fragrances. Especially when applied to the face, it can cause irritation in the extra sensitive skin around the eyes or lips.
Who It's For
For people who want that blurred airbrush finish, but don't want to deal with the hassle of an airbrush kit or finding a good airbrush foundation, this is a great compromise. You can stick to your favorite foundation that gives you the coverage and color match you need but add this airbrushed finish on top. It can really help extend the life of your makeup throughout a busy day.
Pros
Long-lasting semi-matte finish

Smooth, blurred effect

Controls shine

Use with any makeup
Cons
Somewhat tight finish

Can emphasize lines and wrinkles

Contains synthetic fragrance
---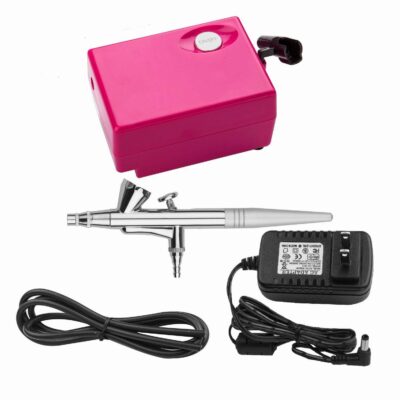 Why we like it:
This high-end air compressor and brush let you pair it with your choice of makeup.
Editor's Rating:
Quick Facts
Type: Compressor
Makeup Included: None
Available Shades: N/A
Highlights
This sturdy and reliable airbrush set is multipurpose. The company sells it as a general use kit that is suited to cake decorating, nail art, and more. By making a reliable system, Pinkiou offers a device that can be adjusted to your needs.
Moderately sized and priced, it's appropriate for home use, but can also be used by makeup artists at their studio or on a job. It has adjustable airflow that can be stronger than some makeup-specific airbrushes on the market.
Simply load your preferred liquid makeup into the brush and then use the trigger to release the product into the air stream to apply it to your face.
Downsides
While this compressor is smaller than some professional models, it's quite heavy. It also doesn't come with a carrying case. This can make it difficult to travel with. It's also quite noisy. For an airbrush that's better suited to travel, we would recommend our pick from Mineral Air.
The higher-pressure airbrush has strong airflow too. This can be a good thing if you're looking for heavier coverage, but this device doesn't have any sort of auto shut-off, so it will keep blasting as long as it's turned on. Fortunately, the makeup will only be expelled if you squeeze the trigger.
Who It's For
For people who don't want to buy a kit that includes makeup which may or may not work for them, investing in a good air compressor you can use with whichever airbrush makeup (or maybe even whatever standard liquid foundation) works best for you, can be the better choice. If you're looking for something more powerful and versatile, this device will give a bit more oomph to your application than some of the gentler airbrushes on our list.
Pros
Versatile

Strong airflow

Sturdy device
Cons
Hard to travel with

Noisy

Cannot shut off airflow
---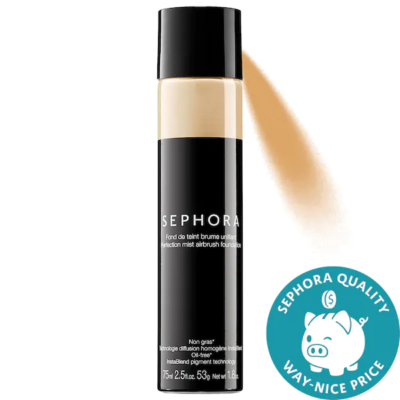 Why we like it:
This is a simple, no-fuss option for those looking to avoid harsh or irritating ingredients.
Editor's Rating:
Quick Facts
Type: Aerosol
Makeup Included: Foundation
Available Shades: 5
Highlights
Sephora offers an oil-free spray foundation with a 10-hour semi-matte finish. It uses a special formula that helps the pigments blend on your skin and look more natural. The recipe is also free from potentially harmful additives like mineral oil, parabens, and synthetic fragrances.
The finish is silky and semi-matte to help control oil, but it doesn't give a dry or chalky cast to your complexion. In photographs, it gives a natural-looking flawless finish, even when flash is used. It feels lightweight on the skin and gives medium to full coverage.
Downsides
The spray-on application method is not ideal for this product. It's hard to get an even mist if you spray it over your face; instead, it's quite messy. It can easily get in your hair and even cling to your eyelashes. It's better to spray it in short bursts closer to your face and then blend it out with a foundation brush or sponge.
This lacks staying power as well, particularly on oily skin. It can rub off on your fingers if you touch your face, and it doesn't do anything to control shine throughout the day.
Overall, this foundation is fine. But our pick from Mineral Air has a better smoothing effect, comes with its own blending brush, and lasts longer on oily skin while costing a bit less.
Who It's For
If you're looking for an aerosol option to save you from the expense and hassle of a full airbrush kit, then this foundation from Sephora does have some good features to recommend it. If you are sensitive to additives in your makeup, or simply want to avoid potentially harmful chemicals, this gentle formula is a great choice.
Also, for drier skin too that doesn't need oil control, the dewier finish of this product may be desirable. To help it last longer, it would be a good idea to pair it with a setting spray like our option from Charlotte Tilbury.
Pros
Free from harmful additives

Natural-looking pigments

Looks great in photos
Cons
Messy application

No shine control

Rubs off throughout the day
---
Answering Your Questions About Airbrush Makeup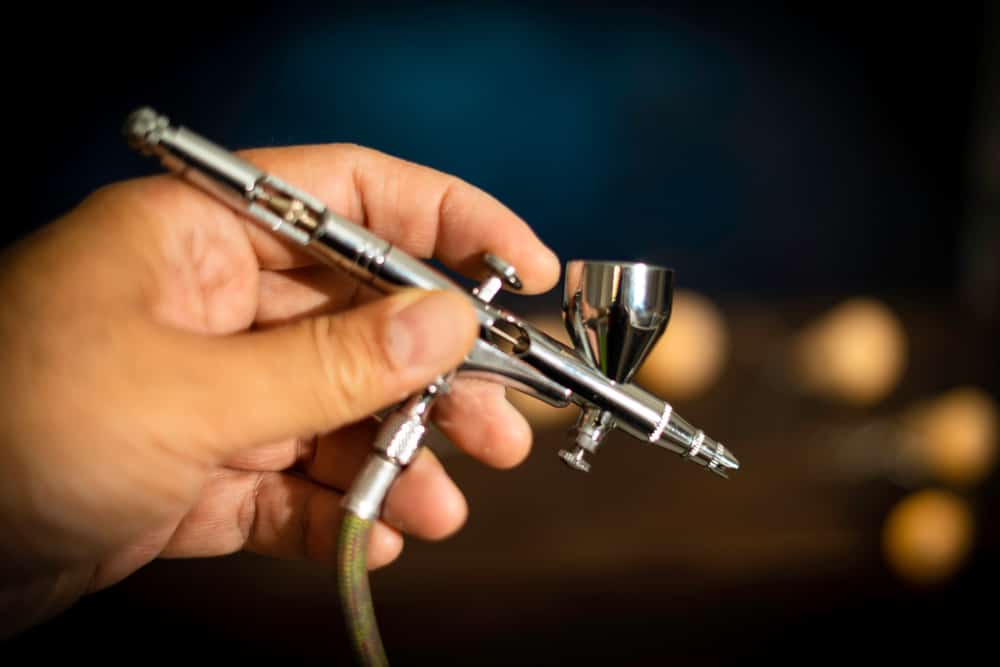 Airbrushing is very different than the other methods of applying makeup that you're probably used to. It may take a few tries for you to feel comfortable and find an application method that you like. There are a few basics to learn in advance that can help you have a better experience.
How Do You Apply Airbrush Makeup?
If you're using a traditional air compressor model, there are a few steps to take before applying. You'll need to set up your machine by connecting the pump to the wand. Then you'll need to load up a few drops of makeup to the wand. Most brands recommend 5-10 drops, but always read the instructions on your particular makeup.
After that, it's time to turn on the machine. This will start the air flowing through your wand, but the makeup won't spray out until you engage the trigger on the wand. If your machine has adjustable airspeed you can play with the levels until you find one that feels comfortable.
Once you're set-up, you can start applying the makeup. You'll want to have your hair pulled back and your skin prepared before starting. Most machines will have a recommended distance to hold the wand away from your face, usually a couple of inches. Slowly engage the trigger and move the wand in a circular motion as you move around your face.
If you're applying blush, it's recommended to take a top-down approach on your cheekbones, rather than spraying up over them.
Once you've applied it all over, you can use a brush or sponge to blend out any areas that need it. You can also take another pass at any blemishes or discoloration that's still visible. Then, you can complete your look with a setting spray and any lip or eye makeup you want.
Aerosol Application
To apply aerosol airbrush makeup, the technique is a little different. First of all, you get to skip all the setup. The only prep you need is to shake the can a bit. Similarly, though, you will probably want to pull your hair back and you may want to cover your clothing if you're dressed for the day. Aerosol spray is less precise and can get particles everywhere.
Then you can spray it directly on your face from a few inches away, stopping to blend out with a brush or sponge every few inches. You can also apply the foundation directly to a brush or sponge and blend it out in a circular motion with your tool.
After that, you can add any setting spray and complete your makeup look.

Can You Use Any Liquid Foundation in an Airbrush?
This topic is hotly debated by enthusiasts and professionals alike. The short answer is yes, you can use your own liquid foundation with an airbrush. The full answer is a little more complicated though.
Just pouring a standard liquid foundation into your airbrush will probably end in disaster. You'll need to thin it somehow so it doesn't clog up your machine or send big blobs of makeup out onto your face. The recommended method is to use an actual foundation thinner made for just this purpose. In a pinch, though, you can thin your makeup with a runny moisturizer or even water.
Always make sure you pay extra attention to cleaning your tools afterward if you decide to use a traditional foundation in your wand. Airbrush makeup is designed to go through these devices, and even it can clog when not cleaned properly.
What Occasions Should I Use Airbrush Makeup For?
Some people like a full face of flawless makeup everyday. And they're willing to take the time and make the effort every morning to set up a full compressor to get that look. Many of us, though, like to keep things simpler. That doesn't mean that we can't pull out all the stops sometimes, though.
Weddings
By far, weddings are the most popular occasion people use airbrush makeup for. Especially if you're in the bridal party, you'll be photographed all day in between dancing and eating. You'll want a flawless, long-lasting finish that will look great in whatever lighting you find yourself. Really, any party or event with dancing is a good reason to use long-wearing airbrush makeup.
Photo Shoots
Are you doing a photo shoot for a fashion blog, creator page, or even to announce a new addition to your family? The silky look of airbrush makeup makes it ideal for photography. It also softens and hides imperfections, so you can focus on whatever the occasion is, instead of looking back at your pictures and picking at your flaws.
Business Events
If you're attending or even presenting at an all-day seminar, you probably want to look your best and avoid touch-ups throughout the day. Meeting with a big client to negotiate a deal? You probably slipped into your power-suit, but you may also want to put on your power-face to give you confidence and help you look put-together and in control.
Does Airbrush Makeup Work With Aging Skin?
Aging skin often requires different treatment than tight, fresh, "I'm-still-in-college" skin. Airbrushing can actually be a great option for mature skin. Since it goes on very lightly with ultra-fine pigments, airbrush makeup is less prone to caking and settling into lines.
Use a moisture-rich primer as your base to help plump and smooth. Then follow it up with an airbrush like our pick from Luminess to look absolutely radiant.
Final Thoughts
Airbrush makeup can seem like a lot. You might think it's out of your depths and best left to the professionals. But if you struggle to find a foundation that gives you flawlessly natural coverage, then airbrush makeup may be just the thing for you.
Whether you want a full-blown professional option or something that cheats a little to give you that look without all the machinery, we hope you've found a product on our list that gives you the courage to step outside your liquid or powder comfort zone and try something new.