Top Picks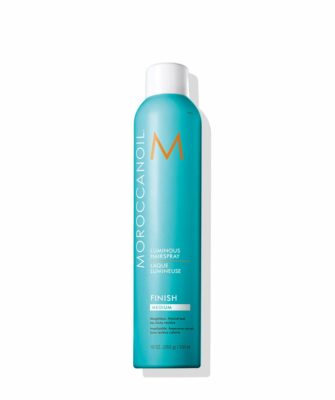 Moroccanoil Luminous Hairspray

Marc Anthony Nourishing Argan Oil Hairspray

Alterna Caviar Anti-Aging Hair Spray
Previous
Next
With so many different types of hair products on the market, it can seem impossible to know which one is going to give you that just-left-the-salon look you've always dreamed about—and this problem is even more hard to solve if you've got a less-common hair type like dry hair.
Some hairsprays offer a temporary touch of glamor but leave your hair feeling crunchy, or dry out your hair even more. But you can stop tearing your hair out trying to find a solution; we've made a list of hairsprays that nourish and moisturize dry hair while protecting it from further damage.
What's the Best Hairspray for My Hair Type?
If you've been banging your head against a wall trying to get those healthy, glossy locks (that's not going to help, by the way), you might not have found the right products for your hair type. The wrong products can look greasy, dry your hair out even more, or simply not do what they claim to do.
Hair type is often reduced to looking at a single factor like how dry/oily your hair is, or whether it's straight or curly, but there are at least five factors that determine your hair type: Oiliness, density, diameter, porosity, and curl pattern.
Each of these come together to make your hair unique! What works well for one person, might not work well for another whose hair looks similar but has different porosity or oiliness. If you're struggling to make head or tail of your hair type, we'll guide you through it here. However, if you're here you probably suspect or already know that you have dry hair.
Choosing the Right Hairspray for Dry Hair
So, what's a girl with dry hair to do when she wants to set a style? Luckily, many manufacturers are aware of the problem and there are two primary solutions: go alcohol-free or include ingredients that add moisture to offset the effects of the alcohol. In some cases, both solutions are combined.
When combing through hairsprays to find the best one for dry hair, we considered the following elements.
Formulation
In most cases, this is either an alcohol-free formula, an oil-based formula, added oils/hydrating ingredients, or a combination. There are various ingredients to moisturize your hair or seal the hair shaft to prevent loss of moisture. We'll discuss the benefits of these ingredients and how they will help your dry hair.
Hair Type
There's no one size fits all when it comes to hair care (and most beauty products to be honest). For example, a hairspray for curly hair would have more oils to encourage curls to stick together for better definition. Using this on fine or thin hair would weigh the hair down, causing you to lose volume.
Setting Strength
Depending on the style you want to create you'll need to consider the strength of your hairspray. A lightweight or low-strength hairspray will help you tame flyaways but not necessarily keep your style in place for the whole day. Strong hairsprays, also called finishing sprays as they are used at the end of the styling process to set your hair, will keep your style in place and may even prevent wind-damage.
A flexible hairspray is somewhere between the two. It is usually lightweight, can be used at any point in the styling process, and allows you to brush and move your hair without messing up your style. It can usually be layered for a slightly stronger hold or to build volume.
Finish
While it can be a look, usually one sported by stony-faced models on runways, not everyone wants their hair to look or feel like it's been varnished and polished. The added oils in some of these hairsprays keep your hair feeling soft enough to run your fingers through without recoiling in disgust. Others allow you to brush out the hairspray without leaving flakes and residue.
Size
While this doesn't affect the effectiveness of the product, the size of your hairspray might affect how often you need to buy replacements. If you don't use much hairspray, this won't be a big issue, but if you use it every day it could be a considerable factor. You can always buy two at a time of your favorite hairspray, but it might be easier to get a bigger one.
Other Benefits
As some hairsprays cater to specific hair types, others promote specific benefits depending on your needs. These include protecting colored hair, protecting against heat or UV rays, using organic ingredients, or guaranteeing vegan/cruelty-free formulas.
We'll let you know which hairsprays are best for your needs, whether you want something to freeze your style in place for the whole day, super-hydrate your ends, or ease your conscience about its use on animals.
Whether you like to set your style in place for the whole day or just tame your mane, we've rounded up the best options that will help you look your best while nourishing your hair. Unlike other hairsprays that can dry out your hair even further, these options protect and moisturize even as they hold your hairstyle.
Top 11 Best Hairsprays for Dry Hair 2021
Taking Care of Your Hair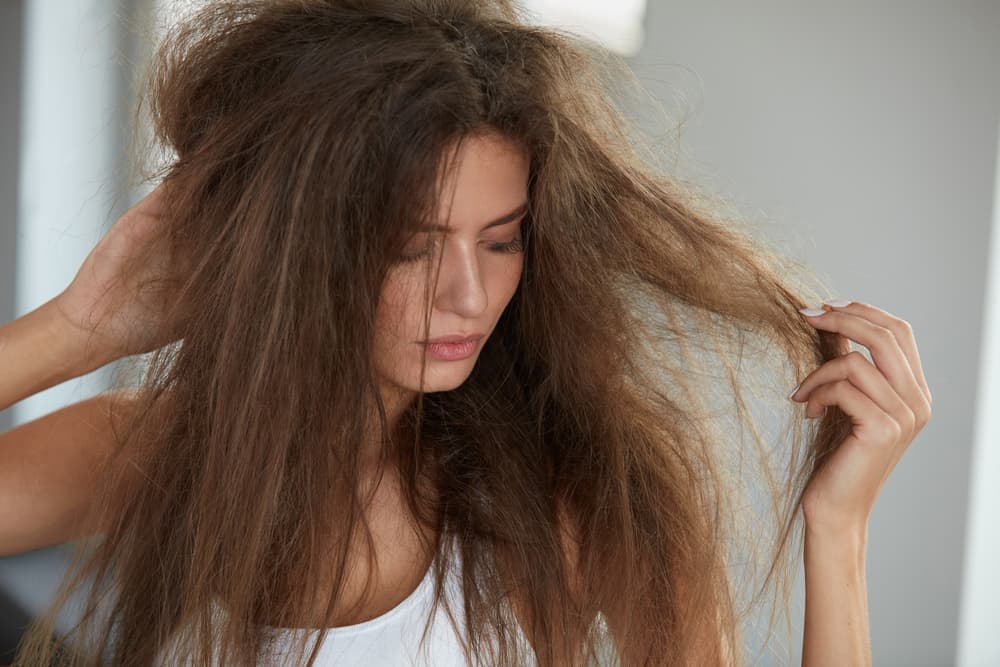 Hair can be confusing and knowing which products are best for your hair type even more so. Experts talk a lot about hair type but that what that refers to seems to change; in some cases, they're talking about hair texture (curly/straight), in other cases, they refer to dryness/oiliness, and at other times they mean thickness (or thinness) of individual hair strands. So it's understandable that there's a lot of mystery about how to identify your hair type.
You can let your hair down, we've done the research to help you learn more about your hair. Knowing your hair type ensures you get the right hairspray so that you look like that superstar you always suspected you could be.

Splitting Hairs: What's My Hair Type?
There are several categories of hair type you can fall into and that's what makes you unique! With so many variations to the type of hair a person can have, there's no one-size-fits-all when it comes to hair care.
No hair type or category is any better or worse than another, it simply means you need to buy products formulated for your hair types to repair damage or keep it healthy. Where hair is referred to as "normal" it tends to mean medium or average, not on one of the extremes in a category.
1. Oily or Dry
This mostly refers to the amount of oil your scalp produces, and how fast. If you struggle with oily skin on your face, you'll most likely have oily hair as your scalp is the same type of skin. Same with dry skin and dry hair.
A quick test to help determine your oiliness is to blot your parting with a tissue or blotting paper on the second day after washing your hair. If there is no oil, you have dry hair. Some oil means you have normal hair, and a lot of oil means you have oily hair. If your hair gets oily in some places faster than others, for example, your temples or fringe need washing before the rest of your hair, you probably have hair that's a combination.
2. Diameter
This is partly what people mean when they talk about having thick or thin hair (they might also be referring to density, next up). Look at a single strand of your hair and compare it to a sewing thread. If it's significantly thinner, you have fine hair. If it's thicker, you have coarse hair. Somewhere in between is medium hair.
3. Density
This refers to how many individual hairs you have. You can have fine hair that's thick (dense), or thick (coarse) hair that's thin. Still confused? To determine your type, look at your parting in a mirror. If you can see a lot of your scalp easily, you have thin hair. If you can see a line of your scalp at the parting but your hair covers the rest well, you have medium/normal hair. If you can't see much of your scalp, you have thick/dense hair. Thicker hair will usually need more or heavier product than thin hair. Products for thick hair tend to weigh down thin hair and make it seem oilier sooner.
4. Porosity
Porosity simply means how absorbent your hair is. High porosity hair absorbs and releases a lot of product and moisture and can seem dry if not kept hydrated. Low porosity hair doesn't absorb products which can then make it seem oily as the products just sit on top. To test your hair porosity, place a strand of your hair in a glass of water and leave it for a minute. If it sinks to the bottom, your hair is highly porous. If it floats on top, you have low porosity. If it hangs suspended in the water, you have normal/medium hair.
5. Curl pattern
If you let your hair air dry, it will show your natural texture. You can have straight (type 1), wavy (type 2), curly (type 3), or coily (type 4) hair, and within each of these types there are more subdivisions to further define your hair texture. Straight hair tends to be oilier as your natural oils spread easily down the length of your hair, however, the ends can become dry from washing and styling your hair too often. Wavy hair is usually the easiest to style as you can straighten it or make it wavy and it will hold the style well. Curly and coily hair often need more hydration and attention to define your curls without frizz.
As you can see your hair type is determined by several factors and each will influence the hair products that work best for your hair. Each hair type needs just the right balance of hydration, nourishment, and protection to look and feel healthy.
How Can I Be Sure I Have Dry Hair?
A quick test to help you know for sure is to blot your hair with a tissue or piece of blotting paper on the second day after you've washed your hair. If there is very little or no oil on the paper, you have dry hair.
To test how porous your hair is, place a hair in some water for a minute or so. If your hair sinks to the bottom, it has high porosity. This means you will need a hairspray that provides a lot of hydration like the L'Ange Hair Lustér Spray. If it is suspended in the water, you have medium porosity and will be better or using a hairspray that's not so heavy.
What Causes Dry Hair?
Partly, it's genetic. Oil production in the scalp is a big determining factor and people with under-productive oil glands tend to have drier hair and skin. This doesn't mean anything is wrong with you, it just means your hair needs to get extra moisture from other sources to live its best life.
Hair can also become dry and damaged from styling and environmental factors. Heat and chemicals in coloring and styling products can damage your hair and scalp, stripping away your natural oils. UV rays from sunlight can have a similar effect. If you have been under a lot of stress and/or not sleeping or eating well, this can also show up in your hair.
In these cases, your ends can become dry and brittle, and you might notice split ends. But don't panic, you can restore health and shine to those locks with the right care and attention. Dry hair will need products that provide the moisture it's not getting from your natural oils, like the hairsprays presented above.

Caring for Dry Hair
Whatever the cause of your dry hair – scalp moisture, high porosity, styling/coloring damage – using hairspray, masks, and other products with added oils, or lacking harsh chemicals, will help to combat the dryness, smoothing your hair, and restoring your shine.

Choose Nourishing Ingredients
Oils, proteins, and vitamins (as found in the hairsprays above) all contribute to the health of your hair. Some hydrate your hair, others repair the structure of damaged hair strands, and still others nourish your hair and/or scalp to stimulate healthy growth. In combination with each other, they work to combat dryness and replenish your natural oils for luscious locks.
There are numerous oils that can be used to help hydrate hair. They all function similarly by hydrating and smoothing individual hair shafts for more shine and less frizz. The most common oils you'll find include coconut oil, argan oil, shea butter, and various fruit/vegetable oils. Many of the best hairsprays for dry hair, including our top overall pick are oil-based.
Omega-3 is a fatty acid that provides natural proteins and nutrients to the scalp and hair. It reduces inflammation in the hair follicles which is a leading cause of hair loss and thinning. This, combined with its ability to stimulate blood flow in the scalp, can help your hair grow thicker and longer. Fatty acids also replace moisture in your hair and have a hydrating effect.
Keratin is another great ingredient to find in hair products. It is a natural protein found in hair, skin, and nails. Heat and chemicals can deplete keratin in your hair so it can be good to replace what was lost. Added proteins like keratin help to strengthen the hair shaft, making each hair smooth and flexible. On a larger scale, this results in smoothing of frizz and fewer split ends. The premium Alterna Caviar Anti-Aging Hair Spray is a great hairspray with keratin.
For added benefits, you could also use a standalone keratin treatment.
Vitamins A, C, and E are all great for your skin, including your scalp. Nourishing the skin of your scalp manages dandruff and can stimulate hair growth. These vitamins are found in several ingredients used in hair products like aloe vera, argan oil, and organic botanical extracts.
Minimize Heat and Chemicals
One of the main causes of dry hair and split ends is overuse of heat while styling and/or harsh chemical treatments like bleach or dyes. Try to avoid heat styling your hair or getting treatments/color too frequently. Air-dry your hair whenever possible (your natural hair is beautiful!) and use products that will nourish and moisturize your hair, rather than hurting it more.
If you do use a hairdryer, be sure to choose one that offers safe, gentle heating.
One ingredient to look out for, especially in hairsprays, is alcohol. Not all alcohols are bad but short-chain alcohols like isopropyl alcohol and denatured alcohol can dry your hair out more than a trip to the Sahara. Long-chain alcohols are also called fatty acids and have the opposite effect, so it's good to know which is which.
If you find your dry hair reacts poorly to alcohol, try something without any in its formula like the Pantene Pro-V Level 2 Hairspray.
Use Hair Masks
Hair masks are a great way to boost moisture in your hair. If you have especially dry hair, using a mask once a week or a couple of times per month can work wonders to soften brittle ends. Hot oil treatments are usually recommended but can be expensive if you're using them regularly. A great alternative is to make your own masks at home using common ingredients found in your kitchen.
Make your own mix (between 2-3 tablespoons and half a cup's worth, depending on your hair length) from any of the following ingredients:
Coconut oil
Olive oil
Honey
Egg yolk
Bananas
Avocado
Apple cider vinegar
Cinnamon
It sounds like a delicious recipe, but try not to eat too much before it goes onto your hair!
Let Us Spray: Pro Tips for Applying Hairspray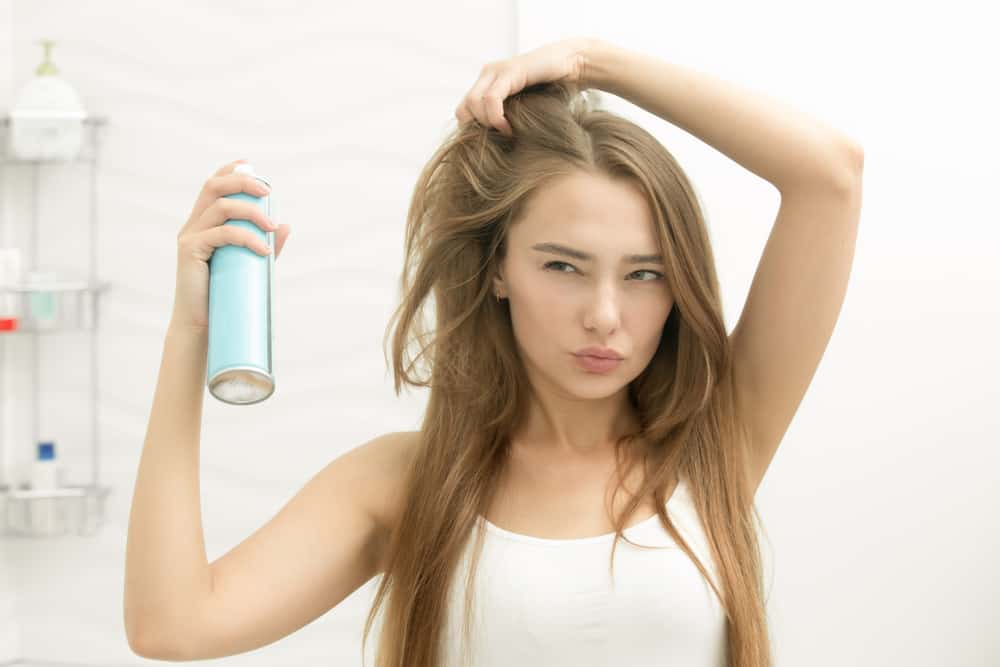 While style is very subjective and you can be super creative when presenting yourself to the world, there are some guidelines you can follow to make your products the most effective.
Hold your hairspray at least 12 inches (30 cm) away from your hair. This is roughly the same as holding your arm up with your elbow bent at a 90-degree angle. Spraying too close will deposit too much product making your hair look wet and/or feel weighed down.
For extra volume, hold your head upside-down and move your hair around as you spray. For less volume, you can lift portions of your hair and spray underneath. This will provide lift right at the roots and can be especially helpful if you have fine hair that sits flat on your head.
To tame flyaways and frizz, spray a little hairspray into your hands before running your fingers through your hair.
Tying Up Loose Ends
Dry hair is unpleasant, and you can feel a bit defeated when you're walking around with frizzy, brittle hair. Reversing the dryness and replenishing the hydration of your hair doesn't need to be difficult, and you'll restore your smile as well as your shine. With the right hairspray, you'll look and feel fabulous all day long, drawing envious glances from strangers and compliments from your friends. The world is your catwalk, go forth and shine.