Editor's Note: As spring starts swimming into summer, you might be thinking about how to take your sun-kissed glow to the next level. My summer suggestion: Have you tried contouring?
Contouring is definitely an art form, and I totally understand that contouring kits can be super intimidating if you're just starting out. Looking at daunting palettes and trying to figure out how to use them before you drop serious cash on them can keep you from ever trying out contouring. Luckily, contour sticks were there to save the day!
If you've never tried contouring, an affordable contour stick is a great way to get into it without breaking the bank, and it tends to be more intuitive than contour kits. I also love that contour sticks travel well–I try to pack as few palettes and kits as possible because the last thing I want to deal with is trying to revive them in a hotel room.
Remember to use an extra powerful setting spray or powder if you're contouring during the hot summer months (or at the beach–no judgment!) And don't forget sunscreen before you get started!
Nothing compares to the sleek, sculpted look you can get with cream contouring. It can be tricky, requiring special brushes and a very careful touch. Thankfully, contour sticks make the process a little easier! They don't require brushes, they're travel-friendly, and they give you a ton of control. Whether you're an old pro or totally new to cream contouring, you need one in your arsenal. This is why we're showcasing the best contour sticks for every skin tone, type, and budget!
Making Sense of Contour Sticks
We have to get the basics out the way before suggesting products. Learn what contour sticks are all about and what makes a great one in this section!
What Is Contouring?
Contouring is the magical technique that sculpts the face and makes certain parts of it appear shadowed. It enhances some features, downplays others, and allows you to appear slimmer, more chiseled, or, if you're ambitious, like a brand-new person! When done with a cream, contouring looks clean, seamless, and natural. The opposite technique of contouring is highlighting, which uses light or shimmery colors to bring out certain features and make them look more prominent.
What Is a Contour Stick?
Contour sticks are a type of cream contour product that comes in the form of a roll-up stick. Contour sticks are a little denser than compact contour creams because they have to stay intact when molded into a cylindrical shape. They're easy to carry in a makeup bag, and they're also very easy to apply since they don't require any extra applicators.
Finding the Perfect Contour Stick
There are a few factors we made sure to consider when deciding if a contour stick deserves our recommendation. Some features have to do with preferences and individual needs, so we included a more detailed selection guide at the end.
Blendability
When using a contour stick, you normally draw the contour on roughly before blending it out. We explain exactly how to do that here, but having a product that actually blends out nicely is key. Some contour sticks set very quickly, so if you don't blend them fast your contour can look harsh. That's why we mostly selected creamy, easy-to-blend formulas, but we'll let you know when a stick is a little harder to blend.
Shade Options
Selecting the right contour shade is a difficult process (we explain it here!), and it's made more difficult when brands have very few shade options! We'll let you know how many shades are available for each contour stick, along with a brief analysis of which skin tones are being serviced. One thing we tried to avoid was shades that leaned heavily orange since that's more appropriate for bronzing.

Non-Reflective Finish
The point of a contour stick is to create a shadow, so it shouldn't reflect light on its own. That's why most contour sticks are designed with a matte finish. Pieces of glitter or shimmer are totally unacceptable! In addition to mattes, we also included a few natural-finish options that won't emphasize dryness or texture issues for those with dry skin. We get into each type of finish in more detail later on.
Durability
Durability is not always important, but with contour sticks, it's very important. Some common durability pitfalls include sticks so soft that they break easily when used and poorly constructed mechanisms that don't roll up nicely. When relevant, we discuss durability in our reviews, but we generally tried to keep our selection durable by default.
Value
To decide if a contour stick offers value for money, the first thing we look at is how much product you get! It's easy to think a product is a bargain until you realize you've finished it in less than a month and have to repurchase again! The amount of product you get in a contour stick varies widely, so we note the quantity in each review and discuss how it measures up to the price of the product.
Sometime around 2016, it seemed like every brand was releasing a contour stick, but the trend has come and gone. The result? Only the best contour sticks are still on the market. We researched the cream of the crop to bring you the most iconic contour sticks along with thorough reviews.
Top 10 Best Contour Sticks 2023

Why we like it:
These creamy stick foundations come in a nice range of shades, and they have a satin finish that is perfect for contouring dry skin. They have decent pigmentation and excellent blendability, so they're great for experienced users and newbies alike.
Editor's Rating:
Quick Facts:
Color Range: 12 (4 for Contouring)
Finish: Natural
Pigmentation: Medium
Single or Dual-Ended: Single
Quantity: 0.32 oz
Cruelty-Free/Vegan: No
We like it when brands stay away from strict categorizations, and instead, let their audience get creative in how they use their products. That's exactly what L'Oreal is doing with this wonderful stick formula. It's primarily a foundation, but as L'Oreal assures, it's also phenomenal for contouring or highlighting.
Most contour sticks have a matte finish, but that's not the case here. Since these are formulated to also work as foundations, their finish is a little more natural and skin-like than average. This makes it the ideal choice for anyone suffering from severe dryness, but it's also suitable for normal skin types. However, it might be a little too dewy for those with oily skin, in which case the Wet n' Wild MegaGlo Sticks or the Fenty Match Stix are both great matte choices.
The formula has medium coverage and intense creaminess which makes blending ridiculously easy. It won't dry down too much even if you take your time, so it's very beginner-friendly.
The amount of product in each stick is on the higher side of average while the price itself is in the drugstore range. We'd say that this is an affordable option even if it's not straight-up cheap.
The shade range is nice, with a few potential contour colors to choose from. We're especially impressed by Espresso, a deep, neutral brown that's great for darker skin with any undertone. Those with lighter skin can choose a neutral shade like Honey or a warmer one like Chestnut.
One little detail we appreciate is that these sticks also have a 27 SPF. If you use them for your full makeup application, that's a great added layer of sun protection!
Pros
Gorgeous natural finish for dry skin

A dream to blend

Versatile pigmentation

Decent shade range for all skin tones

Provides sun protection
---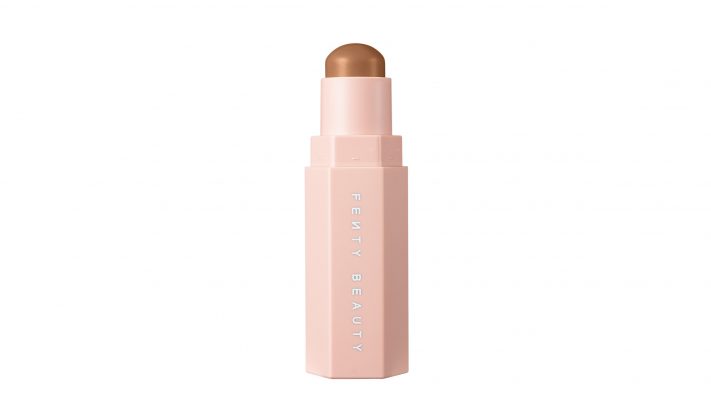 Why we like it:
Rihanna nailed it with these matte contour sticks. They are as close to perfect as can be! The shade range is comprehensive and inclusive while the formula is extremely pleasurable to use.
Editor's Rating:
Quick Facts:
Color Range: 7
Finish: Matte
Pigmentation: Medium
Single or Dual-Ended: Single
Quantity: 0.25 oz
Cruelty-Free/Vegan: Yes/Some Vegan Shades
Fenty Beauty is one of those newer makeup brands that totally blows us away with nearly every release. The products are incredibly high quality and the shade range is so large and thoroughly thought-out that anyone can find a match.
The Matchstix formula has a matte finish, so it works well without powder even for those with oily skin. At the same time, it's soft and blendable enough to work over dry skin. It offers medium pigmentation, so you can blend it out for a more natural look or build it up for sculpted drama! Come through, versatility!
The color range is the first we've ever seen to include a shade as dark as Caviar, a deep brown with a cool-neutral undertone. It's the perfect contour for women with a very dark complexion who are usually egregiously underserved by makeup brands. Those with fair skin are served by the shade Amber, and there are plenty of options in between.
Making a selection can be difficult, but to slightly simplify it, you can click on each shade on the Sephora product page to see an undertone description. Looking at swatches will also improve your understanding of each shade. If you don't know your undertone, our guide will help.
If we must be nitpicky, the size of the stick is a little wide. While it's just the right size for contouring under the cheekbones, contouring the nose can be tricky. You can play around with angling to apply or just use a concealer brush. If you want a slimmer stick, the Kiko Milano Cream Contour Stick is a nice choice.
Finally, since this is a premium product, it's more expensive than most other options on this list. It makes up for it by being so pleasurable to use and by having unique and elegant packaging.
Pros
Incredible shade selection

Versatile medium pigmentation

Creamy and blendable

Natural matte finish
Cons
Too wide for easy nose contouring
---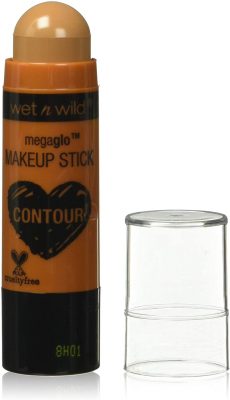 Why we like it:
This budget-friendly bronzer is a breeze to use, with incredible pigmentation tempered by easy blendability. It has a classic matte finish and a shade range that complements warm undertones well.
Editor's Rating:
Quick Facts:
Color Range: 3
Finish: Matte
Pigmentation: High
Single or Dual-Ended: Single
Quantity: 0.21 oz
Cruelty-Free/Vegan: PETA-Certified, but It's Complicated
The contour sticks from Wet N Wild are serious contenders. As with all Wet n Wild products, the price-point is on the lower end of the "drugstore" range (i.e. ridiculously cheap), and yet, their performance rivals some of the high-end contour sticks we've seen.
The first point in their favor is their incredible blendability. These contour sticks have a cream-to-powder formula that is very soft and forgiving when first applied to the skin. While it sets eventually, you still have enough playtime to move it around and blend it to your satisfaction.
The pigmentation is very high, which can be either a great feature or a small challenge depending on your experience level. As long as you keep your application gentle and light, a little bit of cream contour will go a long way. This really cements this contour stick as the most budget-friendly option on our list! Thankfully, since it's so blendable, it's easy to get it to look sheerer on the skin.
If you're nervous about using something so pigmented, the Rimmel Duo Stick is a more beginner-friendly option at a similar price-point.
The only thing we find lacking is the color range. All of the 3 shades available lean warm but in different ways. Oak's On You has a hint of orange in it so it'll work better for bronzing rather than traditional contouring. Call Me Maple is slightly deeper with a gold undertone and Where's Walnut is a deep olive.
What's missing is a universally flattering true neutral like Kiko Milano's Contour Stick in Chocolate. Those with very dark skin won't find a color match here either, although they might be able to use one of these sticks as a concealer.
Pros
Massive amount of product for a low price

Great pigmentation and blendability

Long-lasting matte finish
Cons
Missing a dark or neutral shade option
---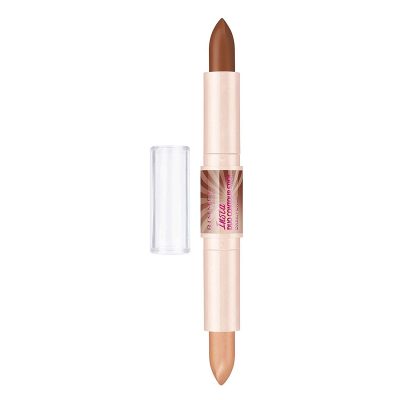 Why we like it:
This double-ended contour stick creates a soft, natural contour. It's impossible to over apply this product, so it's ideal for fans of the barely-there "cool girl" aesthetic. As a bonus, it's quite budget-friendly!
Editor's Rating:
Quick Facts:
Color Range: 3
Finish: Natural
Pigmentation: Very Low
Single or Dual-Ended: Dual-Ended
Quantity: 0.28 oz
Cruelty-Free/Vegan: No
You can get your highlighting and contouring out of the way with this one product! It's a great choice for anyone who doesn't want to spend too much and also likes a soft and natural look. This is the product we'd buy for a teenager who's just starting to get into makeup (and we might also keep a stick for ourselves).
The contour side has a creamy formula with a more natural finish, so it's a nice way to contour a dewy makeup look. The pigmentation is very low, which is why we like it for beginners. You can have a heavy hand when applying it, but it's important to go lightly when blending to avoid sheering it out into nothing.
The shade range consists of light, medium, and dark shades, all of which are just a touch warm. Since the pigmentation is so low we find that they're almost universal. If you're a budget buyer with very cool, fair skin then the NYX Wonder Stick in Light is a much better choice.
Speaking of NYX, both products feature a highlighter! On this front, Rimmel is the winner. The highlighter end is much nicer, with a soft, blendable texture and a delicate shimmery finish. It's not intensely pigmented but it gives a very pretty sheen, which makes it versatile and natural – in other words, it's a good match for the soft, natural contour end.
The mechanism has a minor flaw – when you put pressure on the contour stick, it often rolls back down into the tube, so you might find yourself fussing with it a bit. The flaw can turn into a positive if you're prone to over-rolling or breaking your contour sticks.
All-in-all, we like this product a lot, especially for that subtle, "cool girl" look. It's not a fit for those who like dramatic and glamorous makeup, who would probably prefer a more pigmented product like the Wet n' Wild MegaGlo Sticks.
Pros
Low pigmentation is great for beginners

Very budget-friendly

Easy to blend

Great for a dewy makeup look
Cons
No cool options in the shade range

Not suitable for dramatic makeup
---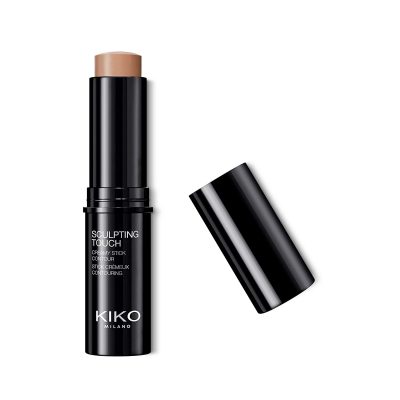 Why we like it:
Though these contour sticks only come in two shades, they are exquisitely neutral and truly versatile. They're easy to use, with great blendability and a nice, slim shape that allows for both face and nose contouring.
Editor's Rating:
Quick Facts:
Color Range: 2
Finish: Matte
Pigmentation: Medium
Single or Dual-Ended: Single
Quantity: 0.35 oz
Cruelty-Free/Vegan: Yes/Yes
If you haven't heard of Kiko before, we're thrilled we get to put it on your radar. This Italian brand delivers quality makeup at a reasonable, mid-end price. Their contour sticks are really lovely to use, with the typical matte finish.
Unlike a lot of other matte sticks, this formula doesn't set too quickly. This gives you lots of time to apply and then blend out to achieve the level of sheerness you like.
The shade Chocolate is a very versatile, neutral brown that works surprisingly well for anyone with a light to medium-dark skin tone. It's not so warm that it appears yellow or orange nor is it so cool that it appears gray. It's just a rich chocolate that can work miraculously well for all undertones. It's as universal as a contour stick can get!
If you have extremely fair skin and prefer a very subtle contour, Hazelnut should be to your liking. We would love for Kiko to introduce one or two darker shades to round out their collection!
It comes in a sleek-looking black package, which we enjoy, with a rounded head that's just the right size. It's slimmer than the Fenty Match Stix, so you can maneuver it for nose contour, but wider than the NYX Wonder Stick, so it still allows you to get the cheeks and forehead contoured quickly.
Pros
Creamy and easy to blend

Matte finish

Versatile size

Sleek packaging
---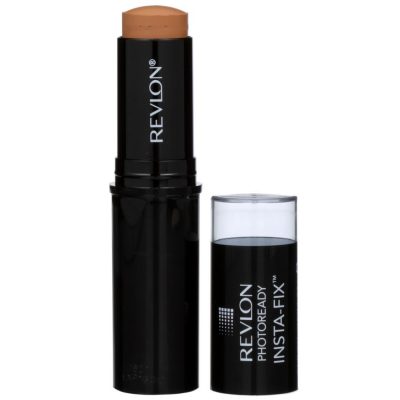 Why we like it:
This foundation is a fantastic contour stick for those who want that in-between "demi-matte" finish. There are options for both warm and cool undertones, with a formula rich in skin-loving ingredients.
Editor's Rating:
Quick Facts:
Color Range: 9 (5 for Contour)
Finish: Demi-Matte
Pigmentation: Medium
Single or Dual-Ended: Single
Quantity: 0.24 oz
Cruelty-Free/Vegan: No
What's the difference between a contour stick and a foundation stick? Mostly just the shade range and positioning. The actual formula is often the same, and sometimes, a stick foundation can be a great contour stick. That's certainly the case with the Revlon Insta-Fix!
This is the only product on our list we would describe as "demi-matte." This means that it has a finish somewhere between matte and natural. How it'll end up registering on your skin likely depends on your skin type. It'll look more natural on oily skin and more matte on dry skin. If you prefer something with a truly natural finish, the L'Oreal Infallible Longwear Shaping Stick will be a better choice.
As far as blendability goes, the texture of the cream is a little thick, so you'll have to take your time blending it out. Using a sponge probably won't cut it, and you'll get the best results with a dense brush.
By foundation standards, the shade range is abysmal, although there are a few decent contour options. Sadly, those with darker skin won't find a match. For those with fair to tan skin tones, there are both warm and cool options–you can see swatches here. Warm options include the lighter Natural Beige and deeper Caramel, which will also work well for olive undertones. For those with cool or neutral skin, Rich Ginger is a good fit.
Lastly, this is the only contour stick on our list that has real skincare benefits. In addition to a 20 SPF, it also contains nourishing ceramides and protective antioxidants, which is quite impressive.
Pros
Versatile demi-matte finish

Shade options for both cool and warm skin

Includes skincare ingredients
Cons
Blending requires a bit of effort

No options for dark skin tones
---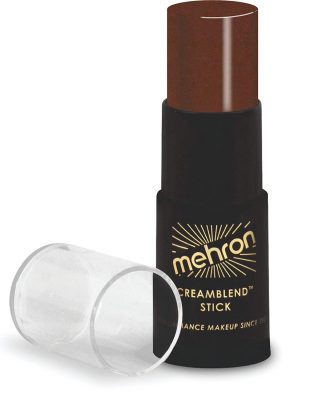 Why we like it:
These contour sticks are highly beloved by theatre makeup artists and actors because they're pigmented and long-lasting. However, they're also a little tricky to use, so we recommend them only to experienced users.
Editor's Rating:
Quick Facts:
Color Range: Too Many to Count
Finish: Creamy
Pigmentation: High
Single or Dual-Ended: Single
Quantity: 0.75 oz
Cruelty-Free/Vegan: Yes/Yes
Almost all makeup artists know of Mehron, but it's a bit of a trade secret. It's a major theatrical brand that's also well-loved by drag queens and cosplayers, with heavily pigmented products that can be seen all the way in the back row of the largest theatre or the darkest club. The contouring technique was invented for theatre, so with this product, you can experience some makeup history.
The shade range is nearly endless, with over a dozen options that could work as contour shades, including olive tones. We highly recommend having a close look at these swatches when selecting your shade.
One stick includes 0.75 oz of makeup, so while it costs a few more dollars than the Wet n' Wild MegaGlo Sticks, it comes with more than double the product. It will last you for ages, especially if you only use it for contouring.
Even though this contour stick is so affordable, we didn't select it as our best budget pick because it's a little tricky to use. The pigmentation is high, so when applying, you need to be extremely careful to use the lightest touch. After applying, it's best blended with a dry sponge, although a firm, flat-topped brush will also work.
These sticks don't have the traditional "cream-to-powder" formula of a contour stick. They're very creamy, even creamier than the Rimmel Duo Sticks, so they must be set with powder, and a LOT OF IT. Otherwise, they won't dry down and may smudge or transfer.
You'd think that would mean they'll have poor longevity, but the opposite is true. Once they're set, the contour will stay in place all day long.
This stick works best for more dramatic or theatrical makeup styles. If techniques like "baking" are already part of your routine and you love to go all out, this is a great choice.
Pros
Nearly endless range of shades and undertones

Ridiculously affordable

Incredible longevity once set
Cons
Must be set with powder

A little tricky to apply
---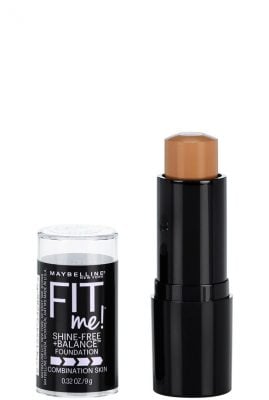 Why we like it:
This matte foundation stick actually works better when used for contouring, instead. The formula is quick to set, so it requires quick blending, but the final result looks natural and matte so it's great for oily skin.
Editor's Rating:
Quick Facts:
Color Range: 8 (2 for Contour)
Finish: Matte
Pigmentation: Medium
Single or Dual-Ended: Single
Quantity: 0.32 oz
Cruelty-Free/Vegan: No
Here's a funny situation: we like this matte stick foundation from Maybelline for contouring, but probably wouldn't recommend it as a foundation.
It has a unique construction, with a pigmented outer ring and a white inner core. In practice, the inner core is a bit like a matte primer, so it helps to keep the skin looking matte. The outer core is your typical cream foundation or contour formula, with a medium level of pigmentation.
Compared to other matte formulas, we find that this contour stick self-sets extremely quickly. This means that you have to blend it out soon after applying it, or you risk having it become unblendable. This issue is what makes it such a difficult foundation to work with, although it's more manageable when contouring.
It comes in 8 shades, but the best ones for contouring are Toffee and Coconut. Toffee, especially, is a great choice for those with warm or olive undertones, while Coconut has a hint of red so it might work better as a cream bronzer. You can also pick up one of the lighter shades for highlighting!
All-in-all, it's a very serviceable contour stick option that comes at an affordable price. It takes a bit more work than other products on this list, but it can look just as good!
The actual formula of this product is effectively identical to Maybelline's Master Contour Duo Stick but without the awkward half-and-half design. However, you might find that the colors in the Duo Stick are a better fit for you if you have neutral or cool undertones.
We'd recommend it for those with a warm undertone and oily skin who don't want to struggle with the intense pigmentation of the Wet n' Wild MegaGlo Stick and don't want to spend on a premium item like the Fenty Match Stix.
Pros
Versatile medium pigmentation

Natural matte finish

Affordable
Cons
Must be blended quickly

Small shade range
---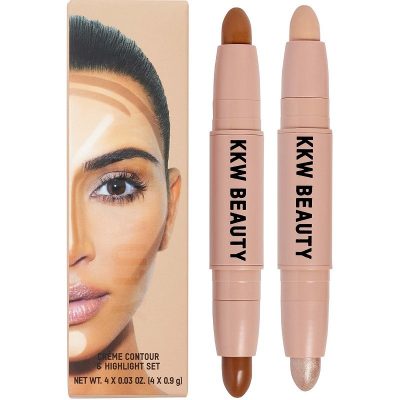 Why we like it:
Though overhyped, this contour stick set isn't bad. The range and product performance are both great, although it offers very little value-for-money.
Editor's Rating:
Quick Facts:
Color Range: 7
Finish: Matte
Pigmentation: Low
Single or Dual-Ended: Set of Two Dual-Ended Sticks
Quantity: 0.12 oz
Cruelty-Free/Vegan: Yes/Yes
This contour stick set is at the top of many lists, but it leaves us underwhelmed and even disappointed. The sticks in this set aren't terrible, and they do stand out in some regards, but they're also very overhyped.
If you're not familiar, KKW stands for Kim Kardashian-West (the woman who brought contouring to the mainstream). The brand launched with these dual-ended sticks, which predate most of the others on this list. In that sense, we respect them as the OGs!
Each set includes two sticks: one with matte contour and bronzer shades and the other with satin and shimmer highlighter shades. The color range is fantastic, spanning all skin tones and undertones. The performance isn't bad, either. The pigmentation is low, which is beginner-friendly, and the creams blend out with ease.
But then there are the issues. First, the amount of product you get is tiny. In total, you get 0.12 oz of cream, which is about half the amount of product you'll receive from other brands. Even worse, this is split across 4 different shades, so if you only use one or two of the ends then there is no way to justify the cost.
The only potential benefit to the tiny size is that it's nice for fine contouring and highlighting around the nose… but you might as well buy a more cost-effective product and apply it with a concealer brush.
The second major issue is how delicate the sticks are. We complained about the NYX Wonder Stick being breakable, but compared to KKW it's downright hearty. You have to be extremely careful when rolling them up, which is hard since they're so short. Many shoppers even receive them broken!
If you're a luxury shopper, the Fenty Match Stix are a better choice with a similarly comprehensive color range.
Pros
Excellent shade range

Creamy and easy to use

Small enough for precise applications
Cons
Tiny amount of product for a high price

Extremely delicate and breakable

Shoppers often receive broken products
---
10.

Best Drugstore Contour Stick:

NYX Wonder Stick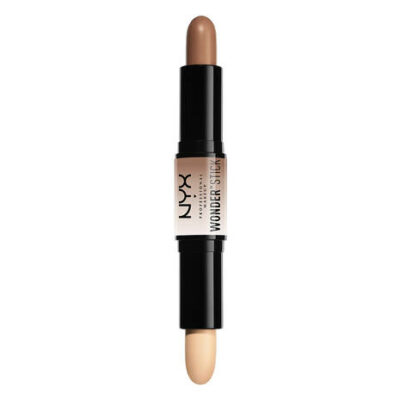 Why we like it:
This dual-ended highlight and contour stick is another nice choice for beginners. The contour end is soft and creamy for easy blending, with a great shade range and natural pigmentation.
Editor's Rating:
Quick Facts:
Color Range: 4
Finish: Natural
Pigmentation: Low
Single or Dual-Ended: Dual
Quantity: 0.28 oz
Cruelty-Free/Vegan: Yes/Yes
This is another dual-ended stick for both contouring and highlighting! Made by NYX, it's a hard-working yet affordable formula for cream contour and highlight.
It comes in a well-cultivated range of 4 shades. We'd describe them as neutral, light cool, warm, and dark warm. This means that no matter your coloring, you will probably find a match.
The pigmentation is fairly low and the texture is soft and easy to blend, so it's a nice choice for beginners. The actual size of the tip is a little smaller and more tapered than most other contour sticks, so it's awesome for targeted work or nose contouring.
It has a natural finish that will work best on normal or dry skin, while those with oily skin can still mattify it with a touch of setting powder. It wears reasonably well throughout the day, especially if you set it with powder or a setting spray, and the packaging is slim and travel-friendly. Just be careful not to roll it up too high or the creamy stick can break.
The highlighter side of the stick does leave something to be desired. The texture is a little greasier and less comfortable than the texture of the contour stick. The colors aren't always well-matched, either, so some shoppers find that if the contour shade is perfect the highlighter won't be bright enough.
It's possible to find alternative uses for the highlighter as a lipstick base or as a concealer, but ultimately, many shoppers find that they only use the contour side, and the highlight goes to waste. The Rimmel Duo Stick is a nice alternative with a much better highlighter side, although the shade range is less comprehensive.
Pros
Blendable and soft

Excellent for beginners

Wide shade range

Tapered stick allows for precise applications
Cons
The finish is too creamy for oily skin

Highlighter side kinda sucks
---
Finding the Best Contour Stick for You

While softness and blendability are a contour stick must, other things are not so obvious. Selecting a color, finish, and even a stick with a highlighter end totally depends on your needs and preferences! Keep reading to learn how to make your selection.

How to Choose the Right Color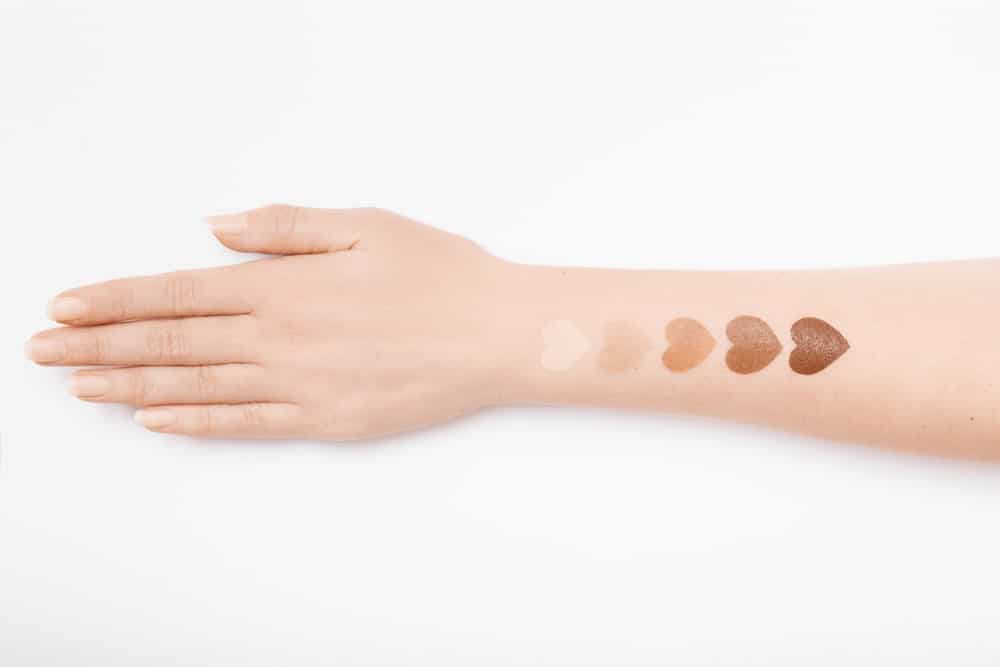 A contour shade that looks amazing on one person might look muddy or gray on someone else. That's why you have to choose the right color for you based on how dark your skin is and, more importantly, based on your undertone.
Darkness Level
One of the interesting things about cream contours is that even extremely dark colors can be blended down and made more sheer very easily.
Choose a contour stick that is 4-5 shades darker than your skin tone – you can even go as high as 6 shades darker if you like an extreme look. For comparison, powder contour should only be 3-4 shades darker.
Many sources suggest only going two shades darker, but that suggestion is a little outdated. The meaning of "shades" has changed a little in the last few years as brands become more inclusive. Back when the average foundation range only included 10-12 shades, going two shades darker would have been enough to create a convincing contour. Nowadays, when there are so many more shades, you have to jump up a few more rungs on the ladder.
It's also important to mention that those with light and medium skin can usually find a contour stick easily, but those with darker skin are usually underserved. That's why we really respect brands like Fenty, L'Oreal, and Mehron for having shade options that are actually dark enough.
Undertone
To avoid having your contour look muddy or oddly-colored, it's extremely important to choose a shade that will suit your skin's undertones. If you're not familiar, undertones are the underlying colors that are most dominant in your skin.
There are a lot of different tips and tricks to figuring out undertones, from simply looking at your skin, to examining the color of your veins, to judging how your skin looks next to other colors.
The main undertone categories are warm, cool, neutral, and olive which is often neglected. If you have an art background, you'll notice that "warm" and "cool" mean something different in makeup theory than they do in traditional color theory.
Cool Undertones
There's a myth that only women with very light skin have cool undertones, but that's not true at all! In makeup theory, cool undertones are pink, red, or (in dark skin) a little purple. If you're cool-toned, your veins appear a little purple through the skin. You probably don't look great in lime green or yellow but are a total stunner in purple.
The best contour stick color for cool undertones would be a taupe that leans a little towards gray-purple. For those with darker skin, an espresso shade with a gray-black touch would be a good fit.
The Fenty Match Stix in Amber is a classic, but if you're on a budget, the NYX Wonder Stick in Light will also work.
If you want a contour that warms up your skin a little and partially doubles as a bronzer then a neutral chocolate brown like the Kiko Milano Cream Contour Stick can also work.
Warm Undertones
If the predominant color in your skin is yellow then you have a warm undertone! There are other signs that you might be warm: your veins look a little green through your skin, you look best in earth tones and oranges, or maybe blue tones make you look a little sallow.
For warm undertones, it's best to choose a contour shade that also has that same golden hue as your skin. You can get away with contouring with shades that lean a little orange, but they're still not ideal unless you want a bronzed effect.
Both Wet n' Wild and Rimmel have shades that will suit you.
Neutral Undertones
Neutral skin is often the toughest to identify. The best way to describe it is as a very clear beige or brown with equal or low amounts of either yellow or red tones.
If you have neutral skin your veins appear mostly blue through your skin, you look good in most colors, but you probably struggle to find a foundation that blends into your skin without pulling yellow or orange.
The best contour shade for your skin would be either a truly neutral chocolate brown, a deep espresso, or a slightly taupe shade that doesn't lean heavily purple. The Kiko Milano Cream Contour Sticks are a perfect choice, but you can also use cooler shades as long as they don't have any redness to them, like the Fenty Match Stix in Amber.
Olive Undertones
Olive skin has a slight greenish tint. It can lean warm and golden or it can be more neutral with a beige-green appearance. If your veins appear quite green through your skin or if wearing purples and reds can make you look sick, you're probably an olive.
Those with olive undertones often have the hardest time identifying their skin tone and finding appropriate complexion makeup. Anything too orange, red, or purple will stand out against the skin terribly, so contour shades have to be perfectly neutral or golden.
Wet n' Wild and Revlon are two brands that serve olive skin tones especially, so you can check out their color options.

Which Finish to Choose?
As we mentioned earlierи, matte contour creams are often the best choice since they don't reflect any light. We still also included a few natural options on our list, so if you're not sure which finish will be best for you, keep reading.
Matte Finish
Matte is the term we use to talk about makeup products that reflect absolutely no light, so they look more flat and powdery.
Matte can sometimes be referred to as "velvety." If a brand doesn't say that their product has a matte finish, you can look for hints like the phrase "cream-to-powder" or the suggestion that it's best for oily skin. You don't want your contour product to reflect any light, since that defeats the point of the product, which is to mimic a natural shadow.
If you have oily or combination skin, a matte contour can also help by keeping those oils from peeking through during the day, and it will generally have better longevity on your skin. If you have normal skin, we still think a matte contour stick is the better choice, especially if you don't like to use a setting powder in your makeup routine.
Natural Finish
Some contour sticks out there, like the L'Oreal Infallible Longwear Shaping Stick and the Rimmel Duo Stick, have a more natural finish. This means that the finish is cream and resembles real skin. It's slightly more reflective than a matte finish, but not so much as to appear moist or dewy. It's sometimes also referred to as a "satin finish."
There are a couple of instances when a contour stick with a natural finish might be better. For those with very dry skin, a matte contour stick can emphasize dryness, flakiness, and texture, while a natural finish will be much more gentle and forgiving.
Some beauty lovers opt for a very dewy makeup look, where the goal is to have the skin look as hydrated and healthy as possible. In that case, a contour with a natural finish is a better choice, since it'll still look like a shadow next to the highly moist finish of the other makeup products.
When Finish Doesn't Matter
If you have normal or just slightly dry skin, the finish of your contour stick doesn't matter too much. If you choose a natural contour stick you can just mattify it with powder, while if you choose a matte contour stick you can wear it alone without setting it.
The Right Pigmentation Level
Pigmentation is the term used to explain how saturated a makeup product is. If it contains a lot of pigment, the color will be more intense and it'll cover or hide more of the skin below it. When it comes to contour sticks, the right level of pigmentation for you depends on your style and experience level.
Low Pigmentation
Low-coverage contour sticks go softly on the skin and once blended they can even disappear. They're most suitable for beginners who are nervous about over-applying, but they're also great for those who like their makeup to look light and natural.
We featured a few low-pigmentation contour sticks on our list, including the Rimmel Duo Sticks and the NYX Wonder Sticks.
Medium Pigmentation
In most cases, we prefer contour sticks with medium pigmentation, which is why there are so many of them on our list. Their level of pigmentation strikes a great balance!
You can add more layers to build up their coverage or you can apply a tiny amount and then blend it well for a sheer look. They offer the best of both worlds, and as long as their texture is blendable, they're not too difficult for beginners.
Our favorite contour sticks with medium pigmentation are the L'Oreal Infallible Longwear Shaping Sticks and the Fenty Match Stix.
High Pigmentation
Very pigmented contour sticks can be a little scary. If they're not applied carefully the final result can be a little harsh. They're rarely the best choice for day-to-day makeup unless you're an experienced user and like to go all-out with your look.
Otherwise, they're best saved for pros who can handle the intensity and don't mind taking their time blending. They're also great when you need your contour to be unusually intense, like for the stage or for a photoshoot with strong lighting.
The Wet n' Wild MegaGlo Stick is our favorite high-pigmentation contour stick since it's easy to blend, but for dramatic situations, we really like the more theatrical Mehron CreamBlend Stick.
Dual-Ended or Single-Ended?
You may have noticed that some of the contour sticks on our list are dual-ended. They function both as a highlighter and contour stick! For some, this can be a great feature while for others it might be a drawback, so let's discuss the pros and cons of each.
Dual-Ended Contour Stick
Dual-ended contour sticks usually come with a highlighter on one end, like the Rimmel Duo Stick and the NYX Wonder Sticks. In the case of the KKW Beauty Contour & Highlight Set, one stick includes both contour and bronzer shades, while the other stick has two highlighters.
The major benefit of a dual-ended contour stick is that it's a two-in-one. It saves a lot of space in your makeup bag, so it can be particularly convenient when you travel! Just be aware that it's not a money-saver since dual-ended sticks generally contain half the amount of contour and half the amount of highlighter that you would get when purchasing the products individually.
If you choose a dual-ended stick, it's important to make sure that you like both ends. Sometimes, like in the case of the NYX Wonder Stick, the highlighter isn't well matched to the contour, in which case half of the product will be wasted.
Single-Ended Contour Stick
A contour stick with just one end is very simple to use. It includes just contour cream, and nothing more. If you already have a highlighter that you love then a single-ended contour stick is the better choice since you get more product and you create less waste. We think that in most instances, it's better to buy a single-ended stick and a separate highlighter.
This is why our top spots are taken by single-ended products like the L'Oreal Infallible Longwear Shaping Stick and the Fenty Match Stix.
Wait, There's More! (The Contour Stick FAQ)
You might still have a few more questions, like how a contour stick compares to other products or what's the best way to apply it. This section covers that and more!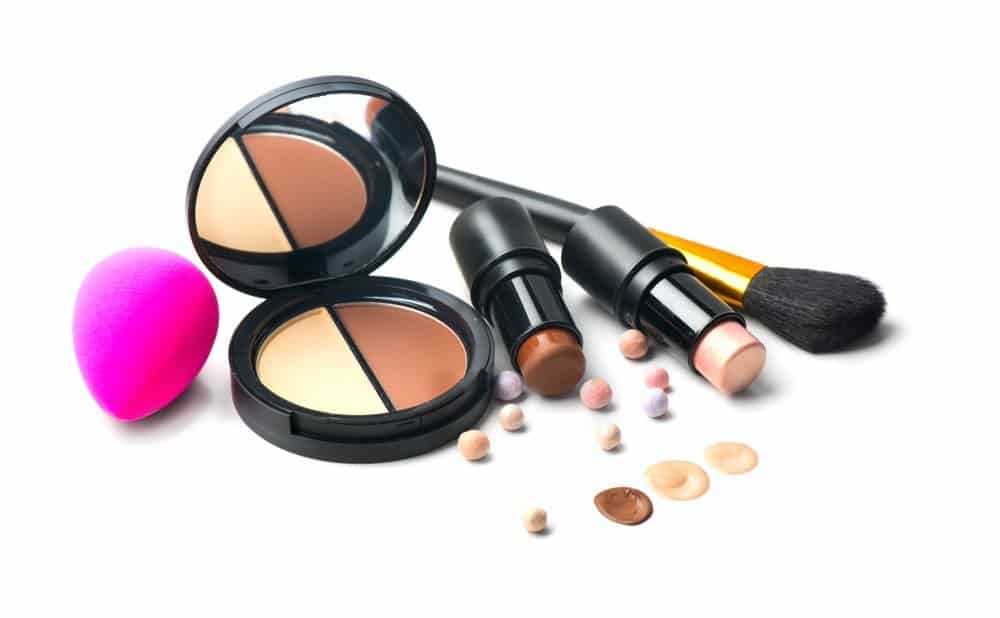 Is a Contour Stick Better Than Powder?
When it comes to contouring, some people are into creams, others prefer powders, and the real addicts use both. Cream contouring is a little more complex than powder contouring, but it gives a sleek, sculpted look while blending into the skin very naturally.
A contour stick makes cream contouring a little easier, but for most, using a contour powder will still be the faster choice. Ultimately, it's up to you to decide which type of product you prefer! We encourage you to try both.

How Do You Use a Contour Stick?
Using a contour stick is a straightforward process! You'll need your contour stick, of course, as well as either a damp makeup sponge or a flat-topped kabuki brush for blending.
You can use cream contour on bare skin or after you've applied cream foundation, but don't try to contour after you've already powdered your skin.
Roll the stick up to expose the contour cream – don't roll it up too high, or it may break!
Now just go for it! We recommend applying it in thin, continuous lines instead of dots or triangles. The dots might look impressive in a YouTube tutorial, but they don't blend out nicely in real life.
There are lots of different ways to contour, and you'll want to keep your face shape in mind.
In a typical beauty makeup look, you'll contour your cheeks, forehead, jawline, and nose, but feel free to experiment or leave out certain features based on your preferences and face shape.
For the cheeks, apply a thin line going right below your cheekbone. Start applying from the outer part of the face and pull the contour inwards along the hollow of the cheek.
End the contour just below or before the apple of the cheek.
For the forehead, apply a couple of lines along the side of your forehead or one curved line along its perimeter.
For the nose, apply two very thin lines along the sides. The closer you put the lines together, the slimmer your nose will appear.
To contour your jawline, apply a streak of contour starting just below the ear and following the shape of your jawline.
You can also contour just below the chin to hide a "double chin".
Finally, blend out those strokes of contour so they look like natural shadows. Use tapping motions if using a sponge or small circular motions if using a brush.
Depending on how quickly your contour sets, you may want to work in sections so you can blend the contour immediately after you've applied it.
Remember that as you blend you're also moving the product around a little, so make sure not to drag your brush or sponge towards areas you don't want to contour.
For instance, when blending out the cheeks, it's best to pull the contour upwards rather than down into the jawline.
How much you use is totally up to you! Thinner strokes will blend out into a softer look while applying more will look more chiseled or bronzed.
If you'd like to finish off your look with some blush or highlighter, check out our comprehensive guide, where we also give a few more contouring tips!
Do You Use a Contour Stick Before or After Foundation?
There are two ways to go about product order for foundation and cream contour.
The first and more common method is to apply your contour after foundation. This way, you can blend the contour into the foundation, and end up with a very soft and seamless look. This technique is better suited for a lighter contour application and a more natural style.
The second method is more intense, so it's favored by a lot of Instagrammers and stage performers. In this method, cream contour and highlighter are basically used instead of foundation. You apply your cream contour and cream highlighter first (and with a heavy hand as though they were foundation), and then use a bit of foundation on a brush or sponge to help blend things out and marry the highlight and contour together. It's a technique that requires more expertise. It can look jarring in real life, but it's awesome for the stage or for the camera.
What About Contour Sticks and Powder?
When it comes to combining cream and powder products, it's almost always best to apply creams first, followed by powder. Since contour sticks are a type of cream makeup, they should always be applied before powder (with the only exception being the Goss Method).
This is because the job of powder is to absorb moisture from the creams, which helps set them in place. This makes your cream contour last longer, become more transfer-proof, and it can even make it waterproof. You can also use a powder contour product to increase the intensity of your cream contour!
Those with dry or normal skin can skip powder altogether because it can make their skin look dry. Thankfully, most of the contour sticks on our list are matte and therefore self-setting, so powder isn't mandatory at all!
Finishing Touches
Lots of things are better when they come on a stick! Ice-cream, candy, cake, and even makeup. Contour sticks are one of the best ways to sculpt the face because they're convenient, portable, and easy. Most importantly, the final result always looks amazing! No matter your preference, skin tone, or budget, there's a contour stick out there that will enhance your makeup routine.