Sometimes you just don't want to wear a bra. If we could get away with it, many of us never would. They can be uncomfortable, pinching, and digging in. They're also a pain to size correctly with variations between brands and styles. But, most of us need a bit of support and coverage to feel comfortable mentally and physically. That's where bralettes come in.
Bralettes are great for wearing at home or for doing low-impact tasks, like running errands. In recent years, the trend of having a lacy bralette peek out of a wide-necked sweater or loose tank top has left most of us longing for a cute bralette.
How to Find the Perfect Bralette
Finding one that's comfortable and flattering can be tough, though, especially for the bustier among us. We've created a list that has options both small- and large-busted people (and everyone in between). Whether your style is more minimalist and sporty or lacy and feminine, we also have picks for you.
Style
There are all kinds of bra styles on the market. Bralette is usually its own category, but not all bralettes are the same. Here's a breakdown of some of the bralette styles on our list.
Plunge: A plunge style bralette will have a deep v front. This is a sexy style that shows a lot of skin and can frame your cleavage in a flattering way. However, the deep plunge does put you at risk for spilling out the front of the bralette when you're bending, running or jumping.
Racerback: If the straps meet between your shoulder blades, the bra is a racerback. Some racerbacks may have plunge fronts or be full cup as well. By pulling the straps together, it helps distribute the weight of your bust to your shoulders to lift your chest slightly.
Full cup: A full cup bra or bralette will have deeper, fuller cups for your breasts to rest in. It gives a more modest look and more security. Full cup bralettes help keep your girls locked down, making them far less likely to spill out.
Halter: Instead of two shoulder straps, a halter has one loop around the neck. Like a racerback, this helps lift your bust while pulling them together. It creates a sexy bust shape, but can pull on your neck uncomfortably if you have a heavier bust.
Bandeau: Bandeaus are like tube tops. They wrap around the chest to give full coverage on all sides, supported by elastic on the top and bottom. These give very little support to the chest.
Camisole: A camisole bralette is a thin tank top with light built-in support. They will feature an extra layer of material around the bust with an elastic band along the underbust to add support.
Material
You may also wonder just what your bralette is made of. Some people have sensitivities to certain fabrics, or simply prefer the way some feel directly against their skin.
Nylon: Nylon is a poly material that provides an inexpensive alternative to silk. Famously used in stockings from the 1940s when silk needed to be used for the war effort, it has been a staple in lingerie ever since. To increase its durability it's almost always blended with other materials like cotton or spandex.
Cotton: The most popular natural fiber, it's extremely versatile. From jeans to a light summer dress, cotton plays a big role in our wardrobes. It's also breathable and moisture-wicking, which makes it comfortable to wear close to the skin.
Rayon: A "semi-synthetic" material, this fabric is made from wood pulp and other cellulose fibers. It's much lighter and more breathable than poly-based synthetics but it can mimic more expensive natural fibers like silk. In some forms, rayon is also called modal, which is a particularly luxurious form of rayon. It's extremely soft and tends to be more expensive than other forms of rayon.
Polyamide: Very similar to polyester, polyamide is a synthetic, plastic-based fabric. Polyamide is particularly stretchy and wrinkle-free. It also resists tears. Like most poly fabrics, though, it's not very breathable.
Spandex: This is the queen of stretch. Spandex is in nearly everything clingy, from your yoga pants to your favorite bodycon dress. It's made up of super stretchy plastic fibers and is blended with other materials to give stretchy comfort. Sometimes it can also be labeled as elastane.
Enough with the background reading—you're probably ready to see our top choices for the best bralettes on the market. Here you'll find a variety of choices to suit all your bralette needs.
Top 10 Best Bralettes 2023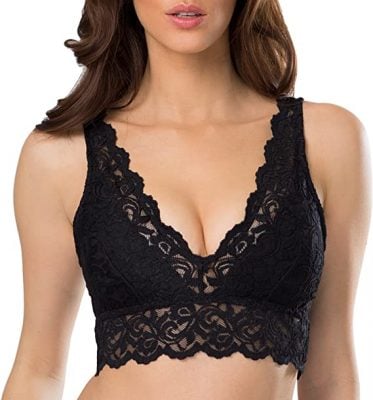 Why we like it:
This comfortable, sexy bralette will suit most people and comes in a wide range of sizes.
Editor's Rating:
Quick Facts:
Sizes: S-XXL, 32A-42D
Style: Plunge
Material: Nylon/spandex
Highlights
Smart & Sexy prides itself on creating good quality lingerie for a variety of bodies at an affordable price point. This lace bralette is no different. It's a versatile piece with wide straps that give just enough comfortable support. Removable pads let you choose if you want to add soft shaping to your bust or not.
Stretchy lace covers the entire bralette and it has a wide lace band. This gives an elegant longline effect, and the band gives a little extra support from below the bust. It gives enough support to help you feel confident without and hooks or wires to complicate things.
The plunge front gives it a sexy look, but the cups are deep enough that you won't feel too at risk of falling out throughout the day.
Downsides
Since this bra pulls over your head, it can be difficult to put on if you have very large breasts, but a smaller underbust. The underbust band doesn't have a lot of give, in order to be more supportive when you're wearing it, but it may be too tight to fit into comfortably. If you need a bra with hooks in the back, see our pick from Bali.
The straps aren't adjustable on this bralette either. If you have a long torso with a larger distance between your shoulders and bust, they may not be long enough for you. This can lead to the bralette pulling up on your chest or digging into your shoulders.
Who It's for
If you're looking for a wardrobe staple bralette that will fit a bigger chest, this might be just what you're looking for. Its lace makes it pretty enough to blur the lines from underwear to everyday fashion. Without wires or excessive padding, it helps shape and support you as well.
The inclusive size range and fuller coverage plunge shape make it a choice that many users can feel comfortable and confident in. If you're looking for something to peek out of a slouchy neck sweater, or just discreetly wear in place of a full bra, this bralette will work for you.
Pros
Wide supportive straps

Snug underbust band

Larger sizes

Sexy lace plunge
Cons
The underbust band may be tight to pull on over your bust

Shoulder straps are not adjustable
---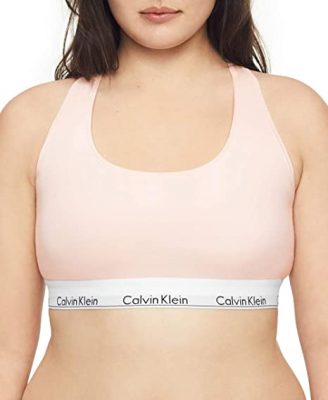 Why we like it:
A solid, no-frills option for a comfortable and reliable casual bralette.
Editor's Rating:
Quick Facts:
Sizes: XS-XL, 30C/34A-38D/40B
Style: Racerback
Material: Cotton/modal/elastane
Highlights
Calvin Klein is the king of normcore fashion. Modern basics with minimalist styling are what they do best. This bralette epitomizes that style. It's a simple, unlined, scoop-neck option with a racerback. It's available in a range of colors (some with interesting names like "Nymph's Thigh") and the underbust band has the brand name printed on it in an infinite loop. That's all. A very simple design.
Made primarily of cotton, it's a very breathable fabric blend. The thicker straps and thick elastic band give support. There are no hooks, pads, or wires. It's a lightweight, soft option that looks similar to a sports bra but doesn't have any of the compression of one.
Downsides
Since this bralette is so lightweight, with only one layer of soft tee-shirt material, it doesn't always give the best overage. If you wear it out under a thin shirt, for example, your nipples may be visible through your shirt, particularly on a chilly day.
It also won't do much to prevent bounce, which can be uncomfortable if you have a larger chest. In spite of its sports bra style, it isn't actually the best choice when you're being active.
The stretch fabric can also stretch out over time. If you're wearing it out all day, you may even notice that by the end of the day it's less supportive. Time and motion will loosen it up. If you're concerned with this, buying it a little small may help.
For a similar sporty style at a lower price point and with double-layer coverage, consider this option from Kalon.
Who It's for
If you're looking for a soft, barely-there loungewear bra, this is a great choice. For people who don't like the feeling of lace or simply don't like the look of it, this is an alternative choice. It's much less overtly feminine in style than most of the bralettes on our list. If you're a fan of Calvin Klein, the branding in the design will also let people know what you're about.
If you're bustier or don't want to risk the possibility of visible nipples, then it probably won't be something you can use to replace a standard bra. For around the house, or for casual wear under a looser top or layered with a tank top, its a super comfortable sporty looking option.
Pros
Soft breathable cotton blend

Minimalist sporty look

Light support
Cons
Stretches out over time

Not very supportive or protective
---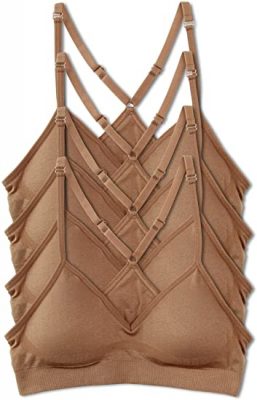 Why we like it:
If bralettes are part of your daily wardrobe, this 4-pack of basics offers great value.
Editor's Rating:
Quick Facts:
Sizes: S-L, 32B-38C
Style: Racerback
Material: Nylon/spandex
Highlights
These basic v-neck racerback bralettes come in a four-pack. You can choose between multicolor options or get all four in black, white, or one of their four flesh tones. Their skin tone shades will actually work with a variety of skin colors for nearly invisible wear under a light blouse. You have to love the inclusivity in design.
Each bralette comes with removable pads to use for additional shaping and nipple coverage or you can go without. The brand also scales the band size. The large will have a slightly wider band than the small to give more support to a bigger chest.
For low-impact activities, these offer support and coverage, preventing spillage and pinching at the sides and under your arms. The adjustable straps help you position them however is most comfortable for you.
Downsides
These bralettes aren't recommended for anyone over a D cup. The cup space is too shallow to allow a larger breast size to stay securely seated all day so larger breasts may experience some spillage at the front if you are moving and bending. They won't offer enough support for someone with a large bust if you're being active all day either and you may experience a lot of bounce.
The removable pads, while handy in some cases, can be problematic in others. It's best to remove them before washing. They can shift or even roll up during washing and may move during wear as well. The pads don't cover the full breast cup, so if the bra fits you a bit tight, the pads can actually cause lines that segment the look of your breasts. For a smoother overall look under clothing, you might want to consider a camisole option—this one in particular is also better-suited to larger cup sizes.
Who It's for
If you have a somewhat smaller chest and are looking for light day to day support, this multipack is a great deal. It offers more coverage than the Calvin Klein option while having similar minimalistic styling. Lace-free bralettes are surprisingly hard to come by.
The seamless look will work with many outfits and can transition between wearing at home and wearing out for less active days. Post-nursing moms may find this especially comfortable. It doesn't force you into a particular shape but lightly supports your natural silhouette.
Pros
Removable pads and adjustable straps

Variety of skin tone shades

Wider band in the larger size
Cons
Not much coverage or support for large bust

Padding can create a segmented look
---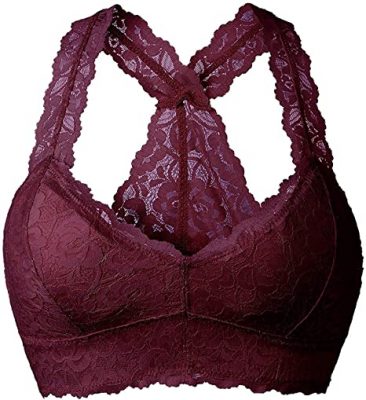 Why we like it:
This bralette is sexy, breathable, and flattering for large cup sizes.
Editor's Rating:
Quick Facts:
Sizes: 34A-40D
Style: Racerback
Material: Polyamide/elastane, rayon
Highlights
Featuring a racerback shape, this bralette helps create a flattering silhouette. The cups are deep and stretchy, allowing space for large breasts to fit comfortably. The bralette is size mainly by your underbust measurement to give a snug and supportive fit, but the cups accommodate a wide range of breast sizes.
Available in 6 colors, you won't mind the lacy scallop-edged straps peeking out of your clothes. The wide lace racerback provides support and has a striking look when shown off in low-back garments as well. Removable pads allow you to add more shaping coverage as needed.
Downsides
Some wearers may find the straps a little too long on this bralette, and unfortunately, they aren't adjustable. If they're a little long on you to begin with and you have a larger chest, they may stretch out further during wear.
The material may also cause some issues. The seam down the front of the cup can be visible in clothing, as it's quite thick. The lace is also a bit fragile and can develop holes when you throw it in the washer and dryer. It may be better to hand wash this bralette, which can be a bit of a hassle.
Who It's for
If you have a narrower rib cage with larger breasts, this may be the best option for you. The underbust-based sizing paired with deep, stretchy cups allows you to get a more secure fit.
Even though the straps aren't adjustable, it's still comfortable overall for most wearers. If you need more support and find the straps too long, you could always stitch or pin the straps to hold them up taut. If that's too much to fuss with, try a bralette for larger breasts that has adjustable straps.
For something that will stretch and grow with you during pregnancy, this is also a good option. And there's nothing prettier or more comfortable to wear while lounging around the house. It also offers enough coverage to transition to outdoor wear. It would look fantastic peeking through a sheer blouse.
Pros
Deep stretchy cups for larger breasts

Flattering racerback shape

Removable pads
Cons
Straps are not adjustable

Cups seam can show through clothing

Lace is fragile
---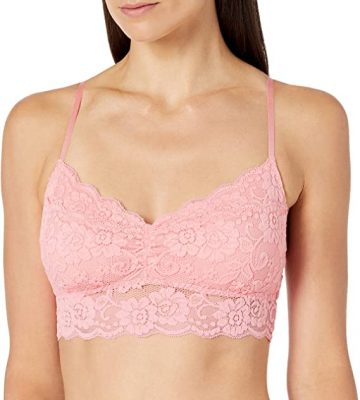 Why we like it:
By combining light wireless comfort and shape enhancing padding, this is great for smaller busts.
Editor's Rating:
Quick Facts:
Sizes: S-XL
Style: Full cup
Material: Nylon/spandex, cotton lining
Highlights
This full cup bralette offers light support and shaping. The adjustable straps and subtle stretch in the band make it comfortable to slip into and the removable padding lets you choose how much shaping you want. The thin straps are discreet if you're wearing it under a tank top or an off the shoulder blouse.
Available in basic and bold colors, this bralette is pretty enough to peek out from tanks with low-cut armholes or under a plunging neckline. A floral lace covers the whole garment, with a long underbust scalloped lace band. It's structured enough to give you some shape and avoid flattening out your chest. With the padding, it can give you a slight bust volume boost without a dramatic push-up look.
Downsides
The thick lace overlay, while pretty, can make this less functional. Thin, tight shirts may show the lace texture through them, creating a bumpy look that's less than ideal. The edges of the lace can also rub against your skin around your underarms. Some may find this a bit uncomfortable
Recommended for cup sizes A-C, this has a limited number of people it will flatter. The ideal fit seems to be for people who have a wider underbust, but small cup. The opposite, narrow underbust, large cup, won't find a good fit or adequate support with this bralette. The thin straps can dig in if the bra tries to support a heavier cup size. If you have a small underbust paired with a larger cup, our pick from YIANNA Floral Lace Bralette Yianna may be a better fit for you.
Who It's for
For people with a smaller cup size, particularly paired with a large band size (a size like 38B, for example) this bralette offers just enough coverage and support. With its removable padding, it will help give volume and shape to your bust without wires and push up cups. It's a flattering and comfortable option.
If you want something that crosses over to fashion and can be shown off in a low cut blouse or peeking out from a button-down, this is a good choice as well. It has more security and coverage than many thinner or plunge style bralettes, allowing you to be daring without risking a wardrobe malfunction.
Pros
Adjustable straps and removable cups

Light shaping and support

Attractive lace details

Full cup coverage
Cons
Lace can show texture through shirt

Edges of the lace can irritate underarm

Limited range of sizes
---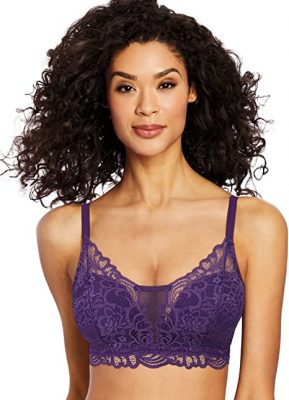 Why we like it:
This sexy bralette is made with bigger sizes in mind.
Editor's Rating:
Quick Facts:
Sizes: XS-3X, 32B-46DD
Style: Full cup
Material: Nylon/spandex
Highlights
This bralette comes in a truly impressive range of sizes, going up to the largest size we've seen for a bralette: a 46DD. To better support larger busts wirelessly, this bralette has a few unique features. These features make this more similar to a standard bra, but without sacrificing the casual comfort of a bralette.
The front has a sheer mesh panel between the two cups. This gives more coverage than your average bralette, but it also works to keep the lightly padded cups in position. When you're moving and bending, they'll stay together, making you less likely to spill out. It also features adjustable straps (that can be converted to a racerback style) and a back hook closure.
Downsides
Down the front of each cup, there's a rather thick seam. If you prefer a smooth look under your clothes, this might be a deal-breaker. In thinner and more fitted tops, it will show.
Some may also have a few issues with the fit. While the panel in the center helps keep you from spilling out and can amp up a little cleavage, it may not be flattering to certain breast shapes. It can pull them too much together and create the dreaded "uni-boob" effect that sometimes comes with bralettes and sports bras. If this look bothers you, a plunge style with more separated cups may be a better option.
Who It's for
If you hate wrestling a bralette over your head and down under your breasts, the back hook on this bralette will be a breath of fresh air. The fully adjustable straps will also be a useful feature if you find most bralette to lack support from loose straps.
Bustier women can finally enjoy the fun of a bralette with this option from Bali. The shaped cups and center panel help give you a flattering silhouette without the discomfort of wires and split front cups. It gives enough coverage to make you feel secure but still has a fun, sexy look.
Pros
Fully adjustable straps

Back hook closure

Front panel between cups

Available in large sizes
Cons
Large visible cup seams

Can cause a "uni-boob" appearance
---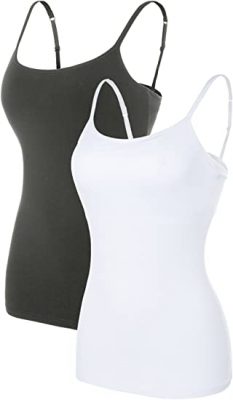 Why we like it:
This full camisole gives light support with full torso coverage.
Editor's Rating:
Quick Facts:
Sizes: XS-2XL, bust 33-45 inches
Style: Camisole
Material: Cotton/spandex
Highlights
This camisole found its way on our list because it gives the same light support as a bralette and can be worn in place of one. A double layer of soft, stretchy cotton fabric creates a shelf bra within this cami. A thick elastic band lays along the underbust to keep your bust contained and supported. The shoulder straps are also adjustable to improve support and comfort.
The fit is snug and stretchy, falling to the upper hip for most wearers. The neckline is a standard low scoop, but not so low that you risk popping out. It gives a moderate amount of coverage and support without being restrictive.
Downsides
While the adjustable straps are a great asset, they are held together with thin plastic rings. This can be a point of weakness that may break in the wash or with repeated wear. Considering that these camis are sold in a two-pack for a low price, it's not surprising that they aren't amazing quality.
They also tend to run a little large. The shelf bra inside the cami is designed to have a snug band and a lot of stretchy room for your breasts. However, if you don't have large breasts, it may be too loose to offer appropriate support. The armholes are also cut a little larger than average.
Who It's for
If you want to wear one garment that will give light support and full torso coverage, this is a great option. You can wear it by itself for low-impact activities or lounging around the house, and there's no need to put a shirt on top before going out to pick up some groceries.
This can also be a good layering piece. If it's chilly out, this will insulate your whole upper body without any restrictive wires or hooks. Under low cut tops, it will also give a little extra coverage around the neckline. It's a versatile piece that would be at home in many wardrobes.
Pros
Soft and stretchy cotton blend

Double layer for light support

Adjustable straps
Cons
Plastic strap loop is fragile

Shelf bra runs large
---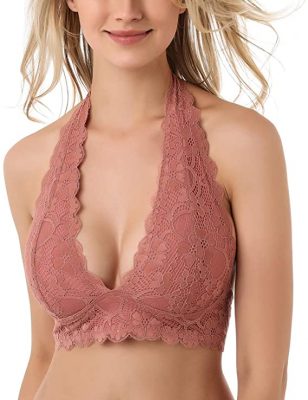 Why we like it:
This flirty halter bralette supports and emphasizes your shape.
Editor's Rating:
Quick Facts:
Sizes: X-XL, 32A-40B
Style: Halter
Material: Nylon/spandex
Highlights
Blurring the lines between summer fashion and lingerie, this halterneck bralette frames your bust in a very sexy way. Scallop-edge lace runs along the straps and underbust for a soft feminine look. This piece is just as suited to the beach as it is for lounging on the sofa on a lazy Sunday at home.
The cups are lined for coverage, but not padded. An elastic band gives support from under the bust, while the halter straps emphasize your bust. The band has an adjustable hook and eye, making it easier to put on and letting your tighten or loosen the support as needed.
Downsides
Shorter wearers or those with short torsos may find the halter neck too long. It's not adjustable and the tension from the halter is essential to giving this bralette its support. If you have a long torso and a heavy bust, this also may make the neck strap pull on you uncomfortably.
Heavy chests would do better with a bralette that offers more firm support from below, not having so much weight on your neck.
The front has a wide opening, which can put you at risk for breast spillage. The sides are also low-cut, showing a bit of side boob. Wider set chests may find these sizing issues to be problematic.
Who It's for
Nursing moms may find this to be a handy option. It gives light support without compressing tender breasts, and the large opening in the front makes it easy to pull aside for breastfeeding. The back hooks make it much easier to get on and off as well.
Even if you're not a new mom, you may appreciate the shapely look of this bralette. By combining underbust support with support from the halter neck, this bralette enhances your natural shape and keeps even a large bust in place. The inner lining makes it more comfortable and discreet, so if you're looking to wear it as a beach top, it's a good choice.
Pros
Crossover fashion piece

Boosts your natural shape

Hook and eye back closure
Cons
Halter not adjustable, can affect support and comfort

Low cut sides show side-boob
---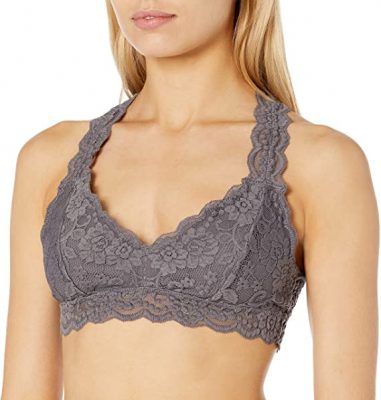 Why we like it:
Soft lace and a simple plunge style make this a great basic option
Editor's Rating:
Quick Facts:
Sizes: S-XLl
Style: plunge
Material: Nylon/spandex
Highlights
When you think of a bralette, this is probably pretty close to the image you have in mind. Simple, light, and comfy. This bralette features a plunging deep v-neck and is covered by scallop-edged lace. It stretches to pull on over your head and has a flattering racerback.
The cups are lined but don't have any heavy padding. Thin elastic runs along the underbust and along the straps to help them fit comfortably and give mild support. It also comes in a number of vibrant colors to match any outfit or pajamas.
Downsides
This bralette is recommended for A-C cups, and that seems to be true. It offers nipple coverage, and just enough support to keep your breasts from shifting around too much during low-impact activities, but it's not very supportive. Larger breasts may find this to have a slight flattening effect, spreading breasts apart from each other and pressing them into the chest slightly.
The deep plunge can prove to be a problem for some as well. It can be easy to slip out of the front if you bend over or do active exercise in this bralette. For a sexy plunge look with a deeper cup for bustier wearers, our Smart & Sexy pick may be a better choice. It also doesn't feature adjustable straps, making it difficult to get a good fit.
Who It's for
If you have a smaller bust and just want some basic coverage, this will work well for you. It doesn't offer much in the way of shaping or lift, but that's not always what you want. This won't interfere with your natural size and shape.
The support is minimalistic, but it still has a romantic style. This makes it ideal for people who don't need or want much support, with just enough coverage to avoid visible nipples under your clothes. It's also great for lounging at home and making you feel covered enough for a pajama-clad video chat with your family.
Pros
Soft, comfortable material

Light coverage

No lifting or shaping of your natural bust shape
Cons
Flattens larger breasts

Easy to fall out of

Straps not adjustable
---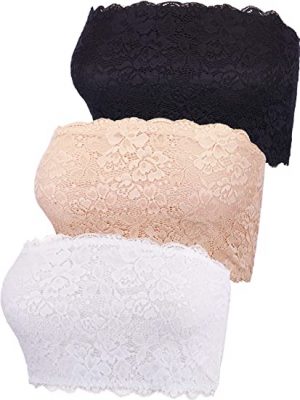 Why we like it:
For basic, strapless coverage, this bandeau is a functional wardrobe staple.
Editor's Rating:
Quick Facts:
Sizes: S-XXL, bust 29.5-43.3 inches
Style: Bandeau
Material: Modal/spandex
Highlights
A simple tube, this bandeau has two strips of elastic on the top and bottom to keep it in place. With no padding or shaping, it simply provides a strip of fabric around your chest. The front is lined with super soft modal, but the back is a single layer of sheer lace.
It provides coverage around the front and side and is mainly intended to be worn under other clothing. Low cut or open-sided tops can be hard to pair with other bras and bralettes. This gives coverage around the sides and sits higher in the front, giving a smooth look.
Downsides
The length of this bandeau does not vary between sizes, only the width. This means that larger cup sizes may not be covered enough. This creates a risk of spilling out the bottom of the bralette. The bandeau can also slip down during wear.
This doesn't really offer any support to speak of. It has no cups or padding and only stays up with the two bands on the top and bottom. It's simply not going to keep your bust in place or give any shaping.
For something a little more secure that will give you the coverage you need in daring outfits, choosing a camisole option may be a better choice.
Who It's for
If you are looking for side coverage, this will be useful to you. This will make your most plunging tops a little easier to wear day to day. If you want something that blends into your outfit better than a standard bra and adds a little touch of sex appeal, this will do the trick.
For a smaller bust or someone who just needs a bit of nipple coverage, this is the easiest choice. It's simple, unfussy, but still pretty. If you need a little more than nothing to make an outfit more wearable, then this is an ideal choice.
Pros
Soft comfortable lining

Full side and front coverage

Attractive lace back
Cons
Larger breasts risk spilling out

No support

Can slip down during wear
---
Answering Your Burning Questions About Bralettes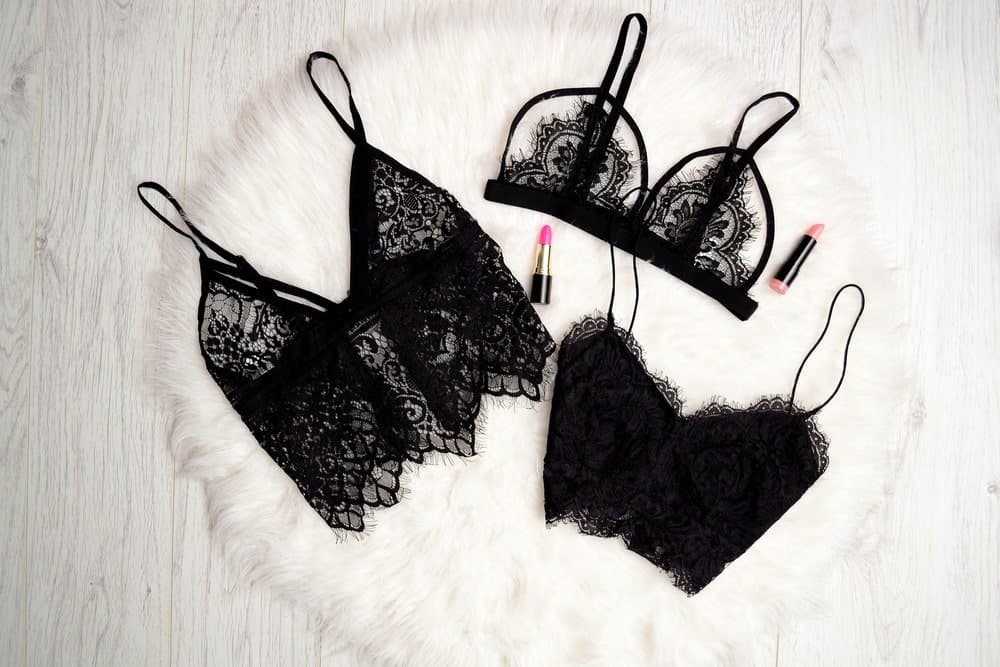 Now that you've seen our top picks you'll have some idea of what style of bralette might work for you. But you may also still have some questions. We'll try to answer them all here.
What's the Difference Between a Bra and a Bralette?
You might wonder if there's any significant difference between the standard bra you've worn since adolescence and a bralette. While the principle is the same, they are both fitted garments worn around the breasts, the execution is different.
Bras tend to divide your breasts between two defined cups. They will give you a specific shape. Some bras do a lot more shaping than others, of course, when it comes to push-up styles. But for the most part, standard bras will lift your breasts away from your rib cage and give them a more defined shape. Many bras feature underwires to help with that lifting.
Many find bras uncomfortable because they can hold your breasts in an unnatural shape or position all day. The wires can dig into your skin or even poke through and jab you. Bands don't tend to have a lot of giving, so they can pinch your skin and leave welts, especially if your bra isn't correctly fitted.
A bralette is supposed to offer a solution to those problems. They are the bra's relaxed younger sister. Less of an A-type personality and more of a go-with-the-flow kind of girl. Soft and stretchy, they may provide some light shaping, but they don't force your breasts apart into two symmetrical cups (and many women report some breast asymmetry – it's totally normal).
Bralettes don't try to lift your breast up, but try to help keep them comfortable and covered closer to where they naturally fall. Some may have a similar shape to a sports bra, but bralettes won't compress your chest like a sports bra or reduce bounce during high-intensity exercise.
What Size Bralette Should You Wear?
If you've never had a proper bra fitting, you absolutely should. It's estimated that up to 80% of women wear the wrong bra size. Your size fluctuates from age, hormones, exercise, and childbirth, so it's not surprising that it's hard to keep track of it.
Bralettes have a lot more leeway, so if you're currently in flux postpartum or are in the process of losing or gaining weight, a bralette will likely be more comfortable and flexible for you than a standard bra. Still, most size charts are based on your band and cup size. You can find your own bra size at home with a tape measure. That's a good place to start.
Most bralettes use small/medium/large tag sizes that match up with a few different band/cup sizes. A small may fit a 32A-C and a 34B, for example. Some size charts will also provide actual measurements for either the bust or the underbust. Whenever that information is included, we will note it in the Quick Facts of our product review.
Occasionally, and frustratingly, some brands will only give the tag size without much information on actual sizing. That requires some guesswork on your part, especially if you've never worn a bralette before. So we wouldn't recommend starting with one if you don't feel confident in the sizing.
When Should You Wear a Bralette?
The short answer is: whenever you want. However, a more helpful answer is a little more complicated. There are some situations when you might be more comfortable in a more standard bra, but everyone is different. Some people love to go bra-free, but the thought of it mortifies others. Here are some of the most common uses for bralettes.
Working at Home
More people have been working from home either by choice or necessity. It may seem like the perfect excuse to stay in your pajamas all day, but getting dressed helps put you in a better working mindset. You don't have to have stockings and lipstick like you might at the office, but changing into something a little more proper than the baggy tee shirt you sleep in gets you more prepared for the day.
Wearing a bralette in this case, especially something supportive yet comfy like the Calvin Klein Women's Modern Cotton Bralette lets you feel more comfortable and relaxed than you might normally be at work, but helps you be more dressed. It also gives you peace of mind for an unexpected video call.
Pregnancy and Postpartum
The process of having a child changes your body in many ways. Your breasts will grow and shrink through pregnancy and postpartum. They may also become more tender or even chapped if you're breastfeeding. Wearing a restricting bra sounds like adding gasoline to a fire in that case.
Bralettes tend to be softer and stretchier to give you a comfortable fit as your size fluctuates. They can often be pulled aside easily for nursing as well. The super-stretchy YIANNA Floral Lace Bralette makes a great bralette throughout pregnancy and after your little one is born.
Casual Outings
While you might want something a little more shaping and secure for a formal event or work presentation, relaxing on the weekend seems like the situation bralettes were made for. Go to brunch in your favorite flowy dress and wear a comfortable bralette underneath. Enjoy a low-impact hike or just hit the post office without having to strap yourself into a "real bra."
You can take it a step further by styling your outfit around a pretty bralette. Let it peek out with an off the shoulder blouse or slouchy sweater. Show off a lace racerback bralette like the Mae Women's Racerback Lace Plunge Bralette in a backless top, or leave an extra button undone show off a glimpse in the front.
Will Bralettes Make Your Breasts Saggy?
Some women are mortified at the idea of not wearing a bra. Some even sleep in them for fear of the dreaded breast sag. They don't realize this is actually counter-intuitive. Some researchers have suggested that wearing restrictive bras can actually increase sagging by making your muscles depend on outside support, rather than continuing to build their own strength. This is why, even though many bralettes list themselves as a sleepwear option, we never recommend sleeping in any sort of bra. Let your body have a break sometimes.
While it's debatable that bras cause sagging or that everyone is better off without them, there is no evidence that you will benefit from wearing one all the time. The only caveat being that a supportive sports bra during higher impact exercise can help reduce pain or even injury.
All breasts will experience some sagging over time. The larger your breasts, the more likely they are to hang a little lower. This is normal. Perfectly round breasts with permanent cleavage are a product of the imagination (and surgery). Don't deny yourself the comfort of a bralette because you're chasing an unrealistic ideal that just puts money in plastic surgeons' pockets.
Can You Wear a Bralette if You Have Large Breasts?
Everyone thinks that having larger breasts is all fun and games, but they've never struggled to get a well-fitting bralette, sports bra, or even button-down shirt, for goodness sake, because no one seems to design clothing with dramatic curves in mind.
Never fear, well-endowed friends. There is some hope. More bralettes are being made in extended sizes and have some curve-friendly features that will give a little more support without keeping you locked down in a bra prison. Our picks from Bali and Smart & Sexy are good places to start.
Give Bralettes a Try
Women often make themselves uncomfortable to make themselves more closely match the beauty ideal. Extreme push-up bras are part of that. While sometimes it's a fun confidence boost to amp up your curves, you should give yourself a break sometimes. Let your breasts rest closer to where they naturally fall and get better acquainted with your body's quirks instead of covering them up.
Finding a bralette that fits great can be its own confidence boost. Cute, comfortable, and casual, they're a great option to have on hand. Whether you want to wear them as a daring fashion statement or just to be a little more comfortable, you can find one in your size and to your taste with just a little searching. Hopefully, our list has provided you with some great options to get you started.