Top Picks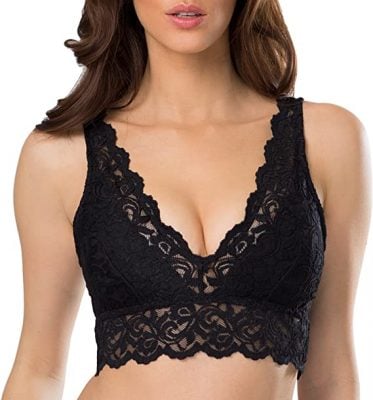 Smart & Sexy Women's Signature Lace Deep V Bralette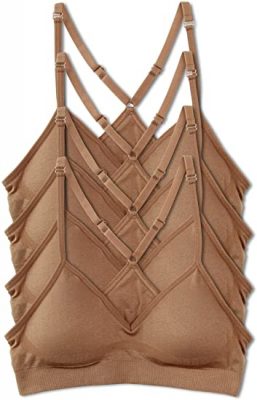 Kalon 4 Pack Racerback Sports Bralette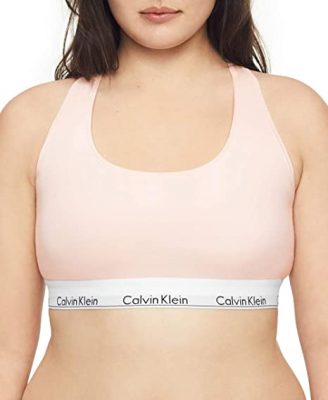 Calvin Klein Women's Modern Cotton Bralette
Previous
Next
Sometimes you just don't want to wear a bra. If we could get away with it, many of us never would. They can be uncomfortable, pinching, and digging in. They're also a pain to size correctly with variations between brands and styles. But, most of us need a bit of support and coverage to feel comfortable mentally and physically. That's where bralettes come in.
Bralettes are great for wearing at home or for doing low-impact tasks, like running errands. In recent years, the trend of having a lacy bralette peek out of a wide-necked sweater or loose tank top has left most of us longing for a cute bralette.
How to Find the Perfect Bralette
Finding one that's comfortable and flattering can be tough, though, especially for the bustier among us. We've created a list that has options both small- and large-busted people (and everyone in between). Whether your style is more minimalist and sporty or lacy and feminine, we also have picks for you.
Style
There are all kinds of bra styles on the market. Bralette is usually its own category, but not all bralettes are the same. Here's a breakdown of some of the bralette styles on our list.
Plunge: A plunge style bralette will have a deep v front. This is a sexy style that shows a lot of skin and can frame your cleavage in a flattering way. However, the deep plunge does put you at risk for spilling out the front of the bralette when you're bending, running or jumping.
Racerback: If the straps meet between your shoulder blades, the bra is a racerback. Some racerbacks may have plunge fronts or be full cup as well. By pulling the straps together, it helps distribute the weight of your bust to your shoulders to lift your chest slightly.
Full cup: A full cup bra or bralette will have deeper, fuller cups for your breasts to rest in. It gives a more modest look and more security. Full cup bralettes help keep your girls locked down, making them far less likely to spill out.
Halter: Instead of two shoulder straps, a halter has one loop around the neck. Like a racerback, this helps lift your bust while pulling them together. It creates a sexy bust shape, but can pull on your neck uncomfortably if you have a heavier bust.
Bandeau: Bandeaus are like tube tops. They wrap around the chest to give full coverage on all sides, supported by elastic on the top and bottom. These give very little support to the chest.
Camisole: A camisole bralette is a thin tank top with light built-in support. They will feature an extra layer of material around the bust with an elastic band along the underbust to add support.
Material
You may also wonder just what your bralette is made of. Some people have sensitivities to certain fabrics, or simply prefer the way some feel directly against their skin.
Nylon: Nylon is a poly material that provides an inexpensive alternative to silk. Famously used in stockings from the 1940s when silk needed to be used for the war effort, it has been a staple in lingerie ever since. To increase its durability it's almost always blended with other materials like cotton or spandex.
Cotton: The most popular natural fiber, it's extremely versatile. From jeans to a light summer dress, cotton plays a big role in our wardrobes. It's also breathable and moisture-wicking, which makes it comfortable to wear close to the skin.
Rayon: A "semi-synthetic" material, this fabric is made from wood pulp and other cellulose fibers. It's much lighter and more breathable than poly-based synthetics but it can mimic more expensive natural fibers like silk. In some forms, rayon is also called modal, which is a particularly luxurious form of rayon. It's extremely soft and tends to be more expensive than other forms of rayon.
Polyamide: Very similar to polyester, polyamide is a synthetic, plastic-based fabric. Polyamide is particularly stretchy and wrinkle-free. It also resists tears. Like most poly fabrics, though, it's not very breathable.
Spandex: This is the queen of stretch. Spandex is in nearly everything clingy, from your yoga pants to your favorite bodycon dress. It's made up of super stretchy plastic fibers and is blended with other materials to give stretchy comfort. Sometimes it can also be labeled as elastane.
Enough with the background reading—you're probably ready to see our top choices for the best bralettes on the market. Here you'll find a variety of choices to suit all your bralette needs.
Top 10 Best Bralettes 2021
Answering Your Burning Questions About Bralettes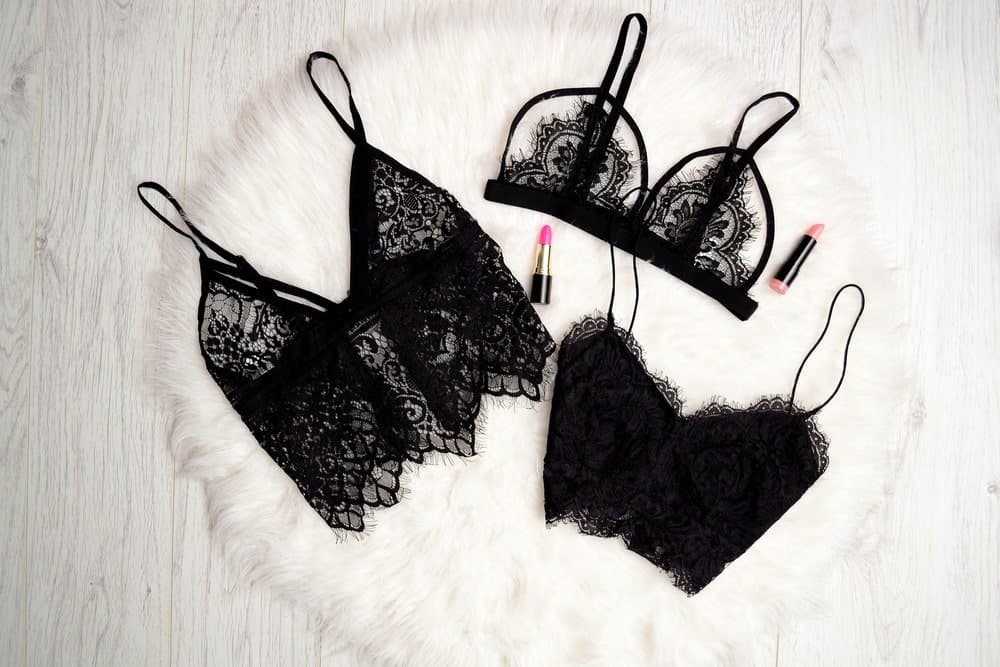 Now that you've seen our top picks you'll have some idea of what style of bralette might work for you. But you may also still have some questions. We'll try to answer them all here.
What's the Difference Between a Bra and a Bralette?
You might wonder if there's any significant difference between the standard bra you've worn since adolescence and a bralette. While the principle is the same, they are both fitted garments worn around the breasts, the execution is different.
Bras tend to divide your breasts between two defined cups. They will give you a specific shape. Some bras do a lot more shaping than others, of course, when it comes to push-up styles. But for the most part, standard bras will lift your breasts away from your rib cage and give them a more defined shape. Many bras feature underwires to help with that lifting.
Many find bras uncomfortable because they can hold your breasts in an unnatural shape or position all day. The wires can dig into your skin or even poke through and jab you. Bands don't tend to have a lot of giving, so they can pinch your skin and leave welts, especially if your bra isn't correctly fitted.
A bralette is supposed to offer a solution to those problems. They are the bra's relaxed younger sister. Less of an A-type personality and more of a go-with-the-flow kind of girl. Soft and stretchy, they may provide some light shaping, but they don't force your breasts apart into two symmetrical cups (and many women report some breast asymmetry–it's totally normal).
Bralettes don't try to lift your breast up, but try to help keep them comfortable and covered closer to where they naturally fall. Some may have a similar shape to a sports bra, but bralettes won't compress your chest like a sports bra or reduce bounce during high-intensity exercise.
What Size Bralette Should You Wear?
If you've never had a proper bra fitting, you absolutely should. It's estimated that up to 80% of women wear the wrong bra size. Your size fluctuates from age, hormones, exercise, and childbirth, so it's not surprising that it's hard to keep track of it.
Bralettes have a lot more leeway, so if you're currently in flux postpartum or are in the process of losing or gaining weight, a bralette will likely be more comfortable and flexible for you than a standard bra. Still, most size charts are based on your band and cup size. You can find your own bra size at home with a tape measure. That's a good place to start.
Most bralettes use small/medium/large tag sizes that match up with a few different band/cup sizes. A small may fit a 32A-C and a 34B, for example. Some size charts will also provide actual measurements for either the bust or the underbust. Whenever that information is included, we will note it in the Quick Facts of our product review.
Occasionally, and frustratingly, some brands will only give the tag size without much information on actual sizing. That requires some guesswork on your part, especially if you've never worn a bralette before. So we wouldn't recommend starting with one if you don't feel confident in the sizing.
When Should You Wear a Bralette?
The short answer is: whenever you want. However, a more helpful answer is a little more complicated. There are some situations when you might be more comfortable in a more standard bra, but everyone is different. Some people love to go bra-free, but the thought of it mortifies others. Here are some of the most common uses for bralettes.
Working at Home
More people have been working from home either by choice or necessity. It may seem like the perfect excuse to stay in your pajamas all day, but getting dressed helps put you in a better working mindset. You don't have to have stockings and lipstick like you might at the office, but changing into something a little more proper than the baggy tee shirt you sleep in gets you more prepared for the day.
Wearing a bralette in this case, especially something supportive yet comfy like the Calvin Klein Women's Modern Cotton Bralette lets you feel more comfortable and relaxed than you might normally be at work, but helps you be more dressed. It also gives you peace of mind for an unexpected video call.
Pregnancy and Postpartum
The process of having a child changes your body in many ways. Your breasts will grow and shrink through pregnancy and postpartum. They may also become more tender or even chapped if you're breastfeeding. Wearing a restricting bra sounds like adding gasoline to a fire in that case.
Bralettes tend to be softer and stretchier to give you a comfortable fit as your size fluctuates. They can often be pulled aside easily for nursing as well. The super-stretchy YIANNA Floral Lace Bralette makes a great bralette throughout pregnancy and after your little one is born.
Casual Outings
While you might want something a little more shaping and secure for a formal event or work presentation, relaxing on the weekend seems like the situation bralettes were made for. Go to brunch in your favorite flowy dress and wear a comfortable bralette underneath. Enjoy a low-impact hike or just hit the post office without having to strap yourself into a "real bra."
You can take it a step further by styling your outfit around a pretty bralette. Let it peek out with an off the shoulder blouse or slouchy sweater. Show off a lace racerback bralette like the Mae Women's Racerback Lace Plunge Bralette in a backless top, or leave an extra button undone show off a glimpse in the front.
Will Bralettes Make Your Breasts Saggy?
Some women are mortified at the idea of not wearing a bra. Some even sleep in them for fear of the dreaded breast sag. They don't realize this is actually counter-intuitive. Some researchers have suggested that wearing restrictive bras can actually increase sagging by making your muscles depend on outside support, rather than continuing to build their own strength. This is why, even though many bralettes list themselves as a sleepwear option, we never recommend sleeping in any sort of bra. Let your body have a break sometimes.
While it's debatable that bras cause sagging or that everyone is better off without them, there is no evidence that you will benefit from wearing one all the time. The only caveat being that a supportive sports bra during higher impact exercise can help reduce pain or even injury.
All breasts will experience some sagging over time. The larger your breasts, the more likely they are to hang a little lower. This is normal. Perfectly round breasts with permanent cleavage are a product of the imagination (and surgery). Don't deny yourself the comfort of a bralette because you're chasing an unrealistic ideal that just puts money in plastic surgeons' pockets.
Can You Wear a Bralette if You Have Large Breasts?
Everyone thinks that having larger breasts is all fun and games, but they've never struggled to get a well-fitting bralette, sports bra, or even button-down shirt, for goodness sake, because no one seems to design clothing with dramatic curves in mind.
Never fear, well-endowed friends. There is some hope. More bralettes are being made in extended sizes and have some curve-friendly features that will give a little more support without keeping you locked down in a bra prison. Our picks from Bali and Smart & Sexy are good places to start.
Give Bralettes a Try
Women often make themselves uncomfortable to make themselves more closely match the beauty ideal. Extreme push-up bras are part of that. While sometimes it's a fun confidence boost to amp up your curves, you should give yourself a break sometimes. Let your breasts rest closer to where they naturally fall and get better acquainted with your body's quirks instead of covering them up.
Finding a bralette that fits great can be its own confidence boost. Cute, comfortable, and casual, they're a great option to have on hand. Whether you want to wear them as a daring fashion statement or just to be a little more comfortable, you can find one in your size and to your taste with just a little searching. Hopefully, our list has provided you with some great options to get you started.