Top Picks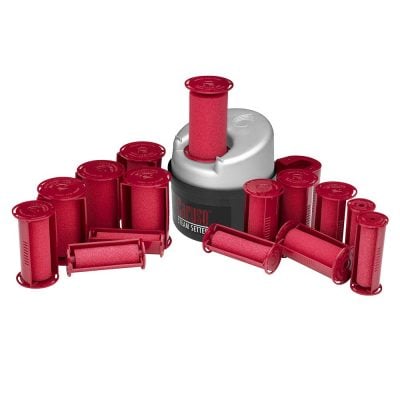 Caruso C97953 30 Molecular Steam Hairsetter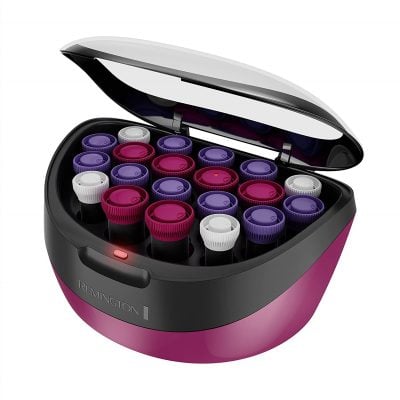 Remington Ionic Conditioning Hair Setter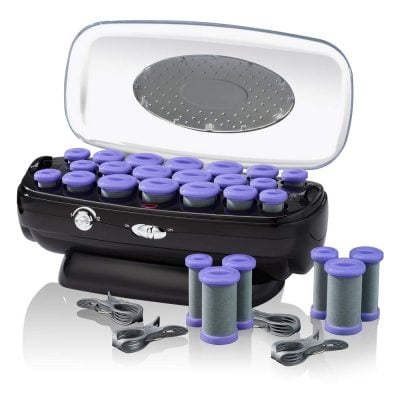 INFINITIPRO BY CONAIR Ceramic Flocked Hot Roller Set
Previous
Next
Think hot rollers are a vestige of your mother's or grandmother's heyday? Think again. These hair styling tools are still some of the most versatile on the market, as their simple, tried-and-true curling methods deliver results without turning your hair into straw.
While curling irons still lead the pack in terms of popularity, they're time-intensive, produce curls that don't hold as well, and run a higher risk of damaging your hair. Hot rollers, on the other hand, are convenient to use and give you some seriously luscious locks without damaging or drying them out.

Factors to Consider When Buying Hot Rollers
With that being said, it may be tempting to rush over to rush and pick up a set of hot rollers without doing some research first. But before you go and purchase any old hot roller set, there are a few things you'll want to consider.

Type/Length of Hair
Different hair textures require different heat settings and roller sizes. Thick, naturally curly hair will get the best results from hot rollers. But that doesn't mean that those with fine or damaged hair have to miss out on the fun. In fact, some hot rollers are specifically designed to curl fine or damaged hair.
Thick, curly hair – If your mane is on the voluminous side, go with rollers that have a wider diameter. Smaller rollers simply won't cut it, as their temperature settings and size will produce curls that won't hold up very well. Furthermore, the thicker and more naturally curly your hair is, the more rollers you'll need.
Fine, damaged hair – Hair that's a bit weaker will fare much better with rollers of smaller diameters made from ceramic-infused materials, as their heating technology evenly distributes heat along the hair. This reduces the risk of damage to your already vulnerable tresses. Fine-haired folks will also be happy to know that they'll need fewer rollers to curl their hair, since the less volume means less hair to roll.
Long hair – Longer hair fares much better with rollers of 1½-inch diameters or larger. You'll need bigger rollers to wrap the entire length of your locks and heat them adequately. Look for rollers with ionic or infrared technology, as this will assist in even heat distribution.
Short hair – Stick to rollers that are 1-inch or smaller. An added benefit of curling short hair is you don't need as many rollers to get the job done, and you can play around with different-sized rollers of smaller diameters to get different kinds of curls.
Size
Some hot roller sets include rollers of different sizes. Different-sized hot rollers will, naturally, produce different results. However, stick to roller sets of one size if your hair is all the same length. If your hair is layered, you might want to go with a set that has rollers of multiple sizes, as shorter hair is typically more difficult to curl than longer hair and often requires more rollers of various sizes.
Large-diameter rollers – Ideal for large, loose curls or loose waves. Look for 1½ – 2-inch rollers.
Small-diameter rollers – If you're trying to achieve small, tight ringlets or corkscrew-style curls, opt for small-diameter rollers. Any rollers 1½-inch or smaller will do the trick.
Material
Gone are the days of cumbersome, soda can-style rollers. Although the curling concept of hot rollers has largely stayed the same, their technology has advanced dramatically in the past fifty years. Nowadays, most hot roller sets are made of one of these materials:
Ceramic or Ceramic-Infused
These hot rollers give your tresses a smooth, shiny, and silky finish. Many hot rollers are also made of a blend of ceramic and tourmaline, which evenly distributes heat across the hair. This is important as heating the hair from the inside will keep the outside intact, and therefore, healthier-looking. Hair that has a lot of split ends or is prone to breakage will benefit the most from these kinds of hot rollers.
Nano-Titanium
Nano-titanium options use infrared and ionic technology to not only heat your hair evenly, but set your curls so well that they don't require hairspray, which is notorious for drying out your hair. An added benefit of rollers that use this technology is they don't require as high of a temperature to curl your hair, thereby minimizing the risk of damage.
Foam
These types of rollers have been around for quite some time, but they still hold their own in our high-tech era. Foam rollers are more gentle on the hair and heat pretty quickly, making them great for fine-haired folks with busy schedules.
Heat Settings
Like curling irons, some hot roller sets come with different temperature settings. This range in temperature will suit some heads of hair more than others.
Single-Heat Setting
Sets with a single-heat setting put the "hot" in hot rollers in the sense that they're very, very hot. High-heat settings are best for long, thick, unruly hair that's hard to curl. Longer, thicker hair is also less likely to suffer damage from high heat settings, making it the ideal hair type for hot roller sets of one temperature setting.
Multiple-Heat Settings
If you have layered, short, fine, or damaged hair, opt for a set with multiple heat settings. That way you can curl the shorter, finer pieces at lower heat settings and the longer, thicker pieces at higher temperatures. If your head of hair falls under any of these categories, you'll maintain its integrity far better with hot roller sets with multiple heat settings.
Let's take a look at our top ten picks for hot roller sets on the market. While they all achieve the same result more or less, each model comes with its own set of unique features that make it better for some heads over others.
Top 10 Best Hot Rollers 2021
Guide to Buying the Best Hot Rollers for 2020
With so many hot roller sets on the market, it can be overwhelming trying to decide which model to buy. Just as we touched on in our Mini-Buyers Guide, there are a slew of factors to consider when purchasing your hot rollers, such as roller material, heating time, dual-voltage features, and hair type and length, to name a few.
However, there are a few other things you'll want to keep in mind while shopping around for the perfect hot roller set.

How Often Should I Use Hot Rollers?
Since hot rollers obviously use heat to curl your hair, you'll always be at minimal risk of damaging your hair. For this reason, try not to use hot rollers on your hair more than twice a week. However, there are plenty of fabulous options that feature ionic technology or flocked rollers to help mitigate the risks of damage, like the Remington Ionic Hair Setter.
Our best overall pick, the Caruso Steam Hairsetter uses steam to gently curl the hair, which also minimizes the risk of damage.
How Do I Section My Hair When Setting It?
Sectioning the appropriate amount of hair can make or break your beautiful curls; too much and the section won't heat up enough to hold a curl, while too little might expose your hair to excessive heat. What you'll need is a comb or hairpin to neatly divide your hair into sections. A good rule of thumb is to wrap sections of hair that are about two inches wide, but you may need to tweak this a little depending on your hair type and length.
You also might want to use a setting spray before putting your hot rollers in, as this will help with heat protection and setting your curls.

Will Hot Rollers Damage My Hair?
While you need to be careful of any kind of prolonged heat exposure to your hair, hot rollers are gentler on your hair than curling irons. Hot rollers heat your hair at a lower temperature over a longer period, unlike curling irons, which "shock" the hair by curling it at a very high heat for a much shorter time. However, this doesn't mean using hot rollers every day is a good idea.
Can I Use Hot Rollers on Wet or Damp Hair?
In a word, no. Sadly, wet or even slightly damp hair does not hold a curl. Dry, slightly straightened hair is the best candidate for a good curling.

How Long Does It Take for Hot Rollers to Curl Hair?
This will depend heavily on the type of hair you have. Naturally, the thicker, longer, or curlier your hair is, the longer it will take to curl it. Most heads of hair can get the great curls they're after in 20 minutes or so, but fine-haired folks may want to opt for a duration of no longer than 15 minutes, while thick heads of hair should keep the rollers in for at least a half hour.
While some sets on the market boast a quick curl setting time, like the Remington Pro Hair Setter boast a curling time of just five minutes, but in reality, you'll most likely need to tack on several minutes to achieve the results you want.

How Long Should I Heat Up My Hot Rollers Before Using Them?
While the general time frame for heating up your hot rollers is between five to ten minutes, this time can vary widely depending on the material from which the hot rollers are made. Some hot rollers have an exceptionally short heating time of just a couple of minutes which allows you to wake up, curl your hair, and hit the road.
Keep in mind that you may have to adjust the time according to your hair type and length. This may affect how long your overall curling process takes, since you'll have to account for the time it takes to heat your rollers, set your hair, and let them work their magic.

Should I Use Products in My Hair With Hot Rollers?
Again, the answer to this question depends on the type of product you want to use. Heat protectants are generally okay to use whereas hairsprays are not. Setting sprays are also often grouped with heat protectants, as they protect your hair from the heat and help your hair hold its curls longer.
The reason hairsprays are mostly a no-go is because they dry out the hair and make them more prone to breakage. If your hair is having trouble holding a curl with hot rollers, adding hair products may not be the answer. You may want to reassess the rollers you're using and see if they're well-suited to your hair texture and length, rather than add hair products.
How Should I Set My Hair in the Hot Rollers?
The way you set your hair in the hot rollers depends on your hair length and texture. The classic way is to roll your hair from the ends up, which gives you a lovely pile of big, bouncy curls towards the ends.
However, you might not get the best heat distribution this way. If you want a more evenly-heated curl, start in the middle and wrap the ends around the roller first. After that, roll the hair section the rest of the way up and fasten it. This method maximizes your curl potential across the entire hair piece by distributing the heat more evenly.
How Long Should I Leave My Hot Rollers In?
Patience is indeed a virtue, especially when it comes to coiffing your locks. While hot rollers cut down on the amount of work you have to do (say, compared to a curling iron), they still need just about as much time to do their thing.
Thinner-haired heads can get away with wearing hot rollers for 15 minutes or so. On the other hand, those whose hair is more like a mane (i.e., thick, curly, and a little unruly) may want to wait a good half hour before removing their hot rollers.
A Final Word on Hot Rollers
You don't have to sacrifice loads of time to get beautiful, bouncy curls. No matter what type of hair you have, there's a hot roller set out there for you. Thankfully, the majority of hot roller sets are pretty affordable, so you won't have to spend too much cash to get salon-grade curls.
As with anything else, though, make sure to do your research before investing in a hot roller set, as not all sets are created equal. Once you find a set that's right for you, though, we're confident you'll be more than satisfied with your new head of luscious locks.