Top Picks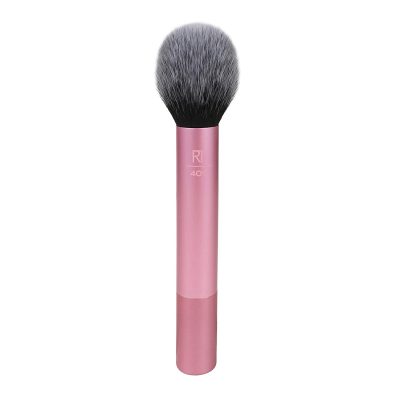 Real Techniques Blush Brush

Wet N Wild Blush Brush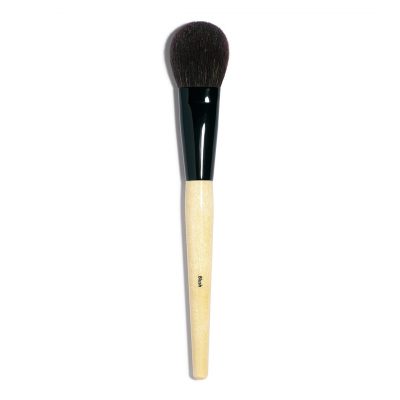 Bobbi Brown Blush Brush
Previous
Next
Sweeping on a bit of blush at the end of the makeup routine always puts us in a happy mood. Having a soft blush brush that imparts the color flawlessly definitely helps! Some days, you want to look ethereal with the help of a cream blush that gives a "lit from within" effect. Other days, you might prefer a joyful wash of color right across the center of your face.
Whether you like variety or stick to the same look every day, we've got you covered, with an amazing selection of blush brushes for every style and blush type!
What to Know Before Buying a Blush Brush
We've reviewed a lot of incredible blush brushes, so we've put together this handy guide to help you figure out how to choose the right one.
What Kind of Brush Do You Use for Blush?
The rules for selecting makeup brushes are not particularly strict – they are more like guidelines. In general, a blush brush is a medium-sized complexion brush with a domed or angled shape. Sometimes brands will even make things easy by calling it a "blush brush" explicitly! There are a few more things to look for based on the kind of blush you use.
Brush for Powder Blush
If you primarily use a powder blush, you want to choose a soft and pliant blush brush that'll set a natural-looking layer of blush on your cheeks without requiring much blending. The denser the brush, the more pigmented and intense the blush will look, so you may want to choose a medium-firm brush if you like a more intense look or if your blush has low pigmentation.
Brush for Cream Blush
If you use a cream blush, then you'll want a brush suited to cream products. This usually means denser, firmer bristles, and a slightly flat top. A denser brush won't absorb your cream blush and it'll also do a better job depositing and blending it into the skin. We discuss brush firmness in more detail later on.
Features to Look For
there are a few features that you should look for in a blush brush, no matter what kind of blush you use!
Soft Bristles
Anything that comes in contact with your face needs to be gentle and non-irritating, and that absolutely includes your blush brush. We made sure to only include soft brushes on our list since the skin over the cheeks tends to be extra sensitive. We also paid attention to how well the brushes maintain their softness over time, including whether the bristles shed, which is a flaw that'll quickly turn a soft brush into something horrible and scratchy.
Long-Lasting Build
Brushes are delicate tools that require care and maintenance. Sadly, some brushes are so poorly made that no matter how careful you are, they still fall apart or start shedding after just a few months of use. In our reviews, we discuss durability and give some specific tips when brushes require a little more care than normal.
Style
A brush is a brush, and if it gets you looking gorgeous, why does it matter why it looks like? Well, we think it does matter! Makeup should be a fun way of pampering yourself, and having aesthetically pleasing tools can help with that. If you have professional aspirations, you may want makeup brushes that convey serious artistry, while if your makeup vanity is a display piece then you want your brushes to work with the rest of your aesthetic. We made sure to present a wide range of brush aesthetics for every preference.
Vegan Bristles
We have a strong preference for synthetic brushes, which are usually made of carefully-shaped nylon or polyester fibers. Back in the day, animal hair brushes were considered the superior option, but a lot has changed in the last decade as beauty consumers started demanding more cruelty-free brush options. As a result, experts say that synthetic brush design has vastly improved, so they are not only more common but they're just as effective, more hygienic, and more versatile than natural hair brushes.
So now that you have a clearer idea of what to look for, check out our selection of the best blush brushes available online! We selected a wide range, so you'll find something that'll fit your needs. If you're still not totally sure about what you're looking for, we've included a more thorough guide that covers additional factors like size, firmness level, and shape after the reviews.
Top 10 Best Blush Brushes 2021
Your Guide to Blush Brushes in Every Shape & Size

Are there still a few thoughts or uncertainties niggling at the back of your mind? We've added a few more things you can consider when selecting the best blush brush for you.
The Right Size
As a rule, the bigger the brush, the more space it will cover, so here's how you can figure out the right blush brush size for you.
Small Blush Brush
A small blush brush will apply the blush to a smaller area, so there are a few instances where you might prefer one. First, it's an obvious choice if you have very small features or if you like to apply your blush in a very thin and localized way.
It's also a good choice if you like to take your time building up your makeup slowly, bit by bit, and it's also useful if you like to stack a few different blushes to create a complex, blush-based cheek contour.
Often, the best small blush brushes are not advertised as such, like the Sigma Tapered Brush which works nicely with powder blushes and the Wet n Wild Small Stipple Brush which is great for creams.
However, for a typical, day-to-day blush application, using a small blush will be too time-consuming, so you might still want to have a medium or large-sized brush, as well.
Medium
A medium blush brush is going to be the best choice for most people. Medium-sized brushes are usually sized to fit the average woman's cheekbones so that you can cover the entire area perfectly in just one go! A medium brush can also be helpful for blending. If you use a small brush to apply the blush and then a medium one to blend it out, you can end up with a very natural and impactful blush look.
Our favorite medium-sized blush brush is the Wet n Wild Blush Brush, but if you prefer luxury products you'll love the Bobbi Brown Blush Brush.
Large
There are those who adore a large blush brush that can really envelop the cheek with its soft touch. Large brushes apply blush very quickly, and if they're very soft, the blush will require no blending afterward. If your cheekbones are naturally full and large (hello Chrissy Teigen!) then this kind of brush, like the Real Techniques Blush Brush makes perfect sense!
With a lot of other large blush brushes, like the e.l.f. Flawless Face Brush, the shape can be a little more tapered or angled, so while it's overall size is very large, there are still small surfaces should you desire a more targeted application.
Considering the Brush Shapes
While the size of the blush brush matters, the way it's shaped will also have an impact on the size of the surface you're working with.
Round
Round blush brushes are the classics. They have a rounded or domed shape that fits perfectly over the apple of the cheek, for that rosy-cheeked look. You can use them for any blush technique by simply altering the direction in which you blend out you blush. The Bobbi Brown Blush Brush is a classic example, while the Real Techniques Blush Brush represents a larger and more domed version.
Angle
Angle brushes have a slightly elongated shape, with the bristles go from shorter to longer which puts the entire brush on an angle. Angle brushes like the Real Techniques Sculpting Brush are very popular for contouring, but they're great for blush. They help guide the blush over your cheekbone, for a lifted and angled modern look.
Tapered
With tapered brushes, you get a few more options and a lot of control. Tapered brushes can be round or angled, but what makes them unique is that the bristles are shorter on the outside and longer in the center, which gives you a larger surface along the side and a small surface on the tip. This is basically the best of all worlds, since you can use it for both targeted and diffused blush applications.
Tapered brushes can come in all sizes, from the large e.l.f. Flawless Face Brush to the tiny Sigma Tapered Brush.
Fan
Fan brushes normally give a very thin and diffused stripe of blush since they are shaped like a fan. This isn't normally ideal, which is why this shape is more popular for highlighters. There are exceptions, however, where the brush is a little thicker through the middle, so it works beautifully for blush. They're elongated, like angle brushes, but tend to be a little softer.
The Wet n Wild Blush Brush has a hybrid round/fan shape, while the NYX Pro Fan Brush is a nice example of a large fan brush.
Flat-Top
Flat-top brushes are sometimes also known as kabuki or stipple brushes. They tend to be a little more firm, and because the top is flat, product doesn't penetrate deeply into them. This is why they work best with cream blushes, helping to dispense and blend them in, even if they're not particularly firm. The Wet n Wild Small Stipple Brush is a great example.

The Right Firmness Level
The firmness level of your brush has a big impact on how much blush it'll end up depositing on your skin, so make sure to choose the one that will suit the kind of look you prefer.
Low
These days, heavy blush isn't particularly fashionable outside of TikTok, so very soft brushes are the typical favorites for blush. They deposit a very sheer layer of blush that looks natural and is more universally flattering. The fear of the "clown look" is real, so a soft brush guarantees you won't overdo it. Once you lay the blush down you won't need to blend much if at all, so it's also a great time saver. Our favorite low-firmness blush brushes are the Real Techniques Blush Brush and the Wet n Wild Blush Brush.
Medium
Medium-firm blush brushes also might have a place in your makeup arsenal. The denser bristles of a medium-firm brush pick up more blush than their pliant counterparts, so they end up giving a more intense look. As we mentioned when discussed the medium-firm NYX Pro Fan Brush, they are great for making sure that overly-sheer powder blushes will still show up on your skin.
The other benefit of a medium-firm brush is that it works with both powders and creams. While it may deposit a lot of product, it'll also pick up a lot of product from the skin, which makes it awesome for blending out already applied blush.
Firm
Last, but not least, are the firm blush brushes. They really only work with cream blushes, but the result is stunning. They offer a bit more control than medium-firm brushes, and since the best way to use them is with a hybrid stippling and buffing motion, the deposit blush and blend it out at the same time, so the application doesn't look too heavy – in fact, the cream blush will probably look as though it is emanating from within your skin.
The Real Techniques Sculpting Brush is a stunning example of a firm blush brush.
Burning Blush Brush Questions
If you have a few more questions about blush brushes, don't feel embarrassed – the natural flush that might crop up will save you the need for a blush brush!
How Do You Use a Blush Brush Correctly?
The best way to use a blush brush depends on the type of blush, type of brush, and type of look that you like! In general, it's best to apply the blush along the highest part of your cheekbones, going from the apple of the cheeks in an angle towards the temples.
First, tap the brush over the skin to deposit the blush, starting at the area where you want the color to be the most concentrated. Then, blend it out with circular motions to distribute the blush over the rest of the skin and to get a seamless finish. This way, it'll seem as though the blush is actually part of your skin. We give a few more suggestions in our comprehensive blush application guide!
Can You Use a Blush Brush for Powder?
If you don't have any other option, a blush brush can definitely double as a powder brush. In general, it's not ideal since blush brushes tend to be smaller than powder brushes, so it takes longer to apply powder with them.
If you must, however, it's better to use a soft and pliant blush brush, since a firm one will apply too much powder and lead to a cakey appearance. The Real Technique Blush Brush is a good choice since it's unusually large and incredibly soft.
Can You Use the Same Brush for Blush and Bronzer?
Once again, though not ideal, you can definitely use the same brush for blush and bronzer. The reason why it's not a great way to go about things is simple convenience: once you finish applying your bronzer, you'll need to wipe off the brush thoroughly before applying blush or else it'll end up looking muddy.
A dry brush cleaner might come in handy, though using a different brush will be even easier. If you have a brush that you love to use for both purposes (like Wet n Wild, which also makes an appearance in our list of Best Bronzer Brushes), it might be easier to just buy a second one!
How Do You Care for a Blush Brush?
Without proper maintenance, you'll find yourself having to replace your blush brush every few months! However, when properly stored and cared for, a blush brush can continue to perform for years.
Clean Daily
The American Academy of Dermatology recommends cleaning brushes around once a week, but we like to take it a step further. We recommend doing a quick clean when you're done doing your makeup, by simply spraying your brush down with a brush cleaning liquid and then wiping it off on a paper towel.
Shampoo Monthly
Then, once a month, give your brushes a more thorough cleansing with a gentle brush shampoo and water. Be careful not to let any water run down the bristles into the ferrule, as that can ruin the glue in the brush.
Shampoo them much like you would your own hair, rinse them clean, and pat them dry with a towel. Finally, use your fingers to press the bristles together, which will help the brush keep its shape, and lay it down flat on a towel to dry completely.
Store It Safely
When not in use, keep your brushes in a safe, dry space, like a dedicated brush bag, a brush cup, or even in a makeup organizer. Make sure the space is clean and that children or pets can't reach it and destroy your precious brushes!
At Last Blush
Your makeup tools are just as important as the actual makeup products you use! By knowing what to expect out of each brush, you can buy the one that'll suit your style flawlessly. From large, soft brushes that give you a naturally flushed look to tightly packed ones that load the color on the skin, you have a ton of different blush brush options. With this guide, we know you'll find the brush that'll give you the rosy glow you dream of!