There's no better feeling than the rich lather of your favorite body wash – it's often the best part of any shower or bath routine. But your regular body wash is often full of some nasty chemicals and some harsh ingredients, and could be doing your skin more harm than good.
Fortunately, it's easy to switch out your old body wash for something equally as luxurious: an organic body wash. Organic body washes are full of carefully picked moisturizing ingredients and beneficial essential oils. They work with your skin to clean and soften it instead of stripping it of its natural oils and leaving it drier than what you started with.
If all that sounds great to you, but you're not sure where to start looking for a new body wash, keep reading! We've researched and collected a list of the ten best organic body washes out there so you can easily decide on a product that will enhance your bathing routine.
Why Use Organic Body Wash?
Organic body washes have a number of benefits (you can read more about this in our guide below) that you won't get if you only use regular body washes.
For the environmentally conscious, organic body washes are a great choice. They aren't made using typical farming methods that involve pesticides and GMOS, and are typically more sustainable products as a result.
Organic products are also healthier for your skin since the main ingredients are carefully chosen and added to the body wash for their specific properties. It's not just a chemical connection full of preservatives and synthetics intended to simulate the properties of more natural ingredients.
Is Natural the Same as Organic?
Though these terms are often used interchangeably, they are actually not the same thing.
An organic product is one that is made up of components exclusively grown without pesticides, fertilizers, or chemicals. There are specific standards a product has to meet in order to be called organic or to be certified as an organic product.
"Natural" refers to products that are produced using a significant portion of nature-based ingredients, but they might still be produced using chemicals. Pretty much any product can be referred to as "natural" because there are no regulations on this word like there are on the word "organic".
If you want more information about the types of organic certifications, check out our section about it in our full guide.
Things to Keep in Mind
Ingredients are one of the most important things to keep in mind when purchasing a body wash. Different products will have different ingredient blends that provide a variety of benefits to your skin.
For instance, if you have dry skin, you might be interested in a more nourishing aloe body wash such as Avalon Organics. If your skin is super sensitive, a product like Kimura Soap full of olive and jojoba oils might suit you better.
Later on, we will be looking at the ingredients in these products even closer in our guide and discussing what works best for each skin type.
Other things to think about when looking for a body wash include the scent of the product and if it has any other uses besides just being a body wash (like our best budget pick, Everyone 3-in-1 Soap, that can also be used as a shampoo).
Now that we've discussed some of the basics, let's head straight into our list of best organic body washes on the market today!
Top 10 Best Organic Body Washes 2023
1.

Best Overall Body Wash:

Remedy Soap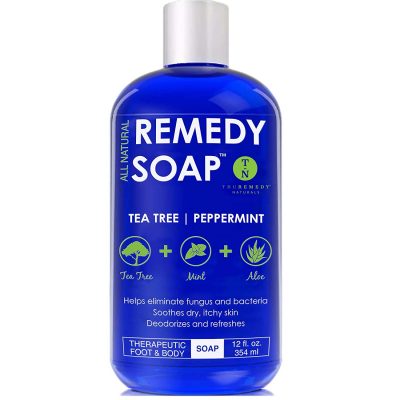 Why we like it:
Remedy Soap really is the remedy to all your body wash needs. It's formulated with hydrating coconut oil and invigorating tea tree oil to make a powerful cleansing blend.
Editor's Rating:
Remedy Soap is almost a cure-all solution to your cleaning needs. It is great for active people; the potent tea-tree and eucalyptus oils added provide strong deodorizing properties. These oils can also help to clear up and prevent acne from forming by killing bacteria on the surface of the skin.
The addition of aloe vera, coconut, and olive oil can help soothe itchy or cracked skin and leave your skin feeling soft after just the first use. This makes it perfect for someone with damaged skin looking to switch to a more soothing organic body wash.
Peppermint oil is one of the main ingredients in Remedy Soap, which may not make it the best choice for someone with either sensitive or very dry skin. Peppermint, while smelling great, can be highly irritating to the skin, further drying it out or causing a reaction in sensitive skin. For a product that still smells great and can help with dry skin, check out Avalon Organics.
Pros
Great for active people

Can help acne

Soothes itches
Cons
Not good for sensitive skin
---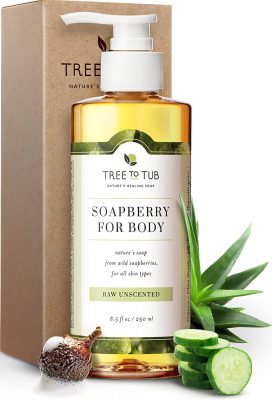 Why we like it:
This body wash is produced with wild soapberries, sustainably harvested from Taiwan. It is PH balanced and fragrance-free, making it a fantastic premium product for anyone looking to upgrade their shower experience.
Editor's Rating:
Soapberries are a small fruit found on shrubs and trees in the Sapindus genre. They contain saponins, which you can think of as mother nature's cleaning solution. It is a surfactant, meaning it breaks through the surface of water to clean dirt and grime off of your skin. It is hypoallergenic and it's the star ingredient in Tree to Tub's body wash. Your purchase even comes with a free soapberry gift so you can see the magic for yourself!
The soapberries in this wash are sustainably harvested, which gives it points in the eco-friendly arena. And because the soapberries themselves are PH balanced, this wash is too. Its PH is around 5.5, which is perfect for gentle cleaning without being too harsh or drying to the skin.
Tree to Tub is fragrance-free, making it a good choice for someone who wants a simple body wash without too many added essential oils or fragrances. But if you are a scent lover, check out our best scented product on the list, Plant Apothecary.
This body wash is truly a premium product, and because of that the price is on the higher end, which could be a deal-breaker for some, especially if you use a lot of body wash and have to keep repurchasing it.
Pros
PH balanced

Purchase comes with free soapberry gift

Fragrance-free
---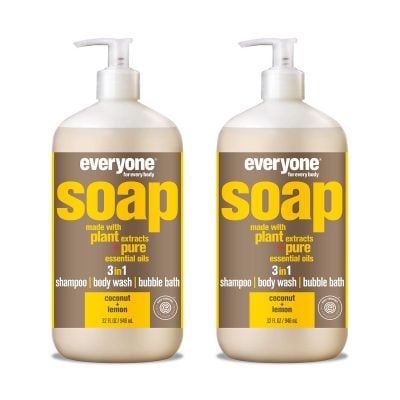 Why we like it:
Sold as a two-pack for a budget-friendly price, Everyone 3-in-1 Soap works well as a body wash, a shampoo, and even as a bubble bath, perfectly simplifying your daily routine.
Editor's Rating:
This product is EWG verified, meaning it is a completely chemical-free product and is produced using safe manufacturing practices. If you are worried about how your product is made, you can find comfort in this label.
You can purchase this in a package that contains two 32 fluid oz bottles, making it a great budget buy if you are purchasing for the whole family or want to stock up.
This body wash can easily be used as a shampoo or as a bubble bath due to its safe, body-friendly ingredients. It even has chamomile added for extra soothing properties, and vitamins E and B5 for gentle skin repair. This product is a good choice if you are looking for something that is gentle on the skin, yet multipurpose enough to be used for your other showering needs.
Everyone 3-in-1 Soap comes perfumed by essential oils in a coconut and lemon scent. You may find that it smells more like lemon than coconut, giving it a regrettable furniture polish-esque odor. If you still want to use Everyone 3-in-1 Soap but are worried about the addition of lemon fragrance, you may want to consider one of the other scent varieties.
Pros
EWG verified

Budget-friendly

Added vitamins E and B5
---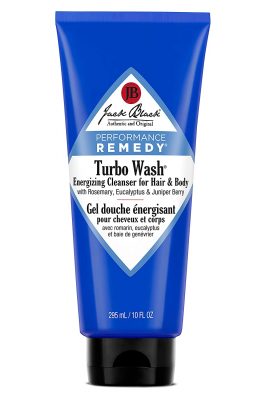 Why we like it:
A professional cosmetic line, Jack Black has created an energizing body wash for men that uniquely includes juniper berry and arnica for a rejuvenating cleansing experience.
Editor's Rating:
When you need a body wash that will relax and refresh sore muscles, Jack Black's Turbo Wash is just the thing. Juniper berry and arnica lend their pain-relieving properties as the main ingredients in this wash; it's a great choice to use before or after workouts to loosen up and soothe your muscles.
While it is a professional men's cosmetic line, Jack Black's body wash can be used by both men and women, and like Remedy Soap, it contains eucalyptus oil for deodorizing and killing bacteria.
The strong scent of this product also acts as a decongestant, great for opening your sinuses and waking you up in those early morning showers.
Unfortunately, the packaging on this body wash can break easily. If you're not careful, the cap will refuse to close properly and you could be stuck with a leaky bottle that will drip all over your bathtub or ruin your gym bag, making it hard to take this product with you. If you are looking for a product that is good for traveling with, take a look at Kimura Soap.
Pros
Juniper berry and arnica for muscle rejuvenation

Professional cosmetic line

Works as a decongestant
---
5.

Best Body Wash Bar:

Bali Soap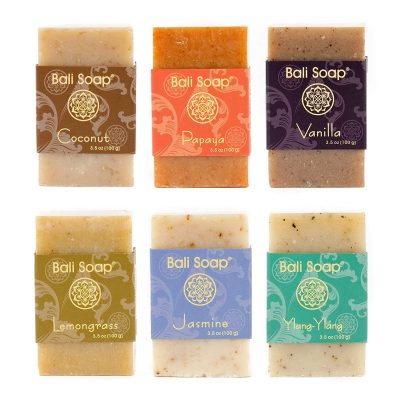 Why we like it:
A packaging-free alternative to regular body wash, the Bali Soap bar is a long-lasting way to clean that comes in a convenient variety pack of scents.
Editor's Rating:
Bali Soap is a great body wash option for those who want something more moisturizing than an everyday soap bar, but want to avoid the excess plastic packaging of a regular body wash. These bars are long-lasting, and each use gives you the rich lather you would usually get with a body wash.
These bars come in a variety pack of six different scents, great if you can't make up your mind about which scent to purchase or if you want to use this product as a gift for your organics loving friend.
Another added bonus of soap bars is that they exfoliate better than most of their liquid counterparts, making them useful for washing away dead, dry skin. Though if you want a liquid body wash that can help exfoliate your skin, look into Dr. Bronner's Sugar Soap.
The drawback to these bars is that they are made with palm oil. The harvesting of palm oil destroys orangutan habitats and is a leading cause in their extinction; it is also a major factor in contributing to climate change. For those who care strongly about the environment and want products that reflect those beliefs, this is not a good option. Instead, look at something more sustainably made like Tree to Tub.
Pros
Long-lasting bars

Comes in a variety pack

Exfoliates
---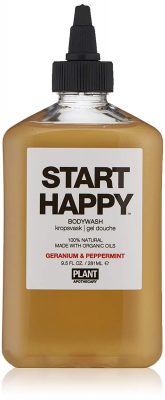 Why we like it:
If you love nothing more than a fantastic scent in your body wash, Plant Apothecary's Start Happy is here to save the day. It offers a subtle geranium-mint scent and a rich texture made for the finest pampering.
Editor's Rating:
If a great scent is something you look for in your products, Plant Apothecary is the body wash for you. It has a subtle geranium and mint scent that isn't too overpowering, and the added peppermint oil is diluted, so it has less chance of irritating your skin; it's even gentle enough to be used as a baby wash.
Only made with eight ingredients, this body wash is also biodegradable. Any part of it that washes down the drain will not harm the environment.
This wash is a simple solution that loses none of the richer texture of a more moisturizing body wash like Avalon Organics. It's just thick enough to feel lavish without becoming sticky.
However, because of the thicker texture, it can take a lot to get a good lather started, making it less economical than other products on the market. Another biodegradable product with a slightly better lather can be found in Love and Beauty's body wash.
Pros
Refreshing geranium and mint scent

Thick, rich texture

Biodegradable
Cons
Need to use a lot for a good lather
---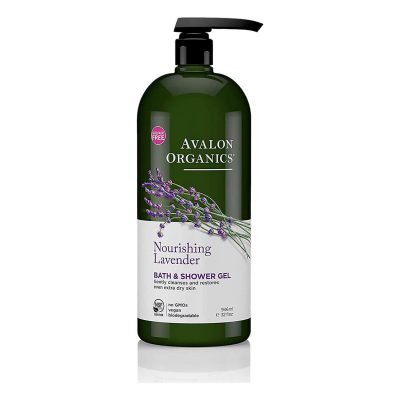 Why we like it:
Avalon Organics is made with calming lavender extract and contains certified organic ingredients, so you can use it daily with the knowledge that your dry skin is well taken care of.
Editor's Rating:
Like Everyone 3-in-1 body wash, Avalon Organics is EWG certified. It is also NSF certified, meaning it contains organic ingredients, and certain ingredients in the product are USDA certified (note that the entire product is not USDA certified, unlike Dr. Bronner's Sugar Soap).
Avalon Organics has a lightweight lather and rinses off your skin cleanly. This body wash is extra helpful if you have dry skin due to the addition of aloe and lavender oils. The lavender also gives it a calming scent, which is great for making your nighttime shower into an even more relaxing experience.
If you're trying to avoid preservatives in your body wash, you may want to avoid this product. It does have both sodium benzoate and benzyl alcohol included in its formula. These ingredients can be drying and cause a reaction on some people's skin, so if you want to play it safe, look at a preservative-free product like Kimura Soap instead.
Pros
Calming lavender scent

Perfect for dry skin

Lightweight lather
---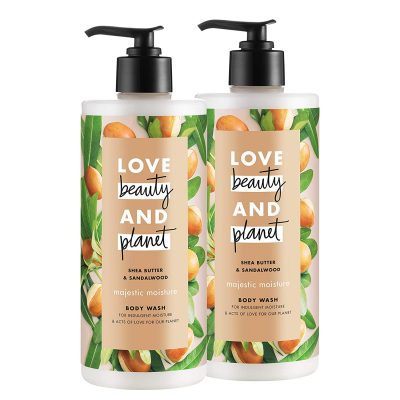 Why we like it:
This body wash comes with a convenient pump attached for easy shower use and the packaging is made with 100% recycled plastic. With its added organic coconut oil, it's fabulous vegan and cruelty-free choice.
Editor's Rating:
Love Beauty and Planet is moisturizing body wash that is a great choice if you're looking for something that is both vegan and cruelty-free. You can buy a two-pack of this wash for a relatively low price, and each one comes with an easy to use shower pump – a superb addition if you're looking for an easy way to lather up.
The bottle is also entirely made with recycled plastic, lessening the burden on the environment. And if being environmentally friendly is a major concern to you, be sure to check out Tree to Tub's sustainably-grown body wash and Plant Apothecary's biodegradable wash.
The texture of this wash is definitely thicker than other products out there, leaving it with an almost lotion-like consistency. This can be a bad choice for someone looking for a lighter feeling lather, like the one that comes with Avalon Organics.
The scent of Love Beauty is also fairly faint and not very long-lasting on the skin, so if you are looking for a strong scented wash this would not be the product to get. Jack Black's Turbo Wash might be a better choice in this case.
Pros
Vegan and cruelty-free

Easy to use shower pump

Made with recycled plastic
Cons
Texture feels like lotion

Scent doesn't last long
---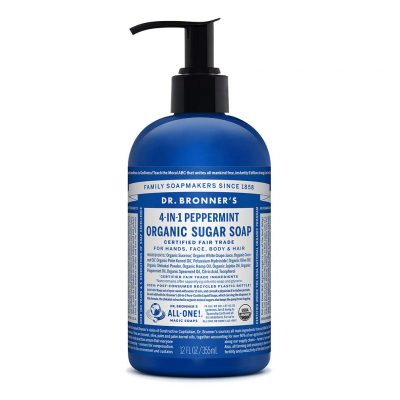 Why we like it:
Dr. Bronner's Organic Sugar Soap is multipurpose and is certified as organic. It's blended with rich coconut and hemp oils, and the exotic shikaki powder to create a creamy lathering body wash.
Editor's Rating:
The only certified USDA organic product on our list (read more about certifications in our guide below), Dr. Bronner's has long been known to produce a quality organic soap.
Similar to Everyone 3-in-1, this body wash has versatile uses. You can use it as a body wash, a hand soap, a shampoo, or a face cleanser. This makes it a great choice if you are looking for a versatile organic body care product.
The addition of shikaki powder makes this body wash especially conditioning for your hair. Skikaki powder has long been used to clean and condition hair without stripping it of its natural oils, leaving your locks wonderfully soft and shiny.
While Dr. Bronner's does have many versatile uses, it is not the best choice to use directly on your face, especially if you have sensitive skin. The added peppermint oils and sugars are not great for constant use in this area since they can potentially dry out your skin. Bali Soap is a better choice for a more gentle exfoliating body bar that shouldn't irritate your face
Pros
Certified USDA Organic

Versatile uses

Shikaki powder for conditioning properties
Cons
Not the best for use on your face
---
10.

Best for Body Wash Sensitive Skin:

Kimura Soap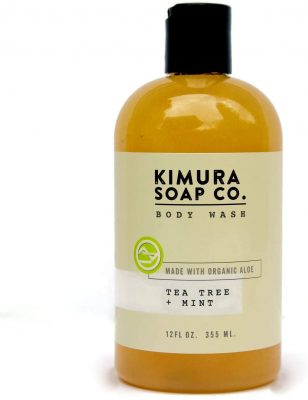 Why we like it:
Kimura Soap combines the best of both worlds, with its sensitive skin formula and added tea tree oil keeping your skin gently cleansed.
Editor's Rating:
If you liked the idea of having detoxifying tea tree extract in your body wash, but are worried that Remedy Soap would be too harsh on your skin, Kimura Soap may be your answer.
This wash is made especially for sensitive skin and lacks the addition of peppermint oil like some of its competitors. Instead, it has a light rosemary scent, and added aloe vera extracts to help soothe and moisturize even the most sensitive skin.
This body wash produces a very rich lather and comes in a convenient travel size, making it a good option for someone who wants to take their lavish bathing experience with them on the road.
Kimura Soap has more of a gel-like consistency than other body washes. Because of this, it can leave your skin feeling slightly sticky after you have washed off the lather. Some people might prefer to purchase a body wash with a cleaner feeling rinse, like Plant Apothecary.
Pros
Great for sensitive skin

Travel size

Lathers well
Cons
Can leave skin feeling sticky
---
Your Full Guide to Organic Body Wash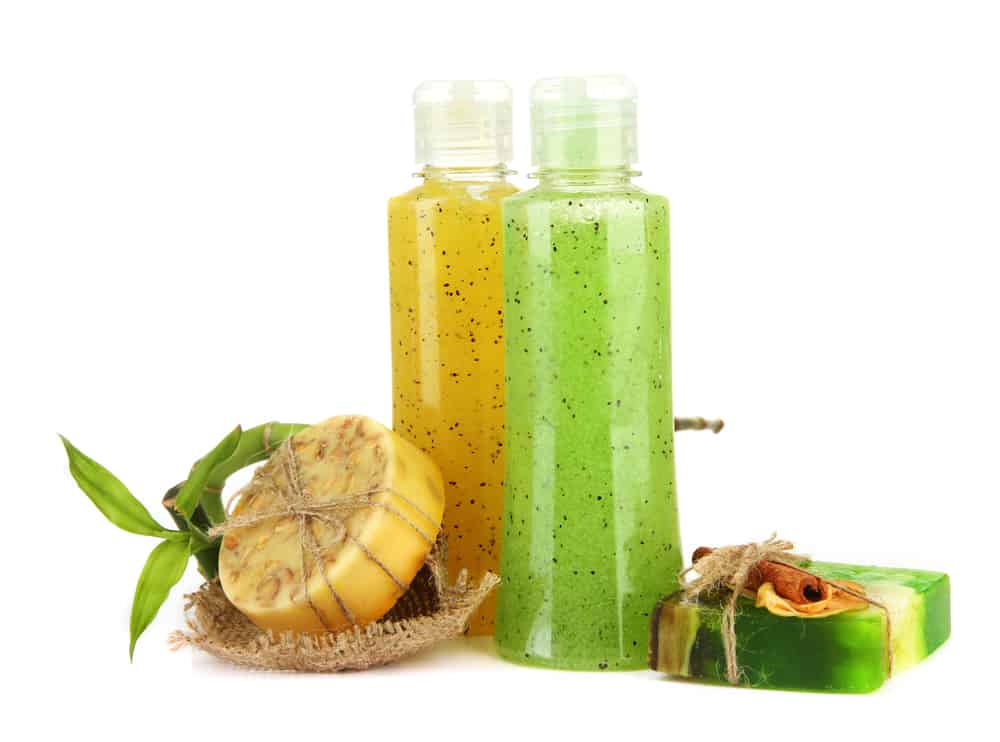 If you're interested in organic products and want to read more about why they're good for you, look no further than this guide. Here we discuss what certifications you can look out for on your organic body wash, and the benefits of switching to an organic product.

What Certifications Should I Look For?
It is very important to keep in mind that just because a product is certified organic does not mean it will be safe for your particular skin type. Be sure to check the ingredients of your desired body wash so you will know exactly what you are putting on your skin and if there are any ingredients in there that you would typically avoid.
Organic products are actually one of the least regulated product types in the United States. A manufacturer can label their product as "natural", which most people associate with the word organic (even though they mean different things). However, there are certain intricacies in the label "organic" you should look out for.
Sometimes certifications on your organic products can tell you more about than the ingredients list ever could.
USDA Organic
The USDA is the major government organization that oversees organic standards for agricultural ingredients. If a cosmetic product is made with any agricultural ingredients, it is eligible to be USDA certified organic – but there are different levels of certification.
A certified 100% organic product, like Dr. Bronner's, must have only organically produced ingredients in it, except for water and salt.
A product that claims to be "organic" must have at least 95% organic ingredients and may also be certified as such. If a product is "made with organic ingredients", it must be made with at least 70% organic ingredients. Products like these cannot claim to be totally organic, but they can say that they are "made with organic ingredients", and list the ingredients that are certified.
Any product that has less than 70% organic ingredients cannot be certified organic by the USDA. Certain ingredients may be organic, and the product is allowed to list that, but the manufacturer is not allowed to claim the entire product is certified organic.
Also note when reading these labels, the neither the FDA or the USDA have any authority over the specific agricultural methods other non-organic ingredients in the product are produced with. And these practices can be even harder to regulate when the product is imported and/or produced with ingredients farmed outside of the United States.
NSF
The NSF only certifies products in the personal care and cosmetics area. This means that products with this certification have an organic content of at least 70%, but ingredients have been developed using typical chemical processes. On our list, the Avalon Organics body wash is NSF certified.
EWG
EWG is a chemical-free certification that you can find on many organic products; organic ingredients are produced without use of pesticides and harsh chemicals, making many of them also eligible for this certification. EWG can be used on everything from beauty products and cosmetics to household cleaning products.
Products on our list that are EWG certified include the budget-friendly Everyone 3-in-1 Soap and the nourishing Avalon Organics body wash.
Leaping Bunny
Leaping Bunny is a cruelty-free certification. Products that have this labeling are committed to not testing on animals, not buying ingredients that have been tested on animals, and will submit their cruelty-free qualifications on a yearly basis in order to stay up to date.
For a leaping bunny certified product on our list, check out Everyone 3-in-1 Soap.

Benefits of Going Organic
While it may not seem like a big deal, buying an organic product can lead to a number of benefits on both a small and large scale.
Environment and Sustainability
Because of the lack of chemicals involved when growing and harvesting organic ingredients, organic products are a lot more environmentally friendly and sustainable. Buying all organic products can go a long way towards supporting sustainable farming practices that help to fight climate change in the long run.
Skin
Organic products are typically a lot more skin-friendly than regular body washes. This can be seen in their chosen ingredients of coconut oils and aloe. Organic Body Washes can safely be used on hair, body, and face, which just goes to show how body-friendly these products are.
Health
Recent studies have shown that organic ingredients do have increased nutrients when compared to regularly farmed ones. These means that when you use an organic body wash, the ingredients that touch your skin are going to be more nutritious and give more benefits than a traditional body wash. And the lack of chemicals used to grow each ingredient means that all your body absorbs from the body wash is going to heathy, natural ingredients – no pesticides or chemicals. Organic body washes are a great way to maximize your daily health.
Can Body Wash Replace Soap?
Yes, it can! Body wash is a perfectly acceptable replacement for a bar of soap, and in some cases, body wash might actually be preferred.
If you purchase a body wash with quality, body-safe ingredients in it, it is much more beneficial to your skin than a bar of soap. Traditional soap bars can be very drying on the skin; they are not usually tailored to be particularly moisturizing and usually possess harsh lye in order to form them into a bar shape. On the other hand, a body wash can clean your skin and moisturize it all at the same time.
They can also become messy when they melt in the shower, leading some to prefer the compact, mess-free appearance of a body wash. If this has convinced you that you definitely need a body wash now, revisit our list to narrow down your choices.
Homemade Body Wash
If you want to simplify your beauty routine, making your own body wash might be a good idea. You can select all organic ingredients and personalize it to your specific tastes. You can even make it so the wash is safe for use all over your body and face.
We've put together a basic body wash recipe for you to follow and find out if making your own body wash is the thing for you.
Items You Will Need
Liquid castile soap
Raw honey
Vitamin E oil
Your favorite essential oils.
Steps
Measure out all of the ingredients according to how much body wash you want to make. The base recipe is 2/3 a cup of castile soap and 1/4 cup of honey, with one to two teaspoons of each of the other ingredients.
Combine all ingredients into a bottle, preferably one with a squirt top or pump, and shake it gently.
Once well-combined, it's ready for use. Add to a washcloth or your hands in the shower like you would a store-bought body wash and lather up!
You can read the whole recipe and see a list of suggested essential oil blends here.

Ingredients to Look Out For
The ingredients of a body wash play a very important part in the maintenance of your skin. After all, the skin is your body's largest organ and its first line of defense against harmful bacteria. You want to make sure that your body wash is perfectly suited to take care of your skin's individual needs.
Below, we've listed some of the ingredients you should look out for in your body wash that can help you take care of common skin issues.
For Dry Skin
Top moisturizing ingredients such as shea butter and coconut oils will benefit your dry skin the most. A body wash such as Love Beauty and Planet's will help heal your dry skin.
Aloe (one of the first ingredients in the Avalon Organics body wash) is also great to have in a body wash. It soothes the skin, taking that dry, itchy feeling away and leaving it feeling soft to the touch.
For Sensitive Skin
Lavender and chamomile work well with sensitive skin. They are both very gentle and non-irritating, making them a great option if your skin is prone to react to other harsher essential oils. If you're looking for a body wash with chamomile, go back for another look at Everyone 3-in-1.
For Oily Skin
Ingredients like tea tree oil (found as the main ingredient in Remedy Soap) and Ylang Ylang (found in one of the varieties of Bali Soap) can be great for oily skin. They both help to clear up acne and other blemishes, which tend to appear often with oily skin.
You can also look out for citrus essential oils in your body wash to help decrease oil on the surface of your skin and wake you up with their uplifting scent.
For Average Skin
If your skin can handle pretty much anything, selecting ingredients such as peppermint oil and arnica in your body wash can be great for you. These ingredients are typically harsher on the skin, but if you don't have any prior skin concerns, you can safely use them and reap all the benefits of a cooling refreshment.
Keep in mind that you should definitely keep note of how your skin feels after using body washes with these oils in them to avoid causing skin issues down the line.
Ingredients to Avoid
Like we discussed above in our section on the benefits of going organic, certain chemical ingredients in body washes can cause health and skin issues that you may want to avoid risking.
Sometimes, even organic body washes can have these harmful ingredients in them.
Consider avoiding any kind of chemical or synthetic fragrances and colorings, and any kind of preservatives in your organic products. You should also think about avoiding any alcohols, as they may be drying, as well as artificial colorings.
Find the Organic Body Wash You Deserve
Investing in an organic body wash can seem like a daunting task when there are so many options out there. But once you switch, you'll be so glad you did. The difference in your skin will be felt as soon as your first wash is over. Plus, you'll have a clean conscious about the environmental impacts and sourcing of your product that matches your delightfully clean body.
We hope this list has helped you on your journey of finding the perfect organic body wash to upgrade your bathing routine from mundane to top of the line. Now, go lather up!