Top Picks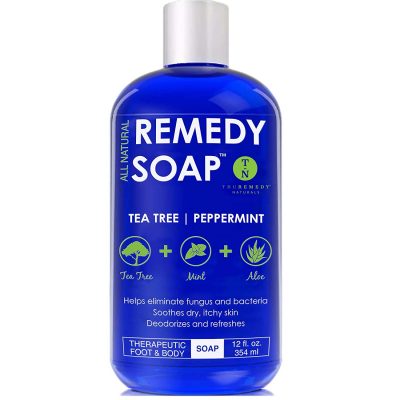 Remedy Soap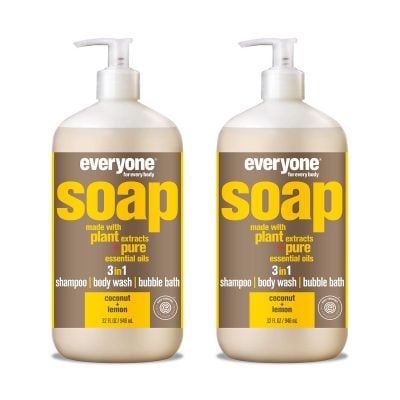 Everyone 3-in-1 Soap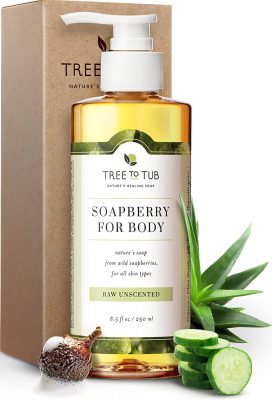 Tree to Tub
Previous
Next
There's no better feeling than the rich lather of your favorite body wash – it's often the best part of any shower or bath routine. But your regular body wash is often full of some nasty chemicals and some harsh ingredients, and could be doing your skin more harm than good.
Fortunately, it's easy to switch out your old body wash for something equally as luxurious: an organic body wash. Organic body washes are full of carefully picked moisturizing ingredients and beneficial essential oils. They work with your skin to clean and soften it instead of stripping it of its natural oils and leaving it drier than what you started with.
If all that sounds great to you, but you're not sure where to start looking for a new body wash, keep reading! We've researched and collected a list of the ten best organic body washes out there so you can easily decide on a product that will enhance your bathing routine.
Why Use Organic Body Wash?
Organic body washes have a number of benefits (you can read more about this in our guide below) that you won't get if you only use regular body washes.
For the environmentally conscious, organic body washes are a great choice. They aren't made using typical farming methods that involve pesticides and GMOS, and are typically more sustainable products as a result.
Organic products are also healthier for your skin since the main ingredients are carefully chosen and added to the body wash for their specific properties. It's not just a chemical connection full of preservatives and synthetics intended to simulate the properties of more natural ingredients.
Is Natural the Same as Organic?
Though these terms are often used interchangeably, they are actually not the same thing.
An organic product is one that is made up of components exclusively grown without pesticides, fertilizers, or chemicals. There are specific standards a product has to meet in order to be called organic or to be certified as an organic product.
"Natural" refers to products that are produced using a significant portion of nature-based ingredients, but they might still be produced using chemicals. Pretty much any product can be referred to as "natural" because there are no regulations on this word like there are on the word "organic".
If you want more information about the types of organic certifications, check out our section about it in our full guide.
Things to Keep in Mind
Ingredients are one of the most important things to keep in mind when purchasing a body wash. Different products will have different ingredient blends that provide a variety of benefits to your skin.
For instance, if you have dry skin, you might be interested in a more nourishing aloe body wash such as Avalon Organics. If your skin is super sensitive, a product like Kimura Soap full of olive and jojoba oils might suit you better.
Later on, we will be looking at the ingredients in these products even closer in our guide and discussing what works best for each skin type.
Other things to think about when looking for a body wash include the scent of the product and if it has any other uses besides just being a body wash (like our best budget pick, Everyone 3-in-1 Soap, that can also be used as a shampoo).
Now that we've discussed some of the basics, let's head straight into our list of best organic body washes on the market today!
Your Full Guide to Organic Body Wash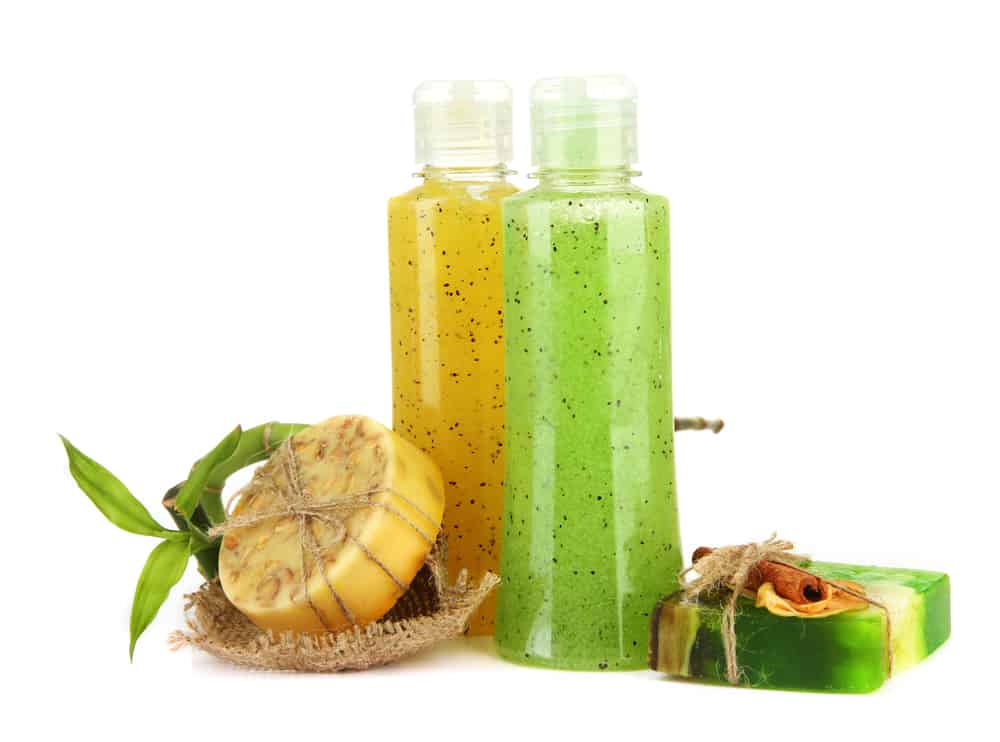 If you're interested in organic products and want to read more about why they're good for you, look no further than this guide. Here we discuss what certifications you can look out for on your organic body wash, and the benefits of switching to an organic product.

What Certifications Should I Look For?
It is very important to keep in mind that just because a product is certified organic does not mean it will be safe for your particular skin type. Be sure to check the ingredients of your desired body wash so you will know exactly what you are putting on your skin and if there are any ingredients in there that you would typically avoid.
Organic products are actually one of the least regulated product types in the United States. A manufacturer can label their product as "natural", which most people associate with the word organic (even though they mean different things). However, there are certain intricacies in the label "organic" you should look out for.
Sometimes certifications on your organic products can tell you more about than the ingredients list ever could.
USDA Organic
The USDA is the major government organization that oversees organic standards for agricultural ingredients. If a cosmetic product is made with any agricultural ingredients, it is eligible to be USDA certified organic – but there are different levels of certification.
A certified 100% organic product, like Dr. Bronner's, must have only organically produced ingredients in it, except for water and salt.
A product that claims to be "organic" must have at least 95% organic ingredients and may also be certified as such. If a product is "made with organic ingredients", it must be made with at least 70% organic ingredients. Products like these cannot claim to be totally organic, but they can say that they are "made with organic ingredients", and list the ingredients that are certified.
Any product that has less than 70% organic ingredients cannot be certified organic by the USDA. Certain ingredients may be organic, and the product is allowed to list that, but the manufacturer is not allowed to claim the entire product is certified organic.
Also note when reading these labels, the neither the FDA or the USDA have any authority over the specific agricultural methods other non-organic ingredients in the product are produced with. And these practices can be even harder to regulate when the product is imported and/or produced with ingredients farmed outside of the United States.
NSF
The NSF only certifies products in the personal care and cosmetics area. This means that products with this certification have an organic content of at least 70%, but ingredients have been developed using typical chemical processes. On our list, the Avalon Organics body wash is NSF certified.
EWG
EWG is a chemical-free certification that you can find on many organic products; organic ingredients are produced without use of pesticides and harsh chemicals, making many of them also eligible for this certification. EWG can be used on everything from beauty products and cosmetics to household cleaning products.
Products on our list that are EWG certified include the budget-friendly Everyone 3-in-1 Soap and the nourishing Avalon Organics body wash.
Leaping Bunny
Leaping Bunny is a cruelty-free certification. Products that have this labeling are committed to not testing on animals, not buying ingredients that have been tested on animals, and will submit their cruelty-free qualifications on a yearly basis in order to stay up to date.
For a leaping bunny certified product on our list, check out Everyone 3-in-1 Soap.

Benefits of Going Organic
While it may not seem like a big deal, buying an organic product can lead to a number of benefits on both a small and large scale.
Environment and Sustainability
Because of the lack of chemicals involved when growing and harvesting organic ingredients, organic products are a lot more environmentally friendly and sustainable. Buying all organic products can go a long way towards supporting sustainable farming practices that help to fight climate change in the long run.
Skin
Organic products are typically a lot more skin-friendly than regular body washes. This can be seen in their chosen ingredients of coconut oils and aloe. Organic Body Washes can safely be used on hair, body, and face, which just goes to show how body-friendly these products are.
Health
Recent studies have shown that organic ingredients do have increased nutrients when compared to regularly farmed ones. These means that when you use an organic body wash, the ingredients that touch your skin are going to be more nutritious and give more benefits than a traditional body wash. And the lack of chemicals used to grow each ingredient means that all your body absorbs from the body wash is going to heathy, natural ingredients – no pesticides or chemicals. Organic body washes are a great way to maximize your daily health.
Can Body Wash Replace Soap?
Yes, it can! Body wash is a perfectly acceptable replacement for a bar of soap, and in some cases, body wash might actually be preferred.
If you purchase a body wash with quality, body-safe ingredients in it, it is much more beneficial to your skin than a bar of soap. Traditional soap bars can be very drying on the skin; they are not usually tailored to be particularly moisturizing and usually possess harsh lye in order to form them into a bar shape. On the other hand, a body wash can clean your skin and moisturize it all at the same time.
They can also become messy when they melt in the shower, leading some to prefer the compact, mess-free appearance of a body wash. If this has convinced you that you definitely need a body wash now, revisit our list to narrow down your choices.
Homemade Body Wash
If you want to simplify your beauty routine, making your own body wash might be a good idea. You can select all organic ingredients and personalize it to your specific tastes. You can even make it so the wash is safe for use all over your body and face.
We've put together a basic body wash recipe for you to follow and find out if making your own body wash is the thing for you.
Items You Will Need
Liquid castile soap
Raw honey
Vitamin E oil
Your favorite essential oils.
Steps
Measure out all of the ingredients according to how much body wash you want to make. The base recipe is 2/3 a cup of castile soap and 1/4 cup of honey, with one to two teaspoons of each of the other ingredients.
Combine all ingredients into a bottle, preferably one with a squirt top or pump, and shake it gently.
Once well-combined, it's ready for use. Add to a washcloth or your hands in the shower like you would a store-bought body wash and lather up!
You can read the whole recipe and see a list of suggested essential oil blends here.

Ingredients to Look Out For
The ingredients of a body wash play a very important part in the maintenance of your skin. After all, the skin is your body's largest organ and its first line of defense against harmful bacteria. You want to make sure that your body wash is perfectly suited to take care of your skin's individual needs.
Below, we've listed some of the ingredients you should look out for in your body wash that can help you take care of common skin issues.
For Dry Skin
Top moisturizing ingredients such as shea butter and coconut oils will benefit your dry skin the most. A body wash such as Love Beauty and Planet's will help heal your dry skin.
Aloe (one of the first ingredients in the Avalon Organics body wash) is also great to have in a body wash. It soothes the skin, taking that dry, itchy feeling away and leaving it feeling soft to the touch.
For Sensitive Skin
Lavender and chamomile work well with sensitive skin. They are both very gentle and non-irritating, making them a great option if your skin is prone to react to other harsher essential oils. If you're looking for a body wash with chamomile, go back for another look at Everyone 3-in-1.
For Oily Skin
Ingredients like tea tree oil (found as the main ingredient in Remedy Soap) and Ylang Ylang (found in one of the varieties of Bali Soap) can be great for oily skin. They both help to clear up acne and other blemishes, which tend to appear often with oily skin.
You can also look out for citrus essential oils in your body wash to help decrease oil on the surface of your skin and wake you up with their uplifting scent.
For Average Skin
If your skin can handle pretty much anything, selecting ingredients such as peppermint oil and arnica in your body wash can be great for you. These ingredients are typically harsher on the skin, but if you don't have any prior skin concerns, you can safely use them and reap all the benefits of a cooling refreshment.
Keep in mind that you should definitely keep note of how your skin feels after using body washes with these oils in them to avoid causing skin issues down the line.
Ingredients to Avoid
Like we discussed above in our section on the benefits of going organic, certain chemical ingredients in body washes can cause health and skin issues that you may want to avoid risking.
Sometimes, even organic body washes can have these harmful ingredients in them.
Consider avoiding any kind of chemical or synthetic fragrances and colorings, and any kind of preservatives in your organic products. You should also think about avoiding any alcohols, as they may be drying, as well as artificial colorings.
Find the Organic Body Wash You Deserve
Investing in an organic body wash can seem like a daunting task when there are so many options out there. But once you switch, you'll be so glad you did. The difference in your skin will be felt as soon as your first wash is over. Plus, you'll have a clean conscious about the environmental impacts and sourcing of your product that matches your delightfully clean body.
We hope this list has helped you on your journey of finding the perfect organic body wash to upgrade your bathing routine from mundane to top of the line. Now, go lather up!