A makeup organizer is the makeup enthusiast's answer to almost everything. They can declutter your counters, display your favorite products, and speed up your application process on those rushed weekday mornings.
Besides the internal peace that comes with decluttering, organizing your makeup can save you time searching for products, clear up space on your counters, and protect your makeup. If you're not convinced, you can read more about this in our section on the benefits of organizing your makeup.
With the huge selection of organizers out on the market today, it can be hard to know what to look for when purchasing. Luckily, we're here to help. We've analyzed the best makeup organizers on the market and gathered them in a list to help make your decision easier. Read on to find the perfect makeup organizer for you.
What to Look for in a Makeup Organizer
Makeup organizers come in a variety of shapes and sizes. It's important to pick one that has enough room for all your makeup and still fits into its surroundings. Below, we break down the most important factors in selecting a makeup organizer.
Size
Size is the number one thing you should look at when deciding on a makeup organizer. Of course, you want to select something that has enough room to store all of your makeup, but you also want to make sure that the makeup organizer will fit wherever you choose to keep it.
For instance, a larger storage unit like the Readaeer Makeup Organizer would be better suited to being kept in a bedroom, while a smaller organizer such as the Stori Makeup Organizer can fit on virtually any counter space.
Type
The type of organizer is another significant factor in selecting a makeup organizer. Organizers like the Jerrybox Organizer can spin on your countertop to allow easy access to their contents, others like the Relavel Travel Makeup Case function as travel cases, and those like the HBLife are beautiful countertop displays.
The type of organizer you pick depends on how you will be using it. If you will be traveling a lot with your makeup you'll probably want something small and portable, but those with a large collection might prefer a large standing unit.
Price
Price can be a major determining factor for many who are looking to buy a quality makeup organizer. While there are many premium options out there, you can also find a quality makeup organizer on a budget.
Now that you know what to look for in a makeup organizer, let's dive right into our list!
Top 10 Best Makeup Organizers 2023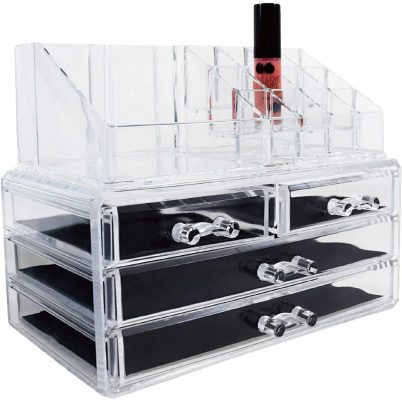 Why we like it:
The Ikee Design organizer is a great product for people new to makeup organizing. It has a basic, customizable stacking design created with strong plastic and easy-sliding drawers.
Editor's Rating:
At a Glance:
Size: Small
Type: Counter display
Price: Budget-friendly
The Ikee Design Cosmetic Storage is perfect for those who don't have tons of makeup, but still need to organize. It stands about seven inches tall and is eight inches wide, making it perfect for a small out of the way storage unit.
It is customizable, so the top section can be removed and placed elsewhere for added flexibility. The drawers are easy to open and come lined with a removable mesh padding for extra protection.
This organizer is not the best choice for someone who is looking to store larger cosmetic items as the drawers are fairly shallow and not quite wide enough to store eyeshadow palettes or creams and lotions. For something that still fits on the counter and has deeper drawers, try looking into HBlife's Makeup Organizer.
Pros
Small

Easy-open drawers

Customizable
Cons
Not good for larger cosmetic items
---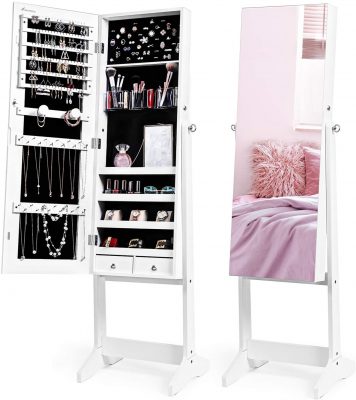 Why we like it:
A premium pick suitable for any makeup fanatic, the Nicetree Lockable Armoire provides a perfect answer to both your jewelry and makeup storage needs.
Editor's Rating:
At a Glance:
Size: Large
Type: Standalone
Price: Expensive
This armoire stands alone and has a full-length mirror on the front, which is adjustable to three different angles. The inside provides a variety of shelves, drawers, and hooks for storage. It is lockable, which is a good bonus for someone looking for extra security on their organizer.
Additionally, when storing items inside of this armoire, you are providing your makeup with the perfect storage environment. A cool, dark place is ideal for making your cosmetics last longer.
The Nicetree Armoire is very large and requires its own space. It is perfect for putting in a bedroom or a large bathroom, but not a good choice if you are limited on room space. It can also be unstable when used on carpet and would need to be opened slowly to prevent tipping.
This organizer is not the best solution for someone looking for an inexpensive, easy-to-access makeup organizer. If ease-of-access is important to you, try checking out Jerrybox's Makeup Organizer or the STORi Makeup Organizer instead.
Pros
Lockable

Jewelry and makeup storage

Full-length mirror attached
Cons
Requires its own space

Can be unstable on carpet
---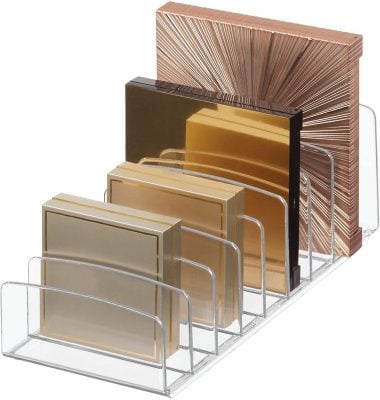 Why we like it:
The iDesign is a small countertop palette organizer that is sure to fit most lifestyles and budgets, earning it a top place on our list.
Editor's Rating:
At a Glance:
Size: Small
Type: Counter display
Price: Very budget-friendly
For anyone with a lot of makeup palettes, this is the perfect organizer. It is compact, fitting nicely on any counter, and will allow you to store your palettes upright for easy access. The plastic is even sturdy enough to hold a few other small cosmetic items, such as mascaras and eyeliners.
The clear design is a good pick if you are someone who wants to proudly display all those expensive beauty products. This organizer is a good option for someone who wants to complement another small counter organizer, such as the Stori Clear Makeup Organizer.
Because this organizer is so lightweight, it can easily be knocked over or moved out of place; buy this only if you are sure you have an area safe and relatively out of the way that you can keep it in. The STORi is also not a good option for someone who has a lot of thicker eyeshadow palettes or larger beauty items such as lotions to store, as the space between the holders is rather thin.
Pros
Budget-friendly

Perfect for storing small palettes

Great for complementing other organizers
Cons
Easily knocked over

Not good for thicker palettes or large items
---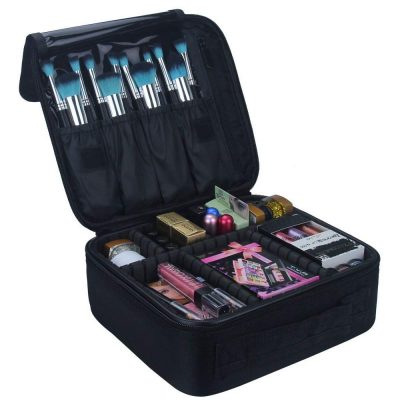 Why we like it:
Crafted with a durable fabric and removable compartments, the Relavel Travel Makeup Case lets you store all of your brushes and makeup products in one sturdy, portable case.
Editor's Rating:
At a Glance
Size: Medium
Type: Travel case
Price: Mid-range
This travel case is perfect for someone who is looking for a portable makeup organizer. It is made with a durable Oxford fabric exterior that is both shockproof and waterproof.
The compartments inside of the case are moveable, so you can organize your products in whichever order you wish. And if you are someone with a lot of brushes, the Relavel offers a separate brush storage section at the top of the case.
Unlike the BAGSMART Travel Bag, this organizer does not easily double as a display for your items. The sturdy travel design tends to make the shape of it bulkier than other organizers; it does not fit well onto a countertop. As another downside, the fabric does have a lingering chemical smell which can be very off-putting to some.
Pros
Durable fabric build

Customizable compartments

Portable
Cons
Chemical smell on the fabric

Too bulky to put on a counter
---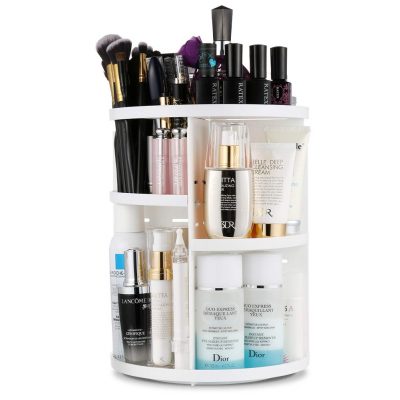 Why we like it:
This organizer features adjustable shelves and a rotating design, making it easy to personalize. It's a compact way to organize both large and small cosmetic items.
Editor's Rating:
At a Glance:
Size: Medium
Type: Spinning, counter display
Price: Mid-range
The Jerrybox Makeup Organizer can hold a surprisingly large number of items despite its small size. If you are limited on counter space and looking for a product with a punch, this is the one for you. Its medium size allows it to fit safely on most regular countertops while still being big enough to hold many beauty products.
The shelves in this organizer are adjustable, so you can tailor the organizer to your exact storage needs. It also comes with the guarantee of lifetime customer support should your product break or you have questions about it.
Unfortunately, the bottom shelf of this organizer can crack easily. This can be a deal-breaker for those who have larger cosmetics or heavier items that they wish to store. If you are interested in a spinning organizer but want to avoid the risk of plastic breaking, try Sorbus's 360 Bamboo Organizer instead.
Pros
Spinning design

Adjustable shelves

Lifetime customer support
Cons
Bottom shelf cracks easily
---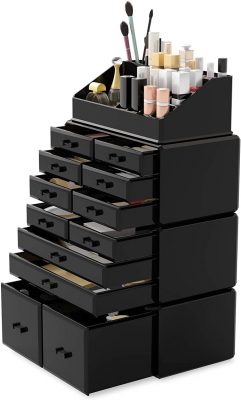 Why we like it:
If you're looking for a standalone product, but the
Nicetree Armoire
didn't catch your eye, look no further than this organizer. Its oversized shelves make it a good choice for anyone with a large makeup collection.
Editor's Rating:
At a Glance:
Size: Large
Type: Standalone, counter display
Price: Mid-range
The large storage capacity in this case is calling the names of all professional makeup artists and makeup enthusiasts. Standing at almost a foot and a half tall, the Readaeer Makeup Organizer can stand alone next to a counter or vanity area.
The large drawers are perfect for creams and lotions, and there is a designated area on top for organizing your lipsticks and brushes, making it easy to safely store your makeup. The shelves on this organizer are interlocking for added stability and can all be broken down into separate pieces if you want to spread this organizer out on a countertop for display instead.
While other organizers on the market have a thicker plastic build, the Readaeer is made with plastic that can be a little flimsy, causing the organizer to fall over when knocked into. If you are planning on putting your organizer in a high traffic area where it can be bumped into often or need something that can be moved around easily, this organizer would not be the best choice.
Pros
Removable and interlocking shelves

Large storage capacity

Good for professionals
---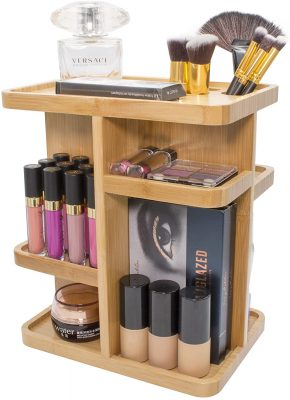 Why we like it:
The Sorbus is built with a quality bamboo wood that is tough enough to hold whatever products you stack on it. It is a great option for those interested in a smooth spinning organizer with added durability.
Editor's Rating:
At a Glance:
Size: Medium
Type: Spinning, counter display
Price: Expensive
If you fell in love with Jerrybox's spinning design, but want to stay away from plastic, the Sorbus 360 is for you. It's constructed with quality bamboo wood, making it a sturdy organizer and easy to wipe clean.
Its medium size fits nicely on most countertops and the natural design fits most decors. It has also been expertly balanced to rotate smoothly and prevent your items from falling off, perfect for a counter display of all of your products.
However, the Sorbus does not have adjustable shelves, which makes it not the best choice if you are looking to customize your organizer to your specific products. The paint finish also tends to chip easily with regular use, somewhat ruining the natural bamboo look of the organizer over time. This can be a drawback for some who value a consistently flawless look in the appearance of their organizer.
Pros
Long-lasting bamboo build

Natural design fits most decors

Smooth rotation
Cons
Paint finish chips easily

No adjustable shelves
---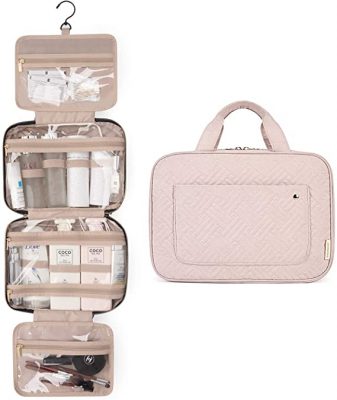 Why we like it:
This organizer can either be hung on a door or zipped up and taken on vacation. The two-way zippers on the BAGSMART make it a good option for someone looking for a versatile organizer.
Editor's Rating:
At a Glance:
Size: Medium
Type: Over-the-door, travel
Price: Mid-range
The BAGSMART Travel Bag is the way to go if you're someone looking for versatility in a makeup organizer. This bag can be folded up and taken to go, or simply hung off a door hook or shower rod for display.
The compartments of the organizer each have a zipper on both ends, so you can reach in and remove your products from any angle – a convenient feature when you're taking your makeup on the road. There are also elastic straps in each compartment that hold your products in place while the bag is hanging.
You should note that this organizer is not true to the color shown in the pictures. Keep in mind when ordering it that the color you get will tend to be darker and slightly less vibrant that what is advertised, which is definitely a drawback if you are searching for a specific color of organizer. And while the inside is waterproof, the soft fabric coating on the outside of the bag easily absorbs water and dirt, making it harder to clean.
Pros
Doubles as a travel bag

Two-way zipper for easy access

Straps to hold items in place
Cons
Not true to color

Soft outside fabric absorbs water and dirt
---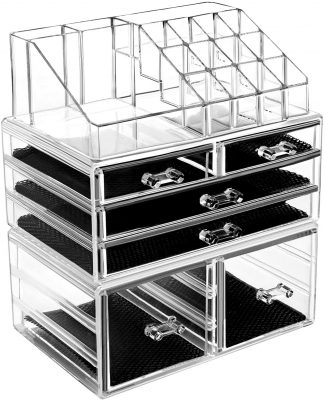 Why we like it:
The HBlife Makeup Organizer is a counter display organizer containing a designated brush holder and deeper drawers than its
competitors
Editor's Rating:
At a Glance:
Size: Medium
Type: Counter display
Price: Mid-range
The HBlife is the answer if you are looking for a simple counter display organizer with drawers for storage. A smaller organizing solution than the Readaeer, the HBlife easily fits onto a countertop while still having varied drawers for your supplies.
The drawers are deeper than other counter display options and the designated brush area on top provides the perfect area for holding your brushes. Additionally, this organizer comes with washable drawer liners that protect the drawer from messes and provide gentle padding for your makeup to rest on.
While the HBlife does offer more varied drawers than other similar products, they can be a little hard to open and sound very squeaky. This can get annoying if you are constantly opening the drawers to retrieve makeup. For a product that is guaranteed silent, try one of the other organizers like the spinning Jerrybox or the affordable iDesign; no drawers on these products means no potential noise when opening.
Pros
Deep drawers

Sturdy brush holder

Washable drawer liners
Cons
Squeaky sound when opening drawers
---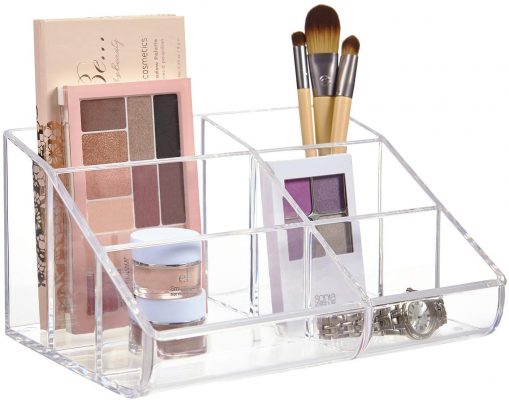 Why we like it:
This organizer has sloped sides to keep larger items upright and a lower front allowing easy access to smaller items. It's a simple but valuable way to organize your makeup products.
Editor's Rating:
At a Glance:
Size: Small
Type: Counter display
Price: Budget-friendly
For a simple, easy way to organize makeup, look no further than the STORi Clear Makeup Organizer. It has a small compact design that is perfect if you want to organize your items and keep them out of the way. It works well to complement other small makeup organizers, such as the budget-priced iDesign or the excellent IKee.
The clear plastic is easy to clean, and sloped sides help to hold larger items up at the back of the organizer while making smaller items easy to access from the front.
If you have a larger makeup collection, this product is likely not the best choice for you. It doesn't hold a ton of supplies and you would likely have to purchase multiple to hold all of your products. It would be easier to invest in a larger organizer like the roomy Readaeer or the super-premium Nicetree Armoire if you have a sizeable makeup collection.
Pros
Compact design

Sloped sides to hold items upright

Easy to clean
Cons
Not good for large makeup collections
---
Guide to Buying a Makeup Organizer
It can be hard to commit to organizing your makeup when there are so many products available today and so many different suggestions on how to store your makeup. The whole process can be very overwhelming and result in you leaving that packed makeup drawer untouched.
Read on for a few tips and tricks that will teach you the best way to organize your makeup, the benefits of an organized collection, and ideas on how to make your own organizer.

The Benefits of Organizing Your Makeup
Organizing your makeup can provide you with both immediate and long-term benefits.
As soon as you are done organizing, you will of course be able to see the difference in the space available in your bathroom counter or drawer. Being organized reduces stress, and you will be able to feel this change as you go through your morning makeup routine without having to scramble and search for specific products.
Having all your makeup organized can also save you money in the long-run. If you can see all the products you have or quickly take inventory of them, there will be no risk of double purchasing items you thought you lost or didn't have. Proper storage also protects makeup, especially brushes, and ensures they last as long as possible.
Choosing an Organization Product for Your Lifestyle
While our list goes into detail about each of the best organizers and their benefits, you may still be wondering how to choose the best product for your lifestyle.
The first thing to do is to look into how much you travel. If you're someone who is always on-the-go, a portable case like the Relavel Travel Makeup Case would suit you better.
On the other hand, if you're home most of the time and prefer something standalone, look into the Nicetree Armoire.
If a counter display organizer is what you are after, make sure to measure your counter and compare it to the product measurements before selecting one. This is to ensure that you will have enough space for the organizer to safely stay on your counter without risk of falling off.
A small product like iDesign Clarity Organizer is perfect for most counter tops and probably doesn't need measuring, but if you are interested in a product like the larger HBlife Makeup Organizer, you should definitely take the extra steps to measure and ensure a good fit.
What's the Best Way to Store Makeup?
Like many other beauty products, makeup is best stored in a cool, dark place. This is to stop heat and harsh light from breaking down the products and causing them to expire faster.
Below are a few more things to consider when deciding where to store your makeup items.
Bedroom vs Bathroom
The humid environment of a bathroom is generally considered bad news for your makeup products. However, if you are storing your products in an enclosed counter display organizer like the IKee Design you can protect your makeup from this humidity.
You can also consider storing your organized items in a cabinet or drawer if you have the space. This would add the "dark" part to "cool, dark environment." A makeup case such as the Relavel Travel Makeup Organizer would be a good choice if you don't have much cabinet space but still want to seal your products off from light and humidity.
If possible, it is a much better idea to store your makeup products in the bedroom. This ensures you are far away from the humidity of the bathroom. It is much easier to use a standalone product such as the Readaeer Makeup Organizer in the bedroom, but you might also be exposed to more sunlight when using a counter display organizer due to windows in a bedroom.
Utilizing Your Refrigerator
It may seem strange, but a refrigerator is a fantastic tool to help with makeup storage. Besides providing you with a refreshing cool feeling when applied, refrigerating products can help preserve the longevity of certain items and retain freshness.
Items that work well in the fridge include eye creams, lipsticks, and any kind of homemade cream or serum. Homemade cosmetics do especially well because of their lack of preservatives; the cool environment of the fridge keeps them feeling new.
You should never put oils, powders, eyeshadows or perfume in the fridge. These items require dry environments to stay useable. Storing them in a fridge adds humidity that would degrade the product over time.
Storing Products Separately
It may seem basic, but storing your product separately goes a long way to preserving them. Try to organize so that brushes and creams are separate from powders and eyeshadows. This can prevent any major damage if you products spill. With any luck, they will just spill on their own kind instead of taking out your whole collection. A good organizer for keeping everything separate is the BAGSMART Travel Bag; you can keep each of your items sealed in its own section of the bag.
Pro Tips for Organizing Your Collection
So, let's say you've finally made the commitment to cleaning up and organizing your makeup collection. It can be very overwhelming to start with, but these pro tips should help you get started and stay organized.
Examine What You Own
The first step is to take an inventory of what makeup products you have. Throw away anything that is expired (more on that later), or items that you know you are not using.
Choose Your Organizer
The next step is to decide what makeup organizer to use. You can refer back to our list for help with this. Make your choice based on what fits your available space and how much makeup you have.
Get Organized
After you have your products gathered and your organizer selected, you can begin the process of organizing. A good system to use is to organize from bottom to top with products you use first, like lotions and foundations, and ending with mascaras and eyeliners at the top.
This system also matches the layout of most makeup organizers that have larger shelves on the bottom, drawers for eyeshadows in the middles, and places for holding mascaras and eyeliners on top.
What to Do With Makeup You Don't Use
Once you've decided which products to discard from your extensive collection, you may not be sure what to do with them. There are a number of disposal options for old or unused makeup that you can explore.
Throw It Away
Any makeup that is in a plastic package and is expired or otherwise opened needs to be thrown away. There is no saving makeup like this and it is easier (and safer!) to cut your losses on it.
Recycle
If your makeup came in glass containers and you are able to safely empty and wash the inside, consider recycling that packaging. This can help reduce the amount of garbage going towards landfills.
Donate
Products that have not yet been opened and are unexpired can be donated to a women's shelter or given to a friend. This is usually a better option that just throwing out perfectly good makeup.
You can also donate clean, used mascara wands to wildlife centers, where they will be used to help groom small animals and birds.

How to Tell if Makeup Is Expired
It can be hard to tell when makeup is expired, considering a lot of products don't even include sell-by dates on their packaging. If you've had your makeup longer than you can remember and want to double-check that it is safe to use, try using the tests below.
Smell Test
Makeup, especially mascaras, will smell bad when they are expired. If you open the container and a whiff of something stale or gasoline-like hits you, it's time to throw it away.
Color Test
The color test is best used with products such as creams, liquid foundations, mascaras, and liquid eyeliners. If any of these items have changed to a different color (meaning it has oxidized), it is probably time to replace it.
Appearance and Texture
If your makeup is chalky when it shouldn't be, lacking its usual consistency, has developed clumps or started to separate, it is most likely expired. Any difference in the appearance of the texture of your product can indicate that it is no longer good.
How Often Should I Replace My Makeup?
Each product you own has a general date guideline for when it should be replaced. This can range from years to only a few months.
Mascaras: 3 – 6 months
Eyeshadows and eyeliner: 1 year
Powder products: 2 years
Lipsticks and moisturizers: 1 – 1.5 years
Of course, this is just a general guideline. Refer to our testing methods if you want to check if your product is expired or not at any time.
Creating Your Own Makeup Organizer
It's hard to resist a good DIY project, and creating your own makeup organizer is sure to be an undertaking worth its while. Below we have some of the most popular ideas that you may want to put to use when organizing your makeup.
Use a Shoe Organizer
This is a DIY idea that creates an organizer like the BAGSMART's Travel Bag. Simply purchase a shoe organizer with as many compartments as you think you'll need, hang it over the back of the door, and fill it with your stuff.
Use a Sushi Mat
If you're looking for something to organize your makeup brushes, you may be surprised to find that a sushi mat will do the trick! Purchase a sturdy sushi mat, weave a piece of elastic or wide fabric through the mat, and you have yourself a brush organizer. This set up is also perfect for taking your favorite brushes traveling.
Use Mason Jars, Bottles, or Candles
If you're looking to recycle used candles, bottles or mason jars, consider turning them into makeup holders. This DIY will function similarly to the Stori Makeup Organizer, as it holds your makeup items upright and separated from each other. All you have to do is thoroughly clean your chosen holder, fill it with decorative rocks or coffee beans for weight, and place your makeup products into it.
Finding the Perfect Makeup Organizer
Choosing the right makeup organizer can seem like a tremendous task at first. With the amount of product variety out there, it is hard to know which product will work best for you. But if you keep in mind the exact size, type, and price range you want while researching, you are sure to find the perfect organizer for you.
We hope that this list has helped you to understand exactly what to look for in a makeup organizer and made your decision on what to purchase a little bit easier. Good luck and happy organizing!