Flare leggings have been making a comeback in recent years, and it's no wonder why. These groovy pants bring back the spirit of the '70s with their wide and flowy legs. They offer a fun and retro twist that can make any outfit pop.
Whether you're dressing up for a night out with friends or keeping it casual for a day at the park, these versatile bottoms have your back.
As it happens with versatility, the abundant choices make it difficult to know how to style flare leggings. This article will share outfit ideas for your flare leggings. We'll cover everything from choosing the right tops and shoes to accessorizing your outfit to perfection.
Outfit Ideas for Flare Leggings
Got flare leggings but don't know how to style them? Here, we'll share 20 flare leggings outfit ideas you can never go wrong with.
Flare Leggings With White or Black Tee
Ah, the classic white or black tee. It's like peanut butter and jelly—a match made in heaven.
Flare leggings can look super stylish with a basic white or black t-shirt. This pairing is hands down one of the best spring outfit ideas.
The trick is to keep the leggings as the focus, so go with a simple tee that doesn't steal the show.
This look is perfect for running errands or grabbing coffee with a friend. It's casual but still shows you've got a sense of style.
For accessories, you can never go wrong with trendy sunglasses and a cute handbag to add some color. Shoes can be casual, like some white sneakers, or if you want to add a little height, go for some ankle boots.
Remember, the idea is to keep it simple yet chic. You can also wear a long necklace and a couple of bangles if you want a little bling.
Flare Leggings With Graphic Tee
Pair your flare leggings with a graphic tee for a more playful and trendy vibe. Graphic tees come in various designs and colors, allowing you to express your personality. Whether you're into vintage band logos or witty slogans, the options are endless.
Tuck in the tee for a neat appearance, or knot it at the side for a fun twist. For accessories, think about hats—like a baseball cap. Footwear should be comfy and casual, like some good old canvas sneakers or even combat boots if you're feeling edgy. A belt bag can also add a sporty touch to the whole outfit.
Flare Leggings With a Cozy Sweatshirt
Pair your flare leggings with a cozy sweatshirt for those chilly days or when you just want maximum comfort. Choose a loose sweatshirt that is loose but not too baggy to balance the look of the leggings.
Accessories can be minimal here—think stud earrings or a simple watch. Footwear can be as comfy as you like, perhaps fluffy slides or cozy ankle boots. If you're stepping out, throw on a cute beanie or a scarf for that extra warmth and style.
Flare Leggings With a White Tank
For a casual day out, tuck the white tank into your flare leggings and add a colorful belt to infuse some personality into the look. Slip on some sneakers or espadrilles for comfortable footwear. You can keep accessories minimal with a delicate necklace and stud earrings.
For a more dressed-up look, layer a tailored blazer over your white tank and flare leggings. This creates a chic and polished outfit suitable for a casual office environment or a lunch meeting.
Flare Leggings With a Cardigan
For chilly weather, pair the leggings with a cardigan in a neutral or earthy tone to create a cozy, autumn-inspired look. You can also experiment with different textures and patterns to add dimension to your outfit.
Wear ankle or knee-high boots, a belt to cinch in your waist and create a flattering silhouette, and a scarf to complete the look.
Flare Leggings With Tunic Dress
For a bohemian-inspired look, combine your flare leggings with a tunic dress. Choose a flowy, long tunic dress with intricate patterns or embroidery. Layer it over your leggings and cinch the waist with a belt to add definition.
Complete the outfit with ankle boots or gladiator sandals. Accessorize with a stack of bangles and a fringed bag for a full-on boho effect.
Want to dress up flare leggings? Wear a button-down shirt! Solid colors like white, black, royal blue, and green look amazing. You can also try pastels like lavender, ice blue, and mint green.
You can either leave your button-down shirt untucked and let it hang loosely or tuck it in for a more polished and well-put-together look. Tie the button-down shirt at the waist to achieve a more casual look.
Wear pumps or sneakers, and don't forget to carry a cross-body bag.
Flare Leggings With Denim Jacket
A denim jacket can add a classic, timeless vibe to your flare leggings. The ruggedness of denim pairs well with the sleek look of leggings. Perfect for a day out or even a casual date night, this outfit screams versatility.
When it comes to accessories, a crossbody bag would be a great choice, as it's practical and stylish. Footwear can range from casual slip-ons to heeled sandals, depending on where you're going. Don't forget your favorite pair of hoop earrings to complete the look.
Flare Leggings With Cropped Vest
Cropped vests are super trendy right now, and they make for a cute pairing with flare leggings. This look gives off a casual vibe, perfect for a day of fun activities.
As for accessories, go for a sporty wristband or a chic headband to keep your hair in place. Athletic sneakers are a good footwear choice here. If you want to add a bit more style, consider wearing a small, stylish backpack rather than a traditional purse.
Flare Leggings With Fleece Shacket
The fleece shacket (shirt + jacket) is a wonderful piece of clothing that adds texture and warmth to your outfit. It's especially good for fall or spring. Pair it with your flare leggings, and you get an outfit that's not only comfy but also super stylish.
For accessories, think autumn—maybe a cute knit beanie. Ankle boots or knee-high boots work great for footwear. And for a bag, how about a sleek leather tote? It's practical and adds to the overall earthy vibe of the outfit.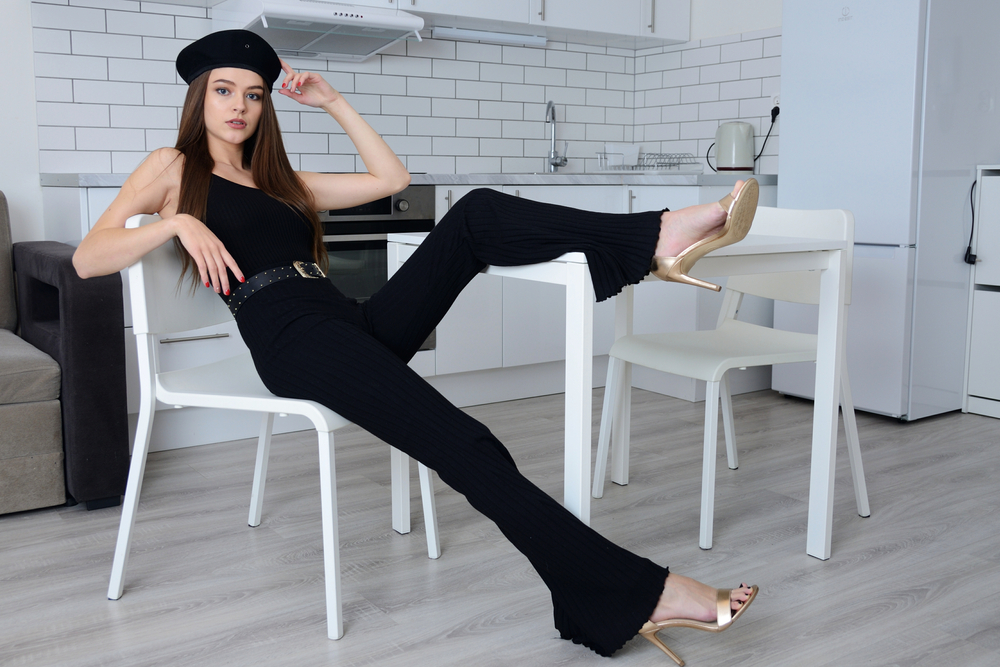 Flare Leggings With Shacket
Similar to the fleece shacket but a bit lighter, a regular shacket also pairs well with flare leggings. This outfit is for those days when it's not too hot but not too cold either.
Keep accessories minimal for this outfit—perhaps just a simple pendant necklace and stud earrings. Footwear can be casual; consider wearing slip-on shoes or loafers. A tote bag would be a great addition to carry your essentials.
Flare Leggings With Crop Top
Looking for Coachella outfit ideas or the perfect summery look? Pairing a crop top with flare leggings!
This pairing is excellent for highlighting your waist and showing off the flared design of the leggings. It's a good choice for casual hangouts, shopping trips, or even a beach day.
Wear sunglasses, a wide-brimmed hat, and maybe some colorful bracelets. Sandals or simple white sneakers would be perfect. Don't forget to wear a small crossbody bag to hold your essentials without taking away from the outfit's fun vibe.
Flare Leggings With Oversized Sweater
Try pairing your flare leggings with an oversized sweater for a cozy yet stylish outfit. The bagginess of the sweater looks great with the fitted leggings, creating a balanced look that screams casual yet chic. This outfit is perfect for those lazy weekends or relaxed evening outings with friends.
When it comes to accessories, wear a cute pair of stud earrings and a scarf if it's chilly. Footwear can be comfortable and casual, like cozy ankle boots or even some snug house slippers if you're staying in. A large hobo bag could be a great addition.
Flare Leggings With Puffy-Sleeve Top
The drama of a puffy-sleeve top adds an interesting visual element when paired with flare leggings. This trendy look is perfect for those wanting to make a fashion statement. Whether you're out shopping or at a casual social gathering, this outfit will definitely turn heads.
As for accessories, since the top is already a statement piece, keep it simple with small stud earrings or a delicate bracelet. Footwear could be ankle boots or even some fashionable loafers. A simple, sleek crossbody bag would complement this outfit nicely.
Flare Leggings With Peplum Top
If you want to dress up your flare leggings a bit, a peplum top is a fantastic choice. The flared bottom of the top complements the flare of the leggings, making for a harmonious look. This outfit is perfect for a dinner date or a semi-formal gathering.
A pair of statement earrings would go a long way in elevating the look. For footwear, wear heels or stylish pumps. A small clutch or an elegant handbag would be the perfect finishing touch to this more formal ensemble.
Flare Leggings With Boho Blouse
A boho blouse brings a whimsy and free-spirited style to your flare leggings. This look is perfect for those who love a bit of bohemian flair in their outfits. The intricate patterns and flowy fabric look great with flare leggings.
Wear a layered necklace or beaded bracelets for a true boho moment. To finish off the look, wear comfortable sandals and a fringe bag.
Flare Leggings With Off-the-Shoulder Top
This outfit screams summer and is perfect for anything from a casual lunch to a beach outing. The exposed shoulders add a sensual touch while keeping the overall look laid-back.
As for accessories, dangle earrings that draw attention to your shoulders would be great. Consider strappy sandals or espadrilles for your feet. A straw tote bag or a cute beach bag would complete this summery outfit.
Flare Leggings With High-Neck Sweater
A stylish and classic high-neck sweater is a knit-wear design that perfectly combines warmth and comfort.
Adding a belt at the waist provides structure and helps balance the flare of the leggings and the volume of the sweater. This is an excellent option for those colder days when you want to look great but still stay warm.
For accessories, consider adding some subtle stud earrings or a delicate chain necklace to keep the focus on the belt and the high-neck design. Boots, whether ankle-length or knee-high, would go perfectly with this outfit. A structured tote or satchel bag would make the look more polished and put together.
Flare Leggings With Wraparound Blouse
Don't we all love wraparound blouses?
The adjustable tie of the wraparound blouse lets you control how fitted or loose you'd like it to be, allowing for a customized fit that complements the flare leggings.
A pair of wedge heels or casual boots go well with this look. A simple but elegant handbag, perhaps with a long strap, will complete this chic yet casual outfit beautifully.
Flare Leggings With Striped Tee
This combo is perfect for a weekend adventure, whether you're hitting the farmers market or taking a spontaneous road trip.
It's best to keep the accessories minimal and functional. Wear a leather wristwatch and some small hoop earrings. For footwear, canvas sneakers or even comfy slip-ons will look the best. As for a bag, a backpack or a tote bag would provide both style and functionality.
Final Thoughts
Flare leggings should be your go-to for both comfort and style. Whether you're going for a laid-back vibe with a tee or dressing up with a fancy top, these leggings can effortlessly transition from casual to chic and adapt to whatever style you're aiming for.
Just add some cool accessories and the right shoes, and you're good to go.
We hope this article gave you some inspiration for mixing and matching your own outfits. emember, the best outfit is the one where you add your own personal twist to make it uniquely yours!